Training with TNT for the 2015 Richmond Virginia Marathon
This is my page about running and training for the Richmond Virginia Marathon, November 14, 2015, with Team in Training (TNT), which raises funds for the Leukemia and Lymphoma Society by providing training opportunities for wannabe-athletes such as myself.
This is my 17th season with TNT (previously half marathons in San Francisco and Vancouver, BC, and full marathons—26.2 miles!—in Portland, San Francisco, Napa, Victoria BC, Atlanta, Washington DC, Los Angeles, Chattanooga/Chickamauga, Oakland, Richmond VA, San Luis Obispo CA [twice], New York City, and Chicago).
Note: This was my second running of Richmond, a duplication I normally try to avoid. (I'm not getting any younger and there are plenty of marathons I haven't tried yet.) However, my first race there, in November 2012, ended prematurely. This season I participated in a program called "TNT Your Way," which allowed me to train with the local team, but I was responsible for registering for my race and all travel expenses.
Note 2: There is also a substantial section below about running the Montréal half marathon, September 20, which I did as a training run.
To read about my training for the marathon, please jump to here.
Richmond Marathon
This is my report about my weekend trip to Richmond, Virginia, for the Anthem Richmond Marathon. (I often include a lot of non-race travelogue in these descriptions, but since I have been to Richmond a number of times previously, I will sketch out my activities only very briefly.) Nancy and I flew to Richmond on Thursday evening, November 12, and checked into the Omni Richmond Hotel, which I selected because it had a preferential rate for marathoners and was pretty close to the starting line. On Friday we went to the race expo and then to the movies, deliberately reducing any opportunity for walking fatigue. If you will recall from my report of the 2012 marathon, we really wore ourselves out with 5–8 miles of walking around Colonial Williamsburg and Richmond the Thursday before, which must have been a contributing factor in my failure to complete that marathon. We met Nancy's cousin Tom and his wife, Suzanne, for dinner Friday night.
I was rather anxious about this marathon because of my failure three Novembers ago. In that race, I experienced severe back/hip pain that started around mile 16, so I had to bail out at mile 18 and could barely walk back to my hotel. I have no real idea what caused the pain because the course is relatively easy and the weather was good. I also had a similar failure at San Luis Obispo in 2013. My strategy to avoid this situation was to step up my core strength training, ingest salt packets (thanks, McDonald's!) every hour, take a product called SportLegs on the same frequency, and change from my Camelback-style water backpack to a lighter bottles-on-the-belt setup. And based on advice I received from a doctor in the medical tent at San Luis Obispo, I also popped Aleve tablets along with the salt. My general objective in marathon running has been to avoid repeating races after I have completed them, so I would not have normally returned to Richmond, even though it is a good race. But I needed to get back on the horse that threw me, so to speak.
Richmond bills its marathon as America's Friendliest, and I would say that superlative is arguable, but it is pretty friendly, beginning with a leisurely start time. I am used to marathons that require getting up by 3 or 4 AM, but on Saturday morning I woke at 5:45, had breakfast at the hotel Starbucks, and left the room at 7:15 AM. The starting line was 5 or 6 blocks away and I was in the final wave, so there was no sense of urgency to make the 7:45 start. The marathon is actually pretty small, about 4500 finishers, although the half marathon had over 20,000, I think. Fortunately, the latter group started off 45 minutes earlier on a different street, so there was no conflict. The weather was excellent, clear and starting out in the mid-40°s, eventually topping out in the 50°s.
The course is almost entirely flat. There were a few rolling hills, but none significant enough to force me to walk up them. And although there were very few areas that I would consider travel-magazine scenic, it was almost always through nice residential areas with lots of friendly and enthusiastic spectators. One DJ playing music announced as I ran by, "There's Hal! He's my pal, Big Hal!" One group of spectators in the mid-20s was passing out glasses of beer. We ran west from 5th and Grace Street, transferred over to Broad Street, saw part of the famous Monument Avenue (highlighted by the statue of Stonewall Jackson), crossed the James River at the Huguenot Bridge, and then spent a couple of miles next to river rapids. We re-crossed the river on the Robert E. Lee Bridge, after which I met Nancy for some encouragement, and then we headed west again through the Virginia Commonwealth University campus. Another 5 miles or so north and back south again and through downtown, finally ending up at Brown's Island for the finish, the last quarter mile being all downhill, which was very nice.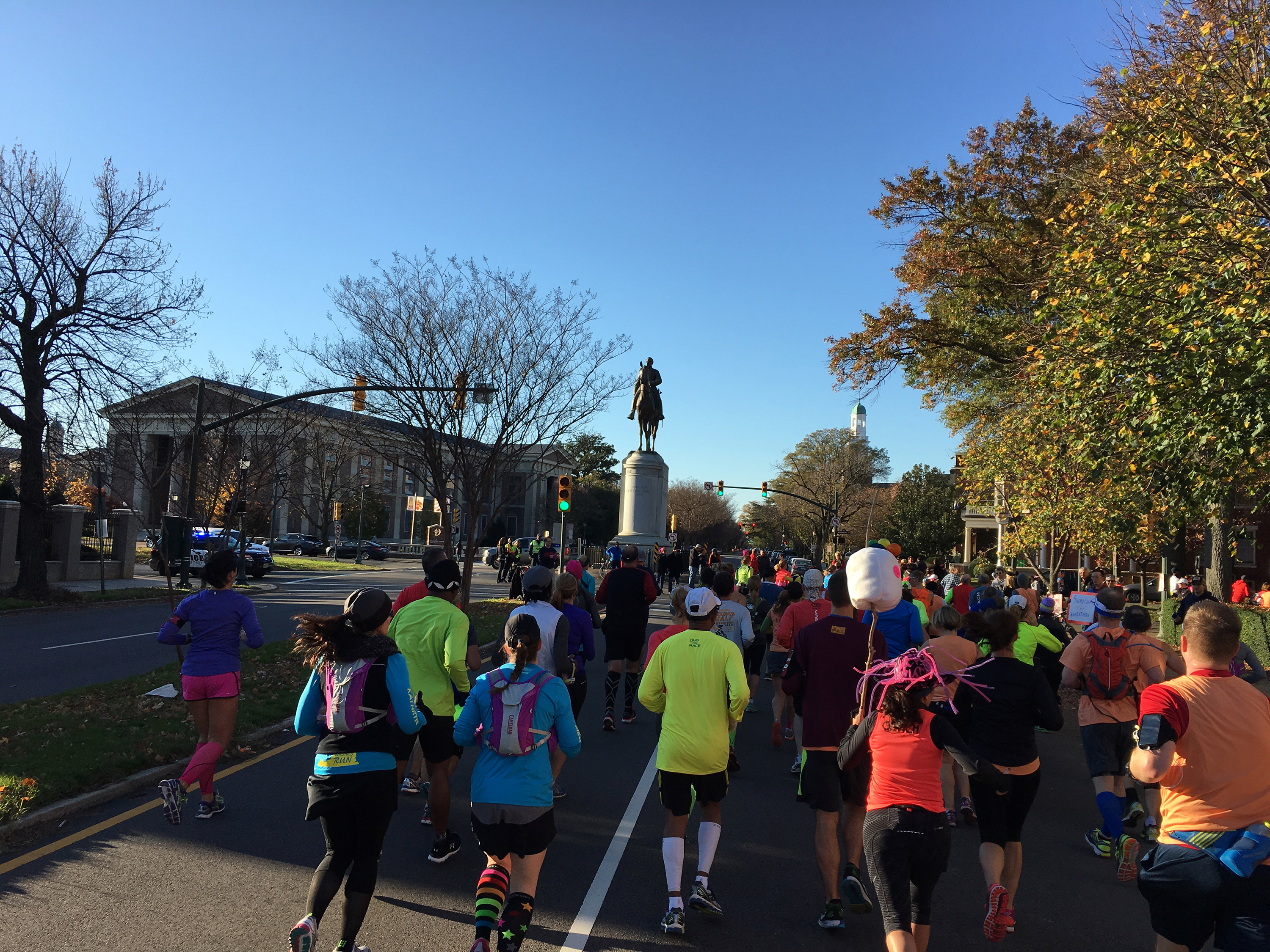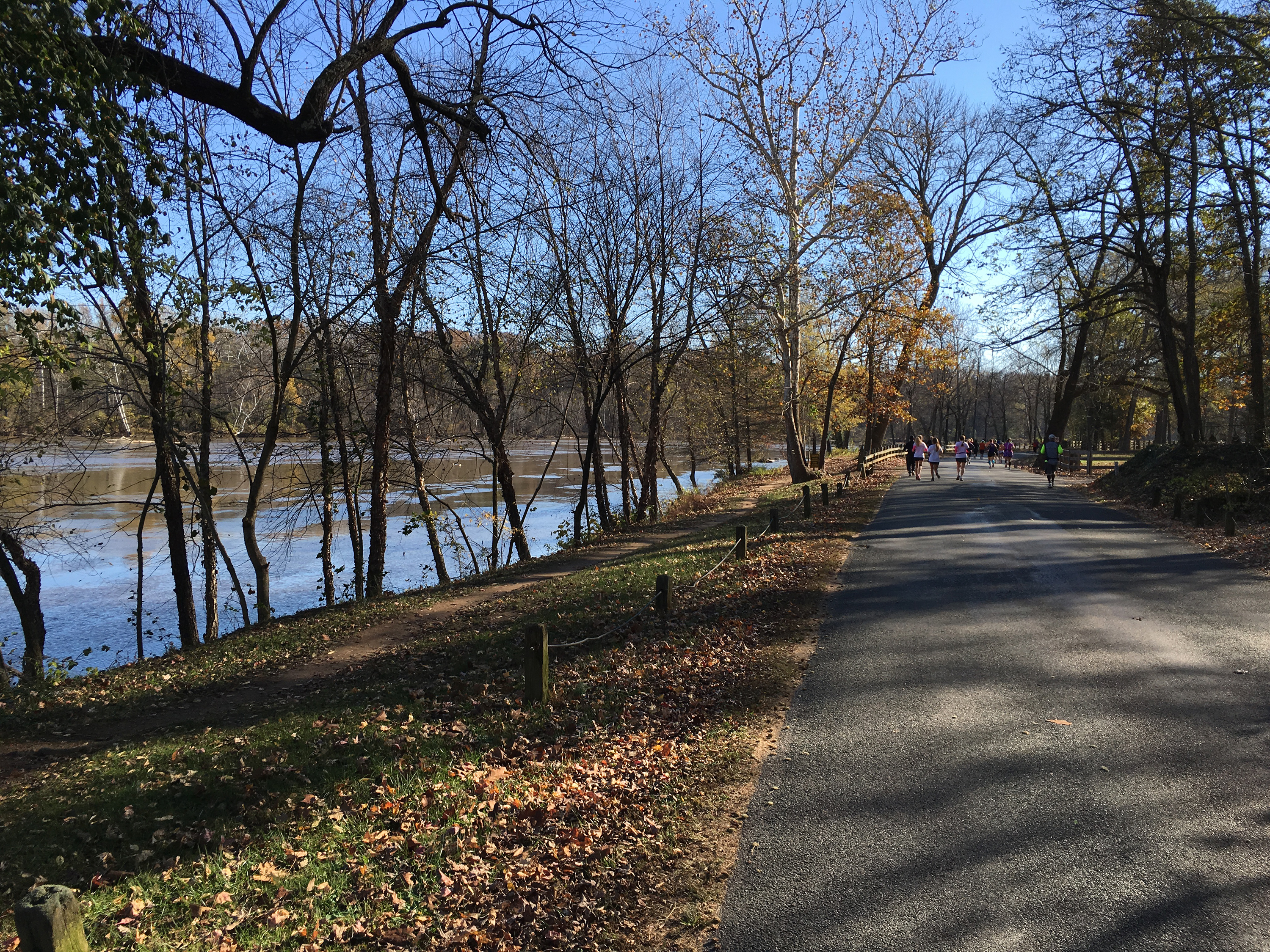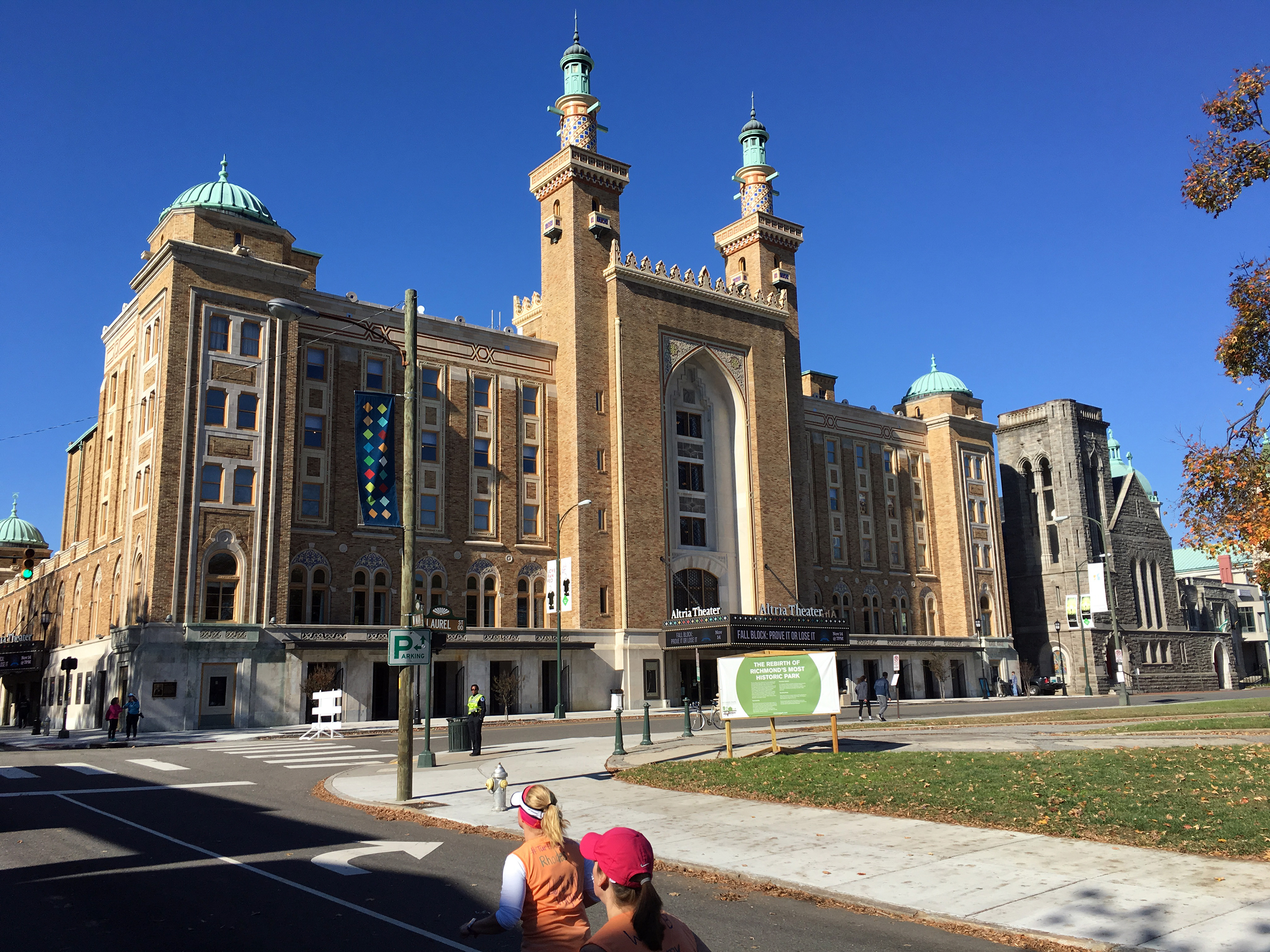 I have been running pretty slowly all season for some reason, possibly related to the broken toe that I experienced the preceding season, or perhaps because I eat too much, and this race was no exception. I finished at 5:38:23, a 12:54 pace, which is somewhat average for me, and which put me in the slowest 12% of marathon finishers. But what was satisfying was that—besides finishing !—I did not run out of energy, never hitting the "wall." And after crossing the finish line I did not experience the typical brain meltdown and confusion that I normally do. (I am really one of the walking dead at most finishes.) The friendly marathon organizers had a lot of swag at the end, including an elaborate medal, a large colorful blanket, a nice finisher's technical hat, slices of pizza, and all of the usual race-recovery foodstuffs.
The finish line was about a half mile from my hotel. I rested all afternoon and we had dinner at a very nice nearby restaurant called Bistro Bobette, which I definitely would recommend for a future visit. On Sunday we took a two-hour trolley tour of downtown Richmond and then an interesting but short boat ride on the James River and Kanawha Canal. My recovery was not very difficult, but as you can see there was not much walking on the day after. On Monday we drove the entire course to refresh my memory about the scenery and to impress Nancy with how far I ran, and then we drove out to the Metro Richmond Zoo before heading to the airport. Because I used frequent flyer miles for the trip, our return flight was quite late in the evening and had a 4 hour layover at Chicago, so we did not get home until after 2 AM.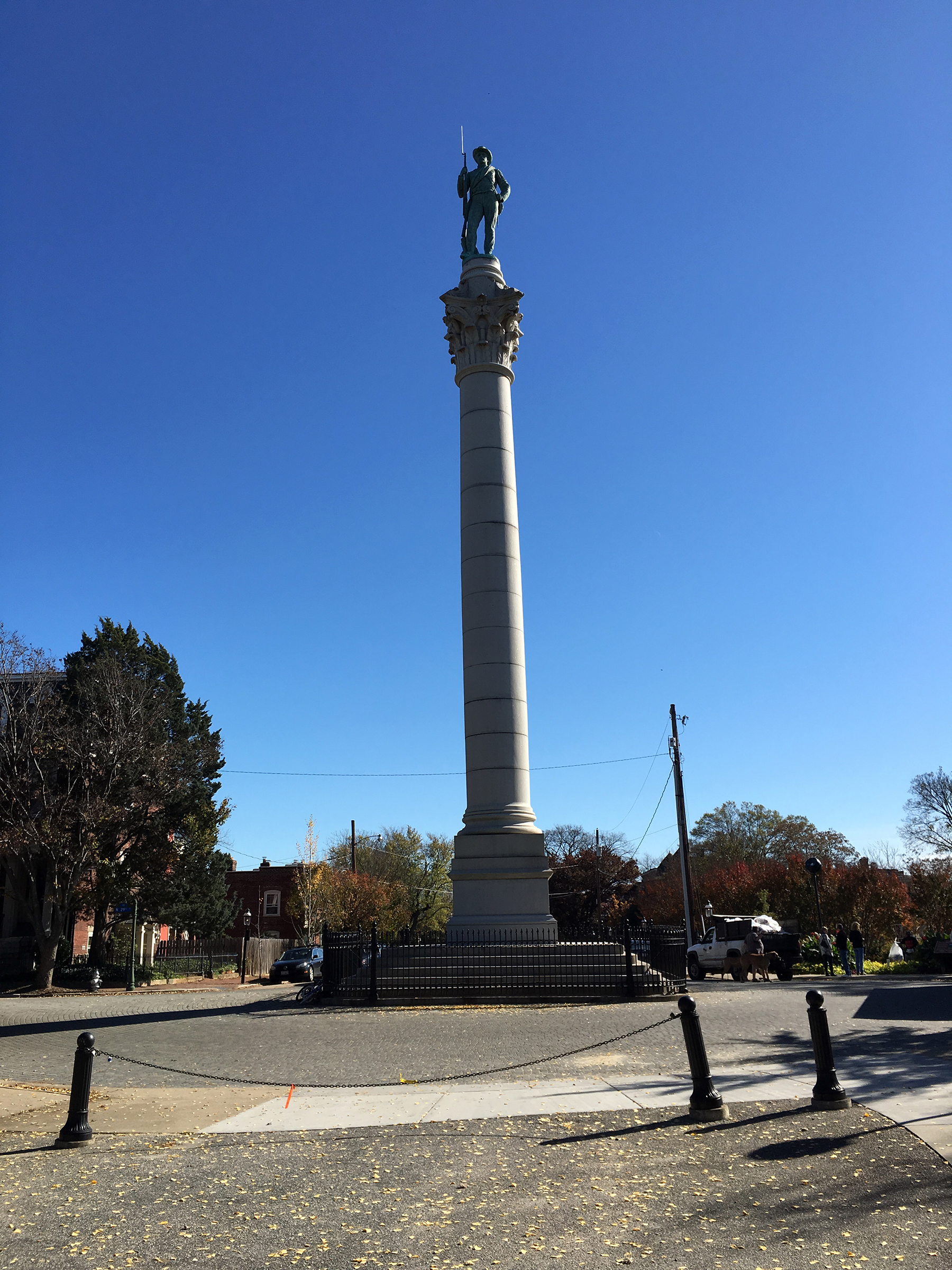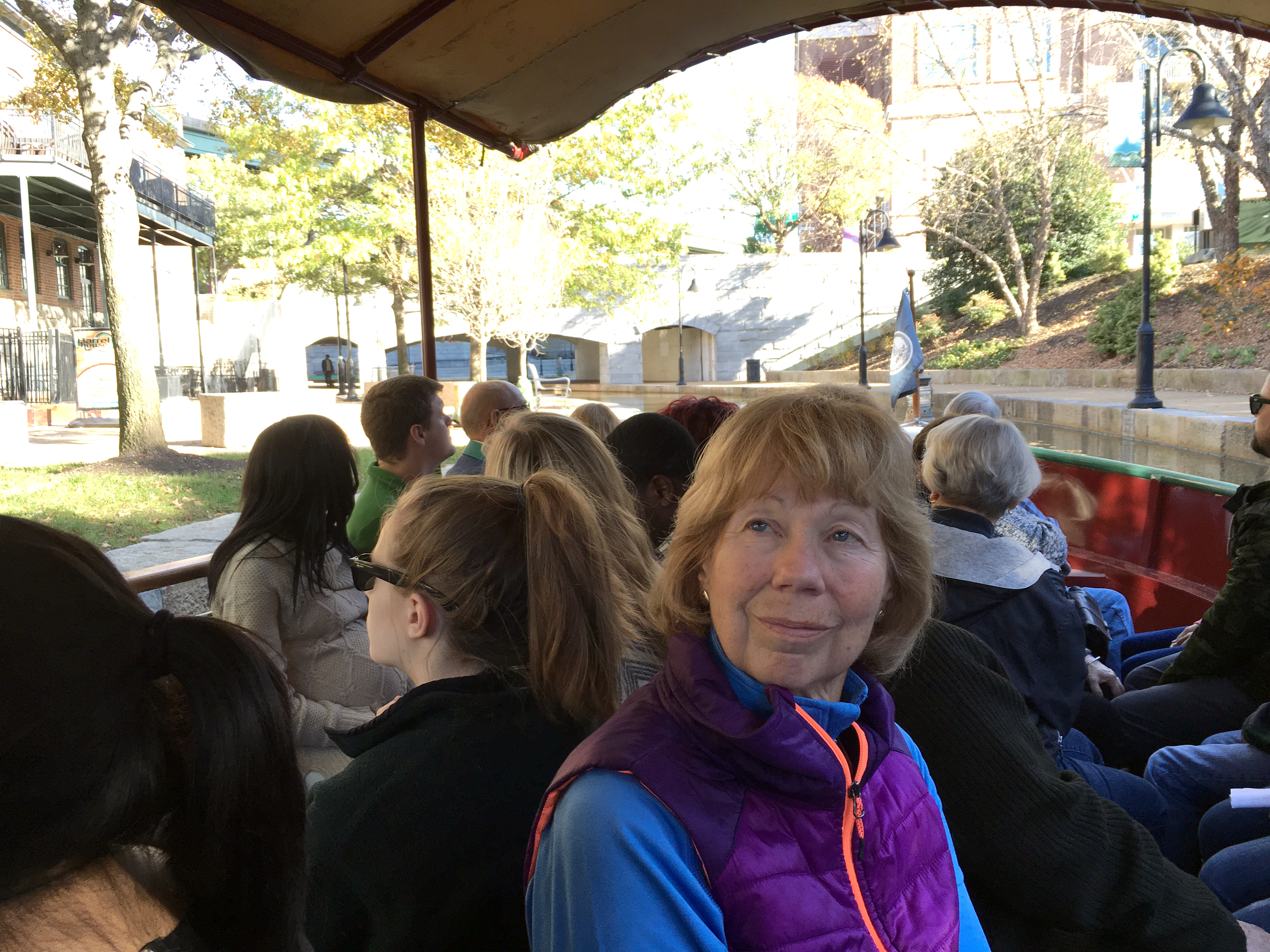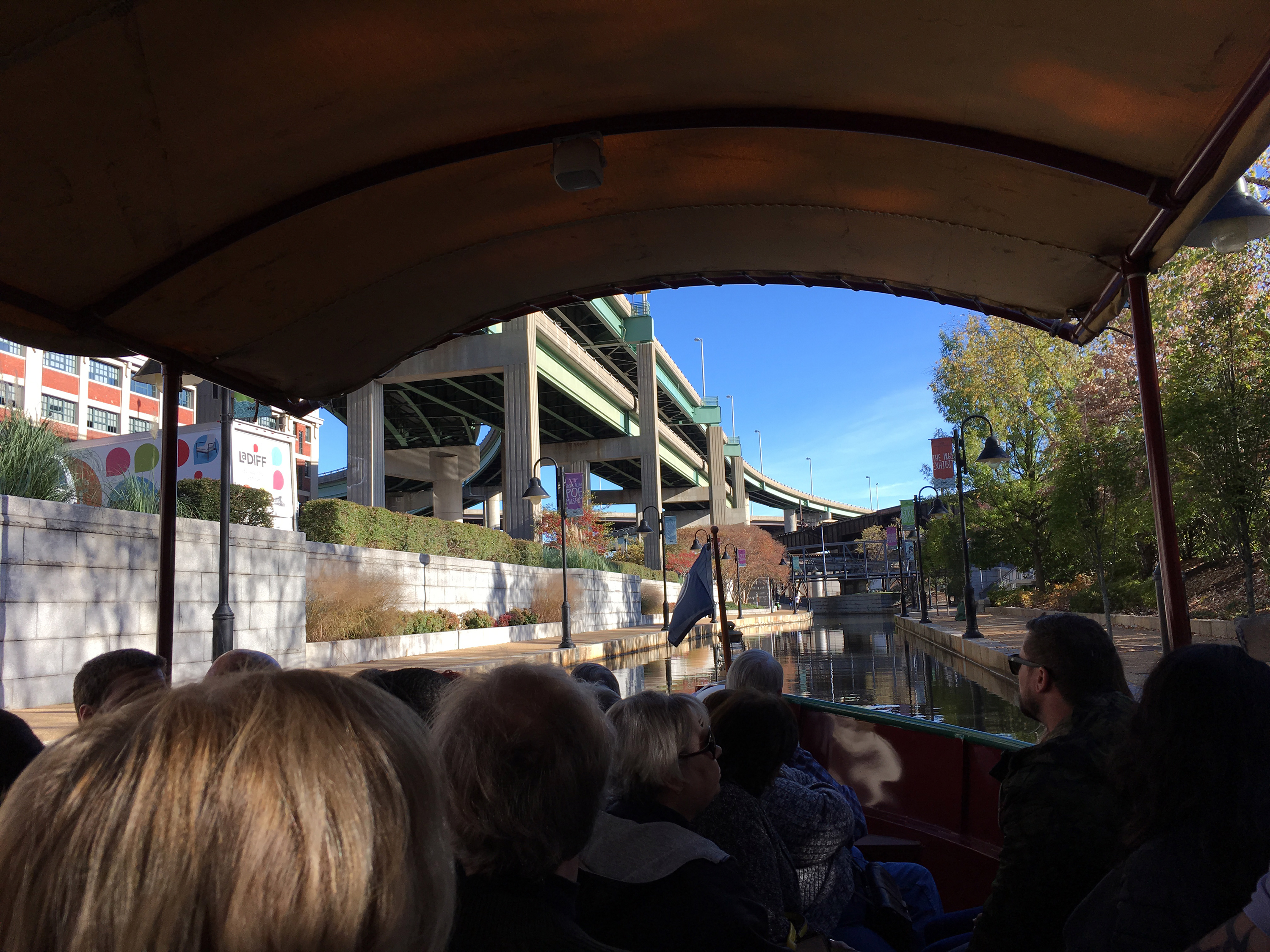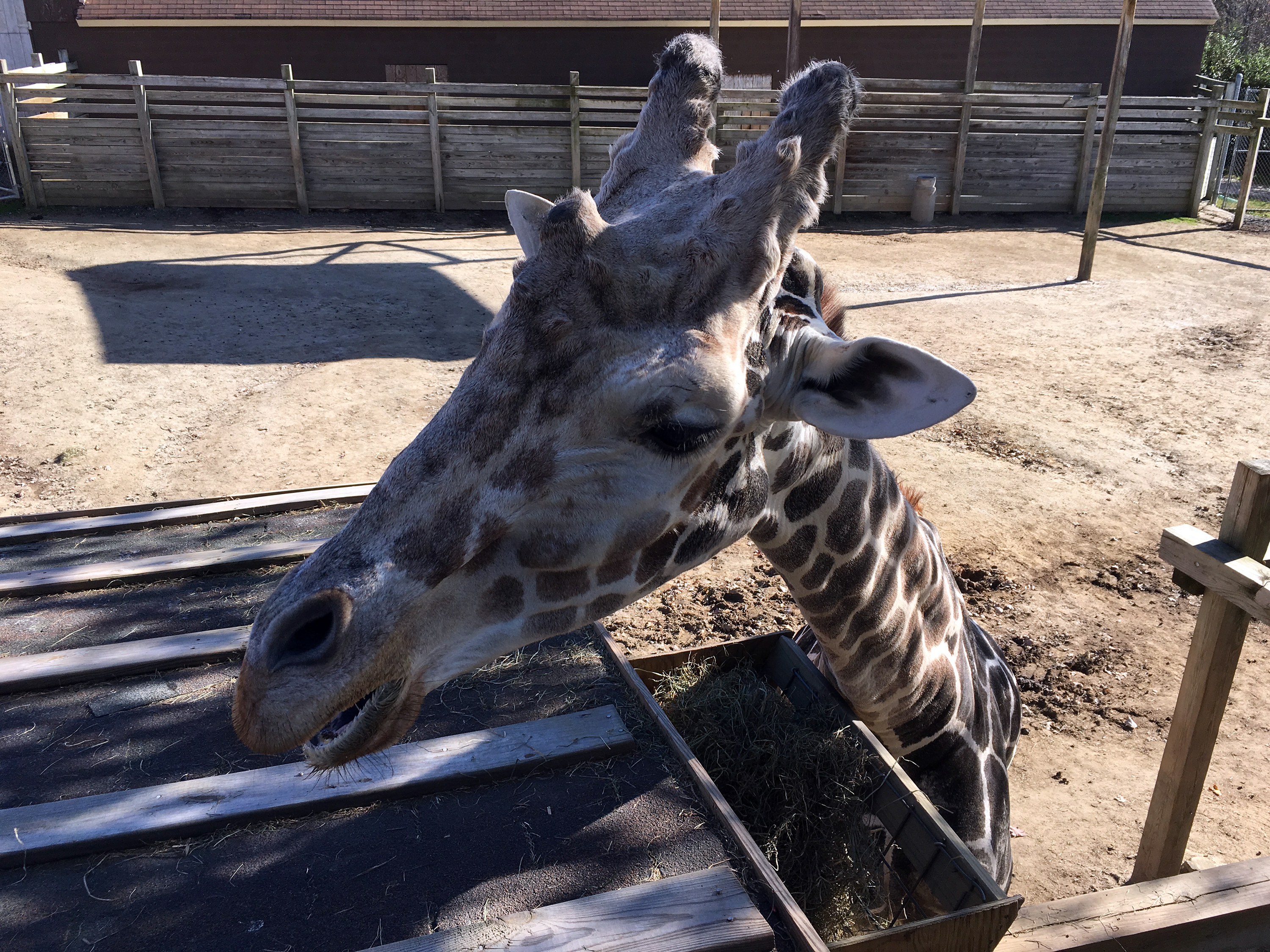 I'm quite gratified that I was able to complete the Richmond Marathon on my second try. So although it was a very enjoyable race in a city I enjoy visiting, this will most likely be my last in the River City. I have not committed firmly to my next race, but it will possibly be the Seattle Rock 'n Roll Marathon in June.
TNT Training
Weekly Training Schedule
Here is the table of weekly activities for our training.
| | |
| --- | --- |
| Monday | Buddy runs: easy runs with a group at a conversational pace. Early in the season they are in the 3-5 mile range, later they get to 5–7 with a number of hill-repeat sessions mixed in. |
| Tuesday | Cross training (50–75 minutes walking, swimming, or aerobics and weights at the gym), including core strength |
| Wednesday | Track workout at Woodside High School under coaches' supervision (90 minutes). Mostly intervals, pacing runs, and hills/bleachers, generally 3–5 miles total, preceded by dynamic stretching, dynamic drills, and concluding with core strength exercises. |
| Thursday | Cross training and core strength |
| Friday | Rest, stretching, core strength |
| Saturday | |
| (1) Distance run in scenic places, starting at 4–6 miles and increasing 2 miles every other week until you're finally at 20 miles. | (2) On Your Own (OYO) runs, although group running is encouraged. Starts at 2–4 miles, progresses through the season to 6-10. |
| Sunday | Rest, stretching, core strength |
Workout Log
Here's the training I accumulated prior to the race.
Tue, Nov 10: Finishing off my taper period, I have done two short runs over the last couple of days, a 4 mile and a 3 mile, just to keep me limber. My season mileage is 462 (which is the equivalent of 17 2/3 marathons!).
Tue, Nov 3: I was traveling for a week (see my travelogue here), so my schedule was a bit disrupted. I did my final long run of the season today on my own at Sawyer Camp, 10 miles at a 12:30 pace. Now I am in taper mode and will have only a few short runs before leaving for Richmond on November 12. My season mileage is 455.
Sat, Oct 24: Once again, no track this week. The long run was on my own, 20 miles at Shoreline in Mountain View. I arranged this as two out and backs, the first 11, the second 9 so that I could stop at my car and replenish my fluids. Since this was not an official TNT run, there were no water stops provided. My pace was 12:43, which is not all that great, but there were 2 factors slowing me down: the first 11 mile loop, heading north on the levees and around the airport and back, was almost entirely dirt trails, and I listened to podcasts the entire time, which slow my pace. (I never do so during races.) I was pretty tired at the end, but optimistic that I experienced no back pain, the source of my problems in the previous Richmond Marathon. My season mileages 445.
Sun, Oct 18: Track workouts have ended for the season, so I did a mid-week 7-mile run. The long run this weekend was 10 miles on my own at Shoreline, which I did at a 12:11 pace. My season mileage is 419.
Sat, Oct 10: I missed the track workout on September 30 because I was traveling. I did my OYO weekend long run on Monday, October 5, after returning from the airport. Track this week was a sendoff for the Nike Women's Half Marathon runners, so they didn't do much at all, but the handful of us who are scheduled for marathons in the next month did mile repeats, four repetitions of 1 mile with about 200 m active recovery between each. The weekend long run was the Bay Trail, starting at Oracle. The marathoners started at 6:30 AM, when it was still dark, so my first mile was rather slow and tentative. The first 90 minutes were in heavy fog and the first 10 miles kept my glasses completely fogged up. I did 18 miles at an 11:48 pace, which is pretty decent for me, aided by the completely flat course.
Sat, Sep 26: Track on Wednesday was what we call a burrito relay. We each partnered up with another runner (mine was a guy named James, whom I had not met before) and ran a 3-mile relay race, evenly divided between us, attempting to predict exactly how long it would take us. Of course, we ran without watches. James and I did not come close to winning. We estimated 30 minutes for 3 miles and came in at 26:15. (The burrito aspect of the name is historical, when the winning team received burritos as a prize, but now TNT promotional swag seems to be the case.) The weekend run was at Sawyer Camp (Crystal Springs reservoir) again. I did 16 miles that consisted of two 4-mile out and backs on an almost completely flat course. Some of my colleagues ran the more significant hills and trails that start about mile 5, but I decided to take it easier after running a half marathon last weekend. I am pleased to say that my pace was 11:38, which is substantially better than some of the long runs I've had recently. If I could only keep up that pace for a full marathon…. My season mileage is 356.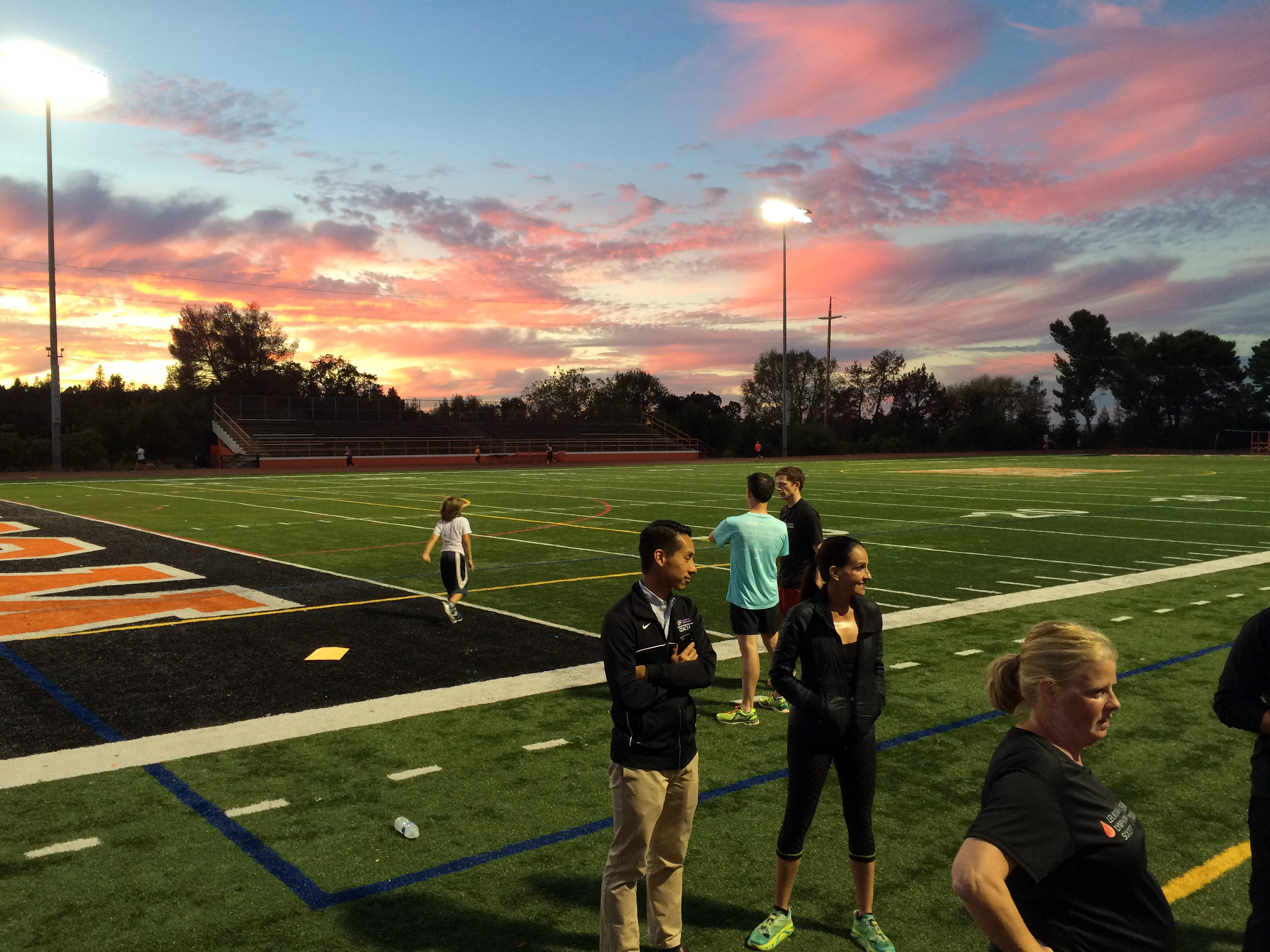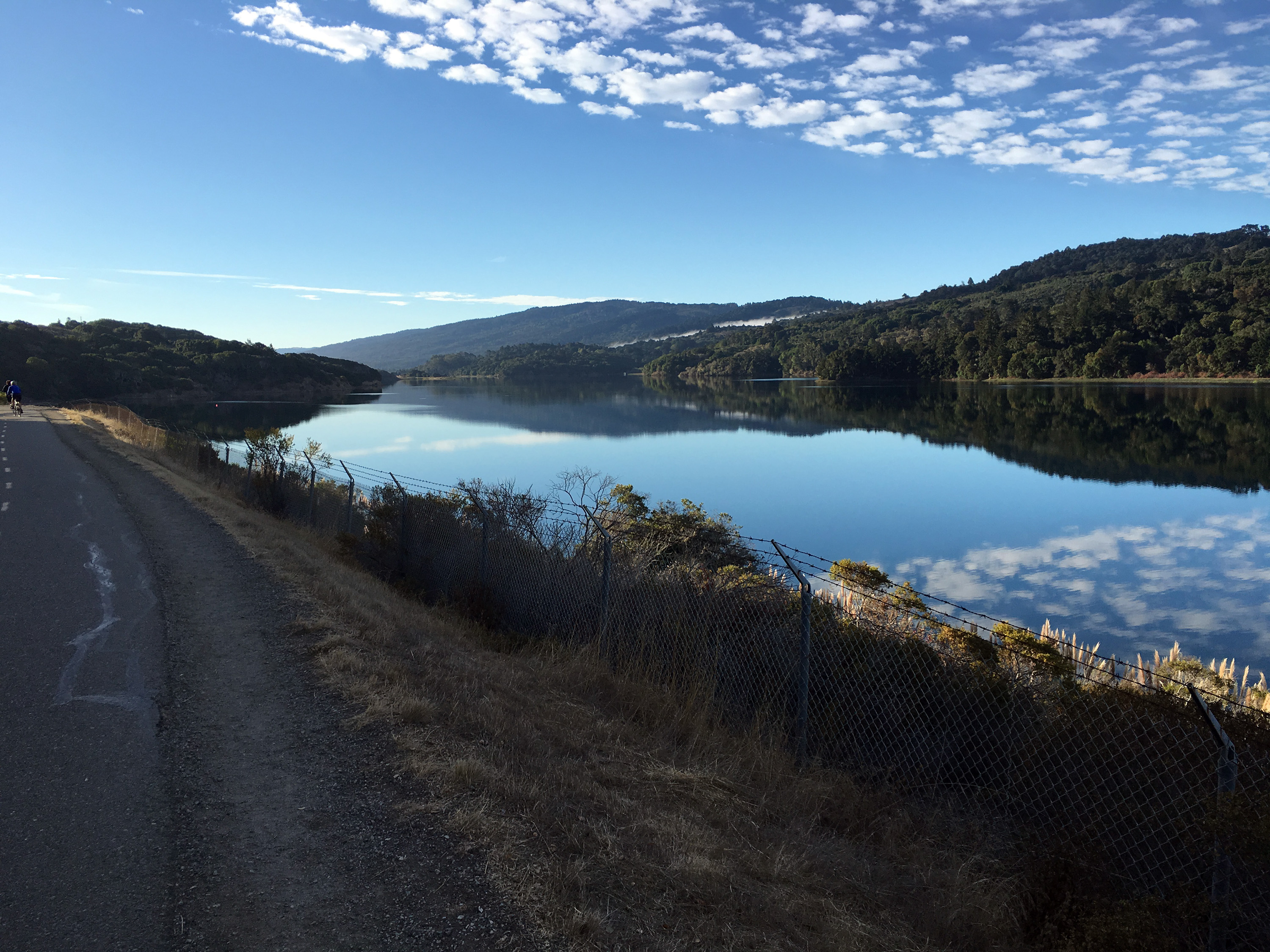 Sun, Sep 20: [Extract from my travel page] In Montréal after the end of a nice cruise through New England and Canada, I spotted a street closure sign and just realized that a marathon was scheduled for the next day! I was able to sign up at the race expo for the half, which will fit in well for me as a training run; I had planned to do a run in the 10 mile range on Sunday anyway if I could find a good course. So on Sunday I took the metro to the southern bank of the St. Lawrence River and walked about a half mile onto the Jacques Cartier Bridge, where the corrals were lined up. I was assigned to #5, which I assumed was in the rear, but to my surprise, there were 26 corrals, stretched out farther than the eye could see! My late entry caused me to get a random assignment, so I started running only about 8 minutes after the gun—8:38—rather than what seemed like 45 minutes for people near the end. This was nice, but the start was pretty fast and I was passed throughout, like a rock in a flowing stream. It was only after mile 10 that I passed a few exhausted folks. I heard six "Go Teams" and met a few other purple shirts and a coach. Of the 22,000 runners, only a tiny handful were participating in Teams in Training. There were, however, quite a large number of very attractive and fit young women chattering in French, so the whole experience was worth it just for that.
The weather was perfect and the scenery very interesting, mostly flat on the two islands in the river (Île Sainte-Hélène and Île Notre-Dame) and on the waterfront. There was a hill for the last mile, rising to La Fontaine Park. My only negative incident involved Gu. I bought some at the race expo and thought it was cool to get a Canadian flavor, maple bacon. But within a half mile it tried to come back up; I suppressed this, but it irritated my throat and gave me a severe coughing fit for quite awhile until I remembered that I had cough drops in my fanny pack! Nevertheless, I did OK for a race that followed a week of leisure and gluttony on a cruise ship, 2:38:34, or about an 11:55 pace by my watch. I finished in the bottom 28%, but since I often languish in the bottom 10%, that's an improvement. I was 42/66 in my elderly age group.
It took quite a while to locate Nancy in the frenetic park, and then to go home via a long walk and the metro; the race folks provided us free metro cards usable all day.
Sat, Sep 12: [Extract from my travel page] I ran 12 miles on the East Bay Bike Trail near Providence, Rhode Island, a beautiful run on a mostly flat, scenic course, which happened to go directly next to our hotel, the Wyndham Garden, and then over the bridge into East Providence. This was a different section of the trail that I had run in the past, around Barrington, Rhode Island, but even more interesting. Here are some photos of scenes along the way, some of which are lamentably bad quality taken with a shaky iPhone.
Sat, Sep 5: I went back to the regular track this week, not the optional Stanford Dish. We did 400 m repeats: 12 repetitions of 400 m with approximately 100 m recoveries. The long weekend run was on our own and I did 10 miles on the Cañada Road/Whiskey Hill course to Woodside. My pace was 12:34 on the hilly course, which is an improvement over my recent sluggish running, although not all that much. I reverted this week to my previous run/walk interval, 4:30/1:30. My season mileage is 304.
Sat, Aug 29: Track was at the Dish again and we did ladders again, although much more difficult ones. The long run today started at the Presidio in SF, covering a difficult hilly course up and down two big hills, and then into Gold Gate Park, which is yet another hill. It was an out-and-back, so the hills were doubled. I ran pretty slowly—13:34 pace for 14.21 miles—but at least I had good energy at the end. My season mileage is 282.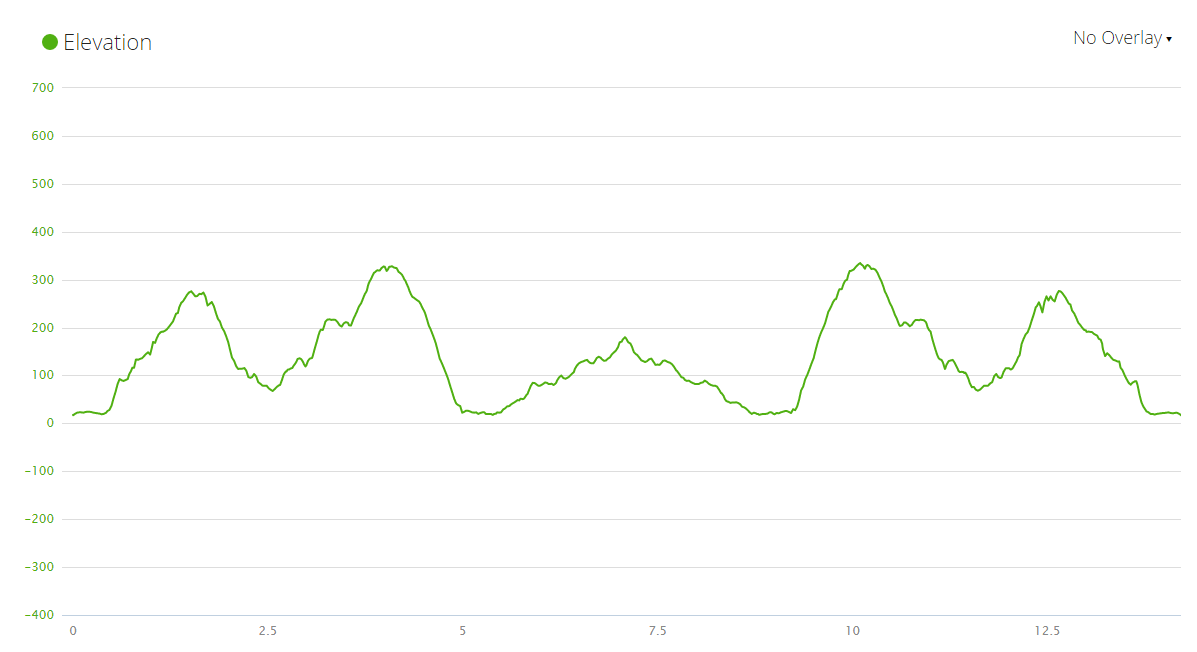 Sat, Aug 22: Track was conducted at the Stanford Dish, at least for those who volunteered for hill repeats (the large majority of participants chose to remain at Woodside High School for flat intervals). We did hill repeats on a 0.11 mile hill that was probably about a 5% grade running up to a position marked by Coach Caroline and then recovering on the downhill. Each iteration she moved about 15 m up the hill, so they got longer and longer, a practice called "ladders." We did that for about a half hour. We concluded with a half hour run on the very hilly Dish loop. The weekend run was on our own and I did 9 miles at Shoreline in Mountain View. This week I reverted to my previous run/walk interval, 4:15/1:45 (instead of 4:30/1:30), trying to recover from my string of really poor paces over the last couple of weeks. Today I did 12:16, which is still not very good for the mostly flat course. My season mileage is 256 (love those powers of 2!).
Sat, Aug 15: Track was Yasso 800s, 8 repetitions of 800 m with a 200 m dynamic recovery. The interesting result of these is that you can supposedly predict your marathon time. My average time for 800 m was 5 minutes and 10 seconds, which implies that my marathon time should be 5 hours and 10 minutes. I would be super happy to achieve that, 11 minutes faster than my PR from six years ago. The weekend long run was at Sawyer Camp. I did 14 miles on the hilly course (actually, only the middle 6 miles were hilly) and did not have a great pace: 12:39. My season mileage is 237.
Sat, Aug 8: Track on Wednesday was intervals: 1600 m at a 10K pace, 800 m at a marathon pace, and then repeat, with no rests in between. The long run was on our own and I did 9 miles on the shoreline trail in Mountain View at a 12:01 pace. My season mileage is 210.
Sat, Aug 1: I had a week of travel disrupt my running schedule. (See my Civil War travelogue here.) I missed the track workout on July 22 and the OYO long run on July 25. So I was a bit rusty for track July 29, but fortunately it was a relatively easy workout because of the 90° heat (pretty similar to what it was in Richmond, Virginia!). We ran 500 m, did some core strength exercises, 300 m and another set of exercises, and then repeated a few times. The long run today was in Portola Valley, the version that is mostly trails but avoids the really steep hill/mountain in the middle. I was feeling really tired in the gradual uphill climb the first 3 miles, so my overall pace was pretty poor: 12 miles at a 12:59 pace. My right glute was pretty stiff. Fortunately for my self-esteem, I did better in the second 6 miles than I did in the first. The great thing about this course is the last 3 miles are all downhill. My season mileage is 189.
Sun, July 19: Track this week was a bit easier after my ordeal last week. We did a 3 mile time trial to determine wave assignments for future runs. My pace, using my normal run-walk interval, was 11:23; I always seem to run faster on the track than I do on roads or trails. I missed the Saturday run at Pacifica because I got a big bruise on my left foot (a badly stubbed toe) and decided I had better rest it. So I ran on my own at Sawyer Camp on Sunday, 10 miles at an 11:58 pace. Interesting that my left foot had no problems at all, but my formerly broken toe on the right foot gave me some discomfort. Perhaps I am still having difficulty from my really hard track workout last week. My season mileage is 170.
Sat, July 11: Track this week was intervals again, a "pyramid": 400 m, 400 m, 800 m, 1600 m, 800 m, 400 m, 400 m, with a couple of minutes rest between each. I did pretty well, improving my time with each split (for instance, my first 400 m was 2:23, my final was 2:03), but I may have overdone it because my Saturday work out on my own was rather uncomfortable, with a really tight right glute that had me limping along for at least the first mile. I did the Stanford Campus Drive loop, which was also marred by lots of road and sidewalk construction, and was supposed to do 6–8 miles, but I decided to rest a little bit and did only 5, ending up with a 12:21 pace. My season mileage is 151.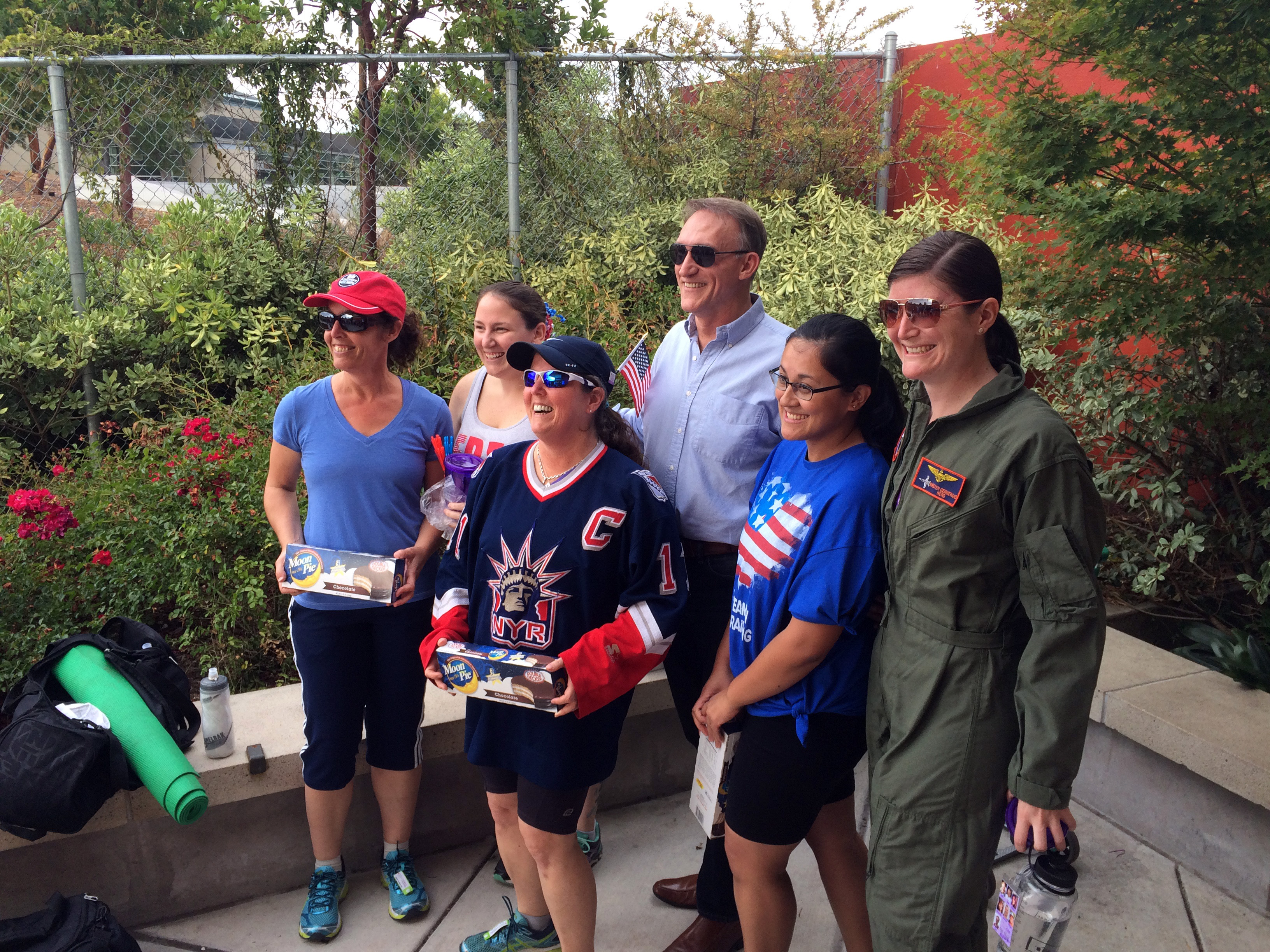 Sat, July 4: Happy Independence Day! No independence from running this week. At track we did intervals again, 1600 m, 2 x 800 m, 1600 m, all with about two minutes resting in between. I was happy that I was able to increase my pace for each of the intervals. There was a contest for showing up in patriotic track attire, particularly with TNT accents, and I took a picture of the winners, on the right. The weekend run was at Seal Point. I did 8 miles at a pace of 11:04, which is my fastest pace in over a year. This was a great run – beautiful cool, overcast weather, and a virtually flat course (my watch calculated that I had an overall elevation gain of 9 feet over the 8 miles, although I take that low figure rather skeptically). My season mileage is 141.
Sat, June 27: Track on Wednesday was intervals: 2 x 400 m with static recovery, 2 x 800 m, and one 1600 m, followed by the usual core strength exercises. The long run was on our own and I did 10 miles on the Bay Trail north from Oracle and back, at an 11:28 pace. My season mileage is 123.
Sat, June 20: Track on Wednesday was our first exposure to intervals this season. We did two iterations of 300/100 m, then 600/200, then repeated. The weekend long run was at Stanford. I did 6 miles around the Campus Drive loop and what I call the stadium loop, at a pace of 11:21! We finished up with a brief injury prevention clinic. My season mileage is 103.
Sat, June 13: Our first real track workout was Wednesday evening at Woodside High School. We did some stretching and then a two-mile timed run to give the coaches a better idea of wave grouping. I did my regular run/walk routine and ended up with a time of 22:30. Then we did some dynamic drills and core strength training. I was surprised and pleased that the coaches actually did the exercises along with us, just like in the Army, which is the first time this has happened in the 17 seasons I have been in TNT. (Of course, this did not make the exercises any easier. :-)) The long run was on our own and I did 10 miles on the Bay Trail, at an 11:33 pace. My season mileage is 87.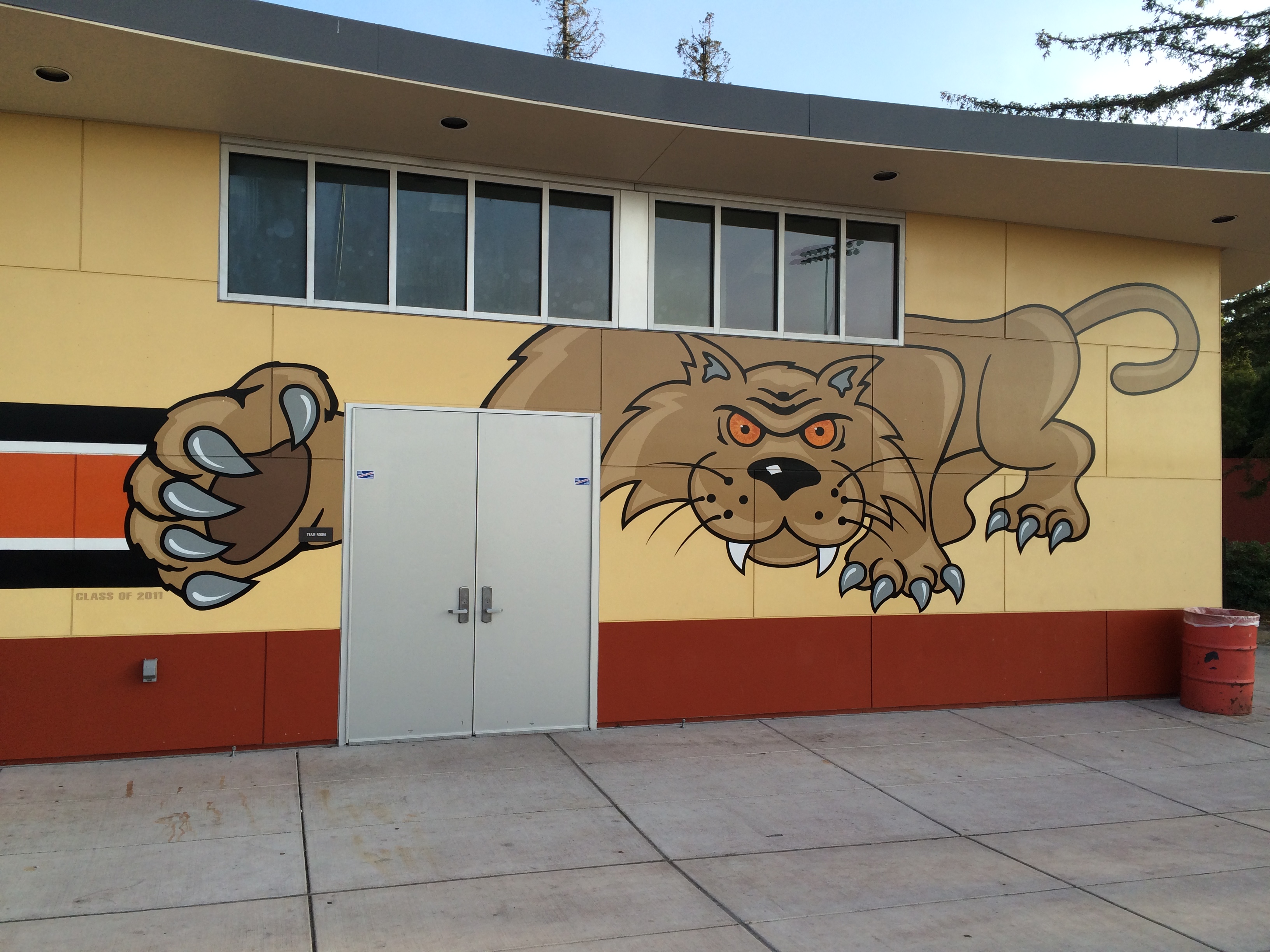 Sat, June 8: Our first long run of the season was on the Bay Trail starting at Oracle, with a maximum of 4 miles for marathoners. I was away, however, accompanying Nancy to Sacramento for her annual Horse Expo, so I ran on my own, 12 miles on the American River bike trail, one of my favorite runs. It got a bit warm, reaching the mid 80s by the time I was finished, but I was pleased with my pace of 11:57. My season mileage is 68.
Wed, June 3: Tonight was the kickoff meeting and a minor track workout. About two dozen of us (mostly alumni, alas) showed up on a very chilly evening at Woodside High School. We had announcements and inspirational speeches for about 90 minutes and then did a warm-up run and some stretching. Our head coach is John Martin, who coached us for the Spring season in 2014, the season in which I did my US P.R. at San Luis Obispo.
My training up until this point has been on my own, obviously. Since I ran a half marathon last season, I needed virtually no recovery period, so I have been putting on more mileage than I would typically do this early in the season. I currently have logged 56 miles.