Holland America New England and Canada Cruise, September 2015
This is my travelogue of Hal and Nancy's trip to New England and Atlantic Canada, in two parts: a brief visit with my Aunt Elsie in Providence, Rhode Island, followed by a cruise on Holland America Line's MS Maasdam from Boston to Montréal.
Wednesday, September 9 — to Providence
We flew to Providence via Chicago and started our visit with my Aunt Elsie. We dined at a Portuguese restaurant named Madeira, featuring seafood.
Thursday, September 10 — Providence
We got a tour of Tockwotton Home, Elsie's new residence. She took us to lunch at the Providence Art Club and we toured their various exhibits. Supper at the home, which was actually quite good—soup and sandwiches.
Friday, September 11 — Providence
Nancy and I visited the Rhode Island School of Design museum, which had a lot of modern stuff from their students as well as works from renowned artists. Back with Elsie, the Providence Civic Orchestra of Senior Citizens played marches, patriotic tunes, and music from the 20s and 30s. Another decent home supper.
Saturday, September 12 — to Boston and embarkation
I ran 12 miles on the East Bay Bike Trail, a beautiful run on a mostly flat, scenic course, which happened to go directly next to our hotel, the Wyndham Garden, and then over the bridge into East Providence. This was a different section of the trail that I had run in the past, around Barrington, Rhode Island (Elsie's former residence), but even more interesting. Here are some photos of scenes along the way, some of which are lamentably bad quality taken with a shaky iPhone.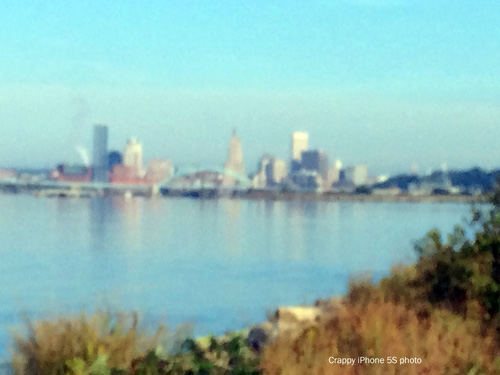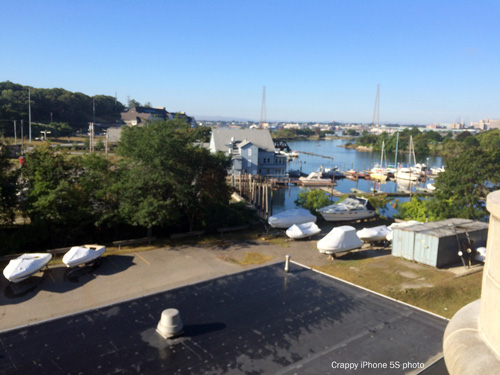 After saying goodbye to Elsie, we drove an hour to Boston, then Ubered from the airport car rental place to the cruise terminal, where we boarded the MS Maasdam. This is our third HAL cruise, and by coincidence all three—Maasdam, Veendam, Ryndam—are sister ships, so the layout was quite familiar, much more accessible than our previous megaship adventure. We were surprised to be virtually the only passengers lined up to board at about 1 pm. We sailed at 4 pm, enjoying lovely weather and close up views of airplanes landing at BOS. Dinner was in the Rotterdam dining room with a couple from Vancouver, and the food was quite good. There was the typical introductory song and dance show in the theater at 9:30, and all performers were very good, although the dancers were constrained by the tiny stage.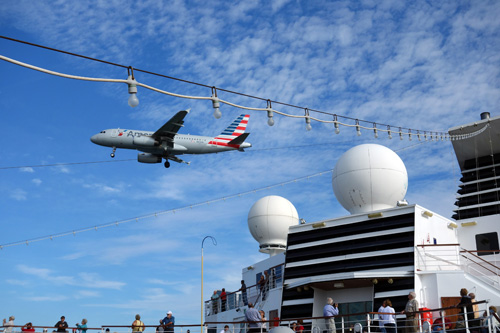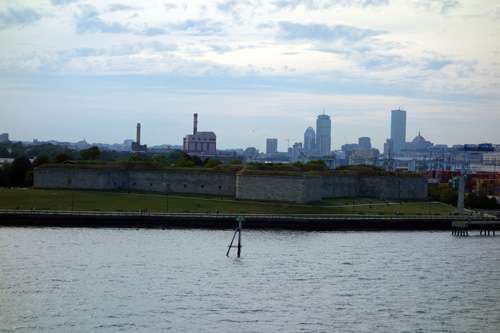 Sunday, September 13 — Bar Harbor, Maine
Our veranda cabin is small, but comfortable, although not designed for men over 6'4". I can't stand up in the whirlpool-tub/shower, and hit my head multiple times around the ship. Holland America presented us with a gift certificate for three bottles of wine onboard, but since we don't drink anymore, this was wasted. We also got two free $50 soda cards, and used about $10 between us all week. Of course, none of these gifts are transferrable to our account or other things we might have wanted. The final gift item was one I forgot until then end—$300 in ship credits, so we ended our cruise with only a tiny balance on our credit card, after mandatory tipping and two shore excursions were processed. I realized that I selected poorly in picking a starboard cabin. Since the cruise is essentially a counterclockwise loop, the port side is the one usually facing land as we sailed, although it turned out we were often on the good side in ports.
Maine was drizzly and overcast, so we weren't concerned that we didn't sign up for a shore excursion. We anchored offshore and tendered in 10 minutes. We had to wait 30 minutes for our number to be called to board the tender. We walked around town to see lots of tee shirt shops. Lunch was lobster rolls and whoopie pies. There was a meatball cooking demo in the ship's dedicated culinary theater. Departure was at 3, but we were delayed an hour while the crew dealt with a rock caught in the anchor. The captain announced a fact I hadn't heard before: it is not the weight of the anchor that holds the ship. The anchor holds the chain in place and the weight of the chain holds the ship.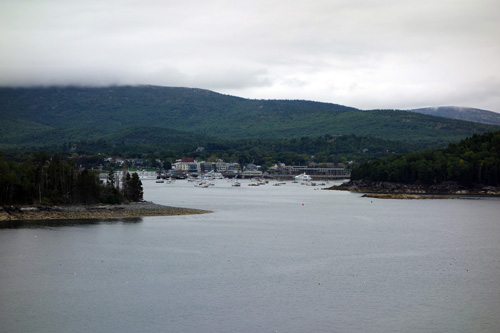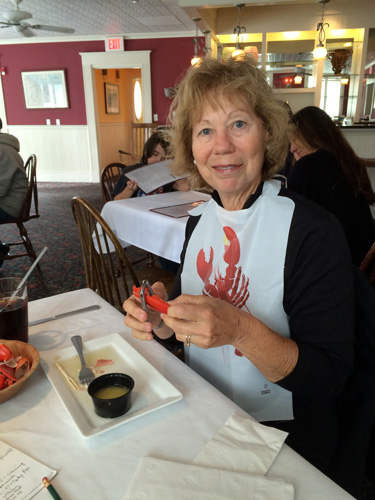 Dinner in Canaletto, a walled off area next to the Lido buffet, featuring good Italian cuisine for a modest extra fee. The "Droom" musical show was pretty lame; random pop songs with a dopey unrelated plot and weird costumes. Larry the piano man in the Mix lounge, who conducted Name that Tune with the audience; we got 14/17 points, which was second best. In another lounge there was a violinist and pianist doing excerpts from Vivaldi's Four Seasons. We lost an hour of sleep as clocks advanced that night to Atlantic Time Zone.
Monday, September 14 — Halifax, Nova Scotia
Fog all night. For the first time in my cruising memory, the ship sounded a fog horn every two minutes. Regardless, we've been sleeping pretty soundly. The fog lifted as we entered the inner harbor and we had tolerable weather all day, except for rather high humidity. The ship was greeted by bagpipers, who returned for our departure. (Nova Scotia means New Scotland, and they don't let you forget it.)
We purchased our first shore excursion, an hour tour on the Harbor Hopper, like the ubiquitous Duck tours in many US coastal cities, but instead of a World War II amphibious DUKW, we had a larger Vietnam era LARC-5. Our guide was a very entertaining college student and he was humorous and informative throughout. We spent about half the tour motoring in the harbor, passing somewhat antique navy ships and seeing buildings and bridges. Most interesting was the story of the great 1917 explosion in which a French ammo ship burned and 2900 tons of TNT went up, killing 2000 on shore, wounding 9000, and obliterating everything in an 800 meter radius. I had never heard of this catastrophe before. The Boston Commons Christmas tree is sent every year by Halifax in gratitude for the immediate medical assistance the city provided.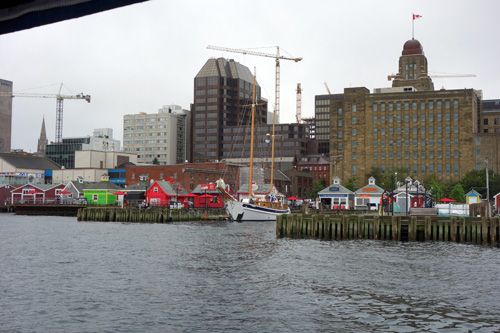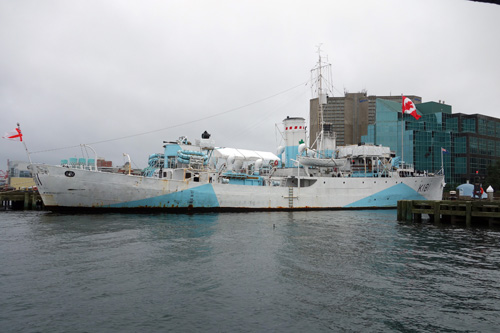 We also drove around town, including the Citadel, various parks, etc. Afterward we walked up the big hill to the Citadel, saw the firing of the Noon Gun (an 1808 12-pounder replica armed with a blank charge), and visited the small but comprehensive Army Museum, which covers wars from World War I (particularly Vimy Ridge) through Afghanistan. We had lunch on the waterfront—lobster rolls again—and dessert at COWS, supposedly the best ice cream in Atlantic Canada (or maybe they said all of Canada). It was quite good, but the added ingredients were more memorable than the base ice cream itself. Nancy had Mooey-Gooey and I had Cowie-Wowie, which were actually quite similar, but the latter won out.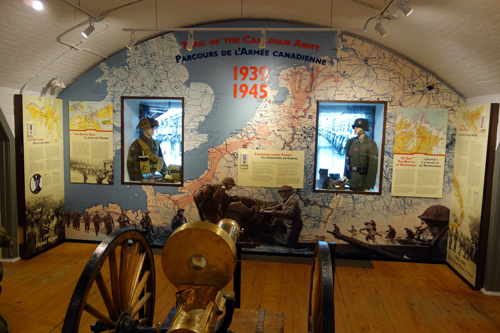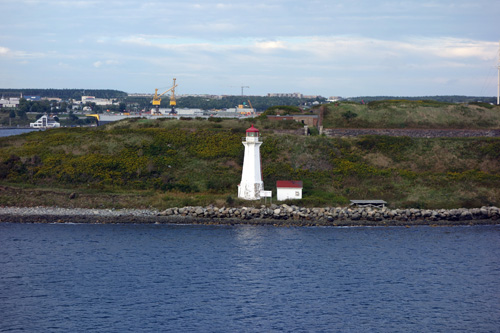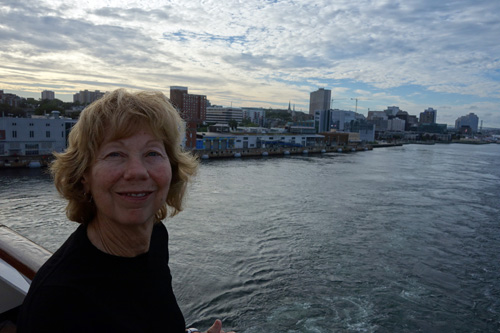 After dinner we had a concert by two local performers, Maggie and Cassie MacDonald, of Cape Breton and Celtic fiddle music. Excellent, high energy tunes, and virtuoso fiddling while dancing.
Tuesday, September 15 — Sydney, Nova Scotia
I was up early to work out in the ship's gym. I found that the treadmill is a lot more difficult than running on the ground (but at least I did not break a toe on a metal deck like I did on the previous ship). In the Lido pool area, we attended Fiddles and Flapjacks (and crêpes) with the MacDonalds again.
We arrived at 11am on Cape Breton Island, traversing the Sydney River. There was a town crier on the dock, next to a giant fiddle statue. We walked on the waterfront of the tiny town, and bought some maple fudge at a flea market in the cruise terminal. Back to the ship for lunch, serenaded by a bagpiper as we relaxed on our cabin's veranda. In the afternoon, we took a historic-town walking tour, which was rather low key. We visited the oldest house, the Jost house, a prominent minister's house, and the first Catholic Church. In the latter, we got to practice the Cape Breton anthem. We finished with tea and oat cakes provided by the local ladies' heritage group. As we departed from port, we were treated to an extended performance by an excellent opera singer!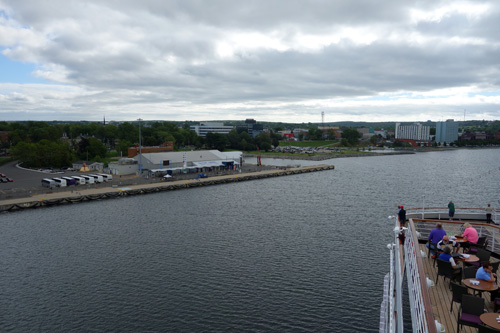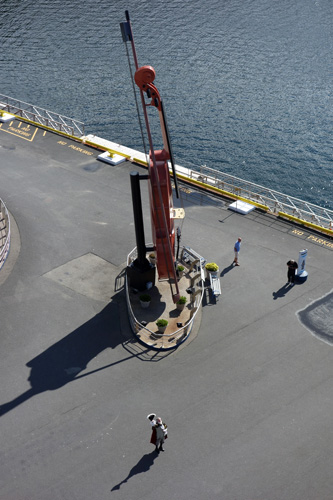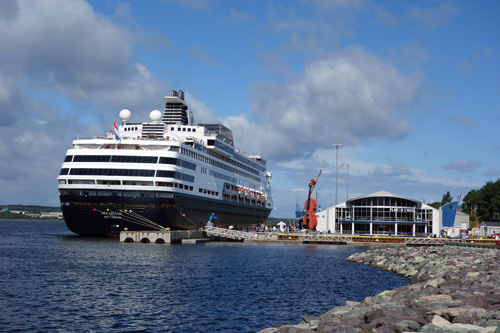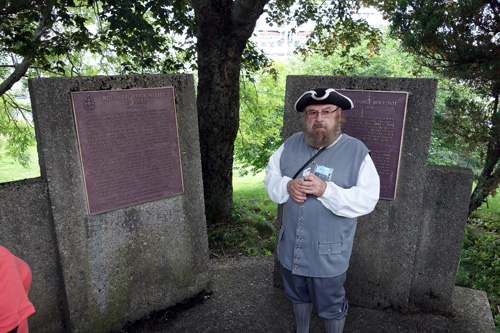 The evening show was a comedian, John Joseph, totally hilarious.
Wednesday, September 16 — Charlottetown, Prince Edward Island
Beautiful cool and sunny weather today. It's a small port and a Celebrity ship took the only pier, so we had to tender in. We decided to bypass the shore excursion process and just went down to the cruise terminal to see what was available, which turned out to be mostly what was offered by HAL, at similar prices. We took a one-hour bus tour of Charlottetown—pronounced Sharltown by our guide—which was moderately interesting, and then a 3.5-hour tour of picturesque island areas northwest of town. There are beautiful rolling hills of farm country and a national park at the shore of the Gulf of St. Lawrence. All the scenery reminded me somehow of New Zealand, very rural, relaxed, and non-commercialized.
We stopped at a preserves/jam company in New Glasgow for a tasting and shopping experience, and at the waterfront at North Rustico for a demo of lobster trapping. Then to the beach and the Green Gables park in Cavendish, site of the Anne of Green Gables novels. This is the only national park I know of to commemorate a fictional place, as if our NPS built its own Uncle Tom's Cabin. The house was actually the author's grandfather's cousin's and the park service restored and modified it to match the description in the books. On the way back, we toured through town again and we wound up at another COWS for a repeat ice cream cone experience.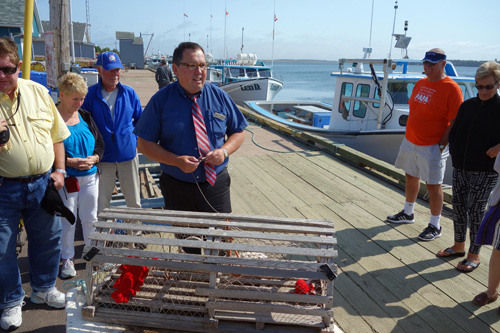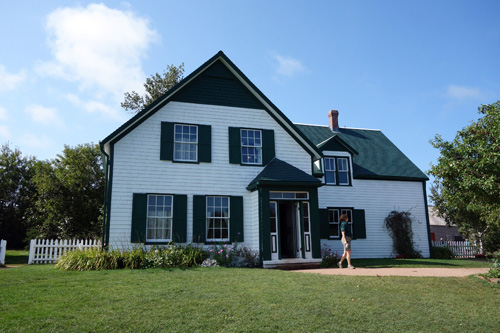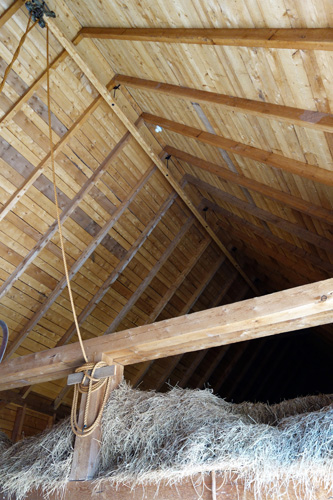 Dinner was at the Pinnacle Grill, a smallish steak/seafood extra-charge restaurant, tonight rebranded as Le Cirque, mimicking the famous New York City restaurant's menu and even place settings. We both had a delicious deconstructed lobster salad and rack of lamb. The ship passed underneath the 8-mile-long Confederation Bridge after dark and I was impressed at how precariously narrow it seemed. The late show in the theater was Fred Moore, a comic magician who did some amazing sleight of hand, but I thought he was more obnoxious than humorous. There was also an Indonesian crew show at 11, but we decided to hit the hay instead. We recovered our hour of sleep, returning to Eastern time.
Thursday, September 17 — At Sea, St. Lawrence River
I started with a brisk 2 mile walk (8 laps) on the Promenade Deck and then we enjoyed a really beautiful morning at the aft of our deck 9. It's remarkable how much quieter and private this cruise is from most others. (More elderly, too. At 66, Nancy and I are some of the youngest passengers on board.) We saw a small whale passing nearby. We stuck very close to the shore around the Gaspé Peninsula of QuébecProvince, so I was a able to get a decent Wi-Fi signal all morning. (Kudos to my new Skyroam box, which gave me $10/day Wi-Fi whenever we were within a dozen miles of land and cellular towers.) However, it was unfortunate that the river is so wide—40-80 miles—because we had hoped to see interesting riverbank views all day and could barely see anything. The narrow, interesting portion of the river began well after dark.
By noon the weather turned colder and windy so we stayed inside after lunch. Being veteran cruisers, we have little remaining interest in the typical at-sea activities, such as towel folding or jive dancing lessons, so we spent the day mostly reading.
We dined at Pinnacle again, this time with their regular menu. The meal was disappointing for me, highlighted by a mediocre steak, undercooked, stringy, and mushy. The chef passed by and offered me a replacement, but I didn't feel like waiting. The show tonight was a song and dance fest again, called "Classique," and it was pretty good.
Friday, September 18 — Québec City
We docked at 7am and had beautiful weather as well as a stunning view of the city, including the Château Frontenac, from our cabin veranda. We had no shore excursion purchased, so we walked out to look. We wandered through the Place Royale and then up a steep funicular to the Place d'Armes. There we caught a double decker hop-on-hop-off bus and took a 100-minute tour of the city, with bilingual narration. We climbed on the city ramparts near the parliament building. (Québec City is the largest fortified city in North America.) We lunched in a crêpes cafe next to the Château Frontenac and then wandered down the steep hill, using a lot of stairs, and window shopped around the Place Royale, noshing on some maple cookies. This was the warmest day of our trip so far, at least 80°F. At the ship, there was Poutine special all afternoon. Nancy wouldn't touch it, but I had a portion (of French fries) with the classic cheese and gravy. Not great, but since the ship has a way of messing up ethnic foods, I'll give it the benefit of the doubt.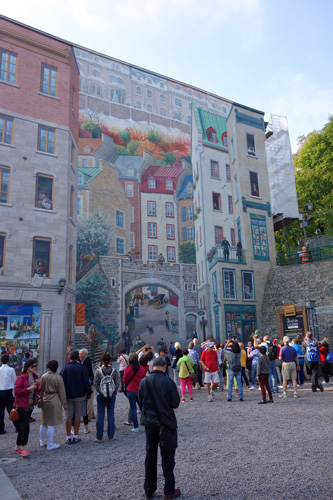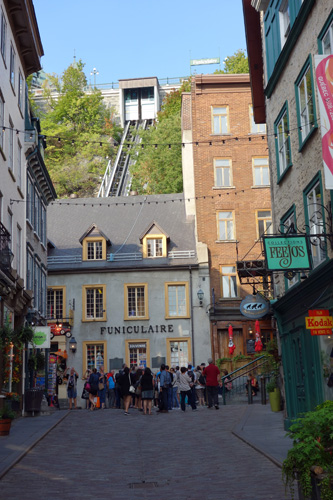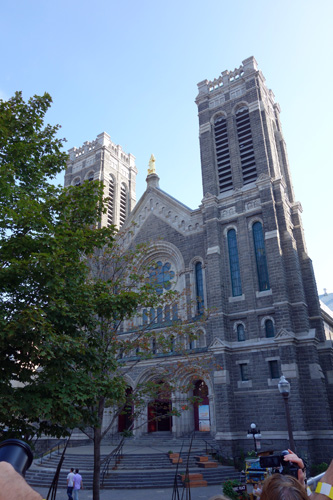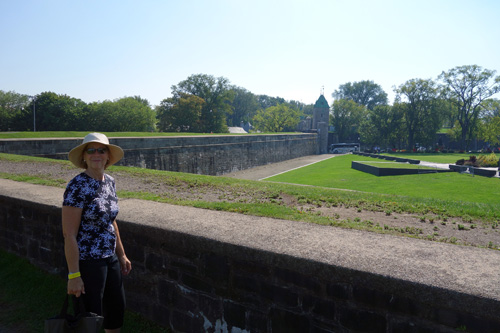 Unlike yesterday, we had great river views until dark. We enjoyed standing on the windy forward deck to watch our passage under the Québec Bridge, with only 6 feet of clearance. (There was a big NCL ship in port, disembarking passengers. They would not have fit under that bridge, so their journey ended here.) Dinner was coincidentally with the same Vancouver couple as the first night. No more baked Alaska parades, alas, but a parade of room stewards and a farewell Indonesian song. The final show was Dancing with the Stars at Sea, which featured five passenger contestants dancing with ship's dancers. Two waltzes, two jives, one samba. Two comics and an event-coordinating lady from the ship were the judges and they awarded the prize to the samba lady. A moderately good performance, which I say humbly as a non-dancer.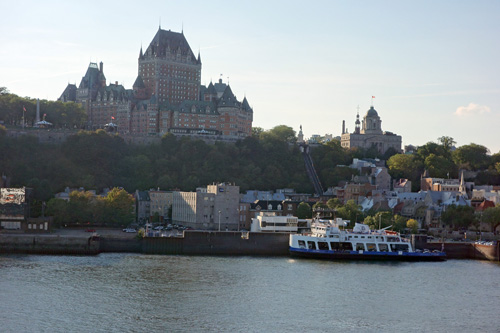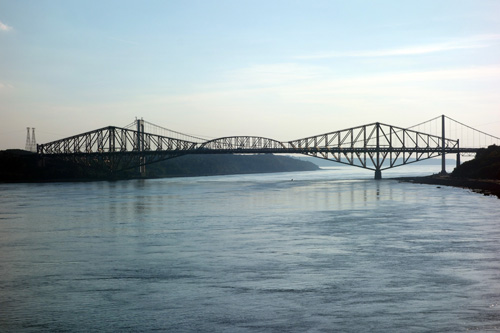 Saturday, September 19 — Montréal
Disembarkation was perfectly orderly and stress free. We got off almost last since we had no schedule to keep, and we got to stay in our cabin until then, about 9:15. The full breakfast was available in the Lido buffet. We taxied to our hotel, the L Hotel, in the old section of town and left our bags. Once again we jumped onto a hop-on-hop-off bus, taking a two-hour spin through the city highlights. We saw some particularly nice views from Mont Royal Park. We had pizza for lunch and then went over to the Place Bonaventure; I had spotted a street closure sign and just realized that a marathon was scheduled for Sunday! I was able to sign up at the Expo for the half, which will fit in well for me as a training run; I had planned to do a run in the 10 mile range on Sunday anyway if I could find a good course.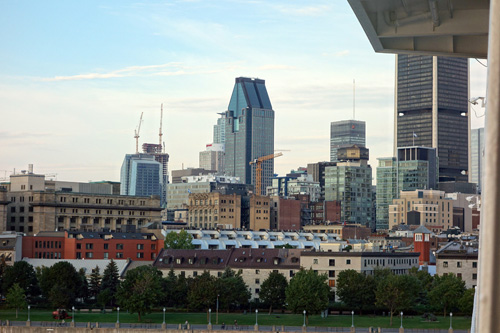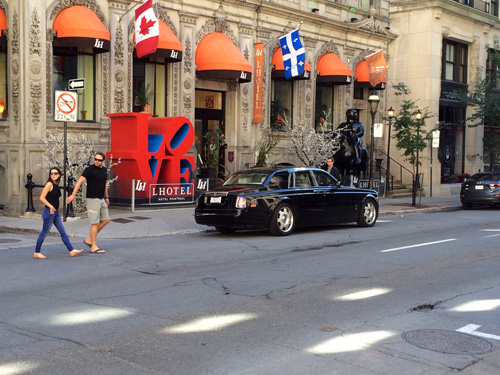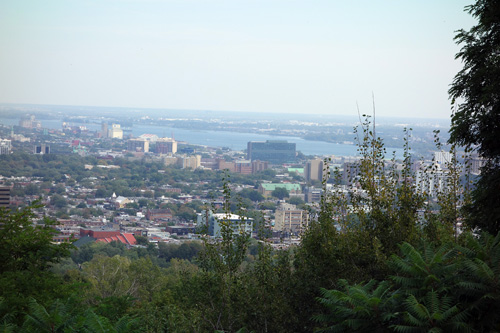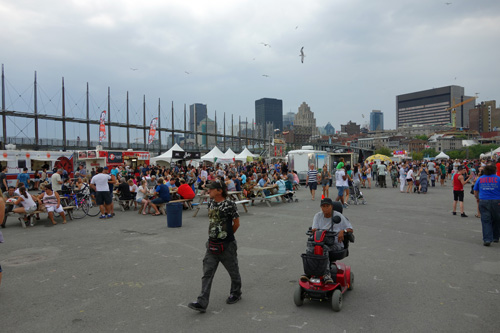 We wandered around the Old Port area. We stopped for a latte in a little cafe and then toured through a big Poutine Festival on one of the docks. Too bad that it wasn't dinner time and that it just started to rain. There were dozens of tents and food trucks and every different ethnic variation on Poutine you could imagine was on offer: Italian, Greek, Thai, Mexican, BBQ, etc. The L Hotel is very nice, with giant rooms (18-foot ceilings!) and lots of impressive modern art throughout. Dinner on the waterfront at a forgettable bar/restaurant, but dessert at a great store called Beavertails (Queues de Castor), which serves fried dough shaped like—you guessed it—covered with a variety of very sweet toppings, such as maple butter with a chocolate swirl. Excellent!
Sunday, September 20 — Montréal
I took the metro to the southern bank of the St. Lawrence River and walked about a half mile onto the Jacques Cartier Bridge, where the corrals were lined up. I was assigned to #5, which I assumed was in the rear, but to my surprise, there were 26 corrals, stretched out farther than the eye could see! My late entry caused me to get a random assignment, so I started running only about 8 minutes after the gun—8:38—rather than what seemed like 45 minutes for people near the end. This was nice, but the start was pretty fast and I was passed throughout, like a rock in a flowing stream. It was only after mile 10 that I passed a few exhausted folks. I heard six "Go Teams" and met a few other purple shirts and a coach. Of the 22,000 runners, only a tiny handful were participating in Teams in Training. There were, however, quite a large number of very attractive and fit young women chattering in French, so the whole experience was worth it just for that.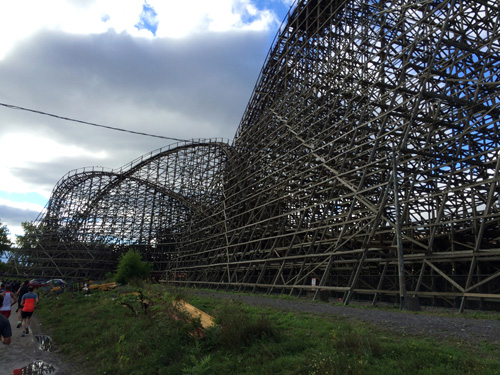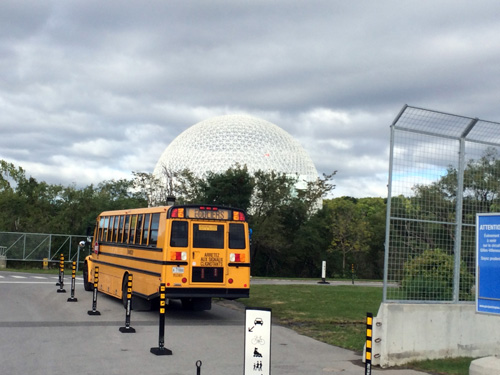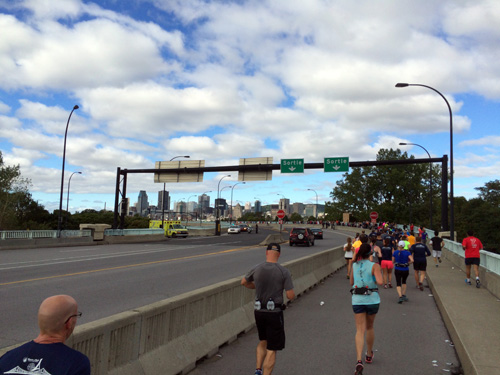 The weather was perfect and the scenery very interesting, mostly flat on the two islands in the river (Île Sainte-Hélène and Île Notre-Dame) and on the waterfront. There was a hill for the last mile, rising to La Fontaine Park. My only negative incident involved Gu. I bought some at the race expo and thought it was cool to get a Canadian flavor, maple bacon. But within a half mile it tried to come back up; I suppressed this, but it irritated my throat and gave me a severe coughing fit for quite awhile until I remembered that I had cough drops in my fanny pack! Nevertheless, I did OK for a race that followed a week of leisure and gluttony on a cruise ship, 2:38:34, or about an 11:55 pace by my watch. I finished in the bottom 28%, but since I often languish in the bottom 10%, that's an improvement. I was 42/66 in my elderly age group.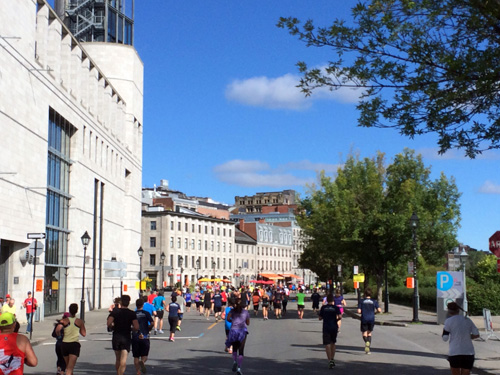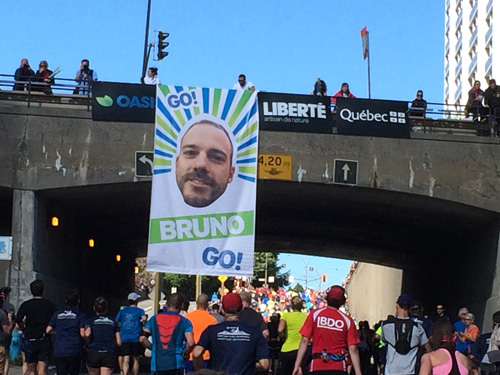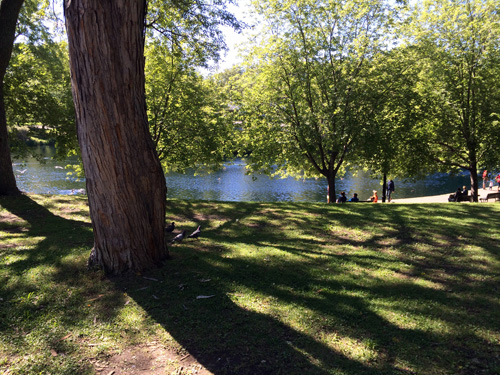 It took quite a while to locate Nancy in the frenetic park, and then to go home via a long walk and the metro; the race folks provided us free metro cards usable all day. After a shower we took a pleasant 90-minute boat tour of the river and got another beavertail. Dinner in Old Montréal was an excellent steak at The Keg, which is part of a Canadian chain, and dessert at a shop specializing in maple syrup.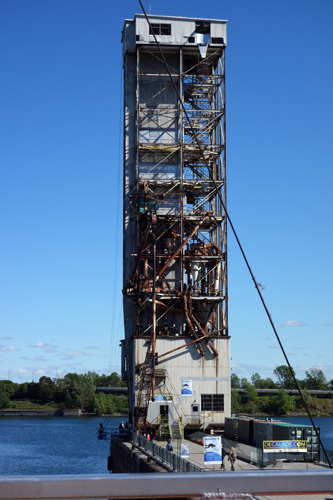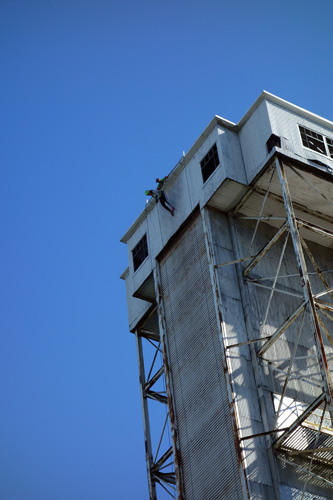 Monday, September 21 — Montréal and home
Not much to do on a Monday morning. Two of the art museums we were interested in are closed today. We slept late, packed, and found breakfast down the street. I thought about traveling out a few miles to Schwartz's Deli for their famous "smoked meat" (beef brisket, actually), but decided I didn't want to carry the extra weight on the plane. We visited Marché Bonsecours, which is in an interesting old building, but it is populated only by highly tourist-oriented clothing and souvenir shops. Then we staked out a park bench and basked in the beautiful weather. Back to the airport using Uber again and we enjoyed a completely uneventful return home through Chicago.
We had a really nice time on our trip of almost two weeks. All of the Canadian ports were interesting to one degree or another, with Québec City and Montréal being the highlights, and Charlottetown being a respectable third. All of the Canadians we met (with the exception of some rather ubiquitous beggars in Montréal) were friendly and helpful, but I was disappointed that not a single person said "Eh." The ship was a nice, comfortable, almost sedate experience, and once again I will consider returning to Holland America for a future cruise, particularly on a midsize ship like the Maasdam. I am amazed to report that I ended the two weeks 1 pound lighter than when I started! (I have not asked Nancy for her status in this regard.)