2015 Civil War Travelogues — Blue and Gray Education Society, Mobile
Welcome to my 2015 travelogue pages, commemorating the fifth year of the Civil War Sesquicentennial! This report covers my October trip to the Blue and Gray Education Society program "The Battles for Mobile, Last Port on the Gulf," my eleventh outing with BGES. To see the entire list of my 2015 trips, go here.
Here is a reminder about the reason I write these pages the way I do. They record my experiences and impressions of Civil War trips primarily for my future use. Thus, they sometimes make assumptions about things I already know and focus on insights that I receive. They are not general-purpose descriptions for people unfamiliar with the Civil War, although I do link to various Wikipedia articles throughout. Apologies about the quality of interior photographs—I don't take fancy cameras with big flashes to these events.
If you would like to be notified of new travelogues, connect to me via Facebook.
Monday, October 26 – to Mobile, Alabama
I flew United Airlines through Houston to Mobile. I worried about the after effects of Hurricane Patricia, but there were no delays. The airport is about 45 minutes outside the city when traffic does not cooperate, and I think I hit every red light along the way. The group hotel is the Holiday Inn Downtown on Gubmint Street. I walked in the rain on Dauphin Street (2 blocks away) to find dinner, but quite a number of the restaurants were closed on Monday night. I ended up at a sports bar, which would usually not be my first choice, but was fine for a sandwich.
Tuesday, October 27 – Around Mobile
I'm here early because I wanted to check out Mobile before the tour starts on Wednesday evening. Unfortunately, when I considered the long list of interesting places to visit, I was not paying close attention to the itinerary for our tour, and there turned out to be very considerable overlap. So that aspect and the chancy weather reduced my choices quite a bit. I spent the morning through early afternoon at GulfQuest, which is a large maritime museum that opened just last month. The modern building tries to be reminiscent of a container ship, and that is the primary set of exhibits about the Gulf of Mexico—shipping and navigation, with only a very small amount of history and regional culture thrown in. There were a number of hands-on exhibits that covered topics such as navigation tools, naval knot tying, basics of sailing, etc. There was also a very impressive simulator room that allowed you to sail your own ship or tugboat, with immersive video screens, extensive ship controls, radar, and navigational charts. A nice young girl tried to walk me through it, but I found that it was really complicated and I embarrassed myself by getting nothing accomplished beyond avoiding collision or grounding.
A gloomy first day in Mobile,
as seen from my hotel room
A statue of Raphael Semmes at the Bankhead tunnel
| | |
| --- | --- |
| | |
| GulfQuest and the offending freight train finally passing | A cool 3-D moving weather map |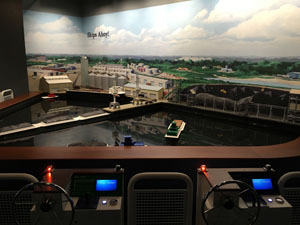 Navigation exercise
View of the shipyards from the 5th deck
Fortunately, I found that there were fewer than a dozen visitors to the museum while I was there, so I got to spend as much time interacting with exhibits as I desired. When I walked out of the museum I embarrassed myself again—when I went in originally, the parking lot entrance was blocked by a parked freight train, and I somehow managed to find the patience to wait over 30 minutes before it moved. When I was finished, I found that there was a simple pedestrian bypass that would've allowed me to miss that delay entirely. While on the waterfront, I had an interesting view of the Austal shipyards where they are building Littoral Combat Ships, some of the Navy's newest. I was really surprised to see that they were constructed from aluminum!
| | |
| --- | --- |
| | |
| Some Littoral Combat Ships | A modest city park monument to the Battle of Mobile Bay |
After lunch I linked up with BGES Executive Director Len Riedel, who just completed a 13-hour drive from Virginia. We swapped cartography stories for a while and planned dinner. For the rest of the afternoon, I visited Battleship Memorial Park, a couple of miles from the hotel. This is the resting place of the USS Alabama and lots of miscellaneous military hardware. The Alabama was awesome and in pretty good shape, considering. I only hit my head once on the self-guided tour; of the three itineraries available, I chose the one that mostly went up into the superstructure, rather than down into the bowels of the ship. There was still a lot of ladder climbing to go up and down eight decks. My big feet made the climbing down much more precarious. I was disappointed to see that there were no transgender bathrooms provided for the sailors. It was different, callous era.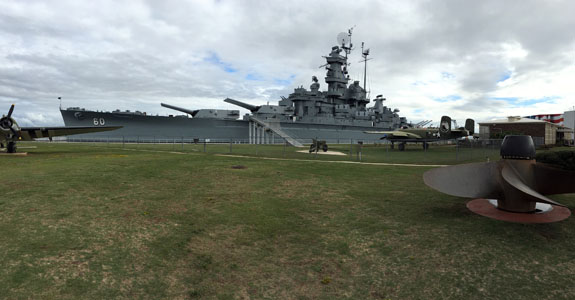 USS Alabama
| | |
| --- | --- |
| | |
| Close up of the superstructure | Models of some previous Alabamas |
| | |
| --- | --- |
| | |
| Model of the current ship | View of some of the other military hardware |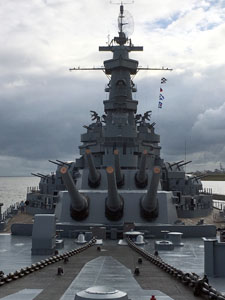 Awesome 15 inch gun turrets
| | |
| --- | --- |
| | |
| The captain's cabin | Officers mess |
| | |
| --- | --- |
| | |
| SR 71 Blackbird the aviation hangar | Modern warplanes |
| | |
| --- | --- |
| | |
| Model of the H.L. Hunley in front of the USS Drum | A badass B-52 |
This M60 tank was from my Army era (M26 Pershing in the background)
Dinner with Len at Felix's Fish Camp restaurant on the causeway. Excellent snapper creole, fried green tomatoes, and coconut bread pudding.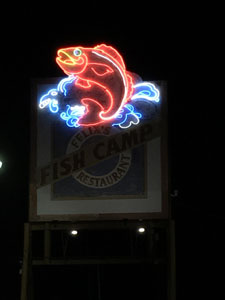 Not a great photograph, but I love this fish
Wednesday, October 28 – Beauvoir
I drove on US 90 through Pascagoula and Biloxi to Beauvoir, Jefferson Davis's home after he got out of prison. I was surprised to see how built up the casino industry is in Biloxi. Some of those hotel casinos were Yuuuuuge! A beautiful day and beautiful scenery whenever I got near the Gulf. Temperatures were pleasant all week with no humidity to speak of, so I think I didn't get a representative look at Gulf life.
I took a tour of the house, which is quite nice. The guide talked a lot about Hurricane Katrina, which seems to be a bigger deal than the Civil War here. The house is mostly fully restored, although a few outer buildings had to be reproduced following total destruction from the winds and 23-foot storm surge. The first floor of the house is 22 feet above sea level, up on pilings. Interesting to note, this was done for air-conditioning purposes, not protection from the sea.
| | |
| --- | --- |
| | |
| Davis in later life | Beauvoir |

The Beauvoir outbuildings were destroyed in the hurricane
| | |
| --- | --- |
| | |
| Davis and young recruits | Interior of the house |
| | |
| --- | --- |
| | |
| Bedroom | Another |
I walked through the Confederate cemetery and saw a tomb of an unknown soldier (I'd say The, but I think there are others elsewhere) and then visited a large collection of farm animals out loose for petting—miniature horses and ponies, a couple of Tennessee Walkers, goats, sheep, turkeys, peacocks (the kind Davis liked to eat!). The most interesting animal was Sir Camelot, a 19-month-old camel who reminds us that Jefferson Davis, while US Secretary of War, attempted to pioneer a US Camel Corps in the Southwest desert. The name was selected by some schoolchildren, which I think was a mistake. (I would've preferred to name him Braxton Bragg or some other name with a Civil War theme.) I also watched an interesting movie called Jefferson Davis, American President.
| | |
| --- | --- |
| | |
| Entrance to the Confederate cemetery | Tomb of an unknown soldier |
| | |
| --- | --- |
| | |
| Confederate cemetery | y |
| | |
| --- | --- |
| | |
| Peacock, one of Davis's favorite meals | Some lazy goats |
| | |
| --- | --- |
| | |
| Sir Camelot | and his attendant |
| | |
| --- | --- |
| | |
| Miniature pony | Some nice sheep |
| | |
| --- | --- |
| | |
| More | Tennessee Walker |
| | |
| --- | --- |
| | |
| A turkey outside the gift shop | The presidential library and visitor center |
Large outdoor portrait
The BGES program started at 6 PM, although there was a delay while Len Riedel got stuck in traffic and we had a bunch of difficulties getting the PowerPoint presentation working with Len's new laptop and projector. Stephen Wise is our main historian for the week and he gave two presentations: The history of Mobile, including the cotton industry, secession, blockade runners, defenses of the city, forts, Navy ships and personnel, etc., and; a pretty comprehensive description of the action during the Battle of Mobile Bay. Since we were running late tonight, we had dinner in the hotel restaurant, which was acceptable, but uninteresting.
Thursday, October 29 – Museum, Forts Morgan and Gaines
This morning we drove three or four blocks to the Mobile Museum. It has a pretty decent history of the city, with lots of detail, almost year by year. There's a lot of history to tell, because the city changed hands between six countries over the years, as well as the Civil War, Reconstruction, Depression, Civil Rights, etc. There were small exhibits about the naval battle, but also the H.L. Hunley and the CSS Alabama. A big exhibit about King Tut had many beautiful items on loan from the Cairo Museum.
A cool eagle statue in the Mobile Museum

USS Hartford, CSS Tennessee,
USS Tecumseh
| | |
| --- | --- |
| | |
| Adm. Franklin Buchanan commanded Tennessee | Ship cannon display |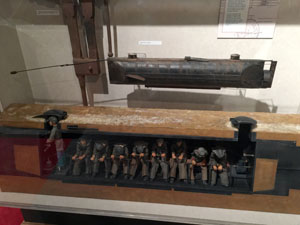 A model of the H.L. Hunley, the early submarine built in Mobile
We hit the road in a brand new Ford Transit van and crossed the bay. We lunched at a decent spot called Hog Wild BBQ in Orange Beach. This is quite a built up tourist area, which I hadn't heard about previously. At Mobile Point we visited Fort Morgan, the principal Third System fort guarding the harbor entrance. It was quite impressive and attractive, but like many of these brick forts, it was modified in the late 19th century with what are called Endicott fortifications—massive concrete blockhouses with disappearing gun carriages—that completely detract from the original appearance. Morgan had four large batteries added. The old casemates were in good shape; it was interesting to hear that these had no guns in them. The guns were all on the ramparts or in separate water batteries. Stephen gave us another explanation of the naval battle, which seemed even more relatable because we were seeing it on the actual terrain (well, water too). There is a yellow buoy near shore that marks where the USS Tecumseh monitor hit a torpedo (naval mine) and sank with most aboard. The shoreline is a couple of hundred yards farther away from the fort than it was in 1864.

Fort Morgan panorama
| | |
| --- | --- |
| | |
| Fort Morgan | Stephen Wise at Fort Morgan |
| | |
| --- | --- |
| | |
| Len Riedel and Stephen Wise (Tecumseh buoy barely visible in center) | The passing ferryboat looked a lot like silhouette of CSS Tennessee |
| | |
| --- | --- |
| | |
| Casemate | Fort entrance |
| | |
| --- | --- |
| | |
| Dry moat | Dry moat |
Union siege lines facing the fort
We then took a 40-minute ferry ride to Dauphin Island, the other end of the harbor mouth, to visit Fort Gaines. This fort saw no action in the naval battle, but Union troops were landed on the island and they laid it under siege, after which it soon surrendered. Stephen gave us a brief introduction and then we had an hour to wander around the fort. This one is in much better shape than Morgan. Although it does have one large Endicott battery marring its original look, it somehow seemed more pristine. There were a couple of large mortars on display outside and Stephen opined that one of them may have been the mortar that fired to signal the start of the battle of Fort Sumter.
| | |
| --- | --- |
| | |
| Ferry arriving to pick us up | View of Fort Morgan from the ferry |
| | |
| --- | --- |
| | |
| Ferry interior | Len and one of many drilling platforms in the bay |
| | |
| --- | --- |
| | |
| A close-up of the drilling platform | Approaching Fort Gaines |

Fort Gaines exterior

Interior
| | |
| --- | --- |
| | |
| Anchor from the USS Hartford | Living quarters |
| | |
| --- | --- |
| | |
| Interior shot | Bridge to coastal gun |
| | |
| --- | --- |
| | |
| Coastal gun | Moat |
On the way back to the hotel we stopped at Magnolia Cemetery, specifically to find the grave of Gen. Braxton Bragg.
Confederate portion of Magnolia Cemetery
| | |
| --- | --- |
| | |
| Mobile Rifle Company Memorial | Braxton Bragg's grave |
The trip around the bay was over 80 miles. We had a group dinner at the Original Oyster House on the causeway and the food was excellent, but I ate way too much. I particularly liked their "fire-grilled oysters," topped with garlic and Parmesan cheese.
Friday, October 30 – Pensacola
We went to Pensacola today, at the Naval Air Station. We visited Fort Barrancas and its Advanced Redoubt. Both are in really excellent shape. We got a guided tour of the Redoubt and some were disappointed that we could not go through the tunnel between the scarp and the counterscarp—our 5'2" guide, Amanda, said that even she had to stoop to go through and that there were snakes and bats and flooding down there. This was an interesting tour because we had to be locked inside the fort so that Amanda could be certain that no one was left behind when we left. Fort Pickens at the mouth of the harbor is still inaccessible because of the recent hurricane, but we got a distant view of it from Barrancas.
| | |
| --- | --- |
| | |
| Fort Barrancas | Fort Barrancas |

Fort Barrancas and water battery
| | |
| --- | --- |
| | |
| Cannon viewing Fort Pickens in the distance | Fort Barrancas model |

Fort Barrancas interior
Fort Barrancas water battery
| | |
| --- | --- |
| | |
| One of these mortars might have fired on Fort Sumter | Advanced Redoubt |
| | |
| --- | --- |
| | |
| Amanda the tour guide | Entrance to the redoubt |
Off the normal Civil War path, we also spent an afternoon at the National Naval Aviation Museum. Awesome. I took a guided tour with a Korean War era fighter pilot named Hal Meyer, and he had many interesting stories to correspond to historic aircraft, such as the first Navy plane from 1911, a Sopwith Camel from World War I, and the first plane to fly across the Atlantic. There was a lot of World War II stuff that was very interesting and I was intrigued to find that many of the aircraft they have on display had actually been shot down or otherwise crashed into the sea and restored after tens of thousands of hours of volunteer work. (Apparently, when a plane survived a war, they simply scrapped it, so only the long-neglected ones are available.)
| | |
| --- | --- |
| | |
| Simulated Air Force officers club | The large wooden plane in the rear was the first to cross the Atlantic |
| | |
| --- | --- |
| | |
| Blue Angels | Hal Meyer, our tour guide |
| | |
| --- | --- |
| | |
| A Stearman (one of my late father-in-law's favorite planes) | Modern Blue Angel |
| | |
| --- | --- |
| | |
| Lots of | interesting planes |
A number of us had a reservation for the flightline tour, so I had to bail out on the fighter pilot, which I came to regret because the outdoor portion of the tour was not nearly as interesting. It was not on the live NAS flightline as we had expected, but instead viewed aircraft in a parking lot while the trolley-car bus drove by. Some others in our group watched an IMAX movie about D-Day. I will probably want to go back someday because the 3 1/2 hours we spent were not nearly enough. And Pickens is still out there.
Our final activity for the day was to follow the Union column under General Frederick Steele that left Pensacola and eventually wound up at Ford Blakely. I'm sorry to say that this 80 mile trip on modern roads was not really worth the time we spent. We had another group dinner on the causeway, this time in Ed's Seafood Shed, and once again the food was excellent. This time, I was able to pace myself and did not overeat, despite vigorous criticism from my colleagues.
Saturday, October 31 – Spanish Fort and Fort Blakely
Happy Halloween! We drove over to Spanish Fort and were delighted to find that Fort McDermott (which protected the rear of the old Spanish Fort) has been beautifully preserved by the local Sons of Confederate Veterans and some Eagle Scout projects. Remarking about previous visits, some of the guys said that it was totally overgrown before, but now it was nice and clear and the earthworks are magnificent. The interpretive signs are definitely not modern PC.
| | |
| --- | --- |
| | |
| Approaching Fort McDermott | Still approaching |
| | |
| --- | --- |
| | |
| Stephen Wise at Fort McDermott | Fort diagram |
Magnificent earthworks at Fort McDermott
We also visited Fort Blakely, a couple of miles north. This is a now a state park that seems to concentrate more on civilian camping than the battle, which was the final major battle of the war, on April 9, 1865, the same day Lee surrendered at Appomattox. Our first stop was an area of preserved zig-zag earthworks, the position of the 15th Massachusetts Battery, and then we walked across the field to Redoubt No. 4. In both areas it was apparent that reenactors had modified or enhanced the earthworks over the years, so it was not clear what was real, but it was reminiscent of realistic. We took a walk down along the Tensaw River on a rickety boardwalk and discussed the final actions of the campaign.
| | |
| --- | --- |
| | |
| 15th Massachusetts Battery position | Another view |
| | |
| --- | --- |
| | |
| Redoubt number 4 | Some of these earthworks were obviously reconstructed |
View of the Tensaw River
Lunch was in Spanish Fork at a Cajun restaurant called Boudreaux's. I was certainly tempted by the Cajun dishes, but I had to try the special Nuclear Burger as a personal challenge, which had stuffed-in jalapeños and habaneros, and cheese with ghost pepper. Sadly, it was not as hot as I had expected.
After lunch we followed a trail of Confederate surrenders. First was the town of Kushla, northwest of Mobile. Here, Confederate General Richard Taylor arrived after 110 miles on a railroad pushcart to agree to a truce with Union General Canby. They hoped to agree to the same generous surrender terms that William T. Sherman had offered to Joseph E. Johnston in North Carolina. They met at the Jacob Magee farm on April 29, and we had a long discussion about the pending sale of the property. It is the only one of the three major surrender sites in which the actual building is still standing, so Len was noodling around with ideas about purchasing the property and how it could be preserved and maintained. We could not get very close to the house because of no-trespassing signs put up by the real estate agent. On May 4, Johnston and Canby had to meet again because the original surrender terms were rejected by the War Department. This time it was in Citronelle, Alabama, where a plaque commemorates the event. Len suspects that it actually occurred about a mile north at the railroad depot, not the Boy Scout camp where the plaque stands today.
| | |
| --- | --- |
| | |
| Magee Farm property for sale | The final surrender |
The day concluded with a final group dinner, this time downtown at Wintzell's Oyster House, where I had a stupendous plate of 16 oysters cooked/grilled in 4 different styles. We were sweating a tornado watch in southern Alabama, but just got slightly wet on the walk back to the hotel.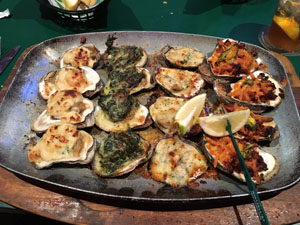 My farewell dinner
Sunday, November 1 – Back Home
Daylight Saving Time ended so I got an extra hour of sleep, which I needed because I left for the airport before 6 am. I flew back through Houston again and there were no problems.
Our three days were fun and educational, although in typical BGES fashion, we drove over 500 miles, which was a bit tiring. Many thanks to my friend Len Riedel for allowing me to ride in the front seat with legroom and play GPS navigator. Unlike many of my previous trips, the battles we covered this week were ones I had virtually no familiarity with.
I currently have no more 2015 Civil War trips planned, other than the Richmond Marathon on November 14. Watch my Facebook page for ideas of trips in 2016.