San Luis Obispo Marathon
Here's a summary of my running of the San Luis Obispo marathon. My detailed training log in preparation follows below.
I am extremely happy to report that I completed the marathon successfully. If you will recall from last year, I ran this race and had to drop out before the end. I encountered debilitating back pain starting around mile 14 and hoped to complete the race by walking, but by mile 22 or so I could not even walk, so medical personnel swept me from the field (in the "sag" wagon, as they say). I was so upset by this experience that I tentatively decided to run no more marathons, restricting myself to half marathons in the future. But I had an opportunity to run the New York City marathon, which I completed successfully, so I got back on the marathon bandwagon and decided to repeat San Luis Obispo (SLO) until I got it right. The short story is that I ran without back difficulty and in fact completed the race with a personal record (PR) as the fastest race I have run in the United States. (I was able to complete the Royal Victoria Marathon in Canada with an even faster time, but that was an abnormally easy, flat-as-a-pancake course to run, so I'll take the PR here with an asterisk.)
My wife Nancy and I drove to SLO on Saturday, April 26, and we checked into the Madonna Inn, which had been booked by TNT for many of the participants. This is quite an eclectic hotel, where every room is decorated uniquely and whimsically. Our room was called the Highway Room, which was decorated with pictures of California highway construction and had a giant stone fireplace, as well as a shower that was built entirely out of large stones, reminiscent of a cave. One of my fellow runners reported that her room was decorated with a large gnome. That night there was a large Inspiration Dinner for TNT, in which the 125 team runners and their families ate a nice buffet pasta dinner and heard some inspirational speeches about the race.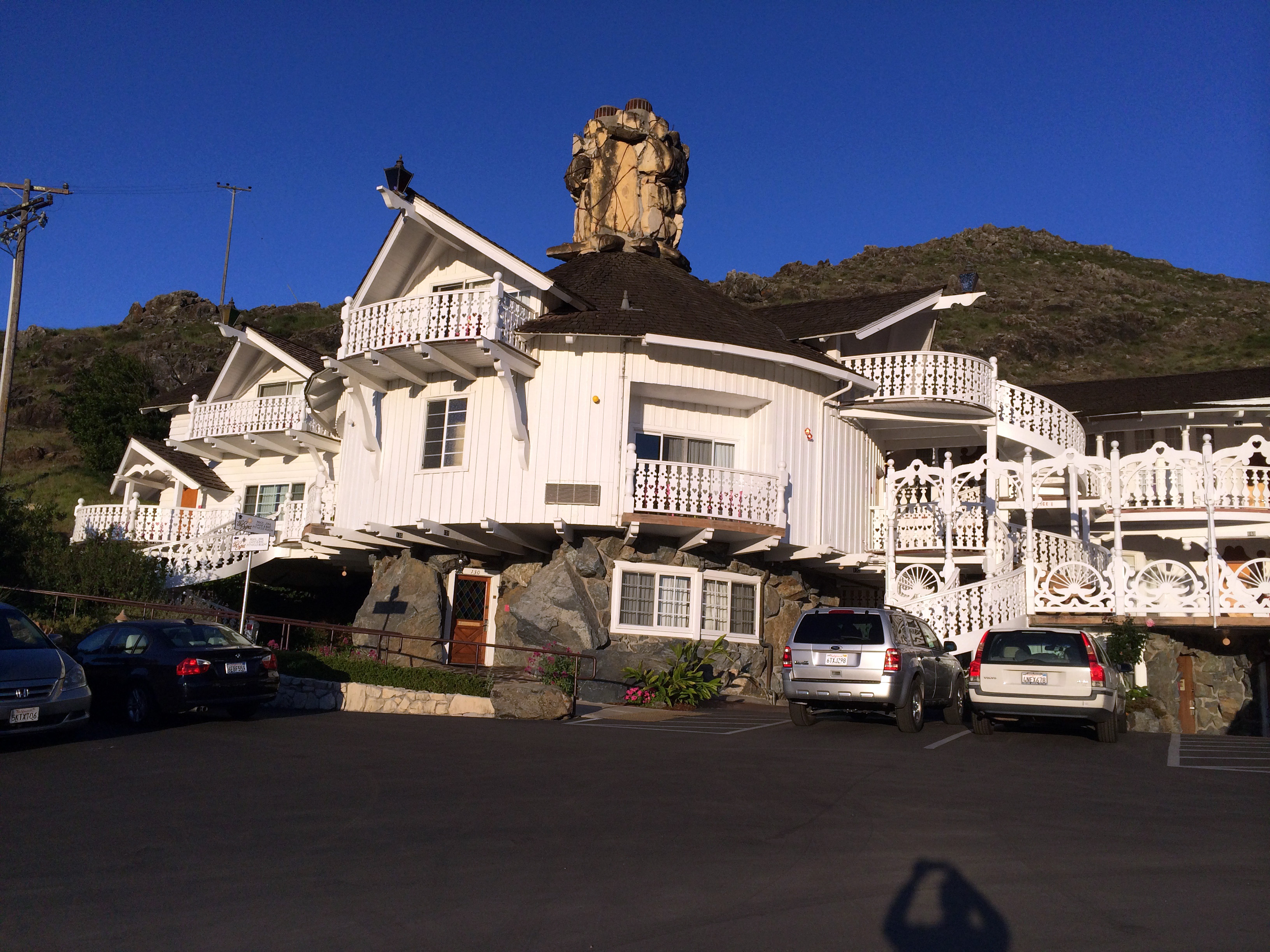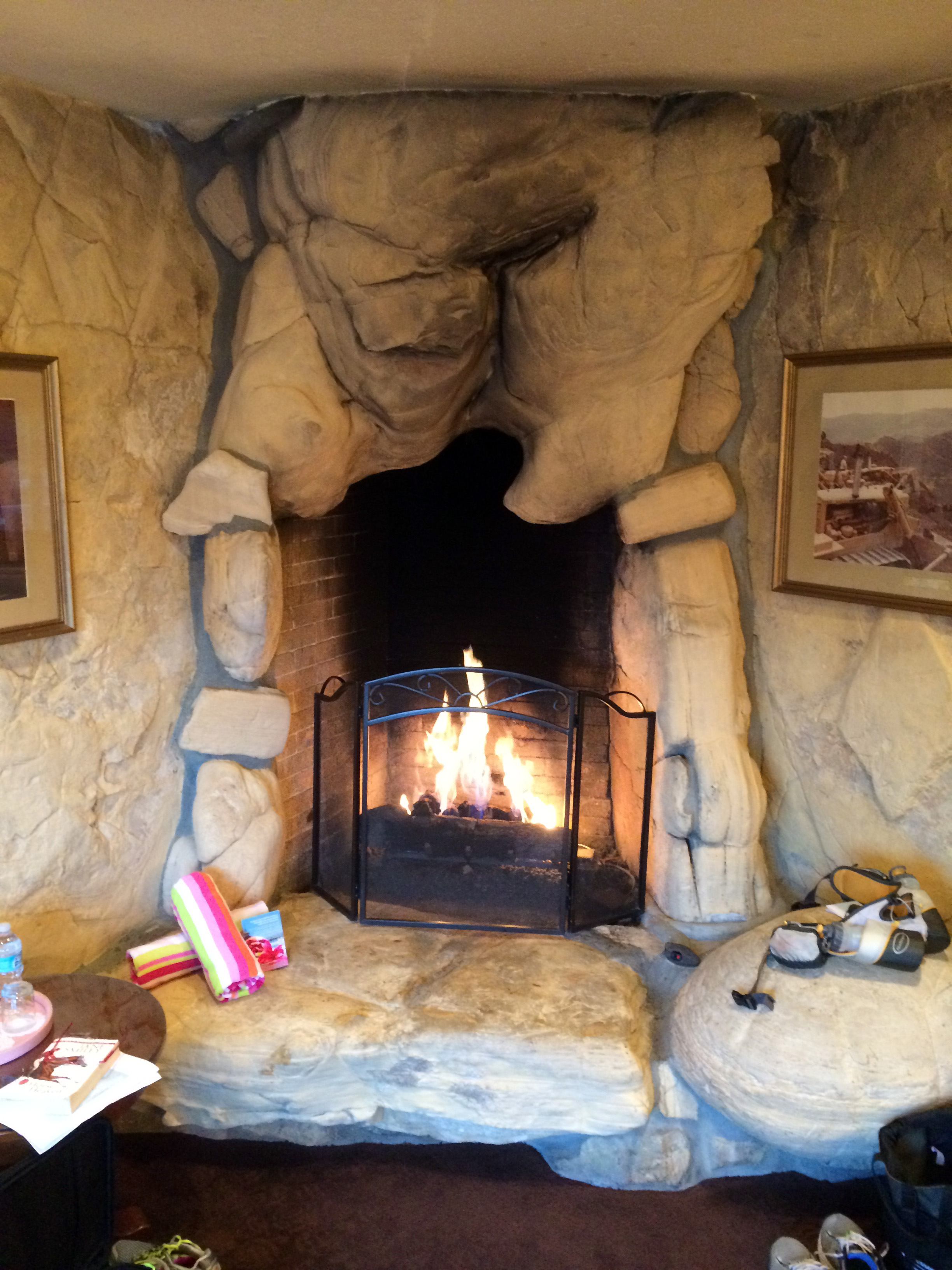 I got up early on Sunday to catch the shuttle bus. TNT is somewhat like the Army in terms of scheduling. When the brigade has to start marching at 6 AM, the battalion commander has everyone assemble at 5:30 AM, the company commander has his company assemble at 5 AM, the platoon leader at 4:30 AM, and the squad leader gets his people up at 3 AM in order to meet the schedule. So we had to gather as a team at 4 AM in order to catch a shuttle bus that left at 4:30 AM, which would arrive at the starting line 2 miles away at 4:45 AM, even though the race did not start until 6 AM. Fortunately, the weather was reasonably pleasant, dry and in the low 50°s, with relatively calm winds, so hanging around was not much of a problem. It was amusing that the bus driver did not know where he was going. He was told that the race started at the high school, but was not given guidance about what roads would be closed, so he had to ask the passengers for directions and we ended up having to drive through the race corrals to reach the appropriate spot.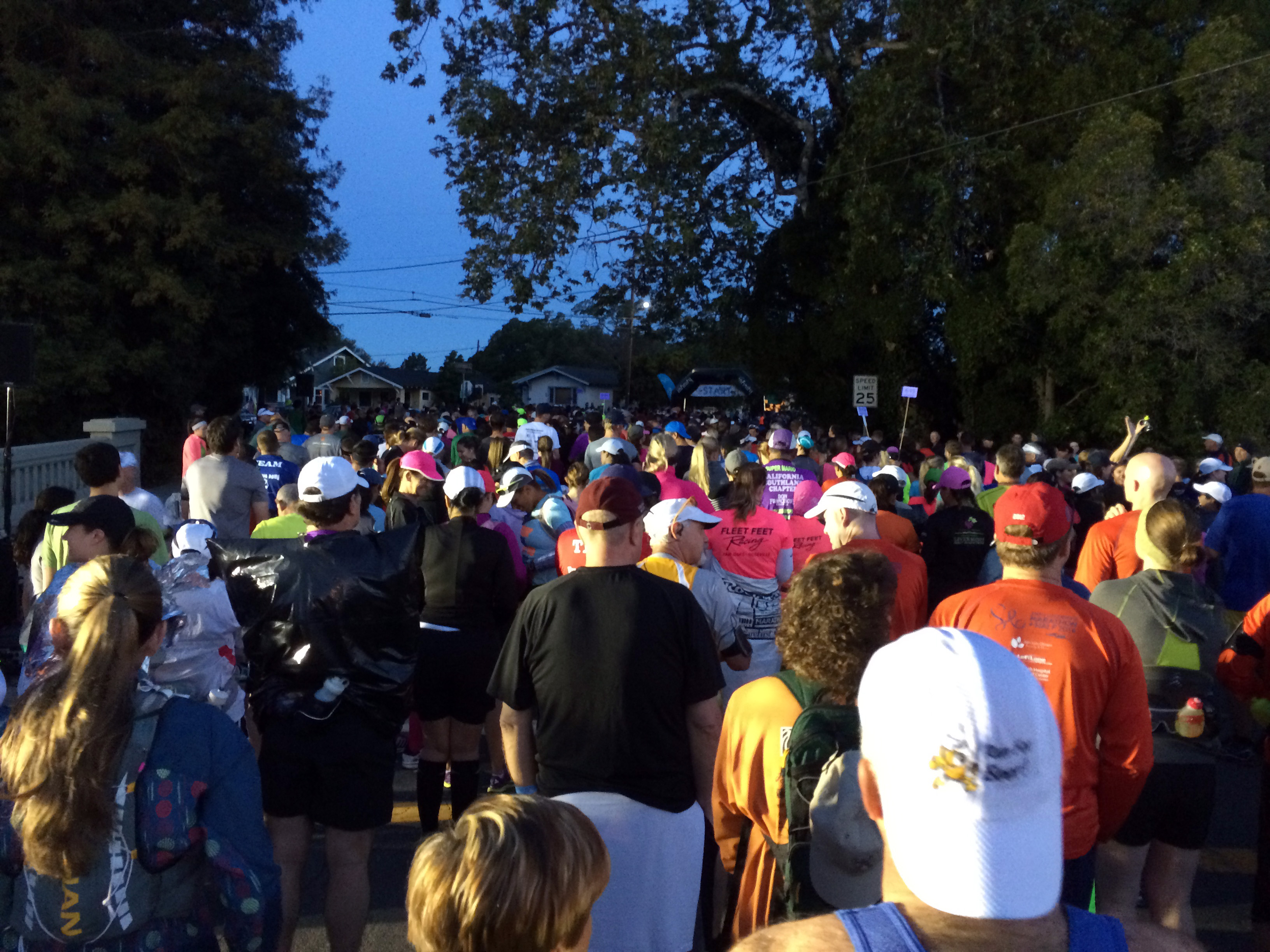 The starting gun was 15 minutes before dawn and we spent the first few miles winding around the downtown streets of the pleasant little college town. Then we hit a variety of hills and headed out southeast into the Edna Valley as the sun rose. Beautiful country, with vineyards and grazing cows and horses on rolling hills all along the way. This was one of the hillier courses I have run, which contributed to my back problems last time, I am sure. My strategy this time was to walk (briskly) up the steeper hills and attempt to make up time by increasing my pace on the downhills. This seemed to work because I kept up a good overall pace—12 min./mile or 5 mph—through about mile 22. I don't know for sure that this was the sole answer to my problem because I made a number of other changes since last year, including more salt intake, a different hydration belt, ingesting a pill called SportLegs, taking more Aleve pain tablets, and doing a bit more core strength exercises during training. The other factor out of my control was that the wind was dramatically calmer this year.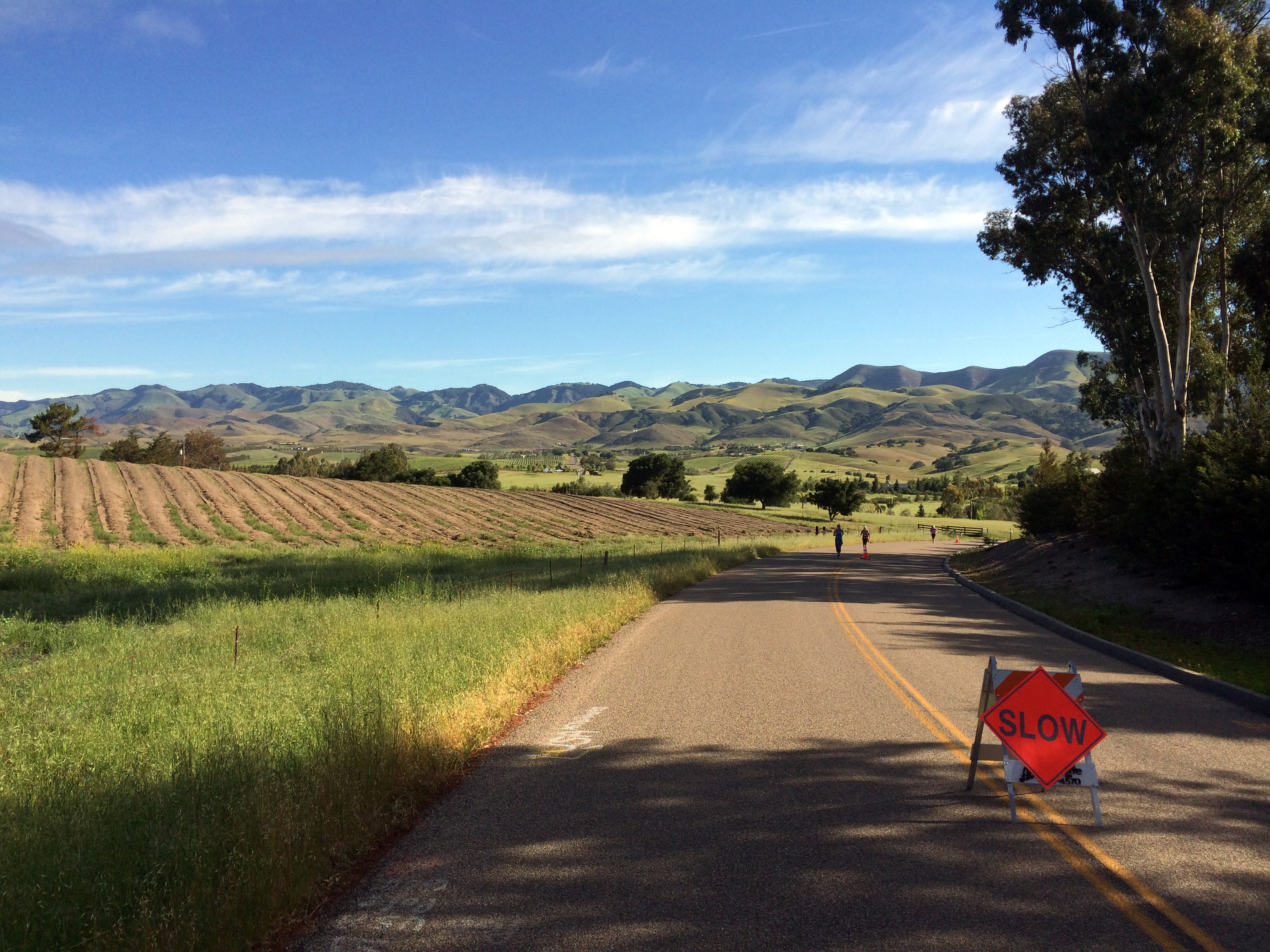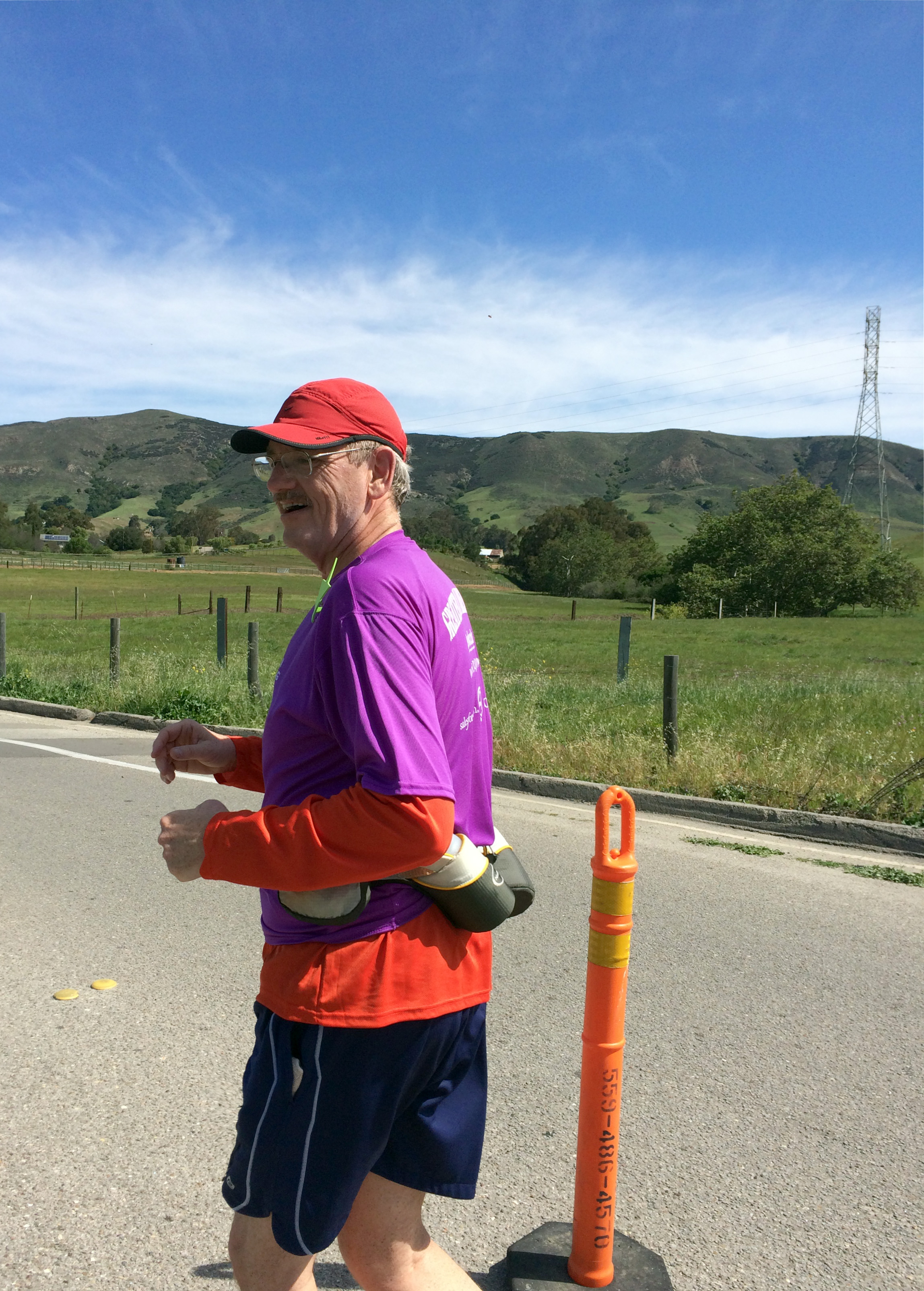 I had two pleasant encounters along the way. Around mile 18, a TNT coach named Jeff from the San Francisco team called out to me from his bicycle, telling me that he remembered me from last year at the same point in the race, and was surprised and happy to see how much better I was doing. He was impressed that I came back to the race after my failure last year, and later told me that he informed the number of his teammates about the supposedly inspiring story. Near mile 22, where I had to quit last year, Nancy met me at one of the few places it was convenient to drive and park. (This race really does a number on local traffic, so it is nice that the residents do not take up their pitchforks on race day.) She always provides a welcome lift in my spirits. Oh, and the other encounters were all along the course, where quite a number of tough looking young men (and women) from the Grizzly Youth Academy volunteered as course guides and they all had lots of humorous and encouraging things to yell at you, sort of like friendly drill sergeants. And, numerous TNT coaches provided encouragement along the way, including the head coach for our particular team, John Martin. This really, really helped my morale along a long course.
Last year I had experienced all of the beautiful scenery up to mile 22, but this year I was able to see the remainder of the course. The highlight is a bridge at the Amtrak station, which takes four or five switchbacks to get up and down. Everyone had warned us about the bridge shaking under pounding feet, but I assured them that I would not be running fast enough to cause a problem, and by the time I reached it, I was the only one on it. (This was actually a pretty small race, with 661 finishers. There was a half marathon on roughly the same course, which had a couple of thousand participants, I think.) Of course, the best part was a long downhill to the finish line at the Madonna Inn. I was in relatively poor shape at this time, because my strong pace over the first 20 miles used up all of my energy and I had to do more walking than running in the final 2 miles. But I finished in good spirits, with Nancy cheering me on, and I was delighted to see my finishing time of 5:29:16 (per my GPS watch, which I did not start until I reached the starting line), a personal record for me. This race puts my season mileage at 430 (over 16 marathons!)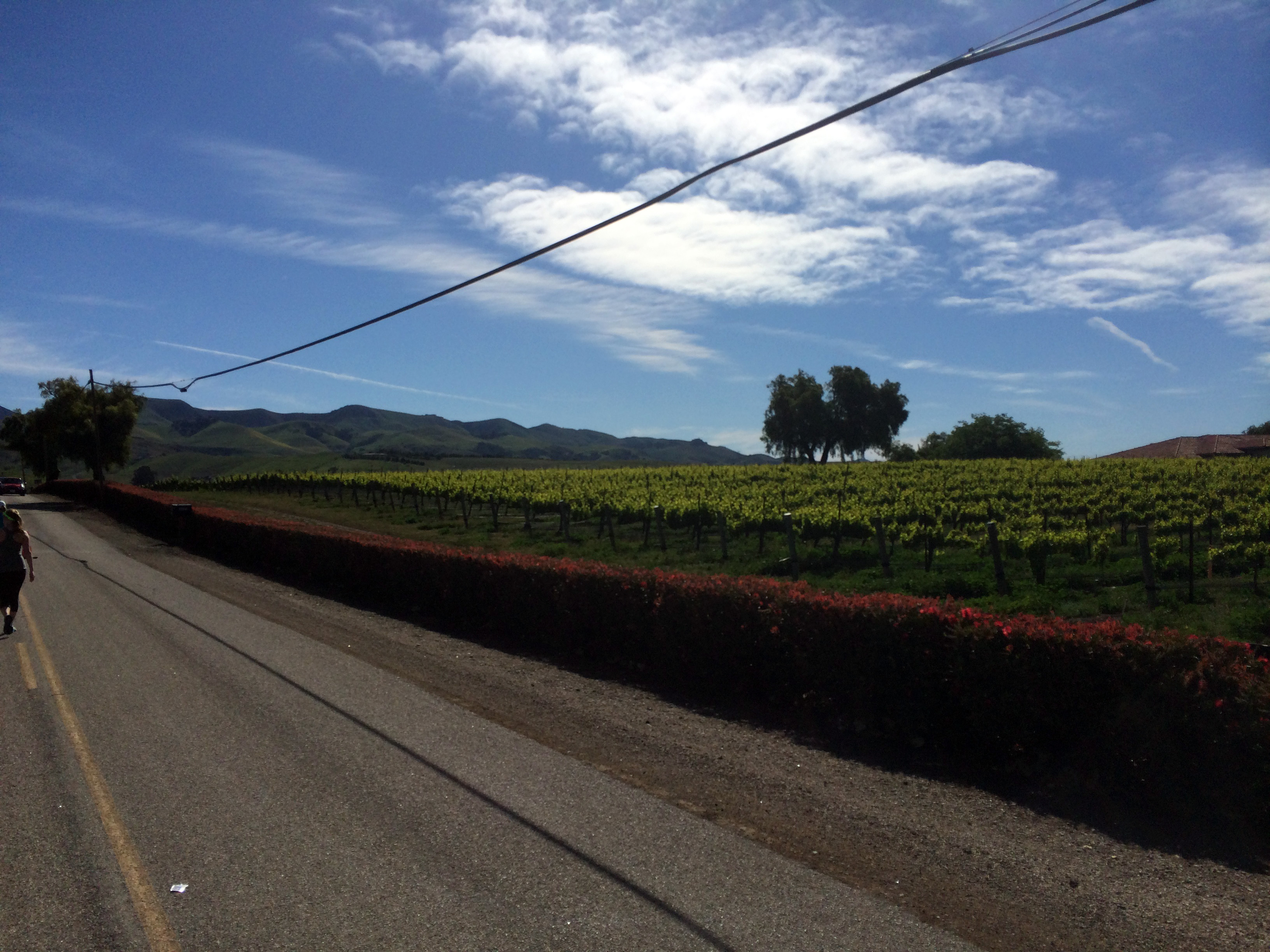 A number of teammates met downtown that evening at the Firestone Grill, which is a very nice casual restaurant with a great Tri-Tip sandwich. Nancy and I drove back to Redwood City early Monday morning. Recovery has been a bit difficult, and I was stiff as a board getting out of the car. (I often attempt to use a hotel pool to aid my recovery, but the Madonna Inn pool, which is beautiful, was heated too much to be effective.) However, race weekend was a great experience and I am encouraged to continue my marathon training. I am already signed up for my next event, the Chicago Marathon on October 12. I would be grateful if you considered sponsoring me in the race by making a small donation to the Leukemia and Lymphoma Society. My personal fundraising page is http://pages.teamintraining.org/gba/chicago14/hjespersen. Anything you can do will provide needed funds for vital blood cancer research, as well as support for the patients and their families.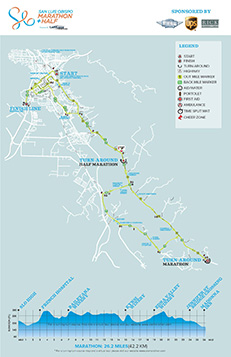 Google Earth Race Simulation
I recorded Global Positioning System (GPS) data with my Garmin Forerunner 220 watch during the race. By opening the resulting data file in the Google Earth application (which can be downloaded here for free), you can display the race course using aerial photographs and simulated 3-D terrain and buildings. There is a Play Tour button that follows the course of the race as if you were flying over it in a low altitude aircraft. (You have to select "flyover" in the options menu to get this behavior.) Really cool. The Google Earth file for this race is here. Note that minor inaccuracies in the GPS data makes it look like I am stumbling around the course like a major drunkard; I really ran straighter than that.
TNT Training
Weekly Training Schedule
Here is the table of weekly activities for our training.
| | |
| --- | --- |
| Monday | Cross training (50–75 minutes walking, swimming, or aerobics and weights at the gym), including core strength |
| Tuesday | Buddy runs: easy runs with a group at a conversational pace. Early in the season they are in the 3-5 mile range, later they get to 5–7 with a number of hill repeat sessions mixed in. |
| Wednesday | Cross training and core strength |
| Thursday | Track workout under coaches' supervision (90 minutes). A few weeks of core strengthening, a few of "dynamic drills," then mostly intervals, pacing runs, and hills/bleachers, generally 3–4 miles total. |
| Friday | Rest, stretching, core strength |
| Saturday | |
| (1) Distance run in scenic places, starting at 4–6 miles and increasing 2 miles every other week until you're finally at 20 miles. | (2) On Your Own (OYO) runs, although group running is encouraged. Starts at 2–4 miles, progresses through the season to 6-10. |
| Sunday | Rest, stretching, core strength |
Workout Log
Here's the training I will accumulate prior to the race. I do not include Monday/Wednesday cross training or Tuesday buddy runs in this list because they're pretty regular, as described in the table above.
Sun, Apr 20: Our last track of the season wasn't even at the track. For some reason we met at the Baylands (San Antonio Rd) and ran 4 miles. A nice change. Lots of beautiful birds out in the evening. The last weekend run was also scheduled for the same place, but a mild travel conflict caused me to run on my own Sunday: 5 miles at an 11:55 pace. I tried out a new feature on my Garmin Forerunner 220 GPS watch. It connects to my iPhone via Bluetooth and sends out "LiveTrack" course data to subscribers I authorize, so Nancy is able to follow my progress on the run, which may be handy for the race. My season mileage is 403! This represents my last run before the race next Sunday in San Luis Obispo. I'm watching the weather reports carefully. Yesterday, it said 70% chance of rain for race day, today it said some showers in the afternoon. Fingers crossed...
Sat, Apr 12: Track this week was easy, a 1 mile warm-up and then a moderate 3 miles. We are definitely in taking-it-easier mode now. I'm still dealing with the fallout from my trip and fall last weekend in Monterey. I did not realize it at the time, but my sunglasses were ruined with scratches, my GPS watch wristband was broken, and I have had some muscle pain on my left side. Although I was able to buy a repair kit for the watchband, I decided to look into a new GPS watch. My old Garmin Forerunner 610 has been getting pretty crotchety and the recharging mechanism has been very inconvenient (requiring that I clean the contacts with rubbing alcohol almost every time I use it), so I decided to get a new GPS. This week I started with a Garmin Forerunner 220, which is lighter and thinner than the 610 and actually a little easier to use than the former's quirky touchscreen interface. I used that on my weekend run, which was on my own. I did 10 miles on the Cañada Road Whiskey Hill loop, averaging a pace of 11:29! (I suspected that I was getting an inaccurate distance reading, which would obviously affect my time, but I check it out against MapMyRun and it looks pretty close. I will have to await the marathon in a couple of weeks to measure it against a real course.) My season mileage is 389.
Sat, Apr 5: I missed track last week because of traveling; if you would like to see my Civil War travelogue about the trip, it is here. Track this week was relatively easy because of the long weekend run coming up. We did six repetitions of 800 m at a moderate pace, each followed by about 150 m walking rest. The weekend run was in Monterey, once again in conjunction with the South Bay team. Nancy and I drove down the afternoon before so that I would not have to do the 100 mile drive just before the run. The course was beautiful, as usual, and the weather perfect. I had never done the 20 mile course before; in previous seasons the longest was 12, and it has been quite a number of season since we visited Monterey. Unfortunately, I did not do well. The first 11 miles were fine and I was happy with my 11:47 pace, but then I tripped on a stone and fell. (Three attractive young ladies were running past me at the time, but I don't think that had anything to do with it. :-)) I bloodied my knee, but my face also got some scratches and my mouth got full of sand. I did not feel too bad, but coaches descended on me, had me sit on a log, and administered first aid. Wearing a gauze bandage on my knee, I ran another 2.5 miles to a place where Nancy could pick me up conveniently, so I called it a day at 14 miles. I probably could've gone farther than that because the injury didn't really hurt and I still had energy left, but I didn't think it was prudent to push it. It was also difficult to keep the bandage on. My season mileage is 368. We are going to start easing off the training now, as we get into formal taper before the race on April 27.
Sat, Mar 22: Track was a "pyramid" interval: 400 m, 400 m, 400 m, 800 m, 1600 m, 800 m, 400 m, 400 m, 400 m. (Fortunately, it was not like last season, where the coach said just keep repeating until I tell you to stop. :-)) The weekend run was in Half Moon Bay, in conjunction with the South Bay team. It was advertised as 18 miles, but the way the course was laid out clocked in at 17.25. I had a very good run, finishing strong, averaging a 11:53 pace. Four miles of this was on rather difficult trails, the location in which I broke a bone in my ankle in a previous season, so my pace plummeted in the middle of the run, but I was able to make it up on the return trip. My season mileage is 328.
Sat, Mar 15: Track this week was exactly like last week—four mile repeats, with a mile each for warm-up and cooldown. The weekend run was on our own. I did 11 miles at Shoreline, 11:50 pace. My season mileage is 298.
Sun, Mar 9: Track this week was mile repeats. We did four repetitions of a mile, each followed by 90 sec walk breaks. I actually did pretty well at this, averaging 9:40 per mile. Maybe we are finished with core strength exercises for the season; no sign of them for the last three weeks. The weekend run was scheduled for 16 miles in Santa Cruz, but that schedule did not work out for me, so on Saturday I ran 12 miles at a 12:21 pace on the hilly course of Alameda to Stanford. On Sunday I went to Stanford and did two loops of the Campus Drive course, about 7.5 miles. In a previous season, a coach told me that two consecutive days of running was roughly equivalent to a single training run of the combined amount, so I think my 19.5 miles was a good substitute for the 16 prescribed. For the first time in recent memory I neglected to take my GPS watch with me for the Sunday run, so the distance is approximate based on my previous experience, with a pace somewhere between 12:15 and 12:30. My season mileage is 272.
Sat, Mar 1: Track this week was intervals in the following sequence: four repetitions of 400 m, one of 800 m, one of 1200 m, and one of 1600 m, with about 60 to 90 seconds of walking between each. As with last week, we had a speech from a cancer survivor, but no core strength exercises! The weekend run was on our own and I did 9.1 miles at an 11:48 pace, out Alameda to Menlo Park and back. My season mileage is 239.
Sat, Feb 22: Track this week was mile intervals. We did each mile at an up-tempo pace, with about two minutes walking rest between, for a total of 3 miles. Warm up/down of 1 mile each. For some reason that I did not question, we were not subjected to core strength exercises. :-) The weekend run was in Woodside, which is traditionally one of the toughest trail runs. Our coach accepted my suggestion to use the course that Shyamal introduced last season, bypassing the really treacherous rocky hills near Highway 92, instead climbing up to the top of Sheep Camp Trail, which is pretty darn steep, but at least it was good footing. My pace for 13.6 miles was 12:10, a 15 second improvement over my pace last season on the same course! My season mileage is 217.
Sat, Feb 15: My week was once again disrupted by travel, and I had to skip the track workout because of a case of food poisoning I picked up in Palm Springs. The weekend run was on our own and I did 8.9 miles on the Cañada Road and Whiskey Hill loop in Woodside, 12:07 pace. I had hoped to do the full 10 miles, but I guess I was still a little weak from the food poisoning, and I walked about a mile after 7.5. My season mileage is 193.
Sat, Feb 9: My running schedule was disrupted by a brief trip to southern California. Since I was not able to attend track Thursday night, I ran 6.55 miles (a quarter marathon) on my own that morning. The weekend run was scheduled for 12 miles at Sawyer Camp, but I was in Pomona and I found a half marathon course there that I could run on my own. I did 12 miles on the course, which circumnavigated Puddingstone Reservoir and the local airport. My pace got interrupted a few times as I lost my way and had to check my iPhone map, so it was 12:11, which is not bad considering. My season mileage is 184.
Sat, Feb 1: Track this week was descending intervals. We did 1600 m, 1200 m, 800 m, and two of 400 m, with about 90 seconds active recovery between them. As is pretty common nowadays, there was also a 1 mile warm-up to start and a 1 mile cooldown at the end. To my delight, there were no core exercises, but instead we had speech from a cancer survivor and some awards for fundraising milestones. I won a pair of socks! The weekend run was on our own and I did 7.5 miles on the hilly Cañada Road course, at a decent pace of 11:30. My season mileage is 165.
Sat, Jan 25: Track this week was a new locale, Kelly Field in Menlo Park, just down the road from the old Sun campus I used work at, so it is a bit more convenient than Foothill College. It is a rather odd track, not the traditional oval shape, and also only about 10 feet wide, so the place is pretty crowded. We did intervals of 800 m with 400 m active recovery, and I did four repetitions, although some chose five or six. (I knew we had a grueling hill workout this weekend, so I decided not to exert myself too much.) The weekend run was on Alpine Road and I found it rather difficult. The first 4 miles were relatively flat, so I ran them pretty quickly – perhaps too quickly – and then there were 3 miles uphill and 3 miles down. A lot of the latter was on very narrow, somewhat rocky trails. I made a significant error by not bringing carbs with me, and I actually felt quite fatigued at about mile 6 and my pace collapsed, so I hope I remember not to make that mistake again. The tough thing about those uneven trails is that you can't go very fast even downhill. So my overall pace was poor, 12:52, for the 10.25 miles. My season mileage is 147.
Sat, Jan 18: Track this week was a little challenging, even though we did not run very far in total distance. We ran quickly for 200 m, did dynamic drills for about 100 m, recovery jogged for 100 m, and then did core strength exercises for 2-3 minutes. I lost track of the repetitions, but it was probably five times. Then we did a 1 mile cooldown run. The weekend run was on our own and they encouraged us to add hills to our course. I used the hills on Alameda, repeating them twice, and doing an overall 7 miles at a 12:08 pace. My season mileage is 128.
Sat, Jan 11: I was not able to attend track this week because of some administrative details involving the passing of my father-in-law. Instead, on Thursday I ran 6 miles on my own. The Saturday group workout was on the Bay Trail starting at Oracle, and I did 8 miles on the flat course at an 11:13 pace! This was really too fast for me maintain and I need to apply more pacing discipline on the longer runs. My season mileage is 112.
Sat, Jan 4: Happy New Year! In track this Thursday, we ran intervals, one 1600, one 1200, one 800, and two 400 m, with a rest in between each. (I chose to walk a half lap each time as the rest.) We did core strength exercises, and I have to say I'm getting a bit discouraged because the coaches go through the repetitions very quickly, often introducing new exercises on the fly, and I am having a lot of trouble keeping up. Oh, well, I will try to do my best and hope to improve. The weekend run was on our own and I did 6 miles on the Cañada Road out and back. Since this is a completely hilly course, I was impressed with my pace of 11:24! My season mileage is 93.
Sat, Dec 28: Because of a scheduling screwup on my part, I did not attend track on Thursday. The weekend long run was at Sawyer Camp. A beautiful day, but cold, about 35°. I did 8 miles at an 11:47 pace. My season mileage is 77.
Sat, Dec 21: Track this week was an early introduction to intervals. It was a rather odd workout in which we ran, walked, or run/walked 400 m, rested about a minute, then repeated for eight laps. We also did a whole slew of core strength exercises, many of which I had not seen previously, so I was flailing around a bit. The weekend run was at Stanford again, the same course as before. I did the 6 miles at an 11:18 pace, which is pretty good for me, although not as good as last weekend. (Last weekend I had a little competitive action with one of the guys running alongside.) It is nice to run briskly on these early training runs, but it is not something I should get used to for the longer runs, or I will poop out way too early. My season mileage is 64.
Sat, Dec 14: We had our first track workout at Foothill College this week. It was really cold! We started a bit late and I did six warm-up laps just to get comfortable. When the team was assembled, we did some stretching and then ran 2–3 miles to help the coaches put us into pace groups ("waves") for future events. I did 11 laps before they called us in. Then some core strength exercises. The first group run on Saturday was at Stanford and I did 6 miles running around the campus. I don't know whether it was the cold or not, but I ran really fast, at a 10:54 pace, even considering my regular run/walk intervals! I keep track of my running mileage in a spreadsheet. My season mileage so far is 49.
Sat, Dec 7: Today was the TNT kickoff meeting. It was quite different from previous seasons (where about 250 people from all of the Bay Area teams would get together in a hotel). This was a combined Peninsula and South Bay running/walking team event and it was held at Foothill College, starting in a lecture hall and then moving to the track for a light workout. It was a relatively small group considering that two teams were meeting together, perhaps 40 people, but that is what cold weather will get you. Most of the coaches, captains, mentors, and managers are new to me this season. We heard the usual logistical things and an interesting talk from a young woman who is a cancer survivor. The workout consisted of about a mile and a half, interspersed with modest exercises at each 200 m point, followed by stretching. This season we are apparently doing dynamic stretching to start, and static stretching after the workout, with each stretch going 45-60 seconds.
Sat, Nov 23: I am back from a brief vacation in Hawaii. This week I ran twice, for the first time since the marathon, and the first one was like running through molasses. Wow, was I stiff! The second time was a lot more like normal. Thursday 4 miles, Saturday 5 miles. I was contacted by my new mentor, Jill, and it looks like the kickoff meeting will be December 7, although the details are sketchy. I was disappointed to learn that our coach, Shyamal, will not be returning this season with us. And I was surprised to hear that they are rearranging the weekly training schedule yet again. I will update the table above once I know the details.
Thu, Nov 7: I just returned from the New York City marathon. I do not know exactly when the current season of TNT training will start, but I will update this page as soon as possible.