Training with TNT for the 2017 Nashville Rock 'n Roll Half Marathon
This is my page about running and training for the Nashville Rock 'n Roll Half Marathon, April 29, 2017, with Team in Training (TNT), which raises funds for the Leukemia and Lymphoma Society by providing training opportunities for wannabe athletes such as myself.
This was my 20th season with TNT (previously half marathons in San Francisco, Vancouver, BC, and Philadelphia, and full marathons—26.2 miles!—in Portland, San Francisco, Napa, Victoria BC, Atlanta, Washington DC, Los Angeles, Chattanooga/Chickamauga, Oakland, Richmond VA [twice], San Luis Obispo CA [twice], New York City, Chicago, and Seattle). You can see a full list of all my races here.
Also, as a "training run," I ran the 2017 San Francisco Rock 'n Roll Half Marathon, described below in the March 26 entry.
To read about my training for the race, please jump to here. In most of my TNT seasons, I have trained for, and run, full marathons, but this season I have decided to take it easier on my elderly body and run half marathons from now on. However, since I find the TNT program for half marathoners to be rather leisurely (under the assumption that they are introducing couch potatoes to running for the first time), I decided to train (mostly) as if I were going to run the full.
Nashville Rock 'n Roll Half Marathon
Here is my description of the race weekend in Nashville.
Thursday, April 27
We took a direct flight on United Airlines to Nashville and then a Lyft ride to the Doubletree hotel, downtown near the state capital (and about equidistant from the race start and finish lines). For dinner we went to Puckett's Grocery nearby. I had the hot chicken sandwich (a Nashville specialty, fried chicken with either a spicy coating and/or hot barbecue sauce), which was large and delicious. Nancy had chicken and waffles, which was a huge portion that must've been a pound of chicken, also delicious. Live Bluegrass music was excellent. Nashville really is the Music City – live music of all varieties was everywhere.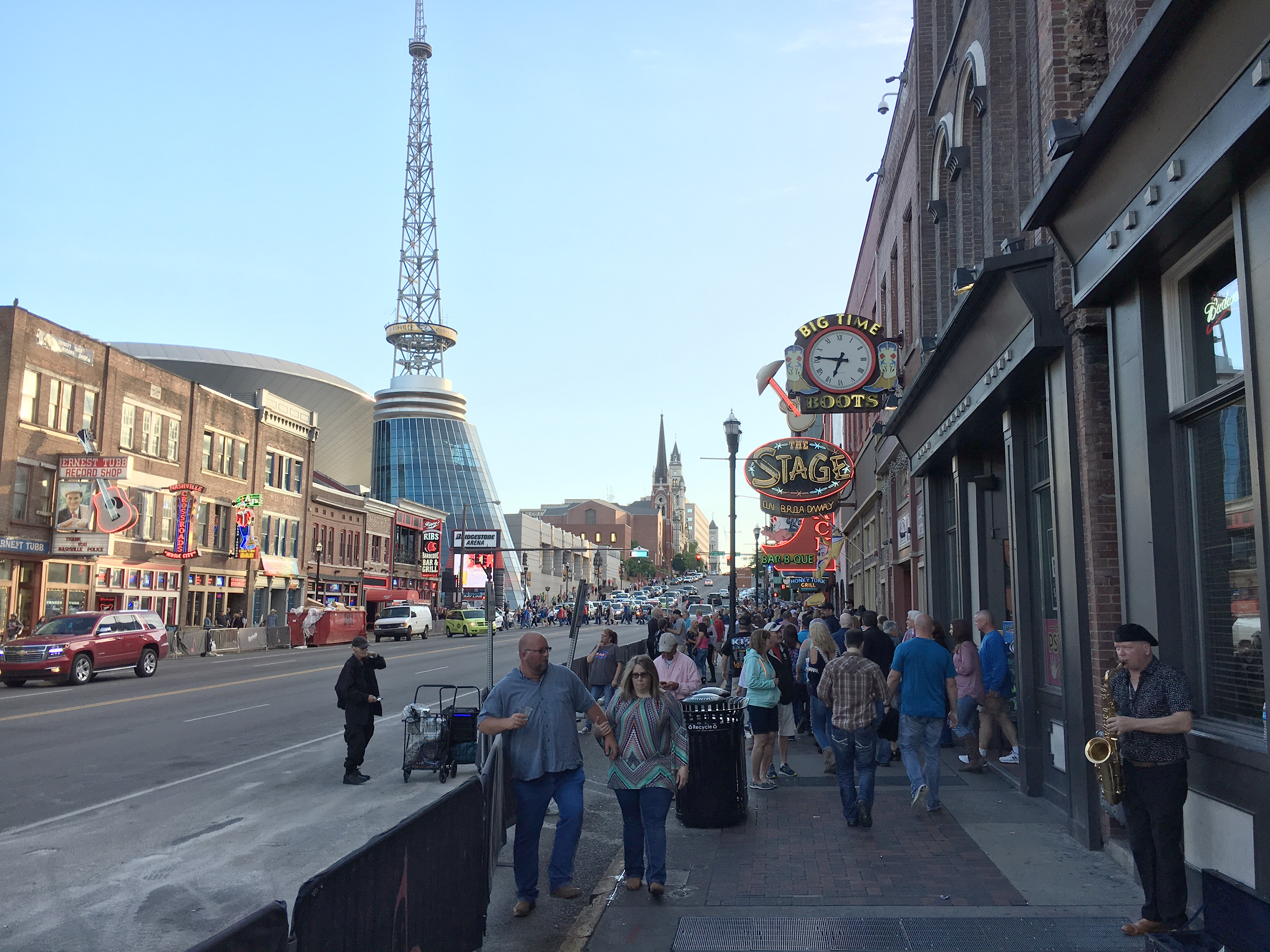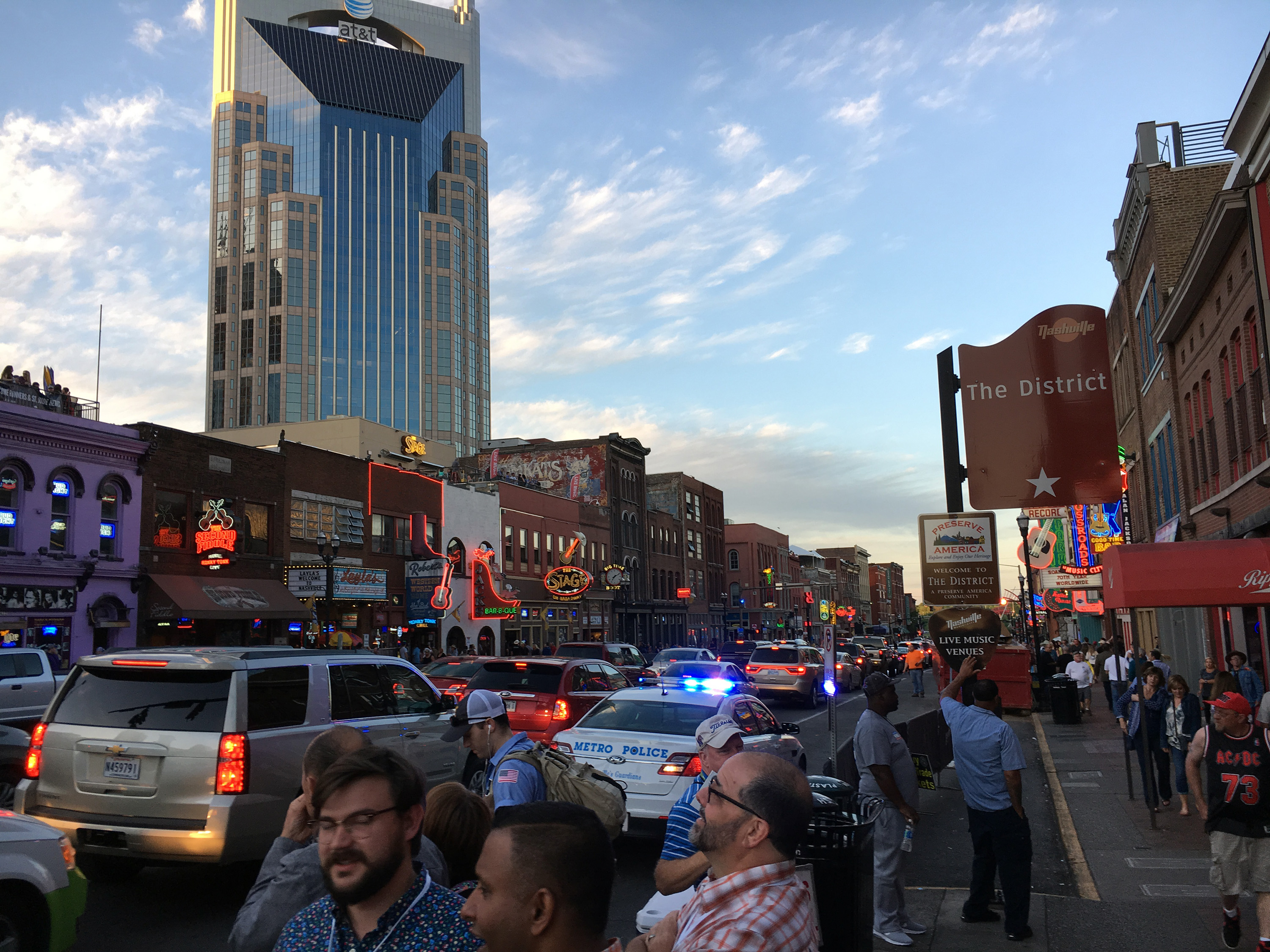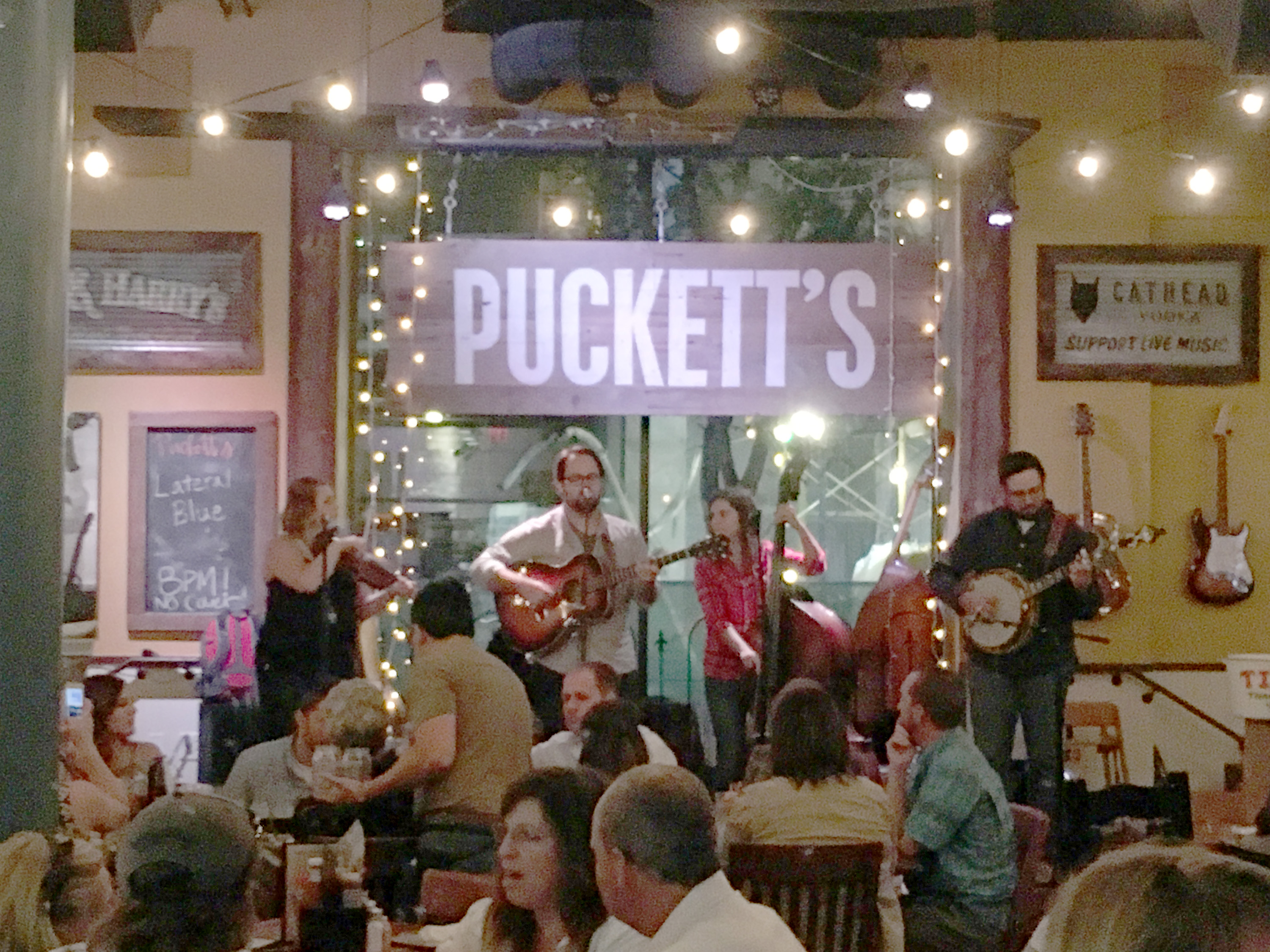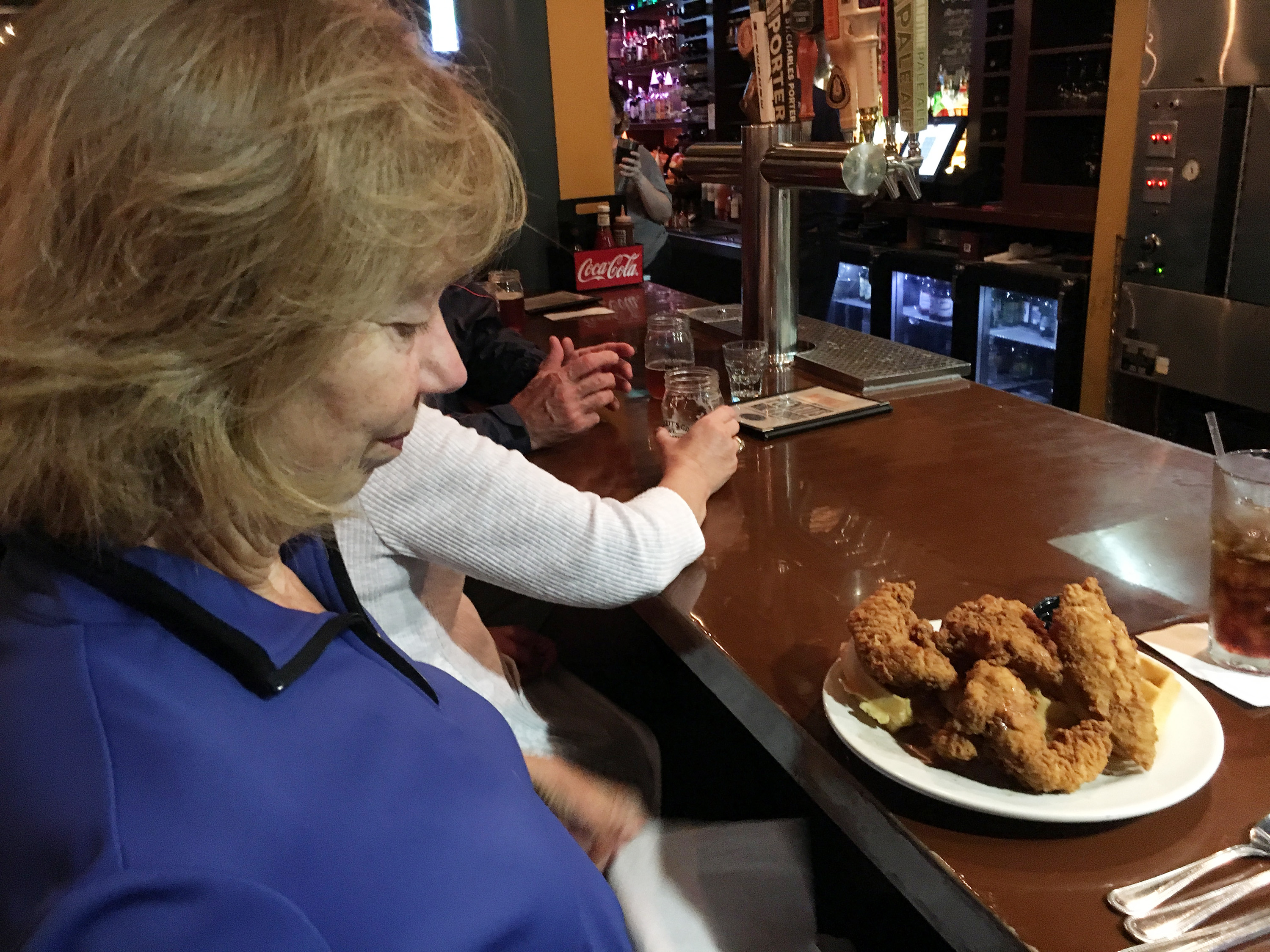 Friday, April 28
We often take food tours on our trips and this was no exception. The company was called Local Tastes of Nashville, and we took the tour of Germantown, which is a neighborhood to the northwest of downtown, originally populated primarily with German immigrants, although you see virtually no legacy of them. Our tour guide Debbie provided some historical details along the way. Here's what we had:
BBQ sliders at a place called B&C in the farmers market food court, plus a sample of hot chicken from an Indian restaurant, of all places
Lemonade cupcake at Cupcake Collection
Brisket and fresh tortillas at Butchertown Hall
Mac and cheese at Cochon Butcher
Rosemary Cayenne truffle at Tempered
In addition to the Germantown area, we spent some time in Bicentennial Mall, which has a Tennessee history timeline and a nice monument to World War II.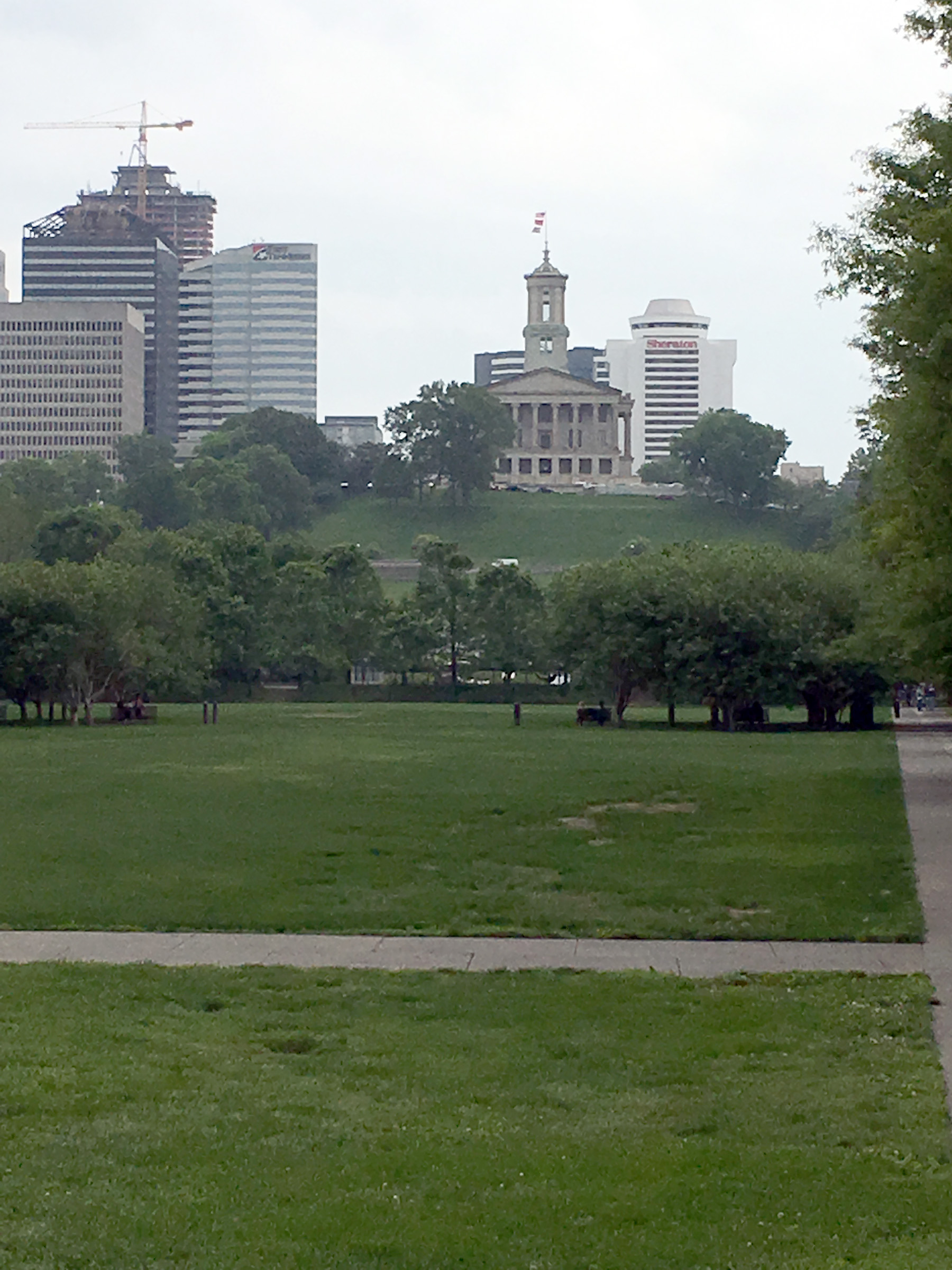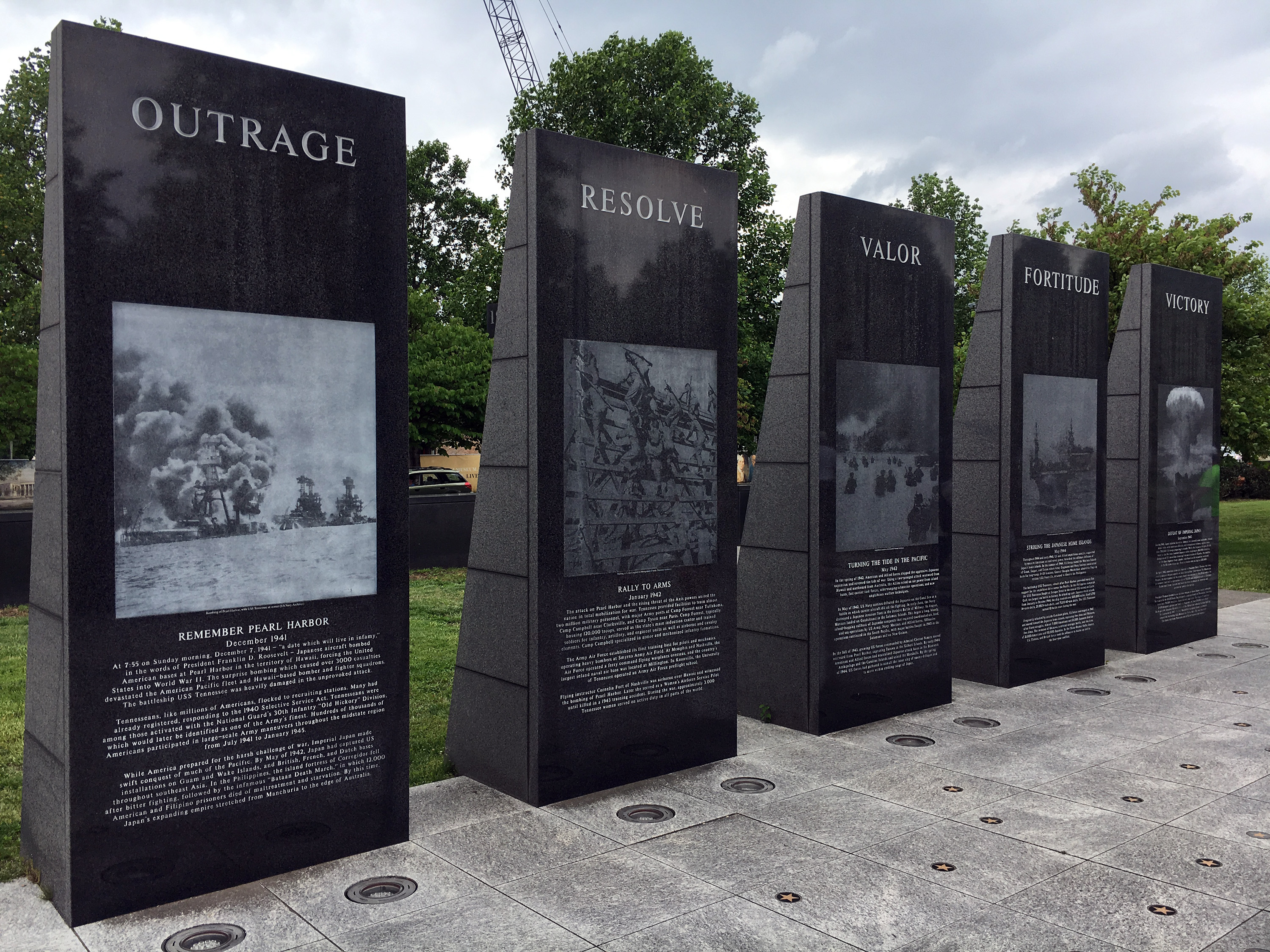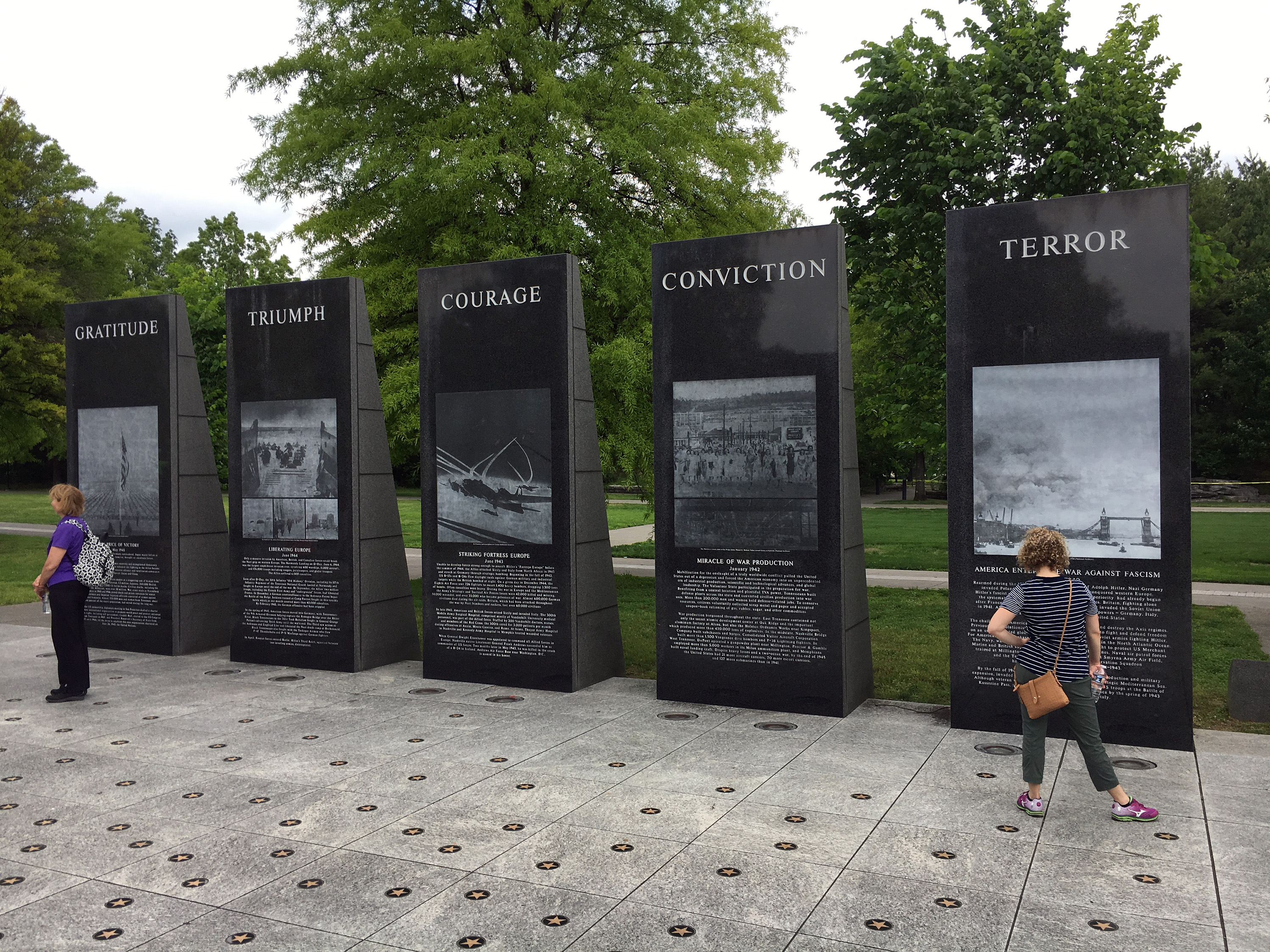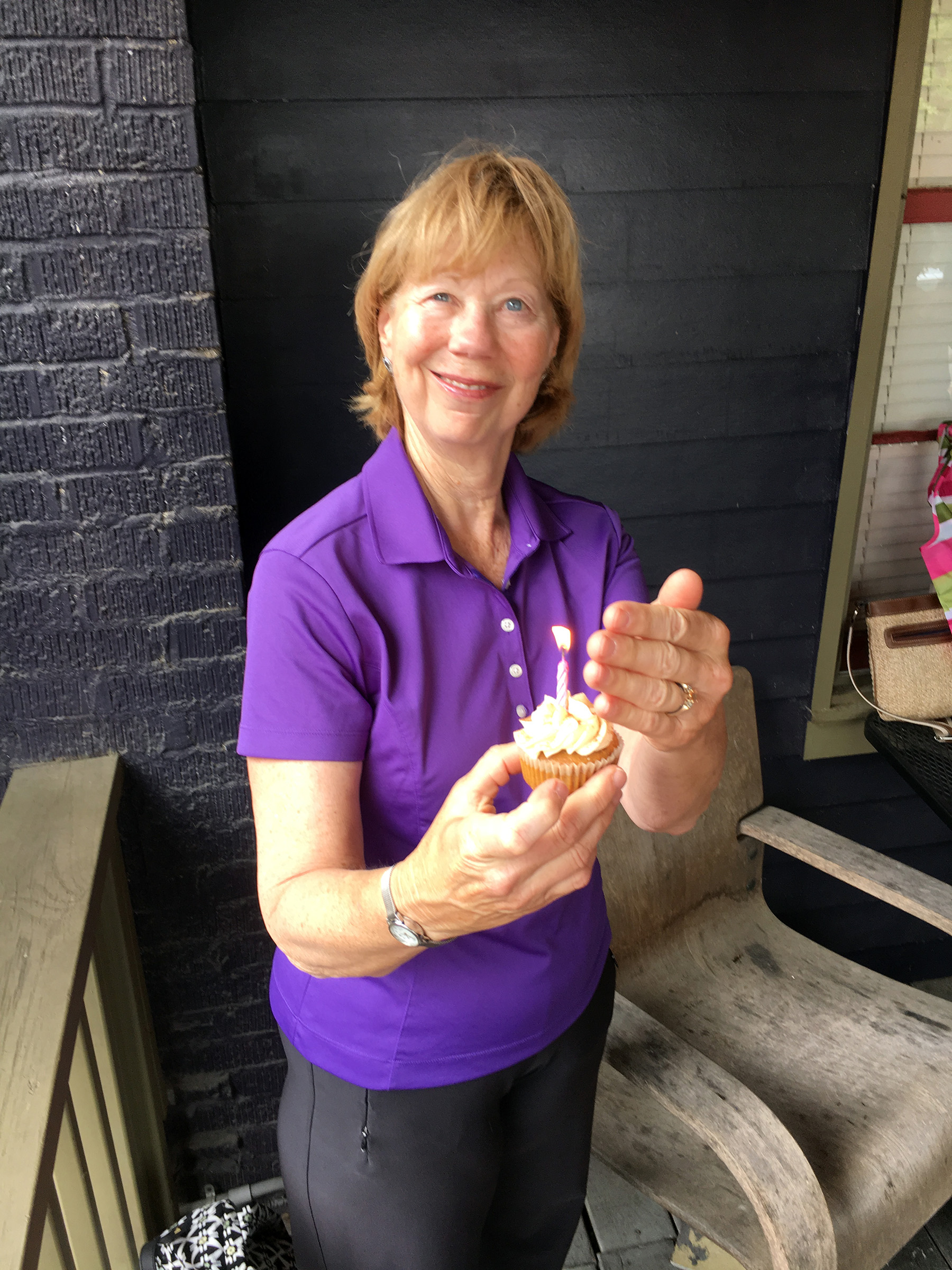 Since Nancy is a graphic artist, our afternoon visit was to Hatch Show Print, which is a famous printing company that has been doing concert and other signs for over 100 years, using letterpress technology. We took a guided tour and watched them print using 100 year old wooden letter plates. They are particularly famous for their work for Ryman Auditorium, the original Grand Ol' Opry broadcasts. The tour included a session in which we printed our own image using a miniature letterpress.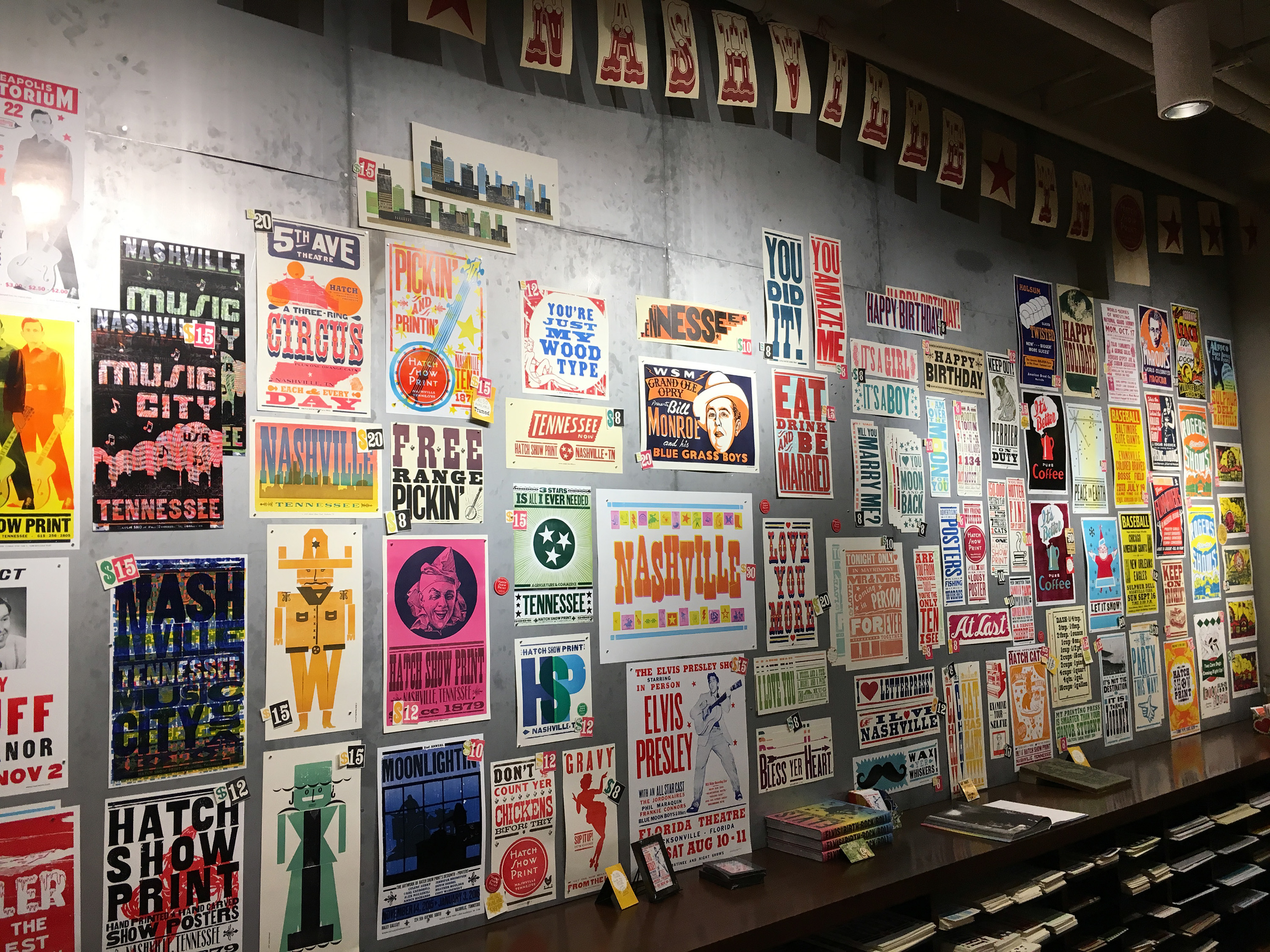 Dinner was at the Soulshine Pizza Factory on Music Row with our nephew Rory, who is studying music business at Belmont University. The pizza was pretty good, and live music started just as we were leaving. (Usually the night before a race we attend the TNT Inspiration Dinner, but since this is my 20th season, we did not feel too guilty skipping that in favor of a relative.)

Saturday, April 29
The race started at 6:45 on Broadway (the famous street on which all of the honky-tonk bars and neon signs are displayed), moved up at the last minute from 7:15 because of the forecast high heat. I snuck into corral 17 instead of my assigned 26, hoping to get an earlier start. I was sweating before I reached the starting line at 7:10, even though it was only about 72°.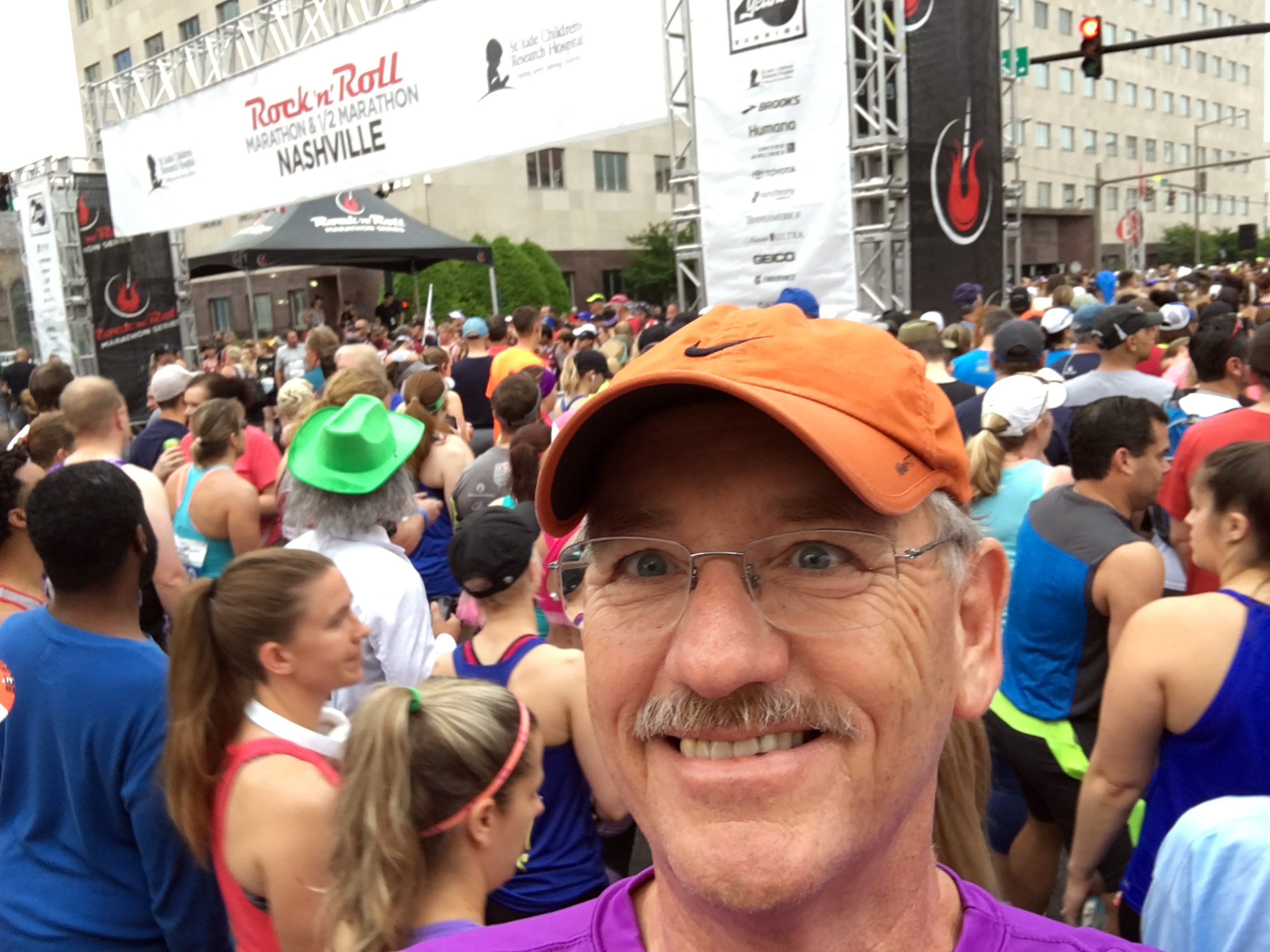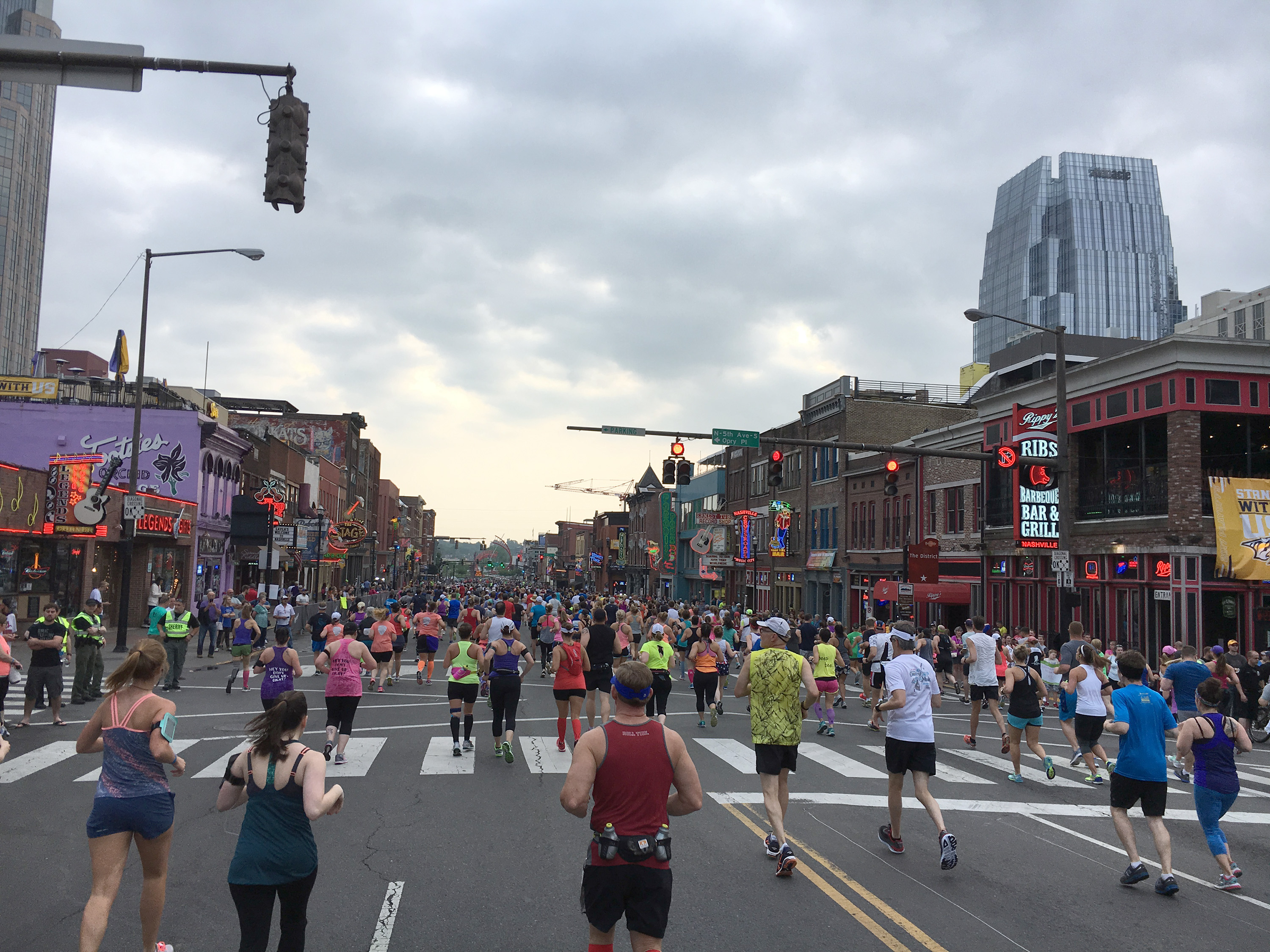 The first 5 miles were rather difficult in the high humidity, but eventually I seemed to get acclimated and the final 5 were not bad, although slower than I'd like. It was a nice course that ran roughly south and then back through mostly residential or light commercial areas. Many runners complained of the hills, but they were very gradual and none were steep. About ten residents had their lawn sprinklers aimed into the street, which was a popular feature. At mile 9.5 the organizers handed out sponges soaked in cold water, which I placed inside my hat and refilled at two more stops. The race finished up at about 79°. I lost track of the number of live music stands, but it was nice to be serenaded with a variety of music styles (not just rock 'n roll).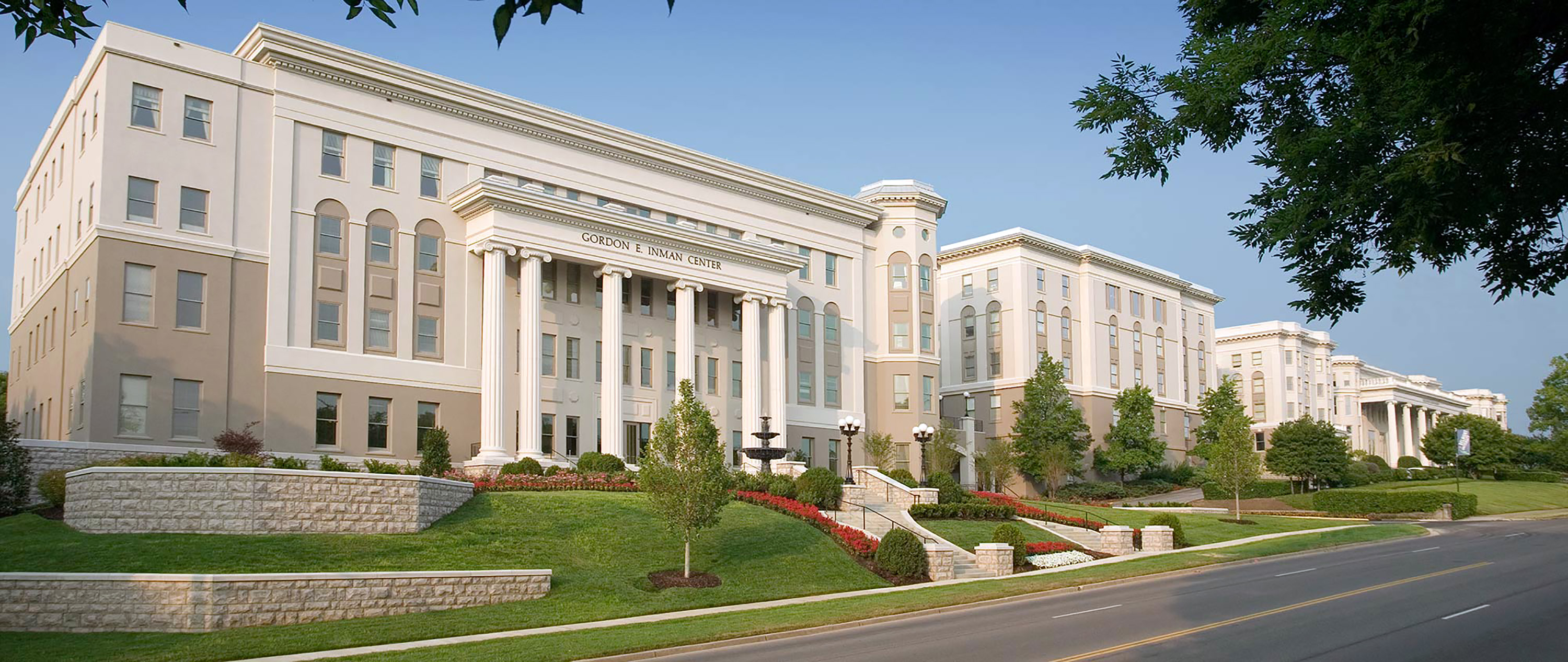 The finish was across the Cumberland River at Nissan Stadium, and I clocked in at 2:47:54, a 12:49 pace. I actually finished better than I usually do in terms of competition—38th of 96 in my division, 10563rd of 17850 overall. For many of my previous full marathons I usually finished in the bottom 10%. But since I had been hoping for something closer to 2:30, I was disappointed that the heat/humidity foiled me. (Or perhaps it was the overindulgence in greasy chicken!)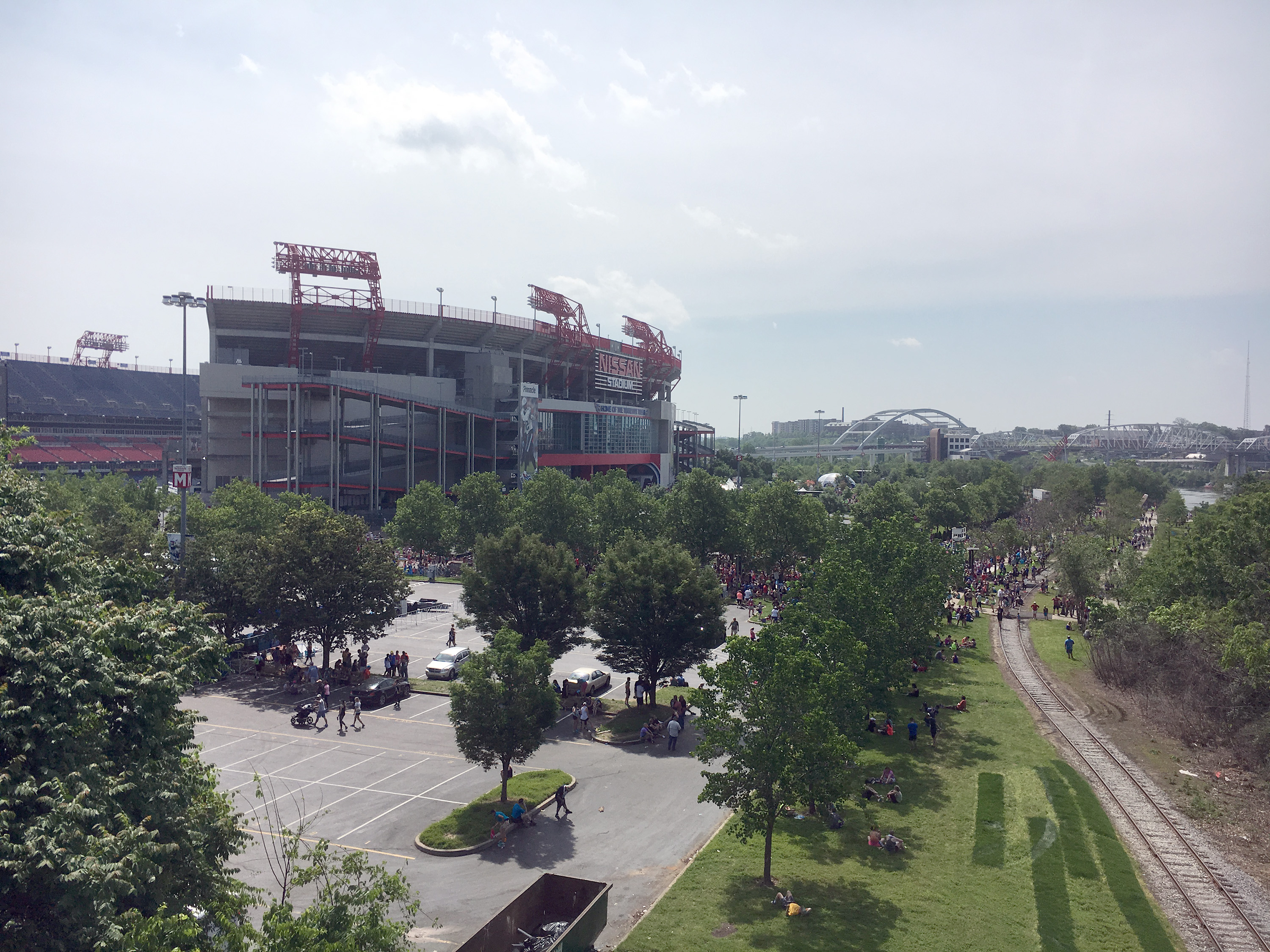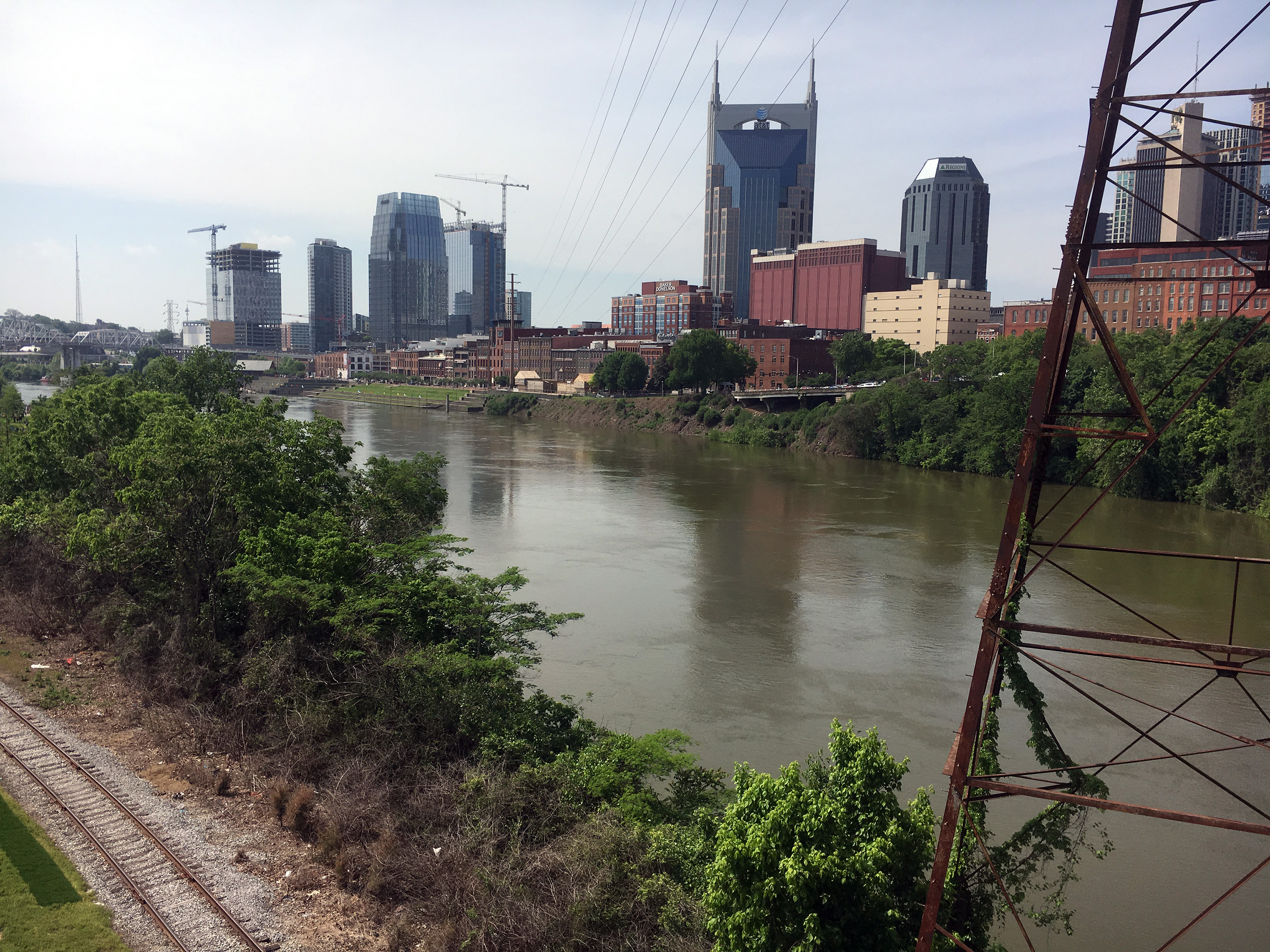 That afternoon we visited the Hermitage, home of Andrew Jackson, 9 miles away, but a $44 Lyft ride; the return was $19. We were delighted to find that it was Dog Day at the park and there were lots of dogs frolicking. We had lunch in the Kitchen Cabinet Café, which had sandwiches named for various political figures. I had the "Francis Preston Blair" chicken sandwich. There was a short film and a small but informative museum. We walked around the grounds and took the house tour. A big group of students delayed the tour and made it somewhat difficult to peer into the rooms, which were all blocked off with plexiglass, but what we saw was beautifully decorated.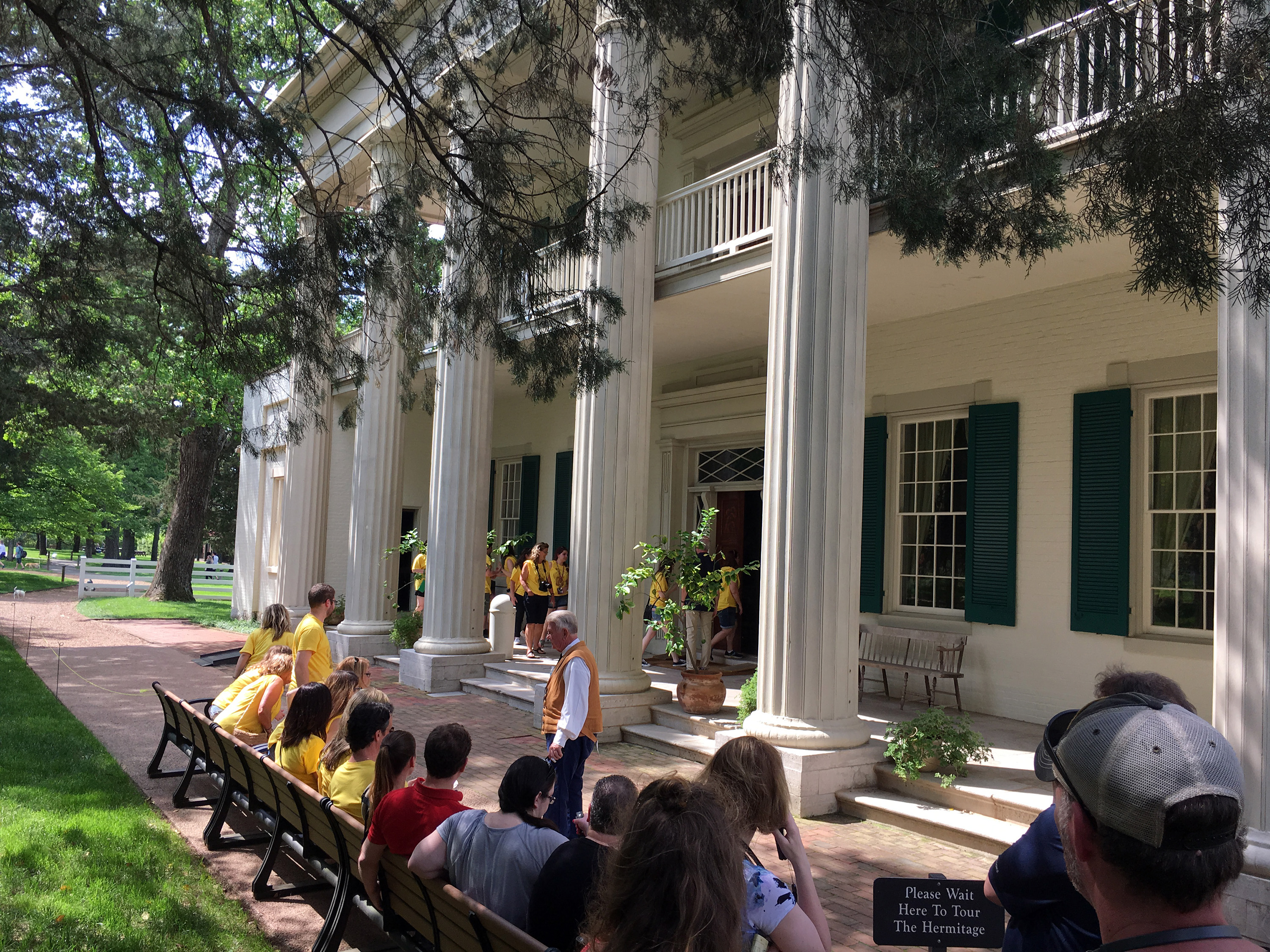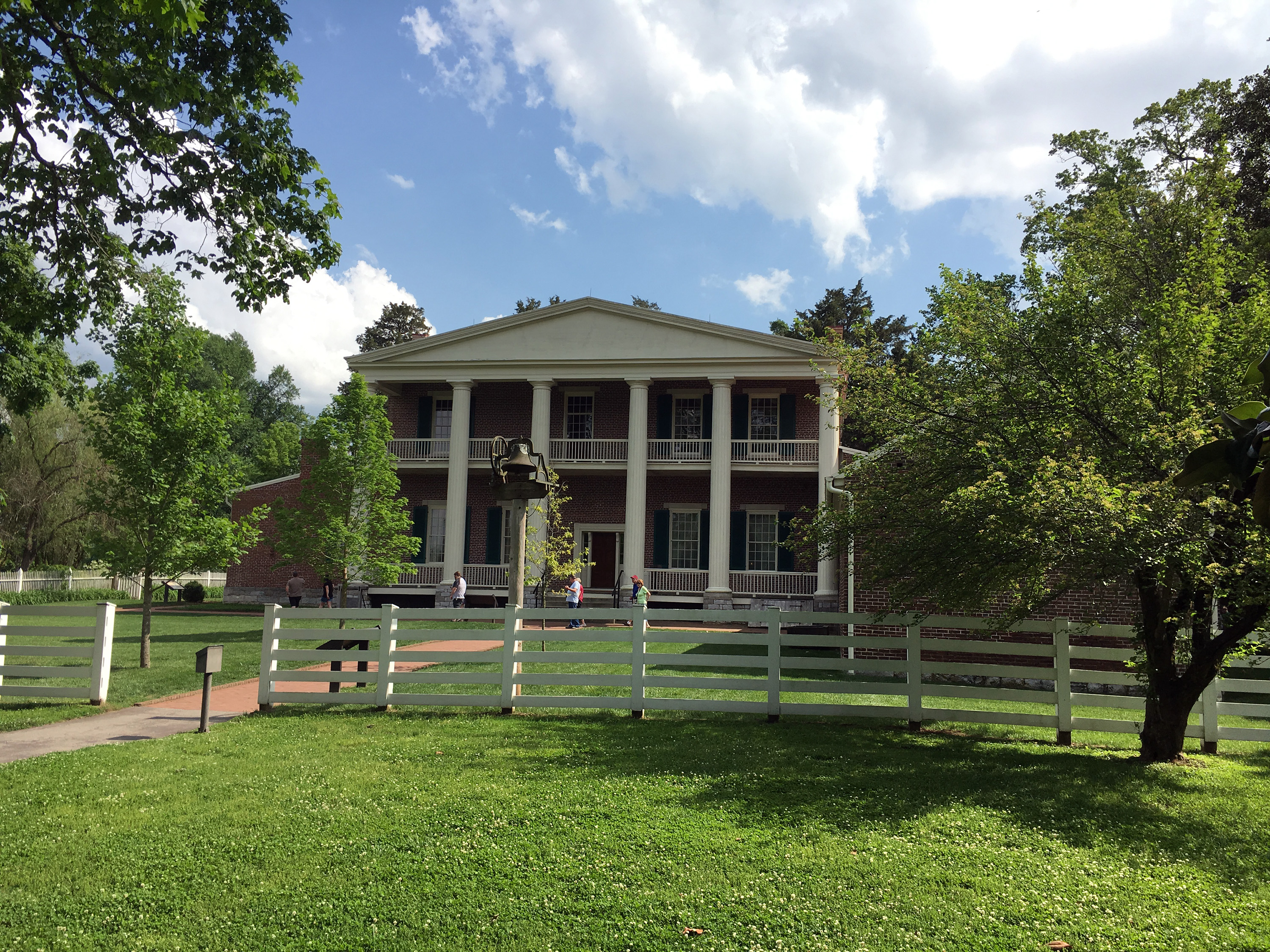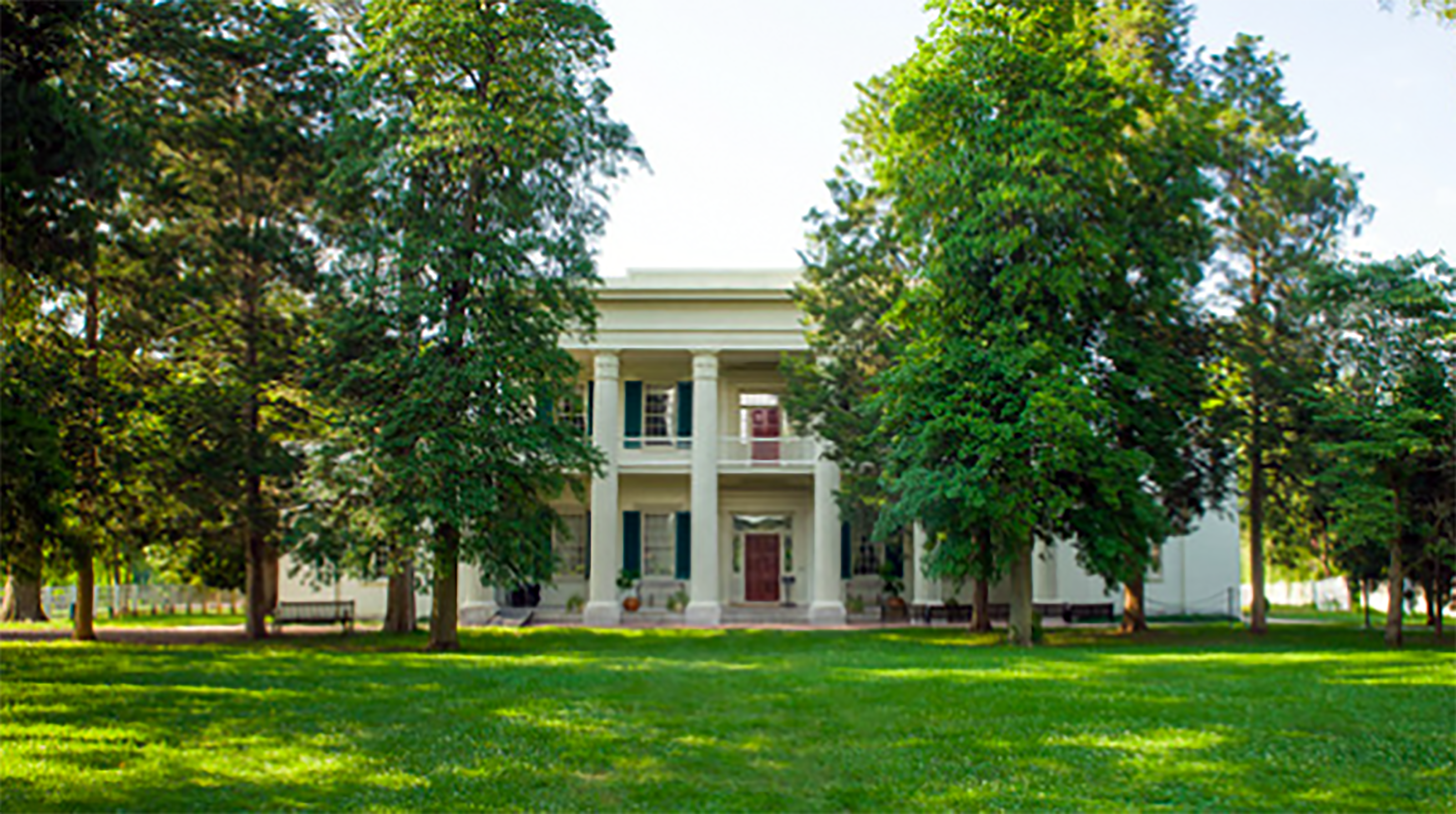 We had dinner in Franklin, Tennessee, with my friend Jim Knight and his wife Judy.  I was probably not the best dinner guest because I was feeling the fatigue of a long, hot race day, but their home was lovely and the food and company were excellent!
Sunday, April 30
Our final day was Civil War touring. You can read a brief report of the day in the Civil War section of my website. We flew home on Monday.
TNT Training
Weekly Training Schedule
Here is the table of weekly activities for our training.
| | |
| --- | --- |
| Monday | Cross training (50–75 minutes walking, swimming, or aerobics and weights at the gym), including core strength—I visit my local gym. |
| Tuesday | Buddy runs: easy runs with a group at a conversational pace. Early in the season they are in the 3-5 mile range, later they get to 5–7 with a number of hill-repeat sessions mixed in. |
| Wednesday | Cross training and core strength. |
| Thursday | Track workout under coaches' supervision (90 minutes). Mostly intervals, pacing runs, and hills/bleachers, generally 3–5 miles total, preceded by dynamic stretching, dynamic drills, and concluding with core strength exercises. |
| Friday | Rest, stretching, core strength. |
| Saturday | |
| (1) Distance run in scenic places, starting at 4–6 miles and increasing 2 miles every other week until you're finally at 20 miles. | (2) On Your Own (OYO) runs, although group running is encouraged. Starts at 2–4 miles, progresses through the season to 6-10. |
| Sunday | Rest, stretching, core strength. |
Workout Log
Here's the training I am accumulating prior to the race:
Sat, Apr 22: Track was a circuit of various dynamic drills, each separated by about a quarter mile of jogging. (I say about because the Stanford track was reserved and we had to use the sidewalk near the stadium. The other notable thing was that only two people showed up, balanced by two coaches!) The last long run of the season was at Oracle, up the Bay Trail. I did 6 miles at an 11:14 pace, which was my fastest pace in almost two years! I hope I did not overexert myself only one week before the race. My season mileage is 331.
Sat, Apr 15: I missed track again this week because of a meeting conflict. Sigh. The weekend long run was on our own. I did 6 miles on Cañada Road to Woodside and back, at an 11:53 pace. (Yes, this is short for a long run, but we are tapering.) My season mileage is 322.
Sun, Apr 9: This was an unusually uncooperative week for me. I did not attend track on Thursday because of a big rainstorm, and then on Saturday the long run was in Monterey, 100 miles away, and I did not feel like traveling that far. So I ran on my own on Sunday around the Stanford Campus Drive loop. I was planning to do 12 miles, but at 9.6 I was feeling really fatigued, and in the spirit of Robert E. Lee 152 years ago today, I surrendered, walking the remainder. My pace wasn't bad—12:02—but I just seemed to have a motivation/energy loss. Now I am beginning the tapering process for my race on April 29. My season mileage is 311.
Sat, Apr 1: Track was at the Stanford Dish for hill repeats again. The weekend long run was on our own and I did 7.5 miles on the Bay trail from Oracle, pacing at 11:37. My season mileage is 295.
Sun, Mar 26: My training was interrupted by a weeklong trip to New Orleans (see my travelogue). When I got back, I ran the San Francisco Rock 'n Roll Half Marathon in lieu of the weekend long run (which was 18 miles in Fremont). The weather was perfect—cool, overcast, with only light wind. We started in Golden Gate Park, ran through Seacliff and the Presidio, up the big hill on Lincoln Avenue, over the Golden Gate Bridge, down to Fort Point, across Crissy Field in the Presidio, through Marina Green, and up and down Polk Street to reach the Civic Center. The race started at 6:15 AM, which meant that the first part was in the dark. It took 30 minutes for my corral to get to the starting line. I got a bit fatigued around mile 11, but snapped out of it. My finishing time was 2:36:05, with a pace of 11:51, which is not great, but is one of my better half marathon performances. I was amused to hear the race announcer call out my name at the finish line and announce that I was the tallest runner in the race! My season mileage is 281.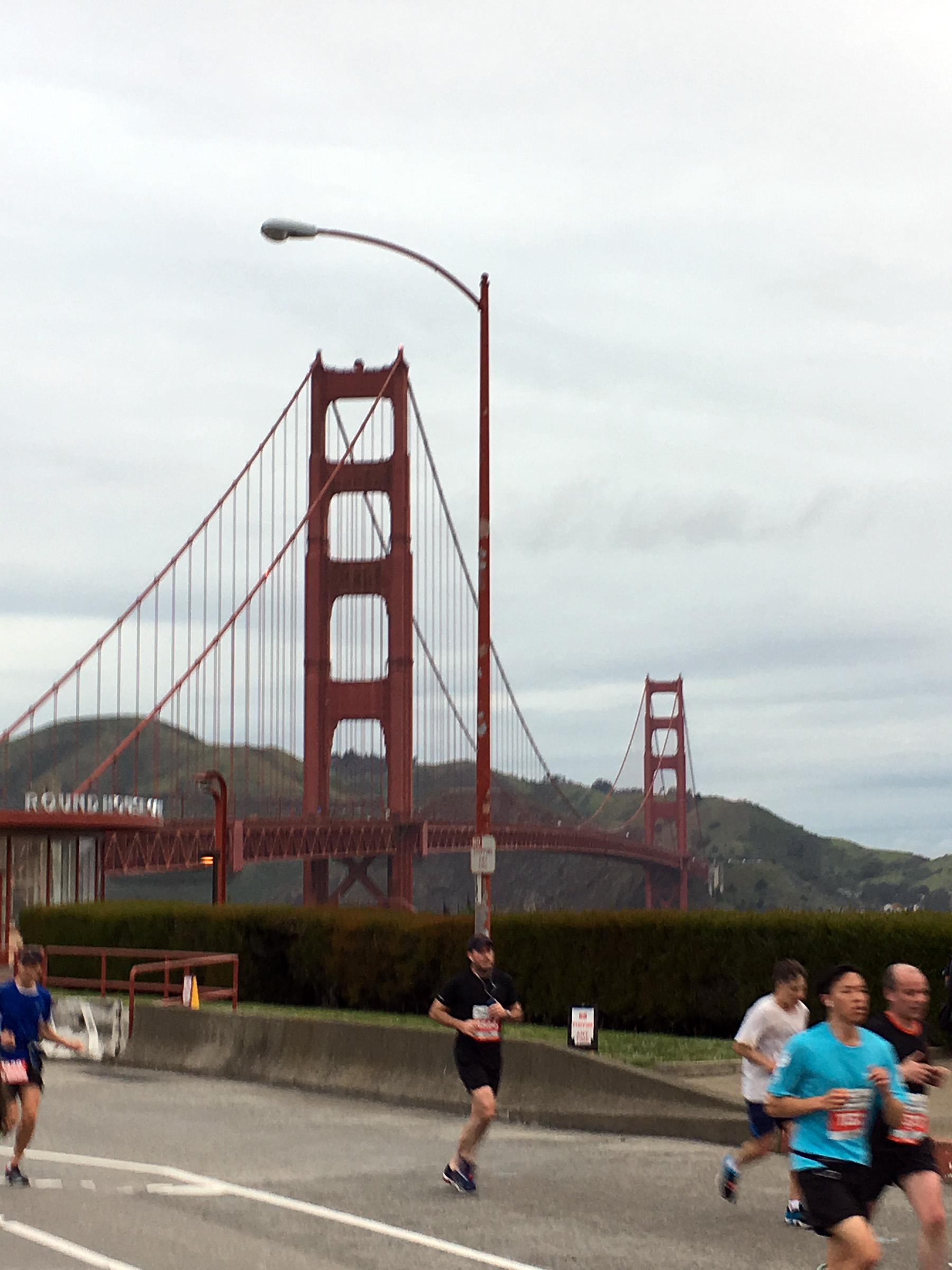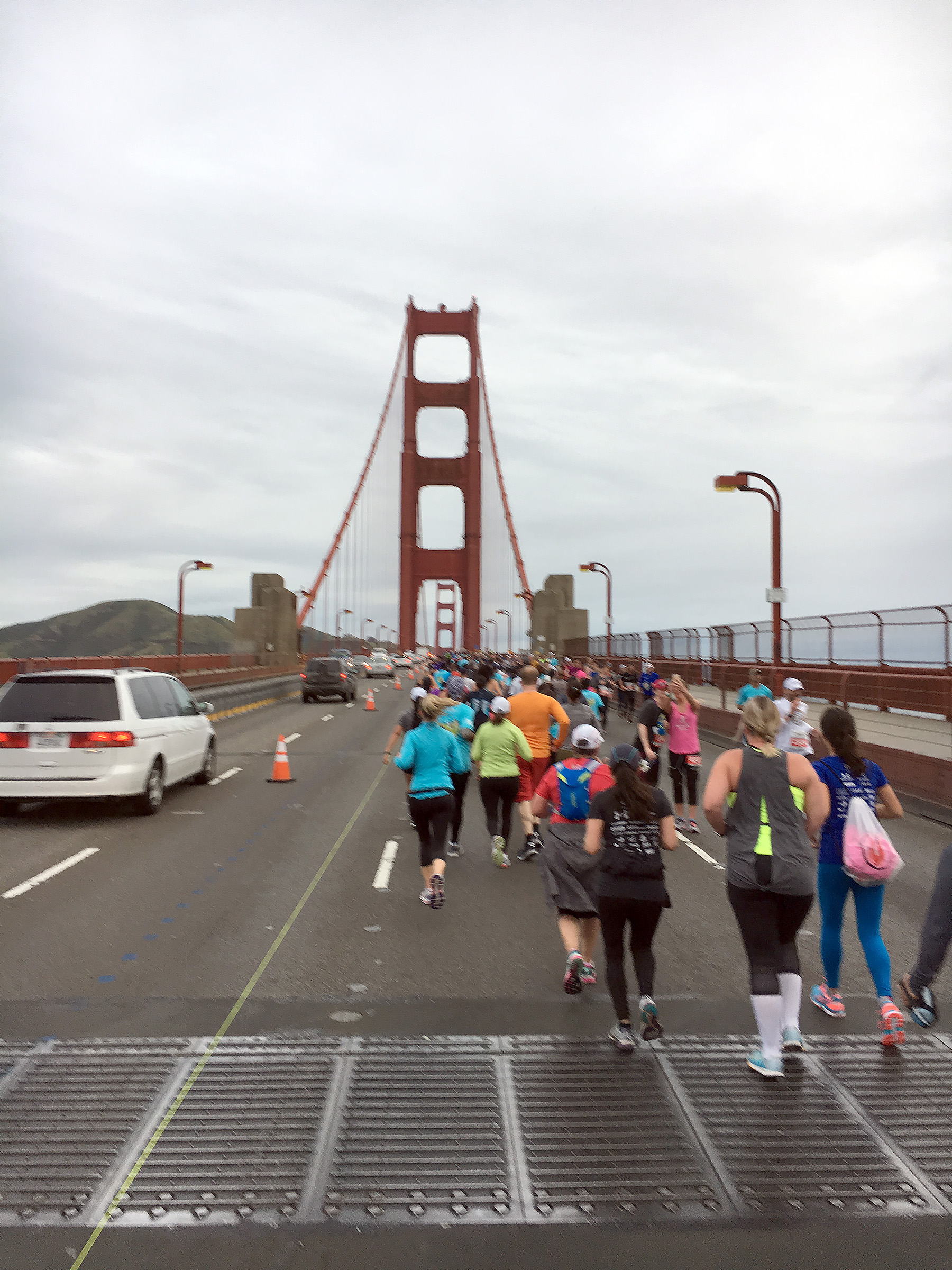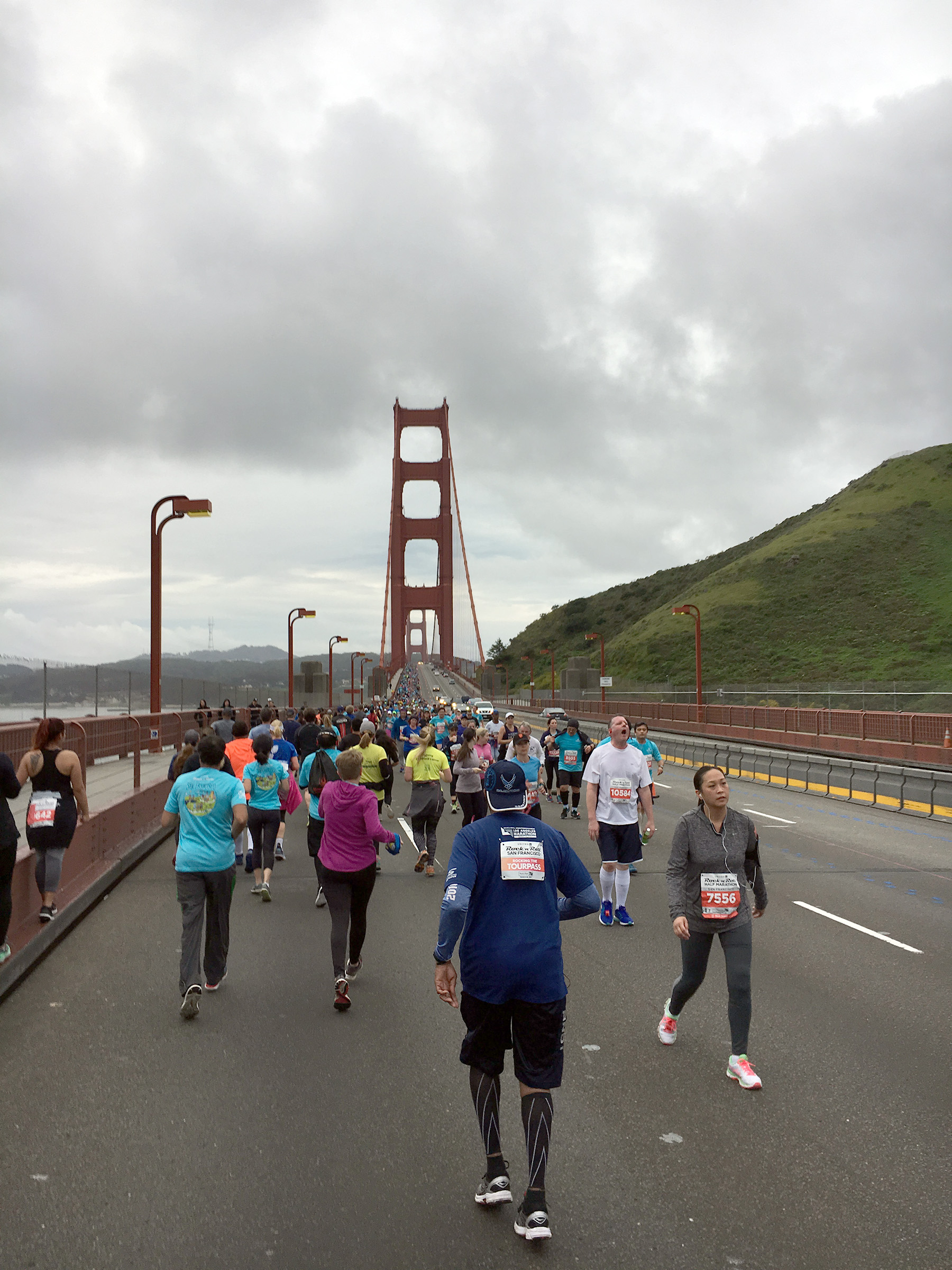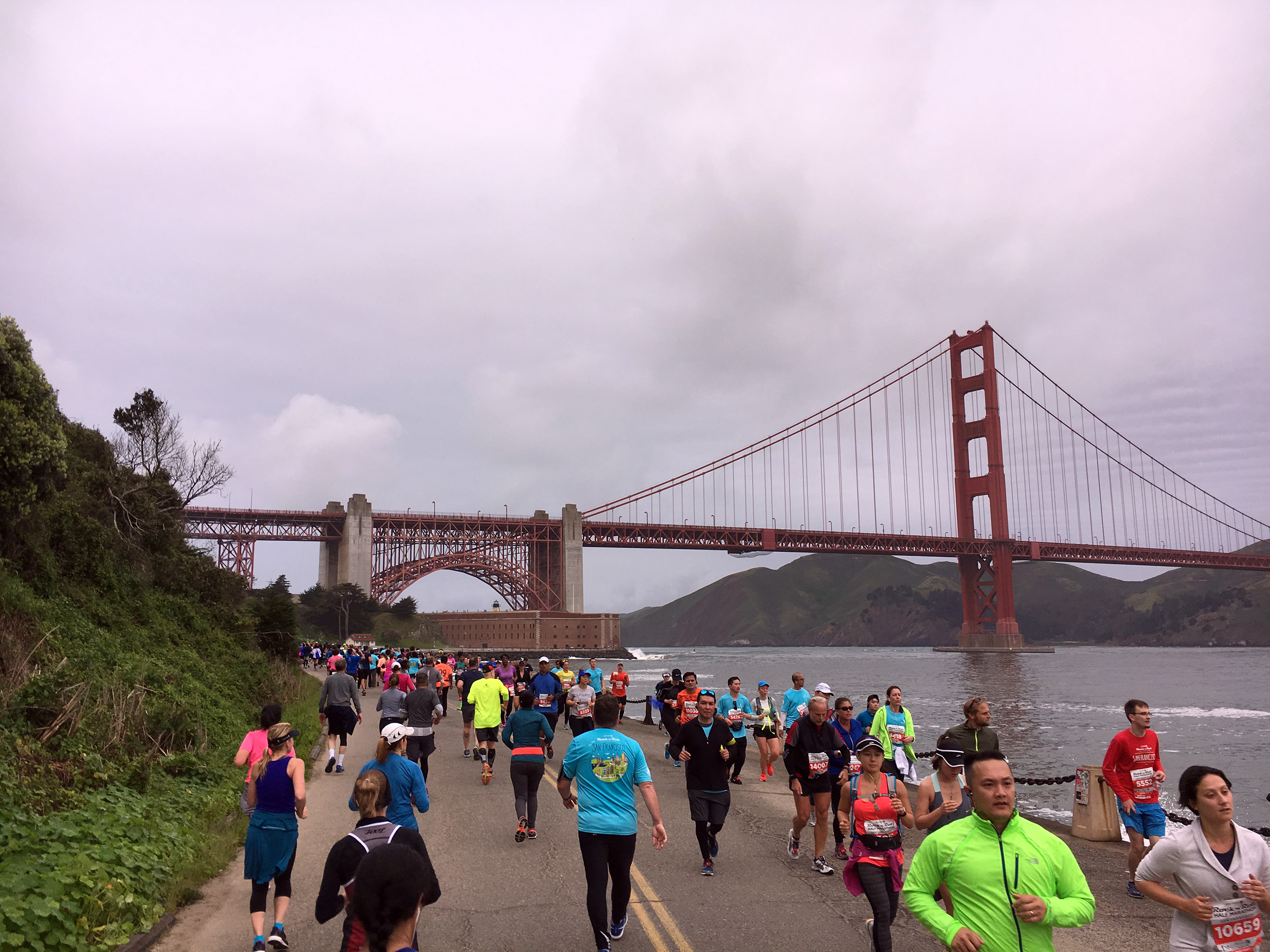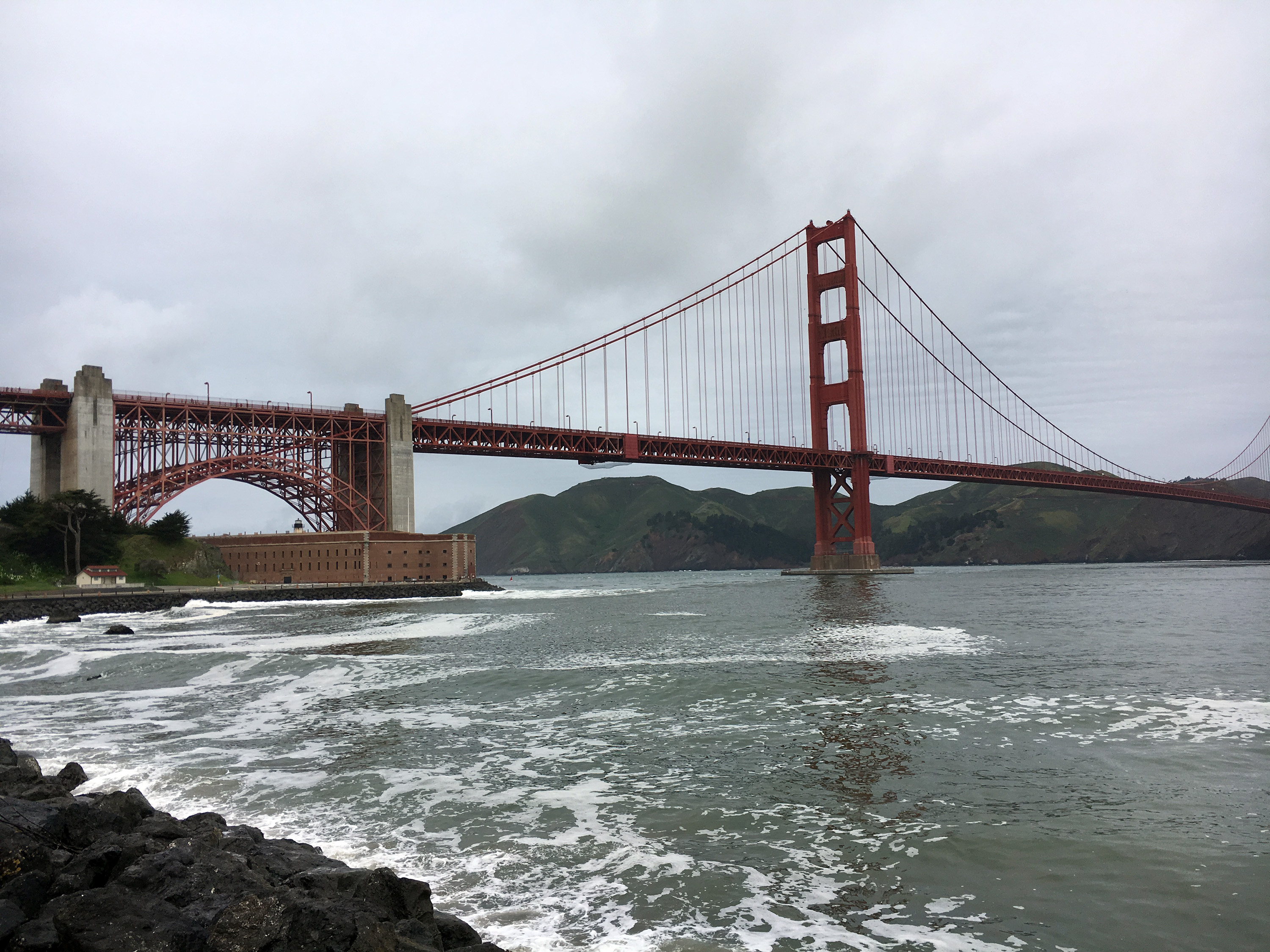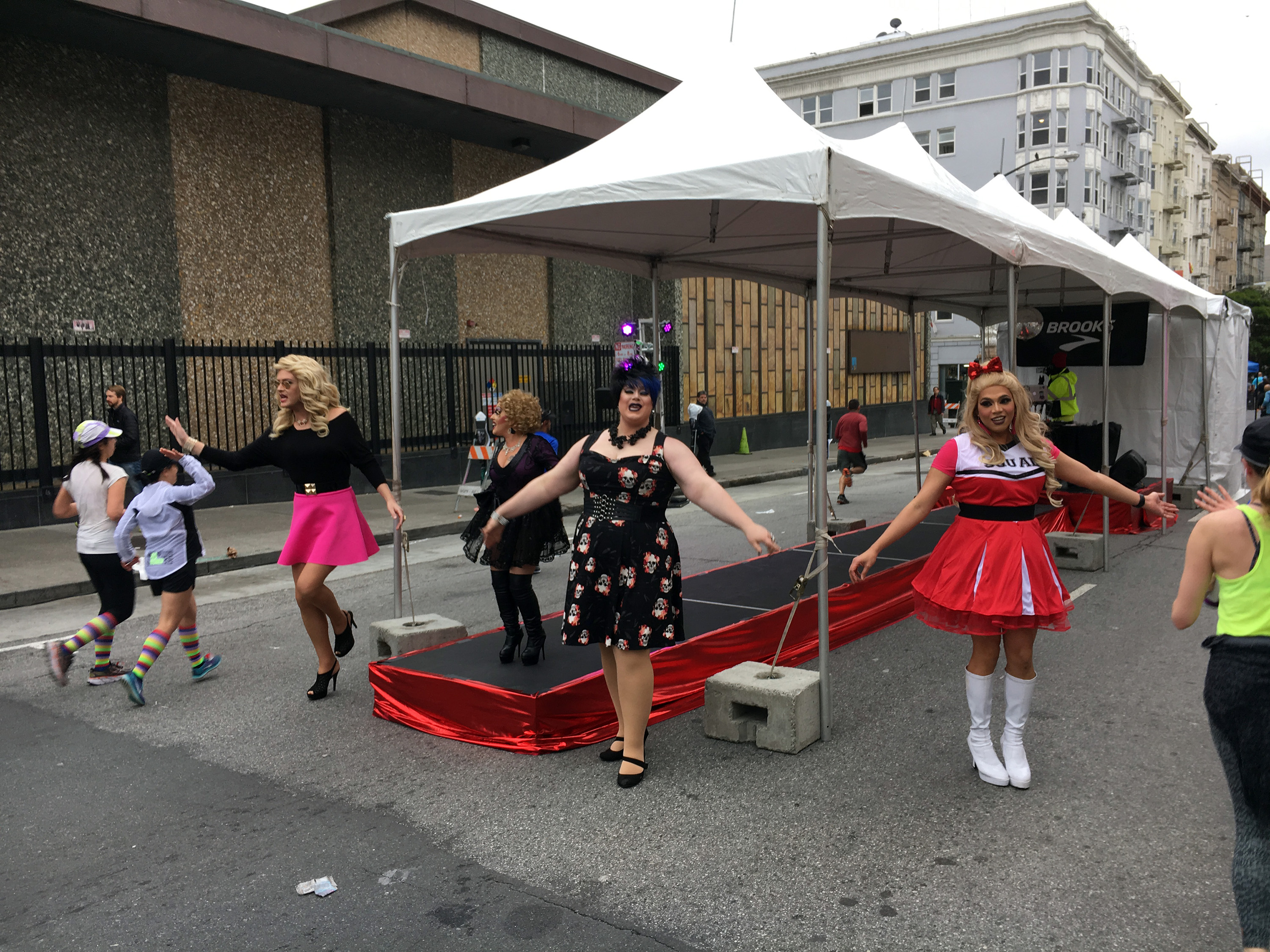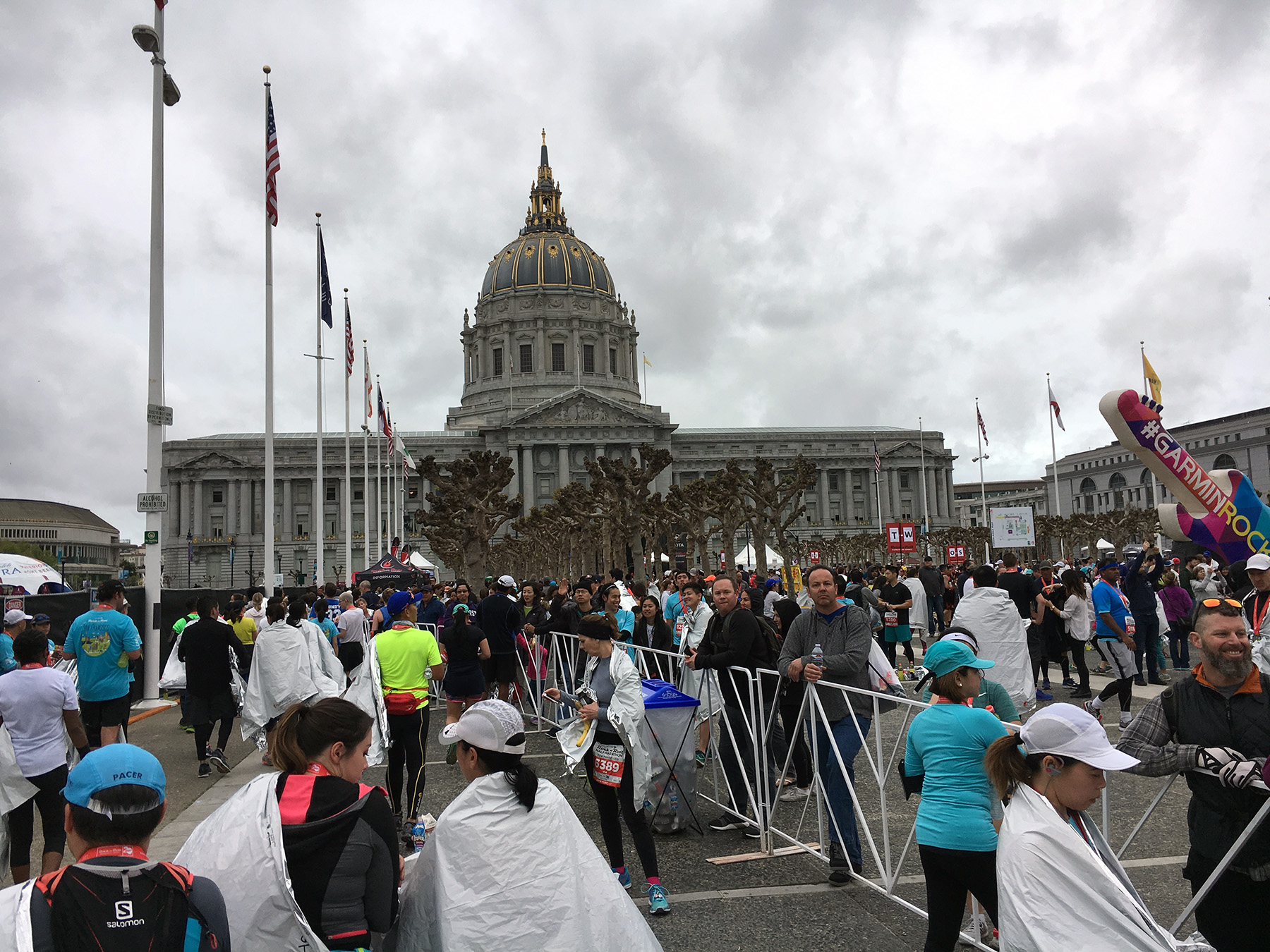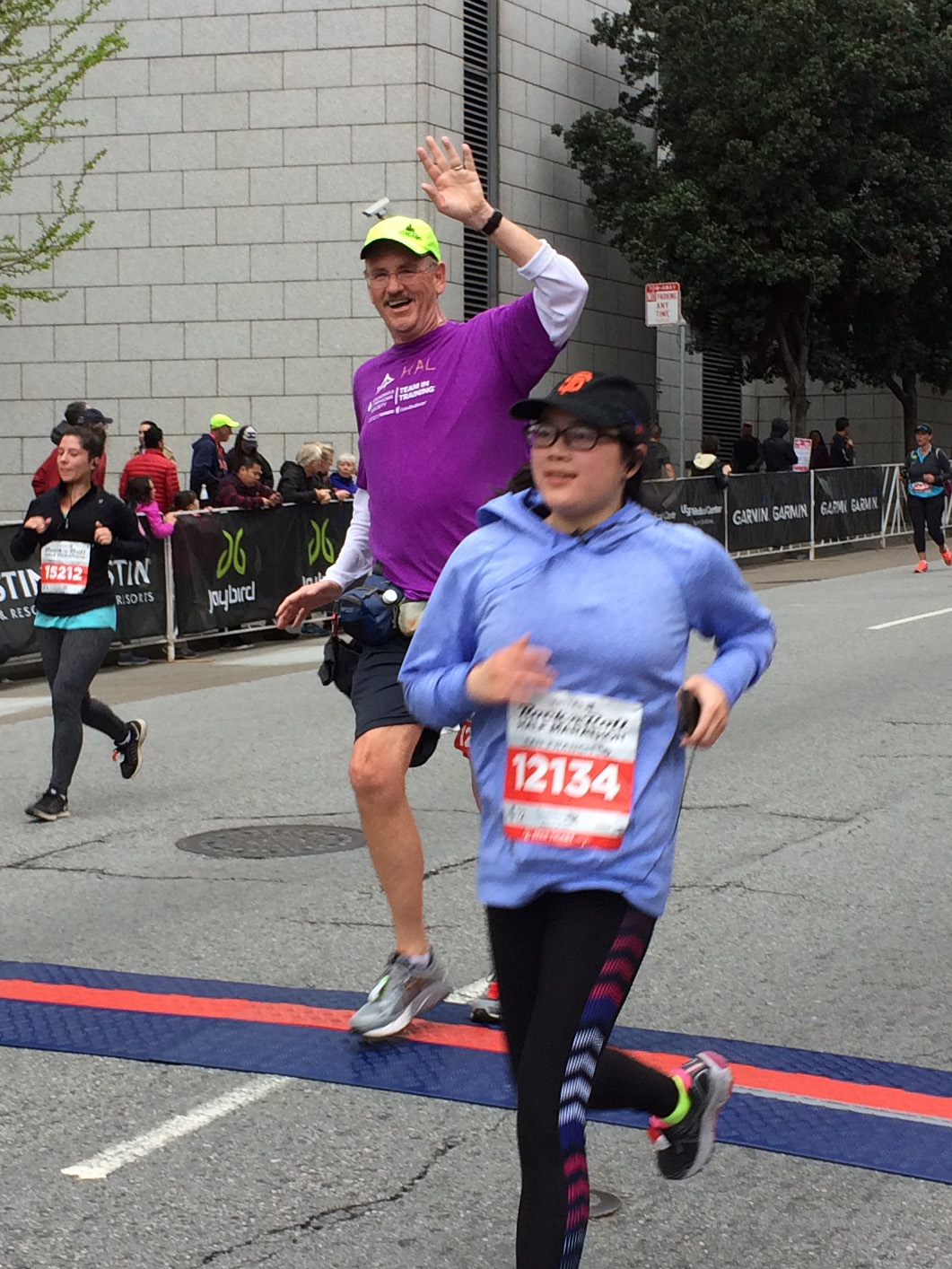 Sat, Mar 18: The track workout was hill repeats at the Stanford Dish. It was not a particularly taxing workout because they kicked us out after 30 minutes—daylight saving time did not affect their closing schedule for the month of March. But we did almost a half an hour of running up and down a relatively modest slope. The weekend long run was on our own. I did only 5 miles on Alameda and Woodside Road; I kept the mileage down because I'm going to be flying out to New Orleans tomorrow and don't need the added discomfort on the plane (and in a week I will be running a half marathon in San Francisco, so I'm looking upon this is a little bit of tapering). My season mileage is 267.

Sat, Mar 11: Track this week was circuit training: 400 m followed by some core strength exercise, and then repeat. The long run was scheduled for Santa Cruz, but I did not feel like driving that far, so I ran on my own at Shoreline, 10 miles at an 11:51 pace. My season mileage is 254.
Sat, Mar 4: Track this week was 800s. The goal was consistent timing for each. I did seven repetitions and kept my time reasonably close to 5:35; the only problem I had was toward the end I was speeding up! The long run was on our own and I did 7.5 miles on Cañada Road at an 11:52 pace. My season mileage is 241.
Sat, Feb 25: Track was ladder intervals again: 400, 800, 1200, 1200, 800, 400 m. The long run was at Sawyer Camp, which was partially closed because of the recent weather. Only the easy flat part, the first 3.5 miles, was open, so we had to do a double out and back. I did 13.1 miles at an 11:22 pace, which makes me pretty happy, because this was the fastest I have run since July 4, 2015, and if this had been a race, it would be my second-fastest half marathon! (Part of the reason for my speed was being accompanied for over a mile by Coach Erin, who got me to run faster by example. Another part might be a more aggressive run/walk interval of 5/1.) My season mileage is 223.
Sat, Feb 18: Track this week was fartlek intervals—random intervals of running faster and slower, based on the coach's whistle. The long run was on our own and I did 7.5 miles around the Stanford Campus Drive loop, at an 11:59 pace. My season mileage is 200.
Sat, Feb 11: Track this week was a series of 400 m intervals in sets of three: easy, moderate, and relatively fast. I did three sets. The long run was in Los Gatos on the Stevens Creek Trail. After a week with a lot of rain, we had beautiful weather, brisk and sunny. However, there were a variety of mud puddles from the overflowing banks of the creek and one place where the trail was under about 6 feet of water. Fortunately, a well marked detour was provided. I did 12 miles at a 12:01 pace, which is actually very good for me considering my performance over the last few seasons. My season mileage is 184.
Sat, Feb 4: Track this week was ladder intervals: 400, 800, 1200, 1600, 1200, 800, 400 m, with a minute of walking recovery in between each. The long run was on our own and I did 8 miles at a 12:07 pace around the Campus Drive loop at Stanford. My season mileage is 167.
Sat, Jan 28: Track this week included some exercises to develop good running forms, but the main event was a three-mile timed run to judge wave assignments. The long run was from Woodside Town Hall along Cañada Road, 10 miles at a 11:55 pace. The first couple of miles were pretty muddy on the trail, so I switched over to the road, which is not exactly kosher and I probably did not get the full benefit of the very hilly trail running, but what the heck. My season mileage is 148.
Sun, Jan 22: I missed track and the organized 8-mile run this week because of some Civil War travel (see here). When I returned, I ran 9 miles at a 12:03 pace around the Stanford Campus Drive loop. My season mileage is 127.
Sat, Jan 14: Our first track workout, this Thursday with Coach Erich, was appropriately pretty easy. We did a warm-up run, some dynamic drills, two laps of "Indian relays," and then seven laps of easy half running, half walking. I was expecting an introduction to core strength training, but Stanford track was pretty wet following the recent rains, so we bypassed it this week. The weekend run was on our own and I did 7.5 miles at a 12:31 pace on the hilly Cañada Road course. My season mileage is 118.
Sat, Jan 7: TNT Kickoff at Whisman Park in Mountain View! A big storm is barreling in and I expected a pretty miserable day, but I was surprised that the running gods looked kindly on us and we had no more than an intermittent light rain. The TNT tent was set up so the various announcements were under cover. I did 6.55 miles at a 12:06 pace, sharing the trail with Ginny, the only other runner training for a full marathon this season (or who showed up today anyway). This was not my first run of the season: I have kept up a regular schedule since Philadelphia, with one or two 5-6 milers during the week, 9-12 on the weekends. So on my first TNT day, my season mileage is 108!