Hal and Nancy's "Signature City New Orleans" with Road Scholar, March 2017
This is Hal and Nancy's travelogue of New Orleans with Road Scholar for the program Signature City New Orleans: An Unforgettable City of Mystery and Intrigue. It was Hal's 14th Road Scholar trip, Nancy's 13th.
Sunday, March 19 – Arrival
We had to get up at 2:30 AM for a United Airlines flight at 5:30 through Denver, arriving in New Orleans at 1:30. We had a late lunch at Red Fish Grill near Hotel Monteleone, which is a very nice 19th century hotel with an ideal location on the edge of the French Quarter. Our room on the 14th floor had a great view of the Mississippi and we could clearly hear the calliope from the steamboat Natchez. At lunch we had a BBQ oyster po-boy and shrimp and grits, the latter excellent (the best version of shrimp and grits we had all week, actually), the former decent. We walked to the Congo Square Rhythm Festival in Louis Armstrong Park. A number of middle school brass bands were competing in what they branded as traditional music--a marching dirge followed by two upbeat songs. They were all pretty spirited, but not all that good, sorry to say. Today is St. Joseph's Day and there were "Indian" parades somewhere in town, but we didn't see any--unfortunate, because they are supposed to be quite a spectacle. (The participants are actually African-Americans who are expressing their appreciation for kindness that Indians granted to their enslaved ancestors.)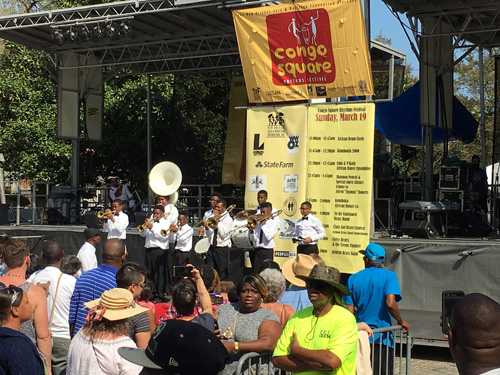 Late that afternoon we had the typical Road Scholar introductory session, meeting our host, Clare Pierson. (Somehow I neglected to take a photo of Clare today, but you can see her below in the Thursday visit to the cooking school.) She told us that New Orleans happens to have been the number one Road Scholar destination for the past 25 years. She gave us a brief introduction to New Orleans culture, which is not traditionally Southern. In fact, most residents do not drink sweet tea or have southern accents – they often sound more like New Yorkers. A typical expression in New Orleans is "Where y'at?" The response to this is the same phrase. It originated when musicians would greet other musicians on the street, inquiring about where they were booked on a gig. We spent some time going over the complicated logistics of the plan for the week, with multiple colored badge stickers grouping us for separate lunch and dinner schedules. After the 24 participants introduced ourselves, we had dinner at the hotel restaurant, which was pretty nice, but unfortunately not representative of New Orleans cuisine favorites.
Monday, March 20 – Culture and Cuisine
After our group breakfast in the hotel, we had some extra time so we went to the Café du Monde for some chicory coffee and a few extra calories. Road Scholar gave us vouchers for each of us to order coffee and three beignets. This is one of my favorite New Orleans experiences.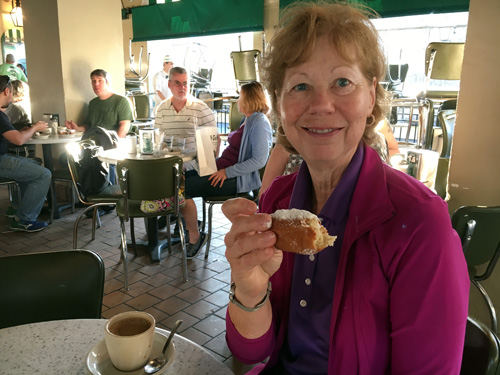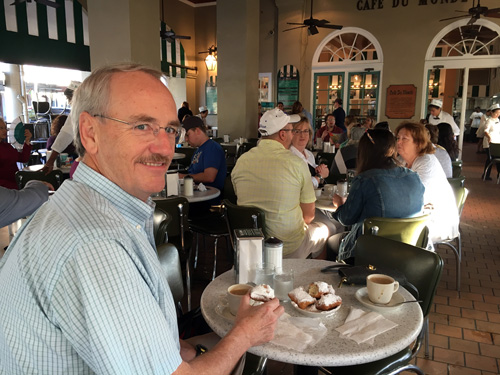 Anne Leonhard was introduced to give us a classroom presentation on New Orleans history and culture, Creoles and Cajuns, with food and restaurant recommendations. She showed us a number of slides of local scenes and people, including some of her own family. The discussion of how to pronounce New Orleans came up and she said that those who said "N'Awlins" are low class. I also noticed that no one used the pronunciation "looziana" for the state; perhaps this is a Cajun thing, and it was emphasized a few times that Cajuns rarely came to the city. An interesting side note is that Cajun cuisine was virtually unknown in the city until Paul Prudhomme introduced it in the 1970s, with his blackened redfish.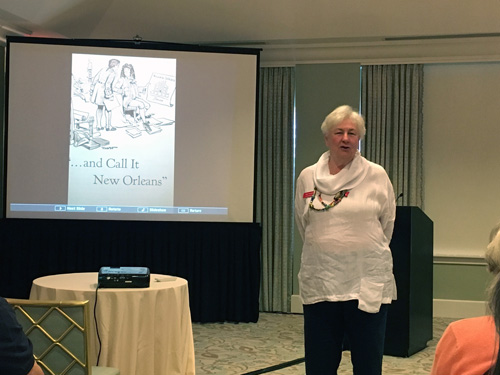 Half of our group took a bus to the Commander's Palace in the Garden District for an excellent lunch. Hal had turtle soup, shrimp and grits, and a unique bread pudding soufflé. The restaurant offered five different varieties of martinis for 25 cents, and Clare said we could have as many as we wanted, just as long as we were able to get back to the bus. Nancy and I did not partake, but these looked like serious drinks.
The afternoon was a bus tour narrated by Anne. Since we kept moving, there was not much opportunity for photos. We started on the outskirts of the French Quarter (although the big bus kept travel through this congested area to a minimum), and then the Ninth Ward to see Katrina damage. Although we heard descriptions of how overwhelming the damage was, there was really little visible evidence today of how bad it was. We saw a number of newly constructed houses that were sponsored by a Brad Pitt charitable foundation, Make It Right. Although they were usually designed by world-class architects, many of these had somewhat odd appearances that did not fit into the local tradition. We drove along Lake Pontchartrain, which is nice and scenic when the hurricane is not around, and observed one of the canals on which the levees broke. Anne was a victim of Katrina and does not have good things to say about the levee-designing skills of Army Corps of Engineers. We stopped at St. Louis #3 Cemetery to hear explanations of various above-ground burial methods and how they dealt with limited space in the tombs. Our final stop was the Sydney and Walda Besthoff Sculpture Garden at the New Orleans Museum of Art, in City Park, where we had 20 minutes to race by a number of really innovative and interesting three-dimensional art pieces. We drove by a monument to P.G.T. Beauregard, one of the Confederate statues that will be removed in the near future, but I did not have an opportunity to photograph it.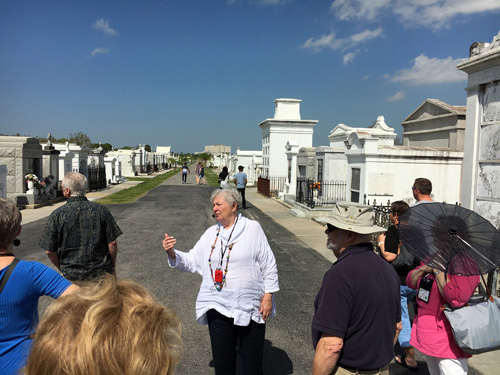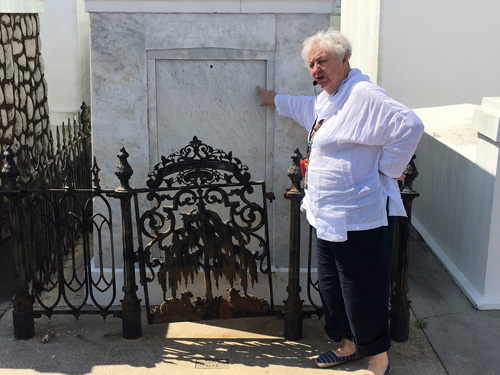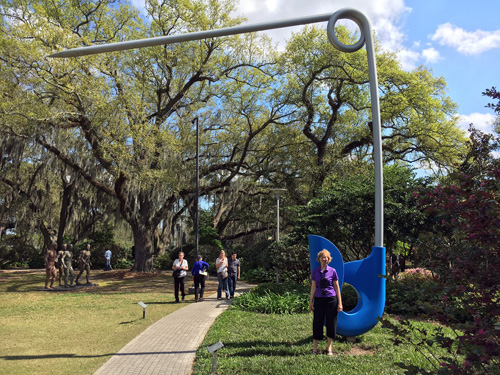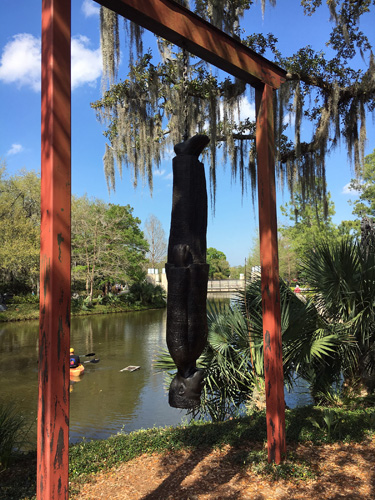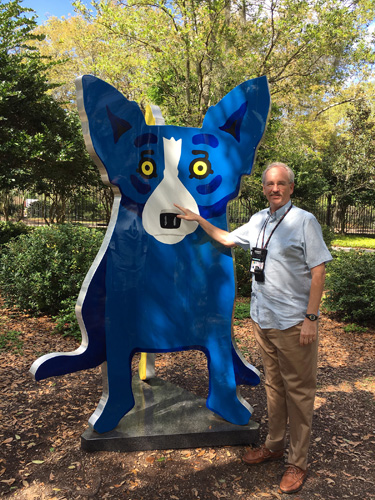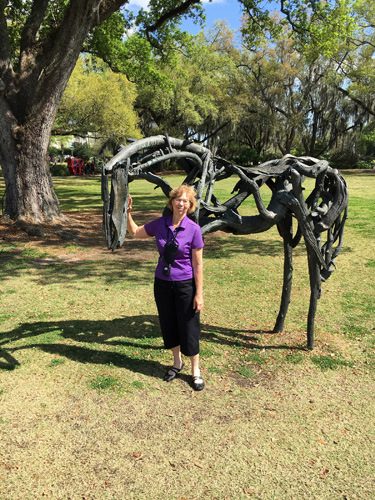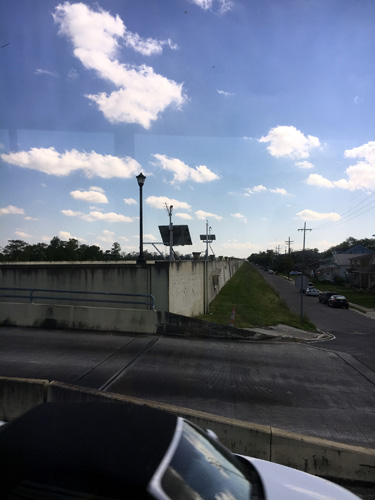 We had three group dinners during the week and the 24 of us were divided into thirds to rotate through the choices. Our first was at the Palace Cafe on Canal Street. It was a bustling touristy place with good food. I had Andouille-crusted fish, but I didn't feel well, so we did not stay out after dinner.
Tuesday, March 21 – Architecture
Nellie Watson, a local architect, was our guide today. She is currently out of building design and has a business focused on creating scale models. She recently completed models for the next two Avengers films, which she said were budgeted at $500 million each! New Orleans has 35,000 buildings in 19 historic districts. The "Pike's Peak" of the city is 10 feet high, a narrow crescent along the river where the French Quarter, Warehouse District, and Garden District are. The city average is -8 feet. No stones were available for early building in the state. Early bricks crumbled because they were composed of too much sand, so usually walls had to be covered in plaster or stucco. The Ursuline Convent (which we did not visit this week) is the only actual French-constructed building in the French Quarter, all of the others being lost in two massive 18th-century fires.
We discussed a number of building styles, including Creole cottages (the earliest and most modest, but all have courtyards inside); Creole townhouses; galleries vs. balconies; American townhouses; replacement of the early wrought iron with more elaborate cast iron railings; Victorian, Queen Anne, Italianate; and shotgun houses.
We took a bus tour of the Lower Garden District and the fancy Garden District near the Commander's Palace, and traveled the full length of St Charles Street, past Loyola and Tulane Universities. This included a walking tour that stopped at a dozen or so notable houses of various styles. One was 1134 1st St, where Jefferson Davis died, and another, Anne Rice's former mansion. Someone asked about prices and Nellie said she didn't know, but some were "a million plus," which made us Californians chuckle. (I later downloaded the Zillow app and found out that these particular two were worth roughly $870,000 and $3.77 million. The nicer homes in this area were more like 1–2 million plus.)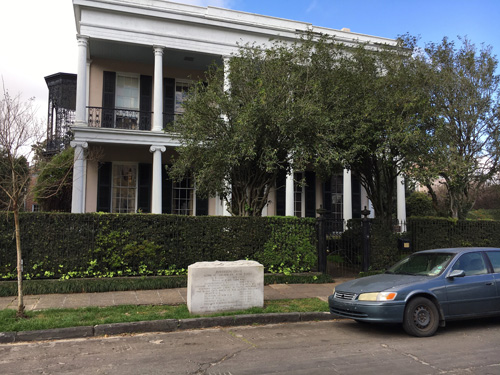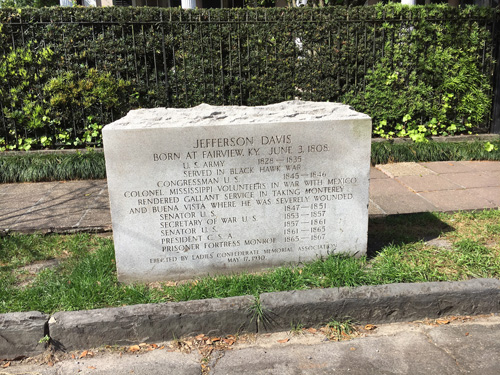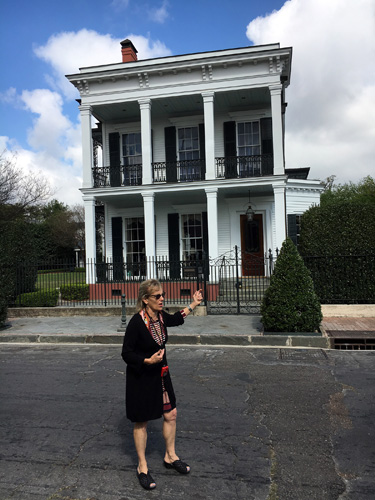 We had lunch on our own at Napoleon House, an ancient bar with excellent Muffaletta sandwiches. We visited the Presbytère on Jackson Square, where priests were headquartered in colonial times. They had a full floor exhibit about Katrina and another about the Mardi Gras.
Back at the hotel, Doreen Ketchens talked about the early history of jazz and performed with her trio (an electric guitar and her husband playing drums and a Sousaphone simultaneously!). She is a simply phenomenal clarinetist, probably the best I have ever heard--and I am a big Benny Goodman fan (and actually met and interviewed him when I was a teenage radio announcer). She talked a lot about funeral parades, the early days of Congo Square, and the Indian parades for some reason. We bought one of her CDs. (We also encountered her later in the week in her regular street performance at the corner of St. James and Royal.)
We had a group dinner at Muriel's on Jackson Square: an interesting Gorgonzola cheesecake appetizer, "Bayoubaisse," and bread pudding. This was probably the best group dinner of the week.
Wednesday, March 22 – World War II Museum, Free Time
We drove to the National World War II Museum, which I had visited previously years ago when it was called the D-Day Museum. It is greatly expanded now, covering all facets of the US involvement in the war. They have invested quite a lot in audiovisual displays and it is all quite effective.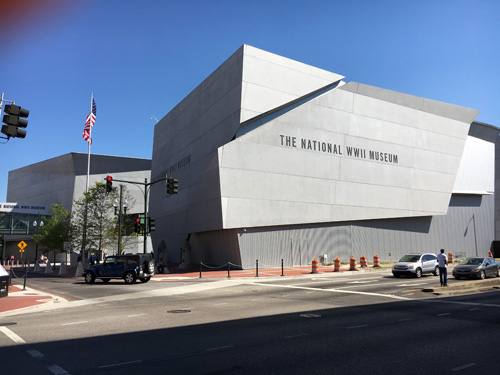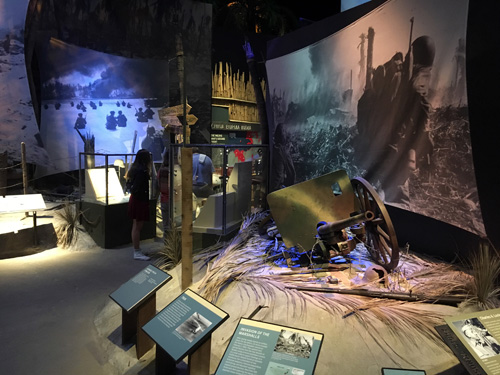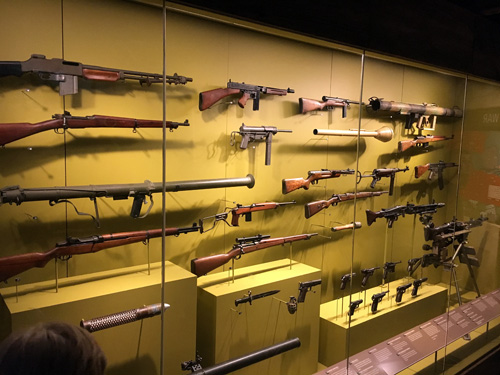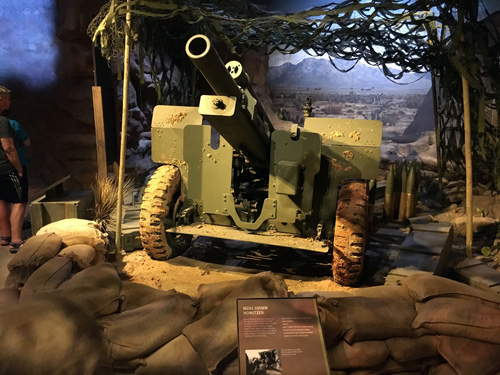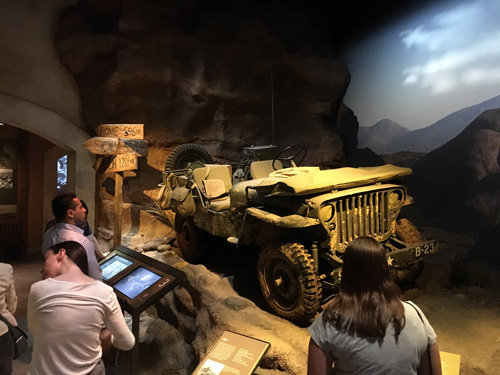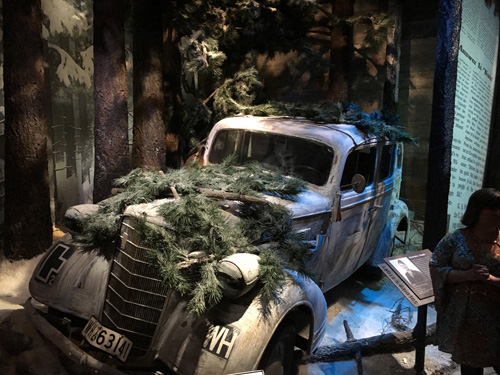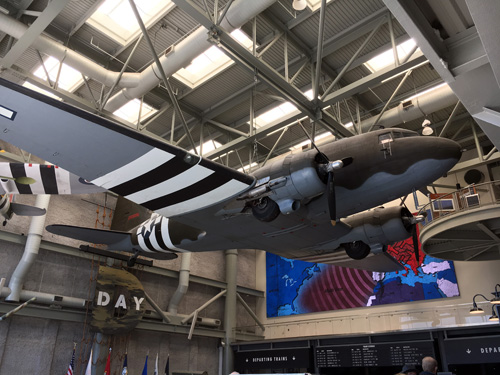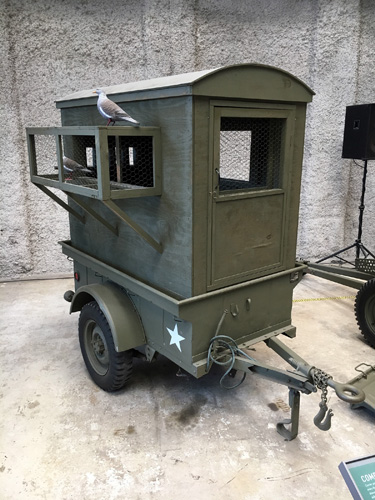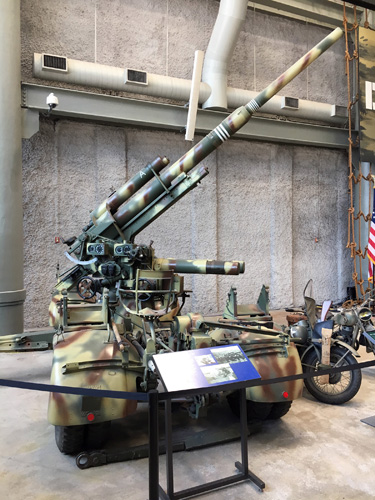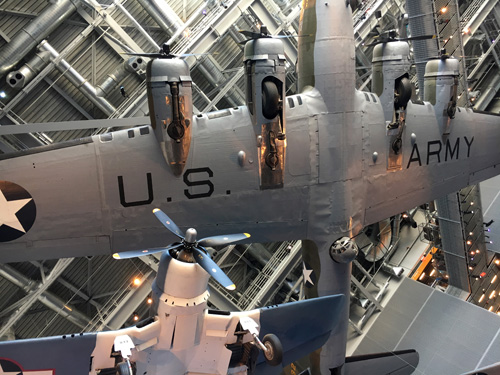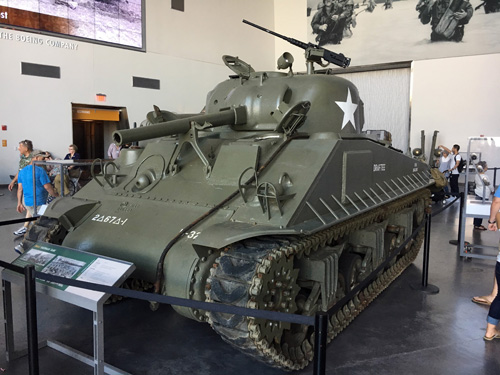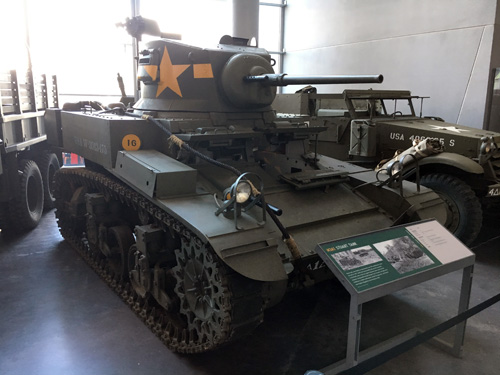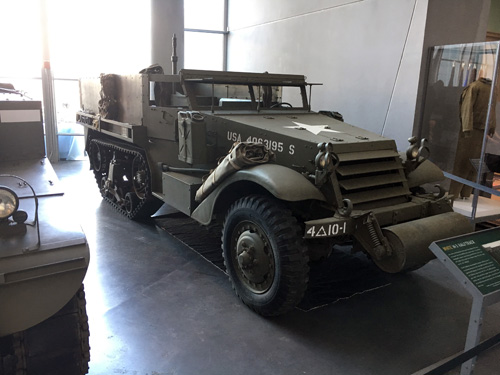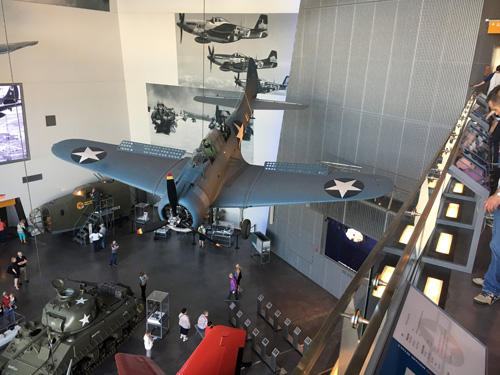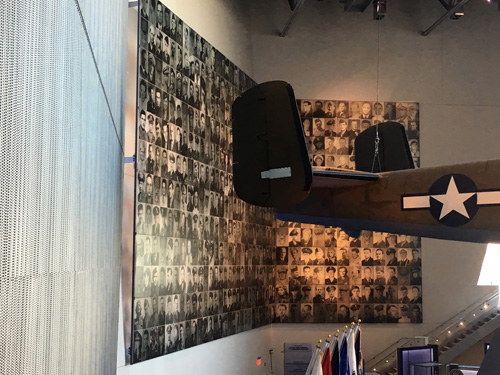 After lunch in the museum café, Nancy and I went our separate ways to use our free time. She visited the US Mint, which is now a jazz museum on the waterfront, where she attended a concert of early jazz. I walked a couple of blocks to the Confederate Memorial Hall, which is a relatively modest museum of artifacts, flags, and a number of nicely done portraits. Then I took an Uber to Metairie Cemetery, where I searched out famous gravesites. I found John Bell Hood, a monument to the Army of Northern Virginia (and what they called the Louisiana Division, although I think that was an overstatement), and a "tumulous" (a mound of earth and stone over graves) for the Army of Tennessee, which had statues of Albert Sidney Johnston and P.G.T. Beauregard. This is a really beautiful cemetery, particularly in contrast to St. Louis #3, with lots of large oak trees, plenty of shady open space, and magnificent tombs. I took the Canal Street streetcar back—the senior fare was $.40!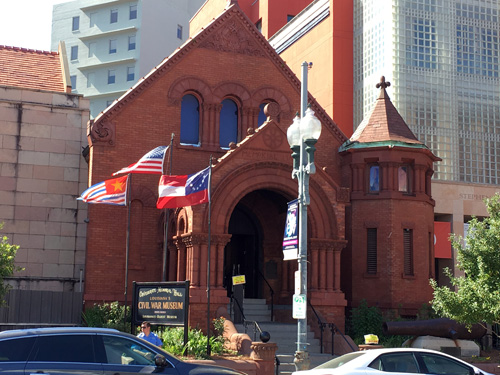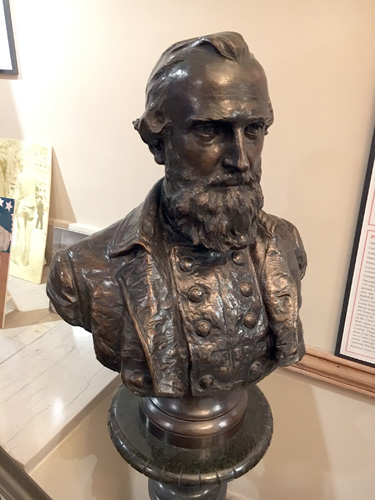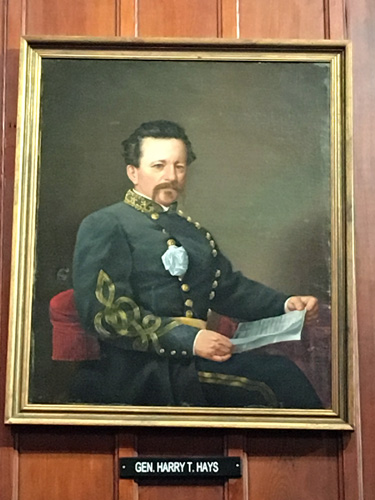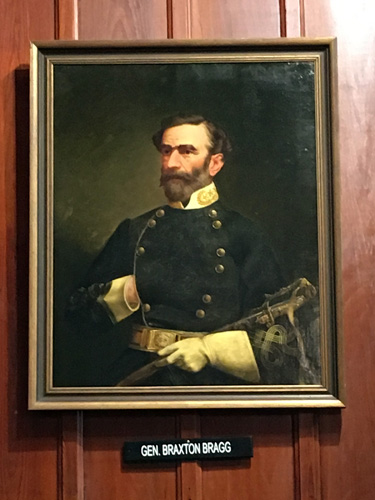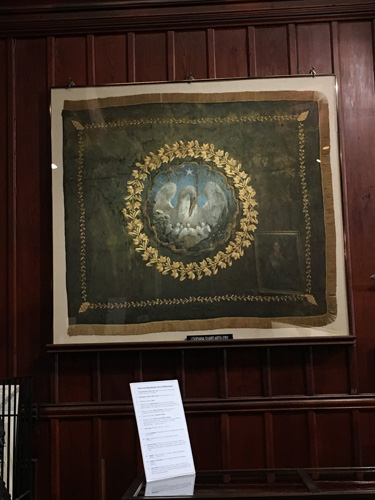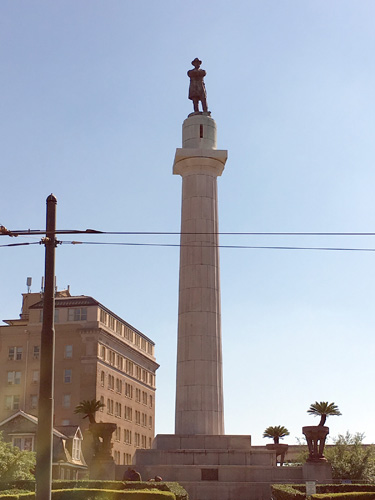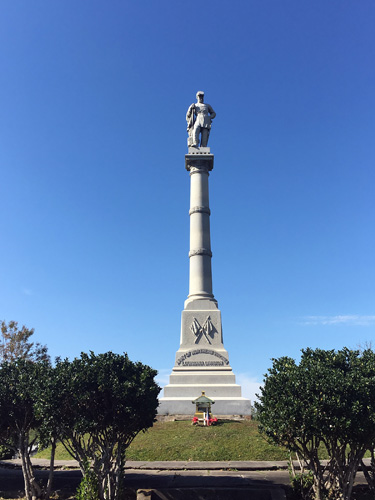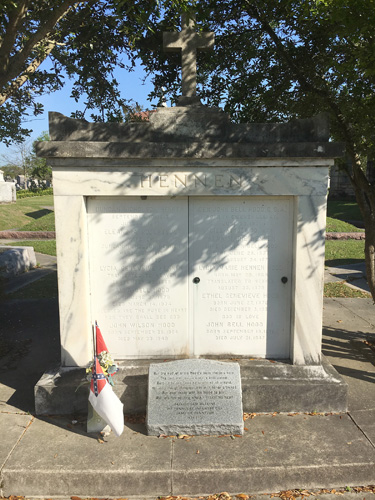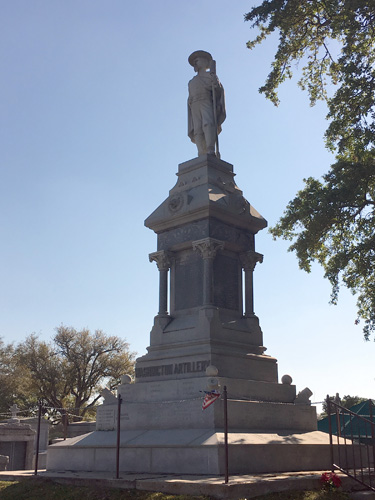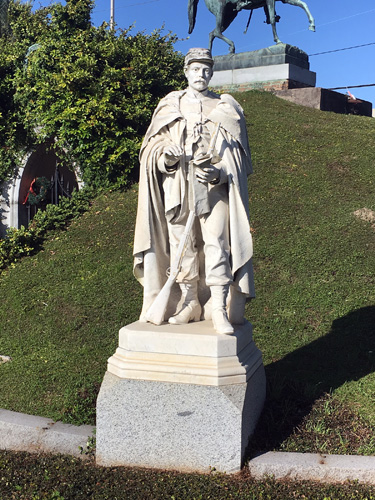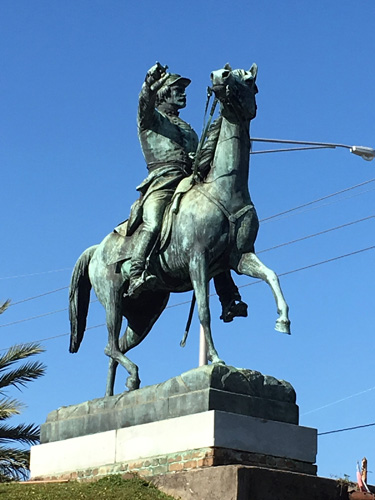 Dinner on our own tonight was at Meril, Emeril Lagasse's newest restaurant (named for his daughter), which specialized in small plates: flatbread with alligator sausage, Spanish croquettes, deviled eggs, pork belly, roasted oysters, minted snap peas.
Thursday, March 23 – Literary New Orleans, Cooking School, Free Time
Joanne Sealy, a local literature professor, presented Literary New Orleans, which was a surprisingly entertaining look at the works of five early influential writers: George Washington Cable, Lafcadio Hearn, Kate Chopin, William Faulkner, and Tennessee Williams. She also touched briefly on some more modern authors, such as Truman Capote and Lillian Hellman.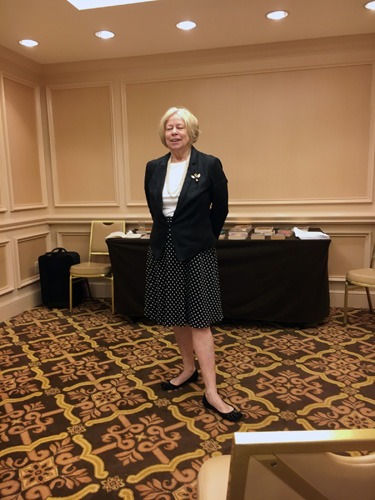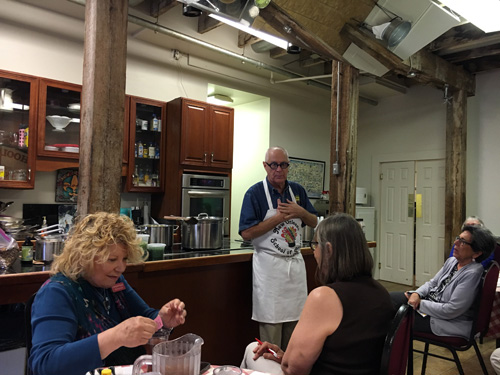 We walked to the New Orleans School of Cooking in the French Quarter. Our host chef Steve was convivial and turned out to be a good cook. While we watched, he cooked gumbo (although he did not include the traditional okra for reasons of time), shrimp Étouffée, pecan pralines, and bananas Foster.
On our own for the afternoon, we visited the Cabildo, in Jackson Square, which was the seat of the Spanish government, and during the postbellum period the home of the state supreme court (which was the source of the infamous Plessy v. Ferguson ruling). It has been a museum for over a hundred years. It tracks Louisiana state history, although it is pretty well focused on New Orleans. There's a small but interesting section on the Civil War and an even larger one on Reconstruction.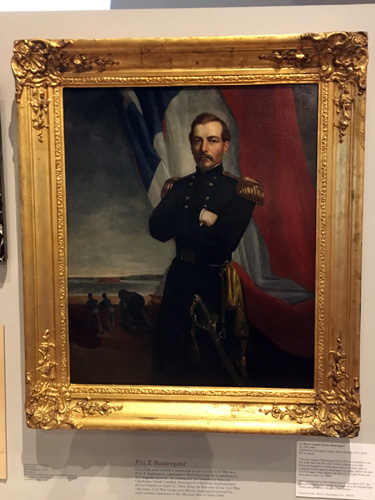 We took a walk on the waterfront, watching the ferry and a number of large ships and barges steaming by. We had wanted to take the Natchez steamboat on a jazz cruise, but they were closed today for some reason, perhaps maintenance.
The final group dinner was at Mr. B's right across the street from the hotel: yet another gumbo, grilled redfish, "hot" pecan pie (which wasn't so hot).
Friday, March 24 – Brunch and Departure
Our final group event was brunch at the Court of Two Sisters, which was accompanied by a small jazz duo. I cannot say that I was overwhelmed by the quality of the buffet, but the venue was picturesque.
Before heading to the airport we visited Madame John's Legacy, a small house of colonial Creole architecture. We had hoped it would be furnished in a way to illustrate the times, but it was filled with a pottery exhibit. Finally, 1850 House in the Pontalba Apartments (the long buildings perpendicular to the cathedral in Jackson Square), which was fully decorated to the nines.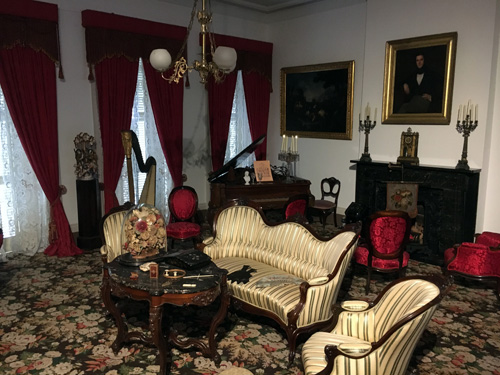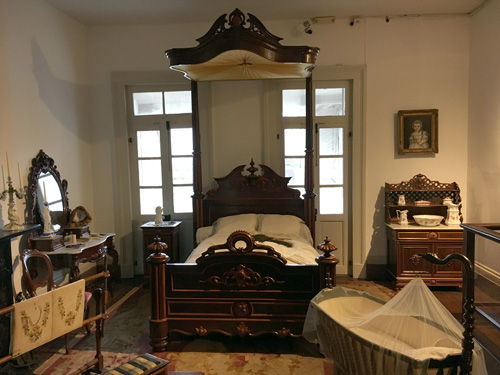 Once again we had an outstanding time on a Road Scholar event, with excellent meals and accommodations and great work by Clare, Anne, Nellie, Doreen, and Joanne. We are looking forward to our next excursion, a week in Pittsburgh this September.