2017 Civil War Travelogues — Sarasota
Welcome to my 2017 travelogue pages. This page is my report of the Sarasota Civil War Conference, hosted by the Civil War Education Association in Sarasota, Florida. To see the entire list of my 2017 trips, go here.
Here is a reminder about the reason I write these pages the way I do. They record my experiences and impressions of Civil War trips primarily for my future use. Thus, they sometimes make assumptions about things I already know and focus on insights that I receive. They are not general-purpose descriptions for people unfamiliar with the Civil War, although I do link to various Wikipedia articles throughout. Apologies about the quality of interior photographs—I don't take fancy cameras with big flashes to these events. If you would like to be notified of new travelogues, connect to me via Facebook.
I flew United Airlines to Tampa via Houston, and drove to the Sandcastle Resort at Lido Beach, Sarasota, arriving after 9 PM. This is quite an old-fashioned beach motel, but my room was pretty nicely renovated and overall I had a comfortable stay.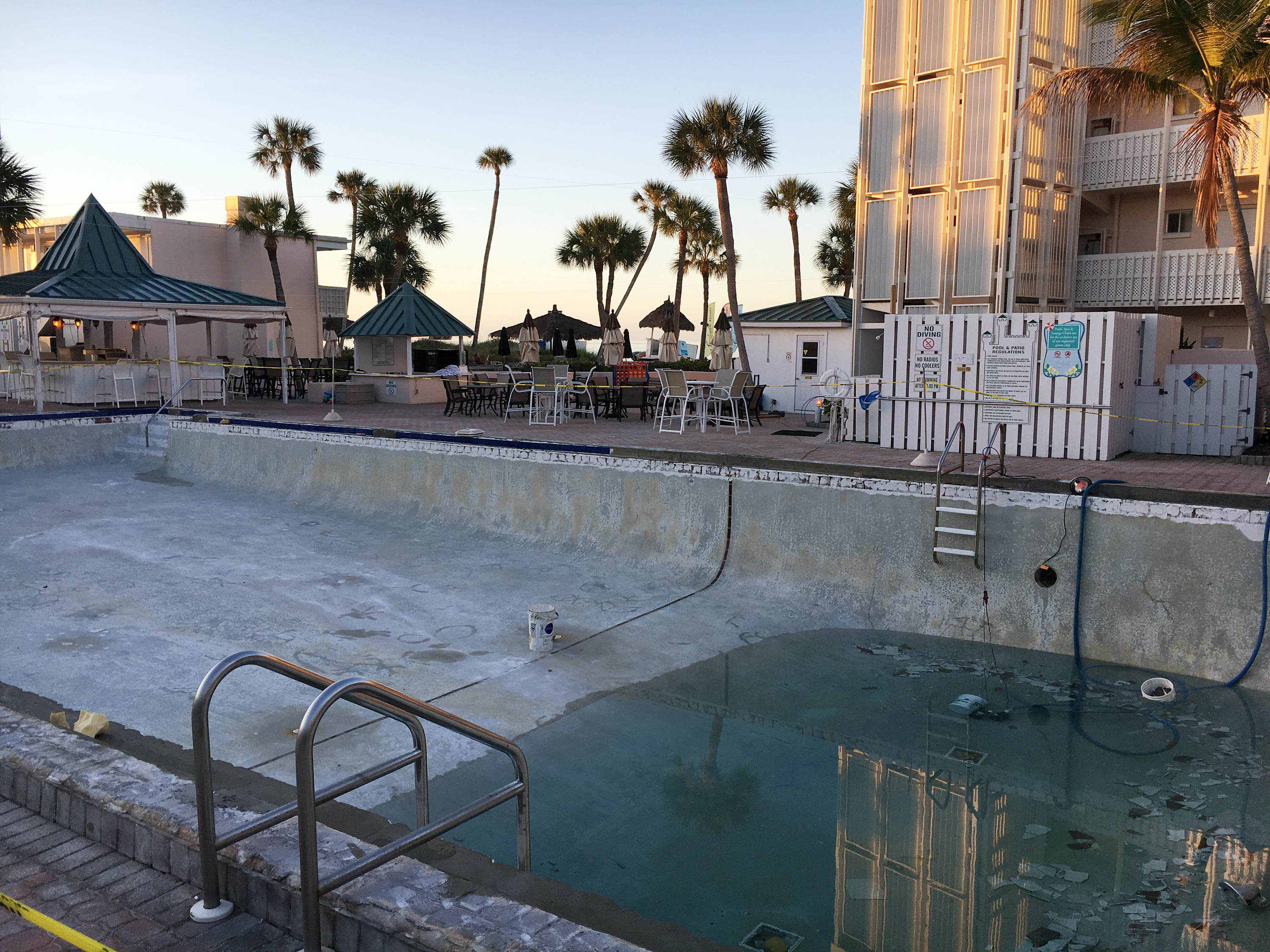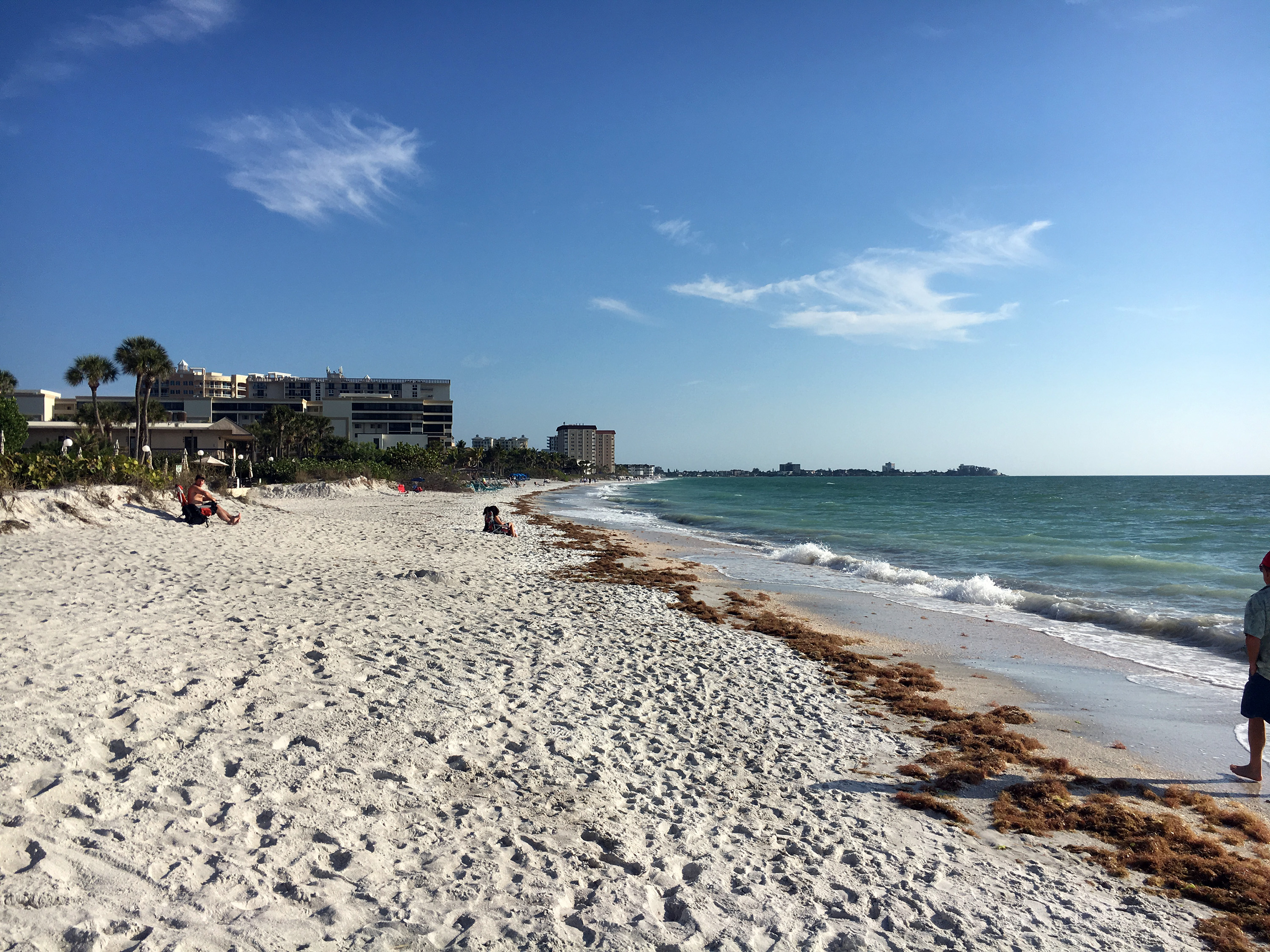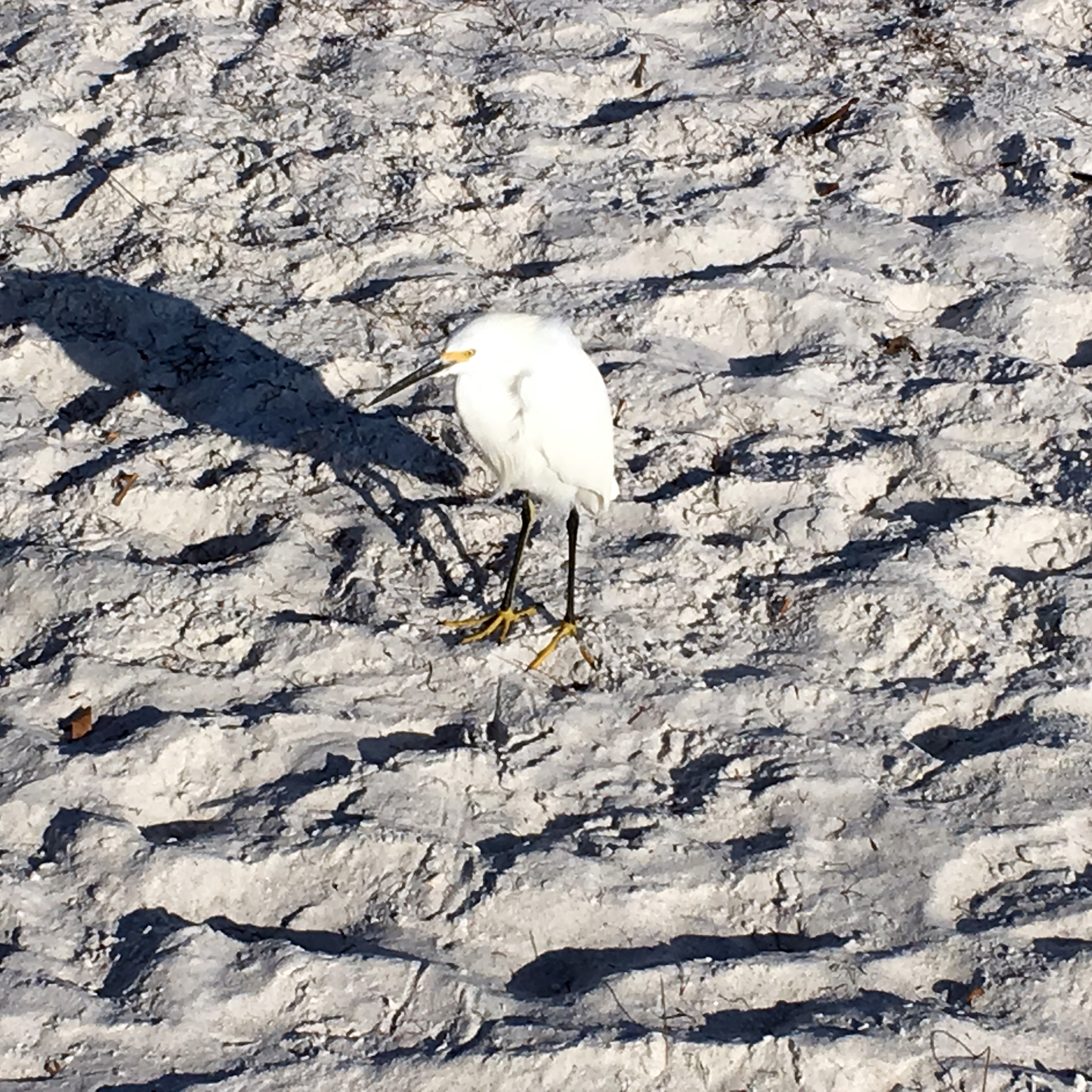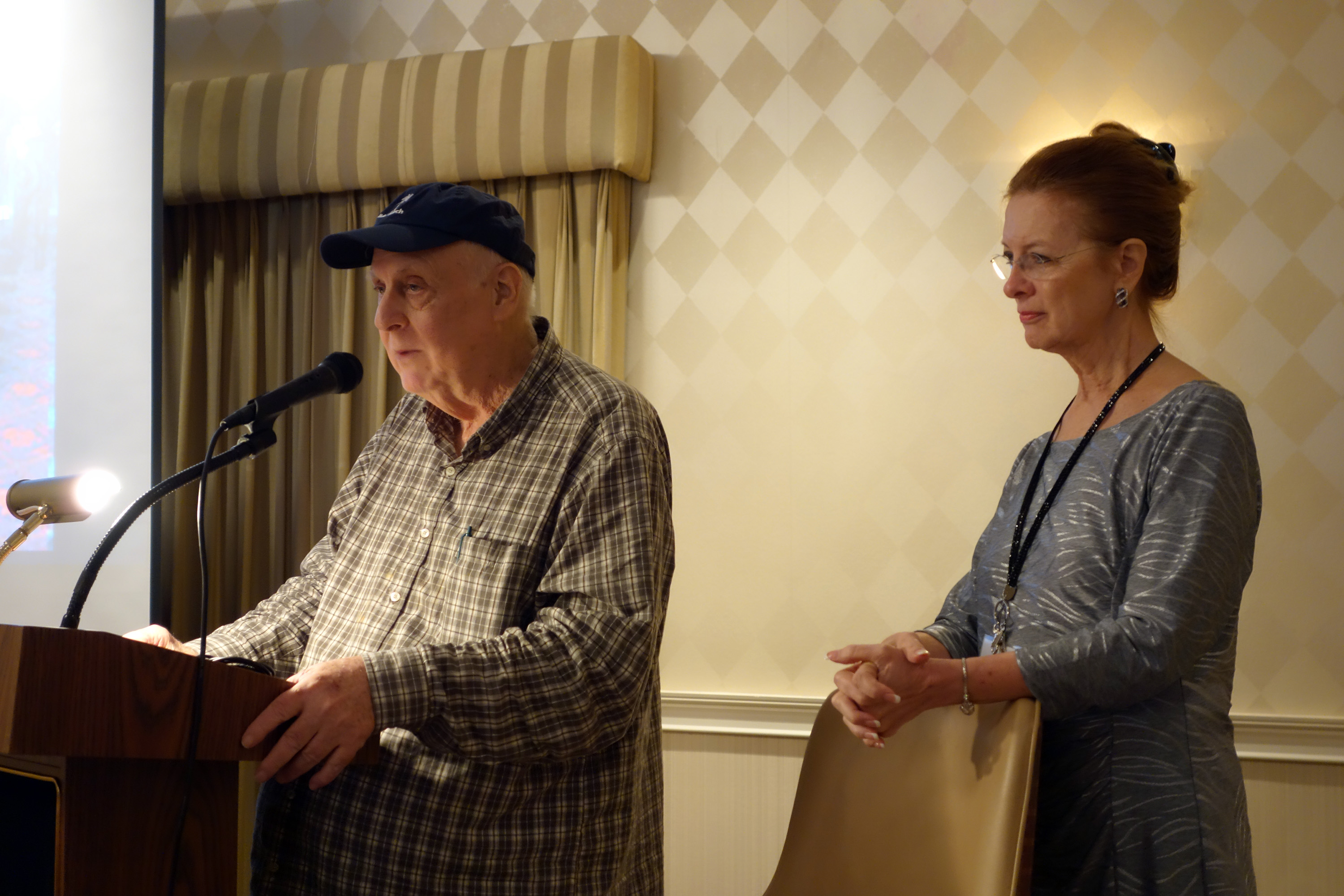 Thursday, January 19
Happy birthday, Robert E. Lee!
The Civil War Education Association is celebrating its 25th anniversary of the Sarasota conference. This is my second time attending, although it has been a few years since the previous. The weather is warm and bright sunshine, which is a good deal better than it was a few years ago. The premise of this conference, I assume, is that the snowbird Civil War historians from the Northeast are attracted to the nice weather and relatively leisurely presentation schedule. And they certainly have an all-star lineup of historians.
Robert K. Krick, Under the Shadow of a Superstition: Stonewall Jackson's Unparalleled Failure during the Seven Days. Bob goes along with the traditional opinion of Jackson's poor performance, his fatigue following the lengthy march from the Shenandoah Valley. Answering some criticisms, Bob said that Jackson's army actually marched on average 19 miles per day. He described the process of taking the wrong turns on his march to Old Cold Harbor, giving unclear directions to his local guide. He criticized Jackson's tiny staff, only three people, which made coordinating his corps all the more difficult. At White Oak Swamp, which he failed to cross and enter into the battle of Glendale, Bob called this the worst day of the war for Jackson. Bob did not include as many sarcastic zingers as he typically does in a presentation, so perhaps he was fatigued by his trip from Virginia.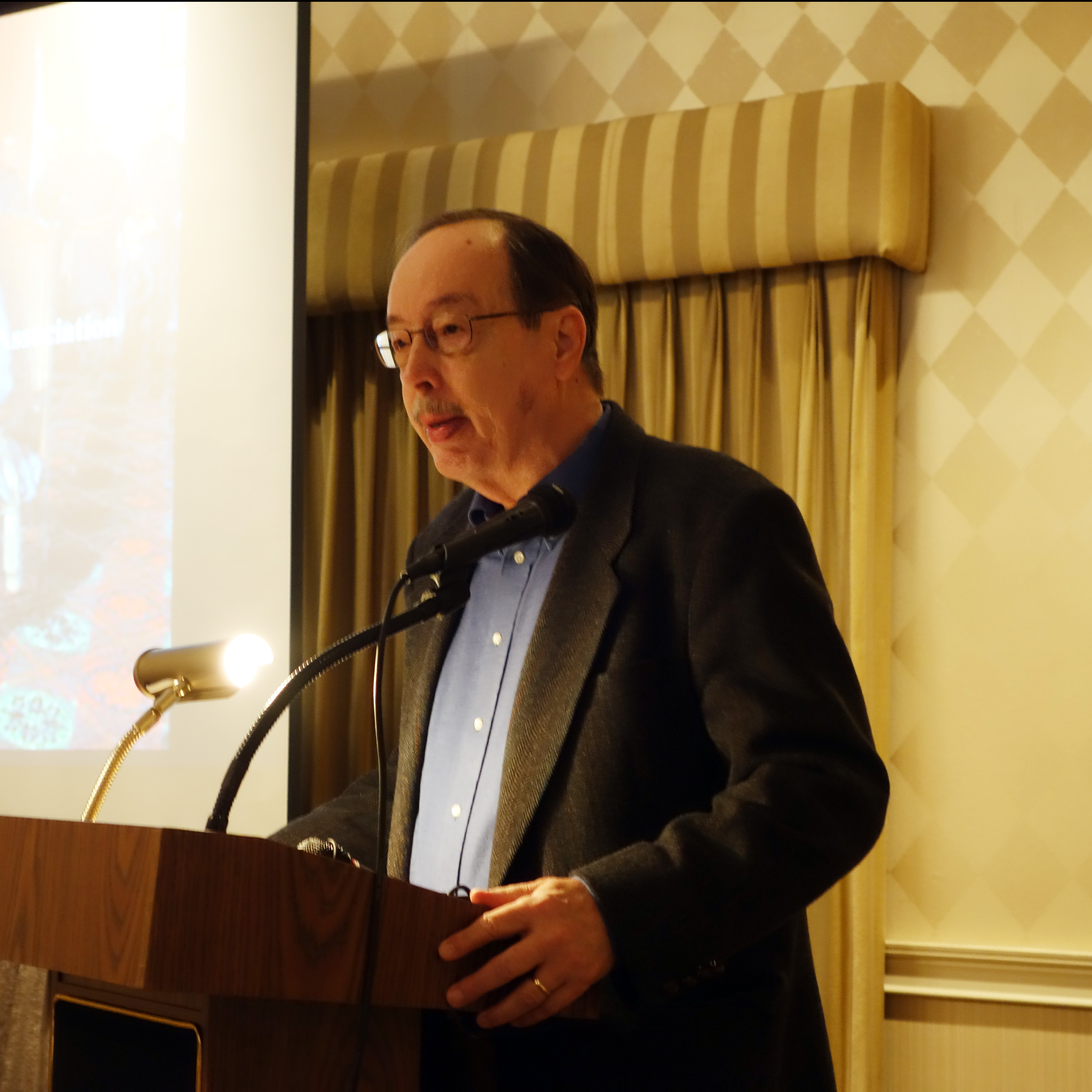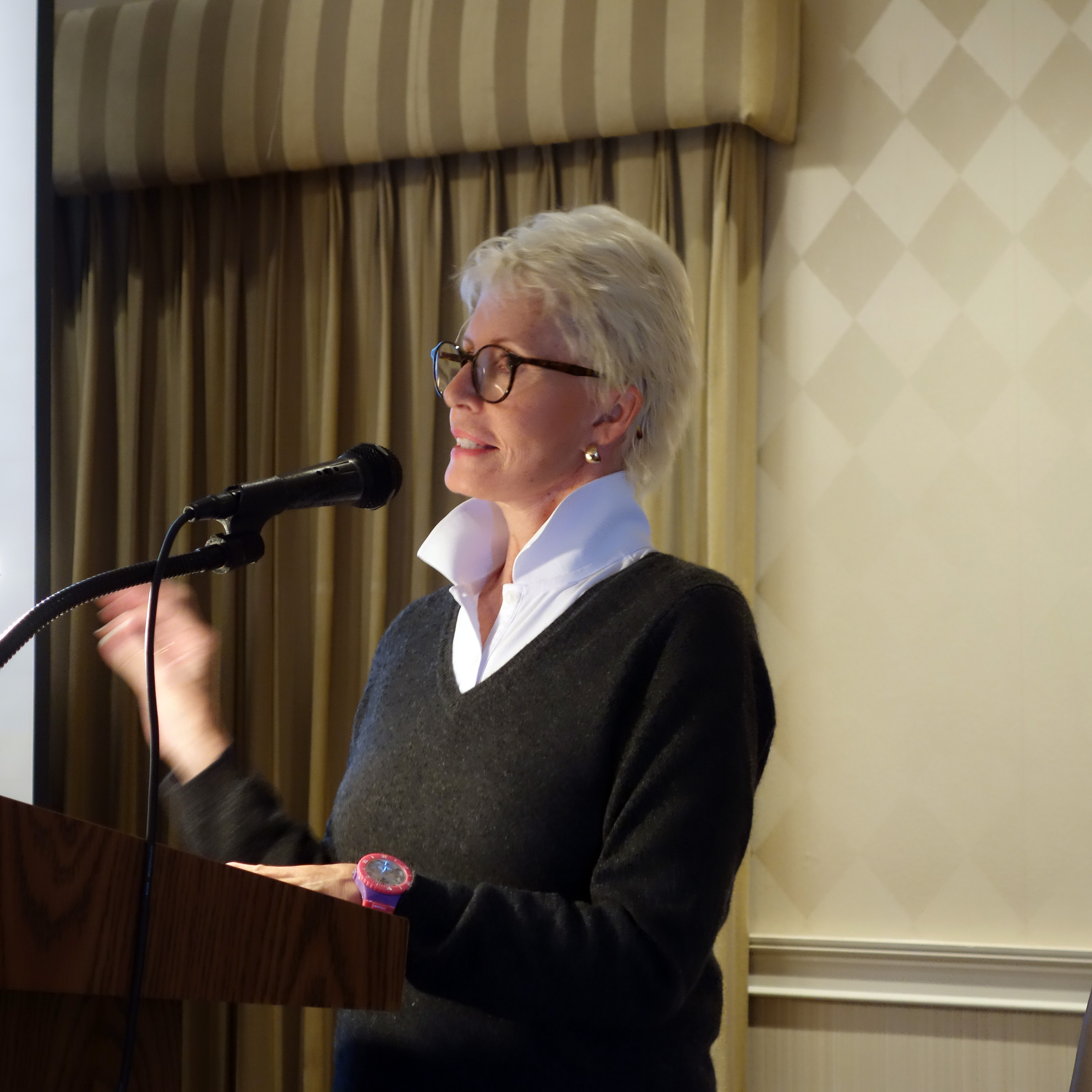 Candice S. Hooper, The Untold Story of Mark Twain and McClellan's Memoirs. Candy is the author of Lincoln's Generals' Wives and she gave a very entertaining presentation about the memoirs, which turned out so poorly that she is forced to have some lingering pity for General McClellan. She called the warehouse fire in New York City that destroyed his original memoir manuscript to be divine intervention and it is too bad that McClellan did not take the hint. She gave us a good background about McClellan's literary executor, William Prime, who, following McClellan's sudden death, was faced with completing the memoirs from a partial draft. Less than 50% of Little Mac's own words were used, but all of the private letters that he wrote to his wife were, including his unfiltered narcissism and the unvarnished insults of prominent men, which is one of the reasons he is so poorly thought of by historians. Mark Twain, who was an enemy of Prime's, published the memoirs, and Candy suspects that he allowed this substandard literary work to go forward as a way of making Grant's memoirs look better.
Harold Holzer, Lincoln and the Uncivil War on Immigration. Harold covered Lincoln's changing attitude about immigration. I was surprised to hear that in 1864 there were 176,000 immigrants to the US, in 1865 250,000. This allowed the North to have a positive population growth, with incoming immigrants more than making up for war death losses. He said that at least 10% of immigrants joined the Union Army, so that implies most of them intended to work in the general economy. However, at the battle of Gettysburg, one third of the Union Army was not native born. Germans were mostly attracted to the Whig or Republican parties, Irish to the Democrats. Lincoln was not anti-immigrant, but he did harbor resentment toward Irish communities that were plagued with voting irregularities. He flirted with the American Party, also known as the No Nothings. He had no great affection for either Chinese or Mexican immigrants. He wrote a letter in 1855 to his friend Joshua Speed, noting that if he were not willing to discriminate against African-Americans, he certainly would not differentiate against different categories of white people.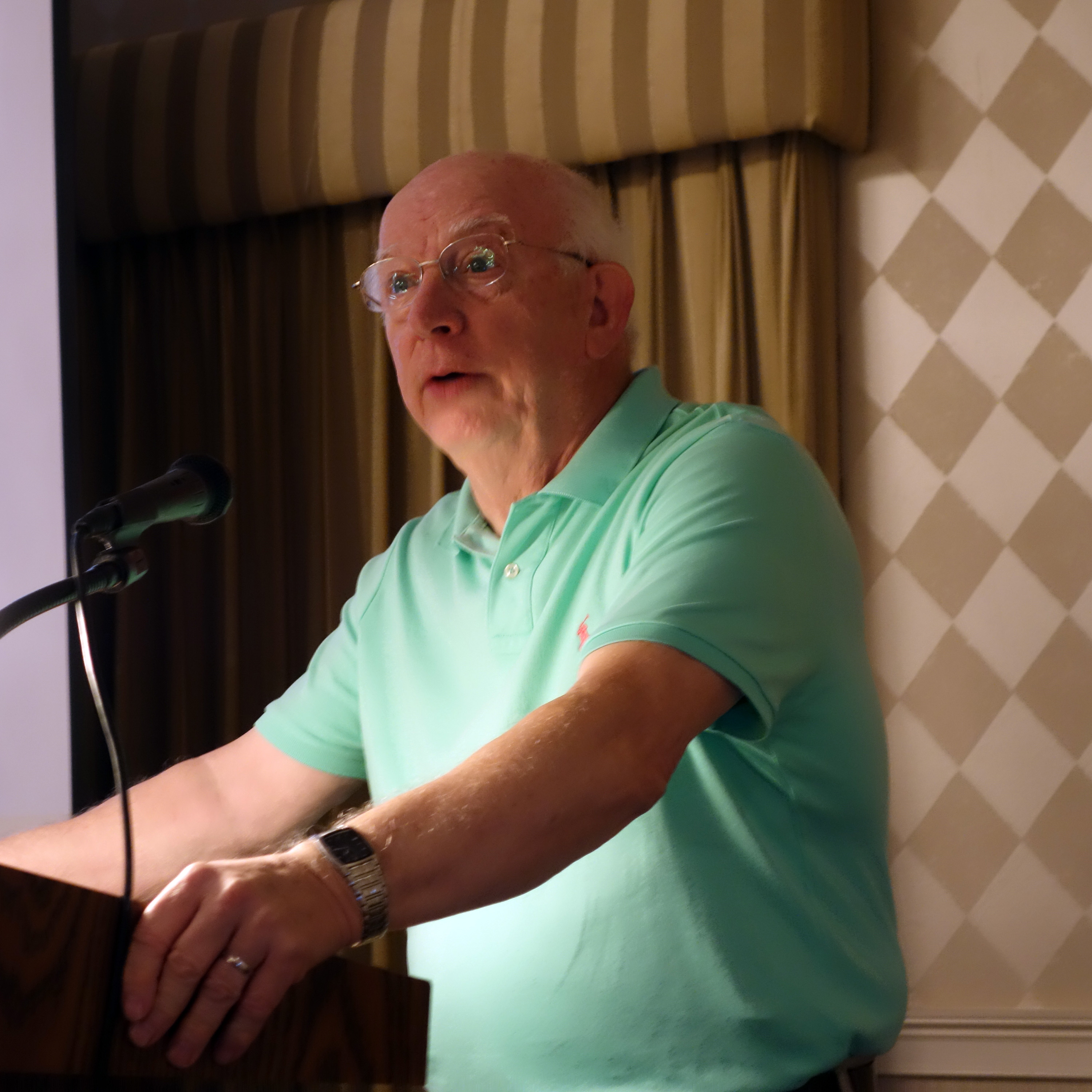 Jeffry Wert, History and John Mosby. Jeff gave a general biography of Mosby, focusing on the formation of the 43rd Battalion of Virginia Cavalry (Mosby's Raiders), the back-and-forth executions of prisoners in the Shenandoah Valley in 1864, and Mosby supposedly closing the Manassas Gap Railroad, which some have stated prolonged the war by six months (but did not happen). He also briefly covered his postbellum career. In terms of history, Jeff stated that Mosby had a little effect, with the most significant being his role in arguing the controversy over Jeb Stuart's actions in the Gettysburg campaign.
Panel discussion on Recent Civil War Books: the Good and the Not so Good! Since there were six people on the panel and they all mentioned multiple books, I did not attempt to write down all of their remarks, so here are some highlights. Both Bob Krick and Jeff Wert recommended Bill Miller's recent book on Tom's Brook (for which I did the maps, although no one mentioned that). Jeff also liked the Second Winchester book I worked on with Scott Mingus and Eric Wittenberg. For not so good books, Bob cited Texans at Gettysburg, and Jeff the most recent book on Pickett's Charge, by Philip Tucker. (That latter book was billed as the "true story" of the charge, which led Jeff to infer that his book, published previously, was claimed to be not the truth.) Marc Ramsey, the Richmond bookseller, had a lot of nice things to say about Savas Beatie and cited in particular Chris Mackowski's Grant's Last Battle. Frank Williams, president of the US Grant Association, recommended Ron Chernow's book on Grant, due out later this year, as a classic and a masterpiece. John Marszalek and Harold Holzer agreed. The title has not been selected and all of the men here who have read the draft said that the working title is terrible and they recommended it be changed. John spoke in general about Southern Illinois Press, and the books of Tim Smith and Earl Hess. Harold recommended Bud Robertson's new annotated volumes of J.B. Jones's Diary of a Rebel War Clerk, and a number of obscure Lincoln books that really did not interest me.
After an evening reception, we had a brief overview of CWEA plans, with Bob Maher and Keith Kehlbeck. They are starting a new umbrella organization called American History Education Association, a 501(c)3, although the old CWEA and American History Forum brands will still remain. One of their goals will be to increase youth involvement, focusing on history "camps."
Friday, January 20
Frank J. Williams, Abraham Lincoln and His Dissenters—Turning Them Around: A Lesson in Leadership. I had not encountered Frank prior to this, but he has a distinguished résumé, including being the retired Chief Justice of the Rhode Island Supreme Court, and currently the chairman of the Lincoln Forum and the president of the US Grant Association. He read a paper that covered some highlights of Lincoln's presidency, including a review of his cabinet, the Emancipation Proclamation, the 13th Amendment, habeas corpus, military tribunals, the draft, and the 1862 cabinet crisis.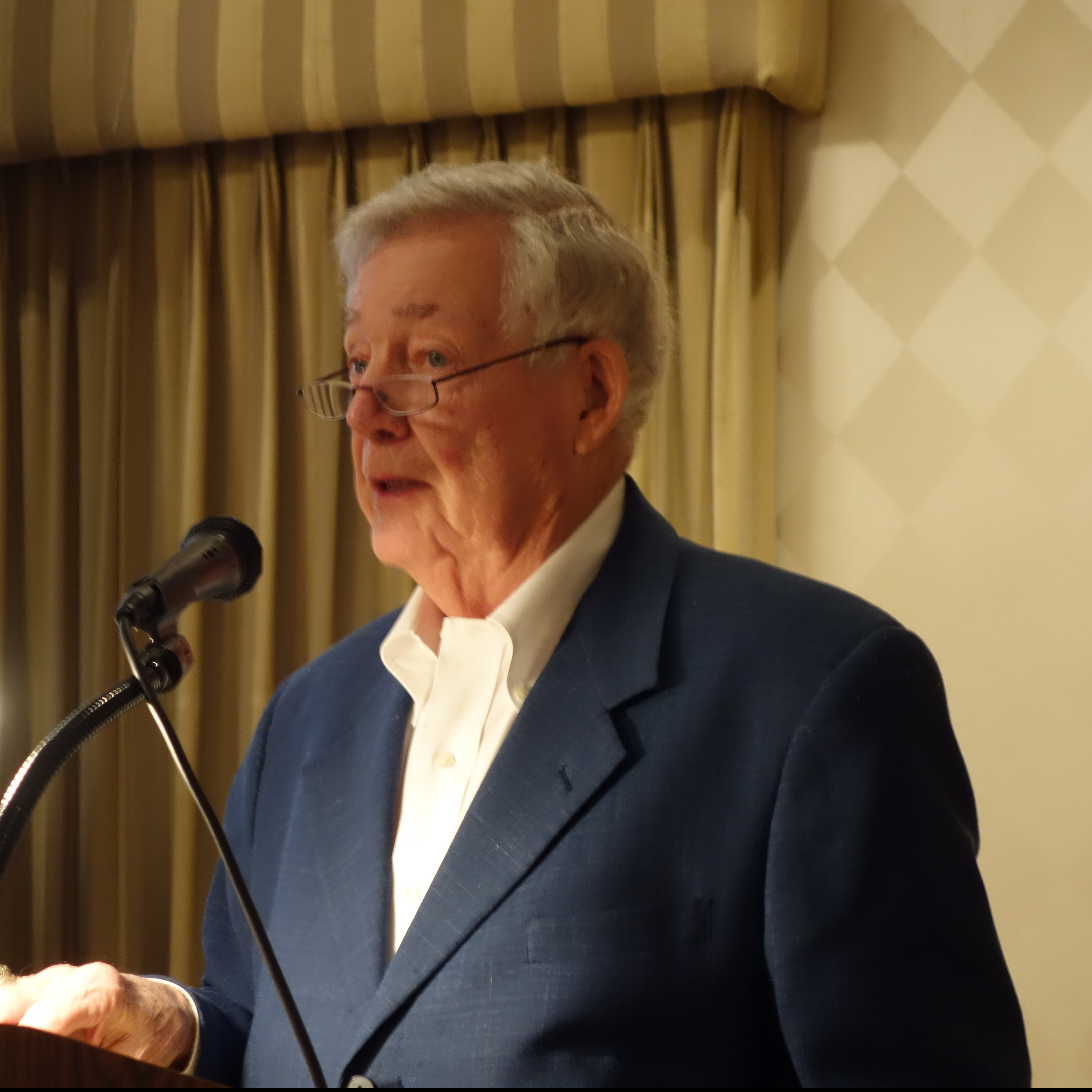 James I. "Bud" Robertson, Civil War Echoes from Virginia, 1859–1891. Bud started talking about how Virginia made a big effort for the sesquicentennial, greater than the efforts of all the other states combined. The Legacy Project was a roving set of scanner vans that digitized documents that were solicited from the public. The organizers hoped to get at least 1000 pages of historical documents (letters, diaries, parole papers, etc.), but they actually got over 33,000. He put some highlights of these pages into a book titled Civil War Echoes: Voices from Virginia, 1860–1891, and the remainder of his talk was a summary/teaser of the book. He said that the soldiers were more afraid of disease and they were of combat. To his surprise, most of the documents came from 1864 and 1865, rather than earlier in the war. They include new accounts of Fort Stedman and Fisher's Hill. He said that the Civil War was the greatest outpouring of letter writing in American history and he gave us excerpts from a few of the humorous and moving letters. One particularly affecting one was a mortally wounded Confederate soldier writing to his wife from Gettysburg. In answer to a question from the audience, he said that Robert E. Lee suffered a major coronary in March 1863.
John F. Marszalek, Ulysses S, Grant: the General Tells His Story. John is the executive director of the US Grant Presidential Library, currently housed at the Mississippi State University library. He gave an overview of the process of Grant writing his memoirs, including the preceding four articles for Century Magazine, his diagnosis with throat cancer, the failure of the Grant and Ward swindle, and the writing process. He said that the first article written for Century was about Shiloh and it was a dry battle report. The magazine requested that he rewrite it in a more conversational, storytelling style, and in doing so Grant found that he actually enjoyed writing more than he had anticipated. His contract with Mark Twain and the Charles Webster publisher gave Julia 70% of the profits, and John says he has seen the first royalty check, at $200,000 probably the largest royalty check ever written. John also said that there will be an announcement in October or November of an annotated version of the memoirs. He also said that there have been varying analyses of the memoirs and they are primarily accurate.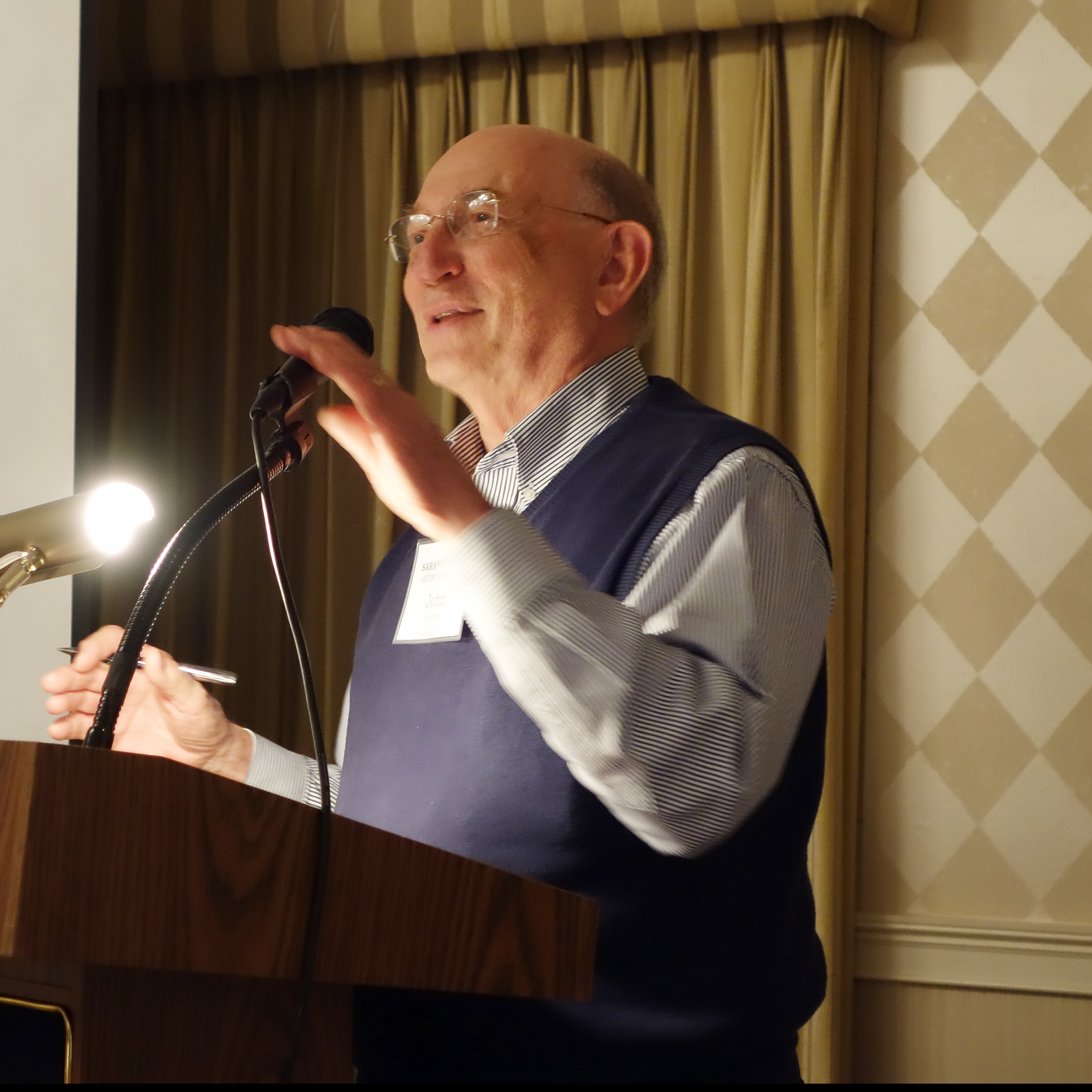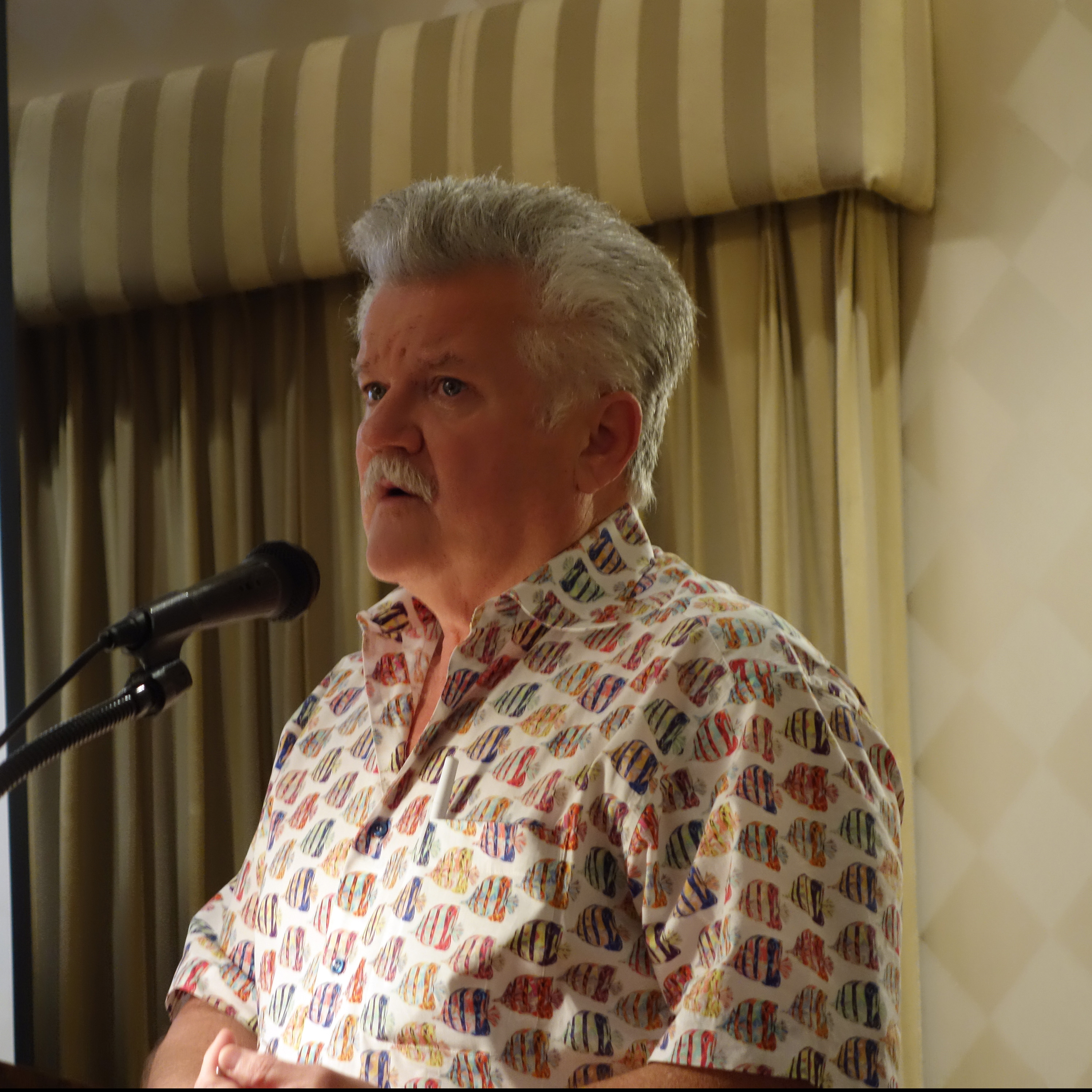 William C. "Jack" Davis, Gabe and Nannie: The Civil War Romance of a Confederate General. Jack described the voluminous set of 600 letters between Gabriel C. Wharton and his wife, Nannie Redford, found in 1980. I am not really familiar with this general, but he sounded like an interesting character, who escaped from Fort Donelson and had a career throughout the war. Jack gave us some excerpts that included a number of gossipy opinions about generals (express by both Gabe and Nannie). I found them to be extra literate.
Joseph T. Glatthaar, Sherman's Army on the Great March. Joe gave an animated talk about Sherman's Savannah and Carolinas campaigns, focusing on the composition and nature of his armies. Western troops comprised 7/8 of his force. One half enlisted in 1861, 4/5 by the end of 1862, so they were almost all veterans. A heavy percentage of the officers were promoted from the enlisted ranks, which gave them sympathetic relationships with their troops. The armies were characterized as egalitarian, focused on teamwork, self-reliant, and extremely confident in William T. Sherman.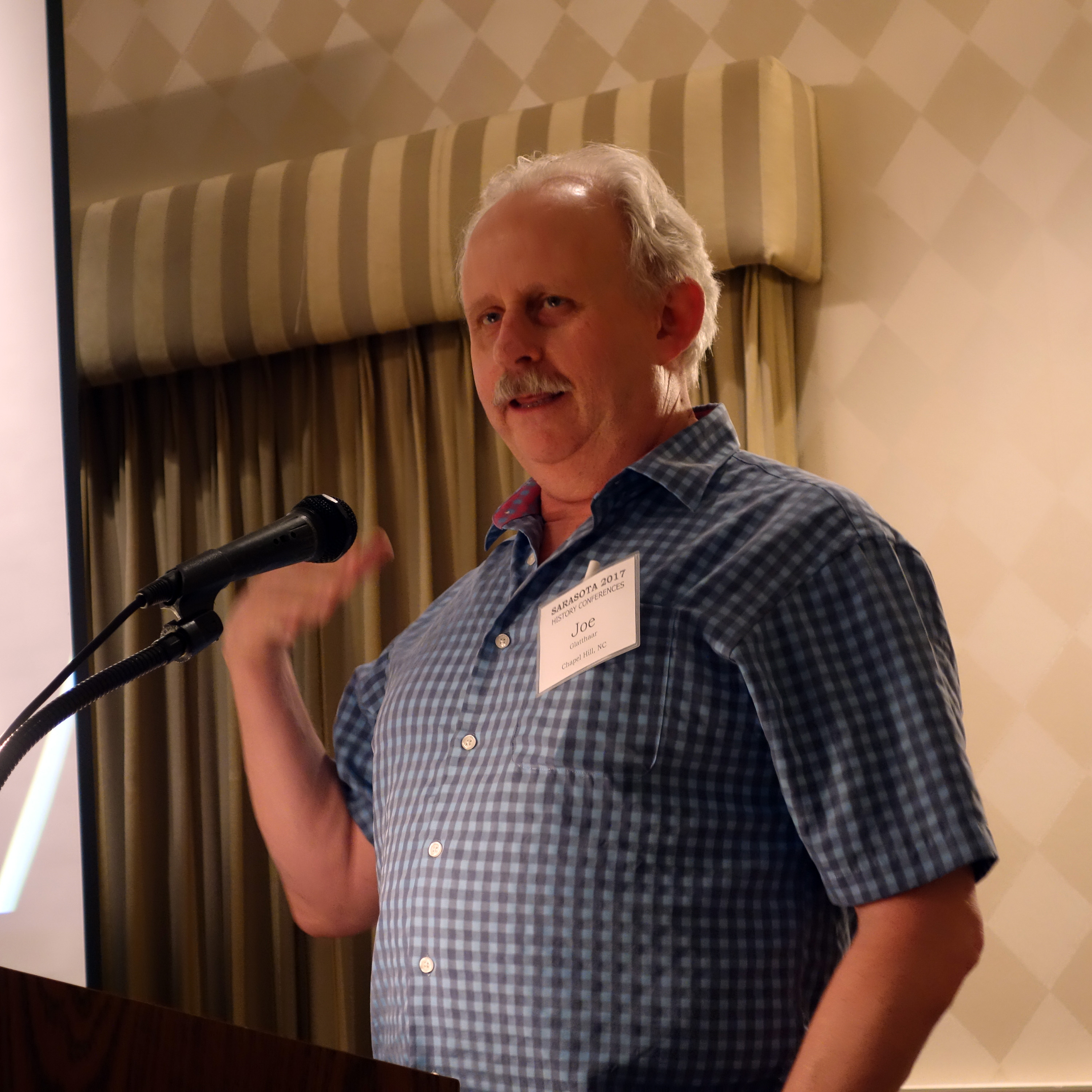 Friday night I went for a lovely 3 mile walk on the beach.
Saturday, January 21
Edwin C. Bearss, Black Soldiers: North and South. Ed started off by saying the requested part of his talk about Southern black soldiers would be very short because there weren't any. The first black regiments in the Union Army were recruited before the Emancipation Proclamation and before the famous 54th Massachusetts (which is cited as the first of northern regiment of black soldiers). He talked about Benjamin Butler's recruitment of the Native Guards in Louisiana. These were the only black regiments that had any black officers, and the major of the 1st LA NG was the highest-ranking black officer in the Army. The first colored regiment to see combat was the 1st Kansas at Island Mound. The largest engagement in the Indian Territory, Honey Springs, was also heavily fought by colored troops. Federal USCT officers were often recruited from the (white) enlisted ranks. Ed described the battle of Jenkins's Ferry (which is referred to in the movie Lincoln), and he stated, amusingly, "the first and second Kansas gave it to the Confederates in spades." He also described actions at the Crater, Fort Gilmer, and Second Deep Bottom. (Oddly, he did not mention Fort Pillow.)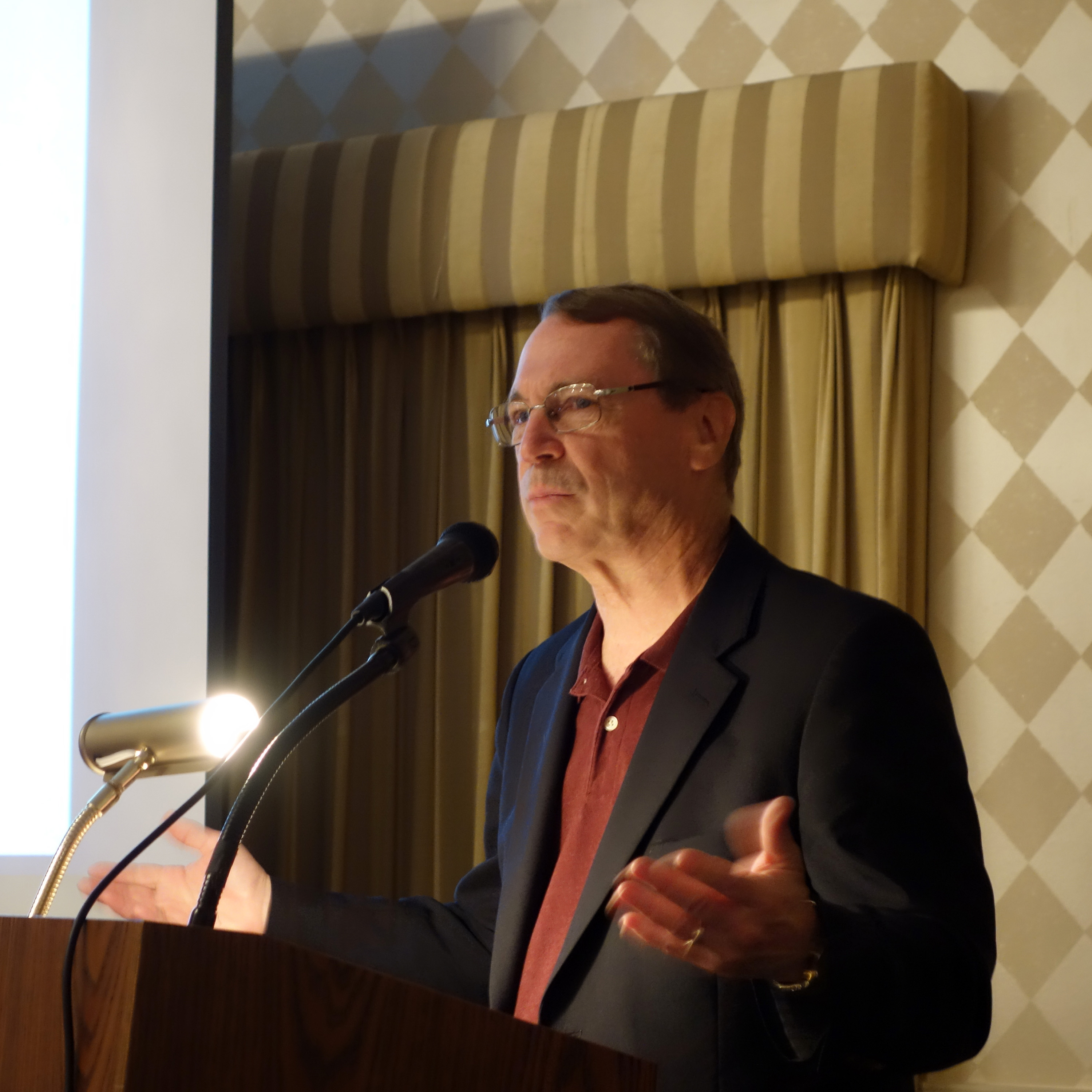 Craig L. Symonds, October 1863: Mutiny in the Army of Tennessee. Craig is one of my all-time favorite speakers and he did not disappoint this time. He talked about the effort by 12 generals to get Braxton Bragg removed command of his army after the battle of Chickamauga. I thought I was familiar with this story, but something I did not realize is that when Jefferson Davis arrived on the scene at Chattanooga to mediate the "mutiny," he brought John C. Pemberton with him as a possible replacement. Davis mismanaged this process by first meeting with Bragg, deciding to keep him, and then rather than announcing that forthrightly, he had all of the subordinate generals participate in an embarrassing meeting in which they thought Davis was still trying to make up his mind. One amusing anecdote in his talk, unrelated to the main subject, was about Wade Hampton, who was introduced to the game of football after the war. He seemed shocked by the rules and stated something to the effect that if a man knocks you down, you would be obligated to thrash him. So he thought that football would never catch on in the South.
Robert K. Krick, The Rape of Fredericksburg. Bob passed out a copy of Irvin McDowell's general order number 12, May 16, 1862, which Bob characterized as saying "stop raping the women of Fredericksburg." He said that John F. Reynolds treated the townspeople kindly in early 1862, so much so that when he was captured after the battle of Gaines's Mill, they petitioned Richmond to have him released from prison. On December 11, 1862, the Union Army launched 8000 shells against the city, but they were generally not too destructive and only two civilians were killed. He does not consider Burnside to be "guilty" for the shelling of a civilian area because in fact the Confederate Army had snipers posted throughout the area. Bob described the pillaging of the city and stated that it was the first American city to be destroyed in a war. At the end of the war there was desolation for 20 miles and he compared it to Sodom and Gomorrah (in terms of destruction, not morality). The population of Fredericksburg and the two neighboring counties did not reach prewar levels until 1940.
We ended up at noon and I drove to Tampa for my return flight. This was a really excellent conference, a little brief considering the distance I traveled, but packed with content from top-notch historians and well worth it.