2017 Civil War Travelogues — Nashville
Welcome to my 2017 travelogue pages. This page is my report of visiting Nashville and Franklin, TN, in April. This brief trip was in conjunction with my running of the Nashville Rock 'n Roll Half Marathon. Details on the race and the non-Civil War portions of my trip are available here. To see the entire list of my 2017 trips, go here.
Here is a reminder about the reason I write these pages the way I do. They record my experiences and impressions of Civil War trips primarily for my future use. Thus, they sometimes make assumptions about things I already know and focus on insights that I receive. They are not general-purpose descriptions for people unfamiliar with the Civil War, although I do link to various Wikipedia articles throughout. Apologies about the quality of interior photographs—I don't take fancy cameras with big flashes to these events. If you would like to be notified of new travelogues, connect to me via Facebook.
Unlike most of my Civil War trips, my wife Nancy accompanied me this time. Our host was my good friend Jim Knight, who authored the text of our book of maps about Ulysses S. Grant. (I, of course, was the cartographer on the project.) Although I have been to Tennessee a number of times, I had never toured around Nashville, under the assumption that all of these Civil War sites had been obliterated. I was pleasantly surprised to find that there is quite a bit of interpretation available to the modern tourist.
Jim picked us up at our hotel in Nashville and we had brunch at Party Fowl, a seemingly all chicken restaurant. I had stuffed French toast with hot chicken, getting to choose from five spicinesses, mild to "poultrygeist." I had the latter and it was quite hot, but not sickeningly so. Tasty.
Our first stop was Fort Negley on St. Cloud Hill, the largest of the Nashville Union fortifications. The fort was partially reconstructed by the Works Progress Administration, but that work deteriorated and it was eventually patched up again by the city of Nashville, and they did a pretty nice job. The Visitors Center was closed on Sunday, but there were many fine interpretative signs on the trails and boardwalks. The views of downtown Nashville are also impressive.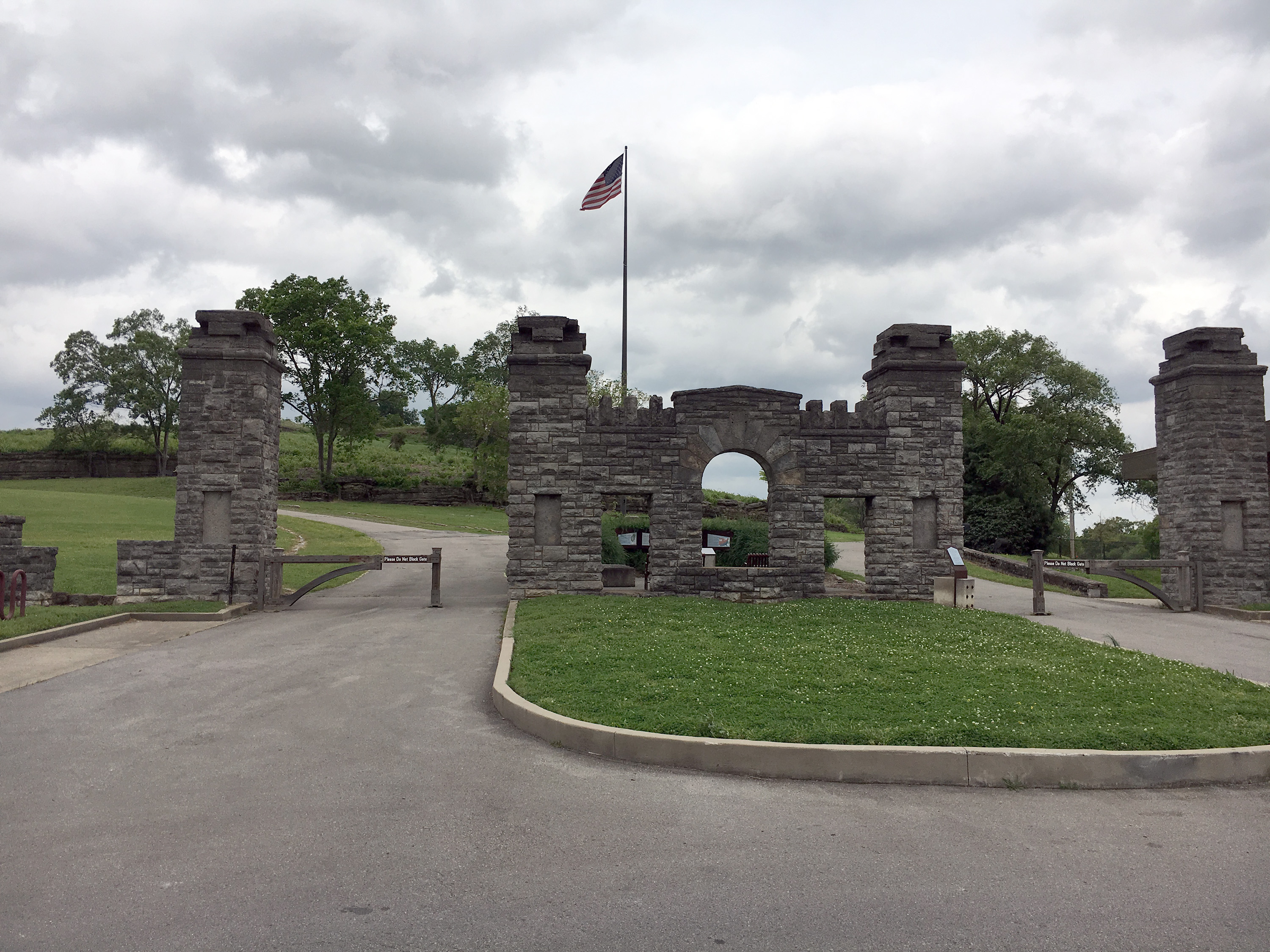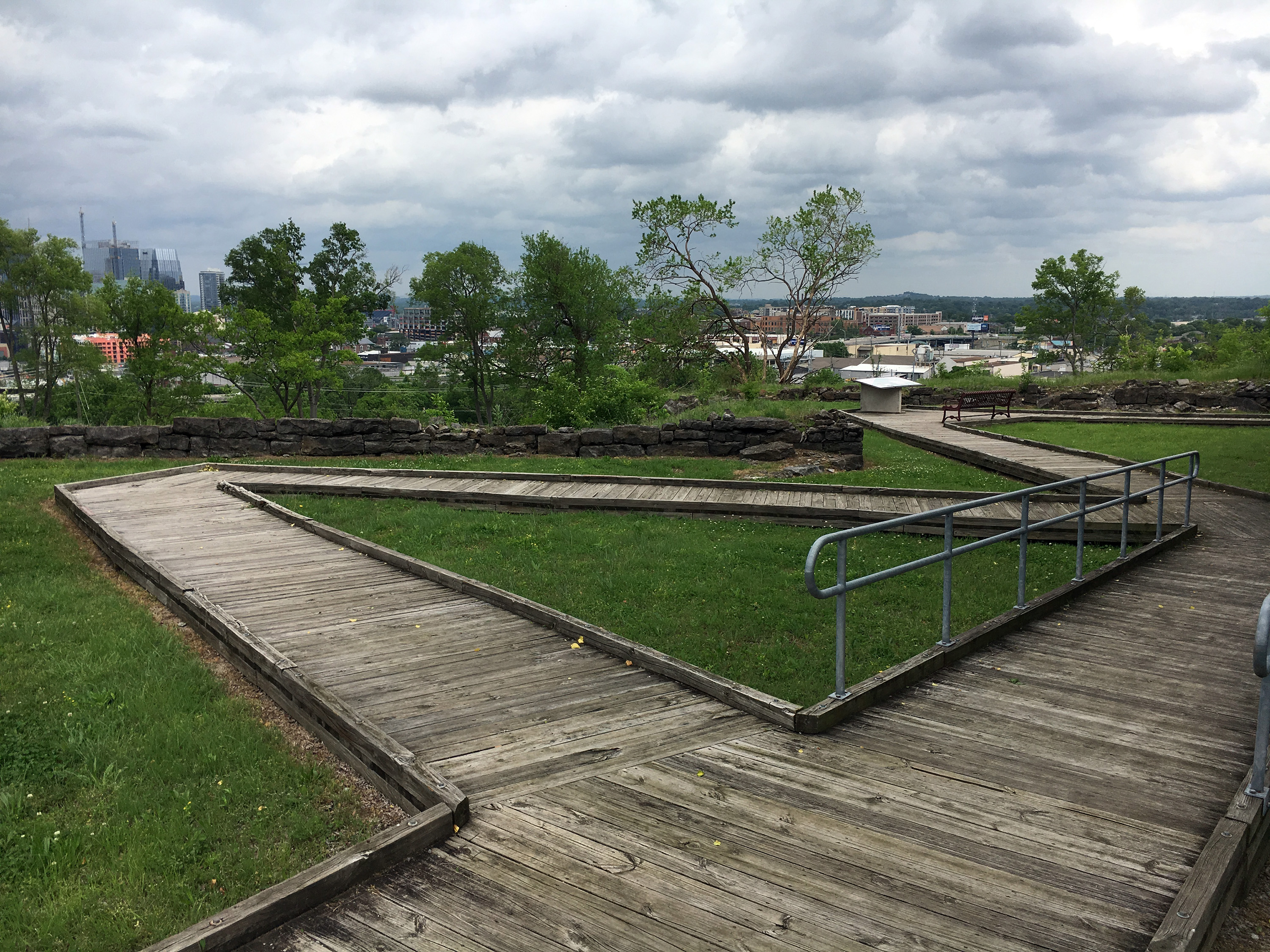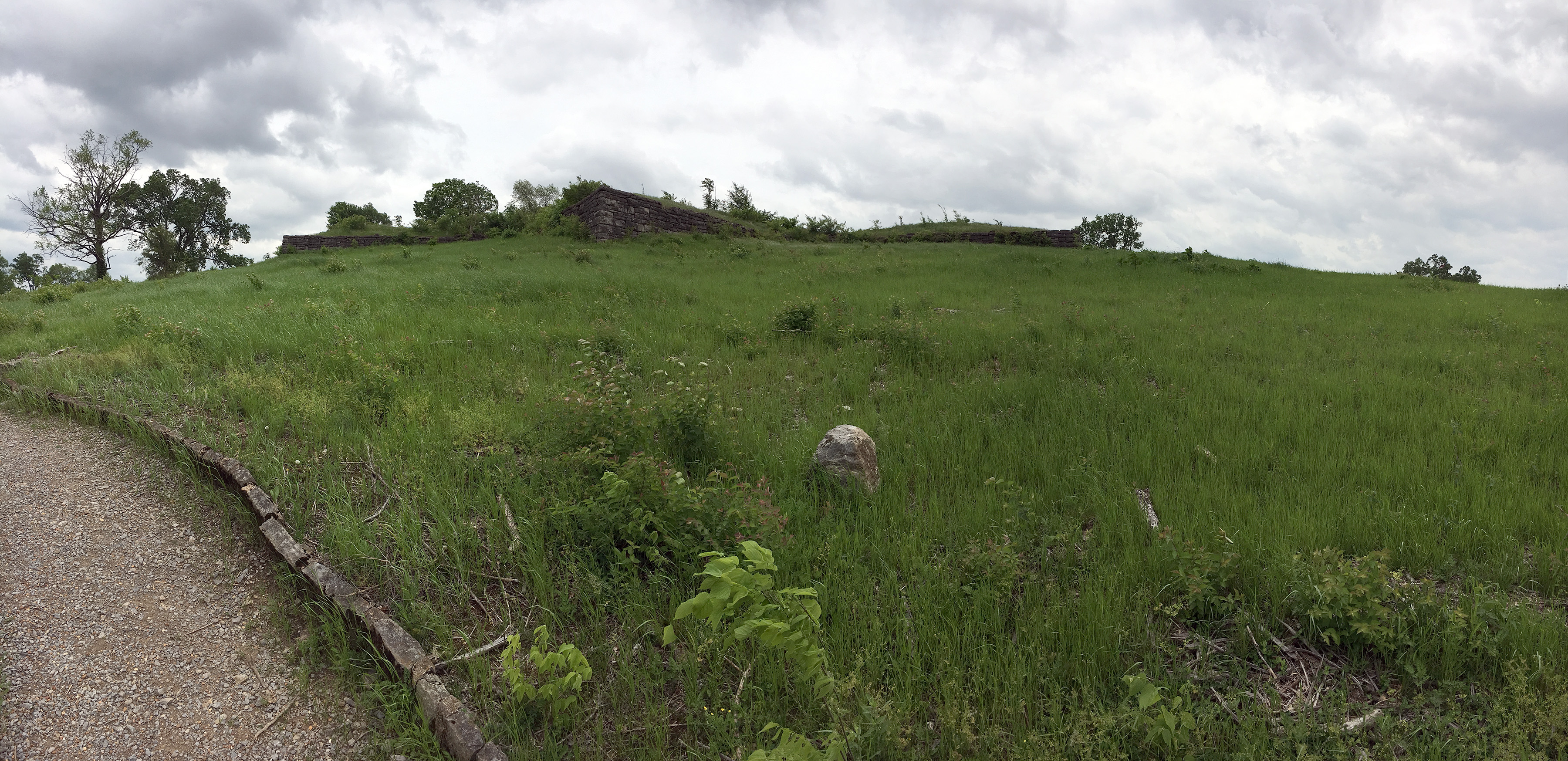 We drove to the Battle of Nashville Monument (also known as the Peace Monument because it is dedicated to the soldiers of both sides), which was dedicated on Armistice Day in 1927, so it also includes memories of US participation in World War I. It is currently on Granny White Pike, relocated from its original spot on Franklin Pike after it was knocked over in a 1974 tornado. There are impressive figures of two horses joined by a young man, representing the fighters of the Civil War and World War I. Oddly, the text carved into the side of the granite obelisk says that the Battle of Nashville was fought on December 16, 1864. In fact, it was a two day battle, December 15–16, and all of the action occurring near the monument happened on the 15th.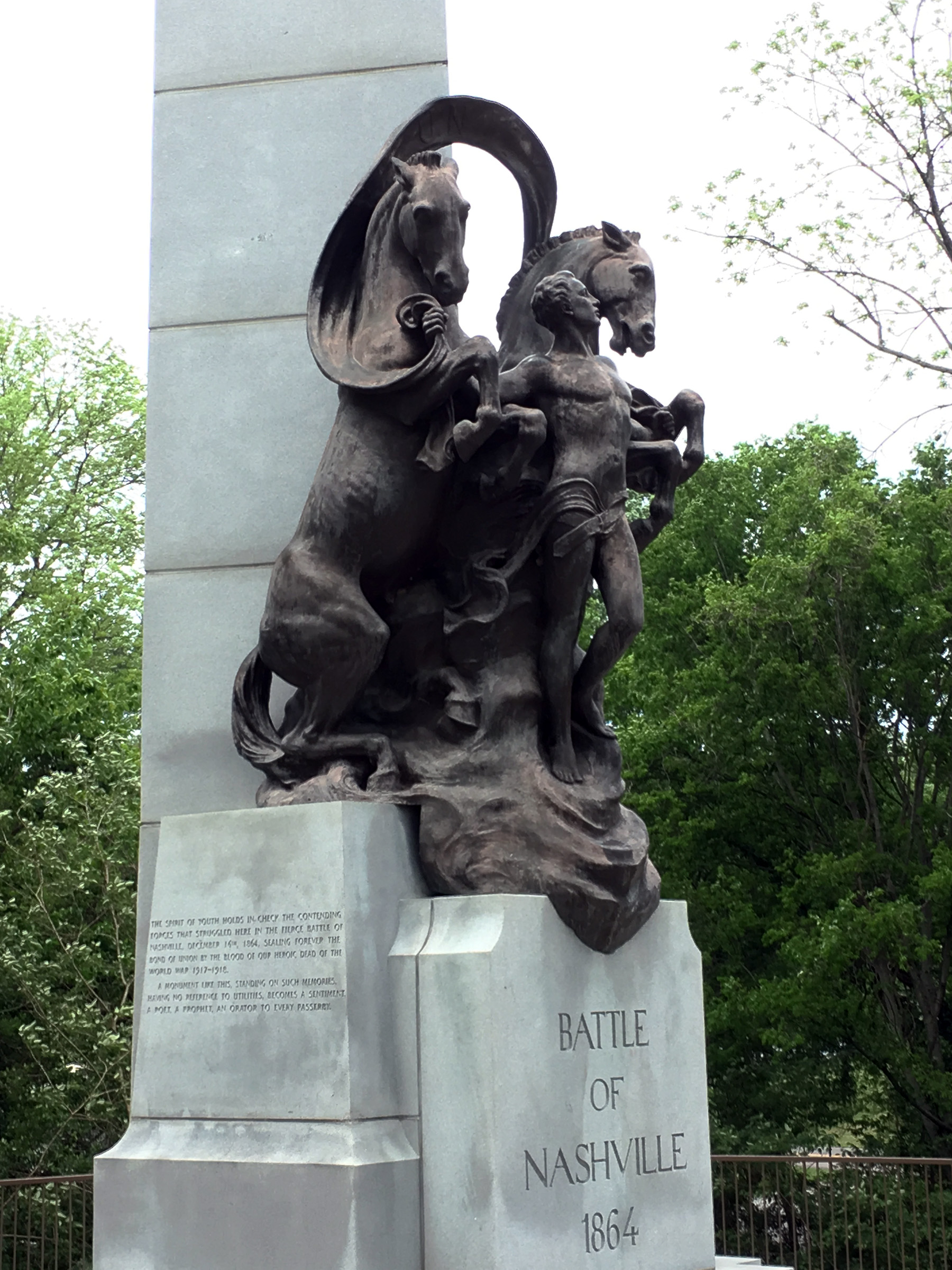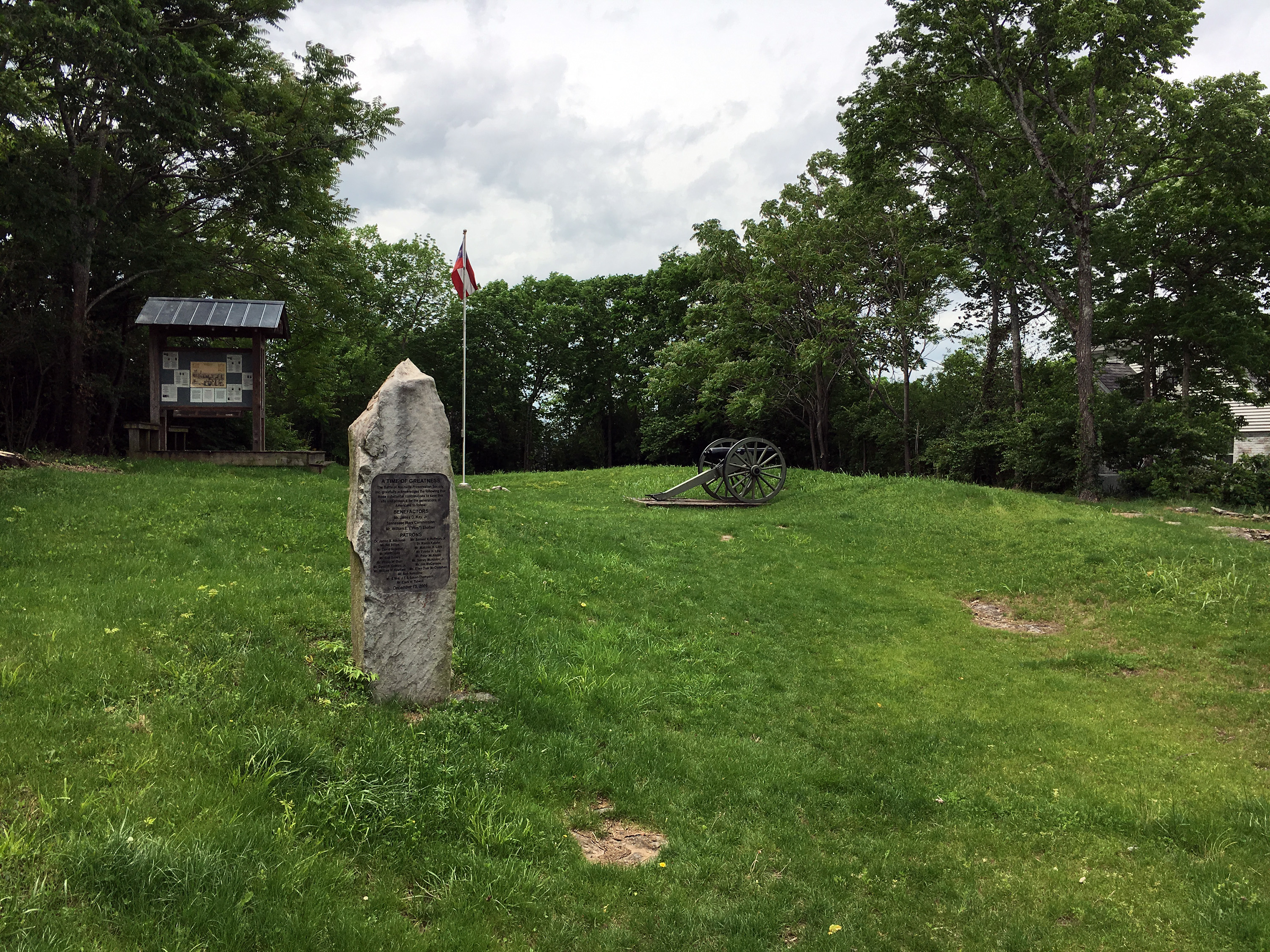 Our next stop was Redoubt No. 1, just off the Hillsboro Pike, the salient on the left side of the Confederate line, December 15. It is right in the middle of a residential neighborhood and there is not much to see except for some slight earthworks. We also drove by Redoubt No. 4, where the opening attacks came on December 15, but there is likewise little to see other than the shape of the terrain.
Because Nancy was with us, we included a somewhat non-Civil War stop, the Belle Meade plantation, which besides being a very beautiful area, is known for its breeding of 19th century thoroughbred horses, including the first American-bred horse to win the English Derby, Iroquois. The Civil War connection is that its owner at the time, William Giles Harding, was a brigadier general in the Tennessee State Militia, who was arrested and sent to Fort Mackinac in Michigan. In early December 1864, it was the headquarters of James R. Chalmers, one of Nathan Bedford Forrest's cavalry commanders. The grounds are quite lovely and there are beautiful stables, but we did not have time to take a tour of the impressive Greek revival mansion.
Next was Shy's Hill, the decisive location in the second day's battle. It is quite a steep climb on a dirt path that is dominated by tree roots, and unfortunately there is little visibility at the top, at least when the leaves are on the trees as they were today. There is a Minnesota monument at the base of the hill, representing the most important assault/casualty contribution by the Union Army on December 16. At the top, there is a fence surrounding three flagpoles and a Napoleon cannon with a broken concrete carriage. But it is worth the climb because you can see what a formidable defensive position it was. We then drove past Peach Orchard Hill, also known as Overton Hill, but there is not much to see. The interstate highway interchange has destroyed some of the hill and the rest is not accessible. We also did not stop at Travellers Rest, the Overton mansion, because of time constraints (and the darkening skies of a quickly approaching storm).
We drove to Franklin and got hit by a strong thunderstorm, which fortunately did not last more than 10 minutes, but it seemed to cause a bit of damage in town, including uprooted trees. There was a big art fair that weekend so the main street was closed off and traffic was almost gridlocked as people tried to escape the storm. My last visit to Franklin was in 2009, so I was anxious to see what preservation improvements have been made. I saw the newly wide open area around the Carter cotton gin, which used to be a tacky stripmall that included a pizza restaurant (a competitor to the famous Pizza Hut across Cleburne Street that had been torn down in 2005 to make room for the Cleburne Monument). Archaeologists have found the exact location of the Union defensive line and laid out gravel strips to mark it. They also found portions of the cotton gin foundation, which are 30 or 40 feet away from where historians thought it was. Currently there is no other interpretation signs in this area yet.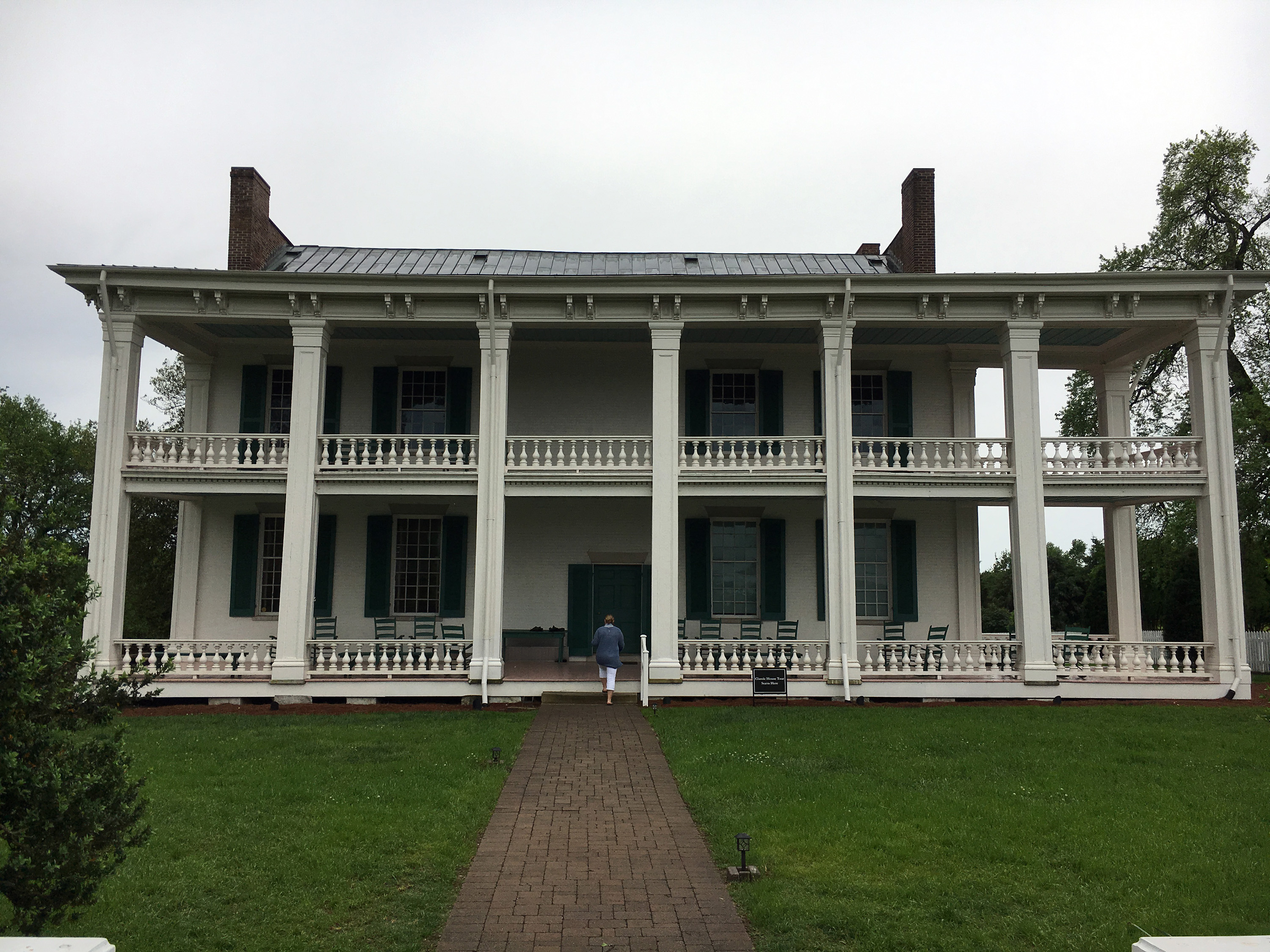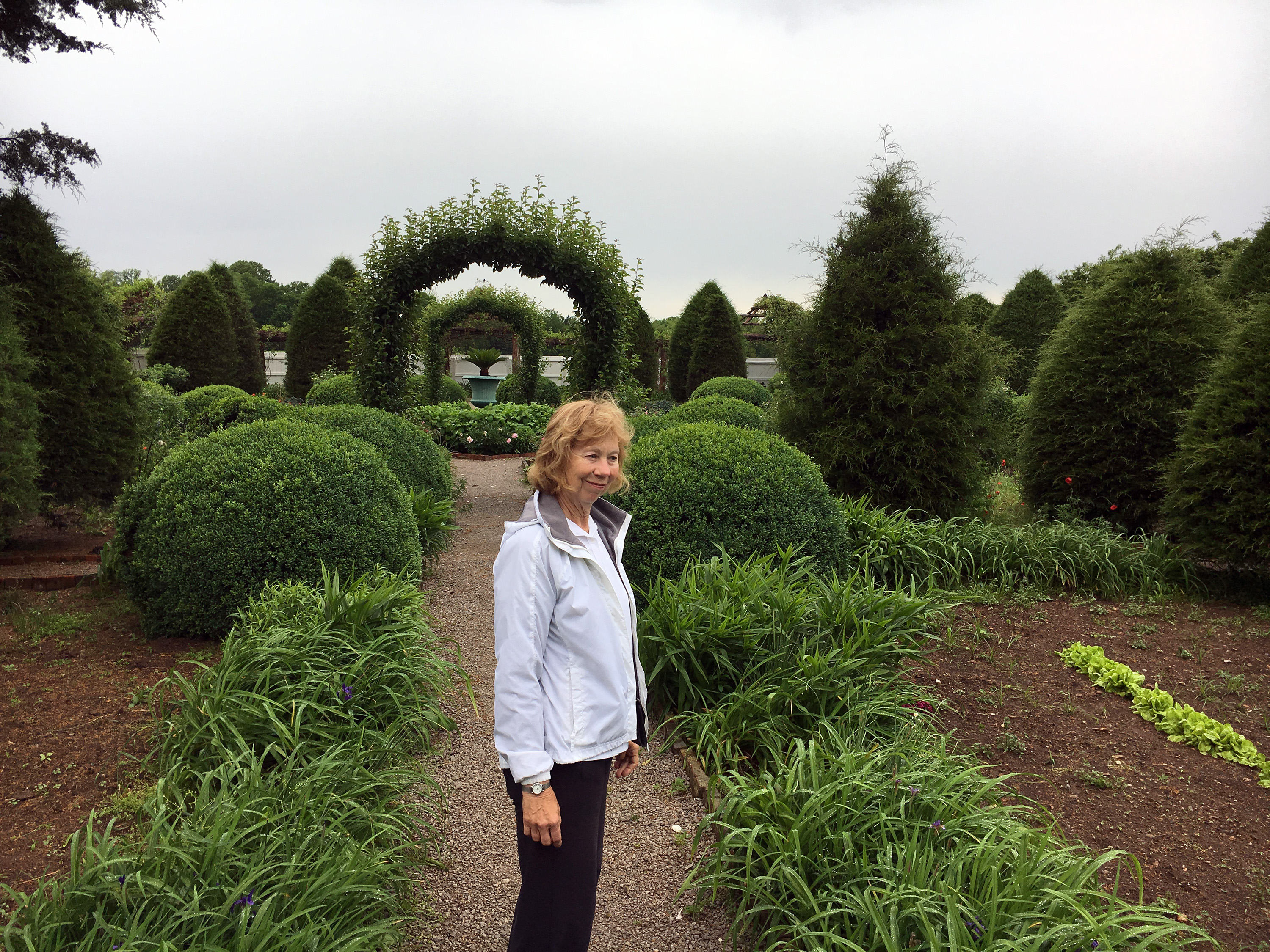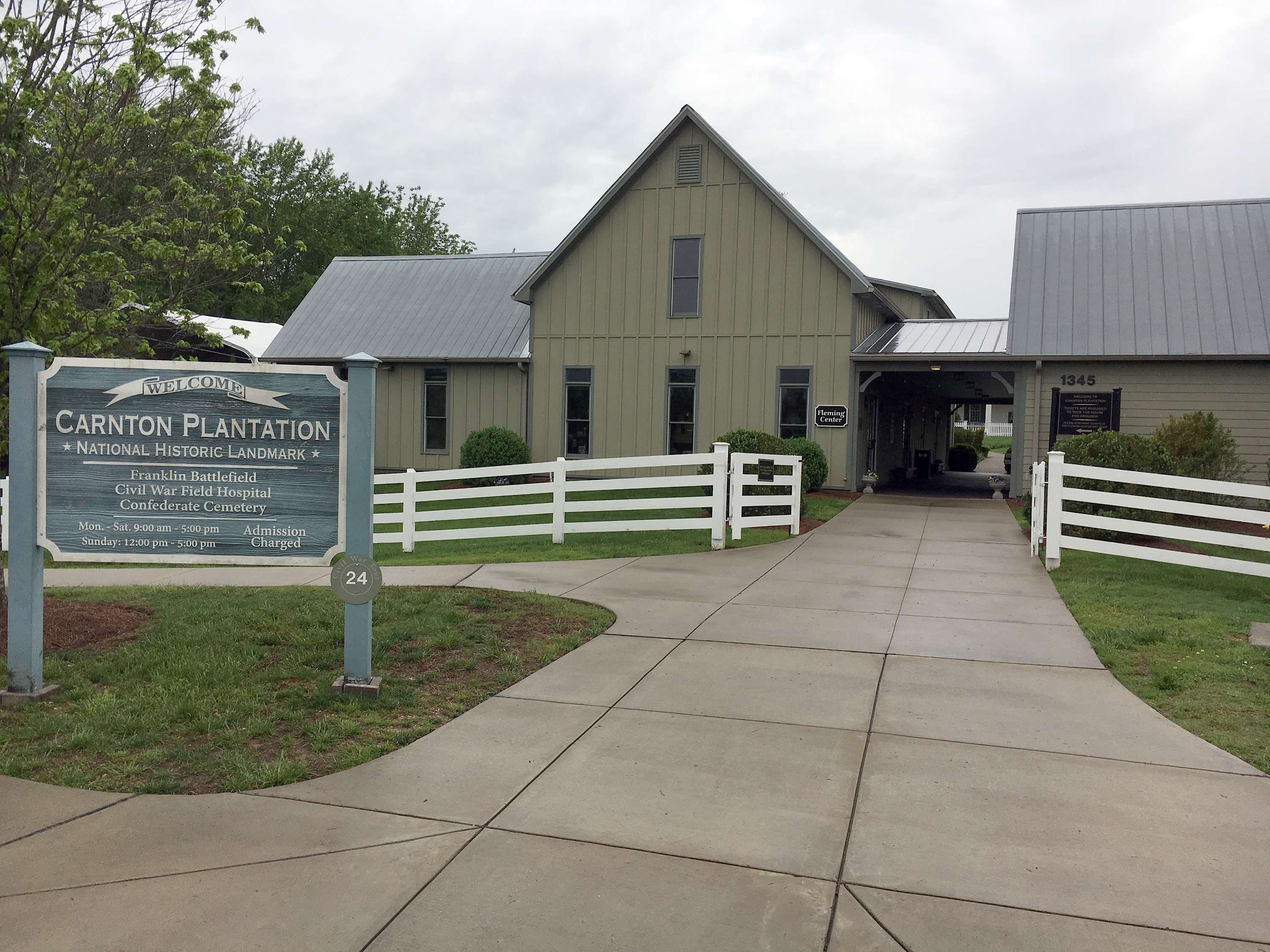 Next to the Carter House, the old high school gym has been removed, as well as a couple of houses to the south, the site of the Carter gardens. There is also a newly preserved area of a few acres that they are calling Loring's Advance, just to the south of Collins' Farm Historic Park, where Loring's and Walthall's divisions approached the Union line. We popped into the Carter house, where Jim is a docent a couple of days a week, and everyone professed their admiration for maps I had done for the Battle of Franklin Trust. (I actually did about a dozen maps for them and I was surprised that I never ran into the ones other than the battle overview, which they sell in the gift shop.) We also visited the Lotz House and Carnton, both of which were just about to close so we did little more than look around a little and say hi.  Carnton has a new entrance and visitor center since my last visit in 2009. I don't recall the large garden at Carnton from my previous visit, but it is certainly beautiful nowadays.
We had dinner at a BBQ place in Franklin whose name escapes me. It was billed by Jim as Texas BBQ, but since they did not have beef ribs (and the waitress did not even know whether their ribs were beef or pork!), I tend to doubt that provenance. We drove on mostly back roads on our return trip, getting nice views of a number of very expensive horsey properties, including country singer Alan Jackson's former $28M estate. Believe me, $28M goes a lot farther in Williamson County Tennessee than it does in the San Francisco Bay Area.
It was an excellent one day visit in Middle Tennessee and I thank Jim Knight for devoting his day to us. I will be returning to Tennessee in a couple of weeks to visit Shiloh again, so watch this space for my next report.