Training with TNT for the 2016 Seattle Rock 'n' Roll Marathon
This is my page about running and training for the Seattle Rock 'n' Roll Marathon, June 18, 2016, with Team in Training (TNT), which raises funds for the Leukemia and Lymphoma Society by providing training opportunities for wannabe athletes such as myself.
This was my 18th season with TNT (previously half marathons in San Francisco and Vancouver, BC, and full marathons—26.2 miles!—in Portland, San Francisco, Napa, Victoria BC, Atlanta, Washington DC, Los Angeles, Chattanooga/Chickamauga, Oakland, Richmond VA [twice], San Luis Obispo CA [twice], New York City, and Chicago). I ran 495 miles this season!
Note: There is also a substantial section below about running the Star Wars Half Marathon at Disneyland, January 17, which I did as a training run.
To read about my training for the marathon, please jump to here.
My next marathon will be in Philadelphia on November 20. If you would like to make a charitable contribution to the Leukemia and Lymphoma Society to support my training and race registration, please visit my fundraising page.
Seattle Rock 'n' Roll Marathon
This section will describe my running of the race and briefly talk about some of the tourist aspects of our trip.
I successfully completed the marathon, although my performance was marred once again by moderate back pain, which started around mile 22. If you go through my race reports here on the website, you will see that I have experienced this in a few races and in two of those—my first attempts at San Luis Obispo and Richmond—it was so debilitating that I was not able to complete the race. Any spectator can see that I am in distress because my body leans significantly to the left in compensation, I guess. I am relatively certain that the problem is associated with poor core strength. This season I trained rather laxly and apparently I did not do enough crunches and planks, so it is something I will need to work on next season.
My training this season has been characterized by relatively slow performances. I don't know whether these are age-related or because I had a couple of long travel interruptions during training. In any event, I ran the race rather slowly to start (about 12:30/mile) and then by mile 22-23, my pace really disintegrated. I felt that I had enough energy, but the tilting body back pain made it very difficult to run in a straight line. So my overall race time was relatively poor for me, 5:51:53, but I am happy to say that I got in underneath the race deadline of six hours. I would like to give some of the relative statistics, such as gender and age division results, but for some reason the race website is listing me in a special category of "Diversion 25.2" that is shared by 70 runners who were all over the five hour mark.
The race was actually a pretty good one in some respects. The weather was excellent for running—heavily overcast and cool with very short periods of light rain—but this meant that the beautiful scenery was diminished by the gloom. Although the official race website map shows very dramatic hills, in actuality it was not a difficult course in terms of elevation. They apparently used Google to show elevation on the terrain, rather than the actual elevation inside highway tunnels. I had two complaints about the course. First, there were four tunnels to traverse, some of them about a half mile each. Running in a tunnel is not very pleasant, but I am thankful that it was so cool out because on a normal summer day they would've been hot and stuffy. Tunnels also messed up my GPS watch, which finished the race over a half mile short. Second, too much of the course was on freeways and bridges, so that access to visiting spectators was not feasible. My wife Nancy usually meets me at strategic points along the way, but we could not do that for this race. There were very few spectators on the race course, but there were about a dozen local bands and some groups of high school cheerleaders to keep us entertained.
I selected a hotel that was only a few blocks away from the starting line, which was in Seattle Center, home of the Space Needle and the 1962 World's Fair. So I was able to waltz out of my room at 6:30 AM and reached corral number 29 well in advance of the 7 AM start. Unfortunately, they delayed the starting time for unexplained reasons until 7:15 AM and then managed the corrals slowly enough that I did not reach the starting line until 8:05, which is the slowest start I have ever encountered. I think the race organizers should figure out a way to segregate the marathoners from the half marathoners and 8Kers so that this could be improved. The reason it was stretched out so much is that there were some points on the course that were very narrow, so they were avoiding bottlenecks.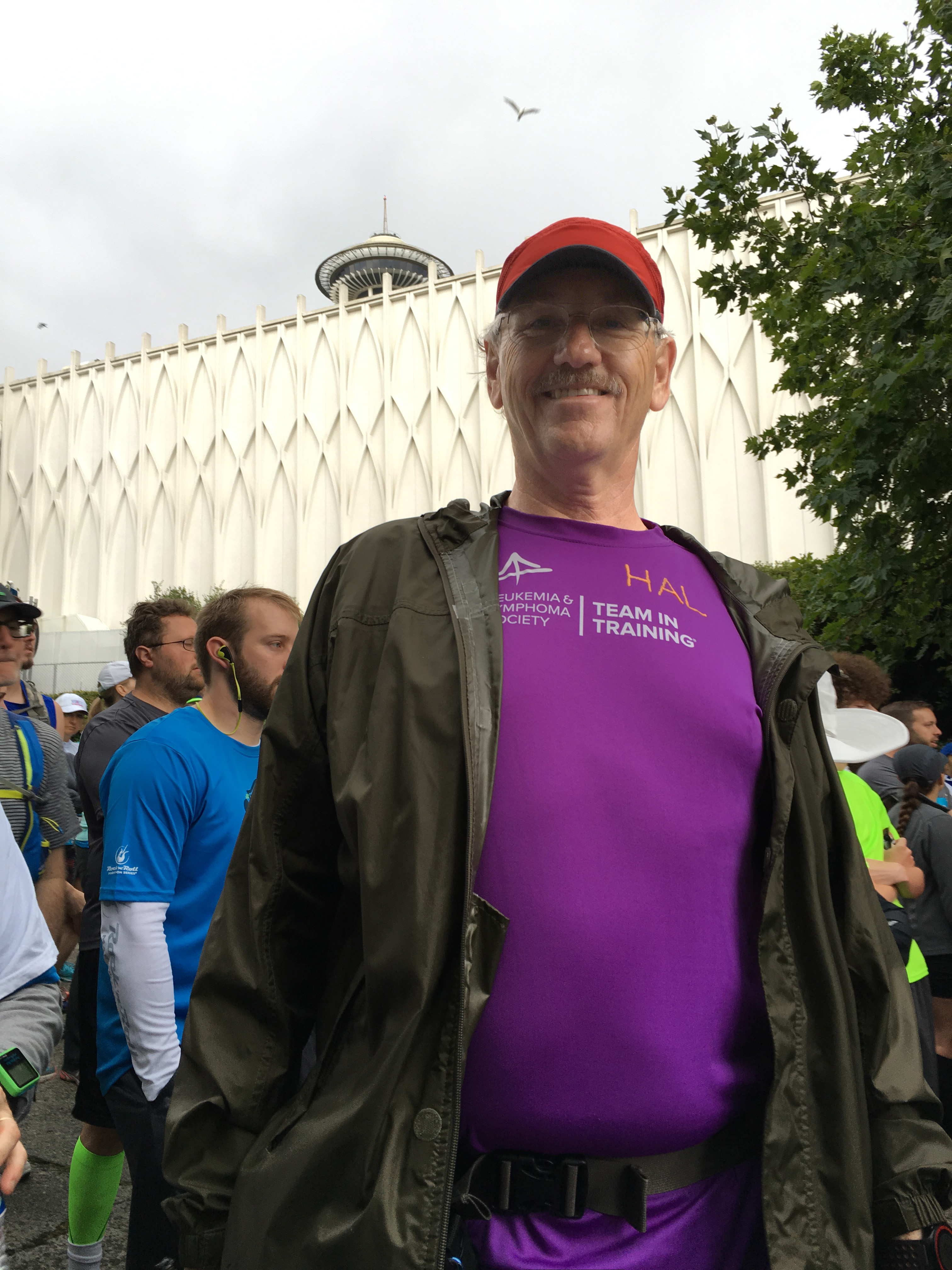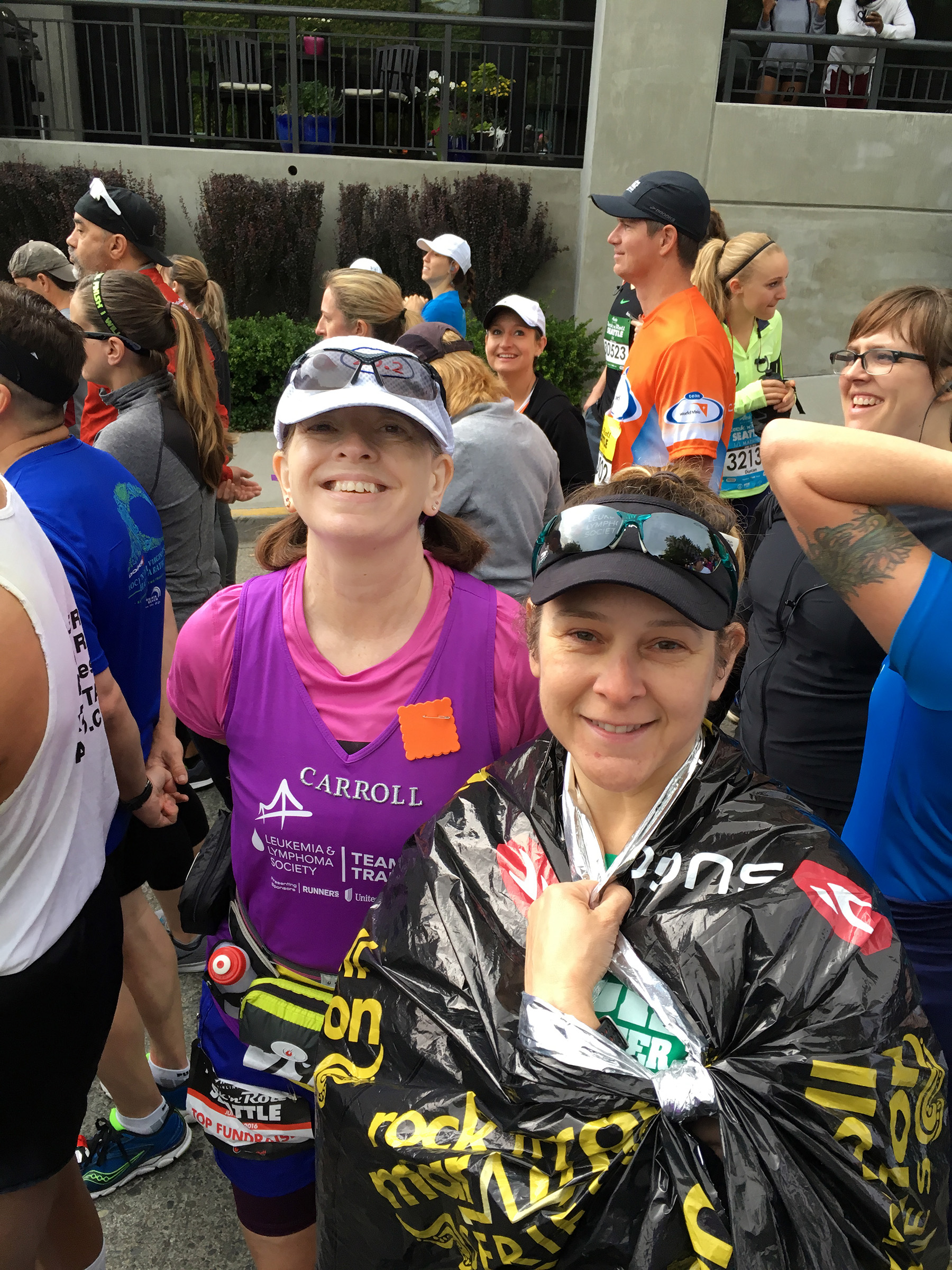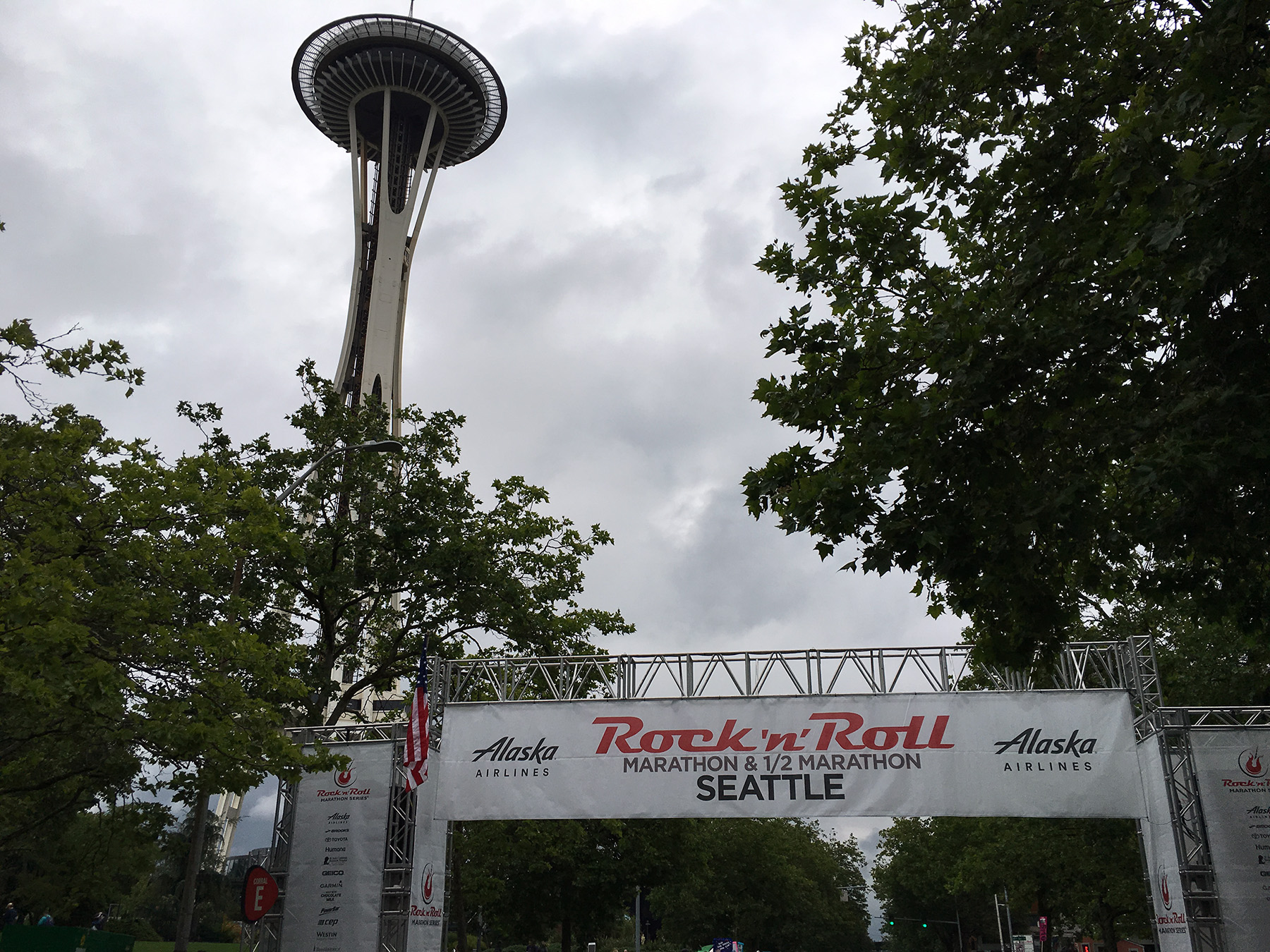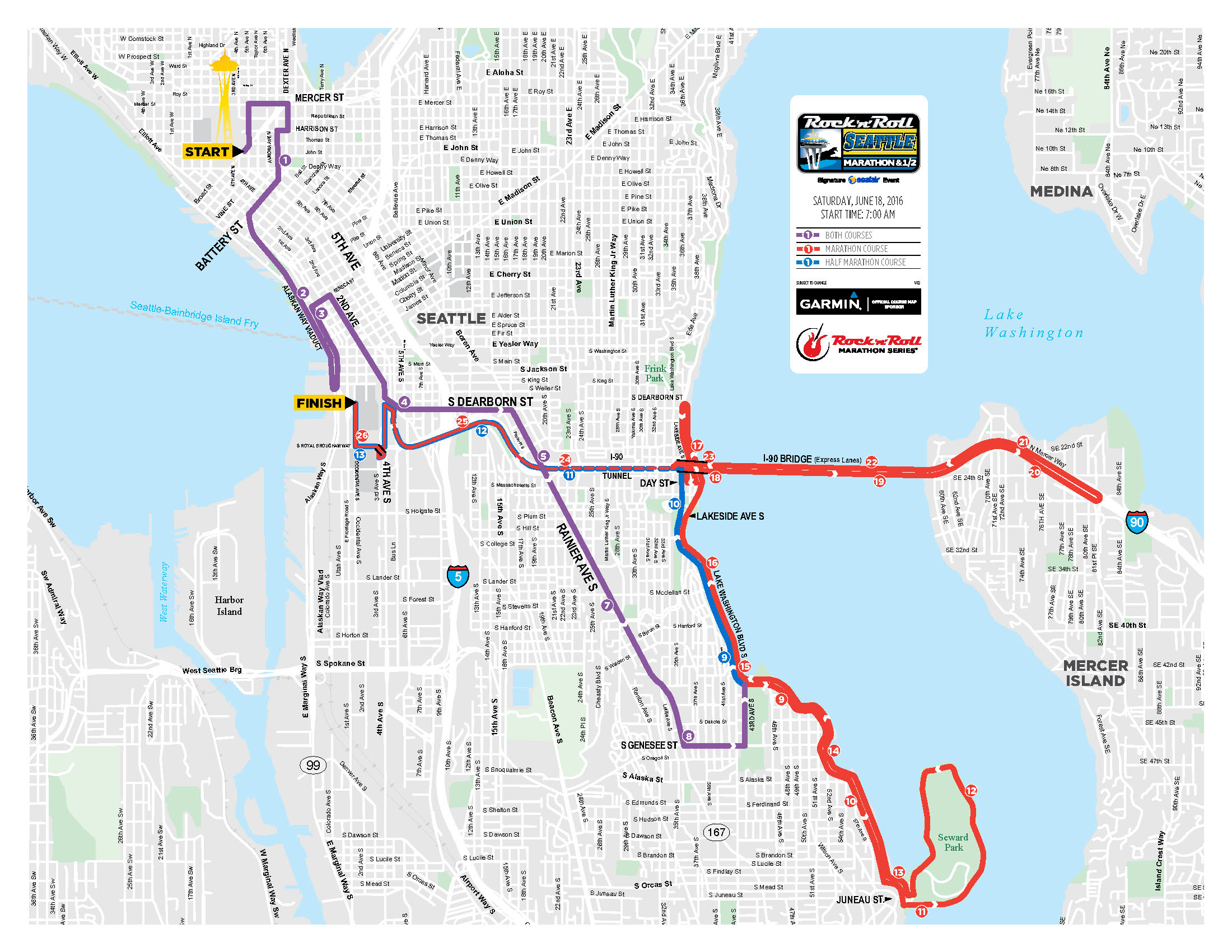 The course started downtown, ran through a tunnel, and then eventually on an out-and-back on the Alaska Way Viaduct, which offered some nice views of Elliott Bay and downtown skyscrapers. After Pioneer Square there was a long stretch southeast on Rainier Avenue and then back north on the shore of Lake Washington. At this point, the half marathoners split off and the race became rather lonely for me because the vast majority of the runners were in the half, so there were times when I literally saw no one else on the course. I had a few thoughts that I might wimp out and change over to the half at this point—which is something that the race organizers actually allow—but I thought about some of the speeches of cancer survivors at the TNT Inspiration Dinner and decided I could not live with myself taking the easy road. (I also thought about the determination of Ulysses S. Grant on May 7, 1864, choosing to head south on the Brock Road after the bloody Battle of the Wilderness, rather than retreating back across the Rappahannock as his predecessors had done.)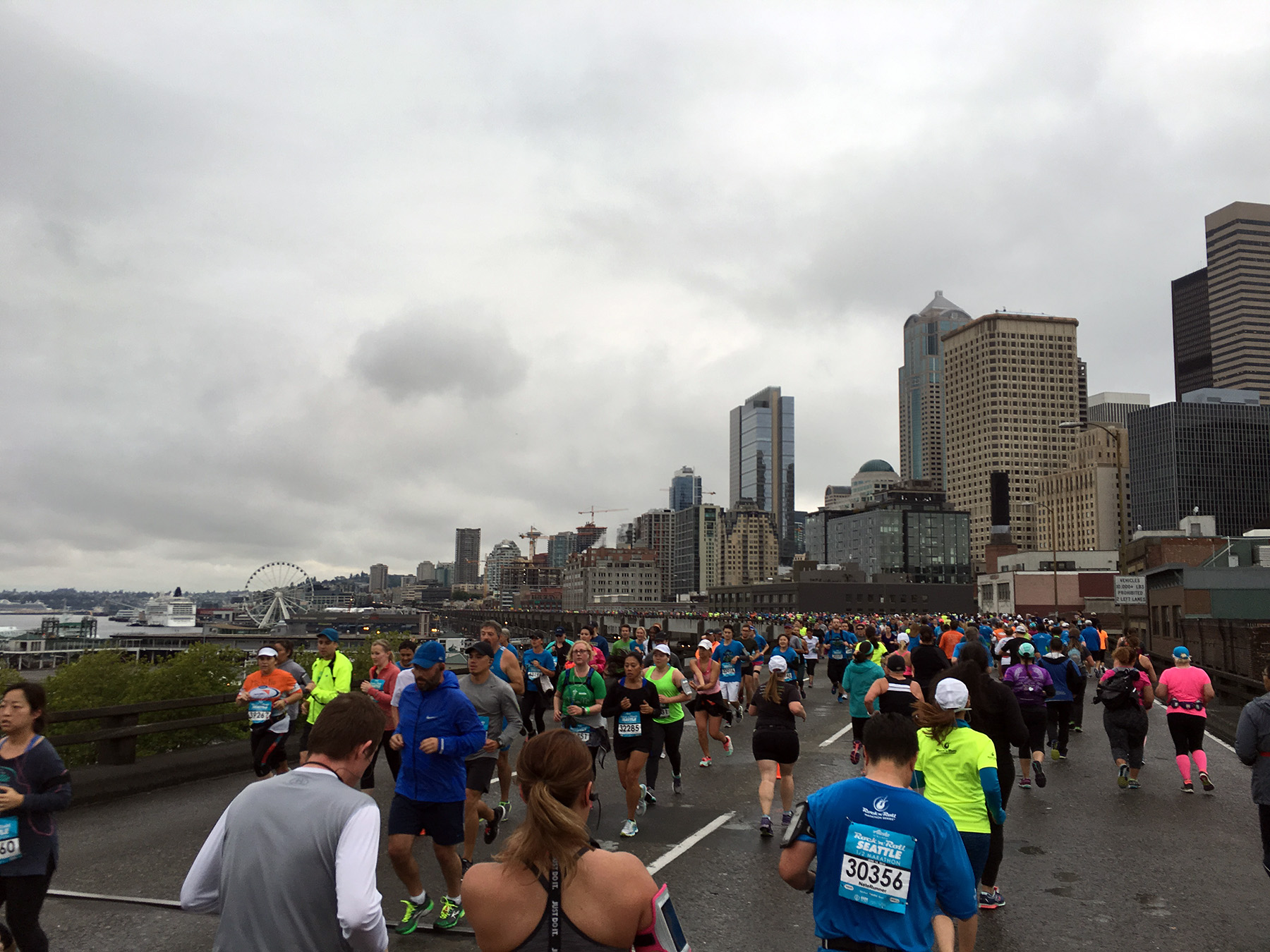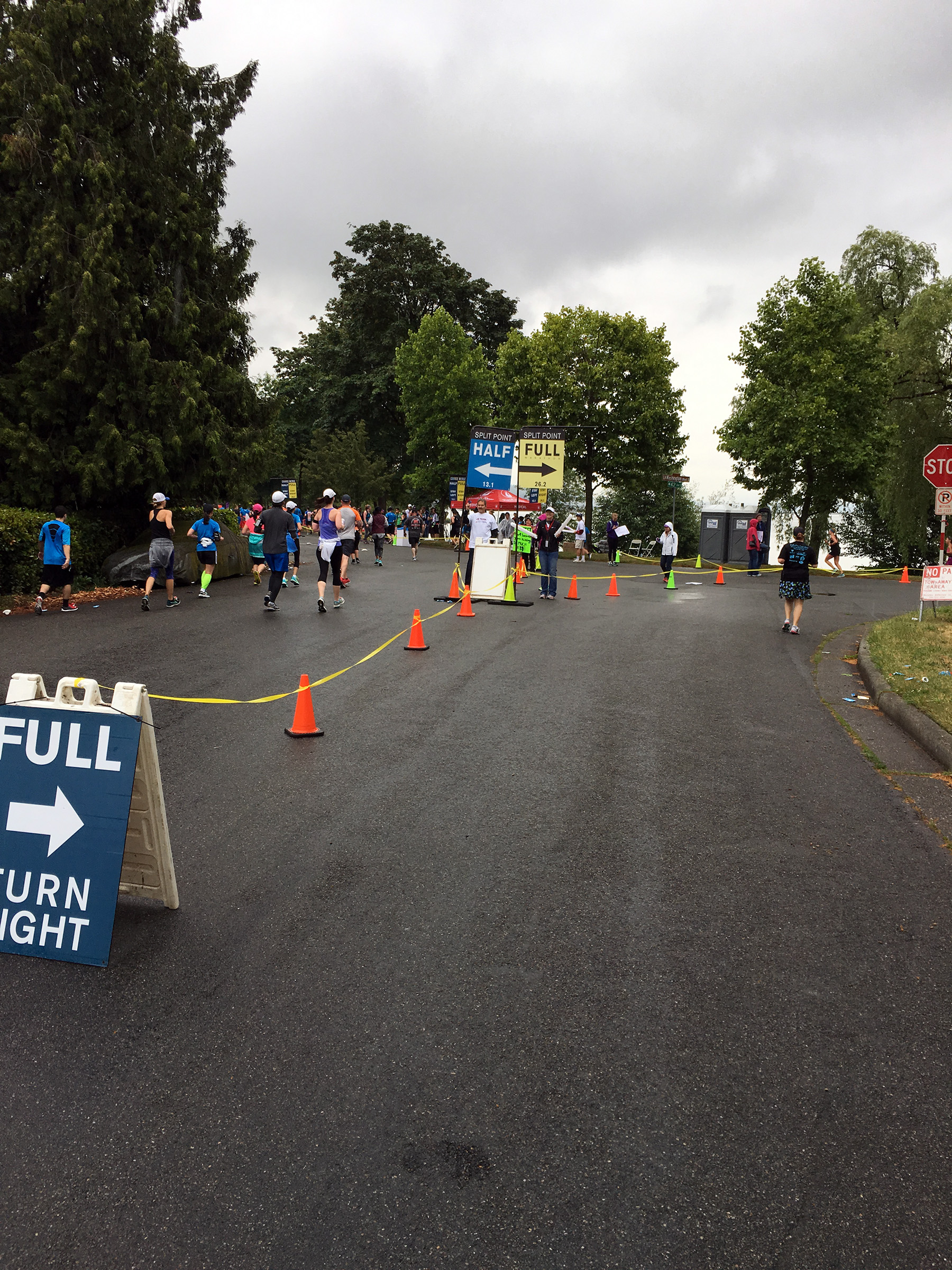 The nicest part of the race was heading back south along Lake Washington and around woodsy Seward Park. This was the only part of the race in which I had to don my rain jacket, but the light rain lasted less than 15 minutes. We headed north again and encountered the "Blue Mile," a tribute to fallen military members from the local area. There were dozens and dozens of color photographs and a very lengthy stretch of people holding large American flags. I was very moved by the tribute. Then we ran on the Interstate 90 bridge (express lanes) to Mercer Island, through two tunnels, and then back to Seattle. From mile 23, it was all freeway tunnels and overpasses until we eventually descended to CenturyLink Field and the finish line. This was the part of the race in which my back was acting up and I was quite fortunate that our TNT coach, Ron Carino, accompanied me all the way to the end. Ron is a race walker who even under normal circumstances can walk rather faster than I can run. (He actually participated in the half marathon and was just hanging around to provide encouragement to his TNT folks.) Coach Meghan Smith of the South Bay team also accompanied me for about the last mile. That sort of encouragement really makes a difference, so big thanks to Ron and Meghan. At the finish line, my peculiarly leaning form instantly attracted medical personnel, but I was able to limp my way through all of the lines with comparatively little difficulty to meet Nancy and my TNT buddies. The 2 miles back to my hotel was accomplished thanks to my friends at Uber. My recovery has been relatively rapid and I did quite a bit of walking around the following two days. I am looking forward to my next marathon, the Philadelphia in November.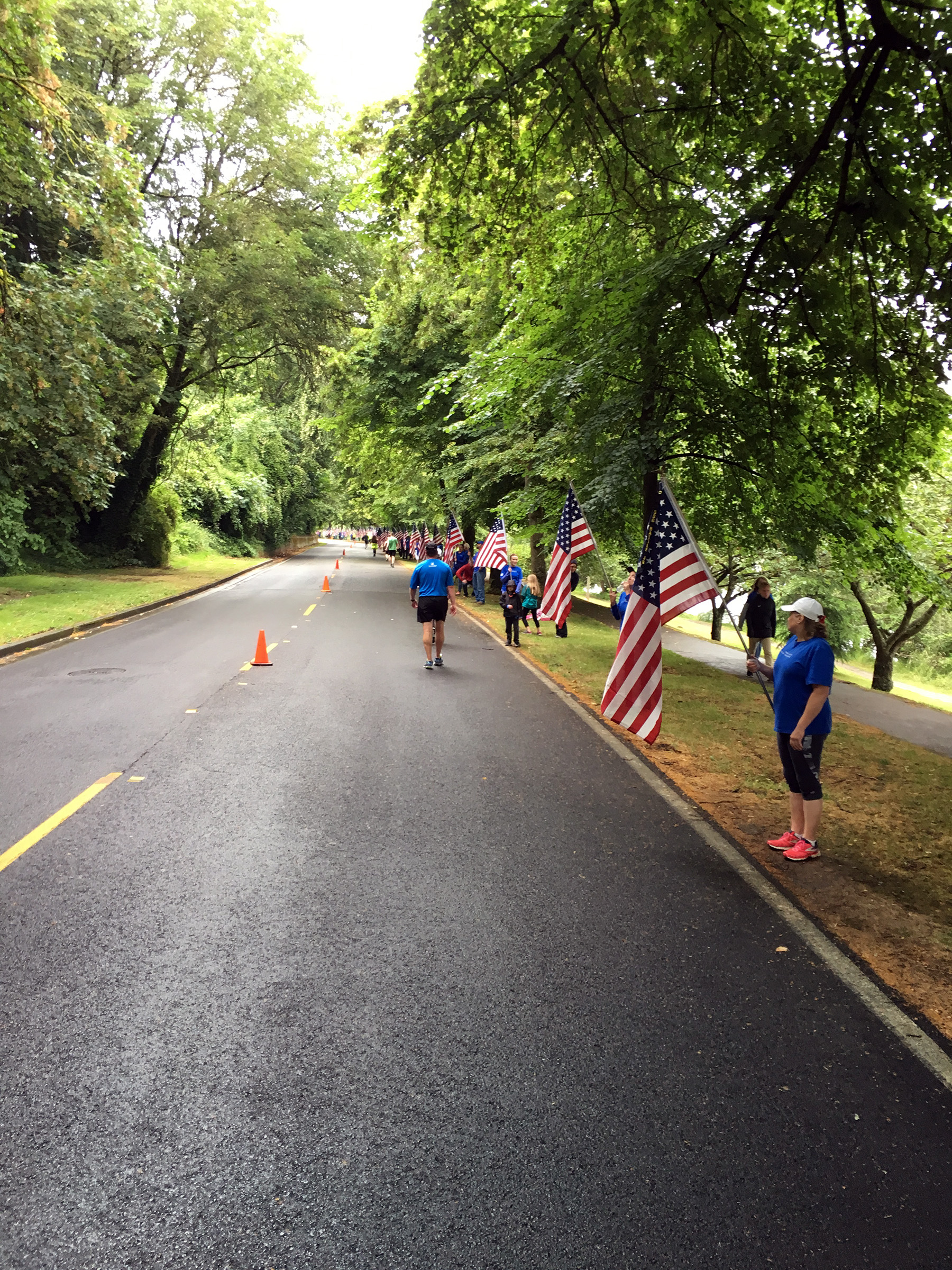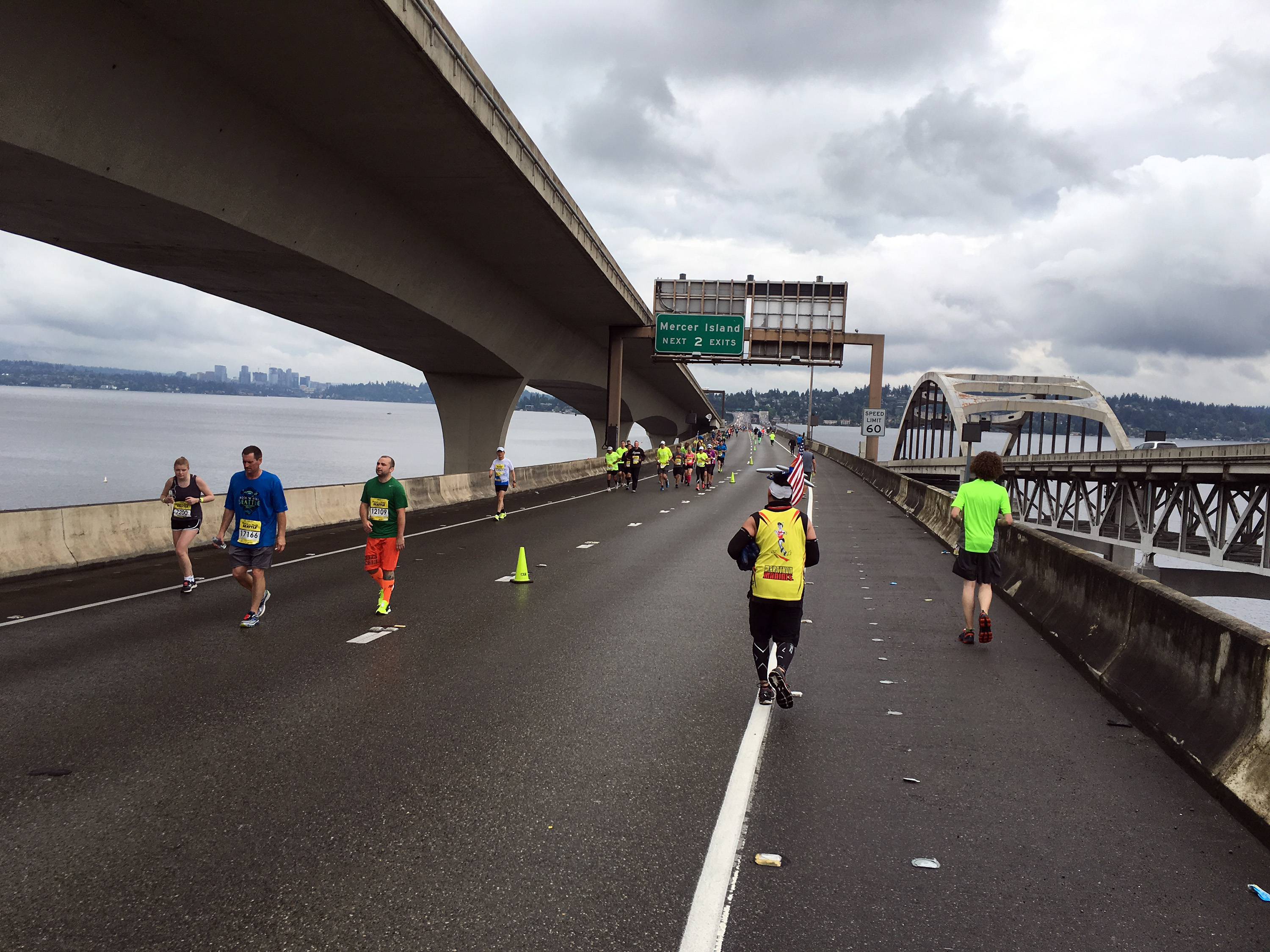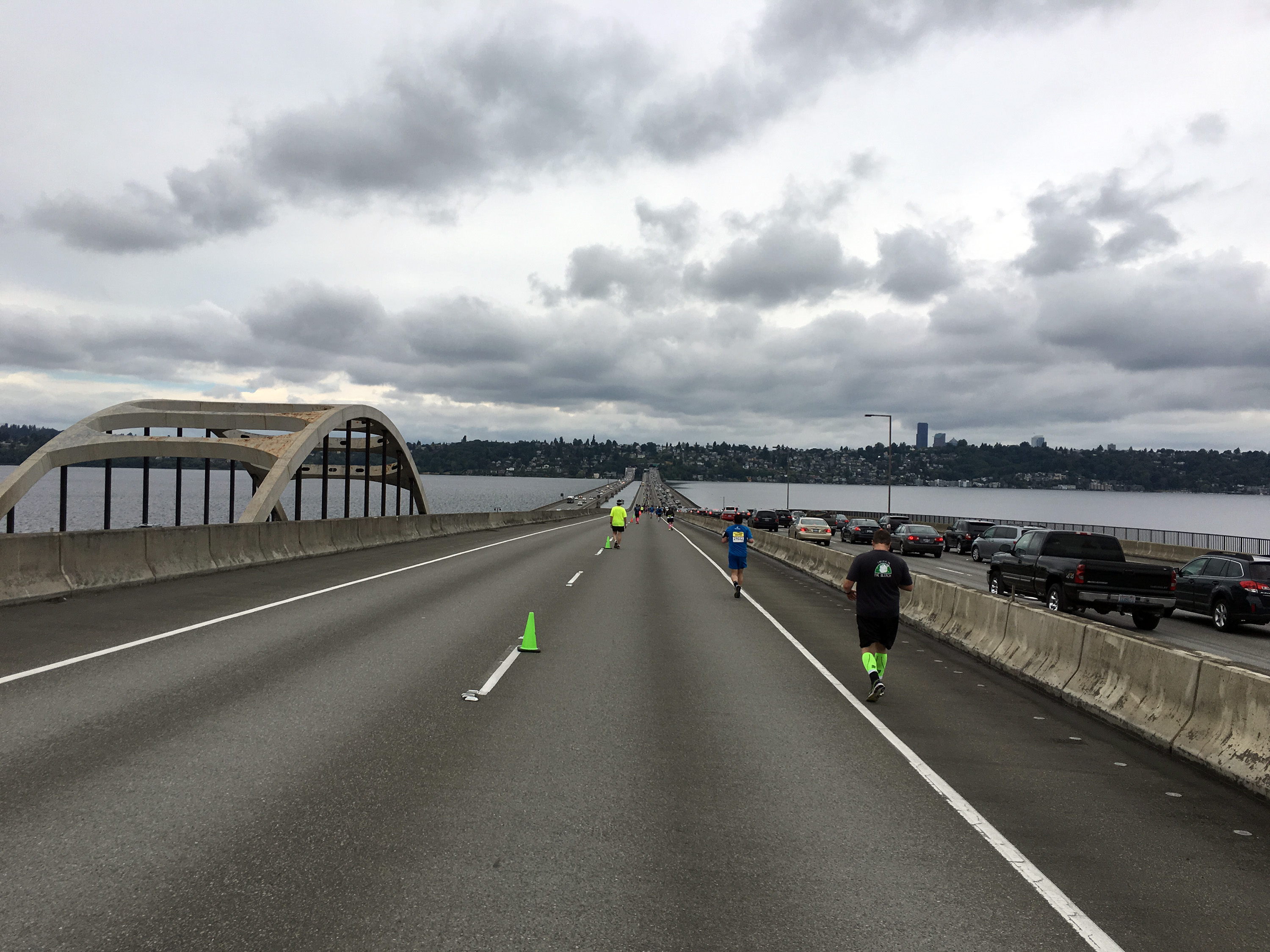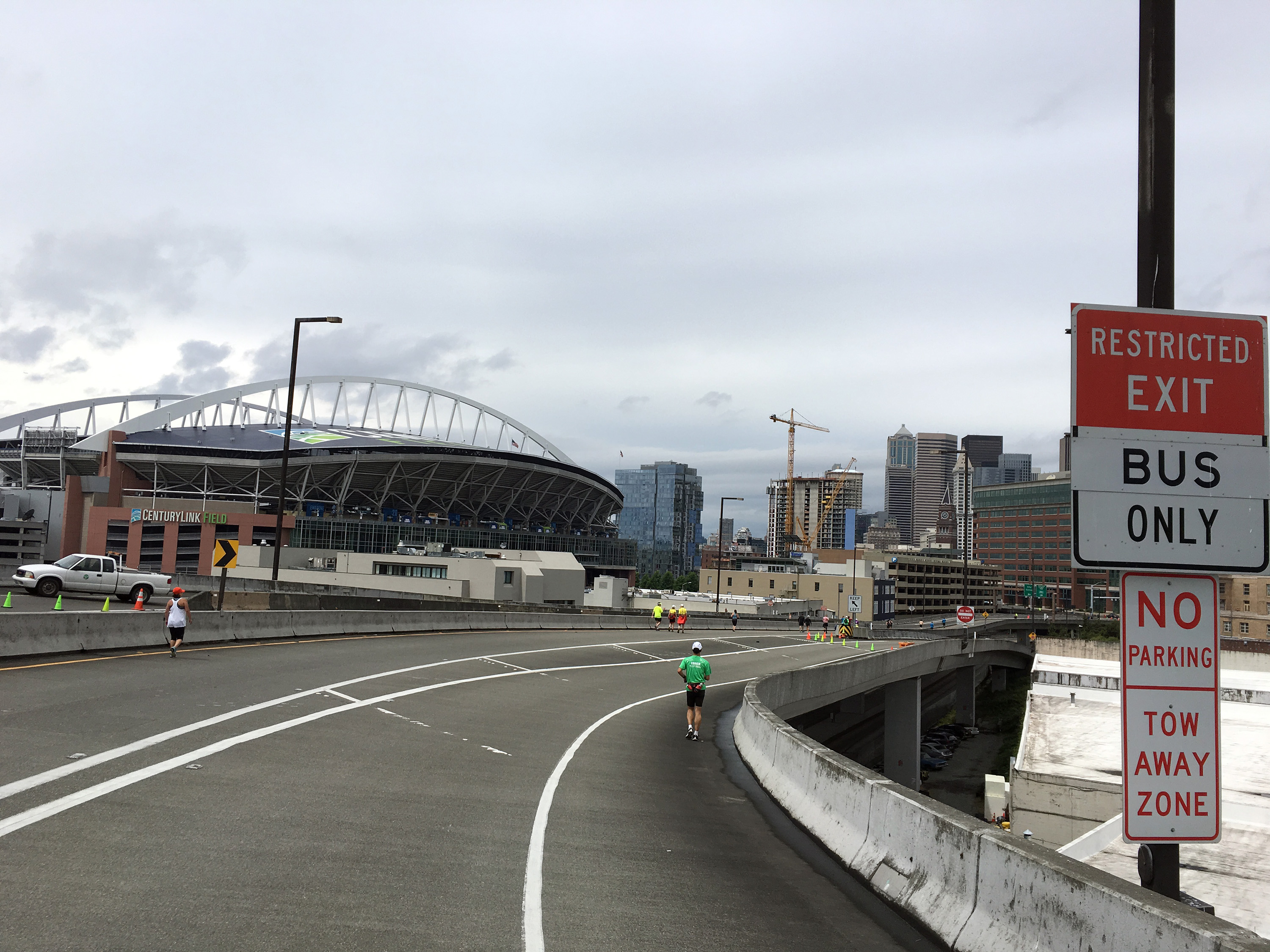 Here are some very brief descriptions of our visit to Seattle outside of the race. We flew up Thursday evening and attended a performance of improvisational comedy at the Theater Off Jackson. It was entitled Where No Man Has Gone Before, commemorating the 50th anniversary of the original Star Trek series, and it was as low-budget as you can imagine, but a lot of fun. Friday morning we went up the Space Needle to admire the view while the weather was good and then took a city tour on the Ducks, the World War II era amphibious vehicle that features humorous commentary on both land and water (Lake Union). We had lunch at a great place called Serious Pie and Biscuit, selecting pizza, but having a delicious biscuit as an appetizer. In the afternoon we went to CenturyLink Field for the race expo. It was here that a lady in the information booth told us there was no point in attempting to be a spectator because road closures made it too difficult to move around and reach the finish line in time.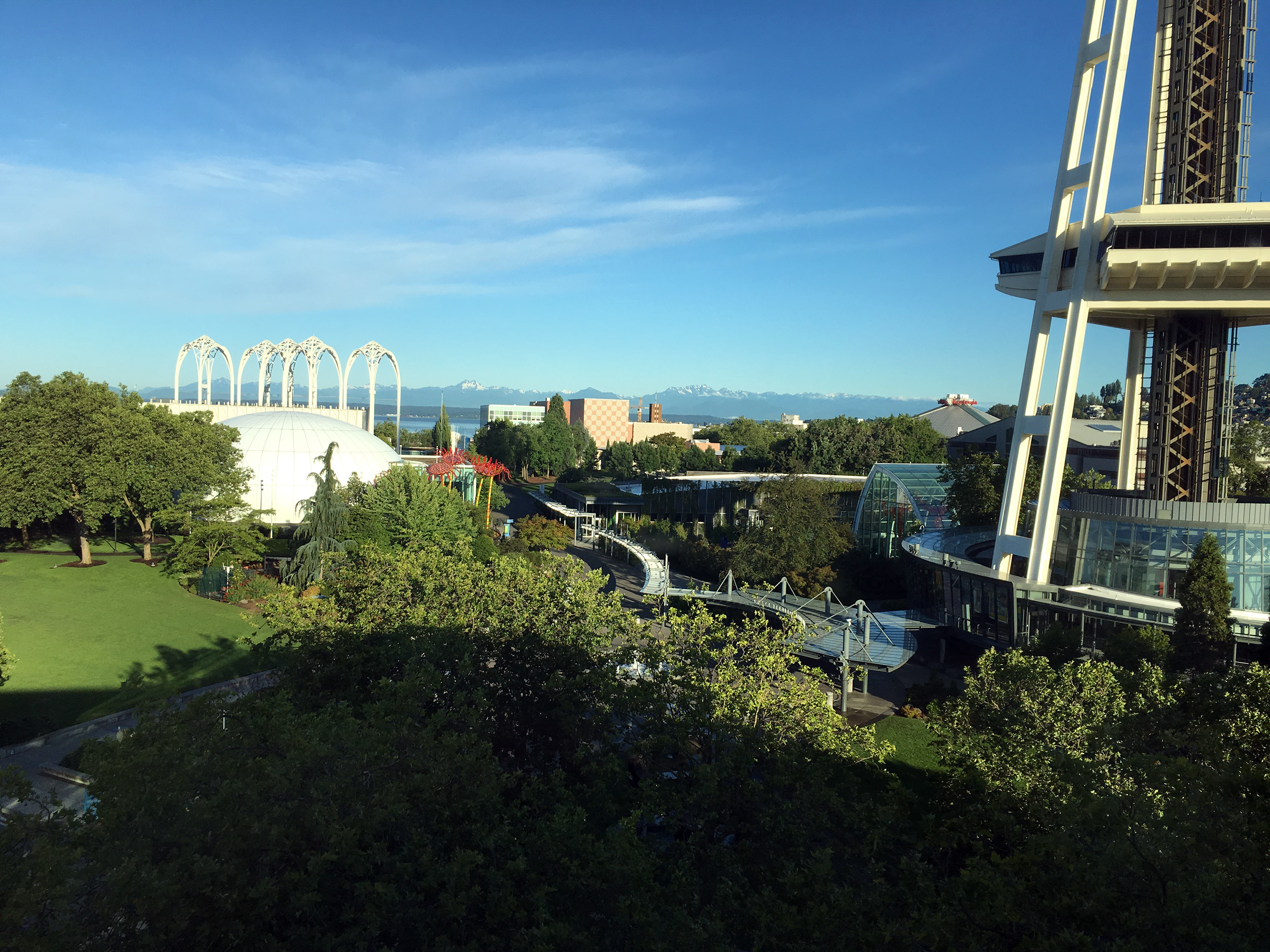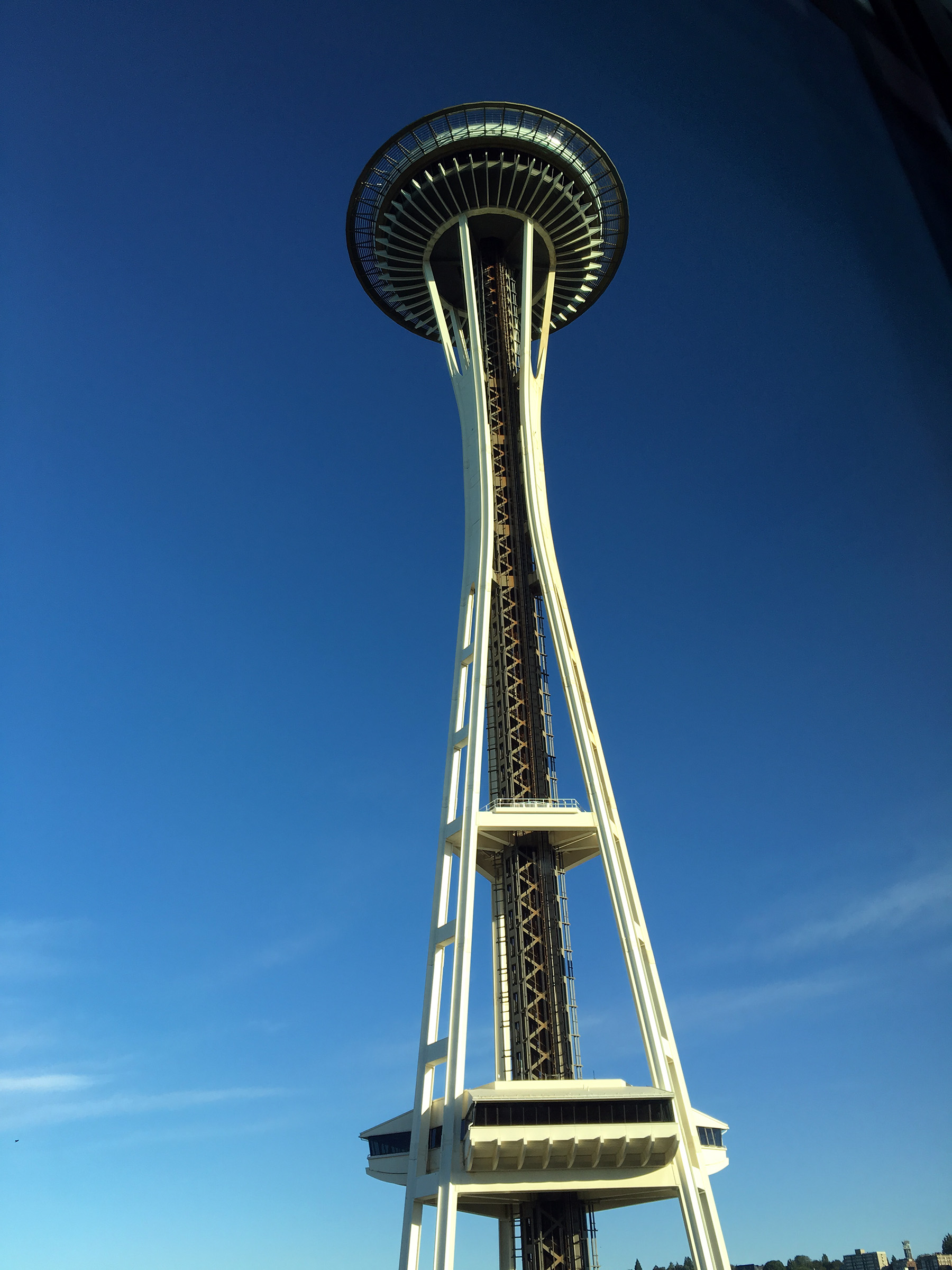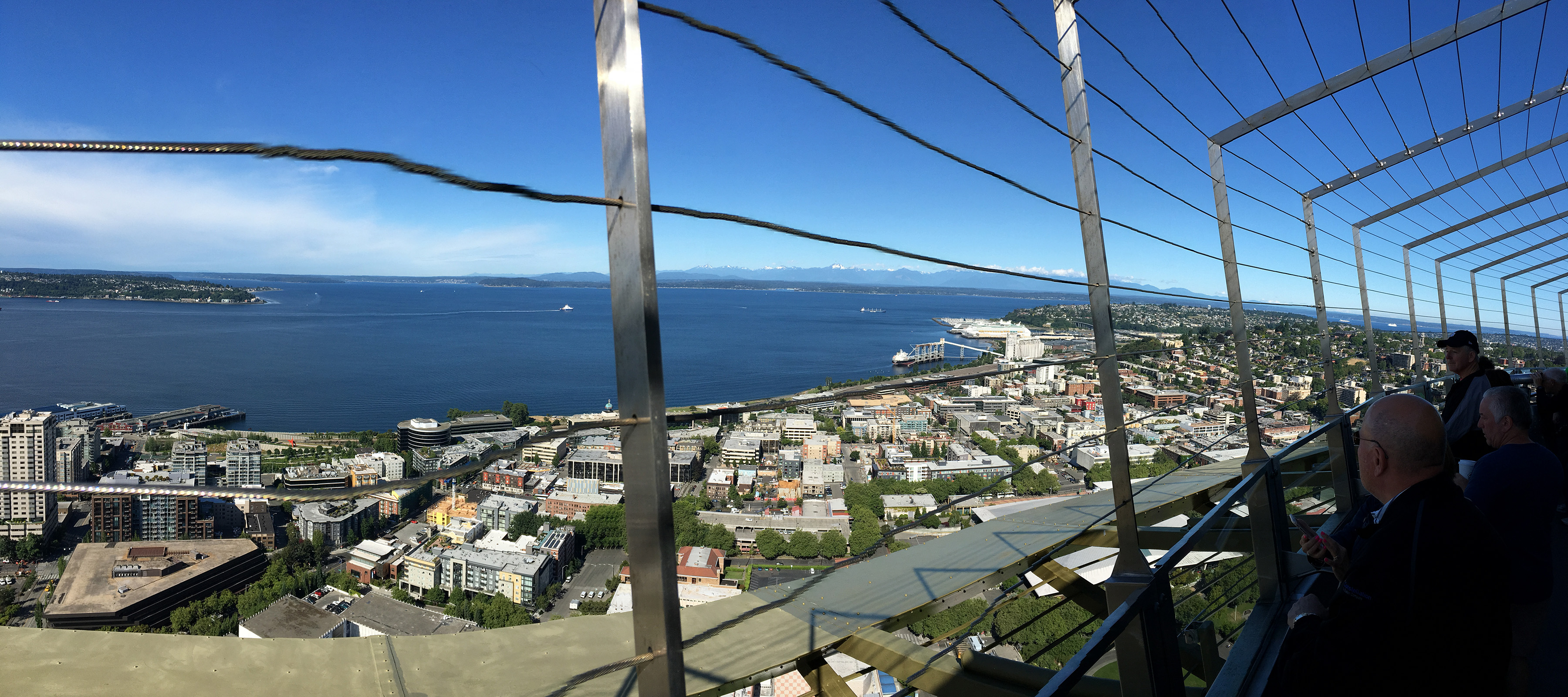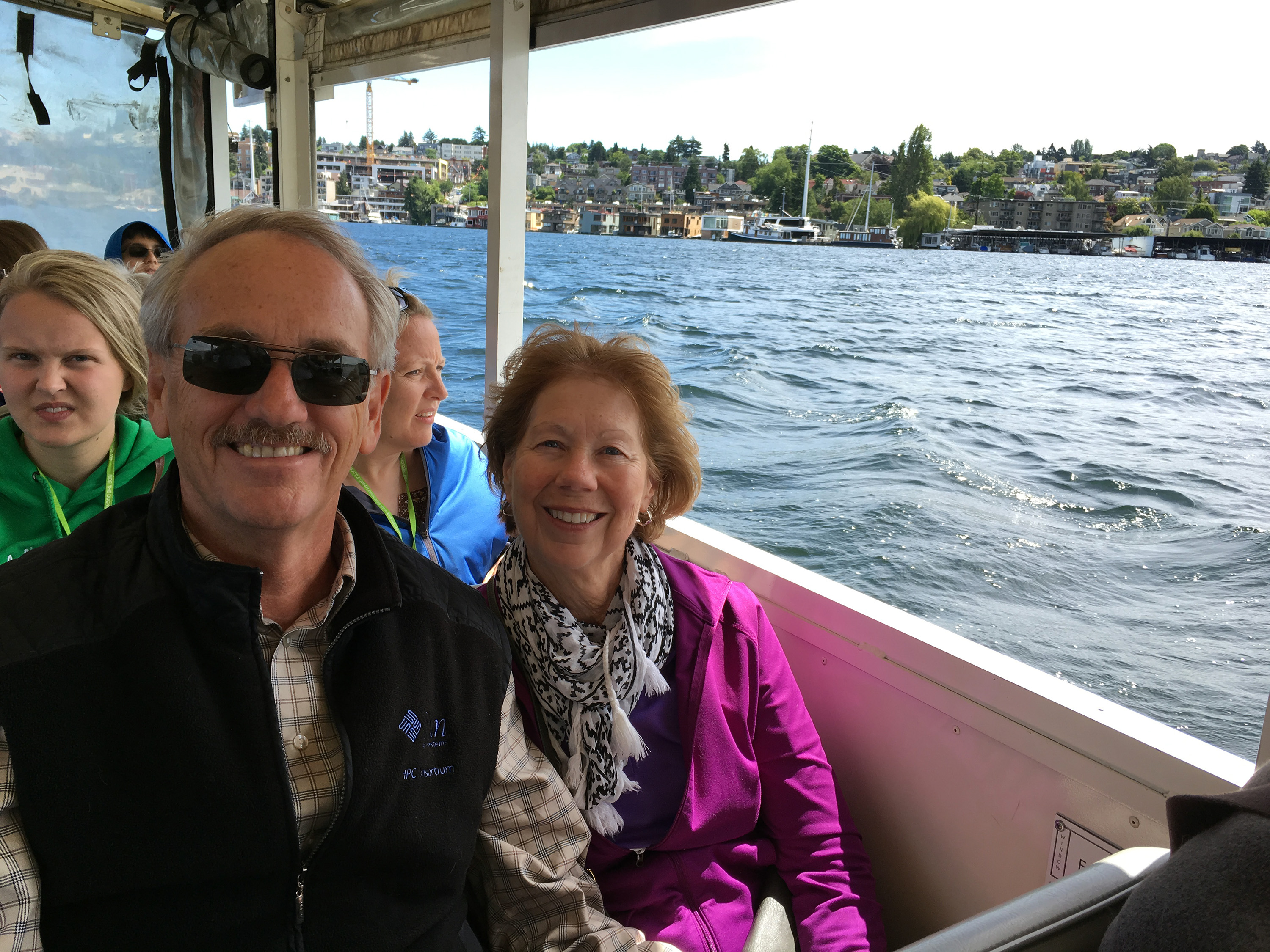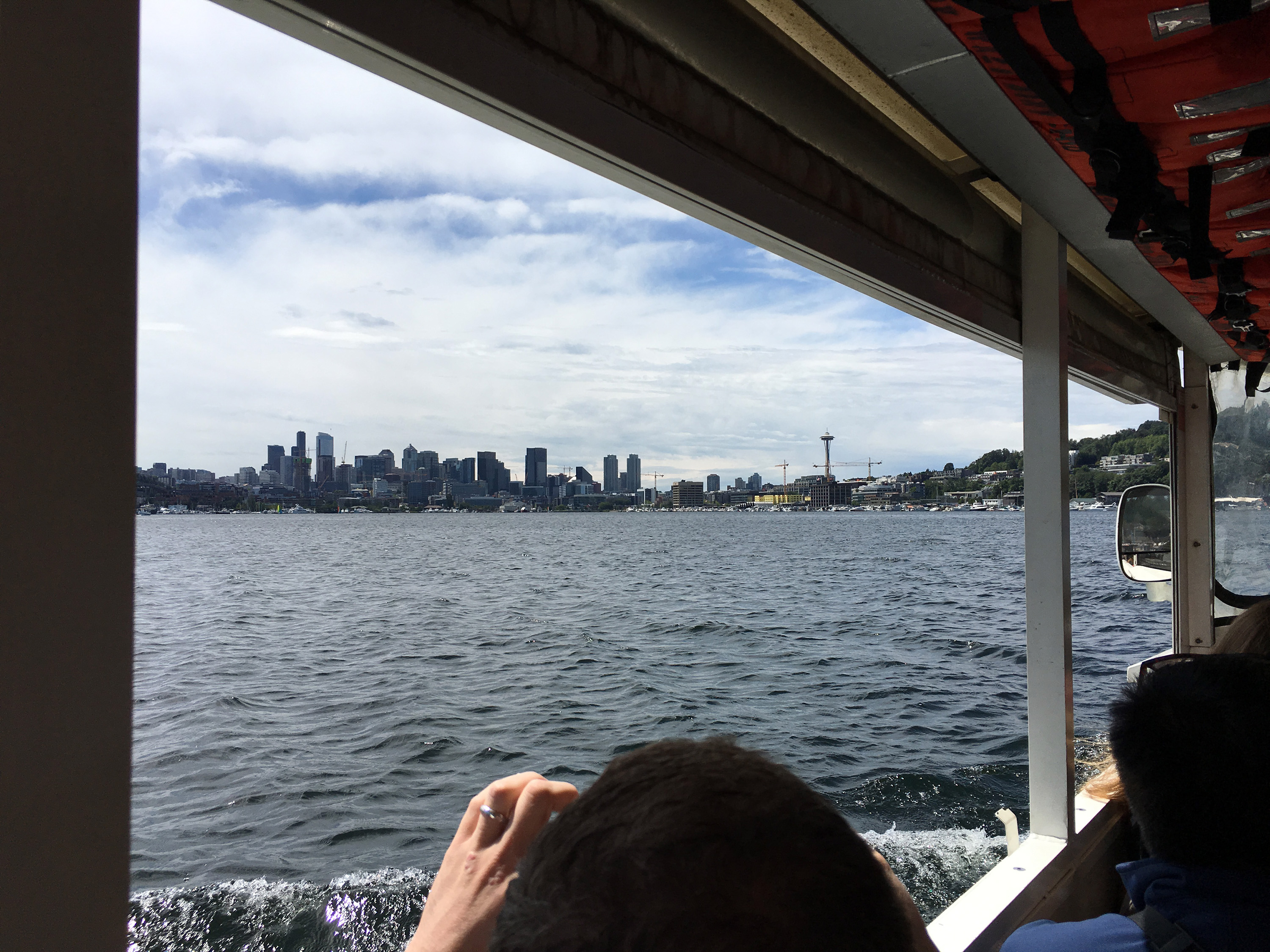 Friday night was the Inspiration Dinner at the Sheraton Hotel. The buffet dinner was actually pretty decent and the speeches inspiring, as usual. Saturday morning was the race. That evening we celebrated at Wild Ginger, one of my favorite Seattle restaurants, specializing in Asian small plates. On Sunday morning we picked up a rental car and drove to the Museum of History and Industry (MOHAI), which was moderately interesting. We returned to Serious Pie and Biscuit for brunch and had to delicious biscuit dishes. In the late afternoon, we drove to Woodinville to have Father's Day dinner at the Herbfarm, which is a fancy restaurant that specializes in multicourse meals prepared with local ingredients. Nancy and I first encountered this restaurant in 2003 and it was just as good the second time. We splurged on the multicourse meal to celebrate our 40th wedding anniversary.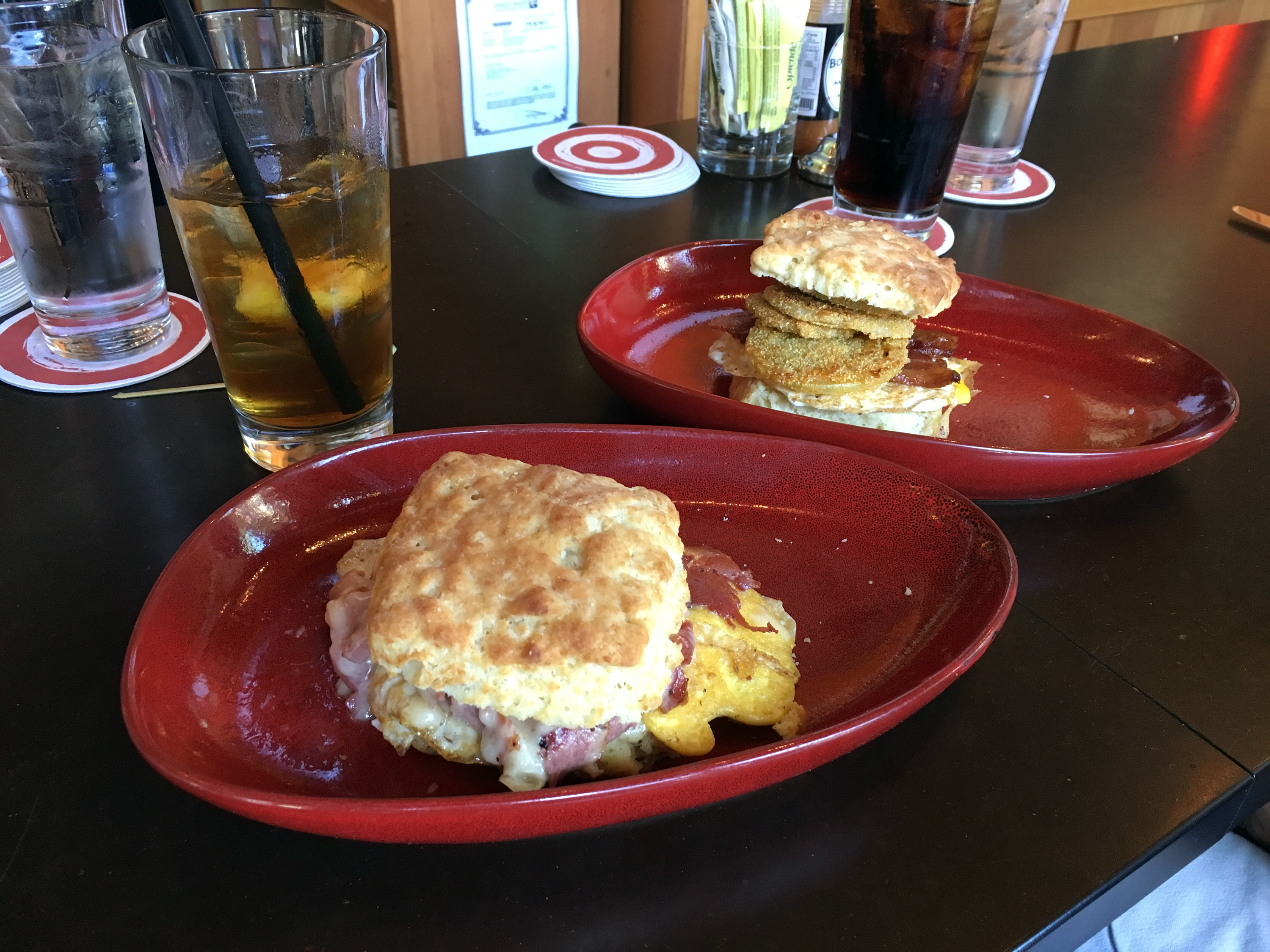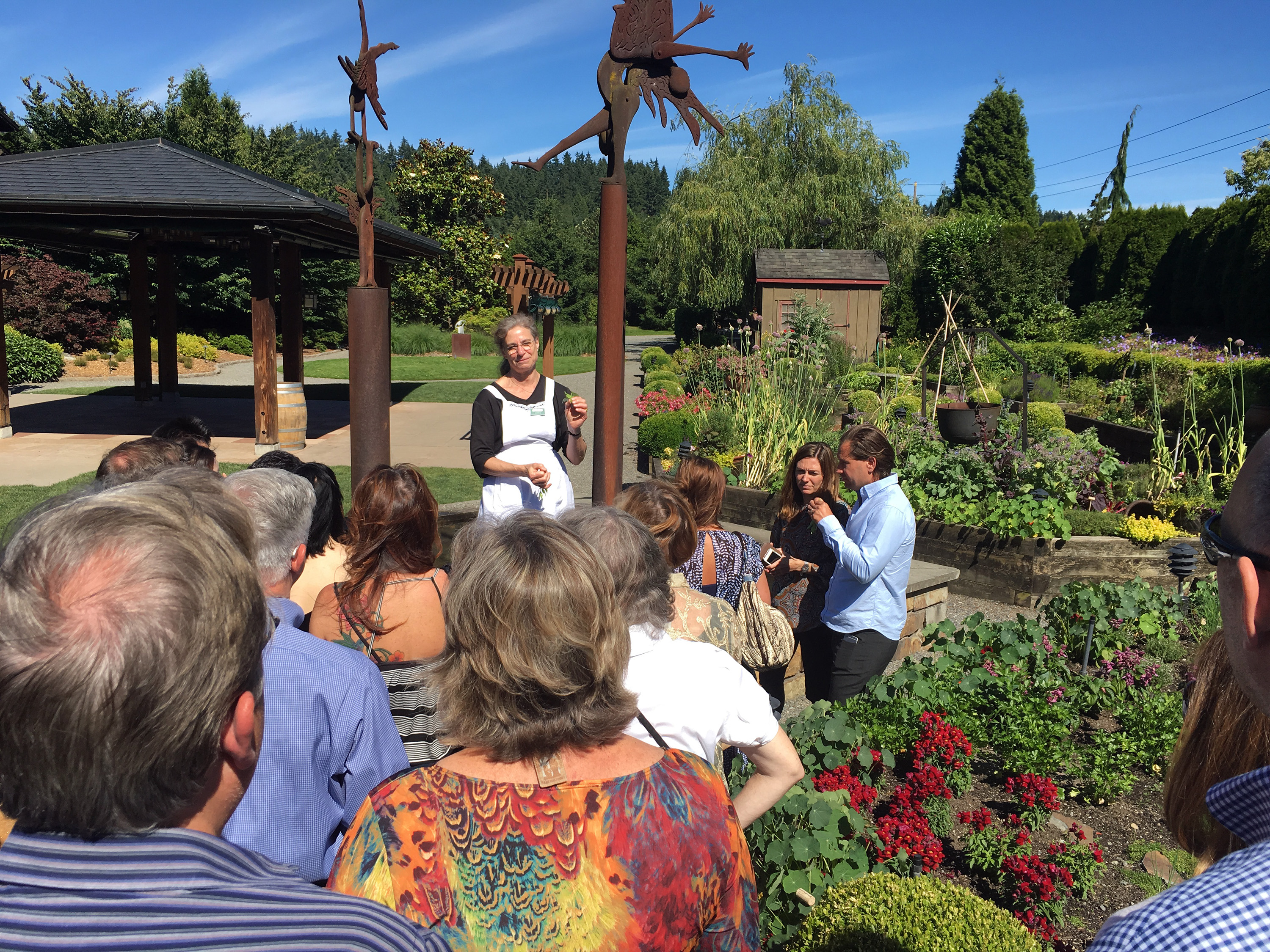 On Monday, we took a guided food tour of Pike Place Market, which was an excellent choice for navigating through this complicated, busy environment. Our tour guide, David, gave us a lengthy history of the market as well. We had eight interesting stops: Crepes de France for banana Nutella crepes; Los Agaves for tacos; Pike Place Chowder for their award-winning Boston clam chowder; Pikes Pit Barbecue for a spicy barbecue bowl; Uli's Bierstube for a chicken apple sausage with sauerkraut; Pure Food Fish for a really delicious smoked salmon; Corner Produce for nectarines and dragon's egg (pluot) and the most delicious Greek yogurt I have ever tasted; and Saffron Spice for chicken tikka masala and mango lassi. We finished up at the disgusting, but amusing, Gum wall. In the afternoon we drove to the Ballard Locks and watched boats traversing and salmon ascending the fish ladder. And then a 6:30 flight back to San Francisco.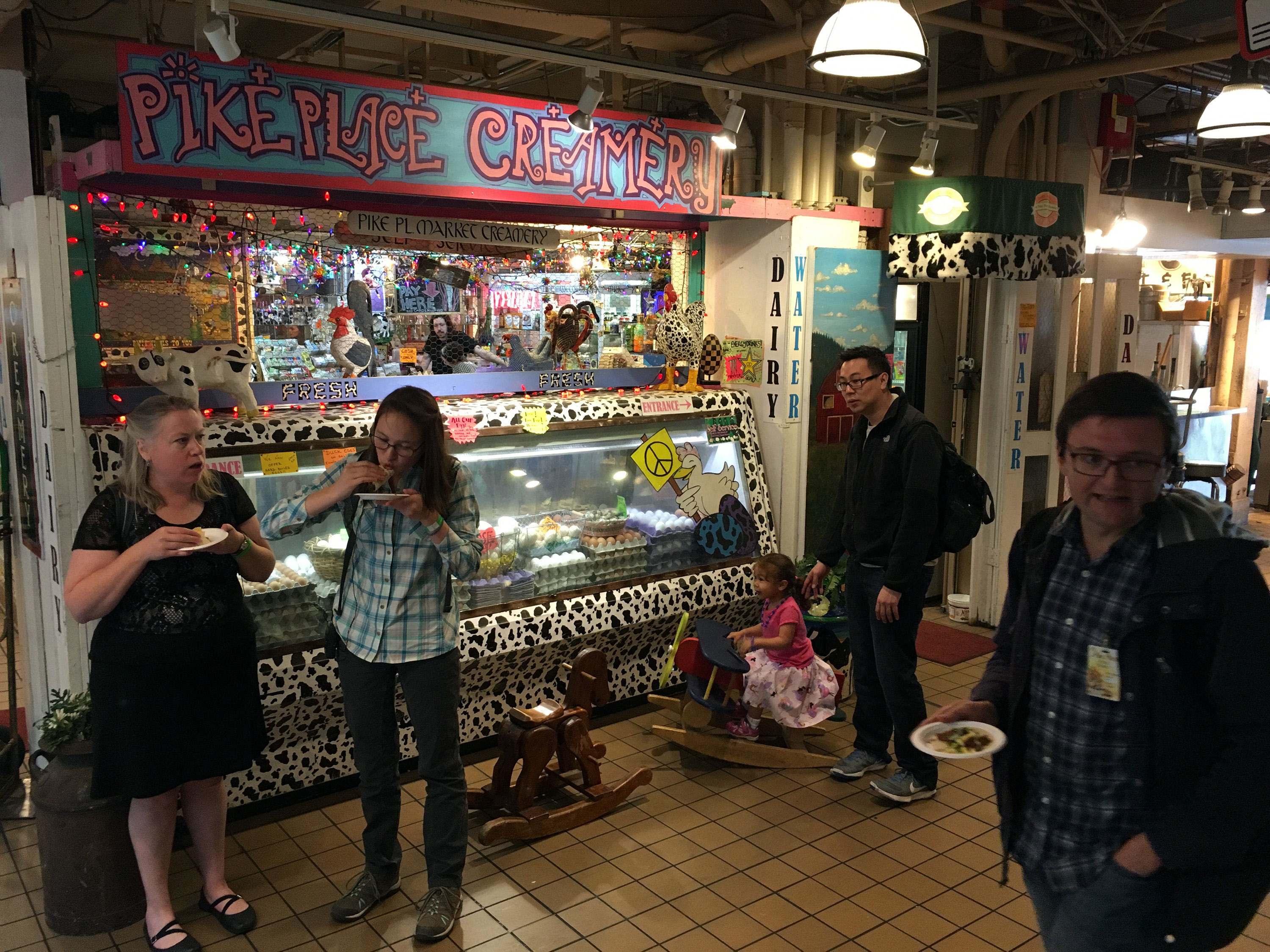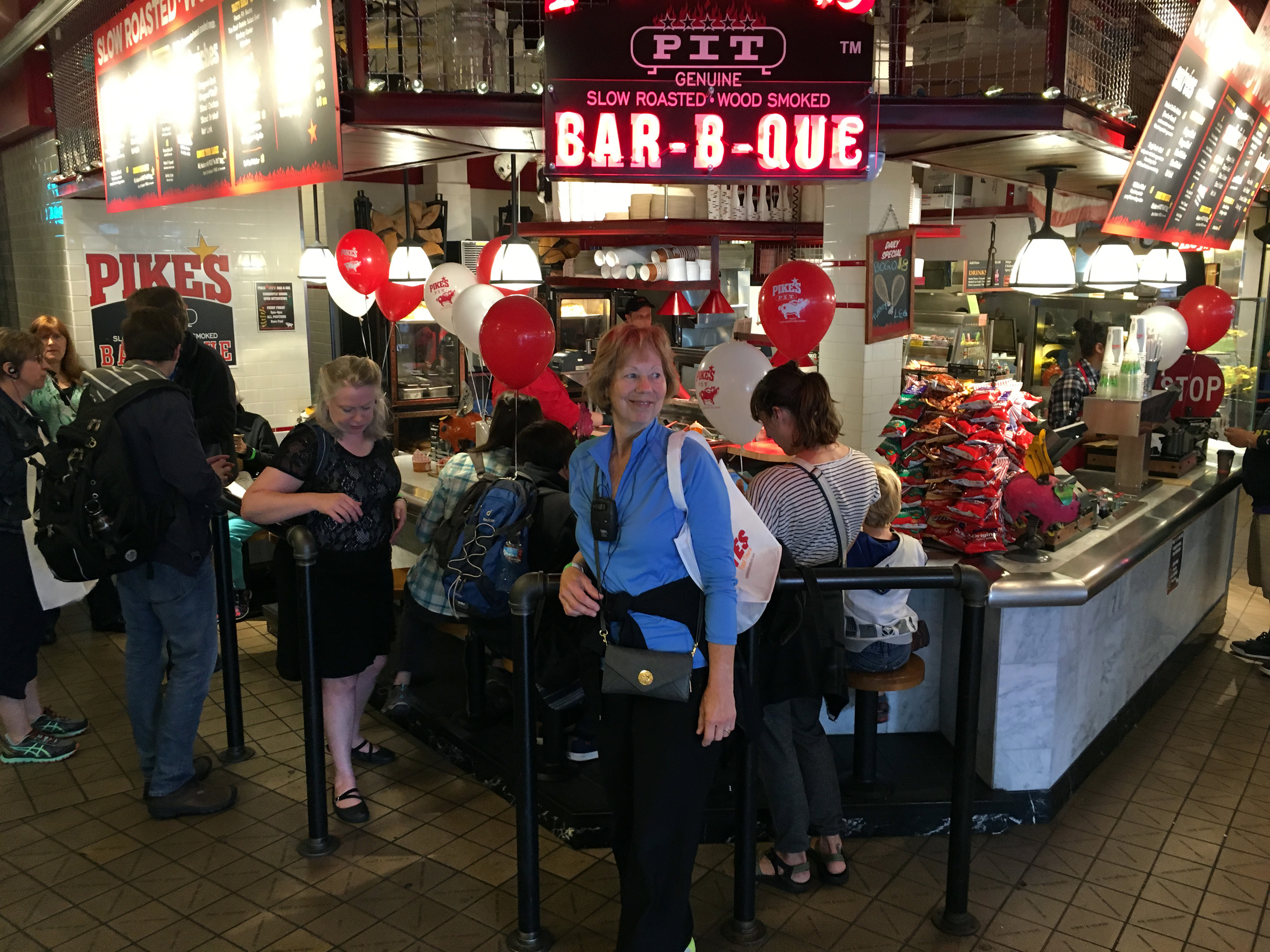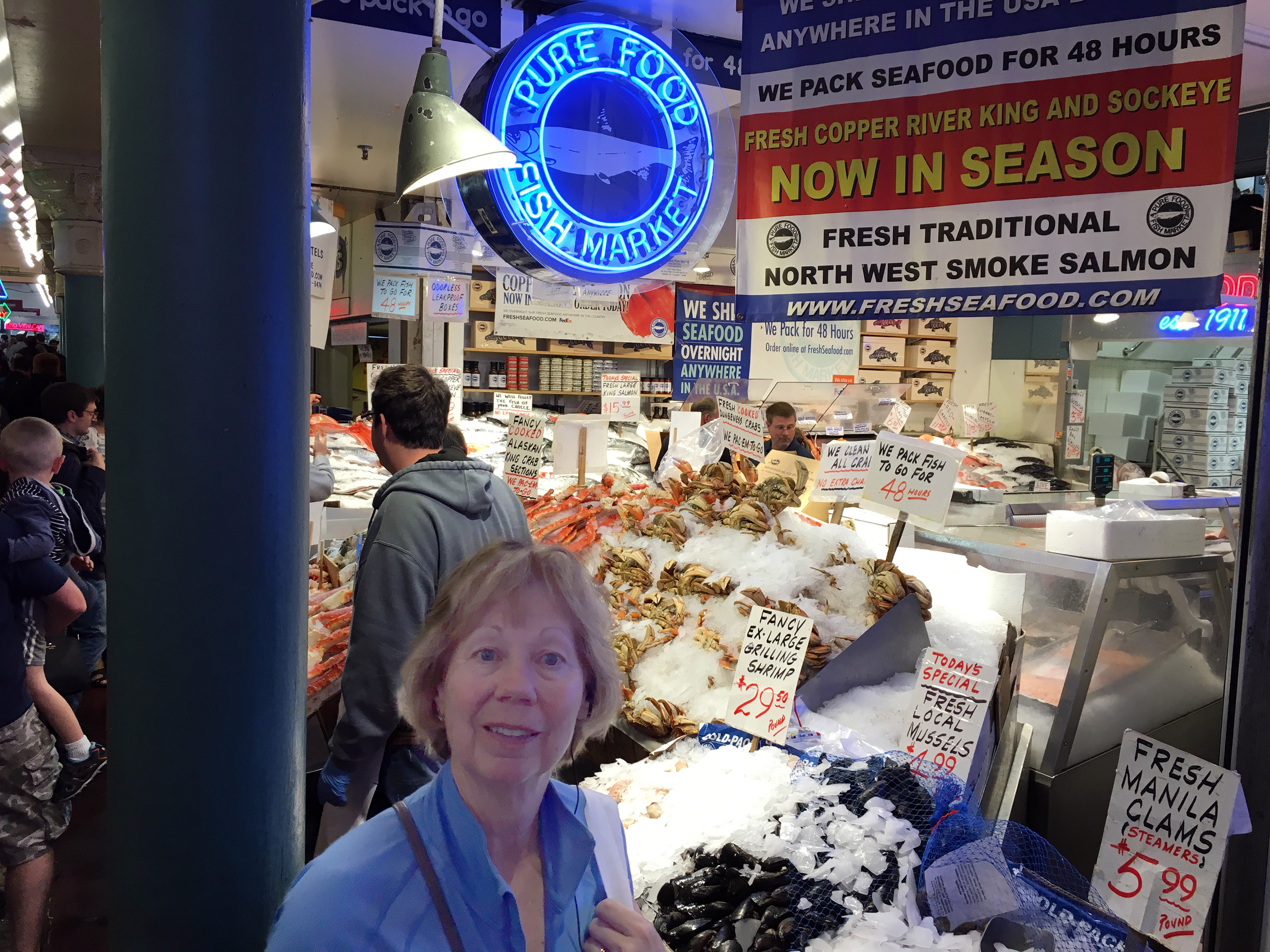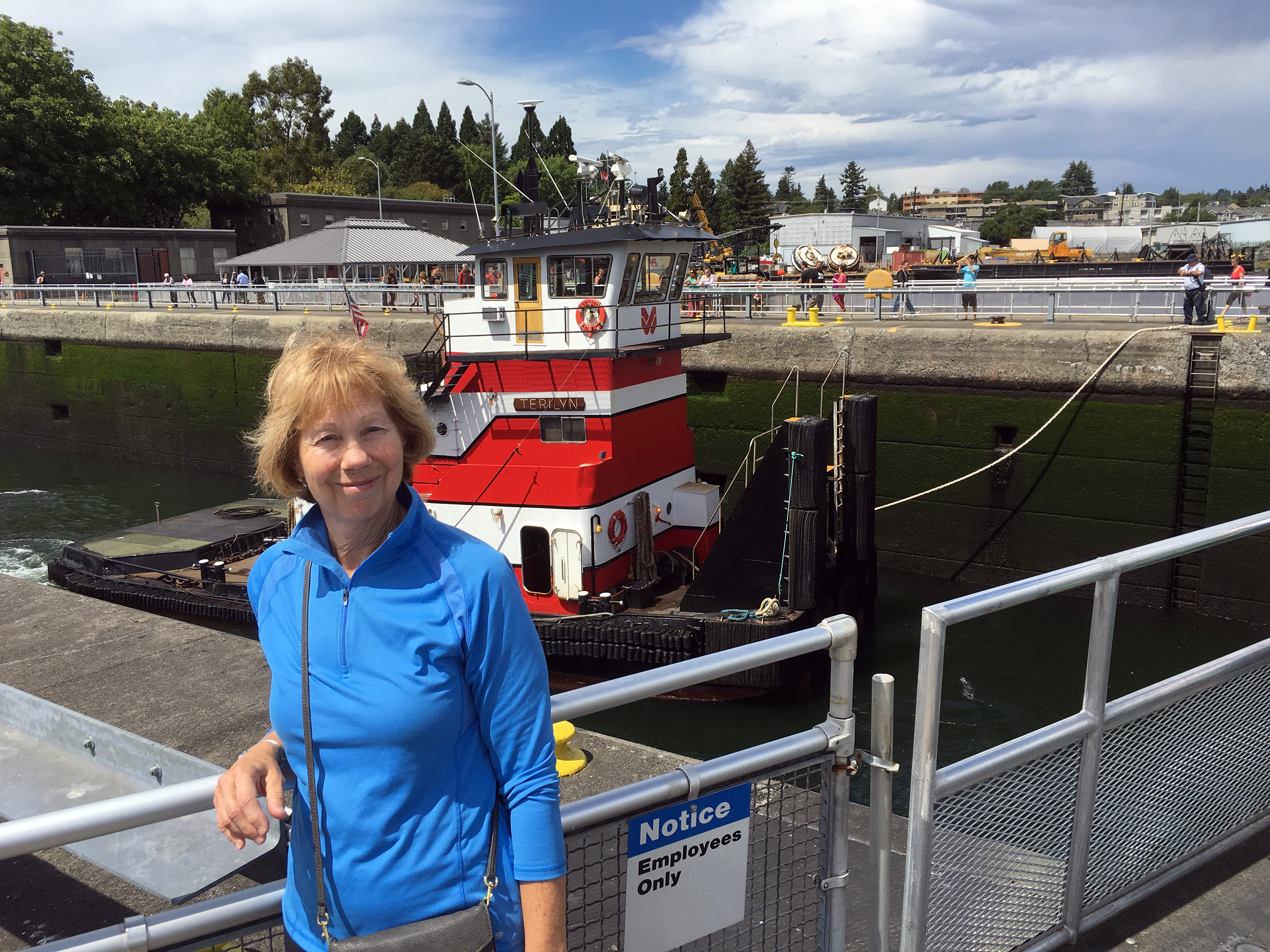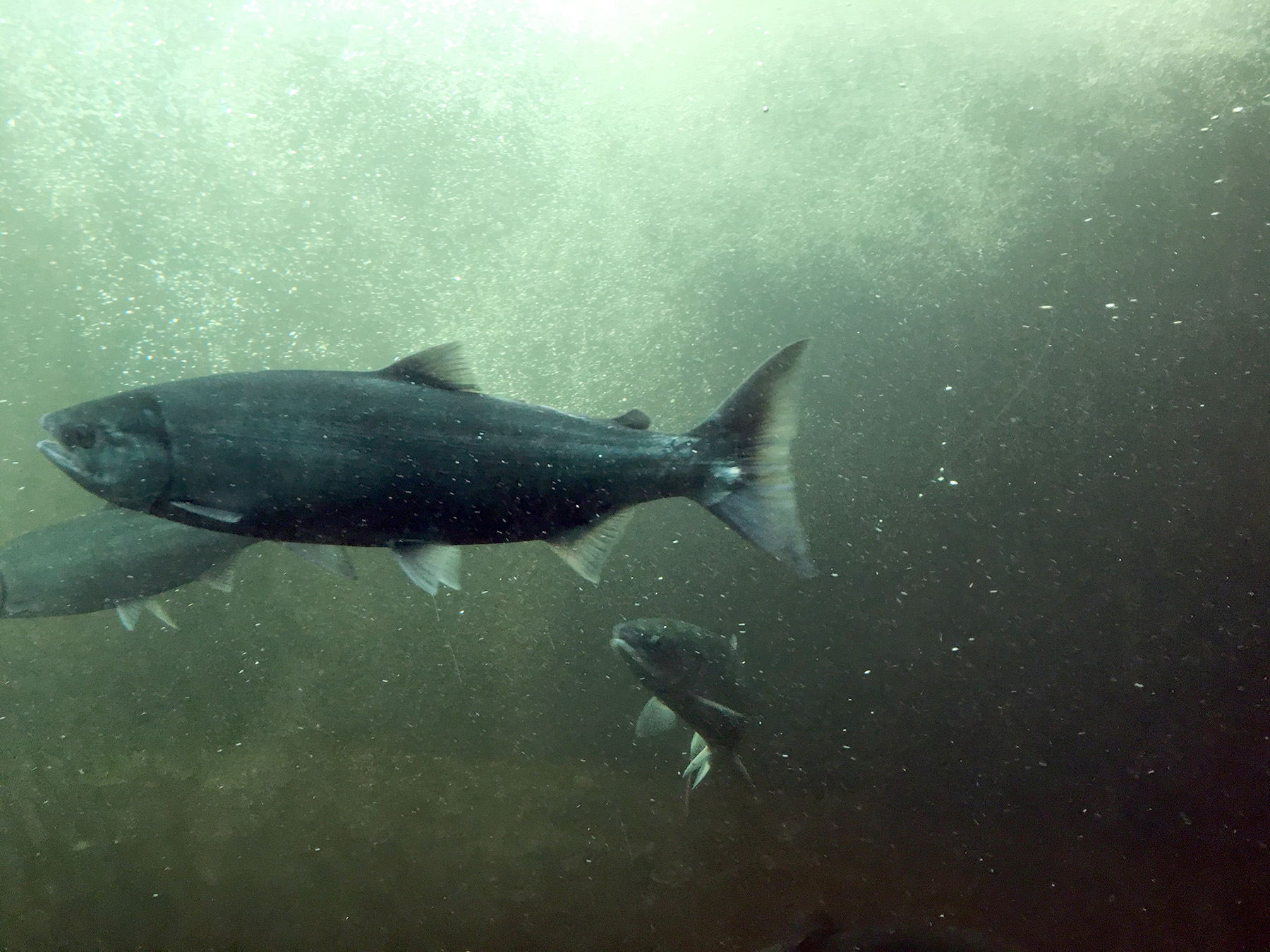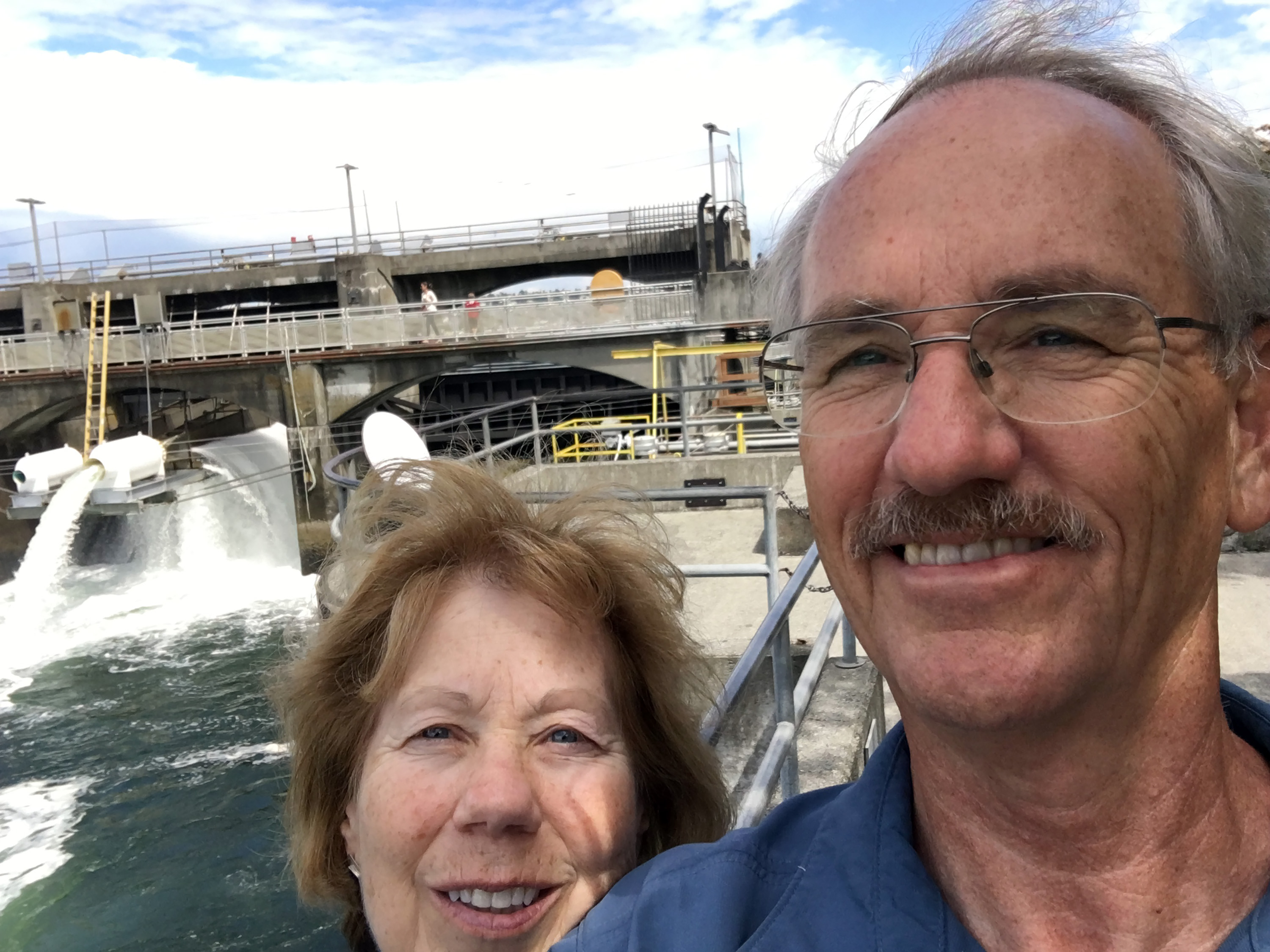 Star Wars Half Marathon
This is a report about my training for, and running of, the Star Wars Half Marathon at Disneyland (Anaheim, California) on January 17, 2016. I usually do two full marathons a year, but the Leukemia and Lymphoma Society's Team in Training (TNT) program started shifting their schedule around and I found myself with a long inactive period from my marathon in November until the next one, June 18 in Seattle. So in order to keep my motivation up, I signed up for this Disney event, which concluded just before the start of the TNT spring training program in early February.
My recovery from the Richmond, Virginia, marathon in November was pretty speedy and I was able to get my mileage back up, training entirely on my own, of course. Starting on November 24, I trained for 124 miles, usually with 6-milers on Tuesdays and Thursdays, and longer runs up to 14 miles on weekends.
The Star Wars half marathon was actually fully booked to normal registrants by the time I thought of this, so I looked around for a charity running program that would sponsor me. I selected Back on My Feet, which is a program that helps homeless people. They have no sort of training program like TNT, but I wasn't looking for assistance, just the ticket. I did not make a big deal about fundraising and made the donation on my own. I'm sorry to say that I could not carry their brand into the race because their T-shirt was manufactured and shipped from China and it did not reach me until after I left for the race, so I once again gave publicity to LLS by wearing one of my purple shirts. On the course, I saw no one else wearing TNT colors, but there were six occasions where runners or spectators called out "Go Team!" to me.
My wife Nancy and I drove 6.5 hours to Anaheim on Thursday, January 14, and checked into the Hyatt Regency Orange County. We went to the race expo at the Disneyland Hotel that afternoon and had dinner there at Steakhouse 55, which was quite good. For dessert we walked through the Downtown Disney area and found the world's most delicious churro at a sidewalk cart.
Friday we visited the parks—Disneyland and Disney California Adventure. Back on My Feet offered us a rather modest discount, so we got two one-day park hopper tickets. Pretty darn expensive, but we had not visited Disneyland in (literally) 40 years, so what the heck. (It seems odd, but during that 40 years we visited Disney World in Florida at least five times.) I won't give an elaborate description of the day's events, but a few highlights are in order. My favorite ride of the day was Radiator Springs Racers, with Hyperspace Mountain coming in second. In the latter case, almost all of Tomorrowland has been turned over to Star Wars, and we also enjoyed Star Tours. The Big Thunder Mountain Railroad also is one of my all-time favorites. The California Adventure was an entirely new experience for us and we particularly enjoyed Cars Land and the Paradise Pier boardwalk area, including California Screamin', which is about the scariest roller coaster I've ever been on, and a giant Mickey Mouse Ferris wheel. We were impressed by the evening parade and the fireworks at Disneyland. Although the parks were moderately crowded during the day—Tomorrowland the most intense—after about 4:30 PM all the local residents with annual passes must have rolled in and the place was shoulder to shoulder.
On Saturday I wanted to avoid a lot of walking the day before the race, so we took a foodie tour of old-time Orange and drove down to Newport Beach for a brief visit at the sea.
Sunday was race day. While I was looking for a hotel, I saw that the Hyatt Regency was only two blocks from Disneyland, but I found to my amusement that the blocks were ½ mile long! Luckily, there was a city shuttlebus that provided me free transportation at 4:30 AM, so I only had to walk about a half mile in the park. The 12,000+ runners were divided into 5 corrals and I was lucky to be assigned to B, so there was only a 10 minute delay getting to run after the official start time of 5:30, but I guess the people in E had to wait at least another half hour. The race day weather was essentially perfect, about 50° that early in the morning. But since sunrise was not until after 7, the first part of the race—the only part that was actually in the parks themselves—was mostly in the dark, which was too bad. The race started out pretty slowly because the roads and alleyways that we took were rather narrow, so there was a lot of congestion and I assume people run naturally more slowly when they can't see their feet clearly.
The race spent the first 4.5 miles inside the parks (inside the berm, as I believe cast members say), and at least half of that is in the "backstage" areas, such as alleys, warehouses, workshops, power plants, heavy equipment parking lots, etc. I hope that John Williams gets a royalty payment when his Star Wars theme is played because he would've made a lot of money that morning as it blasted out of every speaker. The parks were closed to the public until 9 AM, so the only spectators were cast members (employees), who were moderately supportive. One who amused me was dressed as an Imperial storm trooper who told us "Move along" in exactly the tone as the line delivered in the very first Star Wars movie. There were a few character photo opportunities and it amazed me to see runners lined up 50 deep to pose with C3PO and R2D2.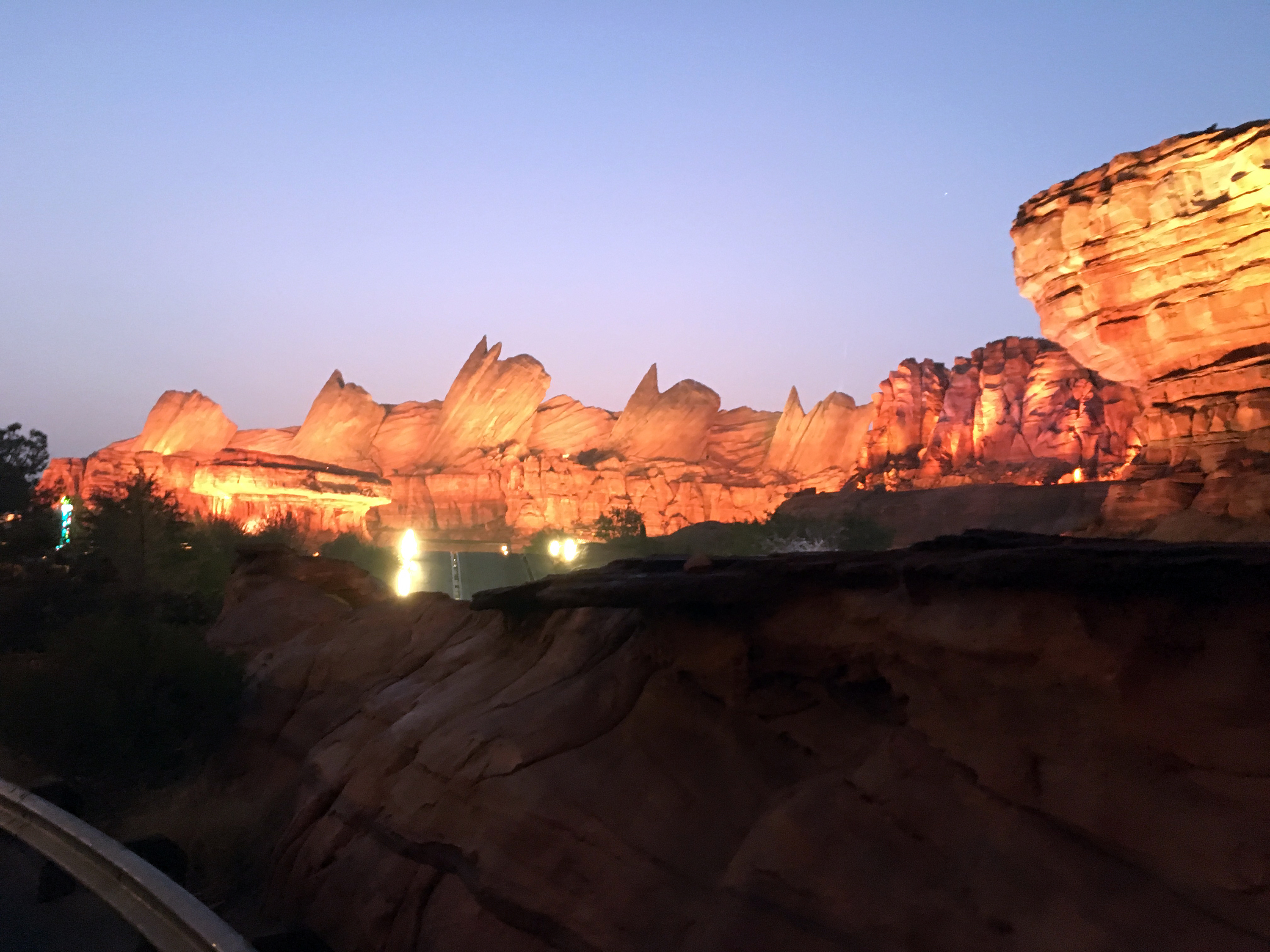 The remainder of the race was on city streets of Anaheim and Garden Grove. We had real spectators then, including a number of excellent high school marching bands with their cheerleaders, and a lot of local residents who were dressed up as Star Wars characters, much more elaborately than most of the runners themselves. I would estimate that about 20% of the runners were wearing full or partial Star Wars costumes. Some of the spectators had cars that were tricked out to look like Star Wars battle vehicles. All in all, very impressive spirit from the local community.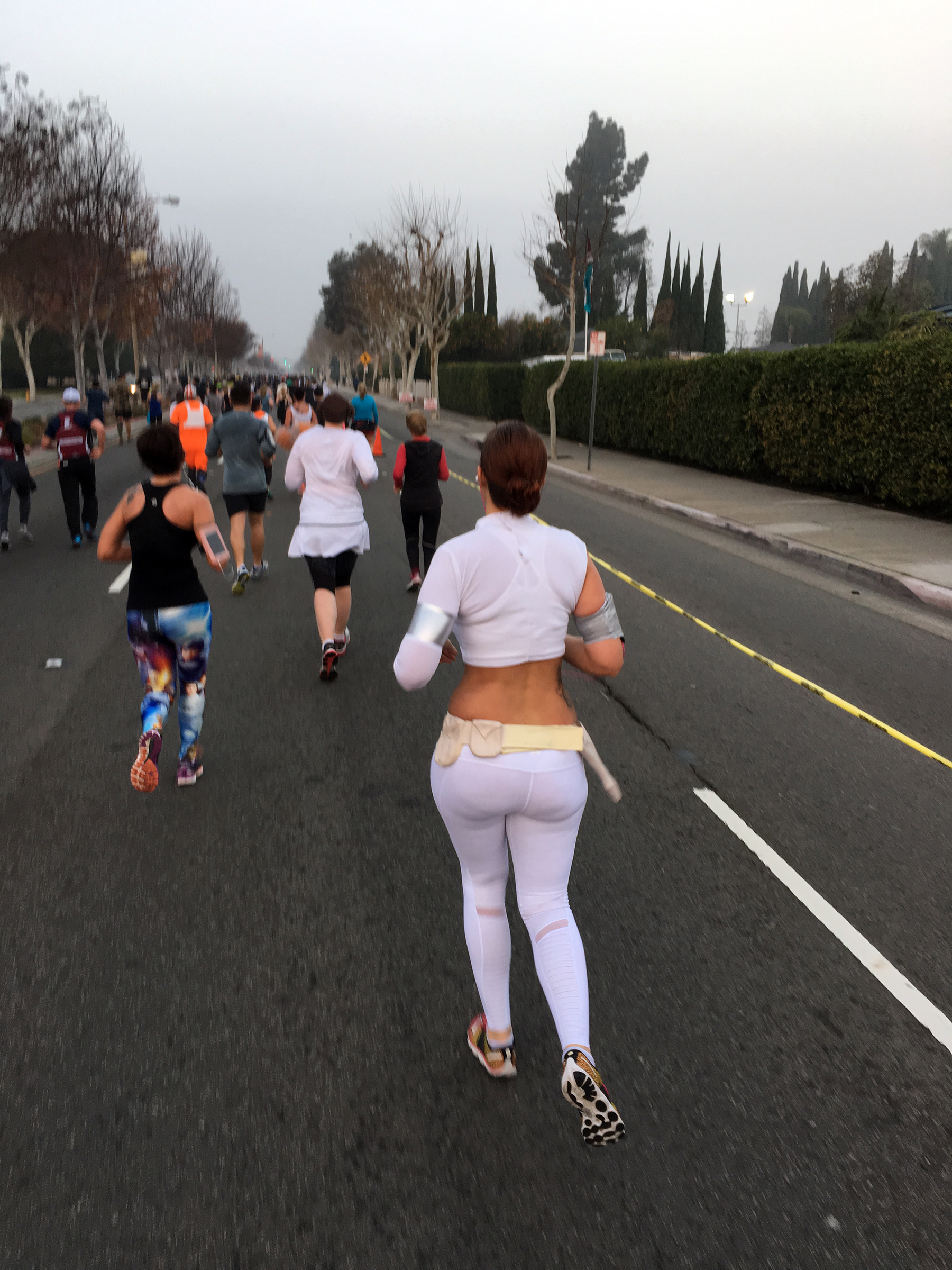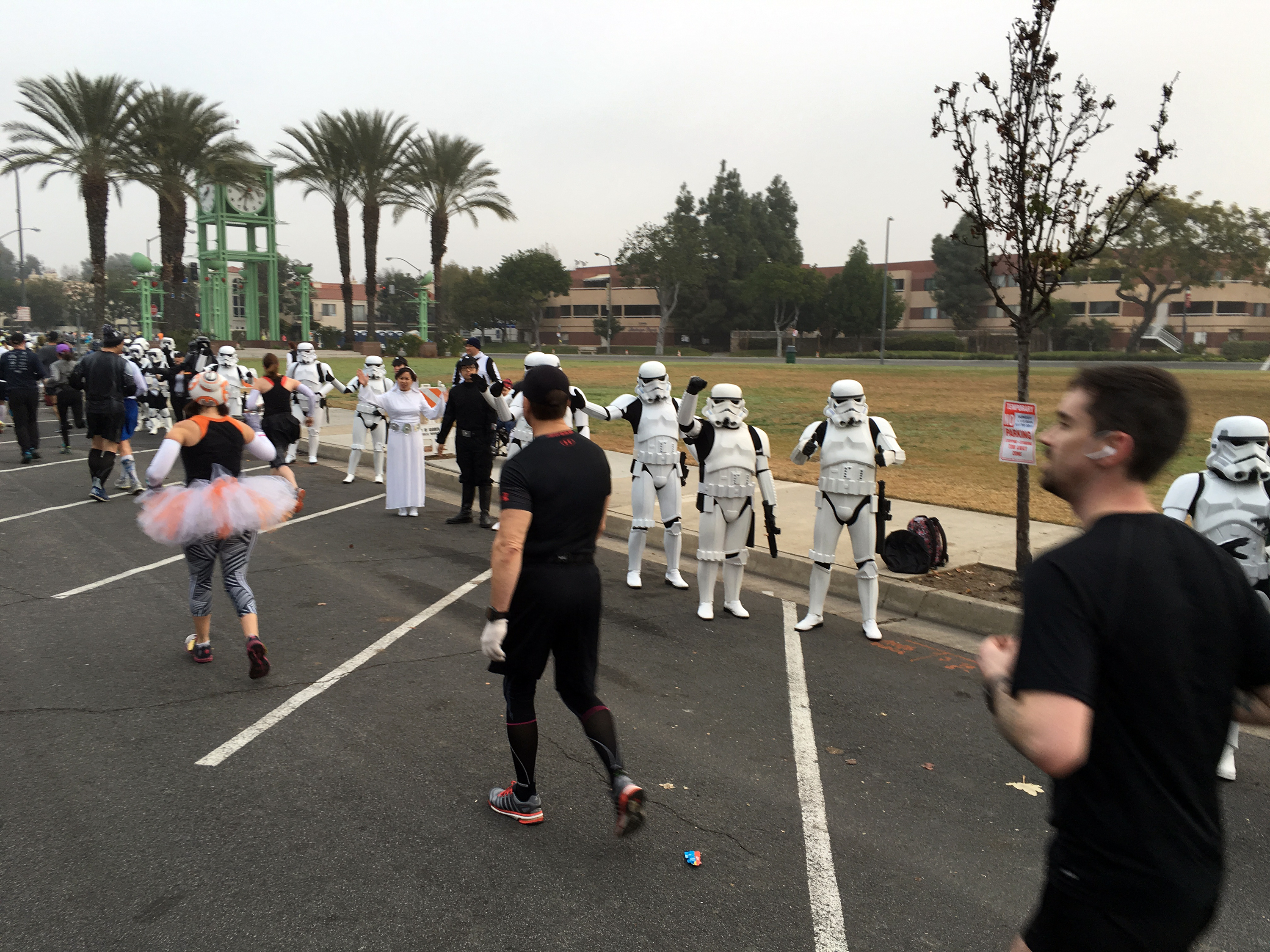 I finished the race at 2:38:53 (chip time), which is about average for my half marathon career. Not very impressive considering that the course was as flat as a pancake—literally no hills. However, those first few congested miles took their toll on me. I was very impressed to find that I did comparatively well in this race. Usually I finish races in the bottom 10%, but this time I was #4222 of 11,599 finishers, and I was 8th in my age/gender group (male geezers)!
I was looking forward to my bus ride back to the hotel, but I found that it was not running because that street was still race-bound. As I walked the approximately 2 miles back, I was astonished to see that there were literally thousands of people still on the course. That's an experience I almost never have. Nancy and I drove back starting at about 10 AM. Not such a comfortable ride after the 15–16 miles I ran and walked that morning.
My next race is the Seattle Rock 'n Roll Marathon on June 18 and my TNT training program will start on February 3, so watch this webpage for details of my training. And please consider making a charitable donation to the Leukemia and Lymphoma Society on my behalf by visiting my fundraising page.
TNT Training
Weekly Training Schedule
Here is the table of weekly activities for our training.
| | |
| --- | --- |
| Monday | Buddy runs: easy runs with a group at a conversational pace. Early in the season they are in the 3-5 mile range, later they get to 5–7 with a number of hill-repeat sessions mixed in. |
| Tuesday | Cross training (50–75 minutes walking, swimming, or aerobics and weights at the gym), including core strength |
| Wednesday | Track workout at Woodside High School under coaches' supervision (90 minutes). Mostly intervals, pacing runs, and hills/bleachers, generally 3–5 miles total, preceded by dynamic stretching, dynamic drills, and concluding with core strength exercises. |
| Thursday | Cross training and core strength |
| Friday | Rest, stretching, core strength |
| Saturday | |
| (1) Distance run in scenic places, starting at 4–6 miles and increasing 2 miles every other week until you're finally at 20 miles. | (2) On Your Own (OYO) runs, although group running is encouraged. Starts at 2–4 miles, progresses through the season to 6-10. |
| Sunday | Rest, stretching, core strength |
I am going to experiment this season with modifying this sequence slightly. Since I do my "buddy runs" early in the morning, I will be doing the gym on Monday and the buddy run on Tuesday morning. I will also be adding the gym on Fridays.
Workout Log
Here's the training I accumulated prior to the race.
Sat, June 11: We did not have track this week as we had a sendoff dinner meeting. The final long run of the season was at Whisman Park in Mountain View, where we were instructed to run for one hour. I actually did a reasonably good pace of 11:38, for 5.16 miles. The marathon is one week from today! My season mileage is 469.
Sat, June 4: At track this week we took it really easy following our 20 mile run Saturday, doing a relatively slow 1200 m followed by very slow 400 m, repeated three times. The long run was on our own, and since we are now tapering for the race in two weeks, I did 10 miles on Campus Dr., Stanford. My pace is still slow this season, and this one was 12:46. My season mileage is 459.
Sat, May 28: I missed a week of practice because of a trip to the Shenandoah Valley. May 24 track was at the Dish again, 45 minutes of hill repeats. The long run was at Seal Point, 20 miles (19.84 according to my GPS watch). This is a completely flat course, which I ran at a 12:42 pace—slightly better than I have been doing recently, but not as quick as I would like. There is virtually zero shade on this course and the temperature reached up to 80°. My season mileage is 445.
Sat, May 14: Track was hill repeats at the Dish again. The long run was in SF's Golden Gate Park, but I didn't feel up to severe hills after a rather poor training season, so I ran on my own, on Alameda to Stanford, around the loop, and then back. Eighteen miles at a miserable pace, 13:22. It wasn't the hilly course or my overall stamina—I just started slow and kept it up. Now I am starting to worry about finishing Seattle under six hours. :-( My season mileage is 411.
Sat, May 7: The track workout was at the Stanford Dish: hill repeats for 45 minutes on a quarter mile round-trip. The long weekend run was on our own. I did 10 miles on the Stanford Campus Drive loop at a 12:32 pace. My season mileage is 383.
Sun, May 1: My schedule has been disrupted by another trip, this time to New York City. On April 24, I was scheduled to do a 10 mile OYO run, so I did it in Central Park. My pace was 12:23 on a beautiful day. Photos and course are available on my travel website, here. On April 30, my TNT group did a 16 mile run at Sawyer Camp, but I was still recovering from the travel, so I delayed until Sunday and ran on my own at Shoreline. I did 12 miles under rather warm conditions at a 12:39 pace, and will do another 6 on Monday. My season mileage is 362.
Mon, Apr 18: I am back from my trip, but I missed another 14 mile group run at Woodside on Saturday. So today I did 9 miles at Sawyer Camp, at a 12:16 pace, and I will do an additional six tomorrow, which combined should approximate the 14. My season mileage is 329.
Mon, Apr 11: My training schedule is disrupted because I am on a Civil War trip to Georgia, so I missed track practice on April 6 and 13. The group run scheduled for April 9 was 14 miles in Half Moon Bay, so I substituted a 14 mile run on the Chickamauga battlefield. I was a bit tired from traveling, so my pace was affected: 12:50. My season mileage is 320.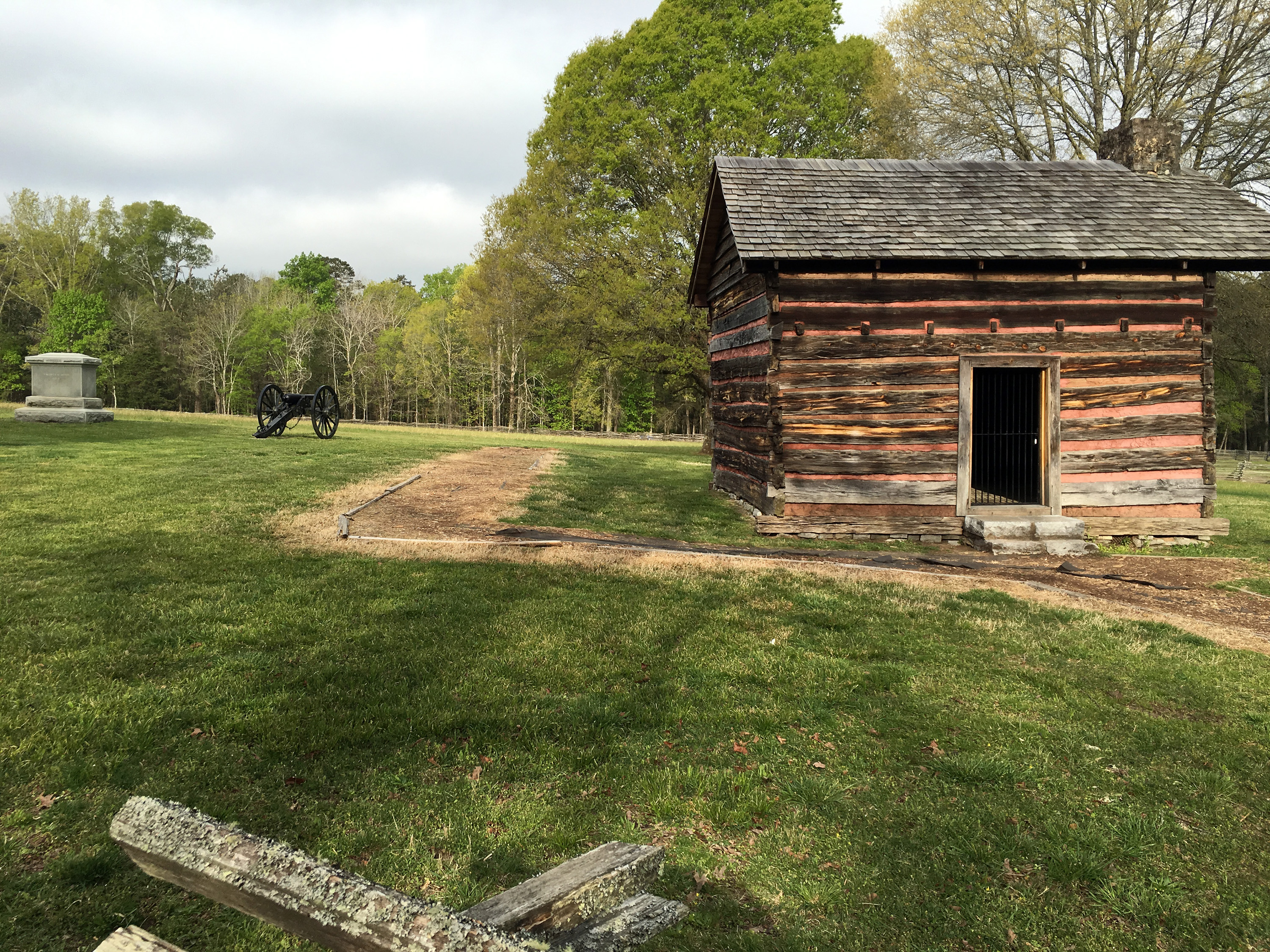 Sat, Apr 2: Track this week was a pyramid ladder: 400 m with 200 m active recovery, 400 m/200 m, 800/200, 800/200, 1600/200, 800/200, 800/200, 400/200, 400/200 (although our time expired before I was able to complete the final 400). Pretty tiring and time-consuming, so we did not do dynamic drills or even core strength exercises. We did have some group stretching, which was actually pretty challenging, somewhat like a yoga session. The long run this weekend was on our own. I did 8.733 miles (can you figure out why I selected that distance?) on the Campus Drive loop at Stanford. My pace was 12:08. My season mileage is 301.
Sat, Mar 26: Track was ladder intervals: 1600 m, 200 m recovery, 800/200, 800/200, 400/200, 400/200. I was pleased with my performance because I improved my pace on every single interval. I was almost humiliated on the final lap when Coach Ron started to pass me at a walk (walking at a 10:00 pace!) so I had to put on a last-minute burst of speed so that he did not beat me. In a break with an 18-season tradition, this weekend we had a second consecutive long run, on Sawyer Camp Trail. We were offered 12 or 13 as goals, and although I almost always take the higher number, this time I decided to go with 12 miles, which is what they had the course laid out for. It is an out and back flat course for about 4 miles, then 4 miles of hills, and flat again. My pace was 11:55 is not all that bad for me. My season mileage is 282.
Sat, Mar 19: Track this week was a rather simple interval workout: 800 m at a brisk pace, 200 m recovery, 1600 m at a conversational pace, 200 m recovery, and then 800 m again. The weekend run was at Seal Point on the Bay Trail. It was supposed to be 12 miles, but because the course was not marked exactly, I wound up doing 12.3 at a 12:03 pace. Beautiful spring weather! My season mileage is 260.
Sat, Mar 12: Track this week was a walking clinic with Coach Ron, so we didn't do very much running at all. The weekend run was on our own. I did 8 miles at Stanford, the Campus Drive loop, at a 12:15 pace. My season mileage is 245.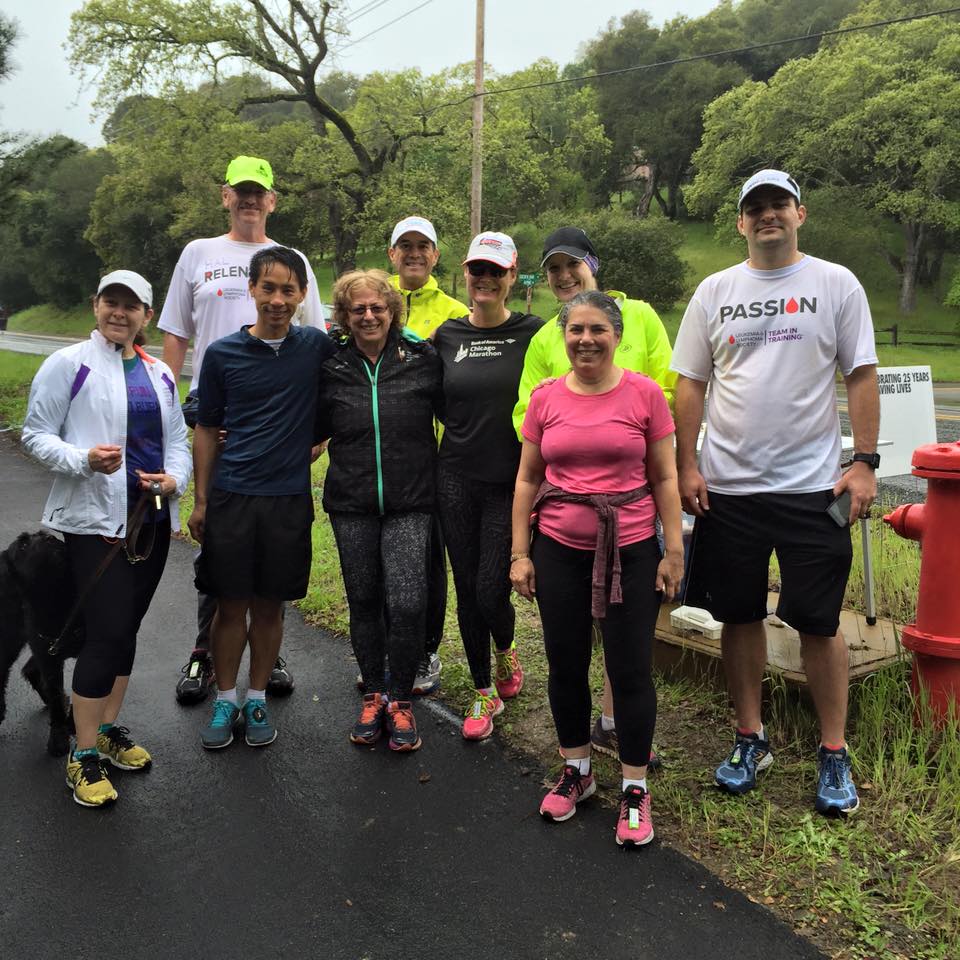 Sat, Mar 5: Track this week was a timed mile run. We warmed up for a mile, did dynamic drills, another mile warm-up, 800 m recovery, then the timed mile. My time was 10:07. The weekend run was a 10-miler in Portola Valley, about half in the rain. (This was the longest run in the rain for me since the disastrous 2011 Los Angeles Marathon, but there were no ill effects. In fact, it never rained enough for me to put on my raincoat.) My pace was 12:07 for the very slightly hilly run. I did two 2.5-mile out and backs on Alpine Road. My season mileage is 229.
Sun, Feb 28: I had a break in formal training because of a trip to Florida (see my travelogue), so I missed two track workouts. I preceded the trip with an 8-miler around the neighborhood and followed with a 7-miler today on the Oracle Bay trail. My pace today was 12:13, which was not so bad considering that I had not run in over a week. My season mileages 210.
Sat, Feb 13: Track on Wednesday was intervals: 100 m, 200 m, 400 m, 1600 m, each followed by a generous cooldown. We also did dynamic drills with full laps in between the repetitions. The weekend group run was at Stanford. The goal for the marathoners was 5 miles, but I managed to squeeze in six by deviating from the course a bit. :-) My pace was 11:42, which is pretty decent for me. I have just changed my run/walk interval from 4:30/1:30 to 4:45/1:15, so we will see how that works out. My season mileage is 188.
Sat, Feb 6: TNT has finally resumed! We met at Woodside High School Wednesday night for our first track workout. It was a chilly night to talk about logistical issues as we sat in the belachers, but then we had a light workout of dynamic drills, about a mile and a half of running, and a few easy core strength exercises. Our coaches are Ron Marino (whom I have met on a few occasions as a run-walk coach) and Hang Chen. The first "long run" was at Oracle on the Bayside trail. It was the shortest TNT run I have ever experienced, measuring time, not distance—30 minutes for all participants. I actually went 32 minutes in order to get 3 miles in. We also had a brief talk with Minnie, one of our cancer-surviving honorees. Then the rest of the team went off to the gear clinic at Roadrunner Sports. I have been running on my own ever since the Richmond Marathon in November, including the half marathon at Disneyland, so I start this season with somewhat elevated mileage: 173.