Hal and Nancy's "Florida Keys and Everglades" with Road Scholar, February 2016
This is Hal and Nancy's travelogue of South Florida with Road Scholar for the program Keys and Everglades: Human and Natural History Outdoor Studies. It was Hal's eleventh Road Scholar trip, Nancy's tenth.
Saturday, February 20 — To Miami
We flew United Airlines to Miami and stayed one night at the Hyatt Place at the airport. It's not possible to get to Florida from California in time for an afternoon program start, so we always have to go a day early. Dinner at Dolce Italian in Miami Beach, winner of Tom Colicchio's best new restaurant TV contest. Excellent pizza, short ribs risotto, and a gigantic veal Milanese. Parking in Miami Beach is really expensive, and toll roads abound! Next time, Uber...
Sunday, February 21 — Duck Tour and Meet the Road Scholars
In the morning we took the Duck tour of Miami Beach, about an hour on Biscayne Bay, 20 minutes on Ocean Avenue, seeing famous Art Deco hotels. We spent time walking on the Lincoln Road pedestrian mall, where a large flea/antiques market was set up.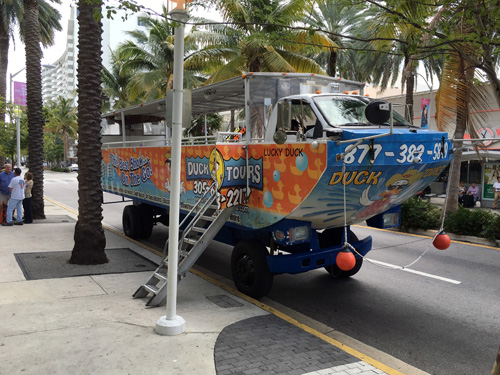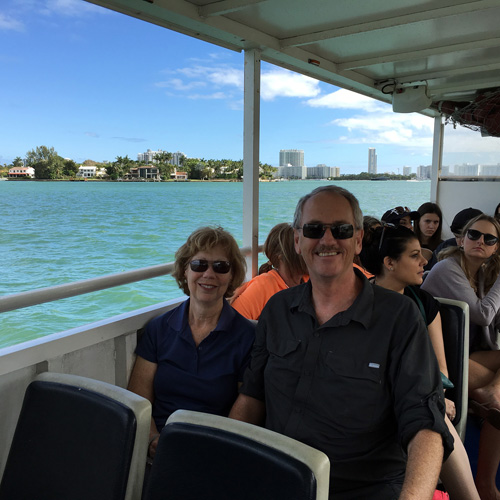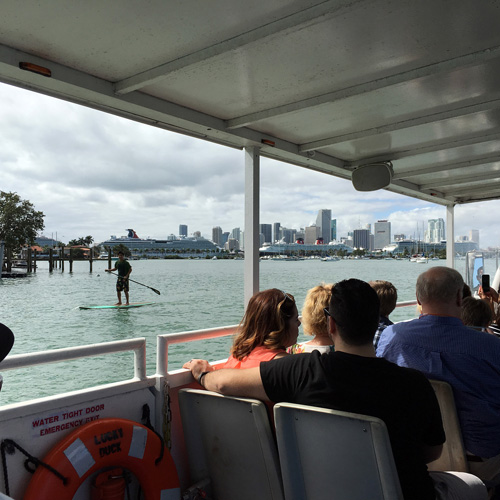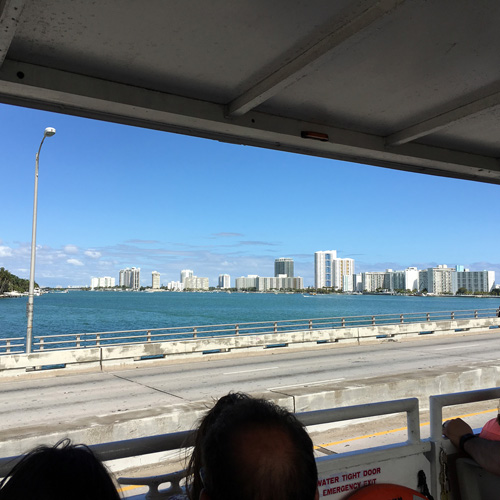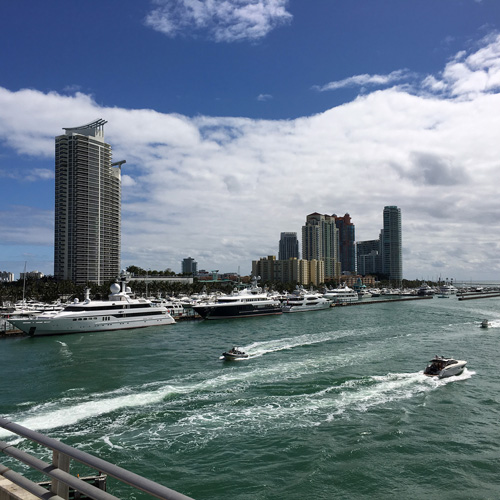 We met our Road Scholar folks back at the airport at 2:45 and drove in two vans about 70 minutes to the Ocean Pointe Suites in southernmost Key Largo, a large condo complex where we got assigned to a nice suite with two bedrooms, two baths, and a full kitchen. Orientation and intros followed by dinner at the Conch House, really excellent. We have three group leaders—Howie, Anne, and Andrea—and 24 participants, virtually all of whom are from the Northeast or Midwest and said they selected this tour to escape the cold.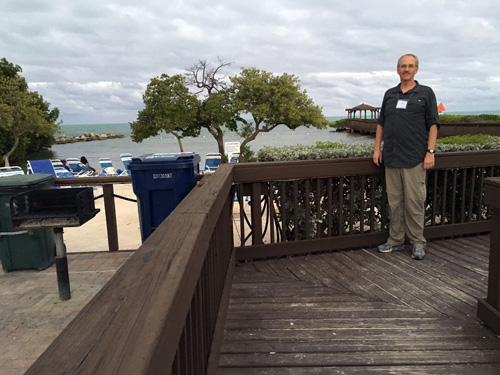 Monday, February 22 — Everglades
Up and out to the vans by 7 am for breakfast at Harriette's. An hour drive back north to Everglades National Park. We saw a brief orientation video at the visitor center and drove to meet a volunteer guide on the Anhinga Trail. The trail is mostly boardwalk and we saw a couple of alligators, a heron, a turtle, and some fish. The park is a bit out of whack this month because of unseasonably heavy rains last month, so the water levels are higher than normal. The Everglades are not a swamp, as I had assumed, but actually a river of grass—a stupendously wide river like a sheet of very shallow water moving from the Kissimmee River, through Lake Okeechobee, and into the Bay of Florida. They say there is a height differential of 14 inches that causes the river to move slowly on its course, taking a year to reach the sea. Variations of a few inches here and there cause significant changes in vegetation, such as cypress domes, and hammocks (tree islands). Everyone is worried about how development had diverted the water flow in a way that may cause the critical fresh water aquifers to be overrun someday by sea water, which would destroy Florida life as they know it. There was a Nike missile base nearby in the park, which was holding an open house that would've been interesting, but that wasn't on our itinerary.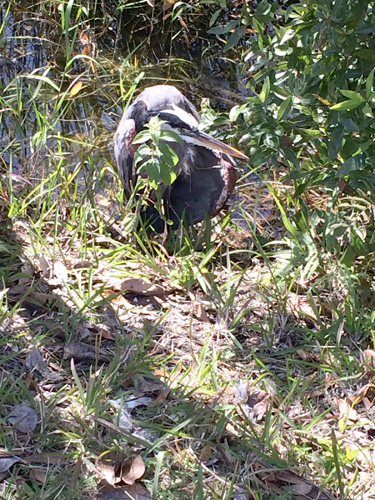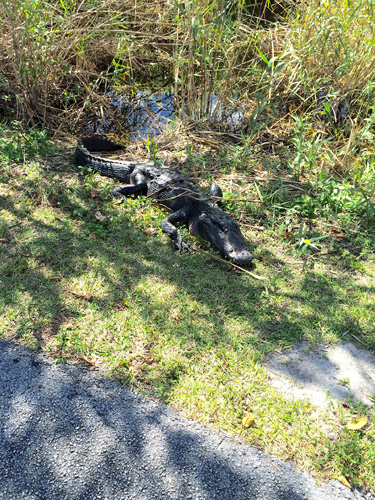 We had a nice picnic lunch at Lone Pine Key and walked around a little lake. Our final stop was at the Pahayokee Overlook Platform, where Anne gave us a roving boardwalk lecture on the local flora and geology. Inside the cypress dome, there were two very loud owls calling to each other, but we weren't able to find them. It was amusing to drive over Rock Reef Pass, which separates the two major water flows—Taylor Slough and Snake River Slough—and see the sign that is was 3 feet in elevation! Dinner at another local, non-chain place, Hobo's. Excellent Mahi-Mahi and key lime pie.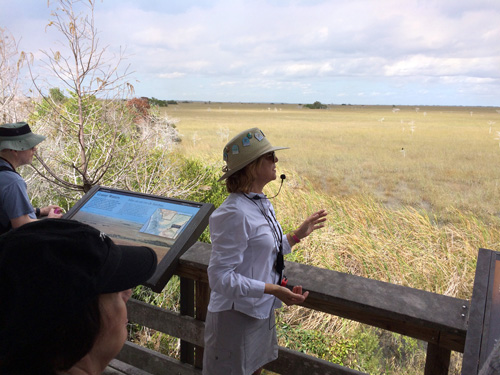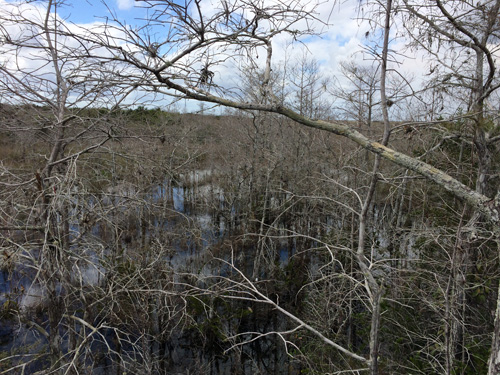 Tuesday, February 23 — To Key West
Breakfast at Harriette's again and then back north for John Pennekamp State Park, where we walked among the mangroves while Anne introduced us to their unusual characteristics, the only trees that can survive in salt (or brackish) water. Floridians are learning to their dismay that destroying 87% of the mangroves over the last century was a bad policy and erosion and hurricane resistance are affected. The mangrove swamps also provide an environment crucial to birthing and raising lots of sea life.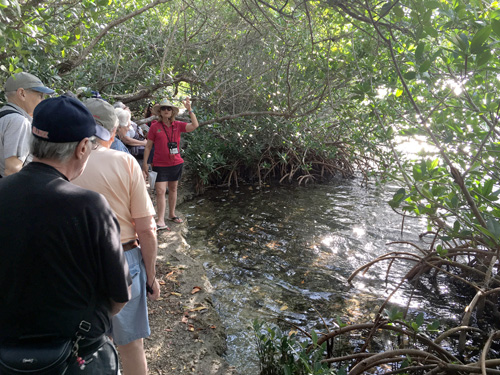 We headed south on US Highway 1 for an hour and reached the Seven Mile Bridge at Marathon. Howie pointed out where Arnold Schwarzenegger took off in the Harrier jet in the movie True Lies and we saw the gap in the old railroad/road bridge that was supposedly blown up. We took small boats to get to Pigeon Key, just north of the current bridge. The 5-acre island was an important construction site for the railroad, built by Henry Flagler in 1912. It was destroyed by the big Labor Day hurricane in 1935, and then the state propped a narrow road surface on top—22 feet wide for two-way traffic! A local expert named Eric lectured us on the railroad construction, the bridge, and life on the island for the builders and maintainers. There is a small museum and some picturesque buildings to see. After a picnic lunch, we took the boats back in the brilliant sunshine and then drove about another hour to Key West.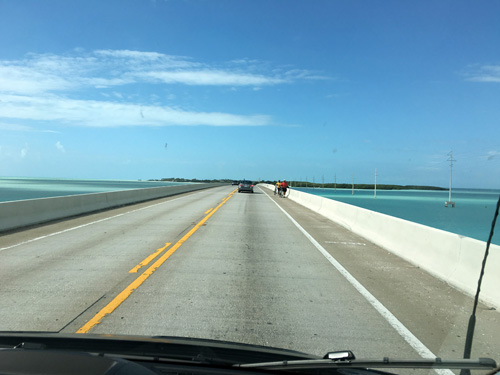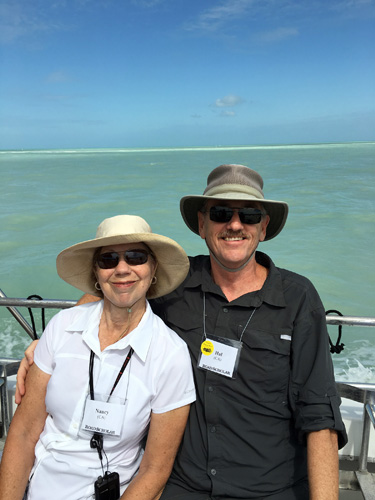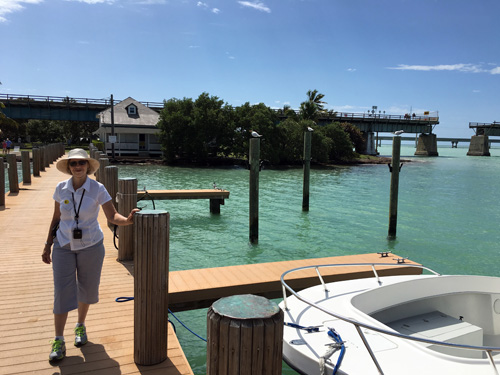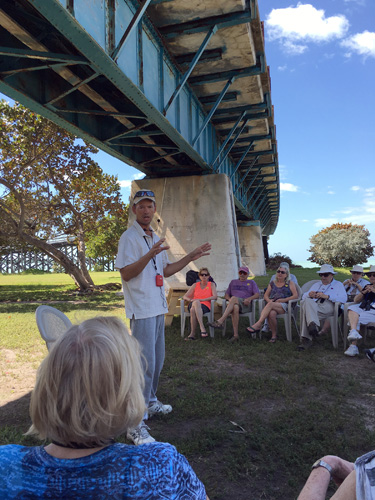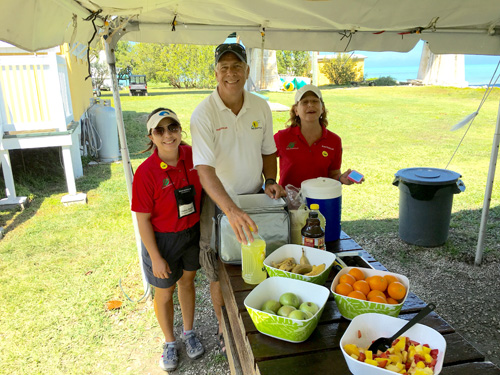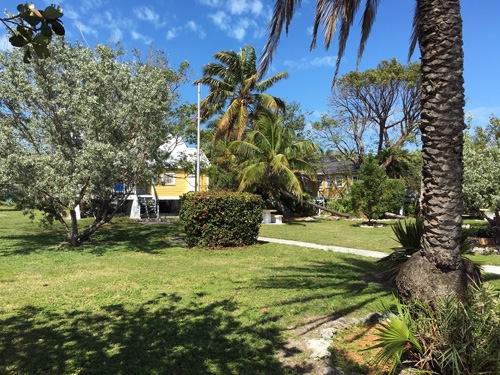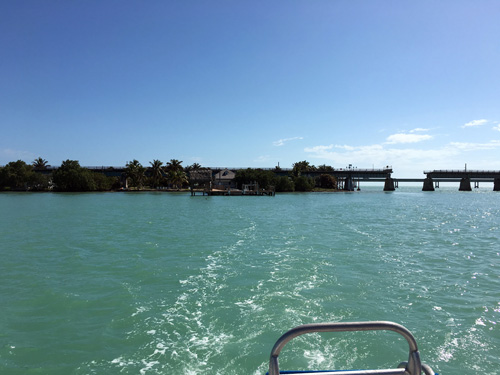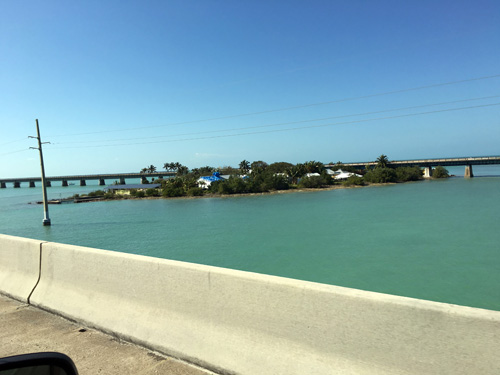 I was surprised to find that the Overseas Highway everyone talks about is not primarily bridges. (I guess I paid too much attention to True Lies!) There are 45 of them, but the large majority of the driving is on land. And I have to say that it's a pretty tedious way to spend three hours, at least for van passengers.
We checked into the Westwinds, a cute little hotel in Old Town. Very quaint, with multiple small buildings around two courtyards with pools. We walked to Mallory Square (named after the Confederate Navy Secretary!) to see the famous sunset view, but the clouds didn't cooperate. The Caribbean Princess cruise ship was right there, adding 3,000 passengers to the local scene. Dinner at Kelly's, which was so-so, although interesting because they claimed to be in the building in which Pan Am airlines was founded.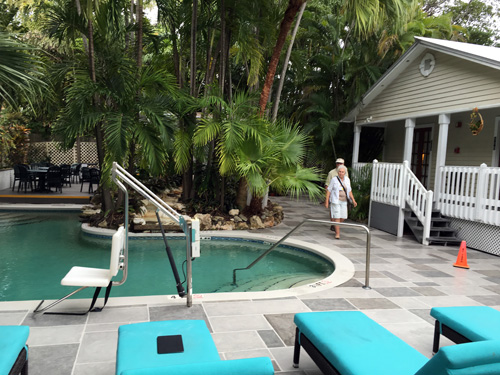 Wednesday, February 24 — Dry Tortugas and Fort Jefferson
We walked to the docks and boarded the Yankee Freedom ferry, a fast catamaran, with 180 passengers. Breakfast on board and a 2.5-hour easy trip 70 miles to Garden Key in the Dry Tortugas. It was named by Ponce de Leon after the local turtles, but the Dry was added by British chart makers to indicate that no water could be found there. Ranger Michael gave us an entertaining hour tour. He is a marine biologist but the tour was primarily history. He lives on the island full time. Fort Jefferson is the largest masonry structure in the US, started in 1846, not finished during the Civil War, but eventually composed of 16 million bricks, all transported in by ship. It was designed to protect the deepwater refuge that allowed ships to escape from bad weather. Major Arnold, the US commander in 1861, bluffed the Confederates who demanded his surrender; they did not know that none of the cannons had been installed yet. We admired the beautiful, intricate brick work. There was considerable damage around many of the gunports, which was caused by the iron "Totten shutters" expanding in the heat and salt air. Some are being rebuilt. There is a very large and impressive hot shot furnace. We saw a 15-inch Rodman gun and some large Parrotts.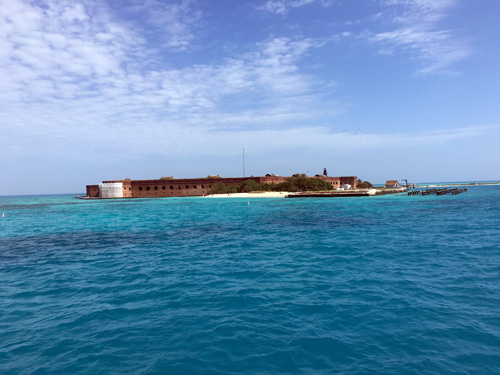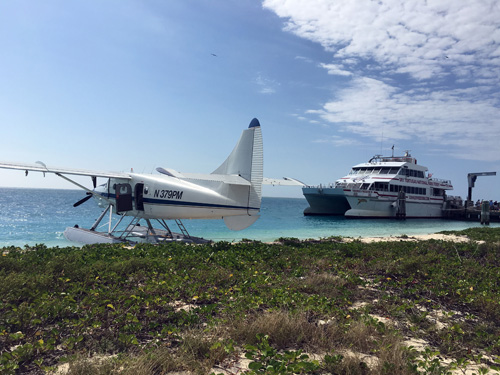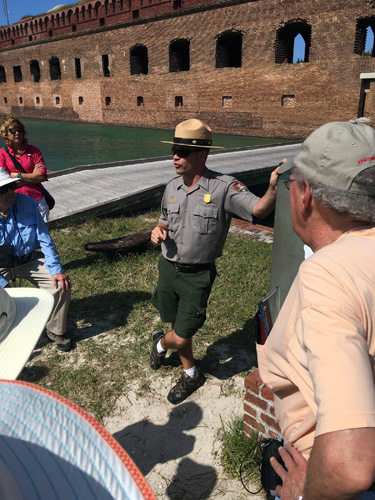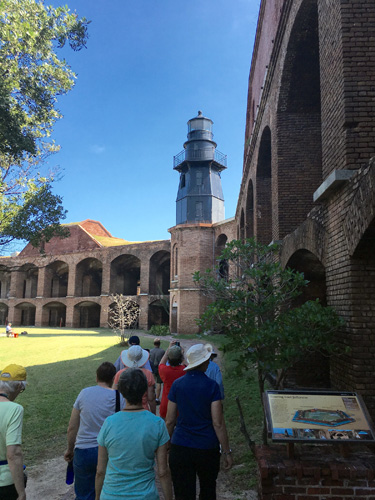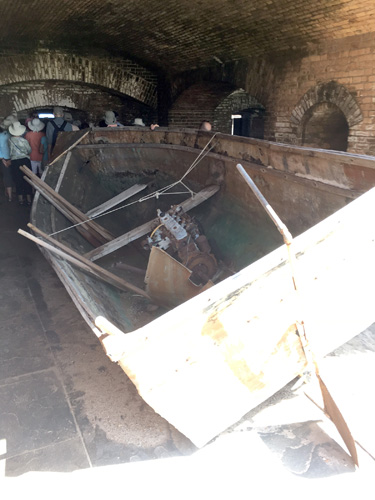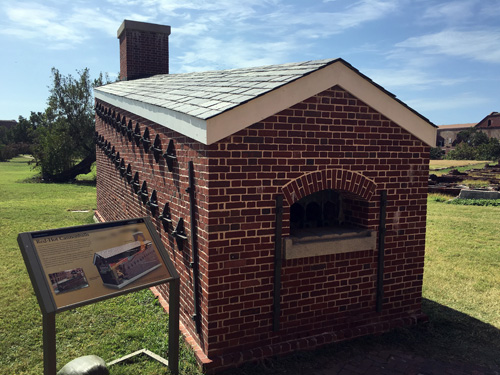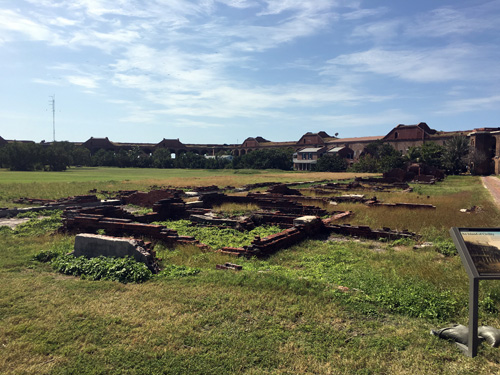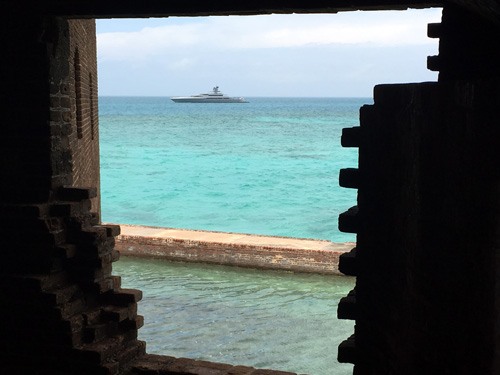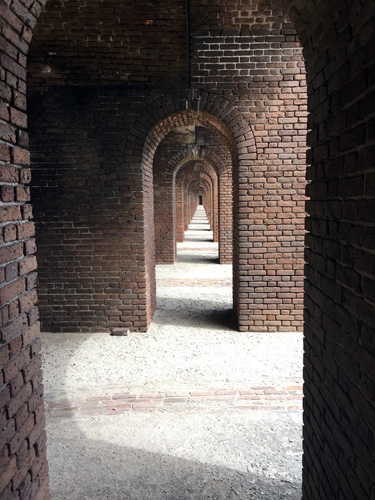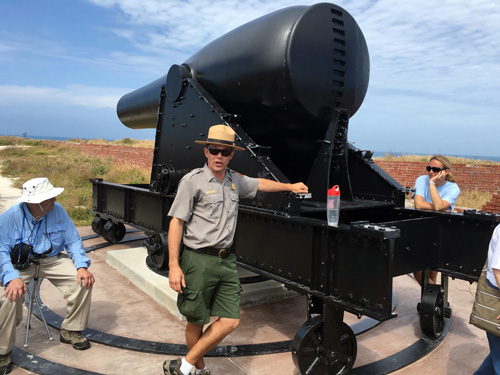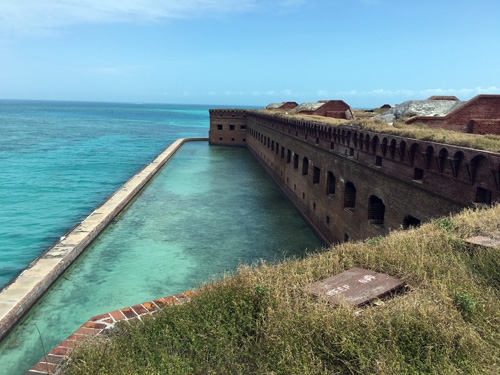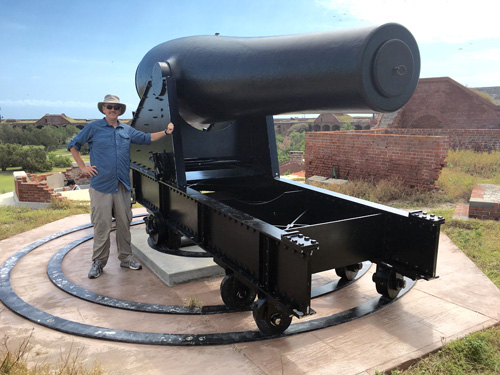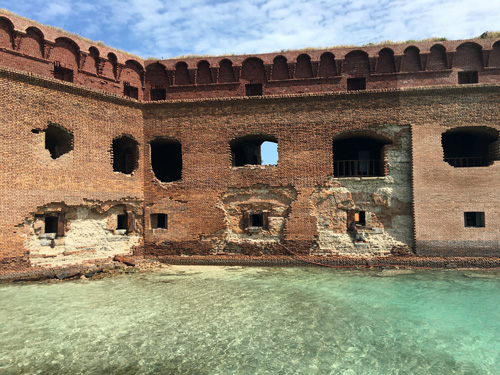 Lunch was served on board the ferry. We took a "moat tour" with Michael again. It was rather hard for us to see the fish, but he had an eagle eye. Someone spotted a Portuguese Man of War, which is actually a collection of cooperating, separate organisms. Some of our group snorkled (outside of the moat), but said it was cold—about 68°. The ride home much bumpier as a minor rainstorm prepared to move in. I took Dramamine, but was still queasy for the first hour. We had a buffet dinner of Asian food in the hotel courtyard.
Thursday, February 25 — Key West
Today is on our own. We had breakfast at a leisurely 8 am and then walked about a mile to Ernest Hemingway's house. We took a tour and saw all of the house and grounds, and heard about his life and loves and career. There are lots of photos and movie posters. We particularly loved the 60+ cats wandering around, about half of whom are polydactyl (six-toed). You aren't allowed to pick them up, but they are quite amenable to being petted. The guide had lots of amusing stories about Hemingway's marital mishaps. The house and tours are quite crowded, even first thing in the morning before the cruise ships docked.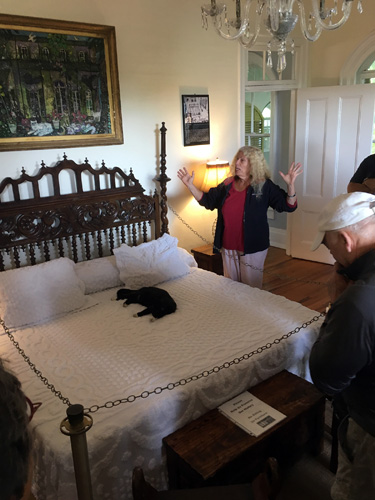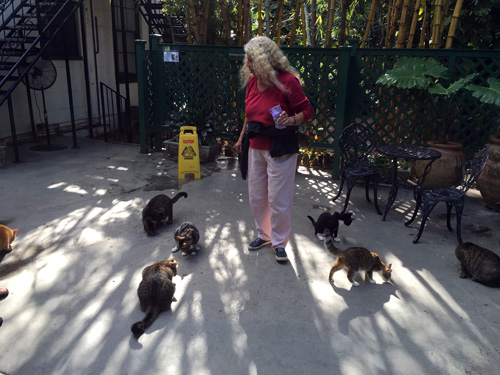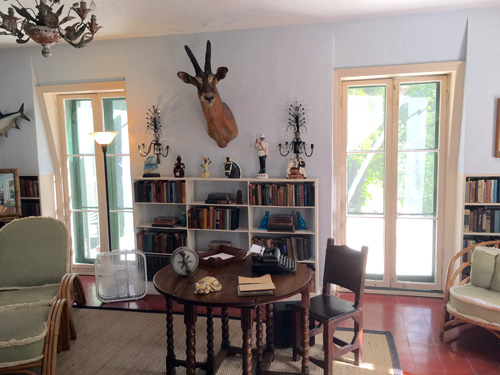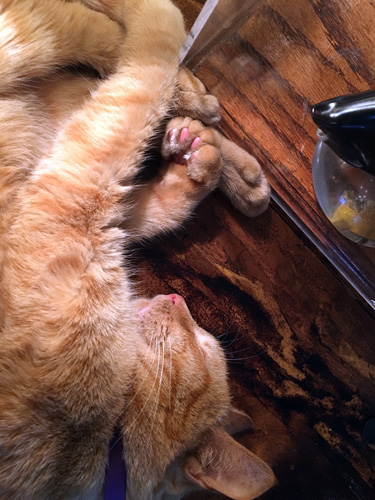 The Eco-Discovery Center was moderately interesting and free. It included a hippie-dippy movie of a lady snorkeling around to harp music with a dreamy narration, and also had exhibits about the ecology of the Keys. Then it was to the Little White House that Harry Truman visited and lived in for 175 days during his presidency. All the furnishings provided by the Navy were modest, like the man himself. And it was uncanny how closely the style matched how my own mother decorated (a much smaller house, of course). Unfortunately, they do not allow photography inside the house and the exterior was not interesting enough. The Truman Annex area of town is packed full of really beautiful tropical homes and condos, all quite expensive, I assume. For lunch we were recommended to Cuban Coffee Queen, a takeout stand, and I had their version of the classic Cubano sandwich, which turned out to be just average. We passed dozens of places offering key lime flavoring in just about any food you can imagine. Cigars, too.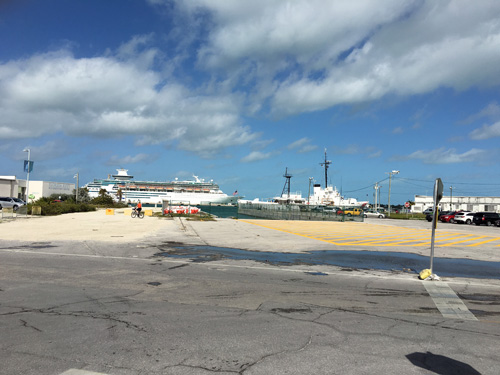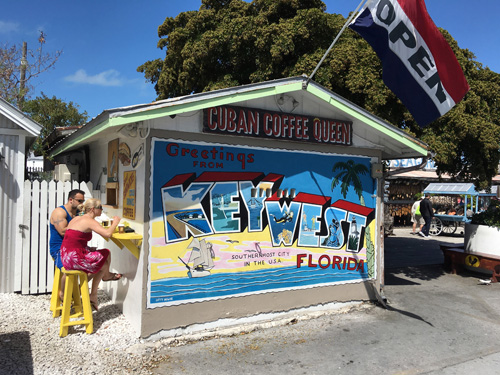 After a brief rest, we went to the Butterfly and Nature Conservatory, which was highly recommended by Road Scholar participants and rated the number one thing to do by TripAdvisor. I found this moderately interesting. Hundreds of butterflies fluttering by, as well as some exotic birds. The big greenhouse structure was pretty warm and humid, so I wonder what it is like in the summer. It's quite difficult to get good photos of these beautiful creatures because they move around so much. They'll sit quietly with their brown outside wings showing, but when they jump off, the insides are gorgeous luminescent blue. My iPhone camera can't keep up.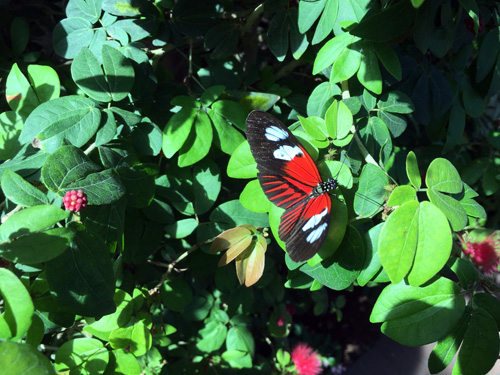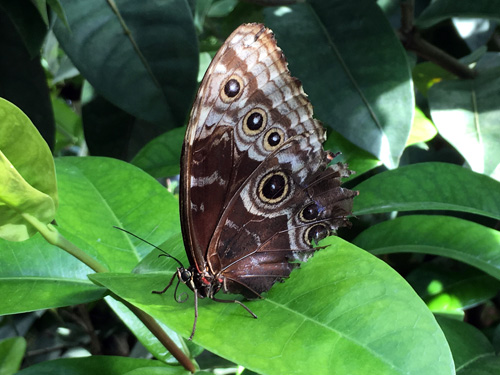 This last excursion involved a long walk on Duval Street, which is the main commercial street. It sort of has a Bourbon Street vibe, with lots and lots of bars teeming with boisterous young folks. Dinner with a "Lonely Hearts" group of 11, Road Scholars without advanced plans. Mangia Mangia was a good pasta place nearby, quite busy. Great conversation at our table with leader Howie.
Friday, February 26 — Fort Zachary Taylor and Windley Key
After another hotel continental breakfast, we visited Fort Zachary Taylor in Key West. Volunteer guide Charlotte was extremely knowledgeable. It was a bit difficult to picture its Civil War configuration because the fort was originally surrounded by water, but it's now all landfill. The two top tiers of the fort were removed. Two large black concrete Endicott-style batteries from the Spanish-American War have also altered the footprint. Most of the Civil War cannons were buried by the Navy during later construction, some used as rebars for the concrete batteries, but are being dug up slowly over the years. Charlotte said it was the largest surviving collection of CW coastal guns. Some have been given to other forts.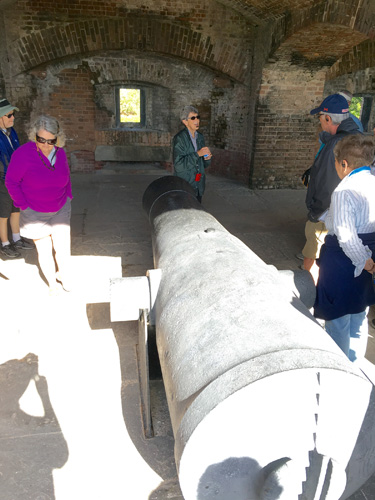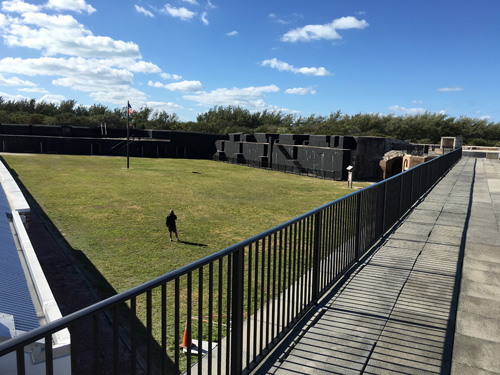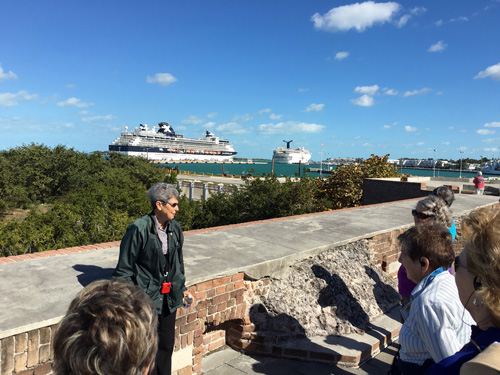 We drove about 90 minutes to Sombrero Beach, where we had a picnic lunch. Off in the distance you could see Sombrero Key Lighthouse, built by Captain George Meade! It was once the tallest iron structure in the world, surpassed now by the Eiffel Tower.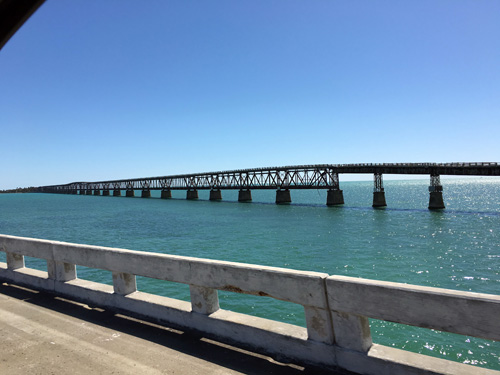 Another hour drive to Windley Key Fossil Reef, a state park in Islamorada. Ranger Bob led us through a hardwood hammock, where we saw some unique trees, including Gumbo Limbo and Poisonwood. The most interesting part was visiting Flagler Quarry, where we saw clear indications of the organisms that made up the coral reef, now limestone, such as brain coral. This quarry was purchased in 1908 to support the Flagler railroad roadbed work, but it has produced decorative limestone over the subsequent years before they retired it once it reached 16 feet deep. By this time we were near our hotel, the Ocean Pointe Suites once again. Dinner at the Conch House in Key Largo again.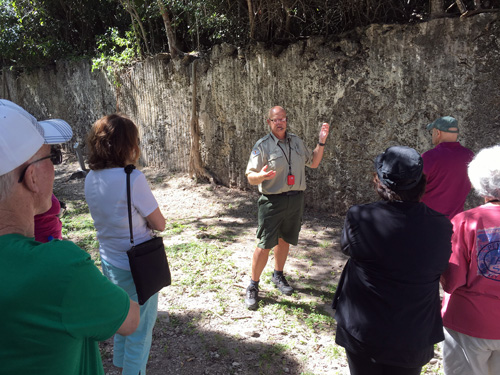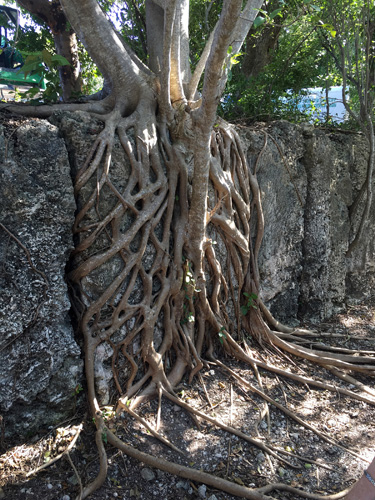 Saturday, February 27 — Biscayne National Park and Home
Final breakfast at Harriette's and then about an hour drive to Biscayne National Park in Homestead. This is the largest maritime national park. We watched a 20 minute film about the different ecosystems and then took a brief walk on the boardwalk, looking for manatees and other wildlife, but came up short. It was quite chilly for Florida, 55° and breezy, but brilliant sunshine, as we had had virtually all week. Then it was off to the Miami airport for our 3 pm flight home.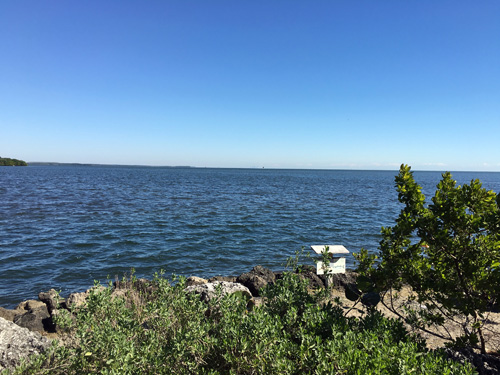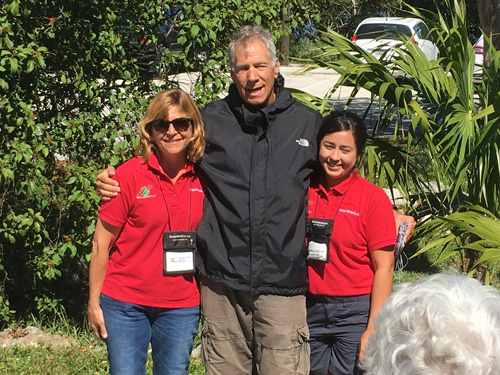 We had an excellent time this week. Beautiful weather, great program, and a really great team of leaders. Our next Road Scholar trip will be in April, a look backstage at Broadway theater in New York.