New York Marathon
Nancy and I flew to Newark Airport and checked in at the Hilton Garden Inn on Eighth Avenue, near Times Square. (The only disadvantage of the New York City marathon is how expensive hotels are. We could have taken a luxury cruise for the same price as this trip. But it was worth it.) By coincidence, the new Apple iPad Air started shipping today and I arranged to pick it up on the first day at the Apple Store in Grand Central Terminal. This was sort of an experience with big crowds, and it took about 40 minutes waiting in line to pick up the tablet. (I love the new iPad Air. By the way, all of the photos on this page, other than Atlanta to the right, were taken with an Apple iPhone 5S.)
On Saturday, we took a four hour bus tour that covered the entire marathon course with expert narration about the race, landmarks, and all of the neighborhoods we passed through. This was well worth the time and expense because there were a lot of things along the course I would not have noticed if I were going in cold. We picked up my racing bib, number 71-180, at the Expo at Jacob Javits Convention Center, which was extraordinarily crowded, but very well organized. For the remainder of the day, I concentrated on resting, except for a pasta dinner at a nearby restaurant. (A year ago, I completely wore myself out doing tourist things the day before in Richmond, Virginia, and I wanted to make sure that did not happen again this year.)
Sunday, November 3, was race day! I originally arranged for a 7:15 bus ride from the New York City public library to Staten Island, but I found out that my start time was actually 10:55 AM, which is inconceivably later than any other marathon I have run in, so I was concerned that I would be dumped into the starting area with almost 3 hours to wait. At the Expo, I found that I could take the 8:30 Staten Island Ferry instead. It is a good thing because I spent the morning traveling mostly in comfort, avoiding the 35° windchill factor at the starting line. I took a subway to the South Ferry station and the heavy crowds were exacerbated by the problem that only the first five cars of each train had room to open their doors, so as announcements were made, runners had to scramble from the rear cars and try to find standing room in the first five. The ferry was crowded, but it was a pleasant ride and I got a few nice photographs. The terminal in Staten Island had lots of little commuter shops and everyone lined up for coffee and pastries. (It had not really occurred to me that I should have arranged for lunch before the marathon. I am used to having a breakfast and starting right off.) I stayed in the warm terminal until the security shoo-ed us out to get on the shuttle buses.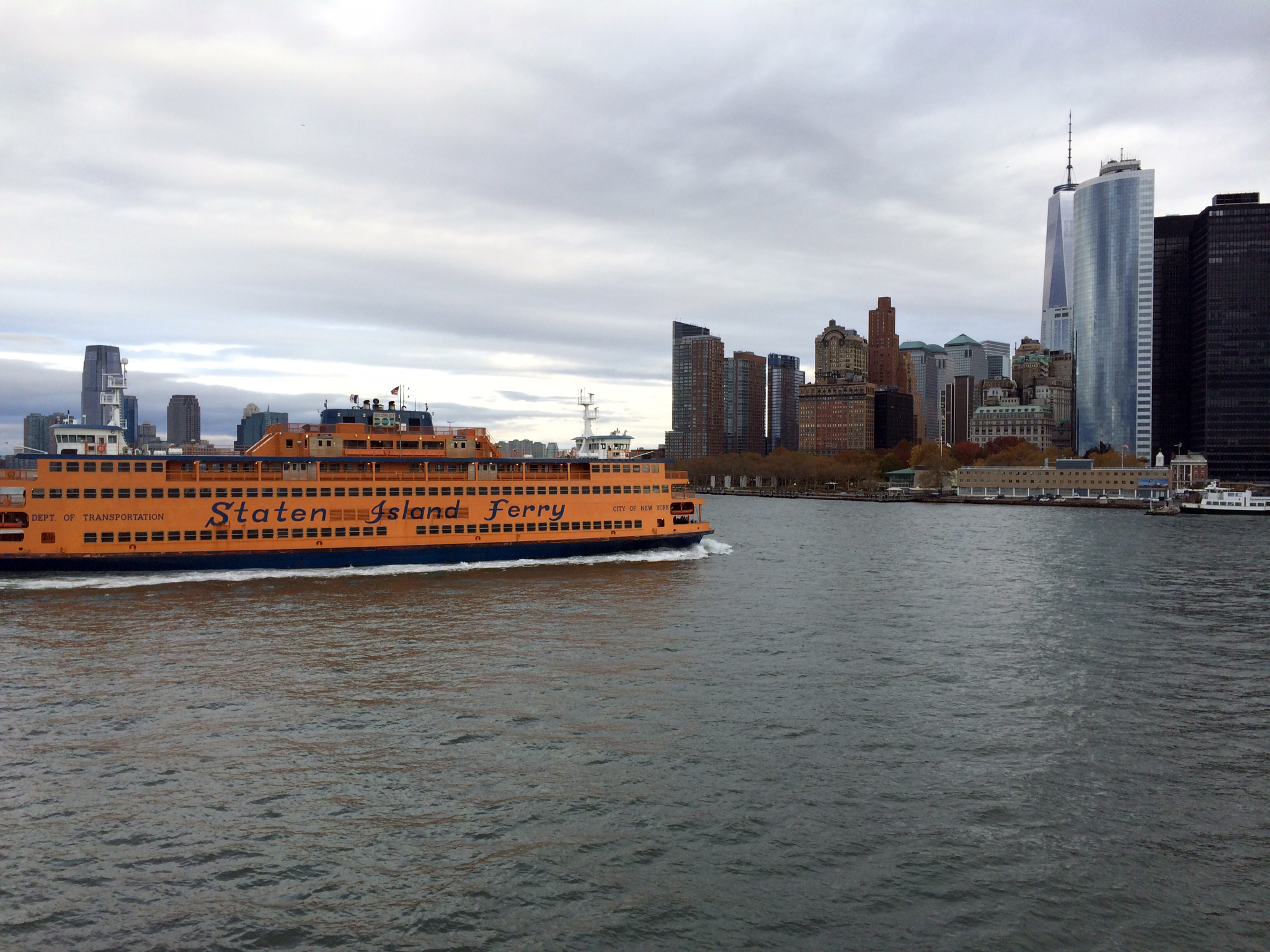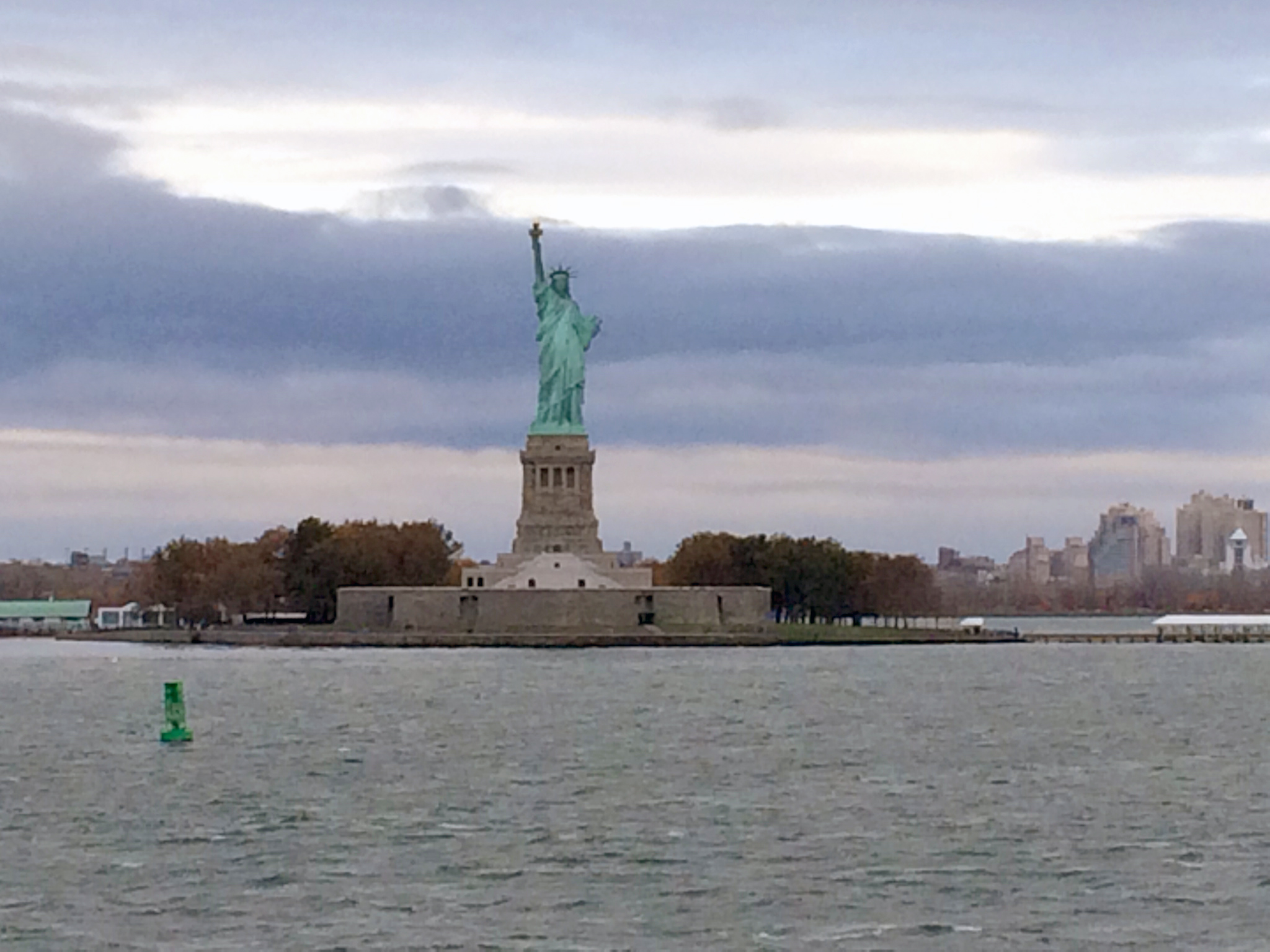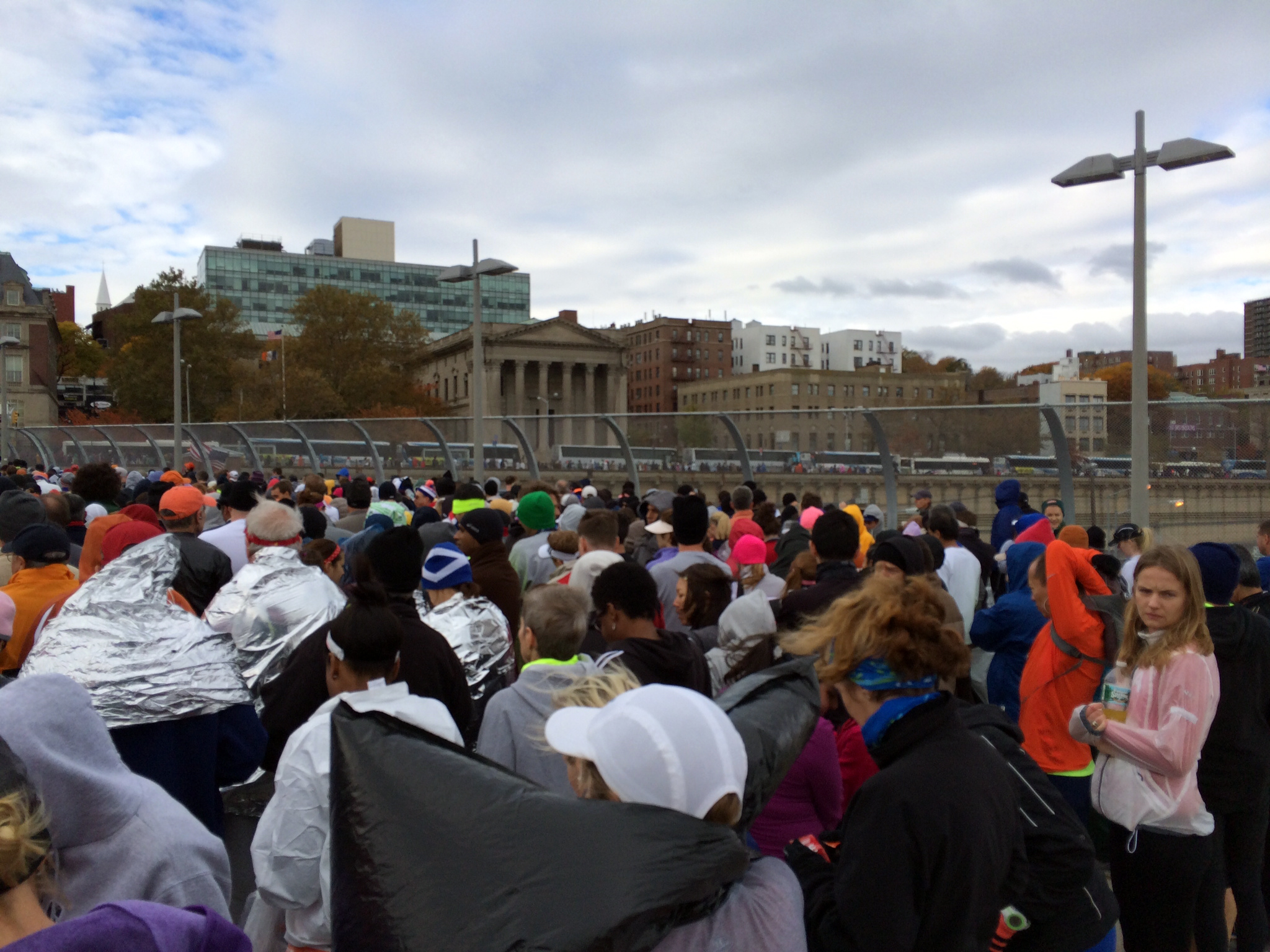 By the time I reached the starting area at Fort Wadsworth, people were just beginning to shuffle into the corrals, so it worked out great. There was excellent security in place, working efficiently. We were all metal detected and police helicopters were flying over continually. By amazing coincidence, I encountered Deb Freeman, my friend from TNT who has been a coach in previous seasons. Not only did I not know she was going to be there, but I was astounded that we happen to meet up among the 69,000 runners. (This number, of registrations, was announced by the tour guide the previous day. It included 23,000 people who had come from outside the United States. However, about 50,000 people actually finished the race, and that is the number that the news media has been hawking.) Deb told me she was going to take it easy in the race and ended up finishing five minutes before I did, but we did not encounter each other on the course itself. We were both amused by the frantic announcements, in what seemed like 10 different languages, warning us not to pee off the bridge, which would be disqualifying.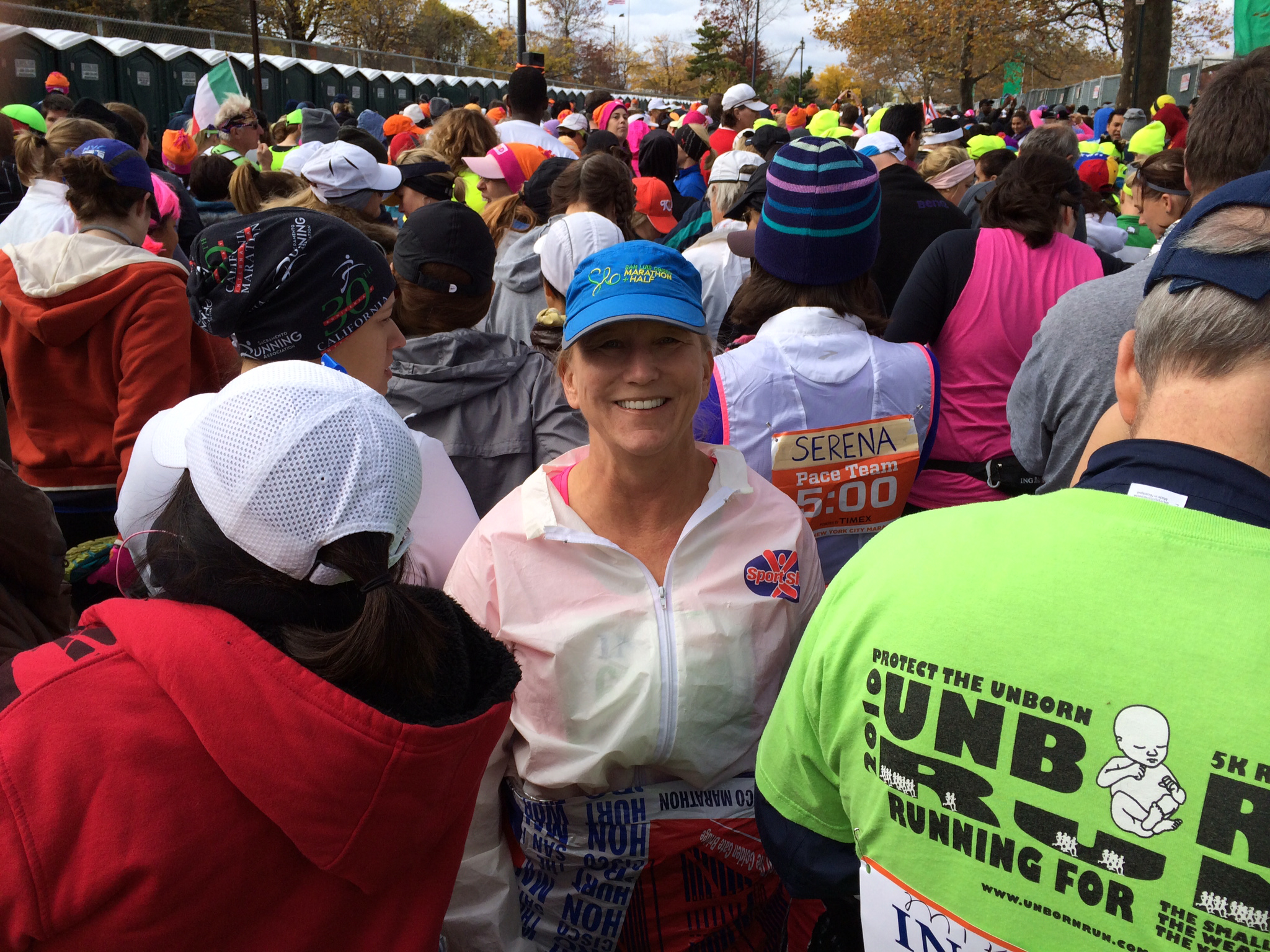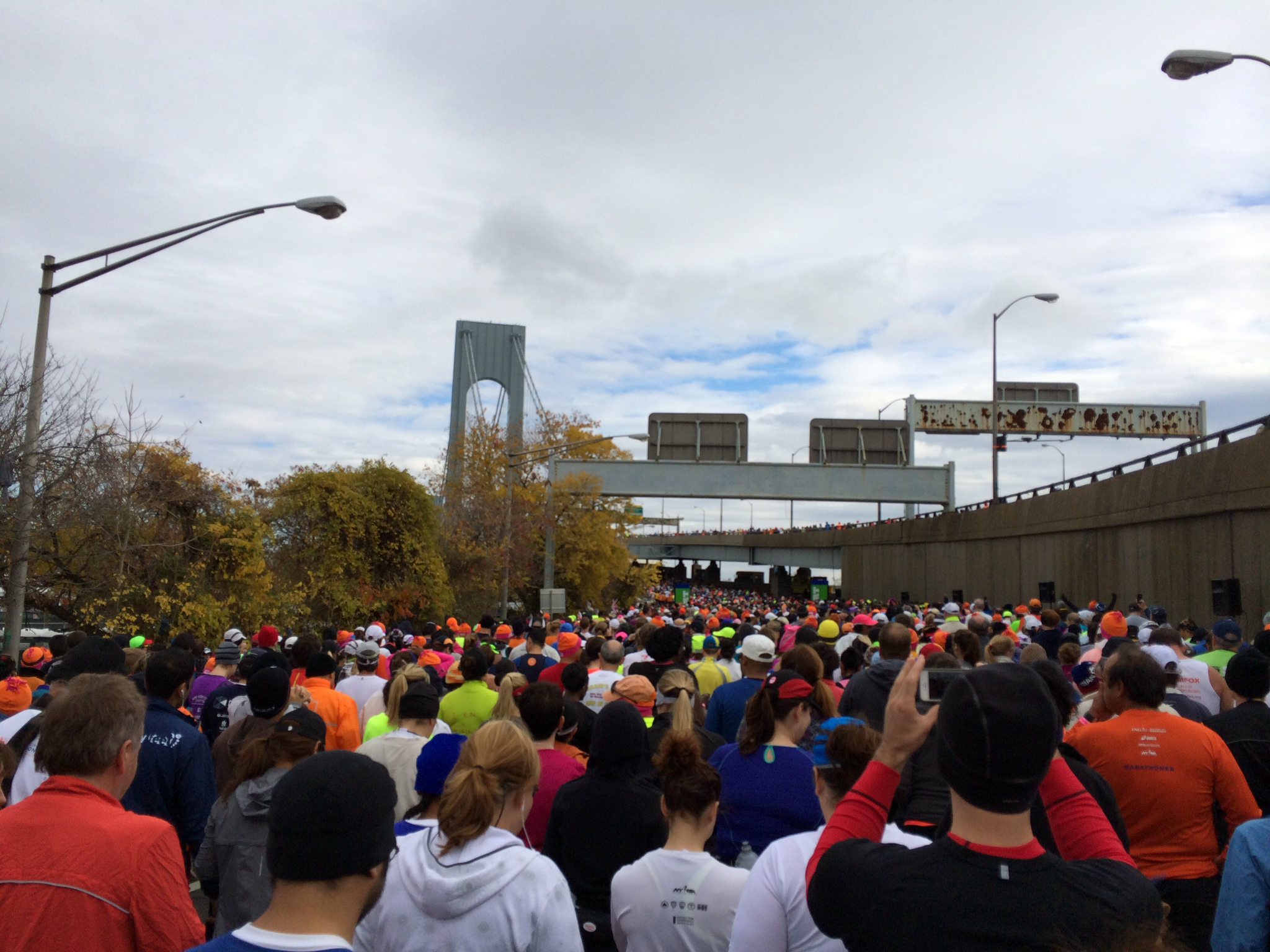 The bridge itself was pretty darn cold because of the strong wind coming in from the side. My wave, Green-4, was for some reason routed onto the lower deck of the bridge. Although this reduced the scenic visibility a little bit, and raised the risk of urine spray from the upper deck, it also reduced the size of the first hill on the course. I decided to play it safe and walked briskly to the crown of the bridge, about a half mile, and then started my regular run-walk interval (4:30/1:30 this season). The weather forecasters had been warning us all morning about the windchill. I wore a relatively heavy jacket that we bought at Goodwill, expecting to shed it after a few miles, but the course was cold enough that I kept the jacket on the entire way. So my purple TNT shirt was not as visible as I would have liked. Among the people running at my pace, I saw probably a dozen TNT folks, but throughout the day there were quite a number of people yelling Go Team from the sidelines.
One of the best things about the New York City marathon is the enthusiastic crowds, and they filled most of the course, although they petered out a little bit toward the end, which was seven hours after the elites started their race. In my normal life, the only pretty women calling out my name are my wife and a few in my local TNT team, but there were dozens of instances today in which really hot women were encouraging me by name. Quite motivating. :-)
The first part of the course in southern Brooklyn is not all at interesting, but my goal was to reach mile 8. That was the first meet up point with Nancy. She was accompanied by our nephew who lives in New York, Chad, and I was expecting to meet cousins Stephen and Pat, who live nearby in the Cobble Hill district. Unfortunately, the timing got a little mixed up and only Nancy and Chad were there, and just barely (but I saw Stephen and Pat for dinner the next night). The interesting landmark in this area is the imposing Williamsburg Bank building, which was formally referred to as the Tower of Pain, because all of the upper floors used to be occupied by dentist offices. After this, I passed by the famous Stone House, which played an important role in the Battle of Brooklyn. (Although my little mapping business has up until now focused entirely on the American Civil War, I have just started working on some Revolutionary War assignments.)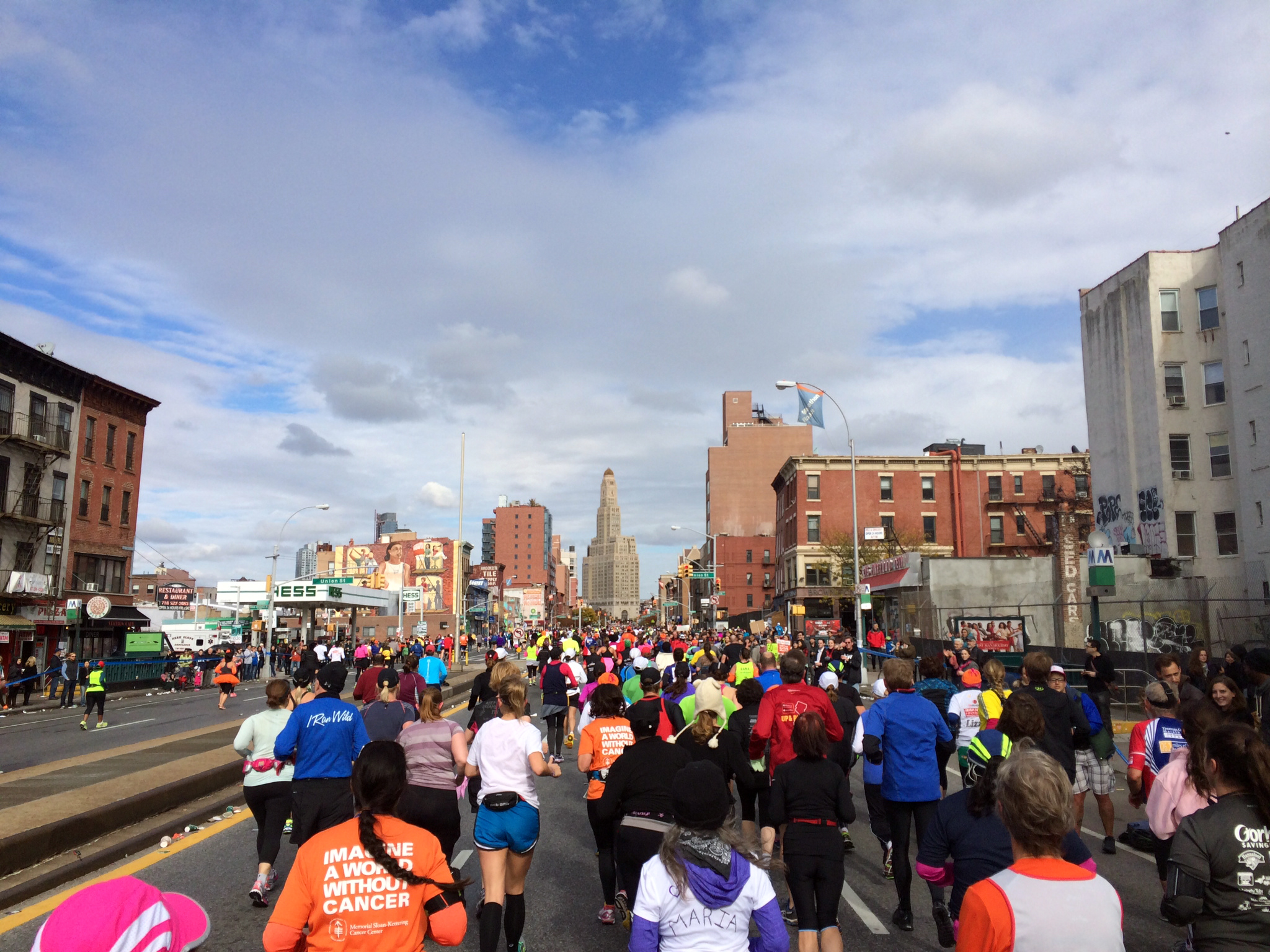 I ran through the two Williamsburg areas. South Williamsburg is a heavily Hasidic Jewish area and the tour guide had warned us that the local residents were not all that happy about the marathon running through their neighborhood. North Williamsburg is a young, hip area, packed with coffee shops, and they were not all that enthused either. Perhaps the hipsters slept really late on Sunday. :-) Next was the Greenpoint district, which is a big concentration of Polish immigrants. We crossed into the borough of Queens for a very brief stay in Long Island City, climbing up the Queensborough (or 59th St.) bridge, which is the only other really noticeable elevation on the course. Once again, out of prudence, I did more walking and shuffling than running on the uphill portion of the bridge.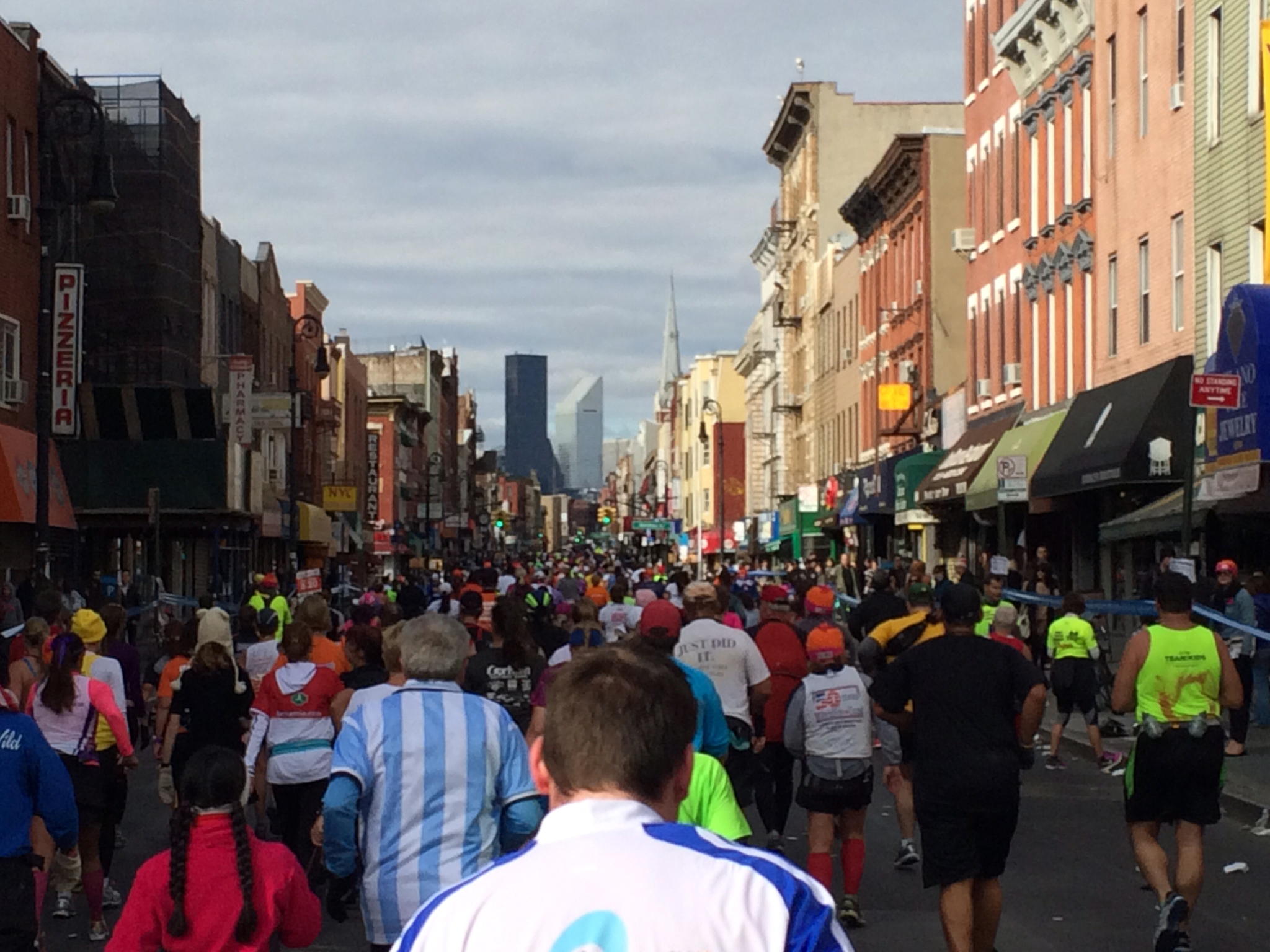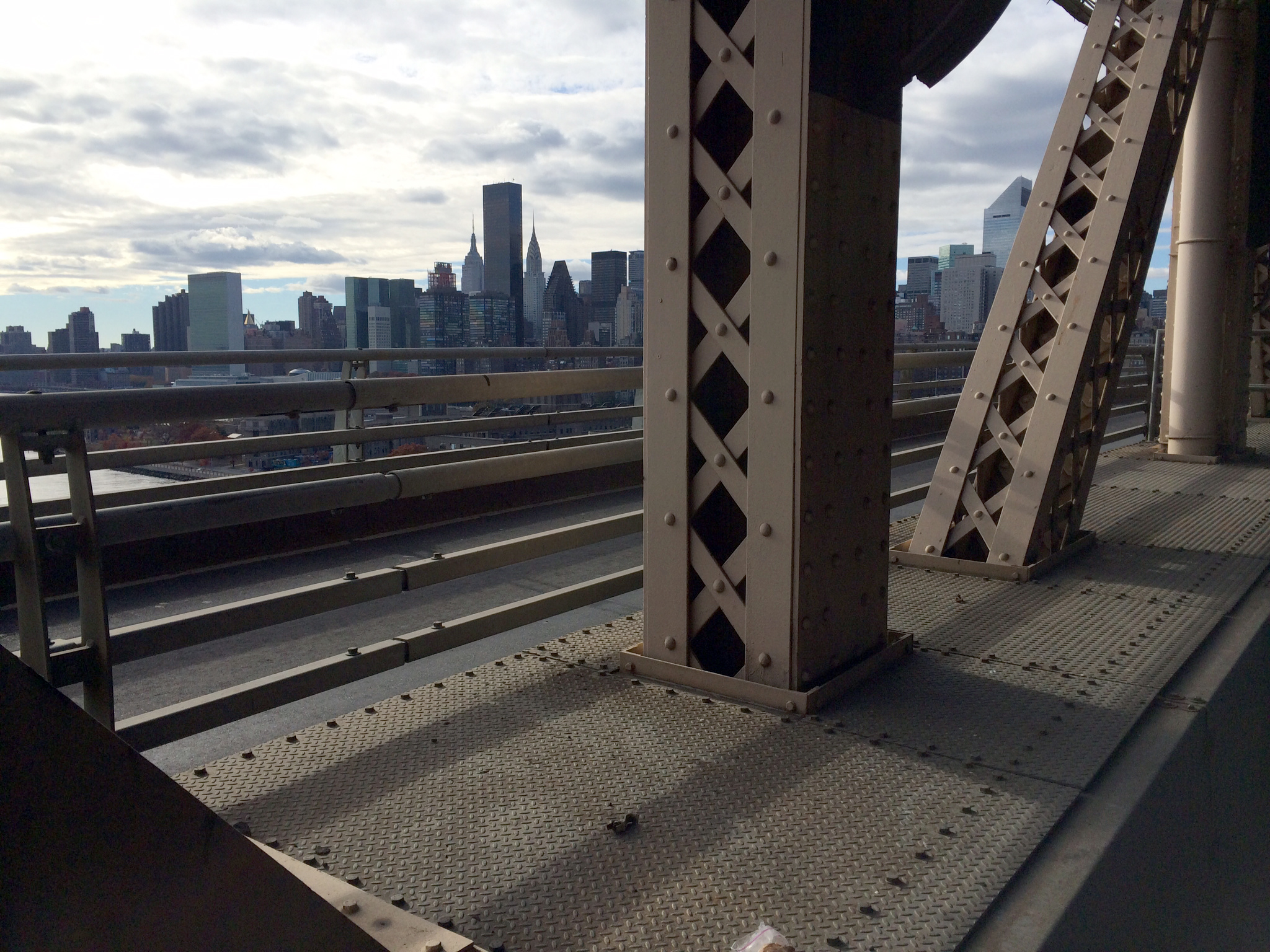 Reaching Manhattan, I entered an area that was supposedly called the Wall of Sound, where thunderous use of vuvuzela horns has typically been overwhelming, but the horn blowers had apparently lost interest this late in the afternoon. I turned onto First Avenue and Nancy and Chad met me at 73rd St., where they were happy to see that I was still running strong—this is the point at which I started breaking down in the San Luis Obispo marathon. The course led into East (Spanish) Harlem and I was very pleasantly surprised to see how neat and clean it was, even at the public housing projects. We took another bridge over the Harlem River and entered our last borough of the day, the Bronx, but spent only about a mile there. This is the area of the South Bronx that was so notoriously violent in the 1970s. We passed by the police station that was known as Fort Apache, but it is now in the middle of an improving, gentrifying area. Another bridge and we were back in Manhattan on Fifth Avenue, where Nancy and Chad met me at 132nd St. Running through Harlem, I was once again impressed about how nice it was, not at all like I remembered it as a young man. At Marcus Garvey Park, I saw lots of impressive brownstones that had been restored and are now quite valuable.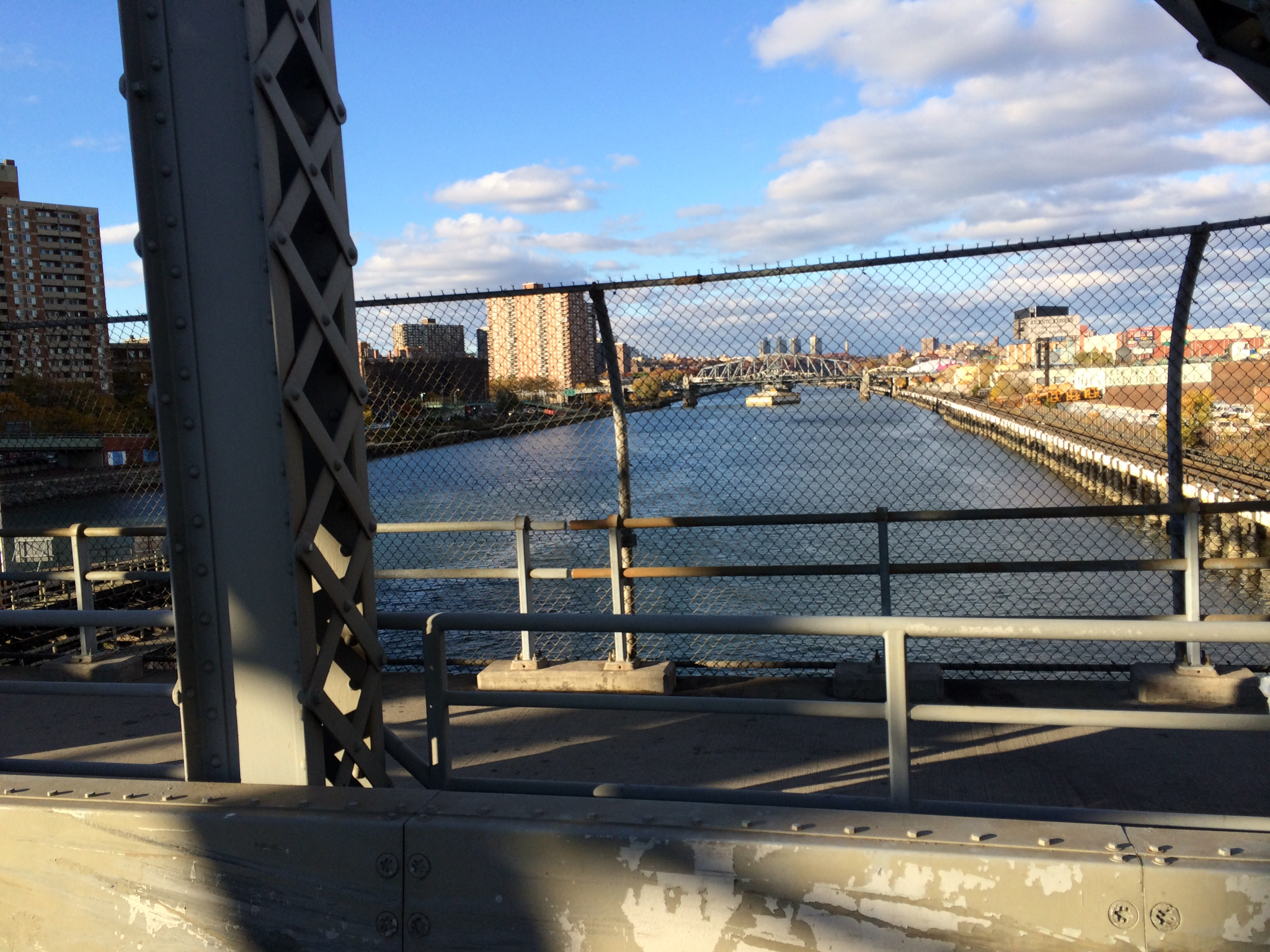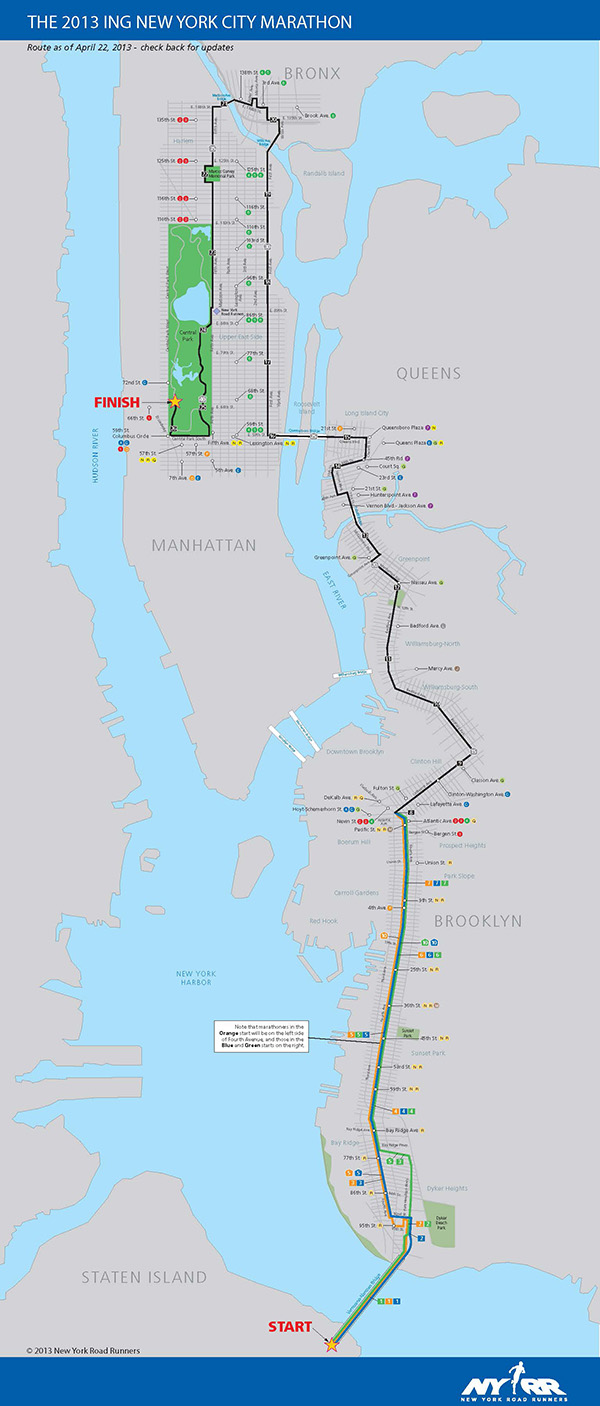 I ran strong at a pretty steady pace of about 12:30 up until mile 23, where I "hit the wall" ascending a moderate but long uphill climb next to Central Park. My pace dropped to over 14 and I was doing more jogging/shuffling than running. The final mile or so was mostly downhill, but by this time it was too late to make a difference, and I ended the race with a time of 5:48:22, which puts it in about the middle of my marathon experiences. (My PR was 5:21.) My goal was simply to finish the race without injury, which I was overjoyed to achieve. My problem in the previous two marathons, debilitating back pain and running grotesquely crooked after 16 or 18 miles, did not occur. I attribute this to a rather tougher training schedule this year in TNT, including a lot more core strength exercises at track and on my own.
Because of the heavy security, Nancy and Chad were not able to see me finish the race. In fact, they could not get any closer than Columbus Avenue. Everything was blocked off in the park and on Central Park West. A news reporter described the race as being similar to a 26.2 mile crime scene. So this part of the day was not my favorite. I am always really loopy and staggering at the end of a marathon, and we were required to walk unaided about 10 blocks north to exit the park, and then five blocks south before we could cross the street and meet our relatives. The good news about this is that I got a really nice medal, and a cool fluorescent orange, insulated poncho for my efforts. I met Nancy and Chad at 72nd and Columbus and collapsed on a stool at a local smoothie joint. Eventually I staggered out and we were very pleased to find out that marathoners were not being charged to ride the subway that evening.
My recovery has not been particularly difficult. I was somewhat fatigued by Monday afternoon, but I had no problems with cramping or soreness. I am really happy with my somewhat mediocre speed performance, and I owe a lot of thanks to Coach Shyamal, the other coaches, my mentor Ginny, and friends at TNT. If I had not finished this marathon, I had been prepared to permanently drop back to half marathons, but now I intend to train again and try to finish the two races that defeated me last year (Richmond and San Luis Obispo). My policy has been to never repeat a marathon, so I will probably not be returning to New York City for that, but I want to clean up my record in those two cities if I can, and then visit other places in the future.
Google Earth Race Simulation
I recorded Global Positioning System (GPS) data with my Garmin Forerunner 610 watch during the race. By opening the resulting data file in the Google Earth application (which can be downloaded here for free), you can display the race course using aerial photographs and simulated 3-D terrain and buildings. There is a Play Tour button that follows the course of the race as if you were flying over it in a low altitude aircraft. (You have to select "flyover" in the options menu to get this behavior.) Really cool. The Google Earth file for this race is here. Note that minor inaccuracies in the GPS data makes it look like I am stumbling around the course like a major drunkard; I really ran straighter than that.
Rest of NYC
The rest of this report covers our tourist activities in New York following the race. I do not like to fly back in coach immediately after a race, so we stayed until Wednesday afternoon.
On Monday, we visited the Museum of the City of New York (which is just about where I hit the wall on Sunday). They have a great film on the history of the city, which focuses a lot on geography, and I was very interested in all of the animated maps that they used. There was a sobering photographic display about the damage from Hurricane Sandy, and an exhibit of the work of designer and futurist Norman Bel Geddes. We had dinner at a nice restaurant in Chelsea, The Red Cat, with Ben, Val, Stephen, Pat, and Else (cousins and spouses).
On Tuesday, we spent the day at the American Museum of Natural History. There was a very interesting show at the planetarium called Dark Universe. We also saw an IMAX film about king penguins, very comprehensive exhibits about frogs and whales, and lots of animal dioramas. I do not think we saw even half of the exhibits. We had dinner at the Palm, my favorite steakhouse (although this was the West Side location, not the original on Second Avenue), hosting Chad in appreciation for his spending the day Sunday, keeping Nancy company on a cold day and helping her navigate all of the subway stops.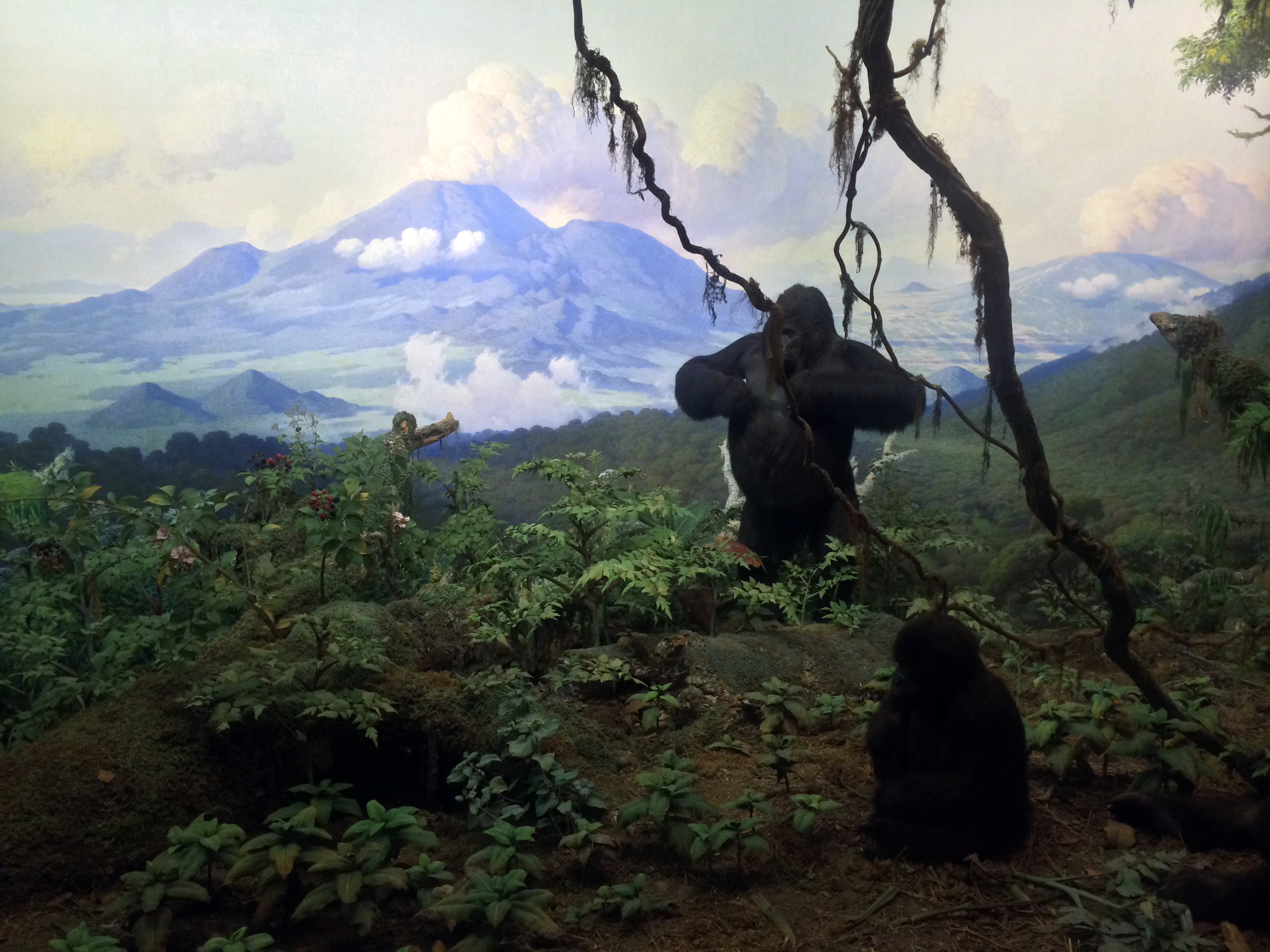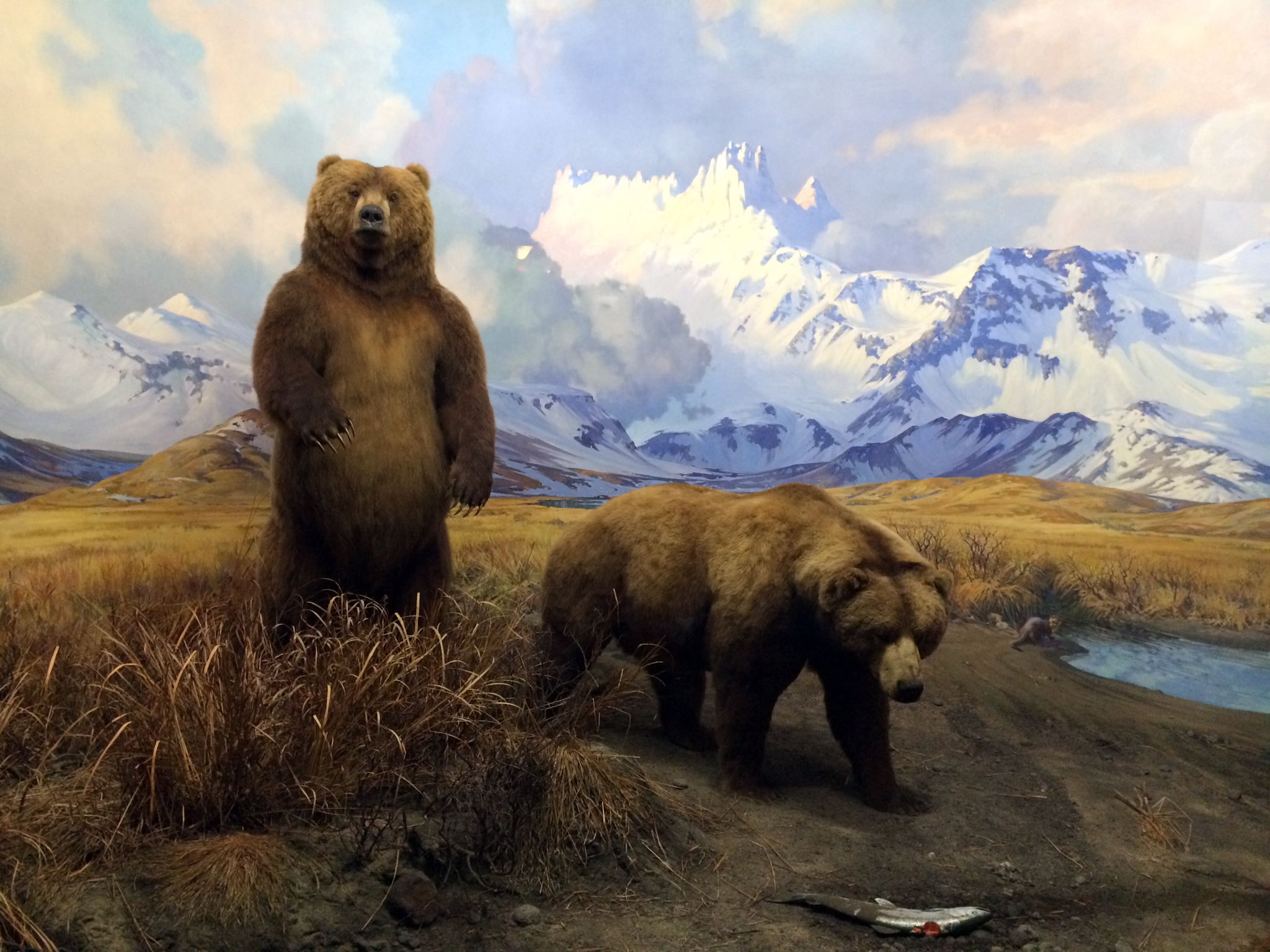 On Wednesday, we subwayed to 23rd St. and visited the High Line, a 1-mile abandoned elevated freight rail line, one flight up, running through buildings that used to be factories and warehouses. Now it consists of pretty gardens with the fall colors still brightly displayed, benches, and cafés. (I had never heard of this before, but Nancy and the other relatives talked about it. It was saved from destruction by a local group and developed as a park in 2009.) Our final stop of the trip was the New York Historical Society Library and Museum. They featured a retrospective of the "Armory Show" from 1913 with modern art from US and Europe. There was another city history movie. Upstairs is a very eclectic collection of historical and everyday objects, including a handful of those featured in Harold Holzer's "50 Objects of the Civil War" book. One of the more interesting objects to me was the personal trunk of of William Henry Paine, who was a moderately famous topographical engineer, known in my experience for the tactical maps he did for Maj. Gen. George G. Meade during the battle of Gettysburg. He also invented the metal retracting tape measure, they say. There were lots of statues, busts, a few weapons, and a 5th NY Zouave uniform. In the lobby, a timeline of 1863 had a few errors, including Chancellorsville being May 4-6, so you have to wonder how accurate all the other historical data was.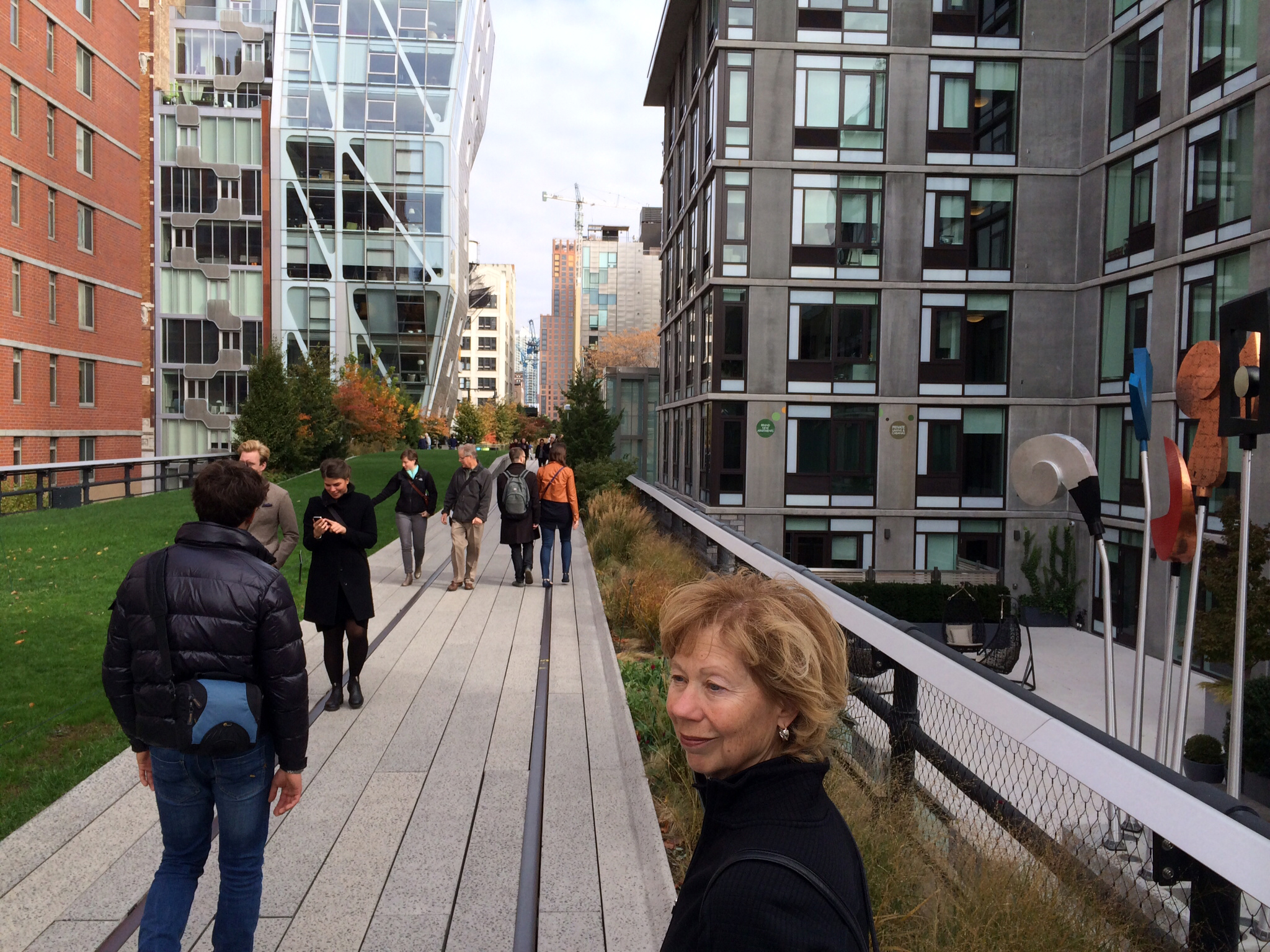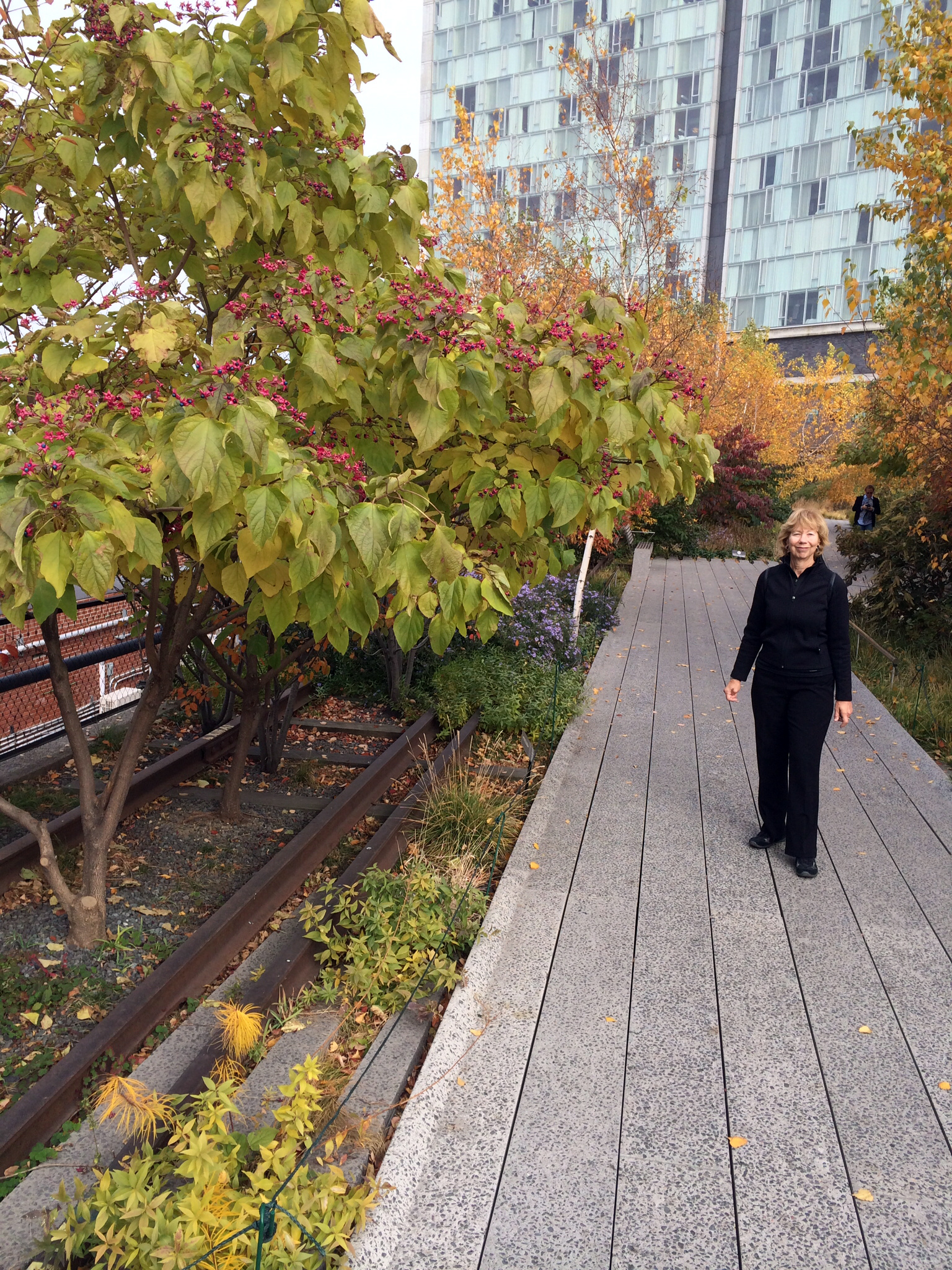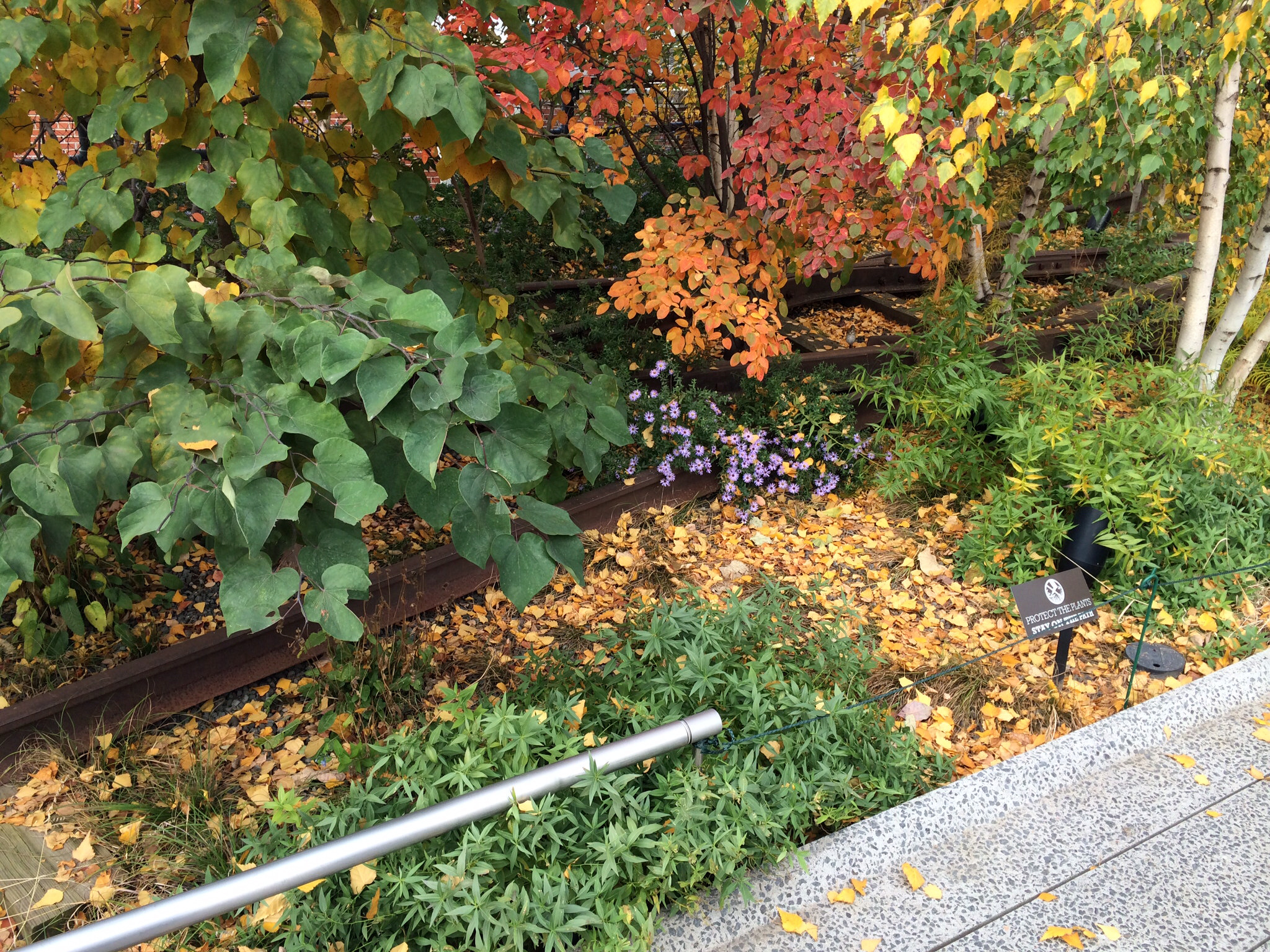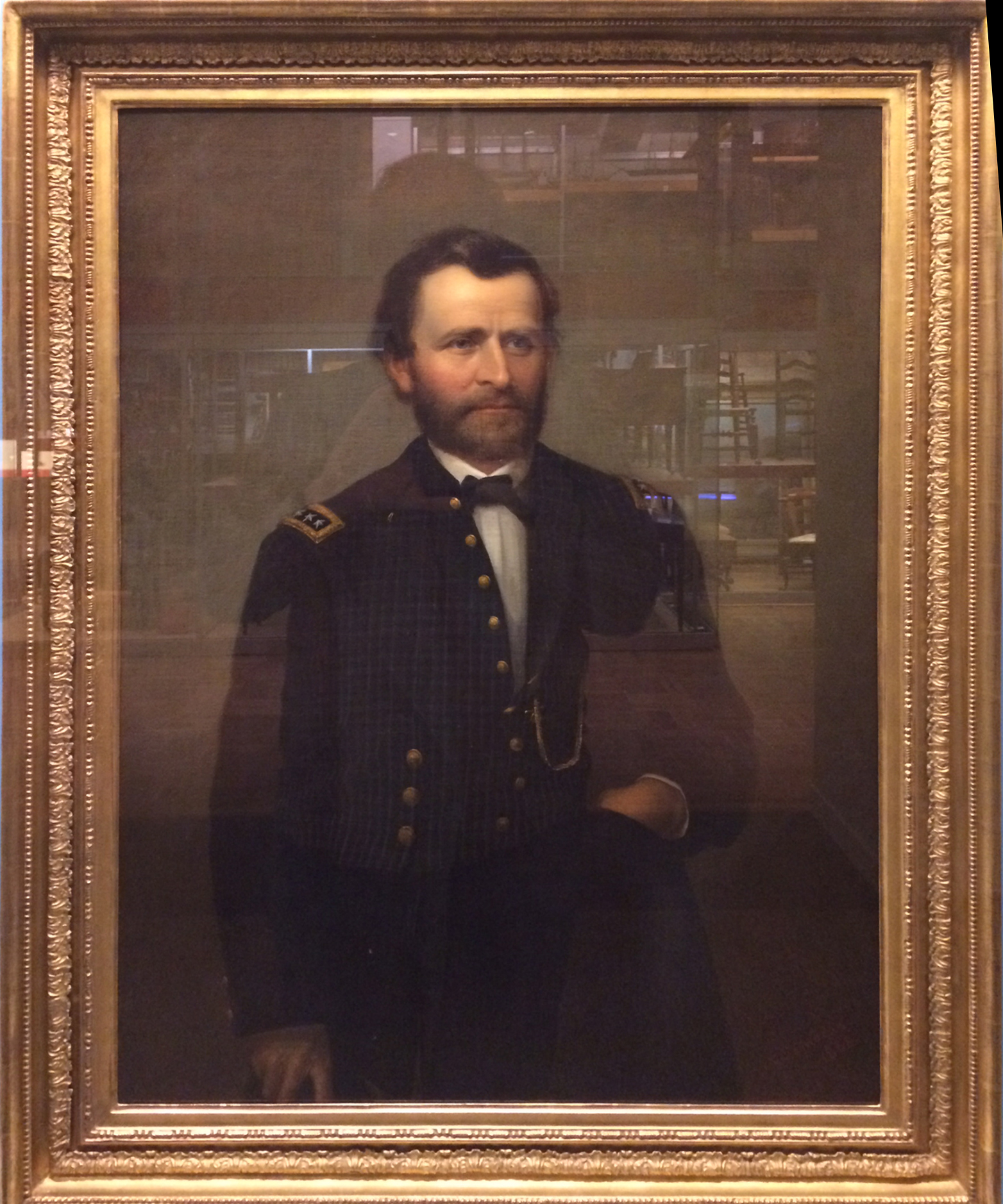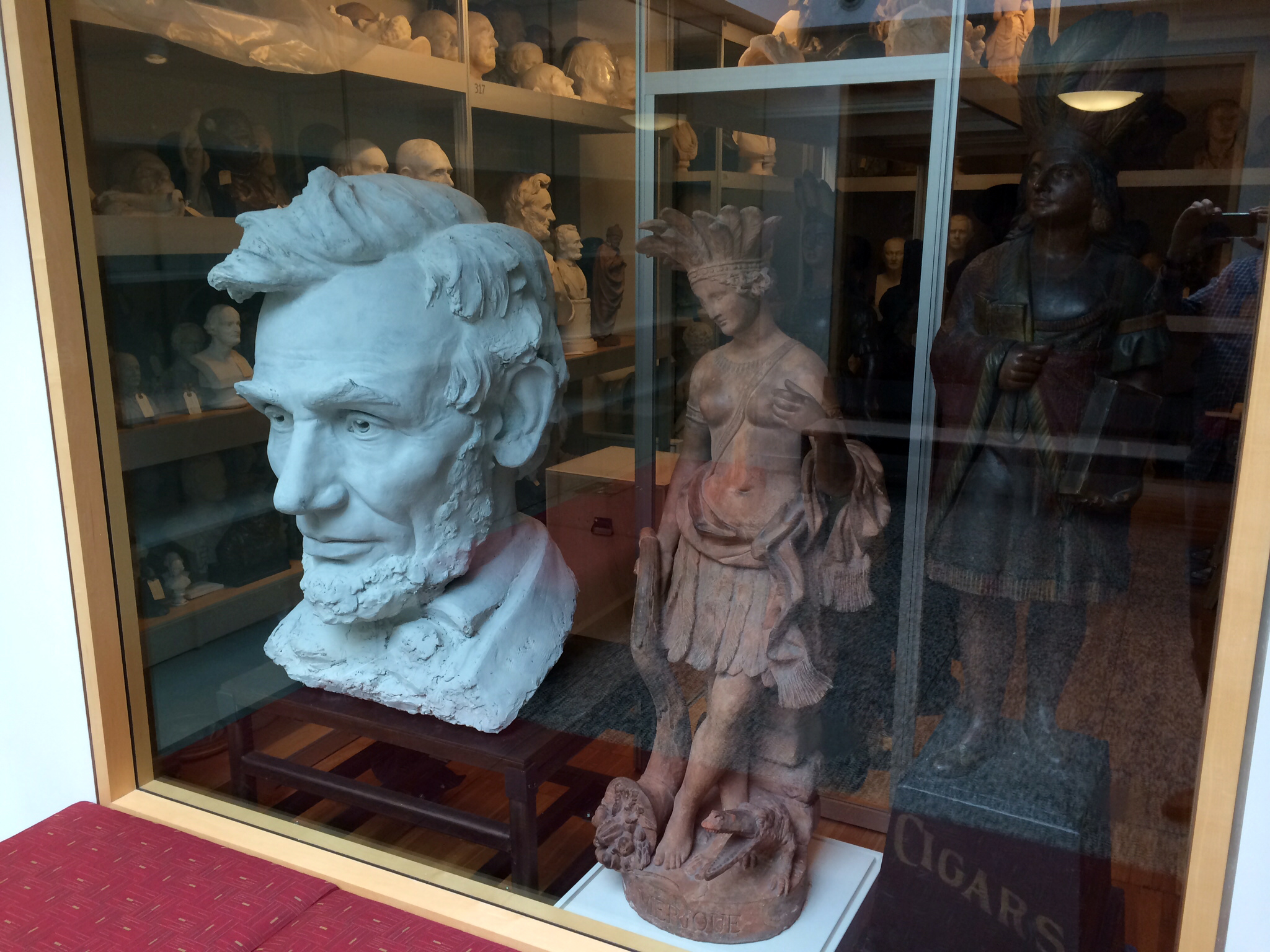 We returned to Newark Airport, and I was surprised to see that some of the shops gave you 10% off if you had your marathon medal, but mine was packed away. That ill-fated decision cost me over $.80! I did notice that a nontrivial number of people were wearing their medals in public as much as three days after the race, so perhaps I did not milk it sufficiently. :-)

TNT Training
Weekly Training Schedule
Here is the table of weekly activities for our training. It is about the same as previous seasons, although some of the days have been swapped around this time.
| | |
| --- | --- |
| Monday | Buddy runs: easy runs with a group at a conversational pace. Early in the season they are in the 3-5 mile range, later they get to 5–7. This season thay've asked us to do some hill repeats as well. |
| Tuesday | Cross training (50–75 minutes walking, swimming, or aerobics and weights at the gym), including core strength |
| Wednesday | Track workout under coaches' supervision (90 minutes). A few weeks of core strengthening, a few of "dynamic drills," then mostly intervals, pacing runs, and hills/bleachers, generally 3–4 miles total. |
| Thursday | Cross training and core strength |
| Friday | Rest, stretching, core strength |
| Saturday | |
| (1) Distance run in scenic places, starting at 4–6 miles and increasing 2 miles every other week until you're finally at 20 miles. | (2) On Your Own (OYO) runs, although group running is encouraged. Starts at 2–4 miles, progresses through the season to 6-10. |
| Sunday | Rest, stretching, core strength |
Workout Log
Here's the training I will accumulate prior to the race. I do not include Tuesday/Thursday cross training or Monday buddy runs in this list because they're pretty regular, as described in the table above.
Fri, Oct 25: There was no track this week because most of my teammates have finished their races. Following my special schedule from the coach, I did the final long-ish run before my race, a 12 miler at Sawyer Camp (Crystal Springs reservoir) at a reasonable 11:47 pace. The following week will be all taper, just going to the gym a couple of times before my flight on Friday. My season mileage is 403!
Sat, Oct 19: We had our final track this week, in which we played a game called burrito relay. We were paired up with a partner and had to guess our finishing time for a relay race that covered 3 miles. My partner and I guessed 33 minutes, but we did not win because we finished in 32:10—we were not allowed to look at our watches during the run. Oh well, no burrito for us. Saturday was my longest run of the season, 20 miles on my own, 6 miles to Stanford, two 4-mile loops of Campus Drive, and then 6 miles back. I actually felt pretty good the entire run and ended with a little bit of extra energy left, so that is encouraging. My pace was pretty steady, 12:20, which if I can keep up for another 6.2 miles will give me a very good finishing time in New York. My season mileage is 388.
Sun, Oct 13: I have had some interruptions in my regular running schedule. I did not attend track on October 2 or participate in the 20 mile group run on October 5 because of my travel to Virginia (see here). Then, track on October 9 was canceled because of the race sendoff party. I was able to run my Monday OYO's both weeks, consisting of hill repeats on Alameda. Today I began my special end of season schedule, provided by coach Shyamal, based on the fact that the New York marathon is two weeks later than the other races in our program. I did a 12 mile run at Shoreline, a pleasant, completely flat course, in which I did an 11:58 pace. My season mileage is 365.
Sat, Sep 28: Track this week was "tempo running." We did 15 minutes at a 10K pace, then two minutes active recovery, repeating twice. This was not as difficult for me as it seems, because the coach allowed us to use our run-walk interval, so in my case I was only running 4:30 at a time. The weekend run was on our own and I did the Woodside loop from Edgewood Road to Whiskey Hill and back, 10 miles at a 12:08 pace, which is not too bad considering that it is mostly hills. My season mileage is 331.
Sat, Sep 21: Track this week was harder again, mile repeats. We did a mile at a 5K pace, followed by 800 m active recovery, then another mile at a 10K pace and a 400 m recovery, and then repeated for an hour. The long run was on the Bay Trail, starting at Oracle and heading north. I did 18 miles at an impressive pace (for me) of 11:50. The best part was that I ran a consistent pace throughout and ended with some reasonable energy left. It was beautiful running weather – overcast and cool – until mile 16.5, when it started to rain. That is pretty unusual for the Bay Area in September. My season mileage is 317.
Sat, Sep 14: Track was relatively easy this week, I guess because of the longer run on the weekend. We did "Indian relays" that consist of getting into teams of seven or eight and running in single file at a leisurely jog pace. The person at the end of the line sprints up to the start and as it repeats, the formation proceeds somewhat like a sideways caterpillar. This is a pretty relaxing workout (unless there are really hyper people on your team who like to keep increasing the pace) and we only did it for 30 minutes. Plus, drills at the start and core at the end, as usual. The weekend run was on our own and I did 8 miles at Sawyer Camp trail, a beautiful run, flat as a pancake. My pace was a decent 11:27. My season mileage is 293.
Sat, Sep 7: Track this week was a long set of intervals, surprisingly without either dynamic drills or core strength exercises. We did a pyramid, starting at the top with 400 m at a 5K pace, then 800 m at a 10K pace, and 1200 m at a marathon/conversational pace. Then we climbed back up, doing 800, 400, 800, 1200, etc. There was a very small amount of active recovery between each segment. This lasted for an hour, so it was the longest mileage in any track workout I've ever had with TNT. The Saturday long run was in Golden Gate Park, giving us an opportunity to see the second half of the Nike women's marathon. Although I have run this probably 10 times, the new regime has made some significant changes and we essentially ran the park loop exactly backwards from the way we've done it before. Well, a little variety is good, I guess. This was an unusual run for me because I was accompanied the entire time by my teammate, Dave, who decided to try the run-walk method along with me. Usually, no one on the team has a pace similar to mine, so I have always been a solitary runner. The good news about this is that having a conversation along the way made it seem like we were going faster and the time flew by. The bad news is that we actually did go faster and I started to run out of steam at about mile 15, so I fell behind. My overall pace was a decent 12:00 for 15.77 miles, including the first 2.5 miles, which were entirely uphill. My season mileage is 276. Here is the elevation chart:
Sat, Aug 31: Track this week was more intervals. We started with some more strenuous dynamic drills than we usually do, then the intervals were mile repeats at a 5K pace, with active recovery of 400 m between each. Once again, the coaches did not tell us the duration of the run, so I was a bit surprised when they started us cooling down at about 30 minutes. The weekend run was on our own and I did 7.5 miles in the neighborhood, at a rather mediocre pace of 12:36. My season mileage is 248.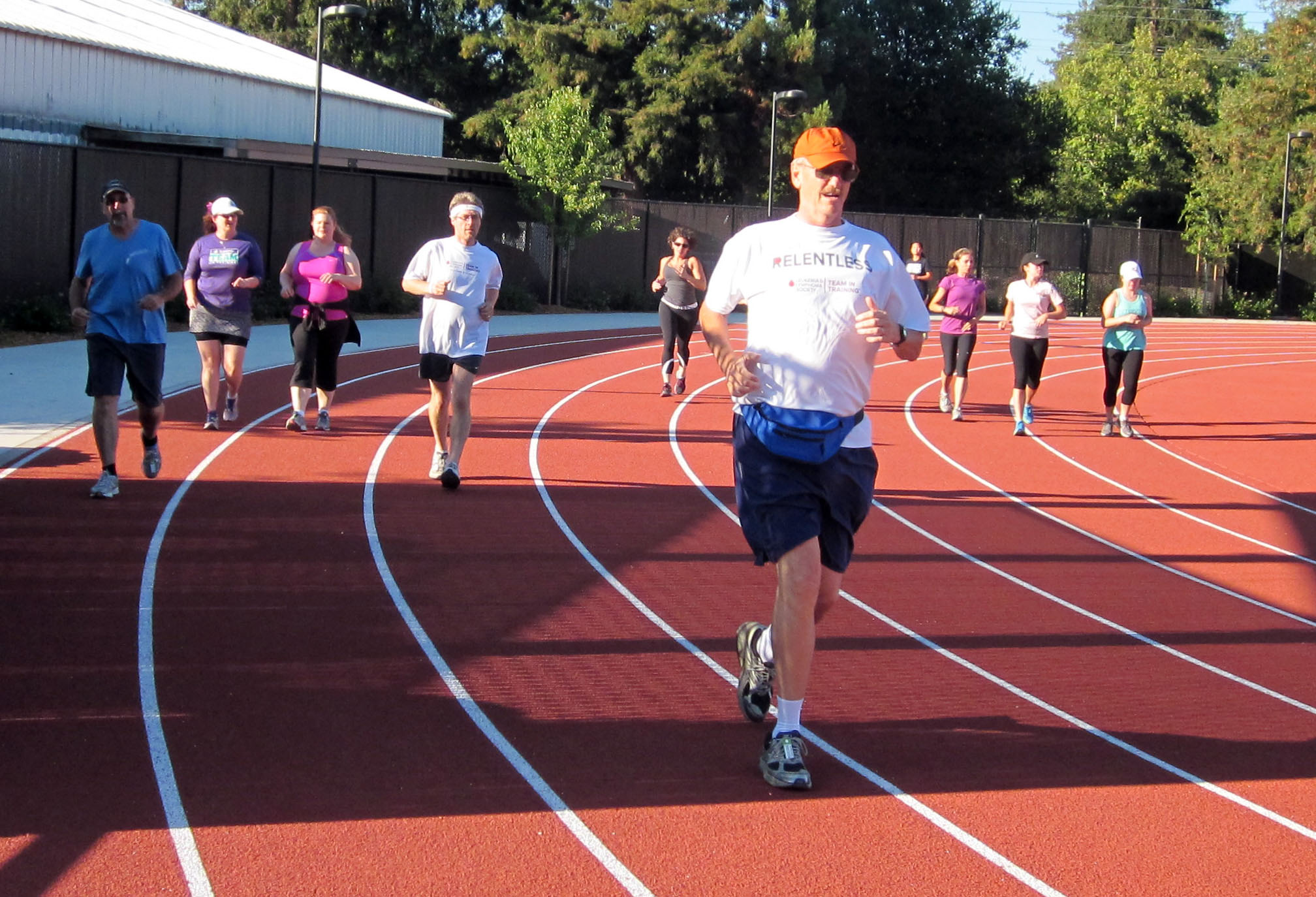 Sat, Aug 24: Track on Wednesday was intervals again, this time fartleks, with unpredictable changes between paces. We alternated between marathon pace and 5K pace. Unfortunately, the coaches did not reveal how long we would be doing this, so I assumed it would be an hour like last week and down-paced myself accordingly. Instead, they called off after 30 minutes and we had a lengthy and grueling core strength exercise instead. The Saturday long run was Woodside, which is traditionally the run I dread the most. However, this time it was considerably easier. First, we ran only 3.5 miles before we reached the really hilly/rocky trails (instead of 10 miles as in most seasons), and the course changed a little bit to avoid two particularly nasty hills, substituting a relatively steep hill, but one that was partially paved. I was scheduled to do 14 miles, but at 13.1 I tripped on the trail and bloodied up my knees, so I prudently decided to walk the remainder of the course. The injuries were not serious in any way, but coach Shyamal attended to me with his first aid kit as if I were a battlefield casualty. For the portion I did run, I finished with an average pace of 12:34, which is not bad considering the number of hills. My season mileage is 232. The elevation chart for the run is below.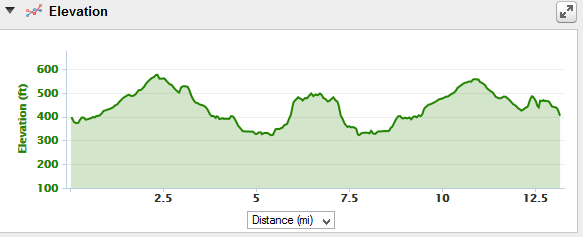 Sat, Aug 17: Track this week was intervals again, but the intensity is growing. This time we did 800 m at a 10K pace, 100 m active recovery, 800 m at a 5K pace, 400 m active recovery, and then repeated, which we did for 60 minutes! The weekend run was on our own and I did the hilly Cañada Road into Woodside loop, 7.66 miles at an 11:44 pace. My season mileage is 207.
Sat, Aug 10: Track on Wednesday was another variation on intervals. We ran 800 m at a 10K pace, recovered for 100 m (which was supposed to be at a marathon pace, but I did not do that too many times before I substituted my marathon walking pace), then 400 m at a 5K pace, 100 m recovery, and then repeat. This season the coaches don't tell us in advance how long we're going to run. This week it was 45 minutes. The Saturday group run started at the Presidio in San Francisco, running over the hill near the Golden Gate Bridge, and eventually turning around on the Great Highway at Lincoln Avenue. This is a pretty grueling course, almost entirely hills, but it was not as bad as in previous seasons, where this 12 mile run was the final segment of an 18 mile course, so I did reasonably well with a 12:39 pace and still had some energy at the end. (This run is a segment of the Nike women's marathon, but it is more difficult because the two very significant hills are each run twice in the out-and-back course.) My season mileage is 189.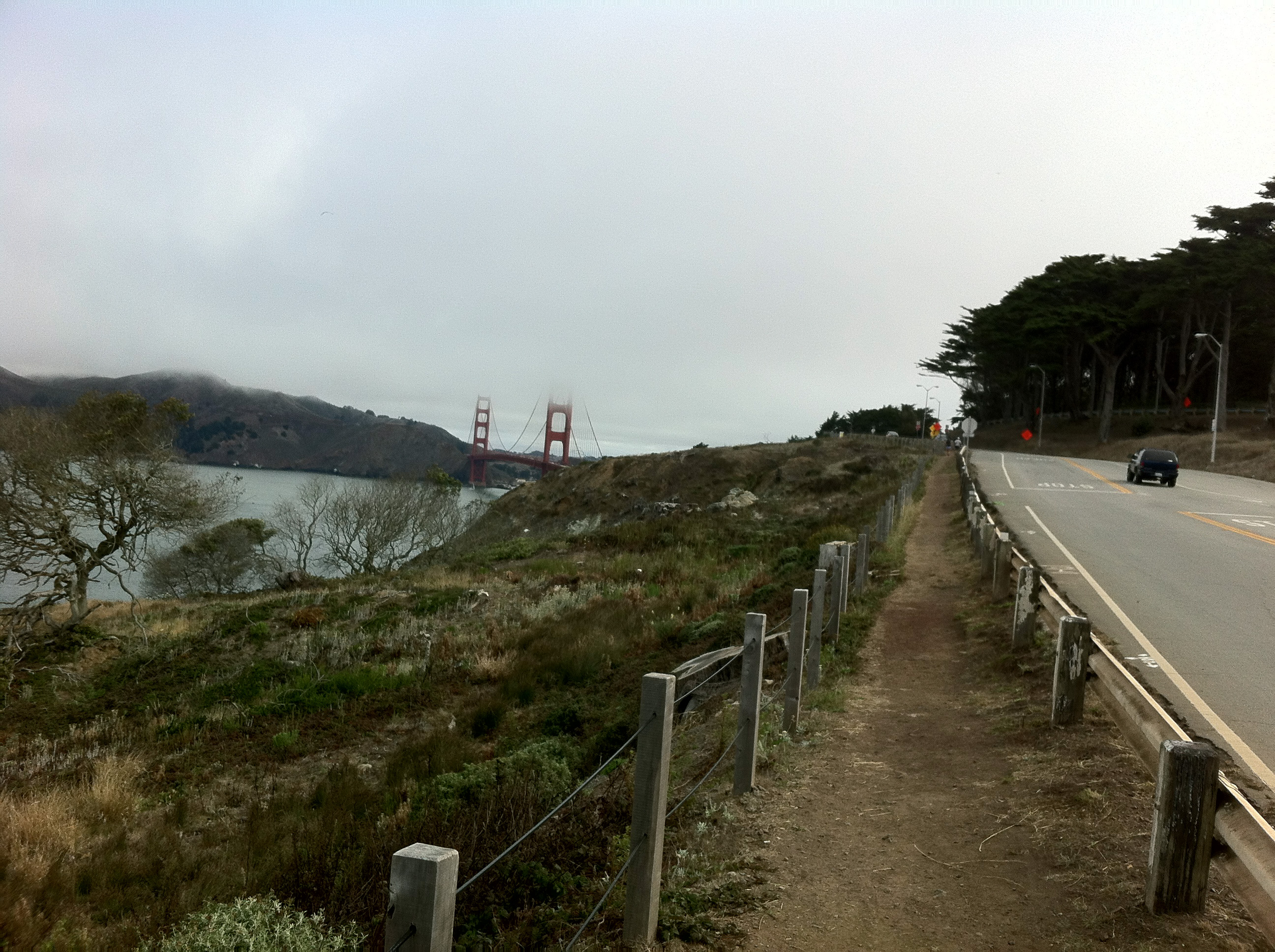 Sat, Aug 3: I missed running the previous week while I was on a trip to Gettysburg. This week, the Wednesday track was intervals again, 400 m at different paces with little recovery between. We did one at our half marathon pace, one at our 10K pace, and the third at our 5K pace, with about 40 yards of walking recovery after each, and then repeated this sequence until they told us to stop, about 30 minutes. Our dynamic drills were also a bit more intensive this week. We just found out that the track workouts will be at Palo Alto High School for the remainder of the season. The weekend run was on our own and I did 7.2 miles on Alameda at a 12:02 pace. My season mileage is 167.
Sat, Jul 20: Track this week featured fartleks. Despite what we might have done in the past, the current coaching regime considers this to be running at varying paces, changing from fast to slow at unpredictable intervals. We ran for about half an hour, alternating between our half marathon pace and our 10K pace whenever the coaches signaled. The weekend run was on our own. We were supposed to do 4-6 miles, but since I will miss the group run next weekend (a trip back East), I decided to do a longer run. I went to Oracle and did 11.5 miles at a rather blistering pace for me, 11:07. There is just something about that ultra flat course that gives me extra energy, I guess. My season mileage is 157.
Sat, Jul 13: Track on Tuesday was intervals again, this time a "pyramid" of 400 m (at a 5K pace), 800 m (at a 10K pace), 1600 m (marathon pace), then back to 800 and 400. Each of these was followed by a 50 m walking rest period. We were supposed to repeat the sequence, but I was able to get only as far as the second 400 before they called us in. The long run on the weekend was in Portola Valley, and in keeping with the significant changes for this season from previous, we met in a slightly different location and did all of our running on trails up into Portola Valley, not focusing on the Stanford Dish as we used to do. Wow, this was a really grueling workout. The trails were in pretty good shape and almost entirely in the shade, which is great, but they were really, really hilly. I do not believe there was more than about 100 m of flat ground in the entire workout. The first really big hill that we climbed was probably the most difficult hill in the entire training program. These hills really destroyed my running pace, and I trudged in at the end of 10.25 miles with an ignominious 14:12 pace. Check out the elevation map from my GPS watch. My season mileage is 137.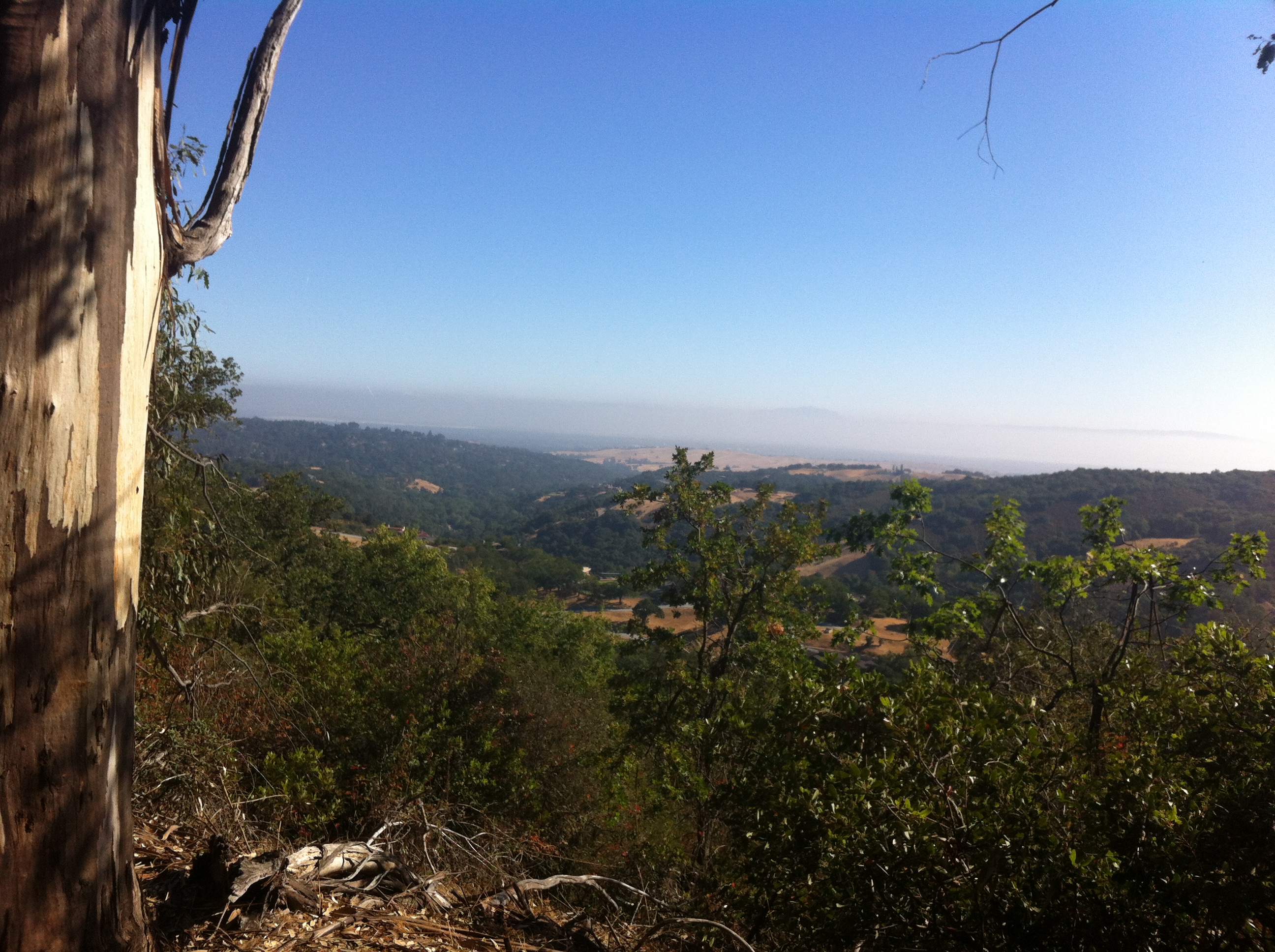 Sat, Jul 6: Track this Wednesday was intervals: 1600 m, 90 sec. active recovery, 800 m, 45 sec., 1600 m, 800 m, 1600 m, etc. I was just starting my final 1600 m when the clock ran out and they called us all back in. Drills, stretching, and core strength were all included, of course. The weekend run was on our own and I did 6 miles on Alameda to Woodside Road and around in a big loop, pacing out at 11:58. My season mileage is 117.5.
Sun, June 30. There has been a little gap since my last posting. The track workout on June 19 was stadiums again, another 36 flights of stairs on the bleachers. I traveled to Gettysburg (see my travelogue if you are interested in Civil War things) and did my weekend run on the battlefield, about 7.5 miles from the town, down Confederate Avenue to the Round Tops, and back. I did not attend track on June 26. On Saturday, June 29, the group run was at Pacifica. I drove up there, found that there was no parking because of the crush of surfers trying to escape the weather (it was 80+ degrees even at the ocean), and decided to run on my own instead. Going to Crystal Springs reservoir, I found that completely packed and also no parking! So I got up early on Sunday morning and ran on Cañada Road past Woodside, for a 9 mile circuit. My pace was 12:11, which is not bad considering the hills.
Sat, June 15: Track on Tuesday was stadiums. I ran four laps and did 36 flights of stairs on the bleachers. (One of the many differences in track methodology this season is that they are assigning exercises by time, not repetitions. That's actually a very efficient way to do it, managing groups of runners with different speeds and requirements, although it is a bit annoying when they don't tell you in advance how long the time period is going to be.) Since this stair work is good for core strength, we did not do separate core exercises. We concluded with a 45 minute talk by Mark Fadil of SMI on injury prevention. The Saturday group run was at Seal Point in San Mateo. I did 7.9 miles at an 11:33 pace. My season mileage is now 79.3. After the run, I talked to our new coach, Shyamal, who gave me some pointers about running form and some suggestions for additional core strength exercises I can do using thera-bands. He says that I am bending over (slightly) as I run, and I am amazed that in my 13th season of TNT this is the first I've heard of this. So I have to "tuck in my butt."
Fri, June 7: Track this week included a lengthy presentation from the brother of a cancer victim, which was moving and inspired us to think more about The Cause, as we call it. We did some new dynamic drills, then did 800 m intervals with static recovery. (This is a routine that used to be done only at the end of the season. A group of three runs a relay so that each individual does 800 m and then static recovery while the others complete another lap.) The weekend run was on our own, which I did on Friday instead of Saturday because of a travel conflict. I did 5 miles around the neighborhood and my season mileage is 64.
Sat, June 1: Track this week was a form clinic—we had little classes on walking and running forms, plus a race of sorts to do two laps walking. I think I need to work on two aspects of my form: keep my elbows bent while I am walking and keep my eyes on the horizon in both running and walking. (It is interesting that this is my 13th season with TNT, but it is the first time I've heard the latter advice.) We did a brief group run, segregated into different run/walk intervals, but only about 10 minutes. The Saturday long run was at Stanford again, 4 miles around Campus Drive and then 2 on the Galvez, El Camino, Serra Street, Campus Drive loop. I did pretty well again, running at a 11:03 pace. So at least for short distances, changing to the 4:30/1:30 run walk interval has not slowed me down at all. My season mileage is 51.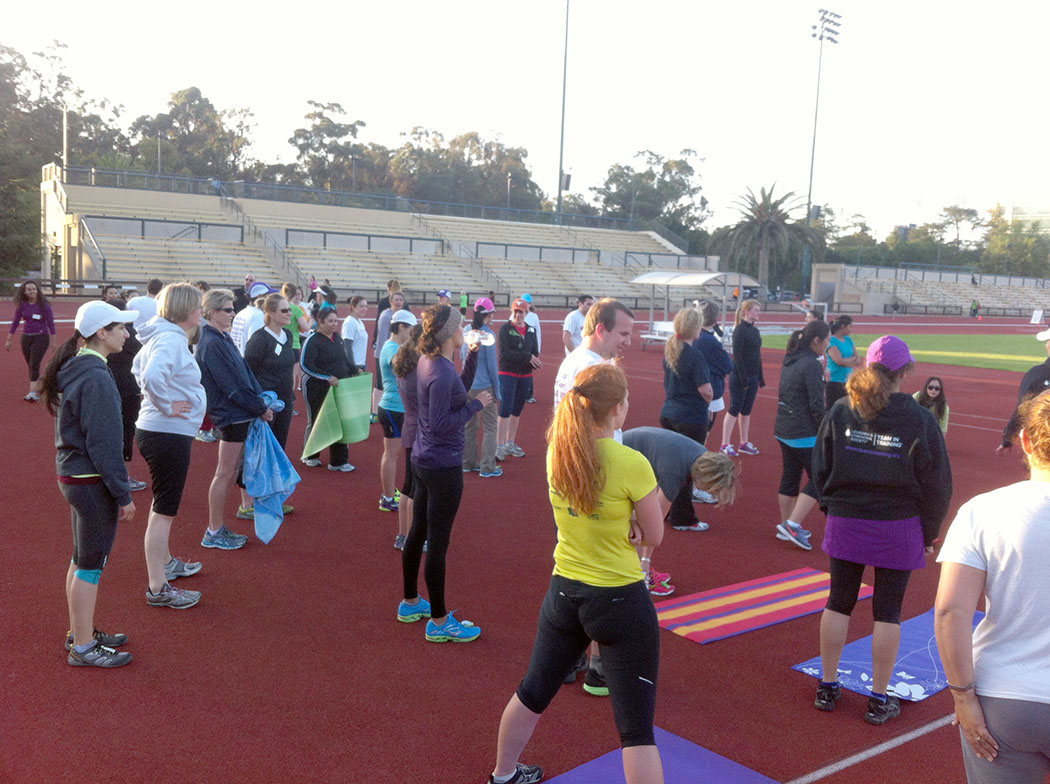 Sat, May 25: This is been an interesting first week of training for my 13th season. Track is now on Wednesday evening and we have an entirely new coaching staff. We started with dynamic drills—heel/toe walking and sidestepping to start—doing them over shorter distances, but faster and with multiple iterations and little down time. Then we did Indian relay running, which is something that only happened late in previous seasons. (This is where a group of 5 to 10 people run in single file and the person in the rear sprints to the front.) We did it for 25 minutes, which was no problem for me, but seemed rather stressful for some of the beginning runners in the group. Then we finished up with some relatively light core strength exercises—crunches and planks. The weekend run was on our own, so I did 6 miles on Cañada Road. I had a brainstorm this week that some of my recent race failures coincided with a change in my training. When I first started running with TNT, I did run/walk intervals of 4 minutes running, 1 minute walking. After a few successful marathons, I hoped to improve my times, so I changed that to be 5/1. I don't know whether that had anything to do with my recent failures, but I am going to experiment this season with an interval closer to my original. Today was the first day in which I did 4:30/1:30, and I was pleased with the result, doing the 6 miles at a 11:42 pace. My total mileage for the season thus far is 38 miles.
Sun, May 19: Our season is underway! Yesterday we had the kick off meeting at a hotel in Foster City. It was a good program, and included an interesting speech by a cancer survivor who demonstrated how LLS fundraising literally saved his life, by taking over drug research and development on Gleevec, which had been abandoned by its pharmaceutical company as nonprofitable. On Sunday, we met at Oracle to run on the Bay Trail. We have a new coach after 12 seasons with Terry Lee—Shyamal Kapadia—so I assume we are going to see some changes after all this time. The first change was that this initial training session capped off at 4 miles, which is about the shortest distance I have ever run in an organized TNT session. Since the run was short, I decided to try a little more speed than usual and finished at a 10:58 pace, which does not sound very fast, but it is blistering for me. Our team is a little unbalanced: there must've been 75 women runners/walkers, but only 4 men.