2013 Civil War Travelogues — Mosby Heritage Area Association Conference
Welcome to my 2013 travelogue pages, commemorating the third year of the Civil War Sesquicentennial! This report covers my October trip to the Mosby Heritage Area Association Conference on the Art of Command in the Civil War, Prelude to Gettysburg, the Armies Move North. To see the entire list of my 2013 trips, go here.
Here is a reminder about the reason I write these pages the way I do. They record my experiences and impressions of Civil War trips primarily for my future use. Thus, they sometimes make assumptions about things I already know and focus on insights that I receive. They are not general-purpose descriptions for people unfamiliar with the Civil War, although I do link to various Wikipedia articles throughout. Apologies about the quality of interior photographs—I don't take fancy cameras with big flashes to these events.
If you would like to be notified of new travelogues, connect to me via Facebook.
Friday, October 4
I flew in last night on United Airlines to Dulles and checked into the Hampton Inn in Chantilly, just about the closest you can get to Middleburg without springing for an expensive B&B. But it's only about a 15 mile drive. I had planned to spend the morning in Washington, visiting the Civil War portraits at the National Portrait Gallery, but the current partial government shutdown put the kibosh on that. So, instead, I solicited suggestions from my Facebook friends for nonfederal pursuits and came up with some good alternatives. I started with the Ball's Bluff battlefield, which is a regional park near Leesburg. The entire park was deserted, with the exception of a couple of dog walkers. They have a nice, easy interpretive trail that leads you around the major points of the small battlefield. The most significant area is a large field that now has a small national cemetery in it, but there is also a trail that leads down the bluff to the Potomac, where so many of the Union soldiers drowned as they tried to escape the Confederate attack. Unfortunately, the trees were so leafy that you could not see the river from the top of the 100-foot bluff. They have some good interpretive signs, so the battlefield park is well worth the visit for an hour or two. Then I had lunch in Leesburg. Next, I drove to White's Ferry, a cable-driven passenger ferry across the Potomac (and, as I understand it, the only ferry on the river). I had to wait about 10 minutes, pay five dollars for a one-way ticket, and the whole trip took about three minutes. The ferry boat is named after Jubal Early, but it has more of a history than that. The owner after the war was Elijah White, who just happened to be a private at the Battle of Ball's Bluff, and who later was commander of the famous White's Comanches. Rather than return the same way, I drove through rural Maryland and crossed back over on the bridge at Point of Rocks.
| | |
| --- | --- |
| | |
| Ball's Bluff cannons | Ball's Bluff National Military Cemetery |
| | |
| --- | --- |
| | |
| Ball's Bluff National Military Cemetery | Marker for Sen. Baker's death (near the cemetery) |
Panorama of the open field

The Potomac River and Harrison's Island from the bottom of the bluff
| | |
| --- | --- |
| | |
| Confederate Monument in Leesburg | White's Ferry |
My next stop was Oatlands, a large property that was built in the very early 19th century. I roamed around the English garden waiting for a house/mansion tour on the hour. There were four of us on the tour and I was impressed with the condition of the house and its furnishings. The docent was pretty darn chatty, and I learned (and subsequently forgot) lots and lots of details about the Carter and Eustis families, examining what must have been fifty portraits and photos. I had to bail out early—an hour into the tour—to keep my schedule, so there's no telling how long she talked; we hadn't even reached the second floor! I took off for Middleburg and found myself in a big traffic jam on US 15. It turned out a fatal accident at Aldie caused the police to close US 50, so I had to take a 20-mile detour, and I arrived a few minutes late, missing the opening announcements and some snack eating time. And getting a poor seat for photgraphs. Argh!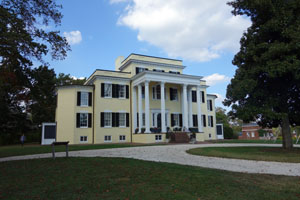 Oatlands; no photos allowed inside
There were two lectures Friday evening. First was Horace Mewborn with "Mosby's Intelligence to Stuart: June 16-24, 1863." I am sorry to say that my traffic difficulties caused my mind to wander a bit, particularly early in his lecture, but I did find interest in his description of a failed ambush that the V Corps attempted to spring on the Gray Ghost, and the insight that virtually the entire Army of the Potomac was in Mosby country, one of their most hated enemies. He recommended a number of options to Stuart for his famous ride around Gettysburg.
| | |
| --- | --- |
| | |
| Horace Mewborn | Eric Wittenberg |
Childs Burden
Eric Wittenberg presented "A Study in Controversy: The Historiography of Jeb Stuart's Ride to Gettysburg." I have read Eric's book, Plenty of Blame to Go Around, so this talk did not present a lot of new information. He reviewed many of the important sources of criticism about Stuart, including a newspaper article in August 1863, the memoirs of Charles Marshall, Walter Taylor, Henry Heth, James Longstreet, and Fitzhugh Lee. Mosby was his biggest defender. He also reviewed some of the more modern authors and said that Jeff Wert has written the best biography of Stuart. He talked about the alternative cavalry resources available to Lee during the Gettysburg campaign and thoroughly trashed Beverly Robertson, but he considers Grumble Jones to be the "Confederate John Buford."
I was delighted that Childs Burden invited me to a small dinner that evening at the Red Fox Inn, one attended primarily by local historians and presenters at the conference. This little restaurant has excellent food and I had a great time all evening. (Childs also presented me with a free book as a reward for traveling so far, from California. When he presented it to me, he apparently overlooked that there was an attendee from Italy, so he had to give out another book the next day.) Thanks, Childs. One interesting thing at the dinner was that a local historian showed a handwritten note from Mosby that said only "Pauline, I am wounded and suffering -- Waveland." (Waveland was apparently the estate in which he was being treated.) I found this very melancholy, imagining what his wife must have thought upon receiving it.
Saturday, October 5
Clark B. Hall presented "The Army is Moving: Lee's March Toward the Potomac – The Gettysburg Campaign Begins!" Bud focused on the early days of the movement north. He talked about Lee's rationale for the campaign and followed Robert Rodes's division to the Potomac. He described Rodes as the best division commander in the Army, which I thought was rather curious, considering other candidates such as Jubal Early, A.P. Hill, John Bell Hood, and Lafayette McLaws—and since Rodes did a rather poor job in the Battle of Gettysburg. However, later in the day Bob Krick said the same thing. Bud mentioned along the way that if he had been Robert E. Lee, he would have shot James Longstreet on July 4.
| | |
| --- | --- |
| | |
| Clark B. "Bud" Hall | Scott Patchan |
Scott Patchan presented "Milroy's Boys and the Long Shadow of the Second Battle of Winchester." It was an interesting take to describe only the aftermath of a battle, but since Scott was doing a full day tour about it the next day, I guess that is why he decided on this approach. He described the damaged reputations of a few regiments that were captured in the battle, who carried around the name Milroy's Weary Boys for the rest of the war. This sunk in with me because my only identifiable ancestor who saw combat in the Civil War, Lucian H. Medbury, was one of these boys, a sergeant in the 18th Connecticut. Sigh. And they also broke and ran at New Market. But he did say that the regiment did have a good combat record at Piedmont in 1864. He described Milroy as reckless, and in the case of Second Manassas, crazy.
Robert K. Krick presented "'The Forlorn Attempt to Find Another Jackson: Reorganizing the Army of Northern Virginia in the Spring of 1863." Bob can always be counted on for an entertaining talk. He jumped around within the topic quite a bit, including observations from 1863 and 1864, but I recorded a number of interesting tidbits. Richard S. Ewell seemed to vindicate Lee's promotion of him by his performance at Second Winchester, but he was a failure after that. The worst loss to the Army after Jackson was John Bell Hood. He lamented the treatment by Longstreet of Lafayette McLaws. And he thought that in hindsight, Lee should have retained his two-corps structure after Jackson's death, although he did not speculate on who that second corps commander should have been. He referred to frequent statements from people that say "my granddaddy was personally promoted by Robert E. Lee" and said that these are almost never correct; it was impossible to promote an officer to a position that was not open, and a position did not become open upon the capture or wounding of an officer. For example, he said that the famous cartographer, Jedediah Hotchkiss, never received a real commission (he was referred to informally as "major") even though Stonewall Jackson and Robert E. Lee desired it. He distributed a list of 62 men appointed Brigadier General in 1864, which happened to be exactly the number of all of the generals in the Army of Northern Virginia. (Of these 62, more than half were lawyers !)
| | |
| --- | --- |
| | |
| Bob Krick | Robert O'Neill |
Robert O'Neill, Jr. presented "'The Michigan Brigade Before Custer: From Michigan to Gettysburg." This was a unit history that focused primarily on the 5th, 6th, and 7th Michigan regiments. They were the first carriers of the Spencer repeating rifles. One of the advantages they had as a cavalry brigade was that they trained together in the defenses of DC, and that John Mosby's reputation compeled them to be deployed against him together as a brigade, rather than separately.
Chris S. Stowe, Ph.D., presented "The Entente Cordiale is Destroyed Between Us: Joseph Hooker, George Meade and the Politics of Commanding the Army of the Potomac." Chris talked about the complexities of command structures in the Army. He thought that recent publications about Meade overemphasize the importance of party politics in selecting the commander. He described how the bureau chiefs in DC had such significant influence, particularly since Winfield Scott had his headquarters in New York, away from the seat of power. He talked about the process of creating the positions of corps commanders, and how this position became dangerous because those officers had a tendency to want to speak directly to the commander-in-chief. He reviewed the strategy involved with different approaches to Richmond. And he went into details on how Hooker's replacement was selected.
| | |
| --- | --- |
| | |
| Chris Stowe | Scott Mingus |
Scott L. Mingus, Sr., presented "'Flames Beyond Gettysburg: The Confederate Expedition to the Susquehanna River, June 1863." Scott's presentation was very similar in nature to the tour he conducted for Chambersburg in June (see here), so I did not take a lot of notes or receive a lot of new insights. I will say that Scott has a better mastery of PowerPoint than most of his colleagues on the podium today, blasting through 53 very informative slides in 65 minutes.
The final event before dinner was the Panel Discussion and Book Signing, convening all of the presenters for an unstructured Q&A. I found few of the questions or answers to be particularly noteworthy. There was a "what if" question about whether Lee would have attacked Pipe Creek, and the answer was he "might not have accommodated Meade." There was a discussion of Meade and the press, the preservation status of Fleetwood Hill (the McMansion owner has agreed to vacate the property by June), reactions of the antiwar factions to Gettysburg (not as significant as you would think), Meade's reaction to his promotion on June 28 (he was surprised), and anger amongst the officer corps at Custer's big promotion (they were angry). Bob Krick said that he agreed with Gary Gallagher ("the Oracle of Chancellorsville") about how Gettysburg was not perceived at the time to be as important as it is today. As a wrapup, Childs asked about favorite Gettysburg books. Before the discussion wandered off into space, there were two votes for Coddington, two for Fishel's Secret War for the Union, one for Sears, and one for Wilbur Nye.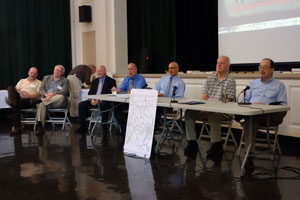 Q&A: Marshall Krolick, Scott Mingus, some guy at the silent auction, Bud Hall, Robert O'Neill, Chris Stowe, Horace Mewborn, Bob Krick
Dinner for the entire group was at the Red Fox Inn again. In previous years, this was usually a catered dinner at the American Legion Hall, so this year was a nice improvement. Excellent food, excellent company.
Sunday, October 6
Today was a full-day bus tour, starting with the cavalry actions on June 19 and 21. I guess we did not want to take the round-trip to Aldie, because we covered just Middleburg and Upperville. Our first stop was Mount Defiance, where the main action occurred in the Battle of Middleburg. Heros von Borcke was wounded here. We stopped at Rector's Cross Roads; the Caleb Rector house was where the planning was done for Stuart's raid. Then we got out at the Goose Creek bridge, which is on land donated by Sen. John Warner, where significant action occurred in the battle of Upperville, Jeb Stuart's first defeat—in a tactical sense, although he succeeded operationally. It was impressive to see the ridges on which the heavy artillery fire was traded back and forth.
| | |
| --- | --- |
| | |
| Mount Defiance (note authentic cannons) | Goose Creek bridge |
View of the Confederate position from the bridge
The remainder of the tour, about the Second Battle of Winchester, was largely duplicative of one I took with Ed Bearss in June, part of the Chambersburg seminar, described here. We drove over Ashby's Gap, north to Berryville, and then west to Bunker Hill, West Virginia (about 90 minutes in all). Here we visited Morgan Chapel, one of two churches that were used as blockhouses by Ohio troops defending themselves against 1,500 cavalrymen under Albert G. Jenkins on June 13. Scott Patchan said there was some graffiti on the walls inside, from both armies, but we could not go inside to look. We had a general discussion about Robert Milroy, who was not bad as a brigade commander, particularly at the Battle of McDowell, but once again Scott said that he was reckless and he hated West Pointers, which had something to do with his reluctance to follow advice from Henry W. Halleck about abandoning the defense of Winchester.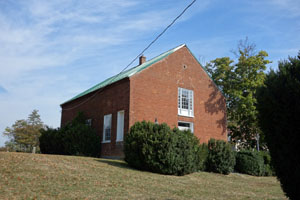 Morgan Chapel in Bunker Hill, WV
Driving south, we stopped at Kernstown and had a box lunch at Prichard's Hill. From the top of the hill, Scott described how the Union soldiers captured a Louisianan who gave them good intelligence about the arrival of the Confederate Army under Ewell, but Milroy chose to discount the danger, saying that he could hold out in the forts he had constructed at Winchester long enough for the Army of the Potomac to relieve him. (Unfortunately for him, his telegraph for help apparently did not reach Washington.) Scott talked about the preservation status of the battlefield and told an interesting anecdote about the restoration of the Prichard house. There was a colony of bees that occupied the attic and they were so prolific that honey was dripping down from the ceiling to the lower floor.
| | |
| --- | --- |
| | |
| Scott on Prichard's Hill | Prichard house |

Prichard's Hill
We drove up to the Winchester Bobcat dealer on the old Pughtown Road and hiked among the farm equipment to view the Union's West Fort and the Confederate artillery position that bombarded it. The Union soldiers apparently had no idea that Ewell was moving around their flank until 20 cannons opened up on them. Scott described this battle as one of the very few double envelopments of the Civil War. Then we visited Star Fort, which has been restored nicely for the sesquicentennial, although it had little role in the 1862 battle. We visited Stephenson's Depot, or more correctly a farm next to the railroad bridge on which the majority of the fighting occurred during the Union retreat; the actual depot was down the tracks a ways. We finished up the tour by visiting the monument to Richard Snowden Andrew, a Confederate artillery officer who gallantly defended the bridge, an action that Robert E. Lee described as the Confederacy's Thermopylae.
View of the West Fort (trees in distance on right hand side) from near the Confederate position
Inside Star Fort
| | |
| --- | --- |
| | |
| Eric at Stephenson's Depot | One of the more interested listeners at Stephenson's Depot |
After a long day, I headed back to the hotel and got ready for an early morning flight on Monday. Once again I had a great time at a Mosby event, my fourth since 2007. Childs told us that next year's theme would be the first day of Gettysburg, so I definitely will consider returning for that.
This was (probably) my final Civil War trip for 2013. Watch next spring for more.