2013 Civil War Travelogues — Charleston and Savannah
Welcome to my 2013 travelogue pages, commemorating the third year of the Civil War Sesquicentennial! This report covers my April trip to Charleston and Savannah. To see the entire list of 2013 trips, go here.
Here is a reminder about the reason I write these pages the way I do. They record my experiences and impressions of Civil War trips primarily for my future use. Thus, they sometimes make assumptions about things I already know and focus on insights that I receive. They are not general-purpose descriptions for people unfamiliar with the Civil War, although I do link to various Wikipedia articles throughout. Apologies about the quality of interior photographs—I don't take fancy cameras with big flashes to these events. If you would like to be notified of new travelogues, connect to me via Facebook.
My wife Nancy and I took an educational tour of Savannah, Georgia, offered by the Road Scholar organization (formerly known as Elderhostel). The primary focus of that tour was not the Civil War, but I was able to get in some Civil War touring beforehand. This report covers our trip to Charleston (primarily to visit relatives there) and the Civil War stops on the drive to Savannah. The report about the tour in the city of Savannah is on my travel page, here. Although the majority of that tour was not specifically Civil War oriented, there are some interesting nuggets that may be of interest.
Because my wife was along and I had visited Charleston a few times before, we did not see some of the most important Civil War sites. If you are interested in those, check out my reports from 2010 and 2011.
Thursday, April 11
We flew United Airlines through Washington Dulles and checked in late at night at the Holiday Inn Express in Mount Pleasant, SC, across the dramatic Ravenel suspension bridge, an easy 10-minute drive to downtown Charleston. The hotel was very comfortable and one third the price of the old downtown hotels. It included a big free breakfast.
Friday, April 12
We drove to the main visitor center downtown, where there is a convenient parking garage. We purchased tickets for a carriage ride they recommended and were hosted by Bill the Percheron. Bill was the smallest member of his herd, but still pretty large and quite fast. He had a funny personality because he wanted to pull the carriage very quickly and was anxious to pass any of the other carriages he came upon. There are so many carriage vendors on the street that the city used a lottery system like bingo balls to shuffle the routes. We saw lots of pretty houses, but I am sorry to say not much history. After we were finished, I gave some Necco wafers to Bill and his fellow horse Jake in the barn, getting a full hand slurp. We walked down to the Battery for a beautiful view of the harbor, Castle Pinckney, and Fort Sumter.
My cousin is a librarian and professor at the Citadel, so we visited the library and museum with her. The museum was quite small and focuses almost entirely on the institution itself, not its graduates or the wars they fought. There were a few murals in the library about battles in which the "Cadet Company" fought. (This was a group of recent graduates of the Citadel, not current students.) The battles were Louisa Court House, Trevilian Station, and Tulifinny Creek; I had never even heard of the latter. Of course, there were a number of murals about other wars as well. Looking around the campus, I was not able to identify many prominent Confederate officers who had attended the school. I recognized Evander Law, Johnson Hagood, and Micah Jenkins. The former has a building named after him. Our cousin introduced us to a cadet from one of her classes and we were very impressed with his maturity and attitude. We were hoping to see the normally scheduled cadet parade, but today was "Recognition Day" and everybody seemed to have the afternoon off.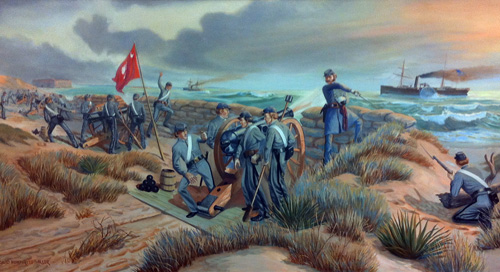 We had dinner at McCrady's restaurant in downtown Charleston and were very impressed. The chef is a local celebrity named Sean Brock, and we greatly enjoyed the fresh ingredients, the very flavorful and innovative dishes, and the great service. It is housed in the oldest tavern in city. I found the name McCrady popping up during the week. When some captured African-American soldiers from the 54th Massachusetts were put on trial in Charleston in 1863, a Col. Edward McCrady was one of their defense attorneys. Capt. John McCrady was the designer of Fort McAllister in Savannah.
Saturday, April 13
Our cousin picked us up and drove us to Drayton Hall on the Ashley River. The plantation house from 1628 was impressive, but not furnished. Our guide was a former kindergarten teacher who knew how to order crowds around. We had lunch at the Seewee restaurant out on US17, a few miles northeast of Mount Pleasant. Everything on the menu was fried! I had a bacon and green tomato "poboy" with shrimp and felt fatigued all afternoon as my digestive system fought valiantly to process the grease. We visited the Charleston Museum, which bills itself as the oldest in North America (which implies that there is an older museum in South America, because otherwise they would have said the oldest in the Western Hemisphere).There were lots of interesting Civil War exhibits, although they uniformly referred to as the War between the States. However, there were very few actual artifacts on display. The most impressive item is the replica of the H. L. Hunley outside. They had a very eclectic collection of wildlife and Egyptian mummies and statues from the early days of the museum. We skipped out on the textile and decorative arts wing. We were running a bit short on time, so we did not take advantage of the discount at the neighboring Manigault House, but the photos of the interior looked beautiful. (Mrs Manigault was a Drayton. Small world back then.)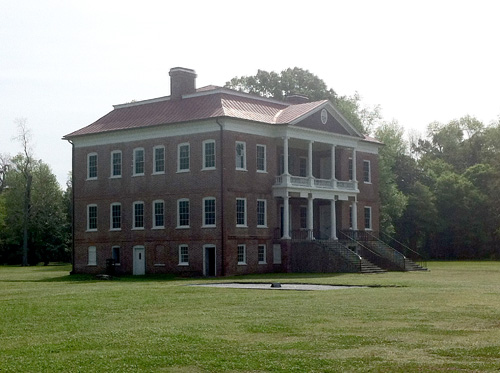 Sunday, April 14
We drove from Charleston to Fort Pulaski, about 15 miles east of Savannah, on the road to Tybee Island. It is a beautiful "third system" fort, fully preserved. We arrived just in time to see a littledrill and ceremonies and musket loading/firing demo. The reenactor doing the narration told the old chestnut about 8000 men being killed in 20 minutes at Cold Harbor. (This figure has been rebuffed by recent scholarship.) There was a small visitor center and a video available, but we were on sort of a tight schedule and flew through the grounds pretty quickly.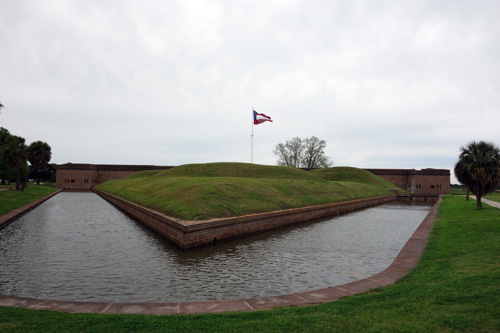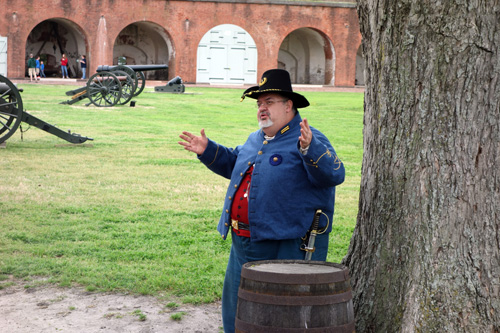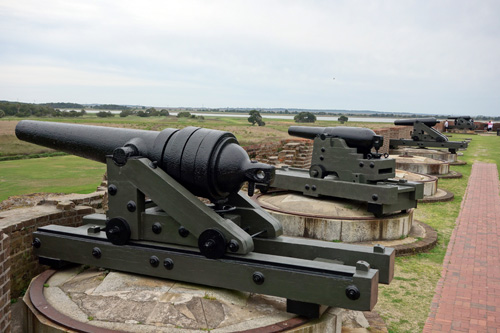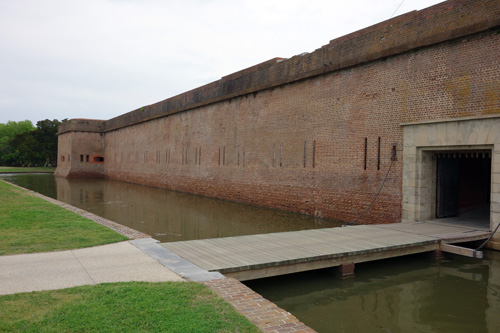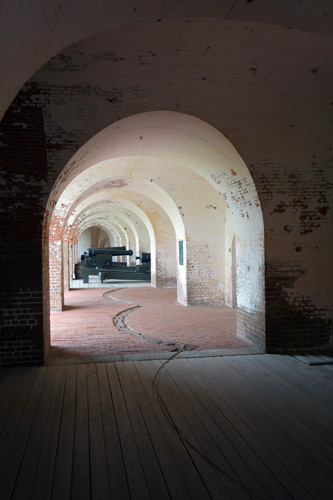 Fort McAllister is a Georgia state park on the Ogeechee River, south of the city, within the city limits of Richmond Hill. This is a completely different type of Fort construction, consisting of earthworks, which have been superbly preserved and interpreted. The interesting comparison between these forts is that Fort Pulaski was a seemingly impregnable masonry fort, defeated by Union rifled artillery, whereas Fort McAllister, constructed entirely of dirt, successfully withstood US Navy bombardments in 1863. It was finally overrun by infantry commanded by William B. Hazen on December 13, 1864, effectively dooming Savannah at the end of Sherman's March to the Sea.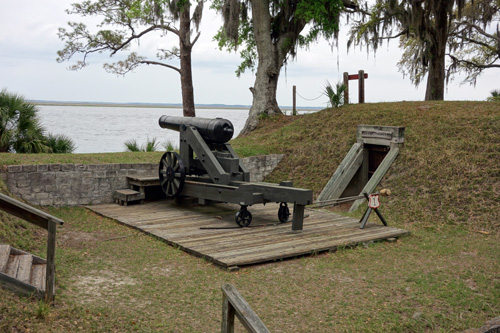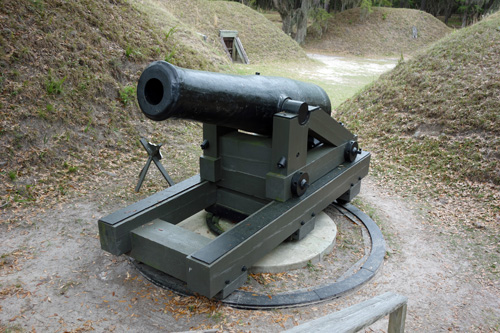 At this point, our Road Scholar tour started. You can read about it here, although I have copied some of the Civil War related photos below.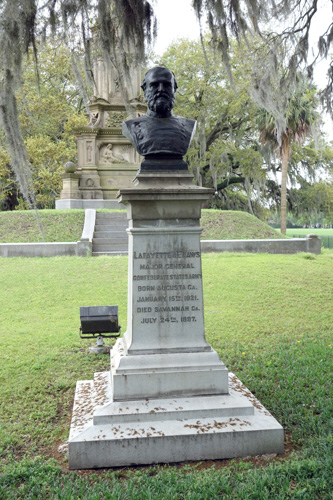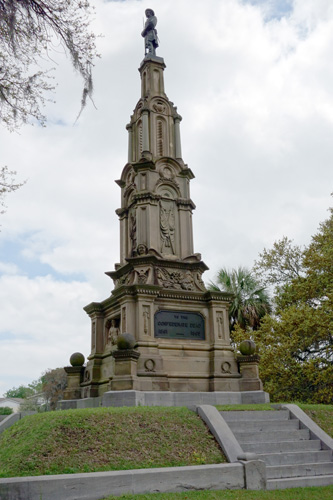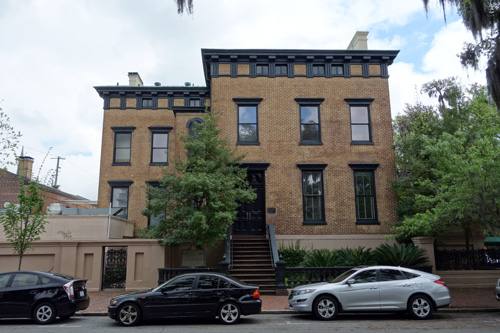 Moxley Sorrel's house is also here, but I forgot to take a photo.