Hal and Nancy's Trip to Savannah, April 2013
This is my travelogue of Hal and Nancy's trip to Savannah, Georgia, with Road Scholar (formerly known as Elderhostel). The topic was "Savannah's Rich Heritage, Remarkable History and Memorable Music." This is my ninth Road Scholar trip, Nancy's eighth.
A related travelogue about our brief trip to Charleston and some Civil War sites on the way to Savannah (not included in the Road Scholar itinerary) can be found on my Civil War page, here.
Sunday, April 14
After driving from Charleston and visiting some Civil War forts, we ditched our rental car at the airport and took a taxi to the Hilton Desoto. It is conveniently located in the central downtown historic district, closer to the picturesque residential squares than to the touristy area around the river. We started with registration and then dinner in the hotel, using a 15th floor conference room with a great view of the entire area. (Although Savannah is beautiful and quaintat ground level, from high up above, it is a really dreary looking city.) After dinner there were (brief) introductions of the 40 attendees and logistics instructions. Paul Blatner, a 14th generation Southerner, antique dealer, and historian at Armstrong Atlantic State University is our leader/historian for the week. He talked in detail about how seven ladies started the Historic Savannah Foundation in the 1960s and got people to renovate all of the decrepit old homes. We heard differing numbers during the week, but I think about 1700 buildings have been restored so far.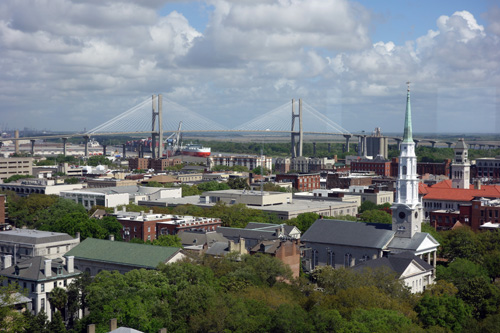 Monday, April 15
A big buffet breakfast in the hotel dining room was included every morning. Paul Blatner started with a Savannah history lesson. He defined "Low country" as the area where Spanish moss is on the live oak trees (so called because they always have green leaves). He covered the invention of the cotton gin and then the general issue of slavery, which he downplayed a bit by talking about urban slaves and what he called semi-autonomous slavery (where the enslaved man has the opportunity to earn a little money and buy the freedom of his wife and eventually himself). He related the arrival of James Oglethorpe and the founding of the city on the first place he could find on the river that was flat and dry. The historic district is on a bluff 40 feet high. He showed diagrams of the ward system, the unique way that Savannah lays out its numerous squares/parks with public buildings and private homes. (Wikipedia has a good article about all of the public squares and the ward system.) Then the Revolutionary War and the siege of the city and its loss to the British.

The discussion of the Civil War was a bit frustrating because Paul is a true unreconstructed Rebel, a Lost Causer, complete with his exclusive use of the terms War between the States or War of Northern Aggression, antagonism to Lincoln, and belief that tariffs, taxes, and Northern greed were the primary causes of the war. I managed to keep my mouth shut, even went he went off on a riff about how the Emancipation Proclamation was a sham because it freed zero slaves.
Lunch was in the Gryphon restaurant, an interesting place that used to be an old pharmacy. We started from there on a walking tour. Madison Square featured the Sgt. William Jasper statue, commemorating his death in the revolution. Monterey Square featured a statute to Casimir Pulaski, also a Revolutionary War hero. It is also the location of the Mercer house, a key locale in the book Midnight in the Garden of Good and Evil, referred to by the locals as The Book. Paul said that the book is 97% true. A little farther on was the Henry R. Jackson house, now the exclusive Oglethorpe Club, but in late 1864 he became the headquarters of Oliver Otis Howard. Forsyth Park was home to 20,000 camping Union troops in early 1865. Now it includes monuments to Confederate generals Lafayette McLaws and Francis Bartow, as well as a generic Confederate monument.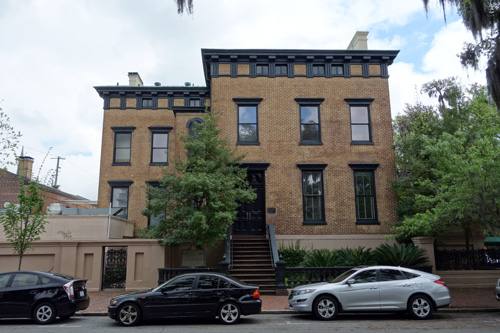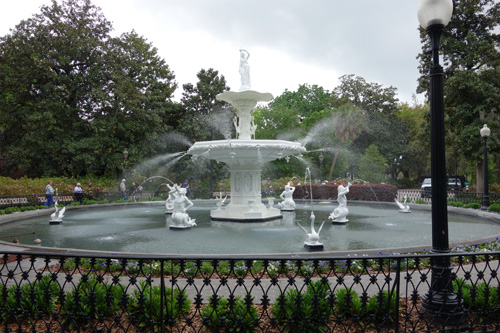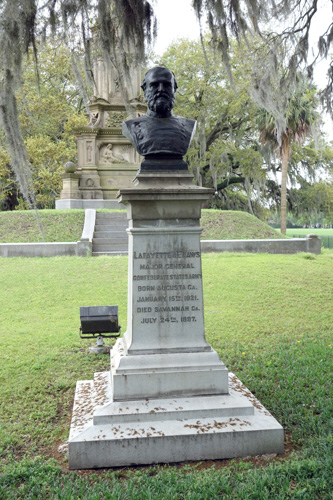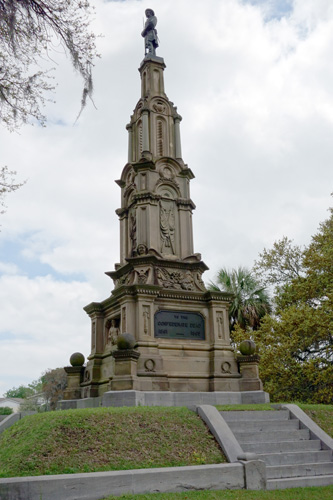 We took a trolley (actually an open sided bus) around downtown, stopping on River Street, the primary T-shirt/bar/touristy area, downhill from the 40 ft bluff. We found some praline samples and watched riverboats sail by. We drove to the Thomas-Levy house, where John and Ginger Duncan hosted us for a visit. John was a local history professor and he showed us around the house, including a very interesting porch decorated with dozens of antlers. He had a number of historic maps, the cream of the huge collection of maps and prints Ginger had for sale downstairs in their antique shop. I felt reluctant to take photographs inside his house, but after visiting his antique shop, I realize that he is not publicity shy and should have popped away.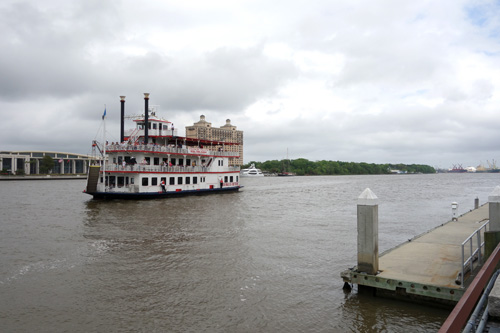 We had dinner at Vic's on the River, arguably the best meal of the week. It was in an old cotton warehouse overlooking the river. William T. Sherman's Union troops drew a map on the wall! It covered the Atlanta Campaign area from Chattanooga to Adairsville, using schematic terrain that seemed pretty accurate for a hand-drawn map. Unfortunately, the restaurant had it covered up with a Plexiglas box, so I was unable to get a photograph (and I practically had to sit in another diner's lap to look at it anyway).

Tuesday, April 16
We walked to Chippewa Square, home of the James Oglethorpe statue, and the site of the park bench scene from the Forrest Gump movie. We spent the majority of the time this morning at the Wayne-Gordon House, birthplace of Juliette Gordon Low, the founder of the American Girl Scouts. Her nickname was Daisy and the staff referred to her using that name. This building is the equivalent of Mecca for Girl Scout troops, although I believe the organization was actually founded in the Andrew Low house, in which Juliette lived as an adult. We did not visit that one. The 1821 birthplace building was being renovated and the outside was completely covered up, but inside was in good shape. William T. Sherman was entertained here multiple times. We saw a PowerPoint presentation of Daisy's life and the early days of the Girl Scouts. Daisy was quite an artist and sculptor.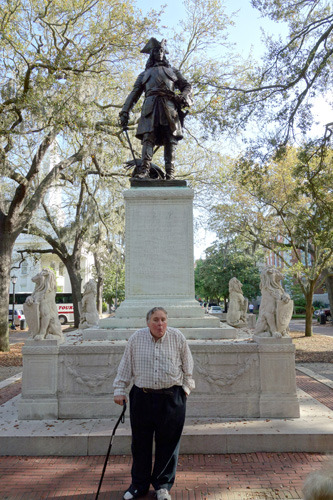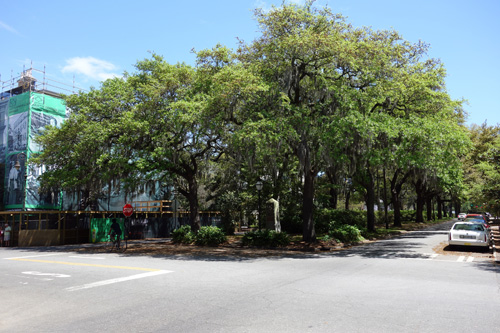 Lunch was at the famous Mrs. Wilkes's Boarding House. There were over 100 people in line out front, but we snuck in through the kitchen. We were given platters of fried chicken and 22 bowls of side dishes for 10 people to pass around. I hated to leave so much uneatened food, but we were told that some of it goes to the poor. Delish, but the giant repast left me sluggish all afternoon.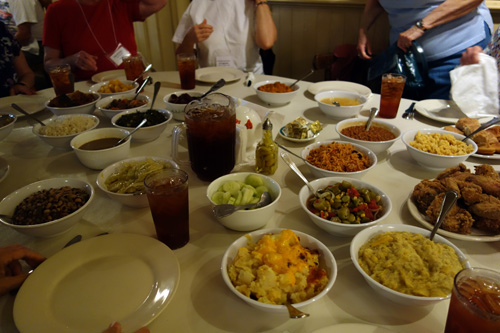 Back at the hotel, we spent the rest of the afternoon with Scott Hodges, a James Oglethorpe reenactor. He covered mostly the history of Georgia's founding, not the city of Savannah. The colony was created to deal with an overflow of prisoners released from debtors prison, which was depressing the English economy because there were insufficient jobs for them to take. When Oglethorpe landed in 1733, his charter was to create an experimental society, not a formal royal colony, as the first 12 colonies were. Part of the experiment was to bypass many of the laws in common practices used in the previous colonies. There was no slavery and no lawyers. In a court, the accused was allowed to face his accuser and be judged by a jury of his peers. (These peers were not simply people of the same class as we consider it today, but six friends or neighbors of the defendant, six of the plaintiff.) Everyone was given 50 acres of free land, even the indentured servants, one per family. No hard spirits were allowed. Oglethorpe armed the Creek Indian tribes to demonstrate his friendship. Scott covered details of the 1742 Spanish invasion and battles on St. Simons Island, in the War of Jenkins' Ear. After the English victory, the King chartered Georgia as an official colony and many of the odd laws changed. Slavers jumped in and Georgia soon had more slaves (or "enslaved workers," as everyone seems to say nowadays) than South Carolina. Oglethorpe personally invested 9 million pounds in the colony.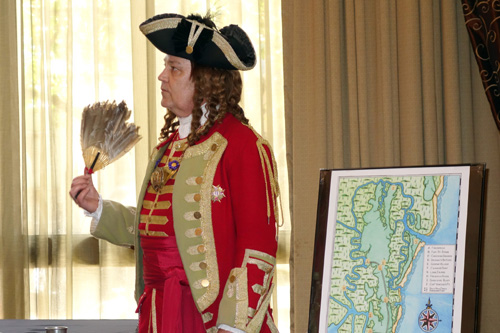 We had dinner in the hotel again—really poor food served up by the banquet department for the second time. We were met afterward by a lady impersonating Nelly Gordon, Daisy Gordon Low's mother. Her walking tour largely duplicated Paul's trip through Madison and Monterey Squares. The best part of her talk was when she mispronounced skirmish as "squirmish" and Nancy and I chuckled over that for the rest of the week. Our destination was Massie School, built in 1856 by a railroad magnate. There were separate staircases and seating for girls and boys, which we adults were obligated to follow. Another woman portrayed Alice, one of Nelly's dead daughters. They told stories about Daisy interacting with her mother's friend General Sherman, looking through his hair for horns. In another incident, she was interested to see that Maj. Gen. Oliver O. Howard was missing his right arm, which he said had been shot off by a rebel. Daisy said that it may have been her father, because he shot a lot of Yankees. The school had architectural exhibits and a big scale model of the historic district. We were served Derby pie for a late dessert. (It is like pecan pie, but includes bourbon and chocolate chips.)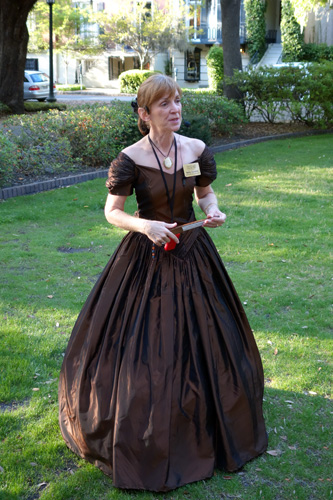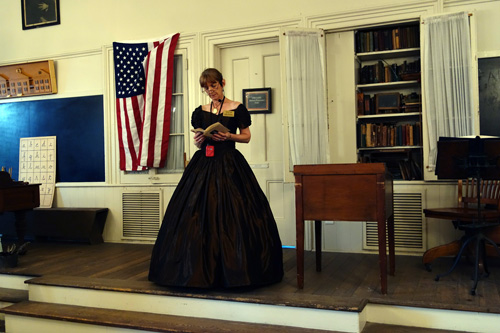 Wednesday, April 17
We were awakened around 4 AM by a very loud foghorn on the river, a half mile away, sounding every minute or so. Major event of today was a cooking school school at 700 Drayton, across from Forsyth Park. (Actually, only 20 of us attended the school. The big group was divided in half and we exchanged some of the itinerary on Tuesday and Wednesday.) Chef Darin Sehnert was very entertaining, humorous, and informative, and this was one of the highlights of the week. We prepared and then consumed absolutely delicious shrimp with redeye gravy and creamy/cheesy/buttery grits, fried green tomatoes, biscuits, salad, and angel food cake with praline frosting. I have had grits many times in the South and these were by far the best I have ever eaten. The fried green tomatoes, too.

We had the afternoon free of group activities, so Nancy and I walked to the Owens-Thomas house, built in 1819, the oldest house museum in city, and the first in the United States with three floors of indoor plumbing. William Jay was the 24-year-old English architect who was trying to make a name for himself with innovative designs. This house was in the Regency style, which is relatively uncommon in the United States outside of Savannah. The interior walls were 20 inches thick because they were supporting the weight of giant cisterns on the second and third floor. Marquis de Lafayette slept there in 1825. We followed up with milkshakes at the locally famous Leopold's ice cream parlor. We ducked into the Cathedral of St. John the Baptist, which is entirely covered up in exterior renovation, but has a beautiful interior with a fabulous pipe organ. Then we adjourned to Madison Square to read on a park bench and be eaten alive by no-see-ums (sand gnats). We had dinner on our own at Mellow Mushroom a block from the hotel, my favorite chain of southern pizzerias.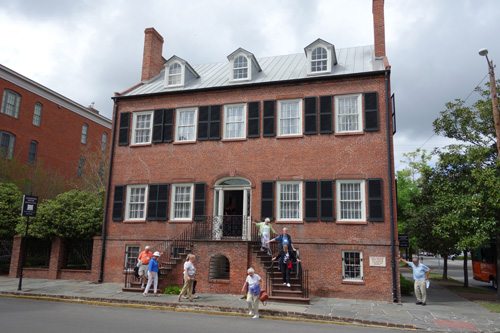 Thursday, April 18
The program started a little later this morning, so Nancy on I took a morning walk to visit more of the squares we had not seen on the formal tour—Savannah has 22 of them, and I think we saw about 18 during the week. Back at the hotel, we enjoyed a program on Johnny Mercer performed by the Kim Polote Trio, consisting of a singer, piano, and bass. Kim was a very interactive performer, roaming amongst the tables, reading and quickly memorizing name tags. The jazzy piano guy, David Duckworth,was simply superb. Lunch was at 17hundred90, which was built in 1821. Real intuitive. Owner of the B&B, a retired minister, gave an embarrassing talk about ghosts in the rooms. Then we visited Davenport House nearby, in neo-classical (Federal) style, the first house preserved by the seven ladies of HSF. After seeing the nicely decorated interior, we were led through the neighborhood to see other related houses by the master builder Isaiah Davenport.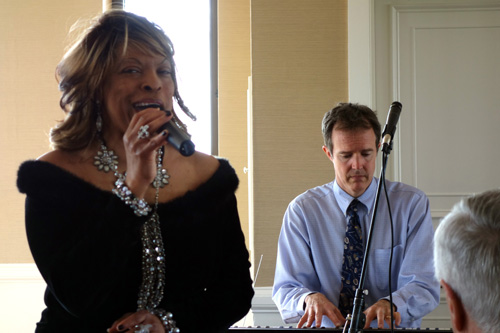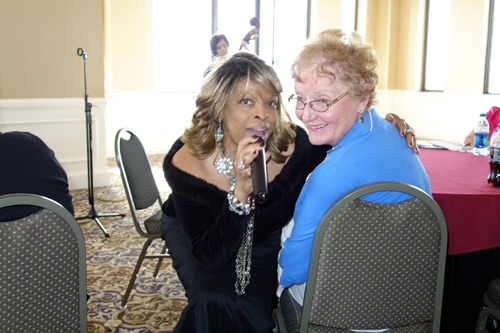 Dinner in the hotel tonight was much improved—many complaints about the first two banquet dinners may have turned the tide. Dr. Chris Hendricks gave a very entertaining slideshow and talk about colonial architectural styles. His interior photos of houses we had already visited seemed to look much more vibrant and interesting than seeing them in person and he had better commentary than the tour guides! Then he did a talk about colonial fashion and entertainment, including a lesson on the minuet, into which I got dragooned along with six others, but I did OK and didn't embarrass myself too much. Paul entertained questions and gave a brief talk about why he believes in voodoo, but I couldn't follow his logic. (The Book apparently includes voodoo. I'll have to break down and read it.)
Friday, April 19
By the final morning, a few of the attendees had drifted away. We ended with a very nice performance by Jamie Keena, who took us on a tour of American popular music from Stephen Foster through World War II, performing on the guitar and banjo. Unfortunately, Jamie had been in an automobile accident the previous evening and when he arrived in our meeting room he found that his guitar had been smashed in its case and his banjo was damaged as well. So we got off to a late start, but I found him an interesting and enjoyable performer.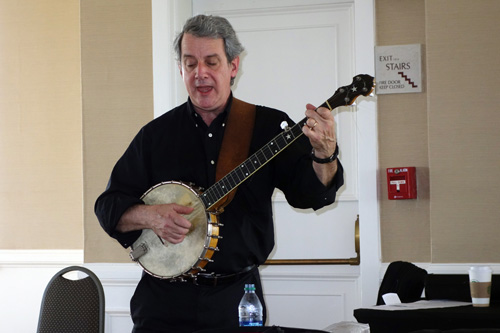 We said our goodbyes and checked out of the hotel. Nancy and I walked over to the Telfair Museum, tickets for which were included in the admission price to the Owens-Thomas house, and also included the Jepson Museum. Telfair had a lot of very nice paintings, all of which were by artists I had never heard of, and very few of them had anything to do with Savannah or the South. Odd. Jepson was very, very modern in architecture. They had an extensive collection of chairs on display, believe it or not. I had hoped to visit the Green-Meldrim House, which had been Sherman's headquarters here, but a special garden tour caused disruptions to house visiting schedules and we were not able to get in. (I also neglected to take a photograph of the exterior, so I am using one from Wikipedia here. Virtually none of the houses we visited this week allowed interior photography.) We had lunch in a café in the City Market, which is another touristy area. I won't include the name because it was not very good. The gelato shop we chose for dessert was not any better. We also visited an unusual shop that sold 200 varieties of salt and I got a few small packages of hot pepper and smoked varieties.
We had a great week with Road Scholar and the Armstrong Atlantic folks. I would recommend this program to anyone with an interest in Southern history, architecture, the decorative arts, or popular music. I would not recommend, however, attempting to get out of Charleston Airport when Pres. Obama is flying around the East Coast and a giant thunderstorm is coming through. Our flight was booked through Newark and the first leg took off five hours late. Of course we missed our connecting flight and had to stay in an airport hotel there, managing to get three hours of sleep before a 6 AM flight back to San Francisco.