2011 Civil War Travelogue
Welcome to my 2011 travelogue page, commemorating the first year of the Civil War Sesquicentennial! (Since these reports tend to be lengthy, they are often in separate HTML pages. Use the links just below to see all the finished reports.)
Here is a reminder about the reason I write these pages the way I do. They record my experiences and impressions of Civil War trips primarily for my future use. Thus, they sometimes make assumptions about things I already know and focus on insights that I receive. They are not general-purpose descriptions for people unfamiliar with the Civil War, although I do link to various Wikipedia articles throughout. Apologies about the quality of interior photographs—I don't take fancy cameras with big flashes to these events. If you would like to be notified of new travelogues, connect to me via Facebook.
Here are reports of my completed trips:
These were trips I considered, but for scheduling reasons, I did not attend:
Charleston for the Sesquicentennial, April 9-12, 2011
I'm here in Charleston for the Sesquicentennial. I got in at about 10 pm on Friday, April 8, and am staying at the historic Mills House hotel downtown, a hotel in which Robert E. Lee himself stayed while he was engineering the defenses on the southern coast. This is my third trip to Charleston. The first was in 2005 for a seminar with the University of Virginia; the second was in 2010 for a staff ride with the U.S. Army.
Saturday, April 9
A beautiful day in Charleston! I went out for an early morning walk and was interested to see how many runners were out and about. The traffic is so light here that they were running right down the center of city streets. (The humidity is not so light.) I could tell that the Sesquicentennial was about to begin because USA Today in the newsstands had a photograph of Stonewall Jackson on the front page!
My first event was one of a series of lectures produced by the Fort Sumter–Fort Moultrie Historical Trust. It was held at St. Stephen's Episcopal Church, a tiny and simple but beautiful building (inside anyway) a few blocks from the hotel. Amanda Mushal of the Citadel introduced the speakers: Gavin Wright, an economics professor at Stanford University (currently on loan to the Woodrow Wilson Center in Washington) and Barbara Fields of Columbia University, a historian made famous by her prominent appearances in Ken Burns's PBS series, The Civil War.
Prof. Wright spoke about "Economic Interpretations of the Civil War," which was a very interesting overview of the economic factors that led to war. He started by referring to the work of Charles Beard, who early in the 20th century propounded the view that slavery was merely a smokescreen/veneer for the fundamental economic differences between the regions. A more recent advocate at this point of view is Marc Egnal, a classmate of Prof. Wright's, who says Egnal does not take slavery seriously as an economic factor. This is completely counterintuitive from my point of view (although it seems as if half the people who write in objections to Wikipedia articles about the war share that point of view). Wright described the arguments about the economic values of slavery in comparison to free labor, which he said started back is early as the Constitutional Convention. He presented a number of charts that indicated the North was the richer economy in terms of real estate and traditional property, whereas on a per capita basis (measuring only the wealth of citizens), the South was ahead. He described the regional tension as being a Cold War in which both sides considered themselves to be economically superior using their own definitions of wealth. One measure of economic prosperity was the size of populations. At the beginning of the 19th century, the two regions were roughly the same size, but by 1860 the North had twice as many people, which he declared was overwhelmingly the product of immigration. He said that all of the Southern actions could be examined through a lens of their assumptions about anticipated changes in the value of their slaves. For example, newspapers of the time predicted that the election of Lincoln would reduce the value of each slave by $100. He said that a slave holder who owned at least two slaves would have been as financially secure as a typical Northern farmer, and that a plantation owner with 100 slaves would be considered "super rich" today.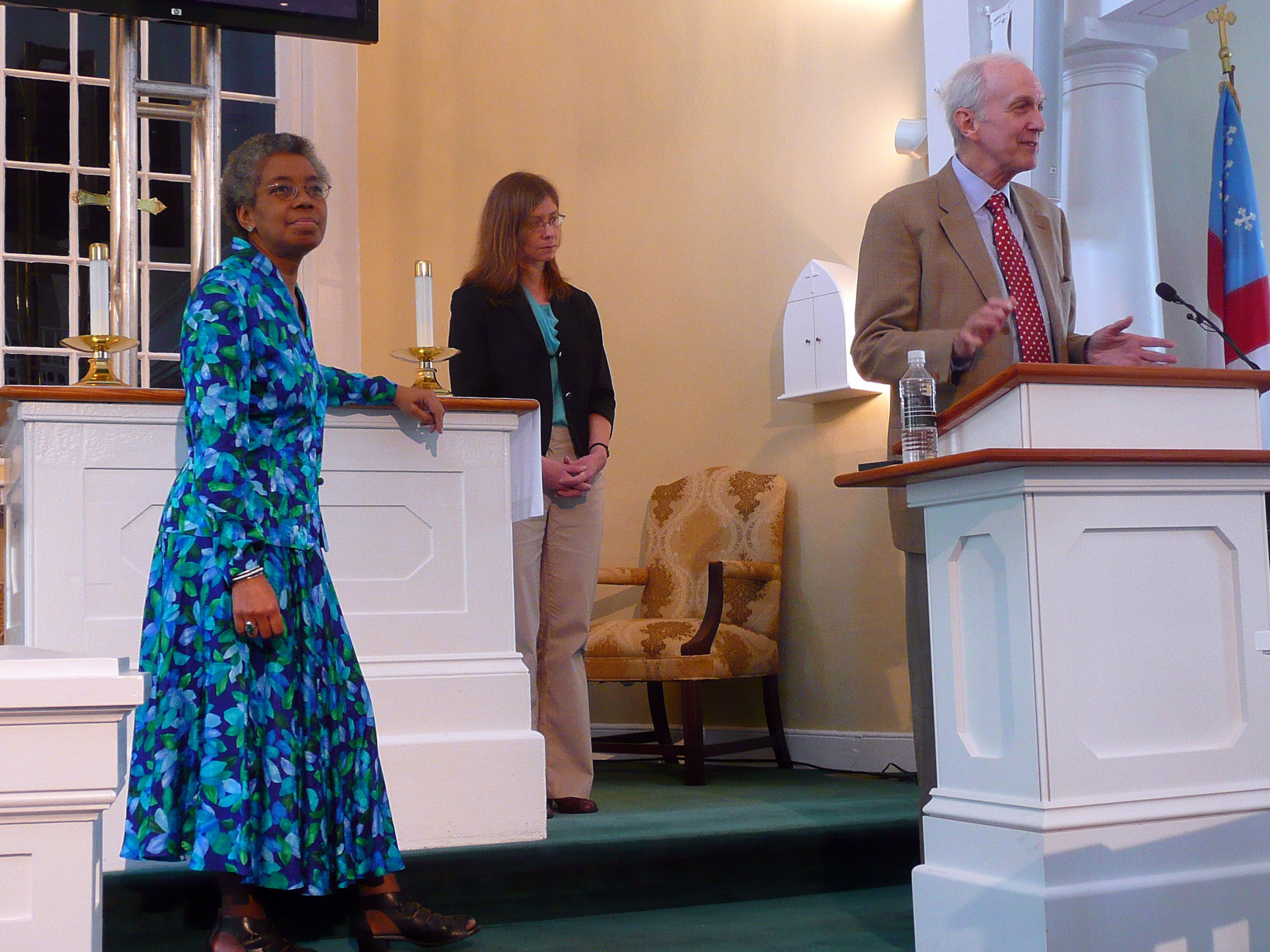 Prof. Fields spoke about "Who Cared about States' Rights?" She was born in Charleston, although has lived in New York City for many years, and told an anecdote about what it means to be a real Charlestonian—you must have at least one grandparent buried there (she has two on her father's side). The short answer to her question was: Nobody. The slaveholding class in the South believed in Southern Rights, whereas most of the other citizens believed primarily in local self-determination. But the general theme of her talk was that opinions about states' rights changed with circumstances, such as when the New England states considered seceding, well before the war. And the Southern states were not supportive of a Northern state's right to nullify the Fugitive Slave Act of 1850, for example. She also pointed out that the Confederate Constitution did not give the states the right to secede. One of the interesting tidbits she shared was that in 1861 the Confederacy could have increased its number of armed soldiers from about 400,000 to 600,000 if the states had released rifles in their armory for use by overall Confederate purposes. During the question session, someone asked whether there would have been a war if there had been no slavery. Prof. Fields disavowed answering a counterfactual question of that type and suggested it was similar to the statement "If my grandmother had wheels she would be have been a Greyhound bus." (Prof. Wright answered "of course not.")
In the afternoon, I took a special boat tour with a company called Sandlapper, which had a small catamaran that motored us to Morris Island. Two couples that I know from the Civil War Trust were also on the tour. In my previous visit to Charleston last fall with the Army, we did not have access to the island—there are no roads leading to it or on it—so we discussed operations there while viewing it from nearby Folly Island. The weather took a turn toward the stormy and we had a windy, choppy ride. The catamaran landed right on the beach and we were met by some reenactors who had encamped there, representing the Palmetto Guard. They were digging a mortar emplacement and they had the typical reenactor set up with a number of tents, guys lounging around in plaid shirts smoking pipes, etc. A man named Daniel gave us the history of the firing on Fort Sumter and a little bit about the operations on Morris Island. We saw demonstrations of musket loading and also some close order drill using, ironically, VMI cadets rather than the more historically appropriate Citadel cadets. The parts of Morris Island that are above water do not correspond to those of the 1860s. The Civil War Trust has a good map that shows the modern shoreline in comparison to the wartime. The major military features of that era would now all be under water. Our catamaran landed essentially on top of Battery Gregg. The famous Battery Wagner is also completely submerged.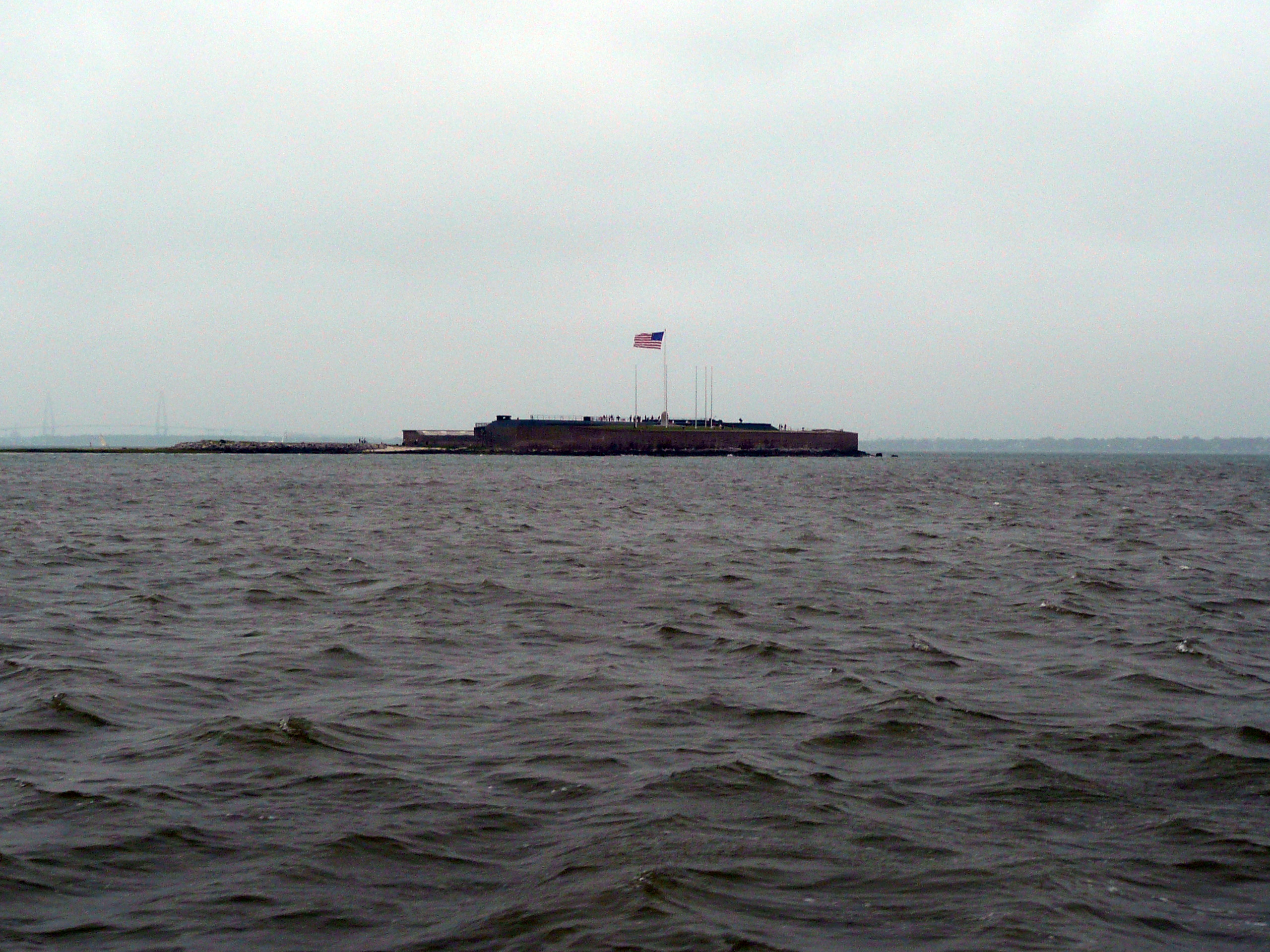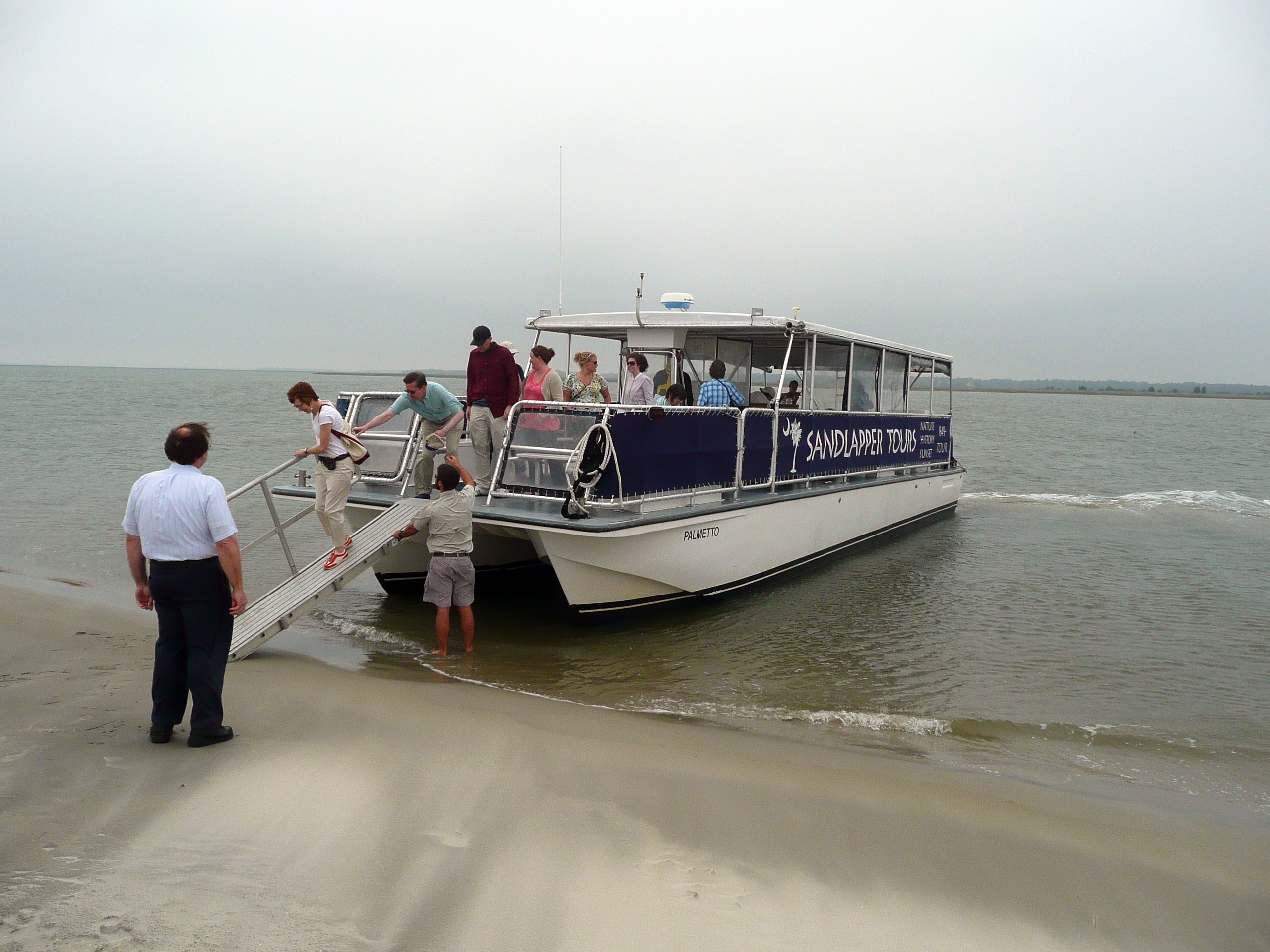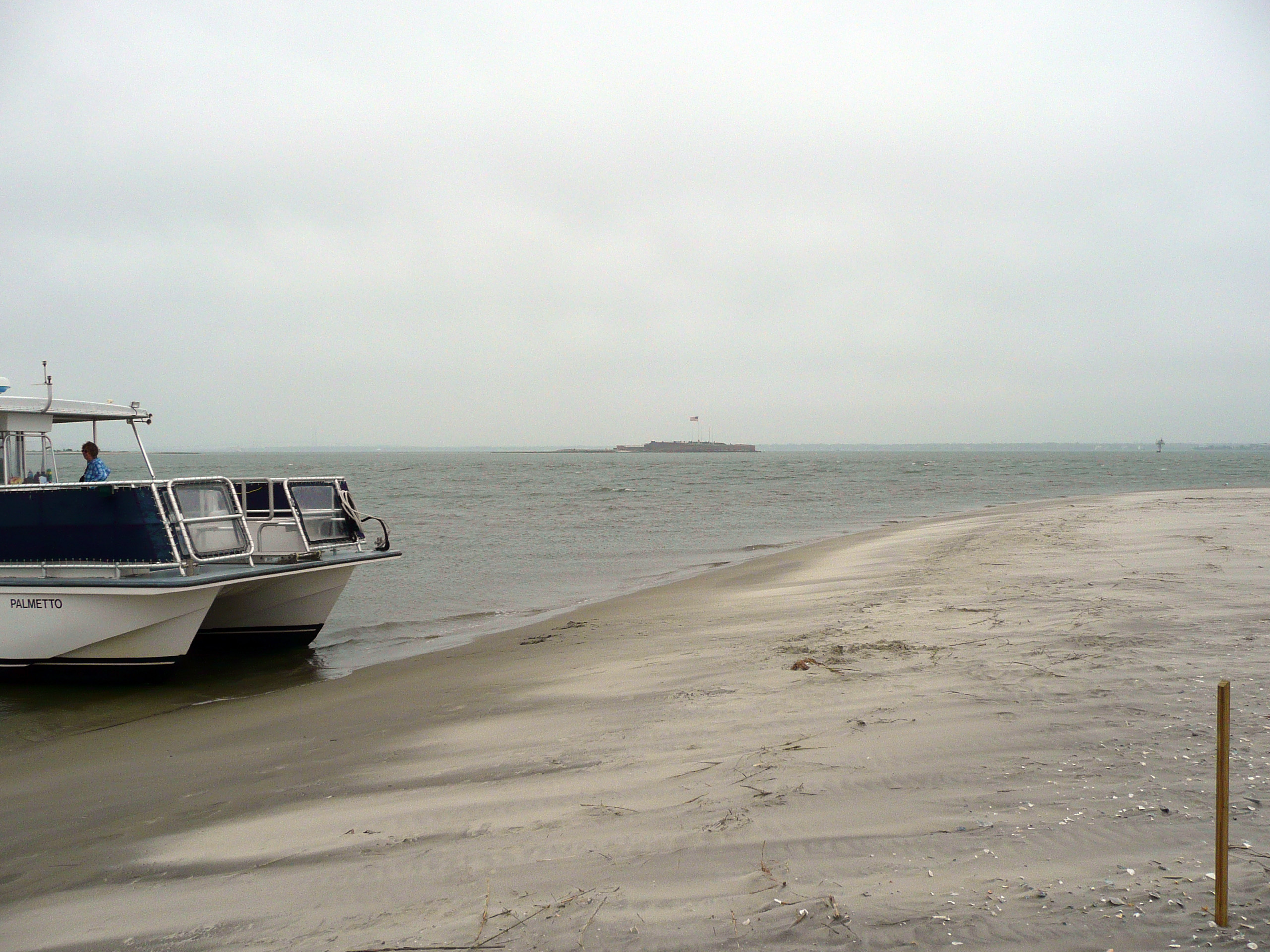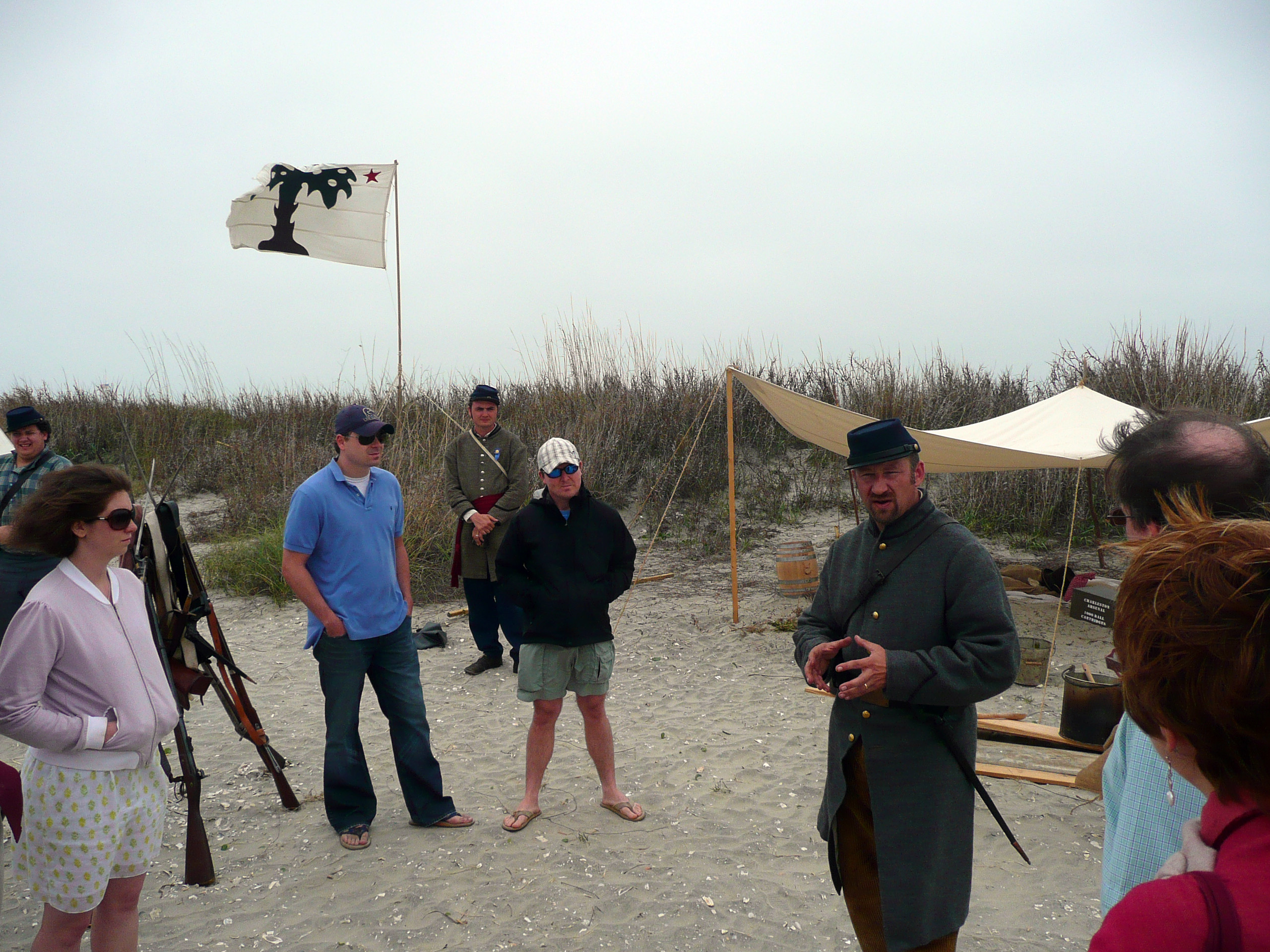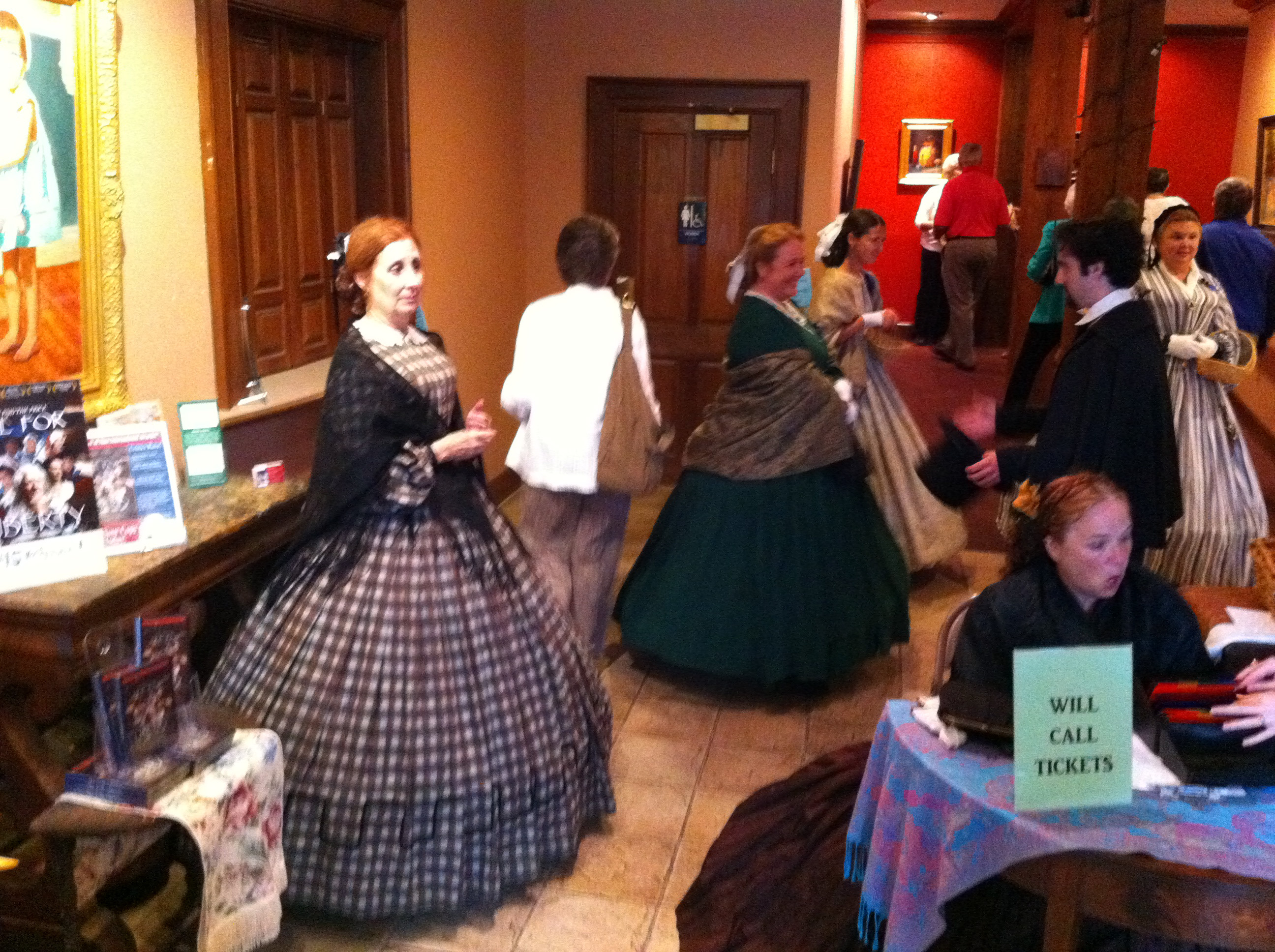 I concluded the day by attending a theatrical production by the South Carolina Historical Society, called "Mary Chesnut's Road to Fort Sumter." It was a one-woman show starring an actress named Chris Weatherhead. I had not heard of her previously but the program had a long list of stage and television roles, including two years in The Edge of Night as the "evil Alicia Van Dine." Well, this role was certainly not evil, but was the charming diarist, Mary Boykin Chesnut. The show was only about an hour and it covered a small amount of Mary's early life, concentrating on the period between South Carolina's secession and the evacuation of Fort Sumter on April 14, 1861. It was unclear exactly how much of it was verbatim from her published diary because the actress seamlessly moved back and forth between obvious quotations and humorous or poignant asides. Not the highlight of my theater-attending life, but very apropos and worthwhile.
Sunday, April 10
Today happened to be pretty light on the Civil War. Hey, I can't do it 24 x 7. :-) I met my local relatives for brunch in Mount Pleasant, just on the other side of the Cooper River. A big contingent of out-of-town relatives was there, too, because of a family wedding. So I had a great time catching up.
Back in Charleston, I visited the Gibbes Art Museum, just a block away from the hotel. Their permanent collection contains portraits of just about any person you can name in South Carolina history: Calhoun, Moultrie, Pinckney, Francis Marion, etc. They also had two special exhibitions upstairs. The first was by Stephen Marc, "Passage on the Underground Railroad," which was a mildly interesting collection of photo montages of old buildings, dugout basements, some historical figures, and a number of antique newspaper advertisements for slavery related issues, including sales and rewards for runaways. The second was much more interesting and worthwhile: "A Soldier's View of Civil War Charleston." An artist named Conrad W. Chapman was in the Confederate Army and P.G.T. Beauregard assigned him to travel all around Charleston Harbor in late 1863 and create 30 paintings of the forts and batteries. These were extremely well done, very detailed. The only problem was that with one exception, they were all very small. I would estimate 12 x 14". So if you only see them reproduced in a book, you will not be missing much. I was particularly interested in one that depicted The Battery, the area at the southern tip of Charleston that is now a park, but he shows it with standard, massive earthworks and big cannons sticking through embrasures.
By coincidence, the College of Charleston was performing Gilbert and Sullivan's Mikado, which is my favorite of their works, so I went to the Sunday matinee, one of only three performances that they scheduled. I have seen the Mikado about a dozen times and I would have to say that this was one of the better ones. (The best was a special performance in New York City on the 100th anniversary of the first performance in London.) The students that performed here have obvious operatic ambitions and talents and some of the singing was superb. Unfortunately, they need to get Michelle Obama down here to check out the menu in the student cafeteria because there were some real heavyweight performers, if you catch my drift. The Three Little Maids were not so little. And Nanki-poo was very reminiscent of Luciano Pavarotti. Ko-Ko and Pooh-bah were both of normal stature and excellent, although I thought the latter was a bit too flamboyant, coming off somewhat like the Great Gildersleeve. The other odd thing about the production, which certainly did not detract from my enjoyment, was that they claimed they were setting the action in 1930s Japan. I assumed they did this to save money on their costume budget: "Okay, Chorus, we have enough kimonos for half of you, so the rest please provide your own costumes, such as business suits and dresses." And I estimate they spent about $200 on the set, which included four boxes that they moved around into different stacking arrangements in between scenes. But all in all, very enjoyable. Both the Little List and Mikado songs were expertly updated to skewer modern transgressors, TV salesman in particular.
Tonight was the first of the Civil War Trust events. About 30 people showed up for a reception in the hotel. Dave Duncan of CWT gave a little speech and then introduced Blake Hallman, who has a very impressive history of preservation efforts in the area. He spearheaded the team that put on the sesquicentennial program and is also a member of the City Council. After giving the brief speech, he talked with some of us in the reception and told about the problems they had getting sponsors, such as the NAACP, when they assumed that we were "celebrating" the sesquicentennial, rather than "commemorating" or "observing." He also outlined the elaborate emergency response steps that the city was prepared to take in case some problem resulted at Fort Sumter or elsewhere.
Monday, April 11
The beautiful weather returned to Charleston today and we started off with a 2.5-hour walking tour of downtown. But first, there was a Civil War Trust breakfast buffet, quite elaborate. We had an introduction to Charleston in the hotel courtyard by a local tour guide named Jack. I did not find his soft voice and goofy sense of humor amenable, so when the opportunity arose to form a second group with a more serious guy named Jeff Zimmerman, I zoomed right over. For a walking tour of this duration, we did not really cover very much ground geographically—down Meeting Street to the Battery and then back up E. Bay St. (or as I like to call it, eBay Street). But we saw a lot of interesting buildings and heard the stories of their occupants and visitors, plus details of the Federal bombardment of the city and the big fire in December 1861. Charleston has numerous beautiful houses that date back to the early 1700s, so it is quite an architectural treat to stroll around. I have difficulty imagining what the interiors of those houses would be like today. Handyman delights? (Postscript: when I visited Fort Johnson on Tuesday, I happened to talk to a local contractor who has experience repairing those buildings. He told me that although many currently have some modern amenities, they require constant maintenance. Some are so historic that even minor changes to the interiors are prohibited.)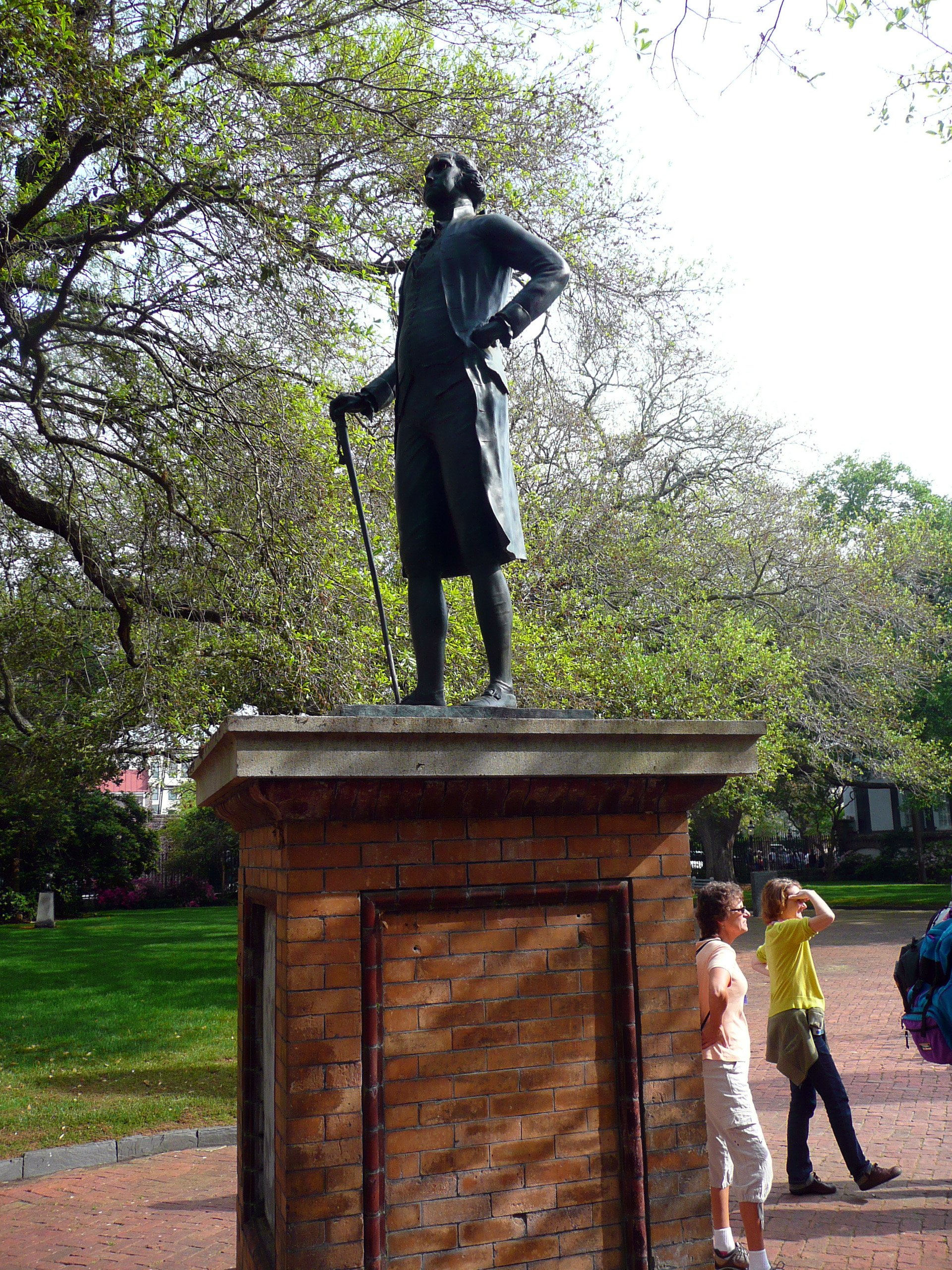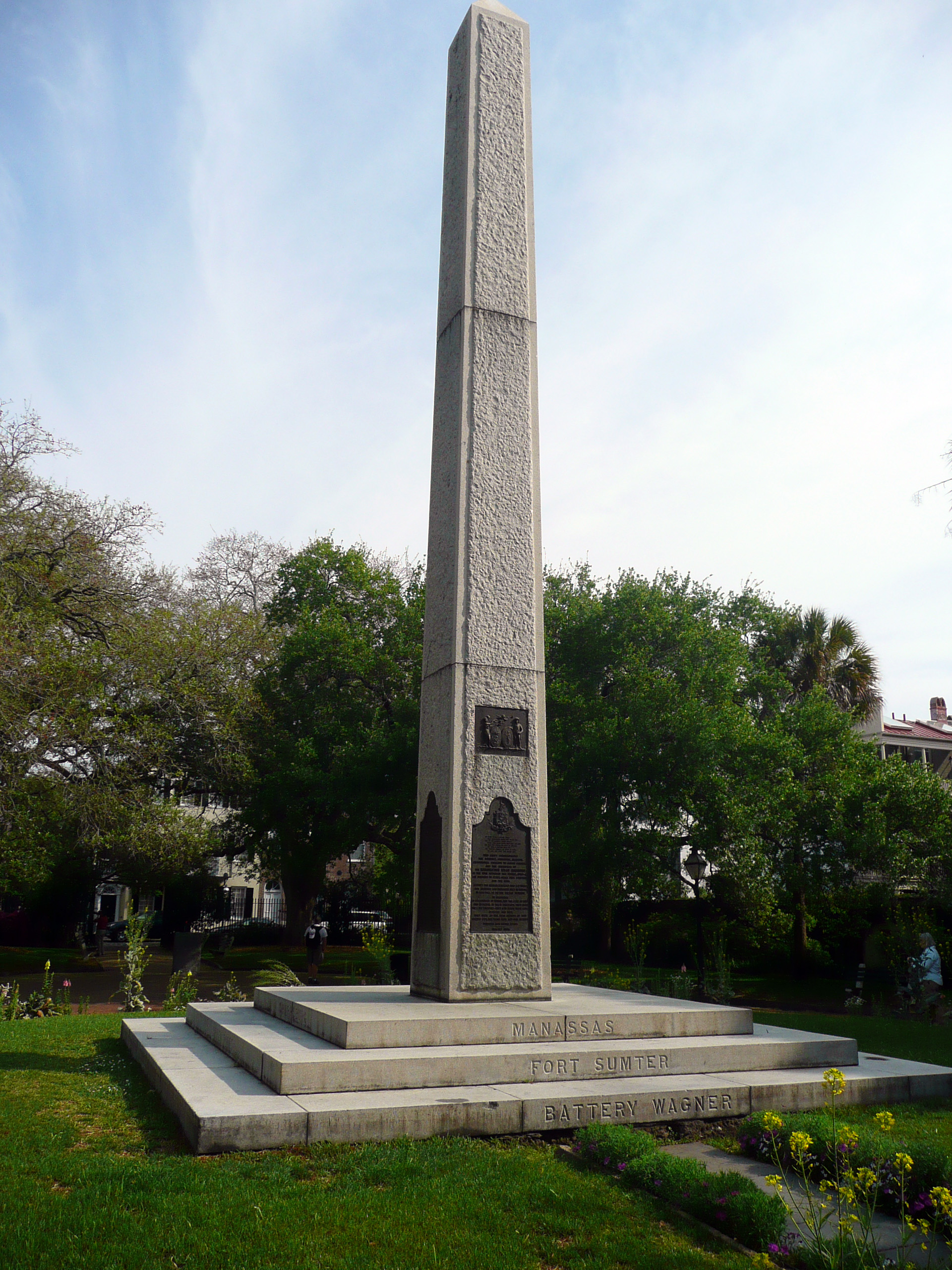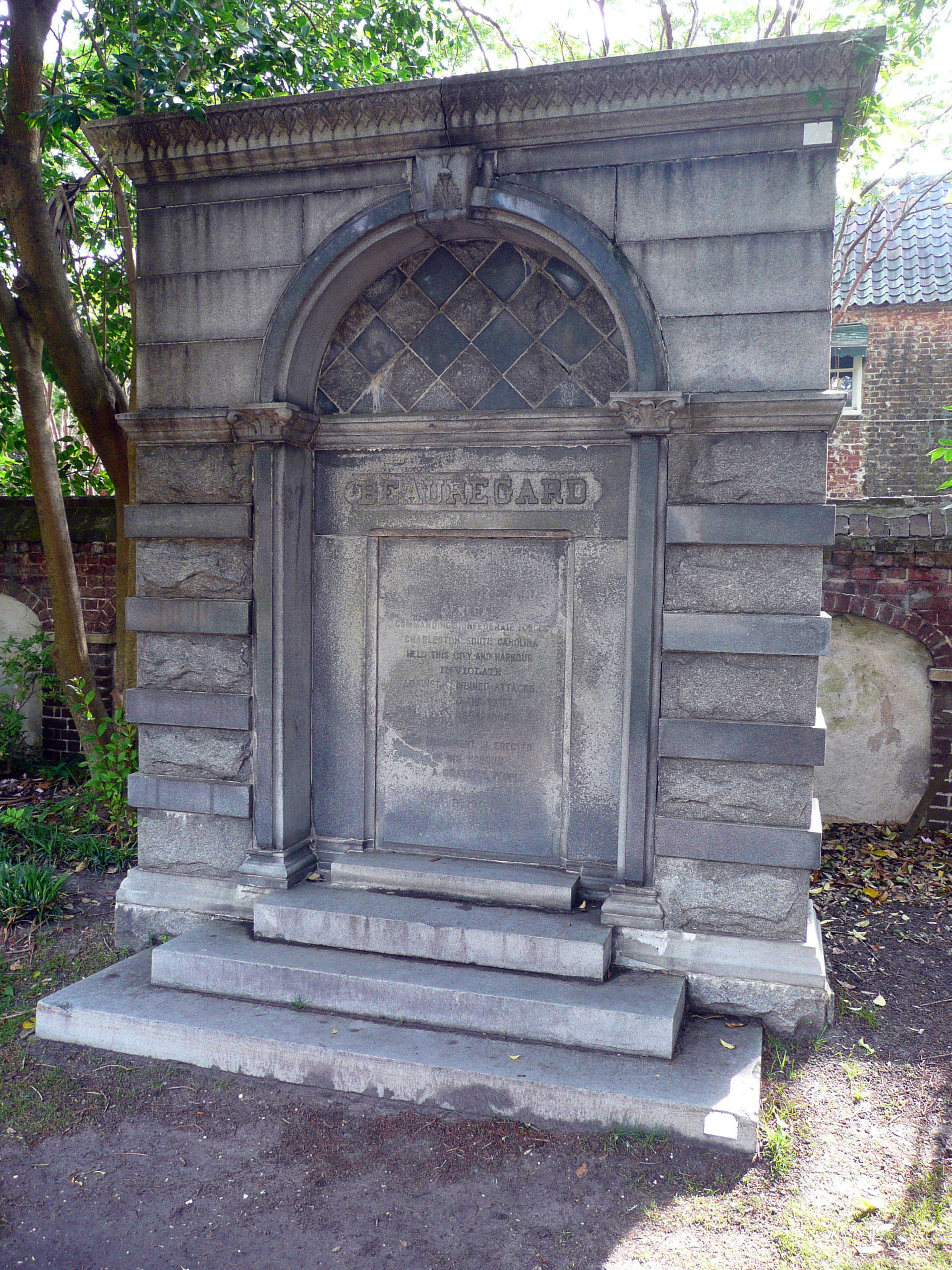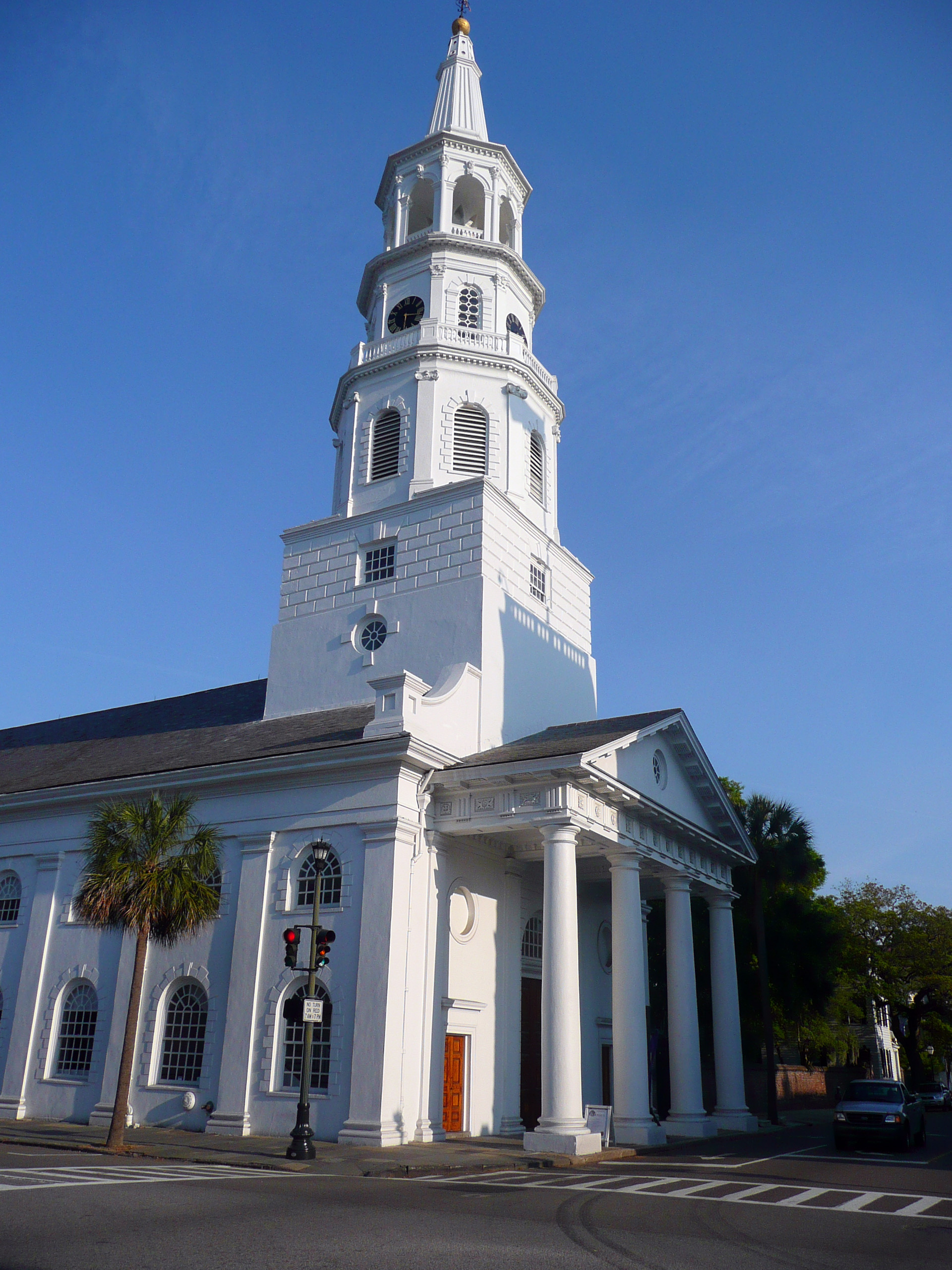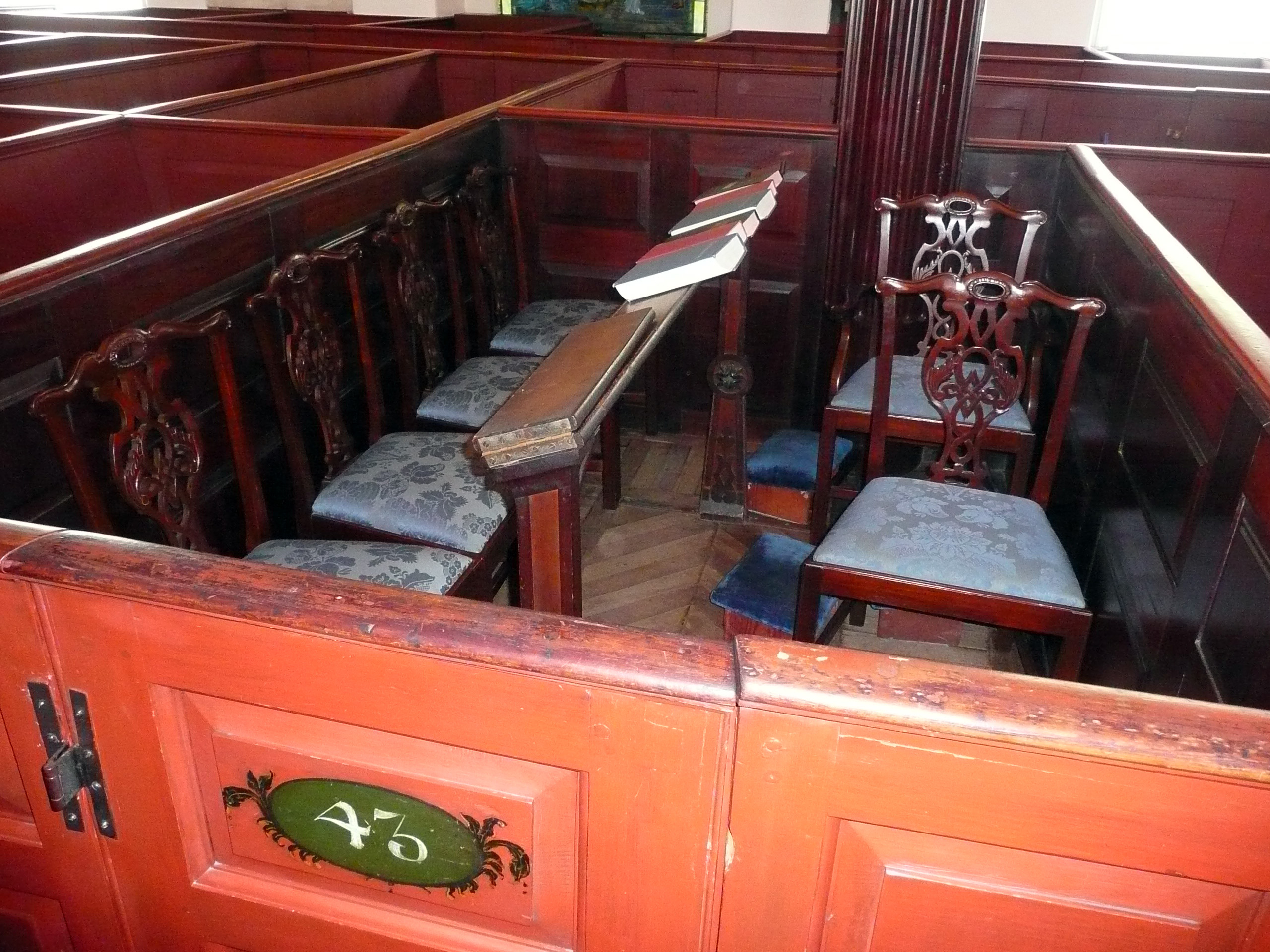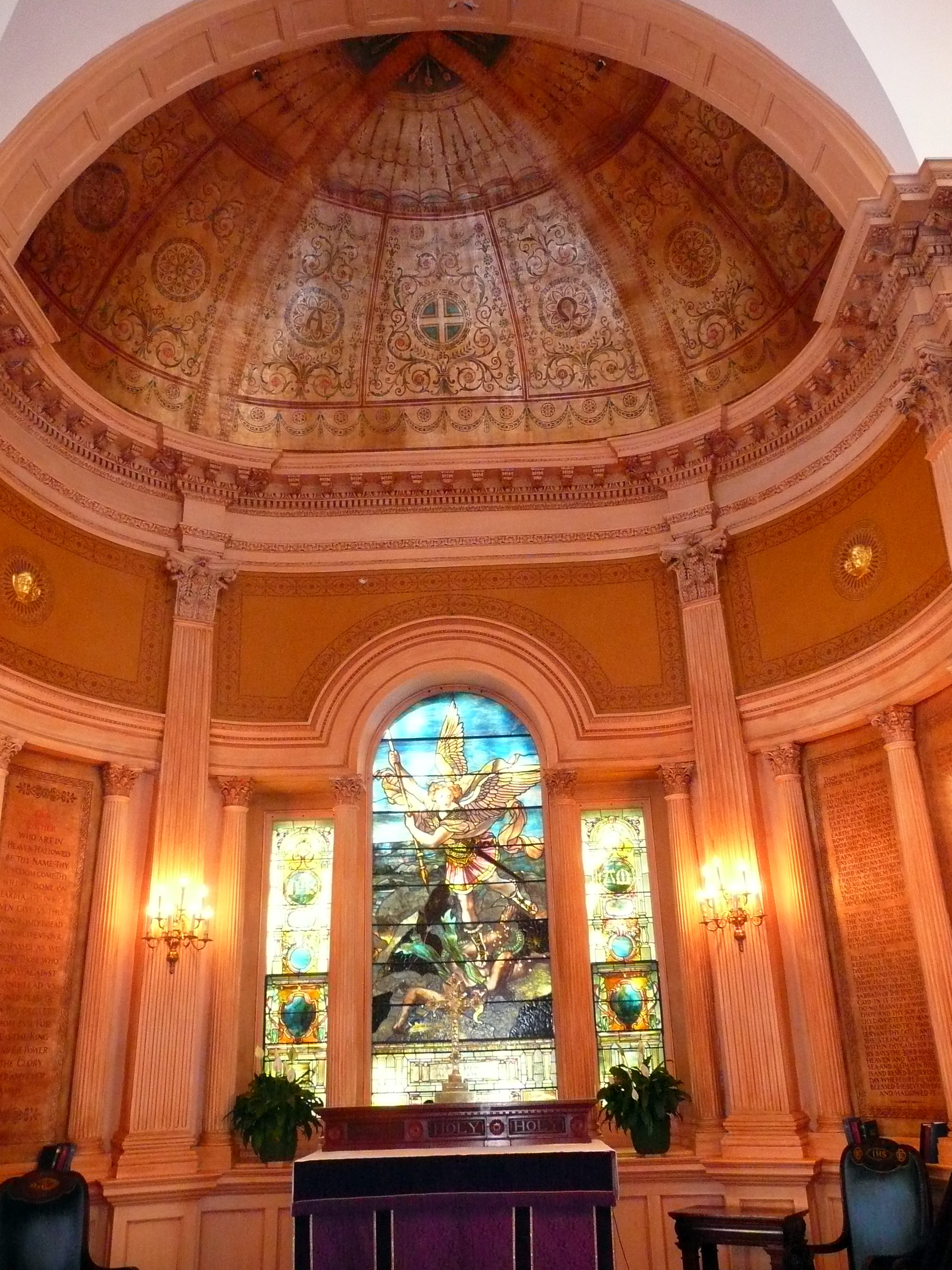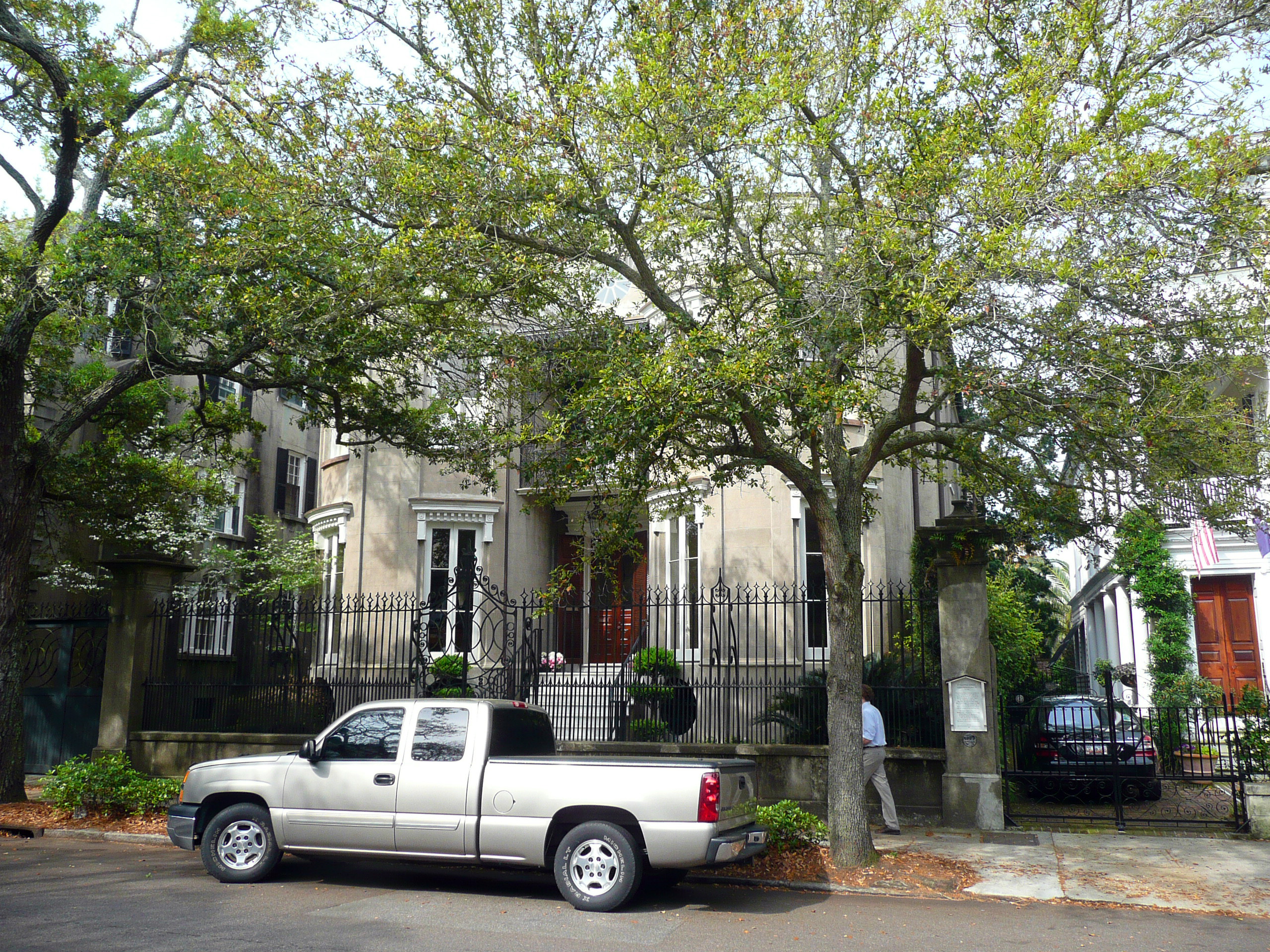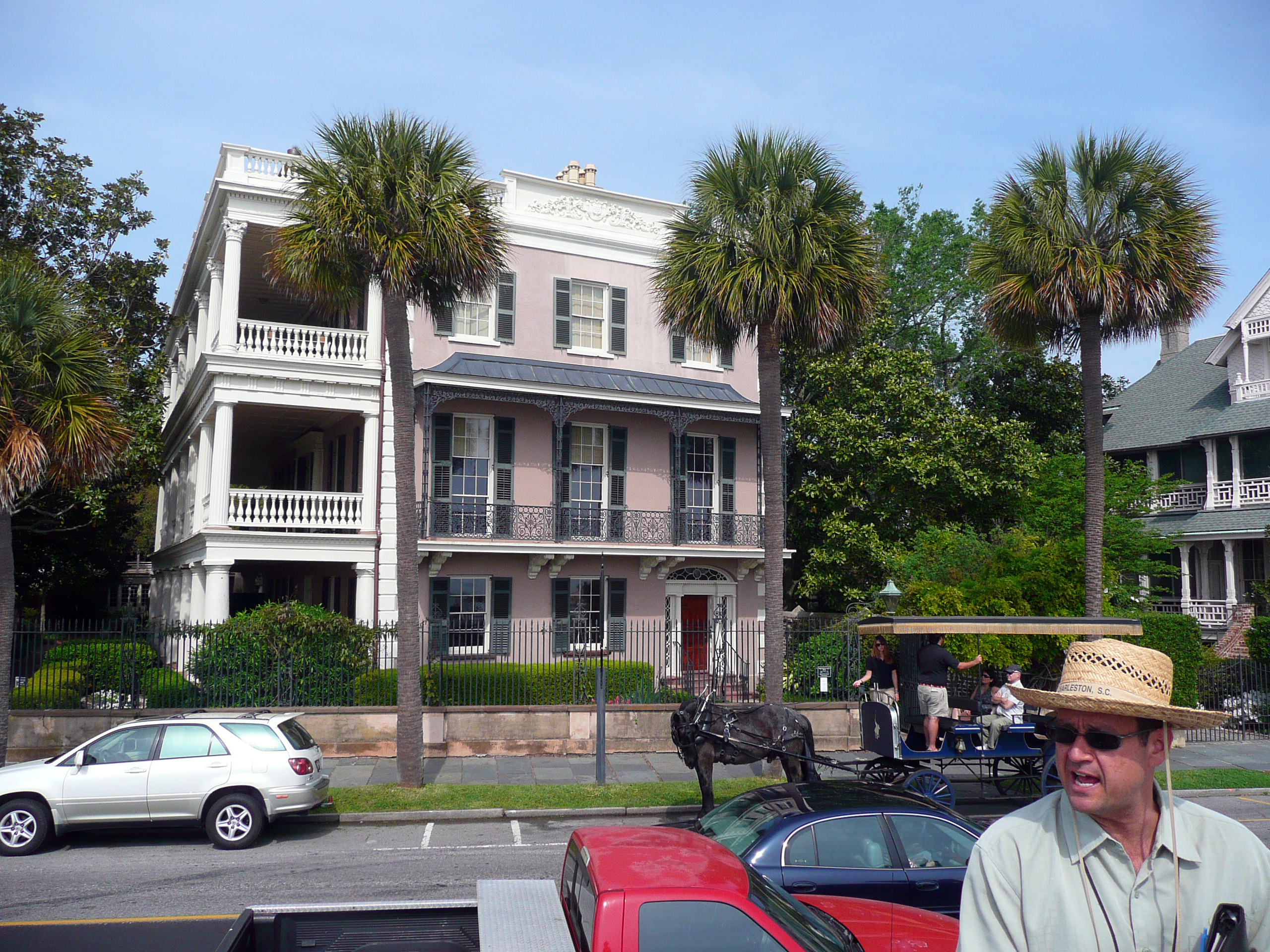 I hopped in my car and drove to Patriots Point, which is a naval-themed park on Sullivan's Island, just across the dramatic Arthur Ravenal Jr. Bridge. They had a very elaborate reenactor encampment, focused primarily on artillery and cavalry units. One of the men told me that all of the infantry was camped at Fort Moultrie, where they do not allow artillery firing demonstrations. I have plans to go there tomorrow. I attended an interesting presentation by five cavalrymen, who talked about their horses, weapons, and equipment. As was typical for the Confederate Army, you would never have guessed from their uniforms and equipment that they were in the same unit. I met a nice small Appaloosa named Honey, which is interesting because my wife Nancy has leased a beautiful palomino quarter horse with that name; it certainly is not very martial. The main speaker revealed that he was using a pony express saddle, which is much lighter than a typical Western saddle. They had a big line of artillery pieces pointing out into the harbor and I watched the drill for a 12-pound Napoleon crew. A guy told me that a 30-pound Parrott was scheduled to arrive tonight. That would really be a dramatic firing to listen to. I had a nice conversation with a man about Signal Corps topics (which reminds me—Jeff on the walking tour today irked me by consistently pronouncing it Single Corps) and he gave me a brief demonstration of wigwag signaling. He was also able to answer my obligatory Signal Corps trivia question, which usually stumps even the most experienced Civil War tour guides and historians.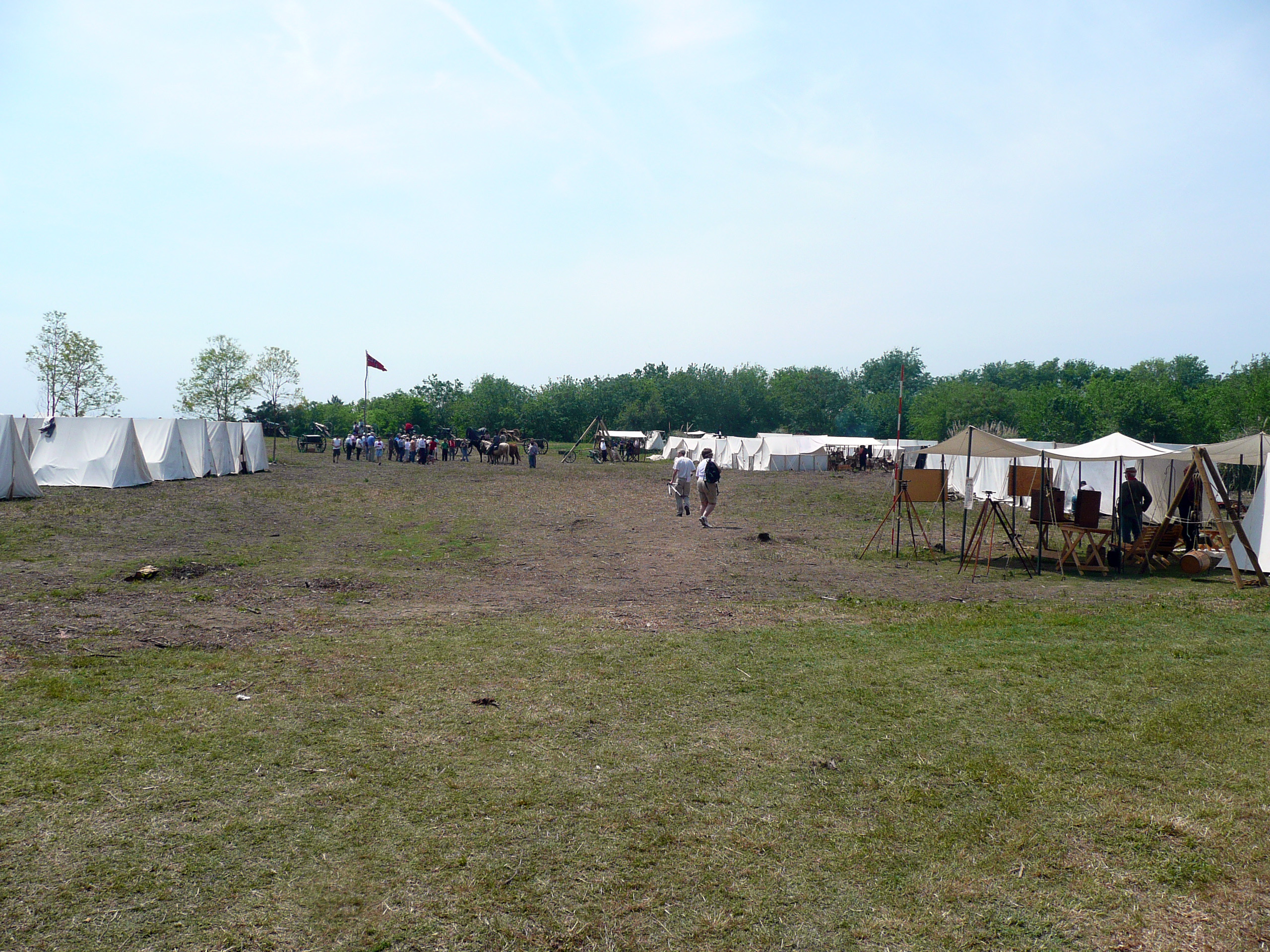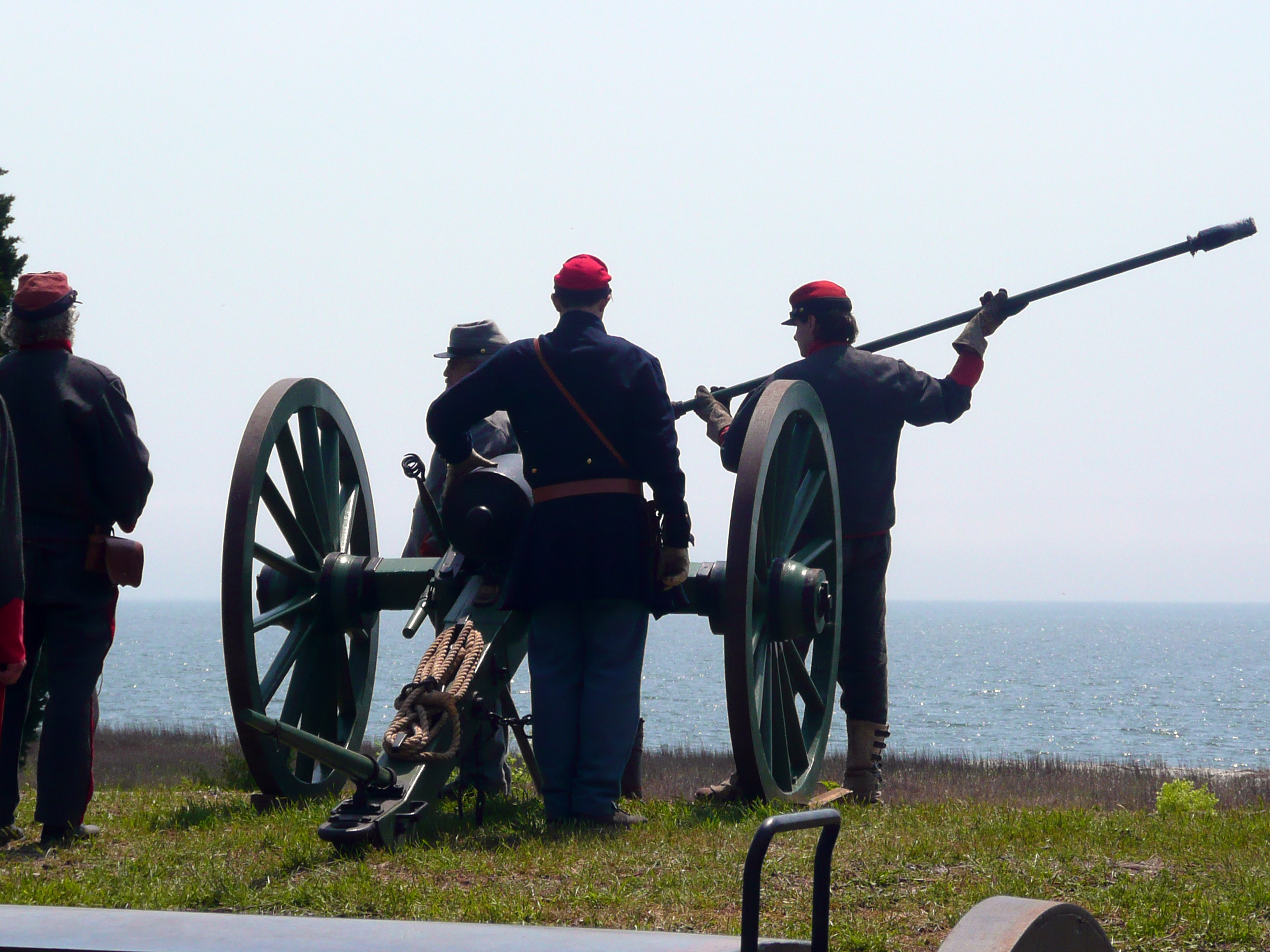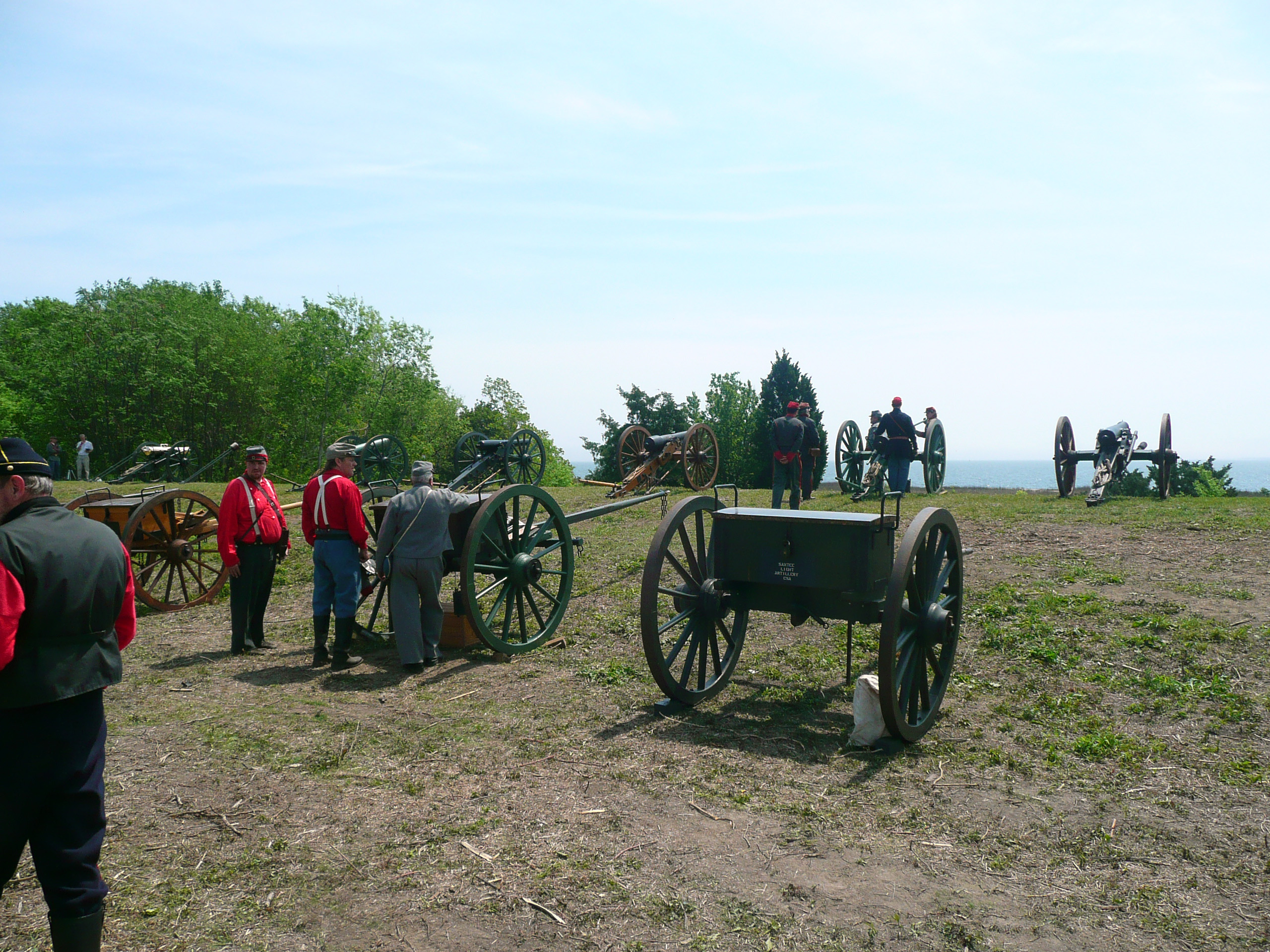 I saw the rest of Patriots Point, which is dominated by the USS Yorktown, the aircraft carrier that saw distinguished service in World War II and Vietnam. I followed a self-guided tour around the ship and I have to say that any World War II sailor who was over 6 feet tall was really screwed. The tour is quite thorough and goes through many, many areas below deck, including crew quarters, galleys, repair shops, medical facilities, etc. You get to climb up on the bridge and see some of the really antique electronic equipment they used. They also have a large display of aircraft on deck and in the hangar. Tied up next to the Yorktown was a diesel submarine named USS Clamagore, which is such an odd name I can't get over it. They had warning signs about watching your head and shins, so I chose not to go inside her, figuring that if it were worse than the aircraft carrier, I would be in real trouble. There is also an outdoor exhibit that shows combat helicopters in a Vietnam War camp, but you can't get really close to them.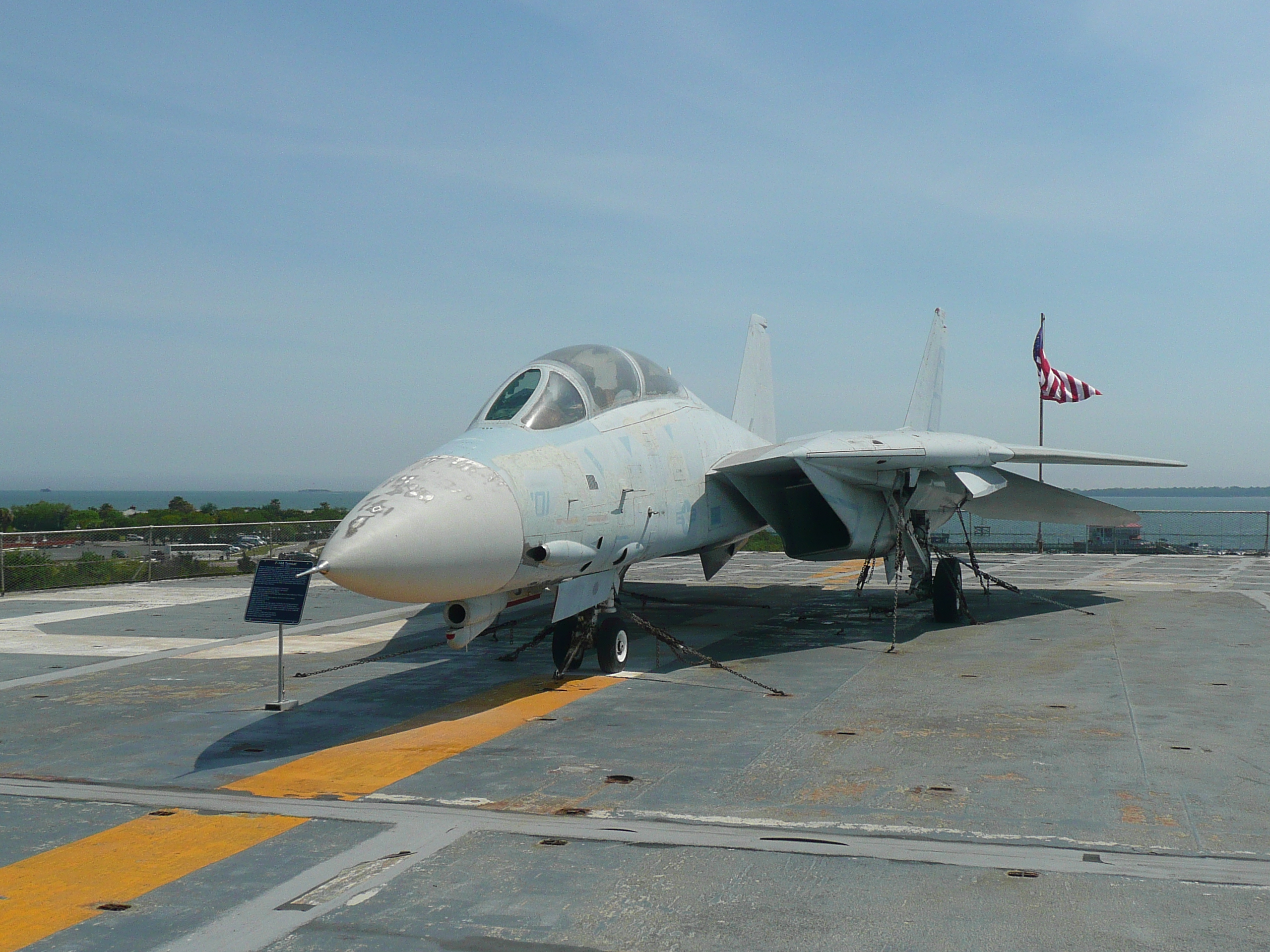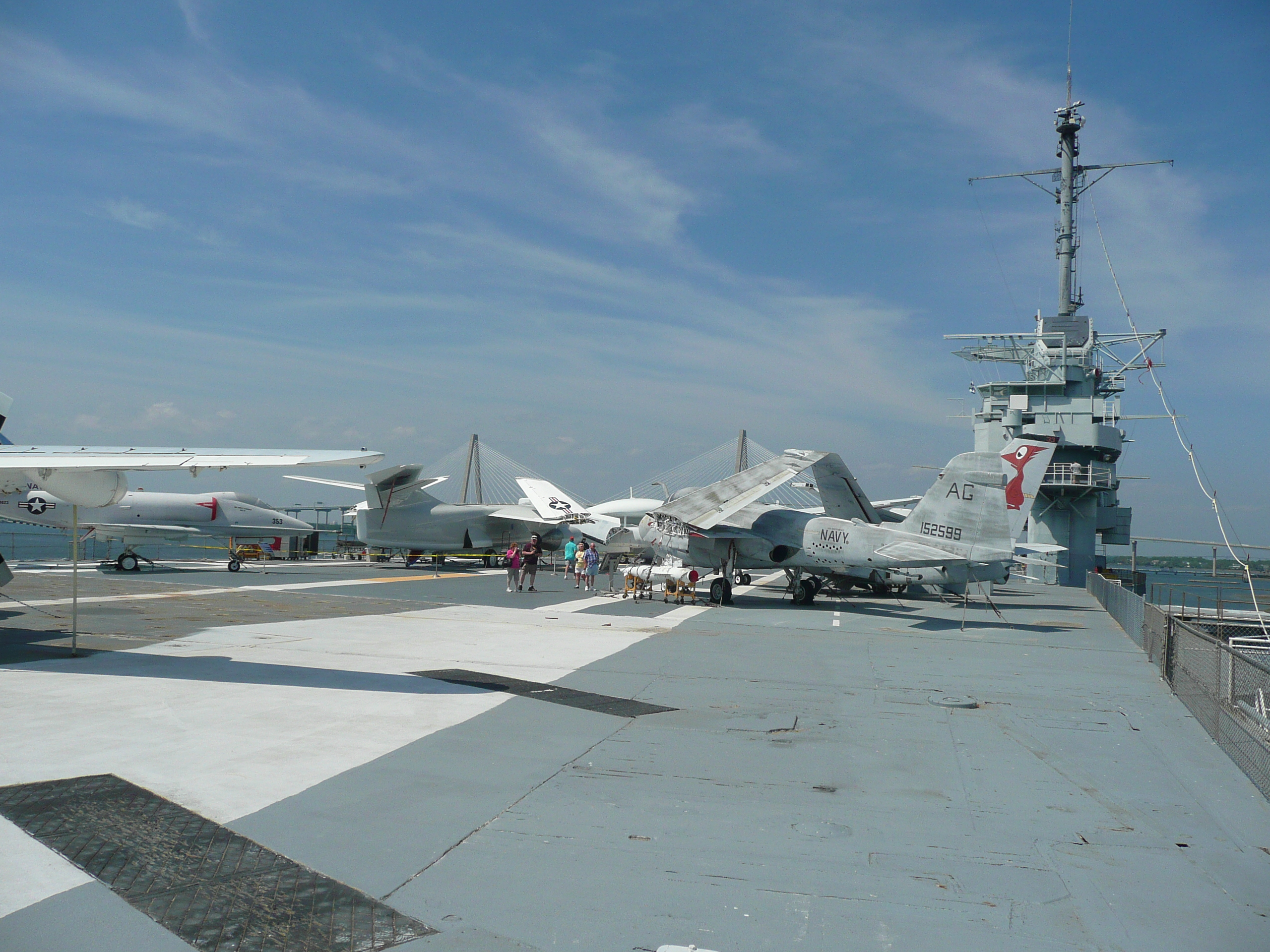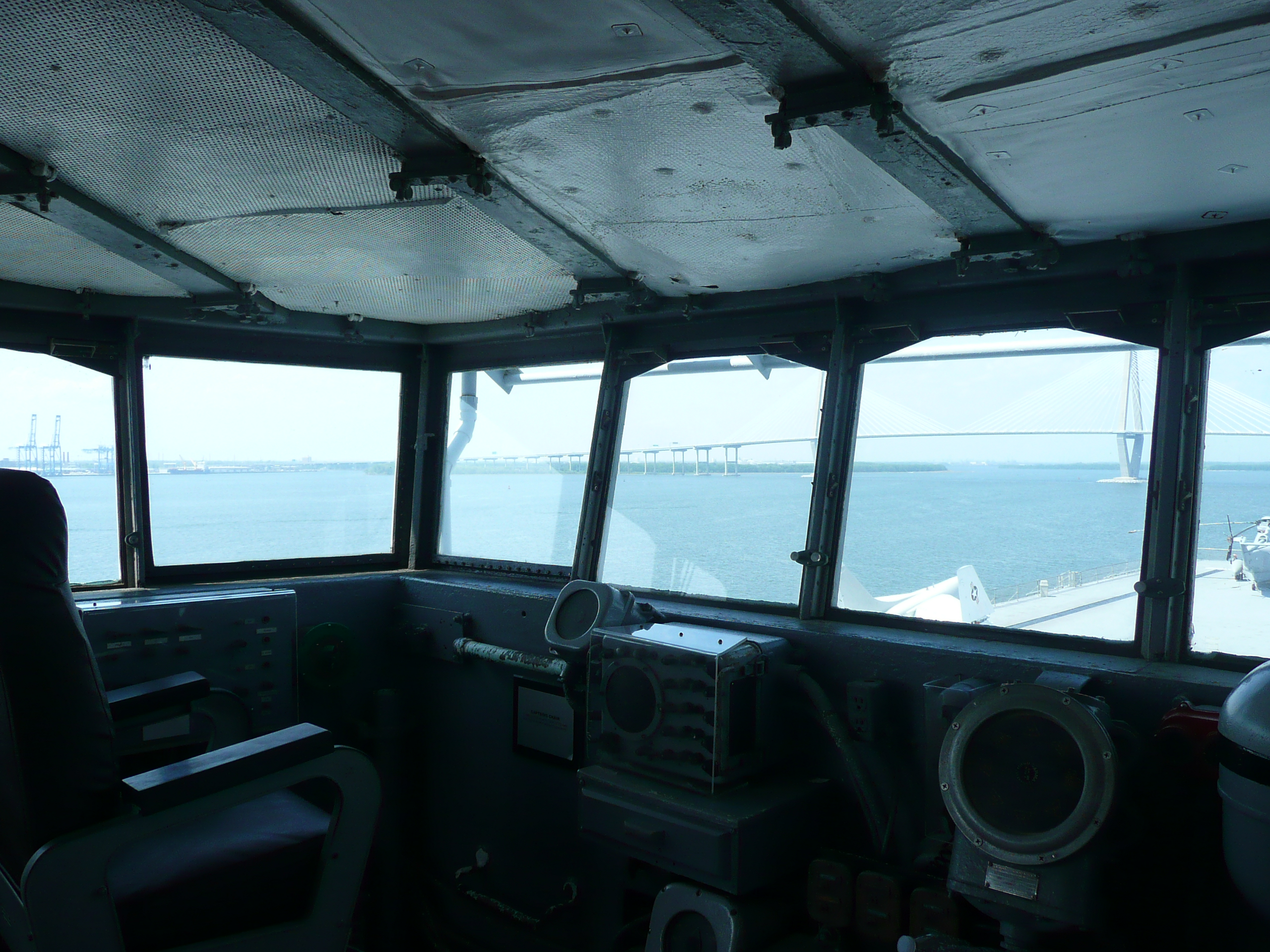 At 6:30 PM, it was time for another set of lectures, this time held in the First (Scots) Presbyterian Church, yet another of Charleston's beautiful churches. Robert H. Dallek introduced the speakers. I am not familiar with his work, but the program indicated he has taught for Stanford in Washington, DC, and is currently a visiting professor at The Citadel. He had a funny anecdote about arguing with a doctor at some lecture. The doctor said, "You're wrong about this, you're wrong about that..." Dr. Dallek told him that historians are never wrong, which is why they did not need malpractice insurance.
The first lecture, "The Logic of Secession," was by Dr. Edward L. Ayers, president of the University of Richmond and the author of a number of books. He is a very animated and entertaining speaker. He called secession a mistake of "incalculable costs and consequence," although it had the unintended consequence of emancipating the slaves. His premise was that the men involved were not stupid, so in order to better understand the past, historians need to figure out what logic they used to justify their courses of action. But he cautioned that because an argument is logical does not mean it is necessarily correct. Both sides had their logical positions, but they invariably talked past each other. He gave four logical reasons for secession: first, the economic, which was that the South was the world's fourth richest economy at the start of the war and they had every reason to believe that would give them the power to succeed as a separate nation. Second, the political, which was that the election of a regional president, Abraham Lincoln, would undermine their positions going forward through the power of political parties. Third, from a racial point of view, by establishing an international border between the regions, there would be fewer influences and temptations to inflame the slave population against their masters. And fourth, from a moral point of view, the South considered itself the most Christian nation. When South Carolina seceded, it was implicitly relying on the other Deep South states to go along, because they realized they could not survive on their own. On the other hand, Virginia, one of the last to secede, hated being put into the position by South Carolina and involved much more deliberation in their secession decisions than South Carolina did. Dr. Ayres showed a website that the University of Richmond has created that presents over 3,000 documents from the Virginia secession convention. And his final point was pretty well known conventionally, which was that states rights were woven tightly, inseparably with slavery and race.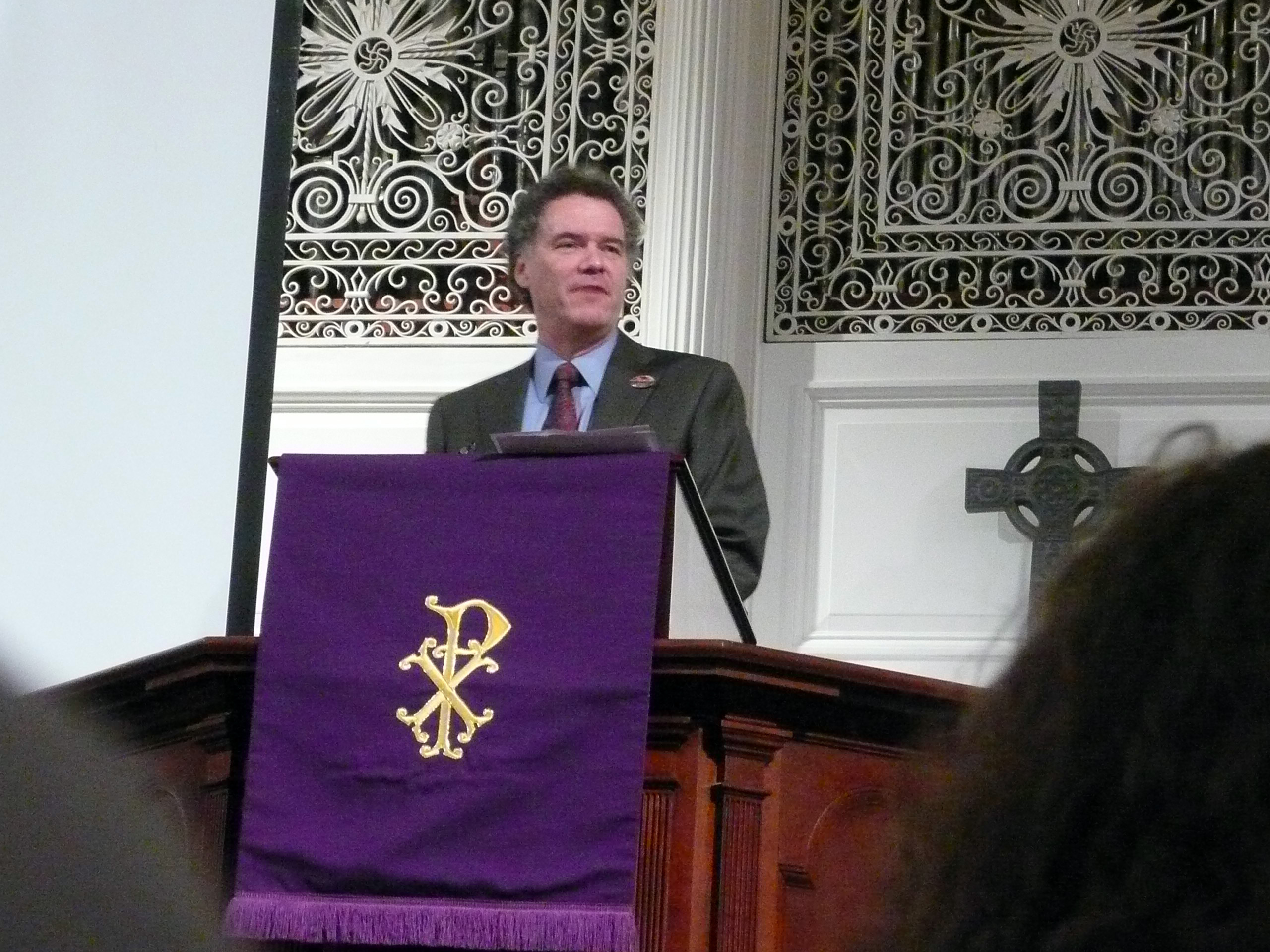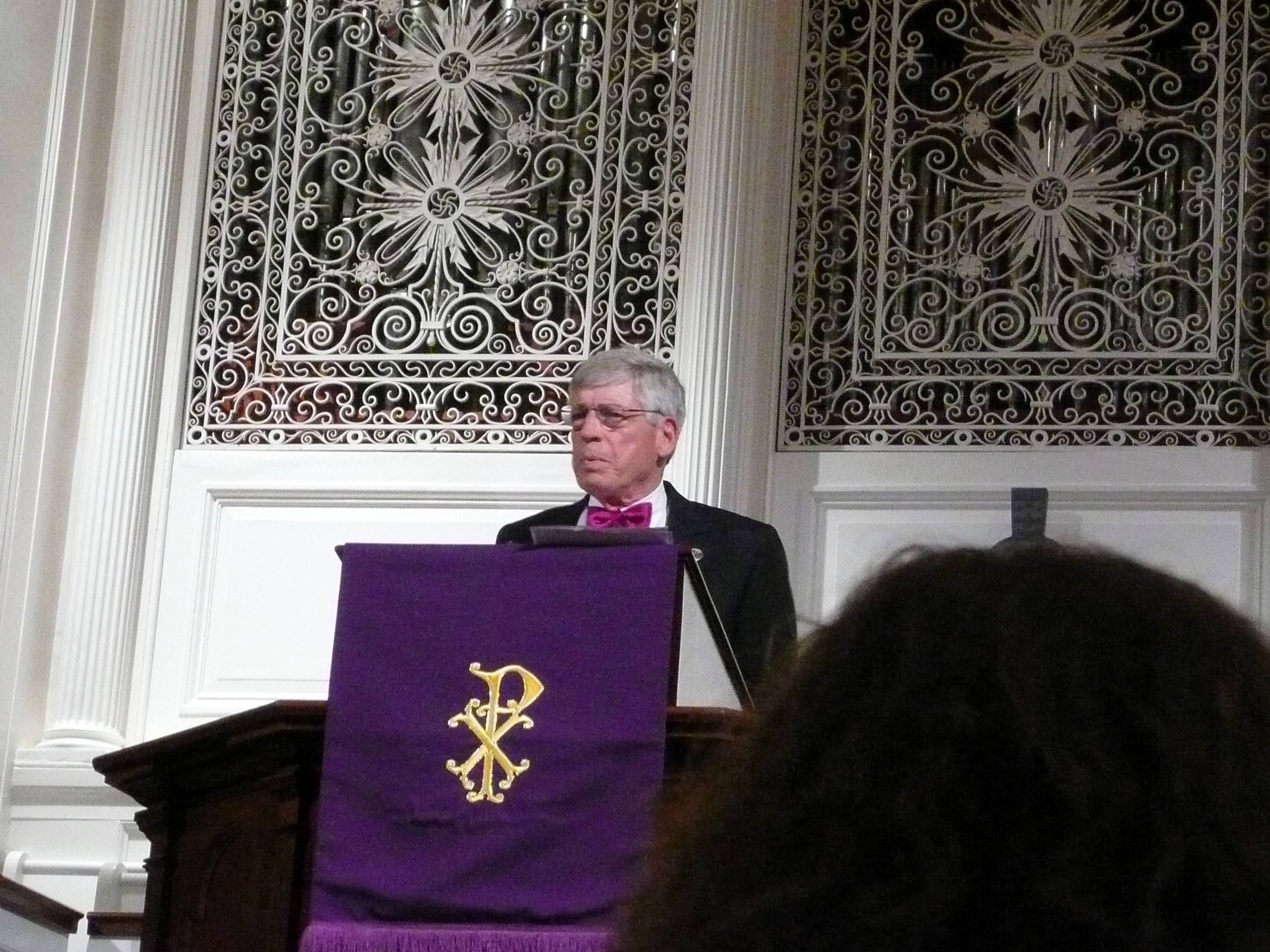 Dr. Emory Thomas of the University of Georgia lectured on the subject of his new book, The Dogs of War (or Dawgs, as he joked). I found his lecture to be a bit disorganized. He admitted near the end that his notes for the talk told him simply "strong finish here," which seems rather unhelpful to himself and was not effective, in any event. He emphasized on three occasions—and told us in advance that he was going to do this—that secession was caused by race and slavery. The reason the two sides went to war beyond this was that both envisioned a short, simple victory. He said that secession did not inevitably lead to war, and placed the direct blame for starting the war on James Chesnut (who was once a US senator, but is famous to history primarily because of the woman he married). Both sides considered that their soldiers could defeat a greater number of the enemy soldiers; Confederates often bragged that they could beat two, or 10, or 20 Yankees. But the two sides underestimated the lethality of the weapons that were coming on line during the war, such as the rifled musket. And both sides allowed rhetoric to get the best of them. He finished with an odd riff about parallels between Civil War Andersonville and the Iraq War's Abu Graib prison scandal.
The highlight for the weekend for some was a big concert at White Point Garden in the area known as The Battery. (As Charlestonians say, this is where the Ashley and Cooper Rivers come together to form the Atlantic Ocean.) Probably 1,000 spectators turned out at 9 PM for the outdoor concert, which featured the Charleston Symphony Orchestra, a selection of spirituals sung by local ensembles, and Jay Ungar, Molly Mason, and the Family Band. Jay was the author and performer of Ashoken Farewell, the theme song for Ken Burns's PBS series, an alltime favorite of mine. He joked that Burns selected a Scottish air from a New York Jew. This, and a selection the of patriotic Civil War songs, were the highlights of the evening for me. The symphony orchestra was very talented, but they succumbed to the problem of modern symphony orchestras, in that they always seem to select at least one piece you have never heard of, which has no memorable melody, and you have no desire to hear again. (In this case, William Schuman's New England Triptych.) This sort of thing drags on and on. There were also brief speeches by Barbara Fields and Edward Ayers and Glenn McConnell, the president pro tempore of the South Carolina Senate. I was starting to fade at this point after 10 PM when they brought out the mayor of Charleston to narrate Aaron Copland's The Lincoln Portrait, so I slipped out before the end, remembering that I had plans to get up very early the following morning. In the night, Fort Sumter was illuminated with alternating red and blue spotlights and a powerful searchlight sent a shaft of light directly up into the heavens. The full program for the event is contained here.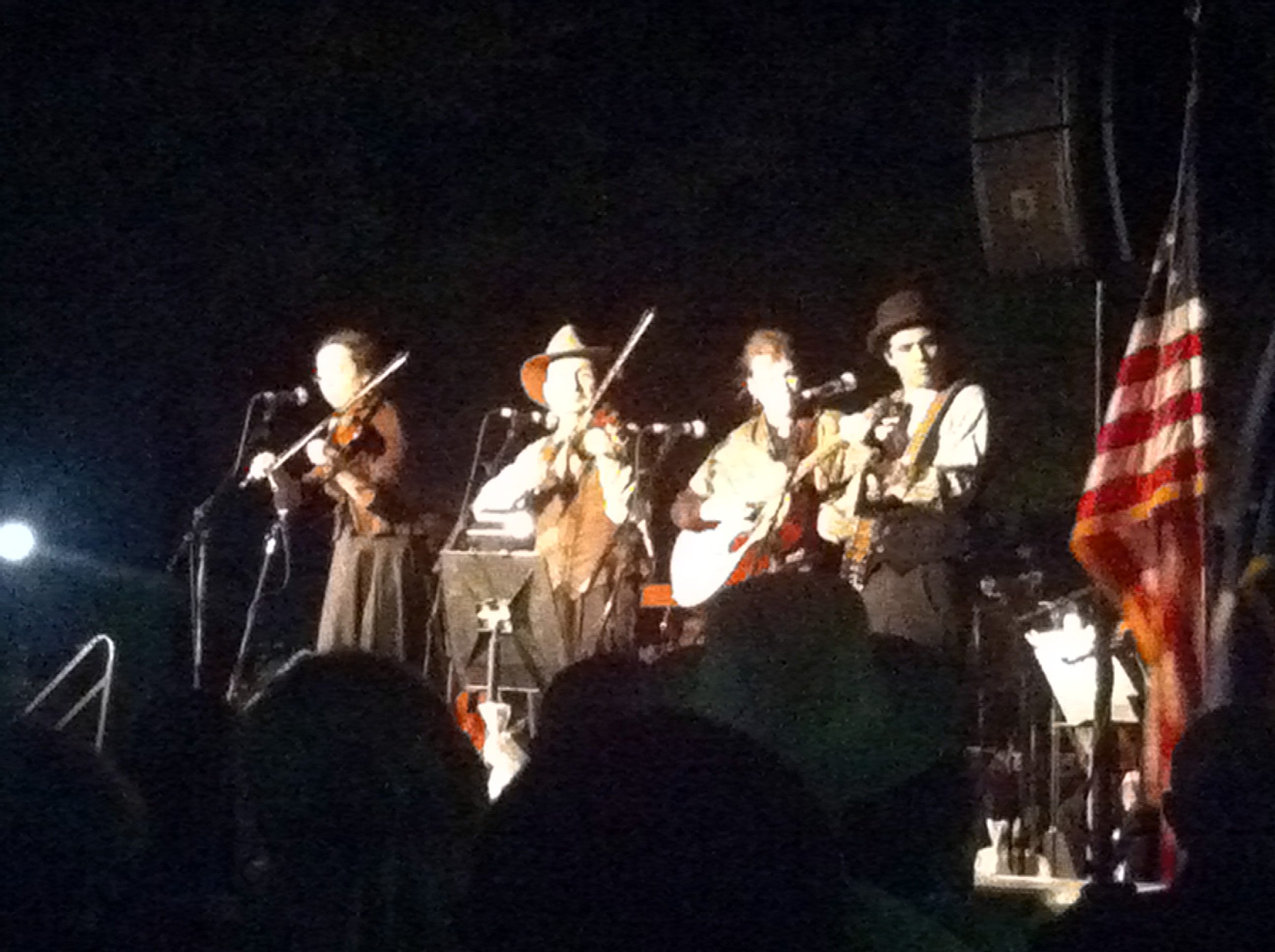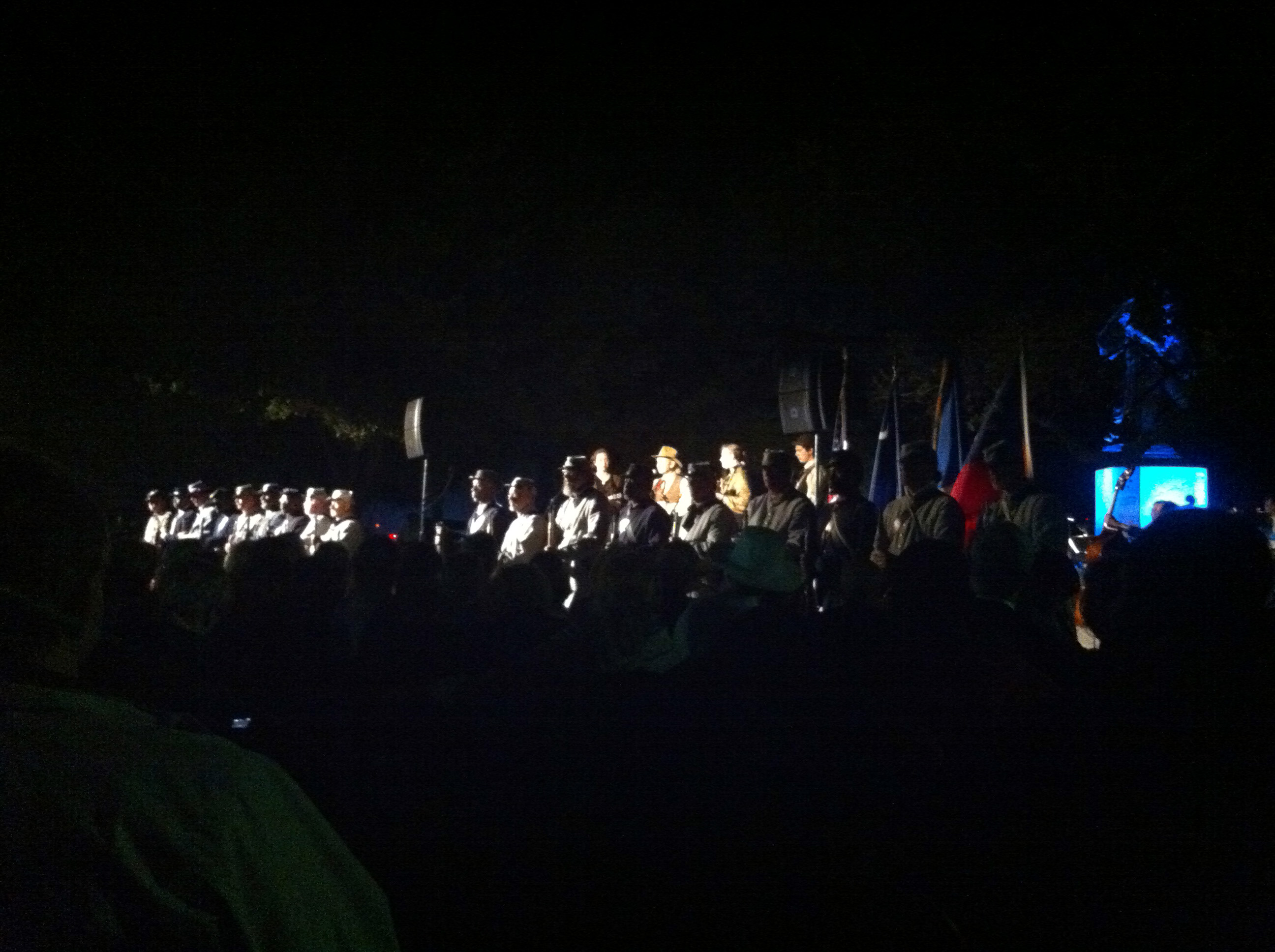 Tuesday, April 12
I was up at 3:45 AM to return to The Battery. There was another concert, much smaller this time, that started at 4:30 AM, the time the bombardment of Fort started 150 years ago. It was called "Sunrise Concert: When Jesus Wept." There certainly was no sunlight appearing at the time they were playing – I blame it on daylight savings time – and it is interesting to imagine Jesus being commemorated in an official program like this anywhere outside of the South. They had a small band playing in a gazebo and had some very nice, moving tunes, such as amazing Grace and Simple Gifts. While they were playing, the single searchlight at Fort Sumter split into two beams, symbolizing the disunion that occurred that fateful morning. I would guess about 300 hardy souls were up that early in the park. The full program for the event is contained here.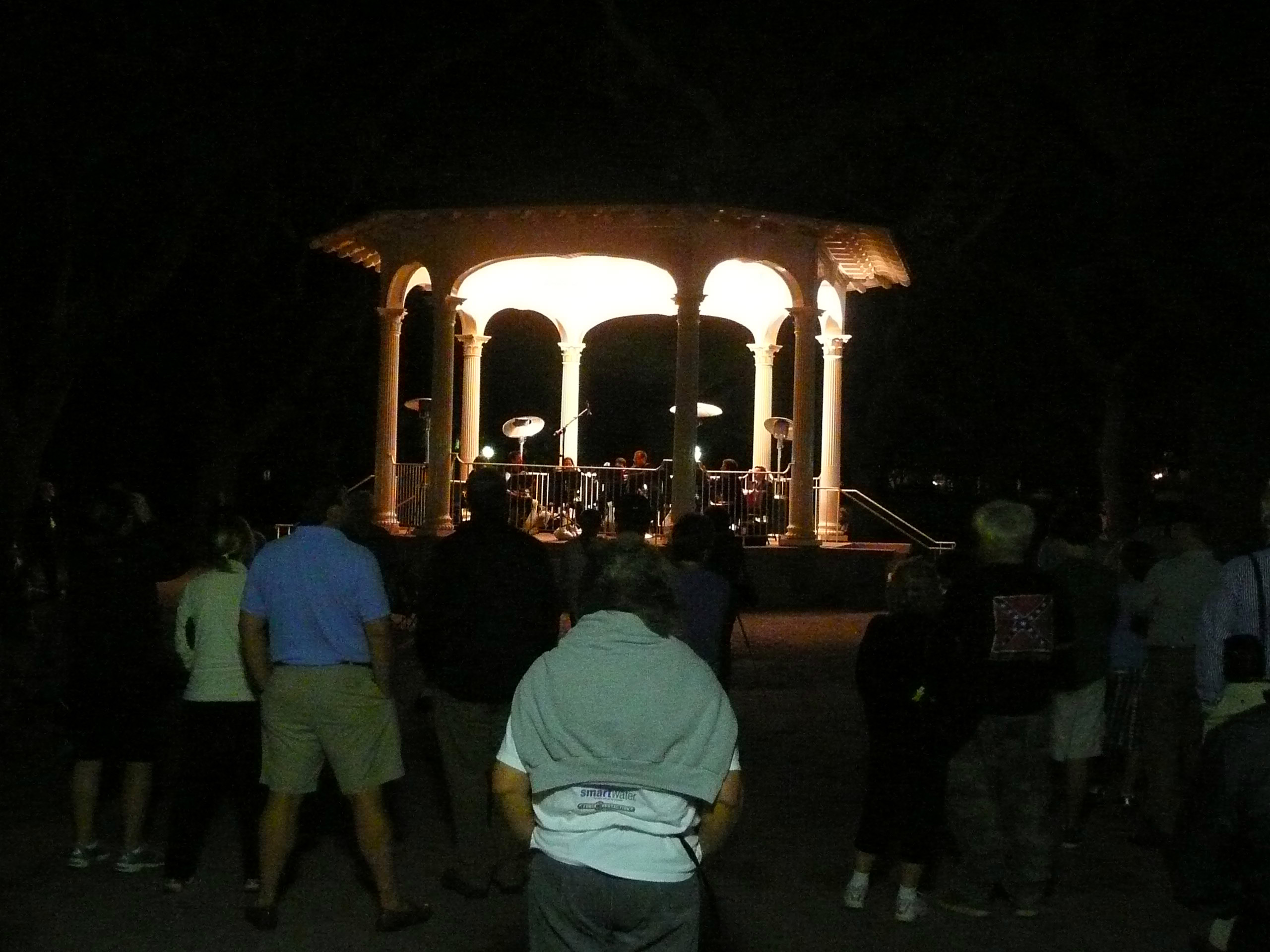 I jumped in my car and drove across the Ashley River to James Island for the second ceremony of the morning, at Fort Johnson, commemorating the actual first shot fired against Fort Sumter. There is nothing left of the original Fort Johnson and it is now on the grounds of the South Carolina Marine Resources Center, which we reached on shuttle buses after parking at the very modest James Island town hall. At 6:45 AM there was a full program including honor guards, the Pledge of Allegiance, invocations, Taps, speeches, etc. (It's interesting that the program last night and this morning both included the Confederate Stars and Bars right along with the US flag in the color guard. But there was no Confederate Pledge of Allegiance.) The first shot was fired by a 10 inch sea coast mortar. It was actually a blank, which made a big bang and sent up some smoke, but no projectile arched through the air, which was disappointing. :-) Three descendents of Lt. Henry S. Farley, the officer who fired the first shot, were in the audience. The same South Carolina senator showed up for a much longer speech this time, which was surprising because it was very Confederate oriented in a politically incorrect way. He referred exclusively to the War between the States and indicated that it wasn't really established that secession was illegal. He said that if the Supreme Court of that time had been asked to rule on it, they probably would've let it go. (The Taney Court, of course, was the one that produced the execrable Dred Scott decision.) The full program for the event is contained here.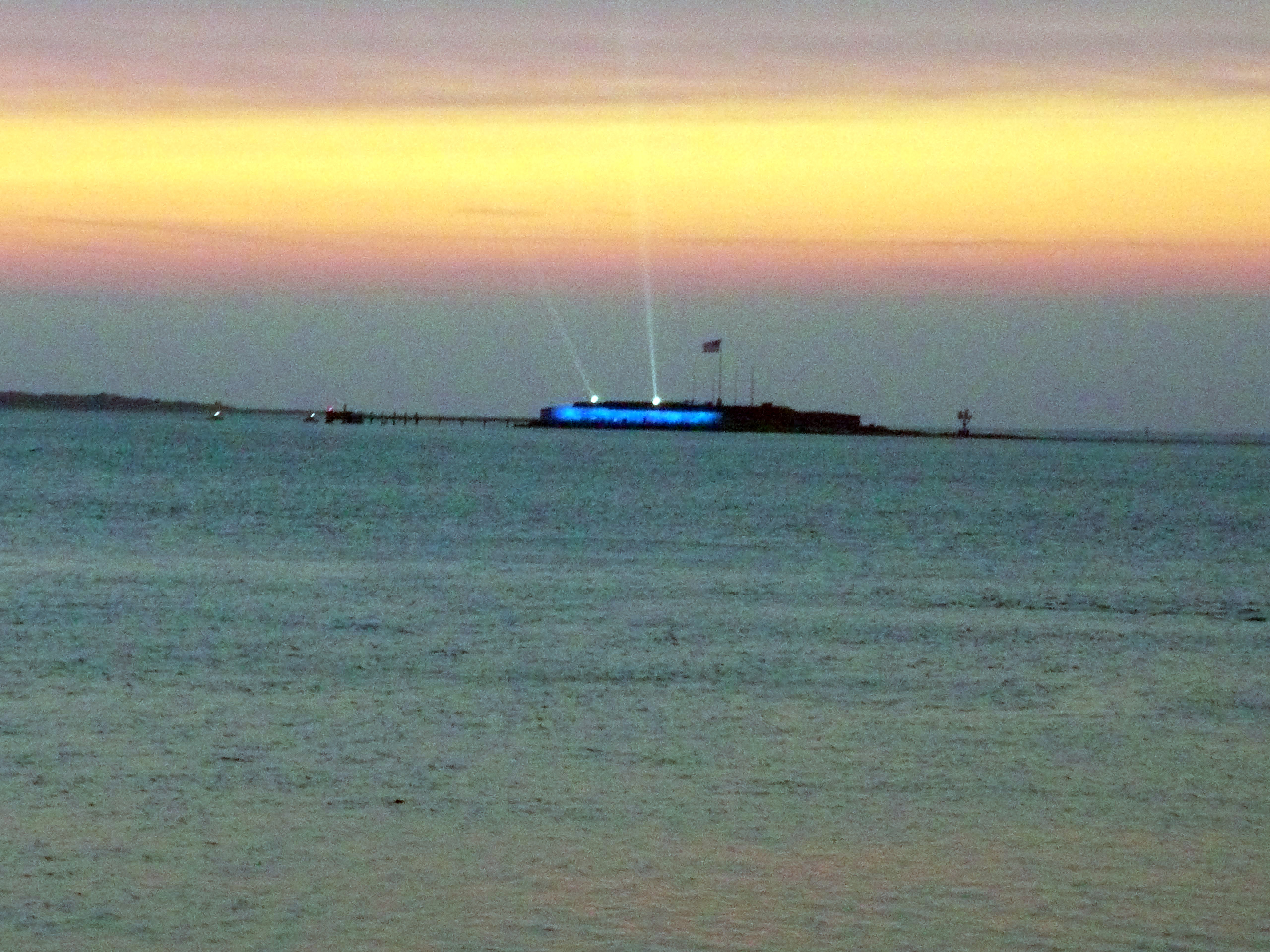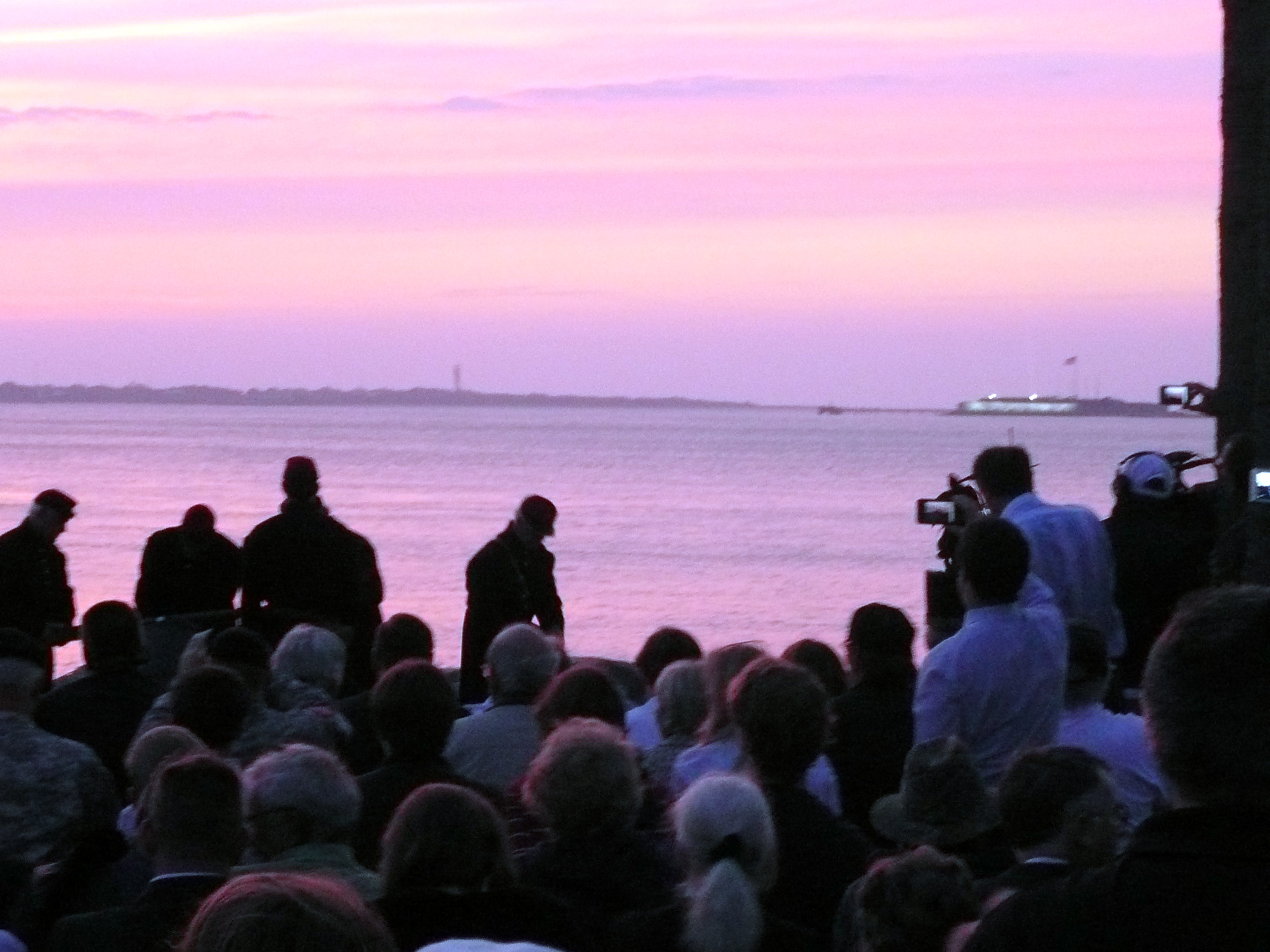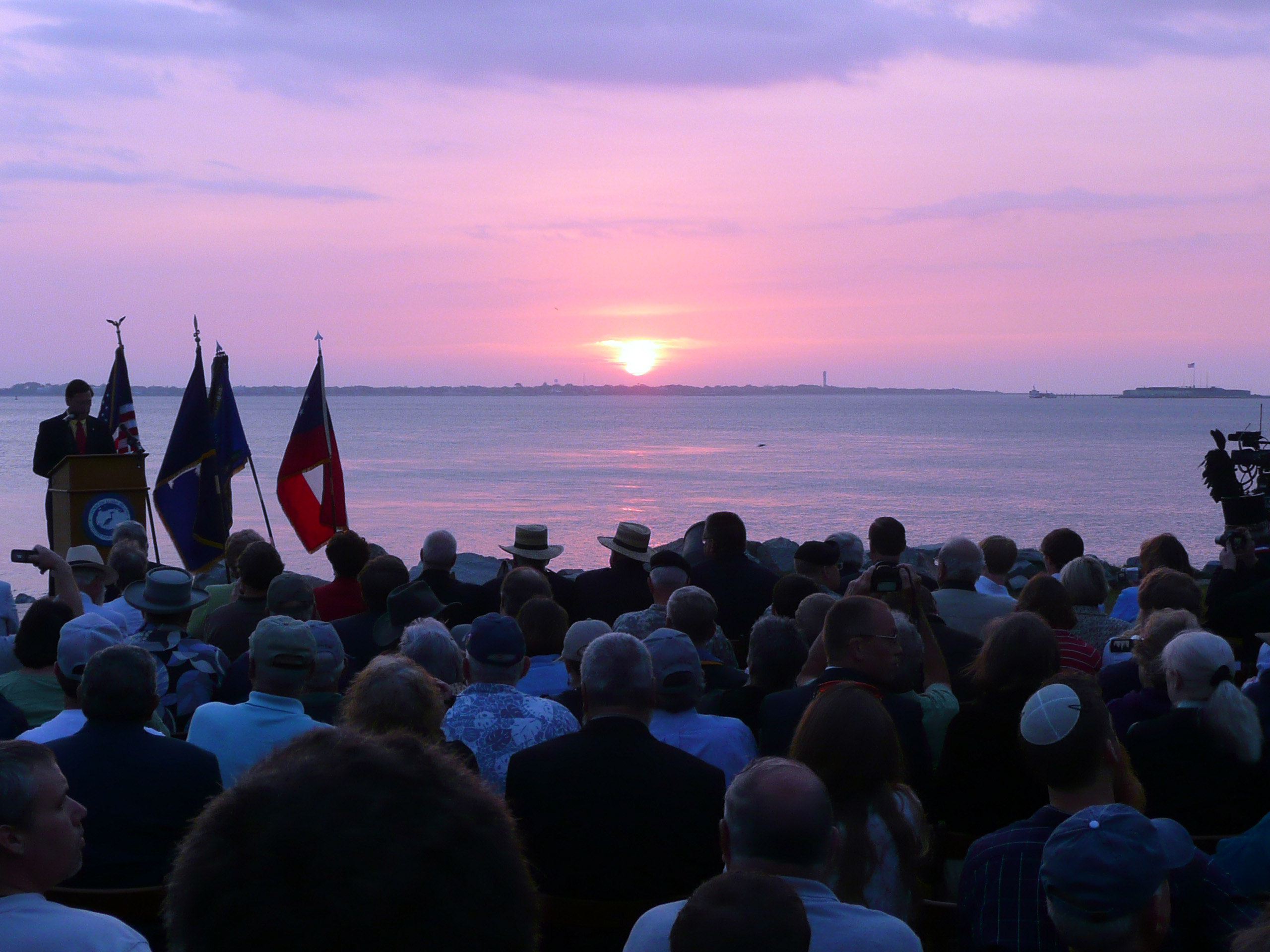 I returned to the hotel for another Civil War Trust breakfast and to check out. I drove over to Fort Moultrie and watched some infantry reenactors. Although the weather early in the morning had been beautiful, a storm came in and light rain fell periodically while I was at the fort. Looking to kill some time before I had to go to the airport, I drove back into Charleston and visited the Confederate Museum, which is operated by the United Daughters of the Confederacy. It is a modest, single room collection of hundreds of eclectic artifacts and portraits. I could not take any photographs because there must've been 50 signs prohibiting it and a whole collection of fire eating ladies who scolded you about it. It was really packed with people on this 150th anniversary.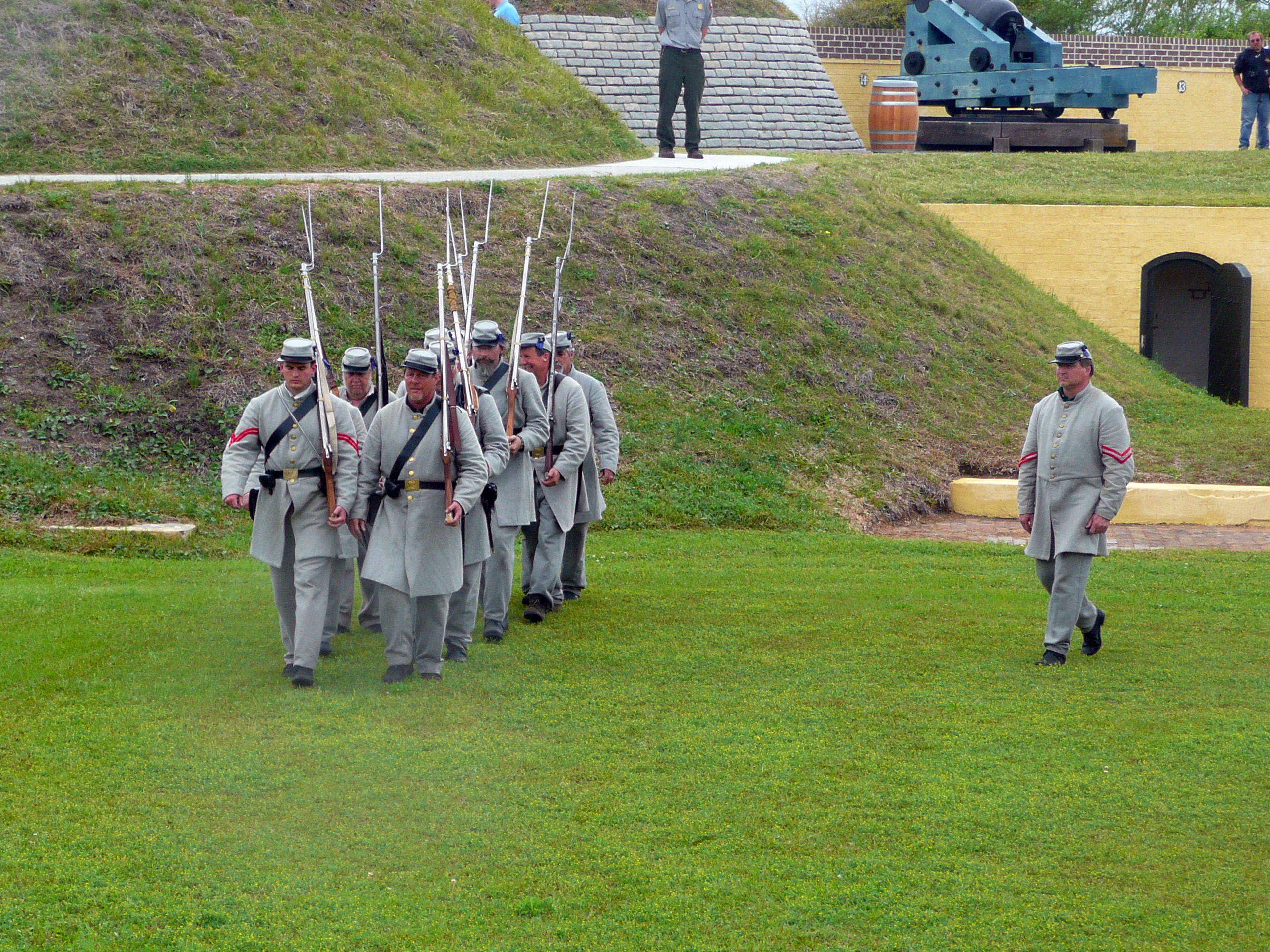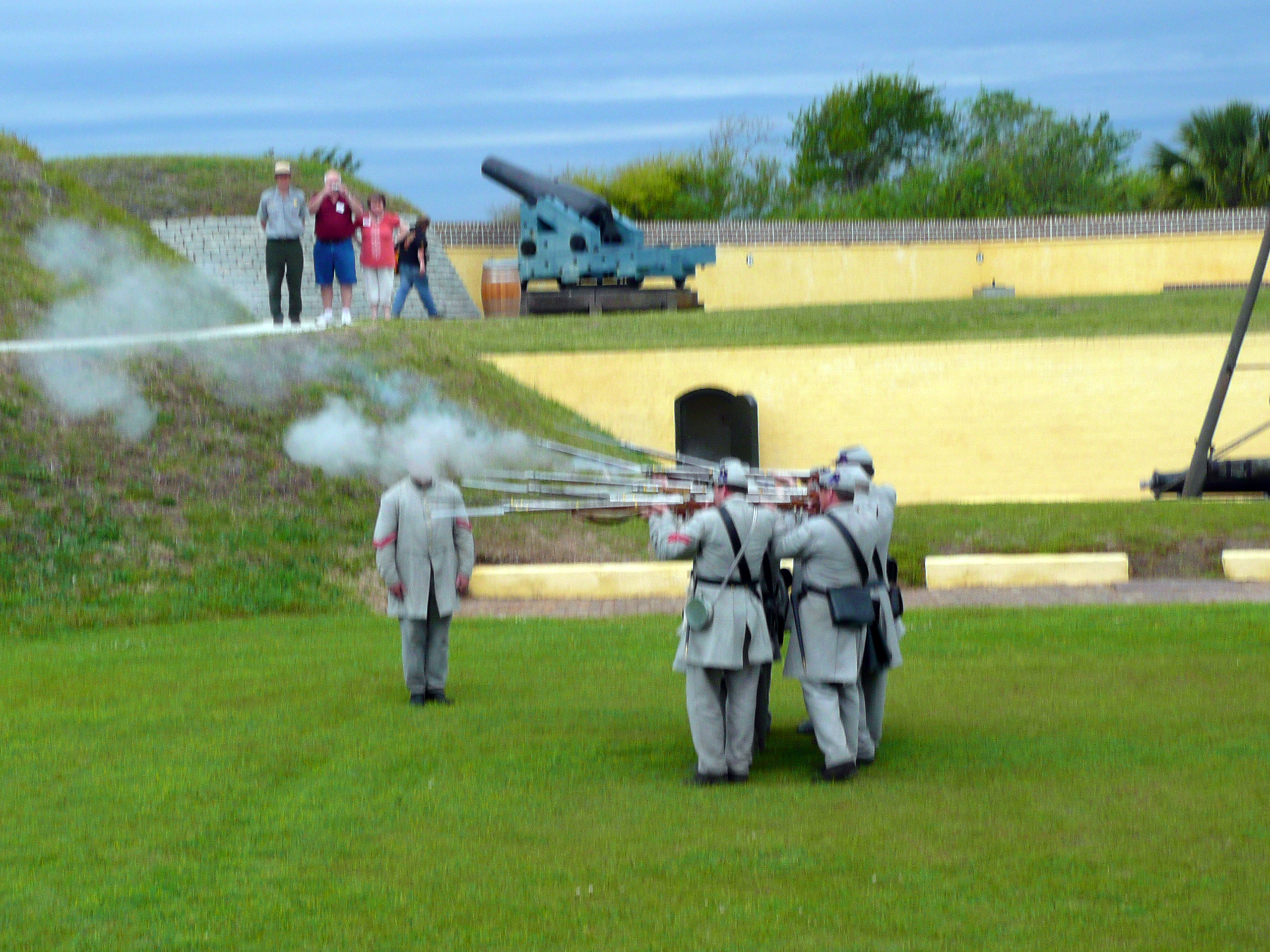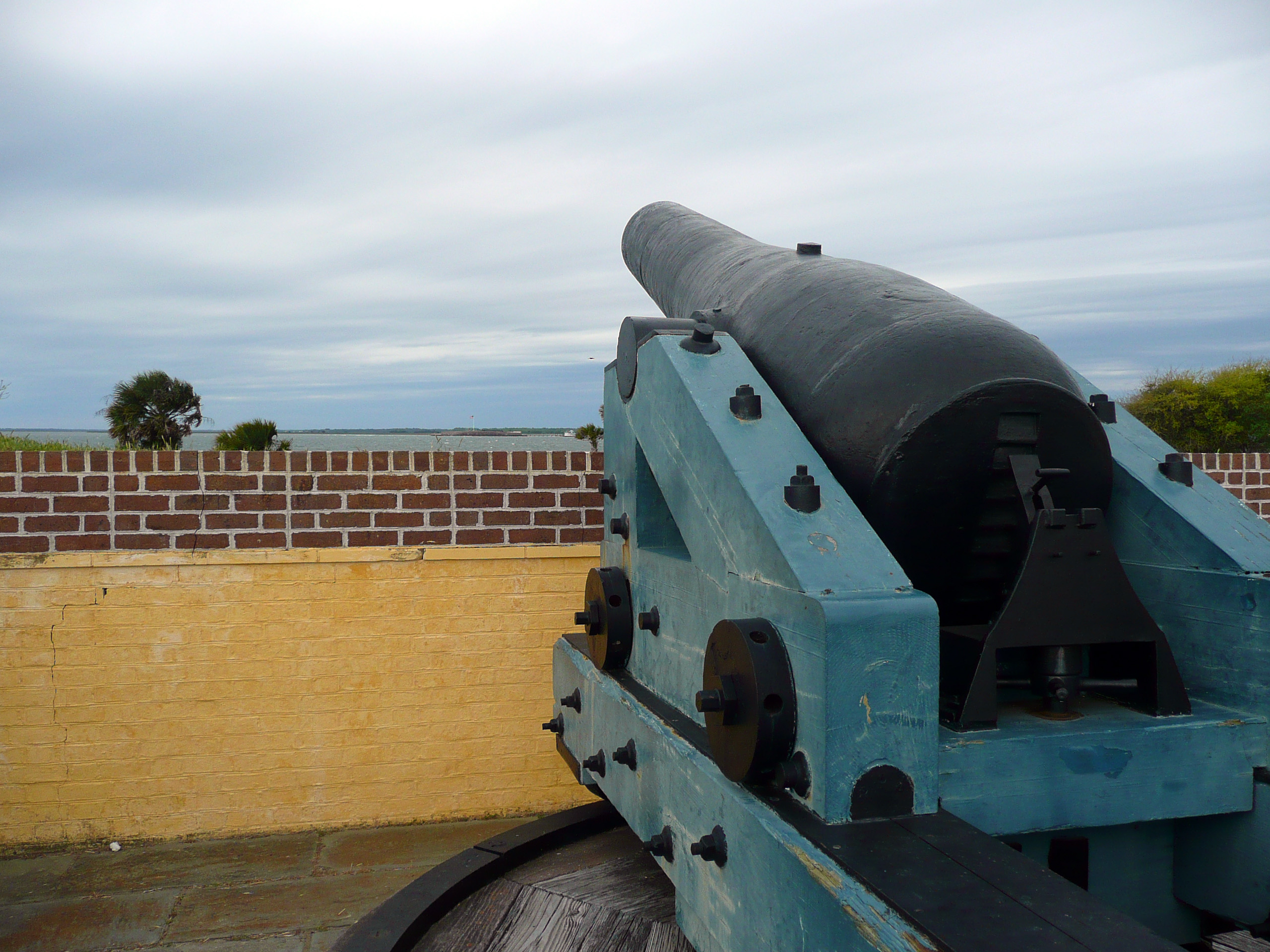 The rest of the day was quite a grind. Getting back to San Francisco by way of Miami—thank you, American Airlines—combined with the early morning in Charleston made for a 26 hour day, so I was really dragging. But it was a great experience to revisit Charleston and participate in such a historic occasion. My compliments to the Civil War Trust for setting up some of the logistics and inspiring me to attend.
Go to Part 2.