Hal and Nancy's Chincoteague Island Trip, September 2011
This is my travelogue of Hal and Nancy's trip to Chincoteague Island, Virginia, with Road Scholar (formerly known as Elderhostel). The Road Scholar portion of this trip was relatively brief, so to make a cross-country trip worthwhile, we added some activities before and after, including Baltimore, Annapolis, and the Smithsonian Air and Space Museum near Dulles Airport. For those readers who are interested in my Civil War activities, they are sprinkled primarily around the Baltimore area, so you can bail out after Monday below.
An executive summary of the Road Scholar experience was that we had a great time learning about the culture and ecology of the Chincoteague Island area, including the famous wild ponies, and the program was very well put together, although we were not so entranced with the Spartan level of accommodations.
Saturday, September 17 — to Baltimore
Instead of commemorating the 149th anniversary of the Battle of Antietam, Nancy and I flew on United Airlines to Baltimore-Washington International Airport. We stayed at a hotel next to the Inner Harbor in Baltimore, a Courtyard by Marriott, and had dinner in a modest Little Italy restaurant, La Tavola.
Sunday, September 18 — Baltimore
We walked on the Pratt Street Riot trail, which has a few wayside signs starting at the President Street station on the way to the station at Camden Yards (where the current baseball stadium resides). In April of 1861, Union troops sent to defend Washington traveled on this route, transferring from one rail line to another, first by horse-drawn railcar and then on foot, when they were opposed by mobs throwing rocks. A total of 16 soldiers and civilians were killed during the rioting. There is a Wikipedia article about the incident, which I will admit I had nothing to do with.
We jumped on a small water taxi at the Inner Harbor, and after one stop we reached Fort McHenry. This is an icon of the War of 1812, so I theoretically should not be concerned with it, but I found it very interesting. It is a well preserved star-shaped fort in a very picturesque spot, definitely worth a visit. We started with an overview movie, which was very well done, and it dramatically ended with the theater curtains being raised, showing a view of the famous flagpole. A Civil War connection is that they have one boatload of giant artillery pieces here, most of which did not exist in 1814, and they have one of the largest collections of 15-inch Rodman guns I have ever seen. They were all stamped on their muzzles that they were constructed in 1863 at Fort Pitt, Pennsylvania. We toured through the quarters of the enlisted men and officers, which are nicely preserved and documented. One of the exhibits mentions George Armistead as an officer in the fort and that he was the uncle of Lewis Armistead of Pickett's Charge fame.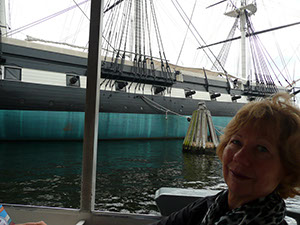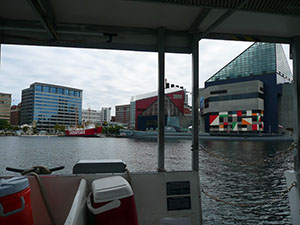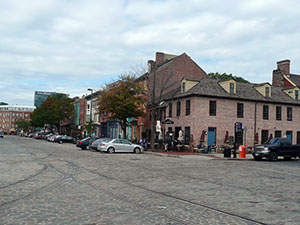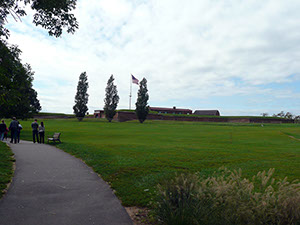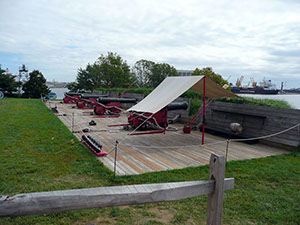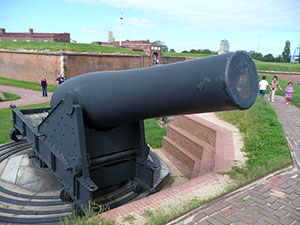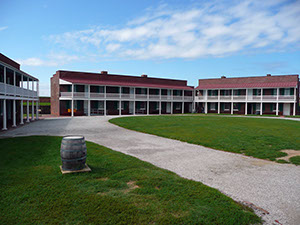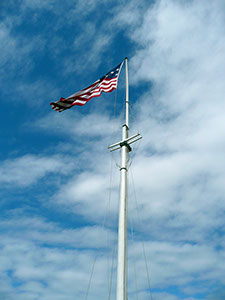 We took the water taxi to Fell's Point, which used to be a very busy port and ship building area, but is now home to numerous cute restaurants and shops. We walked back to the hotel and got our car to drive a couple of miles to the B&O Railroad Museum. It is located in a former maintenance yard and contains the start of the original right-of-way out of Baltimore. We signed up for a brief train ride, which was somewhat of a waste because it went just a little more than a mile and it was in 1950s-era passenger cars pulled by a small diesel yard engine. However, inside the museum was great if you are a railroad buff and there was a very interesting exhibit called "The War Came by Train" that covered a number of Civil War topics. There were a few cases of artifacts, including one of Stonewall Jackson's revolvers, but it was primarily a collection of Civil War locomotives and related exhibits. It is housed in a big roundhouse that is chock-full of ancient locomotives and rail cars. (Outside of the roundhouse there are some really stupendous steam locomotives from the early to mid 20th century.) The B&O guys take sides in an argument we had on Wikipedia a few years ago, regarding whether Stonewall Jackson actually captured and transported a number of B&O locomotives and cars across country in 1861. Jackson's premier biographer, Bud Robertson, says that the stories about it are just figments of the imagination of General John D. Imboden, but the railroad people have provided a few exhibits that claim it is true.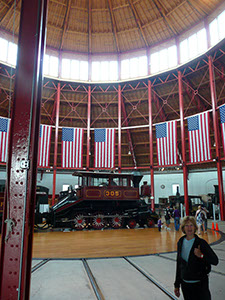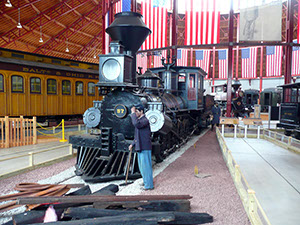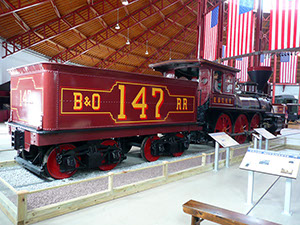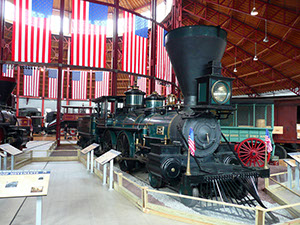 Next we drove to the Maryland Historical Society, which has an exhibit entitled "Divided Voices: Maryland in the Civil War." This was a pretty interesting compilation of stories about Maryland residents involved in the war, both military and civilian. I got into a discussion with a USCT reenactor who was also an enthusiastic history student. I found a number of interesting artifacts. There was a very large portrait of Isaac R. Trimble that I had never seen before. There was a tunic worn by Franklin Buchanan, the superintendent at the Naval Academy in Annapolis who joined the Confederacy and was the captain of the CSS Virginia. He was one tiny dude. There was also a copy of Robert E. Lee's General Order No. 9, issued after the surrender of the Army of Northern Virginia, signed personally by the general. And there was a camp chair that he used in the Northern Virginia and Maryland Campaigns. Our final Civil War drive of the day was to find the park that hosts the Lee-Jackson statue. I found it very well executed, although Stonewall Jackson is riding on a horse that is much too large to be a representation of Little Sorrel. It is odd that I found no comparable monuments for Union generals, but then again, the Baltimore area was pretty pro-Confederate during the war.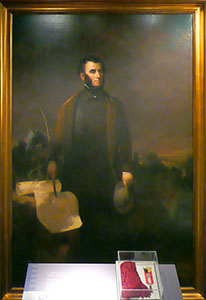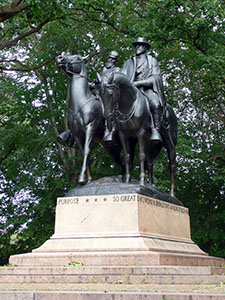 Wanting to try the famous Maryland crab cakes, we went to a well-known place called Obrycki's. Our walk from the hotel was through a rather dodgy neighborhood. The crabcakes were relatively bland and quite expensive, so it is not an experience I will repeat. After 40 years or so, the family is closing their restaurant in November.
Monday, September 19 — Annapolis, Maryland, and Wallops Island, Virginia
Annapolis is about a 45 min. drive from Baltimore. I had been there once before, but I assumed that Nancy would enjoy the picturesque little town as well as the Naval Academy (even though she has virtually zero interest in military or naval affairs, so I was taking a bit of a chance). We had beautiful sunny weather, so it was delightful walking around the town and viewing all of the yachts in the harbor. Our experience at the Naval Academy started with a brief film about the lives of the midshipmen and then we met a former naval officer as our tour guide. (It was unclear to me whether he was actually a graduate of the Academy, but he seemed to know his stuff.) We started in the building where they have a giant Olympic-size swimming pool and watched some swimming lessons. About 2% of the entering students cannot swim at all, but it is a graduation requirement, as one might expect. In order to receive an A in the course, you have to jump into the pool from a 10 meter platform. Someone asked about jumping from the deck of an aircraft carrier and our tour guide said that would be three times as high and it would be a lethal fall, so the Navy is expecting the deck of a sinking carrier to be closer to the water than that before the men are ordered to abandon ship.
We walked around the houses of the senior officers, and then the shrine of John Paul Jones's crypt underneath the beautiful Memorial Chapel. While we walked in the latter, they were doing some rehearsals on the gigantic pipe organ, which was very impressive. The event that got everyone excited was witnessing the formation of the student brigade getting ready to go into lunch. The dining room seats over 4000 midshipmen, although it did not look as if nearly that many people formed up and marched in. But it was a nice ceremony and included some excellent bagpipe music, to my surprise. We also saw the famous statue of Tecumseh, which was the figurehead on the USS Delaware, and is used as a good luck charm by the students before their exams and other big events. The Memorial Hall was temporarily closed, so we could not visit there to see the moving memorials, but we did see a sample dormitory room. Parents, if you are thinking of sending your sons or daughters to Annapolis, make sure they are not very tall or they will not fit in those bunks, which were elevated above the desks.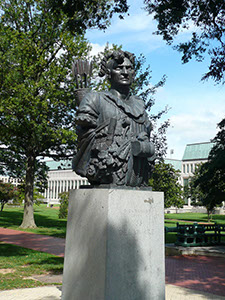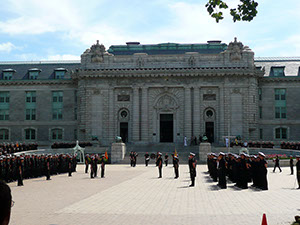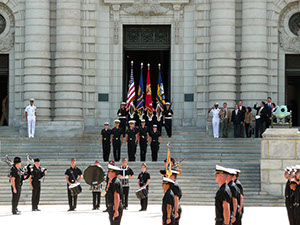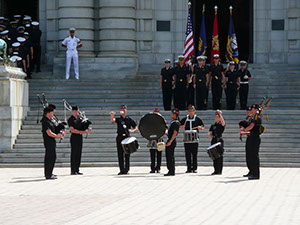 After lunch at the harbor and a visit to Uncle Bob's fudge store, we drove to Wallops Island, Virginia, which is a mostly uninteresting three-hour drive. (Highways in the East are relatively boring because they are often cut through dense forests and there's not much to see, other than traffic lights every few miles. (We were appalled to find that there are virtually no Starbucks or comparable coffee shops on the Eastern Shore of Maryland.) This was the first time I had ever visited the Delmarva Peninsula—the part of Delaware, Maryland, and Virginia in between the Delaware River and Chesapeake Bay. We checked into the Marine Science Consortium, which is a nonprofit organization formed by 16 (if I recall) universities to do education in marine biology, ecology, etc. I think some of the buildings were originally naval barracks because there is a joint Navy and NASA installation directly next door, the Wallops Flight Center. The building we stayed in was more modern, but it was pretty spartan, like a poorly outfitted college dormitory with shared bathrooms. In most aspects it was not really too bad, but since I am 6'8" tall, I did not appreciate the tiny uncomfortable beds. Usually twin beds are not a showstopper for me because I can stick my feet over the end, but in this case they had footboards, so I had to sleep diagonally or scrunched up. I also cannot recommend attending a program there in the summer because these rooms are not air-conditioned. The numerous high school and college students that attend programs here have not become accustomed to fine accommodations and are run pretty ragged in an intensive day, so they probably get a good night sleep anyway.
We met our 24 fellow Road Scholars for dinner in the cafeteria. There were three staff members leading us through the week: Parker, Dan, and Sara. We then adjourned to the education center for an evening lecture, accompanied by wine, cheese, and cookies. A local historian named Larry Blodgett presented for about an hour on the history of Chincoteague Island, which to my surprise is not pronounced as I had assumed ("chink-o-teeg"). The locals say "Shink-o-tig." The most interesting aspect for me was to find out that the island voted overwhelmingly to cooperate with the Union in the Civil War—to protect their commercial seafood trade with the North—and that a local resident named John A. M. Whealton used his influence to get Abraham Lincoln to send a gunboat down to protect the town from the Confederates throughout the war. But Larry also had interesting stories about the history of the former chicken industry in town, the building of the causeway from the mainland in the 1920s, famous storms, and the decline of the seafood industry. He did not say very much about the famous ponies, but we were destined to learn a lot more about them later in the week.
Tuesday, September 20 — Chincoteague and Assateague Islands
We boarded a dilapidated old school bus to leave Wallops Island—well, at least the Wallops Island zip code, because we were not literally on the island itself—to visit the two islands of interest, Chincoteague and Assateague. Assateague is the long, slim barrier island on the eastern shore, facing the Atlantic Ocean, protecting Chincoteague just to the west. Assateague has no human residents, whereas Chincoteague has all of the tourist infrastructure. To make things complicated, Assateague is divided into the Chincoteague National Wildlife Refuge and the Assateague Island National Seashore, the latter of which is also divided between the states of Virginia and Maryland, which manage the parts somewhat differently. Our first stop was the wildlife refuge visitor center, where we heard a spirited presentation by a ranger (is that the correct title for a uniformed Fish and Wildlife Service employee?) named Jill. We learned a lot about the nesting habits of a threatened bird named the piping plover and another threatened animal, the Delmarva Peninsula Fox Squirrel, which looks a lot like a regular squirrel, although a bit bigger. Later in the day we got to see a wooden squirrel house mounted on a tree in which the fox squirrel accommodated us by ostentationly racing up the tree and jumping in. We also learned briefly about a tiny invasive species called a sika deer or elk, which had been introduced from the Orient. We watched a brief movie about the famous ponies and their annual swim from Assateague to Chincoteague. More about that later.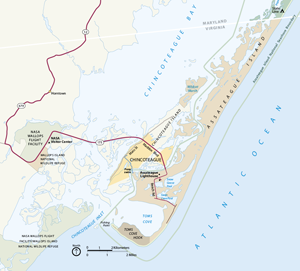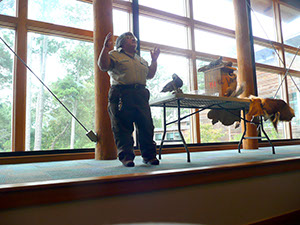 We visited a famous lighthouse, which was interesting because the sand forming the island had shifted so much over the last century that the light was no longer on the coast, but was a mile or so inland. It is 142 feet high and some of our group decided to climb up, but I demurred, deciding that the weather was not clear enough for a really spectacular view. Instead, we admired the artwork of a local artist. We took a walk on the beach at Tom's Cove and spent a few minutes at the National Park Service visitor center. (If you ever wonder about what the government spends money on, consider two modern federal visitor centers about a mile apart.) The highlight of the day was taking the bus on a restricted access service road to find the wild ponies. We were given the impression that these are actually horses that, if they had a better diet, would grow up to be full size; this is a notion that was in dispute by various people during the week. We saw three or four bands of horses, although we learned later that there are as many as 10 roaming around. There were quite a number of beautiful paints and palominos. You are not supposed to get any closer than 20 feet and you are prohibited from petting them or feeding them, but they came up pretty close to the bus and we got a great view. It was amusing to see all of the shorebirds that symbiotically rode around on their backs, eating bugs from their fur. There was one handsome black stallion that got the attention of the ladies on the bus. We also saw a number of wild turkeys.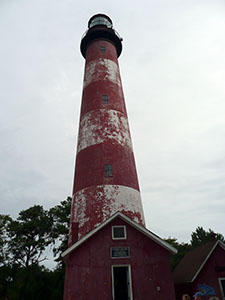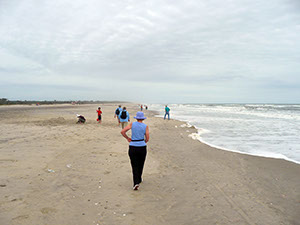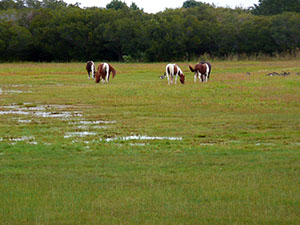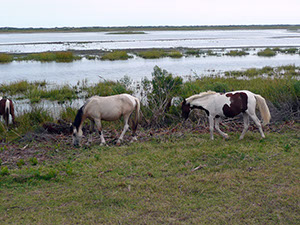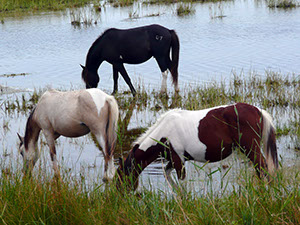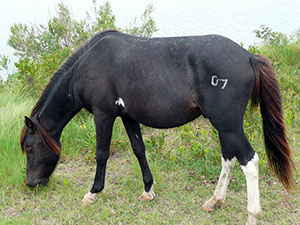 On the way back we had a nice interlude at the Island Creamery, where Parker treated us to a scoop of homemade ice cream, the quality of which I thought was excellent. We also stopped at Memorial Park, which is the location at which the ponies come ashore after swimming across a relatively narrow channel from Assateague Island during the July roundup (the "penning," they call it). After dinner we watched a video about the geography and ecology of barrier islands, which was directly focused on Assateague Island in particular. And then a colorful character name Randy Birch gave us a great presentation about what it means to be a "waterman." This is a term you hear a lot in this area. It means a man who makes his living harvesting seafood, but he has not specialized in one particular kind. Depending on the season, he could be harvesting crabs or oysters or clams or fish. Randy said that he was "primarily" a crabber, but he talked a lot about clams and oysters as well. His underlying message was that regulations were killing his profession and that within 20 years he wouldn't be surprised if there were no watermen left in the area. He says that most crab currently come from Indonesia, which is a shame because they are not inspected and are treated with bleach. He said that the practice of avoiding oysters in months without the letter R in their name is a myth and it is okay to eat them throughout the year. He brought two oysters along with him, harvested within the hour, and got a couple of volunteers to eat them. The verdict was they were good, although neither person raved. At one point Randy said that Chincoteague oysters were the best in the world, although he later admitted that the New York bluepoint oysters might be better. He also remarked that the Fulton Street fishmarket in New York effectively controls the prices on almost all seafood for the entire East Coast.
Wednesday, September 21 — A Marine Research Expedition
Today we hopped onto two small marine research vessels for a trawling expedition. Our half of the group was on the RV Flatfish (the other was attractively named Mollusk), operated by Capt. Jimmy. The boats were little more than flat platforms with some boxes to sit on. We puttered out a mile or so into the marshes and then members of the tour followed directions and tossed out a large trawling net. After 15 minutes or so, we dragged it back in and were surprised by how much we had collected. By volume, a variety of sponge was our biggest catch, but we also hauled in a small shark, a skate, a blowfish, a sea urchin, and a variety of small fish and crabs. The other boat, with whom we were in a slight competition, also got a big horseshoe crab. We got to pass around all of these creatures (except for the shark) and learned a little bit about each. I believe all were tossed back in to wait for another trawler.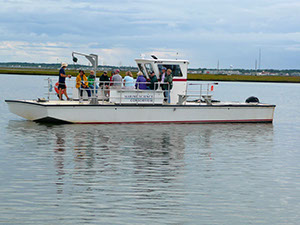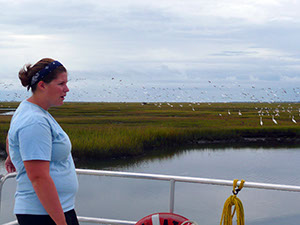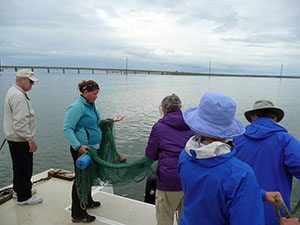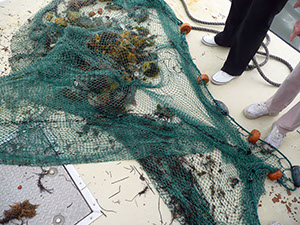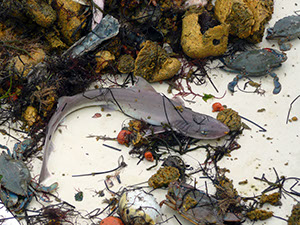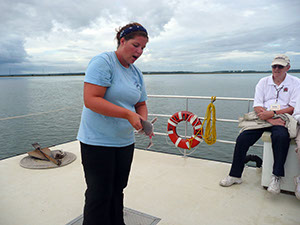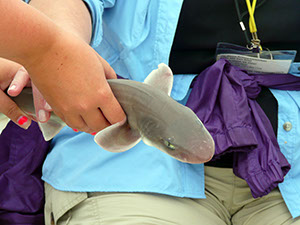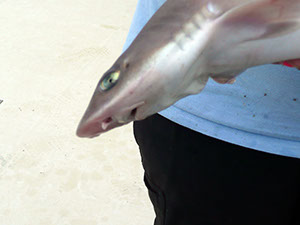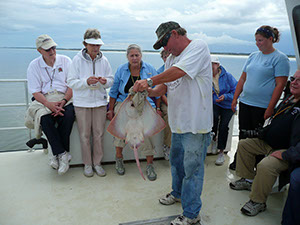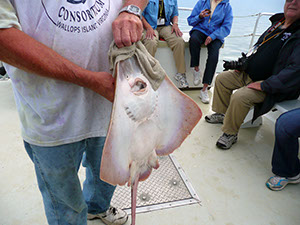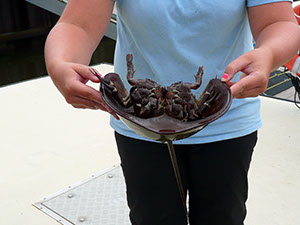 In the afternoon, Nancy and I decided to skip the scheduled activity and drive downtown to see the island's small museum. However, we found that it was closed on Wednesday during the late tourist season, as was the NASA Wallops Flight Center Museum, and many of the shops. So we hurried back to the MSC and joined the scheduled lecture a few minutes late. It was actually an interesting presentation and demonstration by a local painter named Nancy West, who demonstrated how to do a simple poster-paint portrait of a duck decoy in just a few minutes. She did a very nice job and then we had a lottery to give the portrait to one of the guests.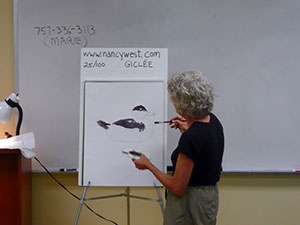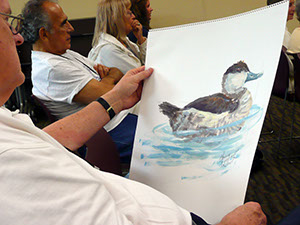 For dinner, we had a banquet at Bill's Seafood downtown, which was a very busy restaurant and it had pretty decent food. Returning to the MSC, we had a two-hour concert by a local group called Three Sheets (as in the drunken sailors who came back from town "three sheets to the wind"). Two of the men were retired from NASA and one was a retired college president. The latter played quite a number of different instruments, but the most impressive was the hammered dulcimer. Their repertoire focused primarily on folk music oriented towards sailors and the sea. Our group got pretty lively singing along with the trio, although I can't say that I knew very many of the songs well enough to sing.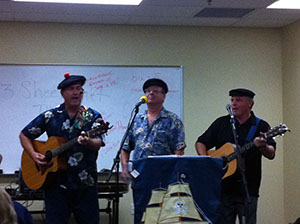 Thursday, September 22 — Pony Stories and Dulles, Virginia
We checked out of our rooms and had a brief ceremony passing out certificates of completion and then spent an interesting two hours with a local volunteer fireman named Roe Terry. (Roe is also a full-time employee of the National Oceanographic and Atmospheric Administration on Wallops Island, involved in receiving and distributing data from weather satellites, and has a part-time business carving duck decoys.) The famous wild ponies on Assateague Island (those south of the Maryland border) are owned by the Chincoteague Island volunteer fire department. Ever since the 1920s, they have managed the herds under a government permit that allows them to graze 150 in the wildlife refuge. They operate an annual carnival that is highlighted by the Pony Penning ceremony, in which the ponies are rounded up by firemen on horseback and then driven to swim across a narrow channel from Assateague Island to Chincoteague Island. They auction off 70 to 80 foals each year and use the proceeds to operate the fire department. On average, they get about $1200 per pony, but they also do a good business in getting people to "buy" a pony and then immediately donate it back to the herd, where it will live for the rest of its life. Pony Penning is described in a famous 1947 children's book by Marguerite Henry called Misty of Chincoteague. Nancy remembers it from her childhood and read it again prior to our trip. (One of the reasons we wanted to see the local museum is that Misty, who was a real pony, is allegedly stuffed and on display there.)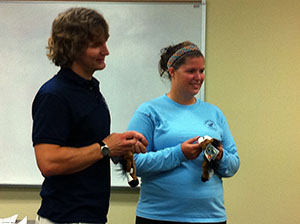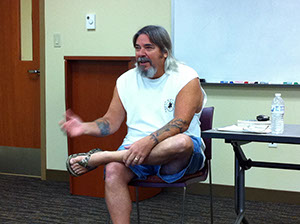 No one knows for sure how the ponies came to Assateague Island. The primary legend is that they are the descendents of ponies that were shipwrecked from a Spanish galleon. (This is a rather grisly story because all of those ponies were supposedly blinded so that they could work in gold mines.) Larry Blodgett from our first evening discounts this story and believes that most of the ponies were actually put there by early settlers to avoid taxes. The National Park Service tilts in this direction as well. However, Roe puts more stock in the Spanish galleon theory because he wonders where the ponies would've come from in the first place, regardless of tax consequences. He told a long series of stories about all of the interference from governments and PETA-like groups. He also described the veterinary care that the ponies get. They are essentially treated like ponies would be if they lived in your own backyard.
Rather than waiting around for another cafeteria lunch, we drove back up the Delmarva Peninsula, across the Bay Bridge, and skirted around Washington, DC. We spent a couple of hours in the Udvar-Hazy Center of the Smithsonian Air and Space Museum. I had visited this once before, but thought Nancy would be interested. It is a tremendous aircraft hangar-like building with many of the Smithsonian's collection of historic aircraft and spacecraft that did not fit in the downtown section of the museum. Some of the highlights include the space shuttle Enterprise (which was a prototype that did not actually fly in space; an employee told us that it would soon be transferred to New York City and the veteran shuttle Discovery would replace it here), an SR-71 blackbird reconnaissance plane, the prototype for the Boeing 707, the Enola Gay (the B-29 that dropped the atomic bomb on Hiroshima), a Concorde supersonic passenger jet, and a number of interesting helicopters and fighter planes. There is an observation tower that has an interesting view of Dulles Airport and an IMAX theater, although we did not partake of the latter.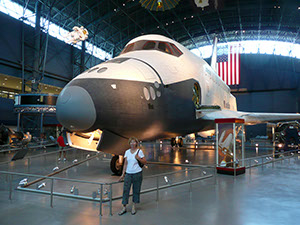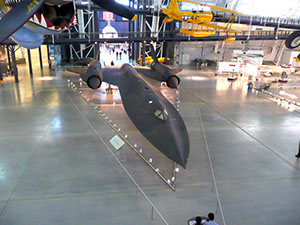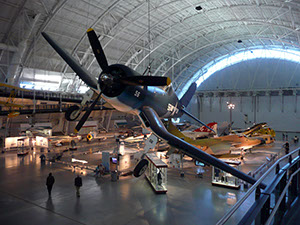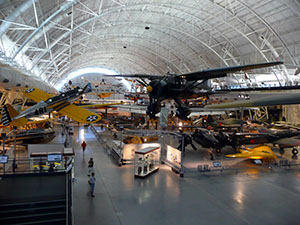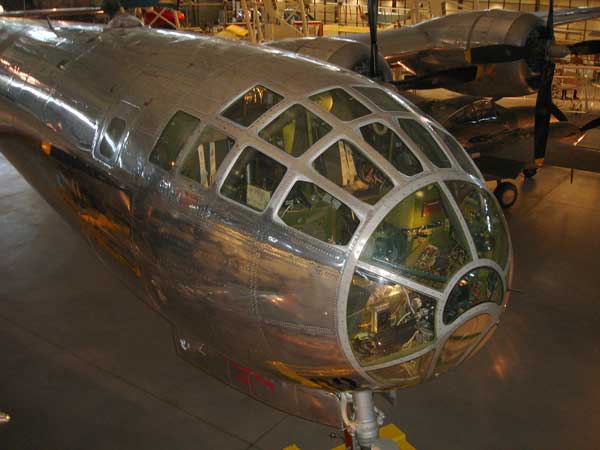 We spent the night in a modest Doubletree Hotel in Sterling, Virginia, not far from the airport.
Friday, September 23 — back to San Francisco
We took an early morning flight from Dulles to San Francisco and our brief journey came to an end. We saw some interesting sites, both historical and ecological, and enjoyed a well-managed program with friendly and interesting participants. I continue to recommend Road Scholar to folks for their excellent programs all over the world that are focused on educational opportunities at an affordable cost.