Training with TNT for the 2016 Philadelphia (Half) Marathon
This is my page about running and training for the Philadelphia Marathon, November 20, 2016, with Team in Training (TNT), which raises funds for the Leukemia and Lymphoma Society by providing training opportunities for wannabe athletes such as myself.
Because of some health concerns, which I describe below, I actually ran the half marathon on November 19.
This is my 19th season with TNT (previously half marathons in San Francisco and Vancouver, BC, and full marathons—26.2 miles!—in Portland, San Francisco, Napa, Victoria BC, Atlanta, Washington DC, Los Angeles, Chattanooga/Chickamauga, Oakland, Richmond VA [twice], San Luis Obispo CA [twice], New York City, Chicago, and Seattle).
To read about my training for the marathon, please jump to here.
Philadelphia Half Marathon
When we arrived in Philadelphia on Friday, November 18, I had just gotten through a week of being sick with a moderate head cold, which marred my usually restful tapering period. Because of my physical condition—stuffed up and coughing—and because I had not been happy with my performance during this season's training, I reluctantly changed up my registration from the full marathon to the half marathon. The Expo at the Pennsylvania Convention Center provided a simple step to do that the night before (although they gave me the full marathon shirt). So I ran the half marathon on Saturday instead of the full marathon on Sunday. I had to walk 1.75 miles from my hotel to the starting line, which was next to the Philadelphia Museum of Art (the location of the famous Rocky Balboa steps). It was a moderately crowded scene and they sent us off in waves. My corral was delayed about 25 minutes before I reached the starting line.
The weather was beautiful, clear and only a bit chilly, ending up in the low 60°s by the end. This was a stroke of luck for me because the full marathon on Sunday ended up being bitterly cold with rather high winds. We ran a bit through downtown, past Independence Hall, and then looped back to run up the right bank of the Schuylkill River (which the locals pronounced Skookle), through West Fairmount Park, crossed the river, and then returned on the left bank to the art museum. We ran past scenes of crew practice on the river, a few historic houses, and the giant Civil War monument in the park, which was cool. There were four noticeable hills on the course, but none of them posed much of a challenge. A large number of racers in my speed group walked up most of these, while I managed to at least jog up.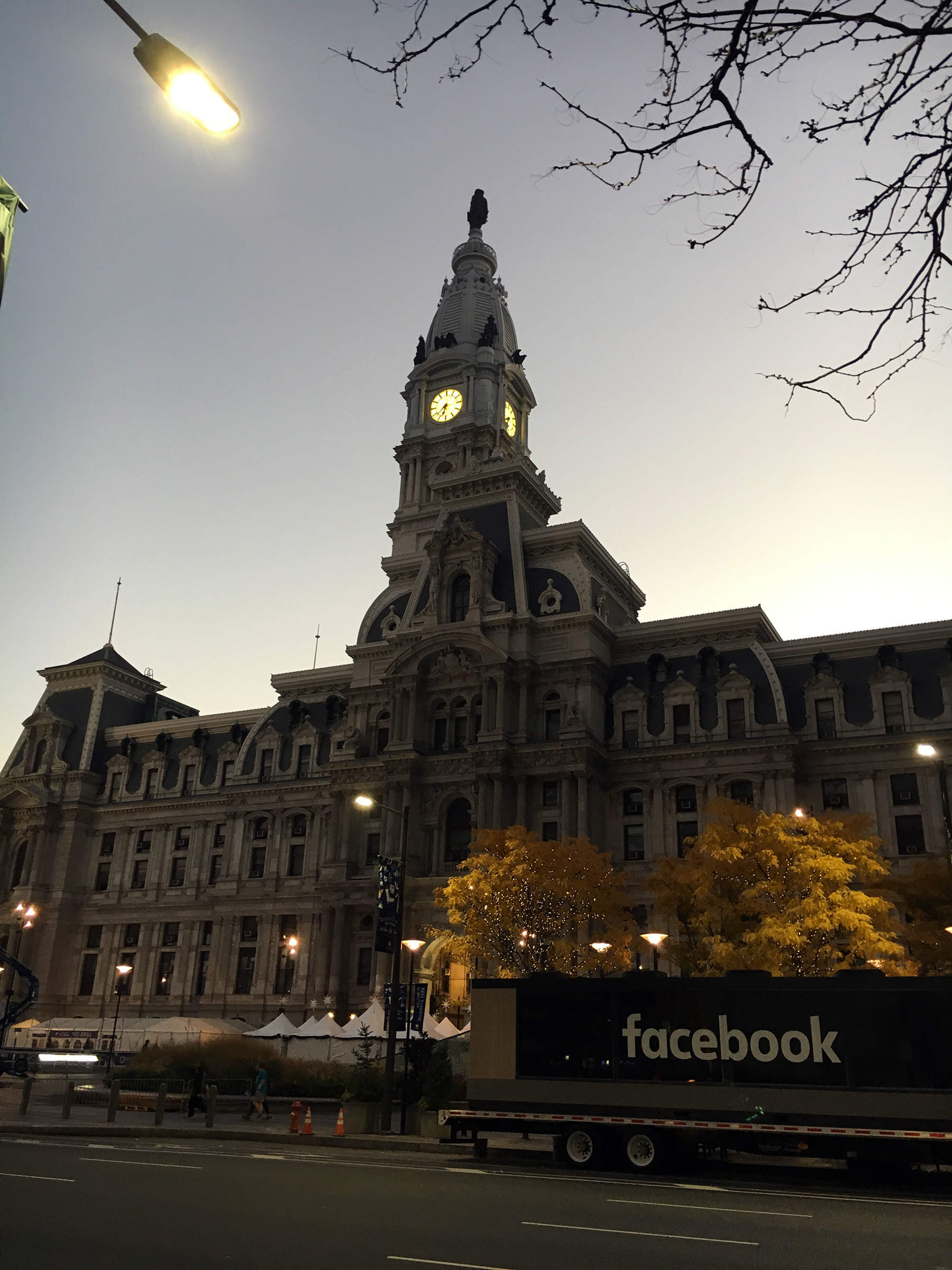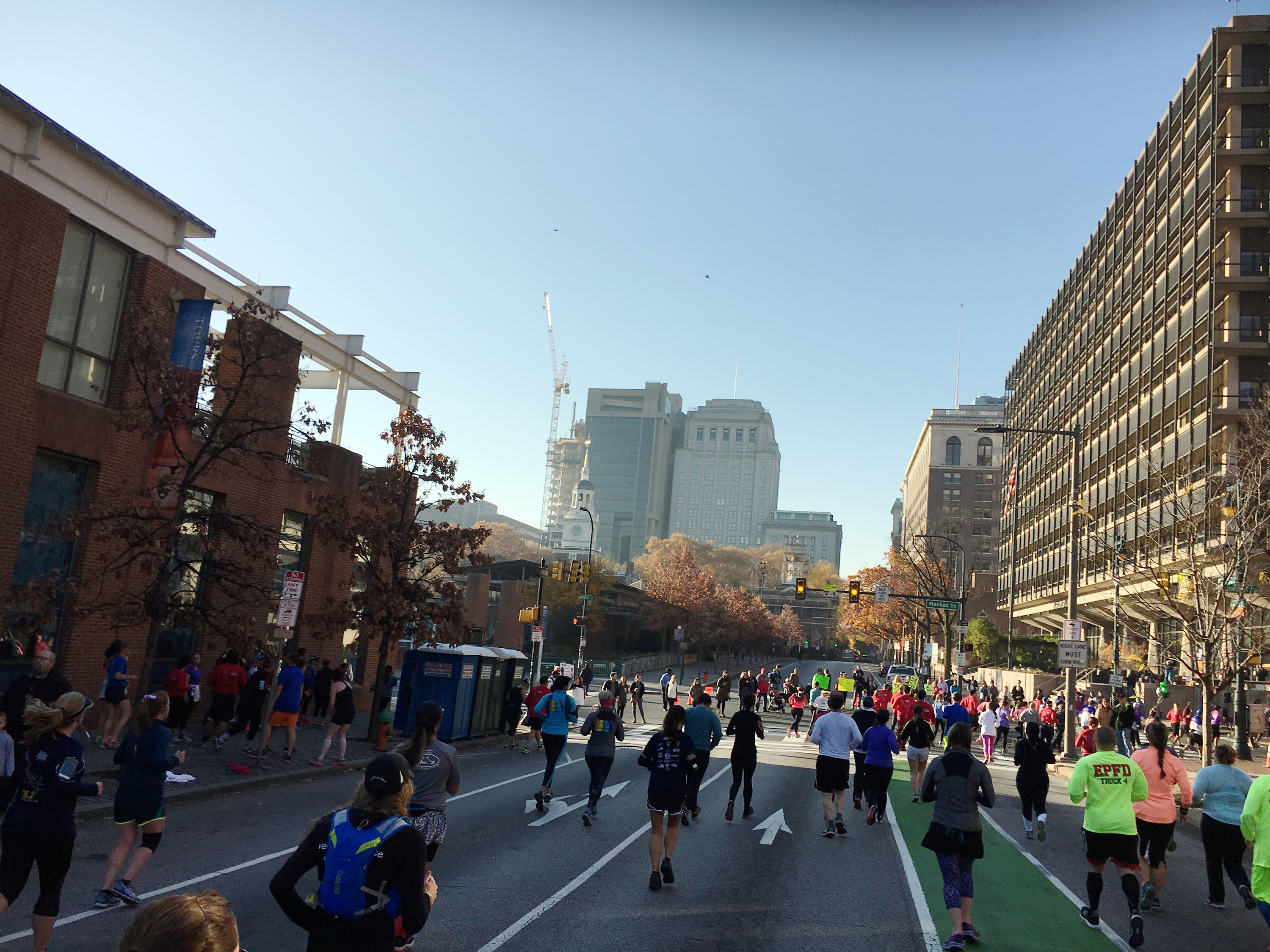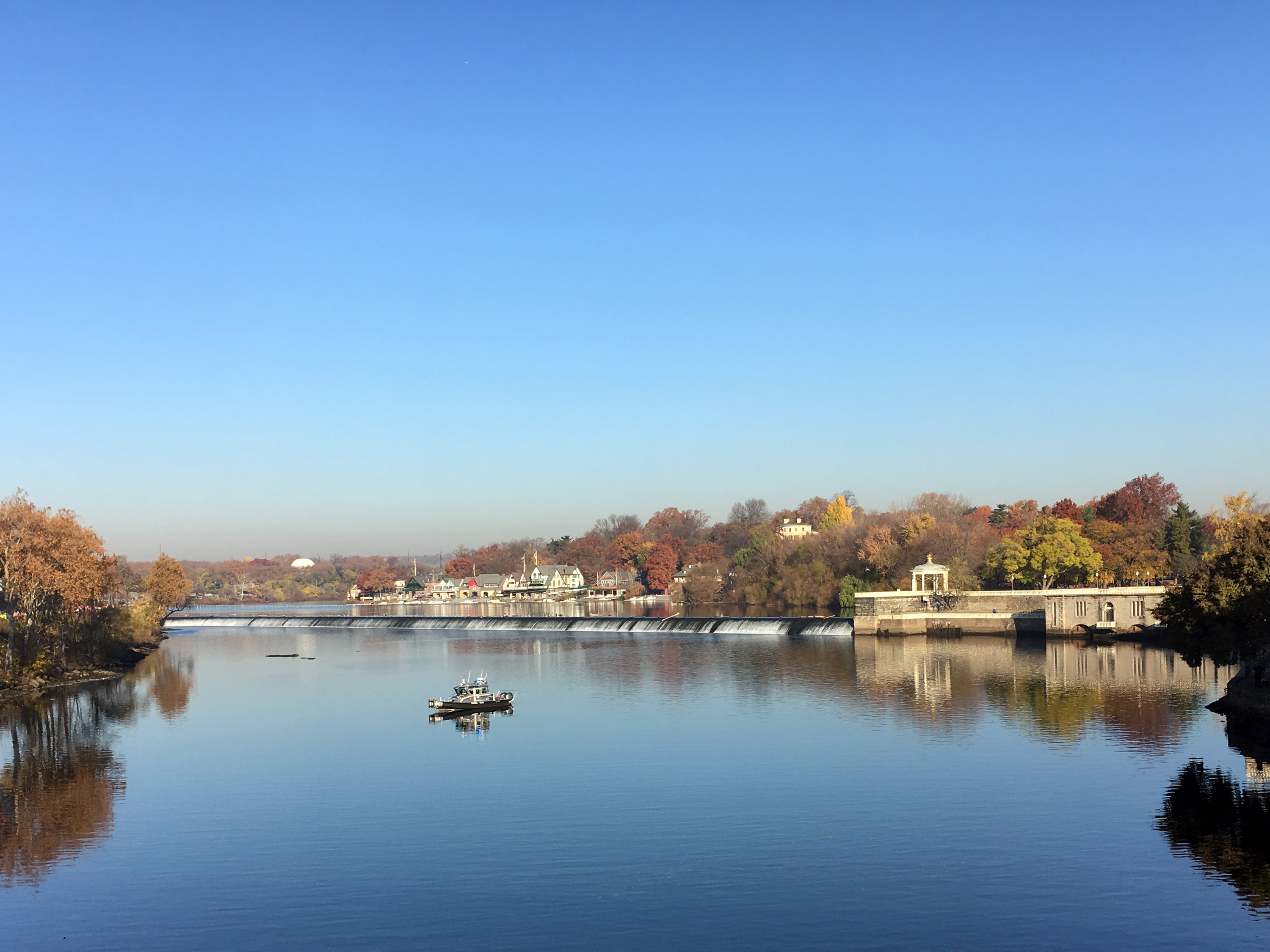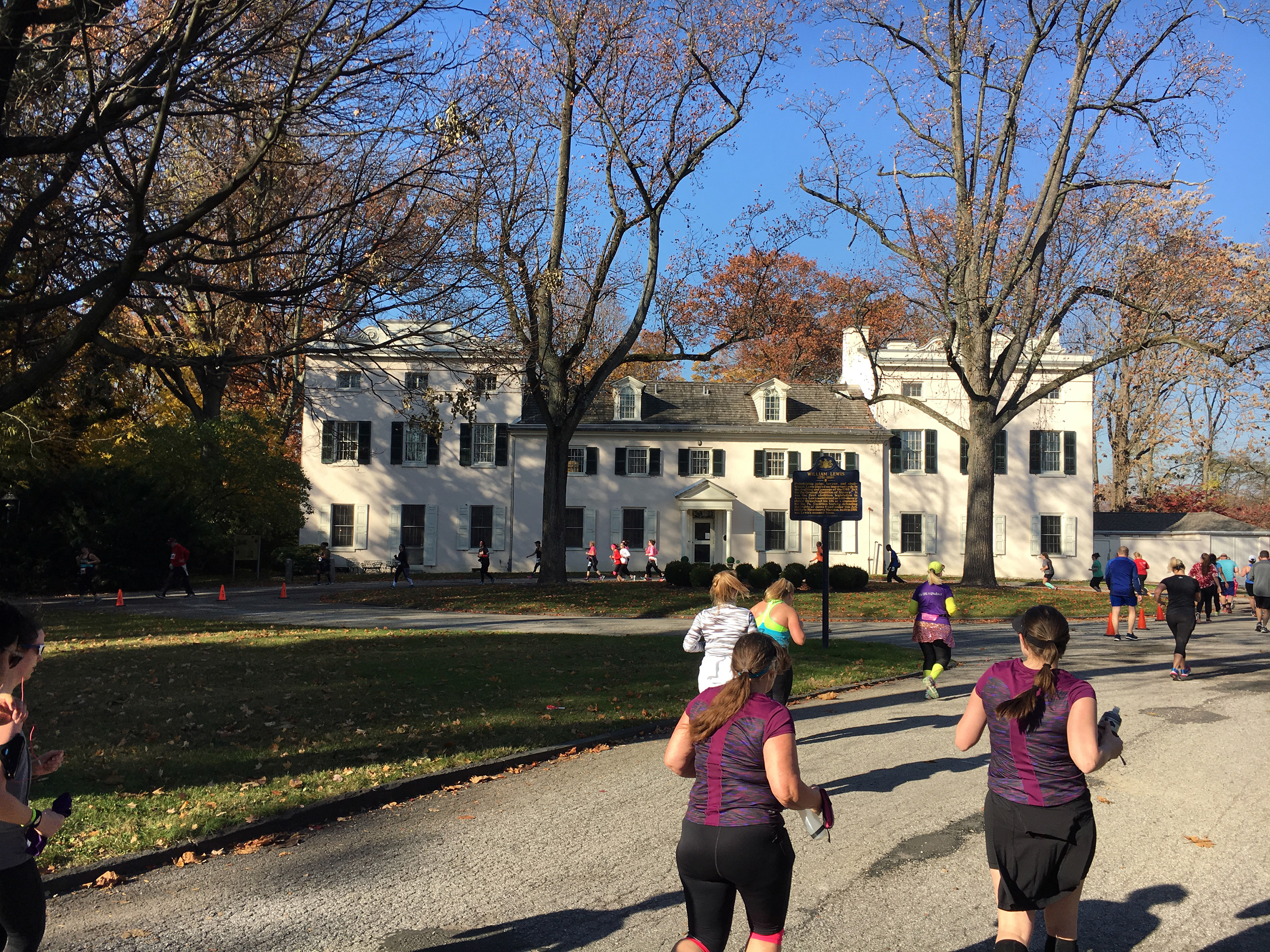 My time was 2:48:57, which was close to my worst half marathon time. I started out pretty well, but began slowing down around mile 8. To my dismay, my periodic lower back pain problem started to kick in around mile 11 or 12, so I crossed the finish line leaning prominently to the right, as I have done in a few full marathons. I am pretty well convinced that I would have completely flamed out in the full marathon and am fortunate I made the choice I did. I will need to improve my training for the next race. Looking at my progress this season in comparison to previous seasons indicates that I ran more slowly and had significantly lower mileage than in previous seasons. For example, last season I ran 469 miles versus 317 this season. I will also need to double down on my core strength training.
I am not going to bother with much of a travelogue of our Philadelphia trip, other than to list the highlights. We arrived Friday evening, attended the Expo, and had a pretty good pizza. The race was Saturday morning and that afternoon we took a Philadelphia-traditional-fare foodie tour, which included tomato pie, soft pretzel, cheesesteak, an Amish doughnut, and a rather ordinary chocolate chip cookie—the latter two at the Reading Terminal Market. Sunday we took a walking tour of the Independence Hall area, and were a bit disappointed to find that we did not go into the National Park Service areas. Nancy was having a knee pain problem, so that afternoon I went to the Constitution Center museum on my own. On Monday we rested Nancy's knee some more, dropped into Macy's for the noon concert of the stupendous John Wanamaker Organ (28,500 pipes!), went to the movies, and joined our friend Rich Jankowski for dinner. On Tuesday we visited the supposedly famous Federal Doughnuts and were not very impressed; I had hoped to try their fried chicken and doughnut combination, but we went too early. We spent the bulk of the day at the Philadelphia Museum of Art, which I thought was one of the best art museums I have ever visited. They had a great special exhibition on Mexican art 1910–50 and also lots of very interesting 19th century American artists, particularly from the Philadelphia area, such as Thomas Eakins. The place is huge and we did not even manage to get up onto the second floor, so we missed a lot of early European art, Asian, armor, etc. We flew back to San Francisco Tuesday evening, just at the start of the Thanksgiving rush.
My next race with TNT is going to be the Nashville Rock 'n Roll Marathon on April 29, 2017. I may consider substituting the half marathon again, depending on my training progress. Not getting any younger! :-)
TNT Training
Weekly Training Schedule
Here is the table of weekly activities for our training.
| | |
| --- | --- |
| Monday | Cross training (50–75 minutes walking, swimming, or aerobics and weights at the gym), including core strength—I visit my local gym. |
| Tuesday | Buddy runs: easy runs with a group at a conversational pace. Early in the season they are in the 3-5 mile range, later they get to 5–7 with a number of hill-repeat sessions mixed in. |
| Wednesday | Cross training and core strength. |
| Thursday | Track workout under coaches' supervision (90 minutes). Mostly intervals, pacing runs, and hills/bleachers, generally 3–5 miles total, preceded by dynamic stretching, dynamic drills, and concluding with core strength exercises. |
| Friday | Rest, stretching, core strength. |
| Saturday | |
| (1) Distance run in scenic places, starting at 4–6 miles and increasing 2 miles every other week until you're finally at 20 miles. | (2) On Your Own (OYO) runs, although group running is encouraged. Starts at 2–4 miles, progresses through the season to 6-10. |
| Sunday | Rest, stretching, core strength. |
Workout Log
Here's the training I am accumulating prior to the race:
Sat, Nov 12: Track this week was very low-key, with only five people attending. After the usual 1 mile warm-up and light dynamic drills, we ran 2 miles at a conversational pace. My "long run" was the final one before the race next weekend. I did 5 miles around the neighborhood at a 12:36 pace. My season mileage is 317. This is somewhat concerning because it is at least 150 miles less than most of my previous seasons. I am looking forward to the Philadelphia marathon with some apprehension. My pace has been slow this season and the training has not been as extensive. Watch this space for my race update on November 23 or 24.
Sat, Nov 5: Track this week was a series of eight 400s and I can't say I exerted myself too much, getting ready for the long run in two days, which was on my own at Shoreline. I did a 12 mile out and back with my friend Sara (who is getting ready to run a half marathon) and then a 6 mile. My overall pace was 12:43. My season mileage is 304.
Sun, Oct 23: Track this week was another circuit exercise—run a lap, then do 10-20 reps of a core or dynamic exercise, repeat 9 times. My long run was over to Stanford and around the Campus Drive loop and back, 16 miles at a 13:14 pace. My season mileage is 271.
Sat, Oct 15: Track this week was fartlek intervals. Attendance is getting pretty sparse with a lot of the races completed for the season. The group long run was scheduled to be in the afternoon on Saturday to simulate conditions that will be found in the Las Vegas marathon. Since my Philadelphia race is not going to be in the afternoon, I did not attend this session, instead running on my own early at Sawyer Camp, 12 miles at a 12:10 pace. I am going to be breaking from the regular schedule now because my race is a week later than any of the others, so I will be doing my long runs on my own on alternate weeks from the group. My season mileage is 246.
Sat, Oct 8: Track this week was a series of seven 400 m with about 90 seconds rest between each. My long run was on my own and I did 9 miles around the Stanford campus at a 12:49 pace. My season mileage is 223.
Freedom's Run Half Marathon
Sat, Oct 1: No track this week because I am traveling in Detroit. Today was the Freedom's Run Half Marathon, which brings my season mileage to 211. It started in Shepherdstown, West Virginia, near city hall, a very low key affair. Fewer than 1000 runners were there and there was no marked starting line or chip timing start. (They used our bib chips only at the finish line.) Light rain or drizzle was forecast, but it was pretty heavy with some lightning just before the 8:30 start. We went half a mile across the Potomac and then down a winding path to the C&O towpath. This was 2.5 miles of muddy puddles. I twisted my foot, but the pain went away after 50 yards. Then we ran up a challenging hill, 175 feet over a half mile, just as A. P. Hill's Confederate troops did in 1862 on the way to save the day at the battle of Antietam. For the next 6 or 7 miles, it was very hilly in the Antietam National Battlefield, making this the toughest half marathon I have run. The intermittent rain didn't help, but wasn't a big impediment. It was psychically nice to be on the hallowed Antietam field, although I tend to watch my feet a lot in a race, so I missed some of the intended flavor. We looped up next to the Sunken Lane and the Mumma farm before heading back past the Dunker Church, through Sharpsburg, and across the bridge to Shepherdstown University football stadium and the finish. I did it in 2:53, which is a terrible time, but it was a tough course and I was just training, after all. They gave us an odd handcrafted ceramic finisher medal.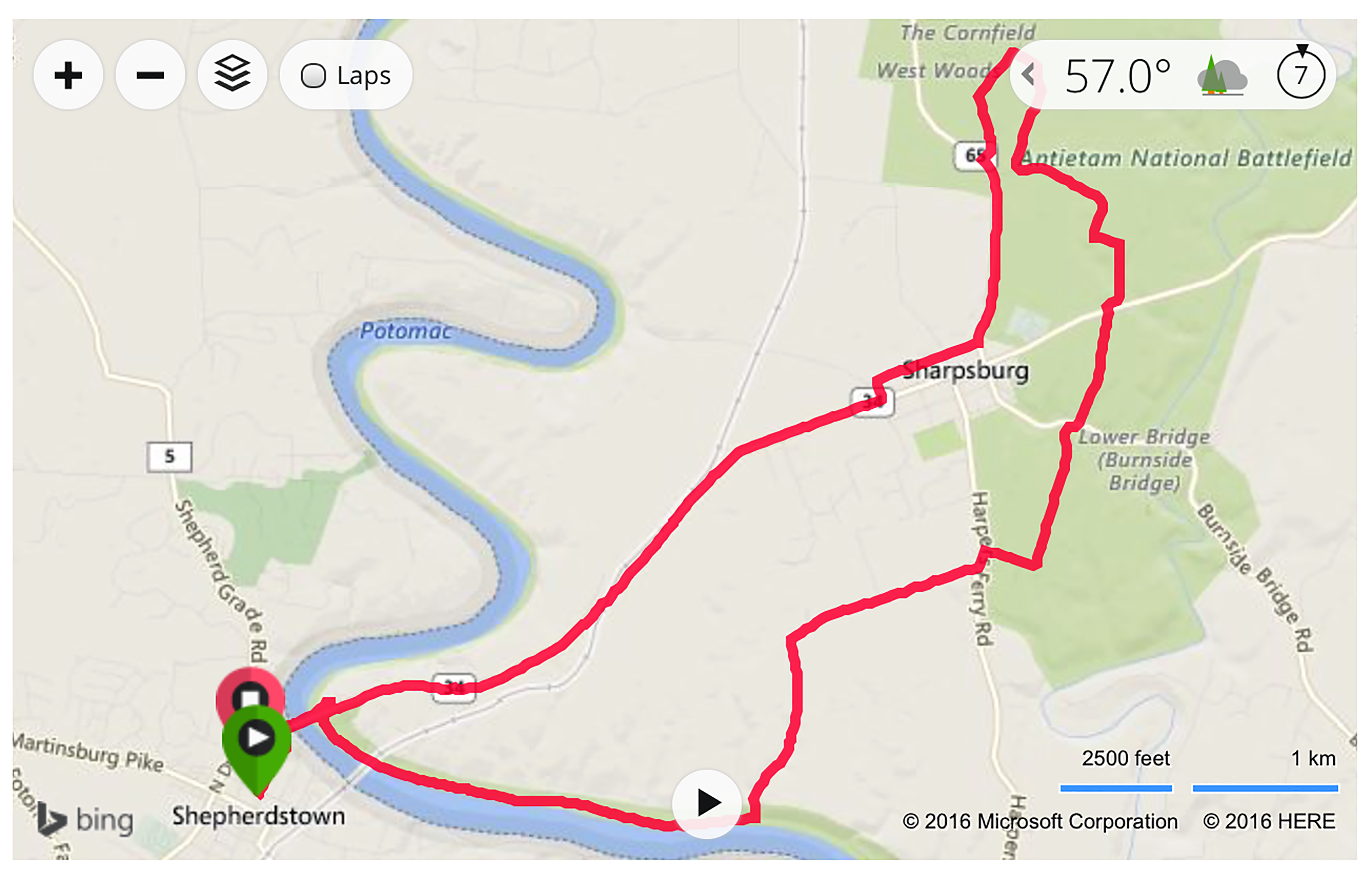 Sun, Sep 25: Track this week was mile repeats. The long run was 16 miles scheduled for Monterey, but I was traveling instead. I did a 6 mile out and back on the Detroit Riverwalk, which I describe here.It was a bit challenging to stay on the path, with marinas and little harbors forcing detours back onto city streets, but overall it was a great run. My season mileage is 198.
Sat, Sep 17: Track this week was circuit training, which consisted of running a lap and then doing a set of one particular exercise (lunges, squats, planks, etc.), and then repeating. I think I did nine repetitions. The long run was on our own and I did 7.5 miles on the hilly Cañada Road course at a 12:43 pace. My season mileage is 181.
Sat, Sep 10: Track was on Wednesday this week, giving us a little extra recovery time before the weekend. We did 2 or 3-mile time trials. The long run was in San Francisco, starting at Ocean Beach. We took a different course than in the previous 18 seasons—after climbing up past the Cliff House, we turned into the Lands End park and ran a rather challenging rocky and hilly trail, which included a lot of stairs! Then through Sea Cliff as usual, but instead of climbing up the long Lincoln Ave hill, we ran mostly flat through Baker Beach (which I, a resident in the area for 36 years, had never visited) and saw some coastal artillery batteries. That part had some difficult soft sand, which is really slow. After retracing our steps, we concluded with 6 miles in Golden Gate Park, entirely on hills. A pretty grueling morning, and my dismal pace showed it: 14 miles at 14:00. (Some parts of the trail I did at 16+!) My season mileage is 164.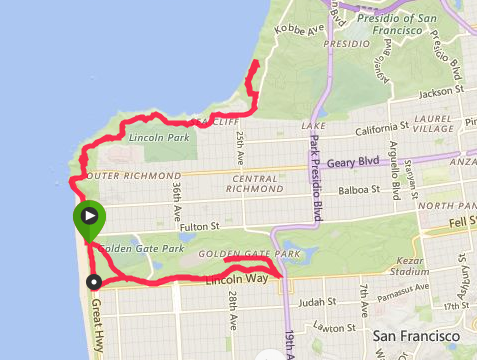 Sat, Sep 3: Track this week was hill repeats at Wunderlich Park, about 30 minutes on a ladder course that went up about 80 feet. The long run was on our own. I did 7.5 miles on the hilly Cañada Road course, at a 12:22 pace. My season mileage is 140.
Sat, Aug 27: Track this week consisted of a brief and easy ladder: 400 m, 800 m, 1200 m, 800 m, 400 m, with about 60 seconds rest in between. The long run was in Santa Cruz, but I did not feel like driving that far, so I ran on my own on the hilly Alameda course to Stanford. I did 12 miles at a 12:46 pace. My season mileage is 125.
Sat, Aug 20: Track this week was the walking clinic with coach Ron Carino. The long run was on our own. I did 6 miles on the hilly Cañada Road course to Woodside at a 12:07 pace. My season mileage is 104.
Sat, Aug 13: I missed a week of workouts while I celebrated my 40th wedding anniversary with Nancy in Kauai! Track this week was Yasso 800s, and I have to say that I was a bit sluggish starting up after an idle week. The long run today was at Sawyer Camp, 10 miles out and back at an 11:42 pace. My season mileage is 90.
Sat, July 30: Track was 400 m relays again—400 m followed by about 90 second static recovery—although this night we rotated between slow, medium, and fast paces. The long run started at Los Gatos High School, 8.33 miles on a mostly flat course at an 11:52 pace. We followed that with a potluck brunch in which we heard brief remarks from six of our honorees.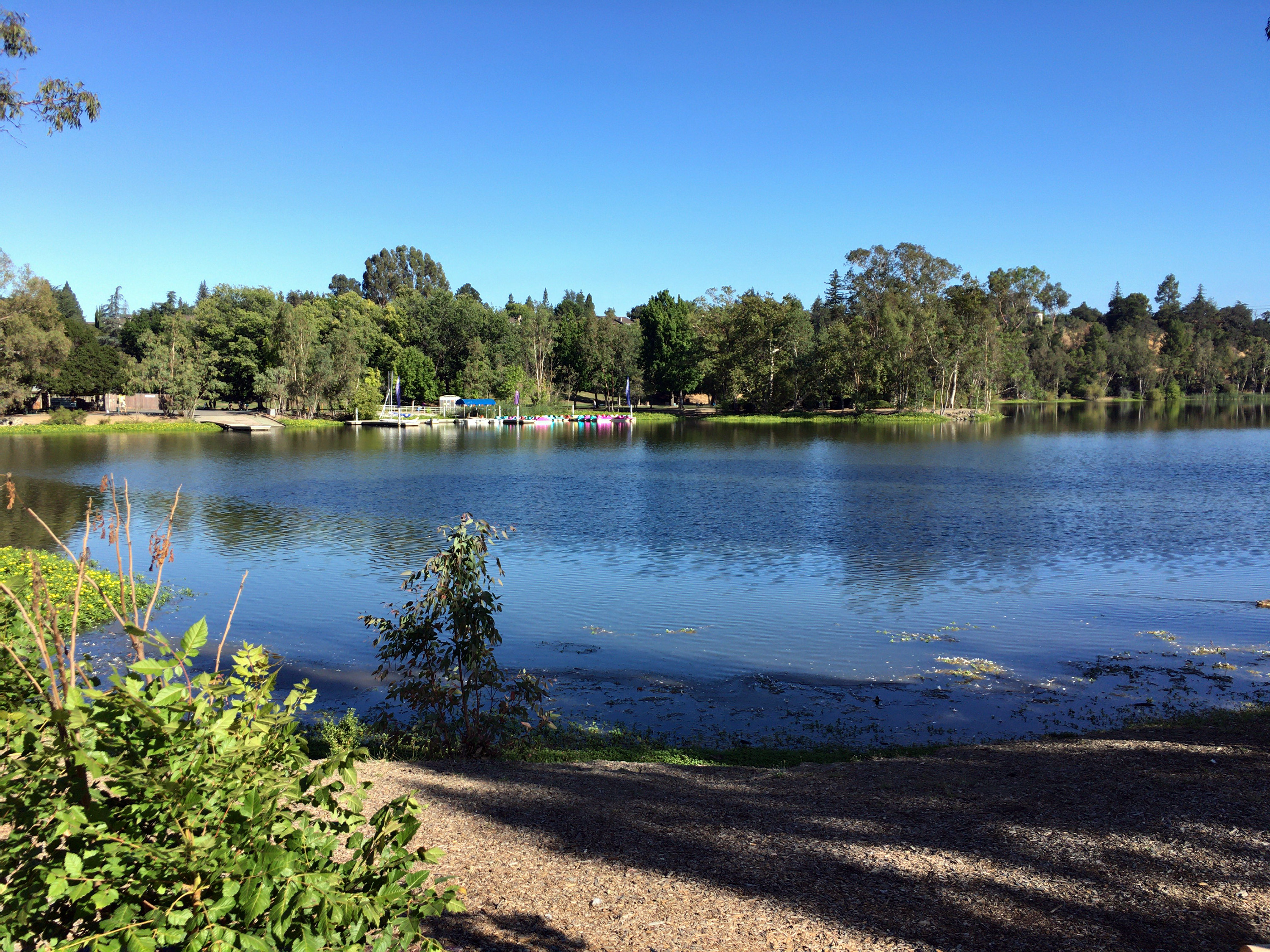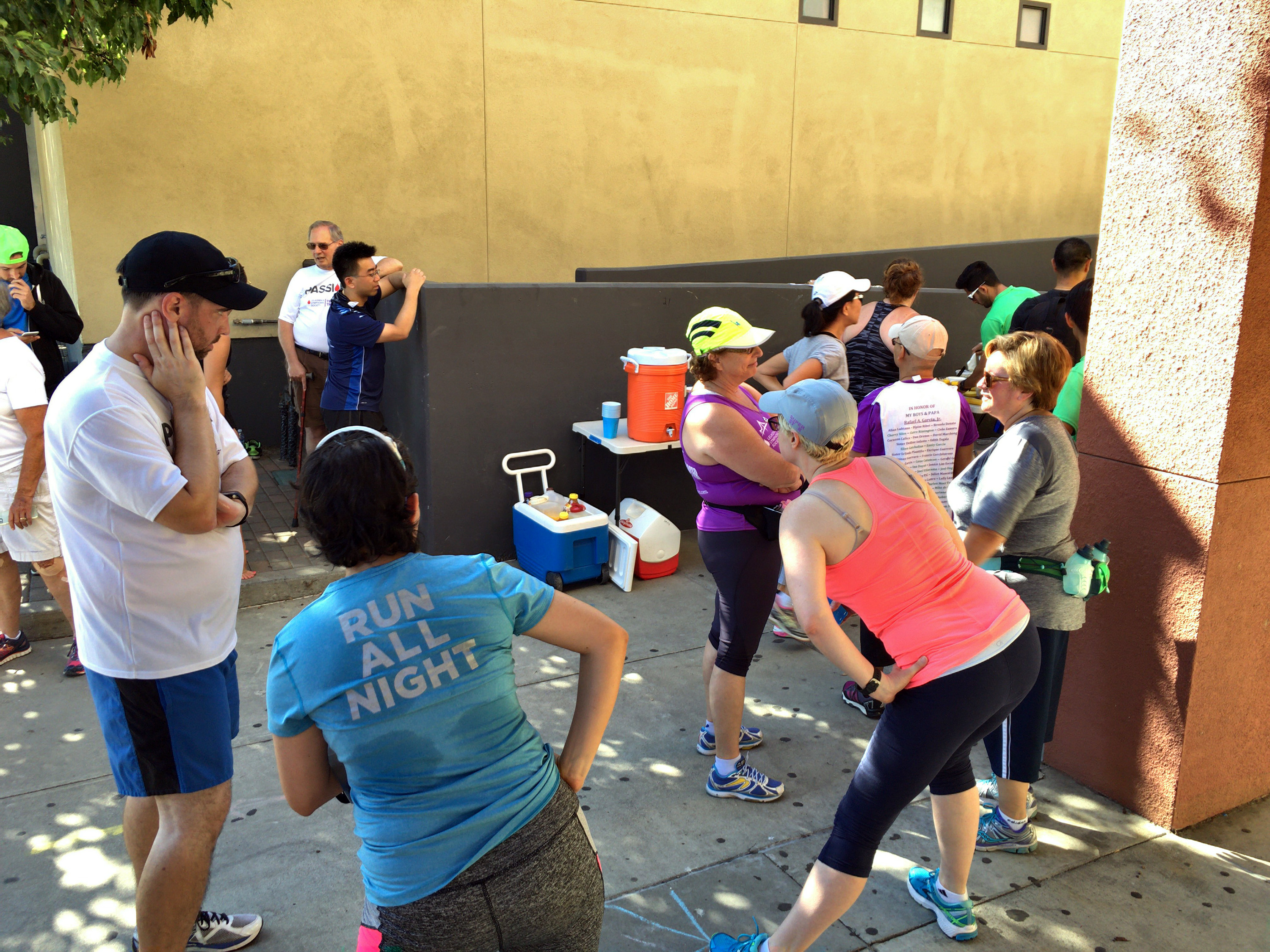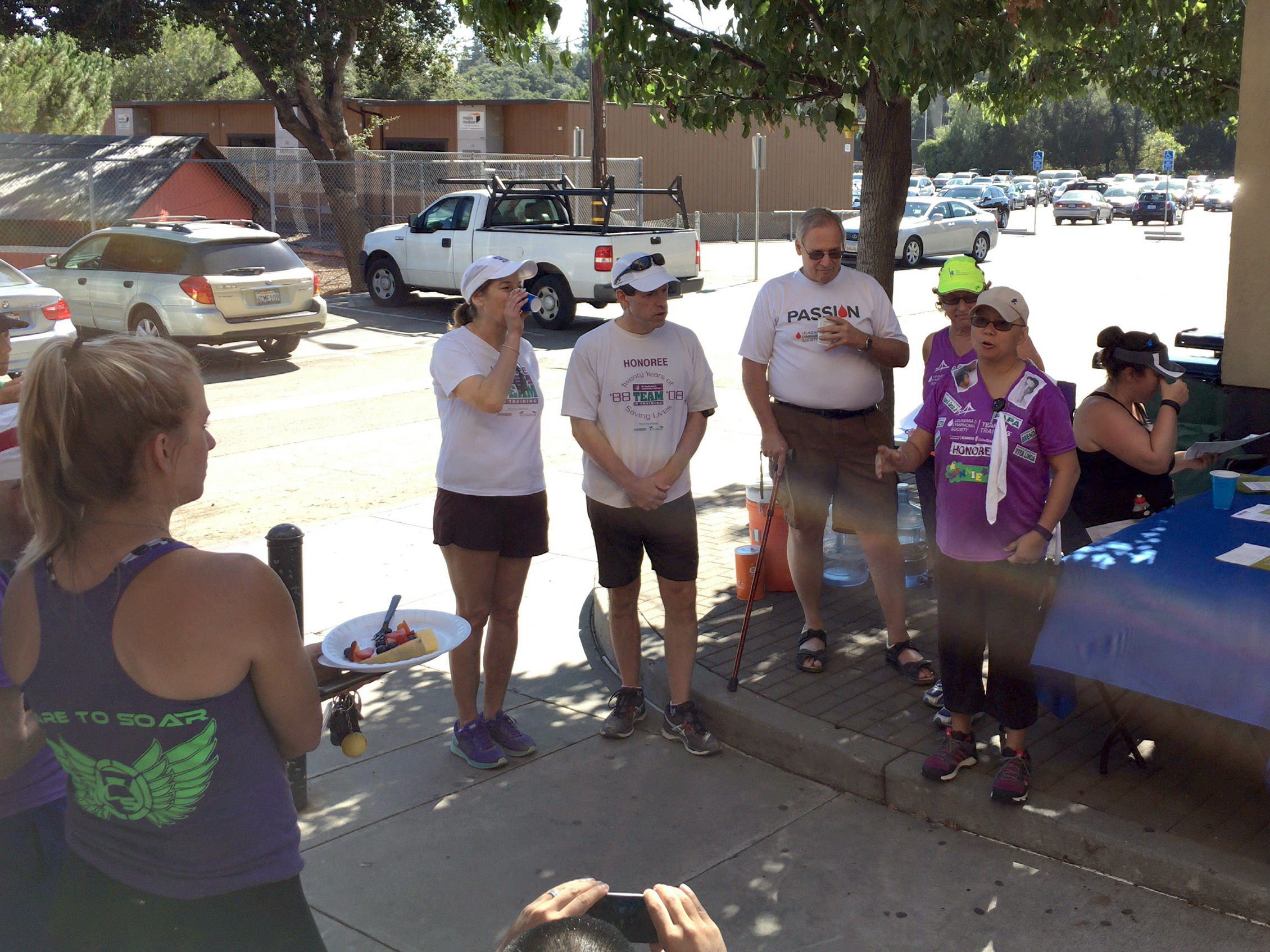 Sat, July 23: Track this week was a simple 400 m relay, so it was 400 m followed by almost 3 minutes of static recovery. The long run was Guadalupe Trail in San Jose, the first time in 19 seasons that I have ever run that course. It was pretty decent, paved and mostly flat, with some interesting scenery around San Jose airport. My pace was 11:50. My season mileage is 54.
Sat, July 16: I did not attend track this week so that I could go to a 50th anniversary Star Trek concert with the San Francisco Symphony! The long weekend run was on our own. I did 6.55 miles on the Oracle Bay Trail, running an 11:43 pace. (This week I started experimenting with yet another new run/walk interval: 4 min/1 min.) My season mileage is 40.
Sat, July 9: Track was fartleks (fast/slow intervals at unpredictable times when a whistle blows). The long run started at the Woodside Town Hall for an out-and-back on Canada Road. It was supposed to be 4 miles for our group, but by my GPS watch it was 4.3. Pace 12:18. My season mileage is 28.
Sat, July 2: Track is Thursday night this season. Our first session was at the Stanford track, for this week only. We did a warm-up, about 10 minutes of dynamic stretching, 30 minutes of 400 m relay intervals, core strength exercises, and static stretching. The long run today was on our own. I did 5 miles in the neighborhood at a 12:25 pace. My season mileage is 14.5.
Sat, June 25: Well, I'm quite surprised that my new season started so quickly, just shy of one week after my marathon. I would not normally do any running before 10 days of recovery, but what the heck. We met our new Fall team at Whisman Park in Mountain View, got the normal sign up and introductory speeches, and did an easy 2 mile run; the runners who will be going to Las Vegas or Portland, which is a month earlier than my Philadelphia race, did 4 miles.