Hal and Nancy's "Signature City Detroit" with Road Scholar, September 2016
This is Hal and Nancy's travelogue of Detroit with Road Scholar for the program Signature City Detroit: Motors, Motown and Moving Forward. It was Hal's 13th Road Scholar trip, Nancy's 12th. We extended our trip back east by traveling on our own to West Virginia for the Freedom's Run half marathon, and to Alexandria, Virginia, and Washington, DC.
Saturday, September 24 – to Detroit
We flew on United Airlines to DTW the day before the program started—it is rarely possible to get to Road Scholar programs from the West Coast the same day—and checked into the Marriott Courtyard Downtown. We had dinner at Pizzapapolis in Greektown, which was so-so Chicago style pizza in a deafening sports bar. We had hoped to find some authentic "Detroit style" pizza, but it eluded us this week.
Sunday, September 25 – Foodie Tour and Road Scholar Kickoff
Hal started the week with a 6-mile run on the Detroit Riverwalk, enjoying the cool beautiful weather at sunrise. (Detroit is on the western end of the Eastern time zone, so the sun rises late.) It was a bit challenging to stay on the path, with marinas and little harbors forcing detours back onto city streets, but overall it was a great run.
Before the Road Scholar program started, we took a foodie tour in Corktown, which is sort of a hip, up-and-coming gentrified neighborhood to the west of downtown. It was only the two of us, with tour guide Stephanie, who also owns the company. Most of the places we visited were on Michigan Ave, which I later found out is nicknamed the Iron Brigade Highway! We started with Slows BBQ for a pulled porked enchilada, very unusual and quite yummy. Gold Cash Gold, a former pawnshop, for pickle brine chicken and buckwheat waffle with sorghum hot sauce glaze. Ottava Via for margarita pizza, heavy with housemade mozzarella. Since there were only two of us, we did not finish the pizza, but a homeless woman got the rest on the walk back to our hotel. Brooklyn Street Local for poutine, al fresco. Batch Brewery for a beer and the seasonal bread pudding, which today was cherry and coconut with a stout-based chocolate sauce. After the tour I happened upon a website listing the best places to eat in Corktown and all of these places were mentioned. After a long walk back to the hotel, we both needed a nap!
Our Road Scholar program started at 5 PM with intros and dinner. Our hostess for the week was Sue Shoemaker, who turned out to be extraordinarily knowledgeable, competent, and friendly. The first presentation was by Robin Boyle, urban studies professor at Wayne State University, on Detroit's expansion, decline, and recovery. It's quite shocking how steep the decline was (although it seems that St. Louis was even worse), with vast sections of the city either vacant or blighted. He showed us an aerial photograph from 1940ish that showed the city completely crammed with single-family homes, and then a more modern view of entire blocks almost empty, with only one or two decrepit houses. The city center has way too few jobs for its population, which is less educated than most of its rival cities (13% bachelors degrees vs 40% in Atlanta). The public transit situation is limited, so poor people without cars can't get to work. Boyle described a number of recovery programs and seems cautiously optimistic about the future. They're out of bankruptcy and new leadership is making progress.
Monday, September 26 – Touring
The schedule for today was a walking tour in the morning, but it was raining lightly, so I think we had a modified agenda. Our guide was Karen Risko, a local historian/guide-company person. By nice coincidence, she was the coauthor of a book on Michigan's Civil War monuments, which I had not read, but she and I discussed a number of them. George Meade lived here for a while, as did Grant and Montgomery Meigs.
We started by walking through the Renaissance Center, and then briefly onto the Riverwalk. We took the People Mover a couple of stops and then back to the street. The Guardian Building is rather odd outside, but gorgeous inside. At Campus Martius square, which seems to be the focal point for downtown, we found a 24th Michigan Infantry sign near the Soldiers and Sailors monument, commemorating the Civil War regiment that happened to be in the Iron Brigade. As we walked around we found many buildings purchased and renovated by Dan Gilbert, the CEO of Quicken Loans. I think Karen said he owned 80. It's very impressive how many places are currently being renovated or were finished within the last couple of years. We then boarded a nice bus (Sue persistently called it the "motor coach") and drove to lunch in midtown, a place called Traffic Jam and Snug, which was somewhat disappointing. Next door is the trendy Shinola company showroom. Their merchandise, supposedly all made in Detroit, is nice but really expensive. (I looked at a simple leather belt for $175!)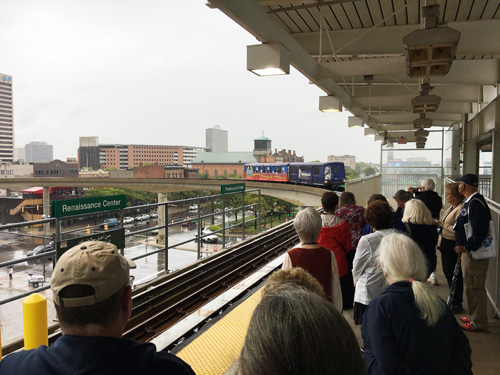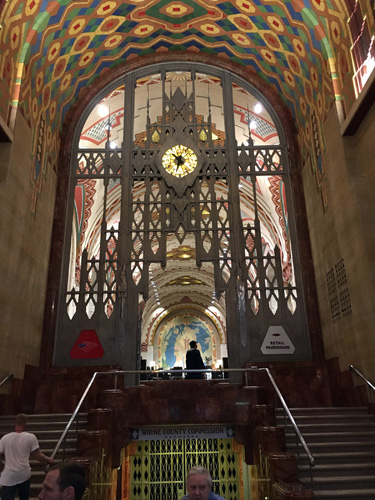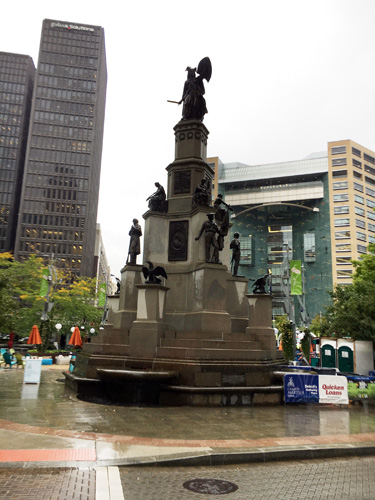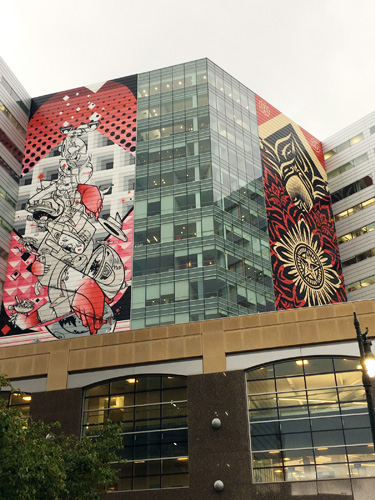 We visited the outside of the Ford Piquette plant, where Henry Ford built his first Model Ts. Docent tours are available, but we didn't partake. (It turned out that the next day was the 108th anniversary of the first Model T.) The Fisher Building, of auto body brother fame, had a spectacular interior and a couple of interesting retail shops. It's next to the immense former headquarters of GM, now called Cadillac Place. The Packard Plant was in sorry ruins and no one knows when it will be torn down or repaired.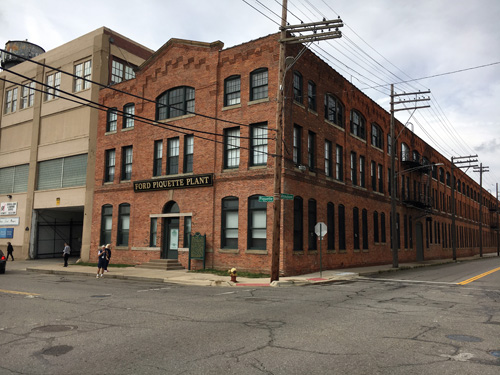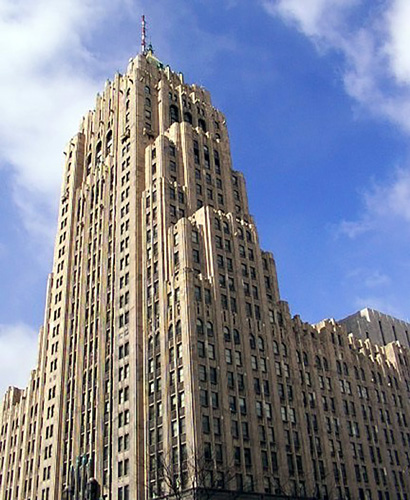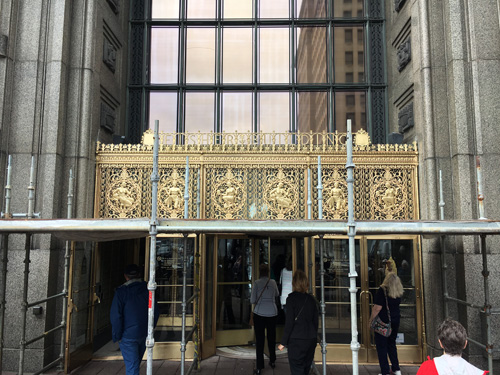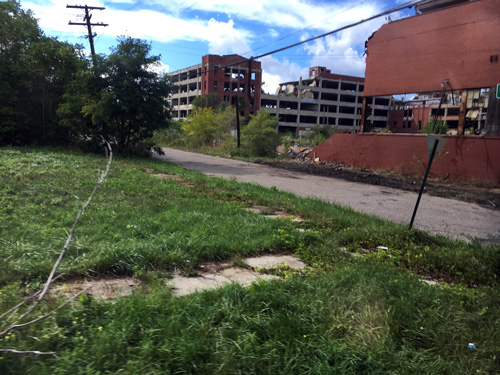 The Heidelberg Project was a block of crazy junk art, but internationally known as a trendy art project by artist Tyree Guyton. We drove through Corktown, essentially the same area as our foodie tour, and stopped to discuss the old Michigan Central Railroad station, which huge, abandoned in 1980, I believe. It is strangely quite distant from downtown. Its renovation status is also unknown, but I bet it would make great condos. We finished up with a stop at the baseball stadium, Comerica Park, to have our photo taken in front of the stupendous, really cool tiger statues. Before dinner, Nancy and I walked around and had a look at the beautiful, but abandoned, Wayne County office building, almost next to the hotel.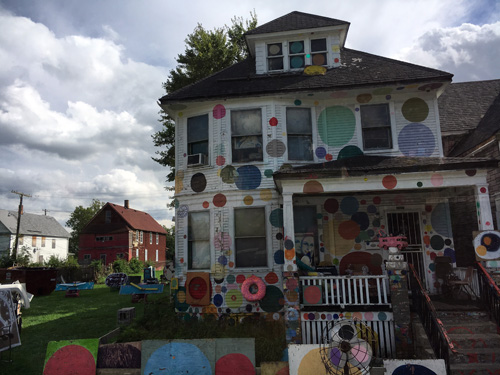 We rode the People Mover to Greektown for dinner at Pegasus Taverna. The Greek food was pretty decent, in huge portions, but we were informed it is rather Americanized Greek. We ate so much that a visit to Astoria Bakery across the street, which has fabulous fare on display in abundance, yielded no sales.
Tuesday, September 27 – Motown and African-Americans
A man named Samuel Donald lectured on the History of Motown. He was personable and entertaining, but this was somewhat duplicative of our afternoon visit to the museum. He contrasted Chicago blues with Motown by saying that Berry Gordy wanted to have non-sad, real world relatable lyrics and upbeat music.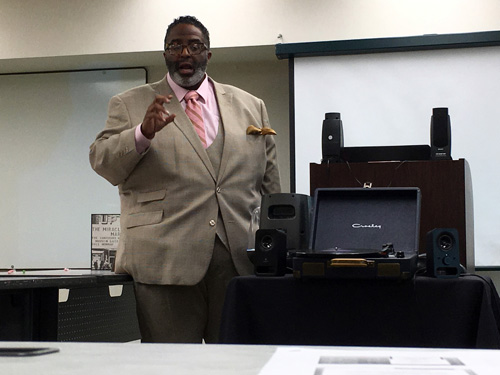 Charles H. Wright Museum of African American History is, as of this week, the second largest such museum in the US. (By coincidence, this week the Smithsonian opened an immense competitor on the Washington Mall.) It is really well done, with lots of exhibits from Africa, to slavery, to Civil Rights, and recent history focused on Detroit. A walk through of a slave ship with 84 manikins bound up in inhuman conditions was pretty chilling. Our docent was good for an hour, although he rushed us through the later, more interesting (to me) subjects. No photography was allowed in the exhibits.
Lunch downtown was at American Coney Island. There are many restaurants in town called Something Coney Island, serving hotdogs with chili.
We visited the Motown museum in the afternoon. The main attraction is the garage-based studio in Berry Gordy's house. Our docent demonstrated a crude echo chamber that they used to create the signature sound. We were introduced to a group of professional jazz musicians called the Funk brothers, who did the majority of the instrumental work. Our docent induced us to sing a song while doing one of the Temptations' dance moves. We were all really cool, I can assure you.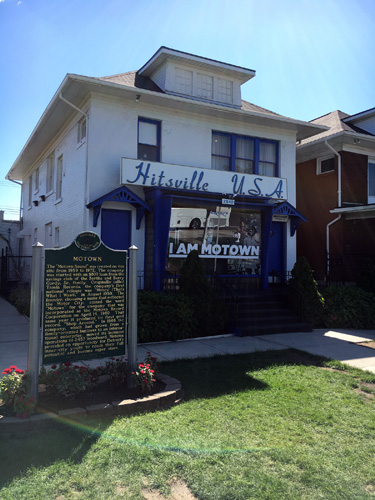 We drove through a trendy area called the Eastern Market. It was an off time for the market so we did not see any marketing going on, but we did drive past number of interesting, giant murals. Our next stop was the Food Field urban farm, occupying 4.5 acres at the site of a former elementary school. The resident farmer, Noah, told us that the farm produces 20,000 pounds annually of produce, which it sells to local restaurants and subscribers. We enjoyed seeing some eggs, chickens, and two adolescent Emus who act as guards for the chickens. This was in the area in which there were a lot of of vacant lots, a city returned to a wild, grassy state.
In the Boston-Edison District, we saw a number of mansions, including the homes of Henry Ford and Berry Gordy. The Lincoln Street art project was a large lot that had some interesting pieces, but also piles of junk. We drove to Belle Isle on the way to dinner, stopping briefly to see the city skyline, but it produced a poor photo because of backlighting at that time of day. We drove by an equestrian statue of Civil War general Alpheus Williams, but I didn't notice it in time to request a photo stop (not that anyone on the bus had the slightest interest).
We had an excellent dinner accompanied by a good jazz quartet at the Dirty Dog Jazz Cafe in Grosse Point, which is the very affluent suburban area northeast of downtown. This was probably one of the best meals I have ever had on a Road Scholar trip.
Wednesday, September 28 – Ford
We spent all day in Dearborn, about 20 miles southwest, at the oddly named "The Henry Ford". First was Ford's Rouge plant. The beginning of the tour emphasized how this historic plant is now eco-friendly, emphasizing its living roof, covered with a plant called Sedum. There was a brief video on the plant's history then a truly impressive multimedia presentation, which I believe was enhanced by Disney effects, on innovation and F150 truck manufacturing. Quite spectacular! Then we went on a lengthy walking tour of the F150 assembly-line, which was really neat. The choreography of all of the different parts snaking around through the air and meeting up at exactly the right time to produce dozens and dozens of different variants was just amazing. Unfortunately, no photography was allowed, presumably for competitive reasons.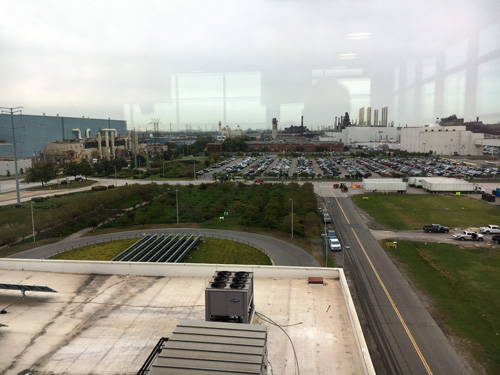 At the Henry Ford Museum, we had lunch at a 40s diner (one of a few choices we were offered). The docent tour was sort of a time waster in a time-limited afternoon. Mucho stuff to see: lots of cars, trains, and airplanes (latter only up to 1939); steam engines, farm equipment, furniture; Buckminster Fuller's Dymaxion House (really a bad idea); Rosa Park's bus; an Oscar Meyer Wienermobile; Lincoln's chair from Ford's Theater; presidential limousines.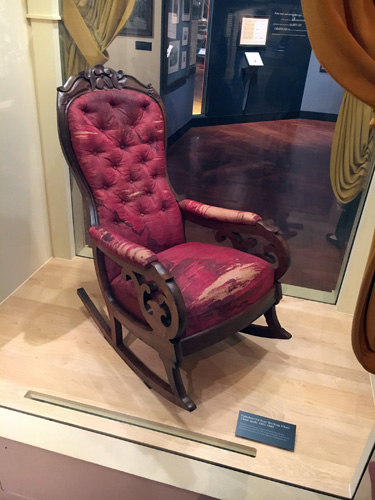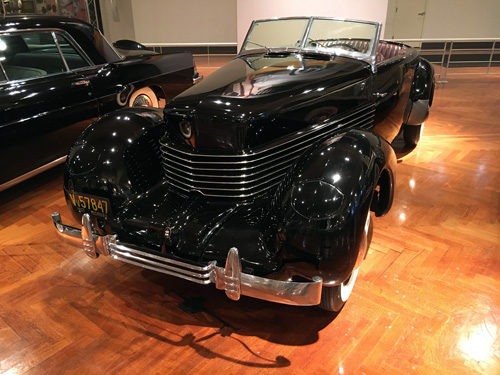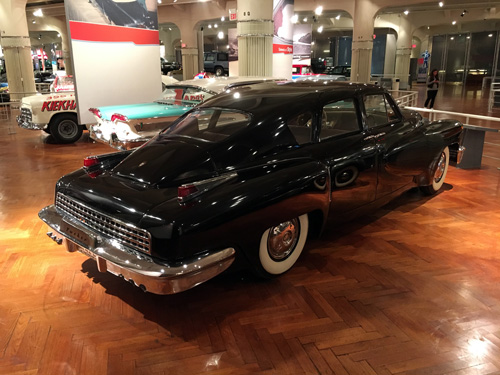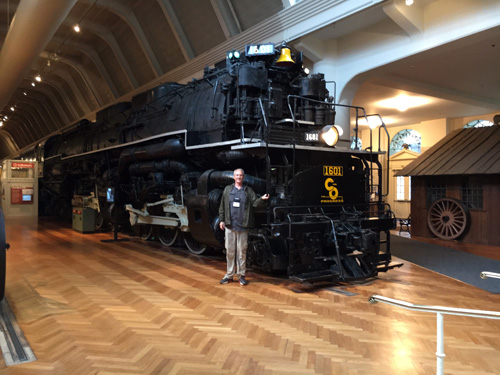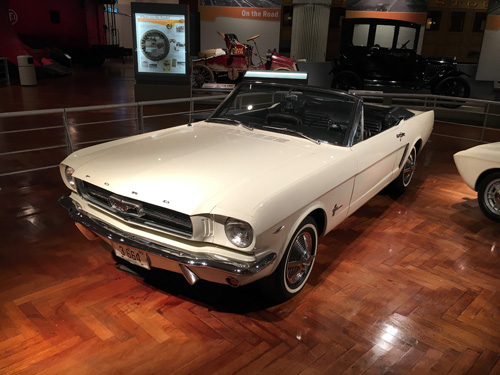 The Greenfield Village is full of historic buildings of interest to Henry Ford that were relocated there piece by piece. We didn't get our full enjoyment of this area because of the light rain that persisted all day. (Actually, it was not so light in some places and we heard news reports about flooding throughout the Detroit area, including some interstates closing down.) Here's what we had time for: a steam-locomotive train circumnavigating the park; Model T ride (in what I recall was a 1923 model); Edison's Menlo Park laboratory and machine shop; the Wright Brothers' bicycle shop, with the Flyer under construction; Henry Ford's childhood house. All of these places had very enthusiastic, engaged docents, somewhat lonely because the rain kept the crowds away.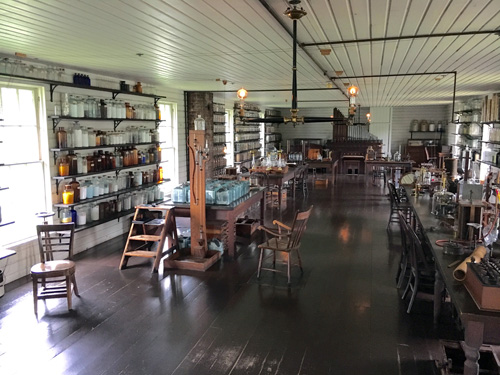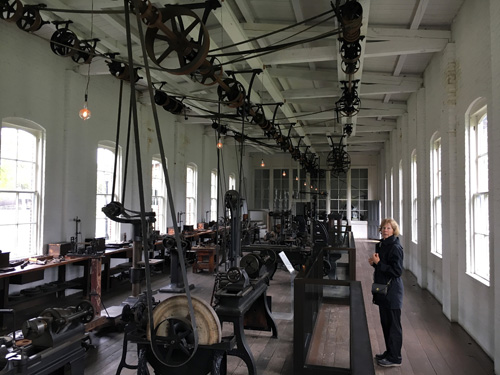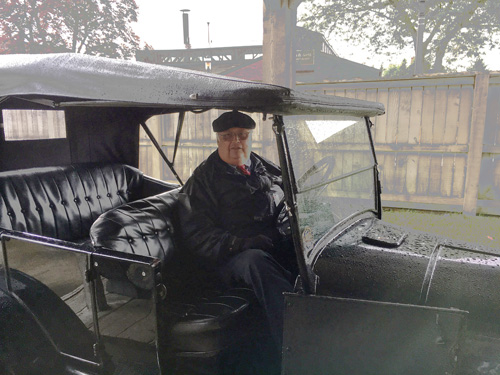 Dinner that evening was on our own, although we walked as a group over to the Renaissance Center to see what was available. We also checked out the bar at the top of the Marriott Hotel. I have to say that that is one of the most poorly designed modern buildings in terms of pedestrian navigation. Nancy and I ended up at a small Asian restaurant.
Thursday, September 29 – Arts
We drove back to the Grosse Pointe area to see the Edsel and Eleanor Ford home. The architecture was inspired by Cotswolds cottages, but of course this was a giant building. It has 60+ rooms; only 24 were accessible to us, but the tour was nonetheless very comprehensive. Many rooms were decorated with paneling and fireplaces purchased from European mansions and castles. Edsel, Henry Ford's son, was a guy big on style and the decor is impeccable. There are a lot of fabulous paintings on display, but most of them are reproductions because the originals were donated to the Detroit Institute of the Arts. In the garage there was an exhibit on women in motoring. We also saw a collection of family wedding dresses. Zzzzzz. No photos were allowed inside the mansion and the outside was too rainy to get a very good view.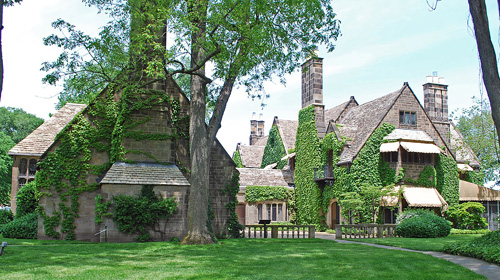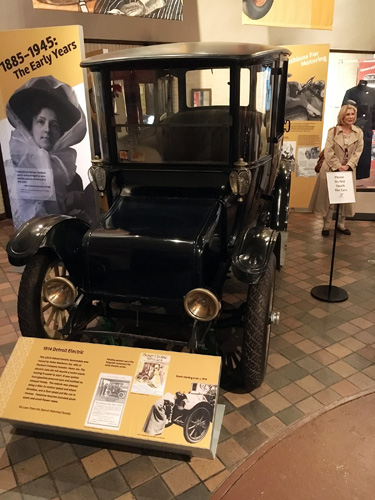 Our afternoon visit was to the Detroit Institute of the Arts, DIA. I was particularly impressed with the Diego Rivera murals, 27 pieces filling a large interior courtyard. Our docent gave us a lengthy explanation of myriad interesting details, many of which I would have overlooked without guidance. Rivera based it mostly on a six week visit to the Rouge plant, long before it was eco-friendly, and before it was unionized. I can't say I was overly impressed by the rest of the museum's collection—I actually found the gift shop more engrossing.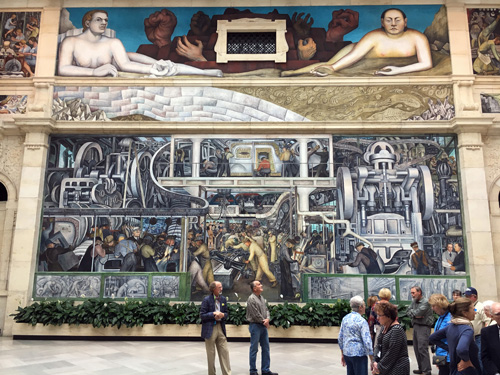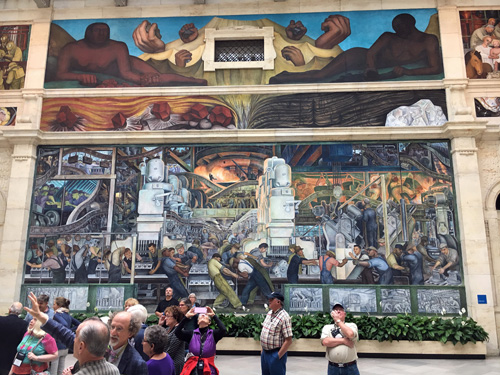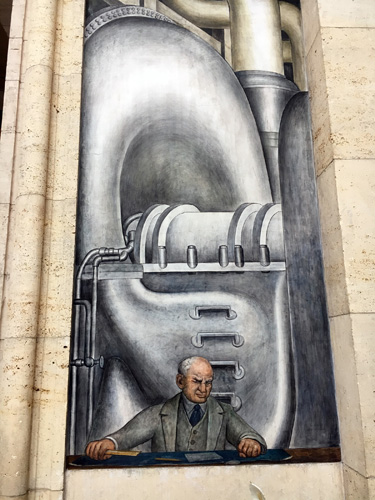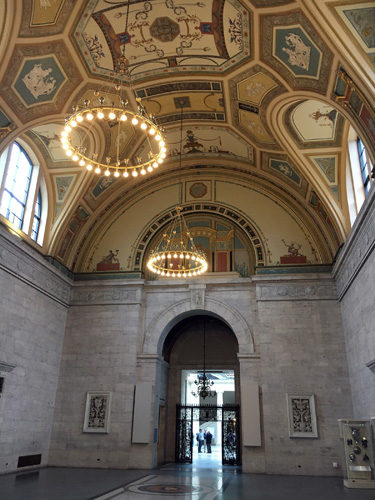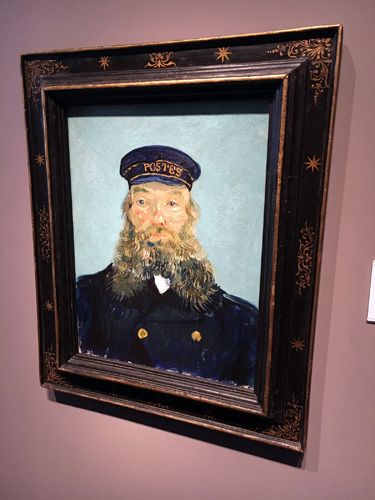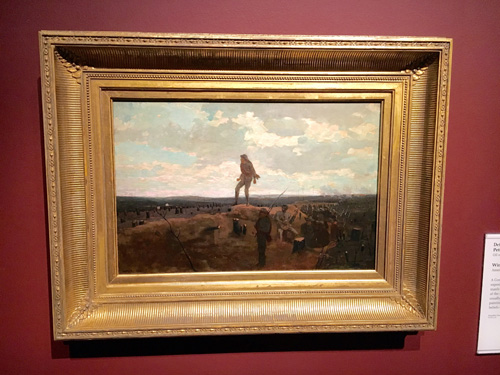 The evening ended with a going away dinner at a nice Italian restaurant called Andiamo in the Renaissance Center.
Friday, September 30 – to Shepherdstown
We flew out of DTW at 10 am, so missed the typical hour-long Road Scholar program wrap up. We had an excellent time on our Signature City visit to Detroit with Road Scholar, and expect to schedule future similar visits to other cities.
We rented a car at Washington Dulles and drove around Harpers Ferry a bit, but there was construction underway and we didn't find an easy parking place or obvious restaurant for lunch. So we drove to Shepherdstown, West Virginia, and ate in a nice casual French place, Bistro 112. We liked it enough that we returned for dinner. Super pommes frites. Shepherdstown has a nice little historic downtown, dominated by the local university.
Saturday, October 1 – Freedom's Run
I ran a half marathon as a training run (getting myself ready for the Philadelphia marathon in November). It started in Shepherdstown near city hall, a very low key affair. Fewer than 1000 runners were there and there was no marked starting line or chip timing start. (They used our bib chips only at the finish line.) Light rain or drizzle was forecast, but it was pretty heavy with some lightning just before the 8:30 start. We went half a mile across the Potomac and then down a winding path to the C&O towpath. This was 2.5 miles of muddy puddles. I twisted my foot, but the pain went away after 50 yards. Then we ran up a challenging hill, 175 feet over a half mile, just as A. P. Hill's Confederate troops did in 1862 on the way to save the day at the battle of Antietam. For the next 6 or 7 miles, it was very hilly, making this the toughest half marathon I have run. The intermittent rain didn't help, but wasn't a big impediment. It was psychically nice to be on the hallowed Antietam field, although I tend to watch my feet a lot in a race, so I missed some of the intended flavor. We looped up next to the Sunken Lane and the Mumma farm before heading back past the Dunker Church, through Sharpsburg, and across the bridge to Shepherdstown University football stadium and the finish. I did it in 2:53, which is a terrible time, but it was a tough course and I was just training, after all. They gave us an odd handcrafted ceramic finisher medal.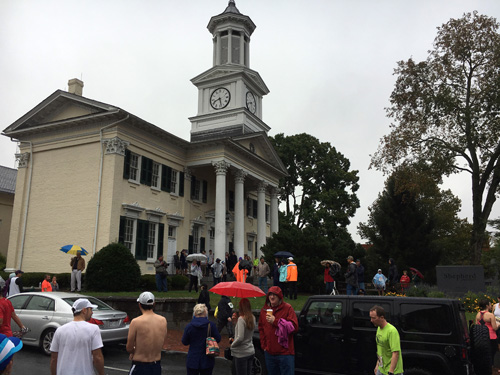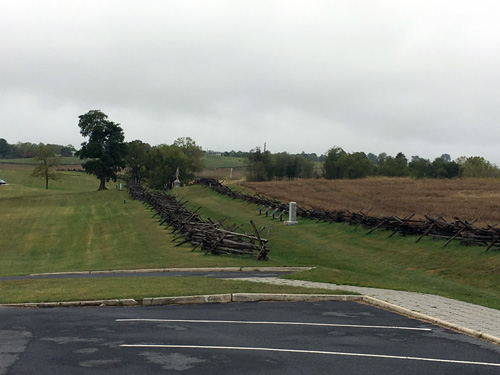 After brunch at Betty's diner, we returned to the battlefield to orient Nancy and take some photos out of the rain. To my surprise she suggested we see the movie at the visitors center. It was a new version for me, narrated by Darth Vader, and featuring lots of historians I know. It had really well done battle reenactment scenes, but less than superb animated maps. Nancy hated it, of course—too much bloodshed.
Sunday, October 2 – Gettysburg and Alexandria
We drove to Gettysburg so that I could introduce Nancy to a place I have visited so frequently over the last decade. We started at the visitor center to see the film and Cyclorama, and then drove around some key points on the battlefield, including Oak Hill, Seminary Ridge, Little Round Top, the Wheatfield, the Peach Orchard, and the Angle. Just enough to impart a flavor, not enough to drown in detail. Then we drove to Alexandria, Virginia, which, surprisingly, I had never visited before. We stayed at the Hilton Old Town, which turned out to be a very nice hotel, right next to the Metro station. We took a free trolley bus down King Street to the waterfront and walked around, enjoying the sights on a beautiful autumn day. We ate dinner at Hen Quarter, where I enjoyed the gargantuan portion of chicken and waffles, and Nancy loved her shrimp and grits.
Monday, October 3 – Washington and Home
We had scheduled a late afternoon flight out of Dulles, so the morning and early afternoon were available for touring. We took the Metro downtown. Nancy visited the Smithsonian Natural History Museum, but I ventured off on my own. I walked down the mall to the World War II Memorial, the Lincoln Memorial, and the Vietnam War Memorial. Then I spent a couple of hours at the National Portrait Gallery, which I always find fascinating. After an uneventful and comfortable United Airlines flight, we returned home by 9 PM.