Training with TNT for the 2010 Marine Corps Marathon
Near the Atlanta finish line,
March 2010
Here is the place for a lot of information about my TNT training program. It's the Summer season and I have signed up for the Marine Corps Marathon, October 31, 2010, in Washington DC. (Well, within the context of TNT I actually signed up for the San Jose Rock 'n Roll Half Marathon in early October because TNT is not associated with the Marine Corps race. Since I am an older guy, I have decided to not repeat any marathon venues, so I will probably deviate from the specific TNT race schedule rather frequently in the future. To see a detailed description of my training this season, see here.
If you would like to make a donation to sponsor my participation and help the great cause of the Leukemia and Lymphoma Society, see my fundraising page. (It's currently set up to raise funds for my next race, the Los Angeles Marathon, in March 2011.)
Marine Corps Marathon, October 31, 2010
Nancy and I flew to DC a few days early. My participation in the Marine Corps Marathon (the "People's Marathon") is part of a longer trip to DC and Virginia. You can read about my travels pre- and post-race in my Civil War travelogue.
As is usual with marathons, even though I have been trained professionally with TNT and this is my seventh marathon, I am always nervous going in. I got a good night's sleep Saturday night, however. Up early on Sunday, the weather was beautiful, as expected, although a bit cold to start, somewhere in the low 40°s. I left the room at 5:45 AM and took the Metro, arriving at the Pentagon station at 6:30 AM, still in the dark. It was probably a mile walk to the starting line—I estimate that I covered almost 30 miles before I returned to the hotel that afternoon. The race instructions said to arrive two hours prior, but my 90 minutes early were more than adequate to get through security and do all of the required walking and waiting. (Security was allegedly tighter than usual because a some person in the Washington area had been shooting at Marine-related targets. No sign of the perpetrator during the race.)
Firing an M2A1 105mm howitzer marked the start at 8 AM. I was a little disappointed in this because it did not sound like a real cannon going off—at least not a Civil War cannon, which is earsplitting—and there were bogus firework effects involved. It took 21 minutes for me to reach the starting line. (This is the fourth largest marathon in the US, eighth largest in the world, and supposedly 30,000 people signed up. We were all lined up on a single road.) As we shuffled toward the start, I was amused to hear numerous women yelling "Eek!" (and I mean that literally) while a big hole opened in the crowd just ahead of me. A poor mouse was caught in the crowd and I am happy to say that he was able to scurry into the grass without harm.
Course Map — Click to download large (10MB) PDF version
We started outside Arlington National Cemetery, and the course proceeded through Rosslyn, down the Potomac, across Key Bridge, a loop next to the C&O Canal, Georgetown, Lincoln Memorial, Jefferson Memorial, a long loop around a golf course, onto the Mall from the Lincoln Memorial down to the Capitol and the US Grant Memorial, then back to the I395 bridge, past the Pentagon, a loop through Crystal City, then back to Arlington National Cemetery. The course was pretty flat except for two moderate hills, one in the first 2 miles and the other around mile 6. (These hills were nothing in comparison to the hills we trained for in TNT.)
I just barely beat a man wearing a gas mask! There were quite a lot of walkers on the course, although I suspect some did not start out that way. There were not all that many costumes for Halloween. I had to admire a group of Marines marching with 35 pound packs and they were going pretty fast because I encountered them at mile 20! Other than those guys, I think about half of the entire Marine Corps was out for this event, cheering us on, running the water stops, etc. Marine One, the president's helicopter, flew overhead at one point. I met a lady who is on the Monterey TNT team, like me running on her own. I was very impressed with the number of people cheering on the TNT runners at every opportunity. One of the coaches from northern Ohio met me near the end and ran about 100 yards with me.
Nancy met me for encouragement at the Lincoln Memorial about mile 10. My brother-in-law Pat and his wife Jana joined Nancy at the Smithsonian Natural History Museum, and then across the Mall at the Smithsonian Castle, and finally in the spectator grandstand at the end. There was a nasty little hill going up to the Iwo Jima monument and the finish line. Just like the Marines to throw in a surprise obstacle. :-)
I was disappointed with my 5:43:19 time, which ranked me 18,779 of 21,923 finishers, 278th in my age/sex class. Of course, my primary objective was to finish the course in good shape, but it is always disappointing when I do not improve my times from previous races. If I can recall, this was my third worst/slowest marathon, but in the other two cases they were marred by significant weather difficulties, so I had excuses. And SF and Atlanta were a lot hillier. In this case, I started off a little slow because of the crowd, but did not worry about it because I assumed I would be able to keep that pace and end up with a good time. However, I started slowing down gradually, for no particularly good reason, after about mile 15. I had no injuries or difficulties and did not hit "the wall." The weather was perfect for running, although I ended up a little sunburned. Perhaps my problem was that my training peaked too soon—my race was two weeks later than of those for my teammates—and maybe I "tapered" for too long.
Thirty seconds after finishing I could barely walk, but a lot more walking was involved to get to Rosslyn where the race-ending festivities were scheduled. I thought about asking the Marines: "If I die before I get home, will I qualify for burial at Arlington?" Transit was overwhelmed by the crowds. The Metro station had hundreds of people in line just to get inside, the taxi rank had a hundred people waiting, buses stopped in random places and filled up immediately. One third of the Metro escalators were out of service in DC, it seemed, which is really noticeable when one has difficulty walking. The one at Dupont Circle must've been 12 stories high, and thank goodness they had at least one escalator working there!
As is my custom, I intended to take an ice bath in the hotel, but the tub was really too small, so I had to settle for lying down on laundry bags full of ice, which seemed to work okay. We got back to the hotel so late in the afternoon that I did not have time for a nap, so we had an early dinner in the hotel restaurant, "Urbana," which was really excellent. I enjoyed a long night's sleep. You can follow the rest of my travels in my Civil War travelogue, but I am happy to say that my recovery was pretty easy and I put on quite a lot of walking mileage around Washington the next day.
Despite my disappointment with the race results, I'm going to keep plugging along and have already signed up for the Honda Los Angeles Marathon in March. Training with TNT starts almost immediately. That first 6 mile run is going to be a little difficult for me. :-) If you would like to help with fundraising for the winter season, please visit my fundraising page. The Leukemia and Lymphoma Society is a great charitable cause that has a real effect on the lives of patients and their families and I'm very proud to be a contributor and fundraiser for the last 3 1/2 years.
| | | |
| --- | --- | --- |
| | | |
| Next to the Potomac | One of a few bridges we traversed | View of Washington Monument and Jefferson Memorial |
| | | |
| --- | --- | --- |
| | | |
| Jefferson Memorial from a bridge | High school band was one of a number of musical acts | Toward the Lincoln Memorial |
| | | |
| --- | --- | --- |
| | | |
| Heading down the Mall to the Capitol | Reflecting pond faced by the Grant Memorial | Another band on the Grant Memorial |
| | |
| --- | --- |
| | |
| Approaching the Smithsonian Castle on the Mall | An all-girl drum band |
| | |
| --- | --- |
| | |
| Pentagon, near the starting line (although this was taken on the way to the finish) | Iwo Jima Monument at Arlington, near the finish line |
Google Earth Race Simulation

I recorded Global Positioning System (GPS) data with my Garmin Forerunner 205 watch during the race. By opening the resulting data file in the Google Earth application (which can be downloaded here for free), you can display the race course using aerial photographs and simulated 3-D terrain and buildings. There is a Play button that follows the course of the race as if you were flying over it in a low altitude aircraft. Really cool. (Note: If you see a number of Lap markers in the map, this is because of my run-walk strategy. After running four minutes, I walk for one minute and repeat. Each of these events shows up as a single "lap," so there are well over 100 laps in a marathon by this reckoning. For some reason, this race's data does not automatically generate the fly-over simulation that my previous races did. To get this effect, go to the Tools --> Options menu in Google Earth, and in the Touring tab, select the "Fly along lines" checkbox. By the way, the GPS data recorded in downtown areas is a little flaky, so it seems like I'm drunkenly weaving back and forth, but I actually run like a straight arrow!)
The Google Earth file for this race is here.
Weekly Training Schedule
Here is the table of weekly activities for our training, the same as previous seasons.
| | |
| --- | --- |
| Monday | Cross training (30-60 minutes walking, swimming, or aerobics and weights at the gym) |
| Tuesday | Track workout under coaches' supervision (90 minutes). A few weeks of core strengthening, a few of "dynamic drills," then mostly intervals, pacing runs, and hills/bleachers, generally 3-4 miles total. |
| Wednesday | Cross training |
| Thursday | Buddy runs: easy runs with a group at a conversational pace. Early in the season they are in the 3-5 mile range, later they get to 5-7. |
| Friday | Rest, stretching |
| Saturday | |
| (1) Distance run in scenic places, starting at 4-6 miles and increasing 2 miles every other week until you're finally at 20 miles. | (2) On Your Own (OYO) runs, although group running is encouraged. Starts at 4-6 miles, progresses through the season to 6-8. |
| Sunday | Rest, stretching |
Workout Log
Here's the training I have accomplished so far. I do not include Monday/Wednesday cross training or Thursday buddy runs in this list because they're pretty regular, as described in the table above. I am going to try to include more photographs this season because I now carry my iPhone with its built-in camera.
Sat, Oct 16: I did an easy 8 mile run on the Stanford campus, keeping up a reasonable pace. This was my final "long run" of the season and I am now in taper mode in preparation for my race on October 31. I will do a few three-mile runs just to keep the blood flowing. My next postings on this page will be my report on the race, which due to travel, will probably not go up until early in the week of November 8.
Mon, Oct 11: Once again I traveled on the weekend (see my report on my visit to Civil War sites in North Carolina), so I scheduled a 16-mile run for today. (Since I am running a different race than everyone else on my team, my schedule for the end of the season is not completely synchronized with the official training schedule. Coach Cam recommended this distance to me.) I was disappointed to run out of steam at about mile 14 and I had to walk most of the rest of the way. It was a moderately hilly course from my house to Stanford University, around the Campus Drive loop, and back, and it started to get pretty warm. I hope it was simply a bad day.
Mon, Oct 4: I was traveling over the weekend (see my report on my Civil War trip to Virginia), so could not run on Saturday. Instead, I did an 8 mile loop around the neighborhood after I got home from the airport.
Tue, Sep 28: Tonight at track we did a few core strength exercises and then did some more Indian relays for about 4 miles. Everyone is getting excited about their upcoming races and taper mode has set in for most of the participants (except for me!).
Sat, Sep 25: Today was a 20 mile run on the Los Gatos Creek Trail. We started with a 4 mile loop to the top of Lexington reservoir, which has a really killer hill at the dam that I had to walk up. Then it was 8 miles out and back on flat terrain. The trail is really a pretty nice place to run. The abnormally cool summer weather ended today and it got moderately hot by the time we were finished, which for me was about 4 hours and 20 minutes. But I finished pretty well and had no real difficulties.
Tue, Sep 21: Tonight at track we ran relays that were the equivalent of Yasso 800s—800 m with static recovery—except that we did it in teams of three. My initial team kicked me out halfway through for going too quickly and made me run with some fast women instead. :-)
Sat, Sep 18: Today was an OYO run. I did 8 miles around the neighborhood, hitting the relatively steep hill on Alameda, to Woodside Rd, and doing a loop back through San Carlos.
Tue, Sep 14: Because I was at Gettysburg over the weekend, I missed the 20 mile Lake Merced run with the group. (It's a good run that covers all of Golden Gate Park, the Great Highway up and back, and a loop of Lake Merced.) So I had to do my long run on my own, which I did on Tuesday, forsaking track for the week. I started at Seal Point in San Mateo, ran north to the jetty at Coyote Point, turned around and ran south to Oracle, and then back to Seal Point. The total was about 19 miles, but I was disappointed that I really ran out of steam at about 16.5, so I had to walk the rest of the way. I hope this is a temporary thing related to travel and getting off my schedule. There is another 20 mile run scheduled for September 25. (And I still have six weeks before my marathon!)
Fri, Sep 10: My running schedule is a bit off this week because I traveled to Gettysburg for a long weekend. I ran about 7 miles, primarily around the northern end of the battlefield. You can see my Civil War travelogue that describes the run here.
Tue, Sep 7: Tonight at track we ran the Yasso 800s that I was expecting last week. This is an exercise that Bart Yasso at Runner's World magazine developed to improve marathon timing, but also to give a prediction of what your marathon time will be. You run a series of 800 m, interspersed by either static or dynamic recovery, an attempt to keep the time for each 800 to be as steady as possible. Last year I was very impressed to find that my 5 min. and 20 sec. Yasso average accurately predicted my 5 hour and 21 min. marathon time in Victoria. Tonight I ran very well, but I suspect it will not be very predictive. I averaged 4 min. and 40 seconds, which would imply I could somehow cut 40 min. off my marathon time to finish in 4 hours and 40 min. Not very likely. :-) Perhaps the reason for my better performance this year was that we were using static recovery between laps.
Sun, Sep 5: I was busy on Saturday, so scheduled my OYO run for today. I did 8 miles at Stanford on the Campus Drive loop. It was a nice cool morning and I had an excellent run, keeping up a good 5.2 mph pace. (If I could only do that pace for the full 26.2 miles of the marathon, I would almost break 5 hours and be one happy camper.)
Tue, Aug 31: I was expecting Yasso 800s tonight at track, but we seem to have skipped them. We returned to some of the dreaded dynamic drills and intermixed them with intervals; wave one did four repetitions of 400 m with 200 m active recovery, and another four of 200/200. I was still a bit tired from the Saturday ordeal, so this exercise was a bit more difficult than I would've thought. A handful of our teammates are ready to fly to Kauai for the half Marathon, so we wished them luck and some of us wore Hawaiian attire (plastic leis, mostly).
Training in SF: Marina, Aug 14
Sat, Aug 28: Today was the dreaded Woodside run. The course was slightly different this season, but still just as difficult. Instead of starting at the Woodside town hall, we met at the corner of Cañada Road and Edgewood Road. We ran south to Woodside, did the large loop on Whiskey Hill Road, and then headed north on Cañada Road trails to Hway 92 and back. This is a really grueling run with lots of relatively steep hills on rocky trails. Fortunately, the weather cooperated and our relatively cool summer started us off in the low 50°s. I was completely exhausted at the end of the run, which was supposed to be 18 miles, but I cut it a bit short at 17.25. At least it is over now, the most difficult weekend of the training season.
Tue, Aug 24: I was very concerned about track tonight because I had not done any exercise since the previous Tuesday—Nancy and I were in Reno for a long weekend, which you can read about here. Also, summer has finally started in Northern California and when I reached the track it was 104°F! The plan was to do Yasso 800s, but the coaches took pity on us because of the heat and we did Indian relay running again, emphasizing a very slow pace. Even so, I went through three bottles of water during 4 miles of slow shuffling! It was really nice that some of the captains brought ice cream sandwiches for us to cool off with after the workout.
Tue, Aug 17: Tonight at track we did relays, in which groups of three ran 800 m and then did static recovery (standing still) while the teammates did another lap. Six repetitions.
Sat, Aug 14: The long run this weekend was a preview of the first half of the Nike Women's Marathon. We started at Crissy Field in the Presidio, ran out to Aquatic Park and then back, and then ascended the hill of Lincoln Avenue, through the Seacliff neighborhood, down 32nd Ave. to Clement, and then past the Cliff House to the southwest corner of Golden Gate Park and back. This is actually a lot more difficult than the real race because those runners cover the two significant hills once, but we had to reverse course and cover them twice. I was pretty darn tired at the end of 16 miles! Good training, however. The weather was very overcast and quite chilly, perfect running weather.
| | | |
| --- | --- | --- |
| | | |
| View of Alcatraz from near Aquatic Park | Descending from the Presidio toward Seacliff | Descending from the Cliff House to the beach |
Tue, Aug 10: Tonight at track we revisited the dreaded dynamic drills (skipping, butt kicking, lunges, etc.) and a few core strength drills. Then we did what in previous seasons was called Indian running. We formed up into groups of 10 and ran in single file. The person at the end of the line sprinted to the front of the line and then we would continue, sort of like a caterpillar. We did this for about 2 miles, running around campus. Our coaches tonight called this "fartlek" (speed drill) training, although in my experience, fartlekking involves a lot more sprinting than we did. A lot of fun, whatever it is called.
Sat, Aug 7: Today is my 34th wedding anniversary! I went to Stanford for my OYO run—7 miles on Campus Drive. I ran a bit faster than usual (average 5.3 mph) and it felt pretty good.
Tue, Aug 3: We returned to the Stanford track after two weeks at the Dish. Tonight we did full stadiums (by full, I mean that we ran up and down each staircase, not alternating them). It was the equivalent of running nine flights of stairs up and down, followed by 300 m active recovery. Our wave one folks did five repetitions. After that, we ran five repetitions of 200/200 intervals.
Sat, Jul 31: The long run today was at the Stanford Dish. It starts off with a mile on flat ground and then 5 miles of very steep hills, followed by a variable number of miles on generally flat ground. Since I ran the half marathon last weekend, I asked Coach Cam for his recommendation on mileage today. Although some of the marathoners were running 14 miles, he recommended 10 for me. I ended up doing 11. The combination of the hills and the relatively short recovery time since last weekend really did me in. My legs felt like rubber and I was really tired after just 11 miles. Now I have two weeks to get ready for a 16 mile run.
| | |
| --- | --- |
| | |
| The view from the Dish area | One of the two big dishes at the Dish |
Tue, Jul 27: Another track workout at the Stanford Dish. This week the waves switched places and the walking wounded of wave one ran the lower part of the hill, which is steeper. Seven repetitions. I was pretty happy that I did not have to walk any of the exercise.
Sun, Jul 25: Instead of running OYO around the neighborhood, I signed up for a half marathon in San Francisco. The San Francisco Marathon had options to run either the first half or the second half, so I selected the second, which started in Golden Gate Park, did almost 6 miles there in the park, and then ran across town to the waterfront and headed north on the Embarcadero to near the Ferry Building. Mentor Patricia ran the race with me and it was enjoyable to have someone matching my pace for an entire race, which is very rare for me. I treated this as a training run instead of a real race, so I did not have a really impressive time for a half marathon (2:38), but I ran strong and found that recovery was quite easy. The course was very interesting, running through neighborhoods that I rarely enter. In the park it was generally slightly uphill, but the remainder of the race was mostly downhill or flat. The weather was perfect for running—starting out in the mid-50s and overcast the entire time. The race was very well organized and was rather unusual because it had quite a number of waves starting at different times, which I assume was to avoid overcrowding on the streets.
| | | |
| --- | --- | --- |
| | | |
| Hang and Patricia with me at the end of the race | AT&T Park | Bay Bridge |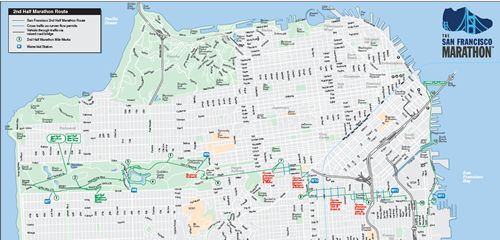 Course map for the second-half marathon (click for PDF version)
Tue, Jul 13: For our track workout tonight, we went to the Stanford Dish in Portola Valley. Our wave one group did six repetitions of running up the hill and then returning with active recovery. The coaches said that it was 200 meters, but I would've guessed that he was closer to 300-400. When we were done, Coach Kim had us do another three partial iterations. The good thing about hill training is that I actually feel stronger after each repetition. An excellent workout. the other two waves did 8 and 10 repetitions over a shorter distance, but a steeper hill.
Sat, Jul 17: The group run was in Half Moon Bay, starting from Pillar Point Harbor. The weather was cool and a bit foggy, enough so that my glasses kept misting up. I ran the 12 miles in pretty good time and felt very good. I had to be careful on miles five and six because this uneven ground was where I broke my ankle a few seasons ago, but I paid close attention to my feet and had no problems. A group of folks went into the harbor for an "ice bath" afterward, but I didn't have the appropriate attire. I have found that ice baths are not really needed for me below 14 or 16 miles.
Tue, Jul 13: Track tonight was stadium intervals. We ran six laps and on each we traversed all of the stairs on the bleachers. This exercise was a bit harder this season because Stanford has added another section to the bleachers that makes the stairs twice as high on one side. Then, we did six repetitions of 200/200.
Sat, Jul 10: Today was an on your own run and I did 6 miles on Woodside Road, which is entirely moderate hills.
Tue, Jul 6: Tonight was intervals at the track. My group, called Wave One (the slowest group), did six repetitions of 400 meters at an up-tempo pace followed by 200 m active recovery, and then another six repetitions of 200/200. We finished up with a few sets of dynamic drills. Ugh.
Sat, Jul 3: Today was a beautiful, but slightly chilly group run at Seal Point in San Mateo. We ran north through Coyote Point Park and then back south to beyond the San Mateo Bridge -- an easy 10 mile day.
Tue, Jun 30: I was not able to make track tonight because Nancy is moving her office and I had to participate in that fun chore. I did go running 5 miles Tuesday morning on my own.
Sat, Jun 26: Today the regional run was OYO and I went to Bayfront Park, which is at the end of Marsh Road. I did three laps for 6 miles. A beautiful sunny day. Oddly, there was another TNT team event going on -- I am guessing it was the triathlon team -- and they were running the loop in the opposite direction, so we were yelling Go Team! to each other incessantly. Many of them were wearing costumes that had a Hawaiian theme, so perhaps they are training for a triathlon in Hawaii. The reason I say "oddly" is that the last time I chose to do an OYO there in a previous season, the same coincidence happened -- the triathlon team wearing costumes.
Tue, Jun 22: Track tonight started with a speech by Keith Newman about his lymphoma diagnosis and then we did a number of dynamic drills and some intervals (600 m at an increasing pace followed by 200 m recovery). To my surprise, for the first time in seven seasons at TNT, we did some core strength exercises at the end of the session.
Sat, Jun 19: The regional run today was at the Palo Alto baylands, just north (well, west, actually) of San Antonio Rd. I did 8 miles and had a very good time. The weather was cool and mostly overcast, which is perfect running weather.
Tue, Jun 15: At track we did some core static drills and then some dynamic drills (walking lunges, sideways hopping, grapevines, low and high skipping, etc.) along with a few laps of running. This was an unusual session for me because we did it mostly on the grass infield instead of the track (although we did some recovering running on the track).
Sun, Jun 13: OYO run, which I did at Sawyer Camp, running above Crystal Springs Reservoir. 6.2 miles, a beautiful run in perfect weather.
Tue, Jun 8: There is a gap here because I was traveling on a Civil War trip, so I missed the second track workout on June 1 as well as the 6-mile group run on Saturday, which was held at Sawyer Camp. Tonight was core exercises at the track: planks, push-ups, squats, lunges, burpees, etc. We did a small amount of running as well. I felt pretty stiff the next day.
Sat, May 29: Today was an On Your Own (OYO) run. I did 8 miles at Stanford—two laps of Campus Drive, one of my favorite running spots.
Tue, May 25: Today was the first track workout and I am ashamed to say that I missed it because of weather. Since the season begins with core strength exercises, the thought of doing this in the rain was a bit too much for me. Sigh. I wimped out! Reports from the group are that they did dynamic drills so the people did not have to get down onto the wet ground.
My summer run group at Whisman Park:
Susan, Patricia, Deborah, Connie

Dragged into a random picture

Coach Cam and Honoree Doug
Sat, May 22: Today was our first "long run," starting at Whisman Park in Mountain View and doing a loop on the Stevens Creek Trail. The optional distances were 2, 4, or 6 miles, and I decided to get my money's worth, so I did 6. Beautiful weather, a little chilly, so not a bad workout at all. As is traditional with the first run, the mentors brought loads of unhealthy breakfast foods, so I am certain that I consumed more calories than I expended this morning.
Thu, May 20: I attended the kickoff meeting at the Santa Clara Marriott and got my T-shirt and training and fundraising materials. Once again I am on the little team with Mentor Patricia, so I was able to snag some of the running goodies that she brought for her team.
Pre-Season: Following the completion of the Atlanta Marathon in March, I have tried to keep up my running activities to a couple of times a week,as well as some cross training at the gym, working around my travel schedule. My best run during this time was in Gettysburg, an 8.1-mile loop described in my Civil War travelogue. I also did a 10 miler at Shoreline Park, but because of a funeral in upstate New York I missed out on running for about 10 days, which knocked me back to the comfort level of 4 miles when I returned. :-(