Training with TNT for the 2014 Chicago Marathon
This is my page about training for, and running, the Chicago Marathon, October 12, 2014, with Team in Training (TNT), which raises funds for the Leukemia and Lymphoma Society by providing training opportunities for wannabe-athletes such as myself.
This is my 15th season with TNT (previously a half marathon in San Francisco and fulls in Portland, San Francisco, Napa, Victoria BC, Atlanta, Washington DC, Los Angeles, Chattanooga/Chickamauga, Oakland, Richmond VA, San Luis Obispo CA [twice], and New York City).
Chicago Marathon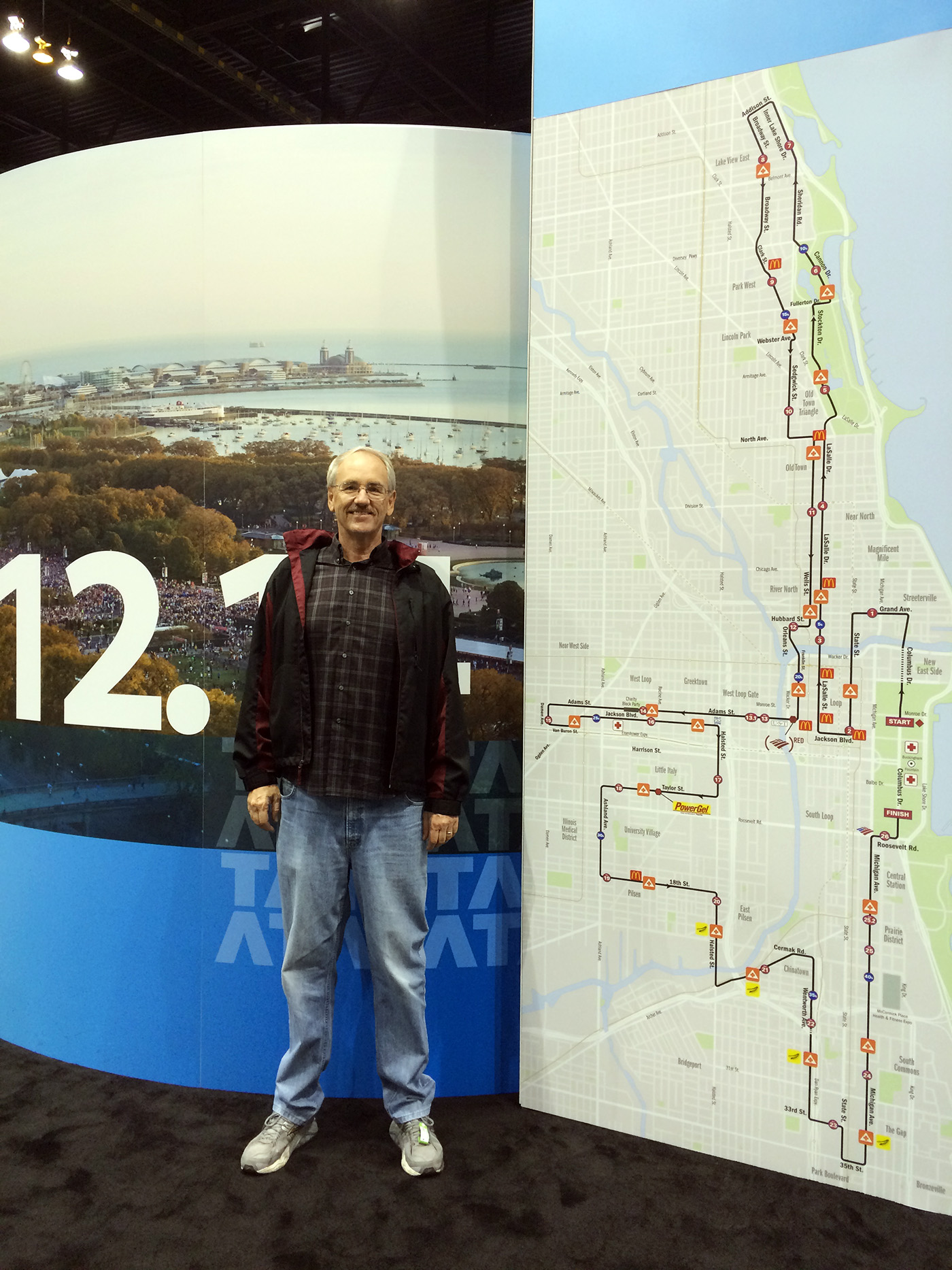 Saturday, October 11
Nancy and I arrived in Chicago Friday evening. We ate at Graham Elliott Bistro in the West Loop area. Elliott is one of the three chef/judges in the TV series MasterChef and he also was scheduled to run in the marathon, so we were interested to try out his restaurant. Short review: the food was pretty good, the atmosphere very casual and loud. It is amazing to me that Michelin gave this place two stars; if it had been in France, it certainly wouldn't rate that high. We stayed at the Monaco Hotel, a Kimpton property, one of those quirky boutique hotels. The race headquarters was at the Hilton, right across from the starting line, but that was even pricier. The official TNT hotel was the Hyatt Regency, but the TNT folks charge a real premium to book a hotel with them, so I made our own arrangements.
We attended the race expo at McCormick Place, the world's largest convention center. It certainly was huge, and it was by far the biggest race expo I have ever seen. Really packed with people, but extraordinarily well organized. (This would be a theme for the entire race weekend.)
That afternoon we took an architectural boat tour on the Chicago River. We had done this before, but it still was a lot of fun, and the weather was great. Sunny, although a bit chilly down at river level. The idea for the day was to minimize walking and save strength for Sunday, so sitting on the boat was a good alternative.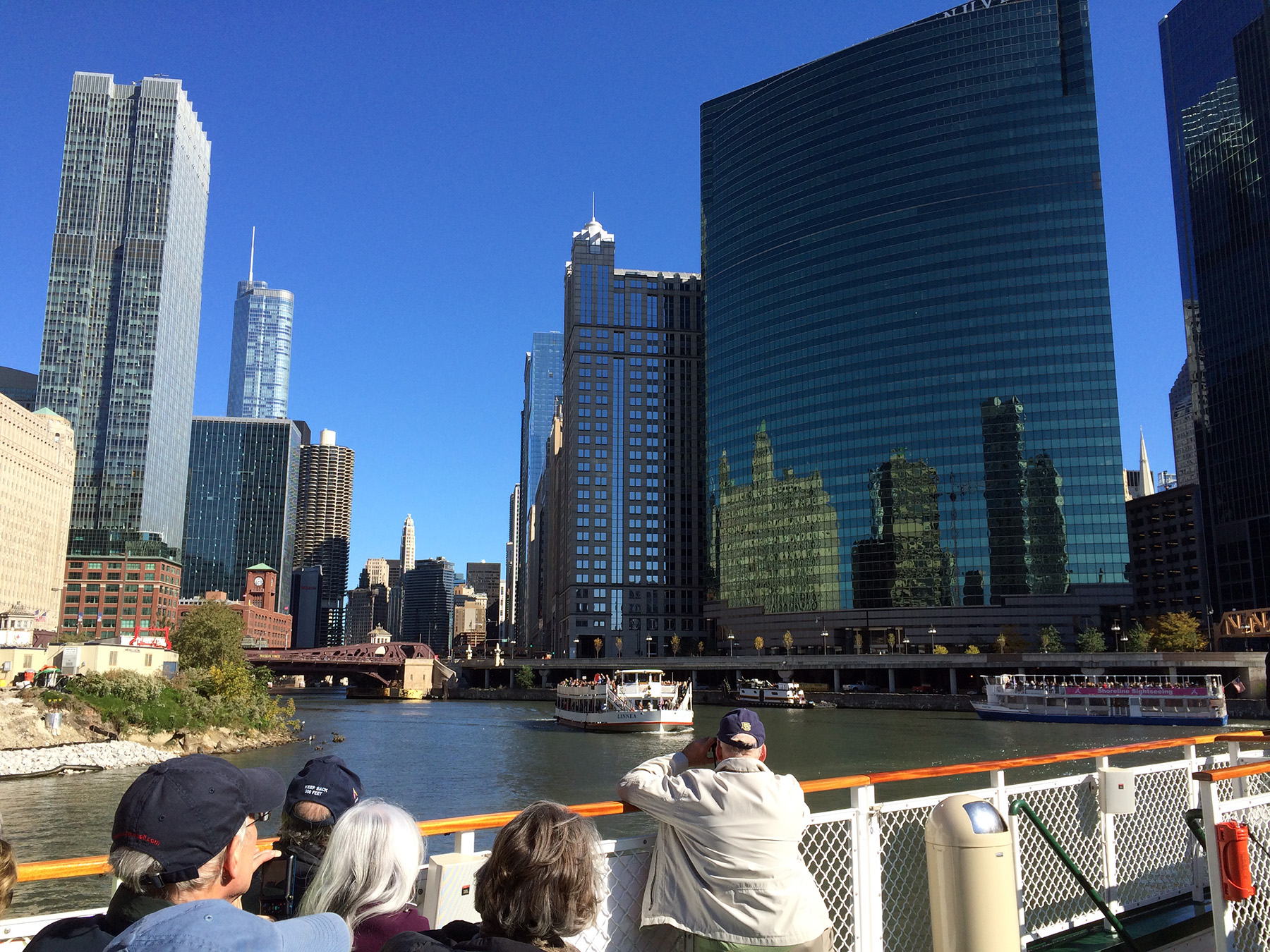 Saturday evening was the regular TNT Inspiration Dinner, at the Hyatt, about four blocks away from our hotel. As usual, interesting videos and speeches that inspired me to run a little bit harder for the cancer victims and survivors. I was embarrassed to see that my team had selected me to announce as part of a PowerPoint presentation seen by the entire dinner audience, mentioning that I have done 15 seasons and fund-raised over $40,000. I generally dislike being called out in crowds like this, but I suppose it was a nice gesture. :-) There are 414 TNT runners among the 45,000 Chicago registered runners, one of 194 charity groups participating. Coach Tim of the South Bay team went over logistical information after dinner. The plan was to meet at 5:30 AM in the Hyatt so that we could all walk to the starting line together and then stand around for 2.5 hours.
Sunday, October 12
Race day! Unfortunately, my alarm went off at 5:30 AM, so I was not able to make the meeting at the Hyatt. Nancy and I had breakfast together—almost unheard of for a marathon morning—and then I left at 7:10 AM, walking 0.8 miles to the starting line on my own. I had been watching weather forecasts for the last week and the little bit of rain that had been forecast for the race moved into the evening hours, so I did not have to bring the poncho I bought, although I did have a purple garbage bag ready to go. The weather turned out to be almost perfect: sunny, 50°s, moderate wind. (Overcast skies would have been completely perfect.) The elite runners in the first half of the field started at 7:30 AM. I was in the last corral, K, with the walking wounded, and our start was 8 AM. Because there were so many people, I did not get to even see the starting line until about 8:10 and did not cross it until 8:28! One of the demoralizing aspects of the race was that I heard an announcement of the winner as I reached mile 6!
The first big problem that I had was unrelated to the race organization or to my TNT training, both of which were flawless. My Garmin Forerunner 220 GPS watch got completely flummoxed by the tall buildings downtown. I don't know whether it got frantic because it lost the satellite signal or whether the signal was bouncing off the buildings, but the watch went crazy for a while. I happened to be looking at it when it jumped a half mile ahead and it said that I was running at a two minute per mile pace. (Checking the stats after the race showed that at one point I was running at over 100 miles an hour.) So for a good part of the race my watch was over a mile past reality, which meant that my pacing information was almost worthless. Perhaps I would've done a little better overall if I'd had more accurate information along the way. Well, that's one excuse ...
The best part about the Chicago marathon was all of the enthusiastic and encouraging spectators. I had my name on my purple shirt and I must've heard it called out at least 300 times during the race. That is an important morale booster, particularly for those of us bringing up the rear. (Well, not so far to the rear. When I finished, there were over 10,000 people either behind me or who had quit the course.) As usual, Nancy was able to meet me about three times on the course, which is the biggest morale boost of all. The second best part of the race is that the course is flat as a pancake, with the only minor climbs occurring on bridges.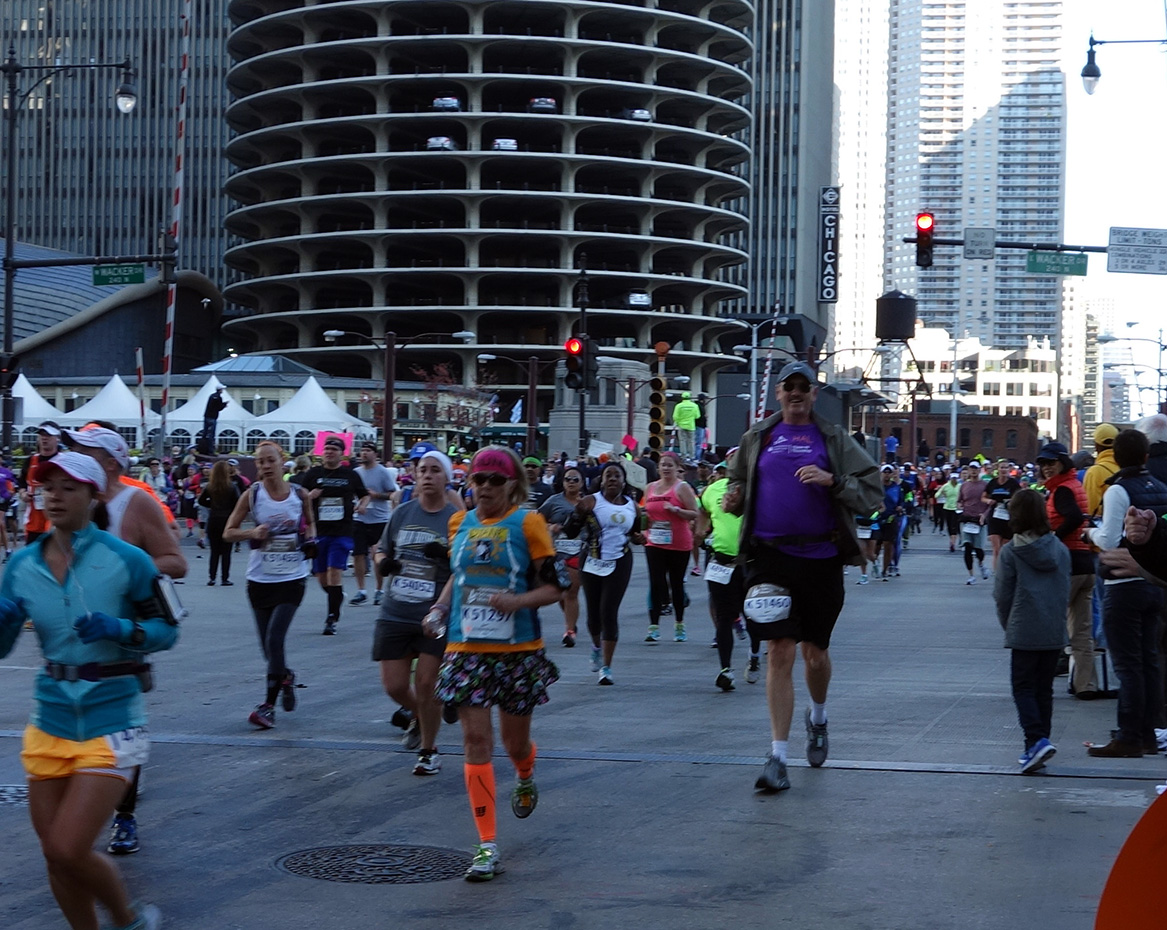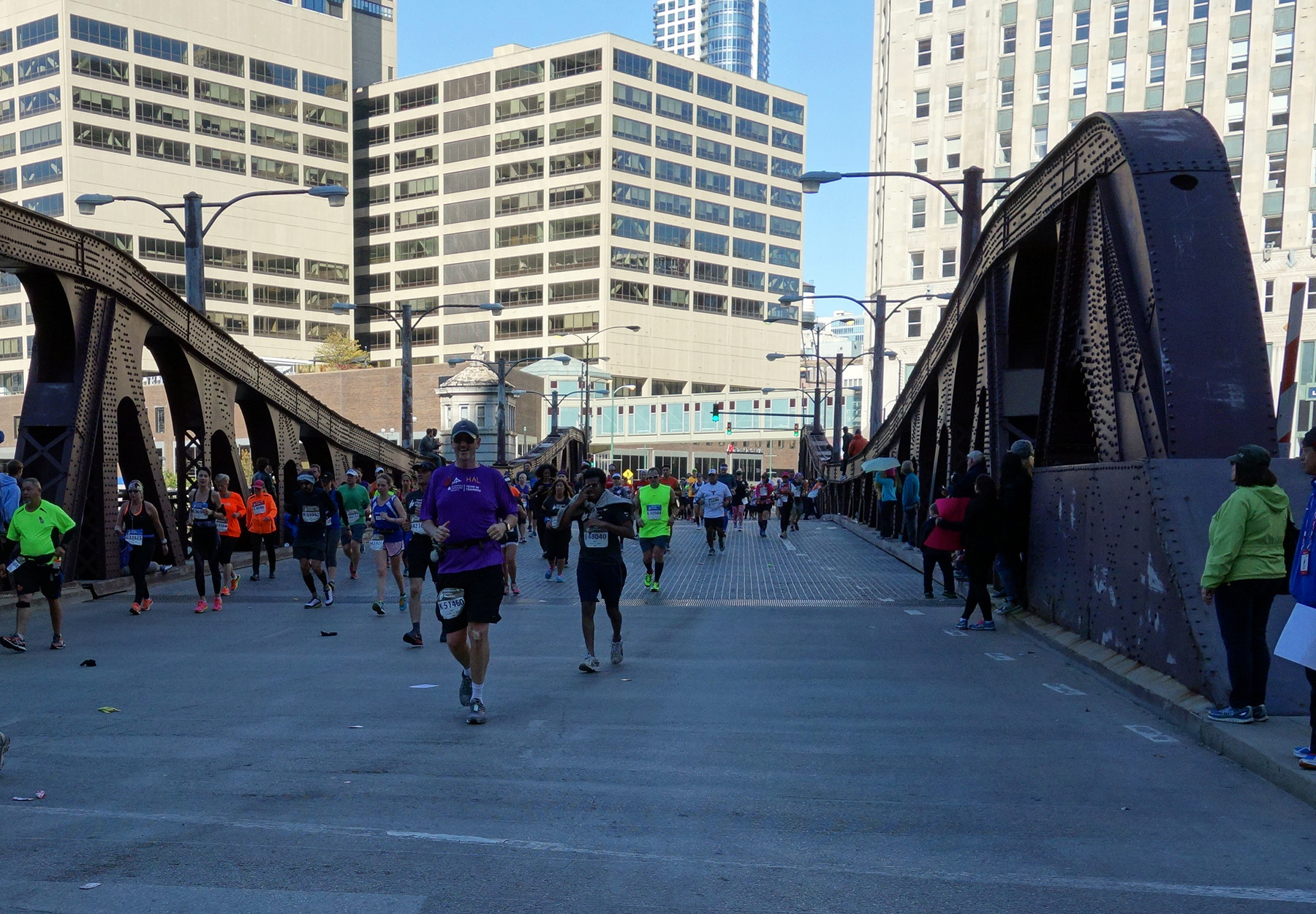 Unfortunately, although the course is very easy, I did not find it all that memorable. It goes by very few landmarks or interesting scenic vistas, concentrating on rather homogeneous streets of shops or houses. You could show me photographs of the course and I would not remember most of them. Perhaps I was spending too much time watching for uneven pavement and tripping opportunities coming up, but there were very few occasions when I paused to take photographs. It was all sort of a blur. It was really crowded, too. In most races I get pretty lonely from mile 16 on, but this was shoulder to shoulder for the entire 26.2, requiring some bobbing and weaving throughout.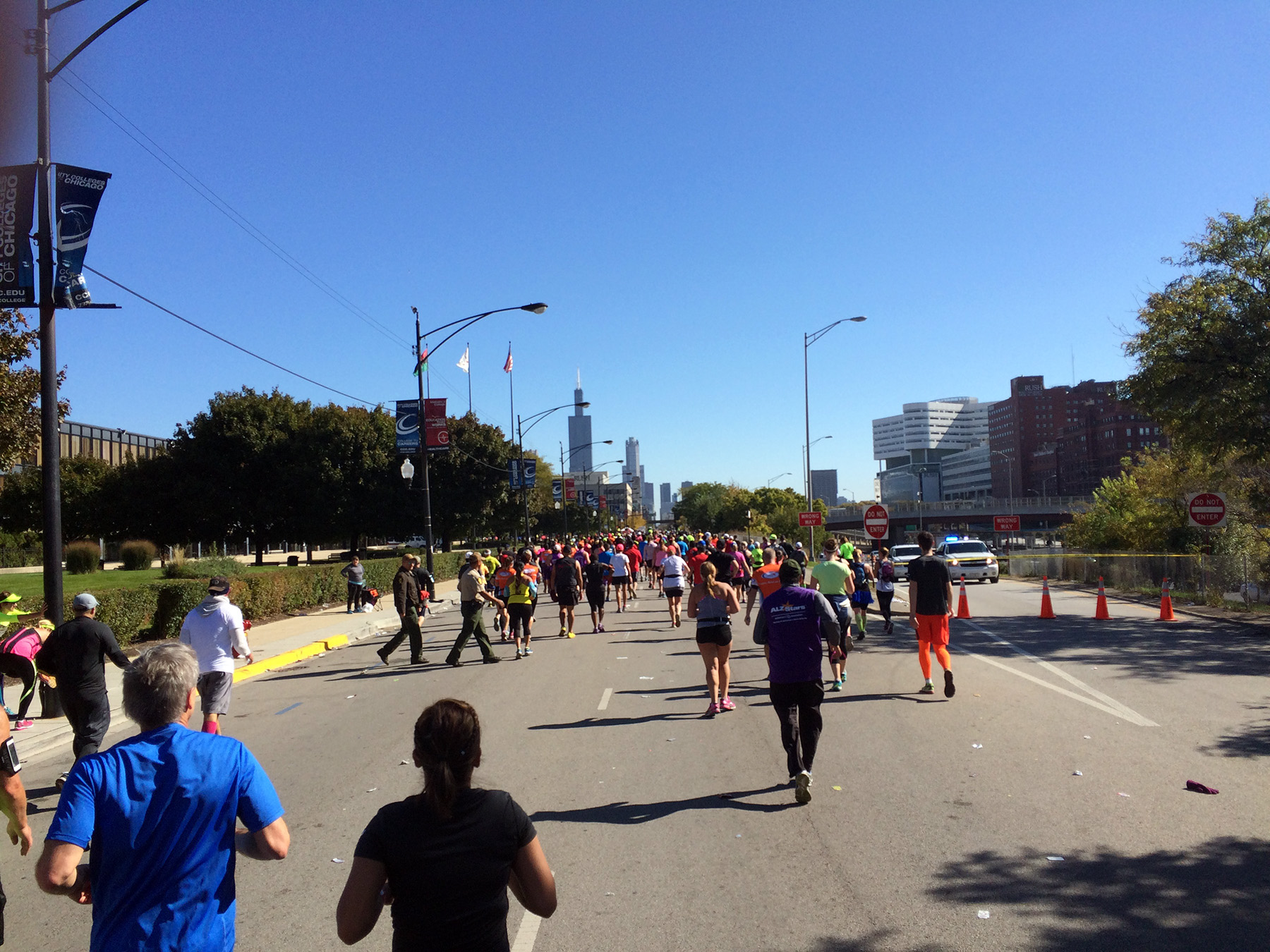 I performed pretty well for the first 23 miles, keeping up my pace of sub-12 minutes per mile. There was one hiccup around mile 16. The big elbow scar that I still had from my injury 10 days earlier hit my water bottle and opened up, leaving a blood trail behind me. There was an aid station just ahead, so I stopped for a Band-Aid. Because of general confusion and minor paperwork, cleaning off the blood and applying the Band-Aid took three or four minutes.
At mile 23, Coach Tim met me and remarked that I was running crooked, bent slightly at the waist to the right. This was a problem I have had in a few previous marathons, two of which were aborted because of back pain. Within a mile, I was in some nontrivial discomfort from the lower back pain. I thought this was a problem I had vanquished because of stepped-up core strength exercises for the last few seasons, but perhaps was a lingering aftereffect of my injury. I still had some rib bruising discomfort, although that was on the other side. Could it be that I was leaning over in compensation? Well anyway, my performance at that point went down the drain and my sub-12 minutes turned into 14+ for the home stretch up Michigan Avenue. I crossed the finish line at 5:32:41, finisher number 34,631. I had hoped to beat my PR from San Luis Obispo, 5:29, but I just missed. That bloody elbow delay did not help.
I had quite a long walk to stagger to the spectator reunion area and some helpful course aid guys provided support part of the way. When I met Nancy, she told me that I was not quite as debilitated and stupid/punch-drunk as I usually am at the end of a race. I rested a while in Millennium Park and then we took the long trek back to the Hyatt, where I had to check in with the TNT folks, and then back to our hotel for a nap. I figure that my 26.2 race expanded itself to over 30 miles today.
Monday, October 13
Not much energy this morning, and still pretty stiff. We spent about 45 minutes visiting the highlights of Millennium Park, then took a bus tour that highlighted Chicago pizza, joining about the dozen folks to visit four different restaurants in different parts of the city. We learn quite a bit of Chicago trivia, pizza and otherwise. It was surprising to learn that only 15% of Chicago pizza sales are of the deep dish variety. The original style of pizza in the city is called Chicago Tavern style, which is a relatively thin crust and cut up into squares the size of saltines. This was developed by bars to be loaded with salt and given away, promoting more beer sales. Our starting point for the tour and by far the best pizza was Pizano's (pronounced Paisano's), which was owned by the son of the guy who developed the original deep dish in 1943. We had a Tavern style and a vegetarian deep dish, the latter really excellent. Oprah Winfrey supposedly really likes this place. The second stop was in the South Side, where Flo and Santos included Polish accents to their pies, both Tavern style (one with "Italian beef" and "giardiniera", the other kielbasa and sauerkraut), both quite good. Third was Pequod's in the northwestern corner of the city, which had a deep dish that I thought was not so good—really thick, bready crust, red sauce with lots of added sugar, and a burnt mozzarella coating on the crust. Finally was Piece, in the trendy Wicker Park neighborhood, which was supposedly rated by Pizza News magazine as the best pizza in the United States, but I thought was quite uninteresting with a really dense crust, cooked New Haven style. The tour took 3 1/2 hours and was well worth it, offering us a lot of interesting conversation as well as info on Chicago.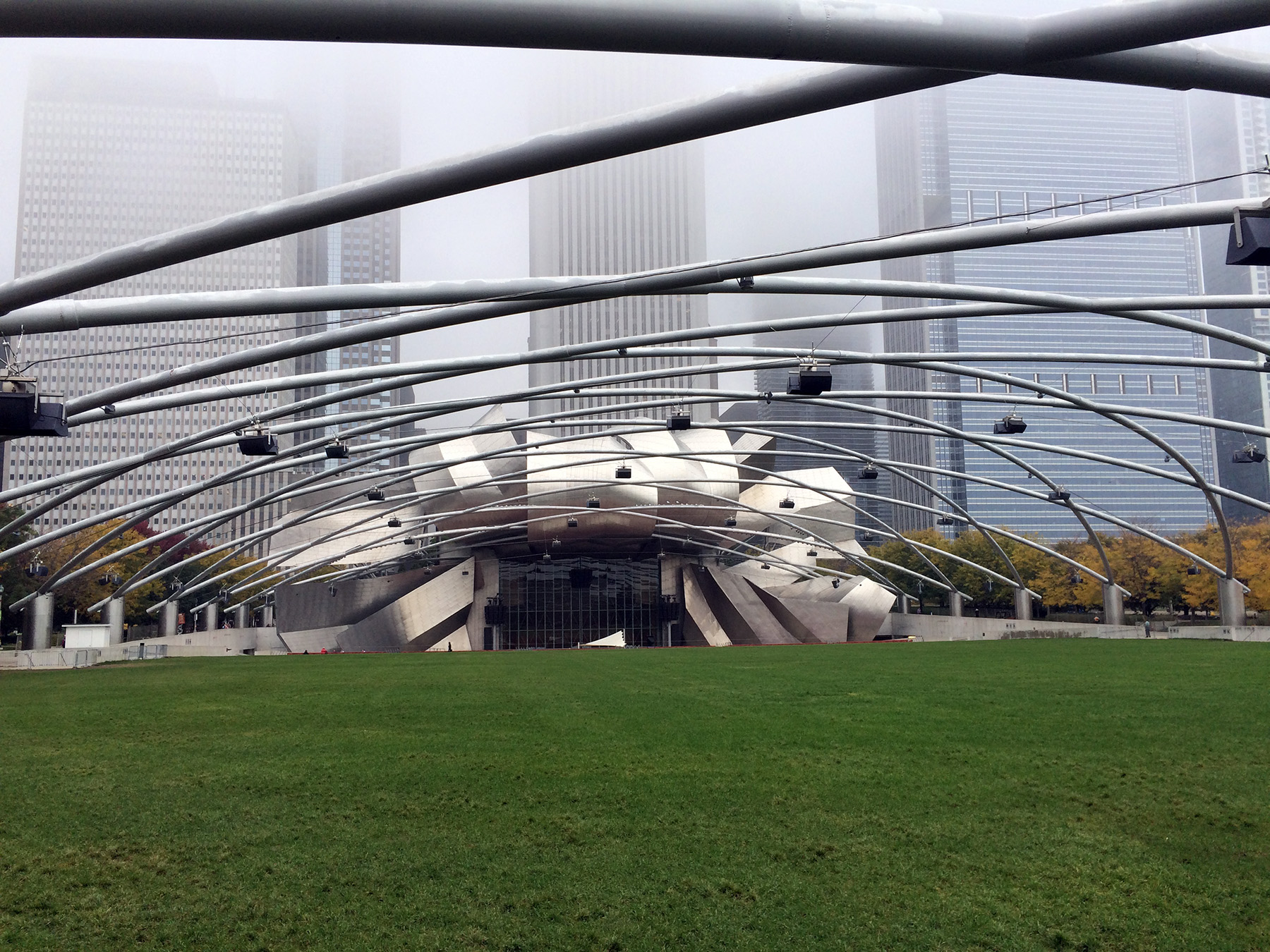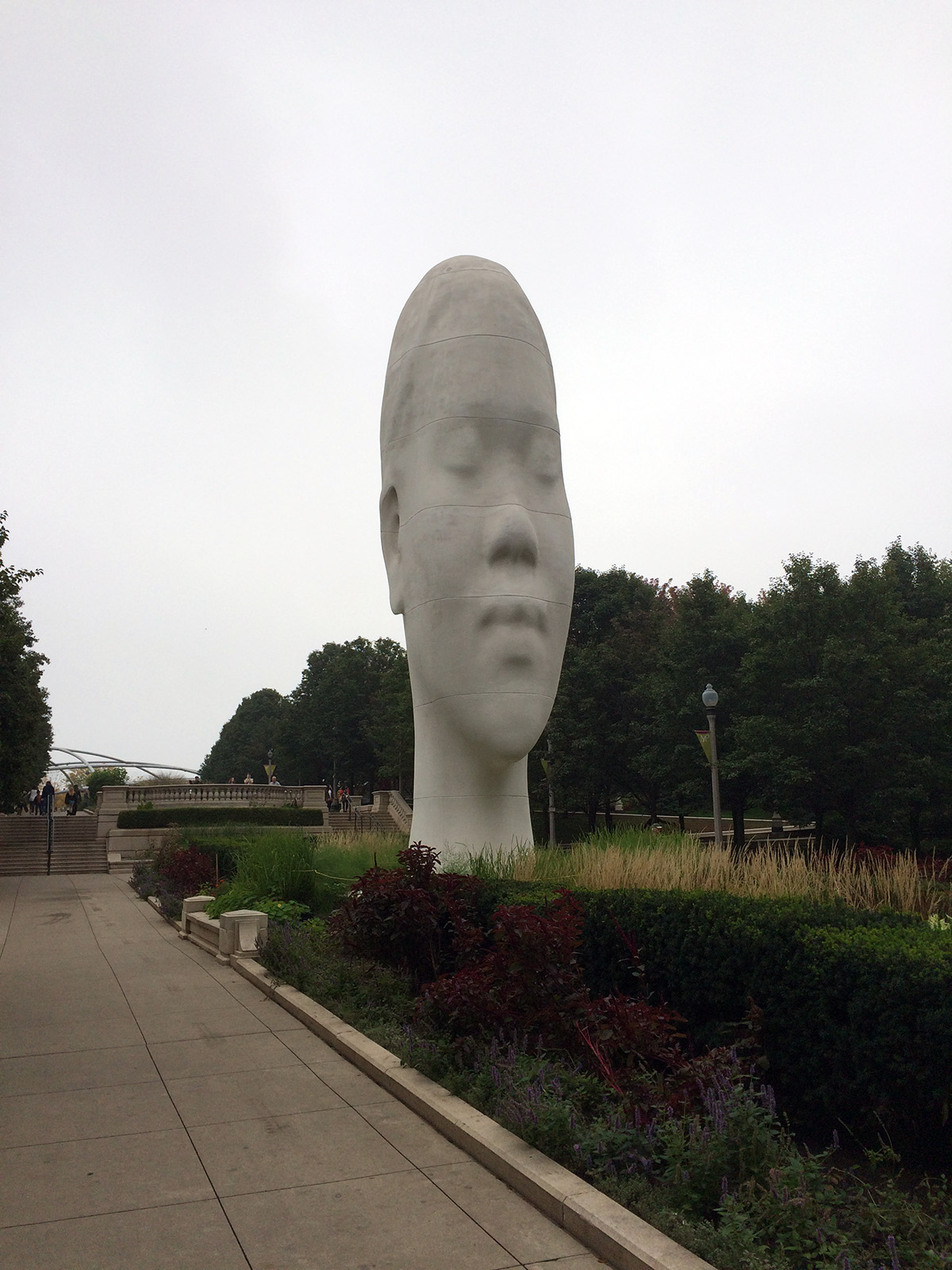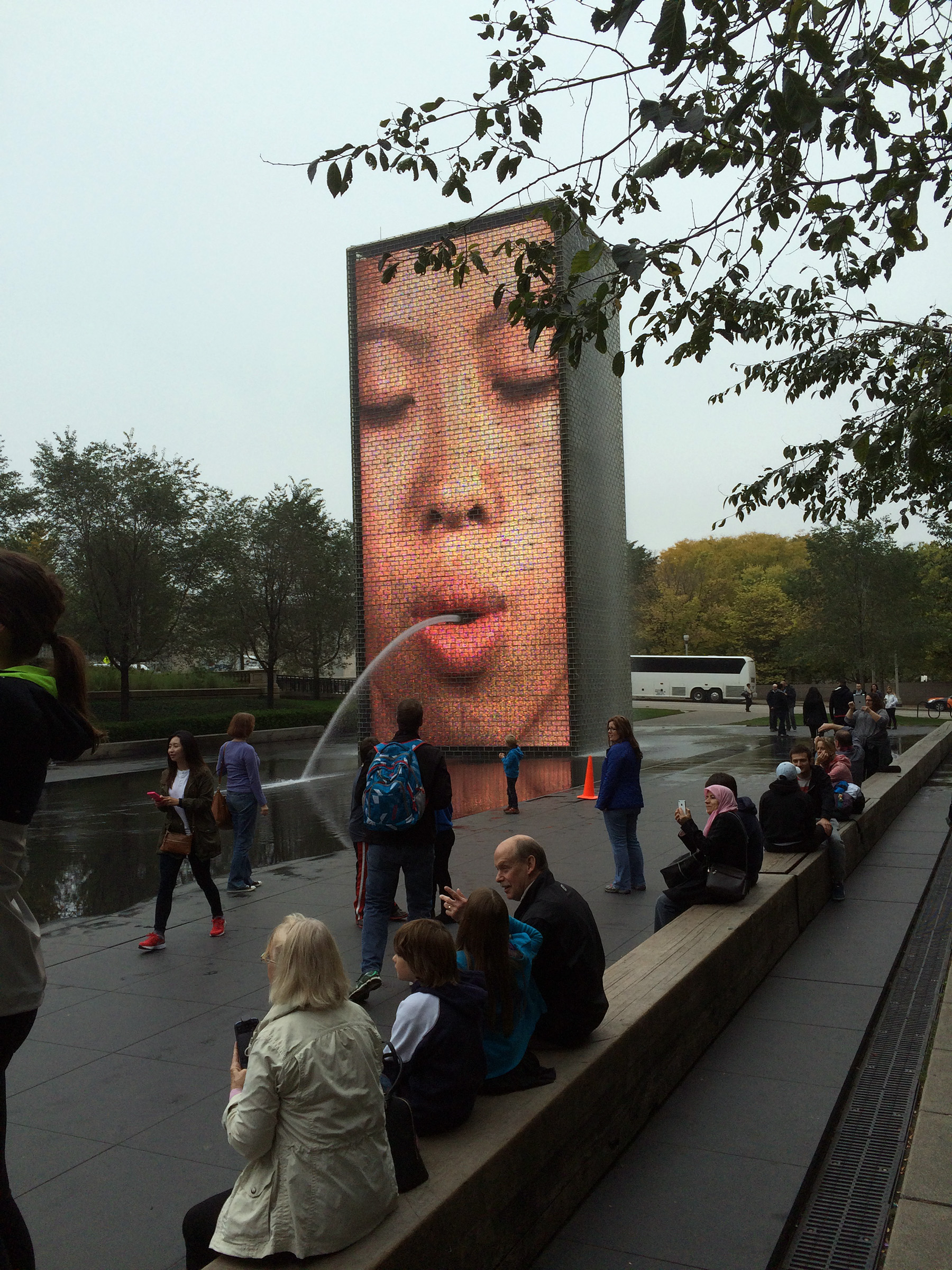 Tuesday, October 14
My recovery is proceeding along. I am not so stiff today, although the bottom of my feet are a bit tender. I had to get some Civil War–related activity under my belt, so I took the elevated train to Chicago Avenue and visited the Abraham Lincoln Book Shop. I had a nice time browsing through the very extensive stacks and gawking at the rare first editions and some beautiful original Gettysburg maps. I was disappointed that a number of the books for which I have done maps were not there, but the owner told me that they discourage paperbacks, and a lot of mine turn out to be in that format.
It rained all day, so Nancy and I spent the rest of the time in the Art Institute of Chicago. We had visited this about 10 years ago and enjoyed it again, particularly the Impressionists. They had signs all over that said Tripadvisor.com rated it the number one museum in the world. What a joke. Standing up for long periods of time are not my strong suit at this point. We took a late afternoon flight back to San Francisco. Our friendly cabdriver was from Nigeria, which means you should wash your hands if you touch me in the next couple of weeks. :-) It was a great weekend in Chicago, and I thank all of my friends and mentors and coaches in TNT for getting me through yet another marathon. I have already signed up for the spring marathon, Vancouver, BC, on May 3, 2014. If you would like to help cancer research and the families of cancer victims, please visit my fundraising page.
Google Earth
I almost always include a Google Earth tour of my marathon run, but as I said above, my Garmin GPS watch got so flummoxed that I am not going to bother with that this time.

TNT Training
Weekly Training Schedule
Here is the table of weekly activities for our training.
| | |
| --- | --- |
| Monday | Cross training (50–75 minutes walking, swimming, or aerobics and weights at the gym), including core strength |
| Tuesday | Track workout under coaches' supervision (90 minutes). A few weeks of core strengthening, a few of "dynamic drills," then mostly intervals, pacing runs, and hills/bleachers, generally 3–5 miles total. |
| Wednesday | Cross training and core strength |
| Thursday | Buddy runs: easy runs with a group at a conversational pace. Early in the season they are in the 3-5 mile range, later they get to 5–7 with a number of hill repeat sessions mixed in. |
| Friday | Rest, stretching, core strength |
| Saturday | |
| (1) Distance run in scenic places, starting at 4–6 miles and increasing 2 miles every other week until you're finally at 20 miles. | (2) On Your Own (OYO) runs, although group running is encouraged. Starts at 2–4 miles, progresses through the season to 6-10. |
| Sunday | Rest, stretching, core strength |
Workout Log
Here's the training I accumulated prior to the race. I do not include Monday/Wednesday cross training or Thursday buddy runs in this list because they're pretty regular, as described in the table above.
Fri, Oct 10: Track on Tuesday was very lightweight. We ran for 15 minutes at a 10K pace and then those of us going to Chicago got the rest of the night off (while the Nike runners did two more repetitions of the 15 minute drill). The rest of the week has been resting. I'm off to Chicago this morning, looking forward to the race. The weather ought to be decent. My injuries do not worry me too much. Wish me luck. My season mileage is 375.
Sun, Oct 5: If you read my update yesterday, you will see that I was concerned about rib bruising from my fall. Today, I did a 6 mile run on my own and it went fine—a little slower than my recent runs, but no pain to speak of. What a relief! This is my last week until the marathon, so I enter significant tapering mode. My season mileage is 372.
Sat, Oct 4: With only a week to go before the marathon, I have suffered a setback in my training! Tuesday track was supposed to be a light workout and then the logistical sendoff for the races. I could not attend because of a conflict with a speech I was giving to a Civil War Roundtable. On Thursday, I ran on my own and managed to trip on an uneven sidewalk, sending me sprawling and banging up one knee and one elbow. As of today, the road rash has turned into some gruesome scabs, but that is not the difficulty—I bruised some muscles over my left ribs, which has been moderately painful, although it has been diminishing in the couple of days since. Today was supposed to be the final long run of the season, 10 miles at Pillar Point, but at the advice of my coach I did not attend, in the hopes of making my recovery a little easier. I took a brisk walk today of 2.5 miles and was pleased that I had no difficulty. Tomorrow I will do a short run and see if the rib pain will likely cause me any significant problems in the race next Sunday. My season mileage is 366.
Sat, Sep 27: Tuesday track was sort of like Yasso 800s again. I say sort of because we were very generous with the recovery time between 800s, spending 75% of the running time (at roughly a 10K pace) on jogging or walking. I did six repetitions in the time allotted. Since I am a run/walker, I don't really place much stock in the predictive aspects of real Yasso 800s, but if I did believe them, this exercise indicates I ought to be able to do a 4:45 marathon! We are now in taper mode, so the Thursday buddy run was considerably shorter than usual (20-30 mins.) and we are not doing any hill repeats. The Saturday run was on our own and I did 7.5 miles on Cañada Road, which is a moderately hilly course, but not a killer. My pace was 11:37. My season mileage is 358.
Sat, Sep 20: Tuesday track was bleachers again, although this time we had to climb the stairs on both sides of the track, rather than just the main bleachers. Argh. I did 6.5 laps, which I suspect was lower than the amount our coach wanted us to run in 50 minutes (he had projected anywhere from 8 to 16), but was about the best I could manage. On Thursday it was raining a little so I decided to skip the buddy run, resting up for the Saturday long run. It was on the Baylands trail, starting from the Oracle parking lot. It was a beautiful morning for running—cool and completely overcast until about the last 30 minutes—and I did pretty well, 20 miles at an 11:40 pace. The marathon is three weeks away and this was the last really long run of the season. My season mileage is 342.
Sat, Sep 13: Tuesday track was mile repeats again: 1 mile at a 5K pace, 800 m marathon pace, 1 mile at a 10K base, 400 m marathon pace, then repeat. As with previous weeks, my marathon pace was for a walking marathon. :-) My Thursday buddy run was on Farm Hill Boulevard, which is a really brutal set of hills, so I did not make very good progress that day. The Saturday run was on our own and I did 8.67 miles on the Stanford Campus Drive loop, pacing at 11:31. My season mileage is 317.
Sat, Sep 6: Tuesday track was an odd series of intervals: 800 m at a half marathon pace, 1200 m at a full marathon pace, and 400 m at a 10K pace, each followed by two minutes of active recovery. I did two repetitions of these and finished a third 800 m when the time expired. The Saturday group run was in Golden Gate Park and on the Great Highway, with a partial circumnavigation of Lake Merced. I did 17 miles at a pace of 11:41, which is pretty decent for me because the park portions of the course—the first 9 miles—are rather hilly. Last season, a rather similar run on this course was 15.77 miles at 12:00. (The course was not identical because we deviated in the route through the park and it obviously was a bit longer.) The weather was simply beautiful for running—60° and overcast with a very light wind. My season mileage is 298.
Sat, Aug 30: Tuesday track was mile repeats: 1 mile at a 5K pace, 1/2 mile at a marathon pace, then repeat for 50 minutes. As usual, I do okay on the miles—and I did very well on the consistency of my pacing, 9:45 +/- 5 secs—but had to take more of a significant rest during the half mile intervals, so it was a bit slower than my regular marathon pace. The Saturday run was on our own and I did 9 miles at Shoreline, running at an 11:36 pace. My season mileage is 269.
Sat, Aug 23: Tuesday track was descending intervals. We ran 3 miles, the first slightly slower than our marathon pace, the second at our marathon pace, and the third slightly faster. This was a difficult exercise for me because my marathon pace is averaged out by my run/walk intervals, so determining the correct pace to shoot for was hard, and I also ended up running noticeably faster than I was supposed to. The Saturday long run was the Woodside trail run, which was advertised as 15 miles, but just like last year was actually 14. I usually complain about the hills on this course, which is my least favorite of the season, but I have come to realize that the difficulty mostly stems from the rocky dirt trails instead of the hills. It is hard to get great traction and remain surefooted on the gravelly and uneven course. For some reason I did not do as well as I did last year, coming in at a 12:34 pace (instead of 12:15), but perhaps it was just an off day. My season mileage is 249, with six weeks to go before the marathon.
Sat, Aug 16: Track on Tuesday was modified Yasso 800s: 800 m at a 10K pace, 200 m at a marathon pace, repeating for 50 minutes. The good news is that I ran each of the 800s at a very steady pace, 4:40 +/- 10 sec. I was able to do seven in the time allotted. The bad news is that I had to walk the 200s. According to the traditional formula, this result would imply that I can do a marathon in 4 hours 40 minutes, but because of my walking breaks and because I do the actual race with a run/walk interval, I have never found Yasso to be accurately predictive. Thursday was hill repeats on Alameda. The Saturday long run was on our own and I did 10 miles on the Oracle Bay trail. i am happy to note that I ran each of the mile splits a little faster than the previous, losing no significant amount of energy over the 10 miles, finishing up at a 11:09 pace, which is my second fastest season (the fastest being the very first training run, 4 miles at 11:01). My season mileage is 225.
Sat, Aug 9: Track on Tuesday was intervals again, this time 1200 m at a 5K pace, then 800 m at a marathon pace, of which I did three sets in 45 minutes. (Actually, the 800 m was more of a slow run-walking marathon pace for me.) We started doing hill repeats in our Thursday Buddy Runs this week. The two courses I use for this are the hill on Alameda near Jefferson, or Cañada Road to Woodside, and this week I did the former. The Saturday long run was at the Presidio in San Francisco and we did a rehearsal for a good part of the Nike women's half marathon, running up to the Golden Gate Bridge, through the Presidio, through Seacliff, down the steep hill past the Cliff House, and briefly into Golden Gate Park. The two big hills on this course turn into four because it is an out and back. I was surprised to see that there were a few course changes from previous years, which actually made the run a little bit easier, and allowed me to shave 30 seconds off my pace from last year's run. It was supposed to be 12 miles, but they always seem to undermark courses, so this was 11.69 miles, at a 12:14 pace. My season mileage is 205.
Sat, Aug 2: I missed a weekend update because of a trip to the East Coast. Track on Tuesday, July 22, featured "fartleks," which is a Swedish word for intervals of different lengths. We ran fast for a while, then slow, and so forth. Each interval change was announced by a whistle blast and we did not know in advance how long each one would be, but they seemed to be from 1 to 4 minutes. Then, because of my trip, I did not get to do the OYO run on Thursday or the 9 mile group run on Saturday. (I have no idea why they regressed from 10 miles the previous weekend. Perhaps just letting us rest?) The next track, July 29, saw me arrive with only two hours of sleep the previous night of airline travel, and not having run for a week, so I did pretty poorly. This exercise was intervals of 800 m (10K pace), 100 m (marathon pace), 400 m (5K pace), 100 m (marathon pace). We did this for about 35 minutes and then had a cooldown of barefoot running on the Astroturf for another 10. (That really works some different muscles.) The Saturday run was on our own and I did 7.5 miles on Cañada Road to Woodside and back, at a pace of 11:37. My season mileage is 183.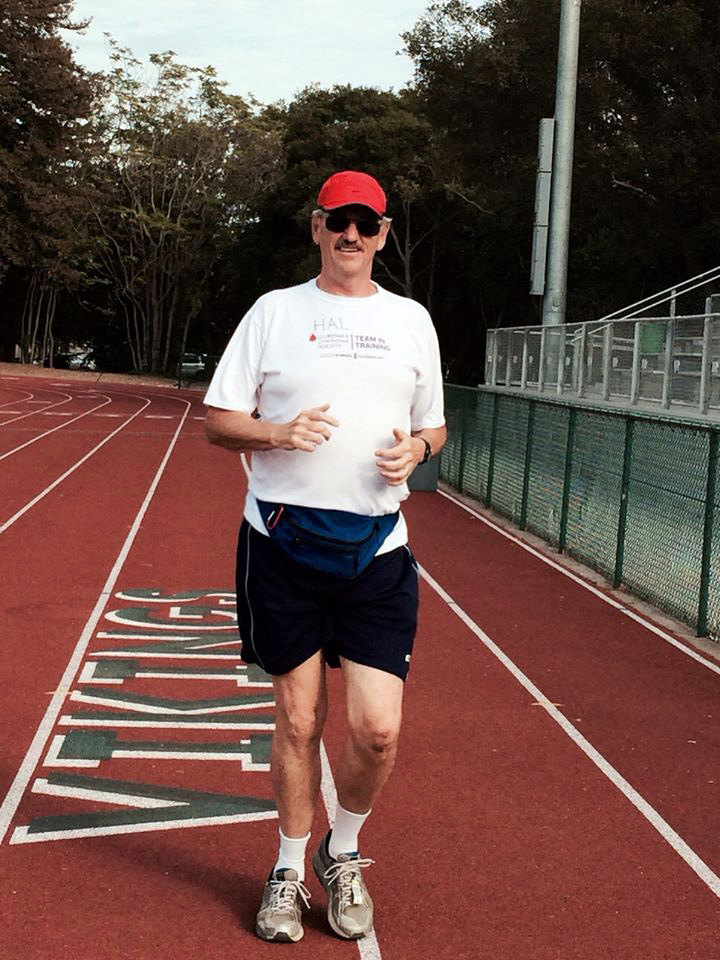 Sat, Jul 19: Track on Tuesday was pyramid intervals: 400 m, 800 m, 1600 m, 800 m, with 200 m active recovery between each. My wave was supposed to do two repetitions, but in the time allotted I finished one and was called in in the middle of the first 800 m in the second set. The coaches seem to like to provide stretch goals that are difficult to achieve. The Saturday run was on our own and I went to Stanford, doing two laps of the Campus Drive loop, 7.5 miles at an 11:27 pace. My season mileage is 159.
Sat, Jul 12: Track on Tuesday was "descending ladder" intervals. After warming up, dynamic stretching, and dynamic drills, my wave ran 1600 m, 3×800 m, 3×400 m, and 3×200 m, with about 150 m active recovery (walking, mostly) in between each set of laps. Actually, I was only able to get in one and a half of the 200 m before the time allotted ran out. Then, of course, core strength exercises. The group run on Saturday was in Portola Valley and I was expecting the grueling course that we had last year. Check out this elevation diagram:
This was so difficult that I managed only a pace of 14:12. To my surprise, we ran a different course with much milder hills and trails:
My pace was 12:07, which was pretty satisfying considering the hills. My season mileage is 142.
Sat, Jul 5: Track this week was pretty difficult—bleachers! The Palo Alto High School bleachers are five sets of 25 steps, although the steps were not very steep. I would estimate one set was the equivalent to a 1.5 story building. So we would run up and down each flight and then jog 300 m around the track. The coach wanted my wave to do 11–13 repetitions (which is about the equivalent of the Empire State Building), but in the time allotted, I was able to do only six. As usual, we had dynamic drills (including some dynamic stretching for the first time) and core strength at the end. Pretty tiring. The Saturday run was on our own and I did 6 miles on Cañada Road, up and down the hill to Woodside and back, at a decent 11:25 pace. My season mileage is 123.
Sat, Jun 28: Catching up on some delayed activities... I did not attend track on June 17 because of a bad head cold (which actually turned out to be a severe, unexpected allergy attack); I also wanted to rest up for my upcoming trip. On Friday, June 20, I ran 7.5 miles in Gettysburg, Pennsylvania, doing my favorite course, which I describe in my Civil War travelogue. The trip caused me to miss the track on June 24 as well. Today was the group long run along the ocean at Pacifica. It was a foggy, cool day, so I had my extra shirt and a pair of gloves, which ought to be pretty unusual for summer. It was an 8 mile run on a moderately hilly course and I put in a pace of 11:40. My season mileage is 108.
Sun, Jun 15: Track on Tuesday included a series of relatively minor dynamic drills and then we ran 2 miles to determine wave rankings for future workouts: 1 mile for a "warm up" (even though we had earlier run 15 minutes to warm up), and then 1 for time. I did 4 laps in 10:20; I mention laps because in my lane, it was actually 1.05 miles. On the weekend, the group ran Saturday at Seal Point for 8 miles, but I was up in Sacramento for Nancy's Horse Expo, so Sunday I ran 10 miles on the American River Bike Trail. It was a good run at an 11:35 pace and with energy left to spare, but it pushed an emerging head cold over the top and made the rest of the day a sneezy, nose-running affair, which will put a damper on my training for the coming week. My season mileage is 87.
Sat, Jun 7: Tuesday track featured dropout intervals (where teams of three run so that two are always in motion, doing 800 m, while the third drops out temporarily on a rotating basis), for about 30 minutes, and core strength exercises. The weekend run was on our own and I did 6 miles on Cañada Road, a hilly course, at a pace of 11:19. My season mileage is 68.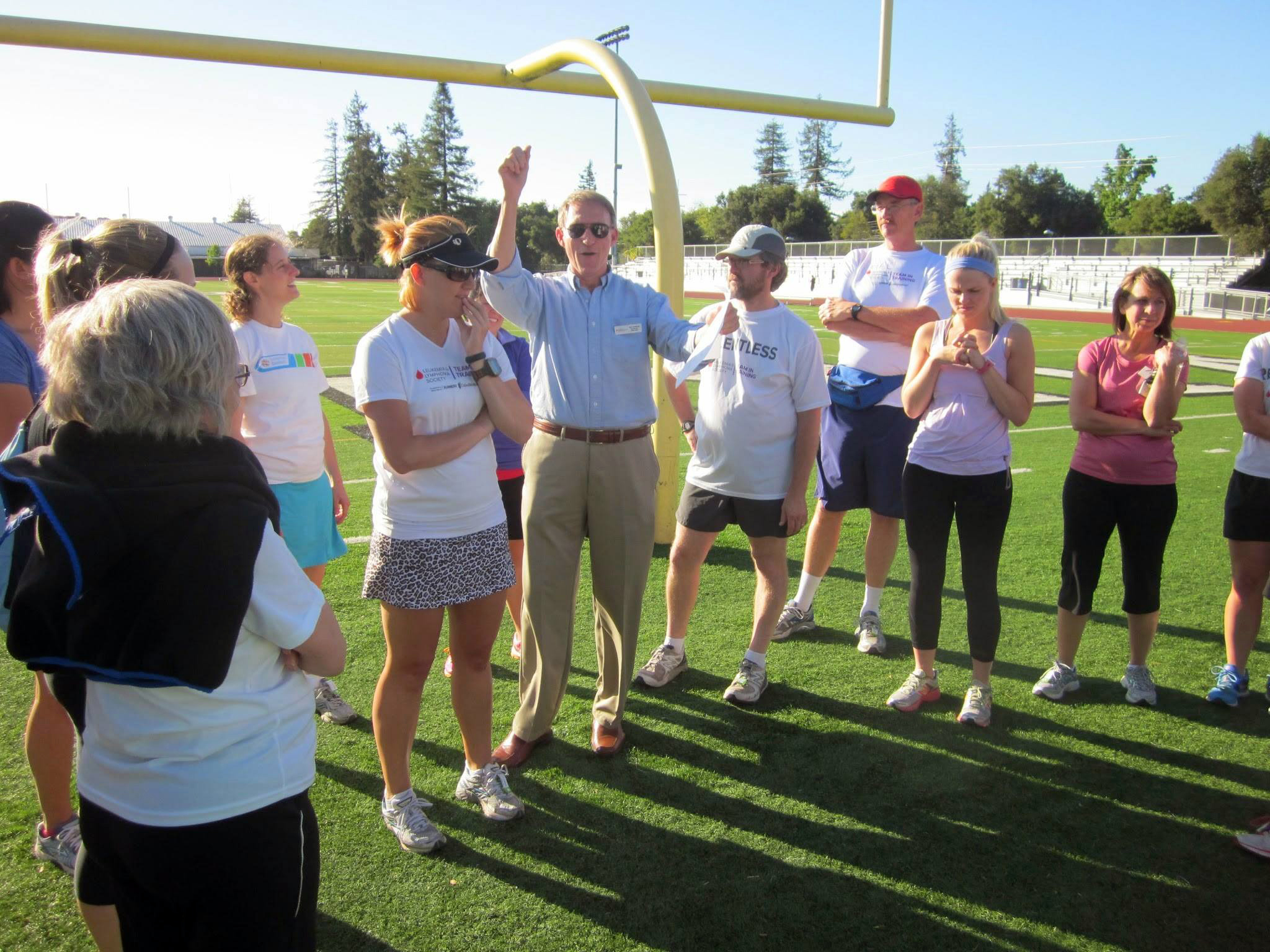 Sat, May 31: Our first real track workout was on Tuesday. We warmed up by jogging for 10 minutes, then did stretching and some dynamic drills (heal/toe walking, high/low skipping, high knees/butt kicking, sidestepping, and grapevines, all for about 100 m each, followed by 300 m jogging recovery). Next we did "Indian running" for about 20 minutes, in which we jog single file and the person at the back of the line sprints forward to the front, so you advance like an inchworm on its side. We finished up with some more stretching and some light core strength exercises. The weekend run on Saturday was at Stanford and I did 6 miles on two looping courses. I actually ran a bit faster than was prudent for me, an 11:10 pace. It will be difficult for me to maintain that pace in longer runs. My season mileage is 53.
Sun, May 25: I traveled all week to Virginia for a Civil War trip (see details here) and was able to run only one day. I did 6 miles on Battlefield Park Road in Richmond, at a 11:59 pace. My season mileage is 39. Track workouts start Tuesday, May 27.
Sat, May 17: Today was the kickoff meeting of my 15th season of TNT. We met at Palo Alto High School, got introduced to everyone, and one of our honorees, Doug, gave us a speech about his medical travails and how medicines and treatments sponsored by LLS have been keeping him alive. Our team manager, Guy Johnson, told us that Stanford researchers sponsored by our efforts—$1.4 billion raised since we started in 1988—expect to be able to cure AML (acute myeloid leukemia) within three years! This meeting was combined with a workout, where we could choose 1, 2, 3, or 4 miles at a conversational pace. I got my money's worth by doing 4 (although the course wasn't set up correctly and they wanted me to end at 3.31, so I ran 2 1/2 laps around the track at the end to pad it out). I have once again decided to experiment with a new run/walk interval, 4:15/1:45 (instead of last season's 4:30/1:30), and I was pleased that I ran the 4 miles at a pace of 11:01! My season mileage is 33.
Sat, May 10: My recovery from the SLO marathon is about complete. I ran three times this week: Tuesday 5 miles, Thursday 5, and Saturday 6, each day improving my pace. Kickoff is next Saturday.
Sat, May 3: I have spent the week recovering from the SLO Marathon, visiting the gym only once. Today I took my first run, which was only 3 miles, but was difficult enough after the beating I took last Sunday. I have found out that the kickoff meeting for the fall season will be May 17, combined with a track workout at Palo Alto High School.
Mon, Apr 28: I just returned from the San Luis Obispo Marathon. I think the Fall season of TNT training will start on May 17, and I will update this page as soon as something happens.