National Review Post-Election Caribbean Cruise, November 2014
This is my travelogue of the National Review 2014 Post-Election Cruise, hosted on Royal Caribbean's Allure of the Seas during a seven day cruise from Fort Lauderdale to the Bahamas and the Caribbean. This was our 14th cruise, and our first with National Review and Royal Caribbean. I should point out that this description will be more about the political sessions than about the cruise itself, because there was so much National Review content that we actually had little time available for other activities. (And that's a good thing.) And, as usual, my description is heavy on details that will be memory joggers for me in the future, but might not be too interesting for others. My apologies for the sometimes fuzzy iPhone photos taken under less than ideal lighting conditions. And also note: I frequently include a lot of links in my postings, but there are way too many names in here to make that convenient, so I use links for individuals only when I was not reasonably familiar with their work beforehand.
Friday, November 7
We flew from San Francisco to Fort Lauderdale airport, arriving close to midnight, and checked into the Hilton Marina Hotel. We had arranged with National Review for a two night pre-cruise package. (It is generally not possible to get from California to Florida cruise ports reliably unless you fly one or more days preceding the event.)
Saturday, November 8
In the morning and early afternoon we amused ourselves by taking a water taxi around Fort Lauderdale, which bills itself the "Venice of America." Quite a large amount of the city is on landfill and many of the streets of houses are separated by narrow waterways, stocked liberally with giant yachts parked in front. We made about a dozen stops and listened to often amusing commentary about the rich people whose mansions we were passing. On one of the stops on the New River, we jumped off to have lunch at the Downtowner Saloon, which is a very nice casual place with seating right along the river.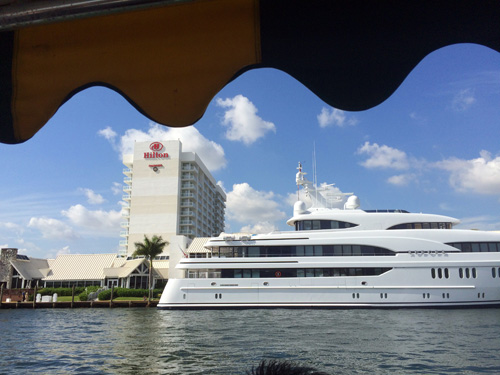 The main event today was an optional pre-cruise session, attended by about 300 people, with a 90 minute panel discussion featuring Amb. John Bolton, Sen. Marco Rubio, and Sen. Ted Cruz, moderated by Rich Lowry and Jay Nordlinger. I am quite familiar with all three of these politicians, so I have to say that I learned very little from their comments, but it was great to hear them all in person. All three were really smart and hyper articulate, and I expect we will see at least two (maybe three) of them on the 2016 presidential campaign trail. Ted Cruz told some funny stories about how the Senate operates like a junior high school lunchroom, with lots of cliques and senior members who do not deign to talk to the junior members, and he described how Diane Feinstein makes fun of him every time they are in an elevator together.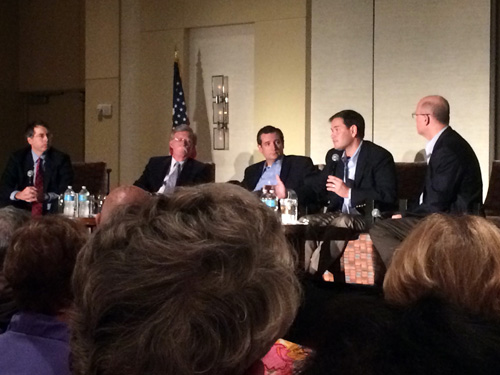 The panel discussion was followed by a reception. I had a conversation with John Fund in which he pointed out that voter fraud is not limited to the Democrat party, despite my incredulity of this happening in the recent past. I talked with Jay Nordlinger and Mona Charen about how I enjoyed their podcasts, surprising both that I listen to them at 150% speed via my iPhone. Neither had heard about this before. I spoke briefly with Rich Lowry, Eliana Johnson, and Jim Geraghty. And John J. Miller sat next to me during the panel discussion, so we also exchanged some pleasantries.
Sunday, November 9
We hung around in the morning without very much to do, avoiding some of the rain that passed through, and waiting for the bus to the cruise terminal. We arrived at the Allure of the Seas at around 1:20 p.m. and I was astonished to find that we were processed and in our state room by about 1:40. The Allure is the world's largest cruise ship, 225,000 gross tons, with 2700 passenger cabins, so I was expecting enormous lines and delays. Today, and throughout the cruise, I was very impressed with how efficiently Royal Caribbean deals with all of these people—embarkation, shore excursions, and disembarkation. Although our favorite cruise line is Princess, delays on their much smaller ships can be quite common.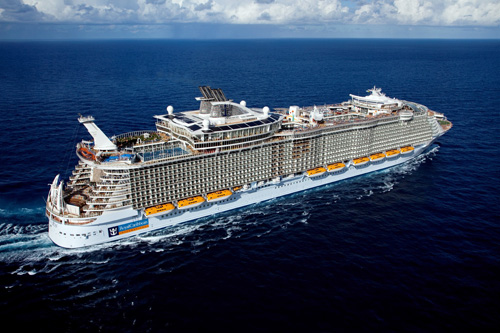 We wandered around the enormous ship, trying to familiarize ourselves. There are numerous touchscreen maps and directories. Just before departure, we attended the traditional "lifeboat drill," which was rather different than what we had experienced before. There are no lifejackets in the cabins, so we merely showed up at the assembly point and heard a speech about what to do in case of an emergency. There was also a video song about washing your hands. We got an idea about how many international passengers were aboard by hearing some announcements in five different languages. During the week, it was amazing how many times we heard people conversing in languages other than English—much more so than on previous cruises.
That evening was the National Review Welcome Reception, in the Solarium Bar on Deck 16. As with all of the receptions this week, there was an open bar (which does little for us nondrinkers) and lots and lots of hors d'oeuvres. I had a conversation with Jonah Goldberg about whether the GOP would screw up their election victories. He was a little more optimistic than I am. I talked with Ramesh Ponnuru about Obamacare and the Halbig case; Kevin Williamson on how he chooses subjects for his many interesting articles; Charlie C. W. Cooke on his interest in US politics; and Bing West about a number of military topics, including the Civil War, tactics at Gettysburg, and our mutual experiences in Vietnam. (Bing told me an interesting anecdote about Iraq, where forces had to get permission from the battalion lawyer before using artillery against a target that might have civilians nearby.)
Nancy did not bother with the reception, but joined me for dinner at a table of six randomly selected NR cruisers. I found that the food in the main dining room isn't all that good by cruise line standards. Throughout the cruise, we consistently had excellent pastries and desserts, and found that the service was quite friendly and professional, but most of the appetizers and main courses were not very interesting or well-prepared. There was an excellent hotdog stand for lunches, but the pizza restaurant was poor, as was the Mexican restaurant. We ate most of our meals outside of the dining room at a small café near our room in the giant space called Central Park, which had decent oatmeal and breakfast sandwiches, bagels, and panini.
Speaking of Central Park, I should explain that the ship had a few giant interior areas. Central Park was actually open to the weather, although surrounded on both sides by balcony staterooms facing inward, and it was a pleasant, leafy place to hang out when it was not raining. Below that was the Royal Promenade, which was essentially like a shopping mall. It connected with the Boardwalk, which had a number of cafés and a carousel, rock climbing walls, a zip line, and an "Aqua theater" with diving demonstrations as well as two large-screen TVs for movies. During the week, it was a constant source of comment by the 500 NR cruisers that they hated the ship—too large, too many people, too difficult to find your way around. Nancy and I were not so negative, although we did comment that it certainly was not a traditional cruising experience, being more like a shopping mall at sea. Since there are so many passengers, it is not possible to get them all into shows simultaneously, so you have to reserve seats in a variety of venues in advance, which means that there are is very little common experience for people to talk about.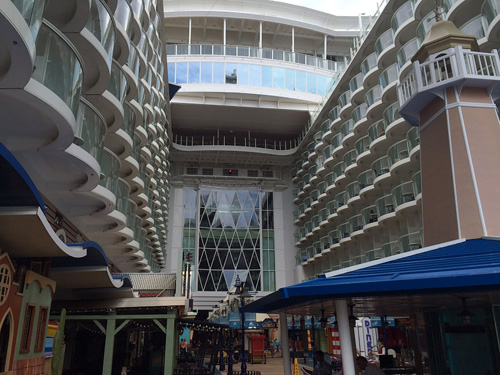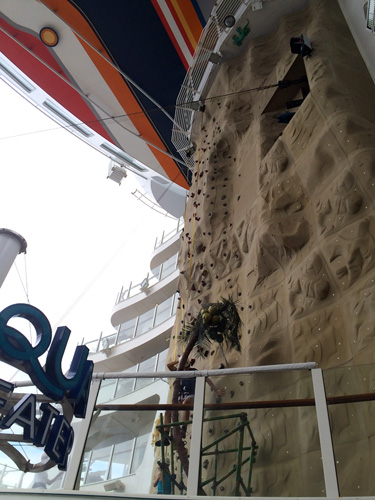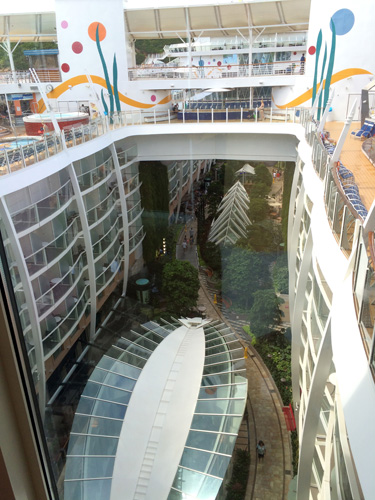 Monday, November 10
We arrived early in Nassau, the Bahamas. We booked a shore excursion called the "Blue Lagoon and Sea Lion Encounter" that was a lot of fun. We took a boat to Blue Lagoon Island (passing by elaborate mansions owned by seemingly every African-American celebrity and sports figure from the United States) and spent about a half an hour communing with the sea lions, including opportunities to hug and kiss them on the lips! Fishy. And of course there were a lot of expensive photo opportunities available. Just after we finished with Jack the sea lion, we were hit by a very heavy rainstorm, so we huddled in the gift shop and then spent the entire boat ride back entirely drenched.
One of the minor annoyances of this experience was that NR did not publish a schedule in advance, whereas the better shore excursions needed to be booked in advance on the Royal Caribbean website, so we had a minor conflict today. We walked into the first NR session about 20 minutes late. It was Meet the Governors, a conversation with Tim Pawlenty of Minnesota and Luis Fortuño of Puerto Rico, hosted by Jay Nordlinger. I was still thinking romantic thoughts about Jack the sea lion, so I must confess that I don't recall much of what they said, but they talked about federalism, responsibilities of governors, etc., and both were quite articulate and engaging.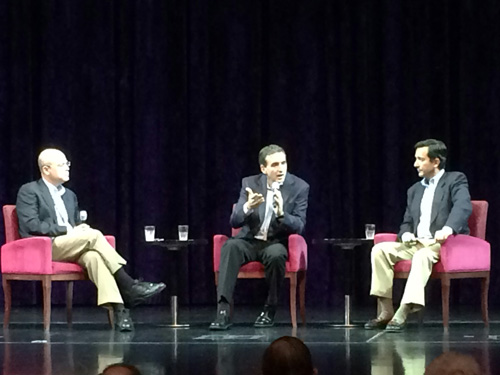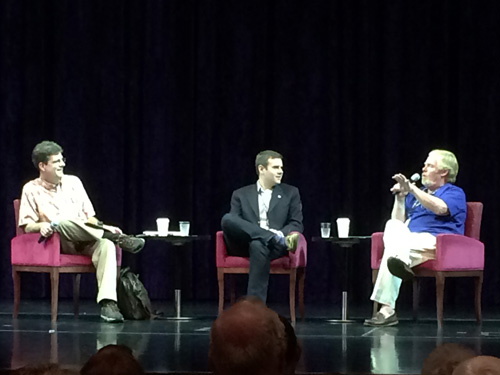 Next was Will It Always Be Bush's Fault?: MSM Double Standards, with John J. Miller hosting Brent Bozell and Guy Benson. This was a pretty typical discussion about a common subject. I will say that in general I was familiar with the writings of virtually every speaker during the week, so there were very few opinions expressed that represented something new for me. My main motivation for going on this cruise was to meet and interact with this amazing stable of writers, pundits, and politicians, and I certainly achieved that.
In Reviewing the Elections: What Happened and Why, Jim Geraghty hosted a panel with Ralph Reed, Mona Charen, Tim Phillips, Ned Ryun, and Eliana Johnson. (Rich Lowry was supposed to be the moderator, but he somehow forgot to show up, which was something he was ribbed about the entire cruise.) Although gloating was certainly involved, this was a more technical session that talked about issues such as get out the vote operations and polling. Tim Phillips made the point that the specific head-to-head polls that were so inaccurate were accompanied by general party approval percentage polls that were much more accurate, and no one had a real explanation for why that was.
The final session for Monday was Deroy Murdock's Once You Go Black... Why and How Conservative Should Ask for Black Votes. This was a PowerPoint presentation in a rather small lounge, which made it difficult for me to actually see the speaker because of the seat I was able to find in the balcony. Deroy spent a lot of time outlining the now familiar argument about how the Democrats were the party of slavery, KKK, and Jim Crow, which is certainly true, but I have skepticism about how effective that argument can be nowadays. I sat next to Lieut. Col. Allen West and his wife. To my surprise, during the Q&A session, one of the questioners was former California Gov. Pete Wilson, who happen to be attending the cruise with his wife and was not listed among the speakers. (As an aside, this was a relatively unusual political gathering that almost never included questions from the audience. I applaud that because usually they get bogged down with rambling speeches masquerading as questions, although I later suggested to Jim Geraghty that they might try experimenting with written questions gathered from the audience.)
Dinner was a table for eight in which we sat with John Podhoretz of Commentary magazine. (There was also a last-minute shuffle and our speaker table was joined by Christian Robey as well.) This was a great evening because John is always very funny and insightful, including lots of movie-related conversation. I asked him about Interstellar, which has just come out, and he thought it was okay, but offered that there were at least five instances of very conservative "Easter eggs" that we should be on the lookout for.
After dinner there was a 10:30 "Night Owl Session" called Reports from Hollywood and the Culture War. Oddly enough, it was scheduled in the ship ice-skating rink, which had been covered over with an actual floor and did not seem cold at all. The conversation was between James Lileks, Charlie C. W. Cook, Michael Walsh (the guy who writes the satirical articles for NR under the pseudonym David Kahane), and Rob Long. Nancy did not attend this with me because we had previously arranged tickets to the Broadway show, Chicago, which she reported to be excellent without me. However, she would've enjoyed this humorous conversation. The guys pointed out that there are many conservative people in Hollywood, although you would never know it because they keep it secret. There was also a discussion about the danger of allowing the Left to run all of the popular media, but Rob for one seemed unconcerned about many of the liberal TV shows—both news and entertainment—that actually have microscopic audience ratings.
Tuesday, November 11
Veterans Days with the Colonels: The Wild, Wild Wests featured a conversation among Jay Nordlinger, Allen West, and Bing West. There were some surprising tidbits in this talk. Bing said that for infantry positions in the current Army, there is a 6–12 month waiting list, and that 75% of the potential applicants are unqualified, either for fitness or education/intelligence reasons. He also decried the situation of the current crop of senior flag officers (generals and admirals), who are generally much more liberal than their predecessors, and whom he suspects will endorse Hillary Clinton in 2016. He also had more negative comments about the strategy of the Iraq war than I was expecting.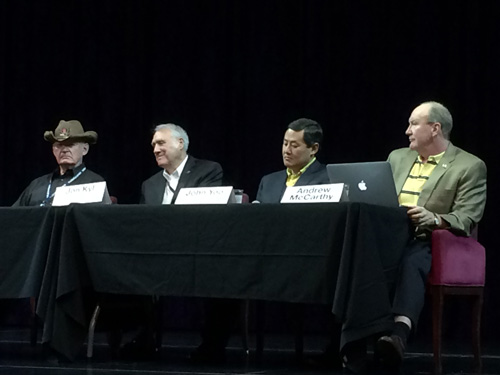 Next was The Terrorist Threat, hosted by John Hillen, with Bing West, John Kyl, John Yoo, and Andy McCarthy. Victor Davis Hanson was scheduled to be on the panel, but we were all distressed to hear that he could not attend because his daughter had just passed away.
How Bad Is Obamacare was hosted by Christian Robey, with Jennifer Marshall, Sally Pipes, Ramesh Ponnuru, and Kathryn Jean Lopez. Pretty bad.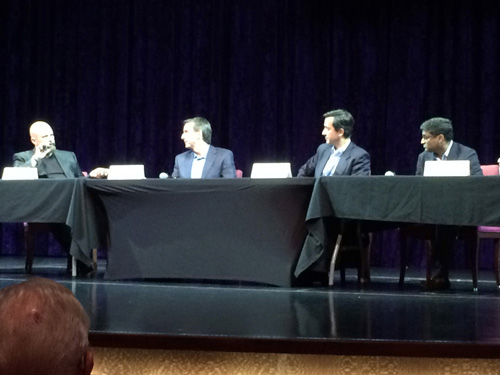 Bulls or Bears: What's Ahead for the US Economy was moderated by Kevin Williamson, with Ramesh Ponnuru, Tim Pawlenty, and Luis Fortuño. I came away very impressed with Gov. Pawlenty; too bad he dropped out of the 2012 primaries so early. The main emphasis of this discussion was on how the jobs situation was exacerbated by the inadequate skill levels of job seekers, and how educational programs needed to be improved.
Dinner was another table for eight with Ed Whelan and his wife Deborah. We had some very interesting discussions about the Constitution and the Supreme Court, as well as the upcoming issue of whether the Senate should renew the judicial filibusters. I agreed with an article Ed had just written for NR on the subject, so I didn't have to argue with him. :-)
The Night Owl Session was Three Wise Men, back in the skating rink. John Podhoretz, Rob Long, and Jonah Goldberg recorded their monthly "GLoP Culture" podcast in front of the audience, so it was the typical very humorous time, including lots of jokes about the ship we were on, Hillary's prospects for 2016 (more negative than I expected), best movies for a desert island, and how zombies are anti-Semitic.
Wednesday, November 12
I got up before breakfast and ran on the jogging track on the promenade deck. This ship had the best jogging track I have ever encountered, a 670 m loop next to the lifeboats that was well marked for distance, had adequate headroom and lanes for walking versus jogging, and virtually no impediments such as deck chairs in the way. I did not have my regular running gear with me, so I only did 3 miles. The temperature was pleasant starting at 6 a.m., and there was a nice breeze as the ship moved along, but the humidity was nontrivial. I only encountered about a dozen people that early, one of whom was Col. Allen West doing push-ups, followed by some running. (This must've been the very end of his workout because I ran faster than he did!)
We arrived in St. Thomas, US Virgin Islands, at 11 a.m., but because of a short stay and a conflict with the NR itinerary, Nancy and I did not leave the ship.
The Kyl Perspective was Rich Lowry interviewing former Sen. John Kyl of Arizona. I think this was the best session of the entire cruise for Nancy and me, because he was so well spoken and explained everything so well. He emphasized that the Senate can accomplish a lot, but the president can veto virtually anything. He gave a spirited view of missile-defense and expressed his concerns about the Iran nuclear program. I did end up disagreeing with his position that the judicial filibusters should be restored, a position that was vigorously discussed in the following session.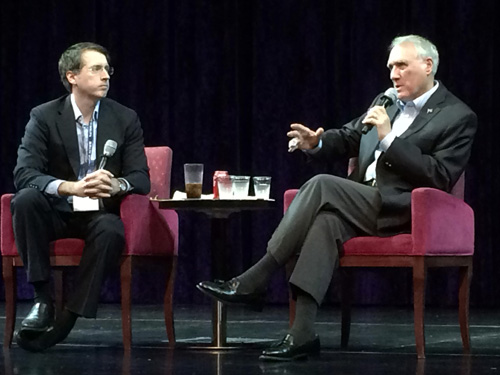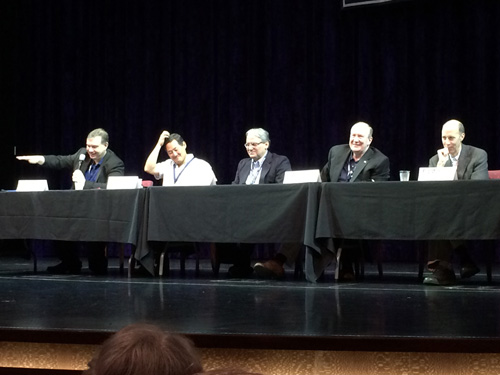 The State of American Justice featured moderator John Fund, with John Yoo, William Jacobson, Ed Whelan, and Andy McCarthy. Most of the panel supported the idea of keeping judicial filibusters out of the Senate. As Ed Whelan pointed out, the practice of filibustering judicial nominees did not have historical precedent, having been started only in 2003 by the Democrats. John Yoo was the only person who somewhat supported that filibuster. (I am disappointed that I never encountered John at a reception, because we are both San Francisco Bay Area residents.) There was a lively discussion decrying the recent trend of attempting to criminalize ethics and politics (such as the recent indictment of Gov. Perry and the John Doe investigations of Scott Walker). Other topics were the Halbig case on Obamacare, stonewalling investigations in the Justice Department, voting rights, affirmative action as affected by "disparate impact," the "bubble" of law school attendance, Senate treaties, and monitoring by the NSA.
We skipped out of an optional session called Restoring the Founders' Vision, with Brent Bozell and Tim Donner. I had been annoyed that the venue was the Dazzles lounge, which had been so unsuitable for Deroy Murdock's session.
Dinner was a table for six without a speaker, so we met two new couples. It was followed by the traditional Cigar/Cognac Party, which we chose to avoid because we are neither smokers nor drinkers, and it also overlapped with a show in the main theater, a performance by a Las Vegas guy named Tony Tillman, who had a very animated show and did a moderately good impression of Sammy Davis, Jr. The ship provided a backup band that was fantastic.
Thursday, November 13
The ship arrived early in Phillipsburg, St. Maarten. We took a shore excursion called the "Ultimate Snorkel and Beach Adventure," which was a lot of fun. About a dozen passengers loaded onto a very light boat that had two huge Yamaha 250 outboard motors, and we zipped around the island at 40 mph to reach the French side, St. Martin. We stopped for about 45 minutes of snorkeling, interacted with a large number of fish, then moved to the beautiful Mullet Bay Beach for another 45 minutes of swimming. On the way back we stopped near the airport runway, hoping to see drunken guys trying to get blown over by jet exhaust, which is supposedly a common practice, but no luck.
Back at the ship the first session was Whither Feminism, with Jay Nordlinger hosting Christina Hoff Sommers and Kevin Williamson. They discussed Kevin's recent article about Lena Dunham, gendercide, the collapse of marriage, and how the college hookup culture has now morphed into the "rape culture."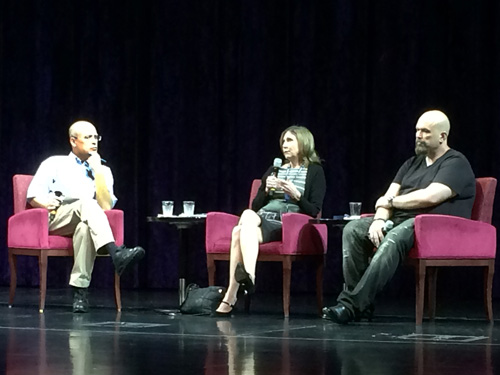 How Brown Is My Valley: What's up with California was supposed to be an interview with Victor Davis Hanson, but since he could not attend, Charlie Cooke interviewed former Gov. Pete Wilson, who volunteered at the last minute. This was too bad because Dr. Hanson has written many articles colored by his personal role as a farmer in the Central Valley regarding immigration, poverty, water policy, etc., so I was looking forward to that discussion, whereas Gov. Wilson presented a more traditional political viewpoint of California's problems, such as budget surpluses/deficits, teachers unions, Prop. 187, etc.
2016 Preview was moderated by Jim Geraghty, with Ned Ryun, Allen West, Eliana Johnson, Guy Benson, and John Fund. They discussed whether Hillary was inevitable (pretty much, at least for the nomination), the series of "pre-primaries" (staffing, policy, fundraising, etc.) that would winnow the field before the actual primaries, and the effects of the shortened primary and reduced debate schedule. I was somewhat surprised that an almost consensus (4 of the 6) formed around Scott Walker as the desirable or predicted nominee, with Susanna Martinez a likely choice for VP. People asked me all week about my views on this and I told them that I have not selected a specific candidate, but would favor a governor, so I was perfectly happy with Scott Walker as a choice. (I also expressed opinion on a few occasions that I thought Jeb Bush was not a good choice because of his legacy name issues.) Ned mentioned Carly Fiorina's name, which I thought was somewhat surprising given her recent election failure in California.
Dinner was another non-speaker evening. (An interesting topic of discussion revealed that all six of the diners we joined, all just regular people, were convinced that Barack Obama is a crypto-Muslim.) It was preceded by another reception, in which I was able to hold conversations with Guy Benson, Charlie Cooke, Deborah Whelan, and John J. Miller. In the case of John, I was amazed that both he and I had forgotten we had done a little business together a few years ago. He wrote a novel called The First Assassin and was looking for a map of Washington DC in 1861. I did a draft of the map, but then his publisher decided to use a different cartographer without telling John in advance, so I was left owning a free copy of the book with someone else's map. John was interested to hear about my forthcoming book, an atlas of Ulysses S. Grant battle maps, and promised he would post a notice about it on the Corner, the NR blog, as soon as it is published.
Friday, November 14
Two more days to go, both at sea.
Mission Accomplished? Obama and the Middle East was moderated by Rich Lowry, with Allen West, Mona Charen, John Podhoretz, John Hillen, and Bing West. Of course, all considered the Middle East to be a mess, and there was a discussion of the motivations of the Obama administration in exacerbating that mess, as well as the Iranian nuclear program. The panelists pretty much agreed that the threat from Iran was considerably more than that from ISIS.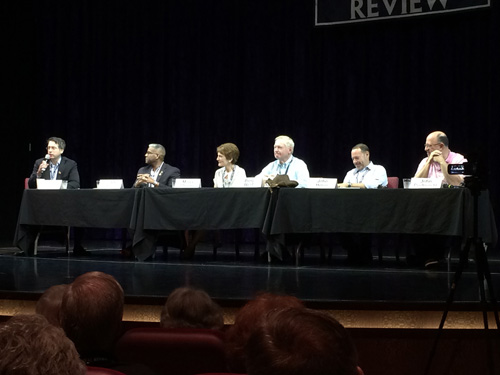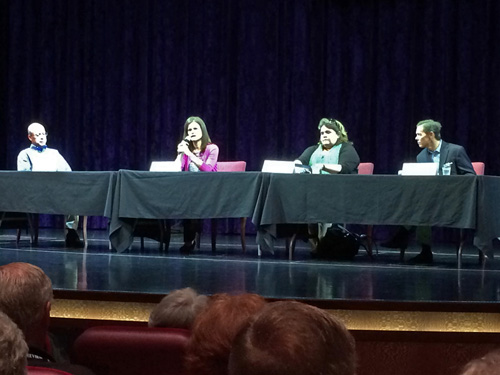 In Are Value Voters an Endangered Species?, Jay Nordlinger hosted Kathryn Jean Lopez, Jennifer Marshall, and Ralph Reed. Topics included abortion, gay marriage, including evangelicals in the "big tent," pornography, and immigration.
The afternoon sessions were back in the skating rink. Reflections of a Political Cartoonist was a talk by Pulitzer Prize–winning cartoonist Michael Ramirez. I had seen him speak at a Silicon Valley conservative forum somewhat recently and the speech was essentially the same, although updated with slides of his more recent cartoons. Something he said here he did not mention previously: the part of his day that he likes the least is the physical act of drawing of the cartoons. That was a disappointment for me, because I find that his drawing style is absolutely enchanting.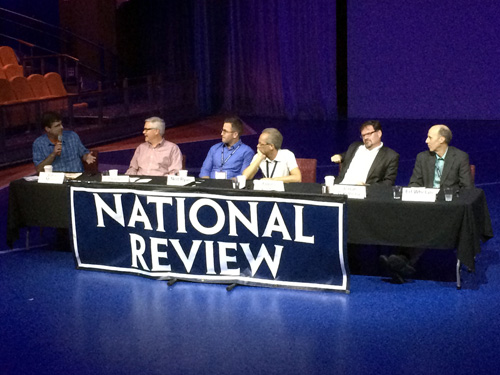 Conservatism's Prospects: The State of the Movement was hosted by John J. Miller, with Charles Kesler, Ned Ryun, James Lileks, Jonah Goldberg, and Ed Whelan. I have to say that I partially dozed off through this one, possibly distracted by the uncomfortable seating in the skating rink, but also because they were talking about relatively high-level philosophical issues, such as differences between conservatives and libertarians. Lots of name dropping here: Burke, Locke, Chesterton, etc. Lileks told a funny story about his nonoperational electric toothbrush.
I took the opportunity this afternoon to try out one of the many swimming pools on board as well as a hot tub. I have never seen so many hot tubs in a single location, and some of them were really, really big, seating a dozen people or more. I'm glad I don't pay their energy bill. Dinner was another non-speaker table.

Saturday, November 15
John J. Miller hosted PC and Multiculturalism Amok-Running: Tales from the Academy, with Charles Kesler and Christina Hoff Sommers. (VDH was also scheduled for this panel, and was missed.) There was a discussion about the liberal/conservative percentages of professors. In the five related Claremont colleges east of LA, Charles reported that 15 of 550 professors were registered Republicans. There was a discussion of Title IX and how it has been expanded from simply sports participation to regulation of sexual abuse on campus. Christina, who has had a career plagued by hard-line feminists, talked about the rape culture again and how masculinity has been pathologized. The only solution that they could come up with for the problems of academia are to encourage the founding of new schools that are not tainted by the old influences, as the University of Chicago was many years ago.
A Conservative Manifesto was moderated by Kevin Williamson, with Charlie Cooke, Jonah Goldberg, and Michael Walsh. This was somewhat focused around Charlie's new book (to be published in March) called The Conservatarian Manifesto. They talked about the role of social issues, with Jonah arguing that all issues, including economic, are actually social issues, and not just those such as abortion and gay marriage. They talked about how politics are actually a religion for the Left, and the general role that government should play. An interesting tidbit from this panel is that Michael Walsh lives most of the year in Ireland and believes that he has a lot more personal freedom on his 20 acre property there than he does in the United States.
At lunchtime, we went back to that annoying Dazzles lounge for a taping of the weekly Ricochet podcast, featuring Rob Long, Jonah Goldberg, and James Lileks. (Jonah does not usually appear in these podcasts, but Peter Robinson was not on the cruise and I assume Skyping would have been impractical.) They interviewed Allen West, Charlie Cooke, and John Podhoretz, and a good and humorous time was had by all.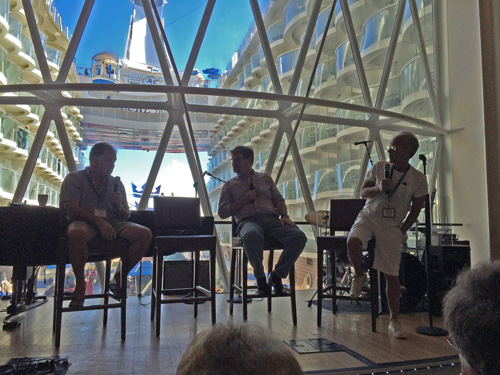 This was followed by another podcast, Need to Know: The High Seas Edition, with Jay Nordlinger and Mona Charen. There was an optional session at the end, called The State of National Review, which we decided to skip in favor of a late lunch.
Late that afternoon we had tickets for the show called "Blue Planet," which was sort of a junior varsity Cirque du Soleil with a touchy-feely environmental/nature/Gaia theme and a lot of singing of mostly unmemorable songs. It was actually pretty good, although dippy. We particularly liked the trampolines.
Dinner the final night was a table of 10 with Rob Long, which was a delightful surprise. He wasn't quite as funny tonight as you might expect, because we talked a lot about serious political issues. I was able to give him a useful tip about Google Voice and he tried to talk me through the advantages of using Twitter. I also asked him about the 93-year-old German razor blade factory that is advertised on Ricochet (owned by Harry's Shave)—what was that factory building 75 years ago? I stumped him with that one, and he remarked that he planned to bring that up on the next podcast, but then thought better of it. :-)
There was a comedy show in the main theater after dinner, one that did not require reservations as did the normal small comedy venue on board, so we attended that and had a very good time with two comics doing family-friendly acts. This is in contrast to reports we heard earlier about a comic who referred to the NR cruisers and said that there would be a cross burning scheduled for 10:30 the next morning. Nice.
Sunday, November 16
Disembarkation in Fort Lauderdale was absolutely flawless. We put our bags outside the cabin the night before and literally 25 minutes after leaving our cabin at 8:35 we were loading up in a taxicab. What an amazing logistical feat. We had a lengthy wait at the airport, but then a good and uneventful afternoon flight back to San Francisco.
Nancy and I had a great time on the National Review cruise. As I stated earlier, I did this primarily to meet and greet people I had been reading for so long, and I certainly accomplished my objective. Given that, I think it is somewhat unlikely that I will repeat the relatively pricey experience, unless a dramatically new cast of characters emerges in the future. I also would not choose a gigantic ship like Allure of the Seas again, even though we had a pretty decent time on board.