Caribbean Medley Cruise — Emerald Princess, December 2012
This is my travelogue of our ten-day Christmas holiday cruise on the Emerald Princess from Fort Lauderdale to a variety of Caribbean ports. This is our seventh Princess, thirteenth cruise overall. It's my first trip in over a decade in which I did not bring a full laptop—only my iPad and iPhone.
Sunday, December 16
We flew on American Airlines to FLL through DFW, arriving 8:30 pm, and took a shuttle to the Hyatt Place.
Monday, December 17: Embarkation
Not much to do in the area were staying in, near a convention center. We walked around in a nearby shopping center and then checked out of the hotel at noon. We paid for a shuttle ride less than a mile to the cruise terminal. There was an enormous line of probably 500 people, but the special line for "platinum" customers (5 previous cruises) was very short, about 20 minutes until we were on board. The Emerald is a sister ship of the Crown Princess from our December 2010 cruise, carrying more than 3000 passengers. Many people on the cruise remarked about how crowded it was, being completely sold out (including over 100 children), but we never found it to be uncomfortable.
At the Internet cafe we each signed up for 250 free minutes of Wifi, a platinum benefit that would otherwise be about $150 each (they actually do not have a specific plan for this number of minutes, but the minimum is $0.79 per minute). We engaged in lots of walking to see all the common areas on the 953 foot ship. The lifeboat drill very well organized. Our departure seemed to be an hour late and we later found out that there was a delayed flight of passengers. We had dinner at the Crown Grill, requiring a $25 surcharge, offering delicious steaks and perhaps the best creamed spinach I've ever had. The show in the Princess Theater was an introduction to some of the entertainment staff, a song and dance, and a comedian named Sarge, who I thought was only marginally funny. Our cruise director is the typical bubbly gameshow host kind of guy, but his deputy is a cute young French woman named "Frenchie" and she has an adorable UK/French accent.
Tuesday, December 18: At Sea
Breakfast buffet in Horizon Court, one floor up. We enjoyed a view of Cuba really close by and wondered what would happen if a boatload of refugees approached our ship. We're on Riviera deck 14, close to the food and outside, 6-8 floors above the internal action. I made a mental note to try for a cabin a bit lower down in the future; we're spending quite a lot of time on the stairs and we also get some furniture moving noises from just above. Plus, the starboard side always seems to pointing away from the more interesting views (although passengers on the port side sometimes complained about too much sun).
Michael Bishay, a California attorney, gave the first in a series of talks about crimes and trials, this one about a guy who shot a bride five times, and we had to determine guilt or innocence as he dribbled out new nuggets of evidence. We went to all of his presentations during the cruise and enjoyed them quite a lot. Otherwise, we read on our little balcony all day except for a brisk 1.5 mile walk around the promenade deck, which I estimate to be 650 yards per lap. Dinner at Michelangelo dining room at a table for eight. It was a very interesting group of engineer husbands. The after dinner show was a "Swell Party" revue, featuring lots of 1930s musical theater numbers. The singers and dancers were excellent and went to the trouble.
Wednesday, December 19: At Sea
Another legal presentation, about a pastor shot in the back by his abused wife. Another 1.5 mile walk. In the central atrium of the ship, the Piazza, we watched performances of flamenco dancing and steel drum, both briefly. Vocal impressionist Michael Wilson in the Explorers lounge was very talented and hilarious. The main show in the Princess theater was another Sarge show, this time primarily musical.
At dinner a photographer came around taking individual photos and mine turned out well enough that I actually purchased it, which is a first for me on a cruise ship.
Thursday, December 20: Aruba
We arrived at Oranjestad at 8 am. Our snorkel tour on a catamaran was 3.5 hours, but only 40 minutes were in the water. We visited two sites—a reef and a shipwreck. The latter was in 60 foot water and the waves were a little rough. We saw lots of small, colorful fish. There were also lots of very lovely beaches to view along the way. We enjoyed an excellent lunch at the pizza cafe back on board. After dinner we watched a line dancing class and the main show was a revue of pop stars' music.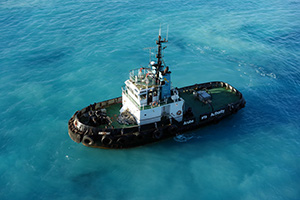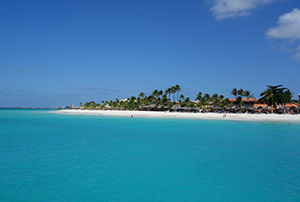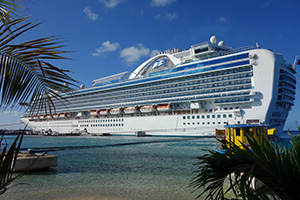 Friday, December 21: Bonaire
The Mayan calendar seems to be wrong because there's no evidence the world will be ending today. Beautiful warm, sunny weather. The water in the Kralendijk harbor was crystal clear. We were alongside an older, much smaller cruise ship called the Freewinds, which we all wondered about. Some searching later found that it belongs to the church of Scientology!
We took a $10 taxi ride to the island's donkey sanctuary. There were about 400 rescued animals here, and we found ourselves in the middle of a big stampede when the palm fronds truck arrived for lunch. The donkeys were pretty friendly and polite overall, particularly compared to horses, who would have been kicking and biting each other in this scenario. There were also chickens, tortoises, and iguanas.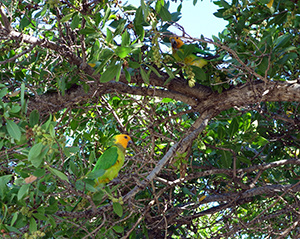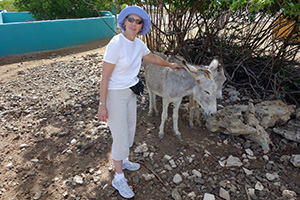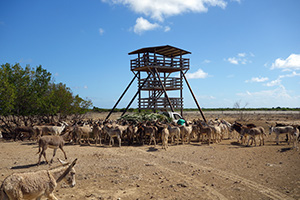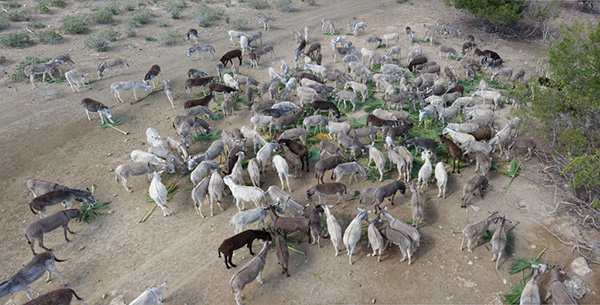 The ship sailed at 2 pm. Another legal session—a husband killed his teacher-wife's student lover. We shared a cab with the lawyer and his family on the way to the donkeys and I mentioned the notorious Dan Sickles temporary insanity case prior to the Civil War. He asked me for a write up, which I will do as a professional courtesy without my normal $500/hour fee for legal work. In the evening show, a group called the Beatle Maniacs was quite good. Someone said there are actually 12 guys who assemble as needed to do this show. Another Sarge show in the Explorers Lounge was packed and he was much funnier than before, with a rather nasty edge not entirely in keeping with a family friendly theme.
Saturday, December 22: Grenada
We had a morning at sea, not arriving in St. George's harbor until noon. We started with a very brisk 45 minute walk on the warm and humid promenade, requiring an extra shower. There was an announcement about an outbreak of norovirus (aka, inaccurately, "stomach flu"), so the buffets were no longer self service. We had heard a few PA announcements of Code Alpha (the equivalent of a 911 situation) and also saw a woman rushing out of the show last night, looking as if she were in distress. The final Michael Bishay talk was about a couple battling with a rogue birth surrogate, with lots of unseemly sexual conduct and bad mothering along the way.
The shore excursion in the afternoon turned out to be pretty grueling—about 4.5 hours in a small bus, traveling over severely difficult mountain roads through poverty stricken areas. Many were very narrow single lanes on heavy slopes, like 20%! There were five brief stops: a barn in which we examined a variety of spices; a nutmeg processing plant; a mountain top park with a small lake in a volcano crater; a forty-foot waterfall, which was enlivened by local guys who jumped in from the top; ancient Fort Frederick, which overlooked the harbor from almost straight up. I was pleased to see a big painted sign in town thanking the 82nd Airborne for liberating the country. But, all in all, not a great experience. It is really doubtful that we'll ever return to this island.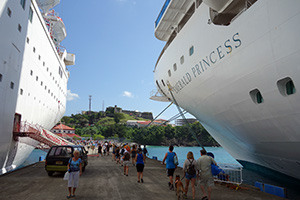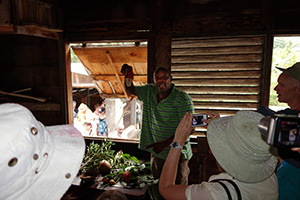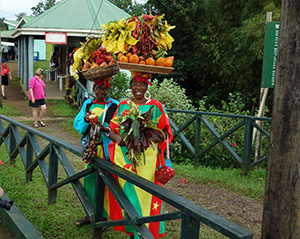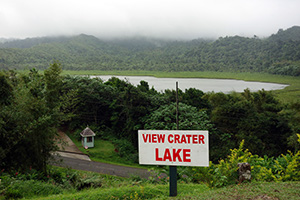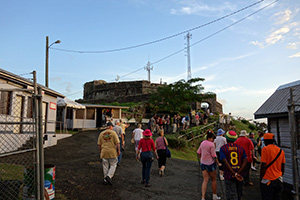 Sunday, December 23: Dominica (pronounced do-min-EEK-a)
We arrived in the capital, Roseau, at 7 am and we were up really early for a 7:30 shore excursion. The buffets on board are suffering through the norovirus reaction, assigning employees to lead people through the lines and slowly picking up their foods for them. ("Now give me a cherry tomato. Just one. No, not that one. What's that? Can I have more of that?") Fortunately, we seemed to be the first people up, so it took only five or six minutes to get breakfast.
Our excursion was for river tubing. If we had seen an accurate description of the itinerary we might not have signed up. Three hours on mountain roads again, a bit more modern and less treacherous than Grenada, but fully two of them were on an unfinished road that had a rough surface and lots of potholes to swerve around. However, the one hour experience on the river made it all worthwhile. We were in big individual inner tubes and floated through the rainforest on the Pagua River. Every ten minutes or so there were minor rapids that made things more exciting. River guides followed us through the course and were indispensable in getting us unstuck from obstacles. In the bus I had asked what I thought was an innocent question about whether we would get wet and should I bring my camera (the tour descriptions are never specific enough), and the guide convinced me not to. That was good advice because this was an experience little different from actually swimming in the river. Our butts and feet were in the water the whole time and the rapids and some light passing rains—yes, the itinerary did say "rainforest"—soaked the rest of our bodies. But it was all quite a hoot and everyone had a great time.
Back in port, we walked around a bit and found nothing of interest, so spent the rest of the afternoon reading. Both Grenada and Dominica seem to be minor tourist destinations. There was little evidence of fancy resorts or glittering tanzanite shopping districts. Grenada has a lot of diving sites on their map, but it is a pretty run down place. Dominica is less run down, but seems to be more interested in agriculture than tourists.
Dinner was in the Da Vinci dining room for a change and I found the Italian night cuisine rather disappointing. The show was another singing and dancing affair. I think the performers do a great job with the material they're given, but I suspect Princess selects their songs based on the lowest copyright license fees because some of them were really obscure.
Monday, December 24: St. Thomas
We arrived at 8 am during another power walk on deck, and were surprised to be at a different location than usual. The big Havensight cruise terminal was full of ships—we could see lots of active smokestacks in the distance—so we used the Crown Bay dock near the airport, west of Charlotte Amalie. A Holland America ship later joined us there. Assuming that the shops in town would be a zoo on Christmas Eve, we elected to not take the trolley shuttle and join the masses before our shore excursion. I think this is our fourth visit to the island. It was delightful to see that AT&T provides non-roaming cell and data service here, so I could fiddle with my iPhone all I wanted. Verizon disappointed, so my iPad was not connected. The response time on the phone was excellent in comparison to the satellite service on the ship and I didn't have to watch the clock!
Our shore excursion was a snorkeling cruise to the Buck Island Marine Wildlife Preserve on a catamaran named Castaway Girl—about a hour sail each way and an hour of snorkeling. We saw a giant sea turtle, a barracuda up (too) close, and lots of minor colorful fish. There was also another sunken ship, this one from the 90s, which had been battered around and broken into pieces by two different hurricanes. We encountered an interesting new phenomenon of tourism—a group that rode little underwater scooters with big glass helmets that were open at the bottom, but filled with oxygen to keep the water out. You could tell they were nearby by the big buoys that dragged along floating over their heads. The crew of the boat included two attractive young women in bikinis and Santa negligees! One, named Amber, led our snorkeling group and kept diving down to pick up interesting specimens for us to examine. Lots and lots of rum punch was consumed on the return voyage. Emerald Princess departed at 5:30.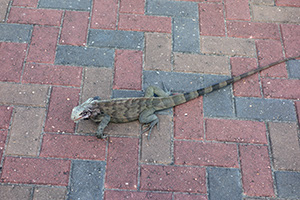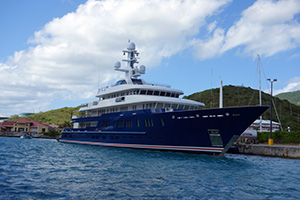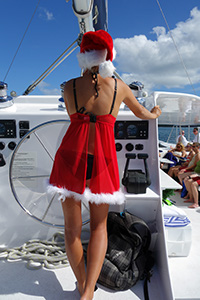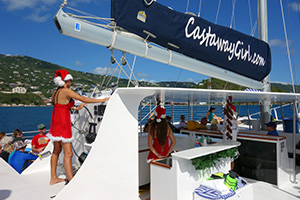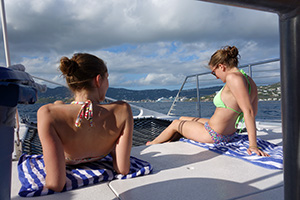 Christmas Eve was a formal night, which surprised folks because those are more typically held on sea days. We ate for the second time in the Crown Grill and I had essentially the same things as before, which were excellent a second time. The show was with a singer-dancer named Delisco, who once made a name for himself by winning an entertainer reality show with Wayne Newton. He was quite good, but a bit full of himself.
Tuesday, December 25: At Sea
Merry Christmas! Michael Bishay returned by popular demand for an unscheduled fifth lecture, this time on the motivations of mass murderers. Quite a holiday theme. :-) There was a repeat of the special Christmas Eve show that was scheduled past our bedtime. It was mostly singing of familiar Christmas songs, with some dancing and comedy skits mixed in. (Oddly, the opening dance number was to a jazzed up version of Beethoven's Ninth.) They played a video of dozens of crew members from different countries giving holiday greetings in their own languages. I actually enjoyed this show more than most of the professional shows. We finished up singing a few carols as a group.
There was a fun presentation from Third Officer Dennis Hunt about the bridge and navigation. A few factoids of interest: the ship gets about 50 feet to the gallon of diesel; a fill-up at Port Everglades costs $2 million; they have six GPS systems, but if they all fail, they can use a sextant to find their location within 1.5 miles; it takes about ten years of experience to take the master's exam to qualify for captain, but in Princess it actually takes over 25 years and it's based on "who you know, not what you know." (Kidding) Afterward I asked him why the ship's horn isn't sounded in ports and he said it was essentially up to each captain to decide—they sometimes do it to impress friends on shore. In contrast, the Holland America ship, the Maasdam, tooted up a storm in St. Thomas.
I did about two miles on the promenade at a 15 min/mile pace. Nancy watched Santa Claus arrive and give little presents to the children. She remarked that teenagers with cleavage should not be sitting on Santa's lap anymore. The evening show was a disco song and dance affair, rather overproduced with enormous LED graphics distracting in the background. Far better was comic Darrell Joyce in the Explorers Lounge, who had hilarious takes on husband-wife relationships.
Wednesday, December 26: Princess Cay
We arrived here at the southern end of Eleuthera Island in the Bahamas by 9 am. The waters must be pretty shallow here because we anchored about a mile offshore. Wanting to avoid the crowd, we did not line up for a tender until 10 am and didn't have to wait long at all. Last time we visited here we spent $$ for a private cabana and weren't very happy with the value. This time we just waltzed on shore, selected two of the 3,000 lounge chairs and had a perfectly nice, free time. We swam, read, and had the BBQ buffet lunch. The water was the coldest of our trip, but still quite pleasant after the first minute. The weather all ten days of our cruise has been very nice. Many of the people we've met on the ship are from Canada or northern US states, so they've had a great time, for sure. Another 2.5 miles on the promenade.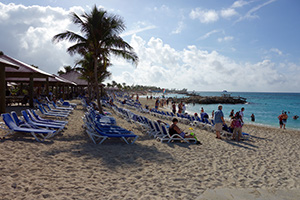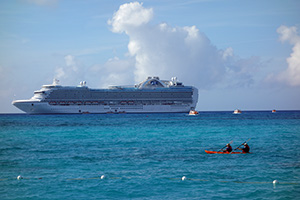 We listened to the concert of the Pop Choir, a group of passengers who aspire to be like Glee TV students. They sang a variety of Christmas songs and were really quite good. The regular show was a juggler named Aaron Bonk and a return performance by Delisco. Both of these guys were good, but they suffered from the same malady I've seen a lot of on this ship—a tendency to berate the audience or whine when applause doesn't come at the right times or intensity.
We heard an interesting story at dinner about some of the folks who came down with the norovirus. They were ordered to stay in their cabins for 48 hours and not allowed to eat anything except soup and rice. Their cruise cards were temporarily deactivated. Guys in hazmat suits cleaned their cabins twice a day. Their spouses were forbidden to enter the buffet lines. Interesting if true, and it makes you doubt whether you'd report an illness in the future.
Thursday, December 27: Departure
We left our bags in the hall after dinner and had to vacate our rooms by 8 am. There was a special waiting lounge for platinum cruisers. Getting 3000+ people and their bags off correctly is a big job and it went pretty well. Our group was called at 9:40 and we were done in an hour, with the biggest delay being US Immigration. We took a Princess shuttle bus to FLL and flew home through DFW again. Unfortunately, weather delays from big US storms this week caused us to miss our connection there and we had to scramble to get the last two seats from Dallas to San Jose. We got there by 8 o'clock and took a $100 taxi ride home. (Nancy correctly pointed out that this would be cheaper than staying overnight in a hotel in Dallas.)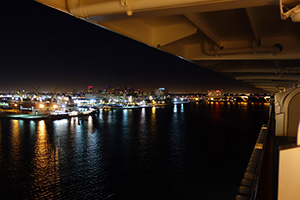 We had a very nice time. We traveled over 3550 miles, saw some interesting sights, had some adventures, met some nice people, and ate way too much fattening food. Nancy gained 3 pounds and I gained 5, which I am hoping to lose as quickly as I gained them. I found that living with only with an iPad for 10 days is perfectly feasible. Although the slow Internet connection on board was frustrating, it was certainly better than no connectivity at all, and the very slow holiday season made it easier to keep up with the email and the news. It's hard to be away from home and our animals for so long, so it's good to be back, but we will be looking forward to our next cruise someday.