I have to apologize up front for a dearth of really good photographs. When you are walking around in a light tropical outfit, it just does not feel right to have to carry a camera with you everywhere, so it spent a lot of time in the cabin safe. Most of the shore excursion shots were taken with my iPhone. On December 18, I received a number of photographs from Jeff, which I have used to pump up my report. Thanks, Jeff, for your cooperation.
Friday, December 3
Since it is not possible to reach Fort Lauderdale reliably from San Francisco in time for embarkation the same day, we flew on American Airlines to Miami the night before the cruise. We stayed at the Hampton Inn at Miami airport, which has nothing to recommend it other than convenience of location. We ate in a small Cuban restaurant across the street in a shopping center and had a good meal that ended up being too large for our late-night schedule, causing some sleep difficulties that night.
Saturday — Miami Beach and Embarkation at Fort Lauderdale
In our rental minivan, we drove to South Beach. After a nice walk on the huge public beach in beautiful weather, I was interested in taking another look at Art Deco architecture. A few years earlier I had taken an audio tour on my own during a business trip, but this was a guided tour with a real person, a volunteer who did construction work during the week. The tour in person had a rather limited geographic span, but we got to visit the insides of a number of interesting hotels, including the Essex, Tiffany (now rebranded The Hotel), and the Hyatt. The latter was particularly stylish and interesting, with all of the furniture attempting to evoke the experience of being underwater. One of the things I learned was that the original buildings in South Beach were primarily painted white and that their current signature pastel colors that were made famous by Miami Vice only came about in the 1980s.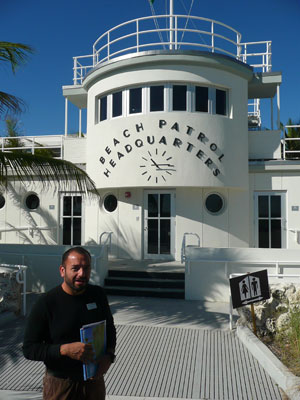 After a nice late breakfast at a trendy Ocean Avenue sidewalk cafe, we drove about 40 minutes to the Fort Lauderdale airport, where we returned the rental car. Faced with schlepping our bags down to the taxi stand, I was delighted when the Avis employee offered to shuttle us over to the cruise terminal. The Fort Lauderdale cruise area, called Port Everglades, is simply enormous and there were five gigantic cruise ships in port. Getting on our ship, the Crown Princess, was very easy and virtually no one was in line, even though there were supposedly 3200 passengers signed up. We settled into our rooms—in the case of Nancy and I, an upgrade to a mini suite, which is like a regular balcony cabin, but they've pasted on about twelve feet in length, adding a couch, chair, and a second TV, and a bathtub instead of a shower stall. We started exploring but soon had to assemble for the mandatory lifejacket and lifeboat drill. The ship is the largest we have ever sailed on and it is often difficult to determine which way you're walking, fore or aft, so we had to rely on deck charts a lot. There are 17 decks accessible to the passengers and we did most of our traveling on the stairs for exercise.
Dinner was in the Da Vinci dining room, which was a typical Princess main dining room, one of three onboard (the others being called Michelangelo and Botticelli). As a first on a Princess Cruise, we signed up for Anytime Dining, which I eventually came to regret. The traditional fixed time dining option that we used in the past was always well synchronized with the evening's entertainment, but the more flexible option required telephoning each day for a reservation (or standing in line), which was almost never available at the most convenient time. (In theory, we could have reserved the full set of dinners for the week in advance, but they moved the evening events around on an unpredictable schedule.) We found that it was usually possible to get a 5:45 PM reservation, which would not be desirable for many people. The entertainment in the main Princess Theater was the typical welcome show with a few songs and dances, a brief comedian, and introductions to the cruise staff. (It is interesting that the Princess Theater seats only about one quarter of the number of passengers, so even with two shows per night, it behooves you to arrive early for any popular show.)
Sunday — At Sea
Today was a day at sea, the first of two. The weather was beautiful and warm and we enjoyed some time reading on the deck. We had thoroughly explored the ship the day before and one of our stops was the very well-equipped health center. There, we were met by a charming young Australian who convinced us to go to a seminar today on detoxification for health and weight loss. This turned out to be moderately entertaining because of his earnest presentation skills, but we did not end up signing up for the $100 a month program of algae tablets. Jeff and Carol went to the gym, while Nancy and I walked briskly around the promenade deck, which by my timing, I reckon was about 0.4 miles around. Unfortunately, there are a lot of slow walkers who prevent you from achieving a really brisk pace the entire way, particularly where the deck sends you upstairs or through narrow passages.
Tonight was the first of two formal nights, with the others being "smart casual." (I noticed that a number of our fellow travelers were not very smart, however.) We observed that there are very few tuxedos any more, and even though I own one (two, actually—long story), I brought a dark suit instead. My blue blazer would have been adequate. Nancy and Carol liked to sit at the International Café, consuming lattes and chocolate chip cookies, and watch people line up for portraits, critiquing their outfits. The International Café was the hidden gem of the ship, right next to the espresso bar, offering pastries, interesting salads, panini, and fresh-baked chocolate chip cookies all day, and it was rarely crowded.
The highlight of the evening was the Captain's Champagne Waterfall, in which over 700 glasses were stacked into a pyramid and the maître d' poured champagne into the top glass, not disturbing any of the ones underneath. We decided to skip the main program of the evening, which was a mentalist, but instead went to something called the Liars Club, which was a really lame attempt at audience teams determining which definitions of difficult words provided by crew members were true and which were lies; some of these lies were laughably easy to identify.
Monday — Grand Cayman
We anchored bright and early in the harbor of Grand Cayman Island and it was another beautiful day. We had signed up in advance for shore excursions for each day and today was the highlight of the week. After riding the tender to shore we took a brief bus ride to Dolphin Cove for a "swim with the dolphins" experience. Nancy and I had done a similar excursion in Mexico, but this was a first for Jeff and Carol. There were six dolphins in a shallow lagoon. Small groups got one each. We donned life vests and interacted with the dolphins under the close supervision of the trainer. We got to rub their skin as they swam by and have them pull each of us for a ride with their flippers while they swam upside down. We also got to kiss the dolphins (which the dolphins actually seem to enjoy, although I am sure they were thinking about the fish they got as a reward), hear them sing, and watch them frolic and leap around and splash us quite a lot.
Next we boarded a small boat and sailed about half an hour to Stingray City, a sand bar on which numerous stingrays congregate. Stepping out into the warm waist-deep water, we were able to touch and feed them for quite a long time. Once again, this was a repeat experience for Nancy and me, but it is really, really cool. The stingrays were quite large -- some were 3-4 feet in diameter—and were friendly enough to be picked up and fondled. Their skin underneath felt like slimy, wet leather. Holding pieces of squid in our hands, we fed them directly, experiencing a sensation like a vacuum cleaner, but one accompanied by a rather strong jaw, which would have been unpleasant if we had had any fingers extended. It was a pretty relaxed environment because the rays don't sting unless they are scared, and these have a long history of being fed and handled gently.
Dinner was in the Michelangelo dining room (virtually identical to Da Vinci). We sat at a table for eight and compared cruising experiences. There was an Italian theme, with the waiters dressed in gondolier shirts. (In the old days of cruising, Princess was completely dominated by Italian waiters, but on this trip there were predominantly Filipinos and Eastern Europeans.)
The after-dinner production show was "Motor City," which included just about every non-rap tune sung by black artists in the period 1965-80, although the cast was 95% white. It was very professionally done. We moved on to a 50/60s dance party and contest. The ship's dance director dressed up as a 50s sockhop blonde girl and kept the crowd engaged. Nancy and I danced one slow dance. Cary Long performed a comedy routine in Explorers Lounge. He was really funny, with a light-hearted take on relationships, shopping, man/woman differences, and kids. That night we turned our clocks back an hour to enter the Central time zone.
Tuesday — Roatán Island, Honduras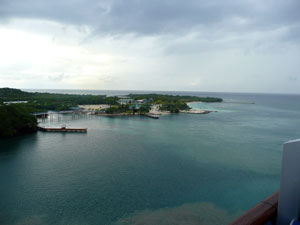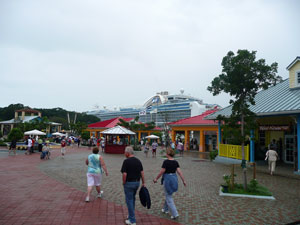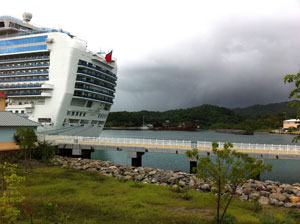 Our second stop was an island, Roatán, just north of Honduras in Central America (and no, I had never heard of it either), where a brand-new tourist facility called Mahogany Bay had been built at the cost of $63 million by Carnival Cruise Lines, the parent company of Princess. The approached the dock was very interesting because the entrance channel was narrow and the ship had to be backed in for some reason. On the way in, we passed by two shipwrecks that are maintained in the harbor, presumably to provide a more interesting scuba diving experience. Unfortunately, the weather turned gray and we had light rain throughout the day, although the period from 11 AM to 2 PM was pretty pleasant. Just past the dock was a village of modern stores selling all of the typical tourist items. Jeff found that the gelato stand had a Wi-Fi connection and the two of us concentrated a lot of our attention on catching up on e-mail. Some vacation, right? There was an unusual chairlift, just like you would see at a ski resort, that you could use to get to the beach farther down the island, but we did not bother to try that.
Our shore excursion for today was to rent a beach cabana, which was a small air-conditioned house and deck for four people. It came with two outdoor lounge chairs on the beach, another two on the deck, an extremely comfortable double hammock strung between two trees, flotation devices, and couches and a table inside the house. The beach was very pleasant and the water was comfortable. I brought my own snorkeling gear (because I have prescription lenses in my mask) and Nancy rented some. The snorkeling was not very impressive because there was not a lot of reef action. We had our own waiter who brought us lunch from the nearby restaurant and we dined on nachos and ceviche.
That evening in the Princess Theater, we enjoyed Cabaret Show Time with a pianist/singer named Eric Stone. He sang quite a lot from Andrew Lloyd Webber shows, including a few female parts. His musical career started at the age of nine when he appeared on stage with Liberace (portraying Liberace as a child), so perhaps that is where the interest in parts such as a Evita came from. Then we went to the Fusion Lounge for "adult karaoke," which describes the participants, not the nature of the songs. One guy singing Mack the Knife brought the house down with his over-the-top style. I will have to say that I was not familiar with at least half of the songs selected. Jeff and Carol stayed out late for the Tropical Island Night Deck Party, which apparently rocked into the wee hours. They reported that virtually everyone was enticed into line dancing.

Wednesday — Cozumel, Mexico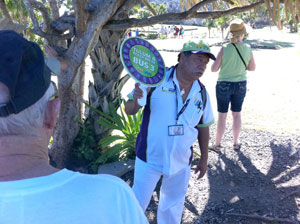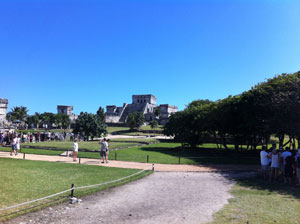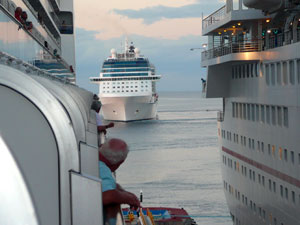 Today we were in Mexico, docking at Cozumel, an island just east of the Yucatán Peninsula. The good weather returned, bathing us in brilliant sunshine, which got a little warm in the direct sun, but pleasant in the shade. We began our shore excursion by taking a fast catamaran ferry to Playa del Carmen on the peninsula, about 35 minutes. We were delighted to find that a fast Wi-Fi connection was available on the boat. We met our tour guide, a man named Saul (Sah-OOL), who was friendly and enthusiastic, but I am sorry to say had a heavy accent that made him difficult to understand. We drove 40 minutes by bus to the Mayan ruins at Tulum, where he told us the Mayans had not died out, because 4 million people still speak the language, and he is descended from the Mayans. He said that the name Yucatán was derived from the Mayan expression "I don't understand what you are asking me," the answer to the Spanish question "What is this place named?" The ruins were in a large compound protected by a high stone wall, which demonstrates that the Mayans were not entirely peaceful and had enemies they defended against.
The most interesting building was a pyramid that served as a temple for human sacrifices. Saul said that 70% of the people who had their hearts cut out on the altar were volunteers, although he has seen paintings of the act that showed the volunteers being held down by four strong men. One of the mysteries of the Mayans was their origin. He offered a variety of theories including Atlantis, space aliens, and Asia. In the latter case, he referred to a distinctive birthmark on the lower back called a Mongolian spot, which is shared by many Mayan descendents and Mongolians. He attempted to describe the Mayan calendar, which was not too easy to understand, but it did bring up the discussion of the calendar ending on December 21, 2012, a day he intends to call in sick. The Mayans were very big on astronomy and the sacrifice temple had a small hole in it that, on the spring equinox at 6 AM, lined up exactly with the rising sun for about 7 seconds. The hole also did something with the moon, but I cannot recall what he said.
Our next stop was the El Paraiso Beach Club, where we had a decent Mexican lunch and no one got sick that I heard of. (I did take away a number of insect bites around the ankles that plagued me for the rest of the journey, but they did not evidence themselves until the following day.) The beach was beautiful, with talcum powder sand, and the water was cool and pleasant. I did not bother snorkeling on this beach, but a lady told us afterward that there was an area with numerous large fish that I could have seen. On the way back to Playa Del Carmen, we made the obligatory shopping stop, at a store that specialized in Mayan handicrafts. The two most interesting choices, in my opinion, were the obsidian masks and daggers, and the Mayan calendars, but none of us bought anything.
The ferry boat back to Cozumel was a bit tardy and the ship ended up leaving about thirty minutes late because they were not about to leave 400 passengers on the dock. A Celebrity Cruise Line ship took our departure slot, I think. We had a most interesting time peering over the deck from our balcony, watching the procedures for retracting the gangway and undoing the many ropes holding the ship to the dock. We also watched the procedure for the harbor pilot to climb down a rope ladder onto his small boat and return to the port.
That evening was the special chef's dinner and we once again had an interesting table of eight. The rack of lamb I had that night was the best meal of the cruise. The production show, based on tunes from Cole Porter, did not fit into our dining schedule (curse you, Anytime Dining), so we briefly watched line dancing lessons in a country-western performance. That night we had to set the clocks forward again.

Thursday — At Sea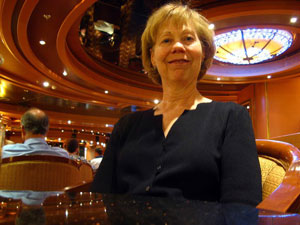 Today was rainy, windy, and cold all day at sea. Everyone crowded inside and many outdoor events were affected, some being delayed until Friday. The promenade deck was closed off to outdoor walkers. Nancy and I attended a culinary demonstration in which the executive chef and the maître d' traded off between a serious cooking demonstration and clowning around. Nancy compared it to a vaudeville show. For example, the maître d' prepared a dessert called "Neapolitan strudel," which included pasta that had been picked up off the floor and cleaned with Windex, and then turned into a sort of calzone that was topped off with three raw eggs, still in the shell. My favorite part of the show was listening to these two distinguished Italian men use the phrase "Shut uppa you face!"
After lunch we attended a comedy lecture by Cary Long, who talked about his career and what it is like to have a career in comedy. He said that the profession is currently going through bad times because of the recession. The big comedy venue companies in the US and Canada (Improv, etc.) have reduced from 500 stores to 150. There are about 3500 comedians actively making a living, but most have to have second jobs to survive. Comedians cluster in New York and LA, but the standard rate for a comedy set there is $20 and $15, respectively. I was surprised to hear that an agent will charge a retainer for a new performer, often $500 a month, even if they get no work. Cary talked about his own comedy routine, which he targets for a punchline or humorous moment every 12 seconds for an hour. In a discussion about hecklers, he reveals that you have to be very careful dealing with women in the audience. Although men will allow mildly insulting comments to zing right by them, women will very frequently write letters of complaint to the cruise company.
Tonight was the special captain's dinner, which featured beef Wellington and lobster and a chocolate soufflé for dessert. It was the second formal night and we spent more time watching and critiquing the other passengers as we munched chocolate chip cookies. It was interesting to note how sophisticated the onboard photography has become. In our original days of cruising, we would line up and they would take a formal portrait in about 30 seconds. Now, however, there are numerous backdrops and multiple takes with different poses. In one case, they had a large white backdrop and floor covering and encouraged artsy shots with the people sitting on the floor in different poses.
There was a new comedian tonight, Al Katz, who was very funny and interacted quite a bit with the audience, making those mildly insulting comments that Cary was wary about. He told the audience that he travels 300 days the year and has been doing it for 35 years. Amazing. It is no wonder that a number of his jokes were about divorce. There was another production show tonight, Destination Anywhere, that we once again did not attend because of scheduling inconvenience.
Friday — Princess Cays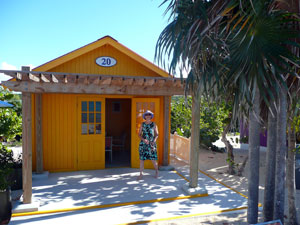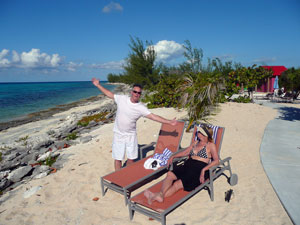 Today was our second beach day at a proprietary location, Princess Cays on the island of Eleuthera in the Bahamas. After our lackluster experience with a cabana at Mahogany Bay (it was pleasant, but pretty darn expensive), I marched down to the shore excursion office two days prior and asked to cancel our comparable cabana here. Unfortunately, the fine print said that it was nonrefundable. They offered to try to sell it to someone else and get us off the hook, but after the nasty weather on Thursday, I can see why there were no takers. However, the weather in the Bahamas was delightful. The bad news was that the stay was very short, making the cabana once again a poor value. We rode the tender at 9 AM (we were given a priority pass to take the first tender off the ship) and had to depart before 3 PM. When we returned we found that over 3100 people had taken the tenders, so it was quite a logistical exercise for the crew. Our cabana was in the adult sanctuary and very quiet, but the beach was very rocky. I had to walk about 100 yards to find a place where it was amenable to enter the water. Snorkeling was so-so, with only a handful of relatively small fish, but some very interesting brain coral. Down at the other end of the facility, the other 3000 people were cavorting on a beautiful beach, but it was a bit noisier. Many, many water sports were in evidence. The first tenders off the ship were for the crew, who transported many boxes of food and drinks and they put on a great barbecue lunch. I had a superb hamburger, cooked perfectly, and there were a number of other choices.
Back at the ship we attended the performance of the Pop Choir, in which passengers volunteered to sing popular songs in group, having practiced in three or four sessions previously. I am sorry to say that, although they were enthusiastic, the performance was pretty lame. The range of voices went from alto to baritone and there was no attempt at harmony. The "choreography," such as it was, was pretty halfhearted as well. But I have to say that they had a very good time and the audience seemed to enjoy it. We decided to skip the final production show, which was performed by the crew, and instead went to Movies under the Stars, in which you can watch very recent movies displayed on a giant LED screen mounted over the pool on deck 15. They had lounge chairs with blankets and popcorn, which provided a comfortable environment even in the cool night temperatures, and the ship's pizzeria was right next door, so it was an almost perfect evening. We watched Despicable Me and Salt. Since it was our last night, we had to pack our bags and leave them in the hallway before we retired.
Saturday – Disembarkation
We woke up before 7 AM to find ourselves docked at the Fort Lauderdale terminal. I reviewed our shipboard account and was surprised to find that my status as a Platinum cruiser (more than five previous cruises) caused them to comp my onboard Wi-Fi usage. I had deliberately kept my connections to a minimum because they quoted $.75 per minute and I can be parsimonious about some things. If I had known some or all of it would be free, I probably would have used it each day on the ship instead of only twice (for a total of 15 minutes).We had our final breakfast at the Horizon Court buffet (always an excellent breakfast there), and even after a week we still had not memorized which way to turn when we got to the top of the stairs. Our departure group was called "Cream 2," based on the color of our luggage tags, and we gathered in the Wheelhouse Lounge at 8:30 AM. Because of congestion in the terminal, and understaffing by the immigration officers, we had to wait about an hour before we walked down the gangway, but it was a comfortable environment in which to wait. We had purchased transfers to the Miami airport and were dropped off at 10:40. Because of the very conservative timing Princess insisted upon, that was 4 1/2 hours before our flight, but Miami has an interesting airport and the time went quickly.
Overall, we had a great time with Jeff and Carol on our Princess cruise, enjoying good weather most of the time. We thought the crew worked very hard and did an excellent job and the food and entertainment were very good. The primary lessons we learned were that the smaller ships are a little bit more enjoyable, Anytime Dining is not as convenient as it seems, and renting cabanas is not worth the expense. We will have to consider a twelfth cruise in the future. The nice thing about retirement is that there are often last-minute deals are quite attractive and now we have more flexibility in reacting to them.
Merry Christmas to everyone and Happy New Year!