Hal and Nancy's "Backstage at Walt Disney World" with Road Scholar, January 2015
This is my travelogue of Hal and Nancy's trip to Backstage at Walt Disney World Resort with Road Scholar (formerly known as Elderhostel). The topic was "Walt Disney World Resort: The Mystery Behind the Magic." This was my tenth Road Scholar trip, Nancy's ninth. It was also our fifth trip to WDW in Orlando (the first being part of our honeymoon in 1976, the most recent for me to run the WDW Marathon in 2008).
Friday, January 16
We flew United Airlines nonstop to Orlando (MCO) and checked into the Best Western Lake Buena Vista Resort. The term Resort is an overstatement for this modest high-rise hotel with a swimming pool, but it was comfortable and the staff was friendly. Even the catered group meals that we had later were pretty decent. This is one of a group of hotels that is physically on the WDW property, right next to Downtown Disney, but are separately owned and operated. Our stay on Friday and Saturday night was not part of the Road Scholar program, but we were able to use the same room for both parts of our trip.
Saturday, January 17
On our own we visited Universal Studios, primarily because Nancy was interested to visit the Harry Potter areas. I cannot say that I was very impressed with Universal. It was expensive: $320 (total) for our one-day tickets to visit the two parks, plus $25 parking. We chose not to spend $120 for "express" passes, which would have allowed us to jump to the front of every line. Harry Potter is covered by attractions in both parks (Studios and Islands of Adventure): Diagon Alley in the former, Hogsmeade in the latter, with a neat train ride traveling back and forth between the parks. We found the design of these areas of shops and exhibits to be superb, but there were huge crowds and 75-minute waits for the two significant rides, so we did not partake of them. Other than Harry Potter and a brief visit to the Jurassic Park visitor center, we generally ignored the Islands of Adventure park, which consisted primarily of lots of superhero roller coaster rides. Nancy will not tolerate any sort of roller coaster and I generally avoid the really severe ones in which they clamp large safety bars on your collarbones and spin you around upside down.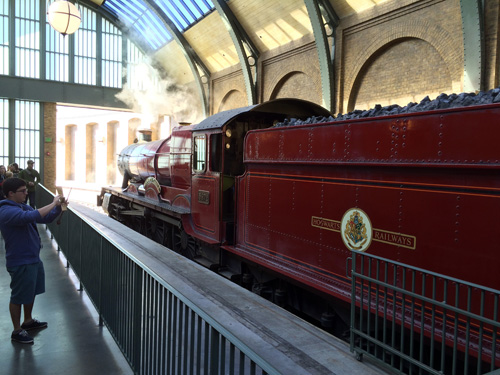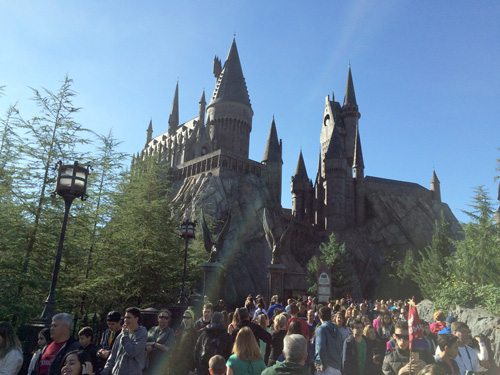 Hands down, the most interesting area for me was about the Simpsons animated TV show. They had a great simulator ride that actually felt like a roller coaster, even though the seats never moved more than a few inches up and down. There were lots of Simpsons accents—signs and videos—providing sly satirical looks at amusement parks. We rode Twirl and Hurl with the two aliens, Kang and Kodos, which was cute. We had a fabulous dessert at the Lard Lad donut shop, a large frosted doughnut sliced in half, stuffed with ice cream, and covered with caramel sauce and whipped cream. Lunch was at the Bumblebee Man taco truck. There were also opportunities for dining at Moe's Tavern, Cletus's (the slack-jawed yokel) chicken restaurant, and the Kwik-E-Mart. For the rest of the day, we tried to find rides or presentations that had tolerable wait times, such as Shrek, the movie Twister, Men in Black, and a live animal show.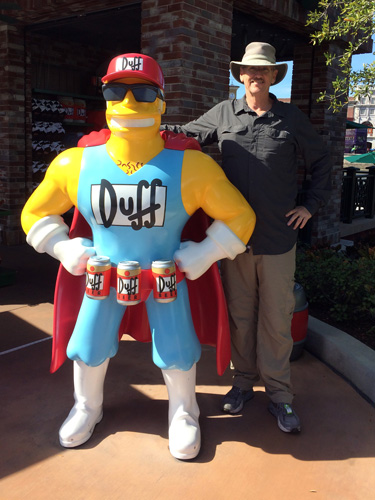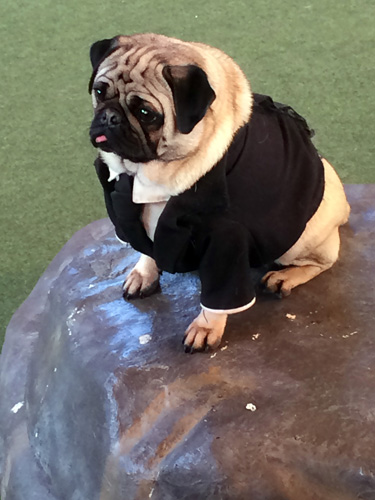 We went to dinner near the hotel at Giordano's for stuffed pizza. This is a chain of Chicago pizzas and ours was outstanding, although even a single small pizza was too large for the two of us.
Sunday, January 18
Road Scholar did not start until late in the afternoon, so we spent the morning at Pirates Cove miniature golf, less than a mile from the hotel. There were two courses from which we could choose, and we took the "easy" one because it has been years since we played. It was pretty easy, although we both came in about 12 strokes over par.
We drove to Lakeland, Florida, about 35 miles away, to take an excursion with Safari Wilderness. This was a really good trip in a chopped off schoolbus turned into a safari vehicle, spending two hours on their 200 acre property. We particularly enjoyed the ostriches and llamas, who galloped around to follow the bus for snacks. We were able to hand feed friendly water buffaloes, who grabbed the snacks with their big curly tongues. I cannot remember a full list of the animals we saw, but the website advertises eland, red lechwe, sitatunga, springbok, waterbuck, Grant's zebra, greater kudu, Watusi cattle, barasingha, axis deer, fallow deer, water buffalo, scimitar-horned oryx, nilgai, blackbuck antelope. The property also has camel rides, but we did not pay extra for that and just got to see them close up. Our guide told us that camels do not actually spit, but they sometimes will vomit on you. We did arrange to feed a colony of guinea pigs; although they were super cute, they were a bit too shy to make this very interesting. Other guests paid a larger fee and got to feed ring-tailed lemurs.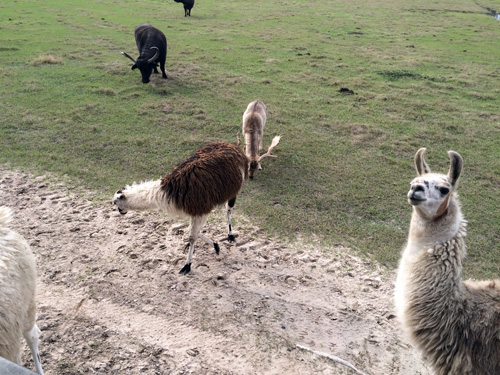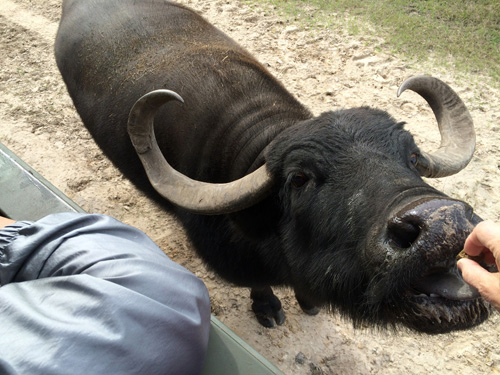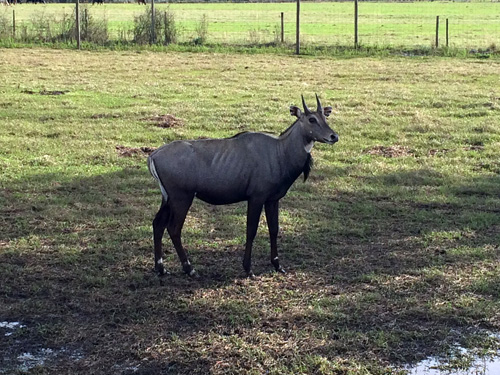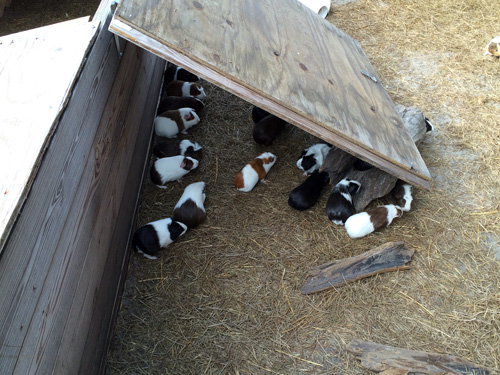 Late in the afternoon the Road Scholar program started with introductions and orientation, followed by a catered dinner in the hotel. We were in a group of 32, led by our program coordinator Ashley Moore. We were able to see fireworks 3–4 miles from our room at 8, 9, and 10 PM (which was true most nights).
Monday, January 19
We started at the Animal Kingdom backstage area, led by Marc and Timmy of the WDW education department. We rode the Kilimanjaro Safari attraction with a truck dedicated to our group, but got special commentary that regular guests do not hear, which described some of the visual cues for drivers and unpublicized stories about the animals. We took the brief train ride, which showed many backstage buildings, some of which we then walked through. We were not allowed to photograph anything backstage this week; Disney wants only "show ready" views to be publicized. Backstage areas are interesting because they are very utilitarian light industrial buildings, totally different than the whimsical vibe in on-stage areas. We visited the elephant night building, discussing reproduction issues and how they are fed and cared for. We went to an office conference room and heard a presentation by a lady about her python. We visited the nutrition center to see food storage and animal feeding preparation kitchens, including gross frozen mice and rats. The veterinary hospital employs 11 vets, and all operations are viewable by the public.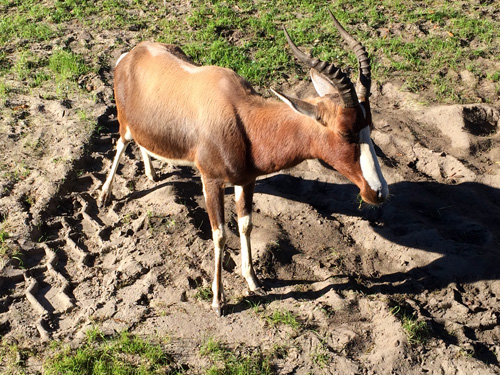 We had lunch back at the hotel. Disney would not allow us to stay at the park all day without buying a full day's admission, which would not have been very cost-effective for us. The afternoon program at the Animal Kingdom was called Wild by Design, which focused on stories that influenced many design decisions in the park. Of all the four parks, this was the only one that used this format, having back stories that would benefit the understanding of the guests if they had been publicized. For instance: Why is there a tacky 40s carnival in Dinoland? Why is the roller coaster that goes up Forbidden Mountain called Expedition to Everest? We visited a number of animal enclosures. We were impressed by gorillas, gibbons inhabiting an Asian temple under construction on an island, and a Komodo dragon. The park was really crowded on Martin Luther King Jr. Day. There were lots of walled off areas of construction for a new marketplace. Outside, backstage, we saw the new major Avatar land under construction, working on an introduction for 2017. Timmy told us lots of insider tidbits about how the imagineers designed and named features. There was quite a lot of walking today, but probably not the six miles they warned us about in the morning.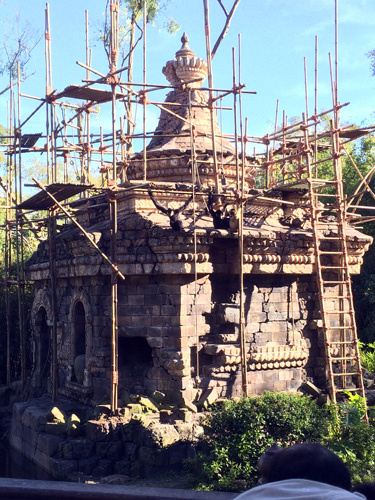 Dinner at the hotel. Some of our group walked 15 minutes over to the Downtown Disney shopping and entertainment area, but we stayed in and rested up. (None of our friends found DD to be particularly interesting. It also was in heavy construction mode, which disrupted traffic in our area during the week.)
Tuesday, January 20
We started with a walking tour of Epcot World Showcase gardens. Linda and Alli of the Horticulture and Pest Management department were our guides. I guess gardening interests a lot of elderly folks, but I thought it was mostly a snooze. It was interesting to examine all the pavilions from Mexico to Canada without any crowds in the way (that part of the park did not open until 11 AM) but the two ladies knew little about topics other than flowers, bushes, hanging baskets, topiaries, trees, etc. We did get brief backstage looks at the 1/8 scale Eiffel Tower in the French Pavilion, which looks somewhat real because of "forced perspective," and the large fake mountain covered with trees in the Canada area. There was an open area that the ladies said might house another country, and I suggested North Korea. About 600 gardeners, most work 5 to 1, but work goes on all night in many areas. We watched a gardener clean up the German Romantic Road garden railroad.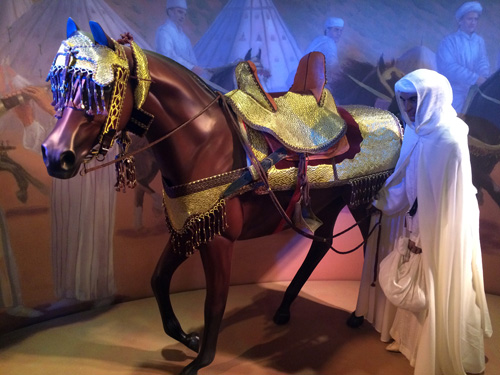 We had the afternoon off, so we took a shuttle bus to the Magic Kingdom and took scenic rides on the monorails and ferry boats for free. We also stopped at the Grand Floridian resort for coffee and pastries. Then the group took a shuttle to see Cirque du Soleil La Nouba at Downtown Disney. This was our third time seeing this show, which is still one of the best in their repertoire, particularly the finale with frantic trampoline action. Our seats were in the top row, which I did not enjoy because we were at least 50 yards from the stage, but many of the folks did like them, primarily because there was a lot of aerial action to see and you did not have to look up.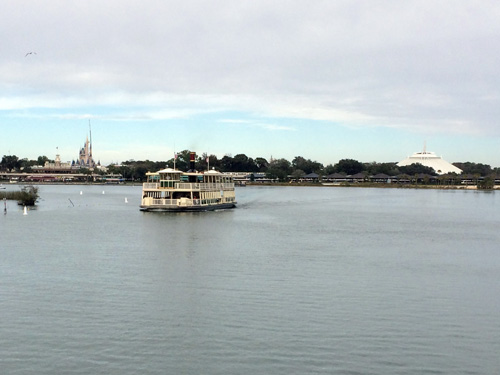 Wednesday, January 21
Our guides today were Ernesto and Wayne, and the focus was on Disney business services, which was a condensed overview of training given to visiting businesses about Leadership Excellence, Inspiring Creativity, People Management, Quality Service, and Brand Loyalty. We visited one of three laundry centers for the parks and resorts. We saw gigantic washing machines, with lots of overhead bags zooming around on aerial conveyors, as well as interesting towel folding machines. This is not a WDW core competency, in my opinion, so I was a bit skeptical about operating it in-house, but they do offer competitive bids to the outside periodically and the in-house guys have always won. We talked about hands-on leadership and employee (cast member) initiative. They cater to four employee languages: English, Spanish, Vietnamese, and Haitian Creole. The corporate priorities for employees, in order of importance, are safety, courtesy, show(manship), and efficiency.
Then we looked at how Disney maintains a good environment for the cast members, visiting the main employee building for Epcot, Cast Services. There was a room with many thousands of personal lockers and a costume (uniform) depository that was computerized with RFID. We heard all about the employee benefits and a little about the unions.
We visited the Magic Kingdom's Main Street to talk about meeting guest expectations. They analyze guest Needs, Emotions, Wants, and Stereotypes (a handy compass acronym). We talked about how the employees are trained in Disney traditions and how to interact with guests. A trick question (which did not fool yours truly) was how many custodial staff they had at the parks, and the answer is 66,000, their total employee population in Orlando (which I believe includes temporary and part-time workers).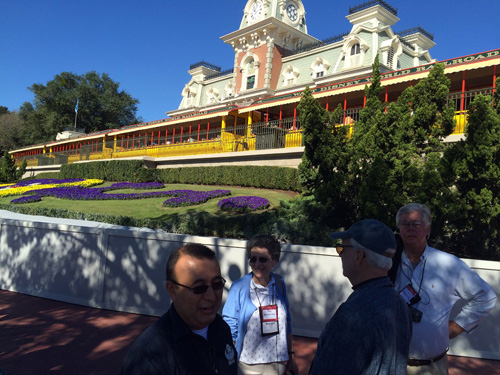 After lunch at the hotel, we all got special tickets good after 2 PM at one park of our choice, which is something Disney offers to conventions and meetings. We chose Magic Kingdom and had a nice afternoon. The place was still pretty crowded and a number of the good rides were 20–45 minute waits. The newest ride, the Seven Dwarfs Mine Train, was 75, which did not tempt me enough. Space Mountain and Thunder Mountain Railroad were my favorites. At the venerable Carousel of Progress exhibit, I was surprised to hear the voice of Jean Shepherd, one of my childhood radio favorites, in the lead role. We ducked out at 7:30, just before the giant electric light parade and went off to dinner out of the park, at Macaroni Grill, near the hotel.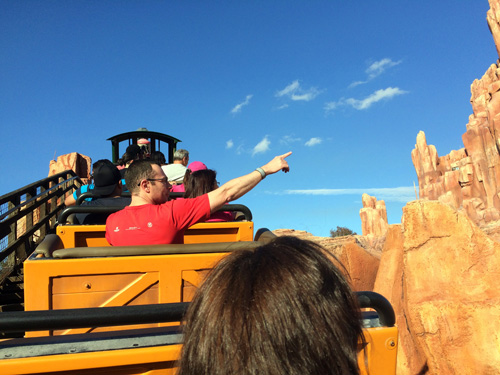 Thursday, January 22
On our final day, we spent all day at the four parks on the Backstage Magic program, led by Wayne and Pieter, the latter a South African. At Epcot we visited the American Adventure pavilion, where we examined the mechanisms for the big audio-animatronic show; ten scenes are set up in a row underneath the stage and each one pops up, then the entire collection rolls back one step. It was controlled by a rather antique looking computer, which I did not get to examine closely. I was surprised to see that Dwight Eisenhower and Mark Twain use the same facial mask, with different hair.
Next was horticulture again, visiting the big nursery complex behind Animal Kingdom, where we saw folks building up very elaborate topiary cartoon figures and also hundreds of hanging baskets. A big flower show starts in March each year. At Disney Hollywood Studios, we toured the Costume Shop, where they design and manufacture character costumes for parades and such. We got an up close demo of a giant computerized fabric cutter, which supposedly has an accuracy to 0.001 inches. We visited the basement of the Twilight Zone Tower of Terror ride to see how they keep this elevator-based ride safe. (This is one of the few Disney rides I have never taken because it is always backed up with long waiting times.)
Lunch was family style barbecue and fruit cobbler at the Wilderness Lodge, which has a spectacular huge lobby modeled after the famous Yellowstone Lodge. Then to the rear area of Magic Kingdom, where the Central Shops complex does a lot of the construction and maintenance of rides and infrastructure. We toured shops including paint, signage, plexiglass, and some general maintenance areas. This group of mid-60s buildings was actually the first in Florida because the Disney folks were faced with a region (unlike Anaheim) that had no manufacturing capability, power, roads, or any other infrastructure back then.
At Main Street, we went below the park to the "utilidor" infrastructure. This is a large system of hallways/tunnels and storage/office/maintenance rooms that were built before the Magic Kingdom, and then the on-stage park as guests know it was built as a second floor above it. The tunnels form mostly a ring around the edge of the circular park, and allow cast members and maintenance/security folks to move to directly where they need to be without walking on the park streets, something that always annoyed Walt about the original Disneyland. None of the other parks have this design because they are physically much larger and instead have peripheral backstage roads. Down here Wayne gave us a bit of the early history of Walt and his company. We finished a long day by watching a big parade on Main Street, the Festival of Fantasy, which features lots of recent movie animated characters on elaborate floats, but was highlighted for me by a spectacular flame breathing dragon (Maleficent).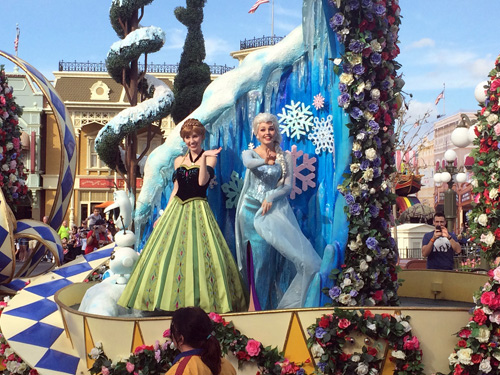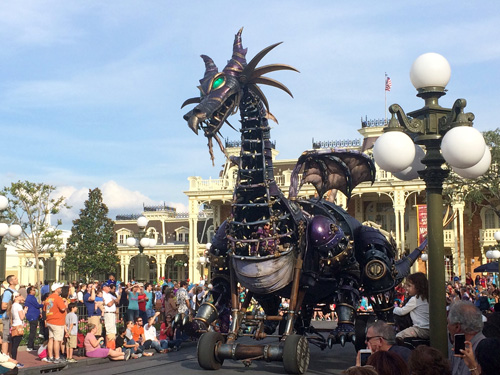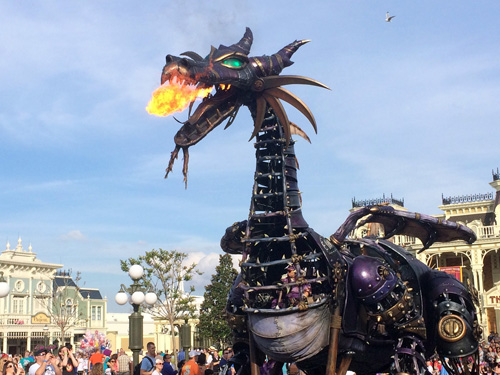 The final dinner was followed by a "graduation ceremony," in which we got little diplomas and had an opportunity to tell the full group what we most enjoyed about the week. For me, the best part was seeing the industrial underbelly of the park, and particularly the esprit de corps of all of the work groups, festooning their buildings and areas with big logos and slogans. (Of course, we certainly enjoyed many on-stage aspects of the parks themselves, but since this was our fifth trip to Walt Disney World, we encountered very few new aspects of the public face of the parks.)
Friday, January 23
We missed the closing breakfast because we had a 7 AM flight back to San Francisco. This was another excellent Road Scholar trip and we look forward to future educational opportunities.