Walt Disney World Marathon, January 13, 2008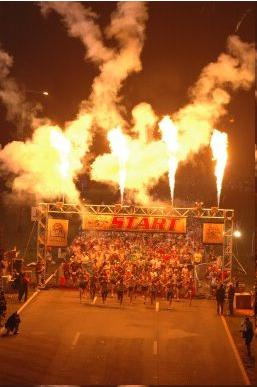 Start of the WDW Marathon
I have finished my second full marathon in conjunction with a delightful vacation at Walt Disney World in Orlando, Florida. It was a difficult race for me and I thought that I did rather poorly, but I was interested to see the race results and found that over 3,300 people (out of almost 13,000) finished after I did! I did not run as part of the Team in Training (TNT) program, as I did for the Portland Marathon in October, but I wish I had, and I will probably restrict my marathon running in the future to those programs in which I can participate as a team member.
This page will describe my training for the event and the race itself, but will say little about the vacation aspects of the trip. If you have any questions about Walt Disney World or Orlando, drop me a line. The race website has all the typical information and a 5-minute video of highlights.
Training
My previous marathon was October 7 in Portland and I planned out a training regimen that was somewhat similar to the process I went through with TNT. After I rested a couple of weeks, I did cross training at the gym twice a week, a few relatively short runs during the week and a long run every other week, increasing the distance a couple of miles each time. (From October 22 through January 1, I clocked 152.8 miles.) I ran a half marathon in Las Vegas on December 2 and a 10K race in Palo Alto on January 1. But I developed a problem, which prevented me from training as much as I should -- another muscle injury that turned out to be similar to the one I had a year earlier. That time, it was very tight quadriceps causing knee pain, but this time it was the gluteal muscles doing a very similar thing, although at the time the symptoms occurred (just a few days before Las Vegas) I assumed it was an IT band injury. Once again I used the services of Charmaine at SMI for deep tissue massages, which were really quite painful. And while this was going on, I was not able to run as many short runs as I should have. Added to this was a self-induced problem -- I gained some weight after Portland, as you can see by comparing photographs. Holiday eating and a slightly reduced training load ganged up on me.
Marathon
| | |
| --- | --- |
| | |
| Click thumbnail to see PDF of course map | (Not sure when this was taken) |
We arrived at Disney World Friday night and stayed at the Animal Kingdom Lodge, which is a really great hotel that has its own herds of wild animals roaming around outisde your balcony -- zebras, giraffes, ostriches, antelopes, etc. I made a potentially serious error on Saturday. While visiting Disney's Animal Kingdom Park, I rode a water-based ride that dumped a few gallons of water on me, forcing me to walk around in wet jeans for the next four hours and giving me a nontrivial chafe on my inside thigh. (Fortunately, this did not turn out to be a problem during the race.)
The race was early Sunday morning and I do mean early. My alarm went off at 3 a.m. and I needed to be on a bus by 4 a.m., even though the race did not start until 6. The Disney organization has simply fantastic logistical skills and I thought this race was superbly organized, but they are a little conservative about getting people there on time. From the bus, there was about a quarter-mile walk to a large parking lot at Epcot where we stretched and watched music videos on a Jumbotron. (I am an old fogey and heard more rap music during this experience than I probably would in a year. At least it was Disney-clean rap.) At 5 a.m., we walked another half mile to our starting corrals, where we watched a variety of videos and interviews with local sports celebrities and Disney characters.
| | |
| --- | --- |
| | |
| Main St USA | Hollywood Studios, about Mile 23 |
The race actually had two starting lines and covered two slightly different courses for the first 3.4 miles. I am pretty sure that my version of the race was run by the slower people. We started off on time with a lot of pyrotechnics firing away and the starting line itself was underneath four really intense gas flames that blasted loudly and very noticeably increased the temperature directly underneath. Unlike most races I have run, I was able to cross the starting line in less than five minutes.
I started off deliberately slowly and started having difficulty. Although the temperature was nice and cool (low 60s at the start, I think), the humidity was very high and my glasses fogged up, a problem that persisted until well after dawn, at 7:20 a.m. The course was nice and flat and on even pavement, so I did not trip, but it was really irritating to not be able to see my watch without taking off my glasses and squinting. I'm sure my pace suffered in those first couple of hours because of that. We did a loop around and through Epcot and then hit the highway for the Magic Kingdom, which we reached at mile 10. The course took us down Main Street USA and directly through Cinderella's Castle.
| | |
| --- | --- |
| | |
| Mater and friend | Through the backlot |
For the next 8 miles or so, we ran through areas that were not normally visited by tourists. Throughout the race, but specifically during this period, I got to see the industrial underbelly of Disney -- warehouses, repair shops, motor pools, elephant dormitories, power plants, and a giant sewage treatment plant. We ran through about half of the Animal Kingdom park and then exited at mile 18. When I ran in Portland, this was about the point at which I hit "the wall," the time at which my energy reserves ran out and I started to have to think very deliberately about moving each leg one step at a time. But during this marathon, I hit the wall at closer to 15 miles (at about the sewage plant), which was quite demoralizing. I contemplated the humiliation of having to drop out or walking the last 5 or 6 miles. Instead, I started lengthening my walk breaks in between running periods. When I started, I was doing four minutes of running and one of walking, so I extended it to 3.5/1.5 and eventually 3/2. I also took advantage of the many numerous water and refreshment stops for some extra walking time. Disney has to be commended for a wonderful job on race support. They had four or five medical aid stations and over 20 water and refreshment stops.
Oddly, for a company that is one of the premier entertainment outfits, Disney's race entertainment was rather weak. There were quite a number of music venues, but the large majority were recorded music, not live. What they did do, in spades, was to pepper the course with Disney characters and many of the runners stood in line waiting to get their pictures taken with Mickey Mouse or Buzz Lightyear. I thought that this was a silly waste of time, but I eventually succumbed to an opportunity for a photo of me with a life-size Mater, the goofy tow truck from the Pixar movie Cars. Speaking of goofy -- on Saturday there was a half marathon and quite a number of the runners ran the "Goofy Challenge," which was to run the half marathon and then the full marathon the next day. Goofy indeed. I am certainly not in that sort of shape.
By mile 22, we were entering Disney's Hollywood Studios (which until recently was branded Disney/MGM) and I was dragging pretty badly. We ran around the lake that hosts the Epcot resorts (Swan, Dolphin, Yacht Club, etc.) and then back into Epcot for a half loop of the World Showcase lake, past Spaceship Earth, and out into the parking lot for the finish line. My chip time was 5:59:14, a disappointing 29 minutes longer than Portland, but at least I crossed the line running, ahead of 3,300 others. This was all rather slow race overall for everyone, I think. Perhaps it was the humidity. The men's winner came in at 2:20 (15 minutes faster than the second-place man!). I saw a lot of people walking in the second half of the race. I talked with a number of people who ran with GPS watches, such as I did with my new Garmin Forerunner 205, and we all complained that the race recorded longer than 26.2. Mine said 26.83 and others in the 26.4 - 26.6 range. You can see my GPS data charted and mapped below. (After I saw it mapped on that website, I saw an anomaly recorded when I was running inside a building at the movie studio, which may be some of the reason for the distance discrepancy.)
| | |
| --- | --- |
| | |
| At Mile 26, still running (barely) | Ta-Da! |
Nancy met me at the finishing line after I received my giant finisher's medal. I did a lot of stretching, but did not stick around for any festivities. There was a big party at Downtown Disney that night, but I am more of a go to bed early kind of a guy. We were able to hop a bus and get back to the hotel pretty quickly and found plenty of ice for the bathtub. I had no injuries during the race and my gluteal problems have not been severe since then. We spent three more days in Orlando and visited the other three Disney theme parks as well as Universal Studios (which was really sort of a waste in comparison to WDW, unless you crave lots of extreme puke-em roller coasters).
Overall, it was a great experience, despite my disappointment in the pace I ran. It could have been the humidity, my training, my muscle injury, or insufficient recovery time from my last marathon (for a guy of my age). My primary regret was that I did not do this through TNT. Although there were hundreds of TNT runners and spectators there, and although I took advantage of that by wearing my purple shirt and receiving their encouragement, I really missed out on the direct camaraderie of training and traveling together. And I really miss receiving the little 26.2 pin! I will probably continue to find half marathons to run on my own, but I will probably not run future marathons unless I do them with TNT.
Google Earth Race Simulation
I recorded Global Positioning System (GPS) data with my Garmin Forerunner 205 watch during the race. By opening the resulting data file in the Google Earth application (which can be downloaded here for free), you can display the race course using aerial photographs and simulated 3-D terrain and buildings. There is a Play button that follows the course of the race as if you were flying over it in a low altitude aircraft. Really cool.
The Google Earth file for this race is here.
Culinary Postscript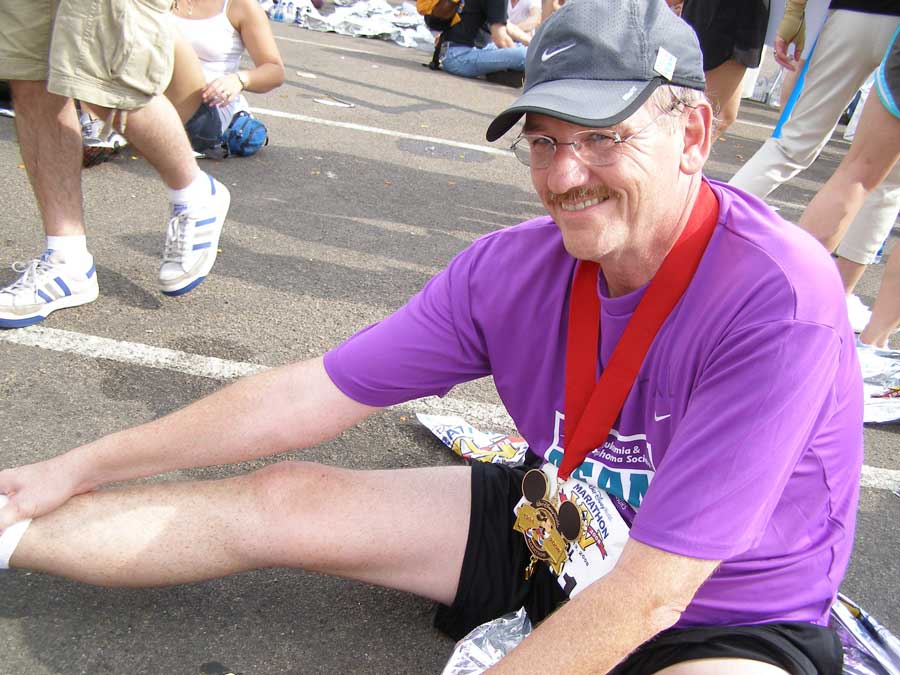 Stretching after
I said I was not going to write much about the vacation here, but since I am a very food-oriented guy, I'll mention three really excellent restaurant experiences we had at Disney. We have eaten in all three of these restaurants before and they are all just as good as I remembered:
Jiko -- In the Animal Kingdom Lodge, beautiful decor with very interesting African-inspired cuisine and an excellent wine list of all South African wines, many offered by the glass.

Victoria and Albert's -- In the Grand Floridian Resort, it's small, elegant, and expensive, and one of the best restaurants in the United States. I told our waiter the story about how Victoria's daughter-in-law, Queen Alexandra, artificially lengthened the official marathon course from 25 to 26.2 miles in the 1908 London Olympics.

California Grill -- At the top of the Contemporary Resort, it's modern California cuisine with a moderately good wine list. The real treat was getting a window table with a direct view of the Magic Kingdom fireworks at 8 p.m., less than a mile away.