Hal and Nancy's Utah National Parks Trip, April 2012
This is my travelogue of Hal and Nancy's trip to a boatload of national parks and monuments in southern Utah with Road Scholar (formerly known as Elderhostel). This is my seventh Road Scholar trip, Nancy's sixth.
Thursday, April 26 — to St. George, Utah
United flight to Las Vegas, 2 hour shuttle ride to St. George, Utah, in the extreme southwest corner. We checked into the College Inn, a former dormitory for Dixie State College. Dinner was a buffet at the college dining room a few blocks away. At the Inn, we had intros of the 40 attendees and PowerPoint slides about the trip and some basic geology concepts/jargon. Our hosts are Linda and Dennis Williams, the latter a retired government geologist. Many went to bed freaking out about the supposedly strenuous hiking options to come.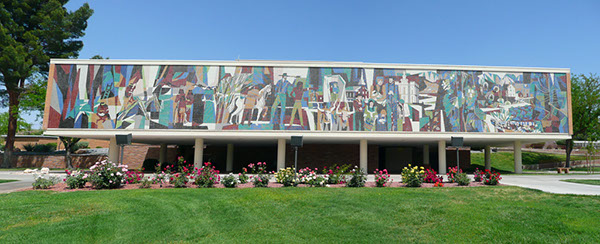 Friday, April 27 — St. George and Snow Canyon
We started with a lecture by Dr. Douglas Alder, former president of Dixie State College, who spoke on local geology and the history of the Mormon settlement in St. George, the so-called "Dixie" area (because of its initial, unsuccessful role as a cotton-growing area for the Mormons). He used the Socratic method, if you can recognize Socrates as a humorously sarcastic curmudgeon. Water distribution was a key feature of life in the 1860s. Everyone was commanded to live in the village. The religion was very authority based, and all the settlers here were commanded by Brigham Young to migrate south to a difficult desert area. He was concerned about Methodists invading the Great Basin from the south. Water ran in ditches or gutters and "head gates" were used to turn water into a property 4 hours a day, on a rotating schedule.
At the county courthouse, now the Washington County Historical Society, Dr. Alder acted out a lengthy skit about a court case involving water rights. On the bus, we saw a number of pioneer homes, originally adobe bricks, but now hard to tell from a modest mid 20th century house. We visited the opera house, restored in 1996 for the statehood centennial. Down in the basement we saw the giant screws used to slant the floor down for performances, but during the restoration OSHA would not allow it. The large tabernacle building was modeled on Boston's Old North Church. Here Dr. Alder took the role (in costume) of Erastus Snow, the main guy under Brigham Young in this area. The town was named by Young as a joke, lampooning "potato saint" settler George A. Smith. The building contractor was Miles P. Romney, Mitt's great-grandfather.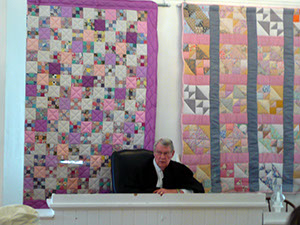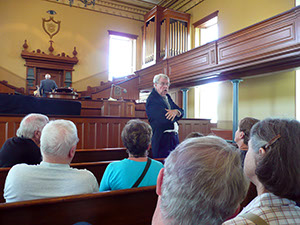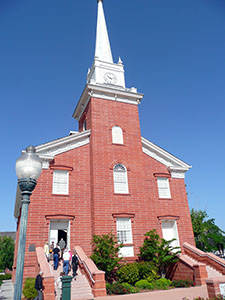 Driving north, we saw that the area is very built up with strip malls and 9 golf courses/resorts, quite a dramatic change for the first 100 years in the desert. We stopped at an interesting cinder cone, which is actually not a real volcano, but grew out of a fissure exposing lava. Here we started an experiment with wireless receivers and earphones to hear Dennis's commentary. At Snow Canyon State Park, we took an easy 2 mile hike downhill. There were lots of "petrified sand dunes" with intricate"cross bedding," caused by wind over the millenia. (Dennis said that petrified sand dunes is not a term geologists use, but the state park service is comfortable with it.) There were lots of minor plants, but little wildlife. We had dinner at Chuck-a-Rama, notable primarily for its funny name and excellent desserts. We watched another PowerPoint show about the rest of the whole trip's agenda.



Saturday, April 28 — Zion
We drove up onto the Colorado Plateau, a 400x400 mile prominence that covers large parts of four states. The escarpment on the southern end, Hurricane Mesa, is a very dramatic uplift. Zion National Park is about 45 minutes away. A brief stop at the Visitor Center and then we headed off on a hiking trail to Lower Emerald Pool. The scenery is beautiful, very reminiscent to me of Yosemite, although the colors are much redder—Navajo sandstone. The lofty cliffs on each side of the very narrow canyon are stupendous. The hike was pretty easy, about 2 miles with only moderate climbs on uneven rock steps.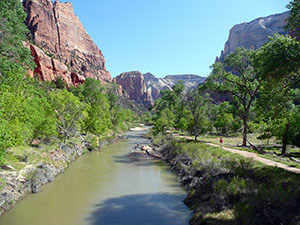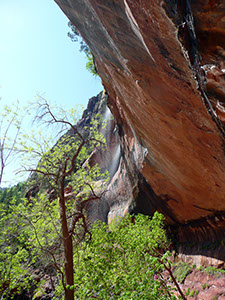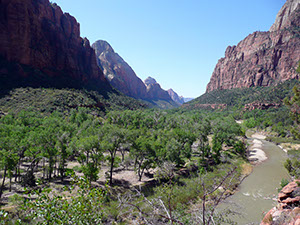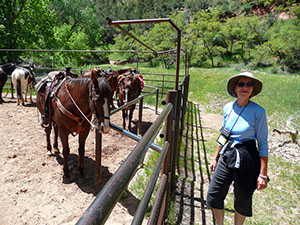 After a picnic lunch in the beautiful sunshine, we drove up some severe switchbacks to the Zion–Mt. Carmel tunnel. It's now a historic landmark, once the longest auto tunnel in the US, at about a mile. In the view of the Great Arch of Zion, Dennis told us the interesting history of how it was constructed in the late 1920s. We had to wait until rangers cleared out the tunnel because our bus was tall enough that we needed to drive down the center line to avoid hitting the rounded ceiling. There were six galleries—holes in the side that look outside, used to help them build the tunnel. Heading toward Bryce Canyon, about 90 minutes, we stopped at the Checkerboard Mesa, which had a remarkable pattern of vertical and horizontal cracks on its face.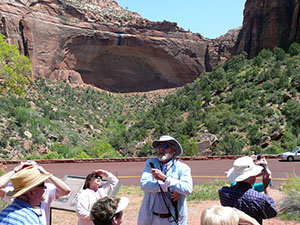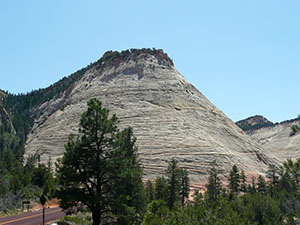 Turning onto scenic Highway 12, we started seeing some scattered hoodoos—the unusual vertical columns of eroded stone. Linda and Dennis experimented with showing PowerPoint on the bus's video screens. The experiment was a failure, at least using the PPT they prepared, with tiny type and photos. We stopped only briefly in Bryce Canyon National Park today, climbing to Bryce Point. The view was unbelievable—thousands and thousands of hoodoos in red and and gray and cream, splayed out in what they call amphitheaters. It got sort of chilly up there at 8,200 feet.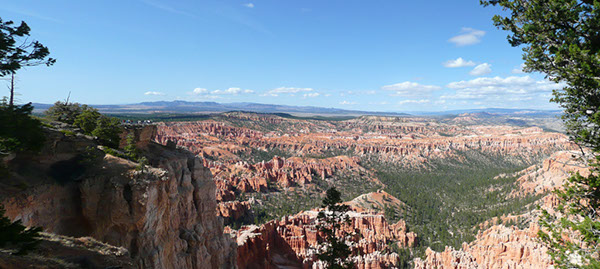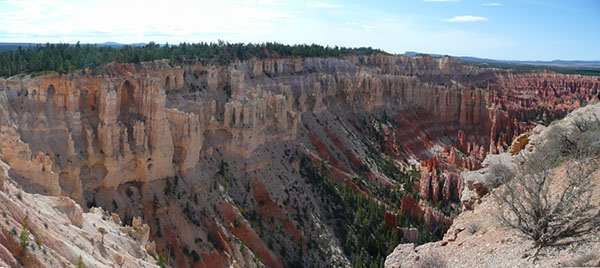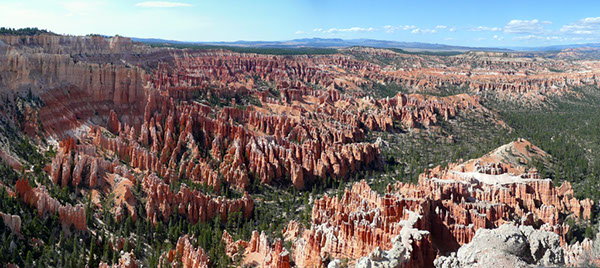 We checked into Ruby's Inn, just outside the park entrance. Dinner at their Cowboy's Buffet. Some of the group went to Ebenezer's for a cowboy meal and show, but Nancy and I weren't too interested in staying up that late.
Sunday, April 29 — Bryce Canyon
It was 23°F when we rose. After the giant breakfast buffet at Ruby's, we drove to the visitor center to catch the first showing of the overview movie about Bryce Canyon. Nicely done, about 20 minutes. They said BCNP is at the highest points on the Colorado Plateau, 8–9,000 feet. The VC has a wonderful 3D topographic map of BCNP and a number of the surrounding parks, created by layering thin strips of wood on top of each other to match the contour lines.
At Sunset Point, we bade farewell to the 10 of us willing to do the Queen's Garden hike below the rim. Nancy and I chose to skip this, because it was billed as a 650-foot descent and then the corresponding ascent, all at 8,200 feet of altitude. Those who completed it had a great time, but we felt lazy and the rim hike sounded easy and good, which it was. It was a little under a mile and generally flat, and we got many wonderful views of the "amphitheaters." of hoodoos. We had seen them yesterday from Bryce Point, but this time was a good deal closer. We started at Inspiration Point and walked north to Sunset Point and then the Lodge. The 24 of us, led by Linda—the remaining six took a bus ride—spent a lot of time trying to pick out some of the famous hoodoos that have supposedly recognizable shapes. I thought the whole collection was reminiscent of photos I've seen of the terra-cotta warriors in China. We had coffee on the patio of the very attractive lodge, and then drove back to Ruby's for yet another big buffet!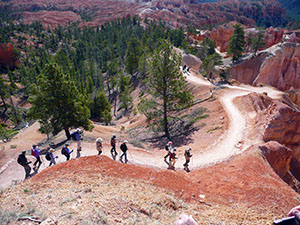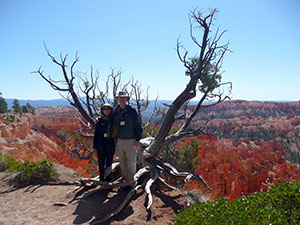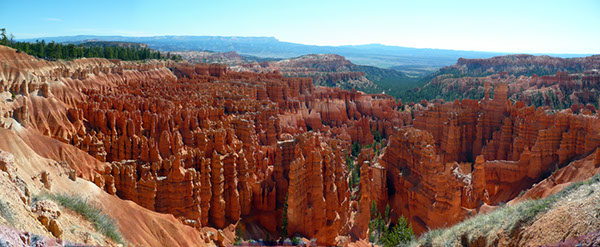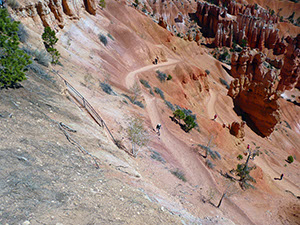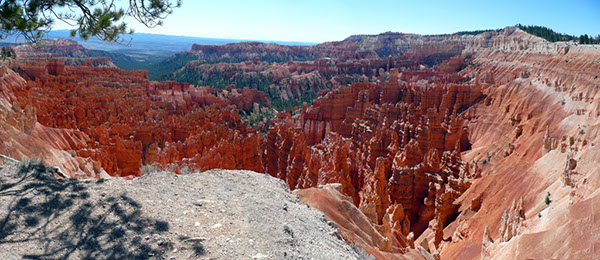 Then we started a lot of driving. Our destination was only 114 miles away, but with four stops and winding mountain roads it took 4.5 hours. The first stop was in Escalante, to see one of the four visitor centers for the Grand Staircase-Escalante National Monument. This is the 2,500 square miles that Pres. Clinton controversially declared a monument in 1996 (not requiring Congressional approval) for reasons that amounted essentially to wanting to prevent mining in the area. He put it under the control of the Bureau of Land Management, not the Park Service. The visitor center was pretty modest, but had another 3D topographic map and the requisite rest rooms.
We drove on Highway 12, one of "America's By-Ways," which was really scenic in most places. It was largely built by the CCC in the 30s. We got as high as 9,600 feet and endured sections of 10% grade. There was a stretch called the Hogback that was on an "inverted topography" ridge, where the ridge was only a few feet wider than the road and we cruised next to drop-offs of 800 and 1000 feet on either side. Some fingernails were chewed down on that road. Unfortunately, at two stops where we had stupendous views, I just couldn't get a photograph that did any justice to the grandeur of the landscape. The second was a view of 5,000 square miles, and it would have looked entirely washed out and relatively featureless. One stop was at the Anasazi State Park in Boulder. The museum there has 162,000 artifacts (mostly pottery shards) from an Anasazi settlement. There were replica buildings and a foundation of what looked like it was from a real set of dwellings.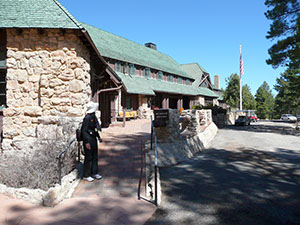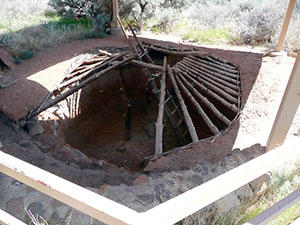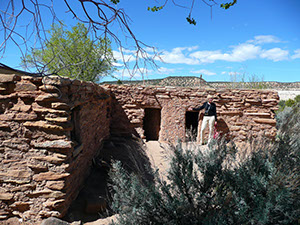 In Torrey, we checked in to the Red Sands Hotel, which is small and pretty modern. Dinner was at another hotel called the Rim Rock. I saved carrots from my salad, which we fed to a couple of nice horses next to our hotel.
Monday, April 30 — Capitol Reef
Our third national park is Capitol Reef and we drove 11 miles to the visitor center in Fruita, the center of an orchard area along the Fremont River. Dennis explained that the NP name is based on (1) mountains that look like the US Capitol dome, and (2) Mormons with seagoing experience who described some of the impassable terrain as "reefs." The NPS movie was broken, but I doubt we missed much.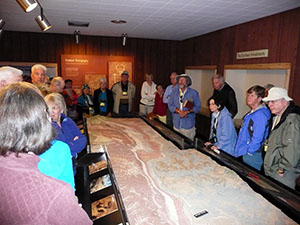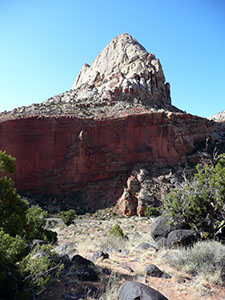 It was 28°F when we got up, but by 9am it was very pleasant and no one took heavy clothing on our hike, to the Hickman Bridge. We started at about 5,500 feet and ascended about 400 more in a moderately strenuous hike. The slope was not so difficult, but it was pretty rocky.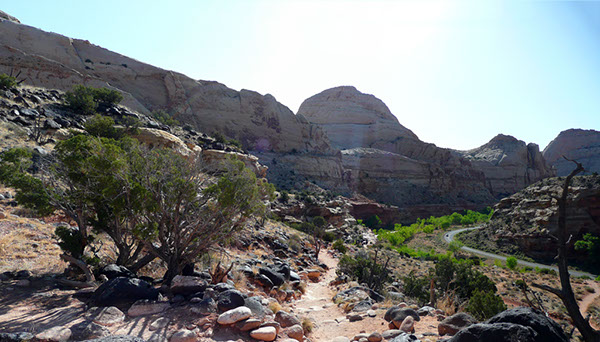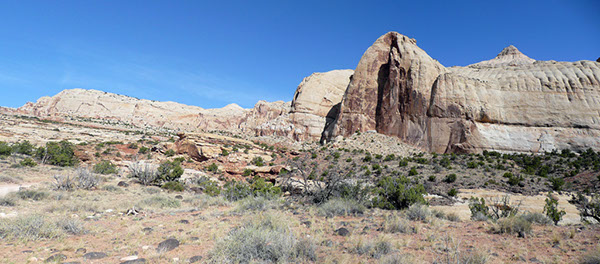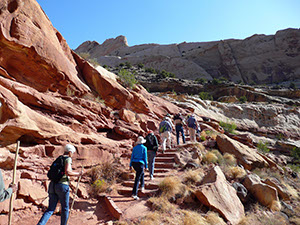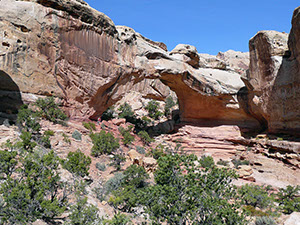 Our goal was a "natural bridge," which meant that it was formed when a stream eroded underneath (vs. an arch, where softer material underneath just collapses). Hickman was a congressman, not Dwayne Hickman--Dobie Gillis--as I had hoped. Although we only went about 2 miles, the whole adventure took us about 2 hours.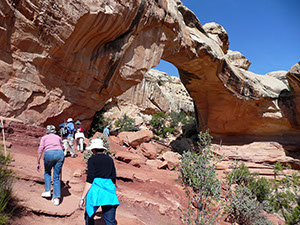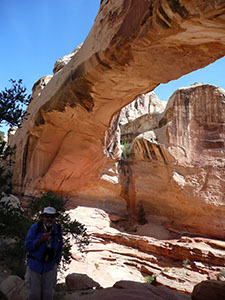 We had a picnic lunch in a beautiful park in Fruita and then walked to the nearby Gifford Farm, which has a small farmhouse you can walk through, but more importantly, a thriving little pie business. We shared a delicious peach pie and then visited some of the friendly horses on the property.
Our second walk was much briefer and easier—Grand Wash. It was a dry river bed and we walked ten minutes to a small collection of petroglyphs. Dennis dated them by noting that horses were depicted, so they must post-date Cortez. I was interested in a large monolith that was topped with something reminiscent of a frog, and which looked like it might collapse in front of (or on!) us. The based was noticeably eroded and it was visibly detached from the main cliff face.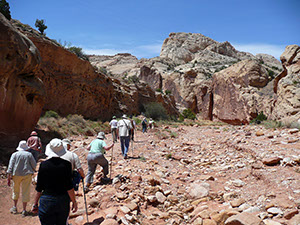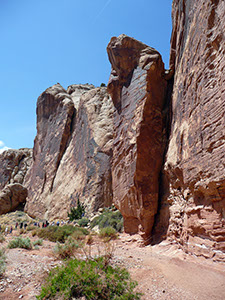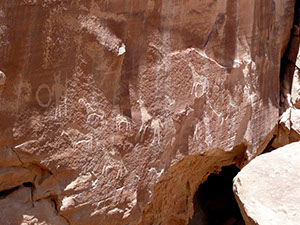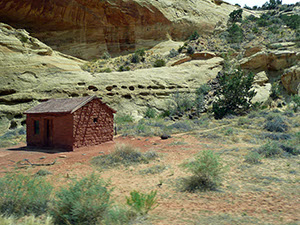 By this time it was in the 80°s and people were moving pretty slowly. Our last stop was another set of petroglyphs along a long cliff face. These were called the Fremont petroglyphs and they were in a different style than the previous ones. The men were muscular, with no necks, like linebackers. They were rather high up the cliff, so binoculars were required for a close look. We had a good time at Capitol Reef, but if I had to rank national parks to visit, it would certainly not be in my top ten.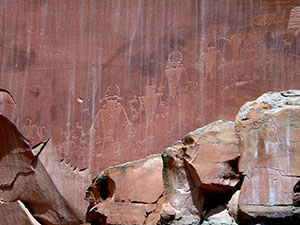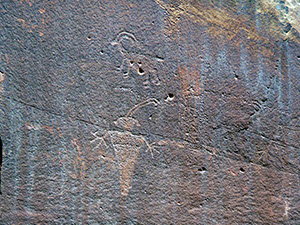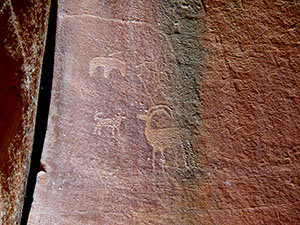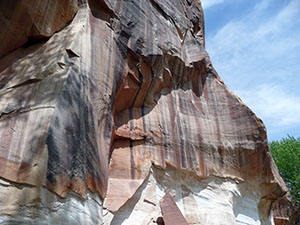 After another dinner at the Rim Rock (pretty good food), we had 90 minutes with a guest speaker. Larry Davis is the former director of the Anasazi State Park, which we visited yesterday. He spoke about the intelligence of the native peoples and tried to put us into their shoes in terms of how to survive in this environment without technology. He talked about finding water, food, and building weapons and tools, passing a number of replicas around for our inspection. He had an interesting demonstration of fire-starting skills and left us with a great tip, although it obviously had no relationship to Indians: take some strands of "0000" steel wool and use them to complete a circuit with everyday batteries. He used 2 C cells, but said others would work, too. It burst into sparks and a minor flame instantly! He also informed us that, to some, Anasazi is now a politically incorrect term, primarily because the Hopi object to it. They now want us to say "ancestral Puebloans." Larry was informative and had quite a number of funny jokes mixed in.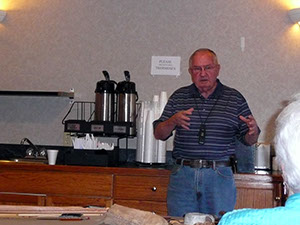 Tuesday, May 1 — Canyonlands
Our fourth national park is Canyonlands, but we didn't get there right away. On the road from Torrey, we stopped at the tiny town of Hanksville, where we had pre-ordered giant cinnamon rolls from a diner named Blondie's. Delish! As we rode along, we watched a DVD on the bus video system about the 1879 colonization expedition of southeast Utah, around the San Juan River, the so-called Hole-in-the-Rock expedition. They went through extraordinary conditions to build a precarious road, particularly difficult getting wagons down a 1200-foot cliff to cross the Colorado River. Then within a year the route was abandoned! We stopped in the small highway town of Green River to visit the John Wesley Powell museum. There was a good movie about his 1869 expedition down the Green and Colorado Rivers, including Grand Canyon. They had a lot of exhibits about him and other river explorers. Dinosaurs in the basement, too. Lunch was another buffet in a forgettable restaurant across the street.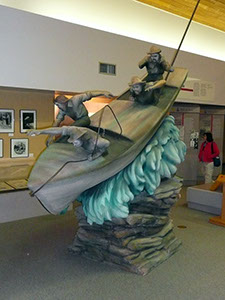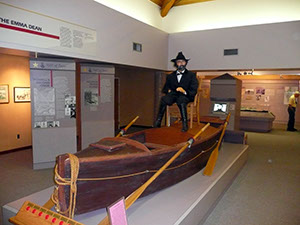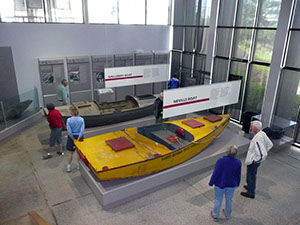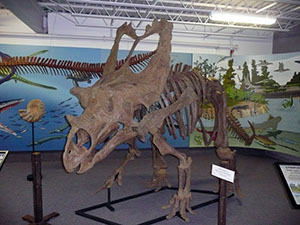 Canyonlands is divided into three broad areas by the confluence of the Green and Colorado Rivers. The northernmost, between those two rivers, is called Island in the Sky, and is the only one we visited. At the visitor center we had the now routine talk at a big 3D topo map and then listened briefly to a ranger lecturing about longhorn sheep butting heads. We took a relatively easy hike on the Mesa Arch trail, about a mile roundtrip.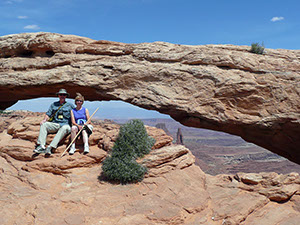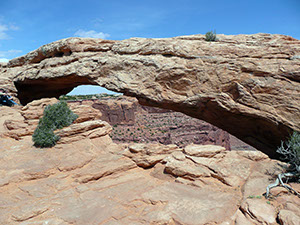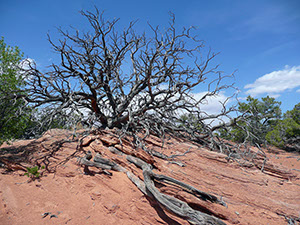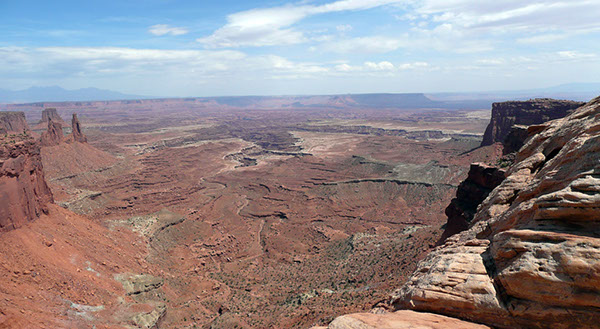 Then we drove under ten miles to Dead Horse Point State Park. This was really impressive and I'm surprised the Feds didn't include it in Canyonlands. There's a tale in the park brochure about cowboys stranding unwanted horses here until they died of thirst—and in fact there's a very narrow "Neck" that could have been barricaded as the tale suggests—but Nancy noticed that a giant pattern on the ground below the point looks just like a dead horse (not discernible in the photo below), so that may have had more to do with the name. This was a really beautiful view, dominated by a horseshoe bend in the Colorado, called the Gooseneck.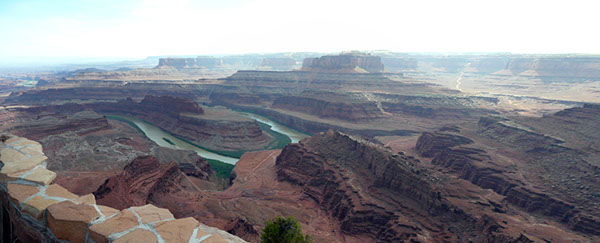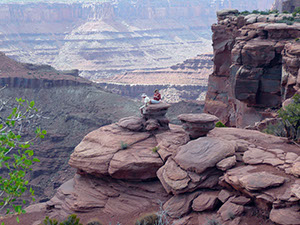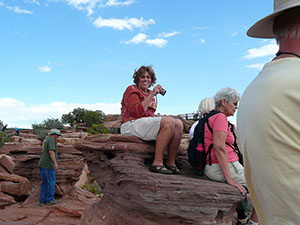 A Civil War highlight for me (beyond John Wesley Powell's Shiloh connection) was two buttes discovered and named by Powell—Merrimac and Monitor Buttes. (Use of the name Merrimac is rather dated. Almost all historians nowadays call the ironclad by its Confederate name, CSS Virginia.) I told Dennis that the larger butte would actually look like the silhouette of the Virginia if the large straight sides on top were gone and he told me to wait, erosion would eventually take care of this. I replied that no one will remember the Civil War by that time. :-)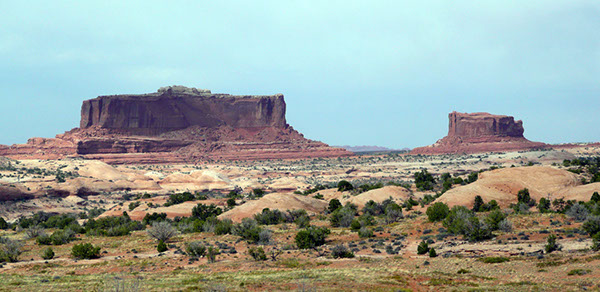 We finished up with a short drive to the town of Moab, our home for two nights. It's quite touristy, with every inch of the main street covered by restaurants, bars, t-shirt shops, hotels, and expedition outfitters. We were left to eat on our own and we joined another couple for a steak dinner at Jeffrey's near the hotel (the River Canyon Lodge, a nice hotel).
Wednesday, May 2 — Arches
Our fifth national park is Arches, just outside Moab. The whole group took an easy stroll around Balanced Rock, which is a jaw-dropping 3,500-ton boulder of slickrock on a tall pedestal, held up by a tiny portion of "mudrock." You have to feel nervous standing near it.

The group split and I was one of 16 heading up to Delicate Arch. (The others took an easier route and observed us from about a mile away and from a much lower altitude.) The trail was 1.5 miles each way and ascended 480 feet, up to 4,829. The Park Service called this a strenuous hike, and I'm sure it might have been in the noonday sun, but the weather cooperated and it was cool and overcast, so I didn't find it very difficult. Most of the way up was on a smooth "slickrock" slope, which sounds dangerous, but the sandstone in question gave us no traction problems at all. That's good because near the top we were on a ledge that was only 1-2 meters wide, with a big dropoff. The Arch is really dramatic. I got cold feet about the footing near the top, a big slanted bowl of a shape, so I looked from about 100 yards away.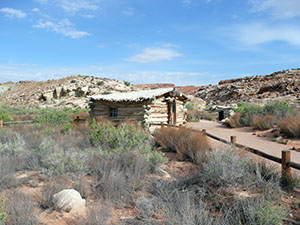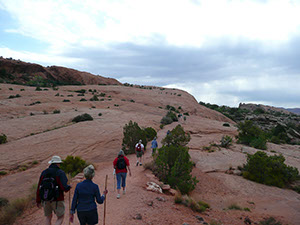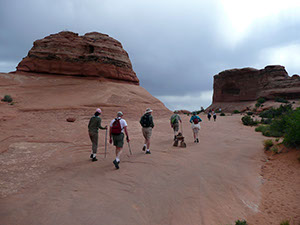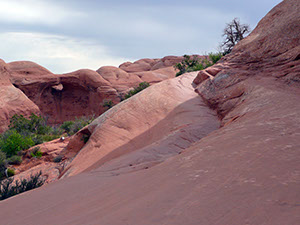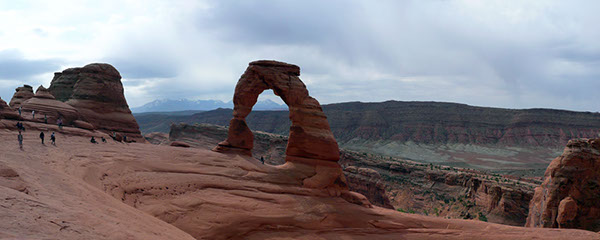 We all went pretty slowly, so there was no problem going up or down. I barely broke a sweat. On the way back down we saw some primo examples of petroglyphs, Ute Rock Art, which the NPS estimated was carved from 1650 to 1850.
We had a picnic lunch in the amphitheater of a camping area called Devil's Garden. Nearby was Skyline Arch, which had a great pile of boulders underneath, demonstrating how the arches are created and grow over time. This rubble dates to 1940.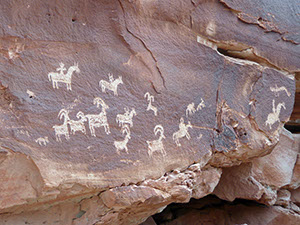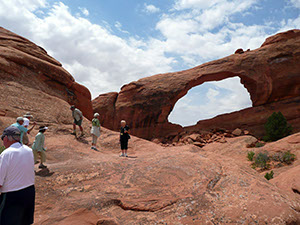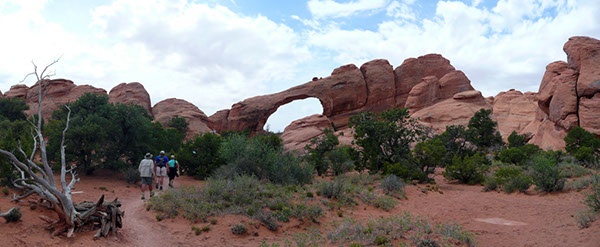 After lunch we drove to the Windows Section and took an easy one mile hike to see North and South Window Arches and the Turret Arch. From here you also get a good view of the area called Parade of Elephants. The photo I took may not be the best indication, but the structures here really did look like elephants marching in single file.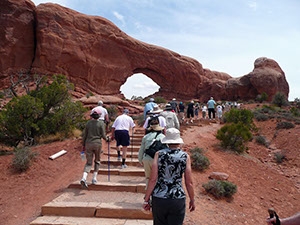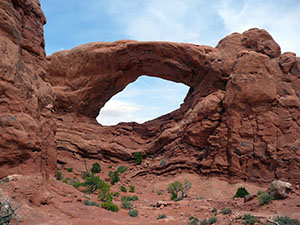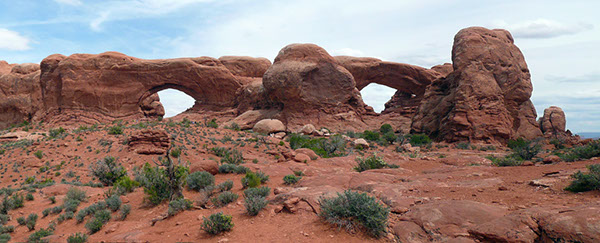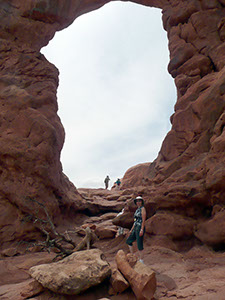 Our final stop was the visitor center. There was a brief movie about the park, characterized by really florid narration. ("Touch the stone and smell the silence." Really.) They also turned the color saturation dial all the way up. A strange experience. We really enjoyed our day in Arches NP, although I doubt we saw even 1% of the supposed 2,500 arches in the park.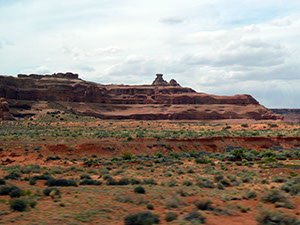 Returning to the hotel, we were faced with another dinner night on our own. Nancy and I went to Pasta Jay's and I had a decent small, thin-crust pizza.
Thursday, May 3 — Monument Valley
Today was a lot of "windshield time," as Linda says—about 300 miles to get from Moab to Page, Arizona. Our first stop was Blanding, Utah, and the Edge of the Cedars State Park Museum. This was a big Anasazi (although they said Ancestral Puebloan) collection of artifacts—a million, they claim—and some restored ruins out back, including a kiva you can climb down into.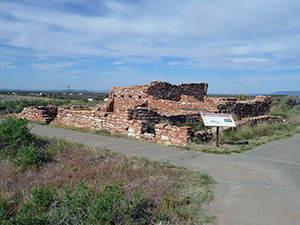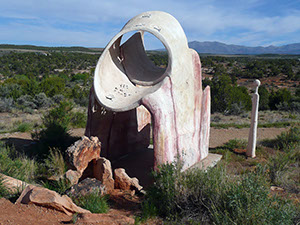 As we headed toward Monument Valley, we saw a few of the key places on the 1879 colonization expedition. We stopped for lunch at Goulding's, which had a trading post, museum, and hotel. And an excellent view of the buttes/monuments. There was a modest museum of the history of the trading post and of John Wayne, who stayed there while filming some westerns with John Ford, such as She Wore a Yellow Ribbon.
Four miles away was the Navajo visitor center. Another great view and an interesting exhibit about the Navajo Code Talkers in World War II. There was a big timeline of important events in Navajo history and I was amused to see that the largest description was reserved for the first Navajo pro golfer.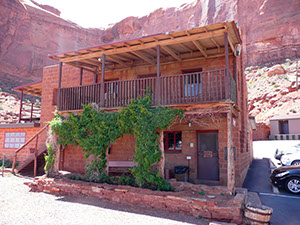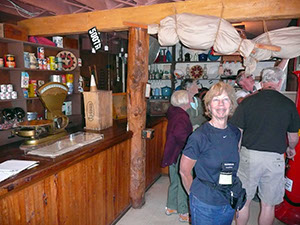 It was a sleepy 125 miles to Page, covering ground that wasn't very interesting. Even Dennis was (mostly) silent. We checked into the Best Western and then drove a few miles to the "Navajo Academy" for an interesting two hours of talks and demonstrations. There were three presenters who neglected to tell us their names in English—so I can't credit them here—and Freddie. A lady answered questions about the bureaucratic failures in relating to the Indians. It turns out that after all these years, 35% of the reservation residents have no power or water! There are 300,000 Navajo around, about half in the reservation, which covers parts of four states. Freddie gave us an overview of their beliefs and heritage. A lady led us on a tour of two hogans (wooden dwellings) and a small sweat lodge. Another lady showed us rug weaving techniques. She told us that every weaving has a deliberate imperfection included, sometimes very subtle. Then we got to see a variety of native dances, performed primarily by children. One older guy did a "hoop dance" that could have been part of Cirque du Soleil.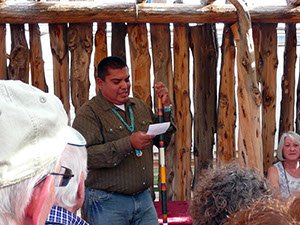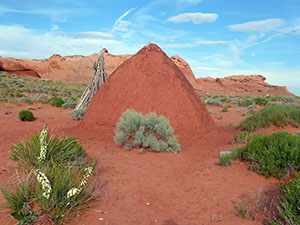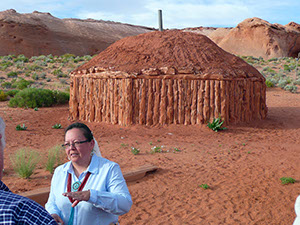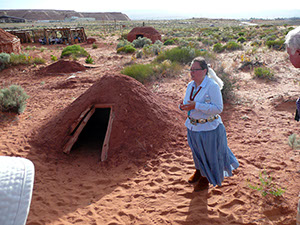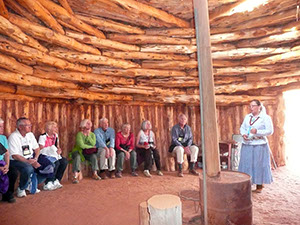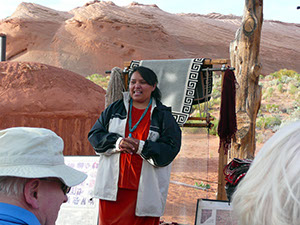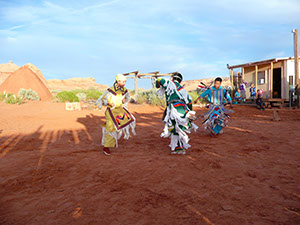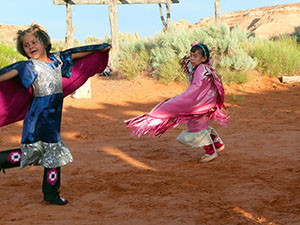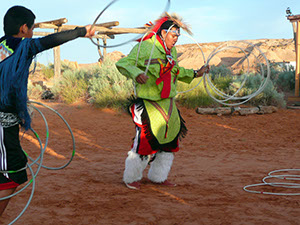 Our dinner was a buffet at Mandarin Gourmet. It didn't seem very area/topic-appropriate, but the food was pretty decent. We had to change our watches because Arizona deviates from daylight saving time conventions.
Friday, May 4 — Lake Powell and Rainbow Bridge
Our sixth national park (monument) is Rainbow Bridge. We had a very early breakfast buffet across the street at the modest Glen Canyon Steakhouse and drove to the Wahweap Marina at 7:30. We boarded the Desert Shadow, a boat carrying about 100 folks, for our trip to the bridge, about 25 miles away, 2 hours each way. The weather continued to be excellent, with brilliant sunshine, but it started getting toasty, reaching the low 90s by the time we returned. (I found that if you read an iPad in this sun it will soon feel like a pancake griddle.)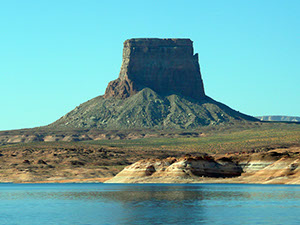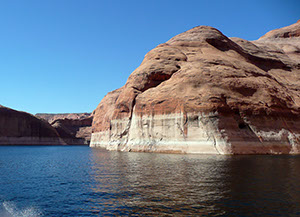 Lake Powell is very scenic, with towering sheer red sandstone cliffs in many places. After barreling into the small Bridge Canyon, we stopped at a very, very long floating dock. When the reservoir is full, the water goes right up to the bridge, but today, 35 feet lower, it's a quarter mile away along an easy path. The bridge is spectacular—275 feet wide, 290 tall (almost high enough to put the Statue of Liberty underneath)—the world's longest natural bridge. We were advised not to approach the bridge too closely or to get underneath it because the Indian tribes consider it sacred. NPS Ranger Chuck told us the story of the first white men to visit the bridge in 1909; at least they were first to make a public fuss about it. In 1910, it was made a national monument.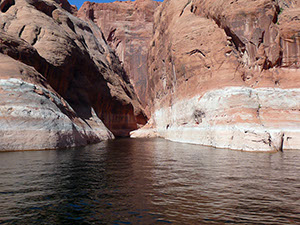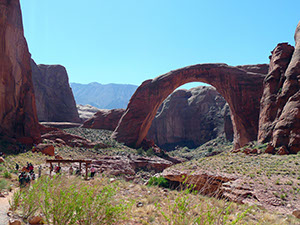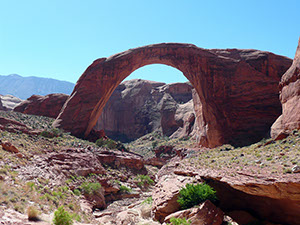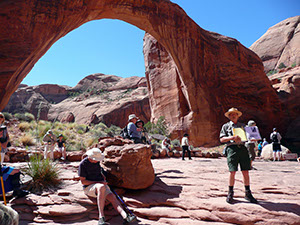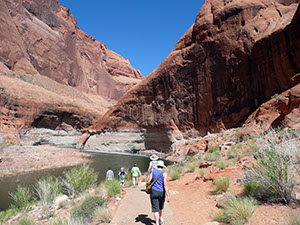 The boat was one of the faster ones in the fleet and returned by 12:30. Our final stop of the day was at the visitor center of Glen Canyon Dam. Here we had another 3D map talk and looked at exhibits about building the dam in the 50s and 60s. The damming turned the Colorado River into Lake Powell, 186 miles long, with 1,960 miles of shoreline. The bridge is pretty dramatic, too. Before it was completed, one had to drive 197 miles to get from one side of the river to the other. Nancy and I visited here a year ago, part of our Grand Canyon trip.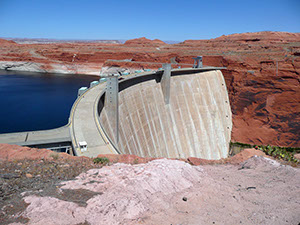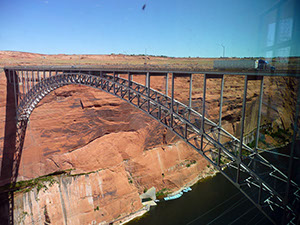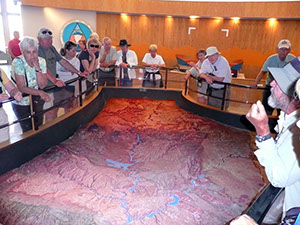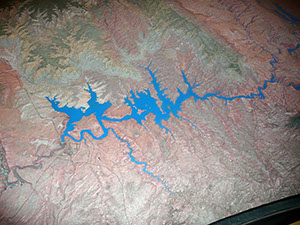 Dennis offered an optional excursion for a relatively difficult 2 miles hike to a river overlook. We thought about 0.01 seconds before deciding the 91°F was not worth it. Only two folks (plus Dennis and Ric, the bus driver) were interested, but they went ahead anyway. So we had a relaxing afternoon in the air conditioning.
Dinner tonight at the Glen Canyon Steakhouse again.
Saturday, May 5 — Antelope Canyon
Our final big destination was the slot canyon in Antelope Canyon. We had a relatively late start for the day—10:30 AM—so that we could arrive at the canyon during the optimal time for sunlight penetrating through the very narrow slot. We had a balance our breakfast time with a busload of German tourists, once again at the Glen Canyon Steakhouse. I used some of this open time to dash up the street to visit yet another John Wesley Powell museum. It was relatively small, but it had a lot of information, including more about his Civil War career than the museum in Green River had. It was interesting that after he was wounded at Shiloh, he returned to active duty on the condition that his wife accompany him as a helper. They served together in the Siege of Vicksburg.
All access to the canyon is controlled by the Navajos, so we drove up the main street a few blocks and jumped onto Navajo pickup trucks that had been outfitted with bench seats in the rear. We drove a couple of miles at a bone jarring pace, particularly when we were racing over the sand of a dry riverbed. I assume they drove so quickly to avoid getting stuck in the very fine sand. The slot canyon is very narrow in some places, but simply spectacular, with smooth sandstone eroded over the years by flash floods, which whirlpooled around to create swirly shapes in the walls. These flash floods can fill the narrow canyon up to 75 feet deep, and we heard a tale of some tourists who were caught in a surprise flood. Evidence of the floods can be seen by pieces of trees that are wedged between the canyon walls, way over our heads. We found it interesting that the floor of the slot canyon was extraordinarily uniform and flat. And sandy. People kept kicking up the sand so that dust would illuminate the shafts of light penetrating the canyon.
The beams of sunlight coming down brought forth beautiful tints of red on the walls. Our driver was our guide into the canyon and did a nice job showing a variety of features inside. Most of these were rock formations that looked like faces, including one not very close resemblance of Abraham Lincoln. When we reached the end of the quarter mile canyon, which sometimes were at depths of 133 feet, our guide played us a nice original composition on a Navajo flute. We picked the ideal time to visit, but so did a lot of others, and it was shoulder to shoulder going back to the truck. Fortunately, we did not have any severe claustrophobes in our group.
People who had booked photography tours and were carrying giant tripods and pounds of camera gear seemed a little irked that all of these other people were getting into their shots. The following is a collection of photographs I took with my point-and-shoot camera. I am sure that the other photographers got more dramatic results, but I hope these will suffice to convey the beauty of the setting.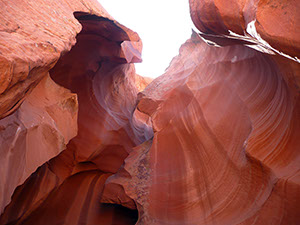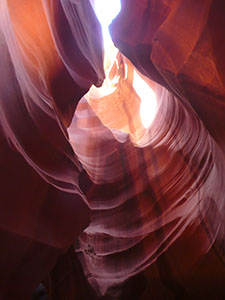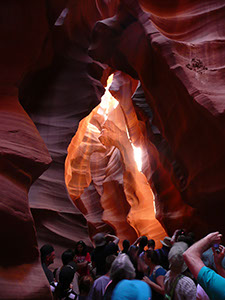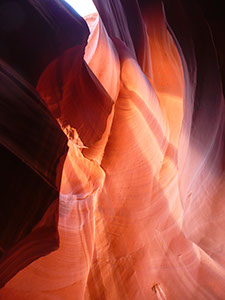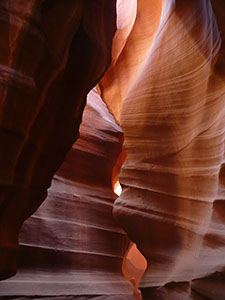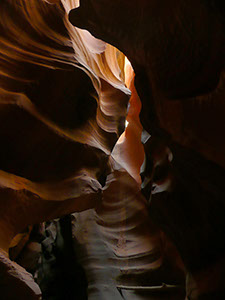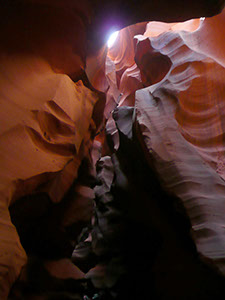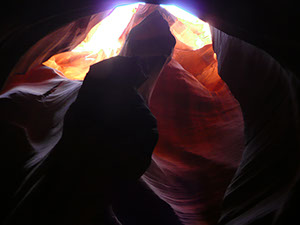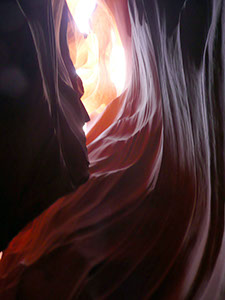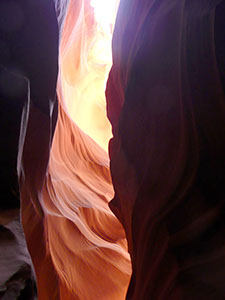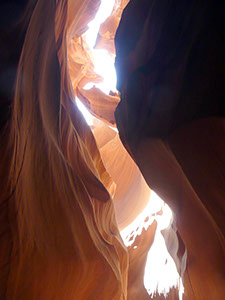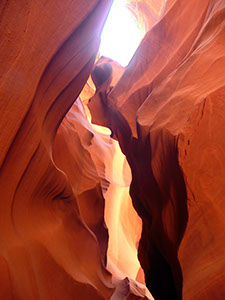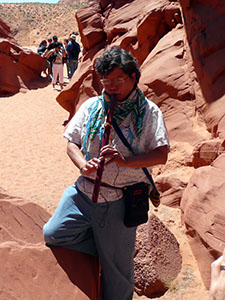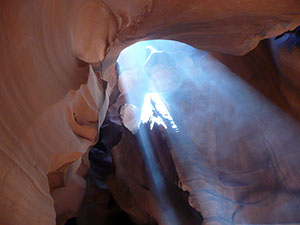 We had another 2 1/2 hour drive to get back to St. George, although we waited until after lunch at the Glen Canyon Steakhouse again. Our only stop was in Kanab, Utah, where we visited another of the four visitor centers for the Grand Staircase–Escalante National Monument. This particular one was focused on the geology of the area. The Bureau of Land Management seems to have quite an ample budget for visitor relations. This was our final look at a 3D topographic map with Dennis, but this time the map was relatively modest in size and the terrain was looking pretty familiar.
There was some drama upon our return to St. George because the annual running of an Ironman Triathlon was in progress and access to the street in front of our hotel was blocked. So we stopped first for dinner (at Chuck-a-Rama again) and then had to maneuver quite a ways out of our way to avoid the runners and then needed police escorts to roll our bags across the street to the hotel. The triathlon was having a bad day because of very high winds, which disrupted the swimming portion (2.4 miles) with waves up to 5 feet high on the Sand Hollow Reservoir. Although I am always respectful of the tri-athletes, I was a bit surprised that the race was still going on at 7 PM when we arrived. It might not have finished until midnight—we were awakened by fireworks at that time. I read in the Salt Lake City Tribune that the winning man finished in about nine hours, undoubtedly delayed by the winds in the swimming and cycling sections, as well as the 80+°F temperatures during the marathon. The paper claims that this triathlon is the most difficult in the world, reporting that next year they have decided to reduce it to a half Ironman.
After we checked into the College Inn, we had a nice goodbye ceremony, including a slideshow of our exploits produced by Linda with lots of classy video effects and background music. One of the couples arranged a little award ceremony that managed to make a humorous comment about every person on the tour. Dennis reported that we had driven 1181 miles over the 10 days. It was fortunate our bus was so comfortable.

Sunday, May 6 — Return Home
Our trip back was uneventful—the shuttle to Las Vegas, and then United Airlines to San Francisco. Our cats had not killed themselves fighting with each other in our absence. And Nancy's horse, Gracie, survived without her just fine.
Once again we had an outstanding time on a Road Scholar expedition. The sites/scenery/hiking were superb, the coordination (Linda) and lectures/guiding (Dennis and Dr. Alder) excellent, and all of the people were really nice and friendly. With the exception of the College Inn, all of the hotel accommodations were quite nice. (The College Inn was a bit spartan with few amenities, such as hot water for the shower.) All of the meals were of good quality, although we all must have gained a few pounds from the numerous buffets. Nancy and I look forward to some future Road Scholar trip, although we have nothing planned at the moment.