Hal and Nancy's "Grand Canyon Odyssey," April 2011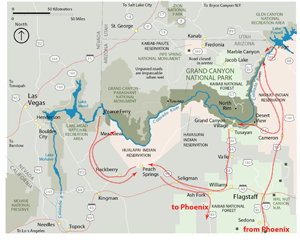 This is my travelogue of Hal and Nancy's trip to the Grand Canyon with Road Scholar (formerly known as Elderhostel). The program website is here; if that address no longer works, go to www.roadscholar.org and search for "Grand Canyon Odyssey". Nancy and I enjoy these excursions as being good travel values with excellent educational opportunities woven in throughout. It was my fourth Road Scholar trip, Nancy's third. (She was not interested in the Civil War battle of Vicksburg!) At one time Road Scholar was limited to people over 55, but I think that restriction has been lifted. However, I would say that we were among the youngest of the participants.
This is a lengthy report, so here is a summary: Comprehensive itinerary, great tour leaders, interesting folks, beautiful weather, an outstanding trip.
Monday, April 25
We flew to Phoenix and checked in at the Sheraton Four Points in Tempe. There we were met by our two leaders, Stewart Lasseter and Matt Turner of Northern Arizona University. NAU is supposedly the largest subcontractor to Road Scholar in providing educational tours, primarily in the American southwest. Stewart and Matt are both experts in geology and southwestern flora, fauna, and local history. We had a modest buffet dinner and then an overview of the program by Stewart, followed by introductions of all 25 participants.
Tuesday, April 26
We did a lot of driving on the trip—probably over 1000 miles in a week—and we started with about 250 miles from Tempe to Marble Canyon, Arizona. The general outline of the week is that we started at the eastern end of the canyon, spent some time in the most tourist-familiar center of the canyon, and then concluded in the Hualapai Indian reservation at the western end of the canyon. Fortunately, there were two 13-passenger vans called "turtle tops" that were similar to airport shuttle buses. The transportation was very comfortable and we all had large windows for sightseeing.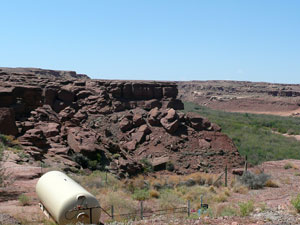 Although the Phoenix area was pretty hot, it started getting chilly when we stopped in Flagstaff, which is at 6000 feet. We visited the NAU offices there for a bathroom break and for some reason they took us on a tour to observe the tour-scheduling office workers in their cubicles. We drove extensively through a Navajo reservation, observing that many of them are living in rather dilapidated trailers, scattered somewhat randomly across the desert. We drove through the Painted Desert, which is so named because of the interesting shades of grays and reds on the cliffs. We stopped for lunch at the Cameron Trading Post, a very large gift store and restaurant, chock-full of Indian crafts. I took some photographs of a basalt formation there that look remarkably like the rocks of Devil's Den at Gettysburg. As we got close to Marble Canyon, we were surrounded by two spectacular lengthy cliffs, the Echo Cliffs and the Vermilion Cliffs. We stopped at Navajo Bridge, which used to be the only place for 600 miles that you can cross the Colorado River. The original bridge is now for pedestrians and traffic is handled on a larger bridge directly parallel. There is a small visitor center that describes the history of the bridge.
We checked into the Marble Canyon Lodge about 300 yards from Navajo Bridge, a rather shabby 50s-era motel, but comfortable enough at a basic-needs level. Stewart and Matt had warned us that there might be scorpions in the bathroom, but none were to be found. After dinner, we adjourned to a meeting room for a presentation by Chris Parish of the Peregrine Fund, describing his reintroduction program for the California condor. These mighty scavengers were almost extinct and Chris described how they were saved through captive breeding, but also the root causes that endangered them. After a lot of studies it turns out that lead poisoning was the primary cause and they found experimentally that it was a result of lead bullets that shattered in the carcasses of deer, which were then eaten by the condors. So he and his team have been going on a big promotional effort to convince hunters to use copper bullets instead of lead. Chris kept us enthralled for well over an hour and everyone enjoyed his presentation immensely. (Later in the trip, he reappeared in a National Park Service film about Grand Canyon and we got to see him handling one of these great birds.)
Wednesday, April 27
We drove about an hour to Page, Arizona, which is a small city built for the construction workers who erected the Glen Canyon Dam. The dam is a little smaller than the Hoover Dam, which Nancy and I have visited in the past, but it is still impressive. The visitor center had an interesting display about the construction of the dam and also about an unusual dinosaur whose fossils have been found in the area. We spent some time being led through the features of a large relief map of the area, showing dozens of national parks to the northeast of Grand Canyon. (Two of these, Zion and Bryce, are on our to-visit list for next year.) There was a tour available of the inner workings of the dam, but this was not part of our itinerary; maybe we will come back someday. We drove to the headquarters of a local rafting company and then boarded a bus. Since we were entering a Homeland Security protected area at the dam, we were first subjected to a mild search for weapons and explosives. The bus took us through a two-mile tunnel that descended in an 8% grade down to the base of the dam. As we got out of the bus we had a spectacular view of the dam looming overhead. We had to don hardhats for the brief walk to the rafts because we were walking directly underneath a bridge and tourists have a habit of throwing things off from time to time. Even a penny descending from hundreds of feet up would ruin your day.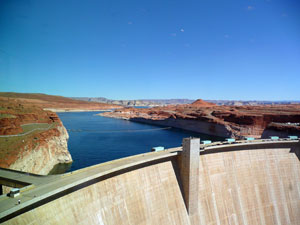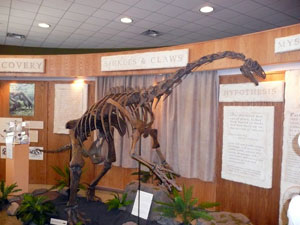 The rafts were like double zodiacs, holding 20 people each, and we had a personable young guide. We mostly drifted with the current for what I would guess was 7–10 miles, marveling at the sheer canyon walls that rose 800–1500 feet above us. It was very calm, not a whitewater experience. Stewart provided commentary about the layers of rock, some of which was of smooth, polished appearance, and others broken off in interesting arch shapes. We stopped at a campground and took a brief hike to see a wall that contained a number of petroglyphs. I stood at the base of the cliffs and looked up. It was like standing at the foot of the Empire State Building, giving me a sense of vertigo from the sheer scale. We disembarked at Lee's Ferry, which, prior to the building of the Navajo Bridge, was the only place to cross the river. The Lee in question was a Mormon who had participated in the Mountain Meadow Massacre. He operated the ferry so that his fellow religionists could move back and forth between Utah and Arizona. He was eventually caught by the U.S. Army and executed.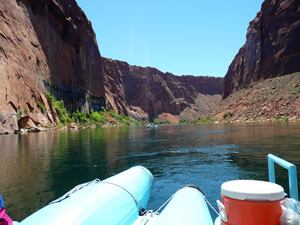 After dinner that evening, Stewart had a short lecture on the geologic layers of Grand Canyon, and then showed a video (using some antique technology called VHS) that covered the history of running the Colorado River, starting with Maj. John Wesley Powell in 1869. Powell was a Civil War veteran who lost his arm at Shiloh and went on to have a relatively distinguished career as an artillery officer. (I was annoyed at their claim that he was the most famous one-armed officer of the war, because I think that generals Philip Kearny and Oliver Otis Howard were both more famous.) Anyway, his expedition charted Grand Canyon for the first time, and is notable for the heroism of his men in tackling 1000 rapids in wooden boats over unknown waters of the Green and Colorado Rivers. They were followed by many interesting expeditions, including two guys who swam the river, and a turbojet boat that drove upstream. The video spent some time on Georgie White, a woman who pioneered the use of rubber pontoon boats to take regular people on rafting expeditions. She had some very interesting experiments with long trains of pontoons that one of the old-style rafters called "big baloney boats." All of the scenes of violent white water that we saw make you think that you would have to be crazy to take this two-week trip down the river.
Thursday, April 28
Today was Nancy's birthday, but she insisted that no one make a fuss so very few members of the group found out about it. We checked out of the Marble Canyon Lodge and drove a couple of hours to the South Rim of Grand Canyon. We started in an area called Desert View, where we ascended an interesting tower that was decorated inside with Hopi artwork and outside with stunning views. We made a second stop at Lipan Point, a dramatic overlook where Stewart gave us more details on the geologic layers of the canyon. (I will not attempt to regurgitate the two billion year history of the rocks here, but will note with surprise that the actual cutting of the canyon by the river started only about 5 million years ago.) We had a picnic lunch at another overlook. Arriving at the main South Rim area of the national park, Grand Canyon Village, we were set loose to choose from a few options before we checked into the hotel. Nancy and I chose to walk about 2 miles on the rim trail. It was laid out with markers that followed time over 2 billion years and had many interpretive signs and rock samples for us to examine. We checked into the Maswik Lodge, which was one of the lower end options, but perfectly comfortable. It had a very nice cafeteria and we were given meal tickets for dinner, breakfast, and lunch. Nancy and I walked over to the stables where the canyon mules hung out. Some were very friendly and interested in us, even though we had no food to offer and there were warning signs about no petting allowed. Nancy was concerned that some of them had saddle sores and we hoped that the ones we were interacting with were on convalescent rest. There was a ranger talk scheduled at 8 PM about the human development of the park, but we decided to skip it because it was getting pretty cold outside and a long shuttle bus ride was involved to get to the "Shrine of the Ages."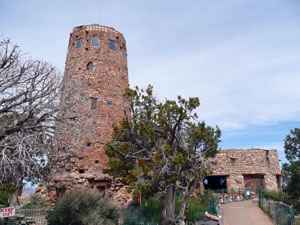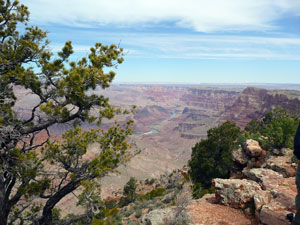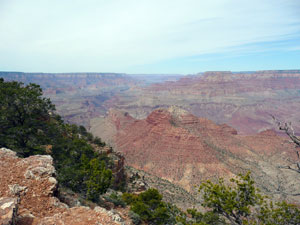 Friday, April 29
We checked out early from the lodge and loaded our luggage into the trailer pulled by one of the vans. We had the morning free for a number of unguided explorations. Nancy and I chose to walk down the Bright Angel Trail, which is the famous descent on which tourists can ride on the mules. (These mule trips are quite expensive and require reservations 13 months in advance. I would be absolutely terrified, although the park has signs assuring us that no fatality has ever occurred.) We found that the mules had preceded us on the trail at morning, leaving calling cards behind. We had no expectations of making very much downward progress toward the river, but established our goal as the 1.5 mile rest house and then back up. As we walked down the switch-back path, we soon realized that it was tough going and our joints began to ache within 15 minutes; going downhill with frequent stair steps exercises muscles that are normally at rest. So we decided to wimp out after about two thirds of a mile and climbed back up, which was surprisingly not much more difficult than the descent. A number of our friends did in fact reach the 1.5 mile mark. But we substituted another rim walk. We took the shuttle bus west to Hopi Point and then walked about 2 miles back, stopping at a number of spectacular overviews. I wanted to get a good look at the entire trail that went rim to rim: the Bright Angel Trail, the river trail, a suspension bridge, Phantom Ranch, and then the ascent through Bright Angel Canyon up to the North Rim. The reason this interested me is that the preceding weekend, by coincidence, some of my friends from Team in Training, including coaches Terry and Cam, did the fabled rim-to-rim-to-rim run, which is 23 miles from the South to the North on those trails and then 23 miles back. Cam told me that he completed it in 16 hours. I think those guys are real maniacs, but have to admire their crazy determination. You could not believe how difficult that run must've been without seeing it with your own eyes.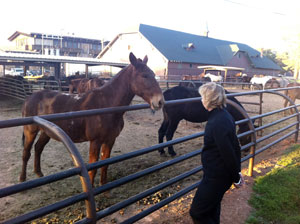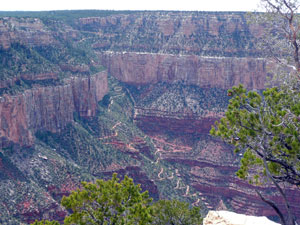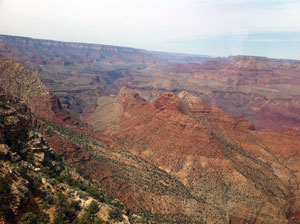 We got on the shuttle bus again and, after what seemed like a dozen stops, got to the park visitor center. This is a large room that consists mostly of maps, but it had a new, very good 20-minute movie about Grand Canyon, narrated by Peter Coyote. (He very studiously avoided saying "the" Grand Canyon.) After lunch we bussed south to Williams, which is a small town from where the tourist train departs to reach the canyon. There was a small museum that we visited on a rest stop. We covered a lot of miles over mostly flat terrain and spotted a few pronghorns along the way. On part of the drive we were on the original route of historic Route 66. In the town of Seligman (which Matt and Stewart pronounced sell-IG-man), they were getting ready for a Route 66 "fun run" and there were numerous classic cars driving around in preparation—lots of Corvettes in particular. The route is also populated with a collection of modern Burma-Shave signs.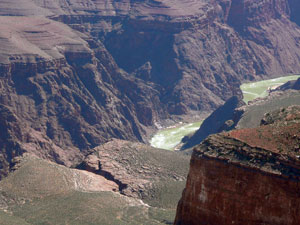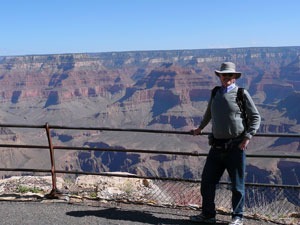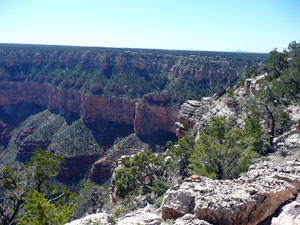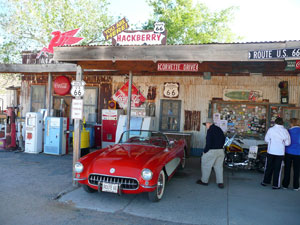 We reached Peach Springs, Arizona, on the Hualapai Indian reservation and checked into the Hualapai Lodge, which is a modest, but modern hotel. For dinner we had some interesting tacos made with fry bread rather than tortillas. Very fattening! Then we had a fascinating talk by Karen Landis, who is a cowboy (she never used the term cowgirl) at a local ranch. Although she is a grandmother and her husband is 83, they and four cowboys manage a ranch of about 3600 beef cattle. She described in great detail the annual work on the range, which is highlighted by the spring branding of the calves and then the fall roundup in which those calves are sold to be transported and fattened up for eventual slaughter two years later. They keep the cows from year to year as long as they keep producing offspring. She delighted in telling us all of the numerous errors that movie westerns have propagated about what cowboys do. For example, cows can be run to death if they go more than 14 miles, so movie scenes about cowboys chasing down cows or cattle drives that go day and night are fanciful. When a stampede starts, the cowboys simply wait until the cows get sick of running. She told us about how the land is managed and how open range laws in Arizona really work. They do not simply cover the requirement to fence your property to keep out unwanted livestock, and in fact barbed wire fences cannot stop a determined cow. They essentially say that livestock has the right-of-way everywhere in the state. If you are out driving and hit a cow, you own it (you have to reimburse the rancher). She recommended that in that case you immediately jump out and cut the cow's throat because otherwise the meat that you just bought will be spoiled. Everyone loved Karen's presentation, which lasted over two hours, but seemed much shorter, generating many, many questions and comments.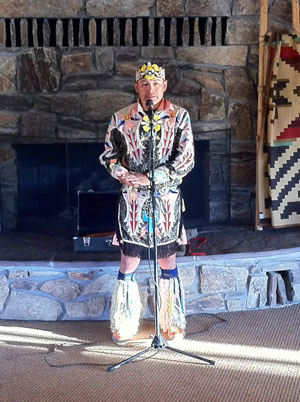 Also that evening there was an Indian in the hotel lobby, for some reason a Navajo rather than a Hualapai, who gave us a demonstration of various Indian flutes, playing some really lovely music. There was supposed to be a demonstration of hoop dancing, but he said that the dancers were on "Indian time" and they did not show up before we had to leave to go to see Karen. Stewart told us some interesting stories about the Hualapai, who were hunter-gatherers that ranged over a 12 million acre area, rather than agriculturally oriented. When they encountered other Indian tribes and white men who were attached to property rights, they considered them to be subhuman.
Saturday, April 30
Another long day on the bus. We headed southwest and stopped briefly in Hackberry, where a small store was making the most out of Route 66 memorabilia and the upcoming fun run. We drove on a 36 mile-long dirt road, which was a little rough on the tushes, and stopped in a wide valley that Stewart and Matt referred to as the "Basin and Range." It is also called the Hualapai Basin. We spent some time discussing the history of the Hualapai and the geology and flora of the region. Then we stopped in an area that had the greatest concentration of Joshua Trees (even more than Joshua Tree National Forest in California), which is actually not a tree but a yucca.
The big Hualapai tourist area is a complex called Grand Canyon West, which is centered around an airport that hosts flights coming in from Las Vegas as well as a fleet of helicopters. We split up into groups of five and boarded helicopters for a flight of about ten minutes. Starting off on the flat, we quickly reached the edge of the canyon and plunged 3000 feet down to the river in an exhilarating ride that had its heart stopping moments. Unfortunately, it was rather difficult for me to take photographs that do this journey justice.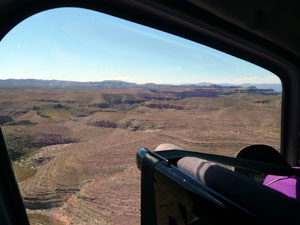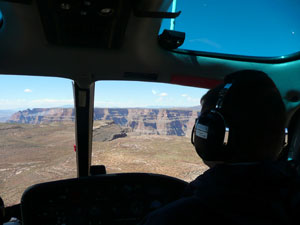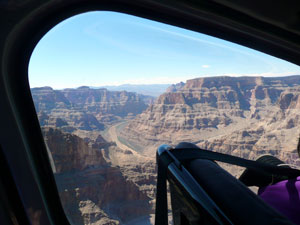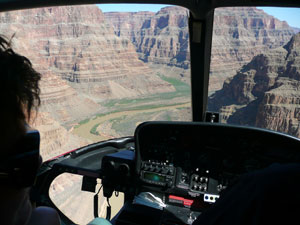 We boarded pontoon boats, about six passengers per boat, and started off downriver. The weather was noticeably hotter at river level than on the rim. We had a Hualapai driver/guide named Chad, but I can't say that he added much to the experience. Fortunately, Stewart was on our boat and provided some commentary. Although this was not a whitewater rafting trip, we experienced a lot of spray because the we were traveling into a rather heavy wind coming up the canyon, so I was glad that I took advice to wear running clothes that dried in the air quickly. In one of the photographs below, you can see a large sheet of plywood that was flapping ominously in the wind, threatening me with decapitation. The trip was over 20 miles. Some of the highlights were seeing the point at which the water rose 30 feet when Lake Mead backed up in the 1990s, and a failed guano mine that was accessed by a stupendous zip line until the line was cut in the 1940s by an Air Force plane flying down the canyon. We saw off in the distance the famous Hualapai Skywalk, which is a glass bridge that is cantilevered over the edge of the canyon—actually a side canyon, not one directly over the Colorado River. It was not something we experienced directly, but a few people told us it was not worth the time or money. It was very dramatic to suddenly leave Grand Canyon as the Colorado Plateau abruptly petered out. We landed at Pierce's Ferry, where we boarded our vans. Dinner was in the town of Meadview, which seemed to consist almost entirely of mobile homes, at a little dive called the Crow's Nest, where I had my first chicken-fried steak in about 30 years. Then it was about a two-hour drive back to the hotel. We got to see quite a number of calves scampering about with their mothers on the way back and tried pretty hard to not think about what they will be doing two years from now.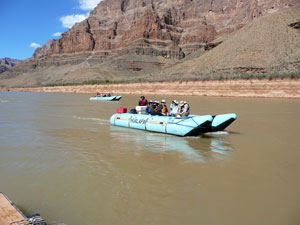 Sunday, May 1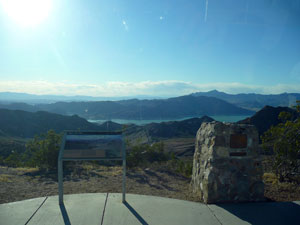 All good things must come to an end and we were up early for the long drive back to Phoenix. We drove through a pretty area called Prescott Valley, but otherwise the drive was unremarkable. We reached the Phoenix airport at about noon and said goodbye to Stewart, Matt, and our newfound friends. All in all, we had a great time on our trip and look forward to future Road Scholar adventures. In fact, we have already booked an August visit to Yellowstone National Park.
I have saved my complaint for the end: AT&T has really crummy wireless service in Arizona! I never got a 3G data signal outside of Phoenix and the entire northwest corner of the state is completely barren of any service at all. Fortunately, the Hualapai Lodge had a pretty decent Wi-Fi signal, so I was not left entirely adrift for our two-night stay there. My other complaint is self-directed: you will see a number of photographs with Stewart here, but somehow I neglected to take a picture of Matt, which should not be interpreted as denigrating his contribution, because I think he did an outstanding job in his commentary throughout the week, particularly on flora and fauna issues, but he is no geology slouch either. Here is Matt's photography website. Stewart has a website, too.