Hal and Nancy's "Journey through New Zealand" with Smithsonian Journeys, February 2020, Part 2
This is my (Hal's) report of Hal and Nancy's "Journey through New Zealand," a tour arranged with Smithsonian Journeys. (The actual tour company delivering for Smithsonian is Odysseys Unlimited.) I had been to New Zealand on two occasions for business trips, over 20 years ago, but this is Nancy's first. Note: I sometimes refer to NZD prices, which as of this week are $1 NZD = $0.64 USD.
This is a lengthy report, so it is divided into two parts:
Part 2: South Island (this page)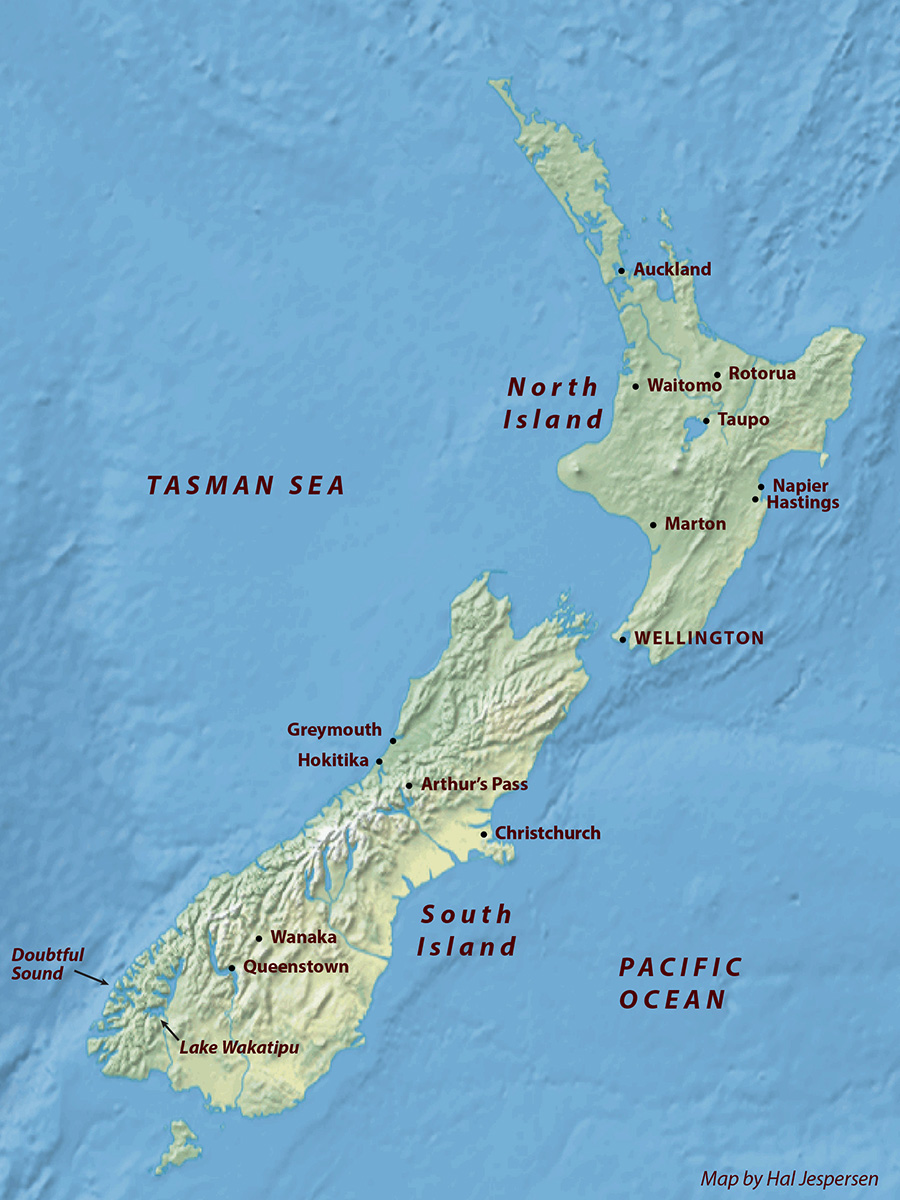 Saturday, February 22 — Christchurch
We were up early for an 8:30 flight to Christchurch on Air New Zealand. The Wellington airport is pretty small, but quite lively with many food stands and two gigantic LOTR eagles hanging from the ceiling. To our surprise, this domestic-only flight required no security checks. Although Wellington has notorious high winds, our takeoff and entire one-hour flight were completely smooth. The legroom in the turboprop was pretty pathetic, though. We left our great bus driver, Ian, on the north island, so we got a new guy for one day only, and it was a smaller bus than before. We drove around parts of the town for orientation. The road from the airport is a leafy modern suburb, quite attractive. Downtown we saw the effects of the 2010/2011 earthquakes—some new buildings, some pretty decrepit with artificial supports, and a number of large empty lots that were the sites of torn-down buildings.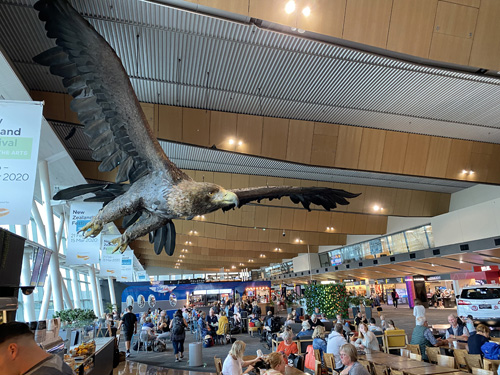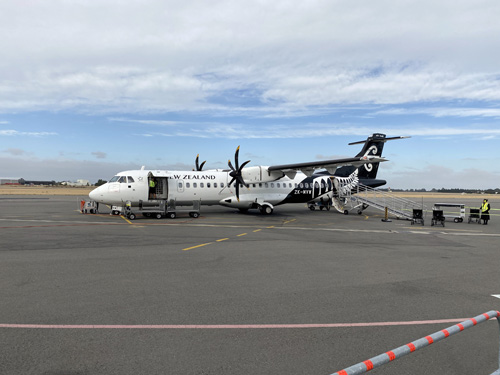 The main cathedral downtown was a complete wreck, so we visited the transitory, "Cardboard Cathedral," which was built in eight months from the design of a Japanese architect, including a number of elements that are literally cardboard. There are also shipping containers as part of the base. Across the street is a memorial called 185 Empty Chairs, which represent the people killed in 2011. By coincidence, today is the ninth anniversary of that quake. The city was unprepared because it happened on a fault line that geologists didn't know existed.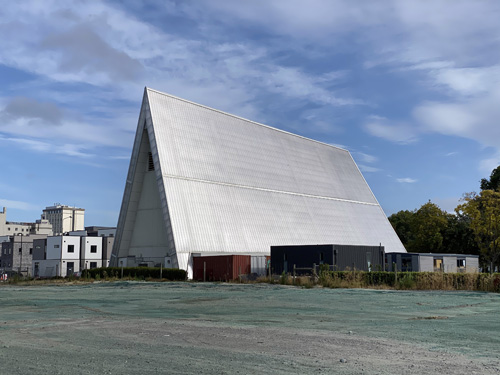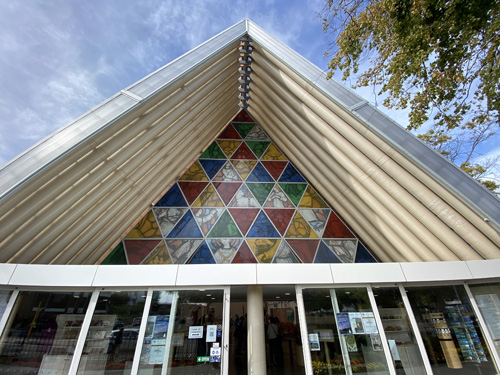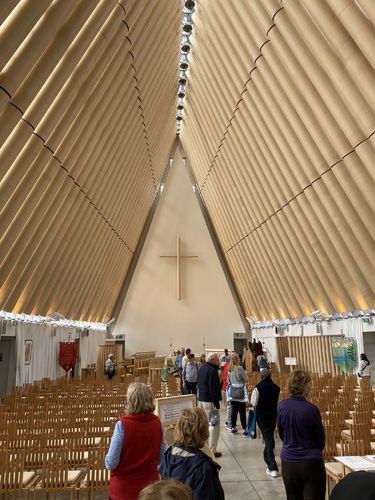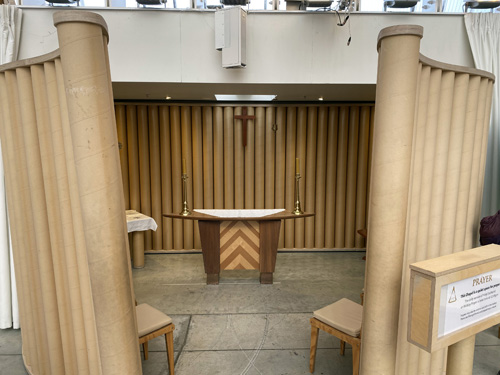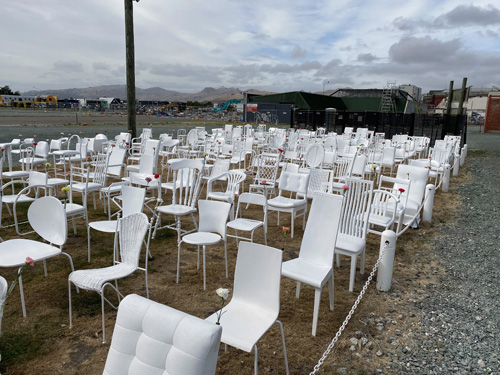 Our itinerary for today called for us to eat on our own, then rejoin the group for a tour of the Botanical Gardens, but we decided to venture off instead. We spent some time in the Canterbury Museum, which was so-so, a bit dated. One interesting exhibit featured a prehistoric parrot, over a meter tall, that they nicknamed Squawkzilla. Lunch was on New Regent Street, a short stretch with funky shops and cafes. Then we visited Quake City, a small museum about the quakes. It had explanations of earthquakes and liquefaction, including some good videos and hands-on demonstrations. It also covered history and told the stories of people who experienced the quakes and helped recover from them. One interesting video was about a damaged high rise hotel and how they managed to take it apart floor by floor. Quite worthwhile. Then we walked around the modern shopping district, visited Remembrance Bridge over the pretty Avon River, and eventually checked in to our hotel, the Rydges.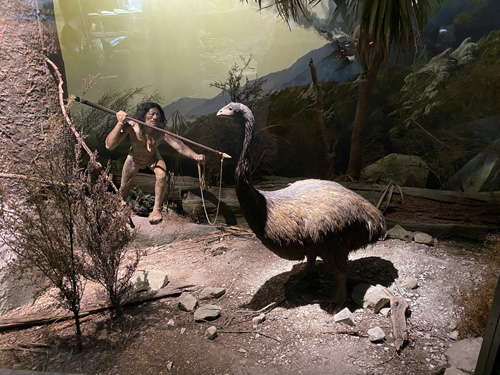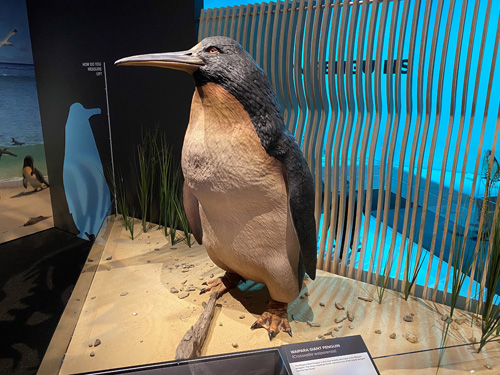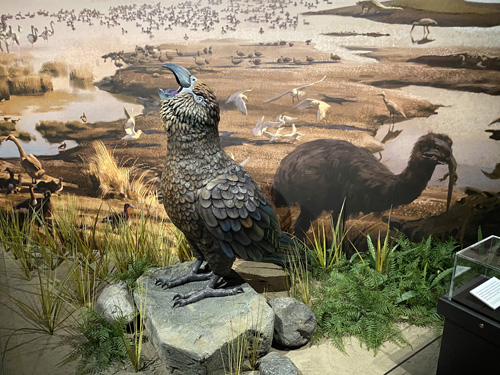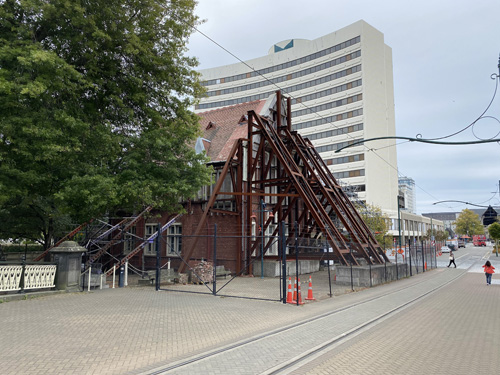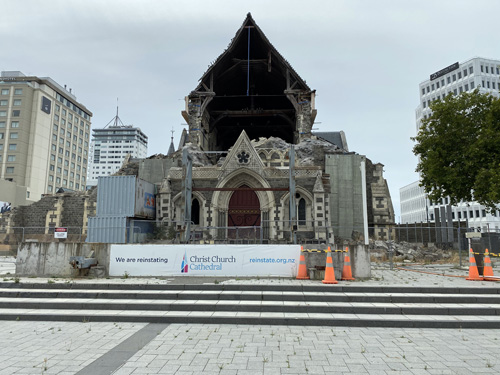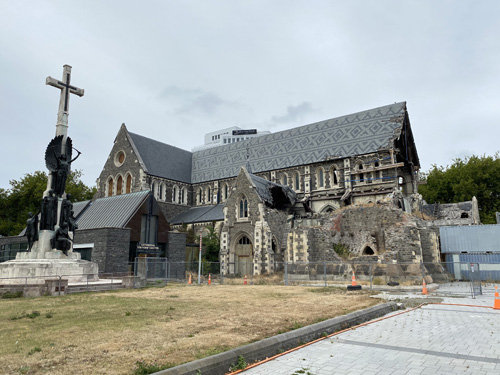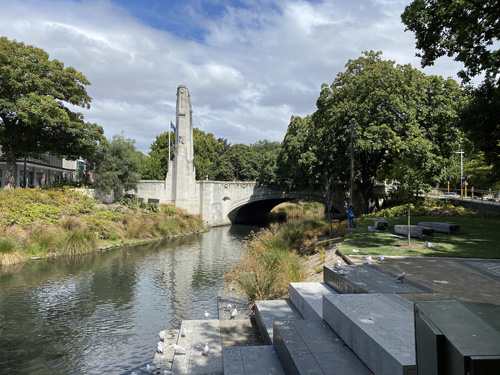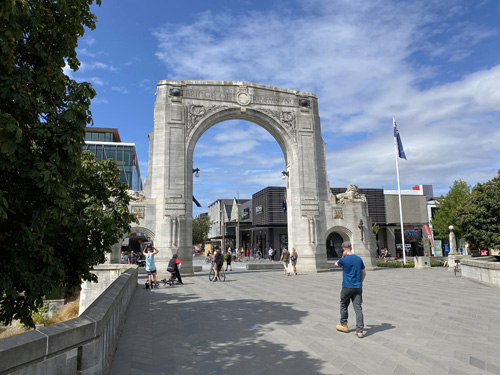 At 5:30 we had drinks and Carola's third lecture, which today was about glaciers. Dinner was in the hotel restaurant, Bloody Mary's, and once again, it was excellent, including a venison tartar, a first for me.
Sunday, February 23 — to Franz Josef
We took the 8:20 KiwiRail "TranzAlpine" train to Arthur's Pass in the Southern Alps. The first hour was a very gentle rise across the (mostly) farmlands of the Canterbury Plain, with a view of the snow capped Alps in the distance. It's a narrow gauge (3.5-foot) railroad, as are all in NZ. The second and third hours passed through more rigorous terrain, following mostly the course of the Waimakariri River, with lots of tunnels and viaducts. Sadly, it's not easy getting good photos from the car windows and the open-air observatory car was cold and windy (and crowded). Every time something interesting passed by, trees or tunnels got in the way. There was an exceptionally detailed audio narration on earphones. One tidbit from that is that NZ's sheep population has diminished over the past 25 years and cattle are the biggest farm industry now. I knew we hadn't seen as many sheep as I had expected. In the town of Cass, we saw a view that was captured in a famous iconic painting by Rita Angus.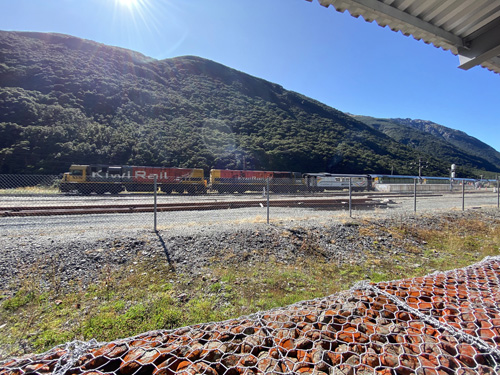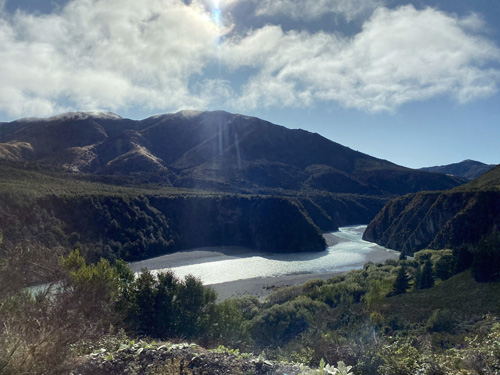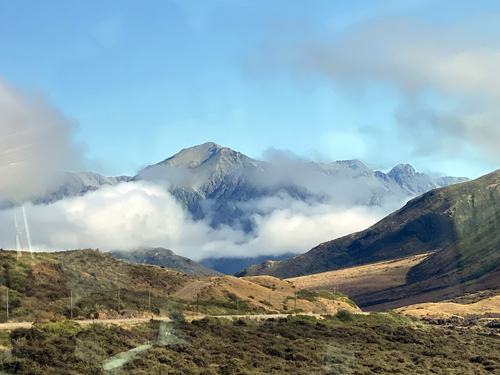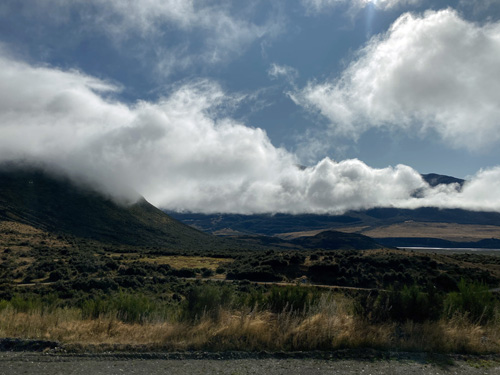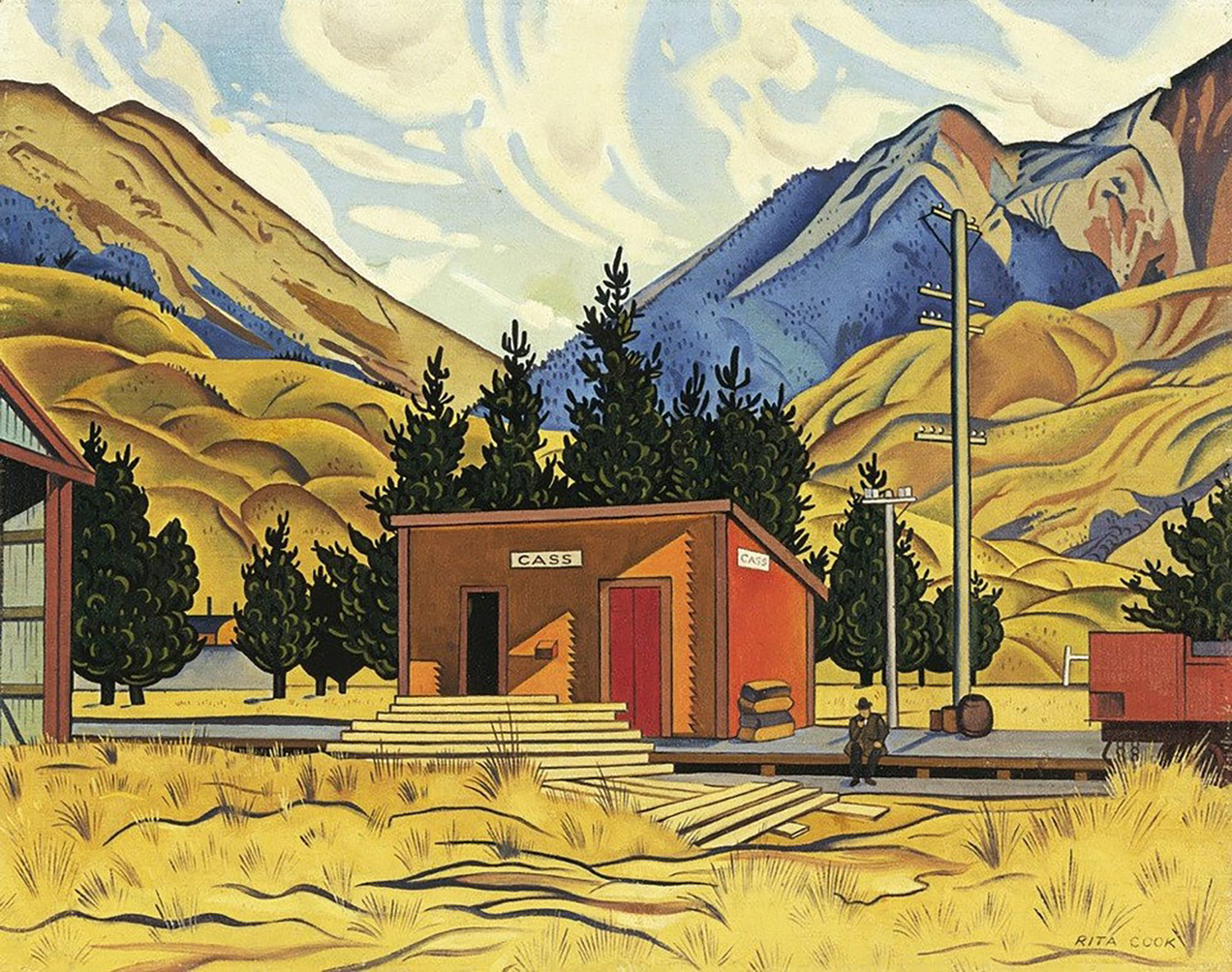 We disembarked at Arthur's Pass, around 2,400 feet high, and approximately where the "main divide" (like the US continental divide) was located; the train continued to Greymouth on the coast, but that was a little out of our way, so we met our bus at the station and proceeded downhill, following the Otira River. There was one awesome viaduct that went down a long way at a 16% slope. At the bottom was a monument to Arthur Dudley, the eponym for the Pass. As we reached the lower altitudes, the valley floor widened and flattened, which Carola said was a way you can identify former glacier paths. And she also informed us when we had moved off of the Pacific tectonic plate and onto the Australian.
We reached the west coast and stopped for lunch on our own and exploration of Hokitika, a town with a beach and lots of tourist shops. Pounamu (greenstone or jade) is a big draw here, as are the Merino/Possum wool merchandise shops. The possums here are a completely different animal from the US possum, with a soft bushy tail, but they are also dangerous predators to Kiwi eggs and chicks. In the town of Ross down the coast, we stopped at a bar, the Roddy Nugget Café, where Yvonne treated us to local beers and an unusual sandwich called a whitebait patty, a thin mass of smelt crunched together with egg in a frying pan, served on folded white bread. Quite yummy, actually. The owner, a friend of Yvonne's, showed us his big garage filled with old US cars and dozens of old motorcycles in various stages of restoration. We finally arrived in Franz Josef and checked in to the Scenic Hotel—more like a motel, really—followed by a dinner in the hotel restaurant. Not the best meal or service of the trip so far.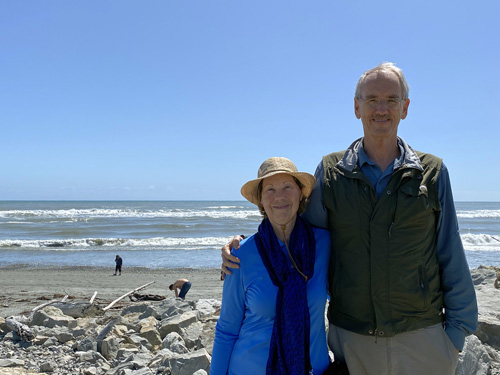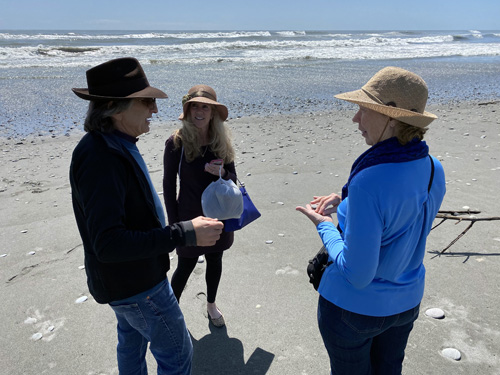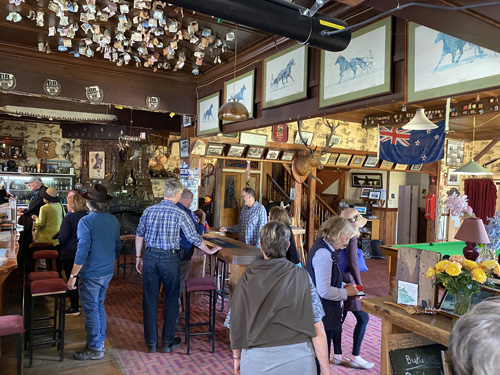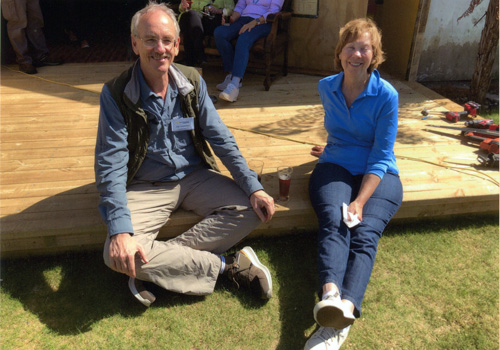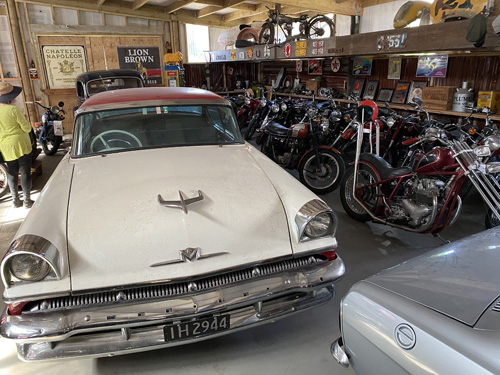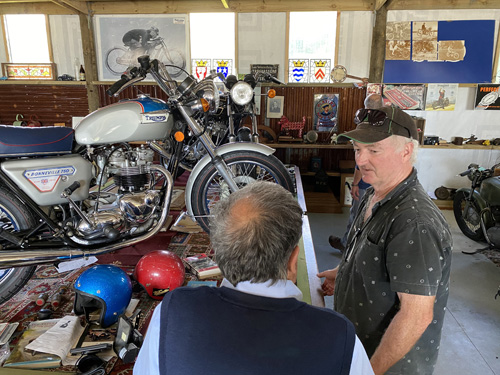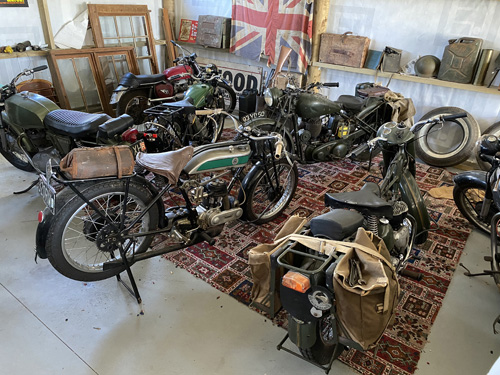 Monday, February 24 — Franz Josef
In the previous week, torrential rains here destroyed some of the paths necessary for a planned guided walk through a valley to see the Franz Josef glacier, named after the emperor of Austria, so our guided tour appointment was canceled. We bused over there anyway and Yvonne tried to skirt past restrictions about unsanctioned groups touring, but a lady ranger nabbed her and she had to stay at the bus while the rest of us proceeded. Carola did some commentary that was helpful when she was nearby. It looks as if a full guided walk went about 2 km, but at 1 km there was a barrier today. We saw the glacier way up at the top of the valley, but the overcast was low, so not all was visible; some of our party lingered about 20 minutes longer than we did and saw the overcast lift. We chose not to violate the barrier because of ample warnings about flash flooding and other perils, but we did notice some scofflaws well past it.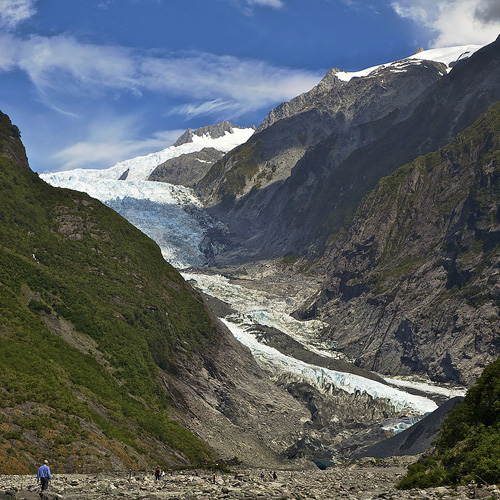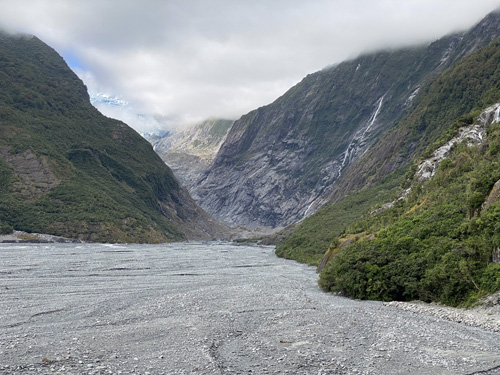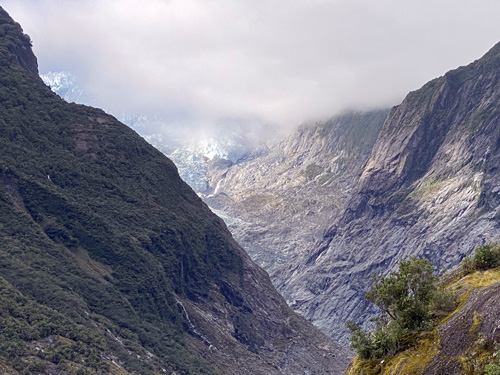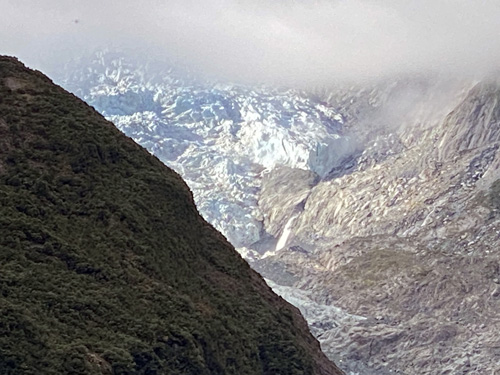 We returned and crossed the Waiho River on a narrow Bailey Bridge that had been erected by the NZ Army in 17 days after its predecessor had been wiped out in a flood. The braided river was milky white, which confirmed that it emerged from the snout of the glacier. (The Kiwis say glay-see-uh and we heard it enough that it's difficult not to say it that way now.) We drove back to town and stopped at the Alpine Adventure Center, where we saw an excellent movie on a large screen, Westland Wonderland, which featured life on the sparsely populated West Coast (31,000 "Coasters") and also lots of helicopter photography of the Alps and glaciers. This was all an effective commercial for the many helicopter companies here, offering 20–50 minute tours for 250–400 NZD. All of us decided that the movie was a good substitute, particularly because of the dreary weather.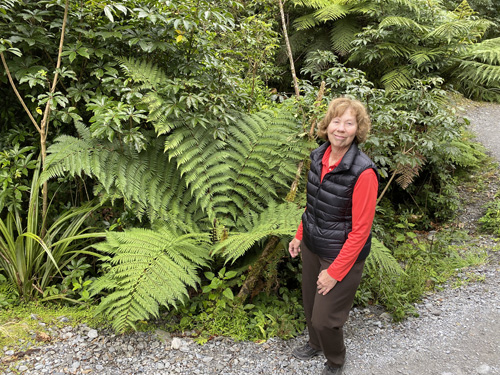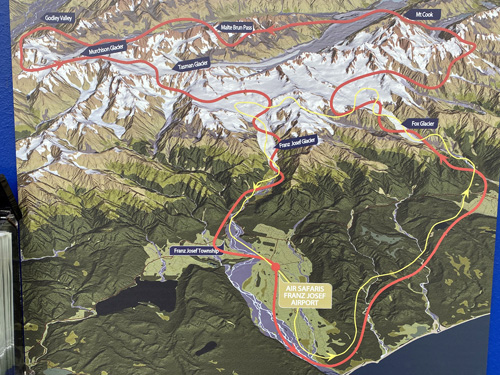 We had the day free and lunch on own. Yvonne recommended Full of Beans Café, which I assumed was a baked beans place, but it turned out to have excellent coffee instead. Nancy and I had a late second breakfast, including an outstanding breakfast burrito. Then we visited the West Coast Wildlife Centre, for which our attendance had been pre-paid. (At 39 NZD for adults, what we got would have been disappointing, as you can see by reading TripAdvisor reviews.) They have a conservation effort for the rare species of Kiwi called the Rowis, which are found only in the nearby Okarito Forrest. The Brown Kiwis we saw in the North Island number about 24,000, but the Rowis only 500. We saw their single Rowi, a four-month old female, up close in their darkened exhibit room. There were also videos about the birds. The other part of the Centre is an exhibit about glaciers and an enclosure with a Tuatara, who stayed frozen in exactly the same posture for at least five minutes. We walked on a park trail called Terrace Walk, admiring the dense rainforest and its beautiful ferns. We heard one bird, but otherwise saw not a single fauna—even a bug. Our walkabout was interrupted by a piercing air raid siren, which we thought might be a flash flood warning or some dire event, but it turned out to be a call to the volunteer fire department and we watched three volunteers rush in and dispatch their single truck. No idea where they were headed.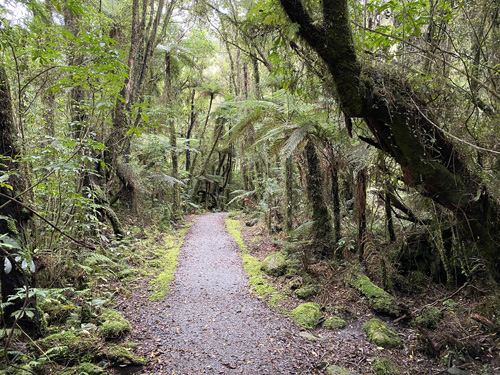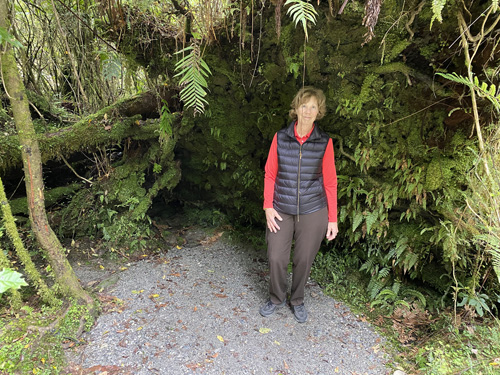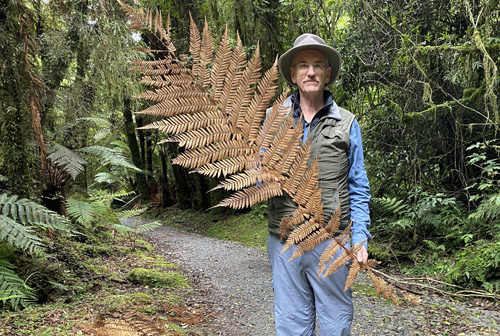 At 5:30 we had our final Carola lecture, this time about ice ages. Although quite technical at times, she made the following broad points: we are currently in an ice age, but in an "interglacial period;" Earth precession, orbital changes, and Earth wobbles will cycle about every 100,000 years to bring glaciers back; the ice age process started this time because plate tectonics moved most of the continents into the northern hemisphere and changed lots of ocean interactions. Dinner was in the hotel again, better than last night's.
Tuesday, February 25 — to Queenstown
As we boarded our bus at 7:30, we were delighted to see a kea—an alpine parrot that is known to kill sheep—perched on our roof, calling keee-aahh! We started a long day of riding. It is amazing how many two-lane roads here are serviced by numerous one-lane bridges. And no cellphone coverage for dozens and dozens of miles. While we rode, Yvonne filled us in on NZ forests, ferns, the national medical system and accidence insurance, the economy, and import/export industries. It was reasonable weather on the coast, a pretty ride with occasional sights of the Tasman Sea. We stopped at a salmon farm's little café for a rest stop. We stopped briefly for a photo at Knight's Point (named after a construction worker's dog) where the coast road stopped until 1965, when the continuing road through Haast Pass was opened. The Haast River Bridge is a 2,100-ft single laner.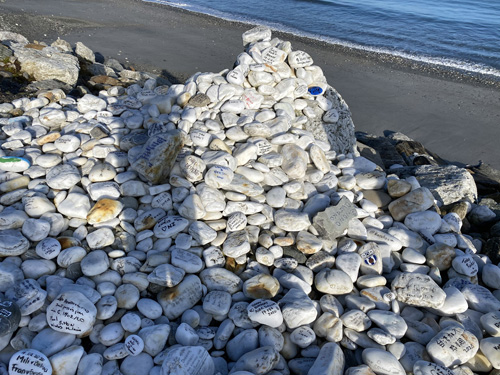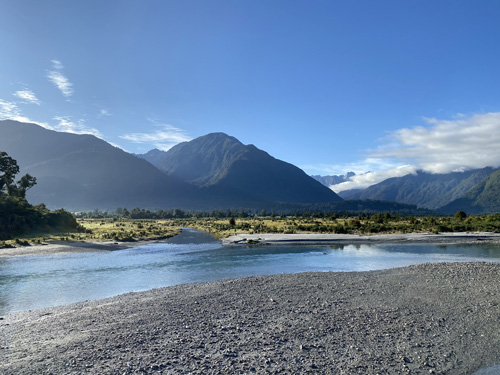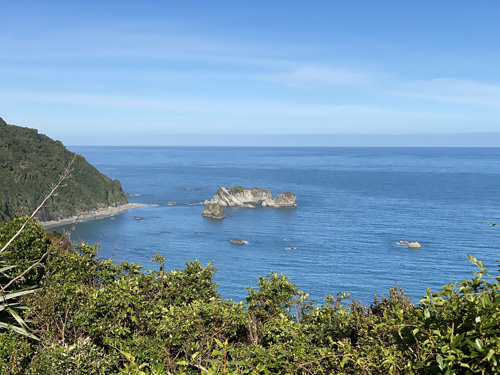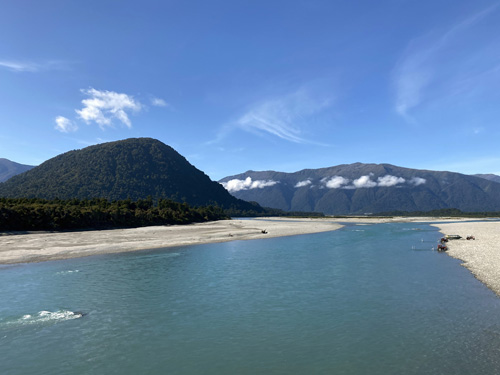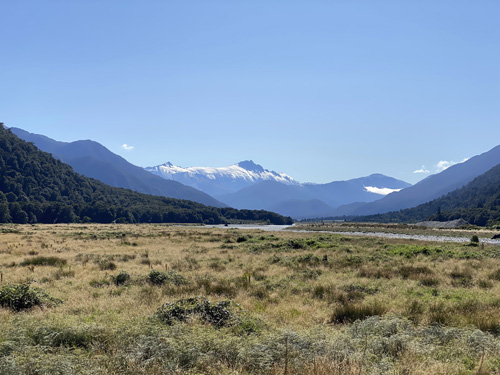 We drove through some very steep and rugged mountains, marveling at the bicyclists who were doing the same. Finally we crossed the Alps and the scenery changed completely—the eastern side gets very little rain, so it looks like California instead of tropical rain forests. At Makarora, we stopped for lunch in the Country Café, along with five other big buses. We drove on the edges of two large lakes, Wanaka ("wanna-ka") and Hawea, both beautiful but oddly void of any human activity. We spent a hour in the town of Wanaka, which is quite modern and pretty, somewhat reminiscent to us of Lake Tahoe. Celebrities including Peter Thiel and Shania Twain own property here. We shopped a little, had an ice cream, and walked on the beach.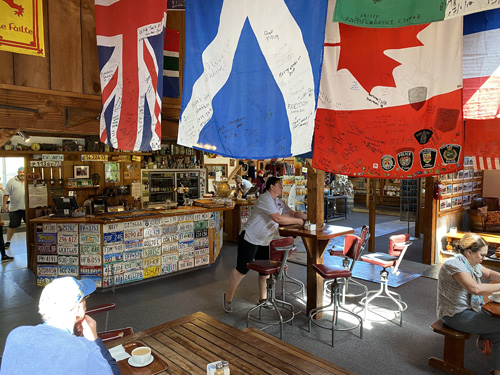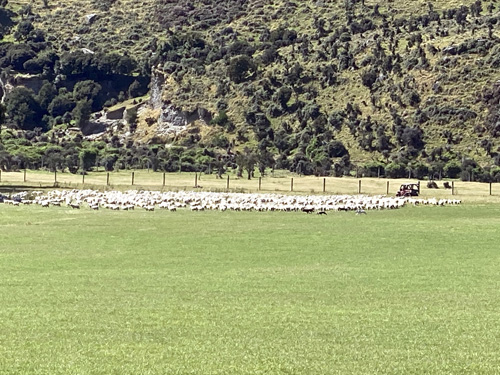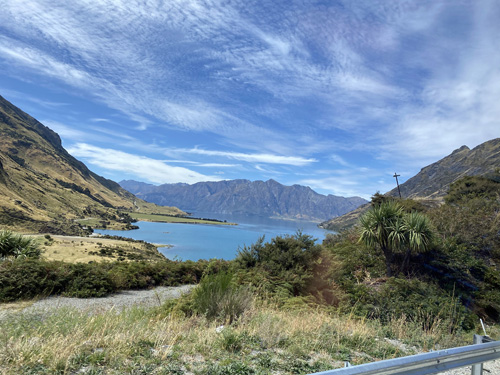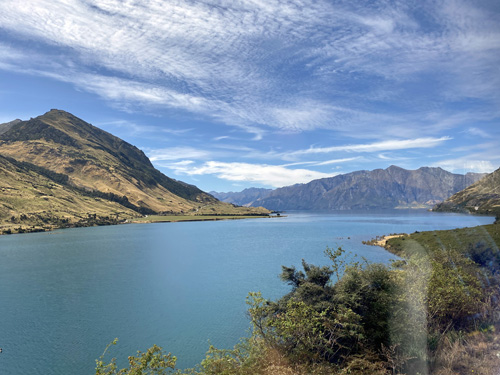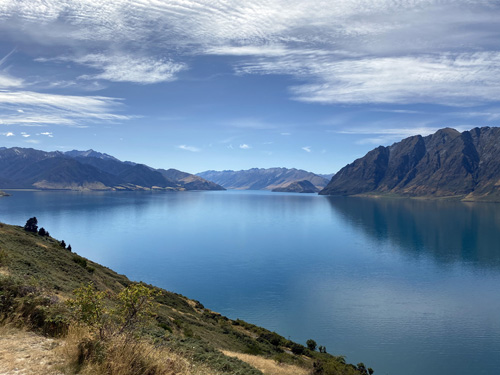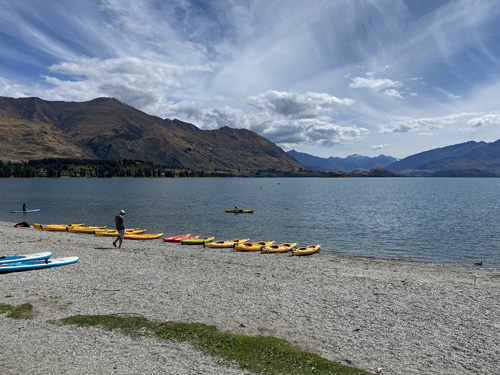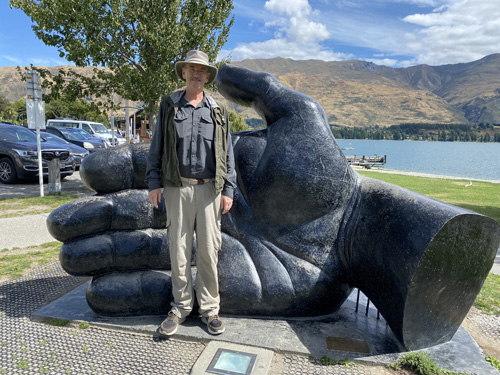 Near the town of Cromwell, just east of Lake Dunstan, we stopped for a tour and tasting at Aurum Winery in the Central Otago district. Lucie, the young winemaker who was trained in Dijon, took us though a vineyard that was covered in netting to keep birds out and then served us three wines under a giant oak tree. We stopped briefly at Mrs Jones's Fruit Stall for a few samples of her fresh fruit. The big draw here is Manuka honey, which is supposed to have medicinal healing qualities. We got a tiny taste, but it is way expensive—one small jar I saw was 190 NZD! We continued though Arrowtown, a ritzy suburb of Queenstown in which gold was discovered in 1862, and then to Queenstown itself at 6 pm, where we checked into our hotel, another Millennium. The town is picturesque, surrounded closely by dramatic mountains. Its sister city is Aspen, CO, and that's probably a good example of what it's like. Dinner in the hotel was very nice.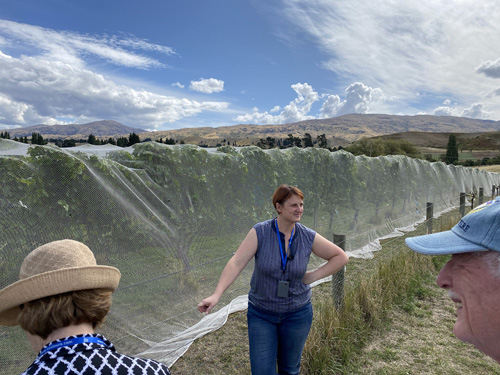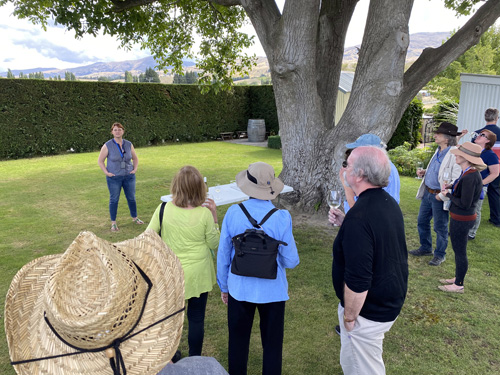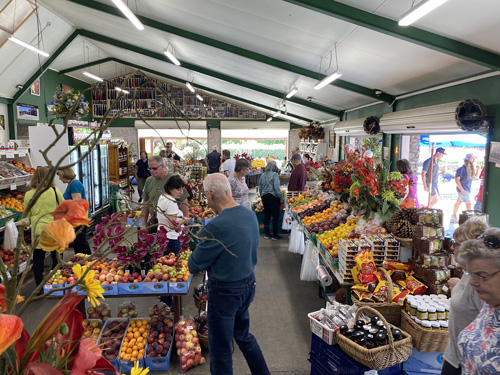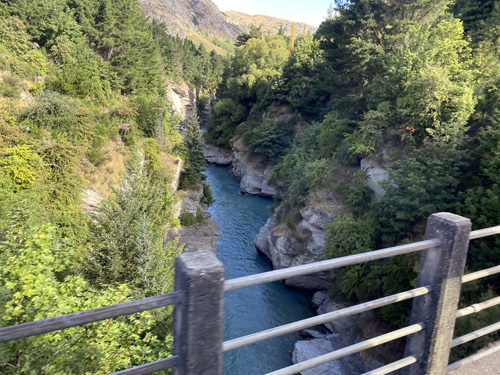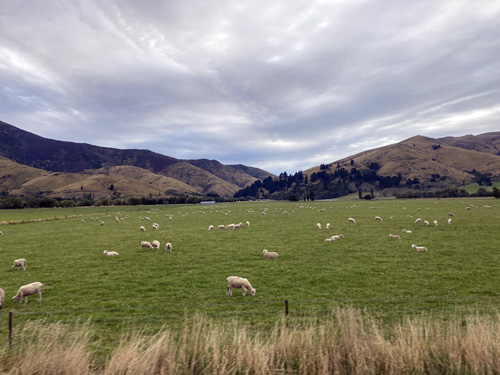 Wednesday, February 26 — Doubtful Sound
Up early again for a long day. We drove along Lake Wakatipu through an area called Devils Staircase. Then it opened up to farmland and today was really sheep-arama; we certainly saw 100,000 grazing peacefully, and possibly a quarter million. Yvonne told us lots about the sheep and deer farming practices and Carola pointed out ancient glacial features. The town of Manapouri was 2.5 hours away, where we boarded a ferry to cross Lake Manapouri. At the end of West Arm, we saw the largest hydro station in NZ, but only a sliver because the works are actually 176 m underground. It generates 860 MW, which would be enough for the entire South Island, but 85% is allocated to a big aluminum smelter owned by an Australian company. Here we boarded buses to climb over Willow Pass and reach Doubtful Sound. It's a gravel road that cost 80 NZD/m2 and one stretch is a 20% downslope. The climate was once again rain forest. While the dry side of the mountain gets 2–3 meters of rain per year, the wet side gets 8–9. In the "town" of Deep Cove, we boarded another small boat, the Patea Explorer.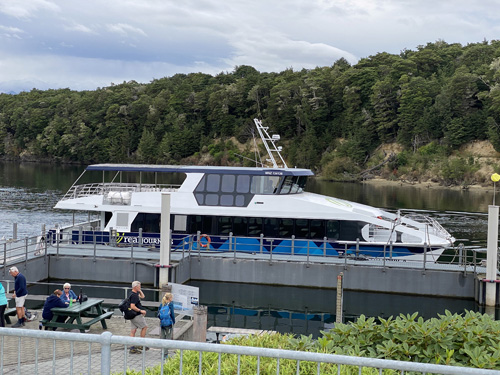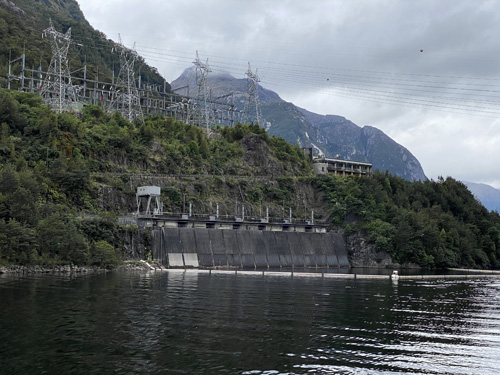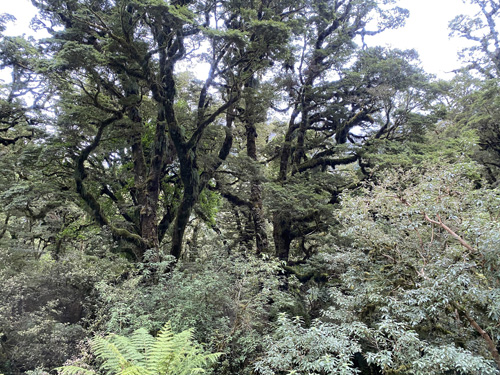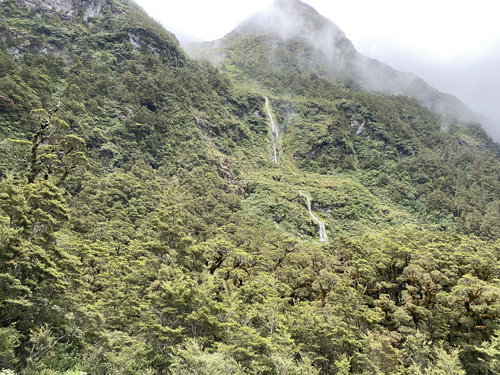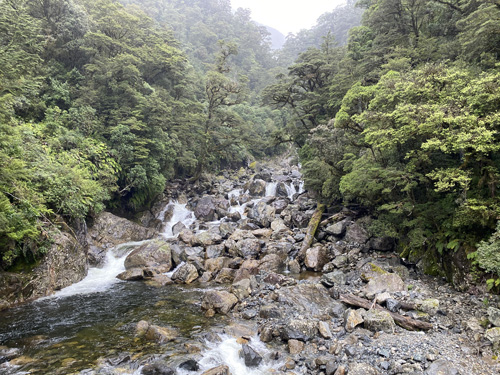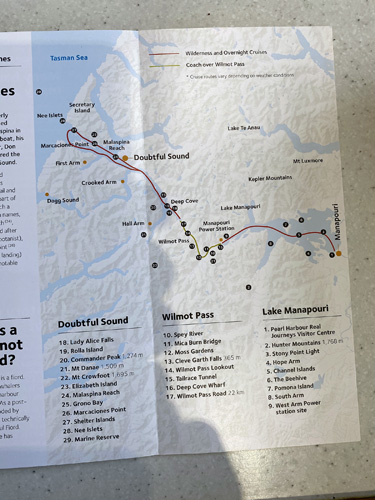 Doubtful Sound is actually a fiord, carved by a glacier and then filled with sea water as the sea rose, and this area is part of the Fiordland National Park, a World Heritage Site. We cruised past dramatic cliffs, all covered with vegetation. As we reached the Tasman Sea, it was calm enough that our captain took us out for a loop so that we could see what Captain Cook saw from Endeavor in 1769. We also saw fur seals, dolphins, albatrosses, and a tiny glimpse of some crested penguins swimming nearby. In Crooked Arm, the engine shut off and all the passengers observed about three minutes of total silence, contemplating nature, befitting the Maori name for the area, Sound of Silence. As we neared the end, they announced one of the shuttle buses had broken down, so we got an extra 30 minutes of cruising as a replacement drove over the mountain. As we reached Wilmot Pass again, the weather had cleared enough to give us a dramatic view of the Sound. Then back across the first lake.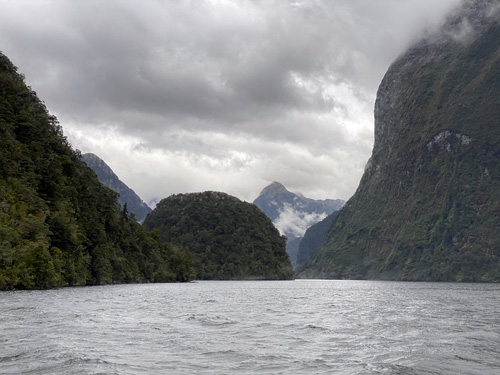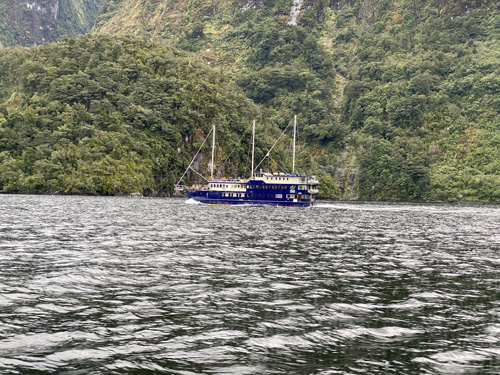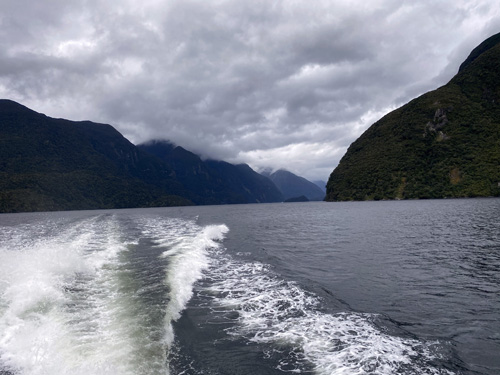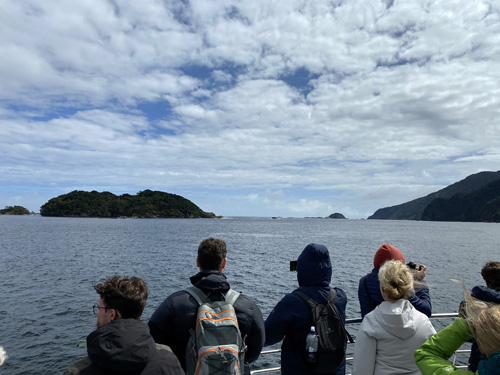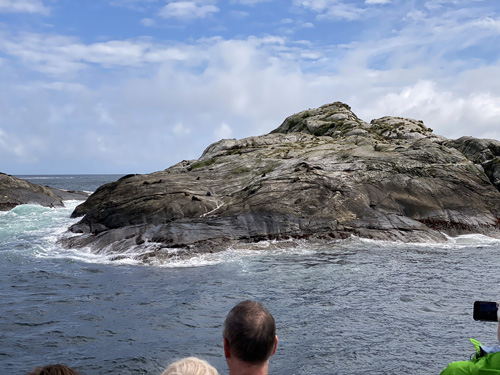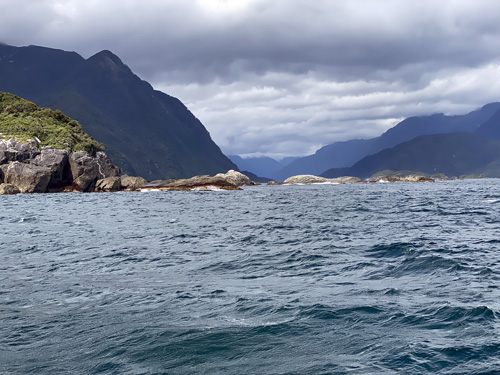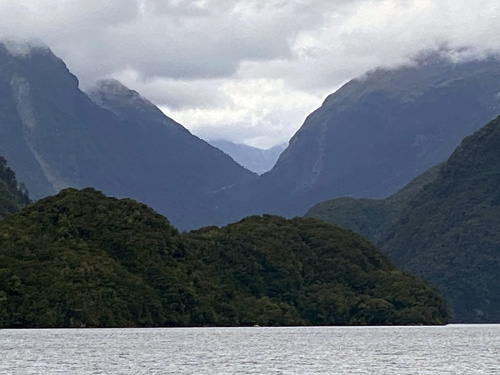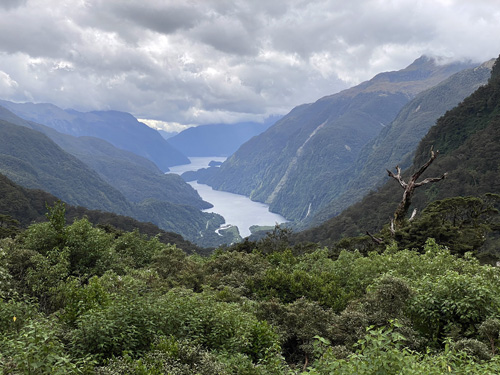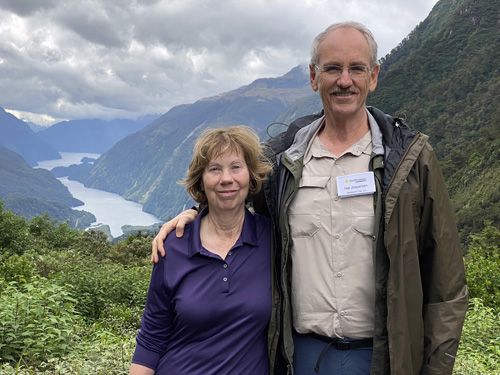 On the bus ride back, we watched the movie The World's Fastest Indian, about Burt Munro, the Kiwi who rode a 1920s motorcycle to a world record speed in 1967. Quite entertaining, very warm-hearted. We got back to Queenstown about 8:30 and most of our group ate in the hotel, but Nancy and I walked downtown, which was really hopping with a vibrant nightlife of mostly young, athletic people. We had Malaysian street food at Madame Woo's, which was excellent.
Thursday, February 27 — Queenstown
We slept in this morning and met the group at 9:30 for a cruise on Lake Wakatipu. TSS Earnslaw is a coal-fired steamer from 1912, the same year as Titanic, as Yvonne helpfully pointed out. (TSS = twin screw steamer.) It was originally mostly a freighter and could carry up to 300 sheep. We had a nice ride across and down the lake, but ran into a rainbow and then really strong winds. We docked at Walter's Peak Station and Nancy and I got out; we arranged for a special excursion at our own expense; the rest of our group steamed back to Queenstown and had all afternoon free. At the station (the NZ term for a sheep ranch) we watched a shearing and dog demo, which were similar to what we saw in Marton, although the two dogs did a much more intricate maneuver getting the half dozen sheep down from a steep ridge without much human direction at all. We had been led to believe that we could interact with and feed a variety of animals, including sheep, alpacas, donkeys, etc, but this was overstated and we got somewhat close, but no cigar. I called out the secret sheep password from the movie Babe—baa, ram, ewe, etc—but it didn't help to interest the sheep.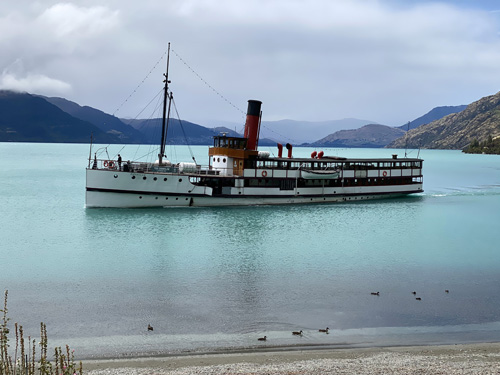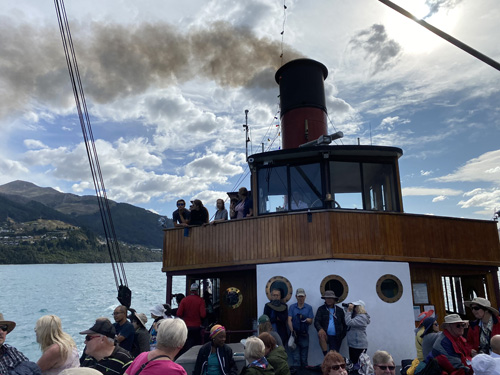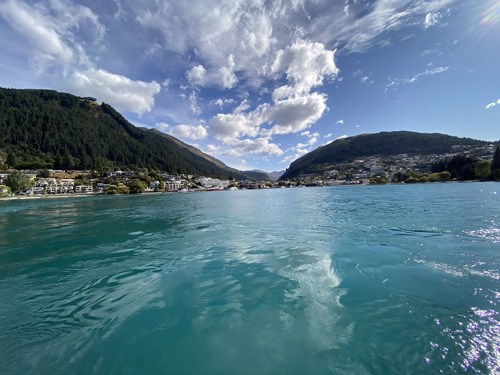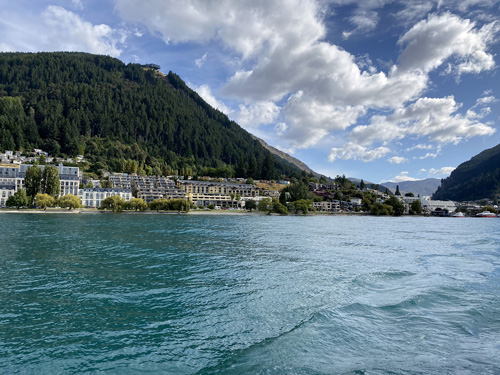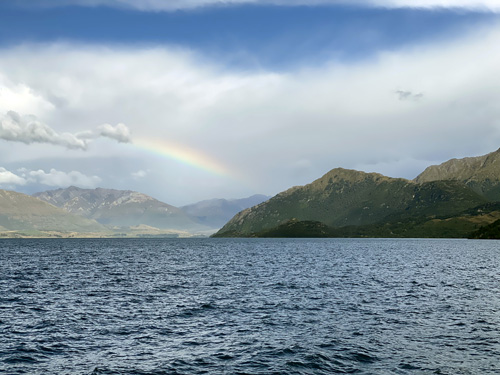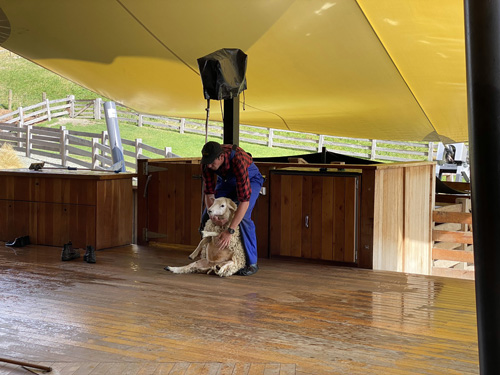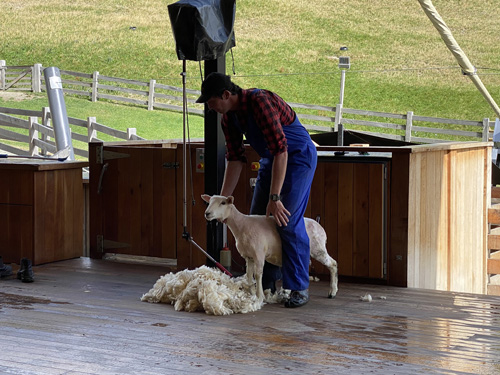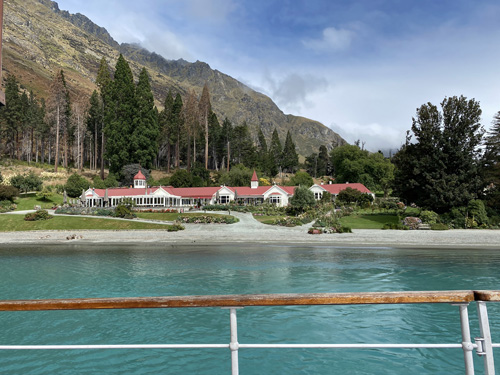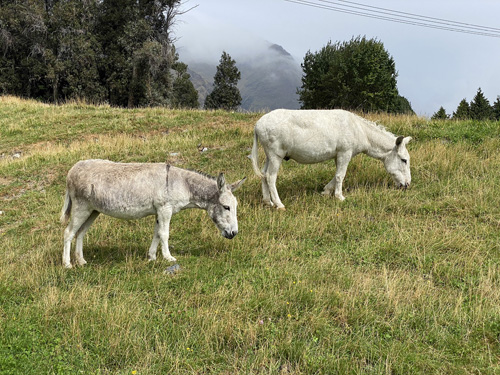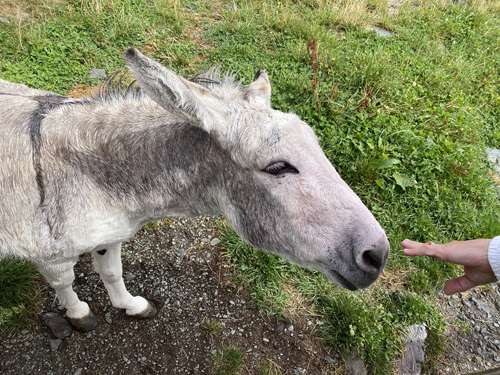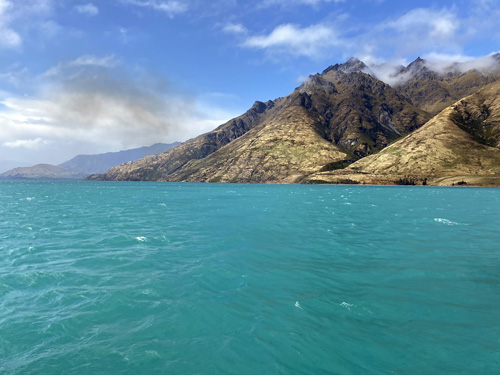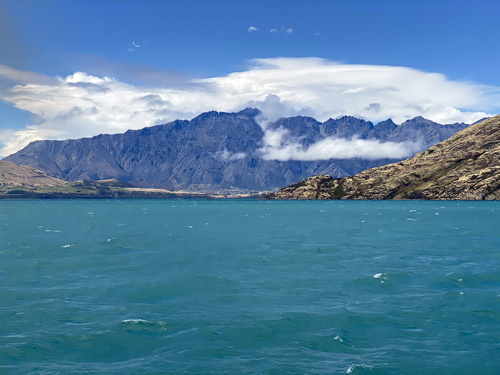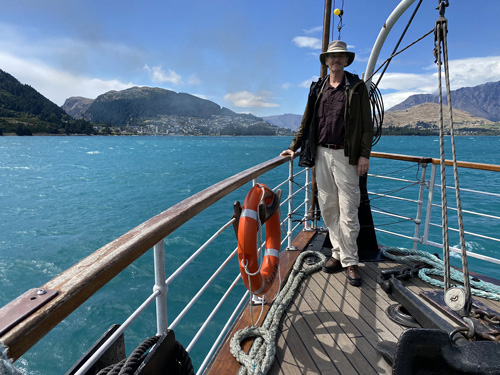 The highlight of the visit was a really excellent barbecue buffet, with lots of good meats and fresh herbs from their garden. We enjoyed ourselves despite rainy weather, but the weather crimped our plan because the boat that was supposed to pick us up was delayed in the harbor for 90 minutes. But we had a sunny ride back. There was a big flock of ducks on the dock and we paid 2 NZD for a bag of seeds to feed them, probably over a hundred of them. We shopped around downtown, bought nothing besides gelato, and returned to the hotel to rest up.
Our final group dinner was downtown in a restaurant named The Fat Lamb, which finished a long line of good to excellent meals. One of our group had a birthday and Yvonne had the restaurant prepare a special Pavlova cake. She also distributed printed photos she took of the group and of us as a couple, which was a very nice touch. So a good time was had by all. Yvonne and Carola did outstanding jobs these two weeks and this was one of our all-time best trips. We will definitely consider future Smithsonian Journeys.
Friday, February 28 — Auckland and Home
We flew a 9:30 NZ Air to Auckland and had a really long layover—12 hours!—so we decided to check our bags into storage and drive off. (The rest of the group left with Yvonne after lunch and I believe they had earlier US flights than we did.) The international terminal has luggage storage for a fee, but we were initially turned away because they were full, but we wheedled and gave the lady a healthy tip and she found a spot. We Ubered to the Auckland Zoo for the afternoon. It's a nice small zoo with healthy looking animals and mostly good living conditions. There's a very large area right in the middle that is undergoing construction of new facilities, so it will probably be even better in the future. I didn't bother much with photos of African and other typical zoo animals, since this side trip was not in the regular itinerary, but we were quite interested in a zookeeper talk about their kea parrots, and others about their lions, lemurs, and small penguins. They have really excellent aviaries and one section that was just like the rain forest down on the south coast, except it was pretty warm and insects were buzzing all around. At closing time we Ubered again, about 15 minutes downtown and walked around the harbor, admiring yachts and the vibrant restaurant scene.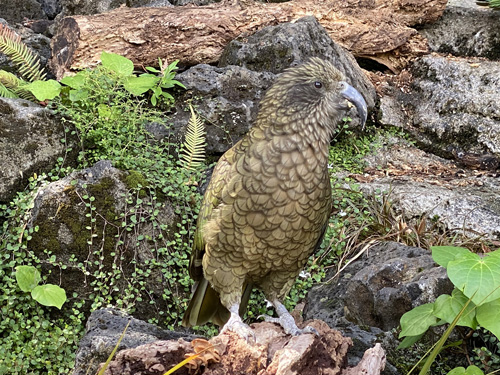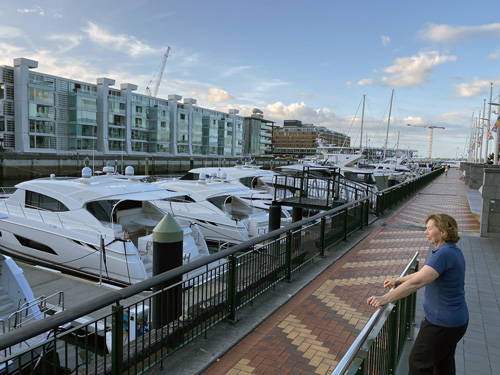 Then back to the airport with only a three hour wait for our flight. Hawaiian Airlines' business class seat on their larger A330 plane is comfortable and the two outside aisle seats in row 1 (1B, 1H) actually accommodate men taller than 6'4". In Honolulu for a five-hour layover, we marveled at how incoherently the terminals are laid out. People with face masks are everywhere. The return trip was a little stressful for me because I contracted a slight cold three days earlier and you never know who might be quarantined if they don't like your cough. (Postscript: This "slight cold" has persisted for three weeks! Nancy picked it up after we returned. Later in the year, we both suspected that we might have had early mild versions of the coronavirus, COVID-19. However, Hal had an antibody test in early 2021 that showed that was not the case.)
General Observations
Kiwis are just as friendly as I remembered. The country has vast expanses of very rural areas with little tourist infrastructure, but the cities are quite cosmopolitan.
We saw virtually no fat Kiwis (other than the birds, of course). Despite this good example, I was able to gain 6 pounds on the trip.
We had a Ginger beer at an early lunch and kept ordering the whole trip. Some brands are quite spicy with strong ginger flavors, much more interesting that US ginger ale. It seems ginger beer is classified in the US as a mixer. We have best enjoyed the Fever Tree and Diet Bundaberg brands.
An informal rule for our group was no discussion of US politics. What a delightful vacation from the daily rancor of 2020!