Hal and Nancy's "Journey through New Zealand" with Smithsonian Journeys, February 2020
This is my (Hal's) report of Hal and Nancy's "Journey through New Zealand," a tour arranged with Smithsonian Journeys. (The actual tour company delivering for Smithsonian is Odysseys Unlimited.) I had been to New Zealand on two occasions for business trips, over 20 years ago, but this is Nancy's first. Note: I sometimes refer to NZD prices, which as of this week are $1 NZD = $0.64 USD.
I took a few short videos on the trip and have merged them together into a single YouTube video. (Someone looking only at the video will consider this selection to be totally incoherent. Sorry about that, but the small clips of serendipitous things were too troublesome to upload individually.)
This is a lengthy report, so it is divided into two parts:
Part 1: North Island (this page)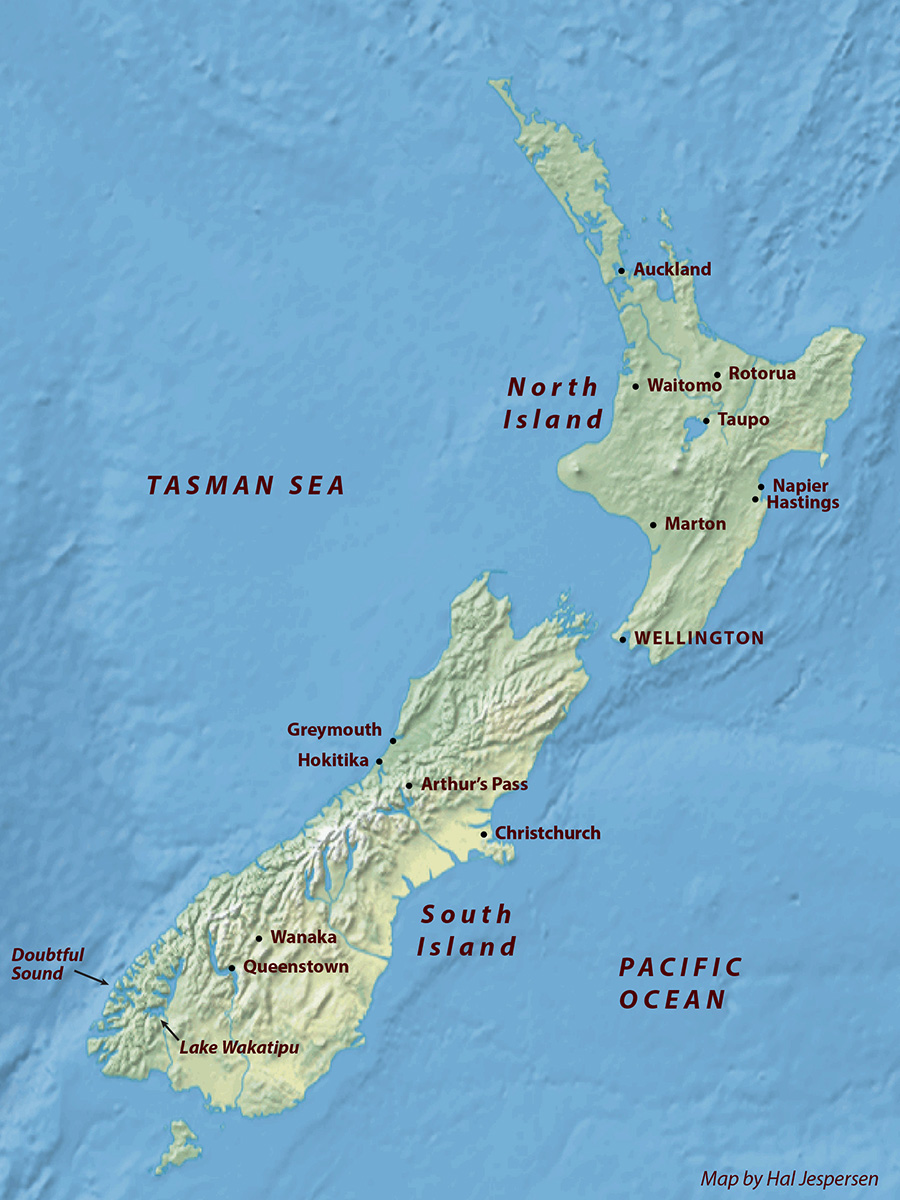 Thursday/Friday, February 13/14 — to Auckland
We flew on Hawaiian Airlines from SFO to Auckland, with a three-hour stopover in Honolulu. (Our flight was not planned by the travel agency, so it was a bit different than the other participants'.) Because of the emerging coronavirus threat, we stocked up on disinfectant wipes and even face masks, although we didn't use the latter. The first leg was about six hours, the second nine. Because we crossed the international dateline, we arrived late on Friday. The interesting thing about this trip is that New Zealand in the summer is 21 hours ahead of San Francisco Pacific time, but this is the equivalent of three hours behind, so jet lag is not a big issue. We Ubered about 25 minutes to our group hotel, the Grand Millennium, which is a nice, large tourist-oriented hotel in a rather quiet area of the city.
Saturday, February 15 — Auckland
We had the day to ourselves because most of our group is scheduled to arrive this morning (and then sleep off the trip, I guess). Based on a recommendation from our upcoming tour guide, we walked down to the waterfront—on Queen St, which is the main tourist zone, somewhat reminiscent of Market St in San Francisco—and took a ferry northeast for a few minutes to reach Devonport, a quaint town that is the main base of the tiny Royal New Zealand Navy, and is a very pleasant (and expensive) suburban bedroom community. If you didn't see the cars driving on the left, you'd think you were in a California town like Pacific Grove, with lots of small houses, many of which are 130–140 years old. We took an hour minibus tour that was quite worthwhile and included visiting two dormant volcano hills that featured naval gunnery bunkers. The bigger one, Mount Victoria, aka Flagstaff Hill, had outstanding views of the harbor and downtown Auckland. Then lunch in a café that was in an old fire station, where we had a local staple, mince pie—essentially hamburger in rich gravy—which was a bit underwhelming. It was our first encounter with a "long black" coffee, which is like an Americano, but with more water. It seems that drip, or filter, coffee, the US restaurant staple, is rather rare in NZ outside of hotel breakfast buffets.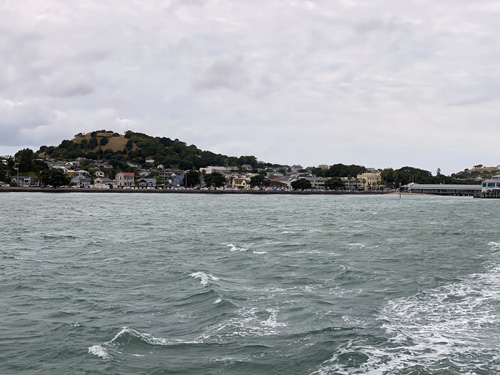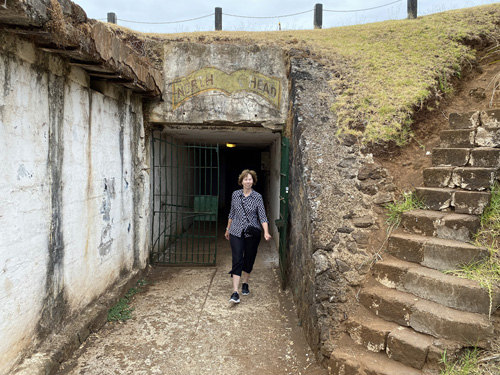 Back downtown, which is undergoing significant construction of a new subway system, we visited a famous ice cream shop, Giapo. We waited in a long line out the door and then were introduced by a sales rep to their offerings with an opportunity to taste each of nine flavors before we ordered. I found the ice cream itself pretty good, but the emphasis was on unusual, artistic presentations of the cones, including one for 23 NZD that was supposed to look like a giant squid. We settled on a "busted cone," which came crushed in a dish and was a bit easier to eat. (The ice cream is served less than rock-hard and we saw others struggling with drippage.) The portion was huge, almost a full meal, with lots of ice cream, a giant cone, and mounds of chocolate coating and syrup. Nancy got hokey-pokey, which is a New Zealand favorite, and I had a coconut cookie flavor.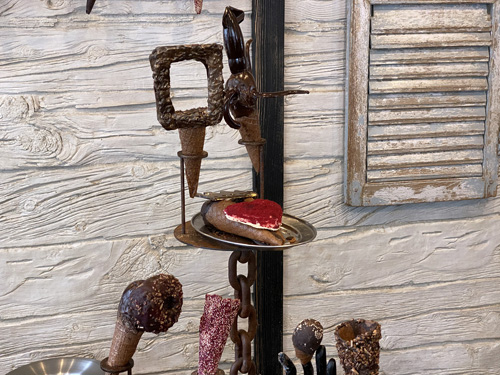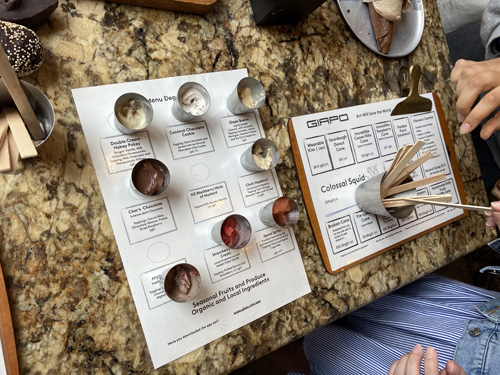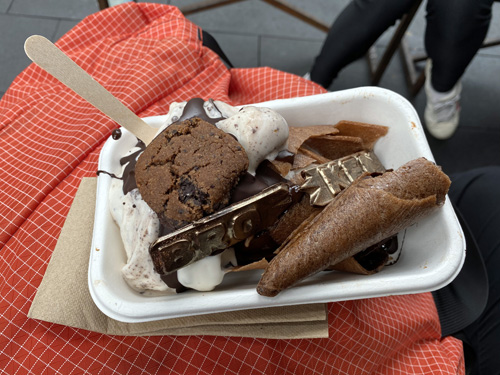 Our group gathered in the hotel for an introductory briefing at 5 pm, followed by drinks and dinner. Our tour director is Yvonne Lendrum, a Kiwi, and our Smithsonian expert is Carola Stearns, a US geologist/geo-physicist. There are 20 participants, which is one of the smaller organized tours I've attended. All are US folks, well-heeled and in good shape; I counted seven physicians and three attorneys. I usually don't get enthused about catered hotel dinners, but this was actually very good, including decent NZ wines.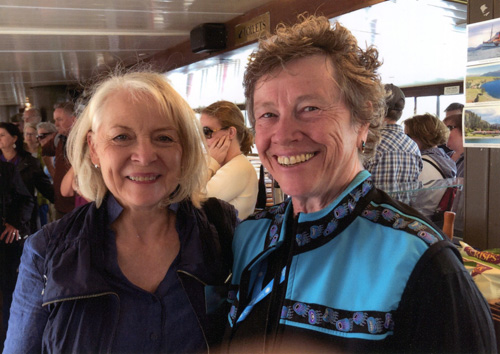 Sunday, February 16 — Auckland
We jumped on our 50-passenger bus and did a brief tour of Auckland. We started in the sleepy red light district near the hotel—prostitution is legal in NZ—but we saw no evidence of hanky-panky on Sunday morning. We drove over the harbor bridge and heard how the "Nippon Clip-On" was used to widen it by four lanes. It was mainly a way for us to get a nice view of the city and its largest marina. We drove along Quay St and followed the coast all the way east to Mission Bay, then headed back, through Parnell and up the hill to the Auckland War Memorial Museum. We had a special tour an hour before the general public is admitted, which is nice. The museum has a big section memorializing the Auckland area dead of the world wars, and small sections about the wars themselves, but the big emphasis was on Maori culture, art, and history. There is a spectacular 25-meter canoe and beaucoup carvings and weapons and things. There is also a very interesting section about volcanoes, which included a small house where you go inside and simulate what it might be like to have a volcano erupt out in the harbor.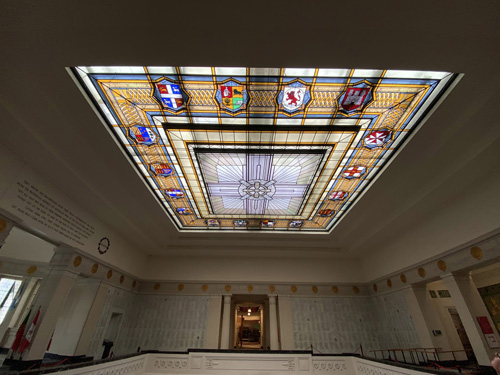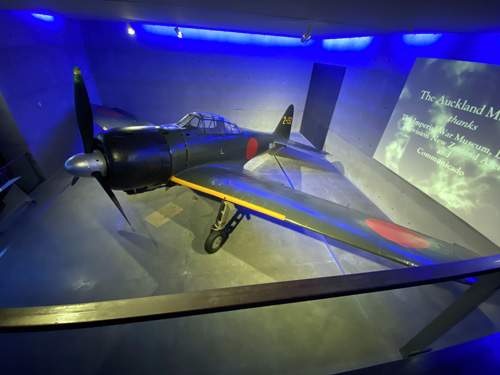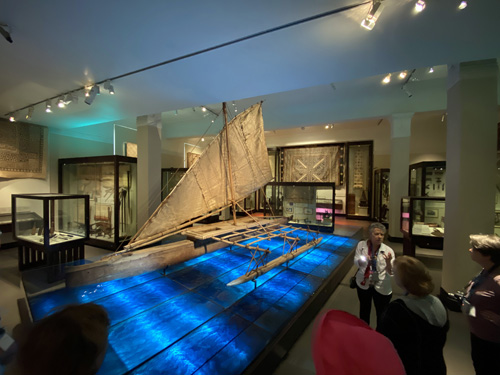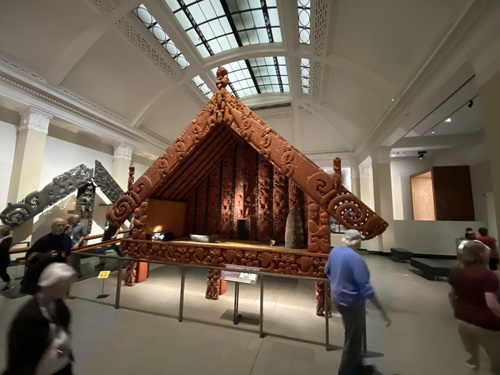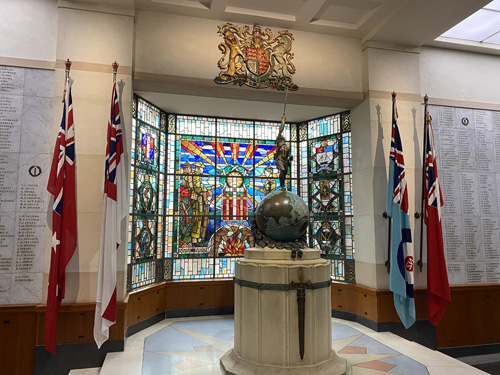 We had lunch in Orbit 360, the revolving restaurant on the 52nd floor of the Sky Tower, and got some stupendous views. The food was excellent as well. Then we took a 90-minute harbor boat tour, which traveled out past Mission Bay and back under the harbor bridge; at the latter we got a close look at foolish folks bungee jumping. Pretty spectacular. The weather turned nice and it was a pleasant trip on the upper deck. We then walked back to the hotel.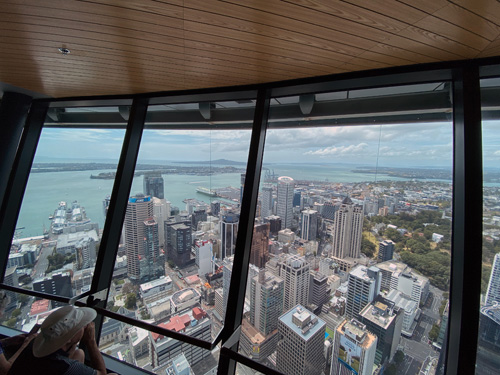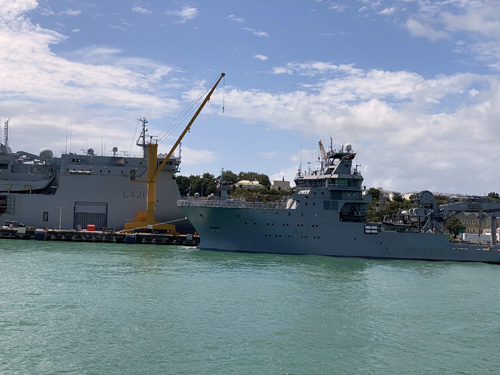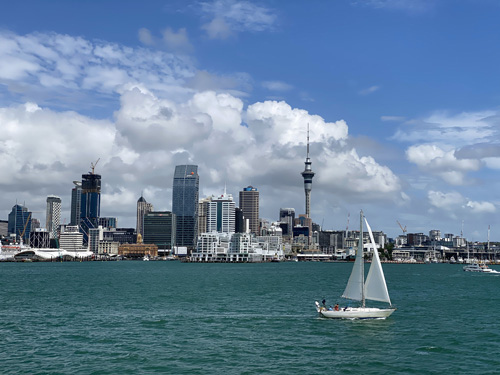 At 5 pm we had a lecture by Carola, addressing plate tectonics and volcanoes on the North Island, which was pretty technical. She made a point that some consider "Zealandia" the eighth continent, being considerably larger just under water than NZ alone, but she didn't think it was a valid construct. We were on our own for dinner and Carola happened to be in the lobby as we left, so the three of us went out to the Elliott Stables, a funky food court operation with about a dozen varied restaurants from which to choose. Nancy and I had a moderately good pizza.
Monday, February 17 — to Rotorua
We bused a couple of hours, traveling mostly on two-lane roads through farm county. It was disappointing that we saw lots of cattle and dairy farms, but almost no sheep today. One place we drove past was the site of the locally famous Battle of Rangiriri, fought during the same week US Grant was prepping for battle in Chattanooga. In the small town of Waitomo we joined a company called Black Water Rafting to tour the Ruakiri caves. We started on a spiral ramp that descended 15 meters in what looked to be almost total darkness, but this was because our eyes hadn't adjusted yet. From that point we walked about a mile out and back to 220 feet underground. There were numerous beautiful stalactites and stalagmites, but the highlight was a few colonies of glow worms, which looked like the night sky of stars; impossible to photograph. We saw dimly another of the tour company's offerings, a "wet tour" of crazy people wearing heavy wetsuits and tubing through the dark in 45°F water. Our trip was never claustrophobic and I had to crouch down in only a few places. One of guides was a young former teacher from Chicago, the other girl a member of the family that owns the property.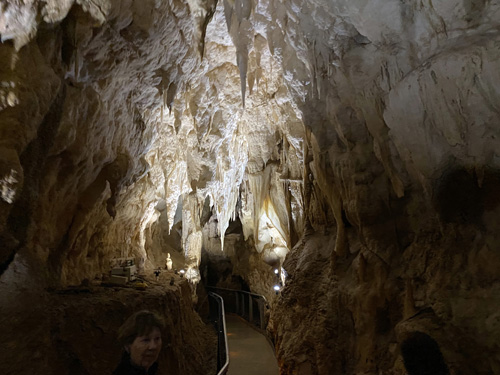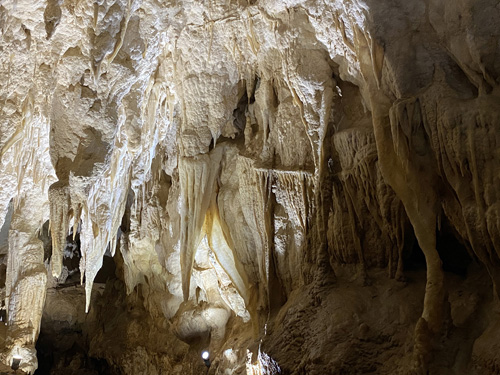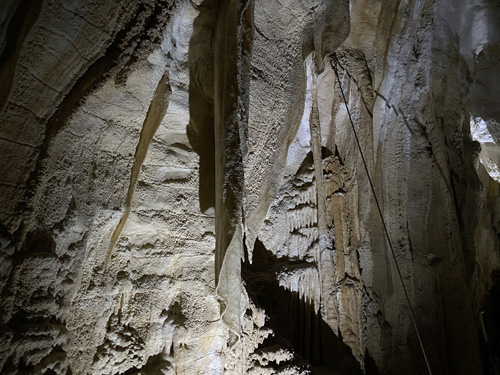 We had lunch on our own in a small town called Otorohanga. Most of the restaurant/cafes here were cafeteria style and seemed to have identical selections of meat pies and bakery items. I had a steak pie, which was better than the mince version in Devonport. Then it was another 90 minutes to Rotorua. Along the way we saw some dormant volcanoes and some interesting features called "tors" that are columns of rocks sticking up above the landscape, at the top of volcanic vents, which stayed upright like monument columns as the surrounding area eroded away.
After a brief check-in at our Rotorua hotel, another Millennium brand, we drove nearby to the Te Puia arts and crafts institute for an evening of Maori immersion. Our guide, a charismatic young Maori named Liam, gave us a brief and humorously ineffective lesson in saying Maori words, some of which are many dozens of letters long. Here is the name of a NZ town that is the longest in the world: Taumatawhakatangihangakoauauotamateaturipukakapikimaungahoronukupokaiwhenuakitanatahu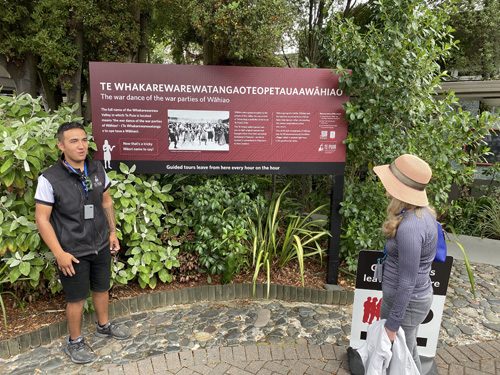 Liam showed us some Maori defensive fortifications (they consider themselves the first to use earthworks for trench warfare) and took us through their sacred meeting ground and their modern, ritzy art school, where we saw students practicing jade and whale bone carving, bronze casting, wood carving, and flax weaving. Quite beautiful work, some of which was on sale for $$$ in their gallery. We walked through the thermal reserve, a large area of bubbling mud pools and steaming geysers, smelling of light sulfur. The largest geyser in the Southern Hemisphere, Pōhutu, erupted for a few minutes, but it was quite modest in comparison to Yellowstone geysers.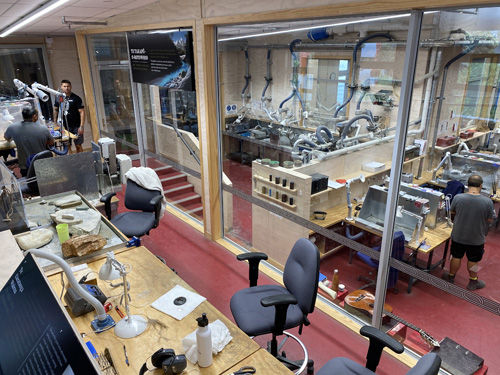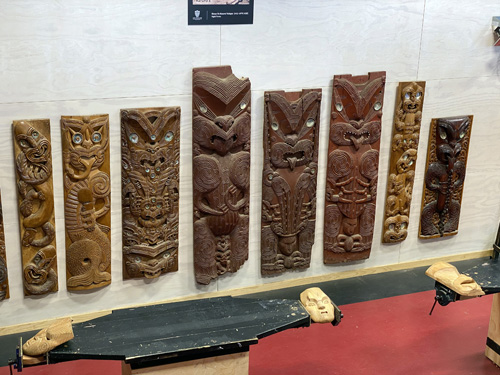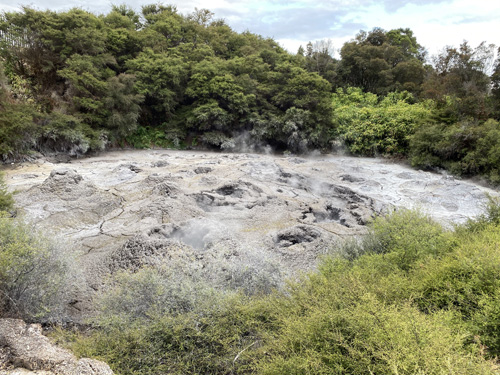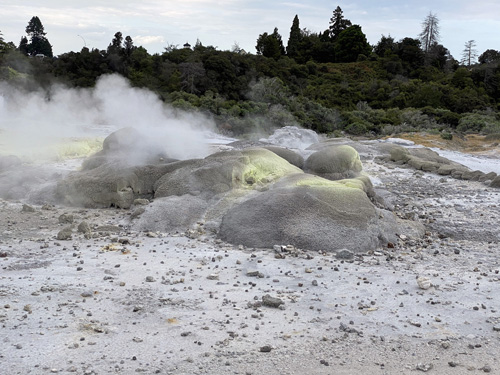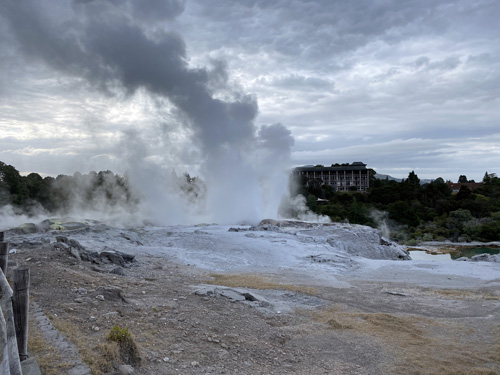 Then we watched a series of Maori ceremonies and performances—dancing, singing, and battle simulations—and managed to avoid getting pulled on stage to participate. The musical numbers were quite catchy. And we concluded with a buffet dinner that featured Hāngī cooking, in which food is baked underground in a pit with hot coals. It was a truly excellent buffet, much better than any you encounter during group travels. And a nice selection of New Zealand wines.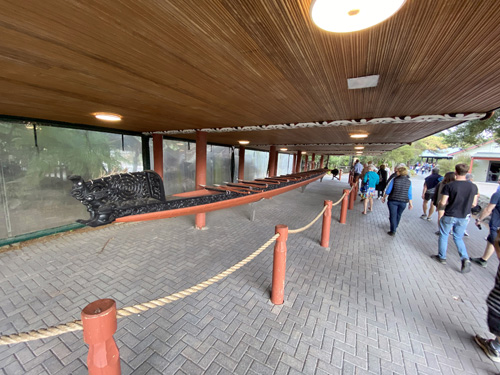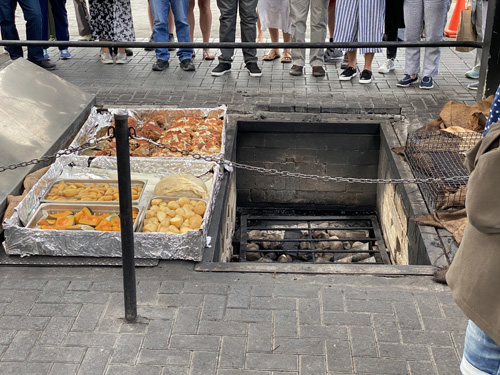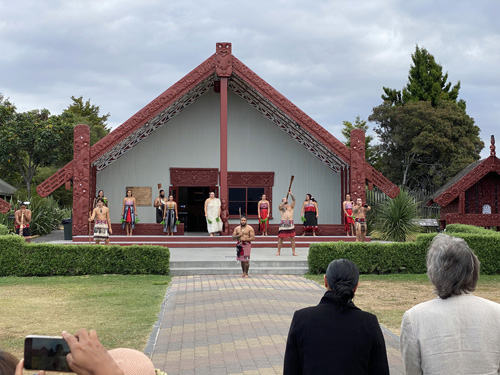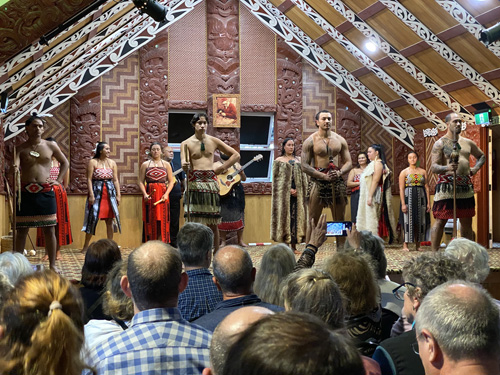 Tuesday, February 18 — Rotorua
We drove briefly around Government Gardens, which were in rather sorry shape because of lots of construction fences, and the elaborate Tudor mansion that houses the city museum was closed for earthquake retrofitting. Yvonne arranged an impromptu visit to Ohinimutu Village, a large Maori enclave in Rotorua, a city that is 40% Maori itself. We were met by a friend of Yvonne's, Shiloh Mitchell (I'm unsure about how he would spell his first name) who is a social anthropologist and a 24th generation member of the local tribe. He said that he was only five generations from cannibalism, a refreshing admission, but joked that we were not at risk because Americans are known for being high cholesterol meals. He referred to the Te Puia place we visited yesterday as the Disneyland of Maori-ism. :-) The village looked like any residential area nearby, except for the marae, or big hall in the sacred meeting place. He warned us about hot springs around the village that have killed six people in his lifetime, and there were places where the ground was noticeably hot. This area was the exact site for the first Maori settlement and fortified village in Rotorua and is the location of the regional Maori parliament. It has been visited recently by Harry and Meghan, but also many important historical figures including Eleanor Roosevelt.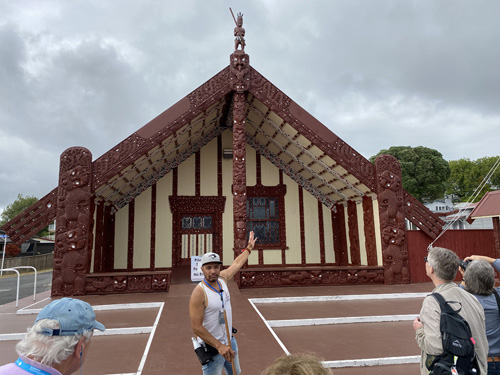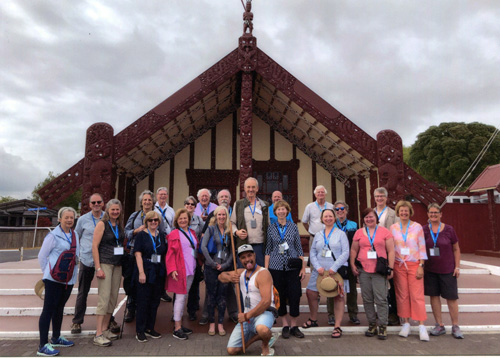 Shiloh was extraordinarily charismatic and informative in describing Maori culture and giving examples from his own family history, including details of his upcoming marriage. He showed us around St. Faith's Anglican Church, his own as a child. He got us to do group photos doing the pukana, the fierce battle pose with tongues sticking out. And he bid each of us farewell with the hongi, the practice of pressing noses together twice and inhaling. For some reason he singled me out to do this first, I guess because he likes tall guys; he said that in the olden days, many of the Maoris were my height (although much more muscular than I am).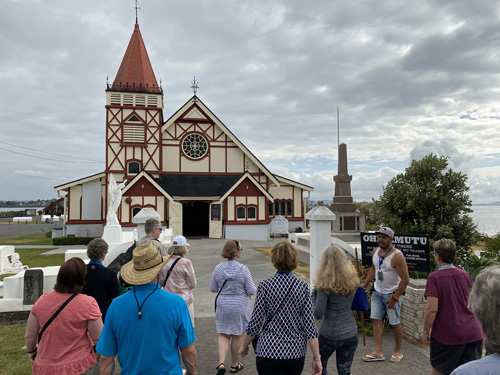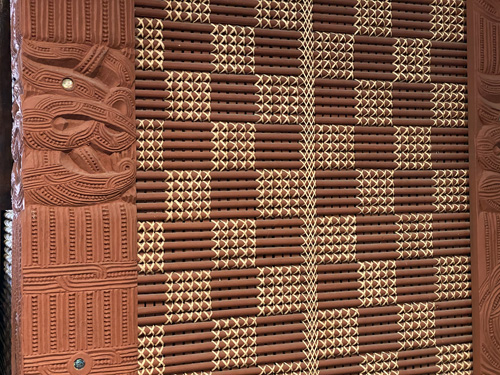 Next we went a few miles to Rainbow Springs Nature Park, home of the National Kiwi Trust, where Kiwi eggs are rescued and the chicks incubated and protected until they are old enough to fend off predators. We learned a boatload of interesting info about the cute little fellows, which I won't repeat here, other than one: their legs are very strong and their claws sharp—their kicks can supposedly send a grown man to the hospital. Unfortunately, we were able to see chicks and adults only behind glass, and the latter were darkened to support their nocturnal environment. No photos were allowed. Our tour guide, Peewee—but see his photo—also led us through a nature park that featured lots of unique native flora, trout, ducks, and a number of birds found only in NZ, such as a kea and a kaka. There was also an interesting animal called a Tuatara, which looked like an iguana to me, but is actually not a lizard and is a more ancient species than any lizard, or even the dinosaurs. And some giant California redwoods for some reason.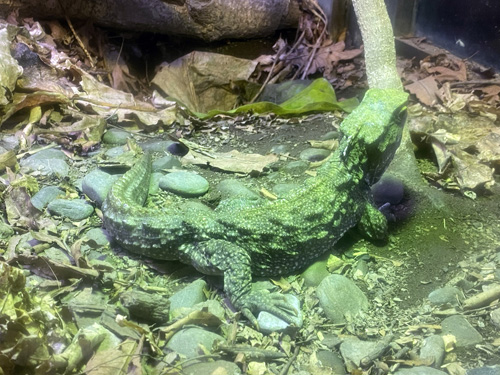 We had lunch and the afternoon on our own. A handful of folks went on an eco-ziplining adventure, some others to a hot springs spa. Nancy and I originally thought about a trip to the Lord of the Rings Hobbiton movie set, but lost interest after tickets initially proved hard to get and rain looked imminent. (Yvonne did a great job trying to arrange this excursion for us and others, all of whom dropped out, so we feel a bit guilty about that wasted effort.) So instead we wandered around town and had lunch in a block called Eat Streat [sic], which was wall-to-wall restaurants of all descriptions, selecting a local brewery outlet. We also tried Lady Jane's supposedly famous ice cream, but found it rather average.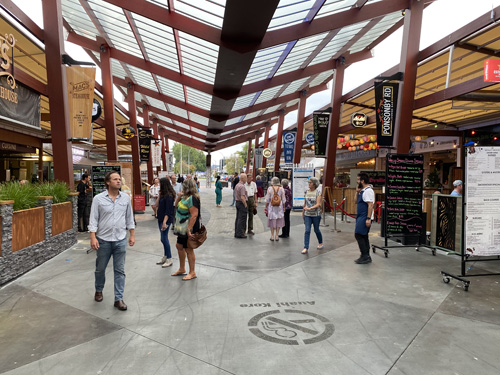 At 5:30, Carola gave her second lecture, this time about earthquakes, leaving us all uneasy about being in New Zealand at all :-). We had dinner on our own in Eat Streat again, meeting up with a group for Ambrosia, which had decent food in an indeterminate style.
Wednesday, February 18 — Napier
We made an unscheduled stop at the Waiotapu thermal area to see bubbling mud pools more interesting than the ones in Te Puia (which were diminished by drought conditions). While we drove, Carola told us about the eruption of Mt Tarawera in 1887, a stupendous basaltic explosive event, which is quite unusual. There was a fissure 17 km long spewing ejecta. We made another unscheduled stop near Taupo, an art gallery called Lava Glass, where we walked through a garden with hundreds of colorful glass flowers, and watched the artist in a glass blowing demonstration. (One of our tour members specifically asked to see this and bought three pieces. I didn't ask how much.) Then a brief looky-look at Hula Falls, the only outlet from Lake Taupo, the flow of which was white with a gorgeous sky blue accent. We drove around part of the lake, which is in a gigantic caldera. When the weather is clear, you can see three significant volcanoes to the southwest, but it was rather overcast this morning.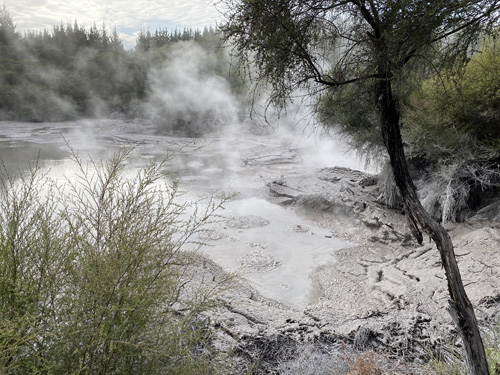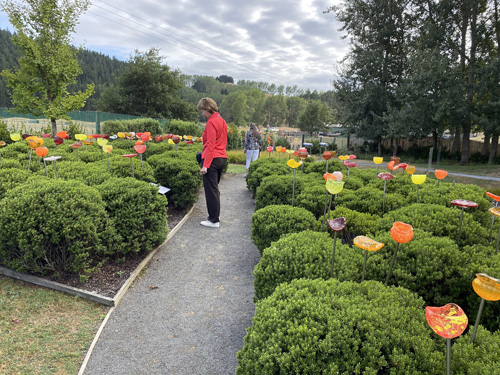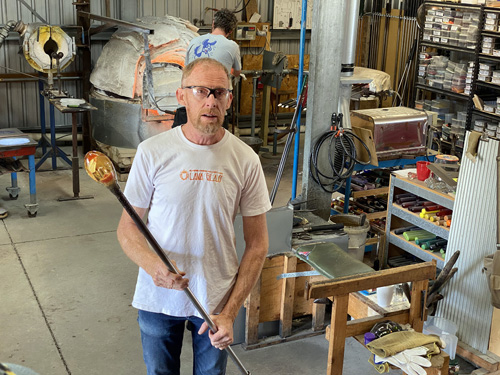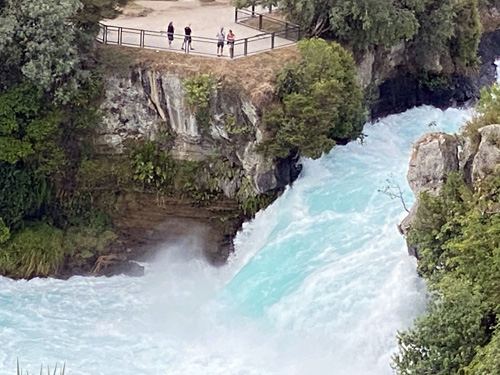 We continued on a windy, mountainous road called the Thermal Explorer Highway when a bang was heard under the bus. Our intrepid driver, Ian, inspected it for a while and he and Yvonne eventually decided to move forward, although we had difficulty exceeding 25 kph going up steep hills. So we reached Napier a bit behind schedule, but no worries. We had a wine tasting and excellent light lunch at Church Road Winery, at 120 years one of the oldest in NZ, and then a brief winery tour. This Hawke's Bay region is too warm for good Pinot Noirs, but their Sauvignon Blanc was very good and I was intrigued by their Tempranillo.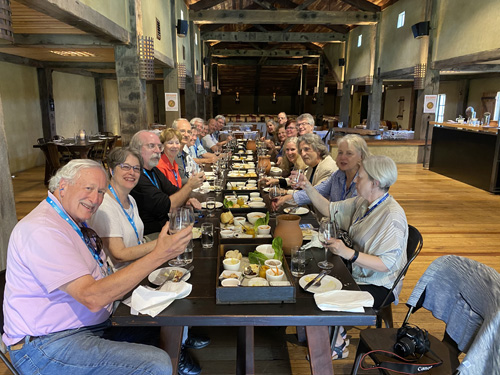 In downtown Napier, we checked in to the Scenic Hotel Te Pania, somewhat modern in contrast to the rest of the town. It's a cute seaside town that was completely destroyed by an earthquake and fire in 1931, and then rebuilt predominantly in the Art Deco style of the time. At the visitor center we watched a 20-minute video about the quake and its aftermath and then took a walking tour to examine a number of Art Deco buildings. There's a big Art Deco festival scheduled for this weekend, and although we won't see that directly, we did see lots of folks walking around in 20s/30s attire and quite a few beautiful vintage cars.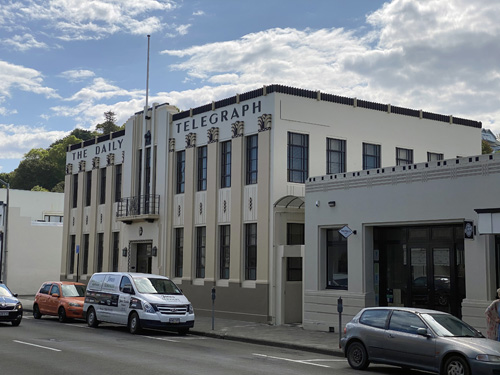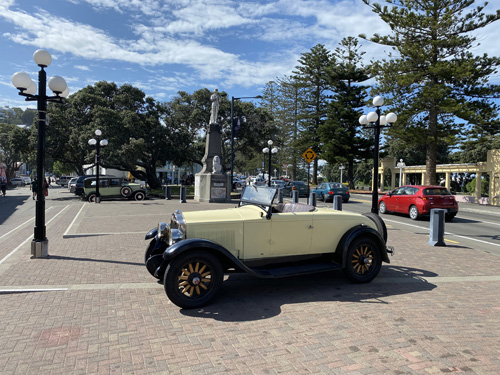 Dinner on our own again. We joined another couple at the Emporium Bar, which had a nice selection of small plates and a good wine list.
Thursday, February 20 — to Wellington
The drive to Wellington was an all-day affair with a few stops. The terrain of the north island continued to look virtually identical to California, particularly since a 41-day drought suppressed the usual green grasses. However, the road and tourist infrastructure is nowhere near California's. Very few freeways or even multi lane roads, very few gas stations and restaurants along the way, except in larger towns. We stopped for tea in Dannevirke, a town settled by Scandinavians in 1872, where we roamed through a medium supermarket named New World and bought coffee and biscuits (cookies). We crossed the Ruhahine hills and drove through a large wind farm; NZ gets 80% of its power from renewables, although the biggest source is hydro.
After four hours we reached Pukekoa Farm near Marton, where we were hosted for a delicious lunch by Jill, a lovely lady, in her home. We went to her farm's shearing shed nearby for a demo and a man sheared three sheep for us lickety split. I felt uncomfortable watching the sheep being manhandled like this, but was assured that the process is actually beneficial for the animal's health. Of course, the farm is doing it for commercial reasons: they sell the wool (not profitable at current prices) but also to incent the sheep to eat more and fatten up for you know what. This farm takes young lambs, fattens them for 6–8 weeks, then sells them, probably to little girls who want fat little lambs as pets. We also saw a demonstration of how four sheepdogs can efficiently wrangle a large herd of sheep. They are really smart.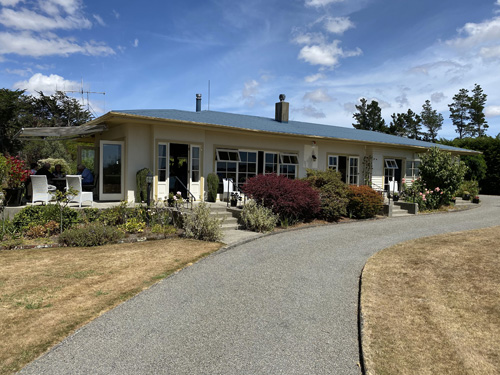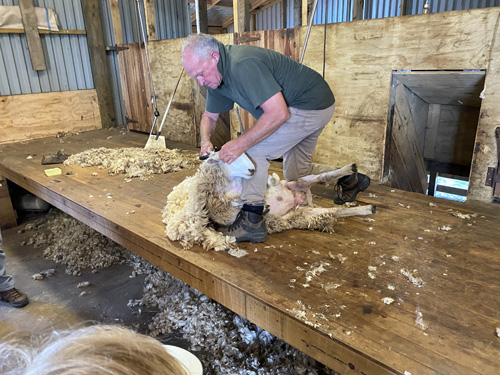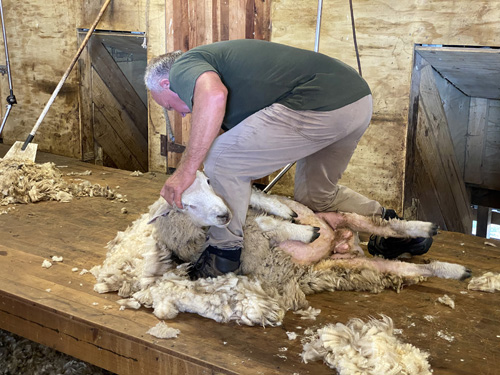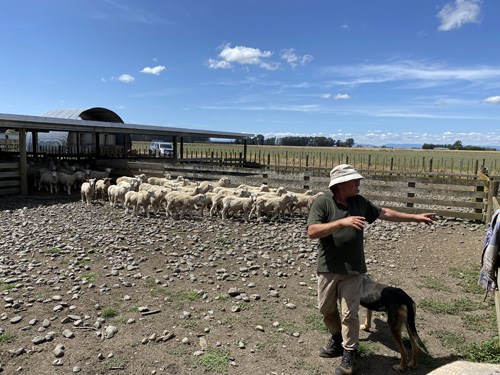 As the bus continued to Wellington, Yvonne gave us some famous TimTam cookies and showed us a video about the making the Lord of the Rings movies in NZ. We reached our hotel, the Bolton, by 5 pm. In a travel first for me, our room (well, suite!) included not only a full kitchen, but also a washer/dryer, so we caught up on some laundry after a week on the road. We were on our own for dinner and even though Wellington is known as the culinary capital of NZ, Nancy and I were not very hungry, so we went to a small Chinese dumpling place nearby for a light repast. We walked on the beautiful waterfront and over to Cuba Street, where the ethnic restaurant scene was bustling, although all of the shops were inexplicably closed as early as 5 pm.
Friday, February 21 — Wellington
We bused on a city tour, passing along the waterfront to the base of a cable car/funicular that took us 119 meters up the hill to the Botanical Garden. We didn't go in, but instead reboarded our bus and drove through Kelburn Village, a rather ritzy close-in suburb. We spent about 20 minutes in the Lady Norwood Rose Garden and Begonia House, which was nice because some of the older varieties still had some perfume. We continued through the CBD and Oriental Bay. Wellington seems quite prosperous and more interesting than Auckland, particularly its mountainous terrain and narrow streets with houses perched everywhere. Too bad the next quake will level many of them. We visited Mt Victoria, 196 m high, getting spectacular views of the city, harbor, and airport. Carola gave us a talk on all the faults running through the area.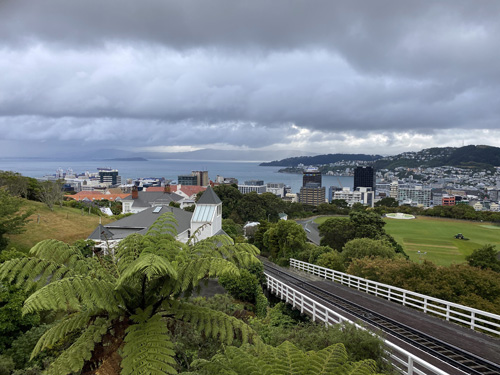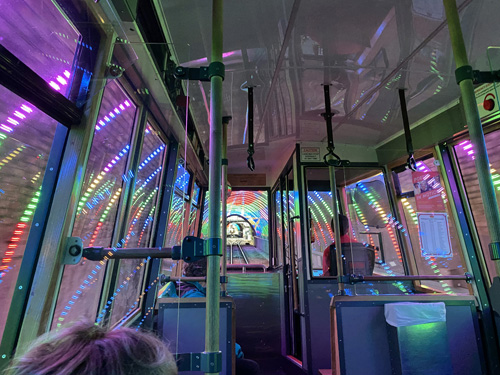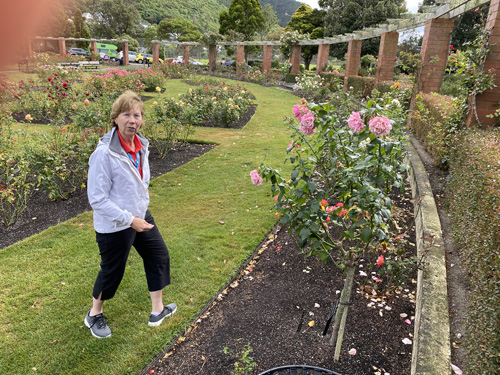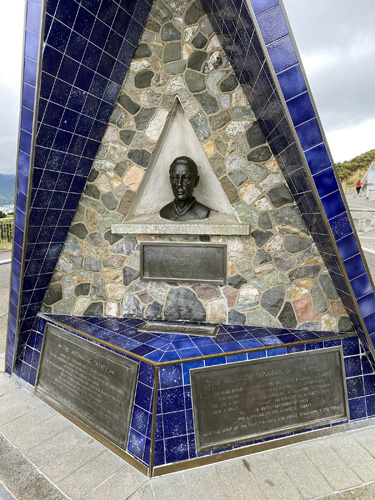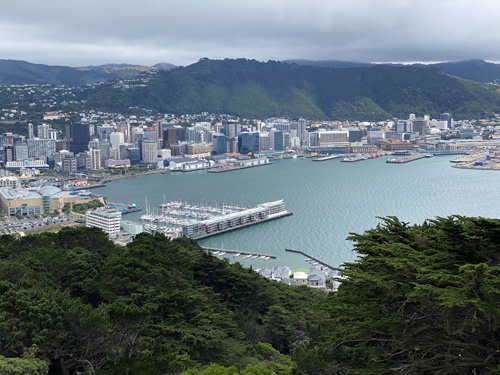 Back downtown we had an hour-long guided tour of Te Papa ("Our Place"), the national museum, and I have to say it was fabulous. So much interactive, high quality graphics and designs. The featured exhibition about ANZAC fighting in the WWI Gallipoli campaign was superb. The special effects folks at Weta, who did LOTR, Hobbit, etc, did the displays, which focused on eight soldiers and their experiences. Those eight were rendered hyper realistically in statues at 2.4 scale (so a man was about 15 feet tall), which were just breathtaking. Lots of good maps, too. (Sorry to bother you with so many photos from this exhibition, but it really fascinated me. You can see a YouTube video of how they created the exhibition here.) We also saw a great nature exhibit with local flora and fauna, as well as a well done volcanoes section. One of their collection items was a colossal squid that weighed in at 500 kg. Nancy and I lunched in their café and spent time exploring on our own.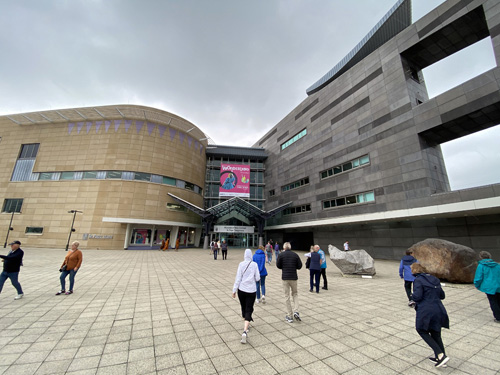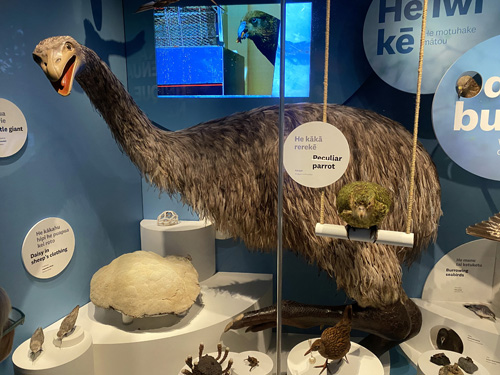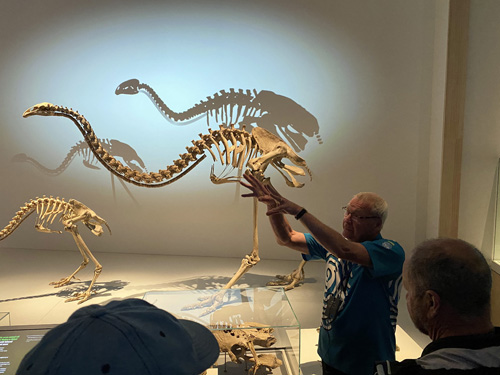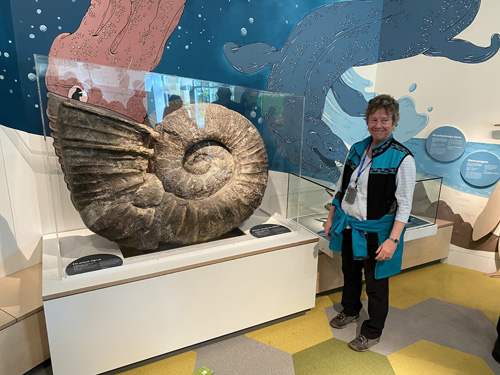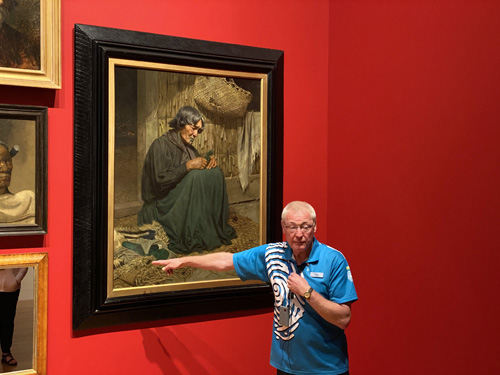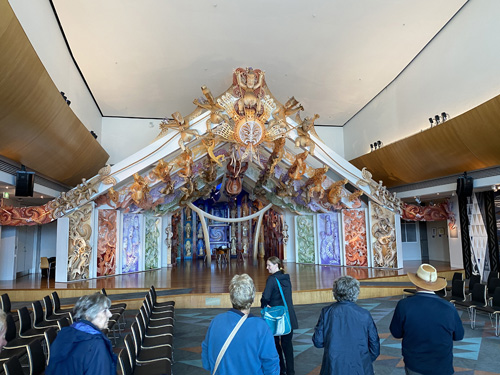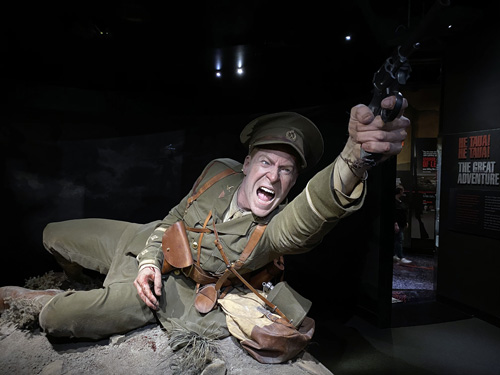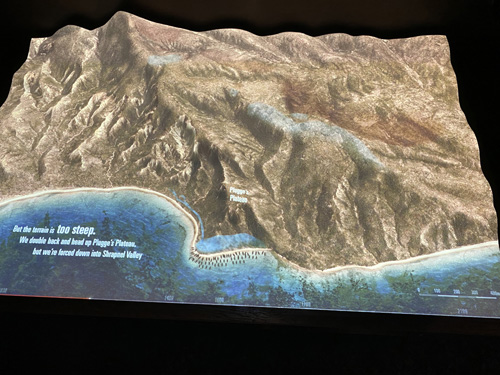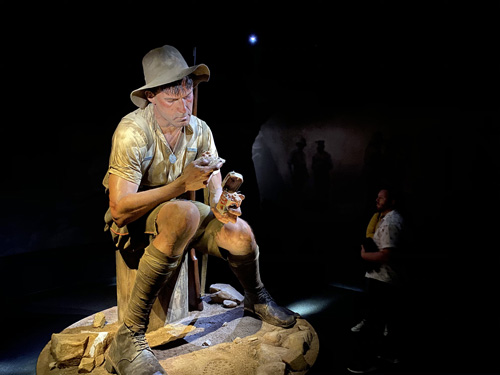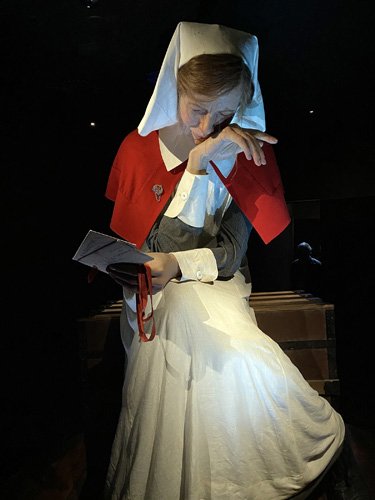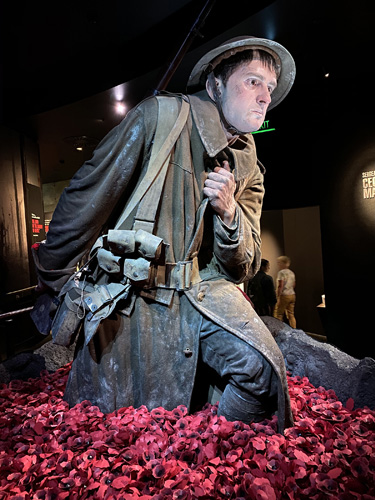 Then we bused to the Parliament, where we had a tour that lasted over an hour, learning all about the country's political system. They wouldn't allow us to bring our cameras or phones, so no photos. Afterward a few us went for a pint at the Backbencher Pub across the street, which features large caricature statues of prominent politicians. The one I photographed below is Jacinda Arden, the prime minister, who was a DJ in her past. (I did not recognize any of the other caricatures.) Dinner was with the group in Logan Brown, a fancy restaurant on Cuba Street, owned by a locally prominent chef. It was an outstanding meal.