Hal and Nancy's Trip to Lexington, Kentucky, March 2015
This is my travelogue of Hal and Nancy's trip to attend the Road to the Horse show in Lexington. I was along for the ride, spending most of the time while she was in the show visiting Civil War sites, which I describe in a separate travelogue on my Civil War page.
Wednesday, March 25, 2015
We flew United Airlines through Chicago to Lexington, and checked into the Marriott Griffin Gate resort, arriving about midnight. One side note: we decided to experiment with the Uber car service going to SFO and we were greatly pleased with the experience, in both directions. For the last few years, we have used SkyPark because traditional cabs were unreliable in our neighborhood and too expensive, but now we will probably use Uber for any trip over a few days in length.
Thursday
We signed up for a Horse Farm Tour. (In the East, people call these operations Farms, although we are more used to the term Ranch where animals are concerned.) Rain was forecast today, but it was just a bit drizzly and increasingly cold. We drove in a 15 passenger van around the outside of some immense estates, and visited a few. The first stop was the Keeneland race track, which we found unusual because it hosts racing in only two seasons of 17 days each. It is also open for people to observe and bet on remote races at other tracks. We watched some of the training and heard about some of the jockeys who have become rather rich at the sport. (Of course, the real money in horse racing is stud fees, which can amount to over $100 million for a prime stallion over the course of his life.)
The Donamire farm was impressive for its large size (over 600 acres) and two beautiful tracks on the property, including a grass track on rolling hills. We also drove around the inside of the Spendthrift farm. At Hill 'n' Dale, we visited the grave of Seattle Slew. At another farm we visited some mothers with foals, including a one-day old, and got an explanation of the breeding process, although not a live demonstration. Stallions mate two or three times a day, and the process is not one that squeamish person would enjoy too much. Some of the colts are "sneaky biters" and Hal received some well-deserved criticism for carelessly walking too close to one, despite warnings from the horse owners in the group.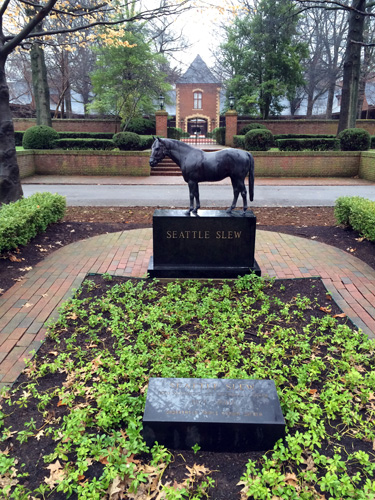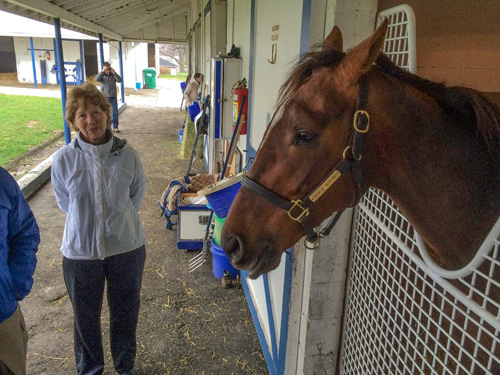 That evening Nancy and some of her friends from California started attending the Road to the Horse show. We had a late dinner at Red State Barbecue, which has excellent local reviews, but the food would probably have been better (hotter and fresher) if we had not arrived two minutes after closing time.
Friday through Sunday
Nancy and her friends attended the Road to the Horse while Hal engaged in Civil War touring. Nancy provided the following description:
Road to the Horse is a colt-starting competition: 3 competitors had 3 days to train 3-year-old geldings that had not been touched. The winner, Chris Cox, won $100,000, and the audience in the sold-out arena was riveted. The final obstacle course competition was filmed by RFD TV. It was a great way to observe natural horsemanship methods, executed by elite horse trainers, on the 6666 Ranch quarter horse colts. And it was great fun! For more info, see here.
Sunday night we ate at an interesting place called Ramsey's Diner. Nancy had a large fried chicken dinner and Hal had something for the first time: Kentucky Hot Brown, which is a slice of bread topped with ham, turkey, tomatoes, and Mornay sauce. Then the whole thing is covered with broiled cheese and two slices of bacon! Really delicious, but way too decadent.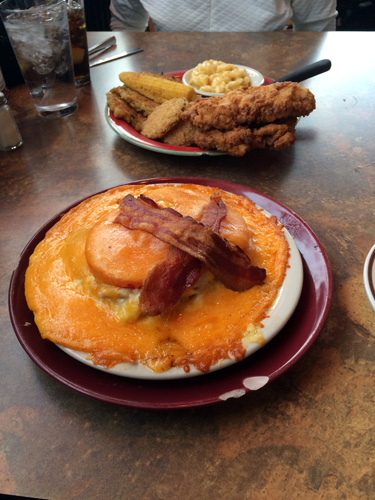 Monday
The only convenient/inexpensive flight we could arrange was after 6 PM, so we had a full day to spend in Lexington. We went back to Keeneland race track and watched early morning horse training, then went to breakfast at the Track Kitchen, hoping to rub shoulders with jockeys or trainers, but no one interesting emerged. We went downtown to the Lexington visitor center for a walking tour map and spent about an hour seeing interesting buildings, most from the early 20th century. We passed by the Mary Todd Lincoln home and the famous Hunt-Morgan house; we did not have time to visit the former and the latter was not open on Monday.
We took a tour of a nonprofit farm in Georgetown called Old Friends, which is a 140-acre retirement facility primarily for thoroughbred stallions. A number of these horses were really big money makers in their productive lives, and we were happy to see them in an amenable environment. Some of them are big biters, though, so we had to be careful. And finally we used the visitor center's map for a driving tour of more horse farms. It certainly is a beautiful area. The trip back on United Airlines was uneventful, stopping over at Houston.