2018 Civil War Travelogues — Eastern North Carolina with BGES
Welcome to my 2018 travelogue pages. This page is my report of my March visit to Eastern North Carolina with the Blue and Gray Education Society. The program was titled "The Confederacy's Strategic Coast: The War in Eastern North Carolina 1861–1865." (This was my twelfth outing with BGES.) To see the entire list of my 2018 trips, go here.
Here is a reminder about the reason I write these pages the way I do. They record my experiences and impressions of Civil War trips primarily for my future use. Thus, they sometimes make assumptions about things I already know and focus on insights that I receive. They are not general-purpose descriptions for people unfamiliar with the Civil War, although I do link to various Wikipedia articles throughout. Apologies about the quality of interior photographs—I don't take fancy cameras with big flashes to these events. If you would like to be notified of new travelogues, connect to me via Facebook.
Wednesday, March 7
I flew United Airlines to Raleigh-Durham. It was a two-hour (relatively uninteresting) drive to the Hampton Inn in Washington, North Carolina. At 7:30 p.m., we met in the hotel conference room for an introductory session with BGES executive director Len Riedel and our first historian, Stephen Wise. This was an ideal schedule for me. Usually, program kickoffs are earlier in the evening and I have no way of getting there in time from the West Coast, so I have to fly out the day before. Today, however, I got up for a really early flight and was able to reach the hotel with plenty of time to spare. (Note to future self: San Francisco airport does not really open until 4 a.m., or at least the TSA security line does not, so there is no need to get there any earlier for a 5 a.m. flight.)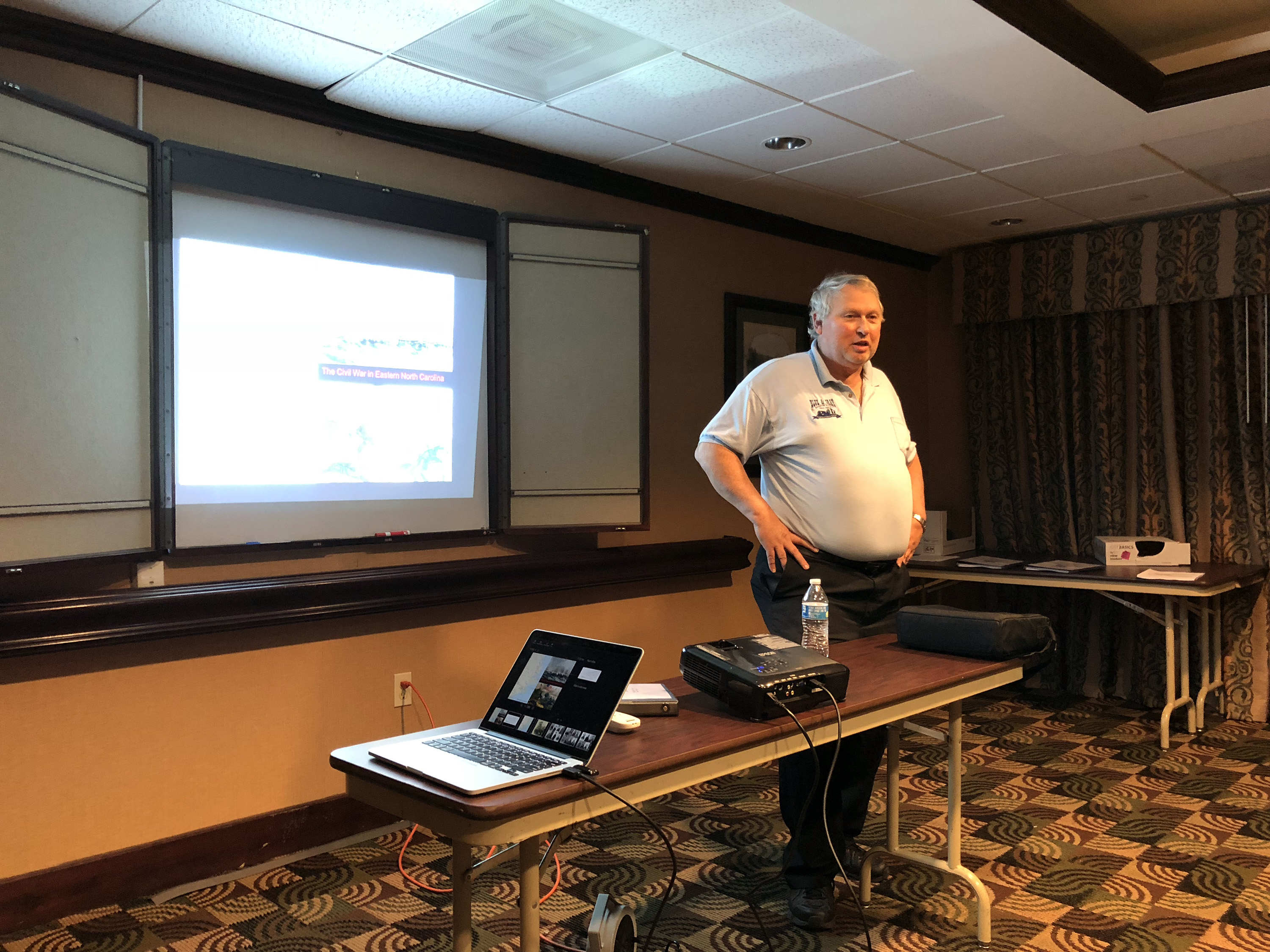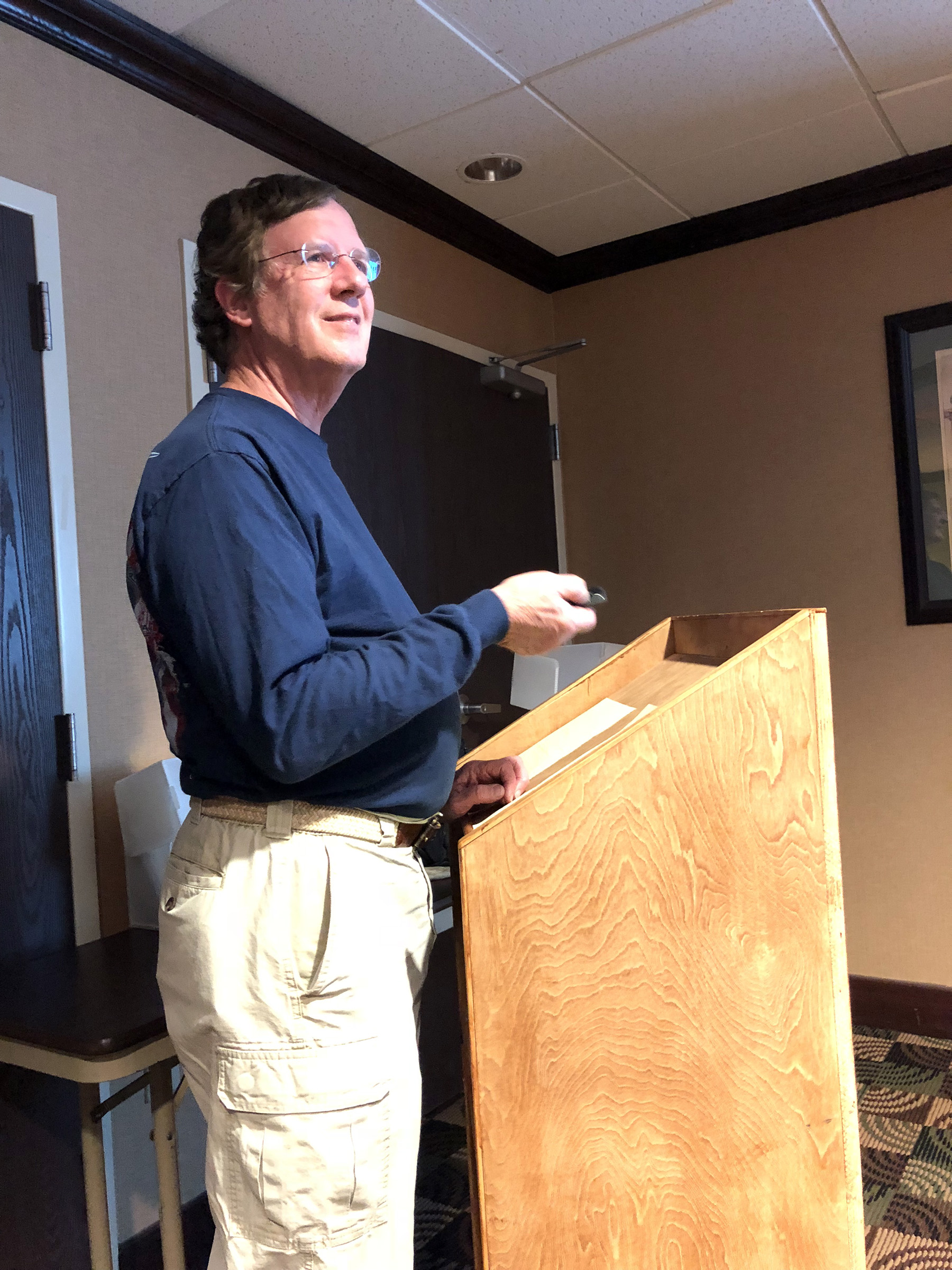 I had met Stephen on a previous BGES trip to Mobile, Alabama. Tonight he gave us an overview of North Carolina operations in the east, including descriptions of the composition of North Carolina's population, the railroads, politics, shipping, and agriculture. He gave us capsule descriptions of key officers on both sides in the various campaigns and then described the battles, orienting them somewhat in the order in which our itinerary would visit the battlefields.
Thursday, March 8
Today was a day of heavy driving, which is somewhat typical of a BGES itinerary. Our first stop was Cape Hatteras, which was almost 3 hours away. There was a good deal of angst the night before about whether we would be able to make it all the way because a big storm had come through the previous week and North Carolina Highway 12 had been closed. Also, the museum at Cape Hatteras was not answering the telephone! But piecing together some clues from the North Carolina Department of Transportation Facebook page and consulting with Google Maps, we decided to risk it. We found that in a few places, primarily on Pea Island, there was some standing water on the road, but no more than 2 inches. So although there were a few very minor delays caused by the other timid drivers, we were able to get through without difficulty.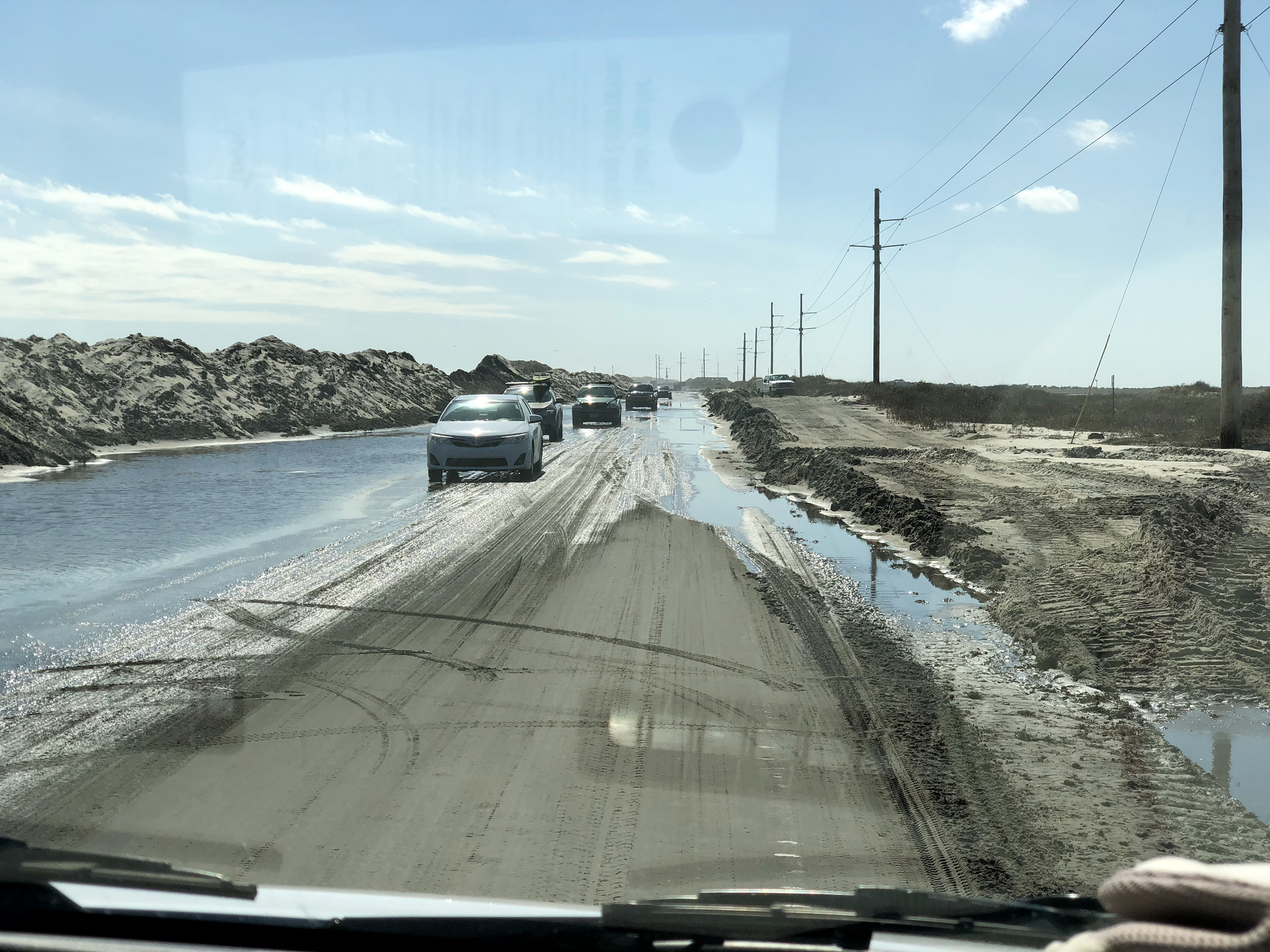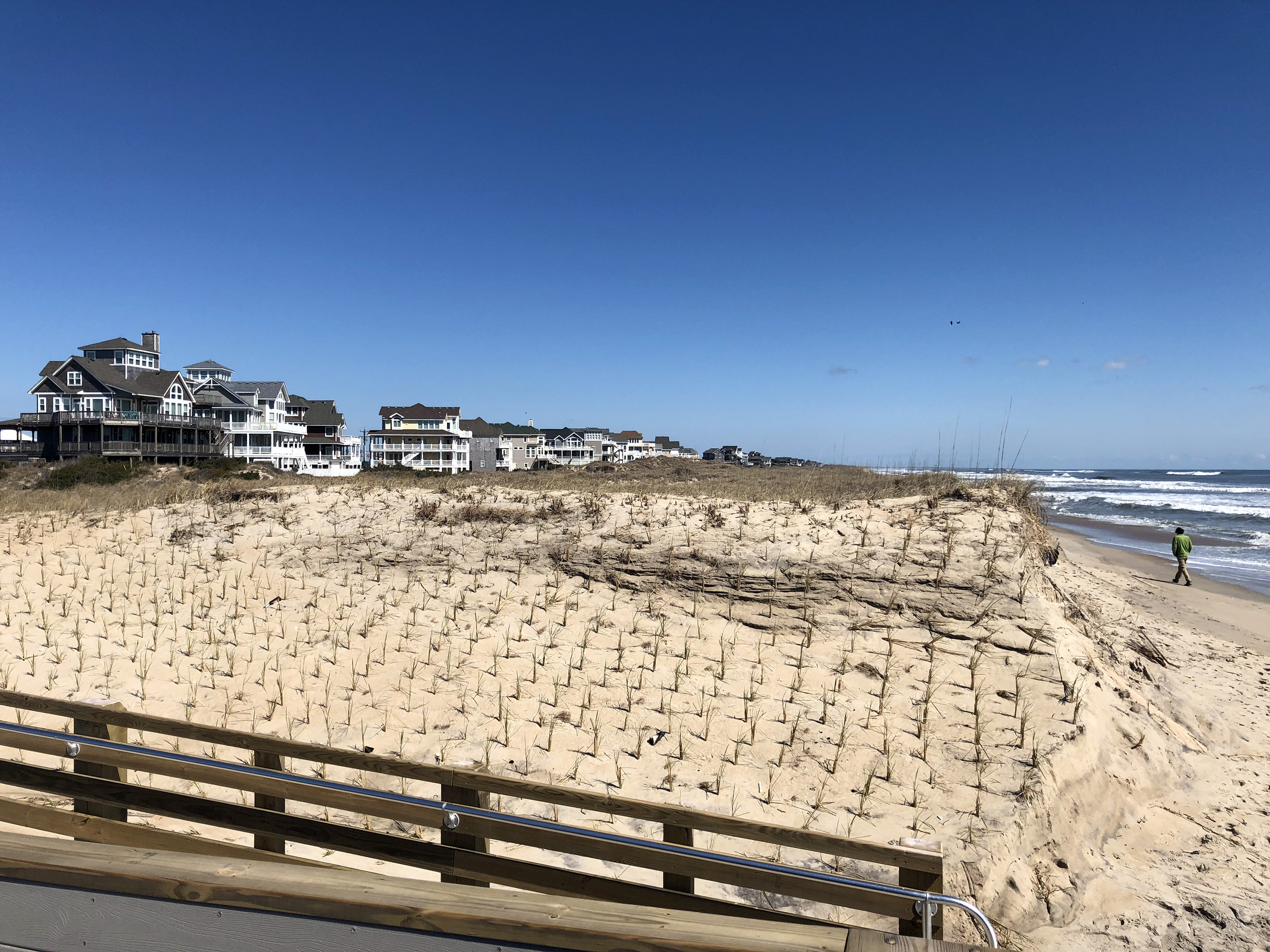 The ride on Highway 12 and through Cape Hatteras was moderately interesting to see all of the tourist infrastructure without any of the tourists. March is certainly not high season in the Outer Banks. Lots of huge, very modern McMansions, which Len indicated can rent for $5000 per week. Unfortunately, there is not a lot of Civil War left here. The two major Confederate forts, Clark and Hatteras, are no longer there, even a little bit. We stood watching the ocean (and really brave surfers) while Stephen described the battle, which was a combined operation between army and navy forces. Then we walked over to the Graveyard of the Atlantic Museum, which had an interesting 1854 Fresnel lens from the large lighthouse of that era, a few Civil War battle exhibits, and a number of items related to the sinking of the USS Monitor in 1862. There were also a lot of photographs documenting Army Air Force demonstrations that sank two decommissioned battleships prior to World War II.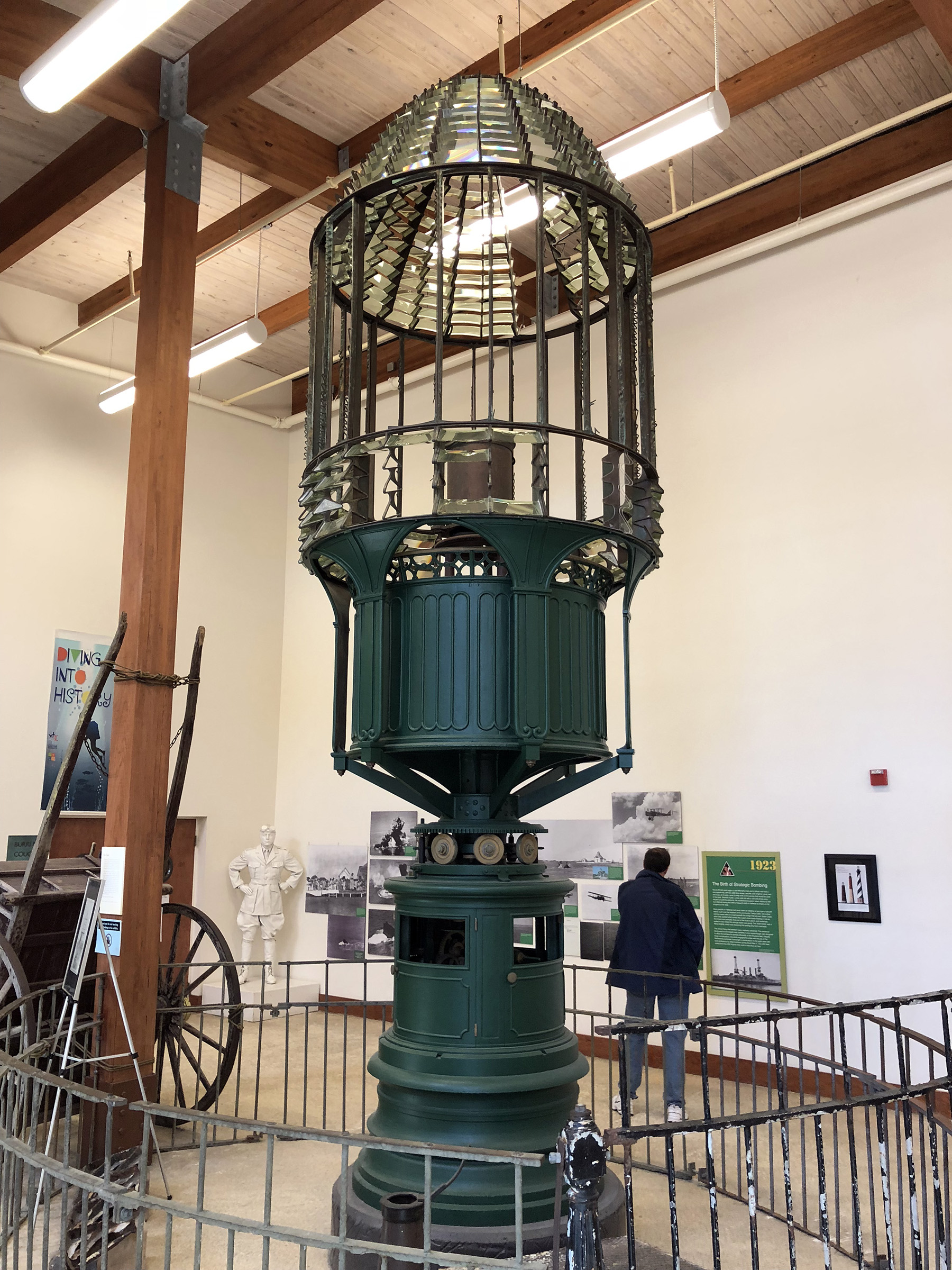 On the way back, we made a few stops on Roanoke Island, site of the first battles of the Burnside expedition of 1862. We stopped near the remains of Fort Huger, getting within about 100 yards, but it's a fenced off area and we could not actually see it. Fort Bartow was not far off, but Steve said that it had been obliterated by a housing development. We cruised through the parking lot of the National Park for Fort Raleigh, which was the site of the lost colony of Roanoke, and birthplace of Virginia Dare, the first English child born in America. Then we went to Ashby's Harbor to describe the landing of federal forces, and the main north-south road, which in 1862 was a causeway going through a swamp, and the location of the main land battle of Roanoke Island. There is a tiny fenced off area with a small portion of a preserved Confederate lunette.
All in all it was an excellent day, one that promised to be the longest day of driving we would have to deal with.
Friday, March 9
Our first stop was Fort Branch near Hamilton, on the Roanoke River. This is a large earthen fort on private property, supremely preserved. It is managed by a preservation group that is obviously quite inspired. They have a small museum with artifacts and a number of large gun barrels that have been retrieved from the river. US forces never reached the fort, but the Roanoke Expedition made a try at it. The gun barrels were retrieved from the river in 1972, but protected by the North Carolina antiquities act from being carted away by private relic hunters.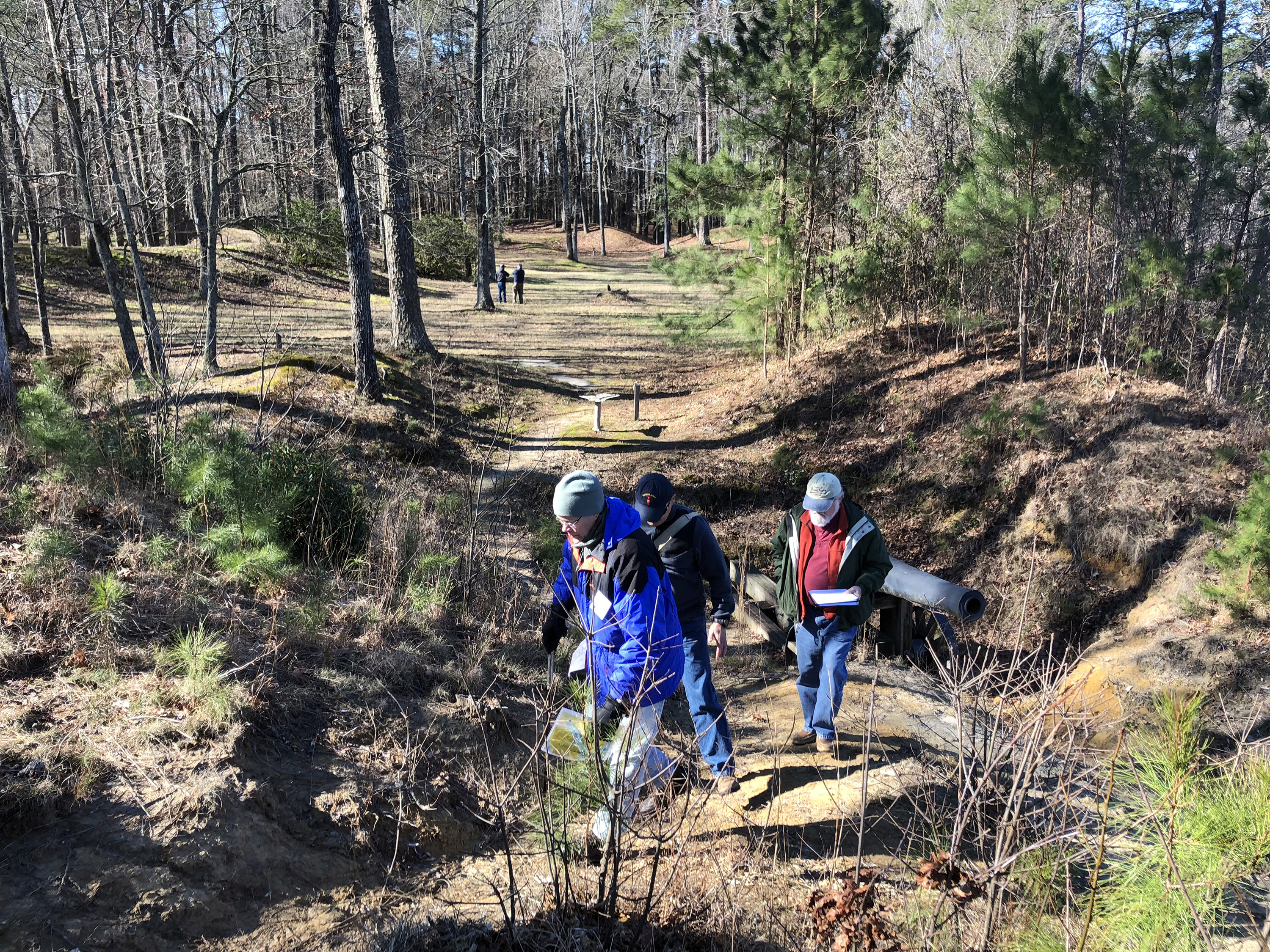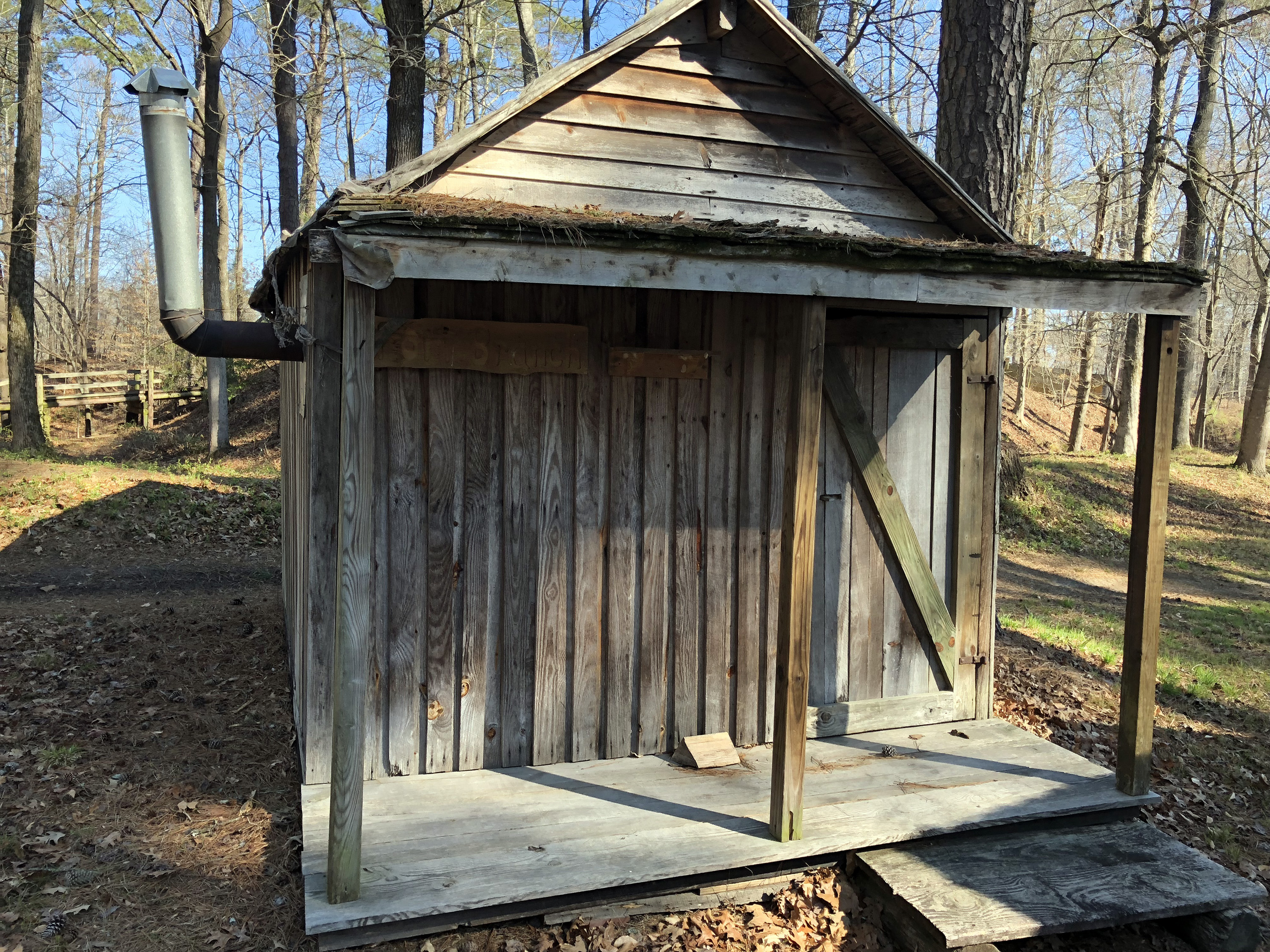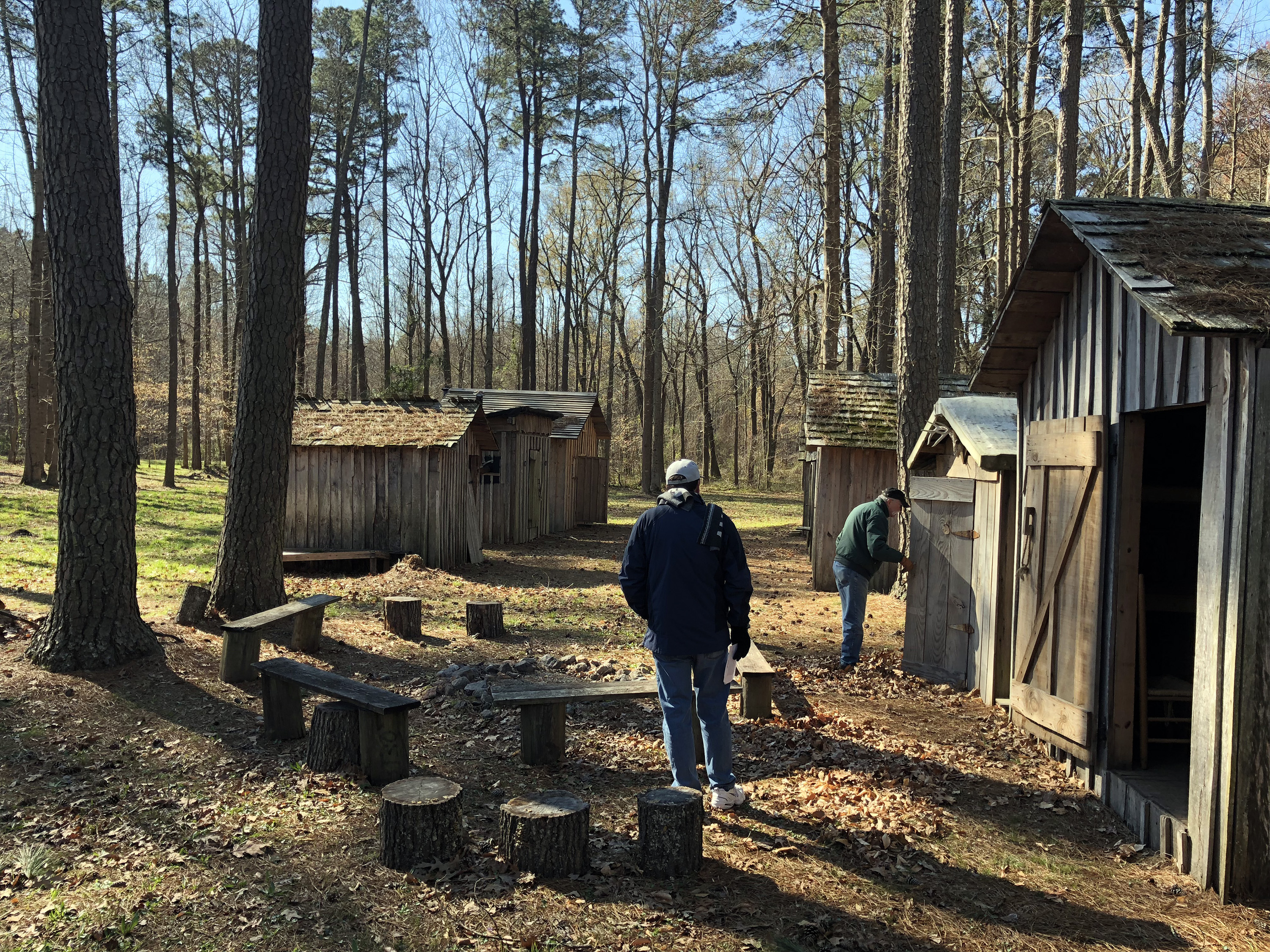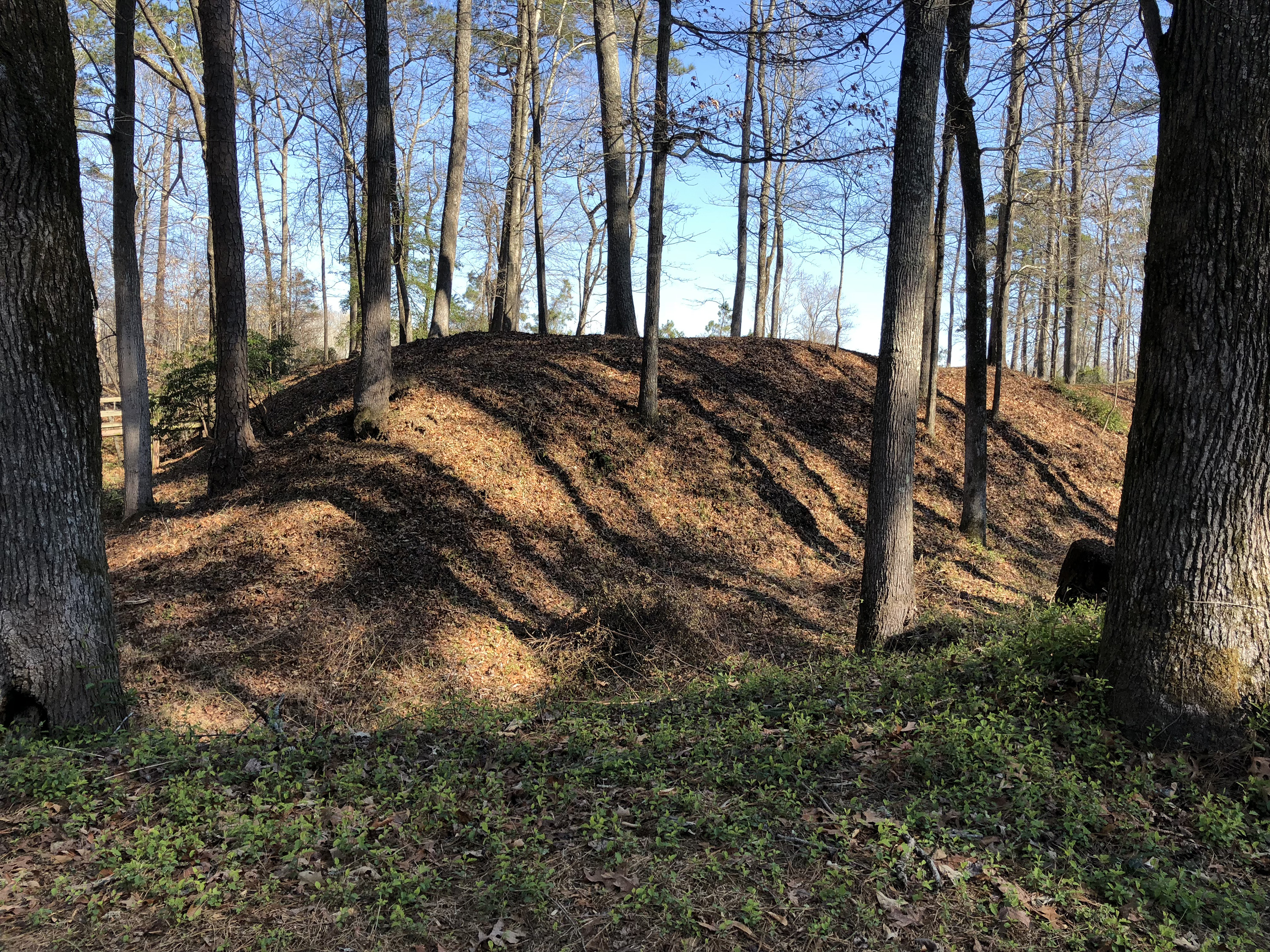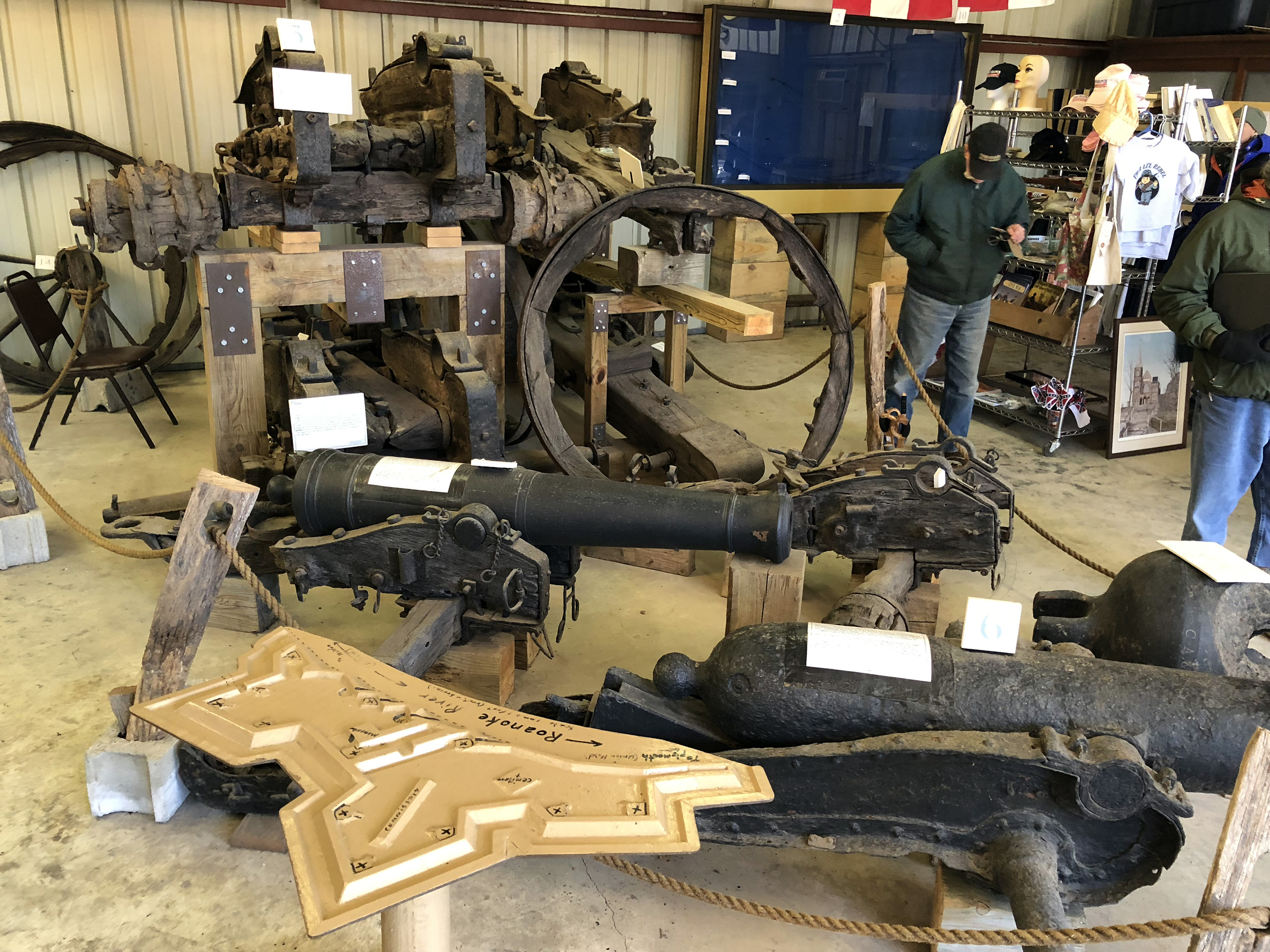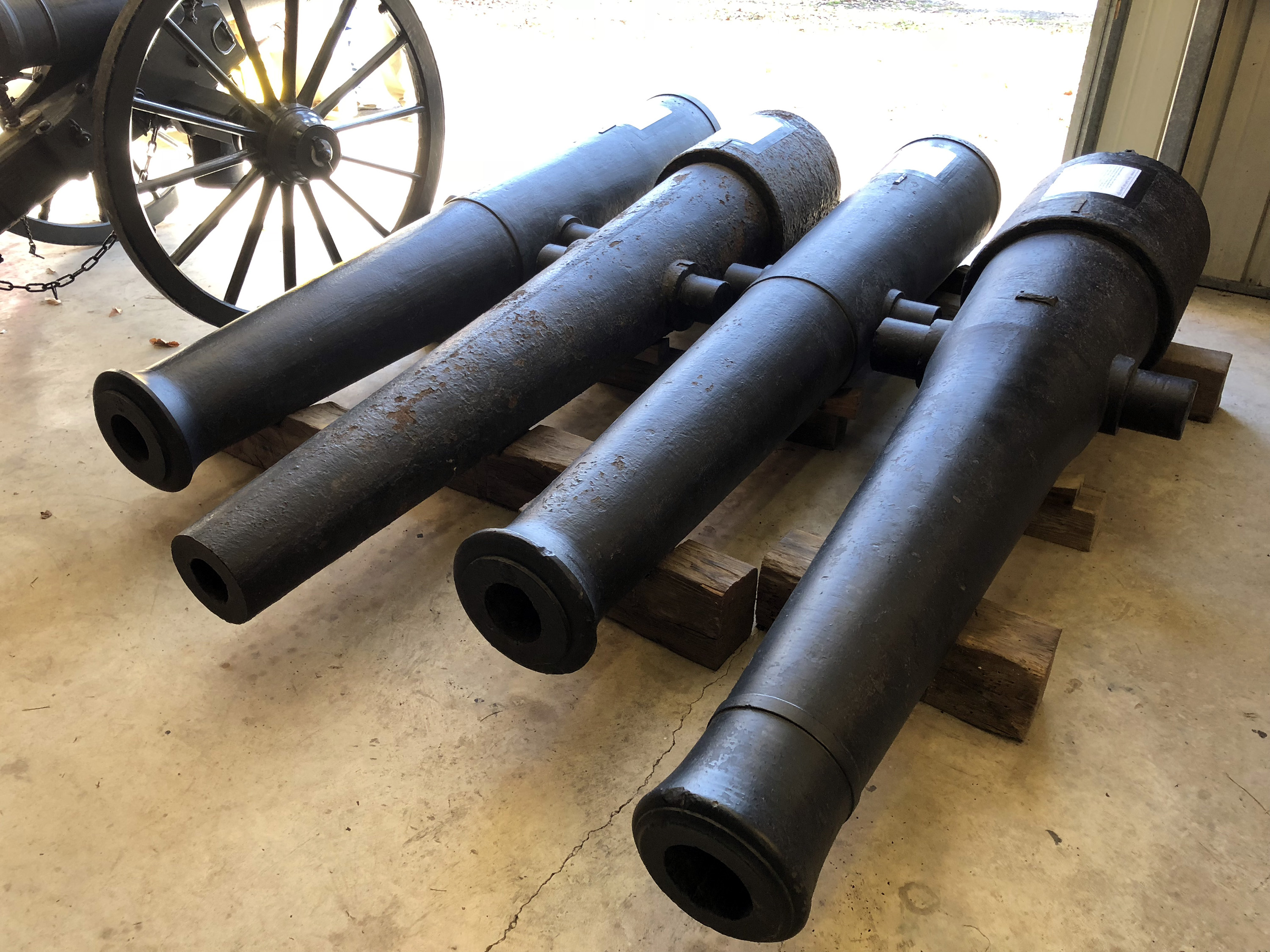 We drove to Plymouth to talk about the siege of 1864. We stopped first on the western end of town to describe the building of the CSS Albemarle and its related naval actions. Then we went to a sign for Fort Wessels/85th Redoubt. I was perplexed because it was in a different location than my own mapping suggested, but I later found out that the correct location is on modern golf course, so apparently they moved the sign away from that. And my map is correct. Then, on the eastern end of town we visited the site of Fort Comfort (aka Comphors), at Main and Rankin streets, where Confederate Robert Hoke attacked and triumphed in his first independent command. We visited a nice little museum at the "Port O'Plymouth," where outside in the river there is a 3/8th scale replica of the Albemarle. Pretty neat. It is actually a functioning vessel that goes out for reenactments.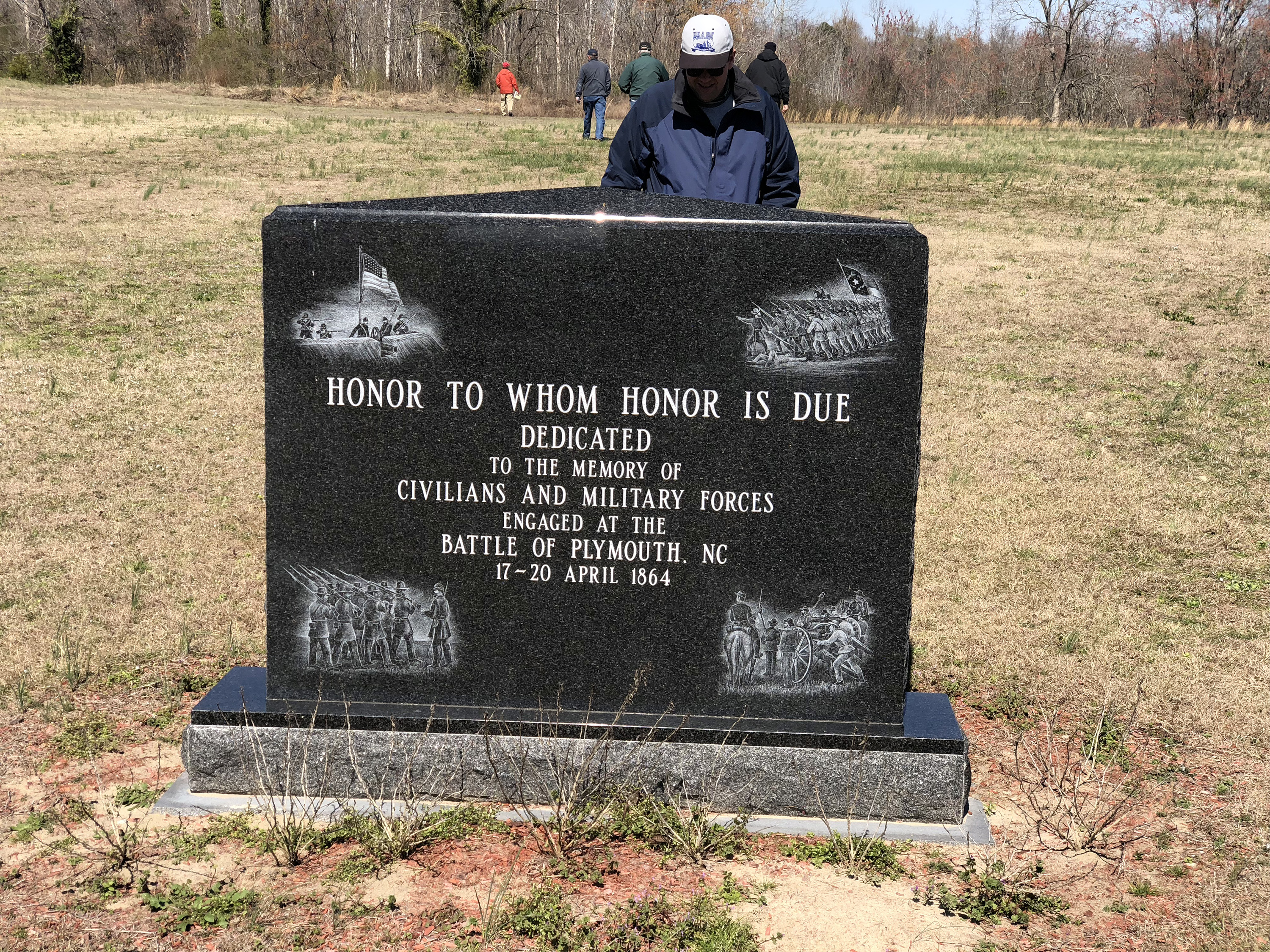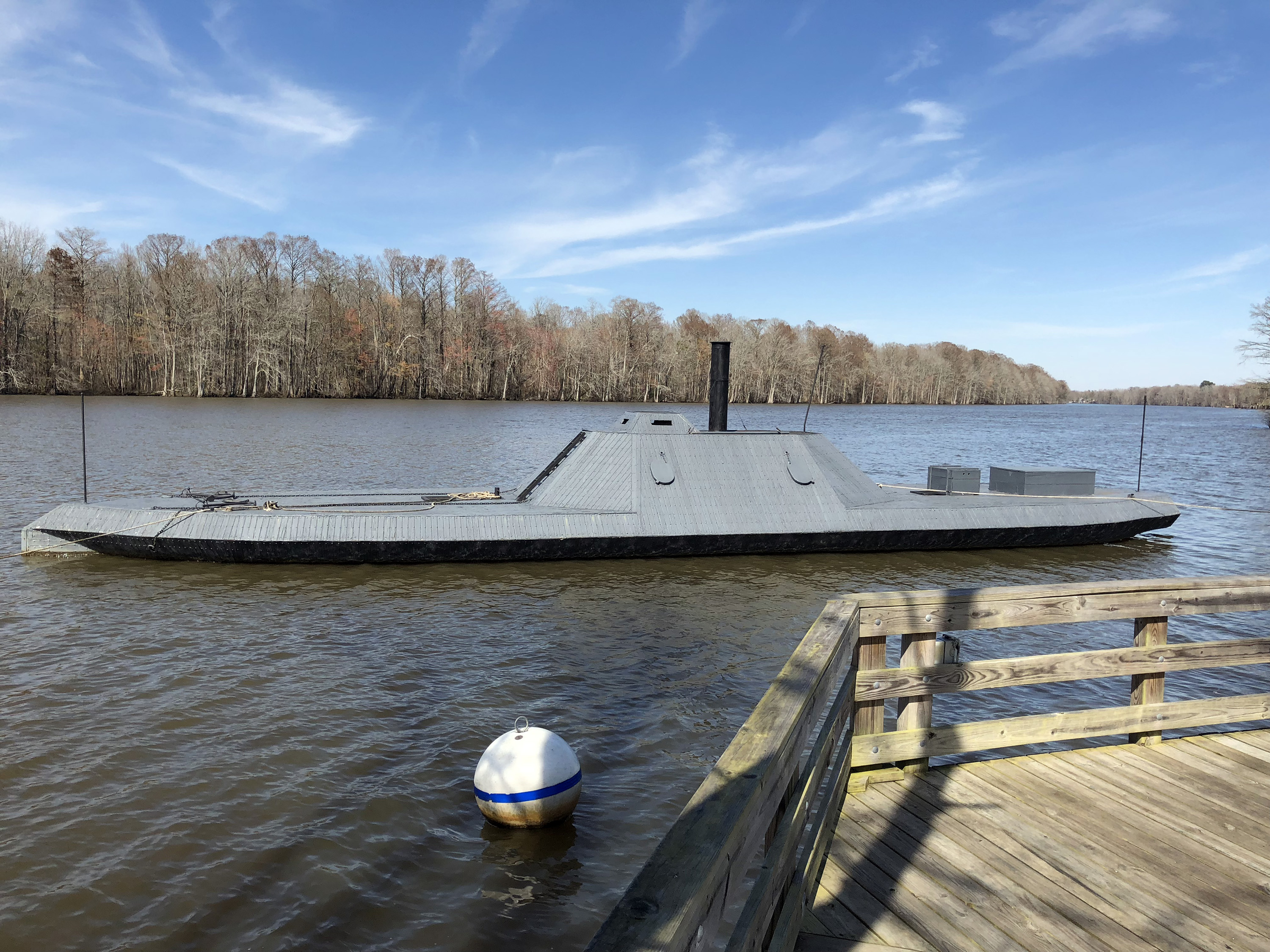 We drove to Albemarle Sound, stopping at Leonard's Point, the southern end of a long bridge, and discussed the naval battle of Elizabeth City (February 10, 1862). In EC itself (which is a very nice little town), we visited the waterfront to talk about the battle, and then the Museum of the Albemarle. The highlight here was the smokestack of the Albemarle, looking like Swiss cheese. I also liked a large oil painting of Pettigrew in Pickett's Charge at Gettysburg.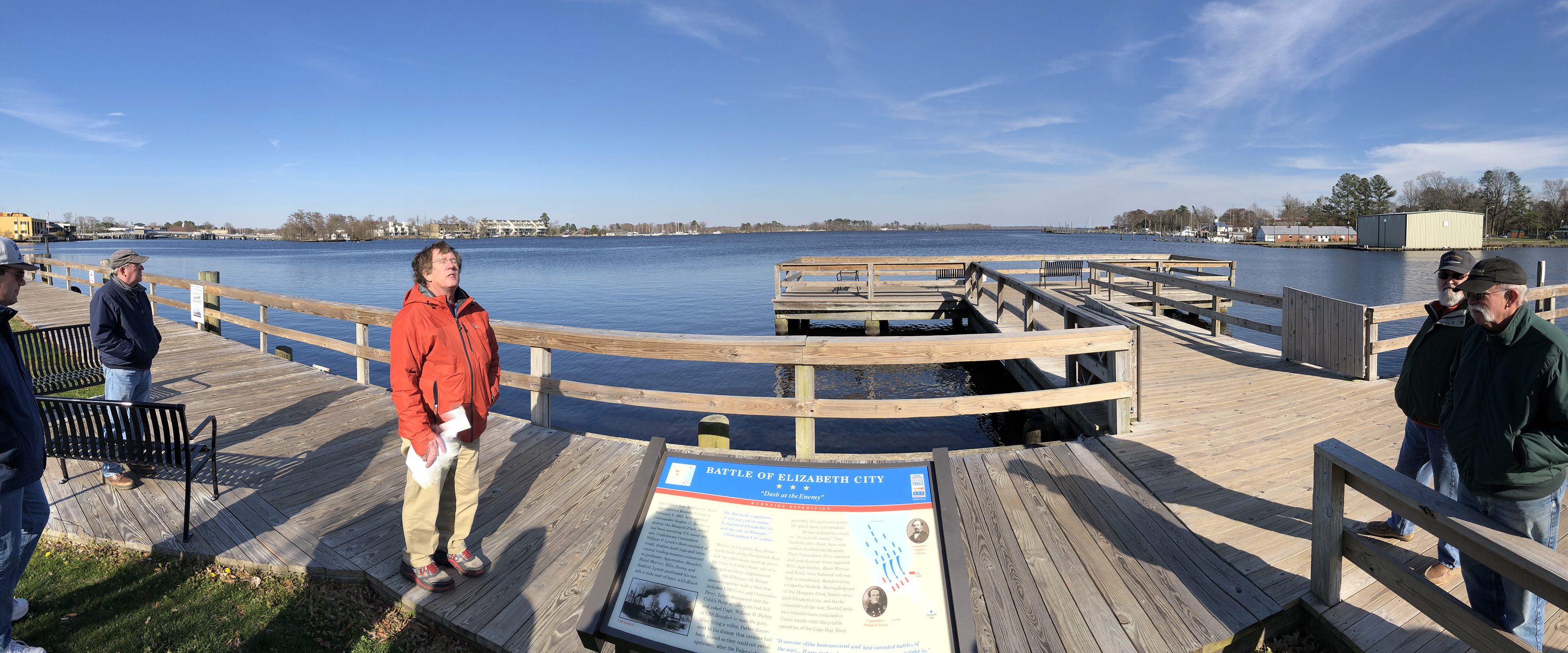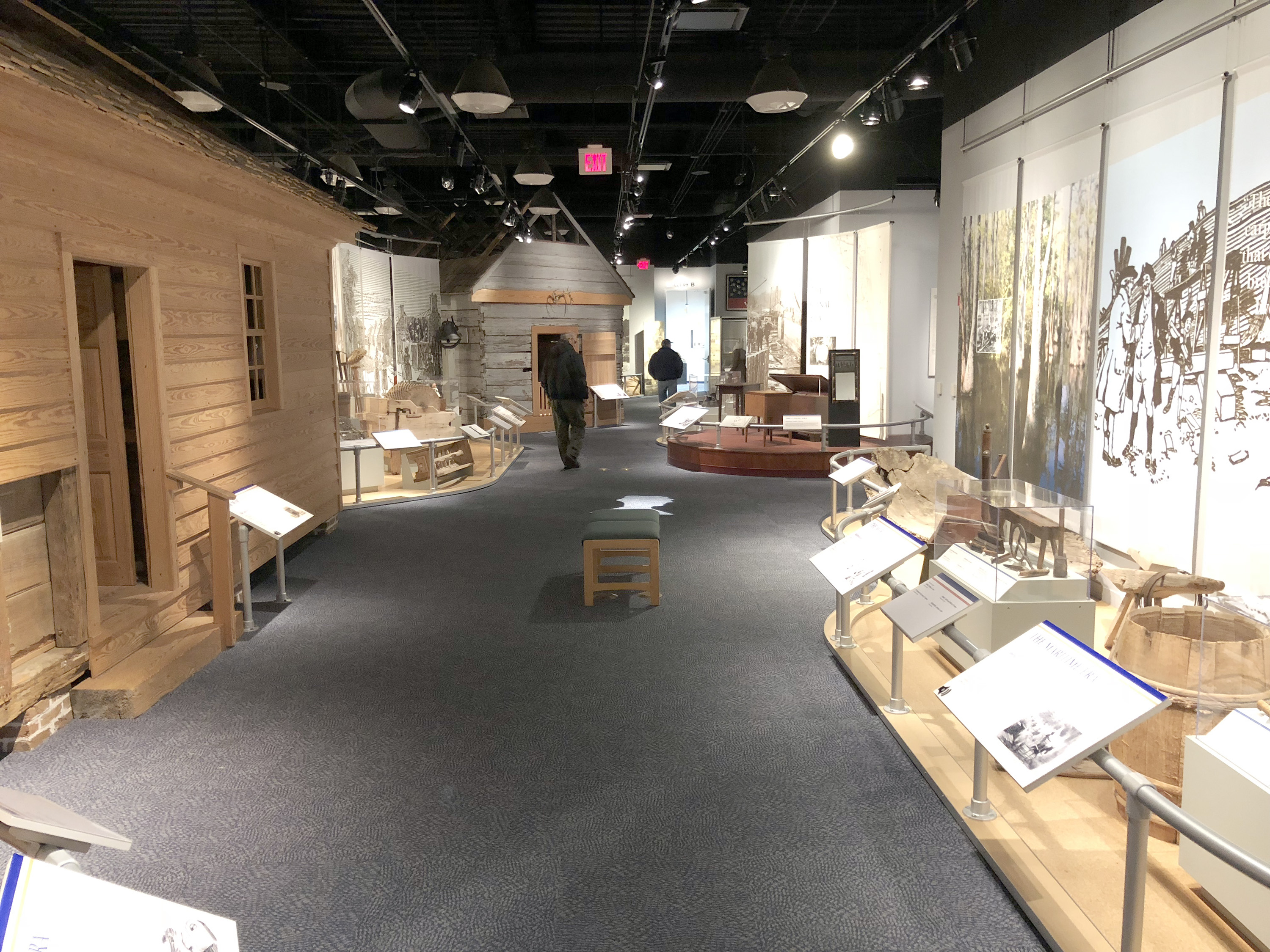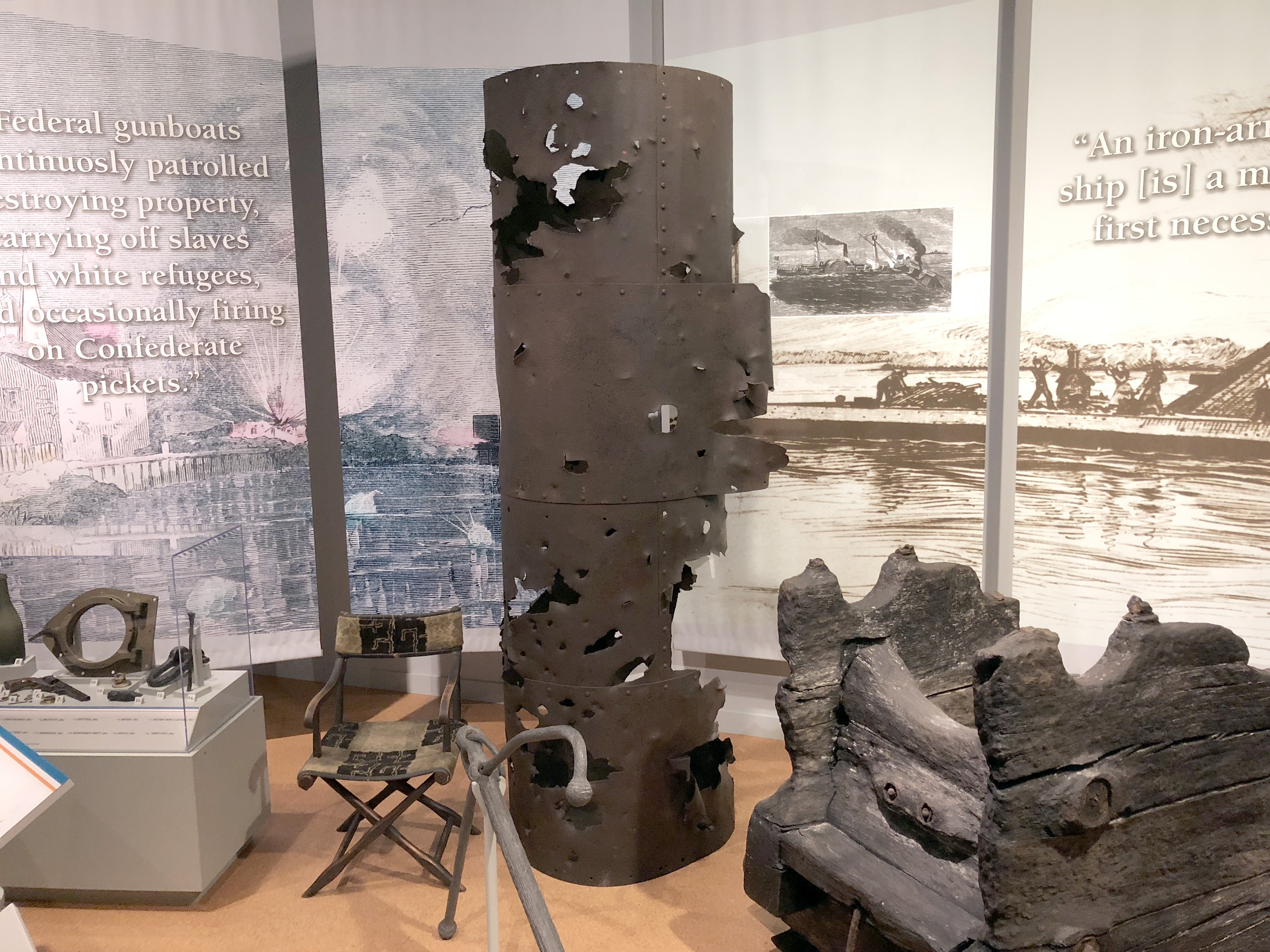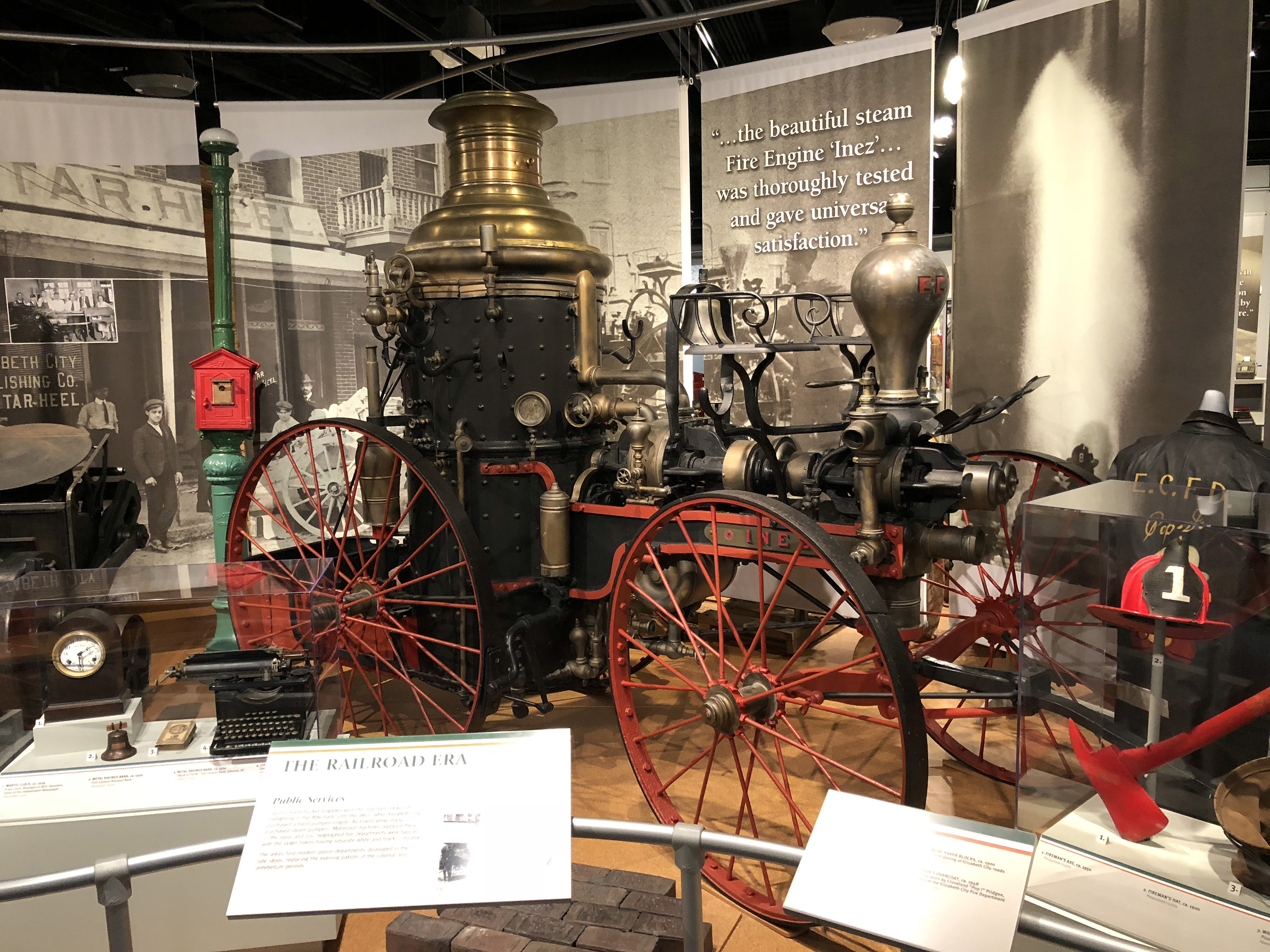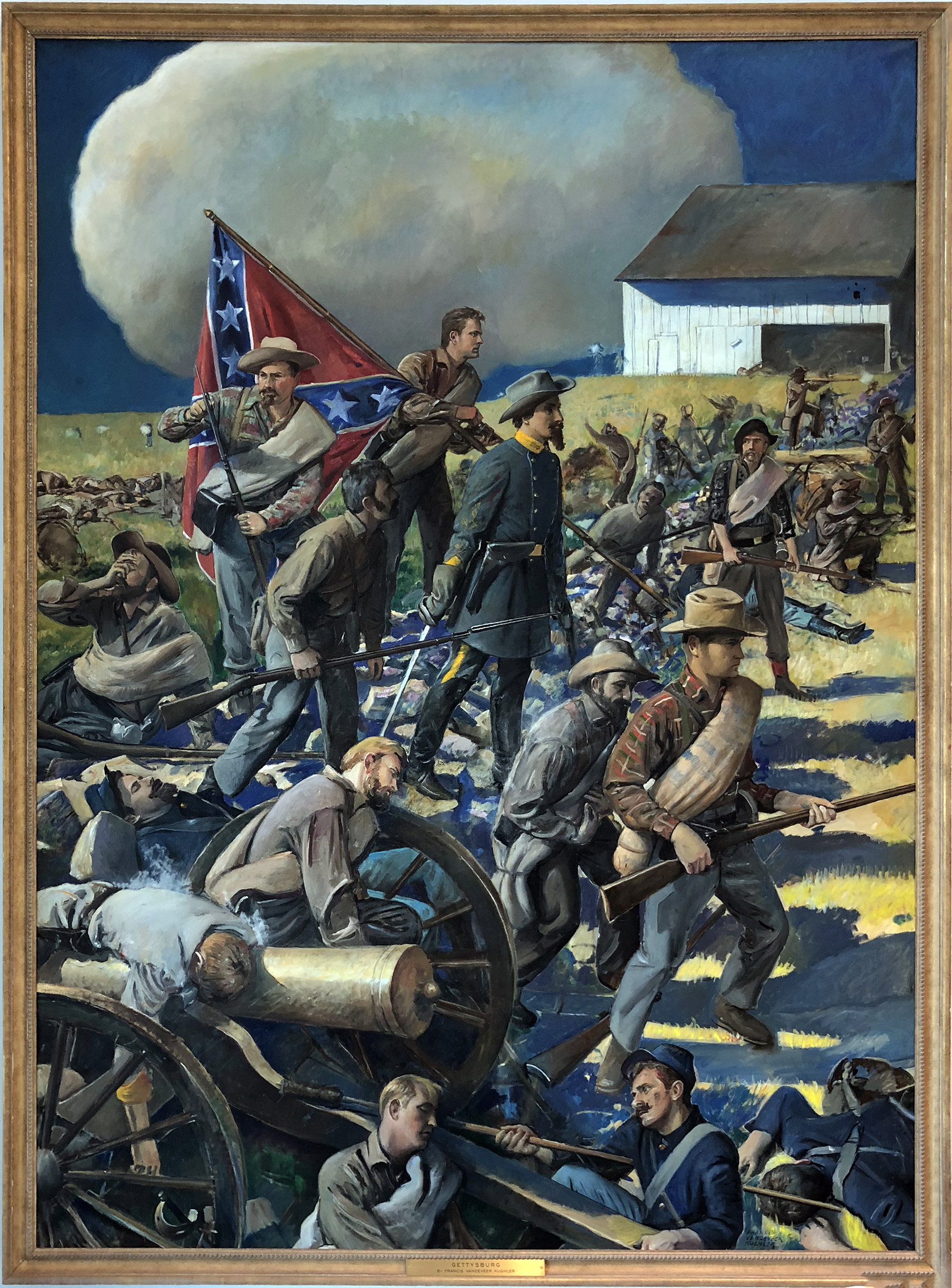 Next was South Mills, site of the April 19, 1862 battle, where we followed Reno's men up to the canal locks. There is not much of anything to see about the battle itself. Our final stop was Edenton, downtown to see the innocuous Confederate monument that is scheduled to be removed.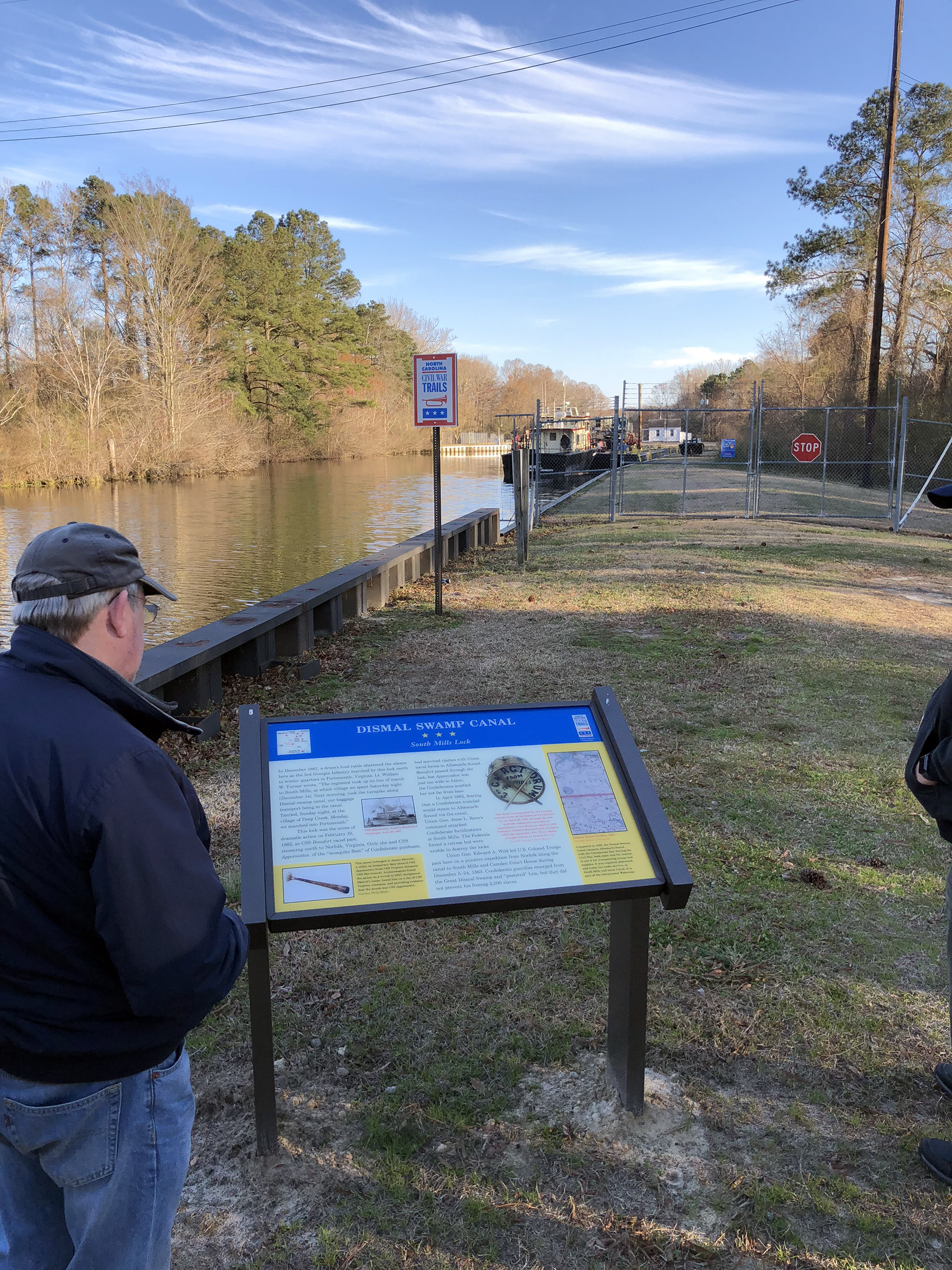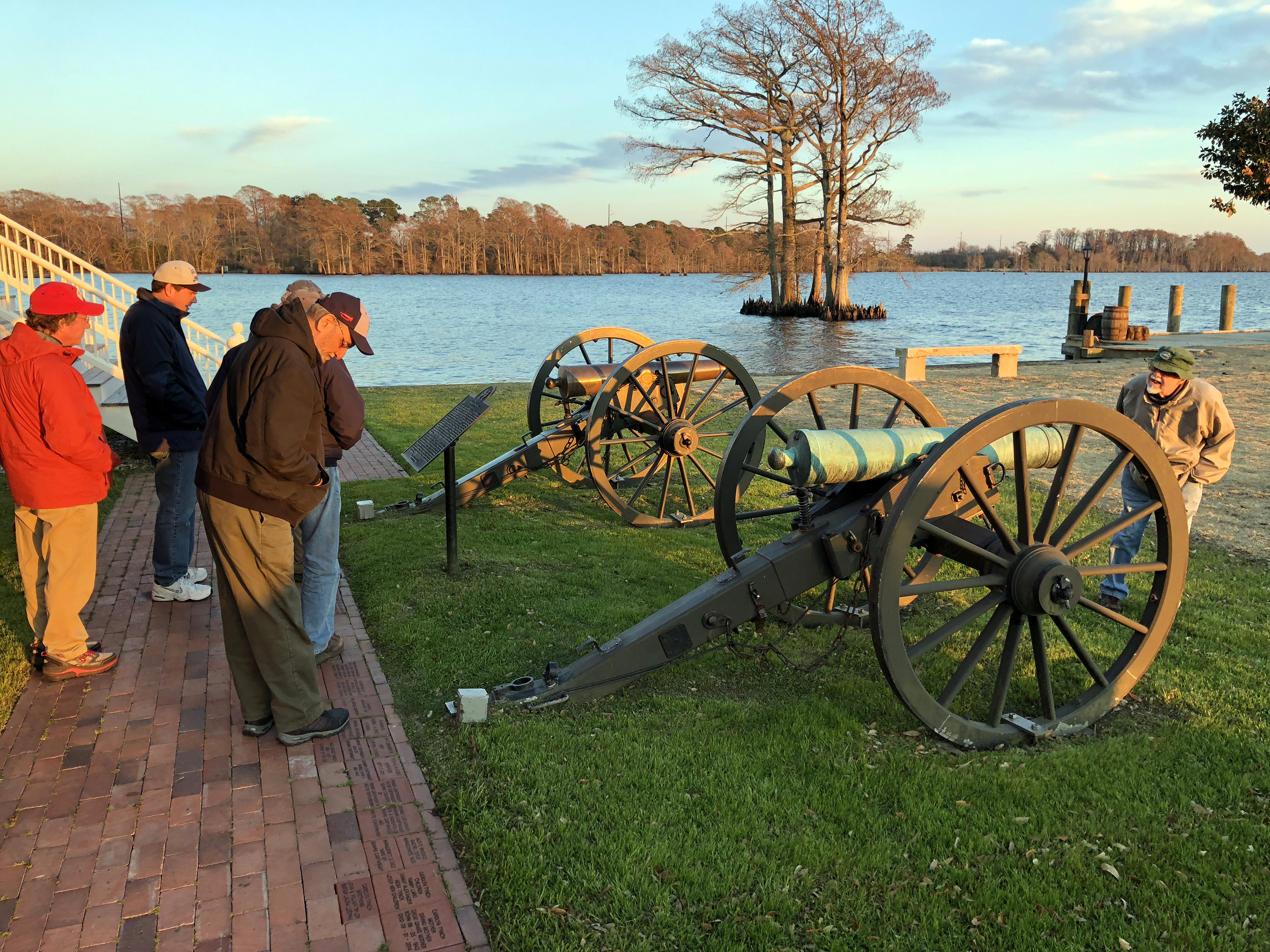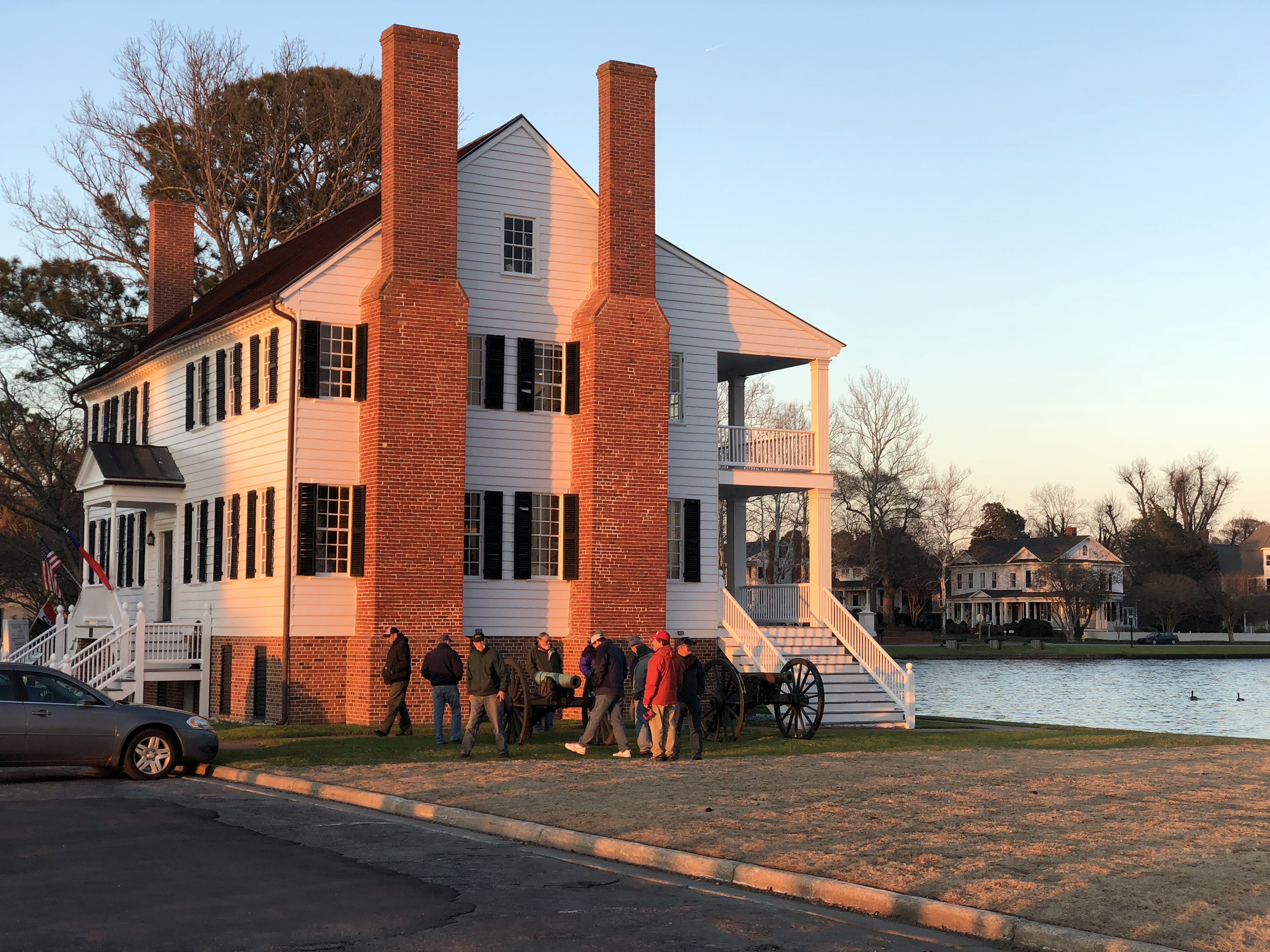 This was another long day of driving, almost as serious as Thursday.
Saturday, March 10
The main event today was the Battle of Wise's Forks (or Wyse Fork, as the NPS calls it, March 7-10, 1865), but we drove there on a road that went near New Bern, so we stopped off to visit three sites (blockhouses) involved in the Battle of Batchelder's Creek (February 1, 1864), where our buddy Hoke whipped a Union brigade under Peter Claassen. We then followed the railroad in the direction of Kinston, as the troops under Jacob Cox did in March 1865, stopping for discussions at Core Creek and Dover Stations. We made quite a number of stops all over the battlefield, which while not formally preserved in its entirety, is still mostly in its original state. Wise's Fork itself now hosts a gas station, but the rest of it is pretty similar. There is an interesting trail in the area called Camp Southwest that takes you into the woods to see nicely preserved earthworks. We had to watch out for snakes, though. Fortunately, it was pretty cold.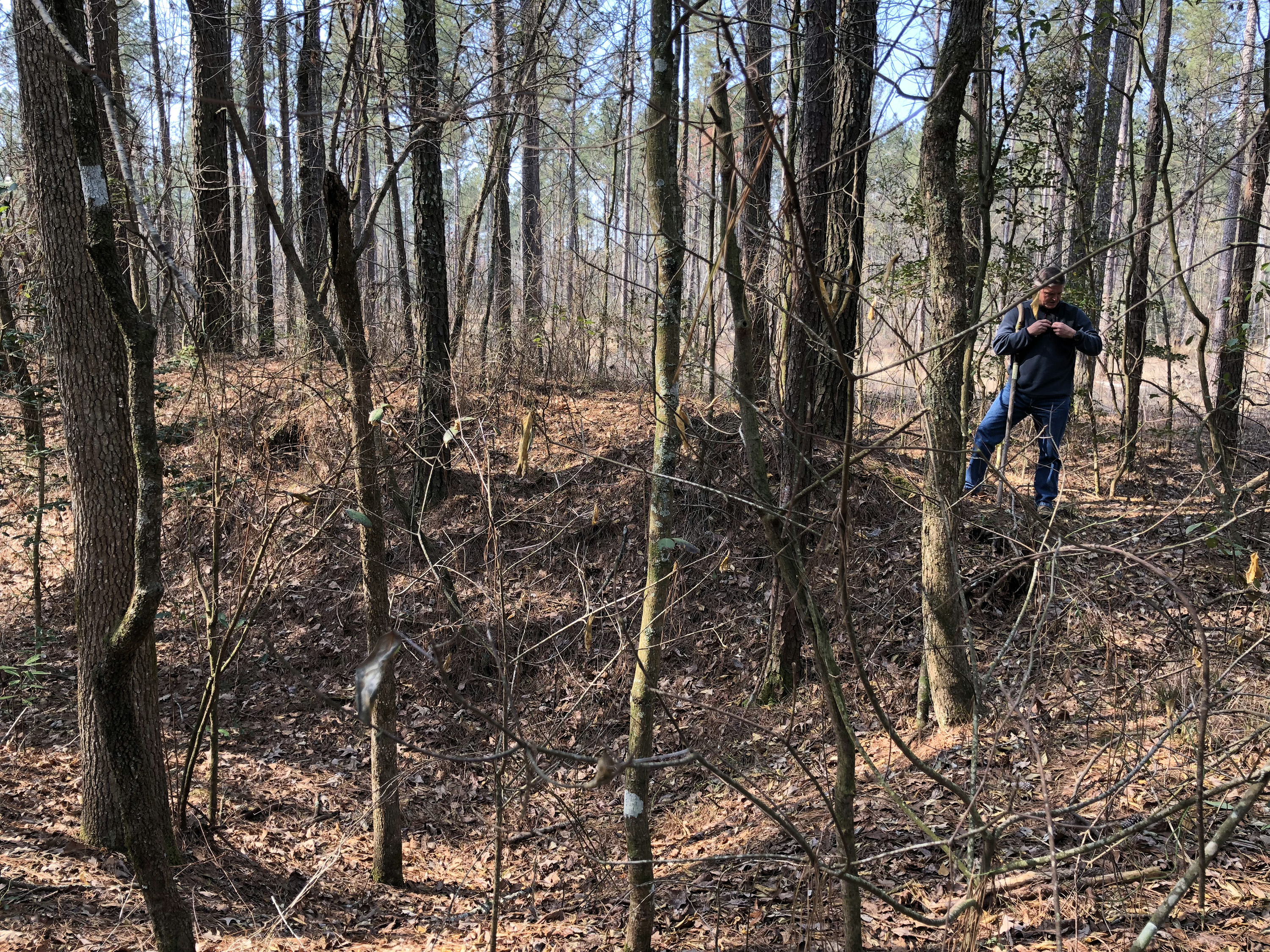 Our guide was Wade Sokolosky, who wrote (with Mark Smith) the most recent book about the battle. Wade is a retired Army colonel and gave us a lot of command insights about the battle and the efforts of John Schofield's army to link up with and supply Sherman's army at Goldsboro. He also made superb use of maps by George Skoch, blown up to large format, so we were able to keep up with all the action to the regimental level. (I was disappointed to not get this mapping contract myself, but Wade originally quoted a super-aggressive schedule, and I was unable to accommodate him.)
I won't attempt to record all our stops, but we covered every aspect of the 4-day battle, even driving around to see the perspectives of each side in a few of the attacks. In the middle of the day we stopped to visit a dedication ceremony for a new monument honoring the Confederate Tar Heel brigade of William Kirkland, which made important attacks on March 7 and 10. The latter, of which today was the anniversary, was a failure and many of his men were captured by a line of four Union companies skirmishing! Some called this the local version of Pickett's Charge, but that is certainly overblown. I enjoyed Wise's Forks (Wade's preferred naming convention) and brought back a lot of insight into improving my maps of the battle.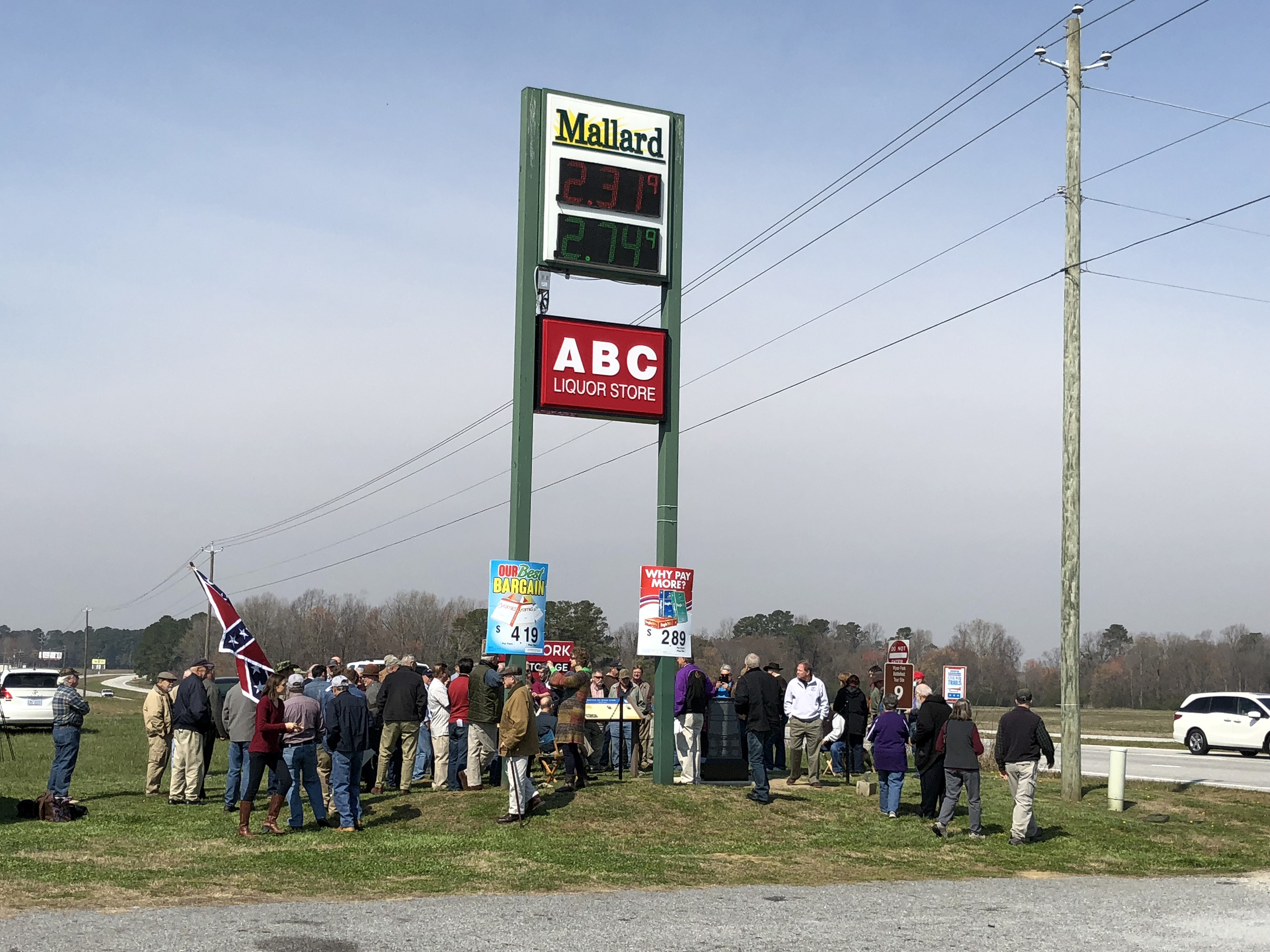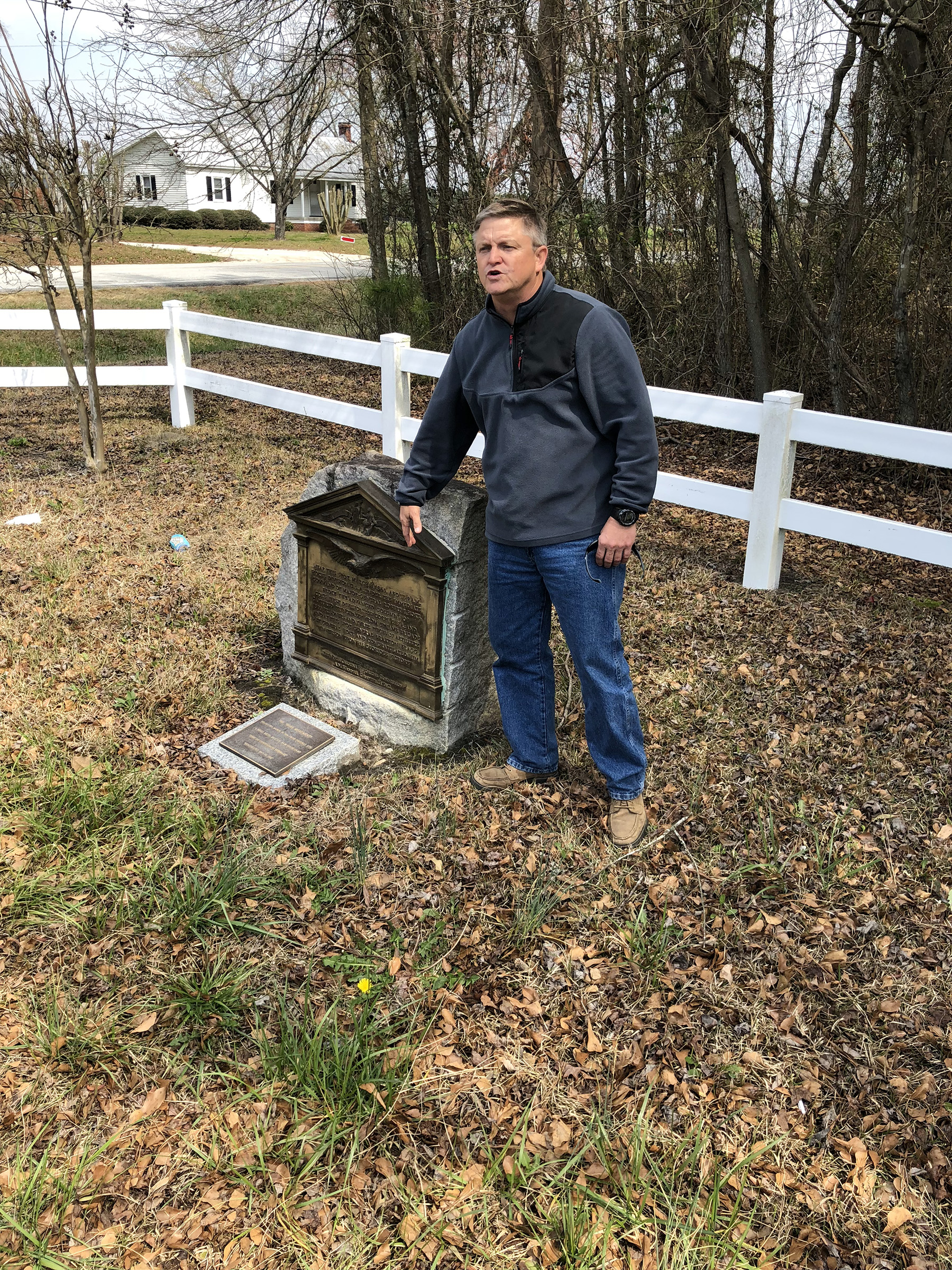 Our final visit was in downtown Kinston, the Neuse Museum. CSS Neuse was the sister ironclad to Albemarle, and although she never saw battle, she seems to be beloved in this area. She was sunk and there was an elaborate effort to dredge up the remains, which they showed in detail in a nice short movie. Then you go into a large room and there she is! There's really not much left beyond a large expanse of distressed wood, but they have it arranged so you can see how those pieces fit into the original whole. Outside they have a full-scale replica propped up in a city park. The inside isn't too authentic—such as using a locomotive boiler because that is what was available—but the outside is really cool and the volunteer staff inside was very friendly.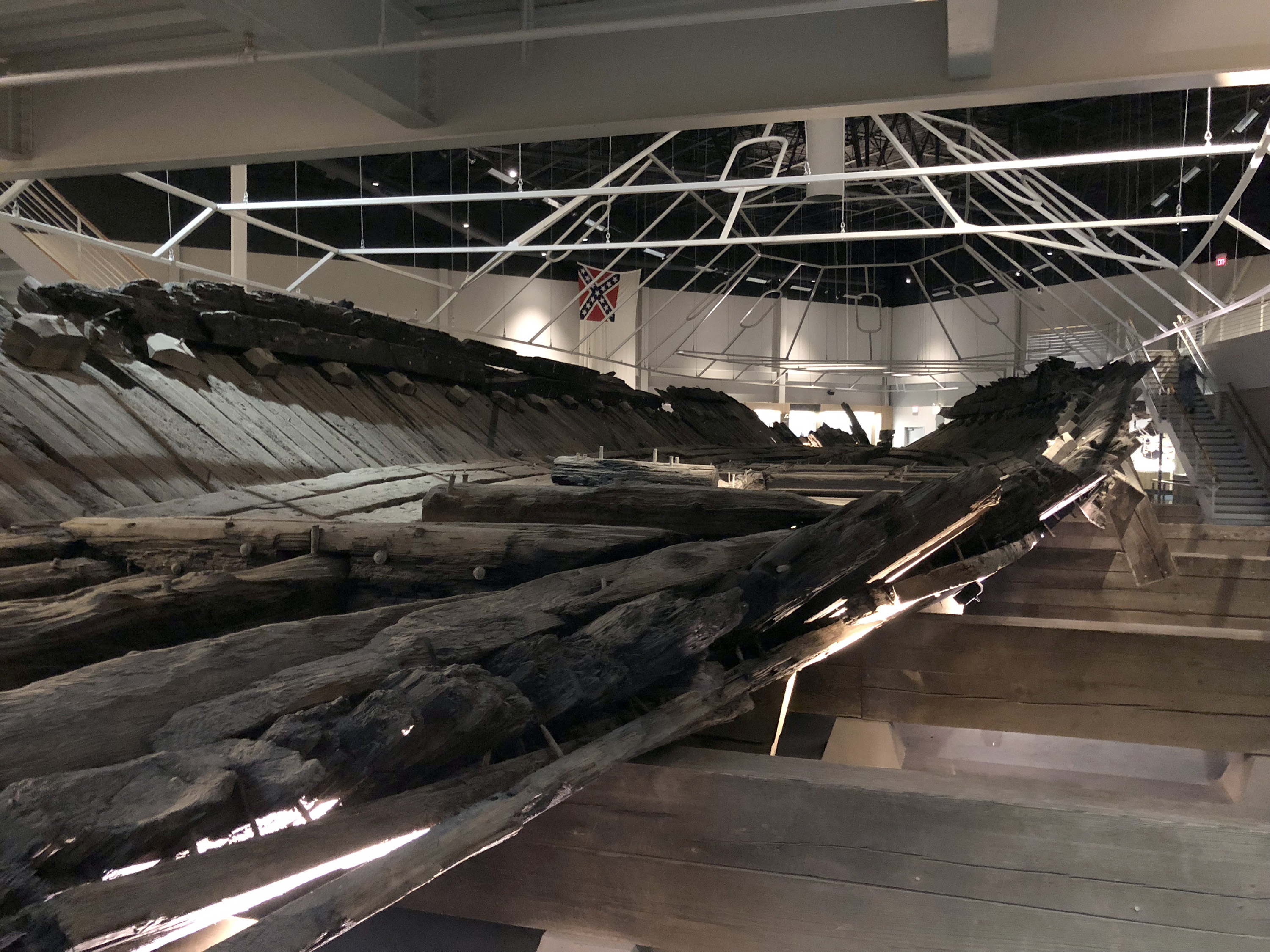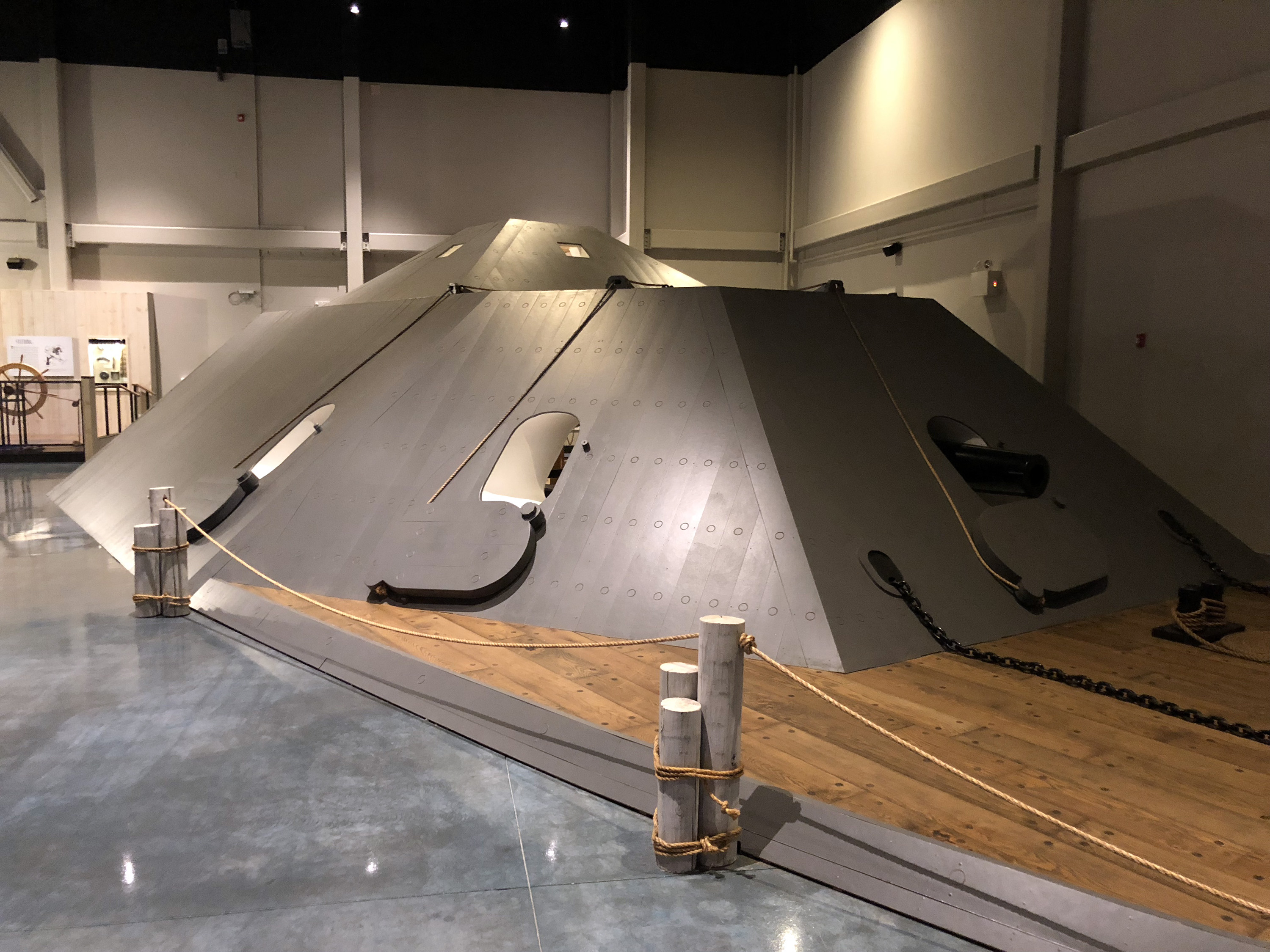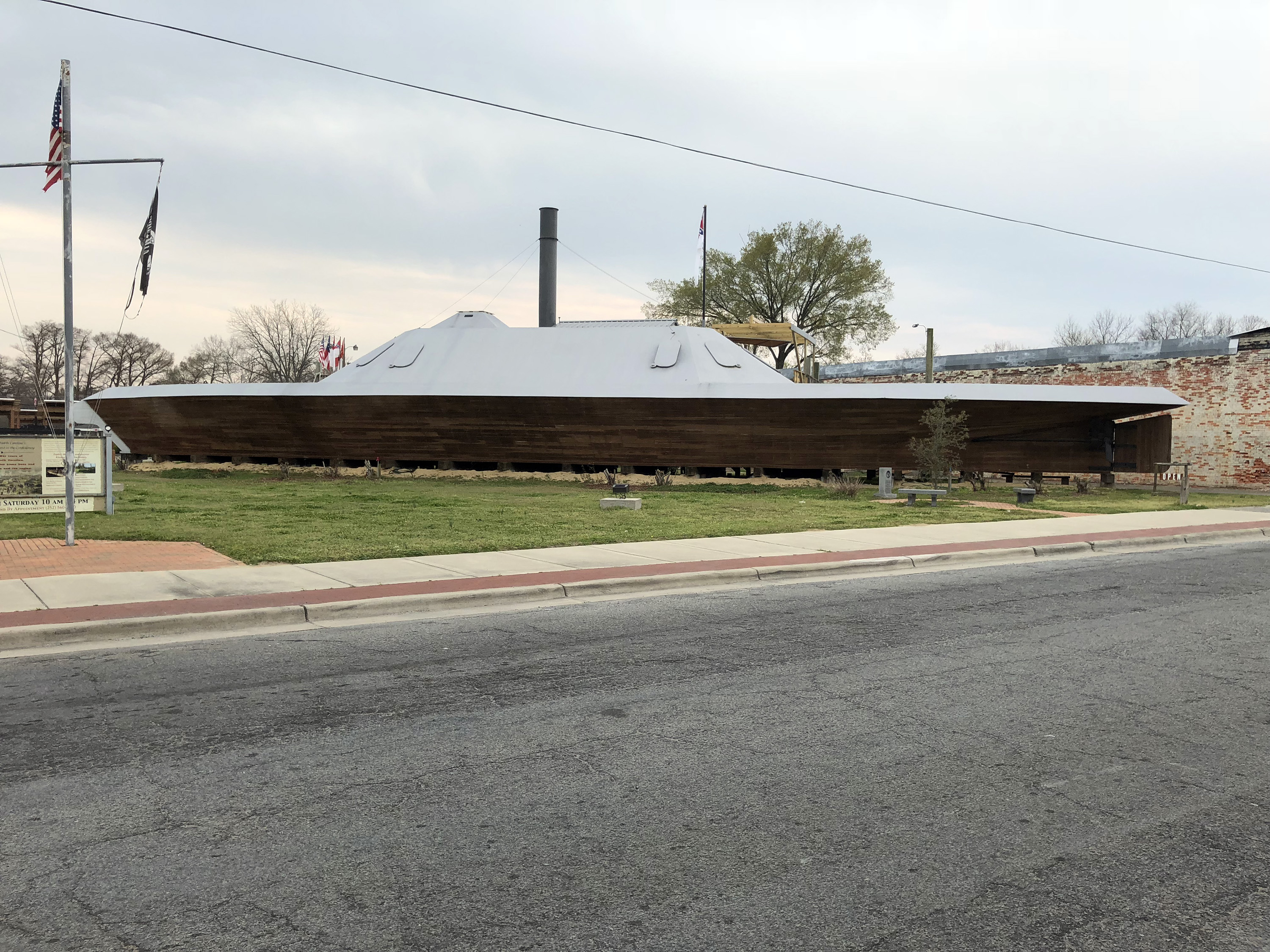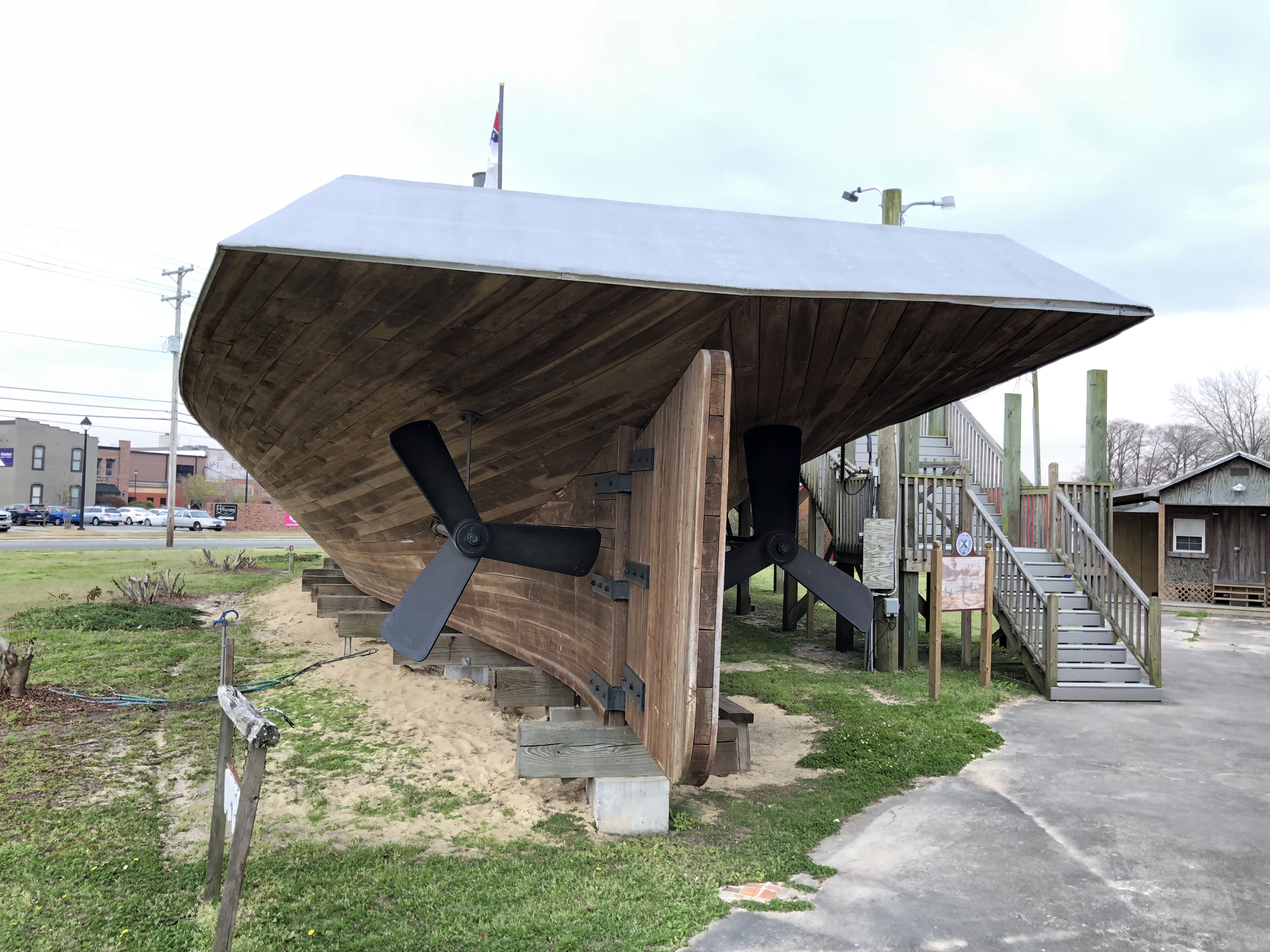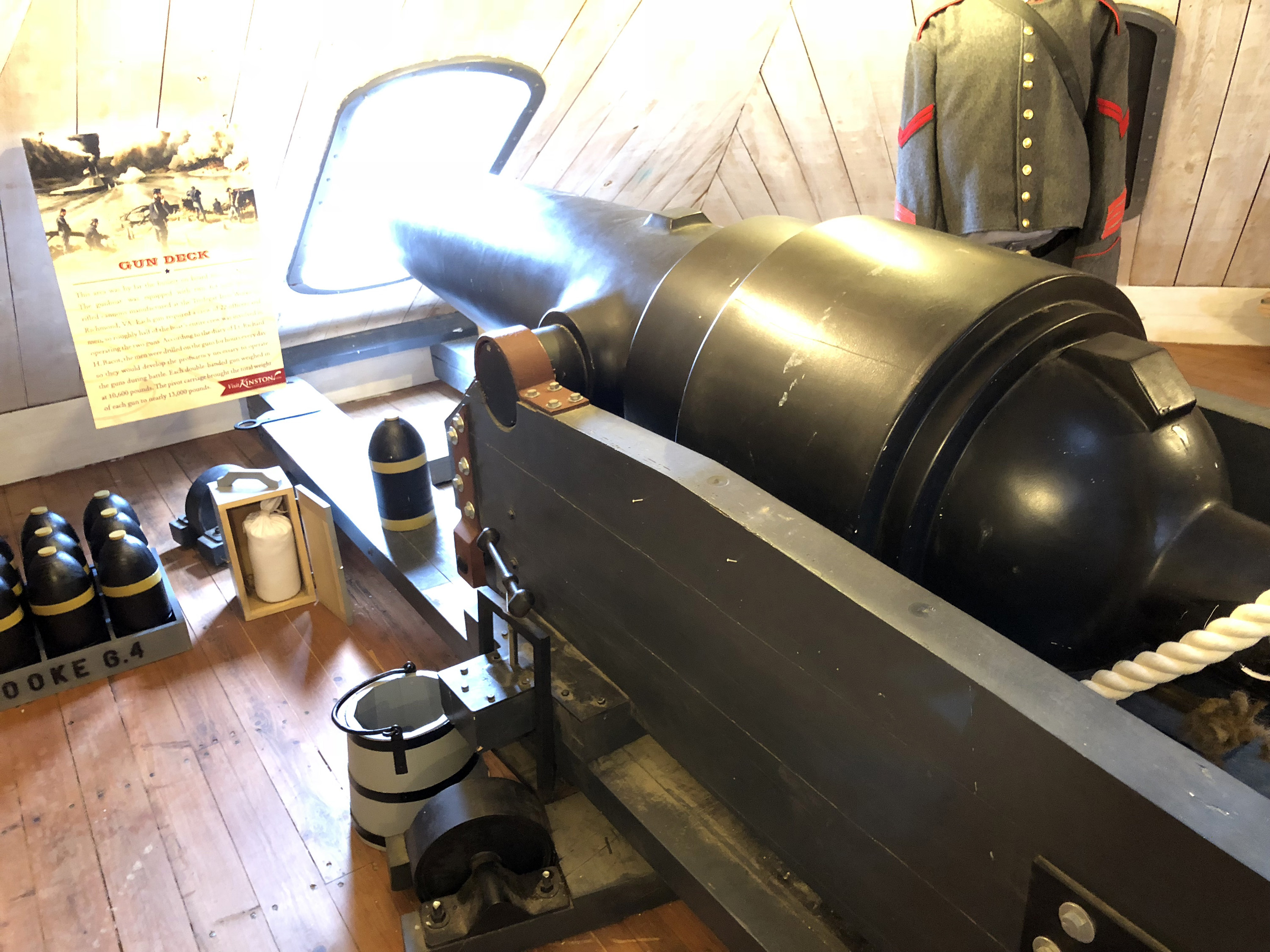 That night we had a hosted group dinner at Marabella, a casual but excellent Italian restaurant. (A few of us went there Friday night and liked it enough to return.)
Sunday, March 11
To start off our last day, we returned to New Bern, visiting the battlefield south of town. I was really very impressed with this site, which offered superb signage with many maps, very nice paths and bridges over creeks. It is not a state or federal site, but one maintained through donations by the New Bern historical society. Unfortunately, only about half the battlefield has been saved from development, so you can only walk on the eastern side of the line, instead of where the main Union effort occurred.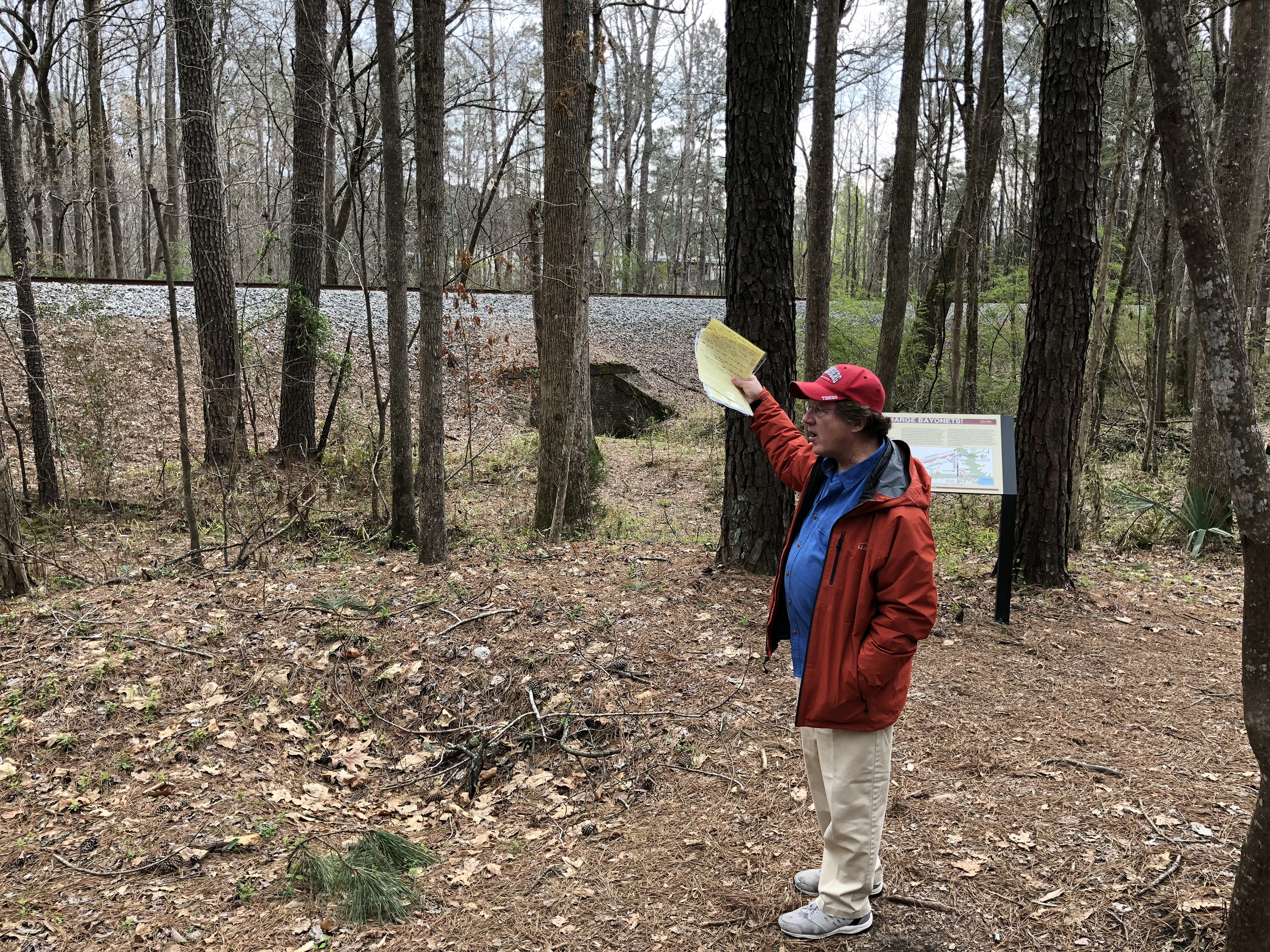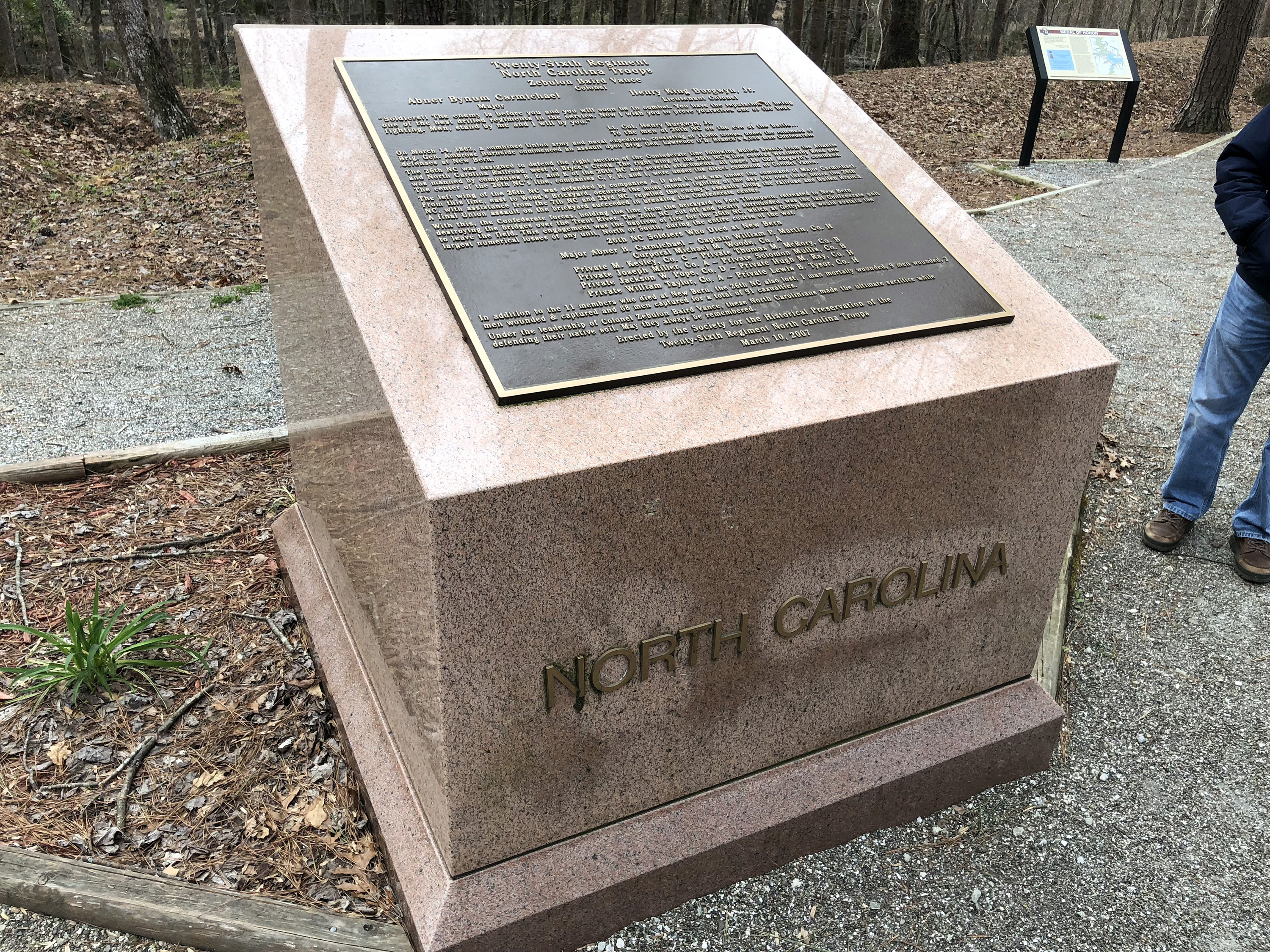 Next was the town of Newport, site of an important railroad bridge on the way to Fort Macon and Morehead City. There was a minor battle here called Newport Barracks on February 2, 1864; the town itself was named Shepherdsville at the time. There is a small park dedicated to the battle with lots of exhibits like troop barracks, blacksmith shops, artillery, etc.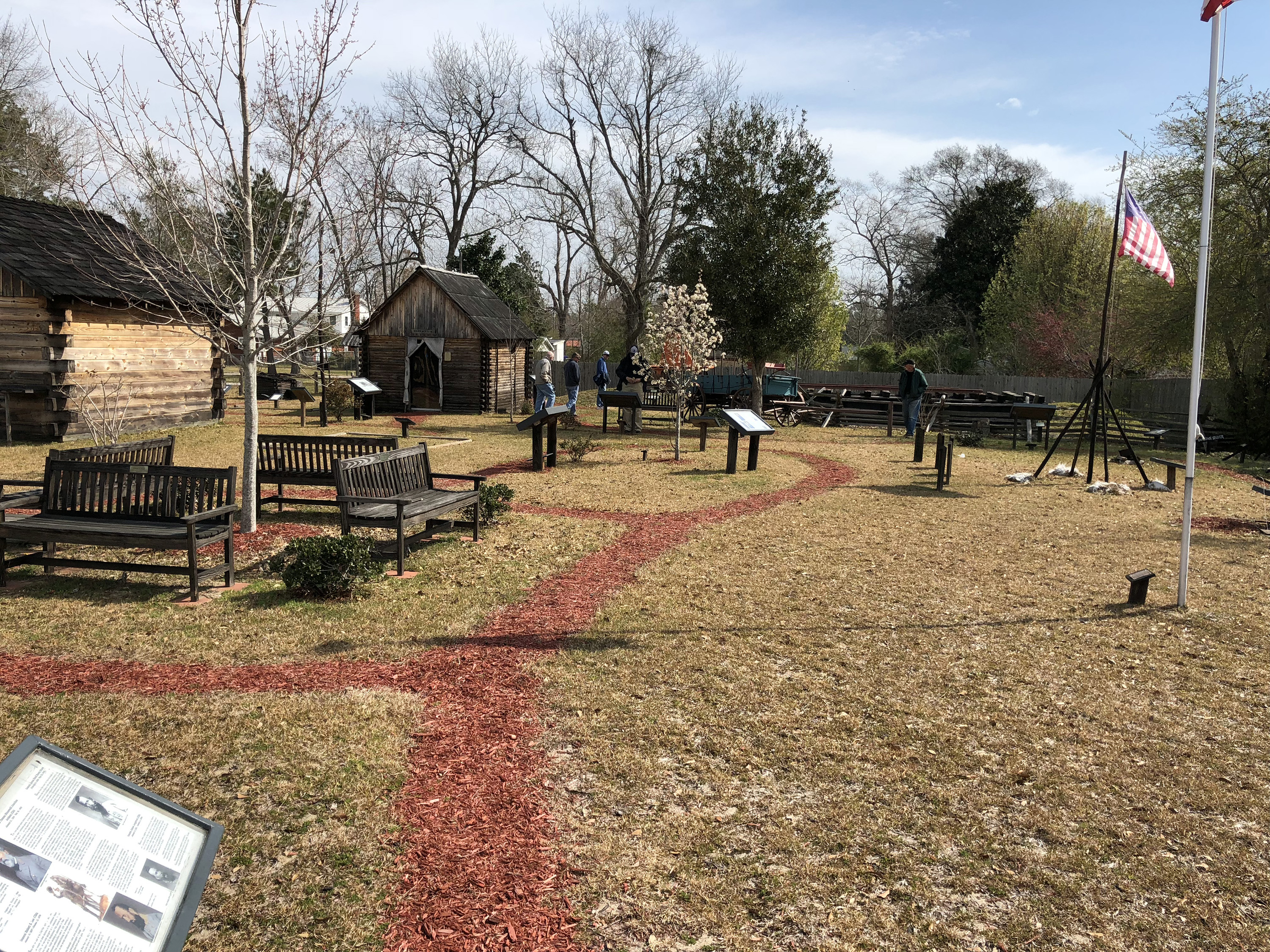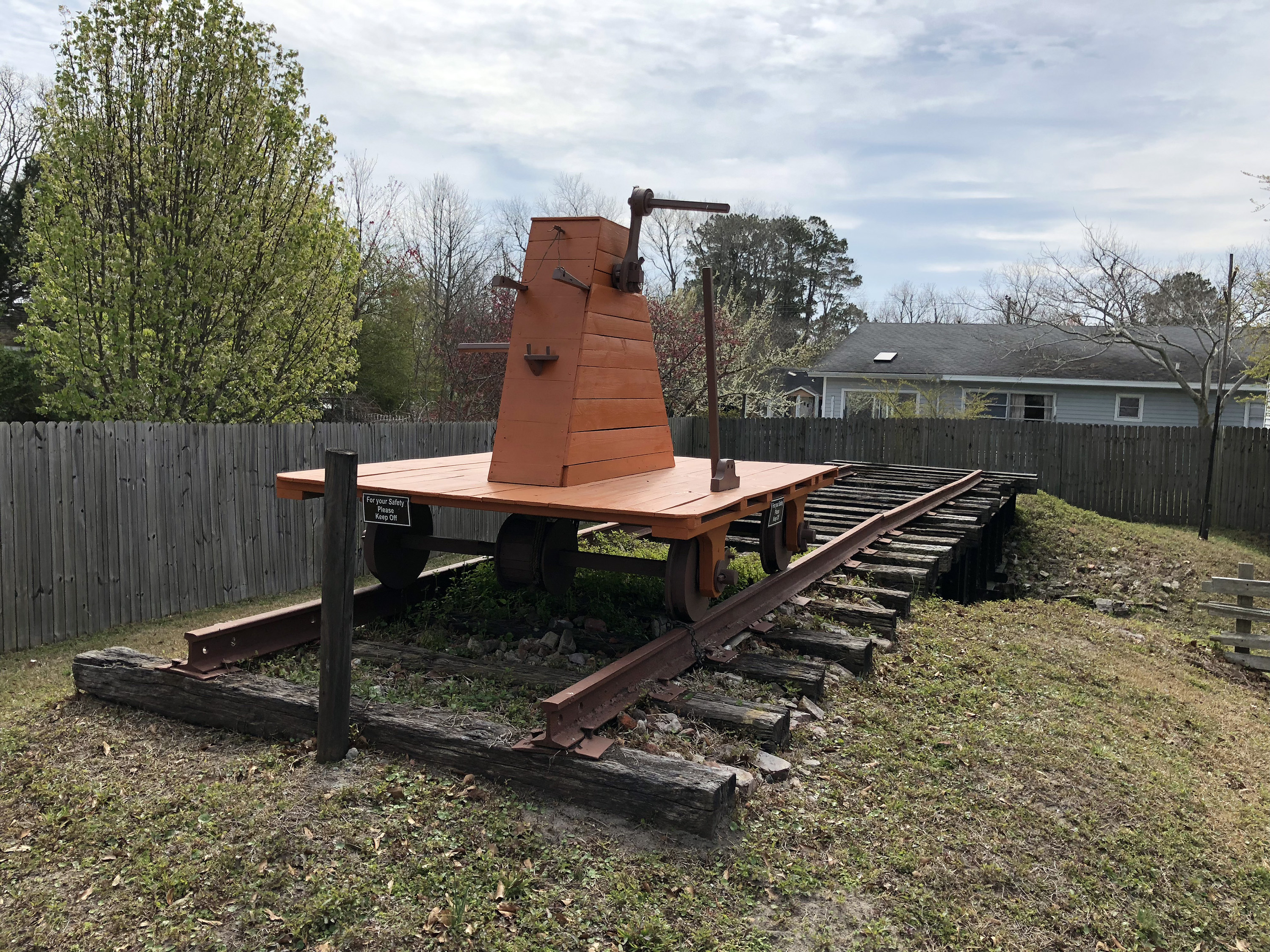 Carolina City is on Bogue Sound, although today it's just part of Morehead City. Here Wade described Parke's advance toward Fort Macon and how difficult it was to get troops and siege artillery across the sound on a requisitioned barge, and then by dragging over the sand. This area was a massive camp—first Confederate, then Union, then again in the Spanish–American War.
Fort Macon was last, on the tip of Atlantic Beach. This is a relatively small Third System fort, like Sumter or Jefferson, but preserved in immaculate condition as part of a state park. There was no infantry left to defend the fort, so on April 25, 1862, Union rifled artillery opened up from 1,600 yards. They homed in the corner of the fort that housed the ammunition magazine and the Confederates were forced to surrender. I was impressed with Wade's story about the US signal officer who called in fire control orders to the 30lb Parrotts using wig-wag flags. Inside the fort there are a number of rooms with exhibits about the fort, the soldiers, weapons, and the battle. Very well done. This is probably the the most nicely preserved Third System fort I have ever visited (other than Fort Point in San Francisco, but that one was never fired upon), except for the fact that they do not have the budget to represent all of the cannons that were there at the time.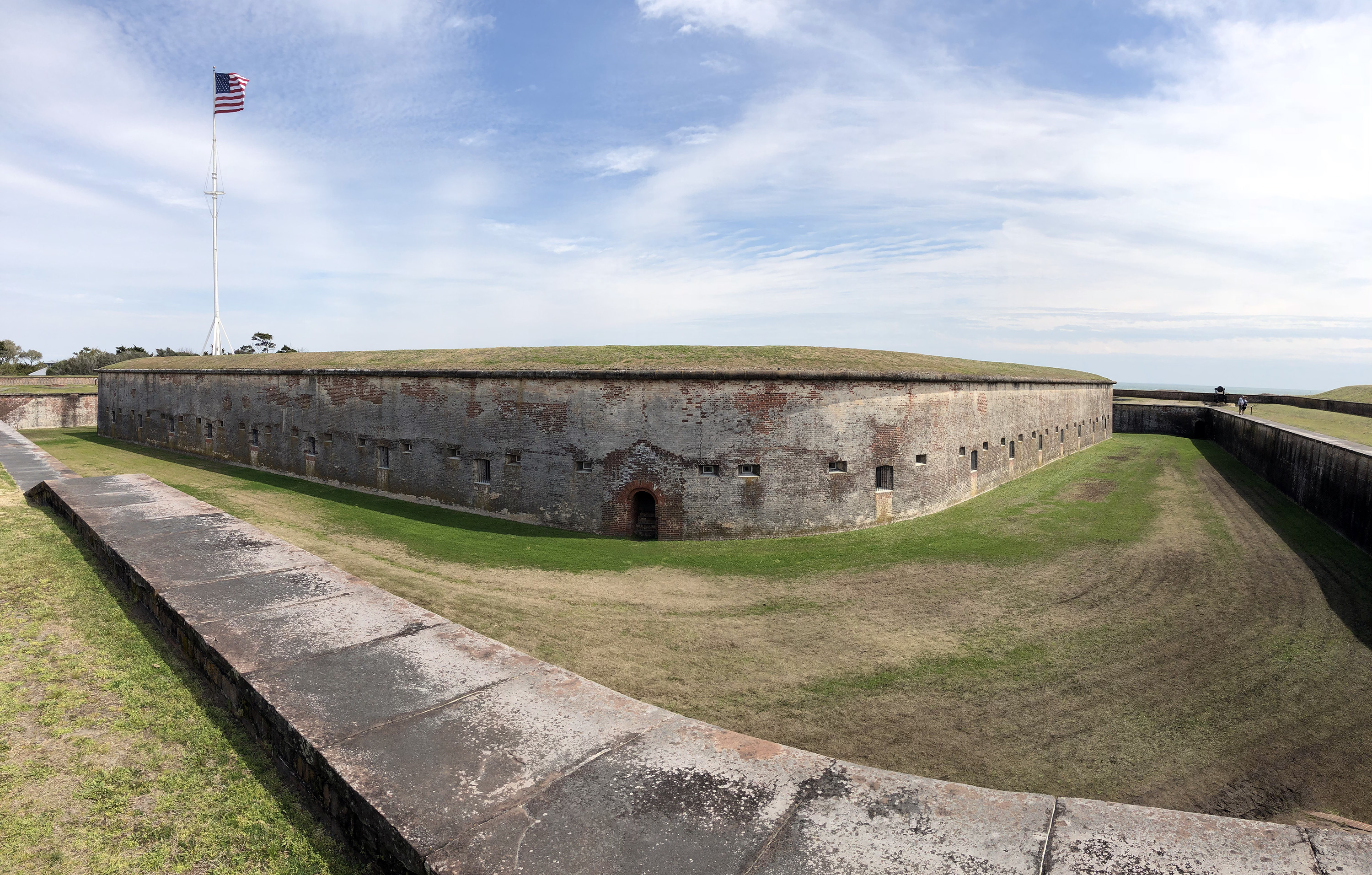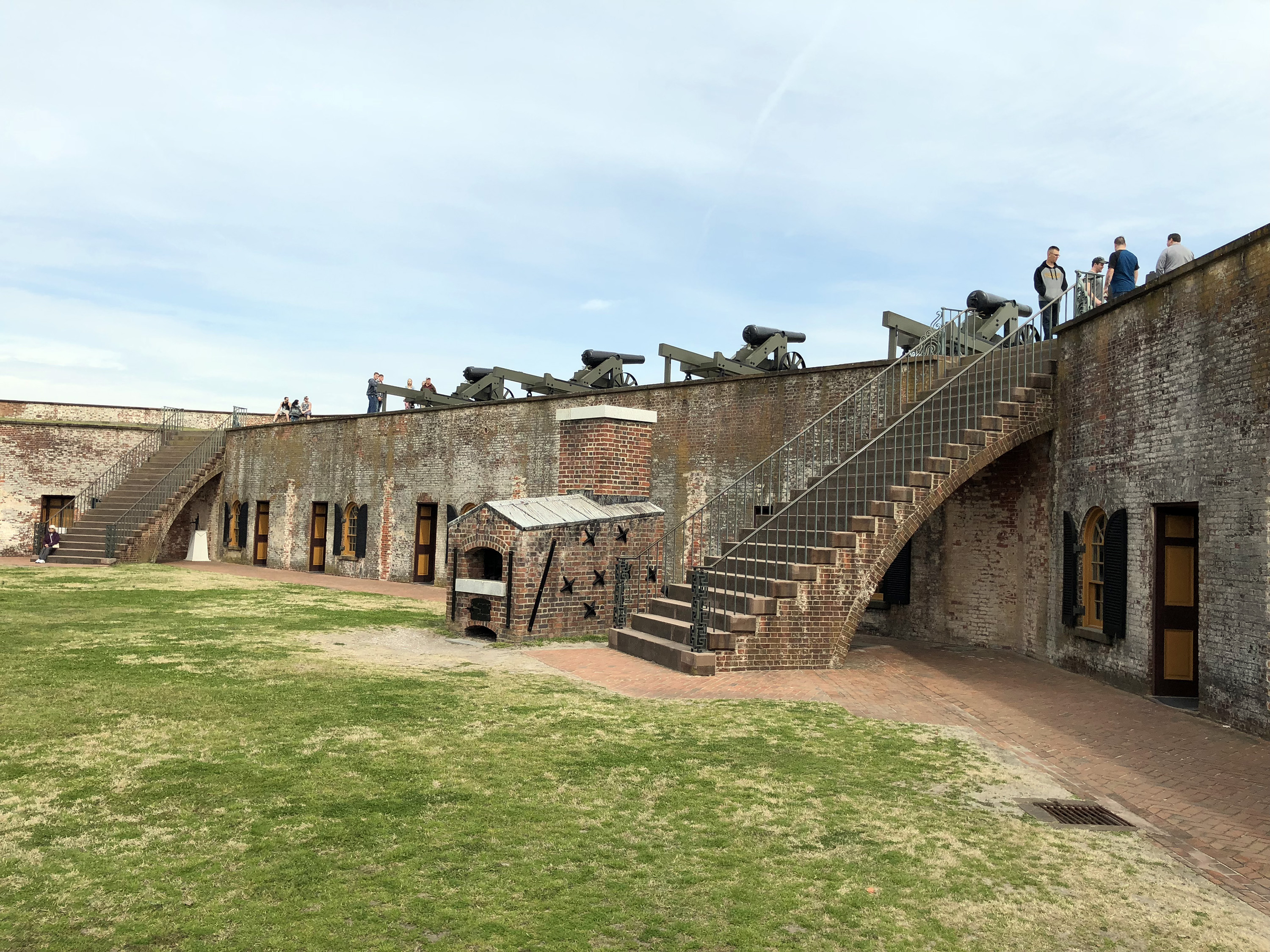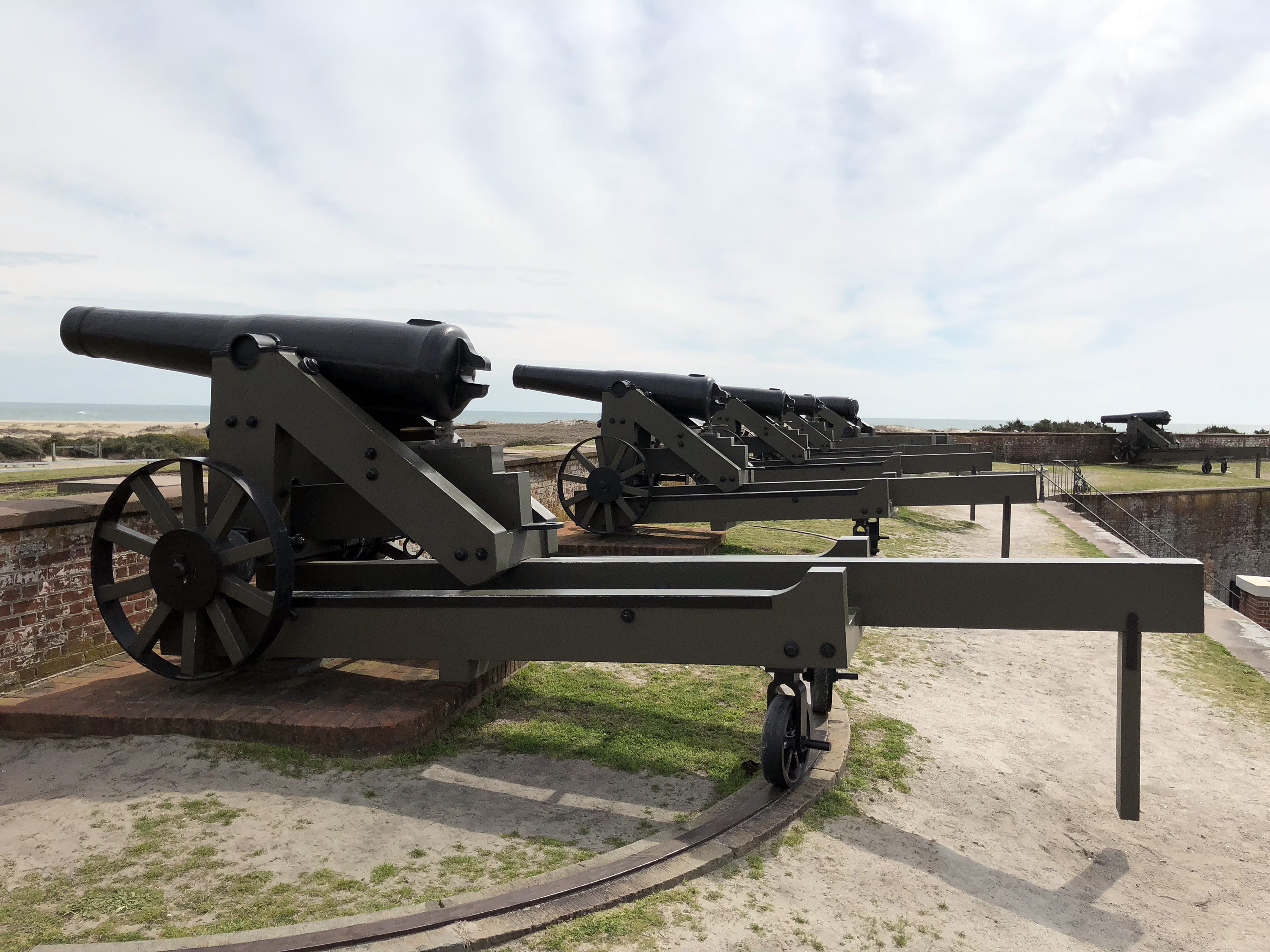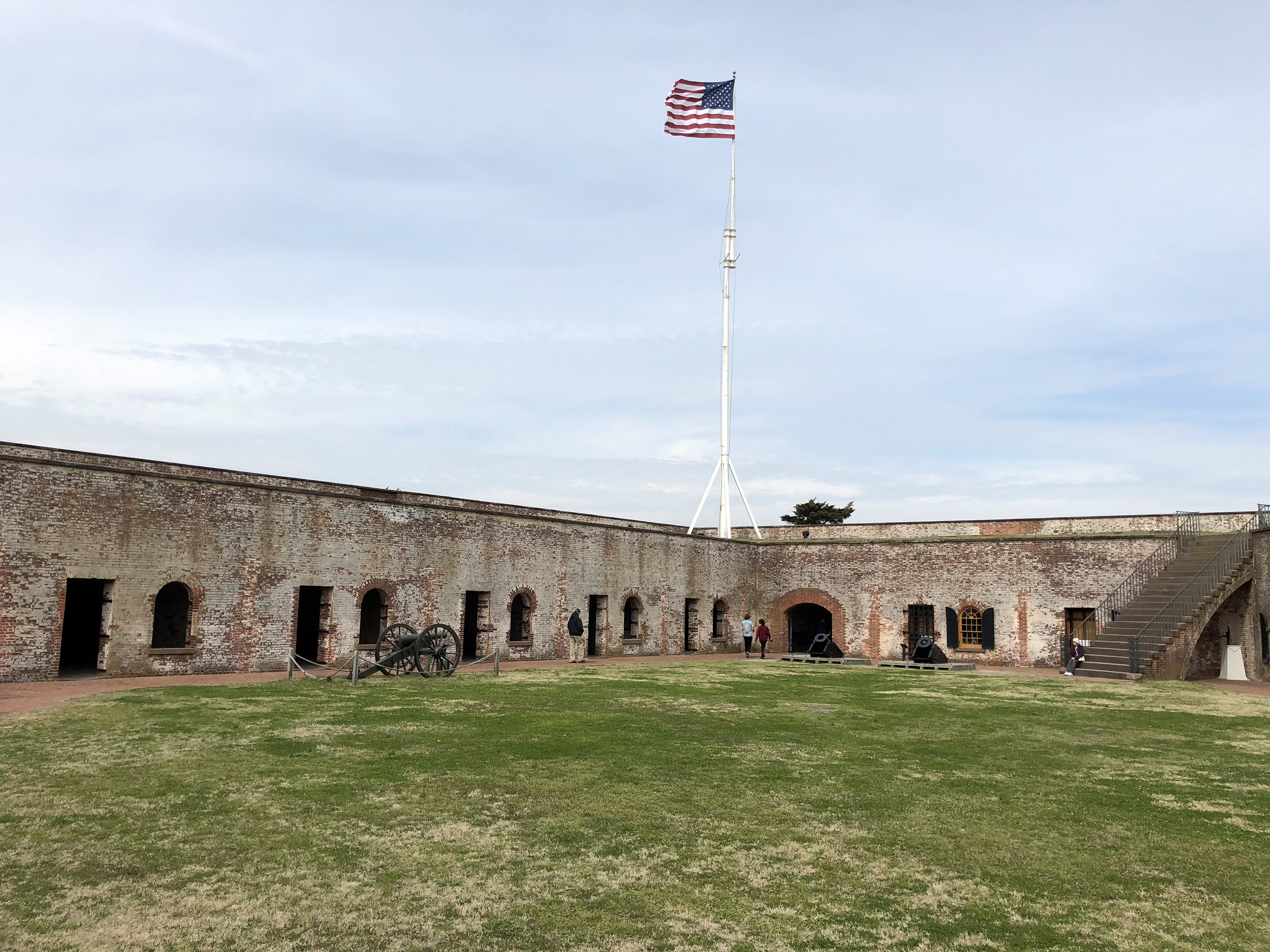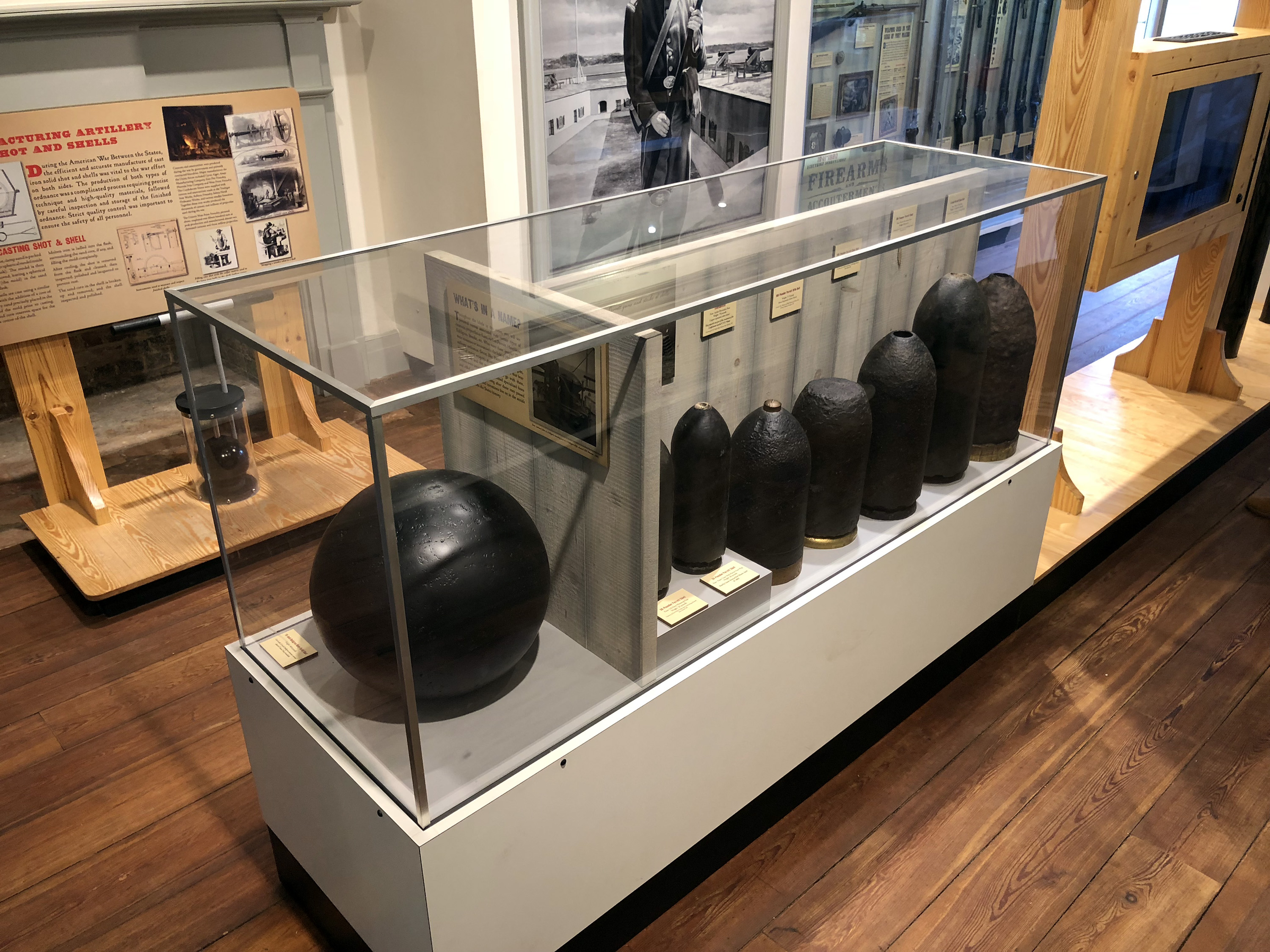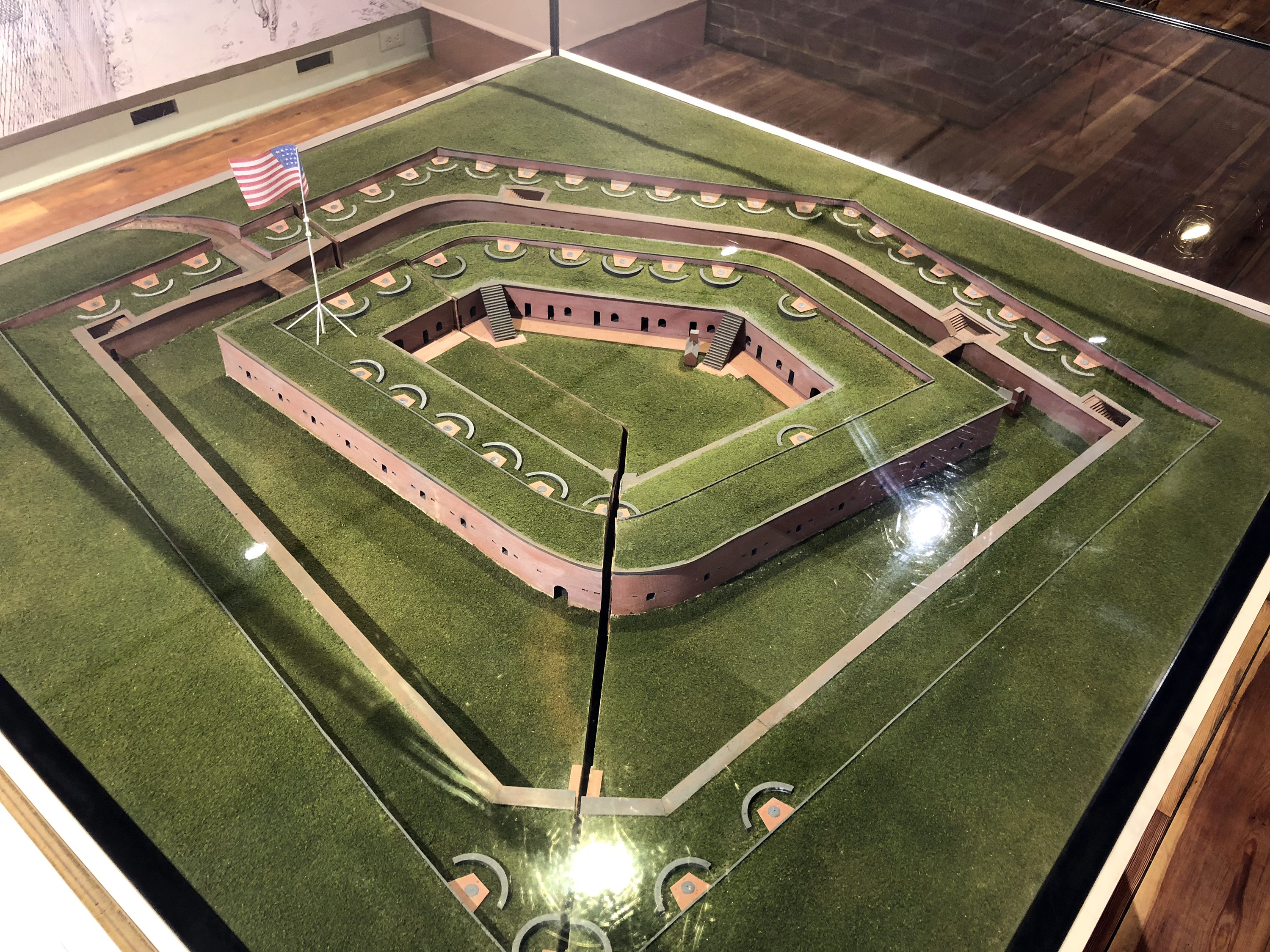 I drove my own car and departed from Fort Macon directly to Raleigh Durham—a three hour drive—rather than riding the van back to Washington first. (I think most of the attendees drove from their homes instead of flying.) I stayed in an airport hotel before my early morning Monday flight.
I had a great time with Len, Stephen, Wade, and the gang this week. I look forward to my next outing with BGES in April, a 25th anniversary event.