2016 Civil War Travelogues — West Coast Civil War Roundtable Conference
Welcome to my 2016 travelogue pages. This report covers my attendance at the West Coast Civil War Roundtable conference, "War and Remembrance," hosted in Costa Mesa, California, by the Orange County and Pasadena CWRTs. It was my fifth time attending a West Coast Civil War Roundtable conference.

To see the entire list of my 2016 trips, go here.
Here is a reminder about the reason I write these pages the way I do. They record my experiences and impressions of Civil War trips primarily for my future use. Thus, they sometimes make assumptions about things I already know and focus on insights that I receive. They are not general-purpose descriptions for people unfamiliar with the Civil War, although I do sometimes link to various Wikipedia articles throughout. Apologies about the quality of interior photographs—I don't take fancy cameras with big flashes to these events.
If you would like to be notified of new travelogues, connect to me via Facebook.
Friday, October 28
I flew United Airlines to LAX and rented a car, which turned out to be a mistake. LAX is a real congested mess and my flights were delayed in and out, enough so that I certainly could have driven from and to Redwood City faster than flying and renting. (Flights to the more conveniently located John Wayne Airport in Orange County were more expensive and less frequent.) Lesson learned for future SoCal trips. The conference hotel is the Crowne Plaza in Costa Mesa, which turned out to be a comfortable hotel with a very friendly staff. All of the logistical arrangements for the conference were excellent—meeting room, meals, etc.
The conference opened with a happy hour and dinner, followed by the first presentation, Eric J. Wittenberg on "Custer, An Incomplete Life Assessed." Eric gave a bit of background and a brief description of Custer's Civil War career, but focused more on his postbellum career. The 7th US cavalry was dysfunctional and the officers distrusted each other and engaged in a lot of politics. Eric gave few details about Little Big Horn, but concluded by remarking that Custer's was arguably the greatest Civil War career and he maintained a grudging respect for the colorful officer.
| | |
| --- | --- |
| | |
| Ron Boyd, our Emcee | Eric Wittenberg and Custer |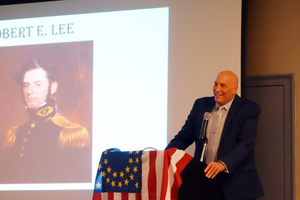 Michael Oddenino
Second was Michael Oddenino with "Robert E. Lee after the War." He began with a very lengthy description of Lee's heritage and family tree and then gave a whirlwind description of the Civil War career, spending approximately one second per major battle. His focus was more on Lee's presidency of Washington College and, throughout the presentation, various connections between Lee and George Washington. We finished up around 9 PM with a raffle benefiting Civil War preservation. (On the second day, Michael proved to be a very effective auctioneer as well as a presenter.)
Saturday, October 29
First up was James Hessler, "How Dan Sickles Declared Himself the Hero of Gettysburg." Jim is a licensed battlefield guide and an author of a book about Sickles. He described Dirty Dan as a combination of Donald Trump and Anthony Weiner. Although he talked a little bit about July 2 at the battle of Gettysburg, his focus was on the "second battle of Gettysburg," which was the controversy between Sickles and George Meade afterward. Jim assessed that Meade won that battle, although Sickles really put him through the ringer. Adding to the controversy were statements by James Longstreet that Sickles actually saved the Union Army by his actions. Sickles, despite some conventional wisdom, had in fact the second largest New York City funeral in the 19th century, demonstrating that he maintained his popularity along with his notoriety. The audience started out almost unanimously voting for disfavor about Sickles, but because of his sponsorship of the Gettysburg National Military Park, some opinions were changed by the end of the presentation.
| | |
| --- | --- |
| | |
| Jim Hessler | Cheryl Wilkinson |
Cheryl Wilkinson presented "Sawtelle: New Battles for Union Veterans," which was a story about the Pacific Branch of the National Home for Disabled Volunteer Soldiers (NHDVS) in what is now West Los Angeles, where apparently a VA hospital resides. The reading of her paper was a bit dry, but I was interested to find out that these veterans were given housing and care in exchange for losing a good deal of personal freedom. They lived in barracks conditions, wore uniforms, and had some lifestyle restrictions more typical of active-duty soldiers. Cheryl also mentioned that a veterans home I am much more familiar with, the California state home in Yountville, in the beautiful Napa Valley, was considered to be a real hellhole by its residents in the 19th century, and the number of its residents relocated to Sawtelle.
Joan Waugh of UCLA presented "The Civil War in History and Memory." She discussed the four major memory traditions of Civil War historiography: Union, Emancipation, the Lost Cause, and Reconciliation. She also contrasted attitudes from the Civil War Centennial to the Sesquicentennial and discussed the current movements to remove Confederate monuments and flags. She stated that Reconciliation has become the strongest theme. An interesting tidbit was that Gone with the Wind still sells briskly in North Korea!
| | |
| --- | --- |
| | |
| Joan Waugh | Paul Gillette |
After lunch, Paul Gillette presented "A Never Ending War: The James–Younger Gang, 1866–1882." I don't find much interest in the Wild West (other than Westworld!), but there were a number of interesting highlights in this talk with direct connections to the Civil War. The James brothers were Confederate veterans, of course. Their arguably most famous bank robbery was in Northfield, Minnesota, from a bank owned by Adelbert Ames, the Union general. Frank James was one of Quantrill's Raiders and participated in the Lawrence Massacre. He also fought under Bloody Bill Anderson. Along with Cole Younger, the James brothers performed the first peacetime bank robbery in 1866. Following the 1876 Northfield raid, the great manhunt for the gang and the final shootout represented, according to Paul, the last skirmish of the Civil War. By ten years after the war, over 100,000 veterans had been jailed for a variety of offenses. As part of the Q&A, Paul revealed that Jesse James's mother bought wagon loads of revolvers for five dollars each and sold them for $25, so there are probably as many as 900 pistols in collections that claim to be the personal weapon of Jesse James.
Evan Jones presented "Dark Waters: Abraham Lincoln in Victory and Death." This was a recounting of Abraham Lincoln's actions from March 24 up to his assassination, and an attempt to analyze his plans for Restoration, Reconciliation, and Reconstruction after the war. Evan is an accomplished and engaging speaker, and I always enjoy his presentations.
| | |
| --- | --- |
| | |
| Evan Jones | Eric Wittenberg again |
Eric Wittenberg returned to present "Little Phil: A Reassessment of the Leadership of Gen. Phil Sheridan." This was an entertaining summary of his book by the same name.
After another happy hour and dinner, Jim Stanbery, a long time favorite at West Coast conferences, presented "Left-Wing Confederates, In and Beyond the War." I had no idea what a left-wing Confederate was and he started the talk by saying that the term should not be taken literally, which makes me wonder why he selected a politically charged term in the first place. Although he spent a lot of time trying to define what a left-wing Confederate was not, I think we ended up with the following characteristics: someone who did not support secession initially; who would have been happy if the war ended peacefully with emancipation; who became a Republican after the war. He was able to come up with two generals who fit this categorization, neither of whom were familiar to me: Williams Carter Wickham and William Woods Holden. He did identify a number of generals who fit one or two of the three characteristics, such as James Longstreet and John Mosby.
| | |
| --- | --- |
| | |
| Jim Stanbery | Meg Groeling |
We concluded the evening with Meg Groeling, who presented "These Honored Dead," a brief history of the National Cemetery system. Her presentation was well delivered, even though it was read from a paper.
Sunday, October 30
Nick Smith presented "Westward Bound: Veterans and Their Lives in California." I had never encountered Nick before, but I was very impressed with his speaking skills—effortless without visible notes and amusing. The talk was about veterans in general, but he really focused in on Pasadena. He said that only two men from Los Angeles actually went east during the war, with the remainder mostly fighting Indians and some Confederates in the West. Those who returned or immigrated to the region were faced with a bad economy, heavily agricultural, crippled by a serious drought. What was called the Indiana Colony eventually became the town of Pasadena, which he said is a made up word based on Chippewa syllables that mean something like "most important place in the Valley." It is interesting that the library and the GAR post were both established before the city was chartered. He described a number of doctors prescribing Southern California as a place for veterans to improve their health, and mentioned that after the Civil War what we currently call PTSD was then called "soldier's heart," based on the elevated heart rate associated with anxiety. Many of the veterans lived in clusters based on their regimental assignments because letters back east touted the advantages of California and encouraged immigration. Thaddeus Lowe was a resident of Pasadena after the war and Nick told an amusing story about a 1909 balloon adventure that occurred at a GAR Festival. He also described Pasadena residents who attended the 1938 Gettysburg reunion, one of whom died on the site. The last Pasadena veteran died in 1946.
| | |
| --- | --- |
| | |
| Nick Smith | Ted Savas |
Ted Savas presented "The Battle of Payne's Farm and the Rediscovery of Hallowed Ground." This was a description of the battle, a key event in the 1863 Mine Run Campaign, followed by the story of how he investigated the battlefield in 1995, performing archaeological research with metal detectors to change the then-current interpretation of the battle locations. When Ted approached a local farmer he was told "there ain't no battle fought here," but numerous artifacts (bullets, shells, canister, buckles, etc.) demonstrated the farmer was wrong. Thanks to Ted's efforts in harnessing the predecessor organization to the Civil War Trust, the battlefield is now about 80% preserved. Along the way, we found out that Edward "Alleghany" Johnson had the worst table manners in the Army of Northern Virginia.
We concluded by about 11 AM with a panel discussion featuring many of the speakers. They discussed questions regarding John Wilkes Booth, the postbellum career of a variety of famous cavalry officers, and the current thoughts about the number of deaths during the war. (Meg opined that the recently published census/actuarial study estimating over 750,000 deaths—versus the traditional 620,000—is now accepted opinion among historians, but I think that is an overstatement.)
| | |
| --- | --- |
| | |
| Panel: Meg, Evan, Nick | Eric, Jim, Ted |
On the way back to the airport, I stopped at Drum Barracks in Wilmington, near Long Beach. It bills itself as the only Civil War Museum in Southern California. I was annoyed to find that the website said it was open from 11:30 AM to 3:30 PM, but when I got there it was locked up. I telephoned and reached a nice girl named America Lopez who was locked inside, who explained that you could only visit on a guided tour, of which there were two a day. (It would've been nice if that fact were emphasized on the website, rather than hidden a level down under "Tours.") Upon hearing that I was visiting from the San Francisco area, she graciously showed me through the museum for about 20 minutes (versus the 90 minute guided tour). No photographs were allowed, so I can't show the contents, but there were a lot of artifacts from all over the war. This building was one of the officers quarters, part of a large complex of more than a dozen buildings, none of which survive in the current residential area. It was the headquarters of the US Army in Southern California and the Arizona Territory. I would say a minority of the exhibits were locally inspired, so we got to see bullets collected from Gettysburg and other places as well. They had an interesting Gatling gun with 10 barrels. They also had photos and artifacts about the ill-fated Camel Corps experiments in the 1850s and 60s.
| | |
| --- | --- |
| | |
| Drum Barracks | Barracks and a camel |
I returned home on an evening flight, once again delayed, reaching home over two hours later than if I had driven. Sigh. But I had a great time at the Costa Mesa conference and hope I will be able to attend next year's, which will be November 10–12 in Sacramento.