Running in 2008
I'm continuing my running in 2008. My lengthy description of the Walt Disney World Marathon in January is here. The remainder of this page describes my other running, including two "seasons" with TNT. I have changed my HTML coding style so that when you click on one of the photographs, you will get a higher resolution version.
Walt Disney World Marathon — January
See separate description here.
Santa Cruz Half Marathon — April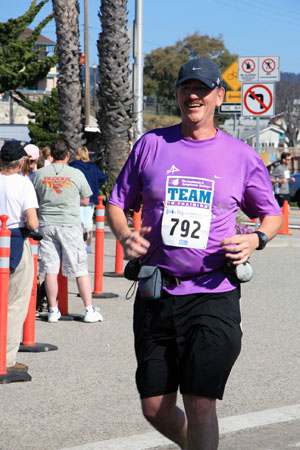 Hal finishing the Santa Cruz Half
Marathon
Following Walt Disney World in January, my self-imposed training started to suffer a bit. I find it is difficult to maintain the training pace necessary without the encouragement of an organization such as TNT. Once again, I suffered muscle problems in my leg that did not help. This time, tension in my glutes was stretching a muscle that caused pain on the outside of my right knee. Nothing debilitating, but an annoying roadblock for a few weeks. As I did with TNT, I attempted to run two to three times a week, having a long run every other weekend that increased 2 miles each time. Two weeks prior to the Santa Cruz half marathon, I did a comfortable 10.5 mile run starting at Oracle in Belmont, so I figured that I was in good shape for Santa Cruz.
The Santa Cruz Half Marathon was a really beautiful race, with a good portion right on the coast. it started right downtown near the boardwalk at 7 a.m. It was generally flat, starting on the cliff road from which you can normally see hundreds of surfers, and then out on bike trails and dirt trails though Wilder Ranch State Park. The park had a pleasant historic farmyard and we got to run past big fat chickens and a few horses. There were a few minor hills, although some did not look so minor when looking up from the bottom. The biggest problem on the course was that the bike trails were shared by equestrians and those horses were not wearing diapers, if you know what I mean. The weather was sunny and in the low 70s. About 1500 people ran. I was not pleased with my performance because in the 10.5-12.5 interval I got really tired and winded. I got my second wind after that and finished well, although at 2:35, it was my slowest half marathon to date (vs. my PR of 2:31). I finished 1272nd out of 1558. The good news is that I felt very few post race complications, such as chronically stiff muscles. I saw my TNT buddy Kathy running, but no one else from my teams last year.

| | |
| --- | --- |
| | |
| Starting line | Beach scene at Wilder |
| | |
| --- | --- |
| | |
| Wilder Ranch | Wilder Ranch |
| | |
| --- | --- |
| | |
| Cliff Drive | Near the end |
Google Earth Race Simulation
I recorded Global Positioning System (GPS) data with my Garmin Forerunner 205 watch during the race. By opening the resulting data file in the Google Earth application (which can be downloaded here for free), you can display the race course using aerial photographs and simulated 3-D terrain and buildings. There is a Play button that follows the course of the race as if you were flying over it in a low altitude aircraft. Really cool. (Note: If you see a number of Lap markers in the map, this is because of my run-walk strategy. After running four minutes, I walk for one minute and repeat. Each of these events shows up as a single "lap," so there are well over 100 laps in a marathon by this reckoning.)
The Google Earth file for this race is here.
Training with TNT for the Nike Women's Marathon
Here is the place for a lot of information about my TNT training program. It's the summer season and I have signed up for the 2008 Nike San Francisco Women's Marathon. Yes, yes, I know. I did not sign up for that one last year, but these year I did not feel like repeating Portland (which was a great marathon), so I had relatively few choices. Our TNT manager assures me that a number of men from the team have signed up this season. If you would like to make a donation for my participation and help the great cause of the Leukemia and Lymphoma Society, see my fundraising page. And go here for the race.
Weeky Training Schedule
Here is the table of weekly activities for our training, the same as last summer.
| | |
| --- | --- |
| Monday | Cross training (30-60 minutes walking, swimming, or aerobics and weights at the gym) |
| Tuesday | Track workout under coaches' supervision (90 minutes). A few weeks of core strengthening, a few of "dynamic drills," then mostly intervals, pacing runs, and hills/bleachers generally 3-4 miles total. |
| Wednesday | Cross training |
| Thursday | Buddy runs: easy runs with a group at a conversational pace. Early in the season they are in the 3-5 mile range, later they get to 5-7. |
| Friday | Rest, stretching |
| Saturday | |
| (1) Distance run in scenic places, starting at 4-6 miles and increasing 2 miles every other week until you're finally at 20 miles. | (2) On Your Own (OYO) runs, although group running is encouraged. Starts at 4-6 miles, progresses through the season to 6-8. |
| Sunday | Rest, stretching |
Workout Log
Here's the training I have accomplished so far. Unlike last summer, I am not going to include Monday/Wednesday cross training or Thursday buddy runs in this list because they're pretty regular, as described in the table above.
Sat, May 31: Kickoff informational meeting. I found out that my mentor this season is Rachel Kohr, a teammate from previous seasons.
Tue, Jun 3: Track. I did not go to this because it was only a gear clinic at MetroSports in Palo Alto and I have plenty of gear on hand.
Sat, Jun 7: Our first group run, 2-6 miles at the Palo Alto Baylands (off San Antonio Rd). I did 6.2 in 1:08:21 (5.5mph). Lots of nice breakfast items after.
Tue, Jun 10: Track. All core strength exercises--planks, pushups, squats, lunges, crunches--and about 1.25 miles of warm up/down running. Wow, my abs were sore the next day!
Sat, Jun 14: 8-mile run at Seal Point, San Mateo, along the Bay. Actually, the way the course was marked, it was 7.67 miles, which I did in 1:22:56 (5.5 mph). Great weather, a bit chilly to start.
Tue, Jun 17: Track. Core plus some moderate running--2 laps fast on straightaways, recovery on curves.
Fri, Jun 20: I missed the OYO run on Saturday because I was at my mother's funeral in Providence, RI. I did 10K in Barrington, RI, a lovely town with a nice bike/walking path.
Tue: Jun 24: Track, same as Jun 17, but adding a 1-mile time trial to sort us into waves. I did 11:16 (run/walk 4/1, as usual).
Sat, Jun 28: Regional run at Sawyer Camp (above Crystal Springs Reservoir in San Mateo). I did 10.05 in 1:51:07. If I could do that 11:03 average pace for an entire race, I'd be a happy guy. :-) Others did 4, 6, or 8 miles on the relatively flat out and back. There was a bit of concern about forest fire smoke pervading the Bay Area.
Tue, Jul 1: Track, now with dynamic drills--toe/heel walking, lunging, high/low skipping, grapevines, backward running, high knees and butt kicks.
Sat, Jul 5: OYO; I ran on Canada Road, south from Edgewood, 3 miles out and back.
Tue, Jul 8: Track, more dynamic drills plus a few intervals.
Sat, Jul 12: Regional run at the Stanford Dish, starting in Portola Valley. The first 6 miles had a few incredibly difficult hills, which were brutal, but the last 4 miles were completely flat and they actually felt pretty good. Some of my teammates did 12 miles, but Coach Terry advised me to take it a little easy because of my planned half marathon in a week.
Tue, Jul 15: Track, a little less dynamic drilling, and more intervals. My wave #1 (the slowpokes, people who routinely run slower than an 11 minute mile) did two repetitions of 800 yards (1.5 laps) interspersed with 200 yards of recovery running. (Wave 2 did three repetitions and wave 3 did four.) Then two repetitions of 300 with 100 active recovery In between.
Sun, Jul 20: While the rest of the team did OYO (actually, an interesting scavenger run/hunt in Palo Alto), I ran the Napa-Sonoma Wine Country Half Marathon for my second year. Nancy and I drove up on Saturday, attended a very nice evening outdoor Mozart concert at the Gundlach-Bundschu Winery in Sonoma, and stayed overnight in Napa. The race this year was great—perfect weather, cool and overcast. There is one moderate hill at the very start and then only a few slightly rolling hills along the course, which is mostly flat. And it is a beautiful course, about half through hilly vineyard land, then through some shady residential areas, ending at the town square of Sonoma. Although I went into the race having some worries about muscle tightness, I was very pleased to set a new personal record of 2:22:40, about eight minutes faster than I ran it last year! (I placed 1041 out of 1635 runners.) Check out the Motion Based URL for the run. If you follow that link to launch Google Earth and follow my course from overhead, you may be disappointed at the somewhat desolate look of the landscape in the aerial photograph, but all the vineyards today were quite lovely and green.
Tue, Jul 22: After the half marathon two days ago, I was a bit tired and stiff, but the track beckoned. Today was six laps (for Wave 1) of bleacher hill repeats and then six laps of 600 yards up-tempo, 200 active recovery. I was dragging at the end of that workout! At least the dynamics drills are done.
Sat, Jul 26: INJURY--Argh! I started running a 14-mile course at Pillar Point in Half Moon Bay, got 5.5 miles out and sprained my ankle on the uneven trail. I walked about 2 miles back and then Ellen, our team manager, found me and arranged for a ride back to the start. I got ice on the swollen ankle, but this will take a while for recovery...
Tue, Jul 29: I had to skip track. My ankle is still swollen and foot dark purple from bruises. I have difficulty walking down stairs, although regular walking isn't TOO bad.
Sat, Aug 2: I skipped the OYO run because the ankle is still not healed completely. The woes of an elderly runner ...
Tue: Aug 5: Skipped track again. I'm walking again without much difficulty, but stairs are still a prblem, so no bleacher repeats for me.
Sat, Aug 9: I did a 2.5-mile test run yesterday, which worked out OK, so I considered rejoining the team for the long run today. I decided against it when I heard it was a challenging, very hilly, rocky course of 10-16 miles. (Numerous people complained about it to me after the run.) I went to Stanford Sunday, hoping to do 8-12, but my ankle swelled up and got really uncomfortable at 4 miles, so I reluctantly stopped.
Tue, Aug 12: Back at Track! It was relocated this week to Bayfront Park at the end of Marsh Road in Menlo Park. A very enjoyable course with slightly sloping hills and some interesting views. I got some advice from Coach Granger--if my ankle starts to hurt, don't run, but if it just swells up, go ahead and ice it later. (He told me it often takes him 2-3 weeks to recover from a sprain, which was a relief for me.) We did a group warmup run of about 0.75 miles, then "Indian" style in small groups--run in single file and the last runner sprints to the front to become the new leader--for about an hour, or about 4 miles with a number of hills. My ankle felt pretty good! I was with a very slow group, so I didn't stress myself too much.
Sat, Aug 16: An easy 7 mile OYO run at Shoreline.
Tue, Aug 19: Track was easy this week--no bleachers or hills. We did intervals Indian style again: 6 repetitions of 800 with 400 recovery. (Wave 3 did 10!) I'm encouraged by the progress of my ankle. Just a little stiff, small swelling.
Sat, Aug 23: Lake Merced group run. I did reasonably well on a 17.22 mile run that ran past the zoo, up the Great Highway, into and through most of Golden Gate Park, and then back to do a loop of Lake Merced. This is essentially the second half of the Nike San Francisco women's marathon. The ankle really didn't bother me much at all! Afterward, some enterprising fund raisers put on a breakfast burrito sale and I had a wonderful breakfast (that is my favorite breakfast dish).
Tue, Aug 26: More intervals at the track, but individually: 6x 800/200, 4x 400/200, 3x 200/200.
Sun, Aug 31: Easy OYO 6 miles in my neighborhood.
Tue, Sep 2: More track intervals on a very hot afternoon: 5x 600/200, 5x 400/100, 4 laps of 100/100. I was pretty pleased that my 5 400s were all within 2 seconds of each other, at about an 8:30 mile pace. I still have ankle swelling, but absolutely no discomfort running.
Sat, Sep 6: A really difficult run at Woodside. We started in the town, ran north parallel to Canada Rd up to CA-92, then back south through Edgewood Park to Woodside. I had hoped to do 18 miles, but it was so hot and the hills were so steep and rough (mostly dirt and rock trails) that I was simply exhausted by the time I got to the 16-mile mark (which was actually 17.23 by my GPS watch). I did not do as well on this course as I did last year, when I was able to go 20 miles. But last year I took some unauthorized shortcuts that bypassed the steepest slopes and I don't recall that it got really hot until near the end. I drank 5 liters of water and Gatorade this year, certainly 2x from last. We finished up the day with a nice picnic in Edgewood Park and I then retired to an ice bath at home.
Tue, Sep 16: I missed a couple of entries: Sep 9 was a conflict with a business dinner, so no track. Sep 13 was a weekend in Yosemite, so no OYO run. Sigh. Anyway, track tonight was intervals again--6x 600/200.
Sat, Sep 20: Our final really long run of the season was in San Francisco, covering the ground of about half of the Nike Marathon -- starting at Crissy Field, through Fisherman's Wharf, around the Embarcadero, back through the Presidio, Seacliff, and the Outer Sunset to the Cliff House and then back. A very hilly course, but I did pretty well. When combined with our August 23 course, we have run the entire Nike Marathon. I chose the 18 mile turnaround because I did not feel like running down the hill from the Cliff House and then back up. My GPS watch said that the entire trip was only 17 miles, however.
Sun, Sep 28: I was traveling this past week, so missed track (intervals again, I'm told) and did my OYO run reallu OMO: 6.7 miles at Bayfront Park.
Tue, Sep 30: A relatively easy track workout: 8x intervals 400/200.
Sun, Oct 4: I skipped the last long run of the season on Saturday because it was raining, so I ran on my own today instead. I did 12 miles from Oracle up the Bayfront trail to Seal Point and back. Although I planned to take it easy, I somehow managed to match my previous best half-marathon pace, doing the 12 in 2:11. So I could have run the San Jose Rock & Roll Half today instead!
San Francisco Nike Women's Marathon (Sunday, October 19)
On the Great Highway
The big day arrived and I completed the San Francisco Nike Women's Marathon! I was able to run pretty strongly and I was a little disappointed that my time was not better than Portland last year, but I consider San Francisco a much more difficult course.
Nancy and I drove to San Francisco on Saturday afternoon and picked up my packet at Union Square. I was a bit surprised at how little merchandising was going on in comparison to other race expos. We checked in at our race headquarters hotel, the Sheraton at Fisherman's Wharf, which was a considerably nicer hotel than I had been expecting for that tacky, touristy neighborhood. Saturday night was the giant pasta party, and I do mean giant. We had to wait a long time for a shuttle bus to Moscone Center, but when we got there we found 7,700 TNT participants! We arrived through a gauntlet of TNT staffers who cheered and cheered as we proceeded down the escalators. Really invigorating. The pasta was quite good and we had an excellent program with a humorous columnist from Runners World Magazine and a lady who was a cancer survivor who was simply courageous in withstanding all the setbacks she had suffered through. She also had run two marathons with TNT. (I am chagrined that I forgot to bring my camera for the party, but I don't think I would be able to get a picture that does justice to the huge scale.)
After experiencing the bus delays Saturday night, I decided to take an early bus to the starting line because I expected to wait a long time. I should have realized something was amiss when there was no one in the hotel lobby. Outside there were 12 buses waiting and one of them deposited me in Union Square one hour and 45 minutes before the start. Pretty chilly! I was able to find a spot to escape the wind in the big expo tent. Although it was chilly to start, the weather was just perfect for racing—cool and completely overcast all morning.
| | |
| --- | --- |
| | |
| Starting line (walkers at 5:30 a.m.) | On the Embarcadero |
The race started at Union Square, out to the Embarcadero, through Fisherman's Wharf and Fort Mason before reaching the first really large hill at the Presidio. Fortunately, my TNT training paid off because we had done this in practice runs just weeks earlier. I was able to get up the grueling Lincoln Blvd. hill at my normal run/walk pace without taking additional walk breaks. (I use run/walk as a strategy for endurance, running four minutes and then walking one.) After that very long hill, there was a very long hill down and we ran through the ritzy Seacliff neighborhood before the very steep downhill at the Cliff House. There was a lengthy loop through Golden Gate Park and then south on the Great Highway along the ocean. We cut inland for a 4 mile loop of Lake Merced and then 2.5 miles back up the Great Highway to the finish line.
| | |
| --- | --- |
| | |
| Past the Marina | Whew, the last real hill is over |
I was very pleased with my performance during the race because I was able to keep up my run/walk regimen the entire time. In my two previous marathons, I started to run out of steam at 18 and 16 miles, respectively, requiring me to progressively extend the walk breaks. I definitely hit "the wall" in both of those races, in which I had to mentally will myself to take each step forward. However, in San Francisco, even with the hills, I was tired and my legs felt like rubber by mile 23 or 24, but I had no particular difficulty moving forward. Part of this may be that I made a point of ingesting a lot more carbs along the way that I had in the previous races, downing three Powerbars and a number of smaller snacks that they handed out. The race organizers did a good job with the water and aid stations. The on-course entertainment was not particularly memorable, other than a bagpipe band at Fisherman's Wharf.
Almost done

Mentor Nancy guides me in,
mile 25+
One of the great things about these TNT races is all the support from mentors, coaches, staff, and teammates who had run other races. All of them cheered me by name at various points along the way. Coach Granger happened to encounter me twice and ran alongside for about 1/4 mile. My mentor friend Nancy Hernandez ran with me for about a mile almost up to the finish line. Thanks again, Nancy. Although I felt pretty good up to the finish line, stopping there really hit me like a ton of bricks and I had significant difficulty walking. A local fireman dressed in a tuxedo gave me a blue Tiffany box with a sissy silver necklace instead of a macho finisher's medal. Sigh. There was also a big Lady Foot Locker tent. At least there were no sports bras being given out and the very nice T-shirt did not have the previous slogan, "Run like a Girl." Lots and lots of food was distributed and the TNT folks had a giant tent with sandwiches and drinks for our finishers. I also got another 26.2 pin for my hat, which is the memento I cherish the most from these TNT races.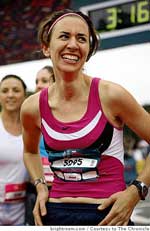 The real winner?
This was an unusual race for many reasons. Unlike San Francisco traditional races, there were almost no stupid costumes, naked runners, centipedes, or the like. There were 20,000 participants, although I saw from the race results that only 4,900 ran the full marathon; the rest split off the course at Golden Gate Park for the half marathon. About 200 walkers started 90 minutes earlier than the runners. I finished at 5:42:41, in 3,337th place, which was 12 minutes off my Portland pace, but 17 minutes better than Disney World. I am reasonably happy about the time because the course was physically much more difficult than I remembered Portland to be. (I am hoping that I will be able to adjust my training or run/walk intervals in the future to achieve better times than this.) I read in the paper the next day that the woman winner of the race came in at 3:05, but there was a controversy in which another woman, Arien O'Connell, ran it in 2:55, and did not win because she had not registered herself as an "elite" runner. The fastest man beat that time by 20 minutes, but I believe they adjusted the men's times to allow a woman winner.
All in all, a great experience again with TNT. I am writing this on Wednesday after the race and have pretty much fully recovered, although I am taking it easy in accordance with our coaches' directions. (I certainly am not doing squats.) I will start back with the gym and some easy running next week. And I will be sending in my application for the winter season, training for the Napa Valley Marathon in March.
Google Earth Race Simulation
I recorded Global Positioning System (GPS) data with my Garmin Forerunner 205 watch during the race. By opening the resulting data file in the Google Earth application (which can be downloaded here for free), you can display the race course using aerial photographs and simulated 3-D terrain and buildings. There is a Play button that follows the course of the race as if you were flying over it in a low altitude aircraft. Really cool.
The Google Earth file for this race is here.
Napa Valley Marathon with TNT
I've just started my TNT winter season training for the Napa Valley Marathon in March. I have created a new page for this year-spanning event.