Training with TNT for the 2009 Napa Valley Marathon
Here is the place for a lot of information about my TNT training program. It's the Winter season and I have signed up for the 2009 Napa Valley Marathon, March 1, 2009. If you would like to make a donation for my participation and help the great cause of the Leukemia and Lymphoma Society, see my fundraising page.
Weekly Training Schedule
Here is the table of weekly activities for our training, the same as previous seasons.
| | |
| --- | --- |
| Monday | Cross training (30-60 minutes walking, swimming, or aerobics and weights at the gym) |
| Tuesday | Track workout under coaches' supervision (90 minutes). A few weeks of core strengthening, a few of "dynamic drills," then mostly intervals, pacing runs, and hills/bleachers generally 3-4 miles total. |
| Wednesday | Cross training |
| Thursday | Buddy runs: easy runs with a group at a conversational pace. Early in the season they are in the 3-5 mile range, later they get to 5-7. |
| Friday | Rest, stretching |
| Saturday | |
| (1) Distance run in scenic places, starting at 4-6 miles and increasing 2 miles every other week until you're finally at 20 miles. | (2) On Your Own (OYO) runs, although group running is encouraged. Starts at 4-6 miles, progresses through the season to 6-8. |
| Sunday | Rest, stretching |
Workout Log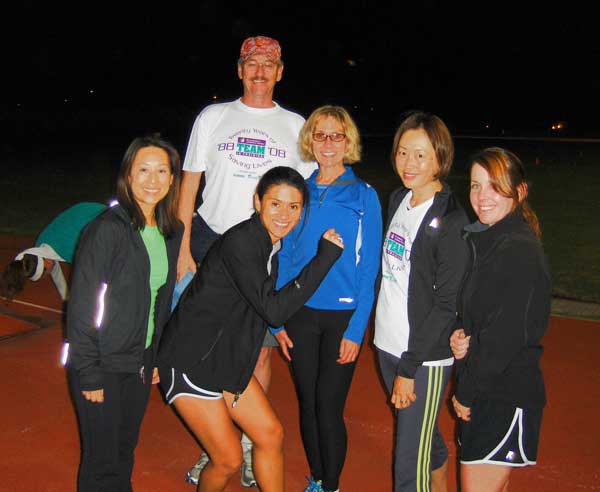 Mentor Karla (the animated one) and her team
Here's the training I have accomplished so far. I do not include Monday/Wednesday cross training or Thursday buddy runs in this list because they're pretty regular, as described in the table above.
Because of some travel, I missed the first weekend of activities. The kickoff meeting was held on November 8 and the first group run was at Sawyer Camp (Crystal Springs Reservoir) on November 9.
Sat, Nov 15: Group run at the Palo Alto Baylands, a mostly dirt trail course off of San Antonio Rd. It is a very nice place to run on the side of the bay. Runners chose from 2, 4, or 6 miles and I ran 6.2. It is nice to see a number of my old teammates back for another season.
Tue, Nov 18: The first track workout, featuring core strength exercises. These are always some of the most difficult track workouts for me.
Sat, Nov 22: I missed another group run because of a travel conflict, 8 miles at Seal Point, San Mateo. I will have to recover this mileage on the Thanksgiving weekend.
Sat, Nov 29: I missed track on Tuesday because of late dentist appointment. Today was supposed to be an OYO run of 4-6, but since I missed the last group run, I did 8 miles at Shoreline in Mountain View.
Tue, Dec 2: We have changed at track from static core strength drills to dynamic. This means we are moving around the track with various odd motions to exercise different muscles groups: heel and toe walking, low and high skipping, high knees and butt kicking, lunges, backward running, sideways shuffling, and "grapevines" (sideways, alternating each foot in the front). We did these motions on the straightaways, and recovery runs on the curved part of the track. These are exercises that leave your muscles really sore the next day. I have been having difficulty with my ankles that I think is a lingering problem from my sprained ankle last season, so I went to SMI yesterday for a consultation. I got some therapeutic massaging of tendons that seem to help a lot that day, but the recovery time from this track workout has shown no improvement. We'll see how I do on the Thursday buddy run and the longer run this weekend.
Sat, Dec 6: A 10 mile group run at Sawyer Camp (Crystal Springs Reservoir). This is a very nice, shady run that's completely flat for about 4 miles and then it gradually starts uphill. At the 5-mile turnaround, the hill becomes significant. Today was beautiful weather, but pretty chilly—I kept cotton gloves for the first hour of running. After the run, the staff of Agile Physical Therapy gave free consultations on gaits and other questions. Marc watched me run and found that I have severe pronation on my right and suggested I get orthotic insoles, which I did the next day. We'll see if that helps the ankle problem a bit. I might need some new shoes, instead. I also got some new stretches to try.
Tue, Dec 9: More dynamic drills, identical to December 2. Except I got a good deal more pooped out this time. Perhaps it was the 10-mile run on Saturday that sapped my vital strengths. :-)
Sat, Dec 13: Today was an OYO run of 4-6 miles. I ran 6 at Bayfront Park (off Marsh Road)—3 laps. Nice place to run, although quite windy. I ran into the TNT Triathlon Team by coincidence. For some reason, many of them were dressed in silly costumes.
Tue, Dec 16: Another track session of dynamic drills. Wow, it's really getting cold at the track.
Winter Team after the Stanford Dish run
Sat, Dec 20: Group run at the Stanford Dish, a seriously hilly course for the first 6 miles. The weather was beautiful, but very cold at the start. I did 11 miles and recovered well. I have new shoes now, Brooks "Beasts," and they're fixing up my over pronation problem.
Tue, Dec 23: I felt very good about myself, motivated enough to go to track two days before Christmas! When I got there, the Stanford folks had turned off all the track lighting, so we had to cancel. We were sent home to do core strength exercises. Right. :-)
Sat, Dec 27: OYO run. I did 6 miles on Canada Road. Mostly hills, rather tiring after a week off.
Tue, Dec 30: No track for the holiday break! I did intervals at home, to and from the refrigerator. :-)
Sat, Jan 3, 2009: Happy New Year! I returned to the scene of my big ankle sprain from the summer season--Half Moon Bay's Pillar Point. I did the full 14 miles this time without injury. Miles 6-10 are very bumpy, uneven terrain, so I took it carefully, which means my overall time was pretty pitiful--almost 2:52. :-( The weather was chilly but beautiful sunshine at the coast.
Tue, Jan 6: At track they apparently took pity on us--we have another long run coming up Saturday without the usual slow weekend in between--and we did simple 800-meter relays in teams of three, getting to stand around and recover one out of every three laps. As a Wave 1 champion, I did 6 repetitions of 800.
Sat, Jan 10: Group run at San Francisco's Lake Merced. Around the lake, up the Great Highway, up the length of Golden Gate Park (and it's really remarkable what a long gradual hill that park contains), then back to the lake. This was a tough one—two long runs in a week left me pretty pooped after 16 miles. Beautiful weather, very un-winterlike, with sunshine and temps in the low 60s. I took my first ice bath of the season when I got home and it helped my recovery a good deal.
Tue, Jan 13: Individual intervals at track: 1600, 800x3 with 400 active recovery, 400x3 w/200, 200x3 w/200.
Sat, Jan 17: OYO run. I did 7 miles at Shoreline.
Jan 20, 24: Traveling prevented me from attending track or the long run (18 miles in Los Gatos) this week. I was able to do a 6-mile flat course in Sarasota, FL. (See my trip report if you're interested.)
Tue, Jan 27: At track we did our first hill repeats of the season. The Stanford bleachers have been closed for some construction project, so we ran over to the baseball field and ran up the slopes that lead to the top of the stands. The Wave 1ers did 12 ascensions of the slopes, accompanied by stair descensions, running probably 1-1.5 miles in the process. Then we did 6x 300/100 intervals.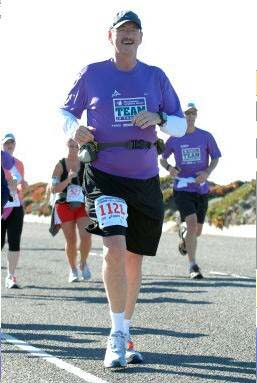 Sun, Feb 1: Kaiser SF Half Marathon! (A training run for me. Boy, I got annoyed when people told me they were doing that 2 years ago.) This was my sixth Half. The weather was beautiful, eventually reaching the 60s, and clear. I was embarrassed that I did only slightly better than 2 years ago: 2:34:12, 4934th out of 5817 finishers. A unique thing happened--the halfway mark was the finish line and I saw some of the first dozen or so runners finish the race (around 1:11, although the winner was 1:04). Those people ran twice as fast as I did! Lots and lots of spectators cheering on TNT. I had no trouble with the course, but just started getting tired. Sigh. Napa is just a month away!
Tue, Feb 3: Track, more hill repeats and then 6x 400/200 intervals.
Sat, Feb 7: I decided not to do the 18-20 mile long runfrom Woodside, along Cañada Road. This is usually the hardest (as well as longest) run of the season. It had just rained and I did not want to subject myself to that muddy, rocky course. So I did 18.4 miles on my own along the Bay, from Oracle to Coyote Point and back.
Tue, Feb 10: In a rare occurrence, I skipped Track tonight. I was feeling pretty tired from the 18.4 and rain was forecast. To my chagrin, it didn't rain after all.
Sat, Feb 14: Happy Valentine's Day! I ran on my own at Stanford, 10 miles--two loops of Campus Drive and one of Palm Drive.
Tue, Feb 17: In my two years with TNT I have never run in the rain, but tonight at Track I got the opportunity! It rained lightly almost the entire workout--6x 800/400 intervals.
Sat, Feb 21: Our last group run, on the Bay Trail (Oracle), 6-8 miles. I did 7. We followed with a sendoff party for the upcoming marathon and on our T-shirts and instructions. We have finished with track and are now in complete taper mode, which means we have no scheduled exercise the next week in preparation for the big race.
The Race
Why don't the raindrops show up here?
Smiling (momentarily) for the camera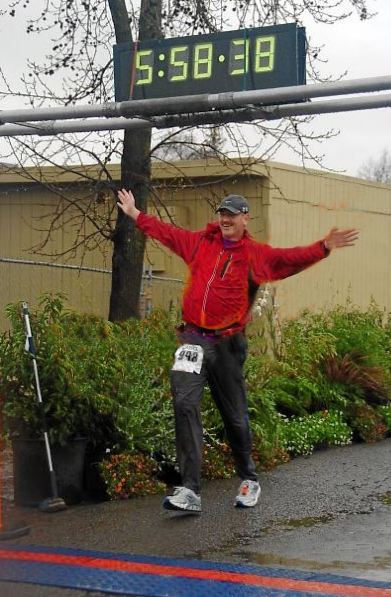 Cantering in for the just-in-time finish
Sun, Mar 1: Well, the big day finally arrived, the culmination of three months of training. Nancy and I drove up to the Embassy Suites in Napa on Saturday afternoon, picked up the racing materials at the Expo nearby, and had the traditional pasta dinner with about 120 TNT participants and families. It included a speech by one of the big triathlon team members—I am sorry that I do not recall his name—who talked about his experiences with hairy cell leukemia and how money raised by TNT directly went to developing the successful treatment that put him into remission. That kind of testimonial really gives you motivation for spending 3-4 months of your life and running these grueling races. (It also gave us a look into the British healthcare system, where this guy, while on a business trip, was in severe distress and routinely ignored. They eventually diagnosed him and told him to go back to the United States to get the urgent treatment he needed.)
All of the forecasts this week indicated that it would be raining and the weathermen were correct this time. I was very apprehensive as I had never run a race in the rain, but I got to find out what running for six hours in the rain would be like. It was not really as bad as I expected, although that is not saying too much because I had very bad expectations. We got on the bus at 5:15 AM and drove for 40 minutes from Napa to Calistoga, giving us a generous hour to sit on the bus and wait for the start. It was not particularly cold to start, but it rained pretty steadily for 2 1/2 hours and the temperature seemed to get progressively colder as we went along. I was bundled up in a jacket that is specifically designed for running in the rain (whereas most of the others wore garbage bags or plastic ponchos), but I was completely soaked through within about an hour. I am very thankful that I wore expensive running socks with magic wicking technology rather than my usual Costco padded cotton socks because I had no blistering difficulty with all of the puddles I had to run through. (I found out that Body Glide doesn't last 6 hours when your pants are completely wet and experienced some pretty wicked chafing down there.) The remainder of the race saw showers with a few minutes of dryness here and there, but at the end there was a steady wind blowing right into our faces, making it almost the equivalent of running uphill.
There were good things about the marathon. The course is really beautiful, even in the rain, because you are running past all the vineyards on the Silverado Trail, from Calistoga to a high school just north of downtown Napa. The rain clouds hung around the mountain peaks like fog and it was quite picturesque. I was impressed about how much development has gone on on that road. There were a lot of really breathtaking mansions that I had not seen before. There are a few gradual hills—none of which were anywhere as difficult as those in San Francisco—and the entire course is a net downhill of a few hundred feet, which is one of the reasons it is used as a Boston Marathon qualifying course. There were not all that many spectators out cheering people along, but that is very understandable given the weather. Unfortunately for me, I had my purple TNT shirt almost completely covered up by my rain jacket, so I got many fewer "Go Teams" than I am used to experiencing. Also unfortunately, because of the weather I did not even bring my camera with me on the run, so this webpage will not be as visually interesting as it sometimes is.
Of my four marathons, this was probably the most difficult, although I was able to beat my time at Disney World by about two minutes. I don't know whether it was the rain, the ankle problems I've had this season, or the few extra pounds I had put on over the last six months. I do know that one of the coaches told me that a lot of people were complaining of cramping up in the cold and rain and Nancy told me she saw a lot of people limping to the finish line. I essentially "hit the wall" at about 14 miles and from that point on had a lot of difficulty just moving my legs. Coach Tim encountered me about mile 23 and suggested that if I did power walking with a long stride I could probably move faster than I was running at the time, so I tried that for a while, but did get some very slow running in as well. I was not concerned about literally finishing the race because the TNT ethic they drum into you is that everyone finishes and it doesn't matter whether you have to crawl over the finish line. No Wimps! However, the Napa Valley Marathon has a six hour time limit and you are not considered a finisher and you do not get a medal after 1 PM. I was doing a lot of mental calculations about whether I was going to make it or not during the last hour and I had severe doubts about whether I would be able to finish in time. I was getting slower and slower, willing myself to take one step at a time. Fortunately, I encountered Coach Mary at about a mile from the finish line and she ran with me, encouraging me to keep moving. Nancy met up with me a couple of blocks before the finish and I was embarrassed to see that she was able to walk easily at the pace I was "running." I was able to cross the finish line 2 minutes before the deadline, a chip time of 5:57:16, so I got my medal! I was finisher 1793 out of 1822, which is certainly my worst showing in the 4 marathons and 6 half marathons I've run.
I was completely wiped out at the finish and had difficulty standing and walking. You can see from the finish-line photo that I was running off-balance somehow and a few people asked me if I was OK during the last 3-4 miles; I didn't realize I was doing this at the time. A nice lady from Kaiser Permanente helped me with stretching my quads and calves, something I would normally do by myself, but I lacked the strength just then. Nancy drove me back to the hotel (with a side trip to Burger King on the way!) where I attempted to recuperate a bit in the pool. Unfortunately, although it felt great, the pool was not cold enough to substitute for an ice bath, but I did not have the mental stamina to go through that ordeal, so I hope I will not regret that too much during my week of recovery. As we did with San Francisco last fall, we decided to not stay another night in the hotel and drove home late in the afternoon. And no, I was not doing the driving. I could not have possibly operated the pedals!
Anyway, it was an interesting experience as well as an ordeal and I feel moderately proud of myself for finishing under adverse conditions. I will take a week or so to recover and then start training myself up for a half marathon in early May. I will probably enroll for the summer season with TNT and hope that I can get myself into better shape than I did this season.
Google Earth Race Simulation
I recorded Global Positioning System (GPS) data with my Garmin Forerunner 205 watch during the race. By opening the resulting data file in the Google Earth application (which can be downloaded here for free), you can display the race course using aerial photographs and simulated 3-D terrain and buildings. There is a Play button that follows the course of the race as if you were flying over it in a low altitude aircraft. Really cool.
The Google Earth file for this race is here.