Team in Training: Portland Marathon 2007
This is a log of my training through TNT for the Portland Marathon. It's listed in reverse order, blog style. if you would like to sponsor my run by donating to the Leukemia and Lymphoma Society, go to my personal TNT page.
Weekly Training Schedule
TNT's training is pretty constant each week for the 3-4 month "season."
| | |
| --- | --- |
| Monday | Cross training (30-60 minutes walking, swimming, or aerobics and weights at the gym) |
| Tuesday | Track workout under coaches' supervision (90 minutes). A few weeks or core strengthening, a few of "dynamic drills," then mostly intervals and pacing runs, generally 3-4 miles total. |
| Wednesday | Cross training |
| Thursday | Buddy runs: easy runs with a group at a conversational pace. Early in the season they are in the 3-5 mile range, later they get to 5-7. |
| Friday | Rest, stretching |
| Saturday | |
| (1) Distance run in scenic places, starting at 4-6 miles and increasing 2 miles every other week until you're finally at 20 miles. | (2) On Your Own (OYO) runs, although group running is encouraged. Starts at 4-6 miles, progresses through the season to 6-8. |
| Sunday | Rest, stretching |
Workout Log
Sun, Oct 21: I drove up to San Francisco to cheer on the team for the Nike Women's Marathon. This was a great experience for me, although more physically demanding that I had anticipated. Walking a lot, standing around for four hours, clapping and yelling almost continuously take their toll. It looked like a great marathon, a wonderful way to end the TNG season for the majority of the team. It was interesting to see TNT members from all over the country (and Canada). What was unusual is that our coaches here on the Peninsula are all young men and women, superfit, whereas coaches from other areas came in all sizes, including fat (really!), elderly, and all patched up with knee braces and things. (I feel justified in my selection of the Portland Marathon, by the way. The few men who ran in this race looked very out of place.)
Sat, Oct 20: 90-minute run at Shoreline. Knee pain is gone!
Wed, Oct 17: Gym
Tue, Oct 16: Due to a trip, I have not run in a week! I experienced various knee pains while traipsing down hills on Civil War battlefields in Virginia. But today, I did an easy hour run in Woodside, including some gradual hiils, and it felt pretty good. In place of track, I attended the Nike sendoff session, wishing my friends good luck for the Nike Women's Marathon this weekend.
Tue, Oct 9: Track workout. Yes, even though my event is over, I still have a lot of teammates finishing up their training, primarily for the Nike Women's Marathon in San Francisco. So track continues... We did a simple exercise called the Burrito Relay, covering 4 miles between a pair of runners. The main point of the game was to guess our finishing time without using our watches. Winners got free burrito certificates! I felt some tiny knee pain, but had no real difficulty. This will be the final track workout of the season.
Sun, Oct 7: Portland Marathon! I survived and finished successfully! See my separate page on the marathon.
Sat, Sep 29: My final run before the marathon (I'll be on a business trip Sun-Thu and in full taper mode)--6 easy miles at Stanford.
Thu, Sep 27: I had more time in the morning than the evening, so I ran my Buddy Run with one of my best buddies (me). An easy 75-minute run on Cañada Road.
Wed, Sep 26: Gym.
Tue, Sep 25: We had an easy, fun run for our track workout, since almost everyone is in taper mode: "Indian" running, in which we ran single file at a moderate pace, and the person at the tail end ran forward to become the leader, repeating every 30 seconds or so. We did about 20 minutes running around campus, then 25 on the track. Those of us going to Portland--about a dozen--got our race packets and airline details.
Sun, Sep 23: [Missed the Thursday Buddy Run due to a business meeting.] Well, I was expecting an easy run on San Francisco's Embarcadero for my "taper" period, but found myself pounding up and down hills around the Presidio today. We were again on the course for the upcoming Nike Women's Marathon, this time covering the first half. (We did the second half on August 25.) But those of us who are Portland-bound and did 10-12 miles today got hit with the hardest part of the marathon course! It was a brutal 12 miles, almost entirely on hills. See this elevation chart and double it--it was out and back! This was a cumulative ascension of about 1,300 feet, equivalent to running up the one of the late World Trade Center towers. The course started at Crissy Field, up the hill (see mile 1-2 below) to the Golden Gate Bridge, along Lincoln Ave to Seacliff, past the Cliff House and down the big hill (mile 4) to the Great Highway.

Wed, Sep 19: Gym.
Stanford Track, Sept 4
Tue, Sep 18: Track workout, once again at the Stanford Dish. Six repetitions of up and down the hill. Very tiring. Coach Terry told me that I am now in "taper" mode; the Portland Marathon is only 2.5 weeks away!
Mon, Sep 17: (145th anniversary of the Battle of Antietam!) Gym.
Sat, Sep 15: On My Own run, about 8 miles at Shoreline Park.
Thu, Sep 13: Buddy run on the Stanford Loop, about 6.5 miles.
Wed, Sep 12: Gym.
Tue, Sep 11: Track workout at Stanford. Five bleacher repeat laps, then four 400/200-active-recoveries.
Mon, Sep 10: Gym.
Sat, Sep 8: Our longest and hardest run to date, 20 miles! We started in Woodside, ran on dirt/sand/rock trails next to Canada Rd through some killer hills up to Highway 92, then back and a 3-mile loop south of town. Really difficult running for me and the hills slowed me down enough so that it took me 4.25 hours. A good ice bath at home and a 2-mile walk in the afternoon helped the recovery quite a lot.
Thu, Sep 6: Buddy run at Stanford, about 5.5 miles.
Wed, Sep 5: Gym.
Tue, Sep 4: [Skipped the gym Monday for Labor Day!] Track workout, a relatively easy session in preparation for the long run this weekend. 1600 at marathon pace, 800 faster with 200 active recovery, 400/AR, 200/AR, 1600.
Sat, Sep 1: On my own at Sawyer Camp (Crystal Springs), an easy 7 miles.
Thu, Aug 30: Buddy run at Stanford. This was also a birthday party for Ron, so we started and ended at the Old Pro sports bar. The run itself was about 6 miles in rather hot weather.
Wed, Aug 29: Gym.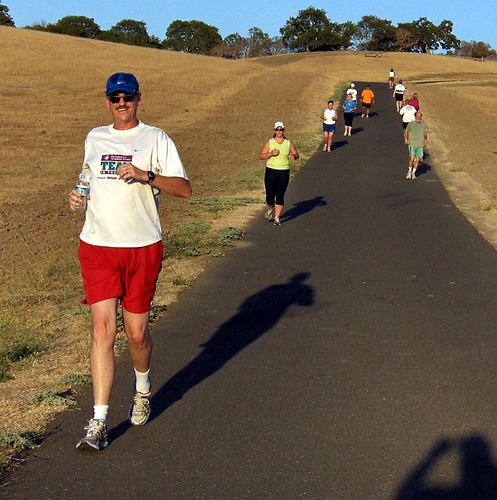 Downhill is easier! Hill repeats at the Stanford Dish.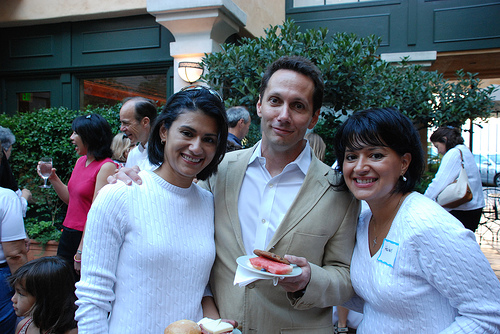 TNT Party on August 27. Shown are running
buddies Karla, Ron, and Helen.
Tue, Aug 28: Our track workout moved to the Stanford Dish area and we did hill repeats. Oooff! This was the hardest workout so far this season. It didn't help that it was in the high 80s. We ran about 0.3 miles up a nontrivial hill and then back down at a recovery pace. My wave did 6 repetitions. The faster waves did 8 and 10, although their hill was a bit shorter and steeper! There was also about a half-mile flat cool-down. Whew!
Mon, Aug 27: Gym. Unlike two weeks ago, I have had very few recovery problems from the long run on the weekend. In the evening, we had a party at the Garden Court Hotel. Sweatshirts were distributed and we heard an interesting talk from a researcher at Stanford.
Sat, Aug 25: An 18-mile run in San Francisco, largely the second half of the course for the upcoming Nike Marathon: around lake Merced, up the Great Highway, all the way across Golden Gate Park, and then back. Due to some poorly marked interesections, I took at least one wrong turn and ended up running over 19 miles! But, it felt pretty good, so I'm becoming more confident about 26.2 miles in six weeks.
Thu, Aug 23: Since I am scheduled for an 18-mile run on Saturday, I chose to do an early morning run on my own rather than waiting for the evening Buddy Run. I had an easy 5.5 mile run at Sawyer Camp near Crystal Springs.
Wed, Aug 22: Skipped the gym due to business meetings. :-(
Tue, Aug 21: Track workout. Back to intervals without the bleachers this week, but this time an ascending ladder. My wave did 4x 200s with 200 active recoveries, 3x 400/200, and 2x 800/200. (For comparison, the fast wave did 6x, 5x, and 4x.)
Mon, Aug 20: Gym.
Sun, Aug 19: Resting an extra day helped the muscle problem and I ran OYO in Woodside about 6 miles. (I missed some really decent OYO opportunities Saturday, including the Golden Gate Bridge and a sailboat ride to Tiburon.)
Thu, Aug 16: Buddy run, 5 miles at Stanford. I'm having some muscle discomfort in one of my knees; I may decide to rest this weekend.
Wed, Aug 15: Gym.
Tue, Aug 14: Track workout: We started "hill" training by doing bleacher drills. My wave did 6 repetitions of 400s with bleacher climbing. This time, that meant up 4 flights and down 4 flights on each lap. (The faster waves did 8 and 10 repetitions!) Then we finished with 3x 400/200 active recoveries.
Mon, Aug 13: I was supposed to be at the gym, but was in Santa Barbara with Nancy, doing a lot of walking.
Sat, Aug 11: 16-mile run on the Bay Trail, from Oracle in Redwood Shores, north under the San Mateo Bridge, past Seal Point and halfway to Coyote Point. And then back. This was the longest I have ever run, by 2.9 miles! It was pretty decent for about 14 miles, but became increasingly harder and slower. I had considerable difficulty walking later in the day and had trouble going down stairs unitl Tuesday.
Thu, Aug 9: It was supposed to be a Buddy Run, but I ran on my own in the morning, about 5.5 miles, allowing for more recovery time for Saturday's long run.
Stanford Track, July 31
Wed, Aug 8: Gym.
Tue, Aug 7: Despite this being my wedding anniversary: Track workout. We did a "descending interval ladder." My wave did 1,600 yards (4 laps, a mile) pretty fast. Then 2x 800s with 200 active recoveries, 2x 400s with 200 active recoveries, and 2x 200s with 200 active recoveries. Each of the shorter runs was done slightly faster than the preceding. The faster waves of runners had larger numbers of repetitions after the common 1,600.
Mon, Aug 6: Gym.
Sat, Aug 4: OYO Run with Mentor Mark in Half Moon Bay. I was the only one who showed up! An easy 6 miles on the coast trail.
Thu, Aug 2: Buddy Run at Stanford, now up to 5 miles by adding a loop around the dry lake.
Wed, Aug 1: Gym.
Tue, Jul 31: Track workout. My wave did 5 repetitions of 800 yards (2 laps) pretty fast, 400 recovery.
Mon, Jul 30: Back from my trip, ran an easy 4 miles.
Jul 24-29: Break from training for a Civil War trip to Antietam. This is a 4-day seminar and tours that has almost no free time for running. :-(
Sun, Jul 22: 6 miles at Shoreline.
Thu, Jul 19: Long business meetings have messed up my week. I missed the Tue track workout and went to the Thu in Burlingame instead. We're now entirely into running drills and did 4 miles in various intervals and timed pacings.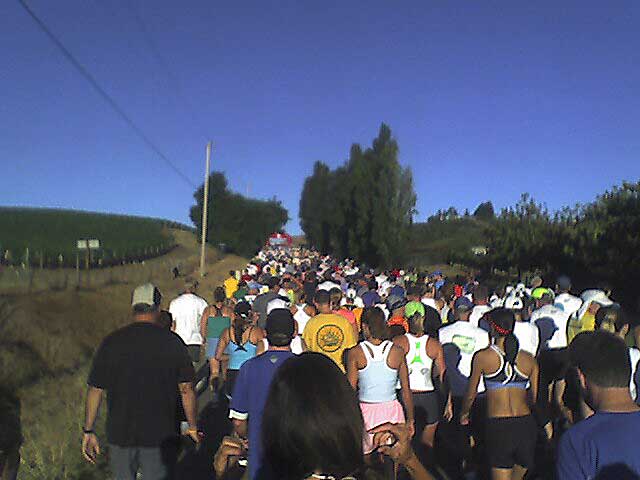 Start of Wine Country Half Marthon, July 15
Sun, Jul 15: Wine Country Half Marathon (http://www.runcarneros.com/), an event not connected with TNT, but since the rest of the team was doing 12 miles, it worked. We drove up on Saturday and did some touring. The race was great, in beautiful vineyards and lightly rolling hills. It started early enough that heat wasn't a problem. I did the first 10 miles withough much trouble, but the remaining miles were progressively more difficult. Stretching well at the end limited my down time. I bypassed the wine tastings at the finish. :-) I finished in 2:31, #1168 out of about 1500 timed runners.
Thu, Jul 12: Since I will be running in the half marathon on Sunday, I decided to do a morning run on my own instead of in the evening. 4 miles near my house.
Wed, Jul 11: Gym.
Tue, Jul 10: Track workout, dynamic drills for 90 minutes. Whew! I believe this is the last week for DDs.
Mon, Jul 9: Gym.
Sat, Jul 7: OYO run and Honoree breakfast potluck at Jim and Jen's house in Redwood Shores. An easy 5 mile run out and back on the slough.
Thu, Jul 5: Buddy run around the Stanford campus, easy pace 4 miles, made a little more challenging due to +90 degrees.
Tue, Jul 3: Skipped track workout to attend concert at Stanford.
Mon, Jul 2: Gym.
Sat, Jun 30: Group run at Pillar Point, Half Moon Bay. Choices were 4, 6, 8, and 10; I did 10. Nice cool day, ran at 11 min/mile. Full breakfast fundraiser afterwards!
Thu, Jun 28: Buddy run around the Stanford campus, easy pace 4 miles.
Tue, Jun 26: Track workout. We started "dynamic drills" that are pretty challenging: skipping, high skipping, sidestepping, grapevining, lunges, high knees, butt kicks, heel and toe walking. Each of these is intermixed with about a half lap at a recovery (slow) pace. I was pretty fatigued after 90 minutes of this. The lunges were the hardest.
Mon, Jun 25: Gym.
Sat, Jun 23: "On Your Own" (OYO) run, 4-6 miles. There are oxymoronic "Organized OYOs" and I joined one at Seal Point, San mateo. About a dozen people showed up to this one. I did 6 miles.
Thu, Jun 21: Buddy run at 7pm in Redwood Shores. Only 3.5 miles.
Tue, Jun 19: Track workout. Mostly core strength, only 5 laps.
Mon, June 18: Early morning at the gym.
Sat, June 16: Group run at Palo Alto Baylands. The choices were 2, 4, 6, or 8 miles and I chose 8. A great place to run, flat as a pancake, some nice vistas and wildlife.
Thu, June 14: Early morning hour at the gym. Buddy run at 7pm. I was concerned about the run because it reached 100° in the afternoon, but it was reasonably cool and pleasant in Redwood Shores, where Helen had set up the Buddy run with her colleague mentor, Ron. Only five people showed up, possibly concerned about the weather, and we ran 4 miles at a conversational pace.
Tue, June 12: A late business meeting made me miss the track workout. :-(
Hal in the 2007 Kaiser
SF Half Marathon
Mon, June 11: I spent an hour at the Powerhouse Gym in Redwood City, doing elliptical, stationary bike, and weights.
Sat, June 9: First group run at Whisman Park, Mountain View. We split into three groups, self-selecting a 2, 4, or 6 mile run. (I was in the 6 mile group.) After a brief warm-up jog, we did our stretches and headed out. Although it seemed as if the group was going very slowly, I ended up doing one of my faster 6 mile run/walks -- 62 minutes. Coach Ann led us in a very extensive after-run stretching session, which really did wonders for my recovery, eliminating the normal stiffness that has plagued me. We concluded with a bountiful continental breakfast buffet at the picnic tables in the park, something that I know from experience will not be repeated to this extent in future sessions.
Tue, June 5: First track workout at Stanford. Three laps warmup, introduction to stretches and core strength exercises (push-ups, planks, squats, lunges, etc.), four more laps.
Sat, June 2: Kickoff meeting. A giant crowd (500+?) of runners, walkers, cyclists, and triathletes at the Sofitel Hotel in Redwood Shores. This was a motivational and informational meeting, with no exercise involved. In my previous season at TNT, I followed the recommended very gradual workout schedule to get me ready for the early organized workouts, but this time I have been keeping up a moderate running schedule since the end of the last season (April). It's been 4-5 miles on a weekday, hour at the gym another (not enough, I know), 6-8 miles on weekend, and two races: Presidio 10M, Bay to Breakers 12K.