Mexican Riviera Cruise, Christmas 2005
This is a travelogue and review of a Christmas cruise that Nancy and I took to the Mexican Riviera on the MS Ryndam in December 2005. For those of you unfamiliar with my style, I include a lot of detail that may not be of interest to others, but I use these reports as a way of remembering those details in years to come. Nancy and I are relatively experienced cruisers, having sailed four times with Princess, once with (the now defunct) Royal, three times with Windstar, and now our first with Holland America Line (HAL).
Hal Jespersen
Summary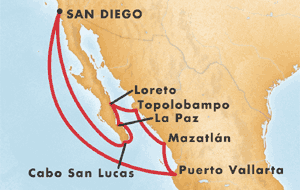 This 10-day cruise to the Mexican Riviera and around the Sea of Cortez was excellent in many respects. We found the Ryndam to be a delightful ship with the friendliest crew we have ever experienced. The cabin was excellent, service was excellent, food was very good, itinerary was very good, and only the onboard entertainment left any room for significant improvement. The weather in December was sunny, but a little chilly. We will definitely consider another HAL cruise.
Friday, December 16: Driving
One of the reasons we selected this cruise was its convenient departure port: San Diego. We drove down the day before and Nancy delighted me by suggesting that we stop at the Hitching Post restaurant for a BBQ steak dinner on the way. (This was actually the Hitching Post II in Buellton, the one featured in the movie Sideways. We have dined at the original Hitching Post in Casmalia a few times before and actually found that one to have better steaks.) We stayed overnight in La Jolla.
Saturday, December 17: San Diego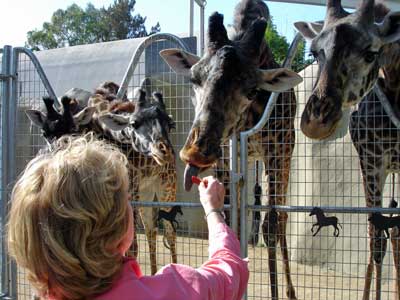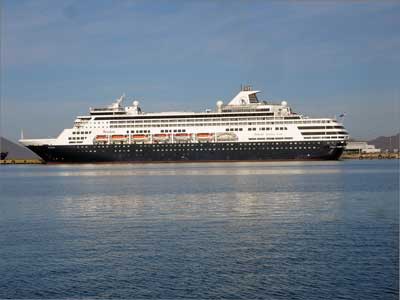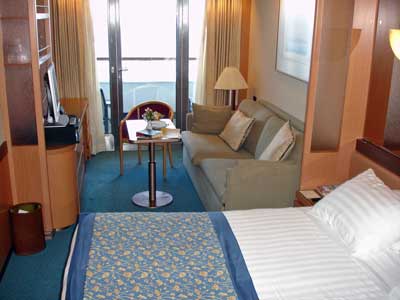 Up for an early start, we visited the San Diego Zoo, probably our fourth or fifth visit, but it seemed as if they have made a lot of improvements recently. We particularly enjoyed the opportunity of feeding the giraffes and visiting the new Monkey Trail exhibit. We had hoped to see their baby panda, but he was hiding in his bedroom at the time.
We parked our car across the street from the cruise terminal and were carried with our luggage by pedal cabs directly to check in. The process was very efficient and we got right on the ship around 3 p.m. (Apparently a number of people arrived a lot earlier than that because there were no lines to deal with at all.)
We booked one of the few cabins on this ship with a veranda, on the Navigation Deck (deck 10) just behind a long row of large suites. Our cabin was quite spacious in comparison to previous cruises and well laid out with nice fixtures, a large bathroom that had a small whirlpool tub, a small but adequate balcony, large LCD TV set with the DVD player, and a minibar. Our cabin steward was friendly and efficient throughout the cruise. He delighted us by creating little sculptures from folded bath towels, such as an elephant and a goofy horse (or perhaps it was a cow). And every time we left the cabin, he seemed to pop up like a prairie dog and greet us by name.
We attended the sailaway party and explored the ship. The Ryndam is one of three HAL sister ships (they call their full fleet of ten the "Dam Ships"—ho-ho) that focus on the midsized market, with about 1250 passengers. This sounds like a lot (and certainly is in comparison to Windstar's 140), but is only one third the size of some cruise ships. The public areas were quite nice, although it appears as if they had multiple interior designers who were not coordinating with each other. The main show room was gaudy, sort of like Art Deco on crack. There was a large library with hundreds of books, games, DVDs, an espresso bar, and Internet access—from workstations and also wireless. (I purposely decided to avoid Internet contact during the cruise and did not bring my laptop. I am moderately happy about that decision because I heard a number of complaints about the Internet service at sea. It was apparently quite slow and rather expensive: access was $.75 per minute or in a package of 250 minutes for $100.)
We selected the late seating in the dining room, which in this case was 8:30 p.m. We requested a large table and were assigned a table for eight: two couples from San Diego were traveling together and another couple from Vancouver Island. All were friendly and interesting, although I found it odd that in 10 days together none of them asked me any questions about my work or interests. My dinner for the first night was salmon tartare, blueberry soup, and rack of pork loin. The food was not as good as Windstar's, but I found it better than on Princess. There was a relatively good wine list, heavily weighted toward Pacific Northwest wineries due to HAL's headquarters being located in Seattle, mostly with very reasonable prices. The selection by the glass was rather poor, but our wine steward, Armando, was quite amenable to saving a half-finished bottle for the next night. (Armando was an interesting character who created very elaborate calligraphy displays of our names on note cards. He had one of these cards delivered to our cabin the last night on board, probably to influence the gratuity situation. More about that later.) Tonight was a 2003 ZD Carneros Pinot Noir.
Our first show of the cruise was at 10:15 p.m. and I regret to say that it was pretty poor. They introduced the entertainment staff and did a few variety numbers, marred by a rather indifferent small band and poor choreography. We saw four performances by this group during the cruise and some were better than the initial offering. I judged many of them to be good individual performers who were ill-served by mediocre arrangements. There were also individual performers later in the week from outside of the regular cast who were much better.
Sunday, December 18: At Sea
After setting our clocks ahead by an hour, we were up early for a buffet breakfast in the Lido restaurant. Although we could have used the main dining room, we chose the Lido for all of our breakfasts and almost all of our lunches. They had really excellent casual food with many, many choices. I do not recall any ship whose food service was available for so many hours a day. Some days we ate outside at the Terrace Grill, which featured cheeseburgers, hot dogs, pizza, and tacos, available from 11:30 a.m. to 5 p.m. We almost always had ice cream after lunch.
We watched from the restaurant, and later from our balcony, hundreds of dolphins jumping alongside the ship. Nancy attended a cooking demonstration (they have a well-equipped cooking theater and offer classes during the week) while I read. Having lengthy periods to catch up on reading is one of the activities I really enjoy on cruising. We both took a brisk two-mile walk on the lower promenade deck, which was something we tried to do almost every day.
We started to notice that it was very difficult to see that this cruise had so many passengers. About the only time that we ever saw a crowd was during the lifeboat drill on the first day and in the final breakfast on the last day. We almost never experienced lines. Really odd—were they all hiding in their cabins? We found out at the end of the cruise that there were 120 children on board, but they apparently had been occupied in "Club HAL" the entire time because we saw very few of them. Of course, the late seating in the dining room probably discouraged most families.
Tonight was the first of three formal nights. I estimated that about 70% of the men I saw were wearing tuxedos, although that percentage diminished noticeably on the remaining two formal nights. There were also a couple of "informal nights" that requested jackets and ties and the rest were "casual," which essentially meant no shorts or T-shirts. We started with the typical champagne reception in which the captain is introduced. Our captain, Frans Consen, was an unusual man. He was born in Jakarta, had a shaved head, and spoke enthusiastically in a very distinctive deep voice with a Dutch accent and purposely exaggerated rolling Rs. So he would say: "R-r-r-r-r-r-yndam!" I do not recall any captain on a cruise ship who had a better sense of humor.
Dinner was escargots bourguignon, mango gazpacho, and rack of lamb. The ship's cast was back with a Broadway musical review, a bit better than their opening night.
Monday, December 19: At Sea
We continued down the coast of Baja California. We took the obligatory ship's galley tour, something we do on every ship, and found this one just as immaculate as all of the others. We joined into a team trivia event, based on Trivial Pursuit questions, and were humiliated when our team got only six correct answers out of 15.
Tonight we dined in the Pinnacle Grill, a small dining room that requires advance reservations and levies $20 per person as a surcharge. Although it was not difficult to get a reservation when we called on the first day, passengers complained that it became much more difficult later in the week. The food and service were excellent. I had a 22 ounce porterhouse steak that was offered with three interesting sauces. Also a yummy Thai chicken soup. The wine was a 2001 King Estate Oregon Pinot Noir.
Since we ate early, we attended the early show, at 8:30 p.m. Tonight was a Vegas-style revue by George Solomon, who was very entertaining. He did songs from the 50s and imitated a variety of famous crooners. The highlight was when he performed the 50s version of Blue Moon (Bomp-bomp-ba-bomp-ba-bomp-ba-bomp-bomp) and did all three parts: bass, tenor, and soprano.
Tuesday, December 20: Puerto Vallarta
We parked at the pier next to the Sapphire Princess, which our captain jokingly derided as having 7300 passengers. Here we had our best shore excursion of the cruise (all of which I booked in advance through the HAL web site): Swim with the Dolphins. We swam in an enormous pool that was carved out of a lagoon and a trainer supervised about 10 of us in our interactions with three dolphins. It was really remarkable. We understood that the dolphins were not wild and that they were trained about as well as those in SeaWorld, but it was a great experience. They swam freely among us and seem to be delighted to have us rub their bellies. We were able to grab onto both of their fins and ride them around in a large circle, both upright and upside down (the dolphins were the ones upside down, of course). They also did the typical dolphin trick of simultaneous leaping way into the air, but diving back into the water only a foot or two away from us.
In the afternoon we took a taxi downtown and experienced the only really hot weather of the cruise, about 80°F. The city is greatly built-up since we last visited in the mid-80s and we recognized very little. There is an enormous Wal-Mart right across from the cruise terminal and a number of passengers bought wine for later in the cruise. (HAL has a policy that you can bring wine on board, but any beer or liquor is confiscated at the security checkpoint until the end of the cruise. The corkage fee in the dining room is $10.)
As we departed, there was no sailaway party, and once again it was hard to find any evidence that there were over a thousand passengers on board. When the pilot boat left us out of the harbor, the captain returned the boat's whistle with "shave and a haircut."
Dinner was a country pate, chicken gumbo, and barbecued pork chop. The wine was a 2001 Columbia Crest Grand Estates Cabernet. In the showroom was Norm Fell, an Irish comic, who had a pretty funny standup act.
Wednesday, December 21: Mazatlan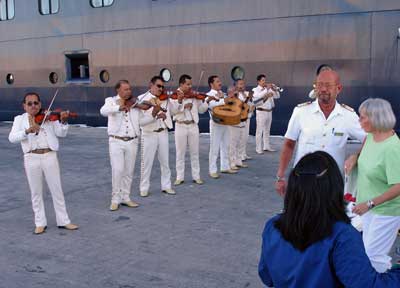 Our shore excursion here was a kayak expedition to Deer Island. We took a catamaran to the island, had some instruction (by an instructor who pronounced it Ki-Jack) and paddled around for about an hour. Not a lot to see, but we had a nice time and a good workout. We had lunch and were able to watch a beach volleyball game with a number of young, bikini-clad players.
At sailaway time, two passengers missed our departure and the captain, sentimental about Christmas he said, returned the ship about 20 feet to the pier so they could get on board. (This also happened at Cabo San Lucas, where we were anchored out in the harbor, and the two latecomers had to take a pilot boat to meet us.)
Another formal night in the dining room. I had chicken satay, Salade Caprese, and prime rib of veal. Others at our table concentrated more on lobster tails and beef Wellington. The entertainment was with the ship's cast, called "Party Gras," and it was quite a lame performance. We got up and left after 20 minutes.
Thursday, December 22: Topolobampo
This small fishing village, whose name means something like "bobcats by the sea," was founded in the early 20th century by an American who wanted to establish a socialist utopian community. Like all other such efforts, this failed and it is now a sleepy little place on the eastern shore of the Sea of Cortez (a.k.a. Gulf of California). The reason this stop was scheduled was entirely to accommodate a shore excursion to the Copper Canyon. This is supposed to be a very beautiful place, but we decided against the visit. The day would have consisted of rising at 4 a.m., taking a 90-minute bus ride, a 12-hour train ride up to and through the canyon, and then another bus ride back, returning to the ship at 10 p.m. We encountered no one who took the tour, so we cannot judge whether our decision was correct or not. Instead, we took a boat ride around the local bay and observed numerous species of birds and lots of wild dolphins cavorting.
Tonight was a barbecue on deck, also featuring bottomless Piña Coladas for $10. I suspect they had little alcohol in them. This was the poorest meal of the cruise and we regret not joining our tablemates in the dining room instead. (They were smart enough to have the Piña Coladas and skip the buffet.) The entertainer was Dan Bennett, an excellent comedy juggler.
Friday, December 23: Loreto
On the other side of the Sea of Cortez, this small town was the first capital of Baja California, settled in 1697. We took a tender into town and walked around without a specific shore excursion. The available excursions were not too interesting, such as a walking tour or a Mexican clambake. It was a pretty little town with a nice church and a good museum and lots of little restaurants and souvenir shops.
Dinner was conch chowder and a tuna steak. The wine was a 2001 Beran Willamette Valley Pinot Noir, a winery unknown to me. (It was very light and fruity, a wine I will not order again.) The entertainer tonight was Samantha Newbold, a British pianist who performed both classical and popular songs, including a rather truncated and modest version of Rhapsody in Blue. Very talented. There was another pianist on board, who presided over the Piano Bar every night, and was a stereotypical, brassy singer of sing-along pop tunes with a cigarette-enhanced voice. (By the way, smokers were barely evident at all on the ship. Society is finally going our way.) Later that evening, members of the crew entertained us with a show of Filipino songs and dances.
Saturday, December 24: Pichilingue (La Paz)
We signed up for a snorkeling tour of Los Isolotes. There was an hourlong boat ride to an isolated island where we visited a sea lion refuge. We were provided with wet suits because the sea temperature was 68°F. It was moderately fun to swim among the sea lions, many of whom were only six months old and still playful, but it was very cold and a bit disconcerting when the giant male sea lions kept barking and making rude gestures at us. There was a second stop at a relatively rare Mexican coral reef, where the fish were apparently quite plentiful and colorful, but we were too cold to consider another dip. Some of the passengers complained of mild stings from jellyfish. But we did have yummy beef tacos for lunch.
For dinner, I had chicken tenders in a coconut batter, blackberry soup with cumin, a Cornish game hen, and the famous cruise ship parade of baked Alaskas. Everything about the cruise was true to the Christmas spirit. Tonight, the waiters were dressed in Santa hats, but the entire cruise featured Christmas trees, Christmas cookies, and Christmas music all over the ship. The entertainment was Neil Austen, a British comedy magician, somewhat similar in style of humor to Benny Hill, but very entertaining with a mixture of really (intentionally) lame tricks, interspersed with very clever real ones when you weren't expecting them. This was followed by a Christmas show with the ship's cast, and Christmas caroling with the crew.
Sunday, December 25: Cabo San Lucas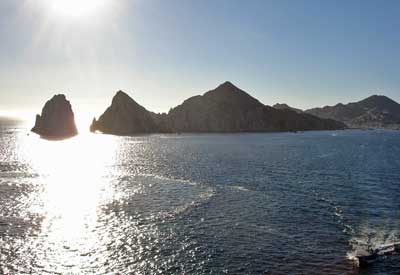 On Christmas Day, we awoke in the harbor to find that we were one of four large cruise ships visiting that day. This was another tender port and we were quite a way from the pier. We had scheduled another snorkeling shore excursion, but since it departed at 7:30 a.m. and we were told that the water would be even colder than the day before, we punked out. We walked around the town, which is quite touristy, but spent the rest of the day on the ship. That afternoon announcements were made about an unidentified flying object approaching the ship and of course it turned out to be Santa Claus. We had anticipated this visit, but were moderately disappointed to find out it was not the captain who was playing Santa. That would've been a hoot.
We returned to the Pinnacle Grill for dinner at the only available time, 5:30 p.m. It was disappointing that they had no special Christmas menu, as the dining room did. So I had another of the porterhouse steaks again, a crabcake appetizer, and a 2003 Yakima Valley Syrah. Once again, both the food and service were excellent. At the early show, the ship's cast performed a medley of 50s and 60s music.
Monday, December 26: At Sea
As we sailed back up the Baja coast, it was overcast and increasingly chilly. And for the first time on this cruise, there was a little bit of turbulence, a pitching movement that made some folks moderately queasy and made walking on the promenade deck an interesting experience. Our clocks were set back to PST and they had lots of indoor activities scheduled, such as the incessantly advertised bingo game, today the final tournament in which $3500 would be won. (There also was a casino on board, which we avoided studiously. And it never seemed very crowded when we walked by.)
In the dining room, there was a new experience for me: no jostling for tips. HAL has a policy whereby they automatically charge your shipboard account $10 per person per day in lieu of direct tipping. It is possible to avoid or change this charge by visiting the purser on the final night. Also, all beverage service is dinged 15%. On all of our previous cruises, the final night in the dining room was characterized by very, very friendly visits by people like the maître d', but here it was only an ordinary night. We decided to give a token additional amount in cash to our cabin steward, main waiter, and Armando, and hope that we did it discreetly enough. Dinner was bouillabaisse and a half chicken (probably the smallest half chicken I have ever encountered). In the showroom, we had a reprise of Neil Austen and Samantha Newbold.
Tuesday, December 27: San Diego and home
We awoke at the pier in San Diego. After a crowded breakfast at the Lido restaurant, we were part of a very orderly disembarkation procedure. We were able to stay in our cabin until after 9 a.m. and then we adjourned to the library while we waited to get off. Since we did not have air travel arrangements, we were one of the last categories of people to be scheduled. But it all worked without a hitch. Another pedal cab to the parking lot and we were on the road back to the Bay Area. Two traffic jams later, we arrived home to find all was well with house and cats, but that winter weather had finally arrived in Northern California and at least a week of rain and some possible flooding is in the forecast. And I gained five pounds. Happy New Year!