Hal and Nancy's Grand Teton and Yellowstone Trip, August 2011
This is my travelogue of Hal and Nancy's trip to Grand Teton National Park and Yellowstone National Park with Road Scholar (formerly known as Elderhostel).
Our program was entitled "Yellowstone and Grand Teton National Parks: The Heart of the Continent" and was organized by the University of Montana Western. The executive summary of our visit was that we had an outstanding time, encountering beautiful scenery, superb weather, great educational content, interesting traveling companions, and some very interesting wildlife (although not as much as we would have liked) over our nine-day program.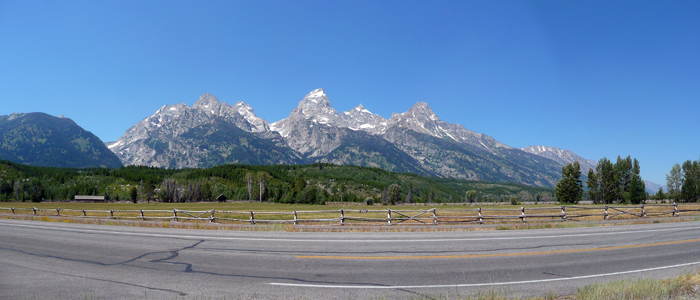 The Grand Teton range (The Grand Teton is in the center, the highest peak at 13,770 ft)
Sunday, August 14 — Arrival
We flew on United Airlines to Jackson Hole, Wyoming, arriving at 12:30 PM. It is a delightful little airport, the only one on the grounds of a national park, totally dominated by the dramatic Grand Teton mountain range. Our taxi driver gave us an interesting overview of the area and explained how thousands of elk migrate down through this valley (or Hole, in trapper-speak) every year. However, since the town of Jackson now blocks their path, they stop for the winter in a giant pasture next to the highway called the National Elk Refuge. He told us some stories about driving Dick Cheney around and also the most famous local resident, Harrison Ford. Ford, who is a private pilot, was flying his helicopter recently and responded to a distress call in the mountains. The injured hiker must have quite a story to tell about being rescued by Indiana Jones. We checked into the 49er Inn and Suites, which is a modest motel in downtown Jackson. We lunched at a nice restaurant called the Genevieve Café, which has an excellent cheeseburger, although one that is pricey enough to match the upscale surroundings. We visited the local history museum, which was moderately interesting, although it is currently limited to only three rooms. They have expansion plans that will make it more rewarding in the future, I assume. They have a lot of photographs and diaries about early settlers and tourists in the area. The town square has four unique portal arches made from hundreds of naturally shed elk antlers, which are collected by the local Boy Scouts and auctioned for charity. Surrounding it are dozens of T-shirt shops, cowboy boot stores, and art galleries. There are also some exclusive real estate brokers, such as Sotheby's and Christie's.
| | |
| --- | --- |
| | |
| Jackson Hole airport scene | Town square elk portal |
| | |
| --- | --- |
| | |
| Detail of the elk antler portal | The supposedly famous Cowboy Bar (and Cadillac Grill, our first dinner spot) |
Hal and Nancy downtown
Lee and Harry at String Lake
(last day of trip, actually)

Our program opened in the evening in the motel where we met our logistics coordinator, Lee Harry, and our instructor, Pete Bengeyfield, both formerly with the U.S. Forest Service and now with the University of Montana. Lee's focus was on forestry and wildland fire ecology, while Pete was a hydrologist and is an accomplished published photographer (you can see some of Pete's work at http://bengey.zenfolio.com/). We began with a slideshow of Pete's photographs and brief introductions of the 38 participants. It seemed like about half of the people were from the San Francisco Bay area, and about my only substantive complaint for the week was that our name badges did not include the towns, so we had to keep asking each other where we were from. We had dinner downtown at the Cadillac Grill, which set the standard for some reasonably upscale dining for the week, a bit fancier than the average Road Scholar fare that we are accustomed to. (This is our fourth RS trip together.) It took a while that day to become accustomed to the atmosphere in Jackson. It was very dry at 6200 feet, which caused me a mild headache, but we eventually got used to it. During the week we spent time as high as 9000 feet. With a single minor exception, the weather all week was superb, sunny in the mid-70°s during the day, down into the high 30°s at night, but it was "a dry cold."
| | |
| --- | --- |
| | |
| Grand Teton Trip Map (click to enlarge) | Yellowstone Trip Map (click to enlarge) |
Monday, August 15 — Snake River Rendezvous
In a large comfortable bus (driver Sean, an affable, competent guy who maneuvered us over some scary mountain roads during the week) we drove to the National Museum of Wildlife Art a couple of miles north of town. We started in a meeting room where Pete gave us an hour lecture with an overview of the two national parks we would be visiting, and then we split into groups for docent-led tours of the museum collection. I am a real wildlife lover, so I enjoyed the very large exhibits, although I will have to say that many of them looked to be the quality of magazine illustrations or other commercial art, similar to modern, popular Civil War paintings that glorify Robert E. Lee and Stonewall Jackson. There was a concentration on an artist named Robert Bateman, including a mockup of his art studio, and we enjoyed watching a video in which he was interviewed and demonstrated his techniques on a large bison portrait. There was a traveling exhibition that showed art from Yellowstone to the Yukon and many of these were outstanding. Pete talked to us during the week about the greater Yellowstone ecosystem, and this illustrated wildlife throughout that wide area. Here are some of the artworks I enjoyed the most:
| | |
| --- | --- |
| | |
| Mighty Moose | It was not all about Yellowstone |
| | |
| --- | --- |
| | |
| Black bear | Pronghorns |
About the only modernly artistic piece there,
by an Indian artist
Bull elk
| | |
| --- | --- |
| | |
| Another bull elk | Another moose |
The mythical, carnivorous Mares of Diomedes
A magnificent yellow bellied marmot
(I just love large rodents)
Super-detailed Robert Bateman cougar
We entered Grand Teton National Park and drove to the small town of Moose, Wyoming. Here we met up with outfitters for the Solitude river rafting company and took small vans to Moran Junction, about 7 miles upstream on the Snake River. This afternoon was the only exception to the superb weather and we had to keep looking over our shoulders at nasty thunderstorm clouds, but we were very lucky dodging them and experienced only a few sprinkles. The slow float downstream was very enjoyable, seeing the magnificent mountains—whose name derives from the French explorers who thought they looked like large breasts—and looking for wildlife. We saw a few bald eagles, but that was about it.
| | |
| --- | --- |
| | |
| Prepared for a harrowing raft trip | Our captain |
| | |
| --- | --- |
| | |
| Storm clouds loom | The Grand Teton from the Snake River |
We checked into the Jackson Lake Lodge, the first of three National Park Service properties in which we would stay. There was a large central building that had a dark brown, ominous prisonlike appearance, surrounded in the woods by many dozens of small motel-like buildings. On the back deck was a magnificent vista of the Tetons behind an enormous meadow called Willow Flats, which was reminiscent to us of the South African veldt (or at least the Walt Disney Animal Kingdom version of the same). After a very decent buffet dinner in a private meeting room, our schedule called for wildlife viewing from the deck, but we saw no signs of life. Pete revealed that this season is the worst one for wildlife viewing, but somehow "the catalog doesn't mention that."
Tuesday, August 16 — On the Threshold of the Wilderness
There was a really awesome breakfast buffet at the Jackson Lake Lodge. Nancy and I have been afraid to visit our bathroom scale after this trip! We drove to nearby Jenny Lake and took a small ferryboat on a 10 minute trip across. We hiked to Hidden Falls, which is about a half-mile away on a rocky trail, climbing 150 feet. Then some of us went looking for Inspiration Point, which was another 450 feet up. About halfway, we got a majestic view of the lake and Pete recommended that climbing all the way up would not yield us anything significantly better, so we stopped there. It was here that we encountered our first wildlife up close—a golden-mantled ground squirrel, which we initially mistook for a chipmunk. On the way back the trail started to become very crowded. We had a picnic lunch at the side of the Snake River, sitting on some beached logs—Sean and Pete had some difficulty finding a regular picnic spot that had both open tables and available parking.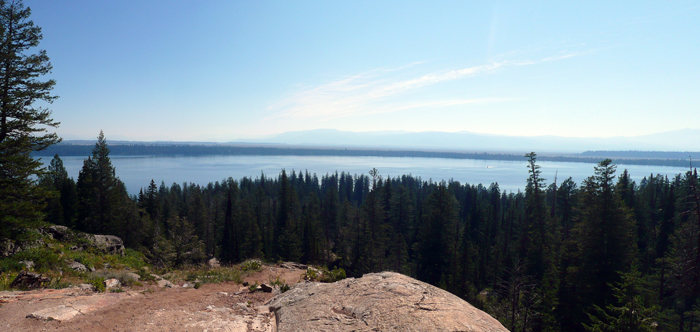 Jenny Lake, from halfway up to Inspiration Point
| | |
| --- | --- |
| | |
| Jenny Lake Ferry | Hiking above Jenny Lake |
| | |
| --- | --- |
| | |
| Hiking above Jenny Lake | Nancy at Hidden Falls |
| | |
| --- | --- |
| | |
| Golden-mantled ground squirrel poses nonchalantly | Hal and Nancy above Jenny Lake |
We drove back to Moose and visited for about an hour. There is a small rustic church called the Chapel of the Transfiguration, which is notable because instead of a stained-glass backdrop to the altar, there is a picture window with a beautiful view of Grand Teton mountain. We visited a general store built by a guy named Bill Menor (his partner allegedly said "I'm mean, but my partner is Menor") and bought a jar of huckleberry butter. We saw the cable ferry that was used to cross the river, but the re-created version did not seem to be operating; Pete said that it was resting on the bottom of the shallow river. The small Maud Noble Cabin had some exhibits about a meeting that was held by locals to plot the creation of the national park, which is much more recent than Yellowstone. Finally, we dropped by the visitor center at Moose. It had a 25 minute movie about the park, which was pretty good, and had some nice maps and a video about the geology of the Tetons.
| | |
| --- | --- |
| | |
| Chapel of the Transfiguration | View of the altar |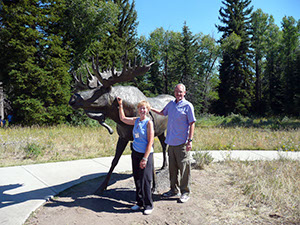 Hal and Nancy with a moose statue;
a big guy (for comparison, Hal is 6'8")
We had surf and turf at the Lodge, believe it or not, and watched a few of Pete's slideshows with his beautiful photographs of animals and national park scenes set to his favorite music.
Wednesday, August 17 — Across the Great Divide
We started in a conference room watching a fascinating film by Bob Landis, "The Rise of Black Wolf," originally produced for the National Geographic Channel. On the bus ride to Yellowstone National Park, we stopped at Moose Falls, hiking about 50 yards see them. We also drove by Lewis Falls. As we drove, we were struck by the widespread evidence of the 1988 fire. Yellowstone is actually quite green now, but there are innumerable dead trees mixed in, either as fallen logs or tall sticks without branches towering over the new growth. We crossed the Continental Divide, which would not have been visually apparent except for the sign on the road. There is a tiny lake named Isa perched there that has the distinction of draining from either end into both the Pacific Ocean and the Gulf of Mexico. (On one side of the divide, it empties into the Snake River and then the Columbia, and on the other into the Missouri and eventually the Mississippi.)
We picnicked on the shore of the West Thumb of Yellowstone Lake, which was the site of a volcanic eruption 125,000 years ago, opening up inside of the great Yellowstone Caldera, which was the result of the eruption 640,000 years ago. (These eruptions have happened every 600,000 years, so we are about due for another catastrophic event sometime over the next few thousand years.) Walking around on the boardwalk to visit the thermal features, we encountered our first elk of the week. The thermal features are quite interesting and colorful. There are hot springs, mudpots, geysers, and fumaroles in the park, although West Thumb has primarily the first two. The bright colors come from bacteria that thrive in different temperature ranges. One general aspect of most of these: P-U. Some are quite sulphurous. There was an interesting hot spring called Fishing Cone, which was used by the Indians to cook fish, but because the lake level was running high this year, it was submerged.
| | |
| --- | --- |
| | |
| Nancy at West Thumb Geyser Basin | West Thumb Geyser Basin hot pool |
| | |
| --- | --- |
| | |
| Bacteria colors | Bacteria colors |
We stopped at some pretty waterfalls on the Firehole River called the Kepler Cascades, and then entered the Old Faithful area. This is a giant complex of buildings with huge parking lots, all centered around the Old Faithful geyser. We checked into the Snow Lodge, which was completed in 1999, making it the newest and most attractive of the three gargantuan hotels at the site. It is also the only accommodation open there in the winter, when access is limited to guided snowmobile or half tracks. (Almost all of the roads in the park are closed to normal traffic during the winter, but that is probably when wildlife viewing is at its best.)
| | |
| --- | --- |
| | |
| An elk at West Thumb | Kepler Cascades |
We rushed immediately to the Old Faithful geyser, which erupts every 90 minutes or so, and this first eruption came ten minutes ahead of schedule. We had a great view along with about 500 other people sitting on benches in a semicircle around the geyser. After the eruption, there was a big traffic jam of cars exiting the area. The Visitor Education Center was very attractive, featuring great graphic design and a lot of interesting interactive exhibits. This was one of the only places in Wyoming in which we saw multilingual signs. We had dinner in the Snow Lodge and were interested to be served huckleberry ice cream, which was delicious. This entire area seems to base its agricultural economy on huckleberries. After dinner we attended an interesting ranger talk at the visitor center about the way tourism has changed in the 20th century. We saw some very amusing photographs of tourists posing on geysers and feeding bears. There was even a photograph of the park superintendent in the 1960s feeding bears at a picnic table. On the way back to the hotel, we caught another eruption of Old Faithful. This time it was even taller than in the afternoon, and started almost exactly on schedule.
| | |
| --- | --- |
| | |
| Old Faithful | Old Faithful and my own Old Faithful |
Old Faithful
Thursday, August 18 — In the Valley of the Geysers
Pete led us on a 2 mile hike around the boardwalks of the Upper Geyser Basin. We saw numerous geysers, including the famous Castle Geyser and Giant Geyser, but none of them erupted while we were there. Some of these geysers erupt on a schedule of plus or minus 2-4 hours, and it is hard to imagine anyone sitting there for that. We were particularly impressed with the Morning Glory Pool, which displayed really beautiful brilliant colors, although we were told that because tourists over the years threw so much junk into the hot spring, the hot water vents have been partially obstructed and the colors are less brilliant now. We spotted two bison along the way, a sight that was exciting at the time, but soon became commonplace during the week.
| | |
| --- | --- |
| | |
| View from Upper Geyser Basin | Some geysers and hot spots |
| | |
| --- | --- |
| | |
| Bison spotted in Upper Geyser Basin | More geysers |
We continued on the bus down the Firehole River Valley to visit the Midway Geyser Basin, which is dominated by the Grand Prismatic Spring, the third-largest hot pool in the world (and the largest in Yellowstone), 370 feet wide. It is recognizable by its brilliant color plumes, although this view is only accessible if you cross the river and hike up a hill to see it from higher elevation. At eye level it is difficult to get the full effect of the colors. The boardwalk around spring was very crowded. We skipped the Lower Geyser Basin and elected instead to visit some mudpots in an area Pete found off the beaten path. We hiked cross-country about a mile and a half to visit these smelly features and came very close to a lone bull bison, who Pete told us was too old to participate in the annual rut in a neighboring valley. Poor old guy!
Grand Prismatic Spring (but see the Web version below)
Aerial view of Grand Prismatic Spring
(photo found on a website, somewhat more dramatic than real life)
Excelsior Geyser
We had some free time in the afternoon so Nancy and I decided to go to the visitor center to see the two short films they offered. We stumbled into the theater in the dark and found ourselves in the middle of a very, very technical geology presentation by a professor from the University of Utah, Bob Smith. It was one of those typical scientific PowerPoint presentations where they squeeze eight very detailed graphs on a single slide. We were too embarrassed to climb over people to get out before his presentation ended, but he riled us by saying "in conclusion ..." with approximately 25 more slides and two or three additional topics to go. He talked about earthquakes and the magma plume underneath Yellowstone, and although he said that the likelihood of another eruption was less than your chance of winning the Powerball lottery, he talked about how the Western United States would be submerged in 15 feet of ash, and his final slide showed the slogan "Visit Yellowstone before it visits you." We went to the general store for some local Wilcoxson ice cream, which Pete had recommended, and after dinner we went to the historic Old Faithful Inn to listen to a lady playing on the grand piano. The Inn has a really dramatic lobby interior built from elaborate log structures.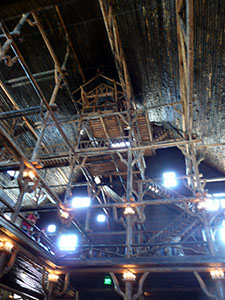 Interior of Old Faithful Inn lobby
Friday, August 19 — In the Heart of Yellowstone
We drove to West Yellowstone, Montana, right outside the western entrance to the park, to visit the National Smokejumper Center. A retired Forest Service employee and former smokejumper gave us a presentation about forest fire management issues. Up until 1980 there was a policy that any fire had to be extinguished by 10 AM the following day or the local manager would get into serious trouble, but the Forest Service came to the realization that forest fires were a natural part of the ecology and they started to let them burn as long as they could protect important human features, such as housing. Despite a large decrease in the number of fires fought, the agency budget increased significantly during this period. Go figure.
We drove to the Canyon area, where the Yellowstone River eroded the 20-mile Grand Canyon of the Yellowstone. Although this was a very impressive feature, it is a little deceptive to use the term Grand Canyon, because it is nowhere near as significant as the famous national park in Arizona. We observed the Upper Falls and then hiked from Uncle Tom's Point along the south rim of the canyon, getting a beautiful view of the impressive Lower Falls. We went as far as Artist Point, negotiating some rather steep trails. We looked at Gibbon Falls, named after Civil War general John Gibbon, which is one of many waterfalls that occur on the rim of the Caldera. Then we crossed over to the north rim of the canyon and got an even better view of the Lower Falls. We spent some time observing a nest of ospreys perched on top of a narrow pinnacle. Apparently the parents had left the nest and three young ospreys were trying to make the life or death decision of when to take their first flight from this precarious spot.
| | |
| --- | --- |
| | |
| Lower Falls of the Yellowstone River | Upper Falls |
Upper Falls from Artist Point
We checked into the Yellowstone Lake Hotel, which is an unusual yellow wooden giant built starting in 1890. During our two night stay, we were subjected to absolutely zero cell phone or Wi-Fi coverage. I will have to say that AT&T's coverage in national parks really stinks. Apparently their executives must vacation in Monte Carlo or some places like that. During this period Nancy was concerned about reports that her horse, Gracie, was suffering from some hives, and it was extremely difficult to communicate to her friends and the vet about the problem. (The vet eventually said that the hive problem was temporarily unsightly, but not medically serious or uncomfortable for the horse.) An interesting thing about the hotel and the neighboring lodges was that a herd of bison wandered the grounds and I was able to get some photographs that included a bison calf from about 30 yards away. For dinner we had bison tenderloin, which is actually farm raised outside of the park, and is lean and quite delicious.
| | |
| --- | --- |
| | |
| Bison herd at the Lake Hotel | Mr. and Mrs. Bison |
The unusual Lake Hotel
After dinner there was an optional bus excursion to find wildlife. We drove out over Fishing Bridge for a ways and came up with nothing, so then returned to drive the length of Hayden Valley. We encountered a big "bison jam" where cars back up because of bison strolling blithely in the road, and were amused to see that the bison were dominating a roadside restroom. We imagined the reaction of someone caught in the toilet with these giants blocking the door. We saw some bears with cubs, but this was over 500 yards away across the river in the twilight, so they looked essentially like little black specks. Up at the north rim of the canyon, we found a magnificent elk with a rack of antlers that must have been 6 feet high. He seemed to be injured and was hanging out in one place, so we were concerned that a local wolfpack might get him that evening. With the exception of this elk, the bus-based wildlife viewing was not very successful. Whenever there was an animal near the road, it seemed as if dozens of cars were parked to view them, so we could do nothing more than drive by slowly without stopping.
The injured elk
Saturday, August 20 — On the Grand Tour
We drove back to the north rim of the canyon to see if we could find our elk, but there was no sign of him or of a carcass. We headed northeast toward Mount Washburn. We stopped at Dunraven Pass for a view 40 miles south across the Caldera. Before the eruption, there was a continuous mountain range from Mount Washburn to Mount Sheridan (named after Civil War general Philip Sheridan), but this was obliterated. I asked Pete about when geologists realized this giant eruption had occurred and he said it was not until the 1960s when the ERTS satellite showed them pictures from space. We hiked an easy 150 yards to Tower Falls, the subject of a famous painting by Thomas Moran. Then it was over to the Lamar Valley, a beautiful place where about 90% of the Black Wolf movie we saw earlier was filmed. Here we saw numerous herds of bison—hundreds, if not a thousand, of the beasts. We had a nice picnic lunch on the riverbank of Soda Butte Creek. The wildlife here was a very friendly ground squirrel who had a taste for Miss Vickie's potato chips.
| | |
| --- | --- |
| | |
| Tower Falls | One of the number of bison herds in Lamar Valley |
| | |
| --- | --- |
| | |
| Ground squirrel with Miss Vickie's potato chip | A lovely picnic spot on Soda Butte Creek |
Driving to the northwest, we reached Mammoth Hot Springs and Fort Yellowstone, the headquarters of the U.S. Army Cavalry regiment that protected the park up until 1916, and currently the National Park Service headquarters. The hot springs flow down a large hill and the hot water with calcium carbonate have created travertine formations that are strikingly beautiful and colorful. There is an elaborate series of boardwalks that allow you to see them up close. We were amused to see a small herd of elk wandering around eating the grass at the visitor center. After dinner at the Lake Hotel, we took another optional wildlife excursion and saw some bears eating a carcass in the river, but once again this was at about 500 yards away in the twilight. We also saw a few coyotes at about 300 yards.
| | |
| --- | --- |
| | |
| Travertine steps at Mammoth Hot Springs | A visiting elk at Mammoth Hot Springs |
Sunday, August 21 — Mystique of the Mountains
We woke up to see that there was a bison bull very close outside our hotel window! On the bus ride out of the park, Pete gave us a lecture on bears and the subject came up about how black and grizzly bears interacted in the park. I was surprised to hear that black bears, which are native to mountainous regions, generally can defeat the grizzlies, who are usually plains residents. (Nancy thinks Pete misspoke about this. Grizzlies are bigger bears on average.) Black bears have curved claws that are suitable for climbing trees, while grizzlies have straight claws.
Back in the Grand Tetons, we stopped at the Colter Bay visitor center on Jackson Lake. They have an Indian arts Museum that Pete described as "very interesting if you like that kind of thing." My sentiments exactly. The Indians had some very elaborate beadwork, which was nicely done, but not something that excited me. (There is a video tour of the museum here.) There was a very good bookstore attached, however. Then we took a hike around String Lake, which was mostly on a flat but narrow trail, reducing our hike to about the speed of a cafeteria line. Lee gave us a lecture on life cycles of the forest, concentrating on the interaction of lodgepole pines and spruce, and how they are affected by their battle with the Mountain Pine Beetle. (It was more interesting than it sounds from that description.)
View of Mount Moran over String Lake (the dark slash at the top is called a volcanic dyke)

We returned to Jackson and the 49er Inn that afternoon. Pete recommended the downtown photography gallery of Tom Mangelsen and we were impressed by his stunning photographs. Not only stunningly beautiful but stunningly expensive—large prints approaching $6000. We had a farewell dinner at the Wort Hotel, which was an excellent buffet that included bison brisket, spicy elk chili, and chicken. Fortunately, there were no long-winded speeches and no tears, but everyone expressed their appreciation to Lee, Pete, and Sean for a great experience.
Monday, August 22 — Departure
An uneventful flight back through Denver to San Jose brought our experience to a close. I highly recommend Road Scholar excursions of this kind for their educational content and good value. You meet some great people, see beautiful scenery and wildlife, and all of the details are taken care of for you at a reasonable price. We actually have another Road Scholar trip scheduled for next month, to visit the ponies at Chincoteague Island in Virginia. I will do another report on our experience, so watch this space.