Hal Jespersen's United Kingdom TankFest Trip, June 2022
This is my (Hal's) report of my trip to the United Kingdom to attend TankFest at the Tank Museum in Bovington, about 100 miles southwest of London. I had visited the museum briefly in 2019 as part of a D-Day 75th anniversary tour and was so interested that I became a donor to the museum, and would have returned earlier if it were not for Covid. I arranged to stay in London, with a full itinerary of places to visit by train, but just days before I learned about crippling railway strikes across the UK, the worst such in 30 years, they say. I considered canceling, but the notice was short enough that I would have lost a considerable amount of money from the airline and hotel, so decided to chance it by implementing a number of alternative plans, as you'll see.
Monday, June 20 — to London
I flew overnight nonstop to Heathrow on a British Airways A380. A lucky booking during the pandemic got me a very reasonable price on a first class ticket! The seat was very comfortable and I reclined on the full-flat bed without having to bend my knees. As I have done in the past, I used an app on my phone called TimeShifter—recommended—which got me acclimated to the eight-hour time zone shift by a variety of instructions such as light exposure and sleeping schedules, so immediately upon taking off I went to sleep and skipped the normal meal service. I had a full English breakfast when I woke up.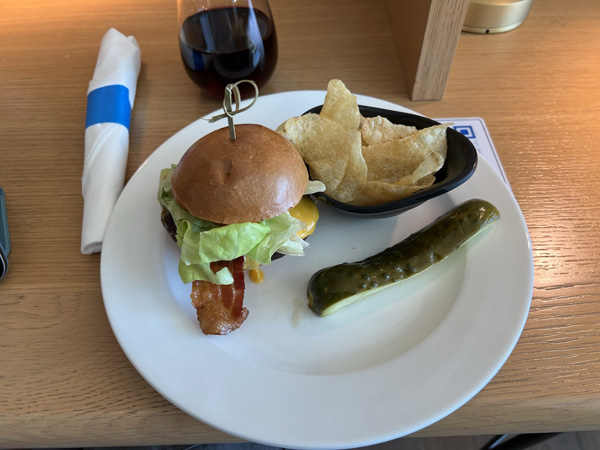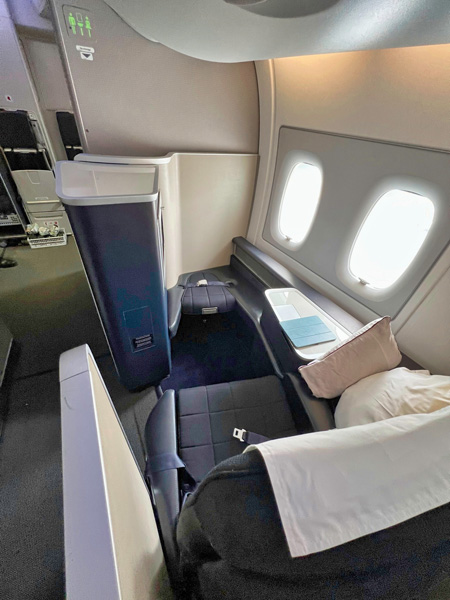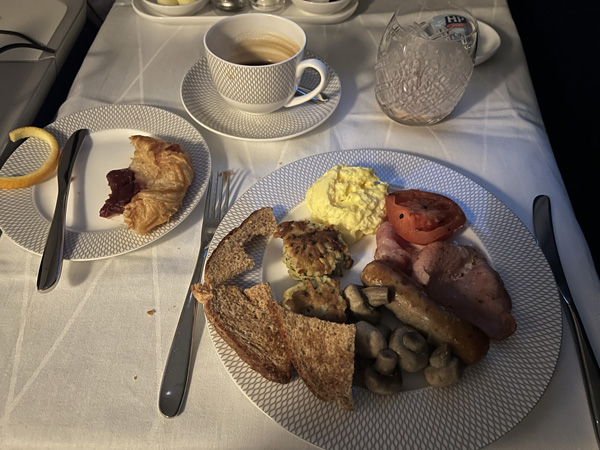 Tuesday, June 21 — London
My normal method of travel from LHR is to take the Heathrow Express train to Paddington Station and then a cab to my hotel, but today is the first day of the railroad strike and the London underground employees struck as well, so I took an Uber. To my surprise, cars were immediately available and no high demand pricing was in place. The trip took 70 minutes because downtown London was obviously congested with more cars than usual.
I booked the hotel through a BA holiday package and selected the Waldorf Hilton because it's within walking distance of Waterloo Station, from which trains to the Tank Museum originate. (My original plan had been to take the train to Bovington on both Friday and Saturday, even though it is 2.5 hours in each direction.) I had not thought about it, but it is also in the Covent Garden and West End theater district, so there were a lot of tourists around. It is a comfortable hotel, a bit old-fashioned in the typical London style, but the rooms are as quiet as tombs, which is a big plus.
I took my daily walk with an objective of equaling my normal average of 7 miles per day. I walked on the Strand, Trafalgar Square, Buckingham Palace, Green Park, Mayfair, and Soho. I ate dinner at a small restaurant called Obicà Poland Street, part of a worldwide chain, apparently, which attracted me because they specialize in fresh mozzarella. The pizza was quite good, accompanied by a delicious glass of Sicilian Nero D'Avola. For dessert, a glass of Possito di Noto, which muscat-based, but tasted like an Auslese Riesling, and an intriguing ricotta di bufala and coconut cake.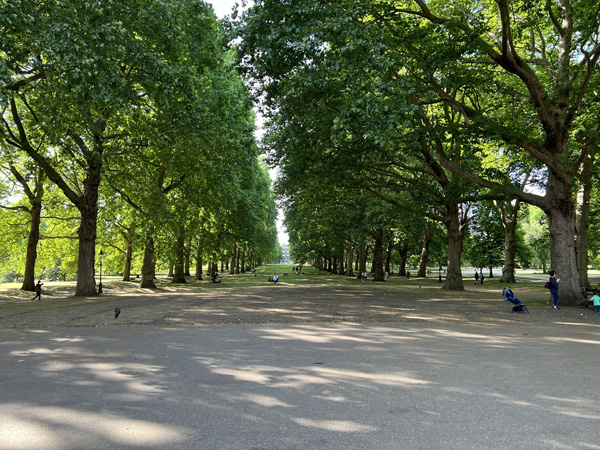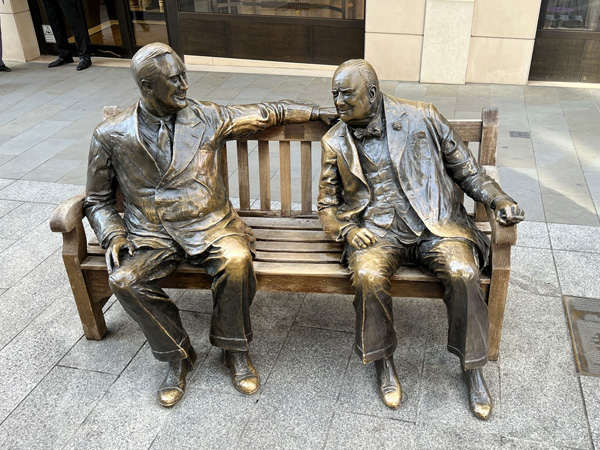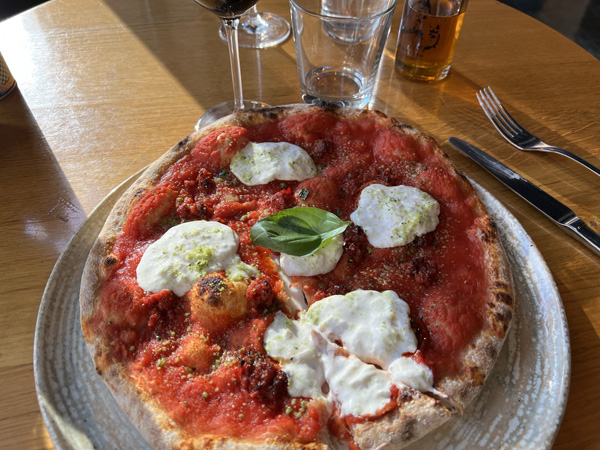 Wednesday, June 22 — Bletchley Park
I took a West Midlands train from Euston Station, about a mile walk from my hotel, 35 minutes to Bletchley Park. The very early trains were canceled as fallout from the Tuesday strike, but the 9:15 went as scheduled. I first visited BP in 2019 and was impressed with many improvements they've made to their audio-visual exhibits. There is a free headset and portable screen guide that gives commentary at every stop, about history, people, and technical topics. Benedict Cumberbatch makes an appearance! (He played Alan Turing in the movie Imitation Game.) My only disappointment about BP is that they give relatively little coverage to Colossus, the digital computer that cracked the most important strategic codes. There's an exhibit in a basement room, but no replicas. Bombes and Enigmas are all over the place.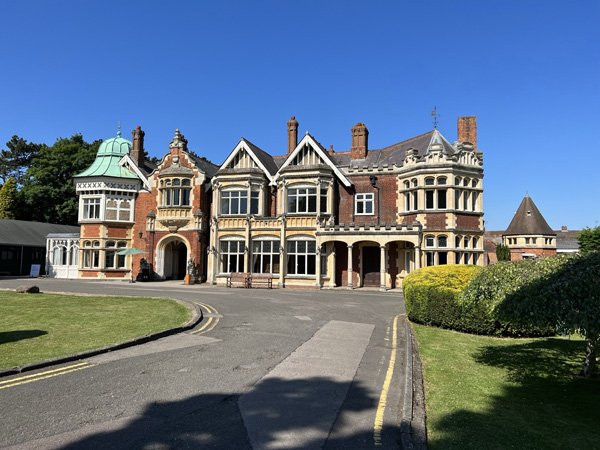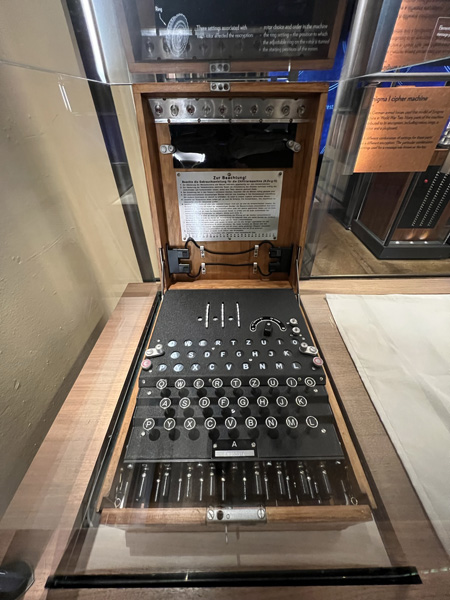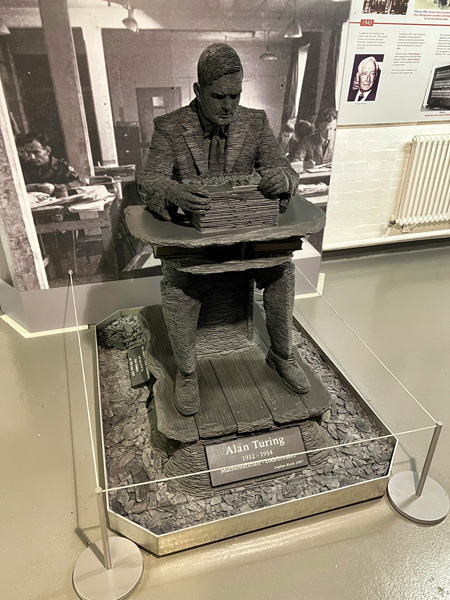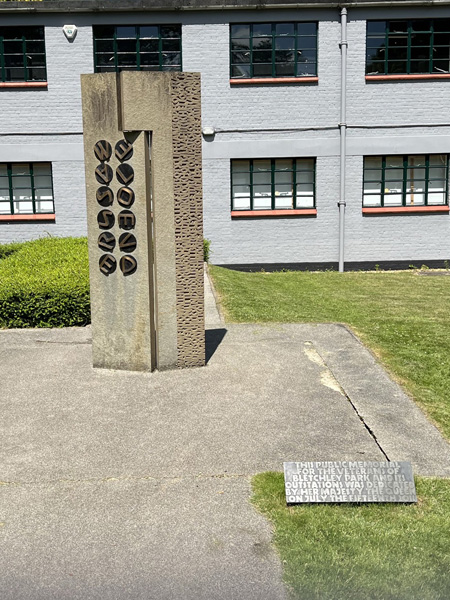 As I was walking back to the train, I noticed that the National Museum of Computing next-door was advertising an exhibit on Colossus, but unfortunately I managed to select the one weekday of the week in which that museum is closed. A small crisis erupted at the train station because they had lost power to the ticket machines (and the lifts and platform announcement signs) and they had no one on duty. Fortunately, I was able to buy my return ticket online as an E ticket, which I flashed upon exit at Euston.
My dinner walk was over to the City and St Paul's, where I found a Gordon Ramsay Street Pizza restaurant, one of his numerous chain sites. Not too impressive. Back at the hotel, I watched the Imitation Game movie, which is entertaining and well acted but the history was wildly inaccurate.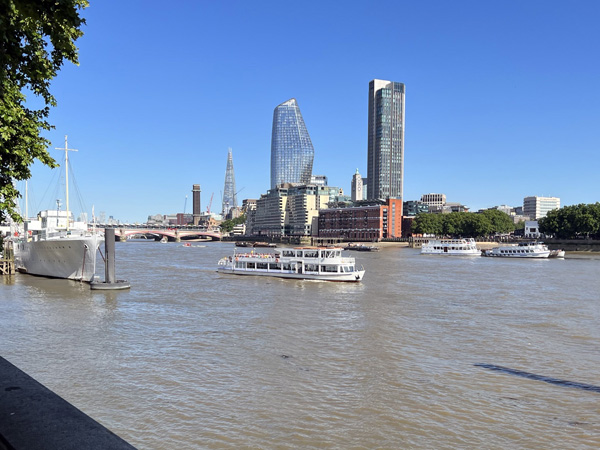 Thursday, June 23 — Royal Air Force Museum
My plan for today was to take the train to Cambridge and visit the historic Cavendish Laboratory. The laboratory itself is not open to the public, but there is a museum available by appointment, and I wanted to see where the electron and neutron were discovered, among many other famous nuclear physics events. I also booked and later canceled a walking and punting tour of the town and university. However, this was the second day this week in which the railroad industry was completely on strike, so that trip was not possible. Instead, I booked a foodie tour that centered around the London Bridge area.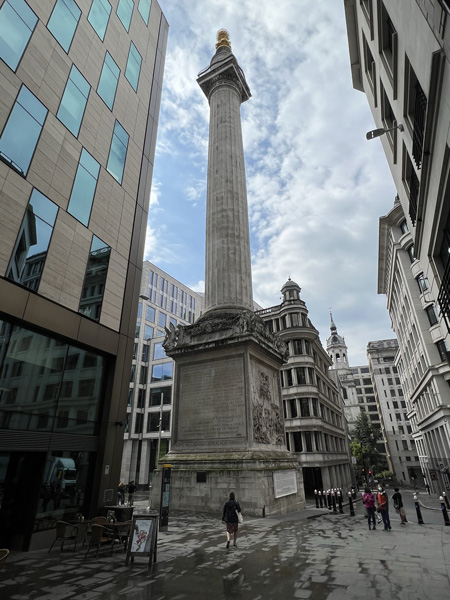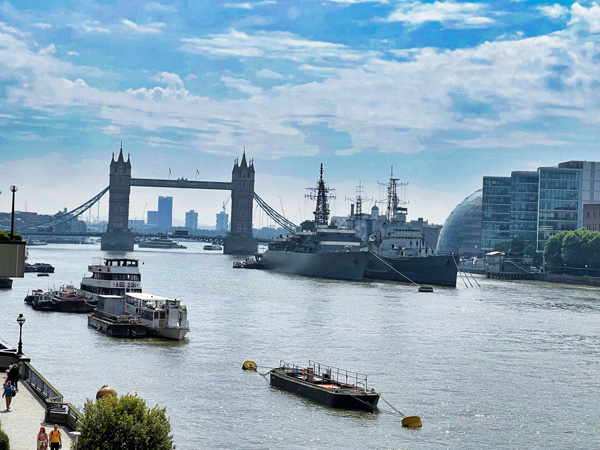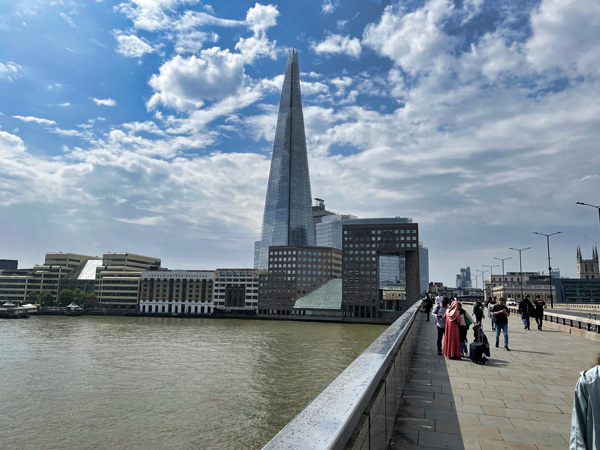 Three minutes before the tour was supposed to start I got an email that announced it was canceled; the guide was injured en route. They processed the refund promptly. So I walked a block to the Borough Market, which I suspect was a destination for the tour anyway and I was delighted to find a bustling area with dozens and dozens of stalls—every type of produce, meats, fish, baked goods, alcohol, and ethnic cuisine you can imagine. I had fish and chips; six different fish choices were offered and I chose cod. There was also a fancy eclair stand and I had a salted caramel version with a tiny slice of gold leaf. The smallest and most expensive eclair I've ever had, but delicious.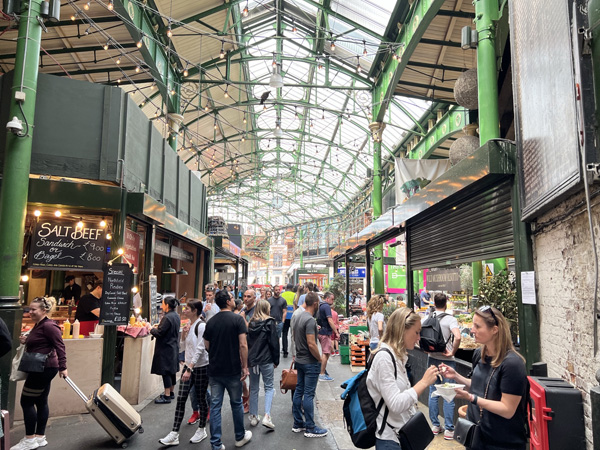 I then took the underground to the Collindale station to visit the RAF Museum London, the former Hendon Aerodrome. This trip is turning into a repeat of my D-Day tour because we visited there as well, but there was a problem that first time: we had limited time available and there was no map of the facility, so I spent way too much time in the main entrance building, not realizing until it was too late that there were four or five additional giant hangars full of aircraft to see. Well, today I was able to see them all at a leisurely pace and take a lot of photographs. The museum has free admission! It has aircraft from World War I up through about 1980 (and the hangar with the most recent aircraft was oddly sponsored by the Kingdom of Kuwait), only a few of which I was familiar with. It was great to see some of the familiar aircraft from World War II, but the one that made the biggest impression on me was the Avro Vulcan delta-wing bomber, which is freakin' huge.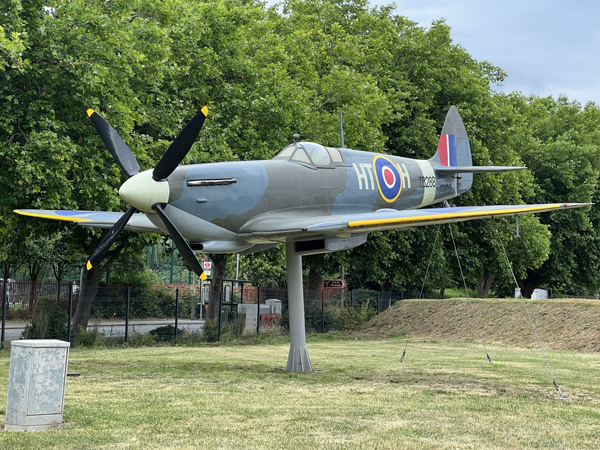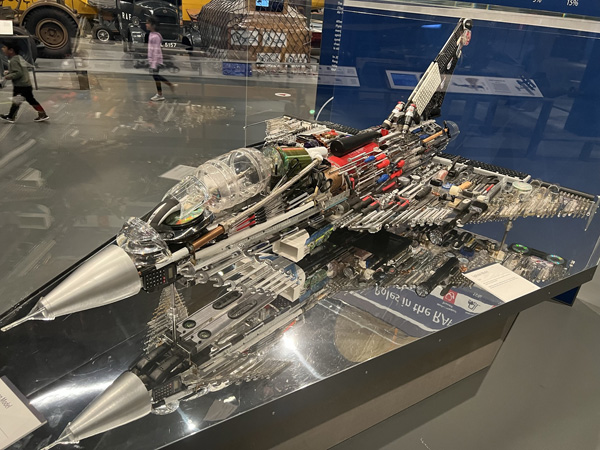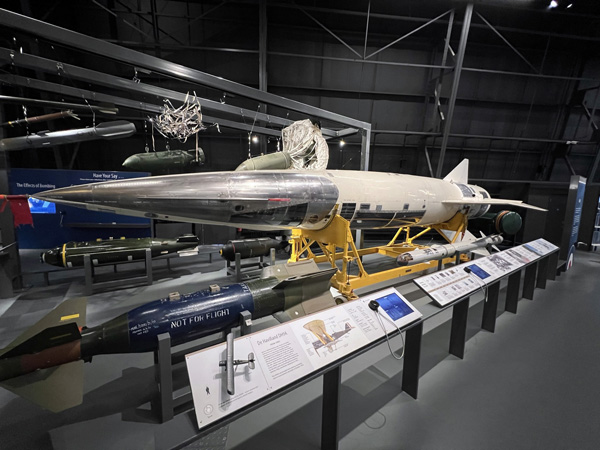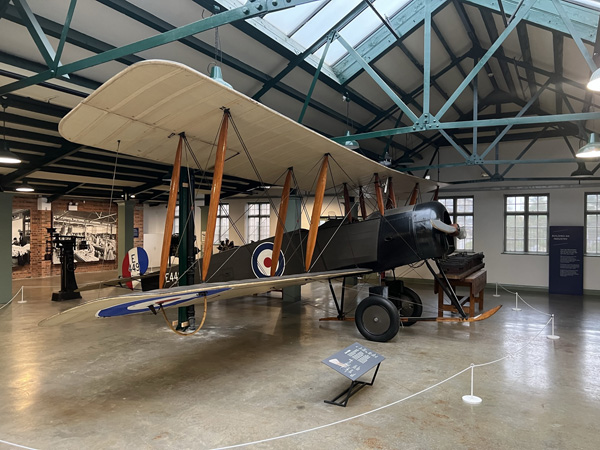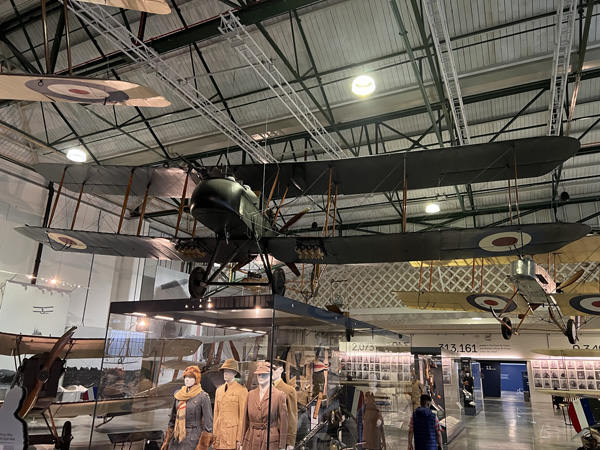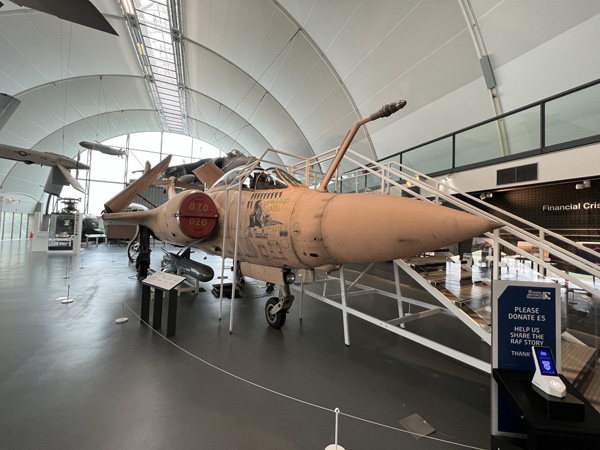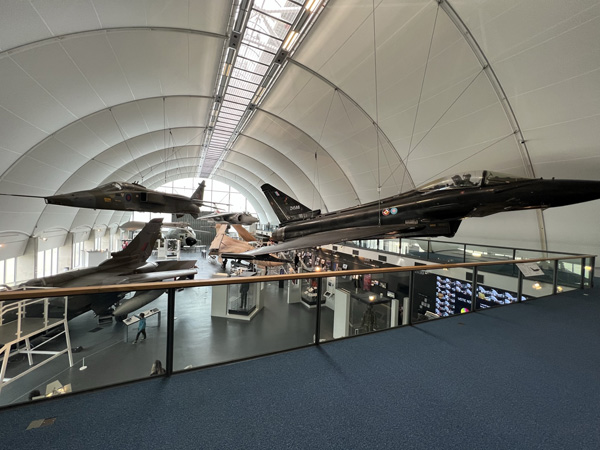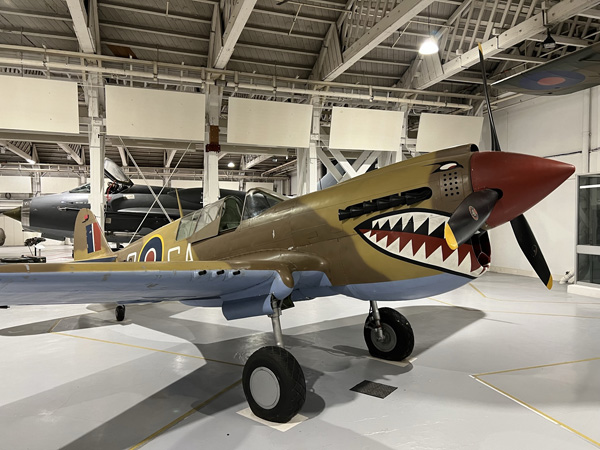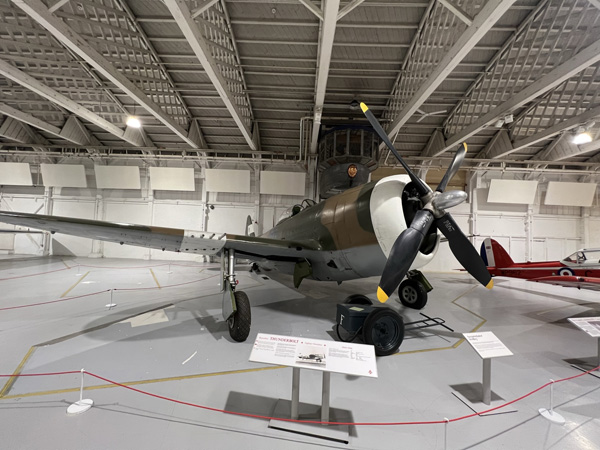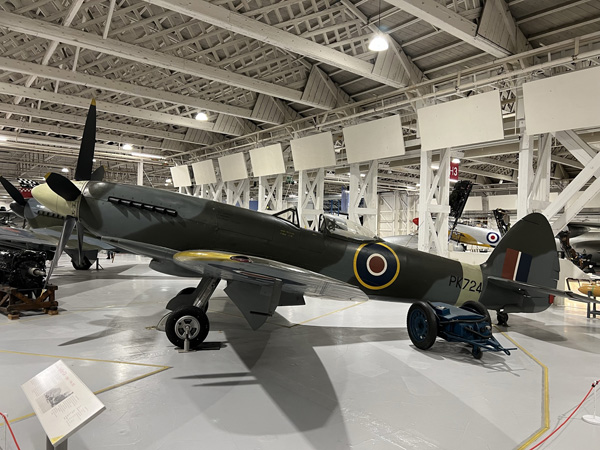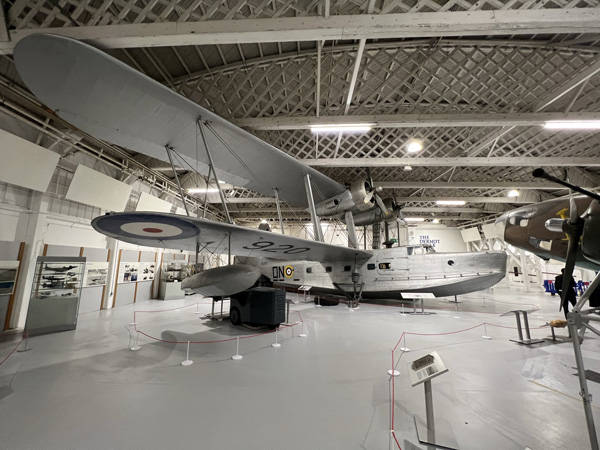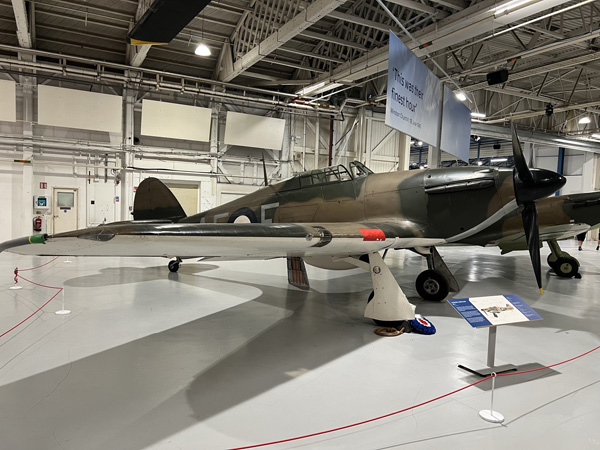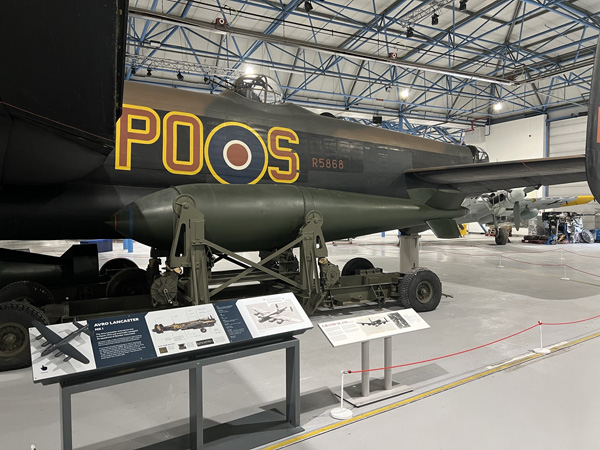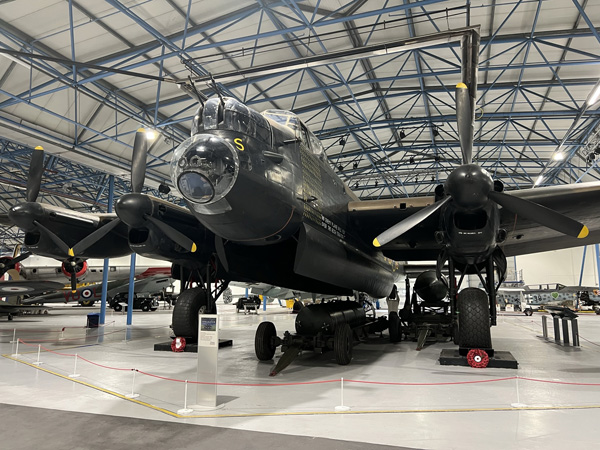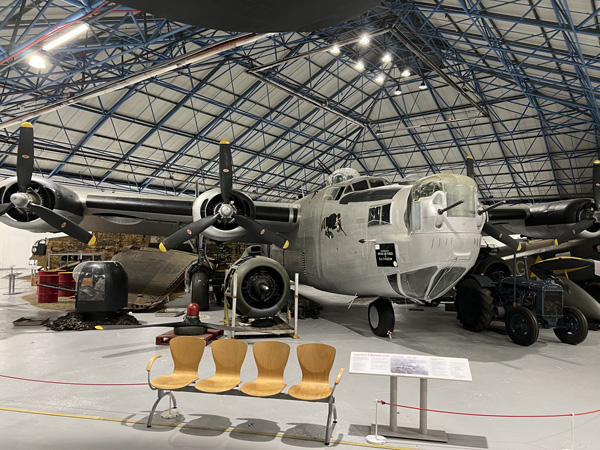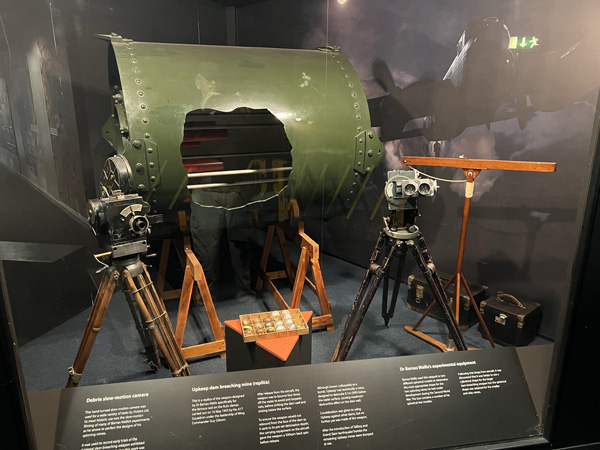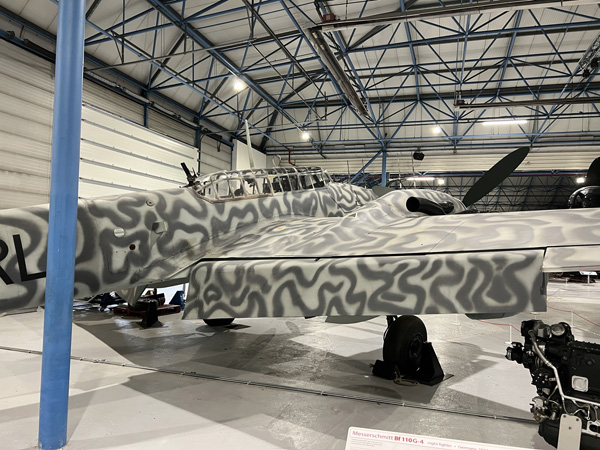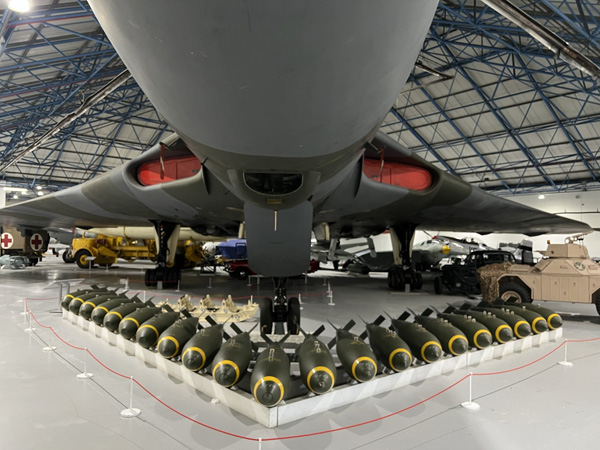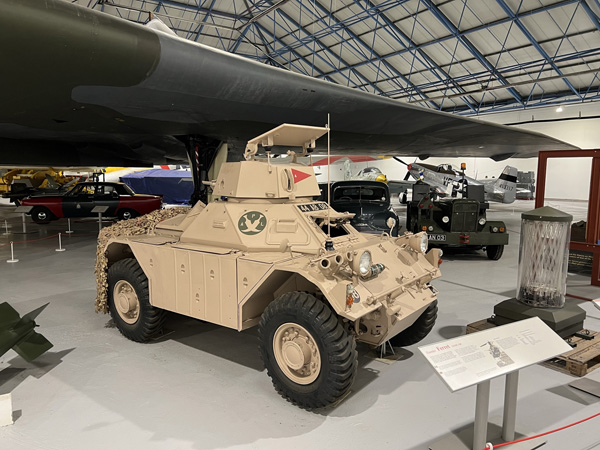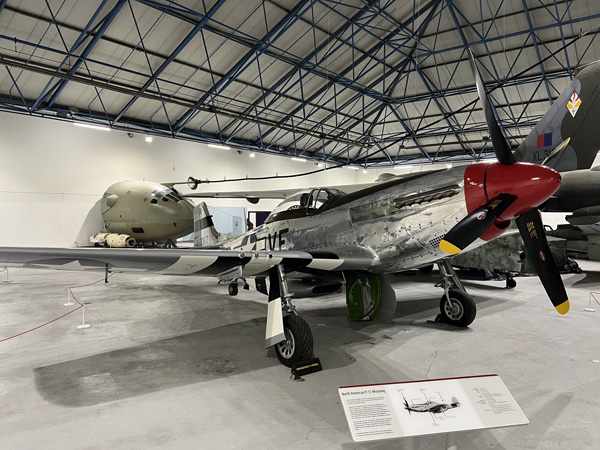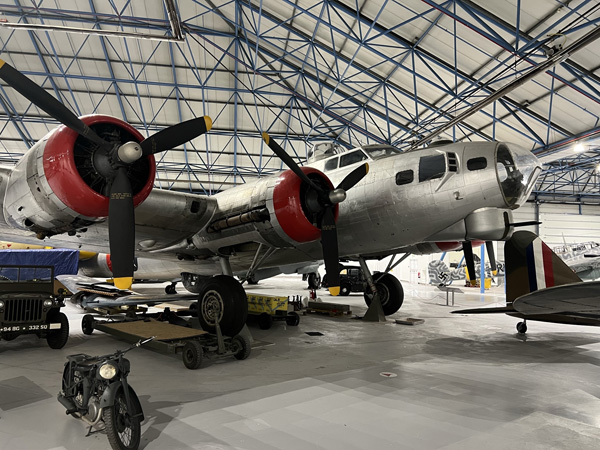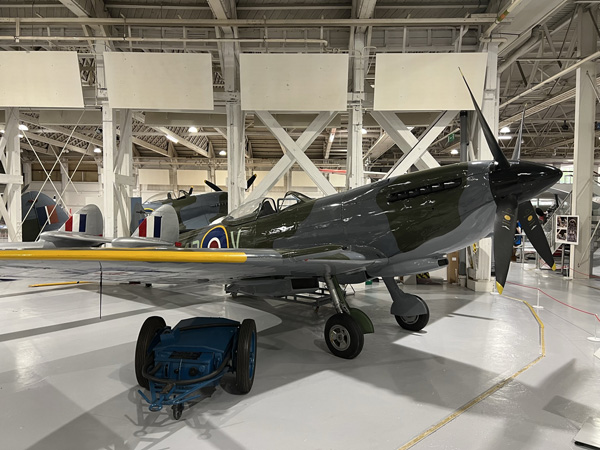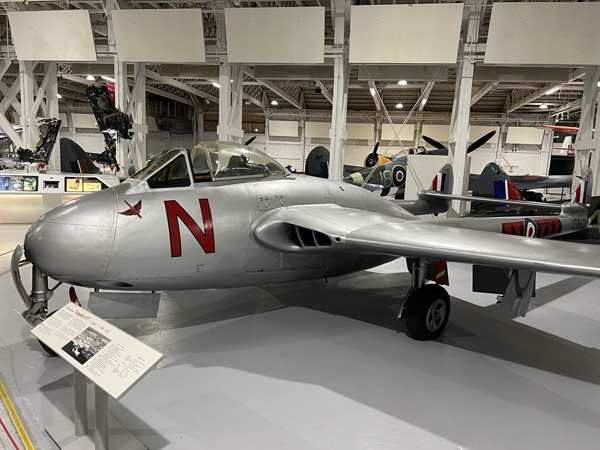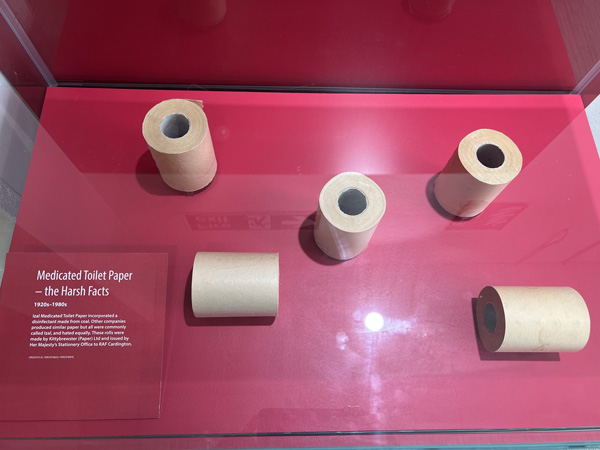 Dinner in the Covent Garden area, a small French bistro named Le Garrick. The cassoulet was only moderately good, but it was nice to eat at a sunny sidewalk table. Wow, this area is just awash in streams of young tourists.
Friday, June 24 — to The Tank Museum
I had to rejigger my schedule because Saturday would be another railroad strike day. (My original plan was to commute from London on both Friday and Saturday, even though that would five-plus hours of trains per day. That was the reason I booked a hotel close to Waterloo Station.) So I booked a hotel in Weymouth for Friday and Saturday nights, assuming I could return to London Sunday morning when the strikes were completed.
I walked to Waterloo Station for my train on the South Western Railway. The 8:35 left right on time and arrived at Wool Station in Dorset at 11:10; once again, because of the strike, the early trains I would have selected did not run. I was surprised at how poor the cellular data reception is in this stretch of England. Outside of the larger towns, it was weak or missing, and the train's Wi-Fi failed intermittently as well. The museum is 1.7 miles from the train so I took a cab ride; it later turned out that there was a bus that covered this distance, but its schedule was spotty.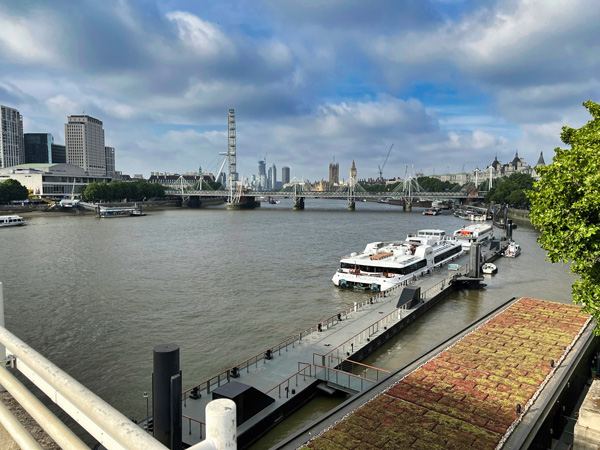 I was a bit surprised at how active the museum site was. I had seen some YouTube videos of previous TankFests and they emphasized what was going on in the tank arena, but what I didn't know was that the entire grounds had turned into a giant fair/flea market. There were numerous food stands, beer tents, picnic areas, military memorabilia and souvenir sales, reenactor encampments, a "mini-stage" with some musical performances, a lecture stage, and of course lots and lots of military vehicles scattered all over. A company I admire, Armortek, had their large remote control models operating. (These are often 1/6 scale intricately detailed metal works of art.)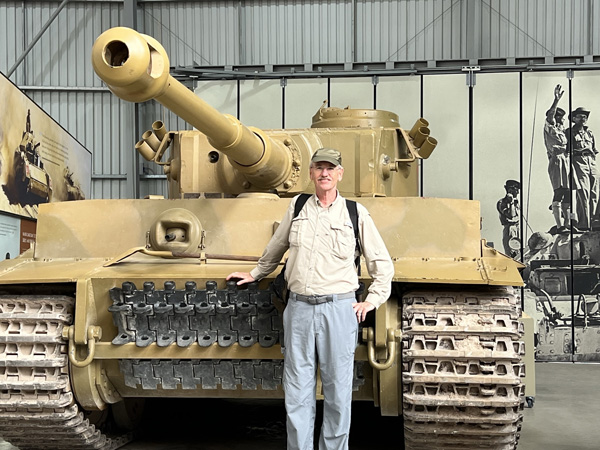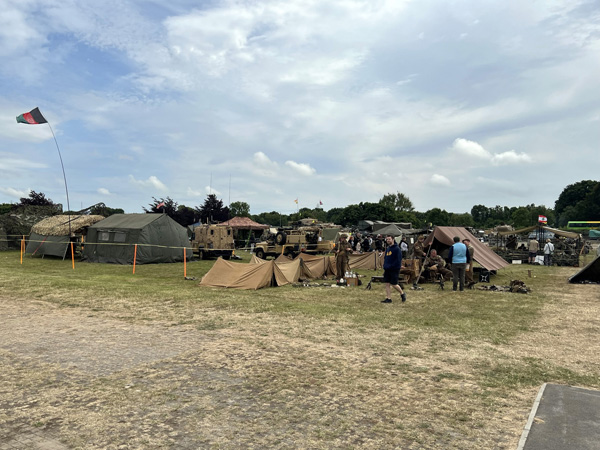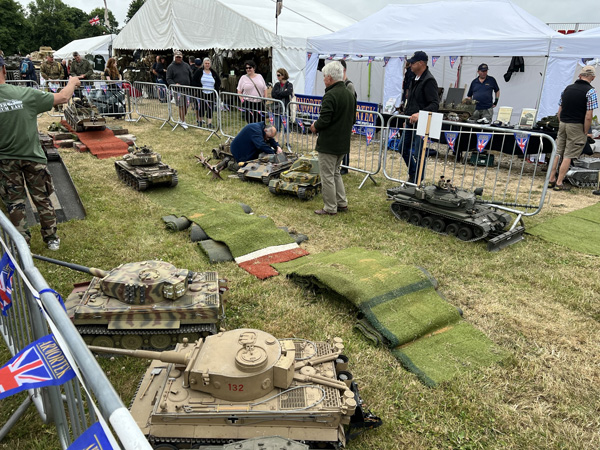 I went through the regular museum building and it seemed pretty much the same as when I visited in 2019, although every square inch of empty space was filled up with sales tables for military books, models, and paraphernalia. I attempted to photograph many of my favorite armored vehicles, and for once I believe I have them all correctly labeled, rather than relying on my spotty memory. In the vehicle restoration building, they have dozens and dozens of tanks packed in like sardines, but many of them are not in photographable condition.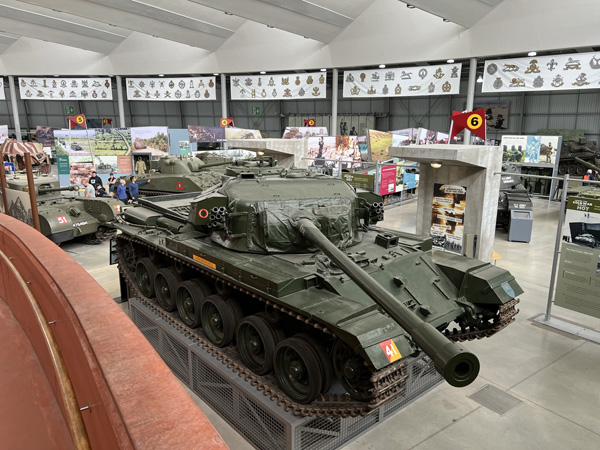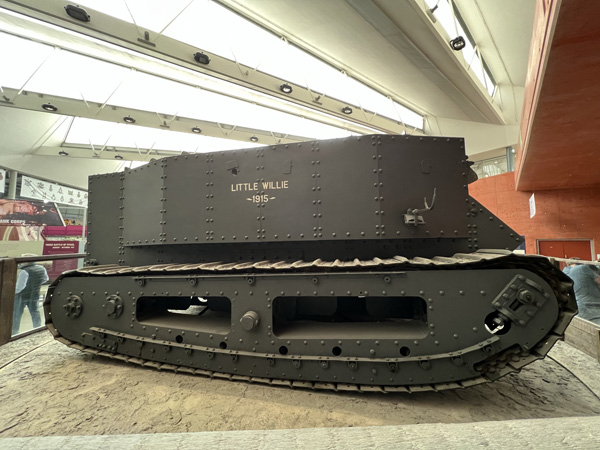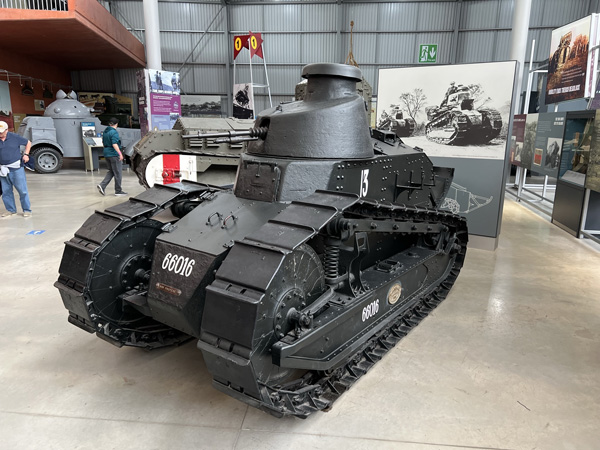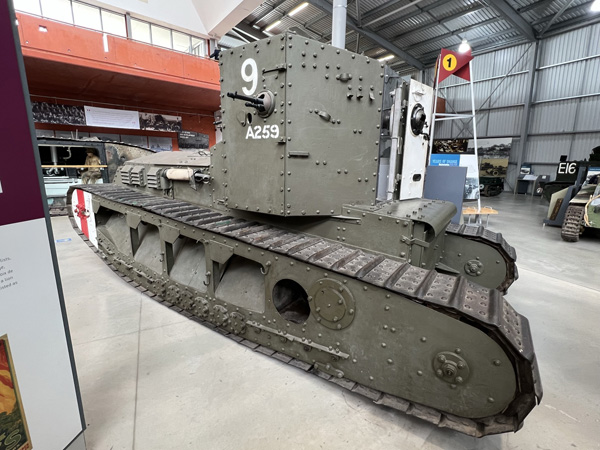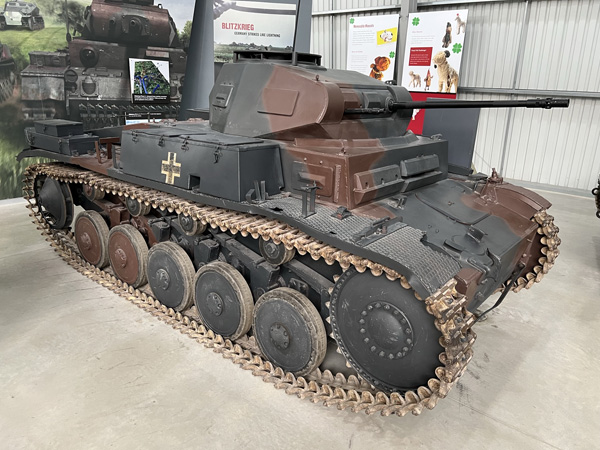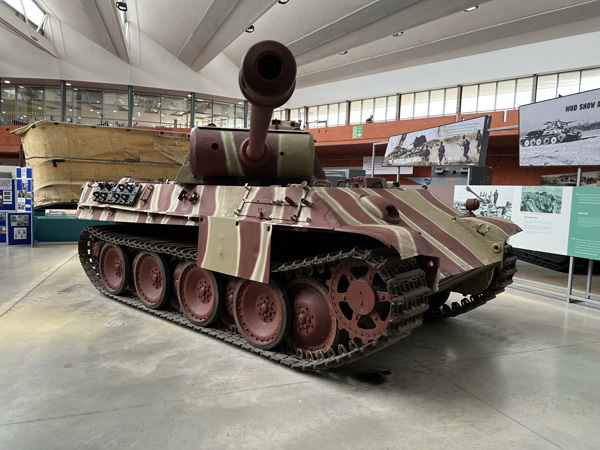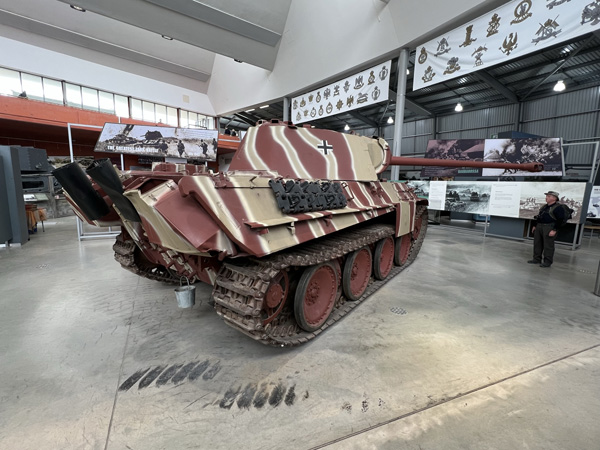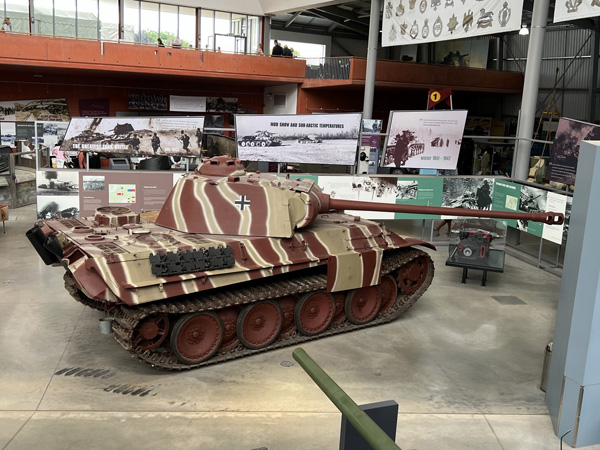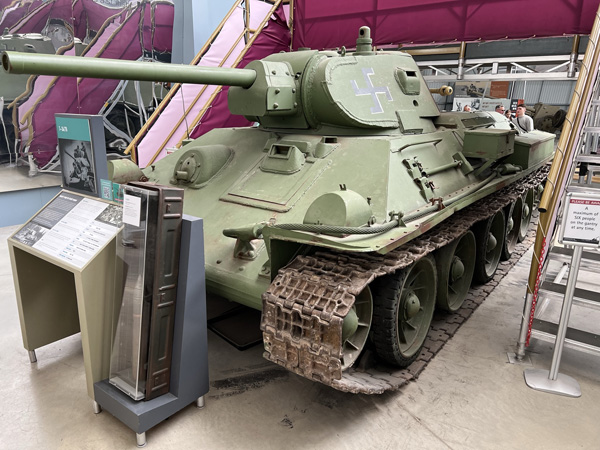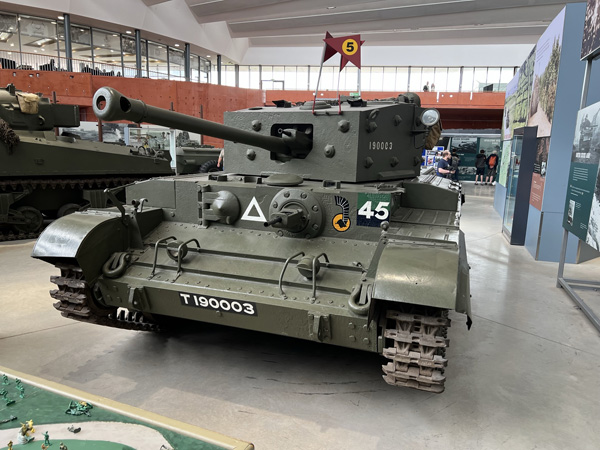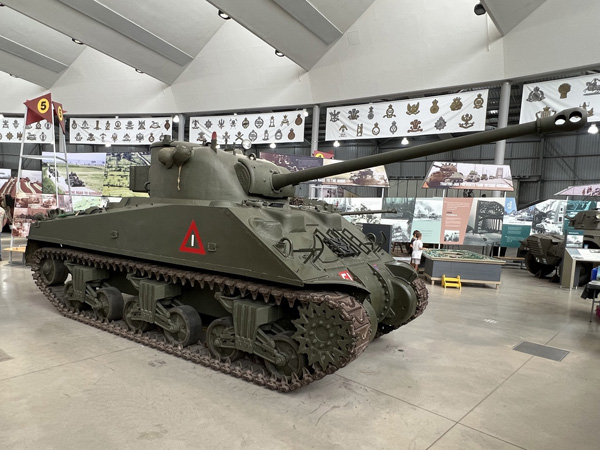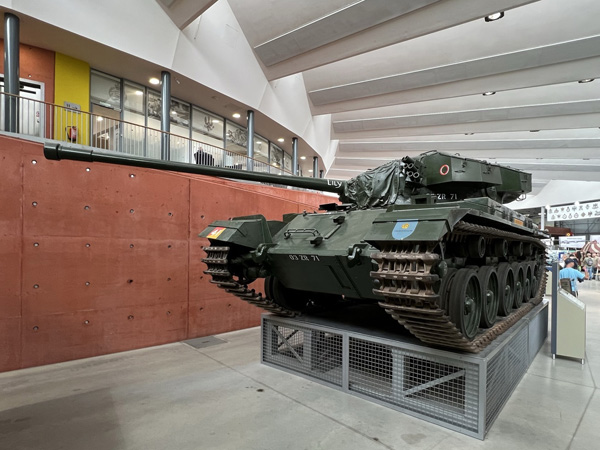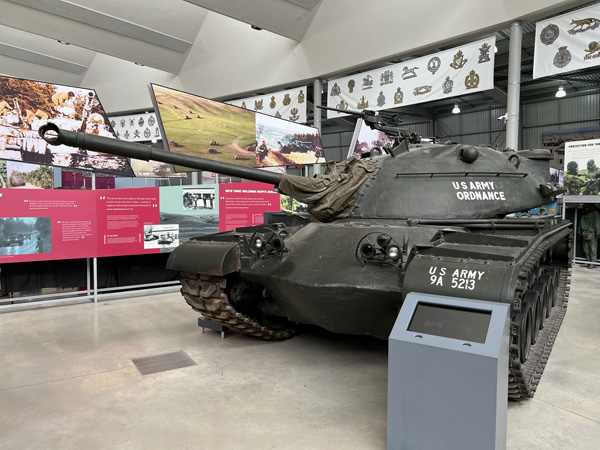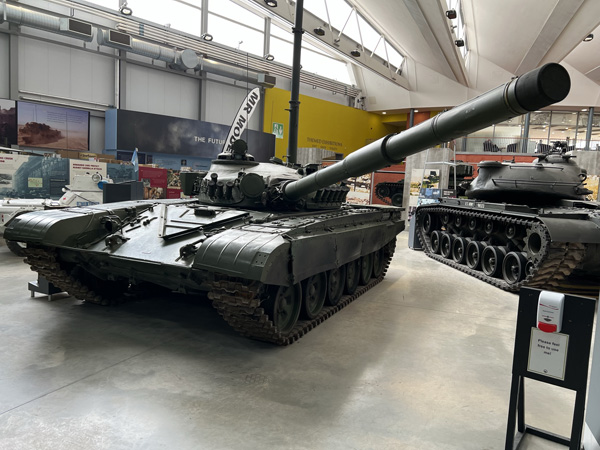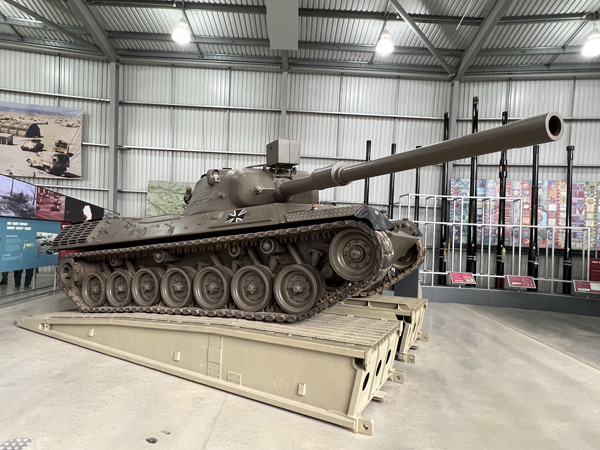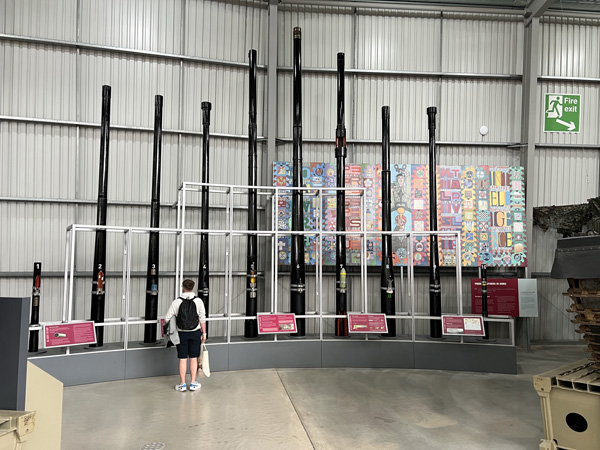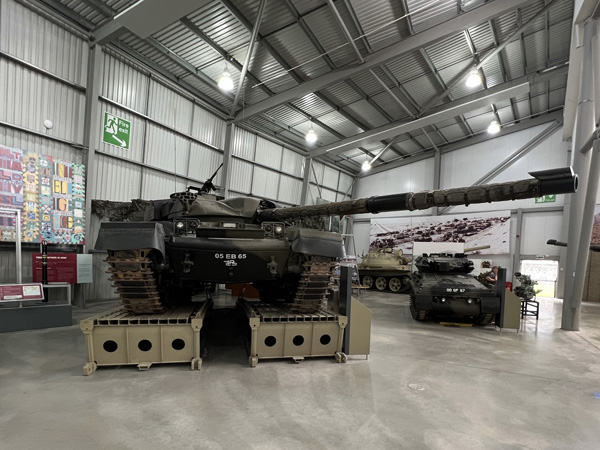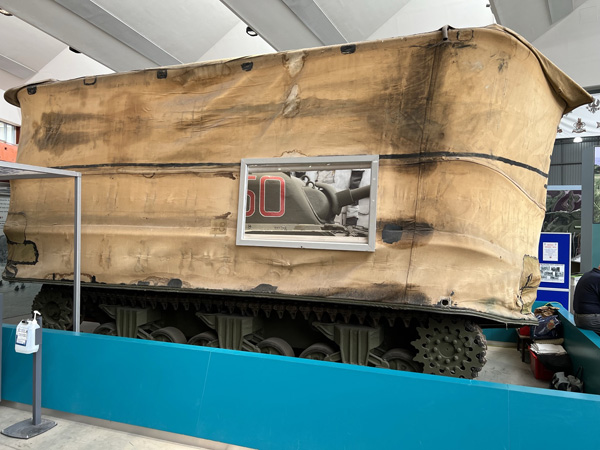 Since lots of things were going on in parallel, I had to pick and choose what I attended. I attended to hunger pangs by having six freshly fried mini donuts as a late breakfast and a gigantic, delicious bratwurst for lunch. In the arena there was a very interesting presentation/demonstration of Sherman tanks, World War II vintage and later. They arranged a little parade of five tanks, in the following sequence: M4A1, A2 (which was a movie star, being disguised as an M4A3E8 Easy-8 for the movie Fury), A4 (which was the basis for the British variant, the Sherman Firefly, and had an unusual 30-cylinder engines, five car engines bolted together on a single drive train), M50 (which was the postwar Super Sherman modified by the Israelis to include the main gun from the French AMX 13 tank; this particular tank had been transferred to the Southern Lebanese Army and was painted blue), and M51 (another Israeli modification that used the 105 mm French AMX 30 gun).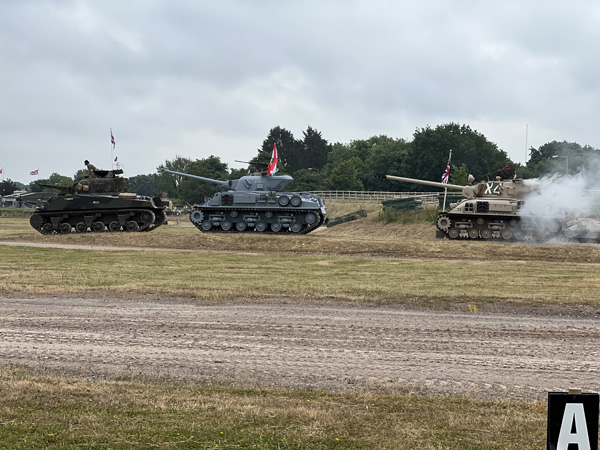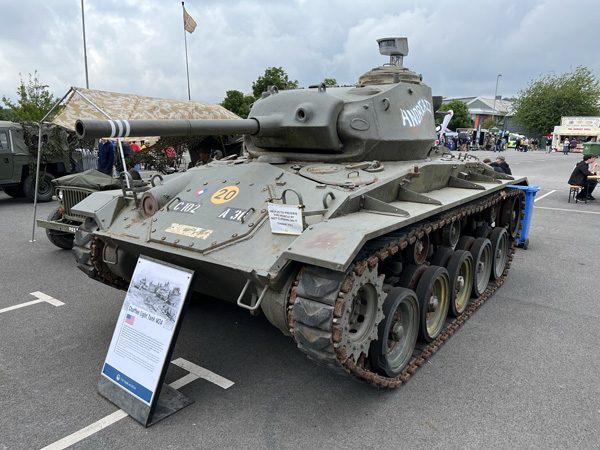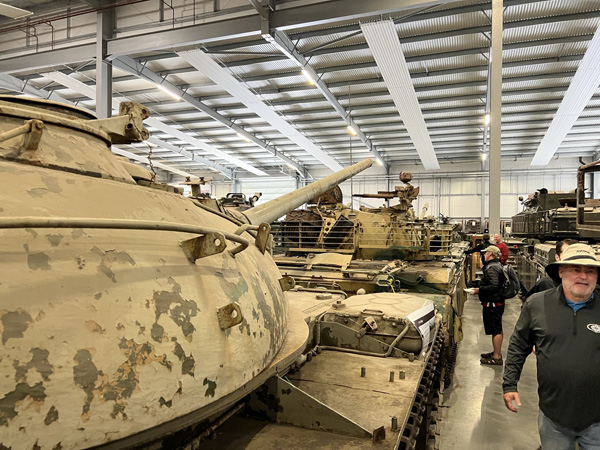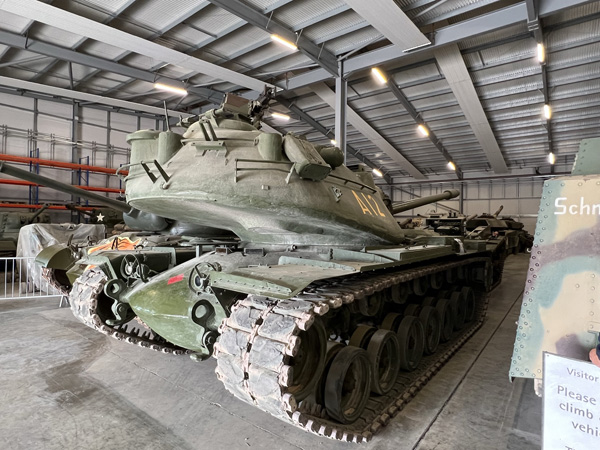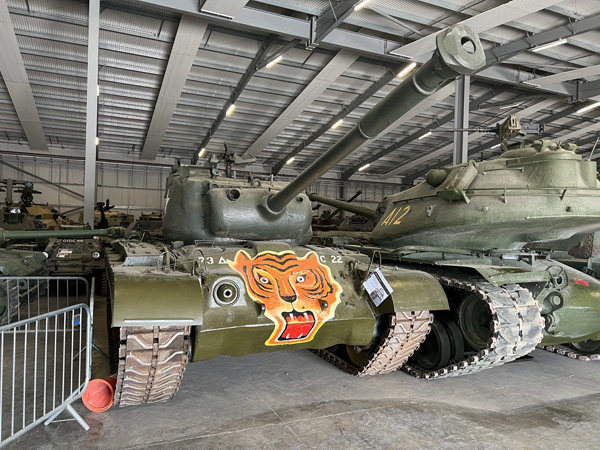 There was a parachuting demonstration with six guys from the British army called the Lightning Bolts (I say guys advisedly because I think there were two field grade officers and a captain, which doesn't seem to be an appropriate mix for paratroop demonstrations). They were in a Cessna 208, which circled the field a number of times determining which way the wind was blowing and how high they could get up into the clouds before their exploits would have been invisible to us. Eventually they acrobatically maneuvered to landing in the arena, each of them trailing colorful smoke. Afterward they had a parachute packing race and then they offered virtual reality experiences of what it was like to jump. I found it interesting that the UK government would not allow kids below the age of 14 to use the Oculus virtual reality headsets, saying that it was a health issue.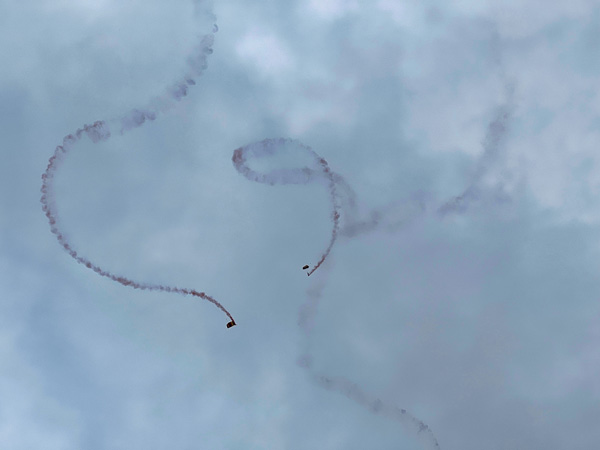 David Willey, the curator of the museum, and a longtime YouTube TankChat host, introduced and described an impressive display of Cold War tanks, each of which raced around the arena, getting progressively louder and more powerful. They were the French AMX 13, a British Centurion modified for the Swiss Army, a Swiss PZ61 (about the only tank that the Swiss government ever designed and built for itself), a muscular German Leopard I, a Chinese Type 59 (a knockoff of the Soviet T-54), an M60A1 (which was the main battle tank in the tank battalion I served in back in the 70s), a British Chieftain, a Soviet T-72 (the primary tank currently being slaughtered by the Ukrainians), and a British Challenger I that had been built for the Shah of Iran (but who do not live long enough to receive it).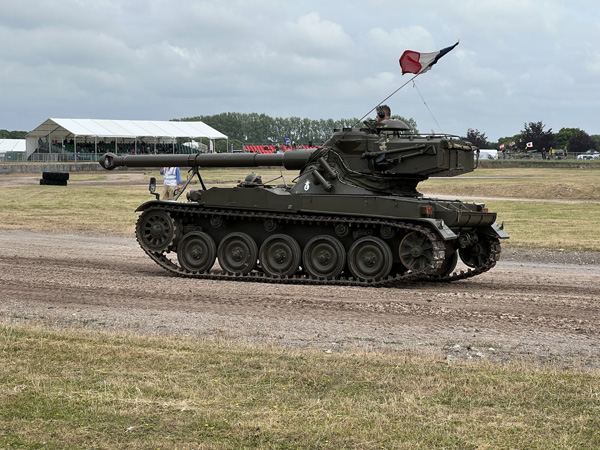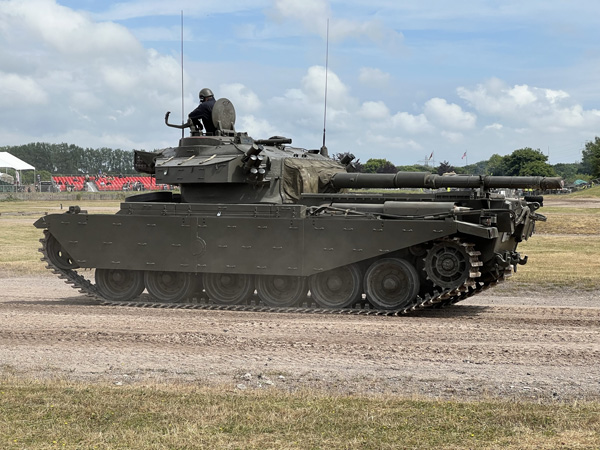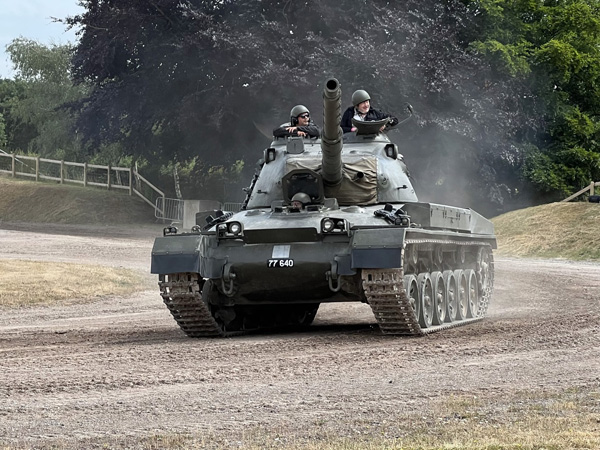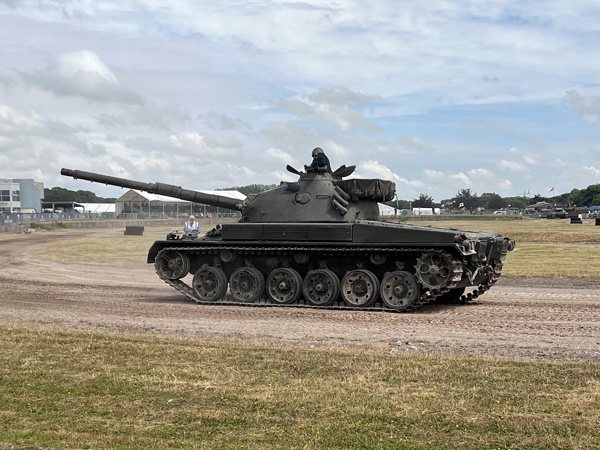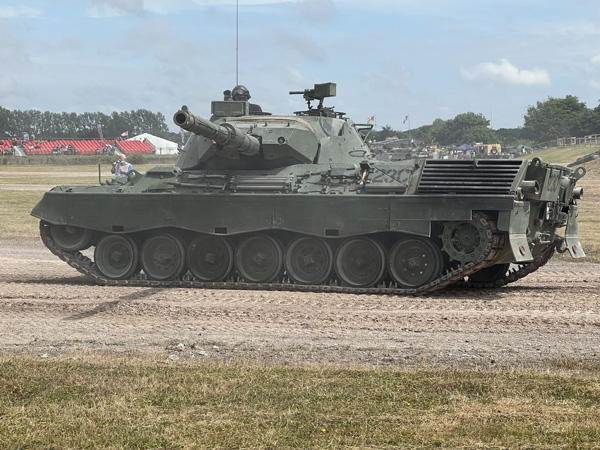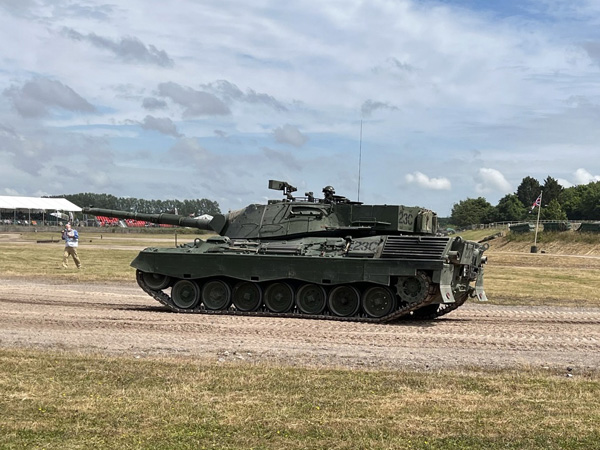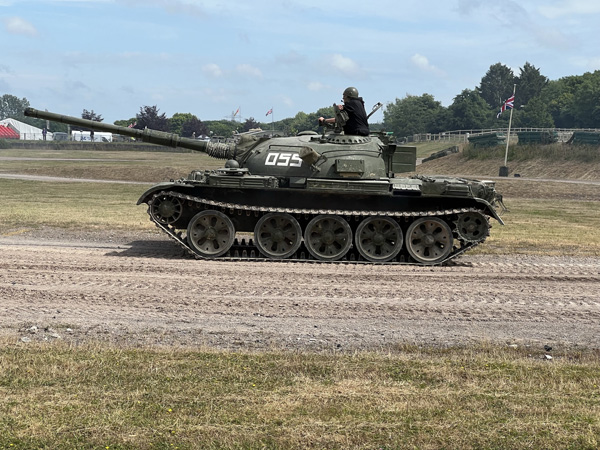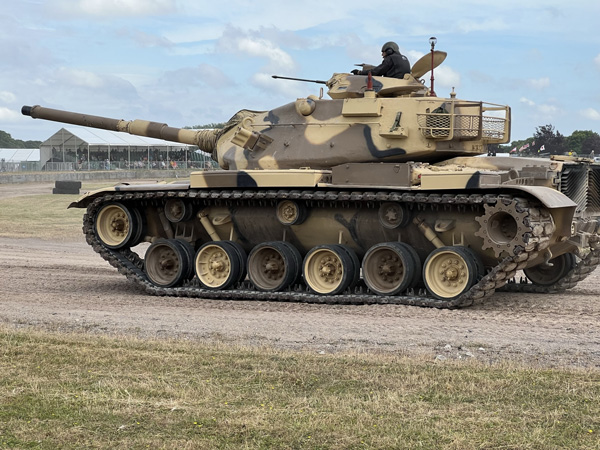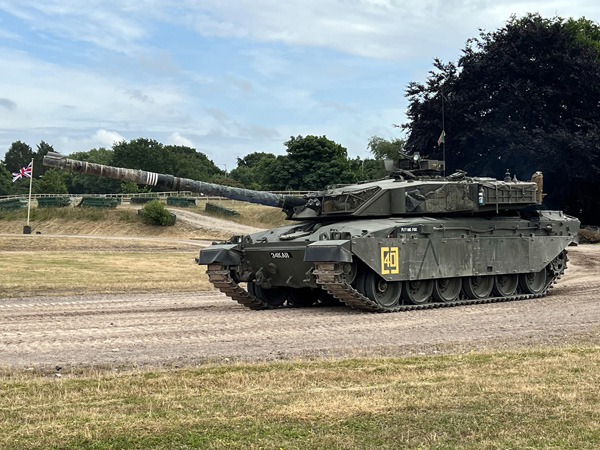 The following session was about armored personnel carriers and scouting vehicles, which hold less interest for me, and since I was starting to drag following a poor night of sleeping, I decided to bail out for the day. I was directed to the shuttle bus stop to get back to the train station, not realizing that we had to wait almost a half an hour before the bus showed up; I could've walked to the station in that time. I took the train about 30 minutes to the town of Weymouth, which is sort of a tired beach resort city on the English channel. The very modest 60s-era hotel I booked was the closest one to the tank museum available at the time I became aware of the railroad strike. Dinner was at the hotel's very casual pub/restaurant.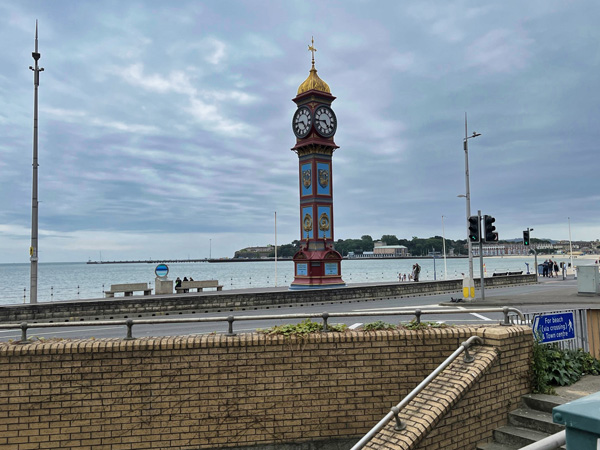 Saturday, June 26 — Tank Museum
Since the railroad workers were on their third and final strike day, I took a 35-minute bus ride from Weymouth back to the museum. (I don't think I have taken an inter-city bus ride in 40 years! This route, called Jurassic Coaster for some reason, is pretty scenic.) Saturday is the main event for TankFest. I booked an extra package called the Officers' Mess, which gave me a number of benefits, the most important of which turned out to be expedited entrance. I was amazed that easily 10X more people were here today, snaking a line over hundreds of meters, more like an E Ticket ride at Disneyland. The holdup was the security process, which seemed more intrusive (and slower) than TSA. But those of us in the Mess bypassed most of the delays. We had free run of the area—unlike average folks who faced a number of time and place restrictions—and exclusive use of the museum mezzanine and a covered grandstand overlooking Kuwait Arena for the main show. Breakfast, lunch, and lots of snacks and drinks were included.
The main program started with a reenactment battle, set up with a scenario late in WWII where desperate German troops are trying to ambush an approaching American reconnaissance force. There were about a dozen vehicles and a few handfuls of reenactors and they put on a good show considering the limited space to maneuver. They had a lot of pyrotechnics, although few of the explosions sounded anything like real tank fire. Featured were a Chafee, a Hetzer, some scout cars, and two Shermans. The US won the encounter. Yay!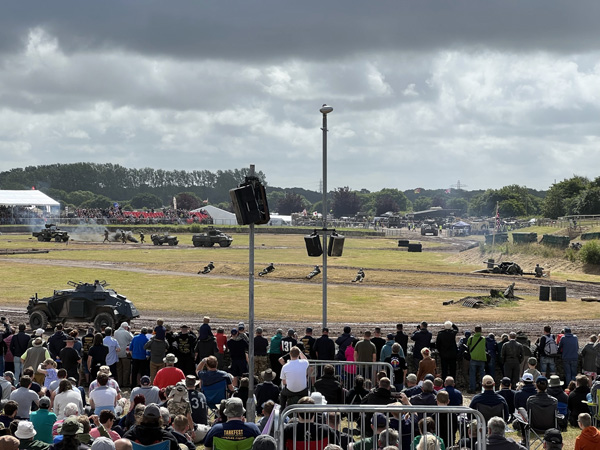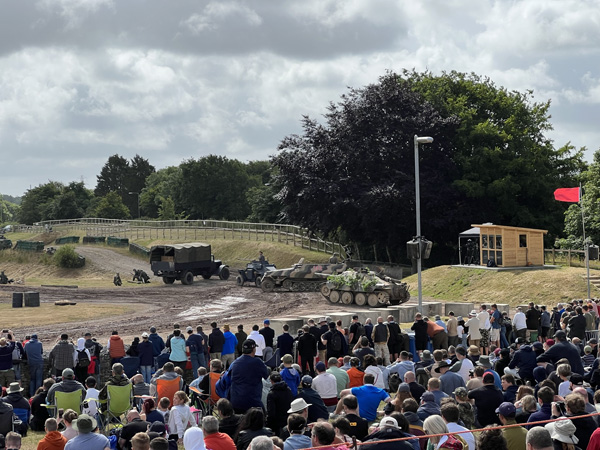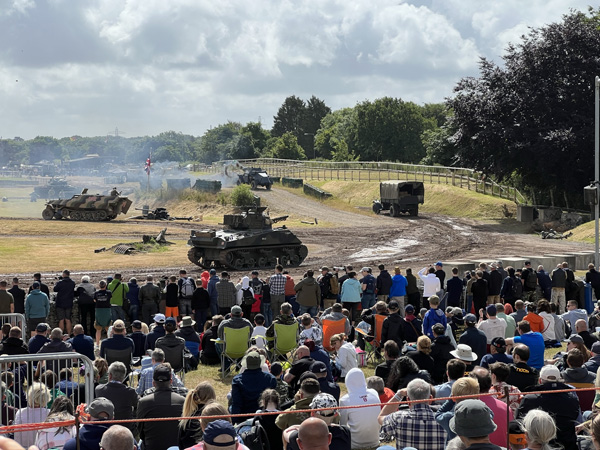 A session on D-Day invasion vehicles wasn't too interesting, with the highlight being a jeep. Then a big session (sans battle) on World War II armor, with a Panzer III/L, Japanese Ha-Go, M3 Stuart, Valentine, M18 tank destroyer, T34/85, M24 Chafee, and a Comet.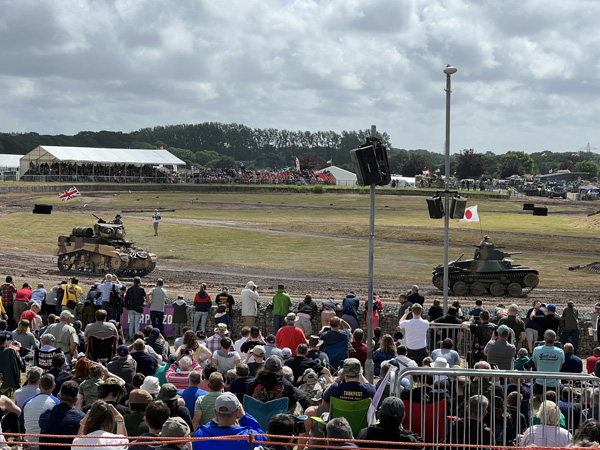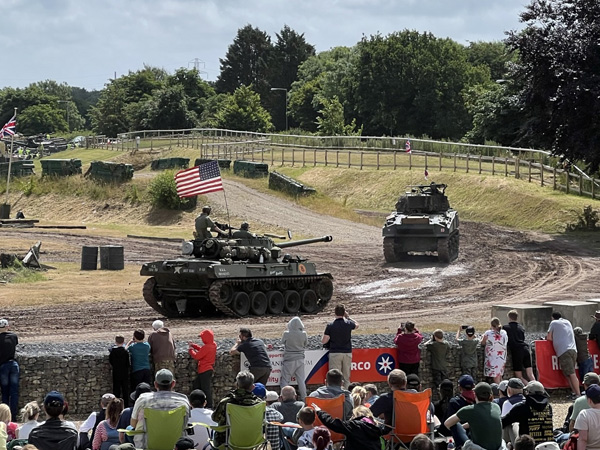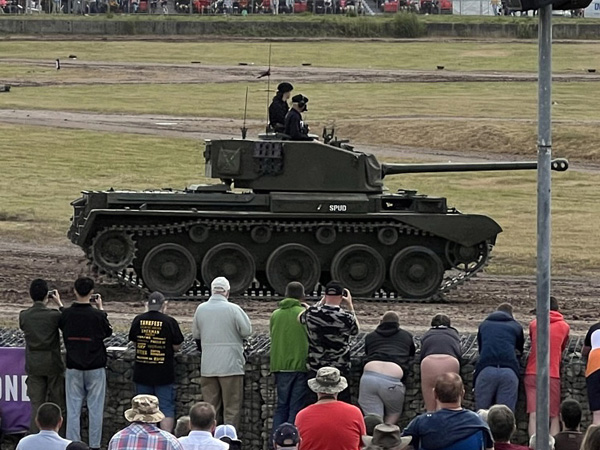 The next session on Sherman tanks was essentially a rerun of Friday's talk, with the same five tanks running around. As was Cold War Armor, with a Scorpion, AMX13, Centurion Mark 7, PZ61, Leopard I, Type 59, M60, Chieftain, T72, and Challenger I.
I ducked over to the Mini-Arena to see some reenactors portraying the 29th Infantry Division display D-Day infantry weapons (and radios, which they badmouthed severely). Back at the big arena there was an armored personnel carrier and scout car session, including a Ferret, an FV432 Bulldog APC, and a Bronco ATTC Warthog, which was fascinating because it was actually two tracked vehicles connected together, like an articulated bus.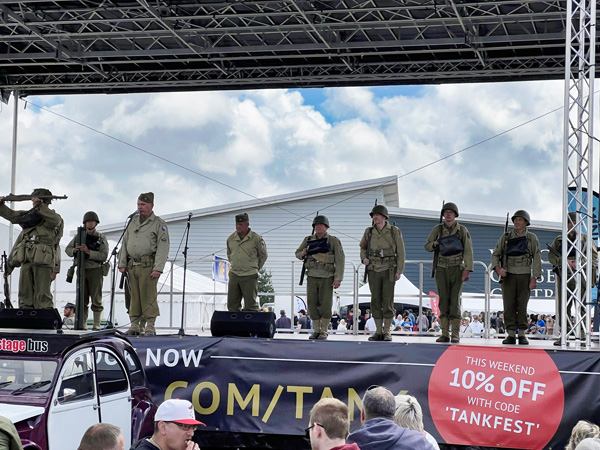 The final event before lunch was a battle demonstration by the Royal Armoured Corps, which trains right next to the Tank Museum. They had a Jackal light reconnaissance vehicle, a Warrior infantry fighting vehicle with a 30 mm cannon, Foxhound and Mastiff transport vehicles that had V-shaped hulls to survive IED attacks, and a Titan scissor-bridging vehicle built on a Challenger II chassis. They confronted a T-72 and a squad of soldiers with a lot of pyrotechnics on both sides, and you can probably guess who won the engagement.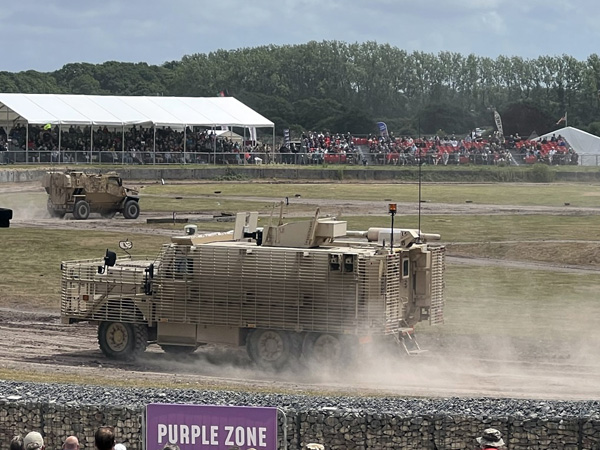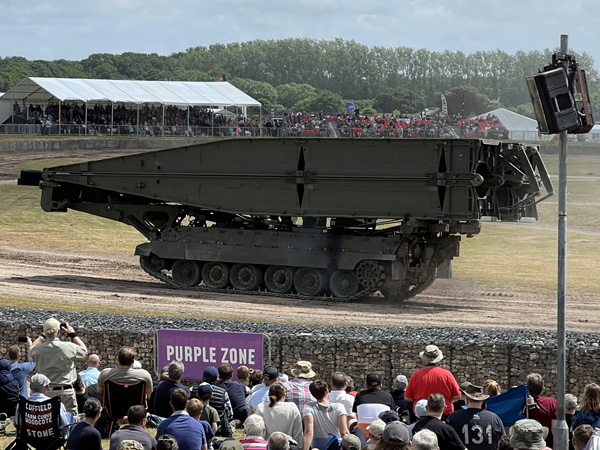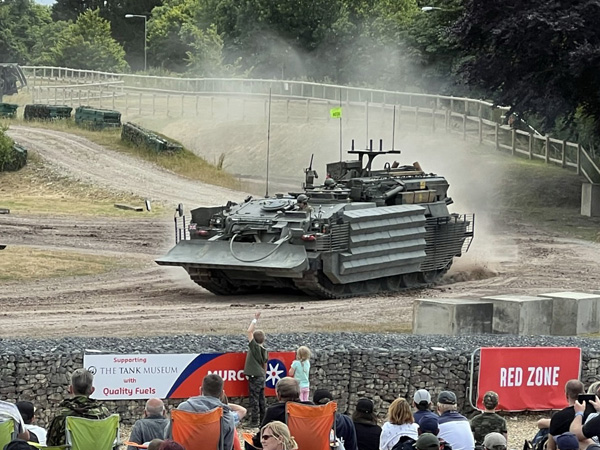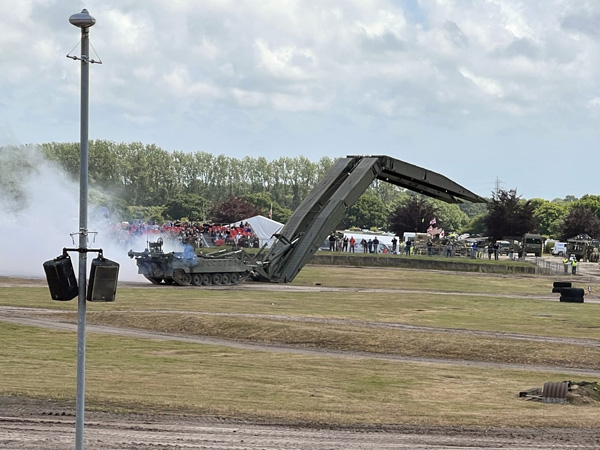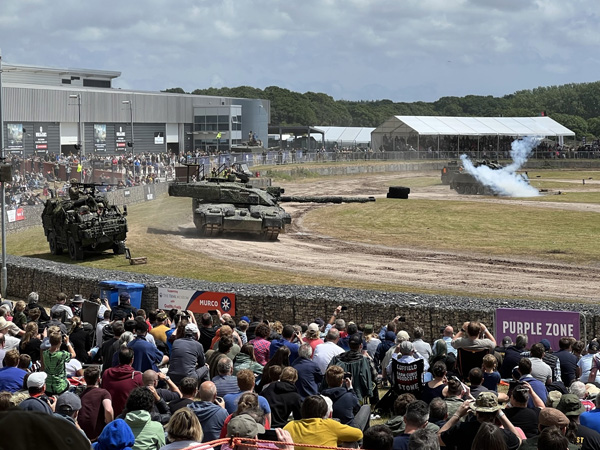 The Mess had an extended lunch. The food was reminiscent of typical British cooking 50 years ago, but I had great conversations with the guys at my table, and a bottle of "Tiger 131" ale. The afternoon sessions in the arena were all repeats of the morning, so I wandered around a bit and departed after 3. I will probably never attend another TankFest, but my lesson learned is that you can see 80% of what you want by going only on the Friday, without the massive crowds.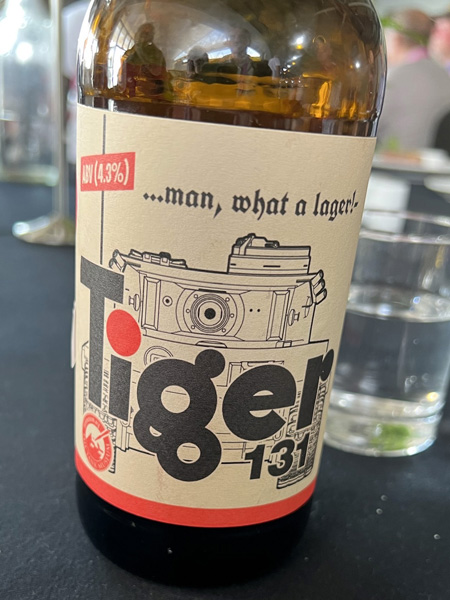 One more travel change. I did some more digging and found that there was direct bus service from Bournemouth to London, so I checked Uber and they actually had a driver nearby to go the 25 miles or so to the bus station—most of the time the app said no drivers were available. (Unlike in the US, the drivers here are all licensed taxi drivers, so the service is not as common, particularly out in the sticks.) I defaulted on one night of the uncomfortable Weymouth hotel, but I consider myself fortunate that I left nothing behind in the room this morning. (I had thought there was a tiny possibility I could find another Mess attendee who might be driving to London.)
The National Express bus trip was comfortable, with two anomalies: the bus driver did not look at or take tickets, so I guess I wasted my fare, and during the expected traffic jam going into London (remember the railroad strike) he pulled over to the side 3 miles from the station, got off the bus and started rummaging through the baggage compartment, not saying a word. Some passengers started to get off the bus and I decided to join them; I was only a few blocks away from a convenient underground station, and I expect I got back to my hotel before many of the other passengers reached Victoria Station or their final destinations. It was around 8 PM, so I wanted to eat light and took out from a small Spanish sandwich shop near the hotel.
Sunday, June 26 — London
My final full day in the UK was graced by beautiful weather. I walked three miles to the Science Museum, which is in a group of four museums near Kensington Park. Along the way I stopped for a breakfast sandwich at Gentlemen Baristas, which I mention only because of its curious name. I enjoyed this museum quite a lot. The ground floor included Energy Hall (mostly about steam engines) and Exploring Space, which had a number of interesting/obscure space program items, as you will see from the photographs below. I was particularly interested in the Soyuz capsule, which I had never seen before and was much smaller than I imagined. I also wonder how they were able to obtain the command module from Apollo 10. The first floor had a large exhibit of medical technology, past and present, which frankly did not interest me very much.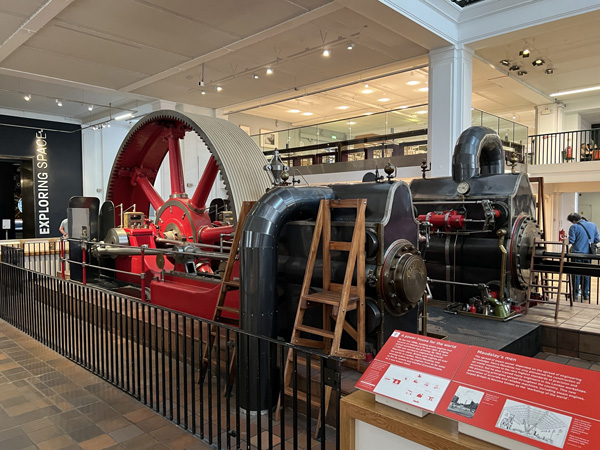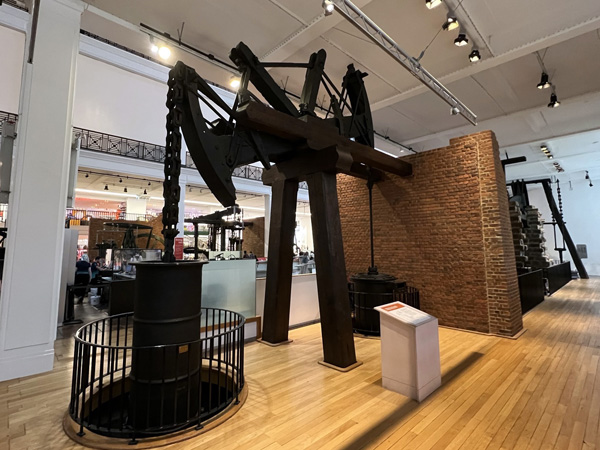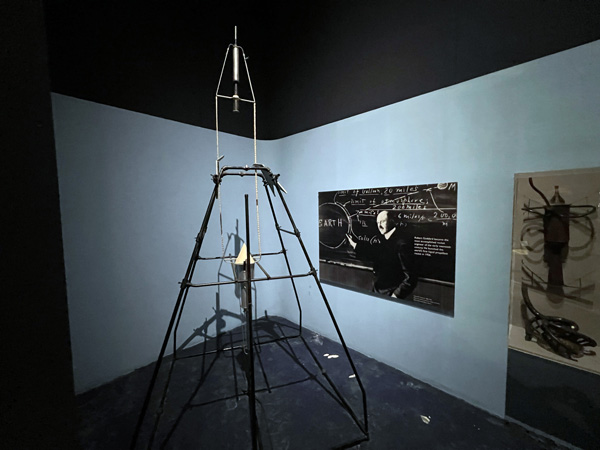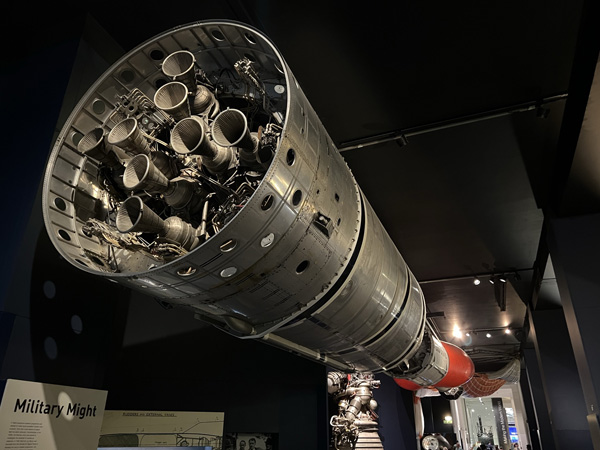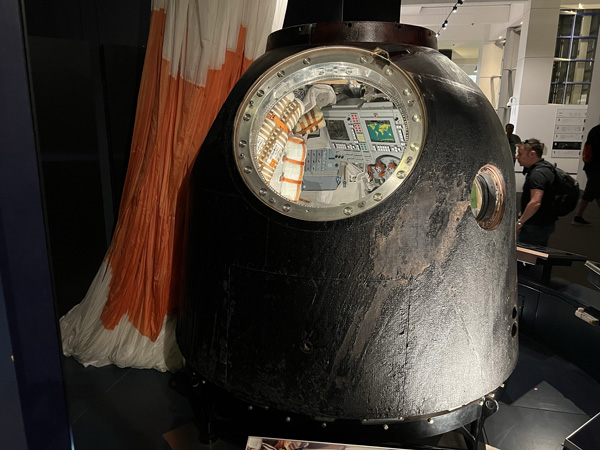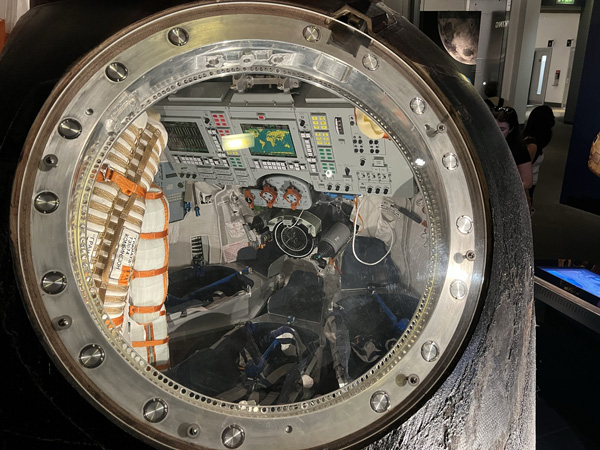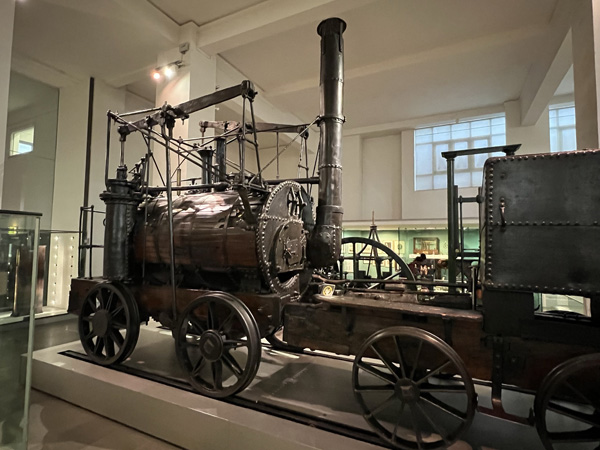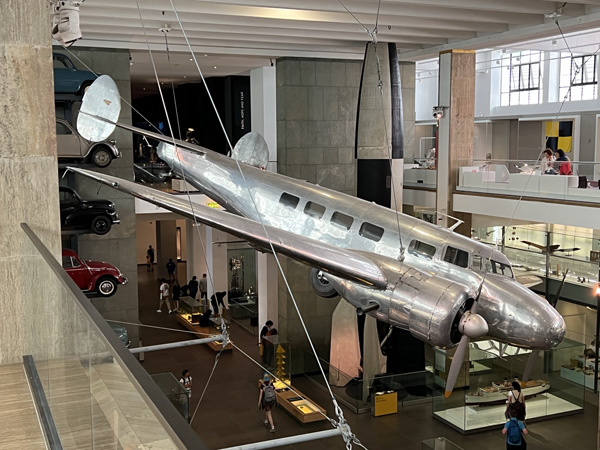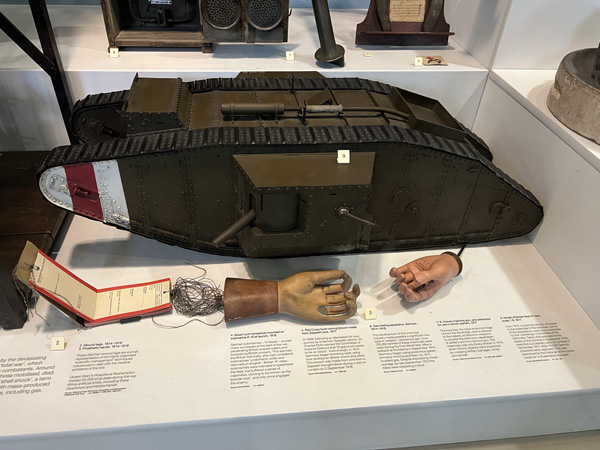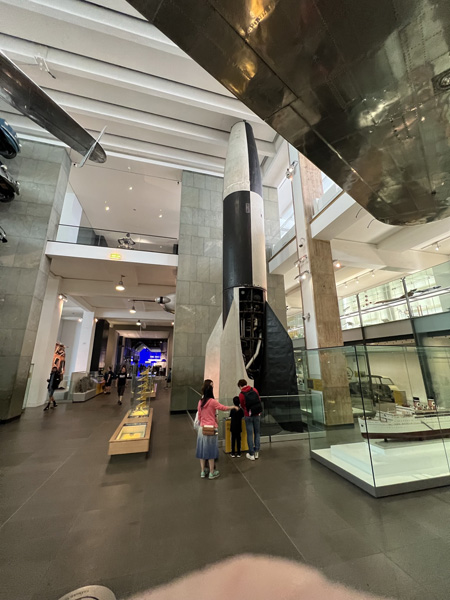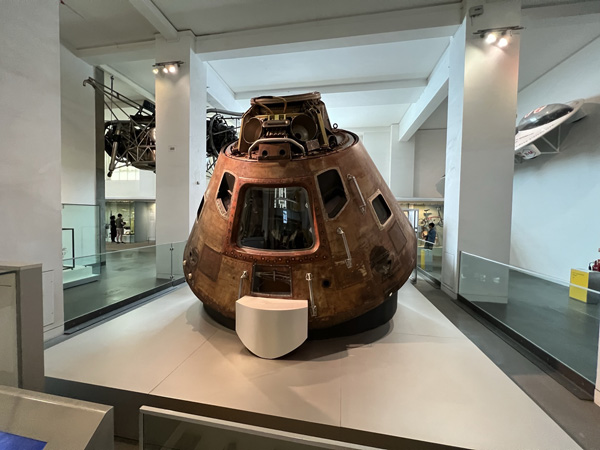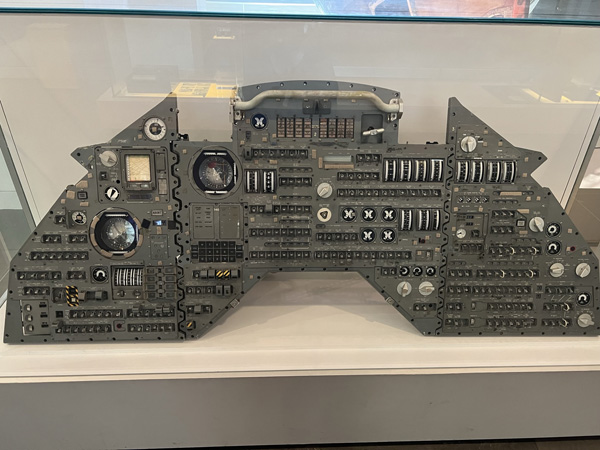 The second floor was the highlight of my visit, including a gallery about the Information Age, which comprised the history of the telegraph, telephone, telephone switching, radio, computers, the World Wide Web, and cell phones. There was a lot of nostalgia in there for me. There were also less interesting galleries about clockmaking and mathematics (primarily information visualization).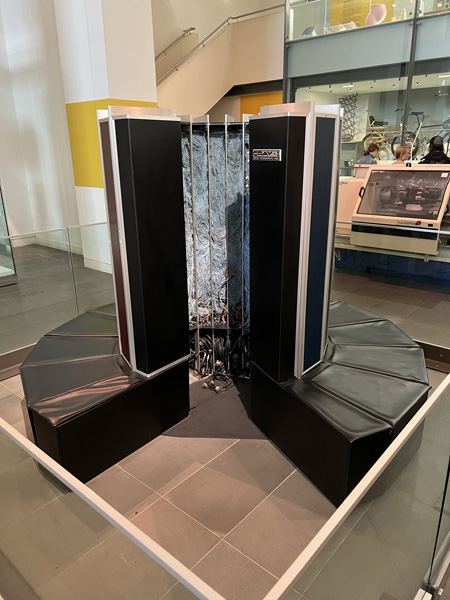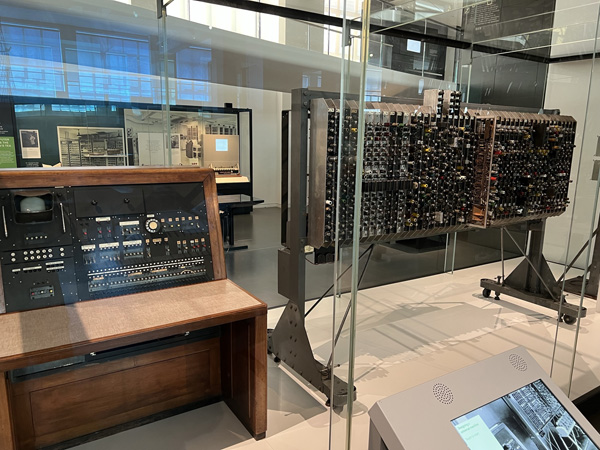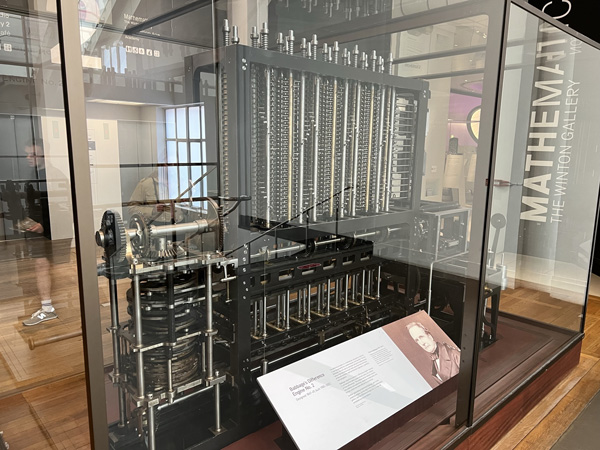 Finally, the third floor had a large exhibition about Flight, which had some interesting artifacts, including some really early primitive planes, but was pretty much overshadowed by most dedicated aviation museums. There were some extra cost activities such as a children's WonderLab, immersive flight simulators, and IMAX movies, but basic admission to the museum was free!
I took the underground to Westminster Station and walked to Westminster Pier to travel on the Thames River. There are a number of touring options, but I went for simple, a large water taxi system called Uber Boat by Thames Clippers. The only disadvantage of this boat was that 95% of the seats are inside, and as I said, it was a day calling for an outside seat. There were seven stops along the way to Greenwich, so it took about 45 minutes—not a speedboat. In Greenwich I walked through town and up a long hill through Greenwich Park. Along the way I encountered a big-band concert with about 150 people sitting on a hill listening; I probably should have stopped to enjoy it. At the top of the hill was the Royal Observatory, which has some interesting exhibits about time and how the problem of longitude was solved for ship navigation. In the 18th century a mechanic named John Harrison entered a contest to solve the problem and win £20,000 (equivalent to over 1 million today). It took him over 45 years of tinkering, but he solved it and the museum has all four of his intricate chronometers (or perhaps they are replicas—they were in immaculate condition). The final, winning one, "H4," was dramatically smaller than its predecessors, more like an inflated pocket watch.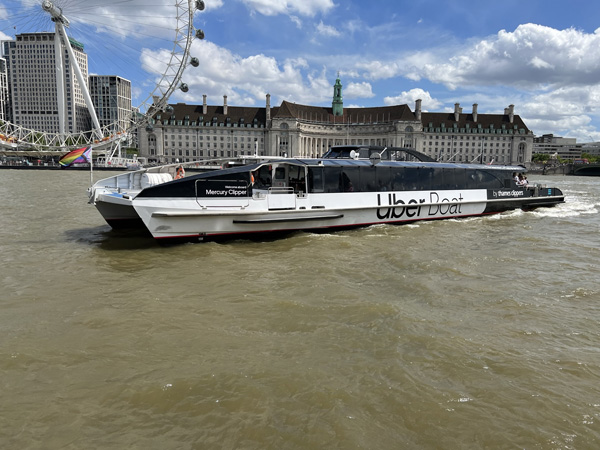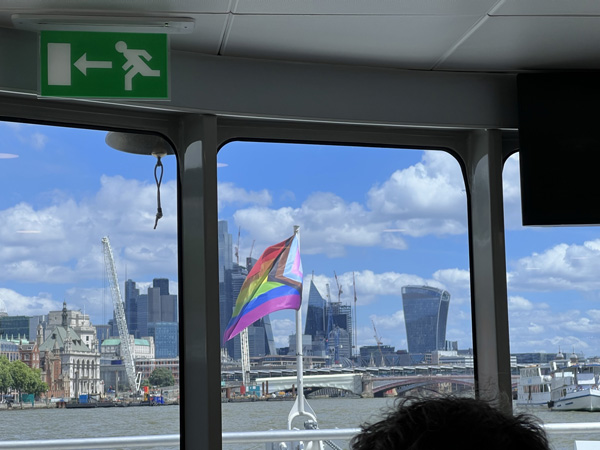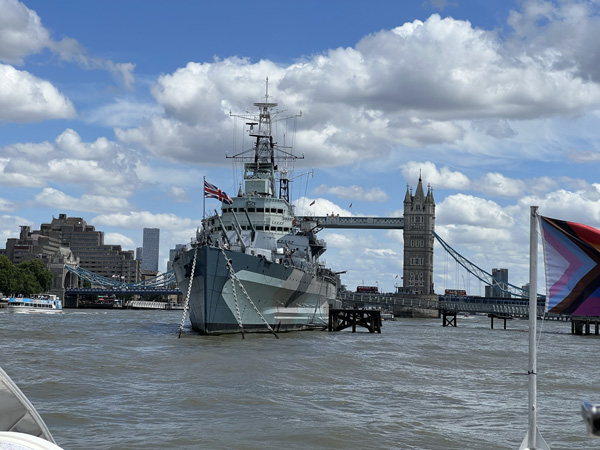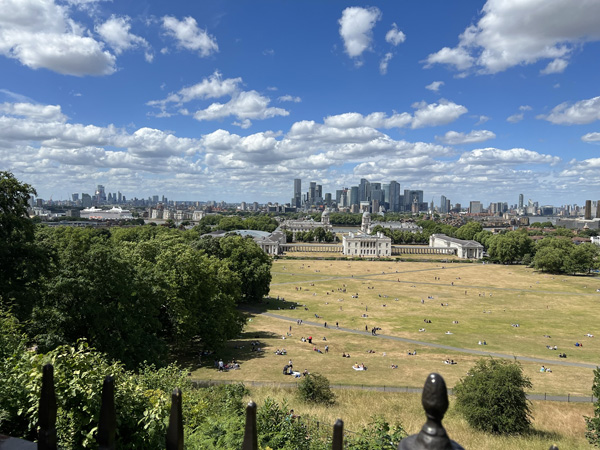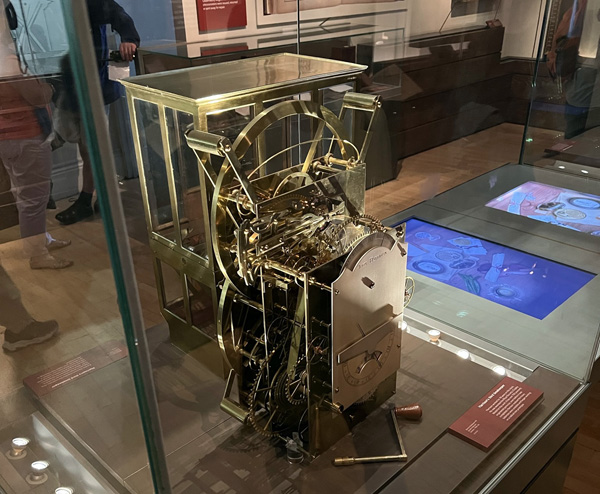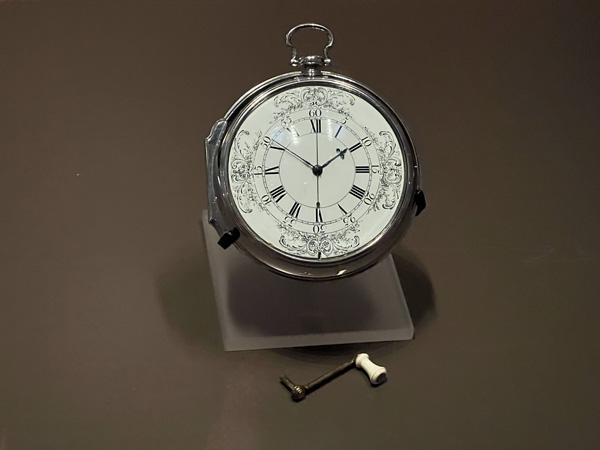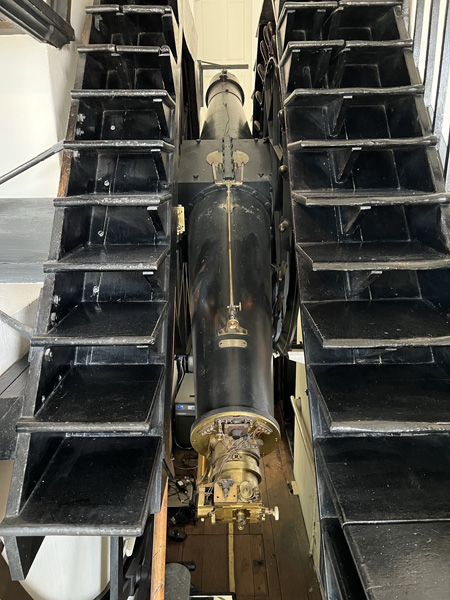 But the big draw at the observatory for me was the ability to stand on the Prime Meridian, 0° longitude, the starting point of universal time and the dividing line between the eastern and western hemispheres. Two interesting notes: the observatory has three lines marked out where three different Royal Astronomers calculated the meridian should be placed; the line does not appear at 0° when viewed through satellite navigation, a fact acknowledged by a nearby sign. My iPhone compass app said it was 0°0'5". I was able to find the GPS-tracked 0° about 100 feet away. Ironically, the GPS 0° line is unmarked outside the entrance and you can stand there for free; to get inside the observatory grounds and stand on the official astronomical 0°, you need to pay £16.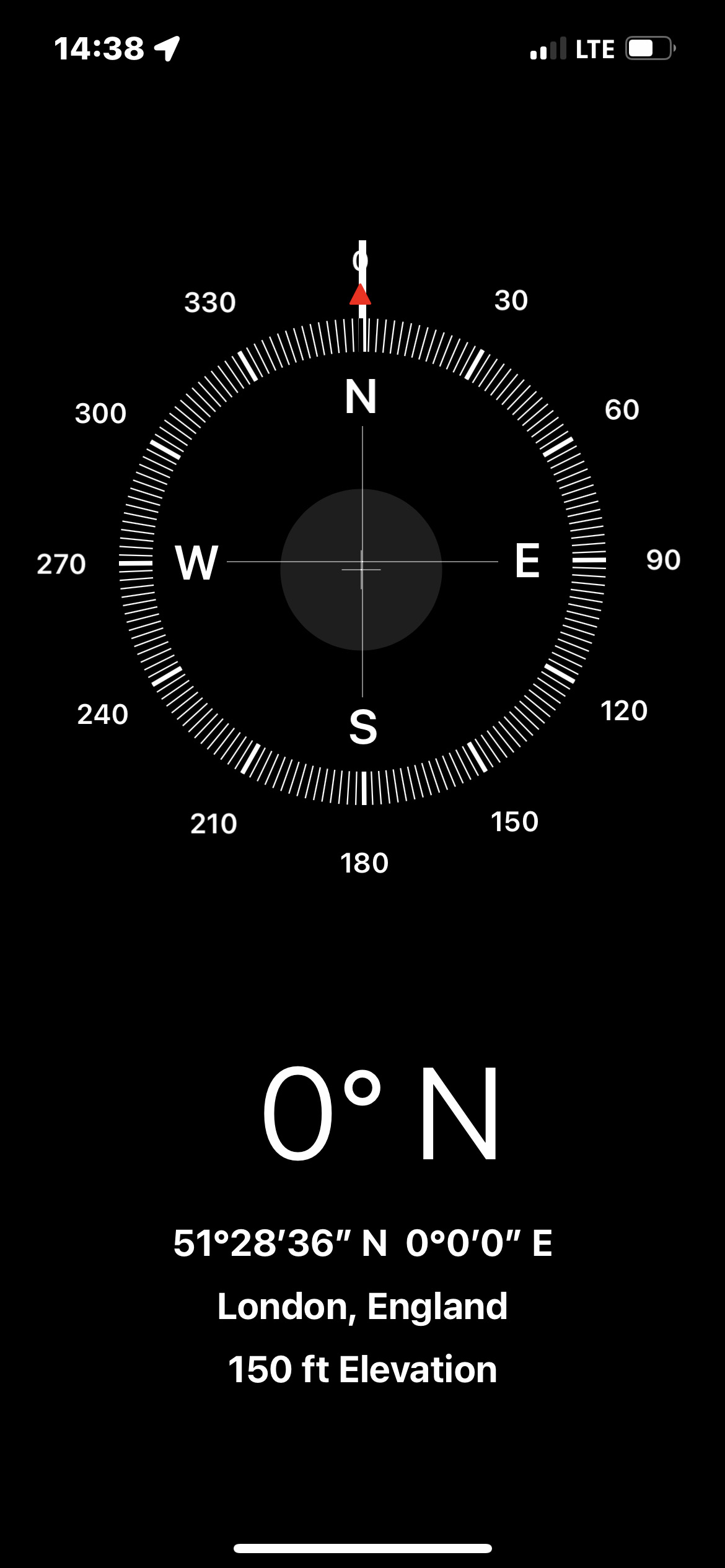 I took the Uber Boat back to Embankment Pier and walked to Covent Garden, where I had yet another pizza (my comfort food) at a decent chain called Franco Manca, which bills its fare as sourdough pizza. A beautiful evening to eat at a sidewalk café.
Monday, June 27 — Flying Home
My flight home was mid afternoon, so there wasn't really much to do in terms of formal tourism. I took a 7 mile walk that went down the Thames to Parliament, then looped back past Buckingham Palace and through Hyde Park, where I enjoyed meeting really large flocks of geese and swans getting ready for their day on the lake, then returning via Oxford Street and funky Soho streets.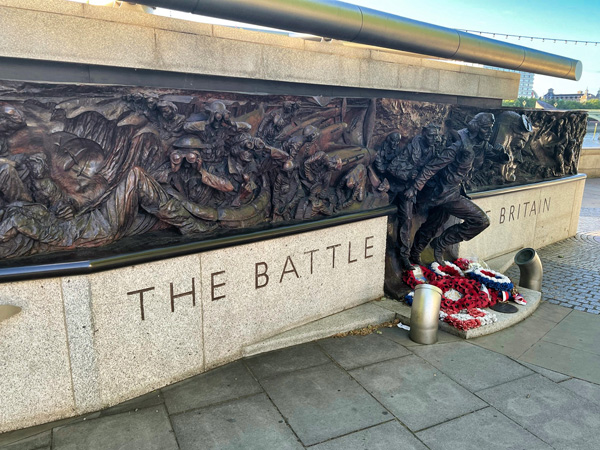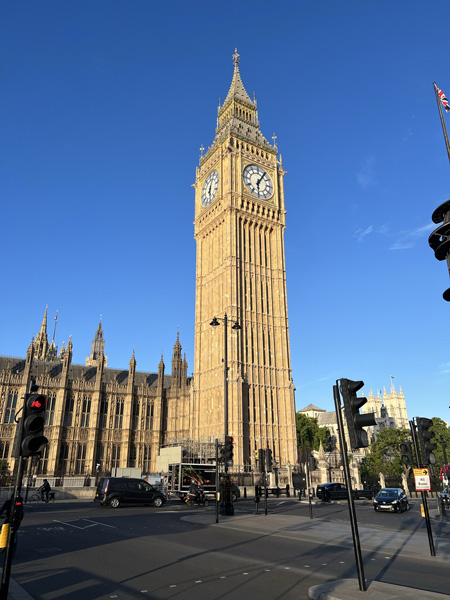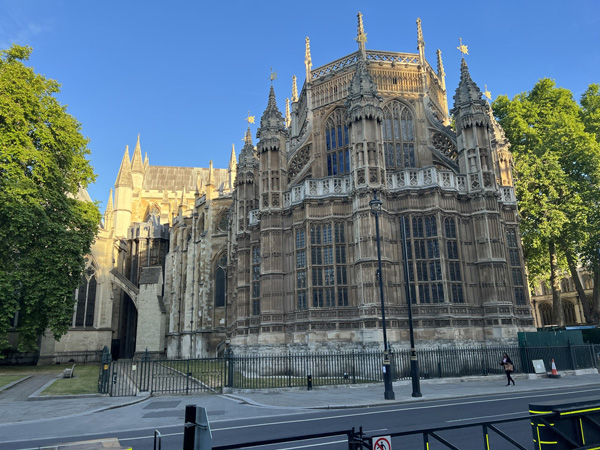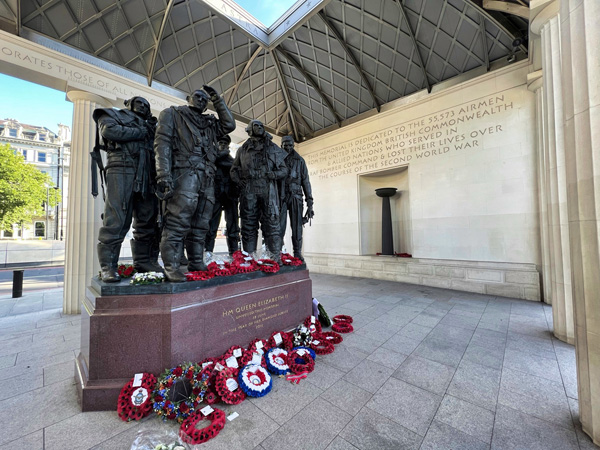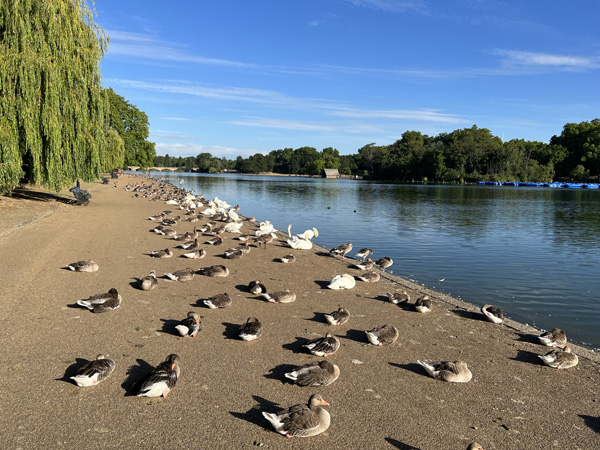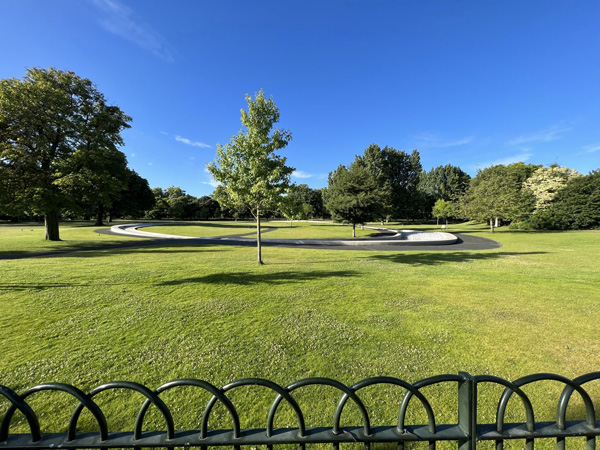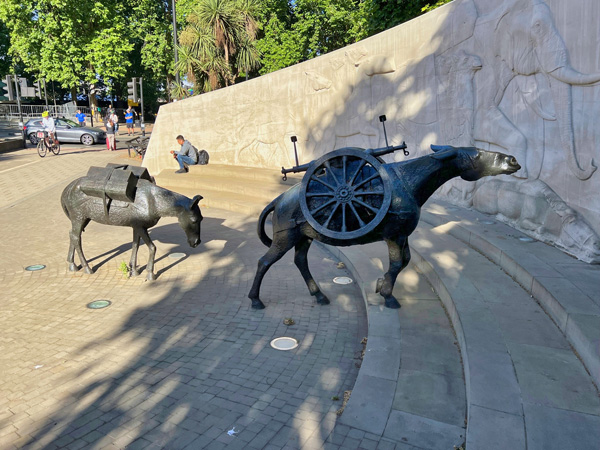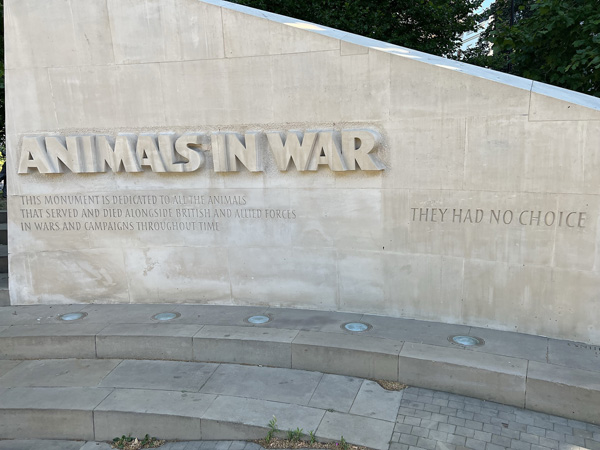 I took an Uber to Paddington Station (which is really an arduous drive of 30+ minutes to go 3 miles) and then chose the new Elizabeth Line subway to go to Heathrow. It's not as fast or nice as Heathrow Express, but it's £15 cheaper and I wanted to try it out; it's fine, but really just an air-conditioned subway with a few stops. The BA lounge is pretty nice, but really crowded. First class passengers have a dedicated check-in/immigration/security area and it leads into the lounge directly. The flight departure was almost two hours late; the crew said that not only was the incoming flight (from DC, I think) late, but the mechanics had to replace two wheels! That must have been interesting to see. The flight was uneventful and comfortable, although I was annoyed that I could not get the free Wi-Fi to work or the electrical outlet to recharge my iPad.
All in all, despite all of the uncertainties and occasional inconveniences imposed by the railroad workers, I had a great time in the United Kingdom, particularly at the Tank Museum. I will probably not repeat my solo trip to TankFest, but anytime I can return to the tank museum I will try to do so.