Hal and Nancy's Texas Trip with Road Scholar, November 2019
This is Hal's report of Hal and Nancy's visit to Texas with Road Scholar (the program "On the Road: San Antonio, Texas Hill Country, and Austin"), preceded by 2.5 days on our own in Houston. It was my (Hal's) 20th Road Scholar excursion, Nancy's 18th.
Thursday, November 14 — to Houston
We flew United to Houston Intercontinental, rented an Avis car, and checked in to the Sam Houston Hotel downtown, a "Curio Collection" of Hilton's. Although pleasant in a number of ways, I wouldn't stay here again. From the map it looks centrally located, but it's in sort of a food desert—no fast food places for breakfast, no Starbucks, few decent restaurants within a half mile. It had really annoying Wifi, requiring multiple logins per hour; but at least they didn't charge for it. And it was very difficult to get the room's air conditioner to provide a comfortable temperature. We did walk to a great place a number of blocks away, Pappas Brothers steakhouse, where we had an excellent meal.
Friday, November 15 — Houston, NASA, and Galveston
We drove west to visit a King's Ranch Saddle Shop, which turned out to be simply a clothing and leather goods shop in a high end shopping center, not a place for saddles or other tack, as Nancy had hoped. Then about 45 minutes southeast to NASA Space Center. There were a number of interesting exhibits about past and future manned space efforts and the astronauts, but there were two highlights. First, we got on a tram and motored out to the Apollo Mission Control room, which has recently been restored ($5M) to its original condition. We watched a recreation of the Apollo 11 landing, complete with audio and with the large display screens flashing relevant data, narrated by Gene Kranz. Of course, there were no people (or animatronics) behind the workstations, but it was an effective simulation. Second, an area called Independence Plaza has a 747–one of the original Shuttle transport planes—with a replica Shuttle named Independence mounted on top. Both are huge and filled with interesting exhibits about developing the transport and the Shuttle itself.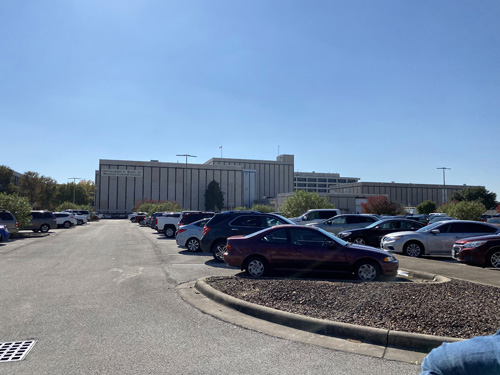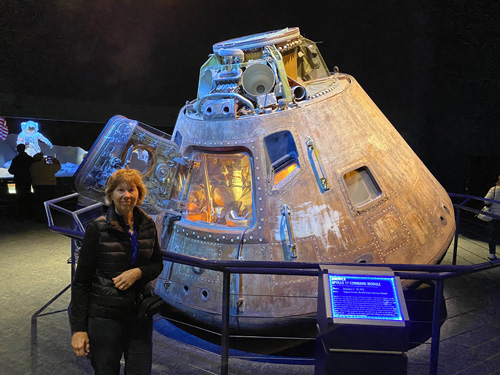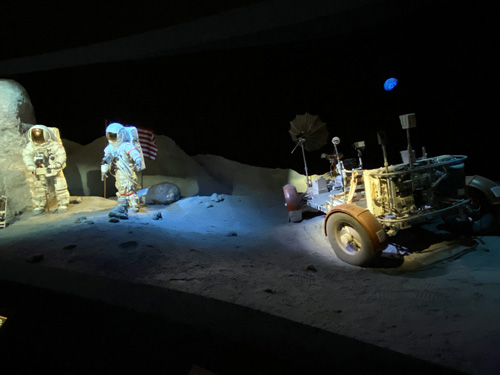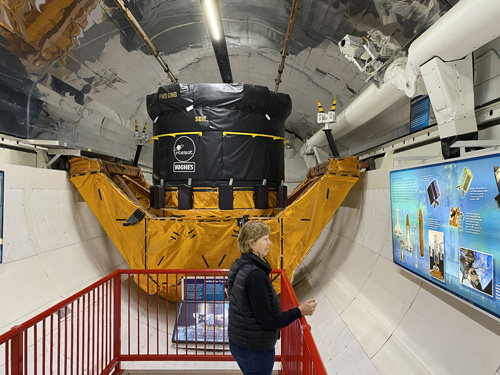 Our final stop of the day was Galveston, which interested Nancy because of a TV show called Big Texas Fix where a couple repairs and restores historic homes. We drove around the residential area admiring the homes and a series of front-yard sculptures that had been expertly carved/chainsawed from trees damaged in the most recent big hurricane (2009?). (It was difficult to get photographs of these from the car window.) And we walked around the commercial district, full of cute shops and bars, also in really neat old buildings. There was an energy museum housed in a former off-shore oil platform, which would have been nice to visit, but we ran out of time.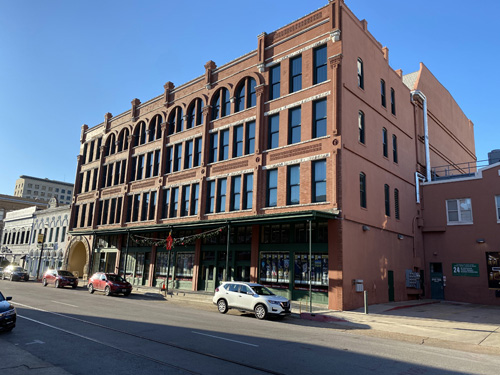 Back in Houston, we had difficulty finding an appropriate venue for Hal's Friday pizza obsession. All the places near our hotel were sort of grubby by-the-slice counter shops. We settled on a longish walk to Osso and Kristalla, which was OK but not memorable. (They did have a killer bread pudding, though.)
Saturday, November 16 — Houston
We spent a few hours at the Houston Museum of Natural Science in the Museum District. The highlight here was their paleontology wing, which is chock full of fossils and dinosaur skeletons. We happened upon a tour given by a paleontologist and had a fascinating hour or so with her. It was unclear whether this was a regular museum docent or a college professor leading her students through on a field trip, but she was great. We were also impressed by an immense globe of the moon and by our visit to a giant butterfly garden and exhibit about all sorts of insects. There were the typical animal dioramas, with both African and Texas scenes. Nancy was also impressed by the design of the obligatory gift shop. Neither of us was impressed by the café, so we drove off to a Panera Bread, getting a casual tour of Rice University and the city's gigantic medical center along the way.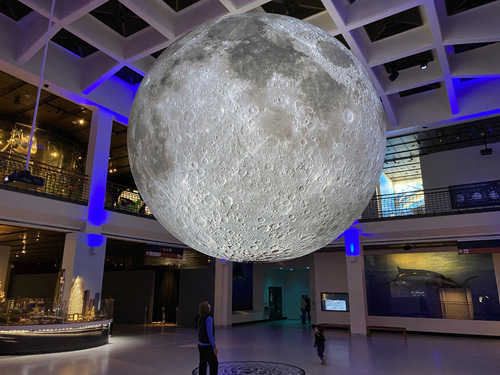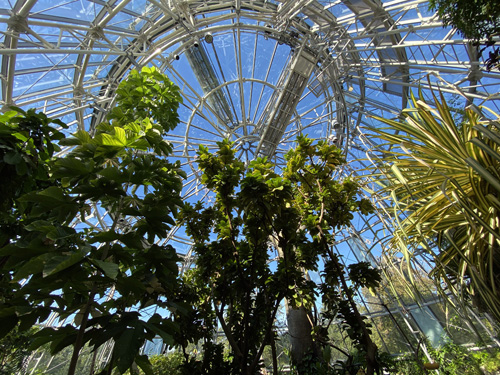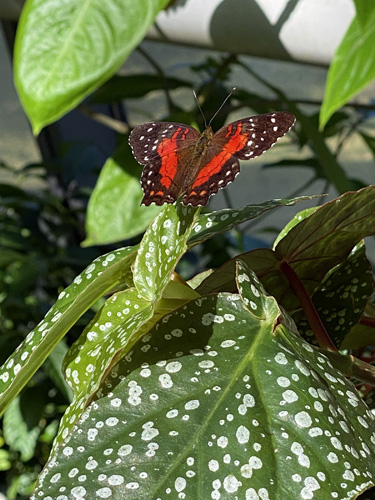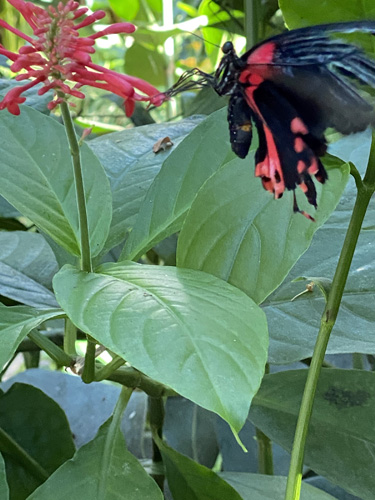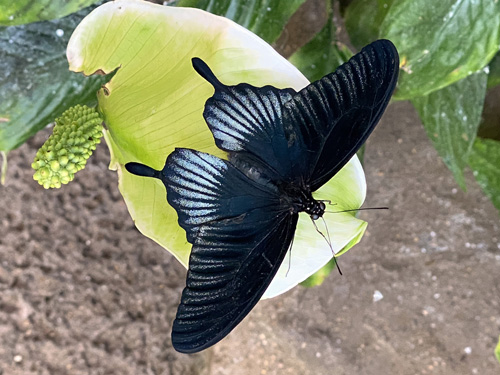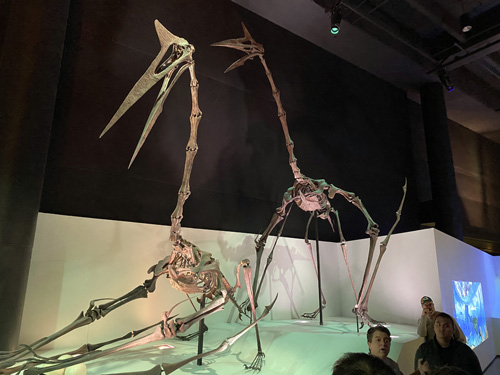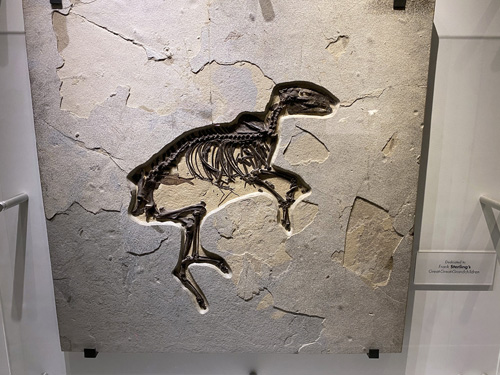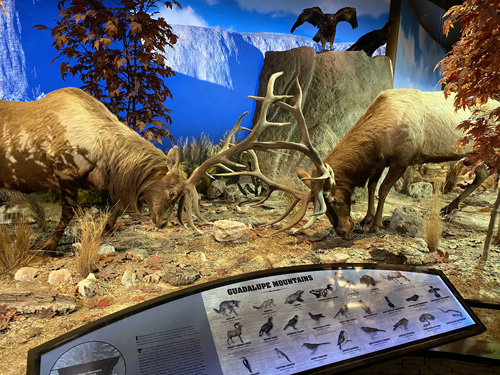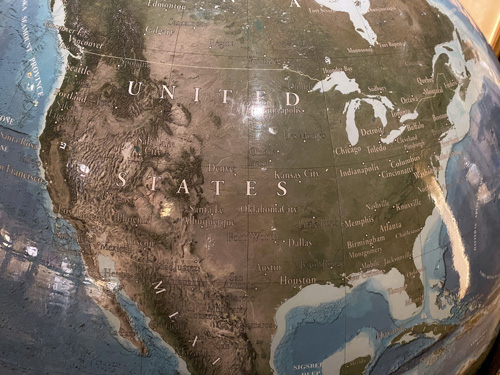 Late afternoon we took a food walking tour, as we often do in cities we visit. This one, which concentrated on a few blocks around Market Square, left something to be desired as there was a lack of diversity—two Latin/Mexican and one Vietnamese restaurant, and then a hotel lobby for dessert. Nothing very Texas. The visits were:
Fabian's, a "Latin" restaurant. We had "cowboy caviar" (beans, corn, avocado, onion, peppers) with chips and then a so-so vegetarian taco.
The Blind Goat, which is sort of a semi-permanent pop-up in a trendy food court in the Bravery Chefs Hall (Aris apartment building). It is owned by Christine Ha, the blind woman who won a season of TV's Masterchef. We had a small spring roll and then an unusual small slice of "pizza" that was a rice-paper crust with pork belly and a Vietnamese sauce (which Hal the Pizza King enjoyed more than Nancy did).
La Fisheria (real authentic Mexican name, muchachos), where we had a slice of raw tuna on a tortilla chip and a small tamale dish with shrimp. Nancy liked this place the best, particularly the really cool wall décor with a giant octopus illustration. This restaurant had four feet of water in it in the recent floods, but they have done an immaculate cleanup job.
The Icon Hotel lobby for a so-so bread pudding.
Our tour guide was Christina, originally from Austria and completely reminiscent of Arianna Huffington, who gave us a lot of historical commentary about the old buildings we passed and talked about how downtown has been energized in the last few years with a lot of new apartment construction. We met a few interesting couples, most of whom live in Houston or nearby, but who formerly lived in California (as did Christina).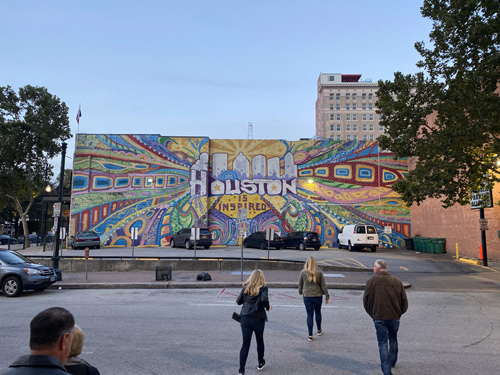 Sunday, November 17 — to San Antonio and Road Scholar
It is about a three-hour drive from Houston to San Antonio, but we made a stop along the way at Natural Bridge Wildlife Safari, a bit of a detour to the north. We had visited years before and things seem above the same. We drove our car on a 90-minute trip through hundreds of (mostly) African animals—antelopes, ostriches, zebras, wildebeests, bison, Watusi cattle—and they come up to the car to be fed some sort of pressed grain pellets we were provided with. You're supposed to drop them on the ground, but for a few cute ones, Nancy did some hand feeding. An ostrich reached his head in the car and tried to steal the pellet bag. Unfortunately, we were there at regular feeding time, so about 90% of the animals declined to interact with us. There were rhinos and a big herd of giraffes, but they were fenced off and not feedable. (A VIP tour was offered to interact with the giraffes, but our time was limited.) There was also a petting zoo area with delightful baby goats who tried to eat my pants.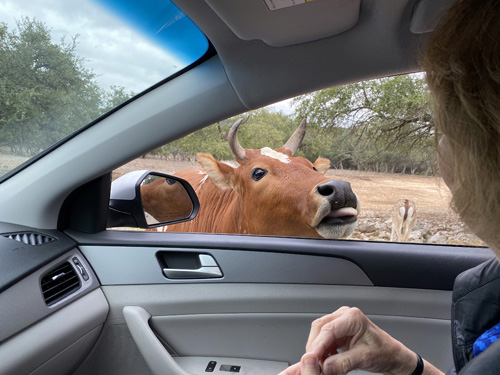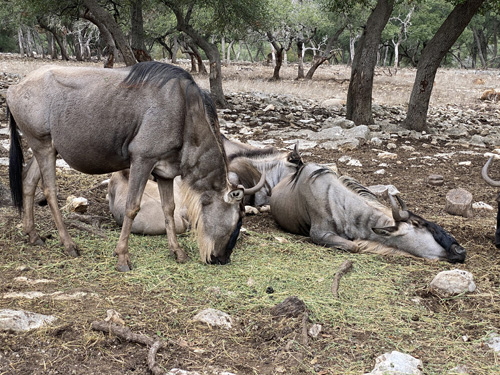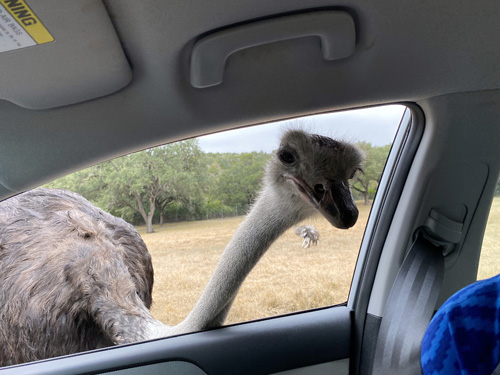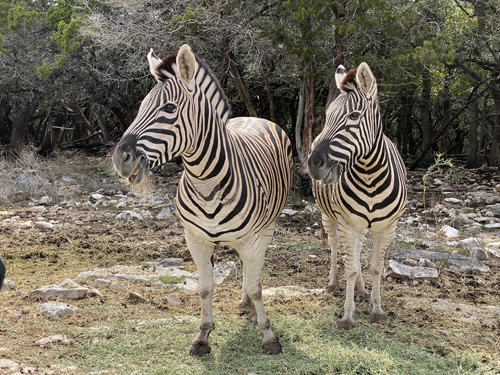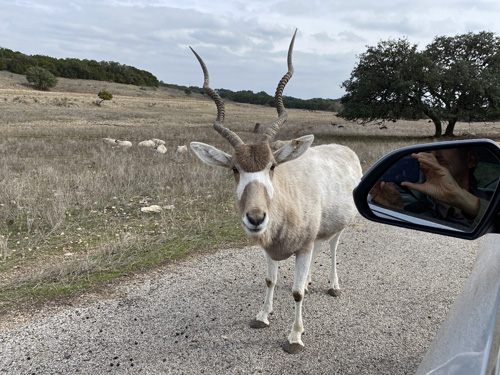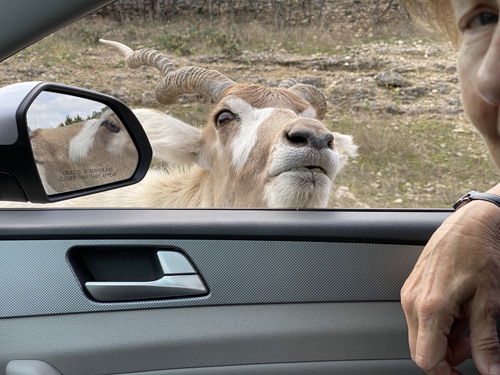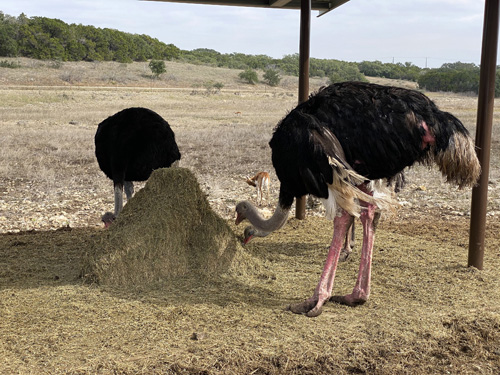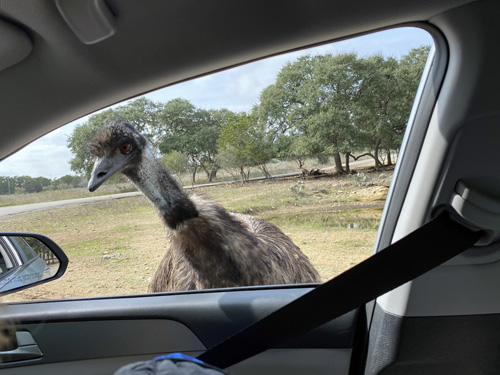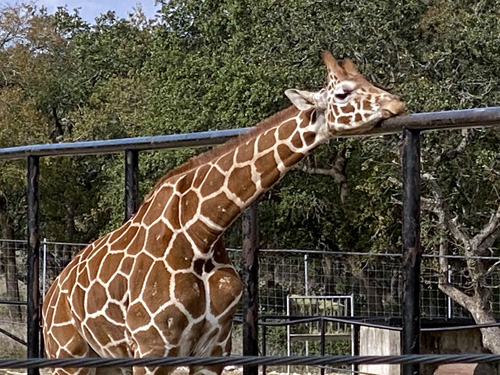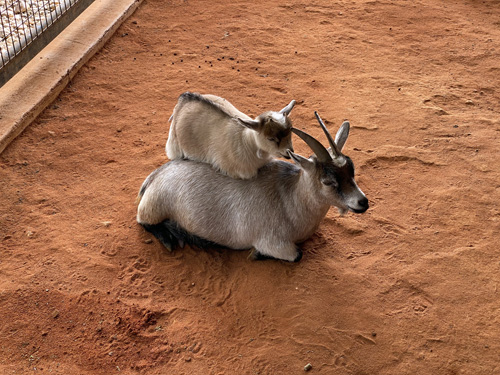 We dropped our Avis rental at the San Antonio airport, where we found that unfilled gas tanks cost $9.99/gallon, so we retreated and found gas nearby for $2.49. Then we Lyfted downtown to the Drury Plaza Riverwalk hotel, which is in the converted building once hosting the Alamo National Bank. Beautiful lobby. We met our Road Scholar group, 29 friendly folks led by Janie Cadena, and had the typical introductions and a brief PowerPoint show about SA history, culture, and landmarks. Dinner was at the historic Menger Hotel, which was pretty decent. Afterward Janie took us on an optional walk across the river to the San Fernando Cathedral, where we watched an elaborate light/music show called The Saga, by French artist Xavier de Richemont, depicting the history of Texas from its earliest Indians and white settlements to the modern day. Very inventive and visually stunning, sometimes almost psychedelic, all projected onto the face of the cathedral, often in ways that highlighted its architectural features.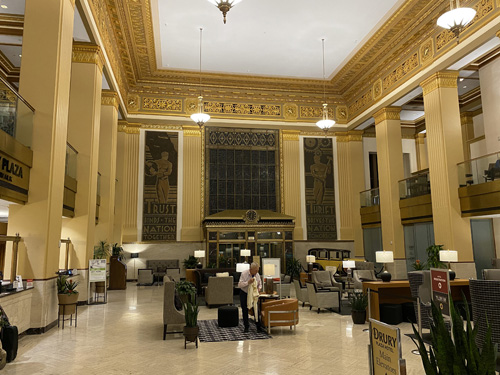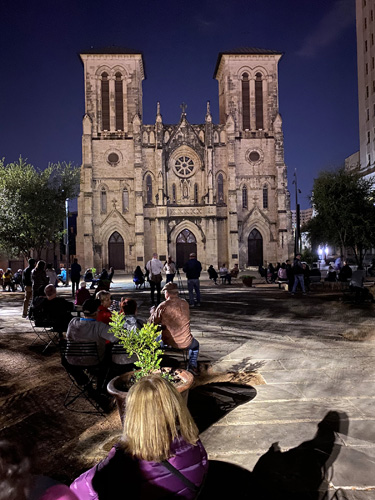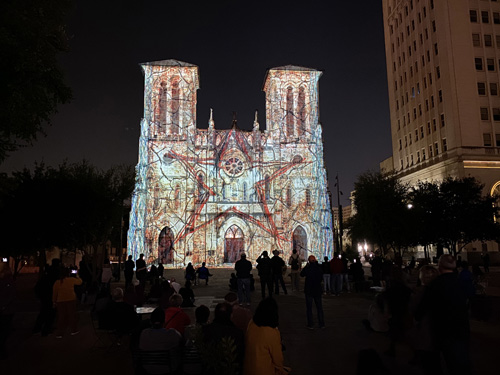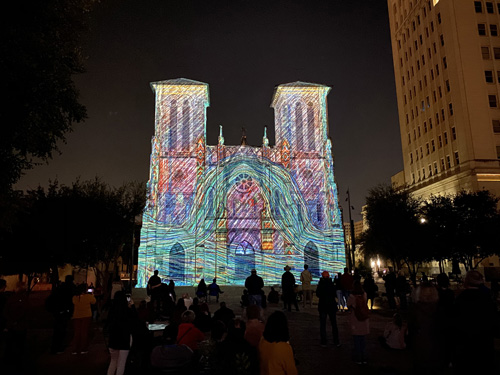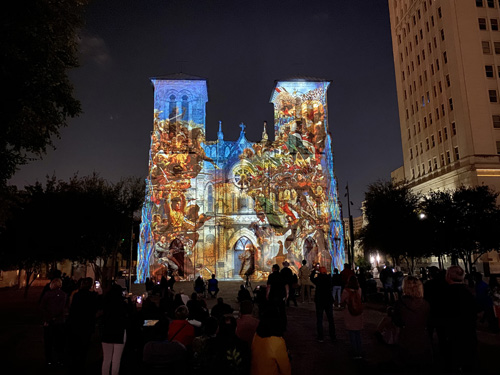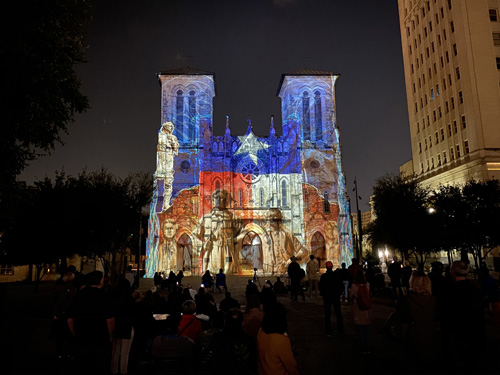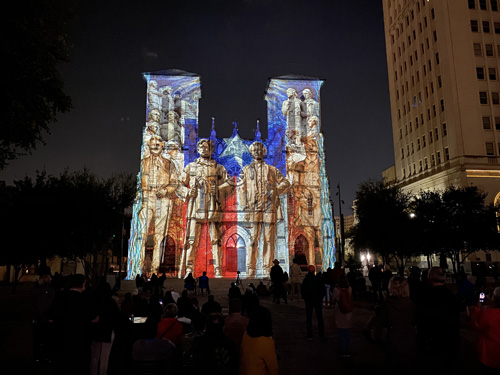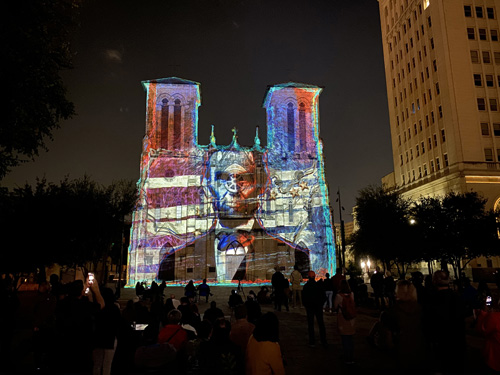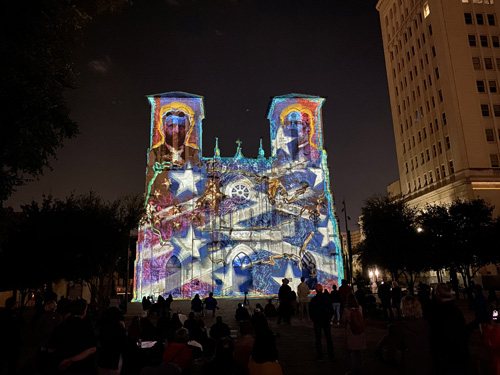 Monday, November 18 — San Antonio Alamo and River Walk
The day started too early with a false fire alarm at 00:38, which evacuated the entire building with raucous bilingual robot announcements about a reported "emergency." We went down 10 flights of stairs, so were glad we didn't stay on the 25th floor! The whole affair lasted 15 minutes—apparently someone was sneaking a cigarette on the second floor. Some of our fellow RSers were upset that the fire department never showed up.
Our first session was a lecture, "Texas Then and Now," by Dr Carolina Crimm. She covered the full history of Texas in about 90 minutes, from the earliest Indians to the present day, although the whole 20th/21st century flew by in about three minutes. A life-long teacher/professor of history, she was really entertaining and informative. I learned quite a lot.
Then we hit the walking trail, splitting into two smaller groups. Nancy and I were in the group led by a Mary Jurewicz, a Bostonian originally whose accent wasn't quite Tex-Mex. We stopped at the Bexar (pronounced Bear locally) County Courthouse and talked about the Canary Islanders who were early city settlers. They have a group of statues commemorating those folks, but we didn't get close enough for a good photo. Next door was the San Fernando Cathedral (site of last night's The Saga). We entered and saw the sarcophagus of some of the Alamo heroes, whose bodies had been burned by Santa Anna. The interior is quite beautiful, particularly the stained glass windows and the gilded altar area. We passed by a hotel in which the USAA insurance cooperative (I've been a member since 1970 when I was in ROTC) was formed in the 1920s. We ducked into the Buckhorn Saloon for glimpses of the dozens of impressive game heads and antlers. Lunch was a pasta bar at the Hyatt River Walk Q restaurant.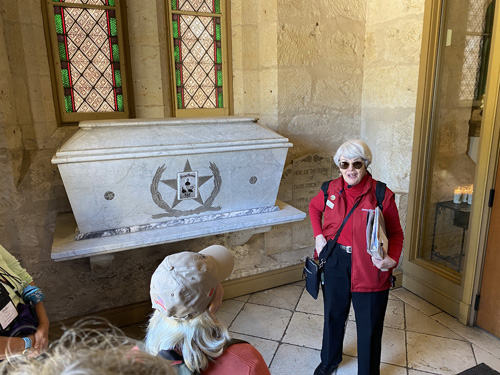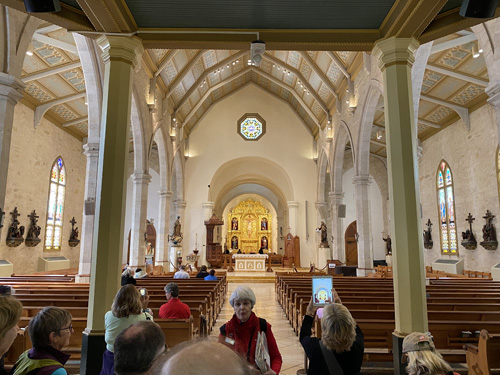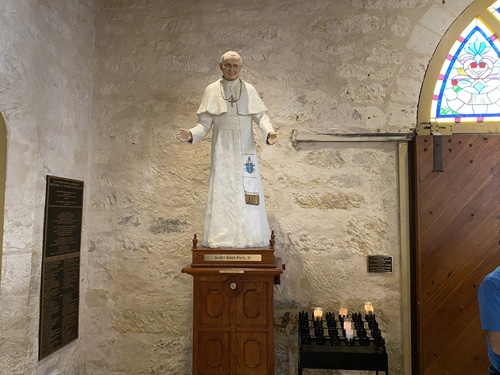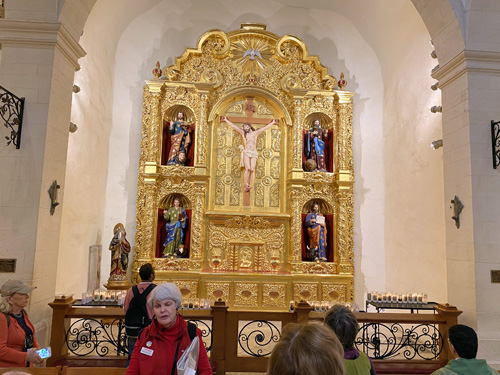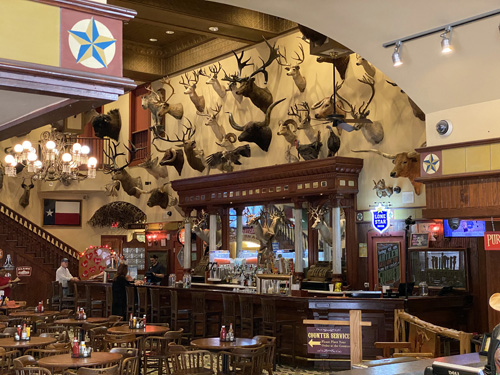 We spent an hour in and around the Alamo, which is quite interesting, including the church portion prominent in the battle, a museum, and a brief movie. Pointed out next door was the Emily Morgan hotel, where Nancy and I stayed in our previous visit (a long weekend in April 2007). I didn't know that Emily, a free mulatto woman, was supposedly the famous "Yellow Rose of Texas." We walked through the Menger Hotel (pronounced Minger by the locals), opened in 1859, and admired the beautiful lobby and a number of paintings, including a large one that appeared in the movie Giant. Robert E. Lee supposedly rode his horse (pre-Traveller) into this lobby in 1860 or early 61. Outside is an equestrian statue of Teddy Roosevelt because it was here that he recruited cowboys as the first Rough Riders. The statue was dedicated just this past June.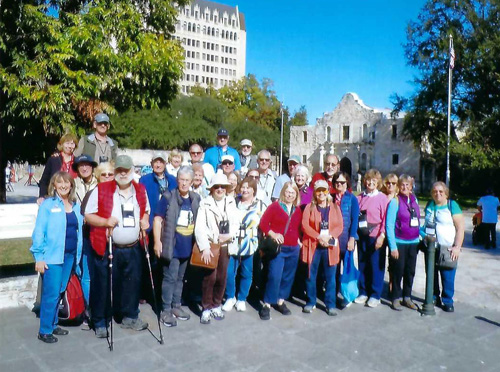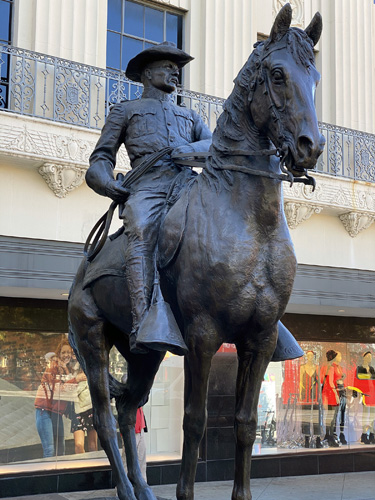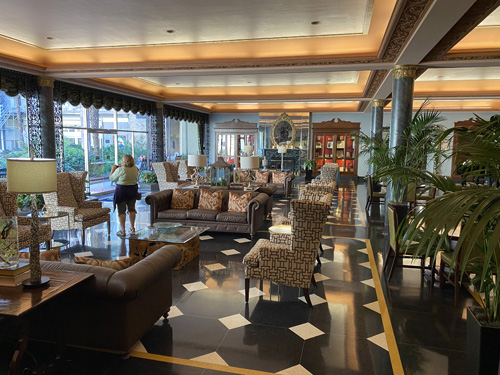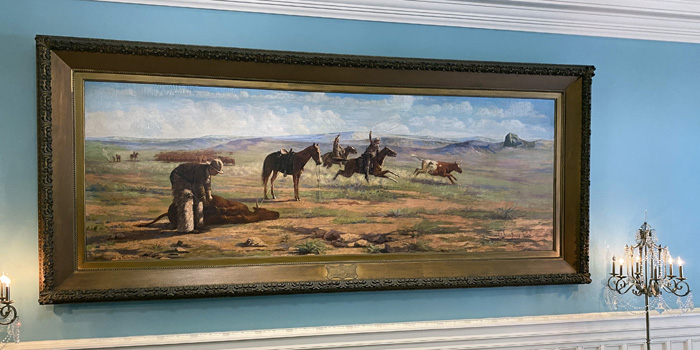 We took a very brief bus ride and stopped at a small brick building that used to be a Fairmont hotel, famous because it was relocated to make room for a big Marriott, and was the heaviest object ever moved on pneumatic tires. Then we strolled though La Villita Historic Art Village, which is a picturesque area of artisan shops, and saw the house where Gen. Martin Perfecto de Cos capitulated to the Texians after the Siege of Bexar here in December 1835. Finally we admired the Arneson River Theater, where the stage is on the other side of the river from its audience in a lovely amphitheater. We followed the River Walk back to our hotel.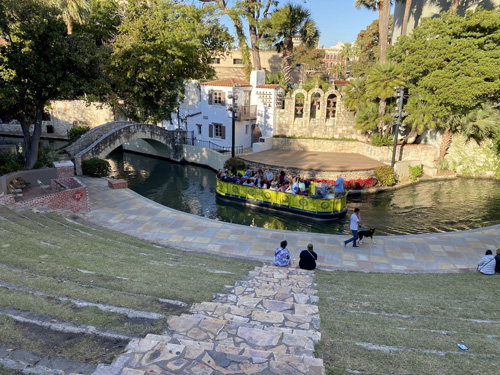 Dinner was at Paesano's Restaurant on the River Walk, our second Italian meal of the day for some reason. We followed this with a private, narrated boat ride on the San Antonio River. The tour lasted over an hour and covered a lot more territory than a regular tourist one, ending with a direct delivery to our hotel.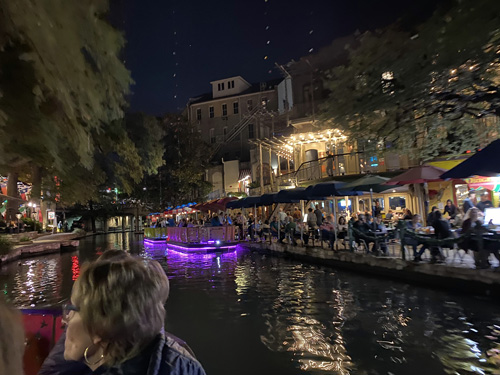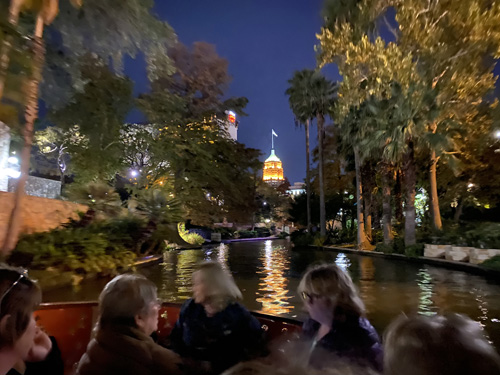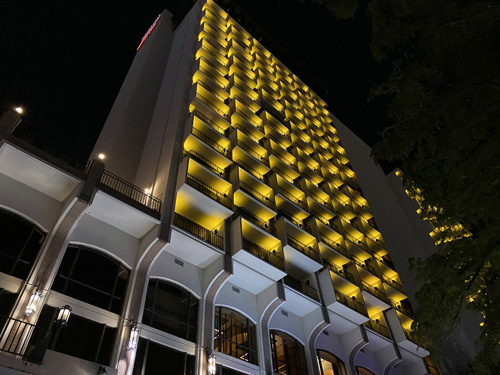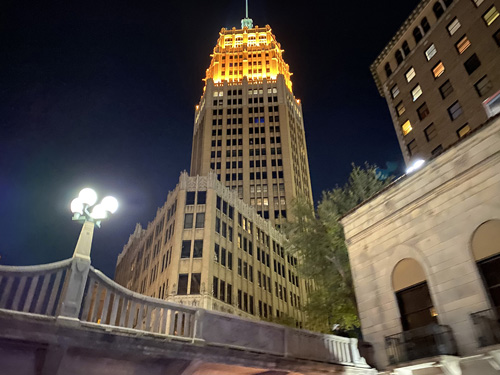 Tuesday, November 19 — San Antonio Missions and to Hill Country
We spent the morning busing around the five mid-1700s missions, which together are a World Heritage Site and a US National Park. We started at the dam owned by the Espada Mission, which diverts the San Antonio River for its use, and we saw the start of an acequia, or irrigation channel. Next was Mission San Juan, which is the smallest of the group, and then Espada itself. The biggest is Mission San Jose, the "Queen of the Missions," which is impressively large with a giant courtyard and a nicely decorated church. We saw a grist mill that had an interesting turbine-like mechanism for channeling the water flow from the acequia through a large conical tank. Finally was Mission Conceptión, which is billed as the oldest unrestored church in the US, although the interior seemed in pretty good shape for 275 years old. This one had simply fabulous acoustics and we sang Amazing Grace to demonstrate.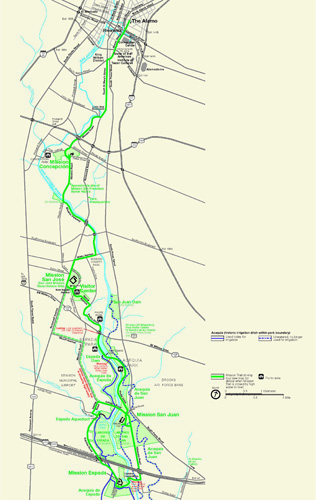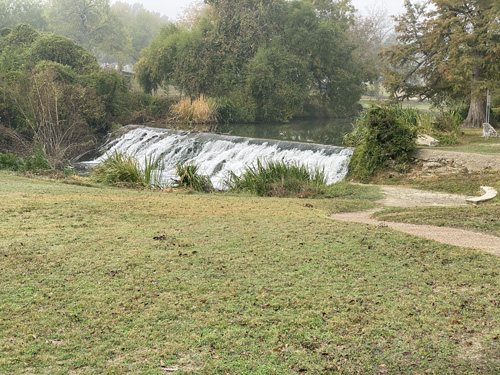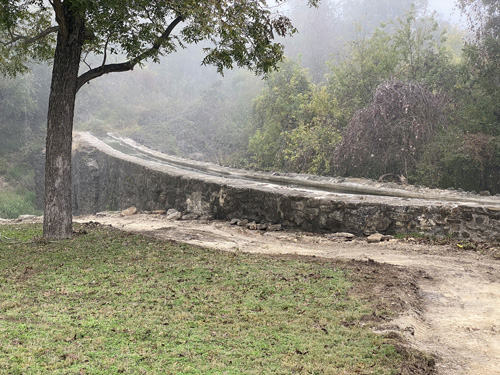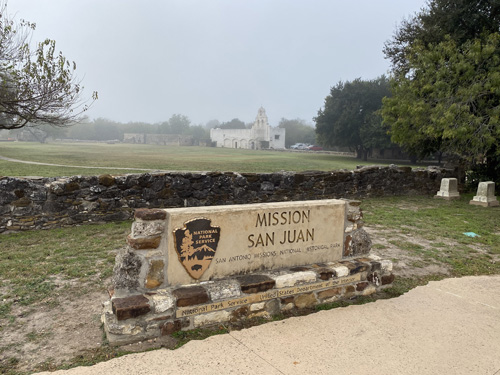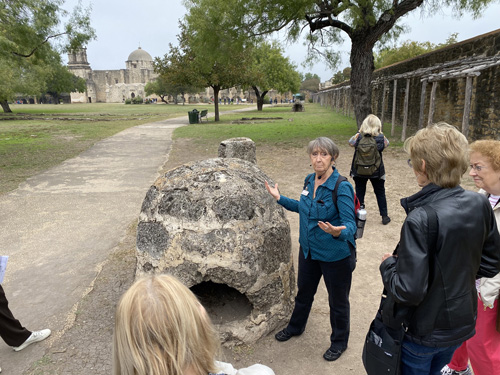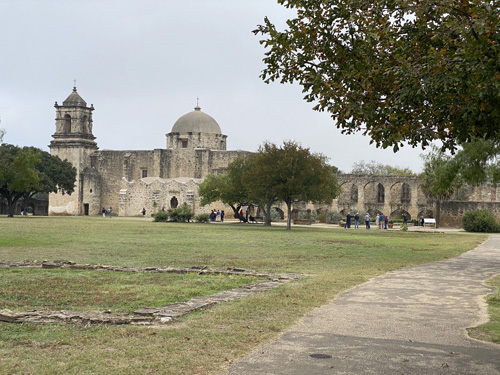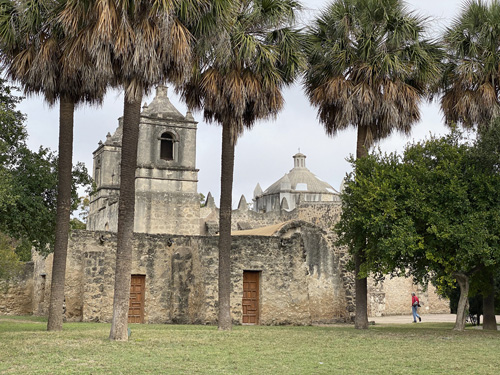 Lunch was in the La Margarita restaurant in the Market Square area. The meal was a so-so grab-bag plate of Tex-Mex standards and was accompanied by two guitar-playing musicians singing all the Mexican favorites. We wandered through a few of the Mexican stores in the market, marveling at how cheap some of items were. The bakery in the Mi Tierra restaurant had a great coconut pastry/candy and a gooey pecan item like a large praline. Then we bused around the West Side of the city, home to many of the politicians you've heard of (Castros, Cisneros, etc), and the site of numerous beautiful murals. We admired the mosaics of Jesse Treviño in particular. This area is quite low-income with a lot of public housing, but every place we saw was neat and clean.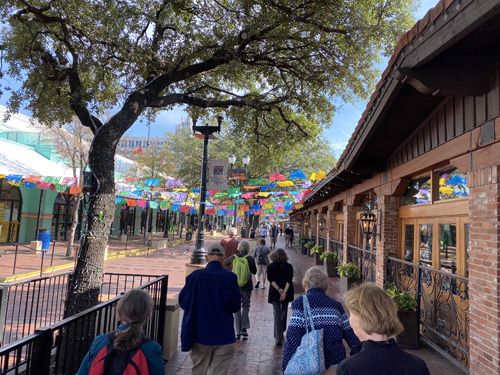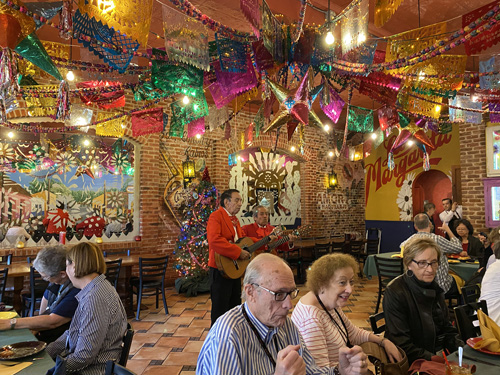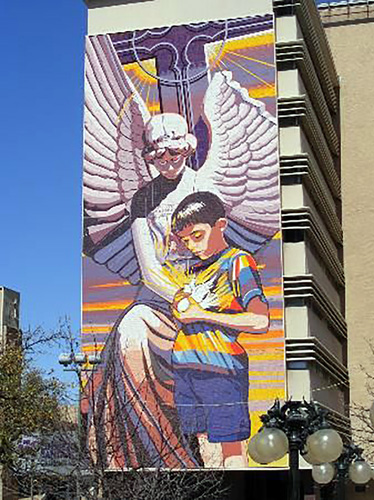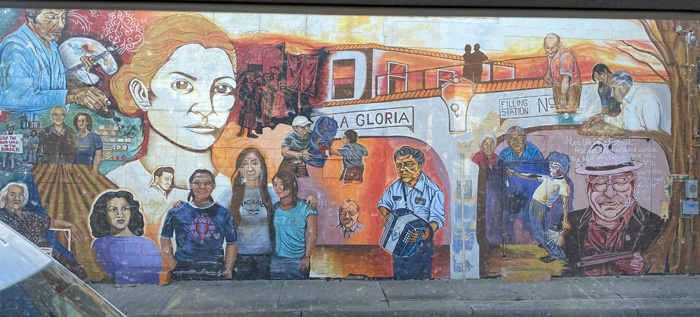 We drove about 90 minutes to Fredericksburg, in Texas Hill Country. (The hills are really rather modest.) We checked into the Inn on Barons Creek and explored downtown on our own for a couple of hours. It's a touristy town with lots of cute shops and restaurants on the main drag, reminiscent of St Helena or Healdsburg in California wine country. And in fact there are 60 or so wineries in this area, represented by probably a dozen tasting rooms in town. I tried a glass of a red blend at Becker Vineyards and it was better than I expected for this climate. The group had dinner at a German restaurant called Ausländer, which garnered mixed reviews. This area was originally settled by Germans, so there are many of their cultural influences here today.
Wednesday, November 20 — Fredericksburg, LBJ Ranch, and Blanco BBQ
We drove about 15 miles, through the town of Stonewall (named for you know who), to the LBJ Ranch national park. There was a 20-minute drive inside the park, looping around a 6,000-ft airstrip, and weaving through ranch land populated by deer, cattle, goats, and sheep. (We saw more deer in one place than anywhere I've ever been.) We were met by a volunteer guide who gave us a brief tour. The house, the "Western White House," is no longer open to the public out of concerns for its structural integrity, so we walked around the outside. We also saw a small museum of vehicles, including limousines, an amphibious car, and a bright red deer hunting convertible with gun racks and a wet bar. What could go wrong? And there was a covered area with a Lockheed Jetstar private jet, which Johnson referred as Air Force One Half. In the modest visitor center there was a short video of LBJ's and Lady Bird's life, particularly at the ranch. On the way out we stopped by the reconstructed LBJ birthplace house and saw the couple's graves in a small private cemetery.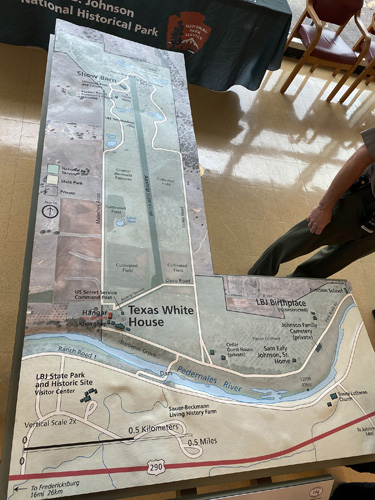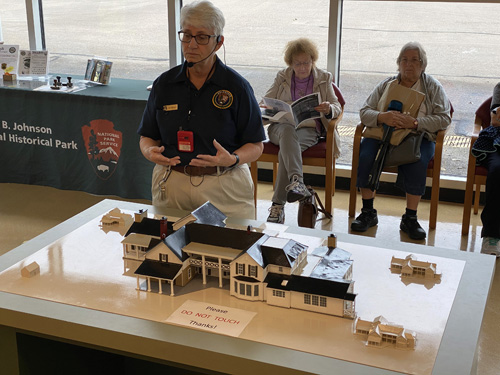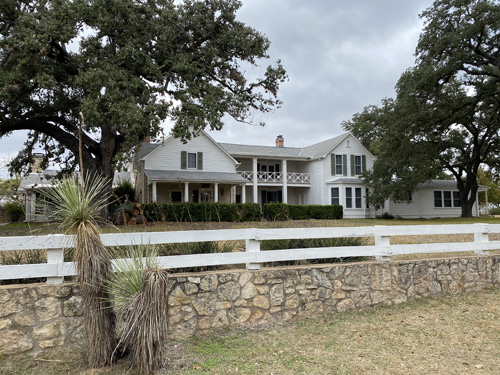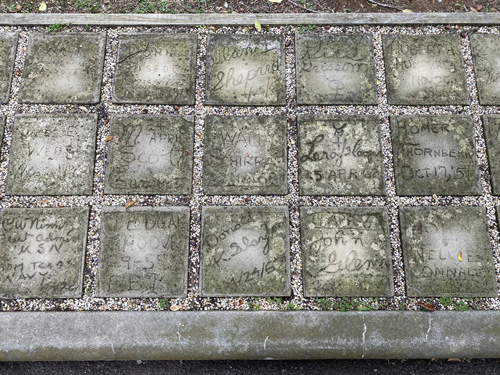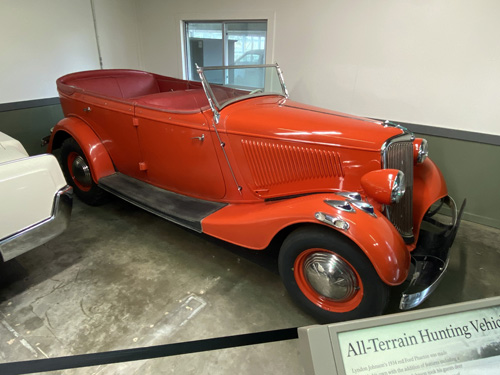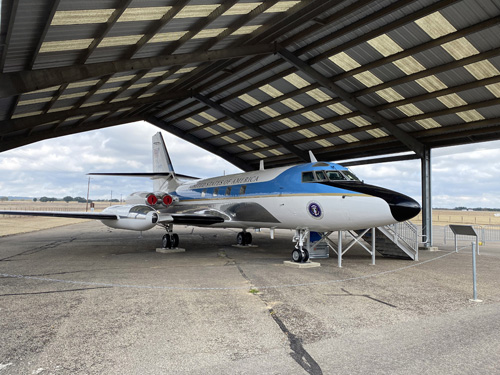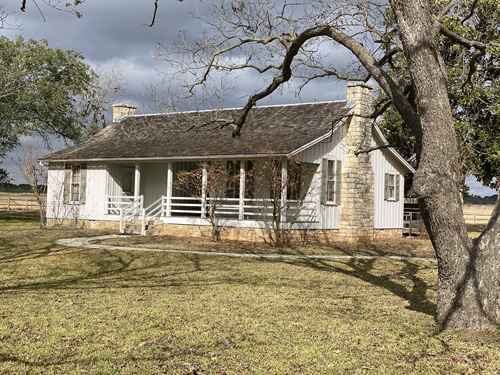 Back in Fredericksburg, which was the birthplace of Adm. Chester Nimitz, we had lunch on our own and many of us spent a few hours in the National Museum of the Pacific War. This was really impressive. They covered the war in extraordinary detail and had lots of audio-visual aides to make complex battles understandable. Some highlights of actual artifacts include the HA-19 miniature Japanese submarine that washed ashore at Pearl Harbor; a B25 representing Doolittle's Raid; a Wildcat fighter that was at Guadalcanal; a TBM Avenger, similar to the one George H. W. Bush was shot down in; PT-309, similar to JFK's PT boat (which is a lot bigger than I had expected); and a large outdoor reenactment theater decked out like a battlefield with a number of armored vehicles, other large weapons, and Japanese fortifications. Although Nancy bailed out after a while to find coffee, Hal could have spent 6-7 hours here, but had to rush through.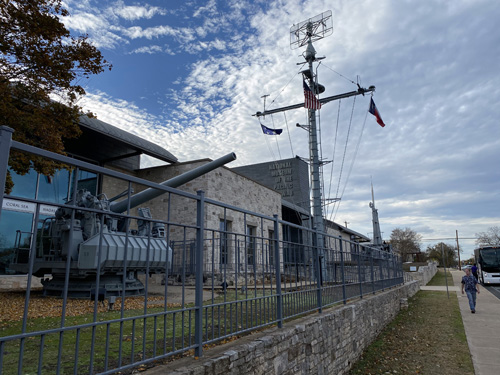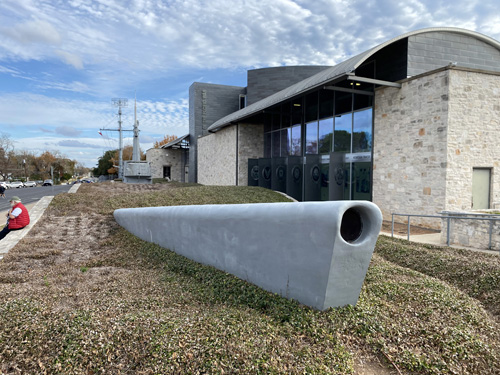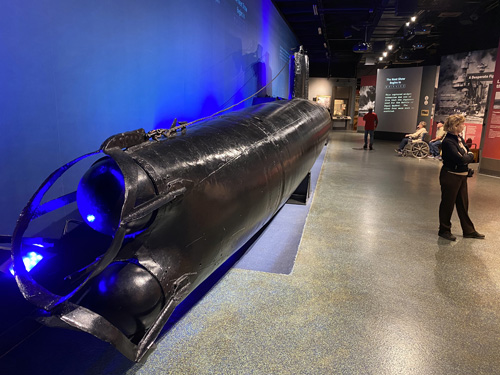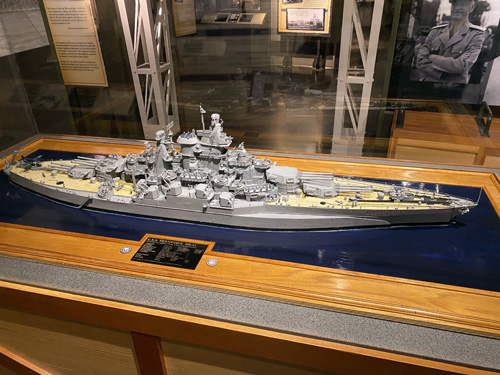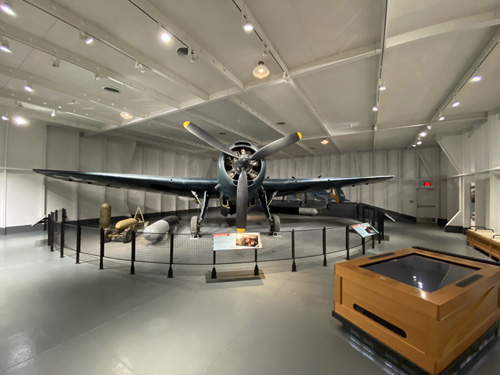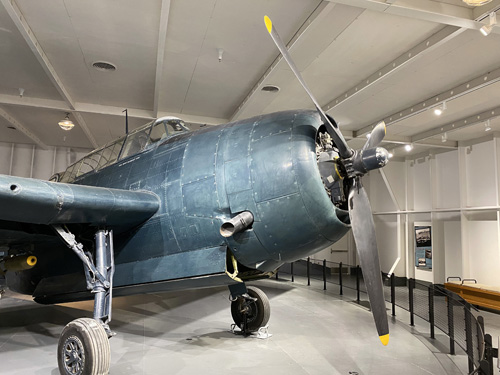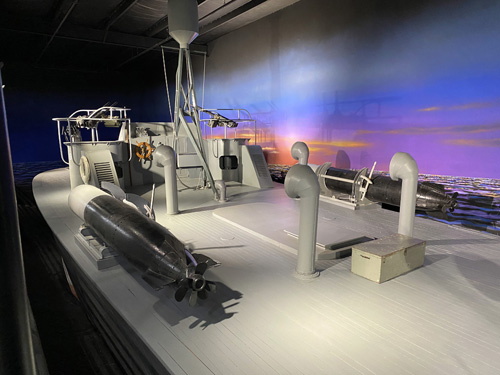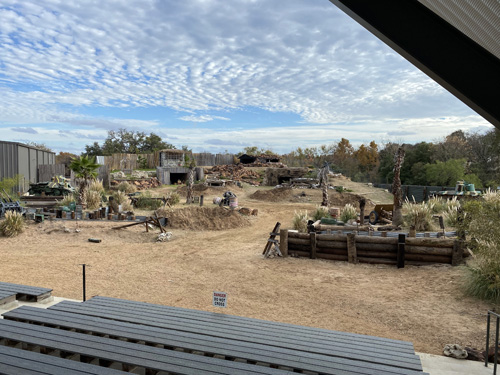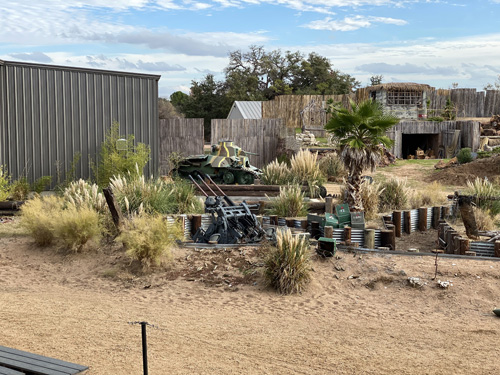 We jumped back on the bus and drove to Johnson City, where we saw LBJ's boyhood home, which is pretty non-memorable; we did not stop to go inside. Instead, we drove to Blanco, TX, home of a restaurant and dance hall call Old 300 BBQ. We had an excellent BBQ buffet and listened to a two-hour country music performance by a small band that didn't announce its name. Some of the ladies attempted line dancing, which was sadly amusing. Back on the road, it was about an hour to downtown Austin, where we checked in to the Courtyard by Marriott at 4th and Trinity.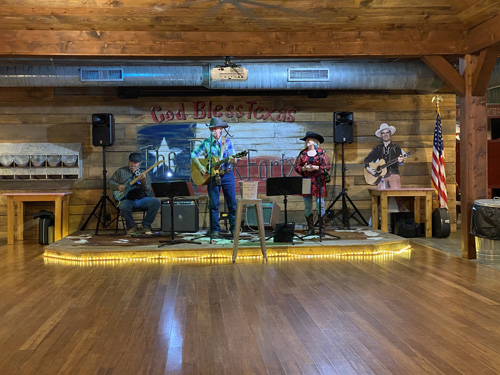 Thursday, November 21 — Austin History and LBJ Library
Our first bus stop was Mount Bonnell, 775 feet overlooking the city. There were 99 rather high stone steps to get up there, which deterred some of our colleagues, so they took a more leisurely, but longer path. There were good views of Lady Bird Lake (the dammed up Colorado River), some $5–10M homes, and the city skyline off in the distance. I found a sign indicating that the first written record of the hill was by Albert Sidney Johnston! And George Custer used to picnic there when he was with the 6th US Cavalry.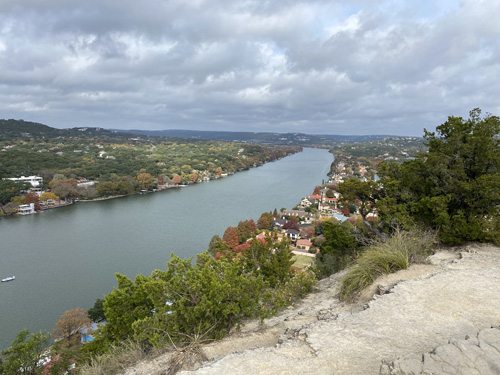 Next was the Bullock Museum of Texas history. We only had 45 minutes to visit the three floors, which was not nearly enough. There were the remains of one of LaSalle's little boats, La Belle; an AT-6 "Texan" trainer plane; a section on the future of space exploration; a full history of Texas; and, oddly, an exhibit called Cowboys in Space, about comics and movies with space adventures. In the Civil War section, a timeline referred to Hood's Texas Brigade in three battles, but somehow missed Gaines's Mill and the second day in the Wilderness, both of which were pivotal Texas engagements.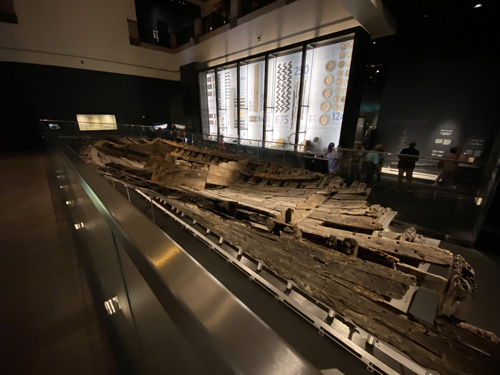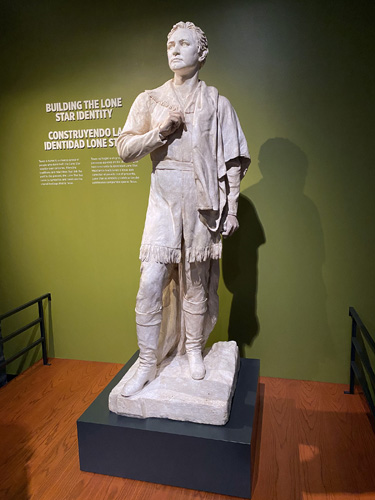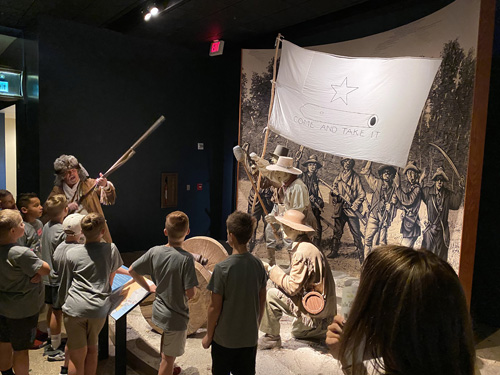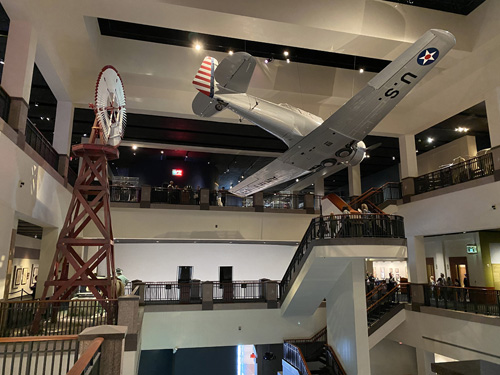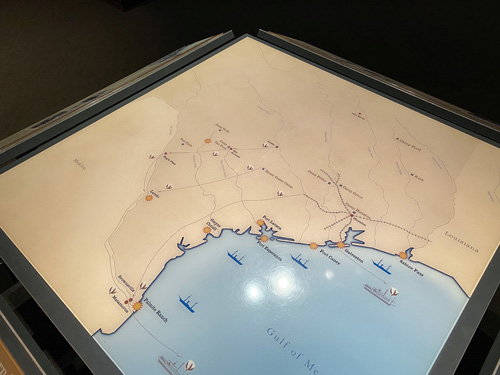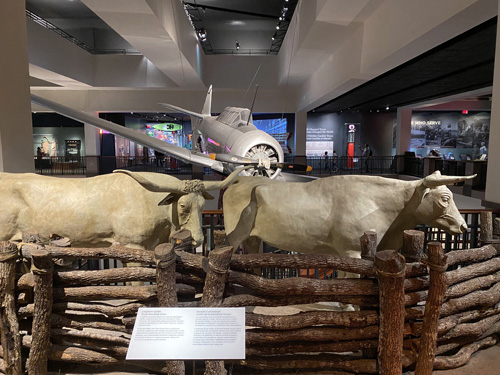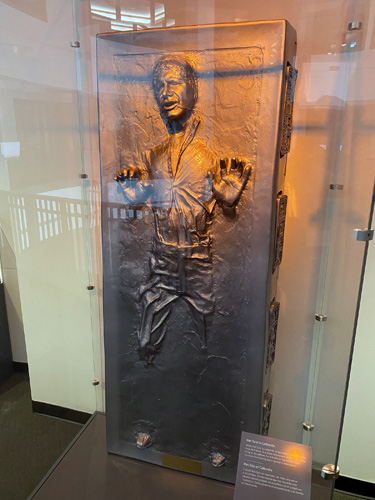 At the University of Texas campus, we had lunch in a small cafeteria and then walked to the Briscoe Center of American History. We killed some time in a small exhibit about popular music and I found a large statue of Jefferson Davis, which had been removed from public university display outside in 2015. We went to a conference room for a presentation by a digital archivist from the LBJ Library, describing the library and the museum collection. Over in the large library building, we wandered through three floors of exhibits about his life and presidency. In addition to the regular timelines and adulation about all his accomplishments, there was an almost-replica (7/8th scale) of the Oval Office, and a special exhibit about Motown for some reason (which was quite good). Highlights throughout were numerous stations to listen to recordings of his phone calls on all sorts of subjects. For a teenager during his era, this was all quite nostalgic, in ways both good and bad. We had 90 minutes on our own, but probably could have spent a couple of hours.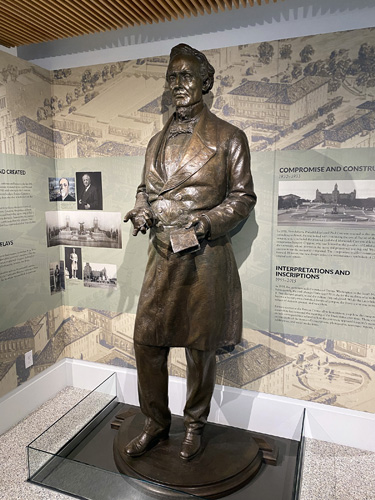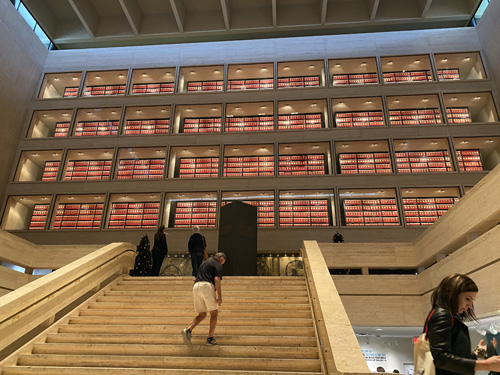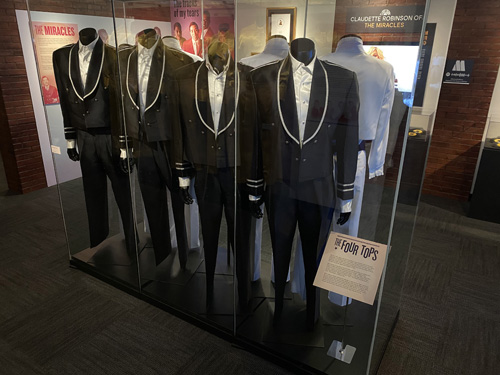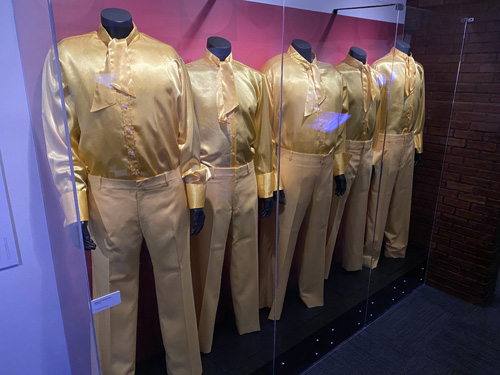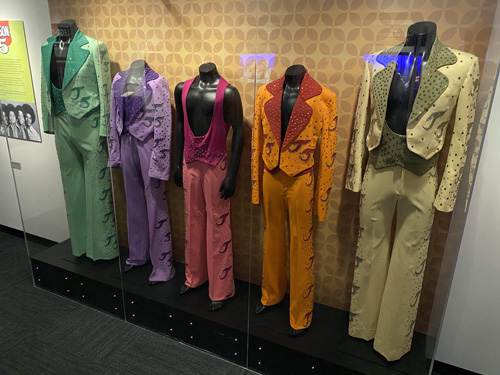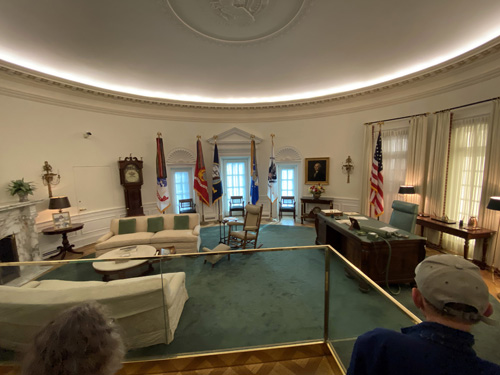 We had the evening on our own. Nancy and I walked along Sixth Street looking for a place to eat, finding that the famous street is really grungy with a lot of homeless people. We ate at a hotel restaurant, which was okay, but as we walked more later, we found that the nice cafes and casual restaurants are down closer to the lake. Based on a recommendation from Janie, we got tickets to Ester's Follies, which is a cabaret like Beach Blanket Babylon, but I thought it was a lot funnier. It mixes really funny political and social songs/skits with an outstanding funny magician named Ray Anderson. Ray did a number of big illusions and fooled me with them all. A really great evening.
Friday, November 22 — Austin Politics, Music, Capitol
We started our final day in the hotel with a presentation by Dr Jim Selcraig of Texas State University on the political history of Texas. He covered topics from the Revolution, the Civil War, Reconstruction, to modern times, including LBJ and the Bushes. He made some snarky comments about Robert Caro not understanding Texas politics at all. (Well, write off that five-volume bio of LBJ.) He also seems to have bought into the spin that the conservative Democrats were racists and thereby slid right over into the Republican Party as soon as civil rights legislation started rolling. This session was scheduled for two hours, but he finally sped up and truncated it at 2:30.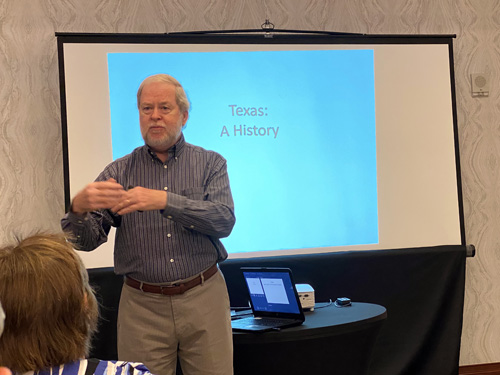 We hit the streets with Richard Roberts of Austin Musical Heritage Tours for a music-flavored walk around downtown. Unfortunately, it turned rather cold and and an intermittent light rain started, so a number of our group melted away before we finished. We stopped at Antone's club, specializing in blues and R&B. He described Conjunto, which is sort of a combination of Mexican and polka music. He gave us a little talk about differences between Gibson and Fender guitars and indicated that the latter dominate Austin music. He said that Austin specializes in live performances, in contrast to, say, Nashville, which has a strong publishing industry. We visited the Willie Nelson statue outside the Austin City Limits studio and he recounted Willy's career in Austin. Lunch was in the lobby of the Driskill Hotel, which opened in 1886 and is quite picturesque.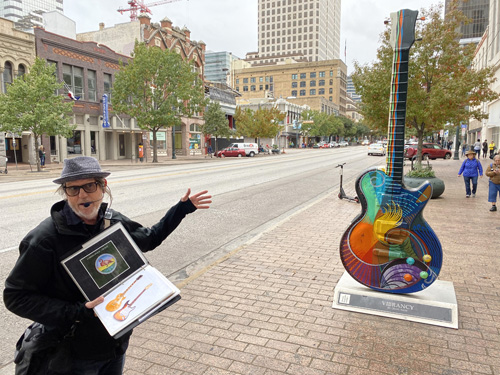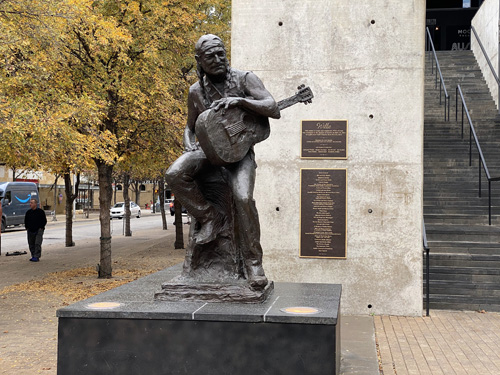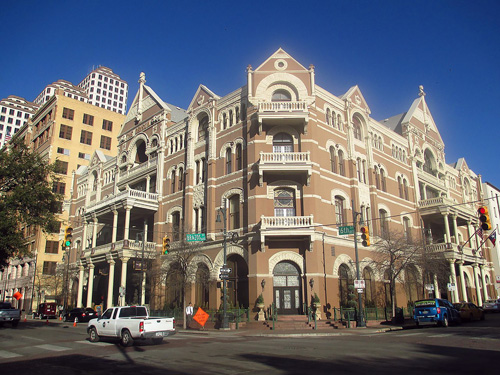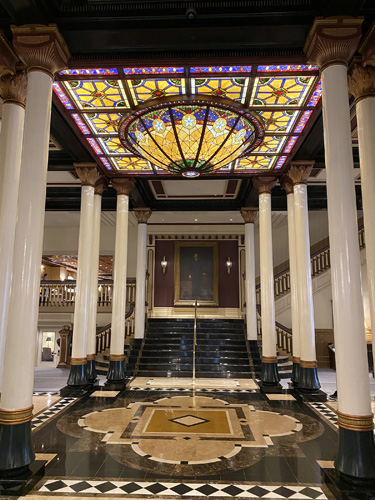 Next was the Texas Capitol, which is a beautiful building. We tried to take a tour about Heroes of the Texas Revolution, but the guide had a soft voice and a strong accent and we simply couldn't understand her, so we waited 15 minutes and took a general building tour, which turned out to be understandable and quite informative. I found some interesting portraits and other paintings along the way and it was interesting to hear details about how the legislature works. Outside is a modest Confederate monument, and even though old Jeff Davis is mounted on top, it still hasn't been moved to some basement. It is engraved with a lengthy list of battles and dates, all using the Confederate names, of course, and I was surprised to find a number of errors. Too bad editing marble is so difficult or I'd write the state historian a snippy note.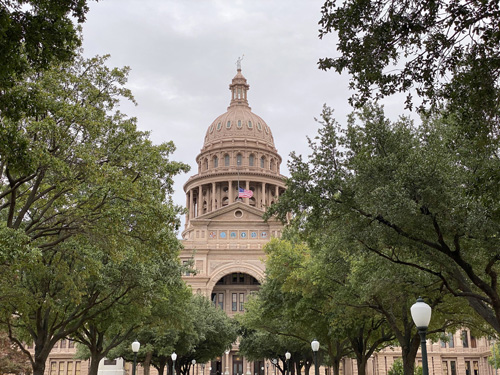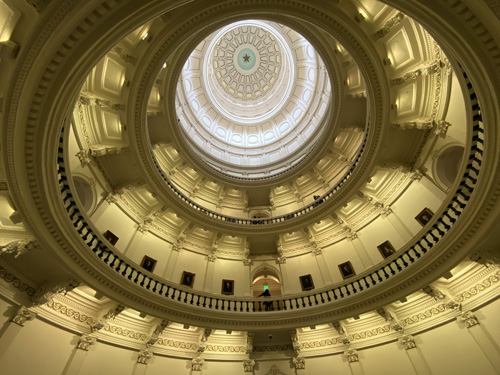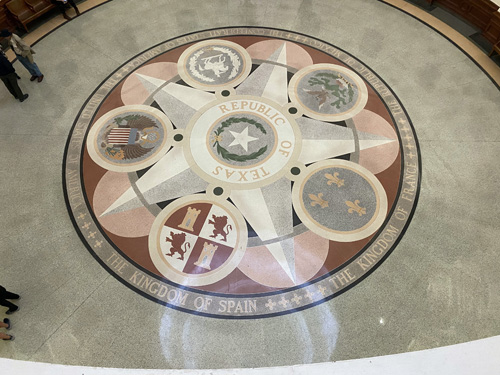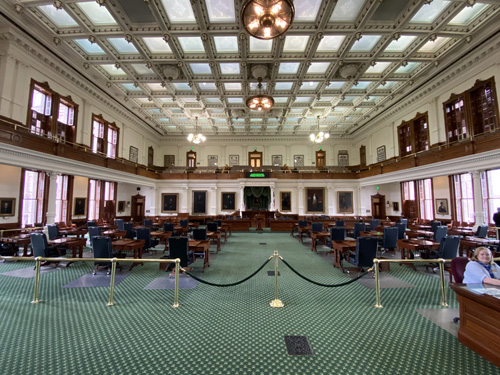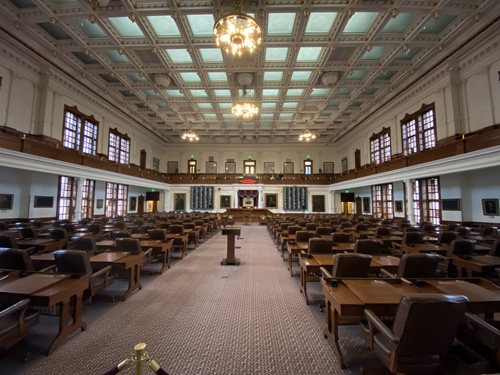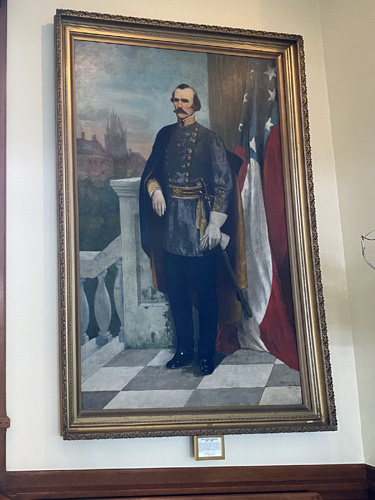 Back at the hotel we had a musical session with Floyd Domino, a master Western swing pianist who has played with Willie Nelson, Waylon Jennings, George Strait, Merle Haggard, and many other groups. He demonstrated honky-tonk; Western swing (which is essentially big band music played on western instruments); boogie-woogie, introduced in Marshall, TX, including eight- and six-to-the-bar styles; ragtime; stride piano in the style of James P. Johnson; and hillbilly, a la Moon Mulligan (who was an influence on Count Basie). He talked about the early days of Bob Wills and Western swing and told stories about playing with Willie Nelson and his eclectic style. This was a great session, really toe-tapping. He recommended the dance hall called the Broken Spoke in south Austin. It's too bad our evening is spoken for tonight.
The farewell dinner was in the restaurant/sports bar inside the hotel. We retired early to pack and rest up.
Saturday, November 23 — Home
We got up at 3:15 to catch a really early direct flight back to San Francisco, arriving conveniently at 8 a.m. This was another excellent Road Scholar experience. Kudos to Janie for arranging a great time in Texas.