Hal and Nancy's Pacific Northwest Vacation
Here is our trip log from Hal and Nancy's vacation in the Pacific Northwest, over the Fourth of July break in 2003.
Wednesday 25 June, Seattle
We flew United Airlines to Seattle-Tacoma airport and rented a luxurious Dodge Intrepid. (Although we could have driven from San Francisco, we would have driven over 3000 miles for the whole trip, so it was better to wear out the rental car than our own, and we also saved a few days.)
We checked in to the Hotel Monaco in downtown Seattle. We booked this room because it is a small, boutique hotel owned by the Kimpton Group and we enjoyed their Hotel Monaco in New Orleans recently. The room was a bit smaller than the version in New Orleans, although we are happy to say that prices in the Northwest are considerably less for hotels. Also, we found that this hotel did not have a lot of the interesting interior design that the New Orleans property had. One similarity that was nice was the complementary wine service at 5 PM every afternoon.
We had a light lunch at the hotel's Sazerac restaurant, which was unremarkable for food, but quite interesting in terms of interior design. The Chef was Jan Birnbaum, who has a restaurant we enjoy called Catahoula in Healdsburg, CA. The menu was eclectic southern, including Cajun and Caribbean.
After lunch we took a bus tour with a company called Show Me Seattle. The bus could fit 14 passengers, but only four showed up, so we had a more personalized experience. The tour guide was very entertaining. We visited the Ballard Locks and fish ladder, saw a wonderful view on West Highland Street in the Queen Anne district, fabulous vistas of Mount Rainier, the funky Fremont district, including a giant troll statue under the Aurora Bridge. Some fun facts we learned about Seattle on this tour: locals rarely jaywalk; it rains about 35 inches a year, which is less than most Eastern cities; locals rarely use umbrellas; Washington has the highest rate per person of sunglasses purchases (apparently because there are so few sunny days that people misplace their glasses and have to buy new ones).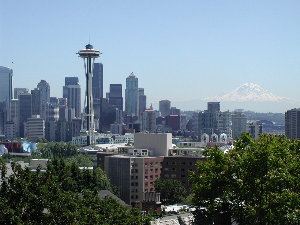 For dinner we walked to a restaurant Hal has visited before, Wild Ginger. They specialize in a variety of Asian dishes and satays. We had satays, scallops, grilled asparagus, and their special Peking duck with tiny buns. They had a great winelist with very reasonable prices. We selected a 2001 Wehlener Sonnenuhr, because the press has been raving about the 2001 vintage in Germany. It was an excellent choice with the moderately spicy food.
Thursday 26 June, Seattle
In an early start to the day, we drove 40 minutes to Everett, WA, for a tour of the Boeing plant. It was a 70-minute tour that started with a couple of brief films and then hike through the plant and a bus ride around the flight line. This plant is supposedly the largest building by volume in the world and could fit all of Disneyland and much of its parking lot inside. We had a good view of the 747 assembly line, but they also do the 767 and 777 wide body jets here. The place was a little sad because they obviously were not operating at full capacity. No photography was allowed.
Next we drove to Edmonds, WA, which is a nice small town on Puget Sound, but has special significance since Nancy's name is Edmonds. So we had a great time walking around town taking photographs of all the businesses that had Edmonds in their names. Edmonds bank, Edmonds community college, Edmonds pharmacy, etc. We had a nice lunch at the Thai Cottage restaurant.
Back in Seattle, we played tourist and visited the Space Needle. It is 520 feet up to the observation deck in a glass elevator. We were blessed with fabulous weather and the views were spectacular. (Actually, except for brief time on our trip to Victoria, we had simply beautiful weather for our entire trip -- sunny, clear, and pleasant temperatures with low humidity.)
| | |
| --- | --- |
| | |
For dinner we drove to Woodinville, WA, to the Herbfarm restaurant. It had been recommended by my colleague, Ellen, at Sun, and it was quite an experience. It is owned by a couple who inherited an herb farm from his parents and they offer dishes made entirely from local farms and their own large garden. We started with a tour of the garden conducted by the wife and smelled and tasted all of the herbs planned for the evening. We were seated at a large table, which they call the European table, with three other couples. (Private tables were also available, but they were booked up by the time we made a reservation, and we have very nice time visiting with the other couples during a very long meal.) It was a nine-course meal that took 4 1/2 hours. That seems like a lot of food and a long time, but the portions were small and the pacing worked well. The use of the local herbs was innovative and wonderful. Each course was accompanied by an appropriate wine, which they generally refilled as appropriate. (Fortunately, Hal had a designated driver available. Nancy's courses were accompanied by nonalcoholic selections, most of which were pretty interesting.) The wines were generally modest, but interesting Northwest selections. One exception to that was during the final dessert course, a 1916 Madeira. In between two of the courses, we took a walk in the garden and fed table scraps to Hamlet, the farm's Vietnamese potbelly pig, and some local ducks. All in all, this was our most memorable dining experience of the trip.
Friday 27 June, Seattle
We started at Seattle's most famous visitor attraction, the Pike Place Market, strolled around the stalls and watched two men throw large fish back and forth. And we walked into the original Starbucks store. Seattle is amazing in its coffee consumption. There are over 300 Starbucks and at least two major competitors, so there are coffee shops on almost every corner.
From down on the waterfront, we took a bus to Lake Union and boarded a small tour boat run by the Argosy Cruises company. We watched seaplanes landing in Lake Union, saw the floating homes that were featured in the movie "Sleepless in Seattle," and then transited the Ballard Locks. The locks were interesting because we simply drove in, dropped down about 20 feet, and drove on. We continued through Elliot Bay back to the Seattle waterfront.
Lunch was at the touristy Ivar's Acres of Clams restaurant, where the clams were actually very good and views were great.
We took a ride on the Washington state ferry to Bainbridge Island. It was a 35 minute ride, crowded, but very comfortable. Bainbridge Island is picturesque with a small shopping street and cute cafes.
Dinner was at the Cascadia restaurant in the Belltown area near the Space Needle. It had been recommended by one of the couples at the Herbfarm restaurant and was quite lovely. This time dinner was one of two seven-course tasting menus, one seafood oriented, one vegetarian. Once again, Northwest wines were offered by the glass, paired to the courses, and the sommelier was excellent. The most unusual choice was a Tempranillo from Oregan's Umpqua Valley. This tasting menu was considerably speedier at only two hours.
Saturday 28 June, Seattle
We visited MOHAI, the Museum of History and Industry. There was an interesting exhibition on the history of the American presidency, which Nancy found stultifying. There were also a lot of exhibits about the history of Seattle and its industries such as logging and salmon farming.
We drove back to the Fremont district and visited some of the sites we saw briefly on the bus tour earlier, such as the bridge troll. (Note in the photo that the troll is grabbing a Volkswagon; that's the scale of the statue.)
Fremont is considerably like Berkeley, CA, very iconoclastic. They have a large surplus missile displayed and they call that spot "the center of universe." They also have a large statue of Vladimir Lenin. Lunch was in Fremont at the Longshoreman's Daughter, which was a cafe where everyone was wearing tattoos.
Then back to the Queen Anne district, which is a hill overlooking downtown Seattle, supposedly where Frasier Crane lives. We returned to West Highland Street to view the interesting expensive houses with their fabulous views of the city and Puget Sound. Our bus tour driver on Wednesday kept describing houses as costing 1 million dollars, which of course seemed very low to those of us from California.
We briefly visited Pioneer Square, which is where the city of Seattle was founded (after a brief encampment in West Seattle). Lots of antique shops and picturesque cafes. There was a nice monument to Seattle firefighters. This area has been considerably cleaned up since Hal last visited in 1974. Even the street known as Skid Road (the origin of the generic term Skid Row) was pretty respectable.
Down at the waterfront, we view the IMAX film "Eruption of Mt St Helens," which was sadly boring.
Our final dinner in Seattle was at Rover's, a drive to the east beyond Capitol Hill. This one was a 5-course tasting menu, but there were no wine pairings offered. The food was excellent, but by this time Nancy was getting pretty fed up with multiple course tasting menus. The French chef came by our table to say hello; he is known as "Chef in the Hat," which is a pretty odd claim to fame considering that is not a toque, but a porkpie.
Sunday 29 June, Victoria
We took the Victoria Clipper Ferry to Victoria this morning. We had to be early risers because they started boarding at 6:30. The Ferry is a hydrofoil and was quite comfortable, with seating like an airplane. We were a little concerned when they started selling Dramamine for 25 cents. It is uncertain whether we needed it because the ride was pretty smooth, but we decided to be prudent. Along the way the captain detoured a bit towards San Juan Island and we idled for a few minutes in a whale-watching area. We were about 200 yards from a pod of orcas and enjoyed watching them, although none was as theatrical as you'd expect from a Seaworld performance. Also in the area were tiny whale-watching boats from Victoria. Those people had a pretty wet experience getting there—they were all outfitted with heavy rain gear for the fast trip in an open boat.
The weather today changed from sunny to overcast to an intermittent, very light rain.
From the boat we immediately boarded a London style double-decker tour bus for the drive to Butchart Gardens. This garden was originally planted 99 years ago in a rock quarry. It is easily the biggest tourist attraction in Victoria. We enjoyed the sunken garden, the Rose Garden, and the Japanese and Italian Gardens. They also had superb hot dogs for sale.
The bus tour continued in and around the city of Victoria. There is frankly not much to see in the city from a bus. We drove around the edge of the peninsula, but this tour was marred by the poor weather of the day.
We checked into the Empress Hotel, which had been arranged as part of our ferry trip. This was one of those giant hotels built by the Canadian Pacific Railroad, similar to the Chateau Frontenac in Québec. The room was old-fashioned, but comfortable. We got quite an exercise walking through the very long hallways of the hotel to get to our room.
We did not do the famous afternoon tea service at the hotel, which seemed very expensive and crowded so instead we had tea and scones at a shop named Murchies downtown and finished up with chocolates at a shop named Rogers, which is supposed to be famous, but we thought was inferior to See's chocolates in California.
Dinner was at the Empress Room in the hotel, which was quite fancy. The service was formal and really excellent. The food was very good, all local specialties. Hal wanted to order a British Columbia Pinot Noir, but the waiter did not recommend this because he said they were generally acidic and thin, due to the climate. So we had a Mission Hill Okanagan Syrah, which was surprisingly good.
Monday 30 June, Victoria
The weather started off rainy, but not heavy enough to raise many umbrellas on the street. The sun broke through by mid-morning.
We took a walking tour of the Empress offered by the hotel and it was quite interesting. The tour guide was dressed in costume as a lieutenant in the British Navy. He took us all over the hotel public rooms, telling us the history, and famous guests. There was an elaborate set of scandals associated with the hotel architect, Francis Rattenbury.
For lunch, we had a curry buffet in the hotel's Bengal Room. Not inexpensive, but excellent. (This was another restaurant tip that we received from an Herbfarm diner.) We understand that John Wayne was a frequent visitor to the bar here.
Our final stop in Victoria was the Royal BC Museum, which had a very interesting Chinese dinosaur fossil exhibit. We saw another IMAX film, the National Geographic "Lost Worlds," which was also a disappointment, a mishmash of goo-goo environmentalism—we're all in this world together, blah-blah-blah.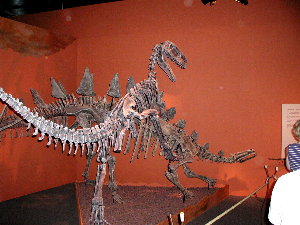 The ferry departed at 5:30 for the two-hour trip back to Seattle. We picked up our car from the parking garage and drove south to Tacoma, which Hal selected because it was part way to Portland and was the site of Fort Lewis, where he had been stationed in the early 1970s. We stayed at the La Quinta hotel, clean but uninteresting.
Tuesday 1 July, Portland
In the morning we drove around Tacoma, about which Hal frankly did not remember very much, except that it was cleaned up considerably since 1975. We would have enjoyed visiting the Fort Lewis museum, but it is only open during limited times.
We drove southeast to visit Mount Rainier. It was a pretty drive, but clouds obscured the view of the summit. (We somehow hoped that the clouds would clear, but to no avail.) We visited the Paradise Inn, which is at the base of the mountain, and had a nice light lunch.
Continuing to Portland, we stopped at a viewpoint and saw a dramatic view of Mount St. Helens from 23 miles away. Since we were looking to the south, we had a direct view of the giant crater and the newly forming lava dome. Everything around looked pretty green, so there has been considerable revival since the 1980 eruption.
We arrived in Portland at 4 PM and checked into the Vintage Plaza hotel, conveniently located downtown. This is also a Kimpton Group property, intimate and comfortable. As was Seattle, the lobby decor was not really interesting in comparison to New Orleans. Once again, afternoon wine service was offered, and here they actually used Northwest wines, which was a nice touch.
We walked over to Powell's bookstore to browse. This is an amazing company, offering 4 million used and new books. The scale is immense. The main store occupies a full city block and there are other separate buildings for travel, technology, cooking, and architecture books.
Dinner was about two miles from downtown in a tiny restaurant called Genoa. The Zagat guide called this the best restaurant in Portland and, once again, it was recommended by folks at the Herbfarm. It was a seven-course Italian meal, very casual but well prepared. It was a little disconcerting that no menu was offered and no pricing was discussed (until the check was presented, of course). The desserts were simply gigantic. The wine list was excellent, with many unusual Italian selections. (We had a very nice Cabernet/Merlot blend from Colli Euganei in northeast Italy.)
Wednesday 2 July, Portland
The weather in Portland was beautiful, sunny in the '70s all week. We had stunning views of Mount Hood, Mount Jefferson, and occasionally Mount St. Helens. (From this direction, Mount St. Helens looks very much like Mount Rainier in that you cannot see the crater.)
We drove down Highway 99W to Yamhill County for Hal's mandatory winery visiting day. This is a very agricultural area, much more so than Northern California wine areas. The area is marred by very heavy truck traffic, since this is the main road to the coast and there are two Indian casinos on the route. Some winery folks we talked with complained about the highway. We were disappointed to find that many of the wineries were either closed to the public or required appointments. (It seems like a lot of the wineries are open only on Memorial Day and Thanksgiving weekends, so those weekends must be real zoos.) We were able to get one appointment at Domaine Drouhin, which is probably Hal's favorite Oregon winery.
Here are some notes from wineries Hal visited and a few of the particularly interesting wines tasted:
Duck Pond, 2000 Syrah
Argyle, 1999 Reserve Pinot Noir
Sokol Blosser (lost our notes, but a number of the Pinot Noir were very good)
Amity, 1999 Sunnyside Pinot Noir
WillaKenzie, 2000 Pierre Léon Pinot Noir
Domaine Drouhin, where Hal took an interesting tour: 2001 Chardonnay (in the Burgundy style), 2000 Pinot Noir, 2000 Louise vineyard Pinot Noir
Lunch was at the Dundee Bistro. It had a nice wine list and Hal had a glass of 1999 Ponzi Reserve Pinot Noir. The food was not worth recommending.
Back in Portland for dinner, the Higgins restaurant was bustling and efficient. All local ingredients: a homemade charcuterie plate and a magret and confit of duck were quite good. The wine was a 1999 Archery Summit Premier Cuvee.
Thursday 3 July, Portland
| | | |
| --- | --- | --- |
| | | |
| | We drove down the Columbia River Gorge on what locals call the Mount Hood Loop. On the Historic Columbia River Highway, we stopped at the Bridal Veil Falls and also hiked down a steep hill to Multnomah Falls, both of which were very high and impressive. We stopped at the Bonneville Dam and checked out the locks, the giant electrical plant, and the salmon ladder, which, Like the Ballard Locks, had windows for fish viewing. The poor salmon have to work very hard to get up those ladders. | |
We crossed the Bridge of the Gods, which is actually a narrow steel bridge, but it is named after an ancient geologic formation from Indian legends, and continued driving on the (more scenic) Washington side of the Columbia River. We crossed back over into Oregon at the town of Hood River. That is where we stopped for lunch, in a small cafe.
The loop continued south around Mount Hood, which is unbelievably scenic. We drove up to Timberline Lodge, which is at 6000 feet, more than half way to the mountain's 11000 foot summit. On the south side of the mountain, there was considerably less snow, but there were still people skiing on tiny patches.
Back in Portland for dinner, we ate at The Heathman restaurant, part of the Heathman hotel. This was a very French style of restaurant, although they also used mostly local ingredients. The wine tonight was one Hal tasted at the winery yesterday, although an earlier vintage: WillaKenzie 1999 Pierre Léon Pinot Noir.
Friday 4 July, Portland
The city was exceptionally quiet on the Fourth of July -- almost no car traffic at all! We took a boat ride on a tour boat called Portland Spirit. Although the purpose of this cruise for most passengers was to have lunch, we simply sat on the upper deck and viewed the scenery. It was a very nice ride down the Willamette River.
We drove up the hill overlooking Portland and hope to find a nice cafe for lunch, but, oddly, we couldn't find one. There are a number of tourist attractions up there, such as a zoo, arboretum, and children's museum, but we were getting hungry and running out of time. So we drove to the university district, walked around, and settled on the Montmartre Bistro, where the hamburger is pretty good.
In the newspaper we read about massive holiday delays at northwest airports, so we drove out well in advance of our flight. We had never seen an airport so deserted, so we had a lot of time to kill. But the return flight worked well and we were home by 8 PM. But the trip wasn't completely finished ...
Saturday 5 July, Oakville
For our final vacation day, we drove up to the Napa Valley. We put together a nice picnic dinner at Dean and Deluca and drove to the Robert Mondavi winery for an outdoor concert by the Preservation Hall Jazz Band. It was pretty crowded with everyone camping on the lawn, some of whom had elaborate tables of wine and food set up. But everyone had a great time. During the intermission there was a wine and cheese tasting. Afterwards, there was a nice display of fireworks over the vineyards. A perfect holiday.
We finished the night at the Napa River Inn and drove back to Redwood City the following morning. Looking forward to our next vacation.