Hal and Nancy's "Signature City Pittsburgh" with Road Scholar, September 2017
This is Hal and Nancy's travelogue of Pittsburgh, Pennsylvania, with Road Scholar for the program "Signature City Pittsburgh." It was Hal's 15th Road Scholar trip, Nancy's 14th. The Road Scholar program started on Sunday evening, so the first two days were touring on our own.
Friday, September 8
We flew on United Airlines through Denver, leaving at 5:20 a.m., which meant a really short night's sleep. The program hotel was the Hilton Garden Inn, University Place, on Forbes Avenue about a mile from CMU, so we stayed there the two preceding nights. We had a great dinner at the restaurant named Cure in Upper Lawrenceville, with delicious charcuterie.
Saturday, September 9
I (Hal) had not visited Pittsburgh since I graduated from Carnegie Mellon University in 1971! We took a tour of CMU and the campus looks quite different in many places, with lots of new buildings. Renhao Hu was our volunteer host, arranged through the alumni association, a junior in an advanced masters degree program for information management; I avoided the anticipated "Who's on First" joke. It was rather surreal to encounter buildings named after people I knew. My old freshman dorm, Boss House, looked somehow nicer on the outside, but we didn't go in. The giant ravine north of the Mall is all filled with really deep buildings—like nine stories tall, but only the top three floors are visible—although I have to say that none of them were very attractive, inside or out. There are some moderately interesting displays of robotics research, although I will say that the school does not spend much on illustrating things for tourists. Buildings are now spreading far down Forbes Avenue in the direction of Pittsburgh University. Renhao noted ironically that for a school that invented Wi-Fi communications, their current Wi-Fi network is relatively unreliable! There were probably a dozen "eateries" available to students; I can recall exactly two when I was there, one of which was the main cafeteria. We had a sandwich at Au Bon Pain, in the building location that used to called Skibo, but now is dominated by a giant gym. After we were finished, I noticed that I had not taken very many photographs, which I regret now, but when you are being led on a personal tour, your attention is focused away from your camera.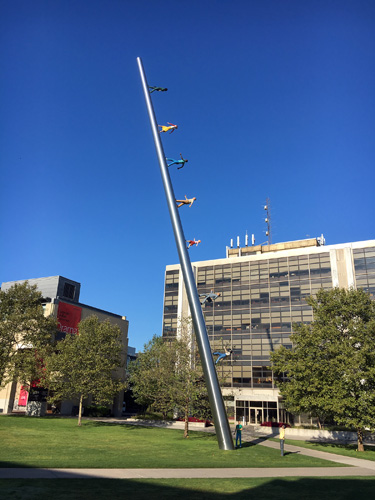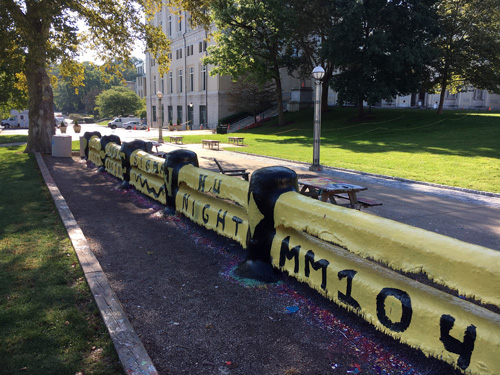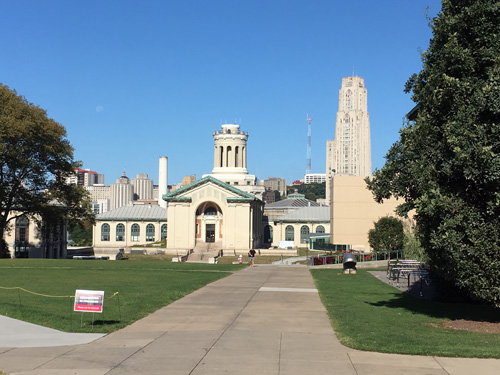 While Nancy rested up, Hal ventured out to visit a very interesting museum at Soldiers and Sailors Memorial Hall. They have a giant auditorium that features over the stage the largest printed version of Lincoln's Gettysburg address. Around the outside of the auditorium is a set of long corridors with plaques and exhibits about the various wars from the Civil War on, although the Civil War claimed about 80% of the space. Some of the highlights were the sword of Gouverneur K. Warren; a photograph of of Dan Sickles during the building dedication in 1910; a painting of Alexander Hays, and; a portrait of Jack, bulldog mascot of the 102nd Pennsylvania—captured twice on Peninsula, exchanged. (Later in the week the Heinz History Center had a statue of Jack, but the accompanying plaque had a completely different story about where he was captured. Doing some quick research on the Internet, I found there are few sources that agree on his precise service record.)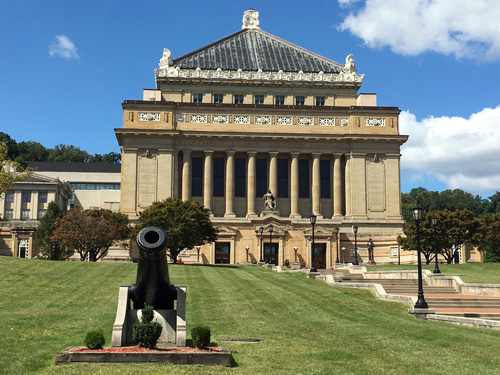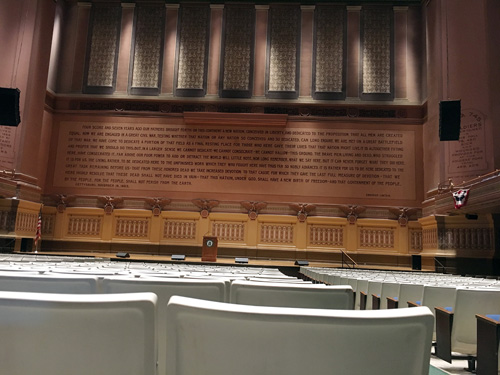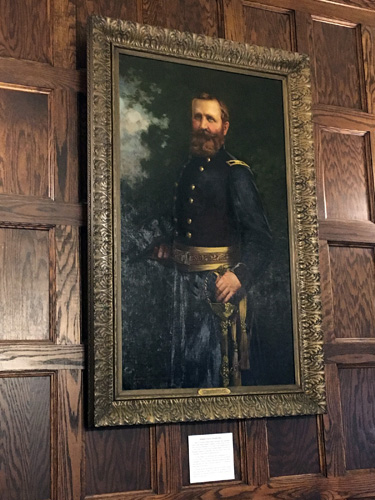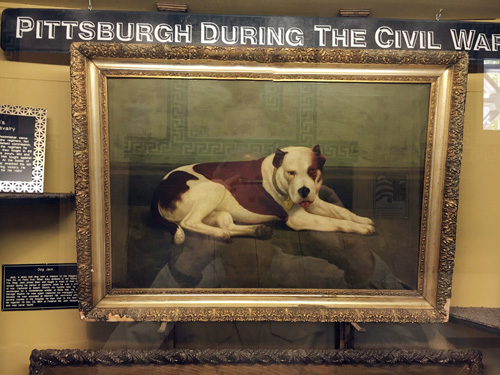 That evening we traveled to Market Square downtown, which has a small farmers/flea market open till 10 p.m. and a number of attractive restaurants. Dinner was at Pizzaiolo Primo, featuring excellent Neapolitan pizza and great arancini. We watched a bit of a singer/songwriter contest hosted by a local radio station and a colorful automated fountain at PPG Center. (Apparently, Pittsburghers like this glass building, but we thought it was rather unattractive.)
Sunday, September 10
We booked a Food Guy Adventure tour of the area called the Strip, which is off the Allegheny River, northeast of downtown. Our guide was Stacy, a young Malaysian grad student in a local food service program. She was very personable and well informed about Pittsburgh and the local area. We went only a few blocks along Penn Avenue, but I was impressed with how many interesting food places there were (as well opportunities to buy thousands of Steelers T-shirts and other paraphernalia). Our itinerary was:
Wholey (pronounced Wooley) Fish Market, where we had a lobster roll and a pepperoni roll from Mancini's bakery
Allegheny Coffee and Tea, where we had a cold brew infused with nitrogen, called Nitro Espresso
Pennsylvania Macaroni Co, which we visited simply to see 140 types of cheese on sale
Enrico Biscotti, where we got a biscotto of our choice. There was a movie named Wedding for Bella filmed here, starring Scott Baio (and that is now in our Netflix queue).
Thin Man Sandwich, where we had a delicious chicken liver mousse with bacon sandwich and a potato pancake. Sadly, this tiny place is going out of business next week—the rent became too much for them.
The Smallman Galley, which is an incubator for four budding restaurant concepts sharing a big open kitchen. The pizza place called Iron Born looked really good, but we just strolled by without sampling.
Colangelo's bakery, where we finished with an "apple mele" pastry. (Not sure what that name should be because mele is apple in Italian.)

Stacy on the food tour of the Strip

Doughboy monument in Lawrenceville
Then, based on Stacy's recommendation, we walked out Penn Avenue to Lower Lawrenceville, which is supposedly the hippest area in town, like Williamsburg in Brooklyn. But being a Sunday it was pretty sedate and lots of the shops were closed. So instead we took Lyft to Walnut Street in Shadyside and walked through a livelier, more gentrified area. Our target was Prantl's Bakery, home of what the Huffington Post called the best cake in the country, the burnt almond torte. I thought it was pretty yummy, Nancy not so much. I had a piece of it each night during the week.
Our Road Scholar program began at 5 p.m. and our group leader for the week, Woody Cunningham, gave us a brief overview of the program and we all introduced ourselves. There were 31 program participants. Dinner was a buffet in the hotel of local Pittsburgh ethnic favorites, such as pierogi and haluski.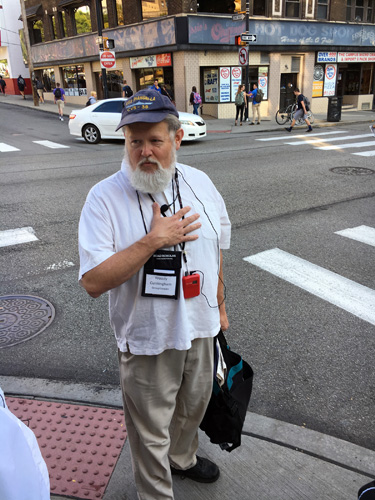 Monday, September 11
Our first stop was Phipps Conservatory, next to the Carnegie Mellon campus. There were lots of glass sculptures by Chihuly and Ganrath scattered throughout the real plants, and some thought that they really overdid that aspect, that the glass plants in some cases overshadowed the real ones. The butterfly room was fun. Our tour with a docent lasted about an hour and she was quite expert in the flora and fauna. (In the following photographs, any time you see a really large, colorful flower, it is actually a glass sculpture.)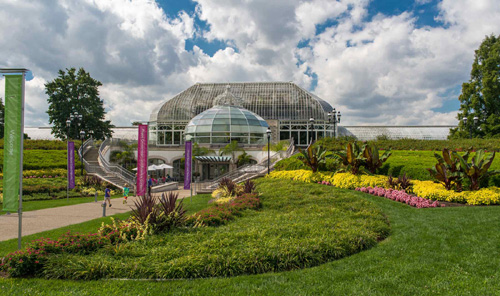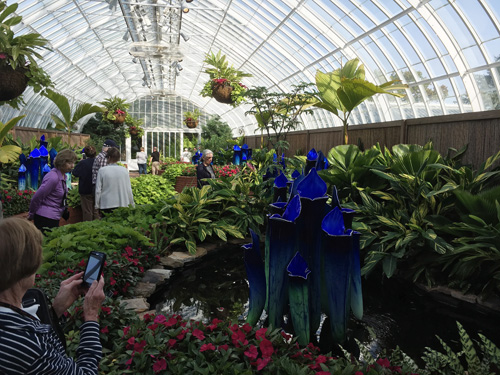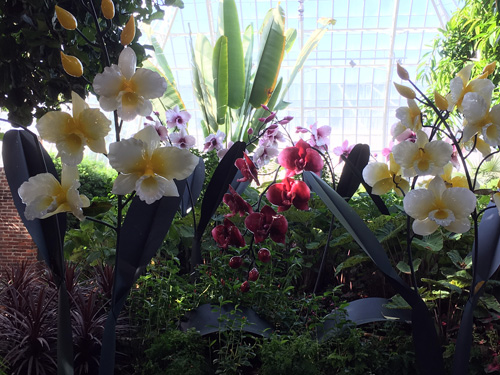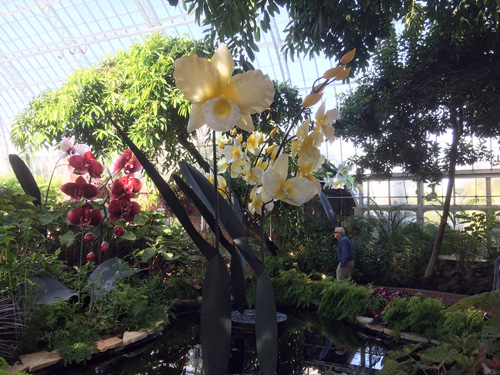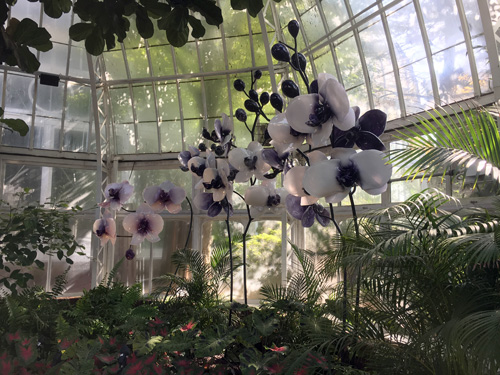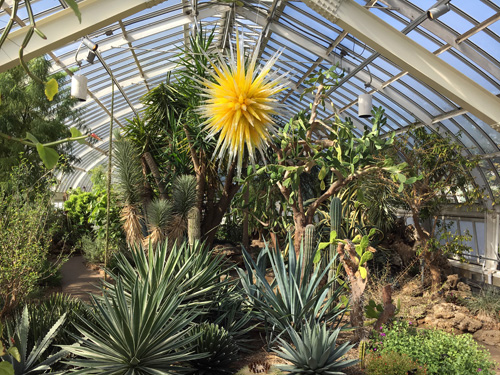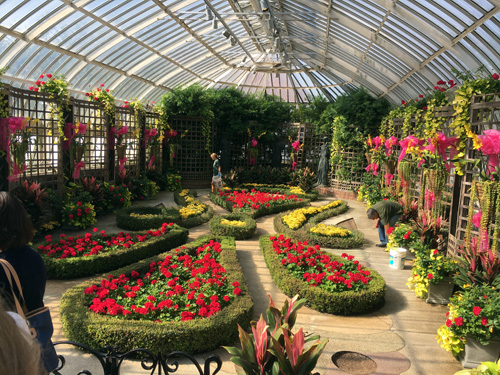 We took a bus ride through downtown for architectural commentary by Woody. The biggest changes in Pittsburgh since 1971 seem to be downtown. Although there are a lot of the older buildings, they are accompanied by a number of modern ones and restaurants and nightlife abound, which is certainly something that was not the case in the 70s.
We had lunch at the Grand Concourse restaurant in the stunning former terminal of the Pittsburgh & Lake Erie Railroad, part of the Station Square shopping and entertainment area.
We drove across the Monongahela River to the Duquesne Incline, 400 feet above the river, which used to be for coal shipments, but is now strictly for passengers. There were beautiful views of downtown and the three rivers. Woody brought up a very interesting point that had been raised with him by a CMU geology professor: although Pittsburgh is normally referred to as being very hilly, they are geologically not hills at all, but escarpments. They were not caused by the tectonic plates thrusting ground upward, they were carved out by erosion from an enormous plateau. Part of this experience was going down into the engine room to see the giant gears and cables that power the incline, which was pretty neat.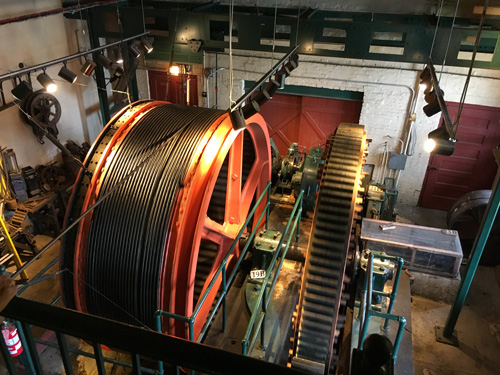 We stopped at Klavon's ice cream parlor in the Strip district, admiring its real turn of the century style.
Then we took a 90-minute boat ride on a small vessel called the Fantasy, which looks like it could accommodate about 100 passengers. It had to have been the slowest cruise ever, perhaps 3 miles an hour. We started on the Allegheny, went a little way on the Ohio, then on to the Monongahela and back. Woody provided constant commentary on all the Pittsburgh sights.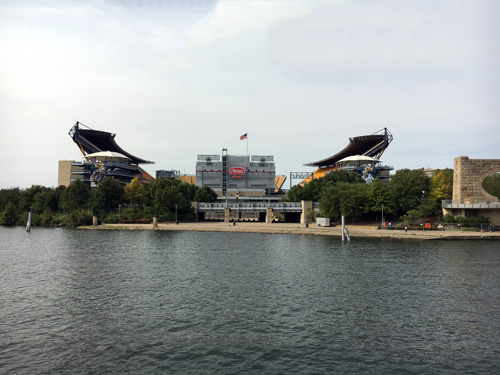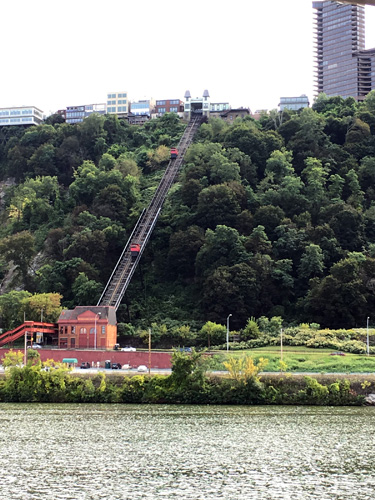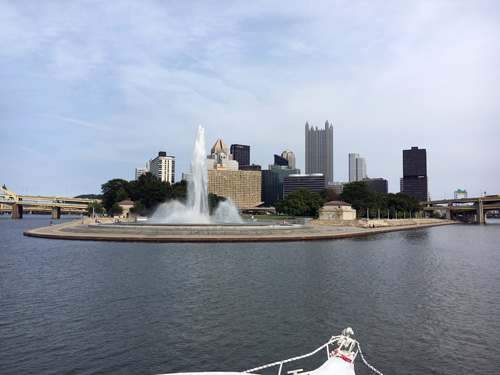 Dinner was a buffet in the hotel, followed by Woody telling stories of George Washington, Gen. Braddock, et al, in the French and Indian Wars.
Tuesday, September 12
Today we started with a bus ride in the eastern areas of the city: Squirrel Hill, Shadyside, Bloomfield, Garfield, East Liberty. Many of these areas looked rather similar to their 1970s appearance.
Our first stop was the Heinz History Center downtown. Hal got very excited to see the 20-inch Rodman Columbiad, the largest Civil War gun he had ever seen, which had been cast across the street. Unfortunately, this was actually only a replica of the original 60+ ton behemoth, which had been designed for coastal fortifications to take out an enemy ship with a single shot. There was an interesting stainless steel Ford sedan (which got rather bad gas mileage), and one of the 70 original Jeep prototypes from early World War II. Our docent spent a bit too much time on the H J Heinz personal history and his ketchup/pickle business. There was a floor of exhibits about Pittsburgh innovation and history, so it included Fort Pitt, the steel industry, Westinghouse, and other modern stuff. Hal enjoyed a room about jazz and two Westinghouse robots from the 1938 world's fair, Elektro Man (which could smoke cigarettes!) and Sparko the dog. We had a box lunch in the museum café.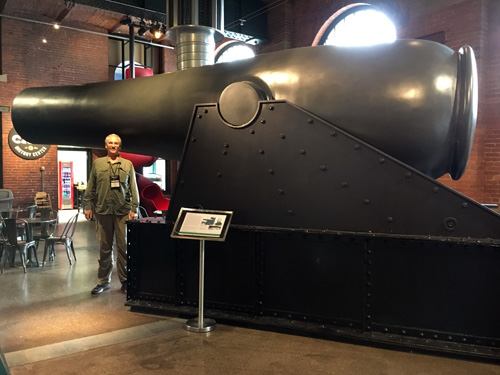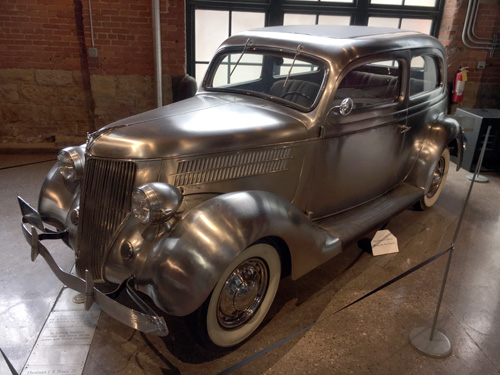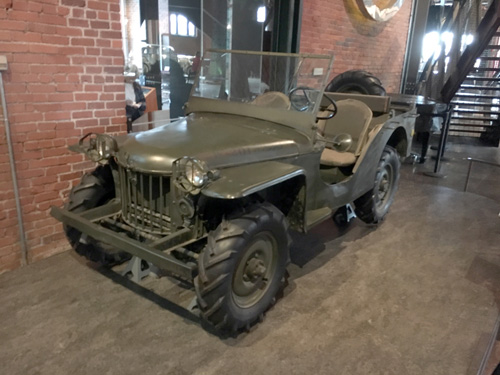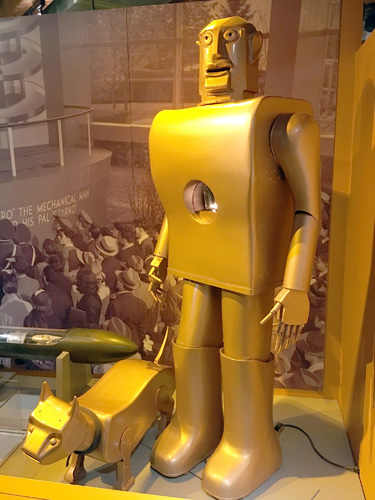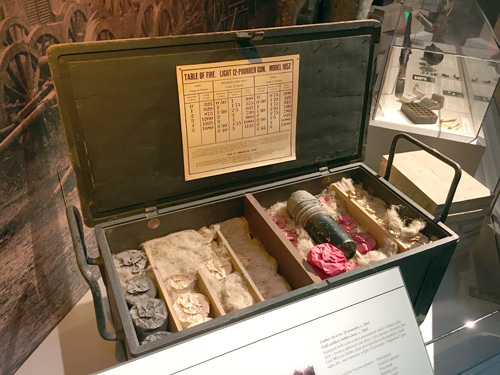 Next we visited The Frick, which was the Henry Clay Frick mansion, Clayton, and some ancillary buildings. We had a really excellent docent to show us through the mansion and tell us stories about the Frick family, but no photos were allowed. I really wanted to take a photograph of the delightful family Orchestreon band organ, which we got to hear. (See a video of it playing.) There was an art museum, but it was sort of a snooze. A bit more interesting was a collection of carriages and early automobiles. Woody told us stories about Frick, whom he portrayed as the world's greatest businessman, but really mean. There are apparently still many Pittsburghers who hate the man. (We learned in a later talk about how Andrew Carnegie really screwed Frick, his erstwhile business partner, so I guess the "greatest businessman" has to be taken with a grain of salt.)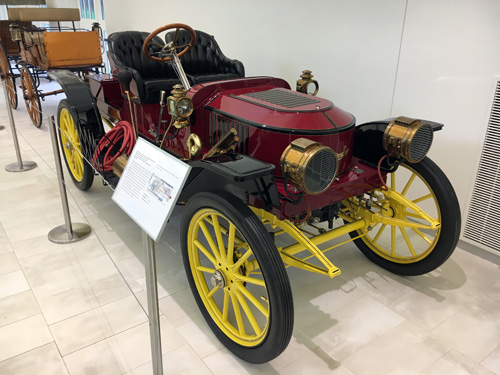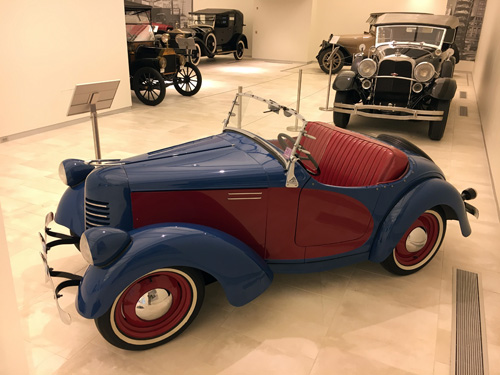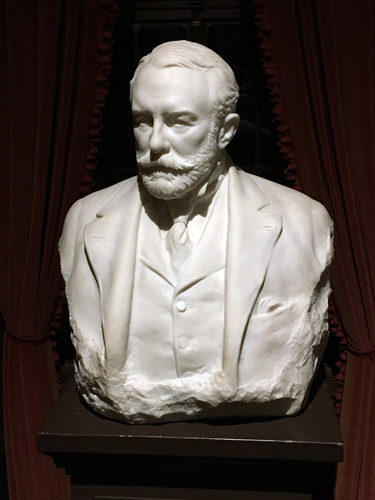 After another hotel buffet dinner, we were entertained by a story teller named Alan Irvine, who Woody said is an actor and has won a West Virginia liars contest. He told five stories about Pittsburgh history, including two about the Whiskey Rebellion, the last duel in Pennsylvania, the Frick–Carnegie feud, and the mythical steelworker, Joe Magarac (like the Paul Bunyan of steel). Only the final story was really very engaging.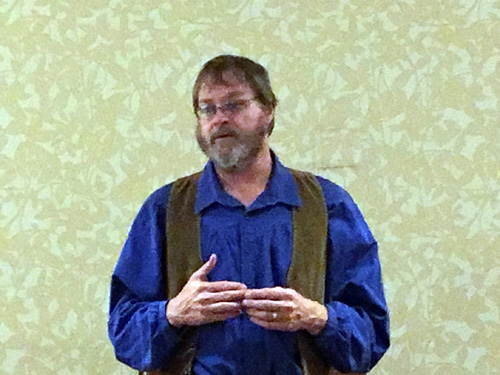 Wednesday, September 13
We walked to the 42-story Cathedral of Learning on the University of Pittsburgh campus, which Hal, as a loyal Carnegie Tech graduate, refers to as the Tower of Ignorance. We started in the giant gothic architecture common room, which was styled quite like a religious Cathedral. We stopped for a while in a room from the old luxury hotel, the Picnic, the first ballroom west of the Alleghenies. Then we visited some of the Nationality rooms, which are decorated in honor of various nations. Although there are quite a few, we went into some of the ones that weren't occupied by students or meetings: Italy, Poland, Ireland, China, Scotland, Yugoslavia, and England. It was like visiting an academic Epcot. Woody got his start as a tour guide in college when he was an official student volunteer guide to these nationality rooms, so he really knew his anecdotes and obscure details about the decor.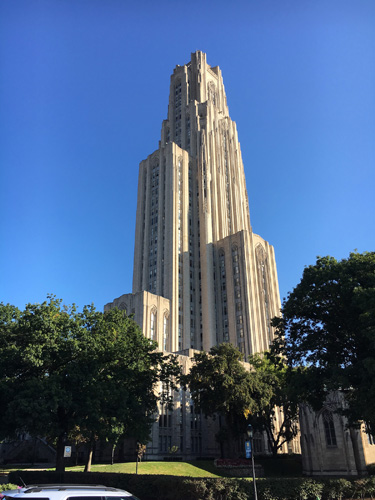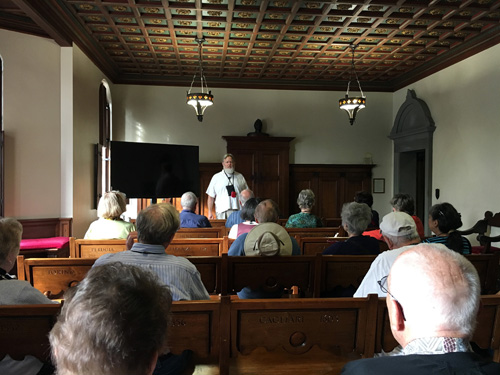 We walked five minutes to the Carnegie museums. (There are four Carnegie museums, but two of them are co-located in between Pitt and CMU.) We were guided by a docent through the Museum of Art. It was a whirlwind tour and we saw only a few pieces in what looked like an excellent collection: impressionist, post impressionist, and some modern. There were older works, but we breezed by. There were some impressive rooms that had architectural plaster casts of various historic buildings. Most impressive was the West Portal of Saint-Gilles-du-Gard, paid for by Andrew Carnegie on the recommendation of art experts—one of a kind, and is arguably the largest architectural cast ever made. Our docent said that the original building has degraded a lot and scholars come to CMOA to study the cast.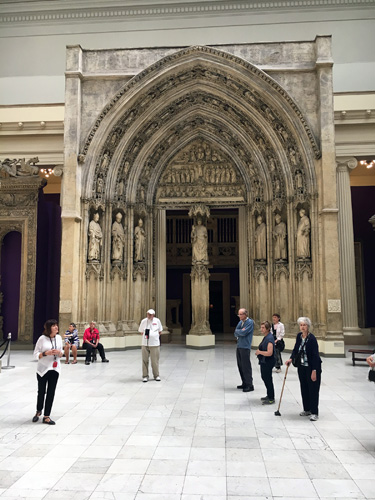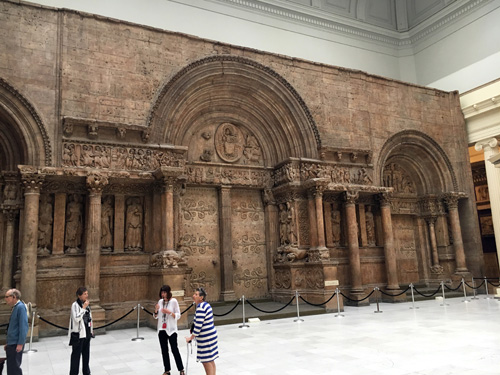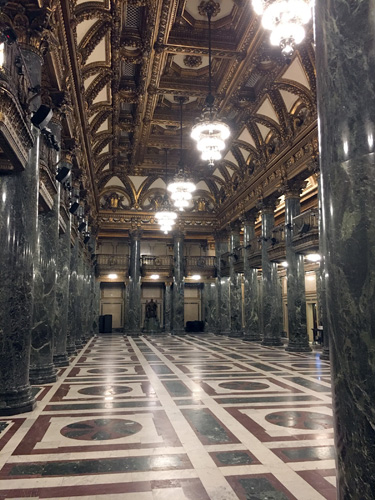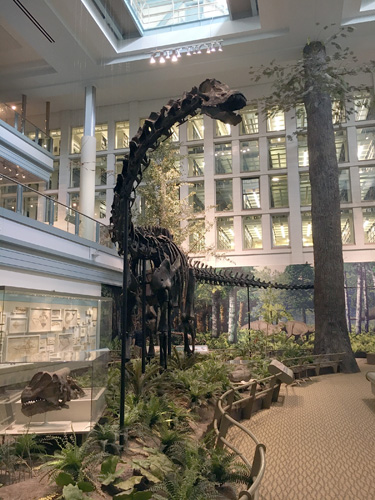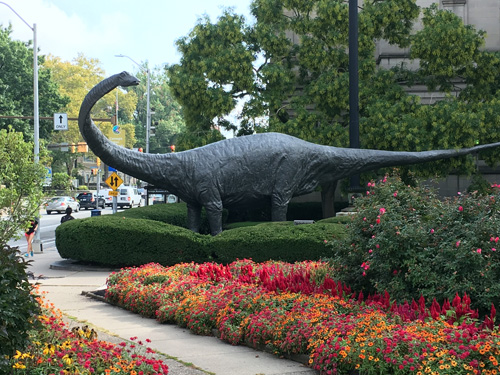 After lunch in the basement cafeteria, we took a tour through the Natural History museum. They have a giant fossil collection with loads of great dinosaur skeletons and a really awesome gem and mineral collection.
Dinner was on our own tonight. Nancy and Hal returned to the Strip district and ate at the Smallman Galley, the restaurant incubator we had encountered on the food tour. Hal had a Pittsburgh style pizza at Iron Born—thick crust cooked in a square iron pan, which produces a caramelized edge, really delicious. Nancy had a Banh Mi Vietnamese sandwich, but inexplicably ordered it on rice instead of in the traditional yummy baguette. The evening ended early because the dynamic street scene we saw on the weekend had entirely petered out by Wednesday: ghost town.
Thursday, September 14
We drove to Homestead, Pennsylvania, to visit the Rivers of Steel National Heritage Center. The visitor center is in the Bost Building, which was originally a hotel, but also the headquarters for the steelworkers union during all of the troubles we would hear about today. The site of the gigantic Homestead Mill is now almost entirely a large shopping mall, but it is awesome to think about how this area 3 miles long was the center of the US steel industry. At the start of World War II, the federal government seized seven streets worth of homes in order to double the size of the mill. We met our tour guide for the day, Tom, a garrulous Hungarian man who had worked in the iron mills before they closed in 1979. He talked about the 1892 Battle of Homestead, in which thousands of steel workers fought with 300 armed Pinkerton guards, beating them handily with about 10 deaths on both sides. (The steelworkers actually had Civil War cannons deployed in this battle!) After the battle, and after an unrelated incident in which an anarchist assassin attempted to kill Henry Clay Frick, public opinion swung away from the unions and they were no longer a factor in the steel industry until the 1930s Wagner Act.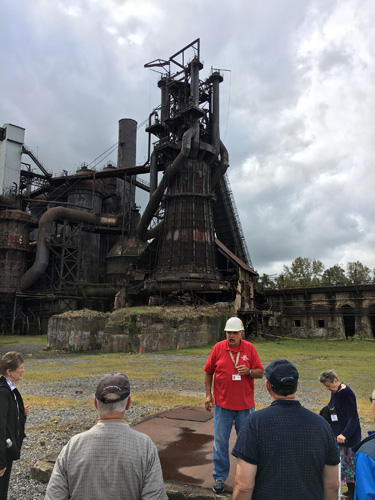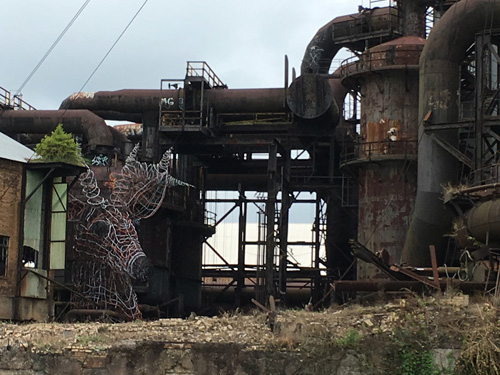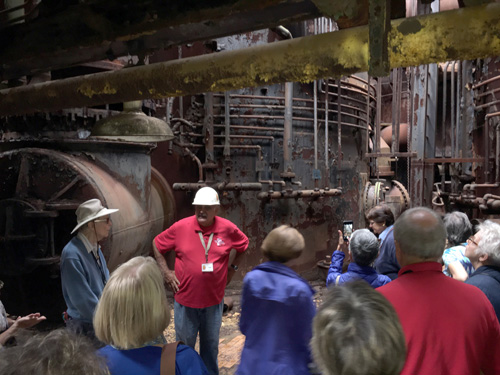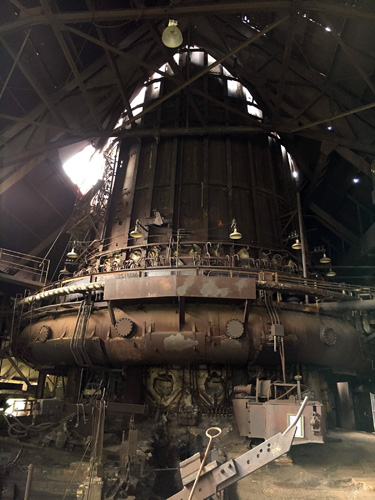 We stopped briefly in the parking lot for a Lowe's home improvement store, where a 12,000 ton steel press stood. It was so massive that Lowe's could not figure out a way to remove it, so they left it in place and built the parking lot around it. Tom told us that when it was in operation, the entire town shook like an earthquake. We then arrived at the Carrie Furnace, where two of the original seven iron blast furnaces were not torn down, "preserved" as a historic site. "Preserved" is a relative term because the buildings and furnaces have degraded significantly and there has been no attempt to restore them. Tom told us all of the procedures that he as a furnace man had to go through, and they were quite extreme, as rivers of molten steel ran through troughs only a few inches away. It is unfortunate that they do not have better educational exhibits associated with this site because many of us on the tour came away with lots of questions about how the iron furnace process actually worked. One interesting aspect was the torpedo cars, which were used to create a "molten bridge" of iron across the river. The original design was to create iron ingots, called pigs, ship them across the river to the steel mill, and then reheat them to molten state, but Carnegie wanted to save a step, so special railcars lined with bricks carried 100 tons or so of molten iron across on a bridge.
Our lunch was catered in a historic pumphouse building that was right in the middle of the Homestead battle. Once again we had ethnic food, including stuffed cabbages, pierogi, and haluski. And chocolate chip cookies, which were delicious, but not very ethnic.
We were scheduled to have a free afternoon, but Woody took a survey of the participants and we agreed without dissent to an additional architectural bus ride, this time concentrating on the South Side (south of the Monongahela). We drove up a steep hill to see the West End Overlook, offering a dramatic view of downtown Pittsburgh. We finished up driving around the Old Allegheny Rows Historic District, which is northwest of downtown and has a number of interesting old buildings and mansions. There is a really funky house and yard called Randyland that has to be seen to be believed. By the time we returned to the hotel we were pretty worn out and did not attempt to fill the two hours or so of free time.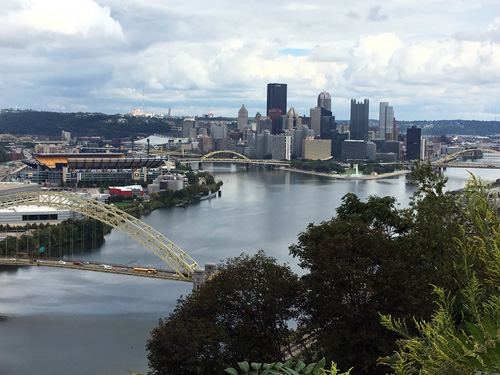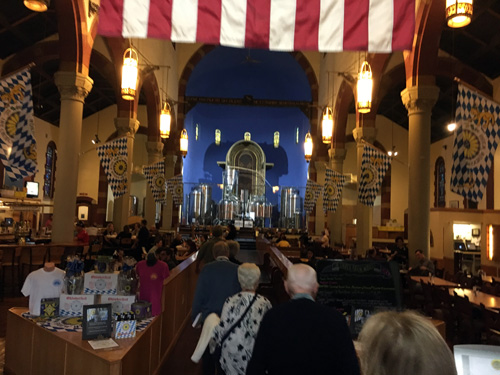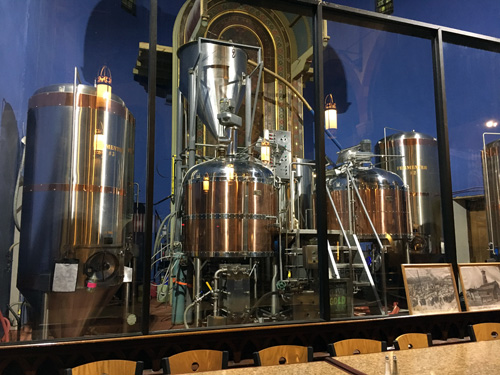 Dinner was at an unusual restaurant called the Church Brew Works in Lawrenceville, which was formerly the St. John the Baptist's church, but is now a restaurant and brewery. It was rather picturesque with gorgeous stained-glass windows and the brewery equipment was quite interesting. They had wandering musicians playing the accordion. Unfortunately, the dinner offered was yet another buffet: chicken breasts in gravy and steamed vegetables.
Friday, September 15
After breakfast, Woody entertained us with a 90-minute biography of Andrew Carnegie, including a lot of details about the Carnegie–Frick feud, and the great extent of Carnegie's philanthropy. This was the end of the program, but our flight did not leave Pittsburgh for six hours, so we decided to return to the Carnegie Museum. It had occurred to us that on our whirlwind docent tour, we missed an entire floor of the Natural History Museum, so we had a delightful time touring the beautiful dioramas of wildlife in North America and Africa. There were also exhibits about American Indians and the Arctic. We attended a 30-minute program on animal encounters, which was really oriented toward the children the audience, but it was entertaining to see a corn snake, a New Zealand skink, a (denatured) skunk, and a chinchilla somewhat up close. We also returned to the art museum and got to see a number of works bypassed by the docent. Lunch in the museum café was excellent, including the best Croque Madame sandwich with fries we have encountered.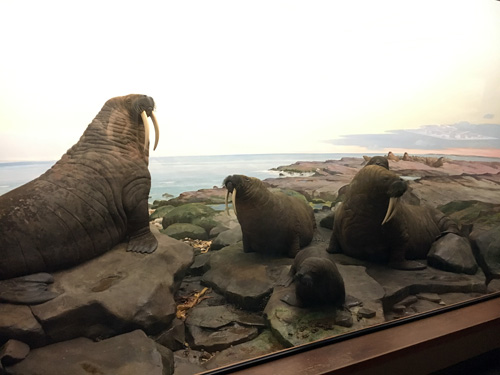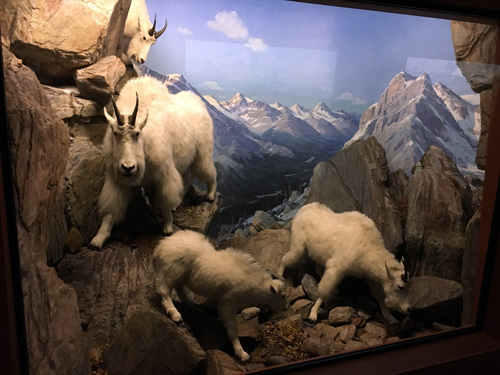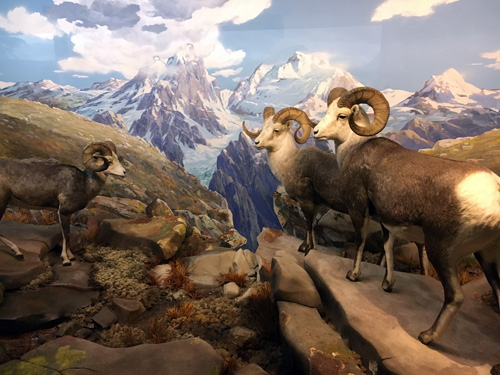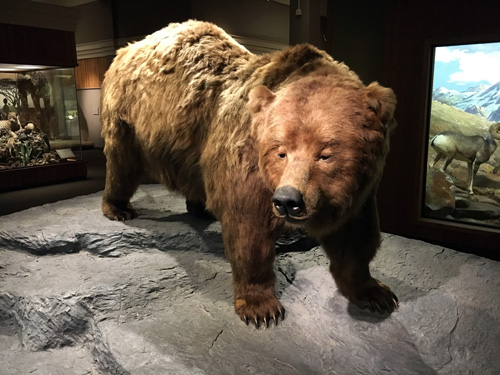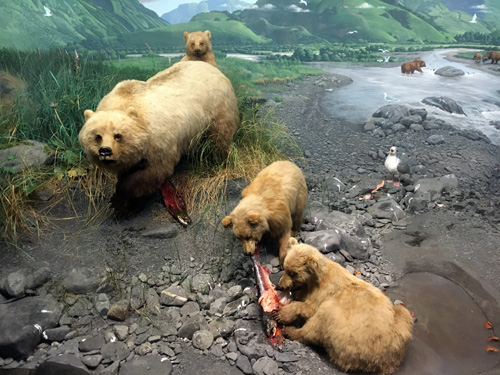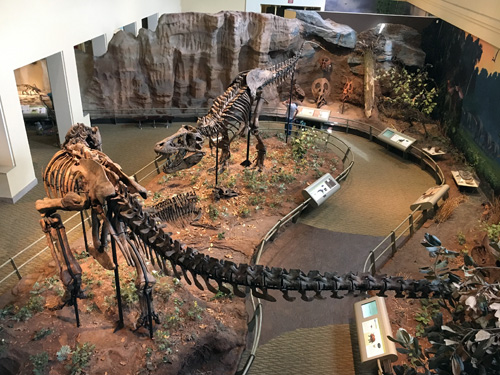 Some of these works from the CMOA were selected for their Civil War relevance :-)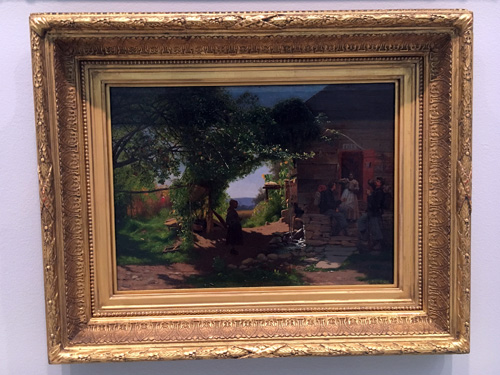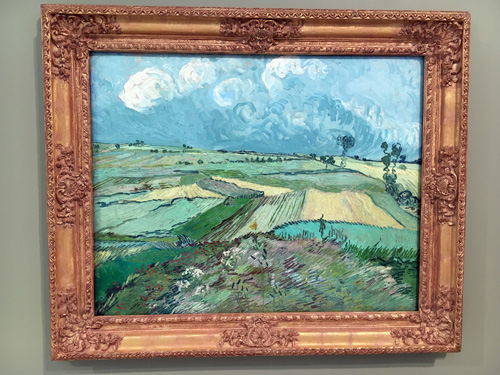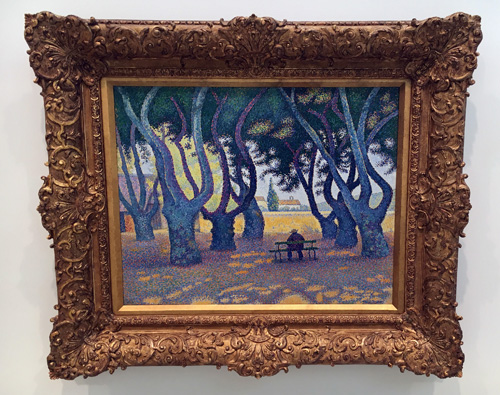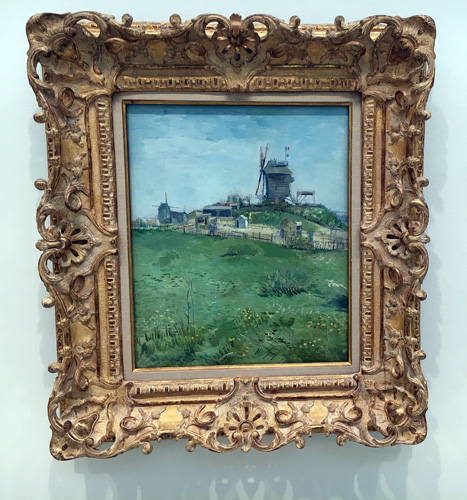 We flew back on United Airlines, once again through Denver, arriving home about 9:30 p.m. We had an excellent time with Road Scholar and thoroughly enjoyed Pittsburgh as a signature city, particularly the talents of Woody Cunningham, our talented tour guide.