Hal and Nancy's Millennium Trip to Australia
This is a travelogue of Hal and Nancy's first joint visit to Australia, scheduled to see the (real) turnover into the new century and millennium.
December 25, 2000
Departed SFO, 11:30 pm, on United Airlines.
December 26
Slept through this day on the plane! The International Date Line is a strange thing indeed. (One lady on the plane was born on December 26, so she missed her birthday this year.)
December 27
Arrived at 8:30 a.m., Park Hyatt hotel in the Rocks area, a chic, gentrified part of town with lots of shops and cafes. Our room had a balcony overlooking the harbor with fine view of the magnificent Opera House. Weather sunny, very warm and a bit humid. Set out walking to the Botanical Gardens, where we took a little tram tour, and a quick hike around the outside of the Opera House. Lunched at our hotel, where we learned some Australian coffee terms: "long black" is a double espresso; "flat white" is espresso with milk. Then we took the ferry to Manly Beach, a 30 minute ride from Circular Quay (at harbor's edge in the center of town). We sat up front and had a wonderful view of the harbor. The wide, white beach was ringed with trees and packed shoulder-to-shoulder with people. The town had an early-70s Santa Cruz, CA, atmosphere without the psychedelics. Lots of shops with beach clothes and cafes. Ferry back to the hotel where we had both lunch and dinner.
December 28
We had a decent sleep, despite the 19-hour time change. The weather turned overcast and cool, which it stayed for the rest of our Sydney itinerary. We started early with a guidebook recommendation, the Sydney fish market. My advice to others would be to skip this unless you're really hungry, because it's essentially like a dozen big fish stores and just looking wasn't so interesting—we should have gone at lunchtime and picked out some oysters, prawns, and crayfish for lunch. Then we visited Darling Harbour, which has a number of museums, shopping malls, a water ski show, and similar attractions. We took a ride over the area on the monorail, walked around the nearby city streets looking at the department stores, and then took in an Imax movie, Fantasia 2000, which was really wonderful. Pizza lunch at the Blackbird Cafe—it was full of trendy young people. Then back to Circular Quay for a 75-minute harbor cruise. Dinner was a water taxi ride away to Catalina Rose Bay, a starkly modern place next to the seaplane harbor. The rock oysters were fabulous, better than any we've had in the US; we both had fresh fish.
December 29
We arranged a rental car through the concierge, but Avis screwed up and it arrived late, so the hotel manager gave us the rental for free and threw in a box lunch! While we waited, we walked over for an Opera House tour. This is a magnificent structure; you have all seen pictures of the outside, like white standing seashells or sails, and the inside is just as interesting as its famous exterior: stylishly designed concrete inside, mostly covered with wood, both soft & hard, to enhance and reflect the sound. The main symphony hall seats 2500; three small theaters downstairs, a separate opera house, and a matching restaurant. Then over to the Botanical Gardens again to see Mrs. Macquarie's Chair, where a former governor's wife sat to view the harbor and watch for ships from England, in the olden days.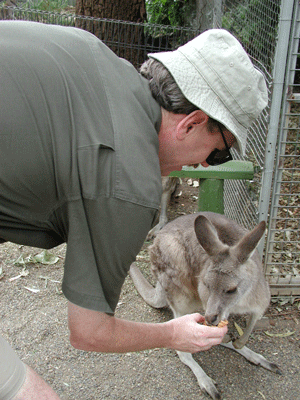 Then back to the hotel where our car was ready, and off we went on the wrong side of the street (they drive on the left). Hair-raising! We stopped at the Featherdale Wildlife Park, which has Australian animals. The koalas were more animated than we have seen them in the States, but their human interaction was limited to photo ops and some petting; cuddling has been generally discontinued for reasons benefiting both animals and humans. They have large claws and will try to grip onto you (and also they smell bad). It was feeding time and we were able to pet them while they ate eucalyptus leaves, the only dish in their cuisine. The kangaroo area had fences where they could go if they got tired of humans, and most were reclining out of reach. But we did feed a couple (kangaroo chow); they tolerated being petted while being fed. Also saw wallabies, sheep, goats, emu/cassowary (large ostrich-like birds, couldn't remember which was which), wombats (although not close up since they were asleep in their burrows), playful dingoes, and dozens of interesting birds.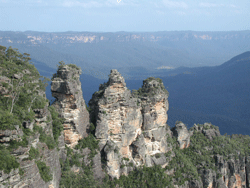 Our main destination was the Blue Mountains, Sydney's weekend mountain getaway area. We went through a string of little mountain towns. We arrived at the Lilianfels Blue Mountains resort in Katoomba, which is a beautiful hotel that looks quite antique, but has modern fixtures throughout. It was two blocks away from Echo Point, which is the primo view spot of the whole area. At the visitor center, we enjoyed watching wild parrots feeding. We took a brief hike and saw the famous Three Sisters monoliths: a sharp drop-off, 1000 feet down sheer cliffs to a rainforest below; the Three Sisters are three huge upright rock formations off the cliff. You could hike down 1000 steps to the valley floor, but we declined. Beautiful views, clear, sunny weather. Dinner at the Lilianfels dining room with live piano music.
December 30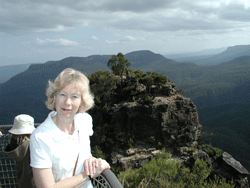 We awoke to valleys filled with heavy fog, so nature sightseeing was on hold. We drove further west into the mountains, stopping at the picturesque towns of Katoomba, Leura, and Mt. Victoria. Each was small, with little cafes and other touristy things. The fog lifted before noon. We took a new cable car called the Sceniscender down to the valley floor for a walk on a new boardwalk that kept us fully isolated from all flora and fauna. Then back on the road to Sydney. Driving back into the city was difficult; directions were confusing, signs poor, and my discomfort on the left side of the road didn't help. Back to the Park Hyatt hotel, where we turned in the car. We had to dinner at Rockpool, a very trendy restaurant in The Rocks area.
December 31
Took a city bus to Coogee Bay, the start of a 4-mile walk along the shore to Bondi (pronounced Bond-Eye) Beach, all quite picturesque. We walked along four or five beaches, inlets and little harbors on the way. Lots of steps and we arrived at Bondi famished. Lunch of wood-fired pizza at Il Puntino sidewalk cafe, then walked around the beach town. Bus back. Interesting that today was the first day we heard primarily English with Aussie accents; formerly we had heard mostly foreign accents. (At Lilianfels, for example, I thought I was dining in Munich.)
Back at The Rocks, New-Year's-Eve seating space in the vast public plaza area was about half full by 3pm. We walked around the back streets of The Rocks and had lattes on a bench, watching crazy, but good-natured people cavort, some in costume. Lots of beer 12-packs went by! Australians are very cheerful and friendly always, and especially tonight. They love to party. Aussie, Aussie, Aussie, Oy, Oy, Oy! By 9pm, the crowd in our area was 700,000 strong and it was quite exciting to hear them cheer in unison during the fireworks.
At 8pm we went to an exclusive party on the roof of our hotel. (I think we got the invitation because my colleague at work, Carol Stevenson, had convinced them I was an important VP at Sun. Or it could have been that I gave the concierge a big tip.) There was a buffet dinner, mostly excellent cold seafood, for 60 guests. We were seated at a table with 8 other people, all from Sydney. Three of them had moved here from Hong Kong and two from Fiji. The view was simply fabulous and these were, by far, the most spectacular fireworks I have ever seen, particularly those launched from the Harbour Bridge. There was a 9pm family display (so the little kids could get to bed early) and a much bigger one at midnight. We could see fireworks launched from various points on the Bridge just overhead, three major launching points in the harbor, and on top of five different city skyscrapers—all at once. You may have seen it on TV. On our pillows that night the chambermaid left not the usual chocolates, but effervescent vitamin B tablets, presumably a hangover remedy. Good thing our room was absolutely soundproof because we needed to get up a little earlier than normal on 1/1.
January 1, 2001
Happy New (real) Millennium! If I had planned better, we would have stayed in Sydney one more day because today's the Centenary of Australian federation and we missed a giant parade. However, instead we took a 10am flight to Melbourne, about 90 minutes. We rented a car and drove another 90 minutes northeast to wine country: The Yarra River Valley, and the Chateau Yering hotel. Beautiful decor, an old farm estate converted to 20-room hotel, with a lovely view of rolling farmland. Right outside our room's french doors was a huge pasture with grazing dairy cows. Lunch at the hotel's Sweetwater Cafe, a stone-floored atrium. Yering Station winery next door, a very modern, expensive facility. Although Sydney was warm, Victoria (the Australian state that we were in) was going through a heat wave in the high 90s, which was quite debilitating. But the hotel was air-conditioned. Dinner at the hotel's elegant restaurant, Eleonore's.
January 2
Breakfast at the hotel. Yarra Valley is quite beautiful, with an atmosphere like the current Anderson Valley or Napa Valley back in the 60s. To get another animal fix, we drove to the Healesville Wildlife Sanctuary, which was really a lot better than Featherdale. I particularly liked the baby wombat (rescued from his mother's pouch when she was hit by a car). The trainer told us that if we should hit a wombat on the road (they are sort of like a woodchuck only much larger) we should always check inside the mother's pouch for a baby to rescue. This one was in a grassy display area for about an hour, then the trainer carried him back to his own area in a cloth tote bag hanging over her shoulder. She said he immediately goes to sleep and loves being in the bag, like his mother's pouch. He weighed 18 pounds.
Almost 100 degrees with moderately high humidity. Lunch in a Healesville cafe that was also what we would call a "Country Crafts" shop like you see all over the US: a sausage roll (like uncased sausage in flaky pastry) and a Spider (ice cream soda). Finally some wine touring: Coldstream Hills had an excellent tasting for $5, about ten wines. I was so impressed with these wines that I would have bought some and shipped them home, but they wanted A$210/case ($126 in American dollars) shipping to the US. (I did buy a few bottles in the Sydney airport shop.) We took a lengthy tour of DeBortoli, but the wines didn't impress me. I had hoped to try their famous dessert wine, Noble One, but they didn't offer it. Tarrawarra (Tunnel Hill) 98 Pinot Noir was a good tasting. Dinner at Eleonore's again.
January 3
We got on the road and drove through the Dandenongs, a forested region similar to Sydney's Blue Mountains, but I thought they were more like suburbanized rolling hills; imagine Woodside, CA, without the mansions, but with lots of tree ferns. This is an area where you would want to book your wedding or fancy party, with lots of beautiful restaurants on wooded grounds and gardens, or have English-style tea on a Sunday afternoon, just an hour from Melbourne. We caught the Puffing Billy steam train at Belgrave and rode 8 miles in open cars through beautiful wooded scenery to Lakeside. Lots of kids and parents on board heading for the lake. Had lunch at the lake and rode the train back
We drove an hour to Melbourne. I thought it was cleaner, more modern than Sydney, after discounting the skyscrapers both cities have right downtown. More historic buildings than Sydney. Both cities are surrounded by roads like our El Camino Real, all very commercial, with very wide city streets but not many freeways. Once again we were in a Park Hyatt hotel, which was stunningly beautiful inside and the rooms extremely comfortable. We walked down Collins Street (fancy shopping area) and enjoyed "flat whites" at a sidewalk cafe alongside the Yarra River. Dinner at Walter's Wine Bar. (All of my favorite restaurants were closed for extended holidays, but this one was pretty decent.)
January 4
We took an all-day drive south though Geelong and Torquay to the Great Ocean Road, which is essentially like California's Pacific Coast Highway, with winding roads and great views. It ranged from hazy to overcast, so the views could have been better. We stopped in Lorne, a beach town, walked up and down the "strip" and then continued west. We lunched at Chris's Beacon Point on a cliff high above the ocean, near Apollo Bay; fabulous views from the deck. We got rather tired of the driving all day, so we returned from Apollo Bay over an inland shortcut, through rolling rural farmlands, mostly grazing sheep and cows—lots of wide open spaces. Dinner at Florentino in Melbourne.
January 5
The weather finally broke its heat wave and it was cool (60-70) and overcast for the rest of our stay, including one brief shower. We roamed around Queen Victoria Market and admired the meats, cheeses, breads, fish, and fresh produce. Also live chickens, eggs, and baby ducks. They were just setting up booths of clothing, purses, toys, and everything else imaginable. We drove down the Mornington Peninsula, which is the Melbourne beach getaway area. Drove through beach communities around small bays. We rode a chairlift to Arthur's Seat at the top of the mountain (tall hill?) and had some impressive views, but saw no wildlife. Lunch at a funny little German bistro in Mornington: fish and chips and crayfish salad. (Crayfish here is big, what we'd call rock lobster, or the French would call a langouste.) We returned the car to Hertz back at the hotel and took a bus tour to Phillips Island to see the famous penguin parade. This was a 7.5 hour experience (long drive and wait for dark), about one of which involved seeing penguins, but it was very interesting. The world's smallest penguins (less than 1 foot tall) emerge from the surf at dusk in large groups, look around carefully (they're afraid of predators since they're very clumsy on land) and then waddle up the shore to find their burrows with their babies waiting. They have been out in the ocean since dawn. The babies are standing just outside their burrows, calling impatiently to the parents waddling by, since they're waiting to be fed regurgitated fish. We were back at midnight after a very chilly evening on the windy beach. Dinner at the penguin visitor center: roast chicken and a pepper pie.
January 6
Still overcast and much cooler. Bad news this morning: Mietta O'Donnell, Melbourne's beloved food critic, was killed in a car crash. I ran out to buy her last guidebook, which I had long enjoyed in website form. We took a bus tour of the city, a whirlwind of mostly public buildings. Stops at Fitzroy Park to see Captain Cook's cottage (dismantled in England where he lived and set up here) and the Royal Botanical Gardens, which were lovely, with a small lake, tame black swans, 49,000 plant varieties, and a nice tea room. A brief snack downtown and then we took a two-hour cruise on the Yarra River, upstream and then downstream through the city, with commentary on the various sights. Visited Myer department store (like Macy's, but more fashionable, Nancy opined). Took a cab to St. Kilda, 4 miles south of Melbourne on the beach, for dinner. Great table on an outdoor balcony, overlooking the bay and all the Saturday night bustle. (It's amazing to me that every night we have been able to book good tables at primo restaurants an hour before arriving.)
January 7
Back to the airport, flew to Sydney, then SF. We arrived one hour earlier than we left! Coincidentally, Fantasia 2000 was playing on the plane, so we watched it again. The house and cats are fine. Good to be back, although I am back on my diet again after gaining 5 pounds. Nancy only gained 2—but not for lack of trying.
General Observations
Everyone we met down under was cheerful and friendly; a good place to vacation because of that. There were fewer smokers than I imagined. When the weather warms, flies are a problem; they really want to get at something on your face and you can't swat them away.
We saw no slums, panhandlers, gangs, or thugs anywhere. Lots of people from other countries live in Australia, especially Asians and, in Melbourne, Greeks. We saw only five or six Aborigines on our whole trip; I think they mostly reside in the outback areas. We did visit several galleries selling Aboriginal artwork for their benefit.
This was my first real experience at driving on the left side of the road and it wasn''t as tough as I had imagined. The most significant problem I had was operating the turn signal on the right side of the wheel instead of the windshield wipers. Entering the car and getting my knees under the wheel was also an unnatural act in that direction.
Aussie TV is as witless as the US, with older US shows and a smaller variety. The newspapers are mostly sports with zero US financial info. (Bring your laptop if you need to get your stock prices.) We found that you simply can't under dress; everyone's really casual.
And a peeve: When the First Fleet arrived in 1788, they obviously had little storage space for punctuation marks. These people shun commas and colons, but especially apostrophes. I was so struck by how many publications misused "its" vs "it's" that we figured it was a fork in the English language, but I checked 3 Aussie usage books in a store and they confirmed that the way we do it in the US is considered correct there, too. So editors, leave your blue pencils home and have a nice vacation.