Hal and Nancy's Trip to Dayton and Cincinnati, Ohio, September 2018
This travelogue covers the trip of Hal and Nancy to run (Hal) the Air Force Half Marathon in Dayton, Ohio, and a brief visit to Cincinnati.
Thursday, September 14
We flew from San Francisco to Cincinnati via Chicago, and drove about an hour and a half to the Hampton Inn Dayton/Fairborn. Dinner was carb loading at the local Olive Garden. We were able to include a late visit to the race expo at Wright State University's Nutter Center, freeing up time on Friday.
Friday, September 15 – National Museum of the U.S. Air Force
We spent all day at the National Museum of the US Air Force on Wright-Patterson Air Force Base, which is a gigantic installation of four airplane hangar-sized galleries plus a smaller, taller tower with a variety of ICBMs. We took a guided tour of the first gallery, which covered the early days of aviation and WWII. (The Air Force properly acknowledged that the first US military aircraft were in the US Army Signal Corps!) There were also galleries on the Korean War, Vietnam (which they referred to as the Southeast Asian War), the Cold War, missiles, space exploration, futuristic and experimental aircraft, and the presidential aircraft all the way back to FDR. One highlight was a new exhibition about the Memphis Belle bomber. We enjoyed an IMAX movie about fighter jet exercises at Nellis AFB. (I made no attempt to caption these photographs.)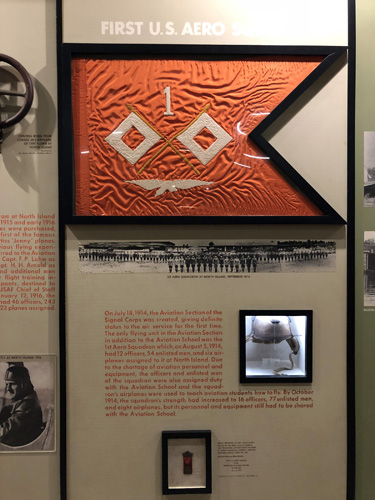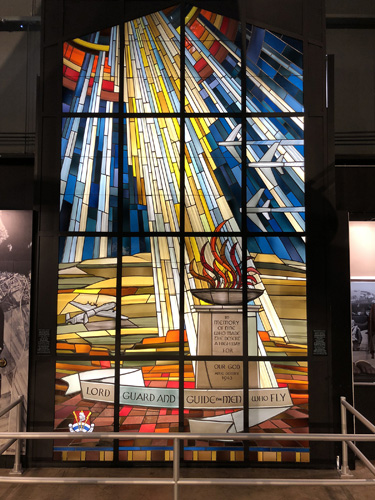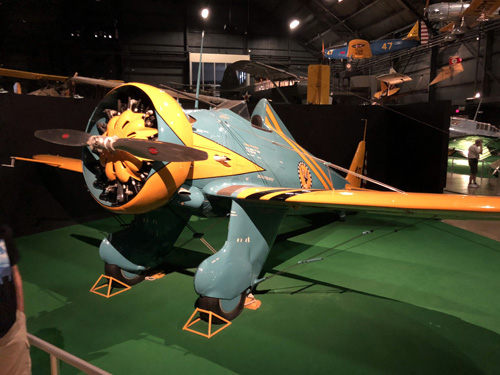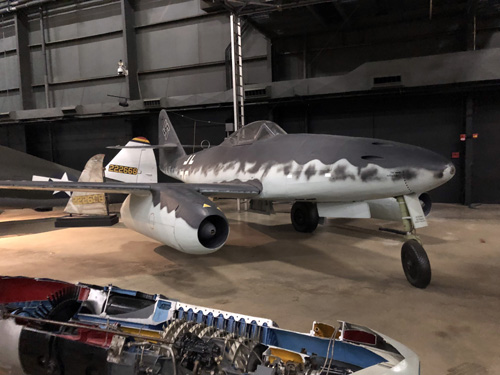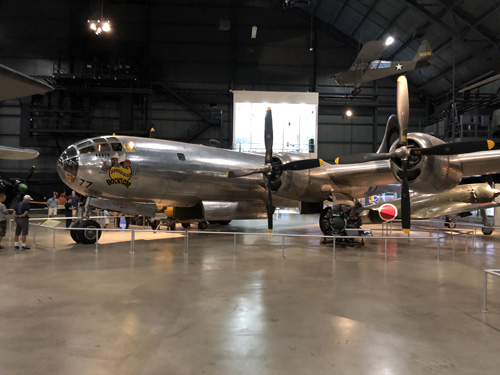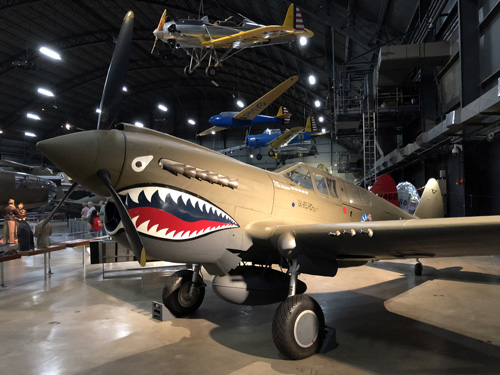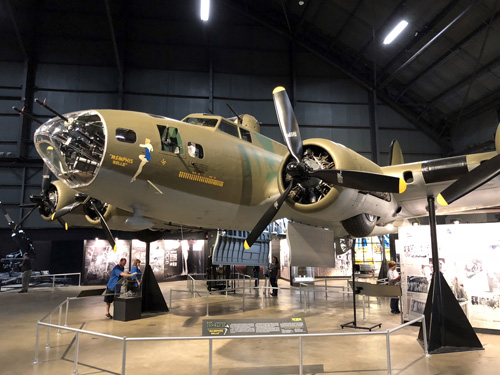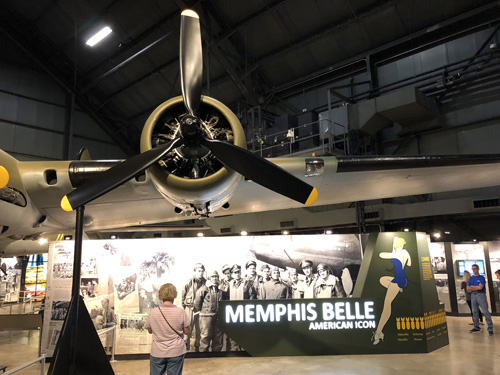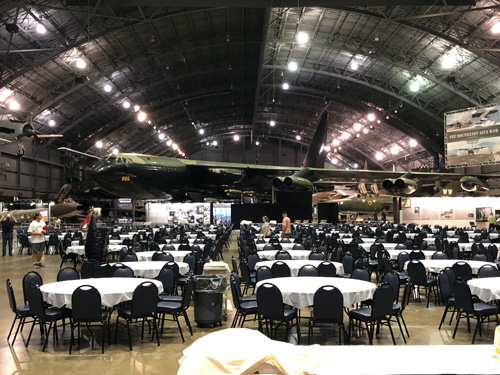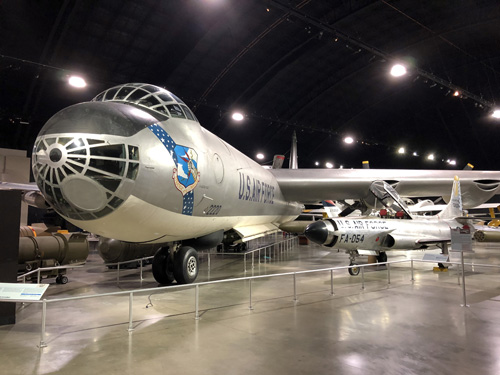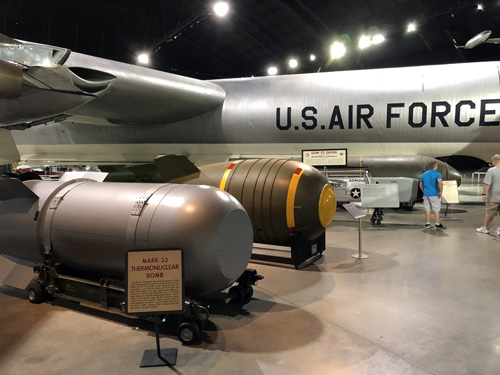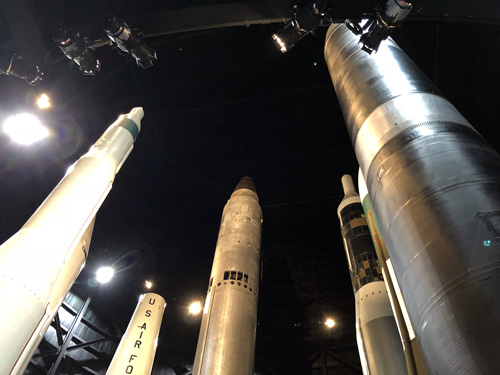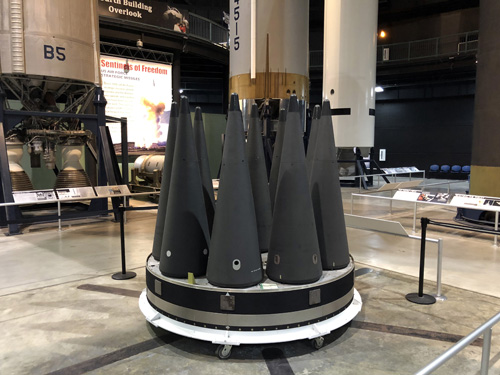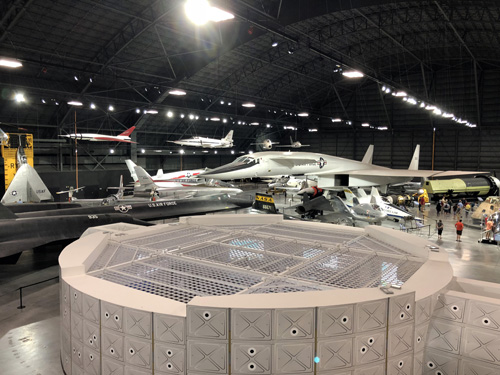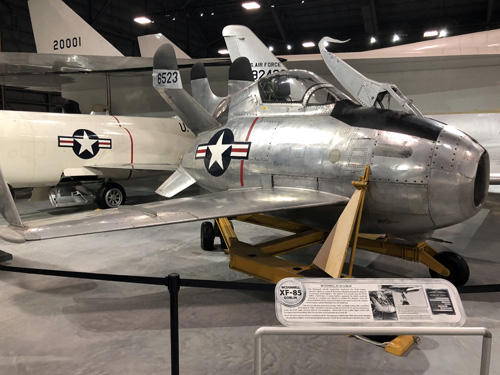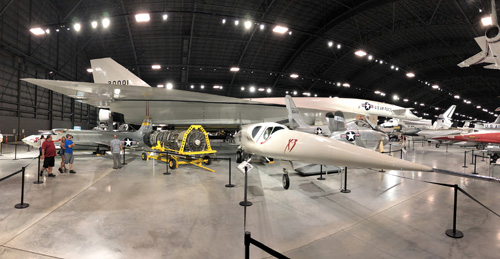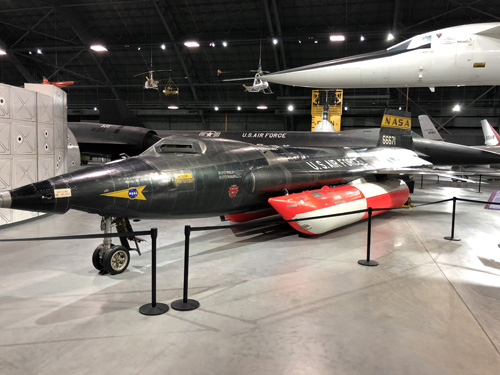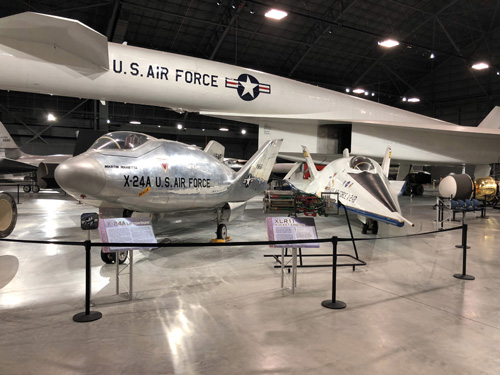 Dinner was at Old Scratch Pizza, just outside of downtown Dayton, which had unusual seating but the pizza was quite good. We drove around Dayton, which was immaculate and deserted, even at 7 PM on Friday evening. There is a very nice park on the Miami River.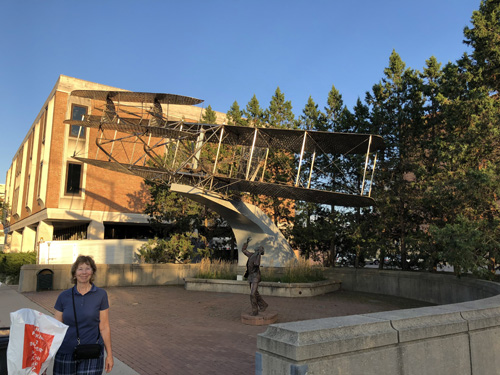 Saturday, September 15 – Air Force Half Marathon
Race Day. I was very concerned about getting to the race with a minimum of inconvenience for Nancy. The organizers offered a shuttle bus from near the hotel, but the last one left at 6 AM, which is way too early for an 8:30 AM start. They recommended arrival 90 to 120 minutes before our race, which seemed excessive, but it actually turned out that 90 minutes was on point. The parking area was well over a mile from the starting line near the museum. Nancy stayed with the car because the exits were closed until 8:30, the start time for the half; the full was at 7:30, 10K at 8:00. The morning started out with heavy low overcast and cool temperatures, absolutely perfect running weather. There were ceremonial overflights of a giant C-17 Globemaster III, but they were invisible because of the weather. There was also supposed to be a dramatic parachute team drop, but it was canceled. Nancy revisited the museum (open at 9 AM) while I ran.
The half marathon was relatively small—2794 finishers—so there was no significant congestion at the starting line. The course is really pretty flat, despite the published elevation chart that looks like you are running through the Himalayas. No hill was steep enough to make me want to walk. We ran on narrow streets through wooded areas, next to the large flight line with a bunch of C-17's sitting around (and one took off while we were there, disappearing immediately into the overcast), and through a number of pleasant military housing areas. One highlight of the course was a family that distributed free bacon, which was absolutely delicious. At about 6 miles the sun broke through and the rest of the race got pretty warm. There were lots of complaints about this, but I have certainly trained and run in warmer weather. (A week later, I received an email from the race organizers and they revealed that this was the hottest race they had had in their 22 years. In fact, around noon they canceled the remainder of the full marathon because the wet bulb globe temperature exceeded 85, a "black flag" condition. This affected about 500 runners, and if I had been running the full, I would have been one of those so affected. So I guess some people did have a reason to complain.)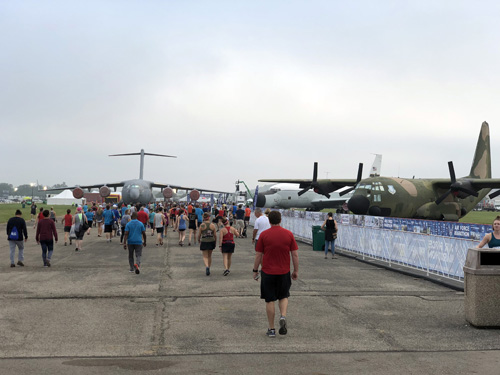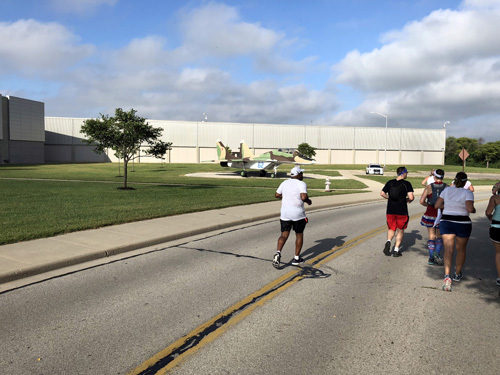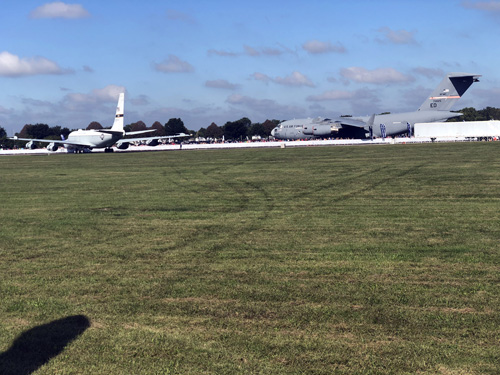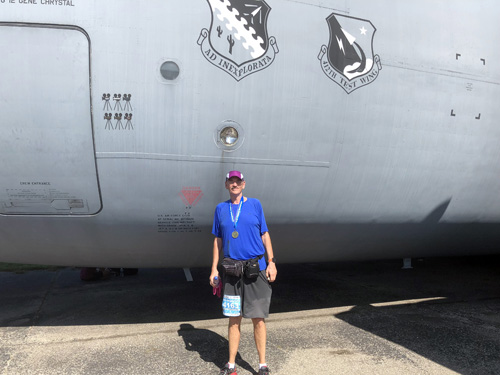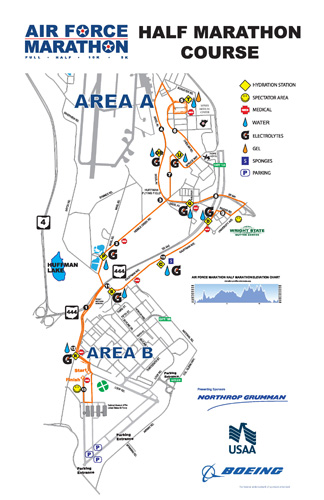 I finished at 2:45:52, a 12:40 pace, which is somewhat mediocre for me. Perhaps it was the warm weather. Over the last year I have dieted off about 40 pounds, which seems to have had no positive effect on my finish times. However, I am doing relatively better in comparison to my peers. I finished 1869th out of 2794 (instead of my usual bottom 10-20%) and in my M65-69 age division, I was 26th out of 53.
We arranged a late checkout from the hotel to accommodate showering, and then drove an hour to Cincinnati. Outside of downtown was the delightful American Sign Museum. I found it nostalgic to see many of the neon signs of my youth, but the exhibits heavily focused on technical and IPR aspects of sign design. Nancy the graphic designer loved it. We stayed at the Hampton Inn Downtown, in the old Cincinnati Enquirer building, which was very well situated. Dinner was at Morton's steakhouse, fulfilling a protein craving.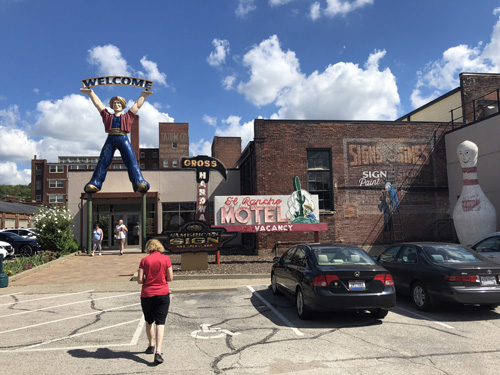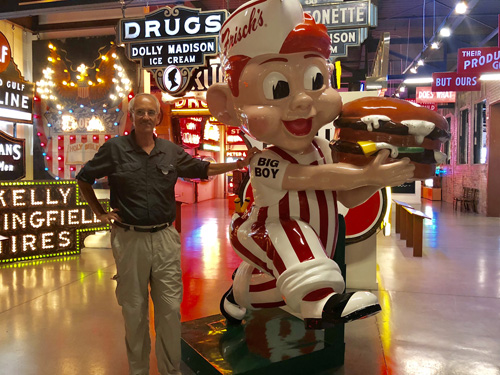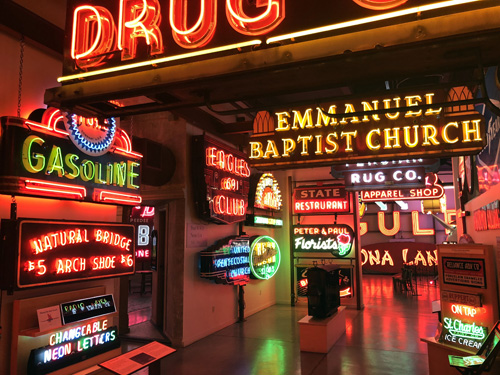 Sunday, September 16
We walked over the Ohio River on the John A. Roebling suspension bridge, the predecessor to the Brooklyn Bridge, to take a food tour in the Madison Avenue district of Covington, KY. Our tour guide, Laura, is the owner of Riverside Food Tours and did a great job with a mixture of food and history. The town was an up-and-coming small city in the 19th century, but it was eclipsed by Cincinnati, fell into disrepair, and is only recently recovering. Here are the stops we made:
Coppin's at the Hotel Covington, a former department store – a country biscuit, made with extreme butter, and filled with ham and jam
Left Bank Coffee Shop – café au lait, although we could have ordered anything from the menu
McK's Chicks – a sous-vide brisket slider
Mother of God Church, featuring a spectacular interior (but no food)
Agave & Rye – a really delicious chicken taco, made with two layers—a crunchy interior and a soft exterior—which made it easy to eat; all of the participants rated this as the best selection of the tour
Peppe's Cucina – pieces of five different varieties of Sicilian pizza
Braxton Brewing Co. – a Belgian stout (selected from their full menu), and a cup of Graeter's blackberry and chocolate chip ice cream
Crema & Co. – an interesting French macaron turned into a tiny ice cream sandwich
An excellent food tour, something we try to do in many of the cities we visit nowadays. I think this one takes the record for the sheer volume of food, and all of the selections were excellent.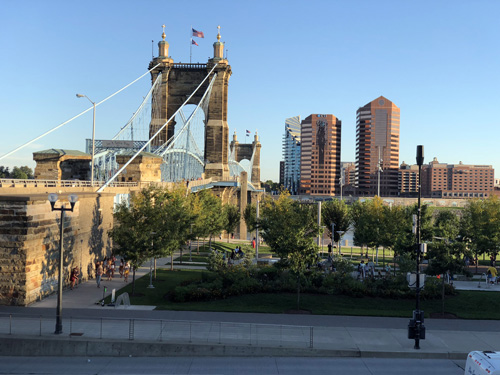 We walked back, lingered in Smale Park, with nice views of the Ohio River and interesting interactive devices and water structures. The National Underground Railroad Freedom Center is an imposing building. When we entered, they told us to start on the third floor, but it turned out that most of the interesting underground railroad, antebellum, and Civil War history is on the second floor.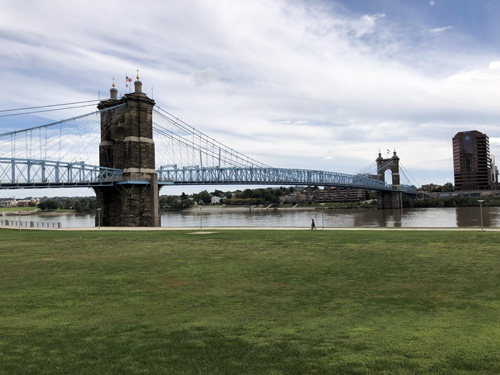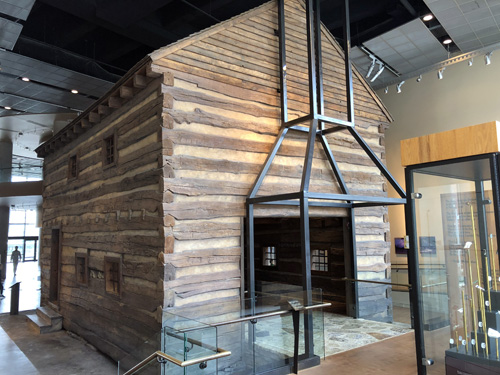 We had dinner at Taste of Belgium, a small regional chain, which wasn't very good. But dessert was Graeter's Ice Cream at Fountain Square, once again excellent. A well-known and advertised regional specialty, Skyline chili, was recommended to us, but we did not get around to it. (It is supposedly more like a spaghetti meat sauce than what we know as chili here on the West Coast.)
Monday, September 17
We flew back to San Francisco through Denver on Monday, capping a very brief but enjoyable trip. Cincinnati was very nice and we will probably visit again in a future year, in which I hope to run the famous Flying Pig half marathon.