Hal and Nancy's Visit to the Disney Aulani Resort, October 2018
This is a brief travelogue of Hal and Nancy's visit to the Disney Aulani resort in Oahu, Hawaii, October 3–7, 2018.
We flew United Airlines to Honolulu on October 3. We did not rent a car because we did not plan to travel around a lot and parking at the hotel is $37 a day. So we took an Uber for about $50, a 20 minute ride. On the way back, October 7, we reserved on the "Helehele" shuttle bus, which was $24 per person.
The resort is in the area called Ko Olina, which is really very beautiful, with a Four Seasons and a Marriott nearby, and a small shopping center across street.

Aulani has much more of a Hawaiian cultural feel than a typical Disney experience, although we did see Mickey and Goofy and the elevator music was Hawaiian language versions of Zippety-Do-Dah and other Disney and Pixar songs.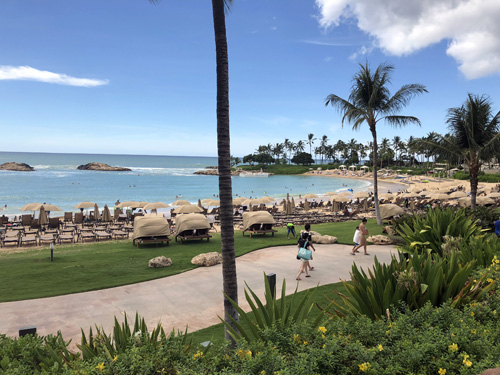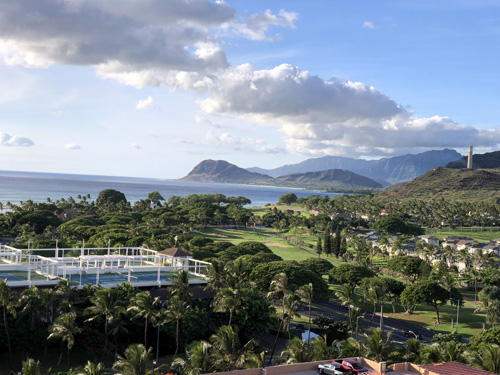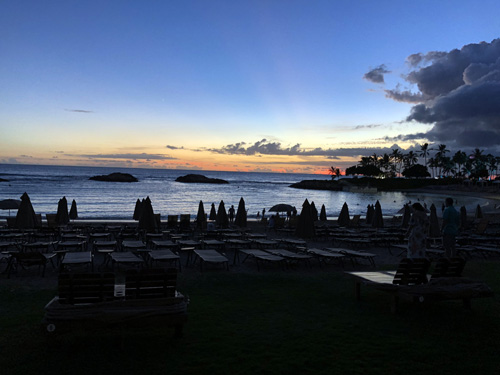 Weather was perfect for our entire stay, in the low 80s, with surprisingly low humidity.

There were lots of small kids—probably 300+—but not enough to be bothersome. We selected a time in which we expected schools to be in operation, so there were very few middle school and high school aged kids. The resort has a few adults-only areas. All the pools were pretty shallow, even for adults, with 3'6" being the deepest we saw. That would've been a problem except for the beach, which was perfect, a man made lagoon, with no stones, a placid surf, and a comfortable temperature. The sandy area was covered with loungers and umbrellas packed in tightly, but we commuted from a shady area next to one of the adult pools. In the water we got to watch jumbo jets on approach to Honolulu airport, and a few Air Force F22s racing by. On our first full day the lagoon was somewhat wavy and signs indicated a threat of jellyfish, so the beach was officially closed, but we did see some bathers. The jellyfish sign remained up the next day, but we chanced it and had a great time.
On our second day we visited Rainbow Reef, a compact saltwater pool hosting hundreds of colorful fish, very active during a couple of scheduled feedings. This was a real highlight of the trip, with $20 all-day snorkel access—gear included—or $39 for an entire stay, a true bargain for resort pricing. It was probably the best snorkeling I have ever encountered.
The most significant reason we selected Aulani was a few online reviews we saw about "lazy rivers." We have visited the island of Kauai a few times and stayed at the Grand Hyatt, which has a really nice lazy river (really necessary because the nearby beach is often closed). Aulani's Waikolohe Stream lazy river did a full circuit of a few hundred yards, packed with yellow inner tubes, singles and doubles. It was not deep enough for adults to swim, so we just floated, halfheartedly trying to avoid periodic water spouts. Very, very relaxing—we visited more than twice each day.
In the middle of the lazy river area, there is a large fake volcano that hosts two waterslides. "Volcanic Vertical" is steep and completely dark, so it was moderately scary; I banged up my ankle somehow so only took it once. The other was an easier one for innertube riders, but there was always quite a wait to take it.
There were excellent, very large hot tubs with infinity edges overlooking the beach, one for adults only, and we were frequent visitors.
Although there were a lot of snack options, there was one fancy restaurant called 'Ama'Ama. It was nice and the food was excellent but expensive, as are all food choices at the resort. Two pieces of grilled fish and one asparagus side, no bread, no drinks were $98. The breakfast buffet was $40 per person, so we did not bother with that. Elsewhere, breakfast and lunches were in $30-40 range for two. (I should report that many of the items seemed expensive, but turned out to be large portions that were suitable for sharing.) We most frequently had casual take-out food from the Ulu Café. We generally ate dinner across the street in the little shopping center: Pizza Corner, Merriman's Monkeypod, Two Scoops Ice Cream Parlor, and the ABC store for takeout.
Our room was large and comfortable, a complementary upgrade to a partial ocean view. There was free Wifi, but it was pretty lousy, probably deliberately throttled for anything more than email and simple web surfing. I ended up using AT&T LTE cell service for my data needs, which is pretty rare for a hotel stay.
Overall we had a great, relaxing stay. We probably will not return because it was breathtakingly expensive (about $750 a day), but we would certainly recommend it for extended families with the appropriate budgetary resources.