Hal and Nancy's Long Weekend in New York City, October 2017
This is a very brief overview of Hal and Nancy's long weekend trip to New York City, October 2017. Since we have visited New York frequently, this will be little more than a bulleted list of activities without a lot of detail.
Wednesday, October 18
We flew United Airlines nonstop from San Francisco to Newark, arriving late at night, and staying at the Hampton Inn Times Square on 41st St, near 7th Ave. This was a small, very comfortable hotel in a very convenient location.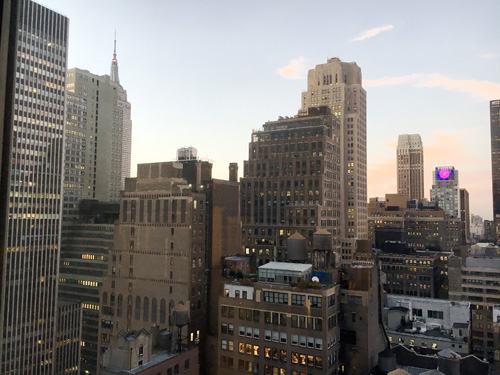 Thursday, October 19
We took a walking tour with the company called Free Tours by Foot that started in City Hall Park, walked over the Brooklyn Bridge, and then wandered around Brooklyn Heights and DUMBO (Down under the Manhattan Bridge Overpass). Our tour guide, Joshua, was a retired schoolteacher and was quite knowledgeable and entertaining. The weather was absolutely gorgeous, today and for our entire stay. We had lunch after the end of the tour at Juliana's Pizza, which was an excellent Neapolitan style pie. We got back to Manhattan via ferryboat, which was a very short trip, but fun.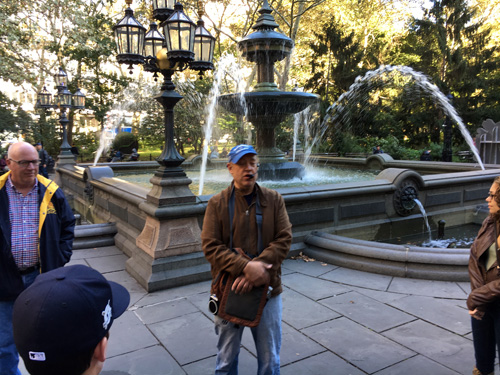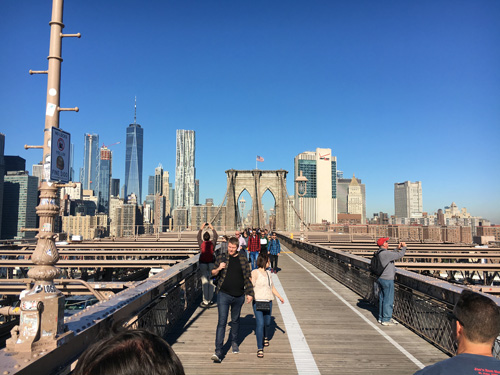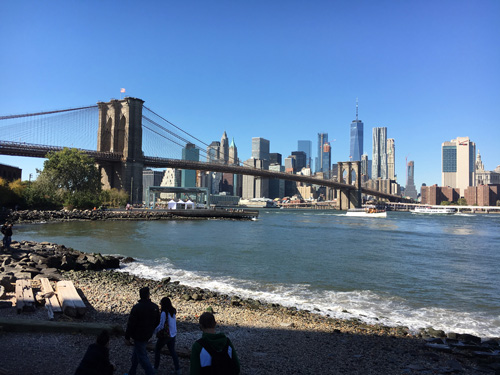 In the afternoon we visited the Whitney Museum, which is now in lower Manhattan. The main draw was an exhibition of Alexander Calder, but I thought it was somewhat of a snooze. There were a variety of motorized mobiles, but they were only demonstrated a few times a day and we missed that opportunity. There was another floor of their permanent collection, but most of the floors of the eight-floor museum were either being renovated or closed for regular public access. There are interesting outdoor balconies, including the museum café, that had very pleasant views. The museum is right on the southern end of the High Line, the park that used to be an elevated, abandoned railroad line, so we walked on that a number of blocks, but started pooping out from all the walking today.
We had a quick dinner (McDonald's, no less) and then attended a 7 PM performance of Disney's Aladdin at the New Amsterdam Theater, a block from the hotel. Parts of the musical were a bit lame, but the actor performing the part of the genie, Major Attaway, was spectacular! The seating in this theater is not engineered for adults. Fortunately, I was able to book an aisle seat and sat sideways.
Friday, October 20
Nancy visited Mood, her favorite fabric store, which is featured weekly in the TV show Project Runway. Then we subwayed to Soho for our second tour of the week, hosted by Scott's Pizza Tours. We had a very enthusiastic pizza expert, Miriam, leading us around and giving us quite an education into the styles and mechanics of pizza making. We started outside a bar called Gatsby's, which used to be the site of the very first pizza restaurant in the United States, Lombardi's. We then walked a few blocks to visit the current site of Lombardi's, where we had a slice of their coal-fired pizza. I thought this was the best pizza of the day, and was actually very similar to Juliana's from yesterday. We got to visit their pizza oven, which was originally a breadmaking oven, that was 12 x 20' inside. The second stop was Fiori's on Bleecker Street in the West Village. It was named for a fireman who was killed on 9/11, and featured what Miriam called Staten Island style pizza, baked in a gas oven, a style that emerged in the 1960s. I thought it was okay, but the tomato sauce was rather soupy. The final stop was also on Bleecker Street, although not nearby: the famous John's, another coal-fired pie. I would rate this the second best of the day. After the tour completed, we stopped by Grom's for gelato.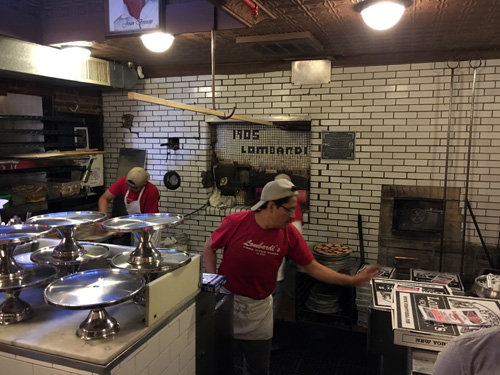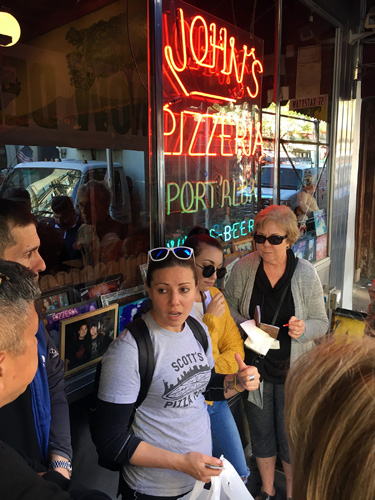 For dinner, we met up with our cousins Else and Ben at Machiavelli's, a nice Italian restaurant in the Upper West Side.
Saturday, October 21
We went all-in tourist this morning by taking the Circle Line boat tour that circumnavigates Manhattan. Our original plan was to do Statue of Liberty and Ellis Island, but the boats were fully booked. We simply had to take advantage of the beautiful weather, and had a very pleasant time and enjoyed a really outstanding narrator. I had never sailed on the Harlem River, so this was a particularly interesting experience. When we first boarded the boat, they announced that we would not be able to circumnavigate because the tides were too high on the Harlem River, but as we got closer, the captain decided to take a chance. There were a couple of bridges in which it looked as if we only had an inch or two clearance!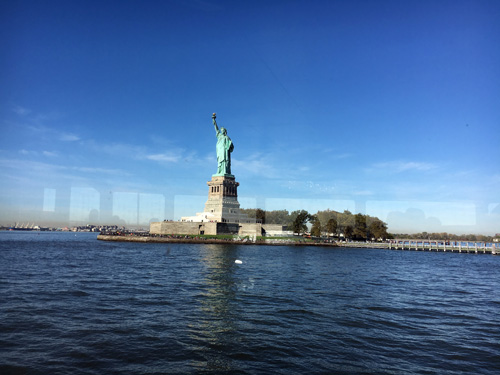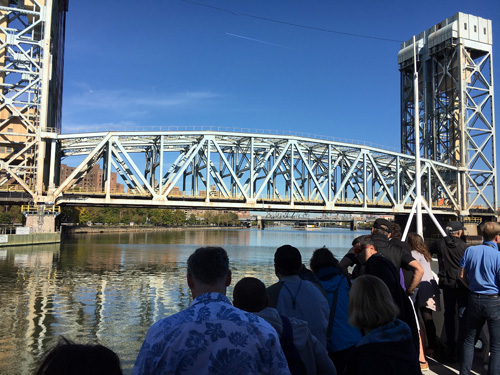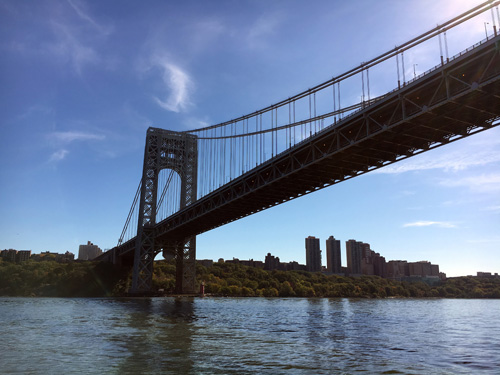 In the afternoon, I expressed an interest in visiting the Queens Museum, which has a gigantic model of New York City housed at the old World's Fair site in Flushing, but we decided instead to walk around Central Park and continue to enjoy the beautiful weather. We went a couple of miles and took frequent breaks to people- and dog-watch. For dinner, we joined our friends Steve and Joyce from Florida, who coincidentally were in New York City and noticed a Facebook posting I made on Thursday. The venue was the Palm restaurant on W. 50th St., one of my favorite restaurants for steak.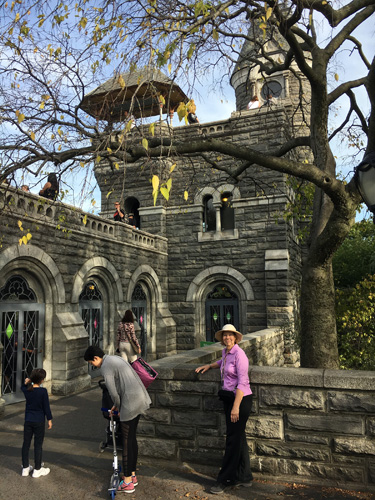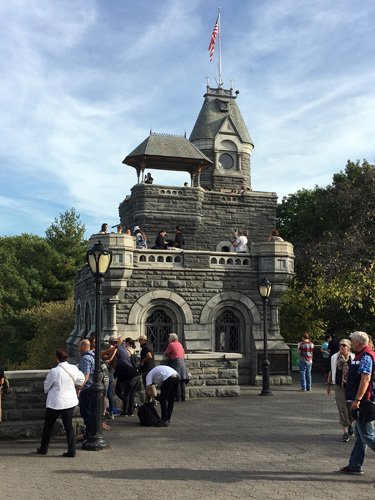 Sunday, October 22
We had an early morning flight from Newark to San Francisco and got back just after noon, having thoroughly enjoyed our long weekend in the Big Apple.