Hal Jespersen's Amtrak Trip to Denver, October 2020
This is a report of Hal and Nancy's trip to Denver on Amtrak. We have been cooped up since February with Chinese flu lockdowns, so this was our first foray away from home for a long weekend.
Thursday, October 1
We took the 9:10 a.m. Amtrak "California Zephyr" from Emeryville (near Berkeley). Heavy haze from wildfires made visibility pretty sketchy on the Lyft drive up, although the sun was a sight to see as a spectacular orange disk. Our roomette was quite snug for two, more so than some internet videos imply. (It would be quite decent for a single traveler of around 6 feet or smaller.) We were assigned one on the starboard side, so we missed some interesting Bay views, which we had seen a few years ago when we took this same train to Lake Tahoe, but we did get to see the Sacramento River and the much-diminished Navy ghost fleet. The bathrooms were down the hall, about 50% bigger than their airline counterparts. There was a separate shower compartment, although we didn't partake on this relatively short trip.
The train is sparsely populated—the website said 30% full when we booked—and of course people are arriving and departing along the way. So the dining car was pretty empty for lunch. There was a limited menu of hot food, all included in the roomette price, which comes in a microwaved plastic bowl, plus a roll, tiny salad, and brownie or vanilla pudding for dessert. Not too bad, actually. I had an Asian noodle bowl, which was pretty spicy, as I like it. Dinner was a semi-Cajun shrimp, andouille, and rice bowl, also not bad. The roomette got rather hot in the afternoon because we were on the sunny side, so we spent some time in the more air conditioned observation car. Whenever we weren't eating or sitting in our compartment, we had to mask up.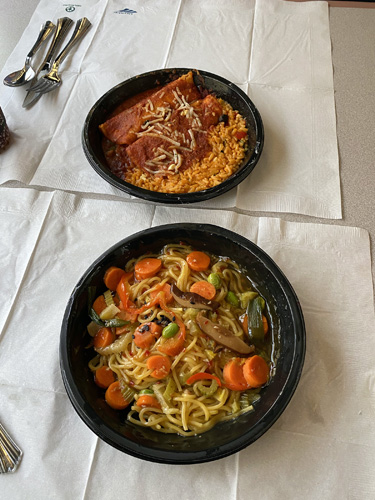 We watched iPad movies in our roomette—no WiFi on this train, and cell coverage was available probably 60%—and then converted over to sleeping bunks. The two facing seats slid together for one lower bunk, and the other pulled down from the ceiling. To my surprise I fit almost precisely in the upper bunk, which was about four inches less than ideal. Don't think about sitting upright in either bunk, though. I slept well with the help of an Ambien sleeping pill until the train stopped at Salt Lake City at 3 a.m., a good six hours. Afterward, I drifted in and out. Fortunately, the incessant PA announcements were silenced 10–7. The rocking of the train really helps to promote some slumber.
Friday, October 2
Breakfast started at 6:30 near the town of Helper, Utah. We had a lovely ride along the Colorado River through Grand Junction, Colorado. I didn't take many photos through the train windows because the optics just weren't very good. Starting in Colorado, the train was more crowded, so perhaps Coloradans use this as routine transportation across the state. From Glenwood Springs there was a long haul where we went through steep canyons, terrain too severe to support any roads, before joining civilization again near Granby. Quite a bit of dead cellphone coverage. After Winter Park, we went through the famous Moffat tunnel, 6.2 miles long under the Continental Divide. The steep descent from the mountains to Denver was loopy and interesting.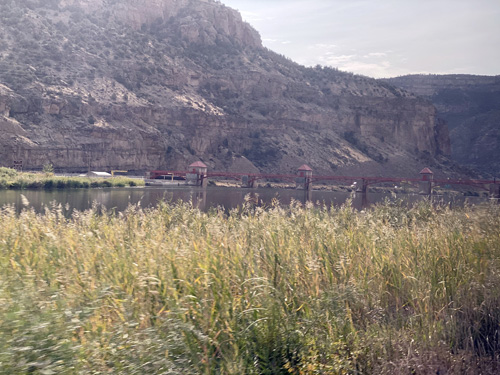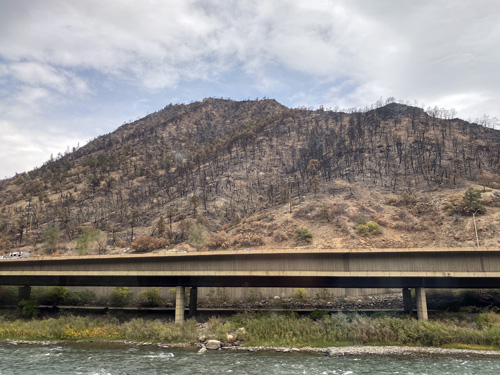 Our hotel (Hilton Garden Inn) was within walking distance of Union Station. There are a number of pandemic differences staying here: no breakfast, no housekeeping, picking up fresh towels and other supplies at the front desk, 3-person limit in the elevators, masks on. Dinner was down the street at The Pig and The Sprout, which is sort of a gastropub/sports bar.
Saturday, October 3
We found a café at Union Station for breakfast and the first of three coffees today at different places that were pretty lousy—below, say, Denny's quality. We wondered if the high elevation here affects coffee brewing or if the locals just aren't into it. We took a 90-minute walking tour (denverlikealocaltours.com) of lower downtown ("LoDo") and had a great time with our very enthusiastic guide Rachel. Lots of interesting history, quaint historic buildings, beautiful Union Station, Latimer Square, the trendy Dairy Block, and commentary about Denver culture. We had brunch at Urban Farmer, visited the supposedly famous Rockmount Ranch Wear shop, and wandered around a variety of shopping areas, including the 16th Street pedestrian mall. Dinner was at Marco's Coal-Fired Pizza, which has decent Neapolitan style pies.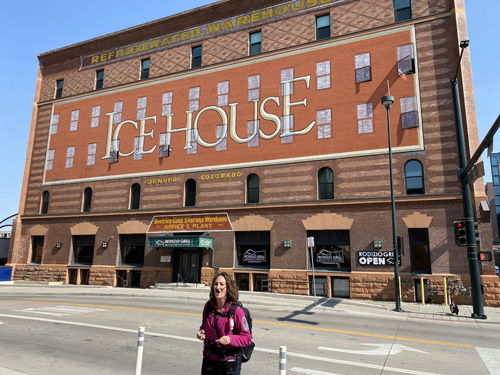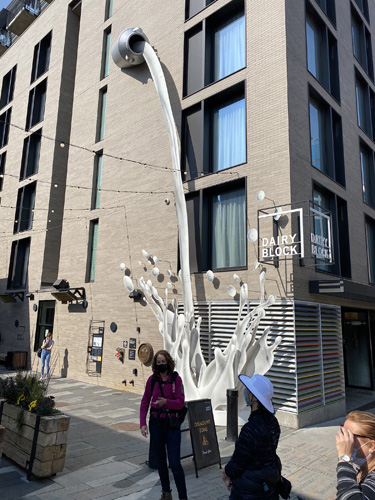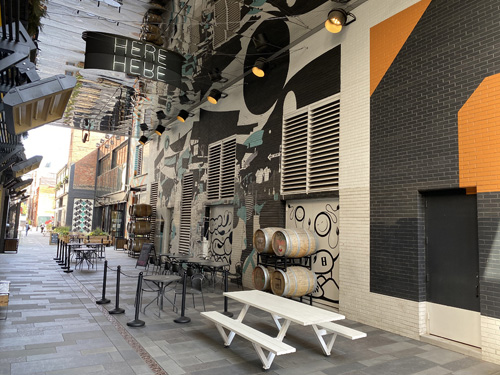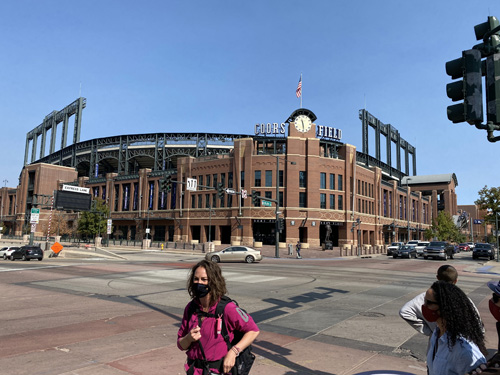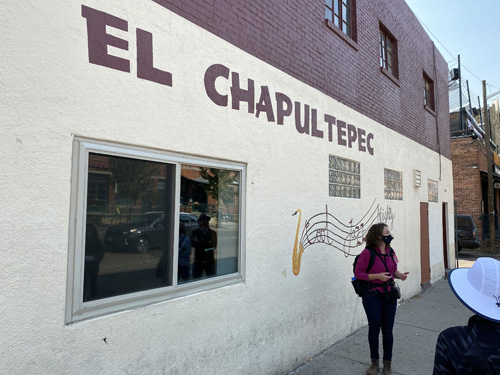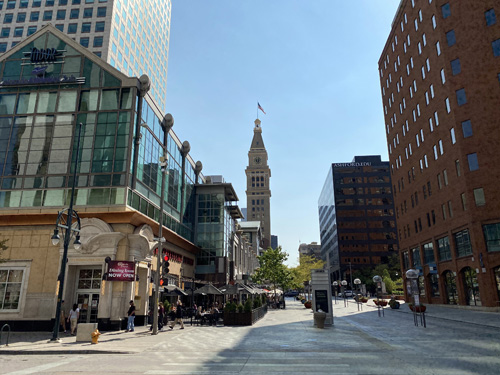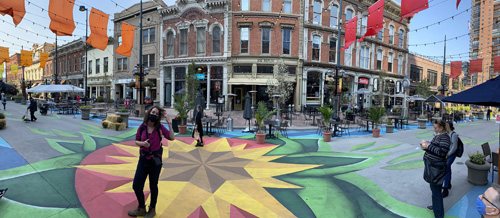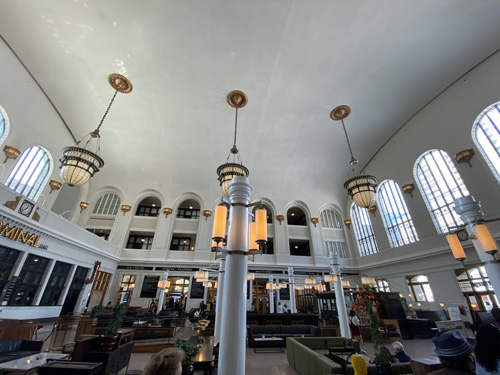 Sunday, October 4
We booked a full-day personal tour (ToursByLocals.com) of Rocky Mountain National Park, but with limited advance notice our guide Dawn wasn't able to get a reserved entrance pass, and there were wildfires in the area fouling the air, so we decided to go south to Pikes Peak instead. The weather was beautiful all day, but there was a bit of haze visible from the higher elevations. We drove down I-25 to Colorado Springs, viewed the Air Force Academy from a distance, and started up the mountain, aiming to beat any late-arriving crowds. It's a 20-mile drive from the main gate to the peak, but there were a few stops along the way: a scenic reservoir with a closed gift shop, and a Big Foot crossing sign. There were many aspen trees in beautiful fall yellows.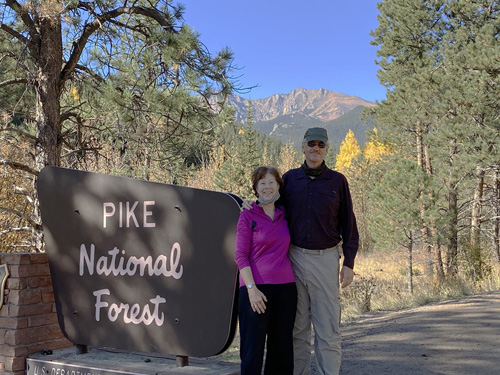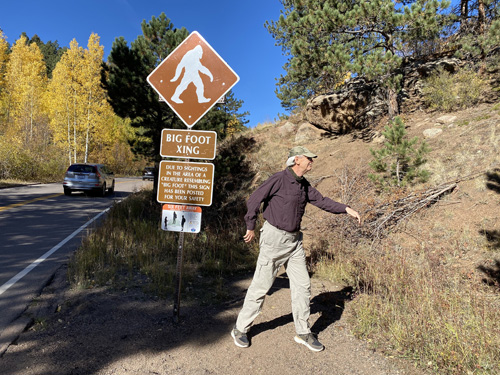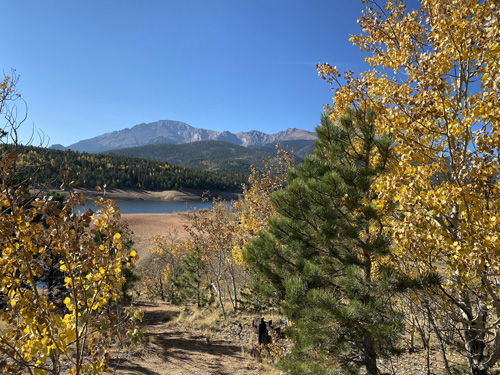 At mile 13 we parked and boarded a shuttle van for the remaining 7 miles. The road was steep and windy and just a little anxiety provoking, but the views were fantastic. I was hoping to see a group of yellow-bellied marmots that lived up there, but they were hiding. Ditto the elks and the pikas. The peak, at 14,115 feet, was a bit disappointing. It was under heavy construction for a new visitor center and observation deck, so there was fencing and equipment everywhere. And really, the view wasn't materially better than during the drive up to it; you can see for many miles through the haze, but it's difficult to make out the details of what you're seeing. There used to be a cog railroad to the summit, but it shut down three years ago and it might reopen next spring. We were expecting really cold weather at the summit, but it was actually quite pleasant in the sunshine. We had no trouble with the thin air, perhaps because we had already acclimatized to Denver.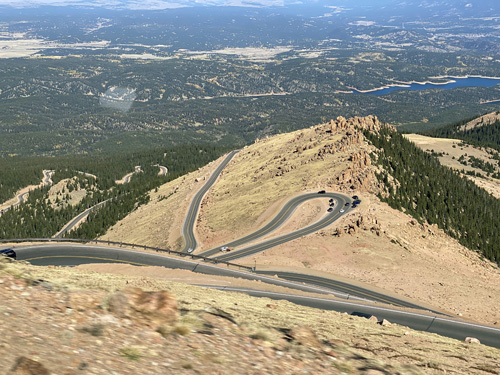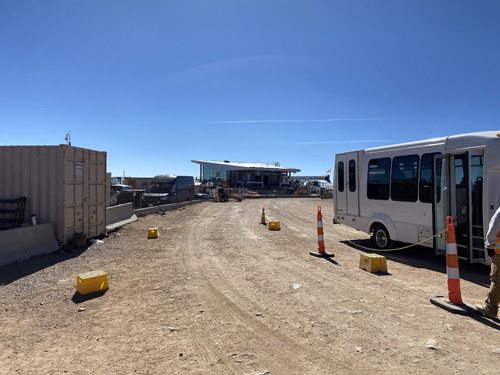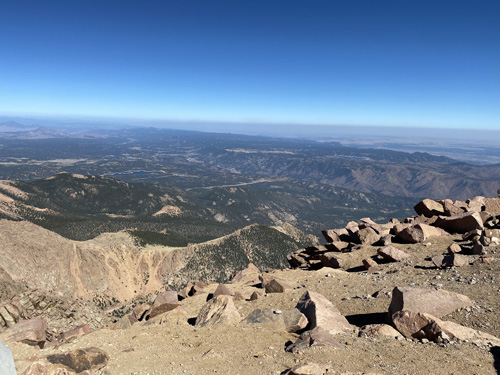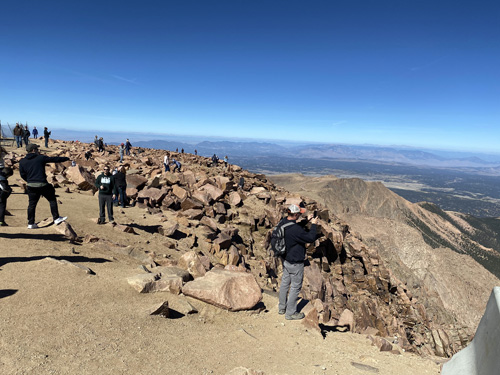 On the way down, we stopped for a lovely picnic lunch that Dawn prepared. Our next stop was the town of Manitou Springs, which is a cute touristy town (and the terminus of the inoperative cog railroad.). We wandered and window shopped for 30 minutes, ending with really delicious ice creams. We did not try any of the local naturally sparkling mineral water, but it's available in public fountains. The town was really bustling with tourists, about a third of which were wearing masks outside. (Mask compliance outside of Denver was very spotty.) Next was the cute town of Old Colorado City, and we saw the tiny log cabin where the legislature of the new Colorado Territory first met—for four days in 1859. There weren't sufficient hotel rooms or brothels in town, so the legislators moved on. A Union regiment recruited here fought in the battle of Glorieta Pass in New Mexico.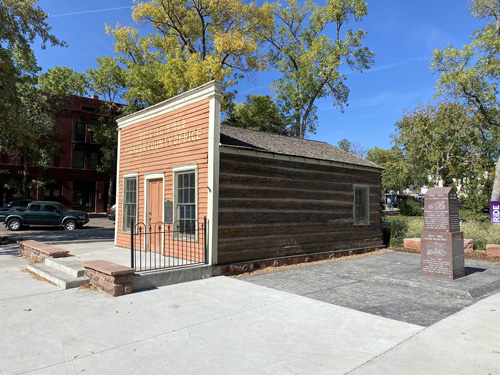 Our final major stop was the Garden of the Gods, which is a Colorado Springs park that has spectacular red sedimentary rock formations that were tilted up to full vertical orientation, like potato chips standing on end. There is a small visitor center that has been somewhat crippled by coronavirus restrictions, but the real joy was walking in the park and seeing these formations up close. We watched a group of climbers ascending the sheer vertical face. We took a hike to see the Siamese Twins, with a small hole through which you can see Pikes Peak. We also got a distant view of Cheyenne Mountain, the buried NORAD HQ. For the ride back we avoided the interstate and took a long ride through Perry Park, a ritzy horse ranch area on Route 105. We got back to Denver by 6, the conclusion of an outstanding 10-hour tour.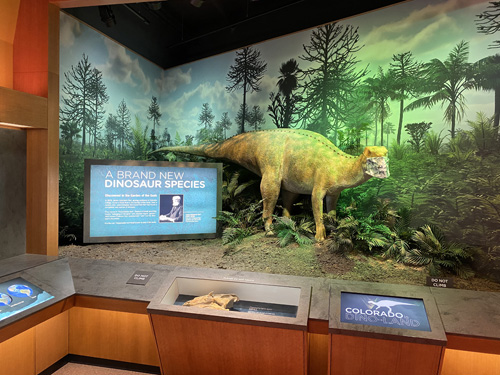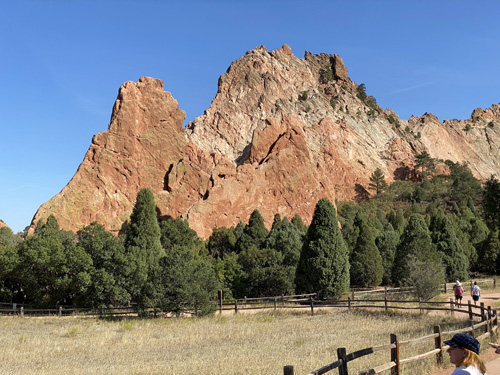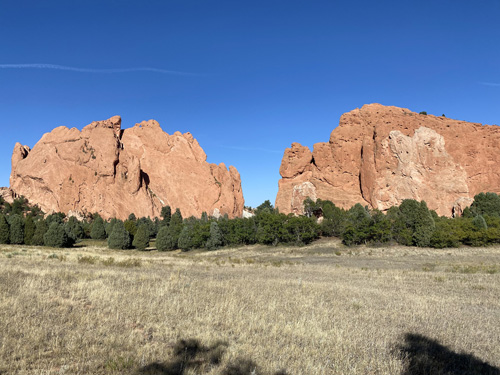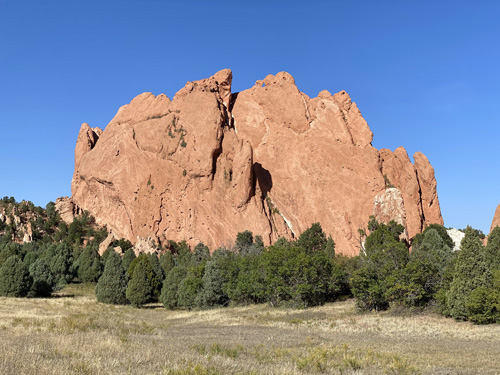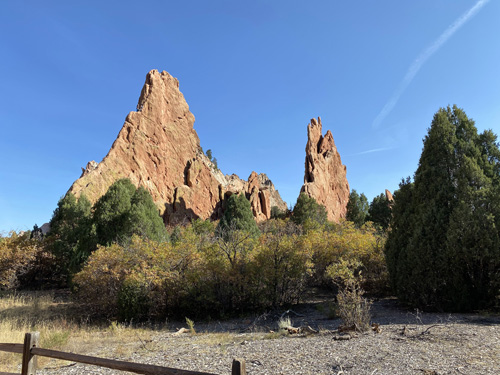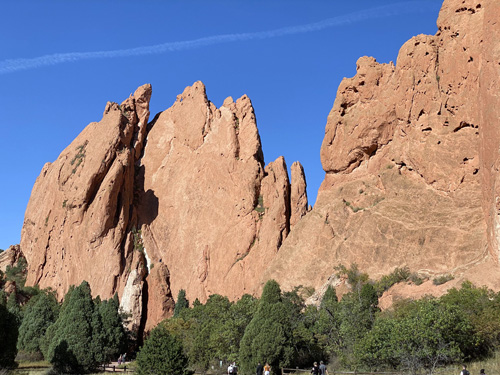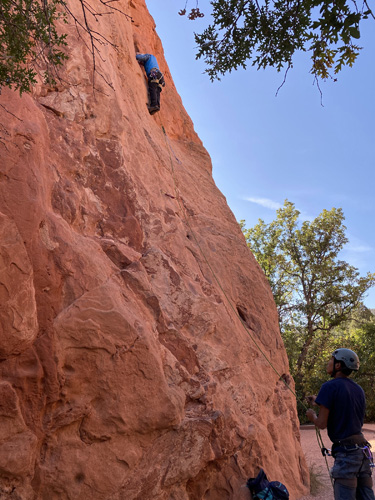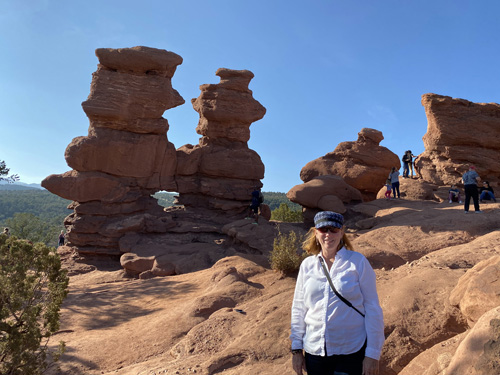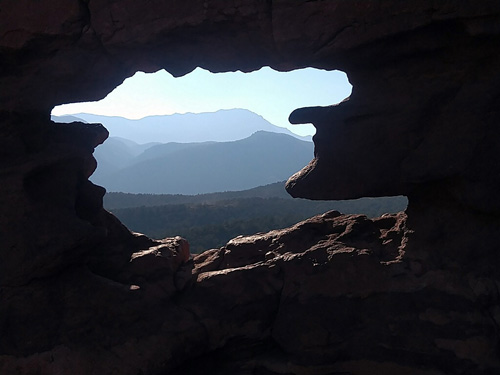 Dinner was at Tupelo Honey, which has excellent southern cuisine, with probably the best fried chicken I've encountered. (It came on French toast with bacon, eggs, and pecans, so this was one mighty meal that I almost regretted downing in full.)
Monday, October 5
We took out breakfast from Starbucks today and found the coffee perfectly good, so our previous experiences weren't indicative of general Denver coffee ennui or altitude problems. We visited the Denver Museum of Nature and Science, a couple of miles from downtown. All of the museums here seem to be on a reservation system; we wanted to visit the Colorado history museum, but they are open only for members on Mondays. The DMNS was not terribly interesting. They had a lot of stuffed animal dioramas, which were decent, and a section on the history of the earth, with lots of fossils and skeletons. There were four IMAX movies that didn't appeal, and two pay-extra exhibits about dogs and Legos, for some reason. And of course the traditional Native American art, gems and rocks, and Egyptian mummies.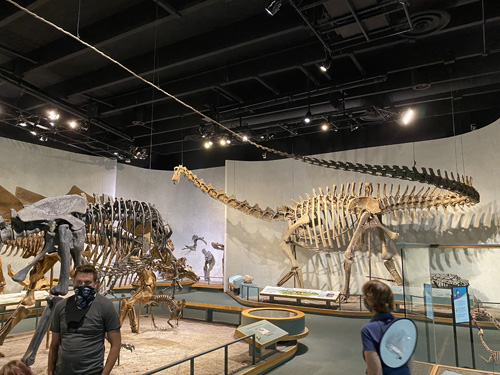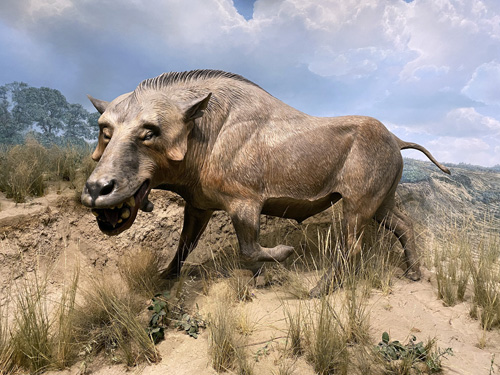 In the afternoon we walked a few blocks to the Denver Zoo, which shares a big park with the DMNS. It was a very pleasant zoo with usually nice, spacious enclosures. I always like to see native species displayed in regional zoos like this, but they stuck mostly to the usual African/Asian lions, tigers, bears, giraffes, monkeys, etc. For both of the stops today, I took very few photos because there was little unique that I needed to document.
We had dinner at Hopdaddy's next to Union Station and both us had excellent burgers—a chicken Parmesan and a seared Ahi. This LoDo area of Denver certainly has a wealth of interesting casual restaurants.
Tuesday, October 6
We Lyfted to DIA for an early flight on United back to San Francisco, our first flight since February. (There is also a commuter train from Union Station, but that early in the morning we did not feel so adventurous.) The airport was not as deserted as might be expected, but it still was really easy to go through security and not trip over people. The flight was less than half full, so it was pretty comfortable, and at $68 per person, very reasonable. Boarding was in reverse row order (after the super-privileged flyers were allowed on first), and the deplaning was also done by rows. No delays in taxiing, either, so we arrived almost half an hour early. We feel bad for the airline industry and hope they recover soon.
Nancy and I had an excellent time on our long weekend trip. It might be a while before we travel again, but it was good to get out of the house at least for a while.