Hal and Nancy's trip to Caneel Bay, St. John, US Virgin Islands, April 2010
I try every year to take a trip with Nancy on her birthday week, sometimes modest, sometimes more elaborate. This year, before I decided on my retirement, I planned a trip to a resort that we had seen over 25 years ago. Our first trip to the Caribbean was not on a cruise ship, it was a "land" vacation to St. Thomas in the mid-80s, where we stayed at the Point Pleasant Resort and had a very nice time. On one of the days of that trip we took a sailboat ride that allowed us to visit Caneel Bay and the thought of its beautiful beaches and relaxed elegance stayed in my mind. In those days, the resort was a bit smaller and was offered only on the very expensive "full American plan," which means that all meals were included, and the total cost was beyond our budget at the time.
Monday, April 26
We flew on American Airlines from SFO through MIA. The second flight was 1.5 hours late because of thunderstorms passing through Miami. At the St. Thomas airport, a guy named Butchie—a retired local policeman—met us, drove us in a van to Red Hook, the easternmost point of the island, where we boarded a fast private boat from the resort for a 10 minute journey to St. John. Under normal circumstances, we would have taken a taxi to the Charlotte Amalie dock for a 35-minute boat ride to St. John, but we arrived too late in the evening.
We checked into our ocean-view room, number 40, about 100 yards from main building. It was located in a relatively small two-story building, and our balcony had a partial view of Caneel Beach, one of the five beaches on the 170-acre resort. Complimentary fruit, cheese, sandwiches, Cokes, and a bottle of rum were provided. The room was very comfortable and relatively plain, not flashy in a Ritz-Carlton or Four Seasons way. The air-conditioning was very welcome in the high humidity, which would take some time to get used to.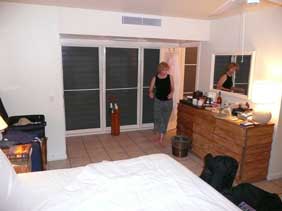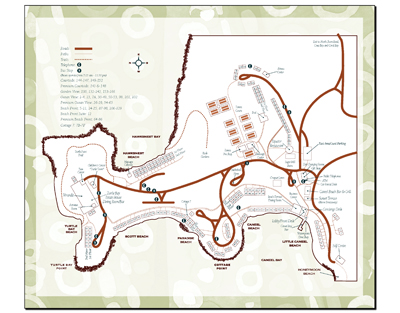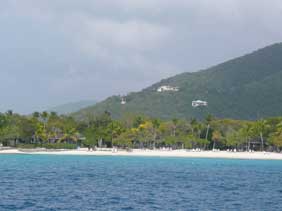 Tuesday
We woke to the sounds of tropical birds and some donkey braying. The resort has quite a number of wild animals roaming around and a herd of white donkeys went anywhere they liked, usually munching on the grass. They particularly liked a spot near our room for their toiletry needs. Fortunately, Nancy loves that smell!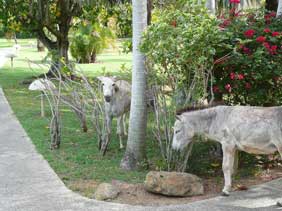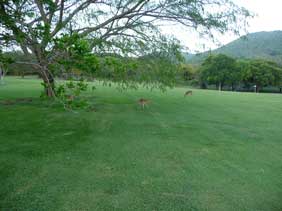 We had the first of our five buffet breakfasts, which was a really decadent spread of regular hot entrées, but also fabulous fresh tropical fruits, bagels and lox, etc. I soon found that you could save $8 per person by not picking up any of the hot items, such as omelettes or bacon.
We visited our first of the five beaches, Scott Beach, which was designated for adults only, but there were very few people of any age around. It turned out that we had booked in the start of the off-season and traffic diminishes significantly after Easter. One of the results of this is that the high-end Estate House restaurant had closed the previous week. But for the entire week, we were really delighted to have so many beautiful beaches almost deserted for our use.
The beach—all of their beaches, actually—had beautiful clear water, in my opinion substantially clearer than almost anywhere in Hawaii. We saw a lot of colorful small fish, but most enjoyed seeing the green turtles feeding on sea grass. These guys were about a foot long and they had the most beautiful coloration on their carapaces, looking very much like delicate watercolor brush strokes. Too bad I don't have an underwater camera. We had lunch at the bar in the main building. The menu consisted of mostly sandwiches, all of which were rather expensive. (Food all over the US Virgin Islands is very expensive, probably due in no small part to the transportation costs.)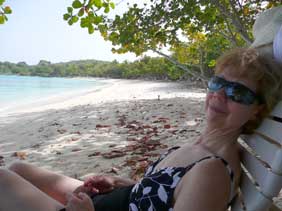 In the afternoon we walked to Hawksnest Beach, which was also deserted, but I found that the water was a bit cloudier than the other beaches and we did not return. Nevertheless, it was a delightful afternoon reading on chaise lounges in the shade. And floating in the warm, salty seawater was effortless.
For dinner, we took a taxi to town, which is not very far away, but it is definitely not walkable. You have to navigate a rather steep hill on a narrow, bumpy road. Most of the taxies we saw during the week were converted pickup trucks that had bench seating in the rear. Five dollars per person was the standard charge. We found that Cruz Bay, which is the only significant town on the island, was pretty run down and ramshackle. We went to a restaurant recommended by the driver, called Morgan's Mango. I eventually was happy for the recommendation because it did not appear to be a place that would interest me. It was an old house that had lots of covered decks. It looked like the kind of place where chef Gordon Ramsay would have been brought in to fix a local tourist disaster on the TV show Kitchen Nightmares. But the food, although rather expensive again, was really excellent. We shared a ceviche that had a fruity mint sauce. My main course was blackened swordfish with salsa. It was a large portion, quite delicious, although not as authentically Island-spicy as their marketing would suggest. We visited a tiny store called the Dolphin Market for lunch provisions. Taking the taxi back, we found that the town area to the south, nearer the Westin resort, was rather nicer than the area we walked in.
Wednesday
Today is Nancy's birthday! As she increases with age, she is claiming longer and longer celebration periods—from birthday weeks to birthday months—but I actually like to focus on the real day. After the breakfast buffet we visited Turtle Beach, another place with lovely shaded areas, beautiful sand, and great water. I did not see as many fish at this beach while snorkeling. Nancy found a stingray.
We had lunch with Dolphin Market provisions—sandwiches, fruit, and mint Oreos—and repeated that practice for the rest of the week.
In the afternoon the concierge arranged a sailboat ride for us. The boat, 51-foot, 6-passenger, was named Spitfire and a couple named Greg and Barbara live full time on board. (They have a webpage describing their services.) We sailed a few miles out to Mary's Point on the north shore of St. John, and got in about 45 minutes of snorkeling. I saw lots of purple fans, brain coral, and a baby shark, but most of the regular fish were about comparable to the other beaches on the resort. I had a memory of snorkeling in the Virgin Islands 25 years ago when there were orders of magnitude more colorful fish, many of which were attracted by frozen peas that the snorkel operators passed out for us to feed them. Apparently that is no longer environmentally correct. Greg and Barbara dissed the legendary Trunk Bay, which Barbara called the National Park Service's "sacrificial beach." She said that the NPS funnels almost all tourists from cruise ships to that beach, hoping to save the others. I had a recollection of it being beautiful snorkeling, but they said those days are long gone.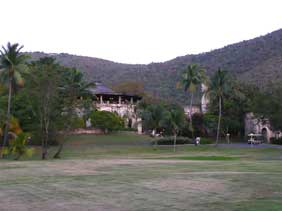 For Nancy's birthday dinner, we went to the resort's Equator restaurant on a hill behind the ruins of an old sugar mill. It was a large circular dining room with sides open to the air, but rather dark—bring your flashlight! We shared a bowl of a nice, spicy pumpkin soup, and then traded bites of Ahi and lambchops. Dessert was key lime pie. I was disappointed that the hotel did not make any mention of Nancy's birthday.
Thursday
We spent all day at Scott Beach and enjoyed really good snorkeling in shallow water near the rocks. We saw two turtles, a stingray, and a lot of conchs. The conch ("konk") is a mollusk, like a giant snail inside an oddly shaped shell. It was fun to watch the tiny fish swarm around it, nibbling, making the irritable conch jump forward a couple of inches.
For dinner we went to Zozo's at the Gallows Point Resort, a couple of blocks from the ferry terminal in Cruz Bay. It billed itself as "exquisite" Italian. We had bruschetta with tenderloin, Mahi-mahi, and grouper. My two word review: "Zozo? So-so." We wandered around town looking for ice cream for dessert, but Cruz Bay does not have that kind of the tourist industry, apparently.
Friday
Scott Beach again all day. I enjoyed swimming with the tiny swarms of fish, all less than an inch long, creating quickly changing geometric patterns. One time they formed what seemed like an almost perfect sphere. The interesting thing is that you can swim right into a swarm of a thousand of them and never touch one. Seeing that many living creatures moving in concert made me think of Civil War armies on the march. I saw a giant fish, about 5 feet long, with a jaw that looked like can opener, but by the time Nancy swam over it was gone and she didn't believe me. On the way to lunch, we got to watch a big iguana near the front office.
Saturday
After our final breakfast buffet, with our bags packed and locked in the room, we boarded the 8:30 a.m. boat for our 12:40 flight. For some reason the airport recommends that you be there three hours in advance. We reached the airport at 9:25, and made it through check-in, customs, and security by 9:40. I am glad that it was airconditioned as we sat there for 2 1/2 hours before boarding. Our flight back was through JFK and both legs were comfortable, although sunburn on our backs prompted periodic itching during the flights.
We had a great time at Caneel Bay and will certainly consider returning for a future vacation. This turned out to be a very good time of year to visit because although it was pretty hot (upper 80s), the crowds were quite manageable.