2018 Civil War Travelogues — "Longstreet in Tennessee" with BGES
Welcome to my 2018 travelogue pages. This is my report of the Blue and Gray Education Society (BGES) program, Longstreet's Command Audition: Tennessee in the Fall of 1863. This was my 15th outing with BGES. It was actually a substitute trip—my original intent was to attend a CWEA program in western Virginia, but it was canceled following the recent death of their leader and sole proprietor, Bob Maher. To see the entire list of my 2018 trips, go here.
Here is a reminder about the reason I write these pages the way I do. They record my experiences and impressions of Civil War trips primarily for my future use. Thus, they sometimes make assumptions about things I already know and focus on insights that I receive. They are not general-purpose descriptions for people unfamiliar with the Civil War, although I do link to various Wikipedia articles throughout. Apologies about the quality of interior photographs—I don't take fancy cameras with big flashes to these events. If you would like to be notified of new travelogues, connect to me via Facebook.
Wednesday, August 1
I flew United Airlines through Chicago to Chattanooga. What a poor start to my trip! For the first time in at least 25 years, I missed my flight from San Francisco. I set the wrong wake up time on my alarm and got to the airport frantically just 40 minutes before departure, but since I had a bag to check, they enforced the 45-minute deadline and had to rebook me on a flight a few hours later. And O'Hare was suffering delays because of mild thunderstorms nearby, so I arrived in Chattanooga at 10:45 pm instead of 4:50. Len Riedel graciously offered to pick me up so I wouldn't need a rental car. Then while chatting away about the command structure of the Western Theater, we didn't notice that we drove 30 miles in the wrong direction. So I checked in to the hotel, the Comfort Inn in Dalton, Georgia, at 12:20 am.
Thursday, August 2
Our tour group consisted of just four customers and two guides: Len and Norm Dasinger. I had never met the latter, but came away quite impressed with his detailed knowledge of the subject matter. He has an encyclopedic grasp of the battles, but also seems to have every road and city street in East Tennessee memorized. Of course, I had missed the introductory session held at 7 pm Wednesday night, but I got into the swing of things anyway.
The morning brought a lot of heavy rain, so we did some of the scheduled stops inside the van. We started at Catoosa Station, where Longstreet arrived on September 19, 1863. We drove through Ringgold and breezed by some spots in the November battle there. Approaching the Chickamauga battlefield, we stopped at Reed's Bridge and discussed the opening moves on September 18. Then we drove over to the LaFayette Road and started talking about September 19 (briefly, because Longstreet himself was not personally involved yet). We spent a bit of time on a pit stop in the visitor center, where I was pleased to see they have nine books on sale with my maps in them!
Norm's favorite spot on the field is Eli Lilly's artillery battery monument and we tried to get to it in a respite from the downpour of earlier. We crossed a rickety bridge over a raging creek, but found ourselves blocked by a very large puddle, so viewed the monument from 100 yards or so away. That puddle was in a historic ditch, down which Lilly fired on the Confederates attacking Dyer Field on September 19. We took a lunch break in Rossville, an interesting place called Bea's, which features unlimited southern favorites served up on big lazy Susans—quite good.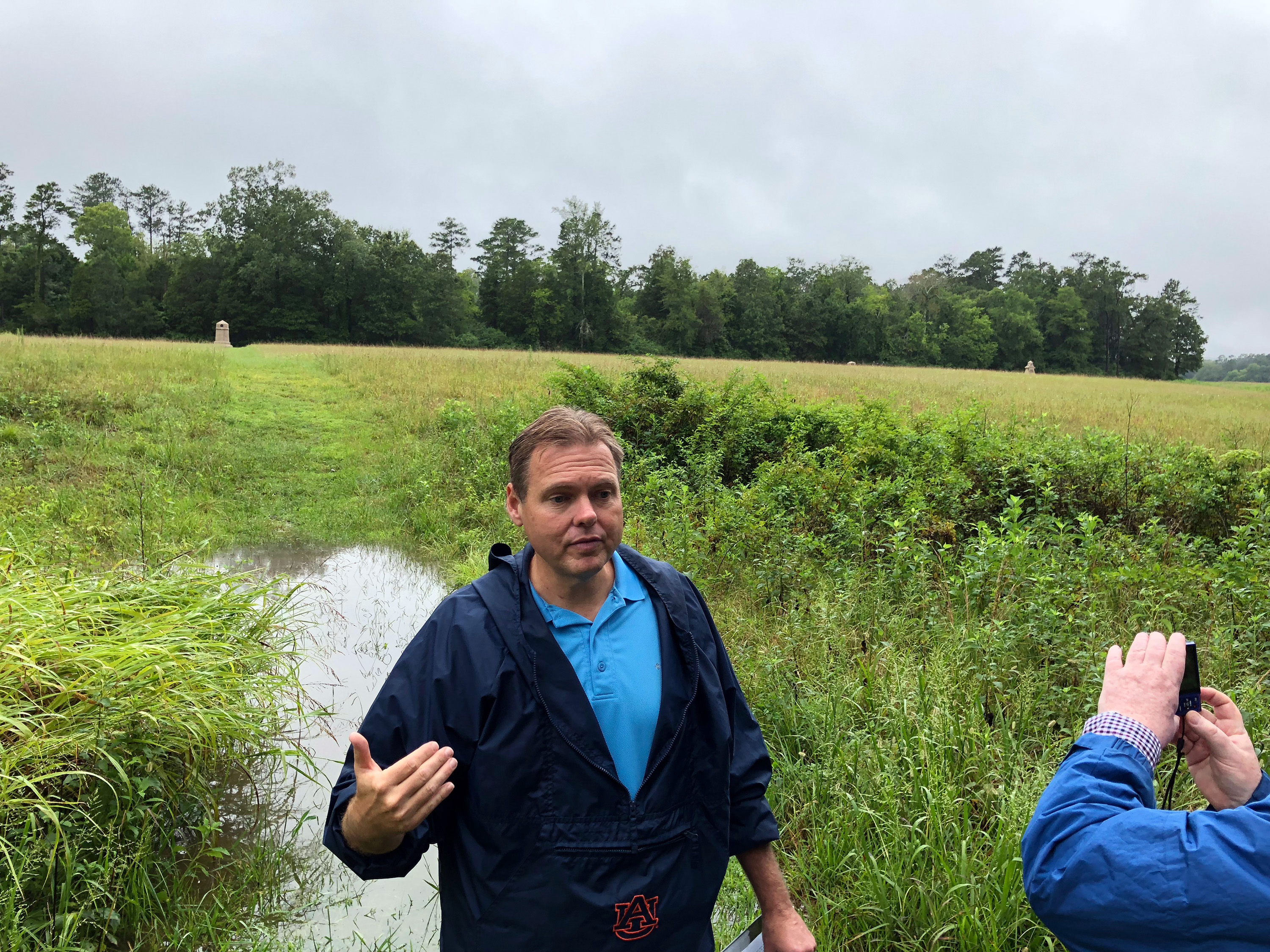 Back on the battlefield, we walked up Lytle's Hill to see Longstreet's big September 20 breakthrough from the Union perspective, looking over the expansive open fields. Norm is quite taken with William H. Lytle, the politician/poet/Union-general who was mortally wounded here. We stopped at the place Hood was wounded near the intersection of the Dyer and Glenn-Kelly Roads and then headed to the South Carolina monument. Here Harker's Union brigade defended against Kershaw's brigade while the rest of Thomas's men started preparing Horseshoe Ridge, just behind them to the northwest. I have an interest in that brigade because I am currently working on maps for a book on its 125th Ohio regiment, which had a prominent role in the battle. We concluded with a lengthy stop on Snodgrass Hill, where there is the official 125th Ohio monument, and we discussed how Longstreet's attack was repulsed and how the battle ended.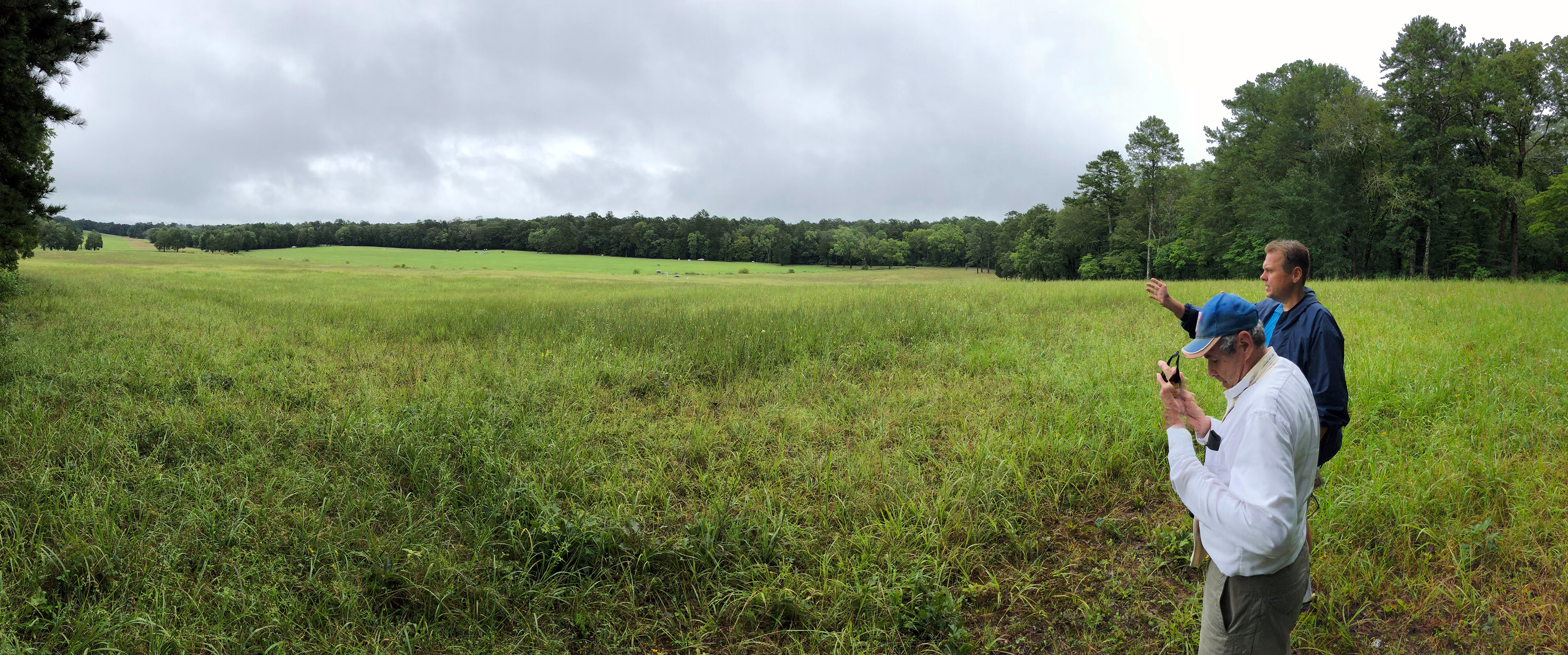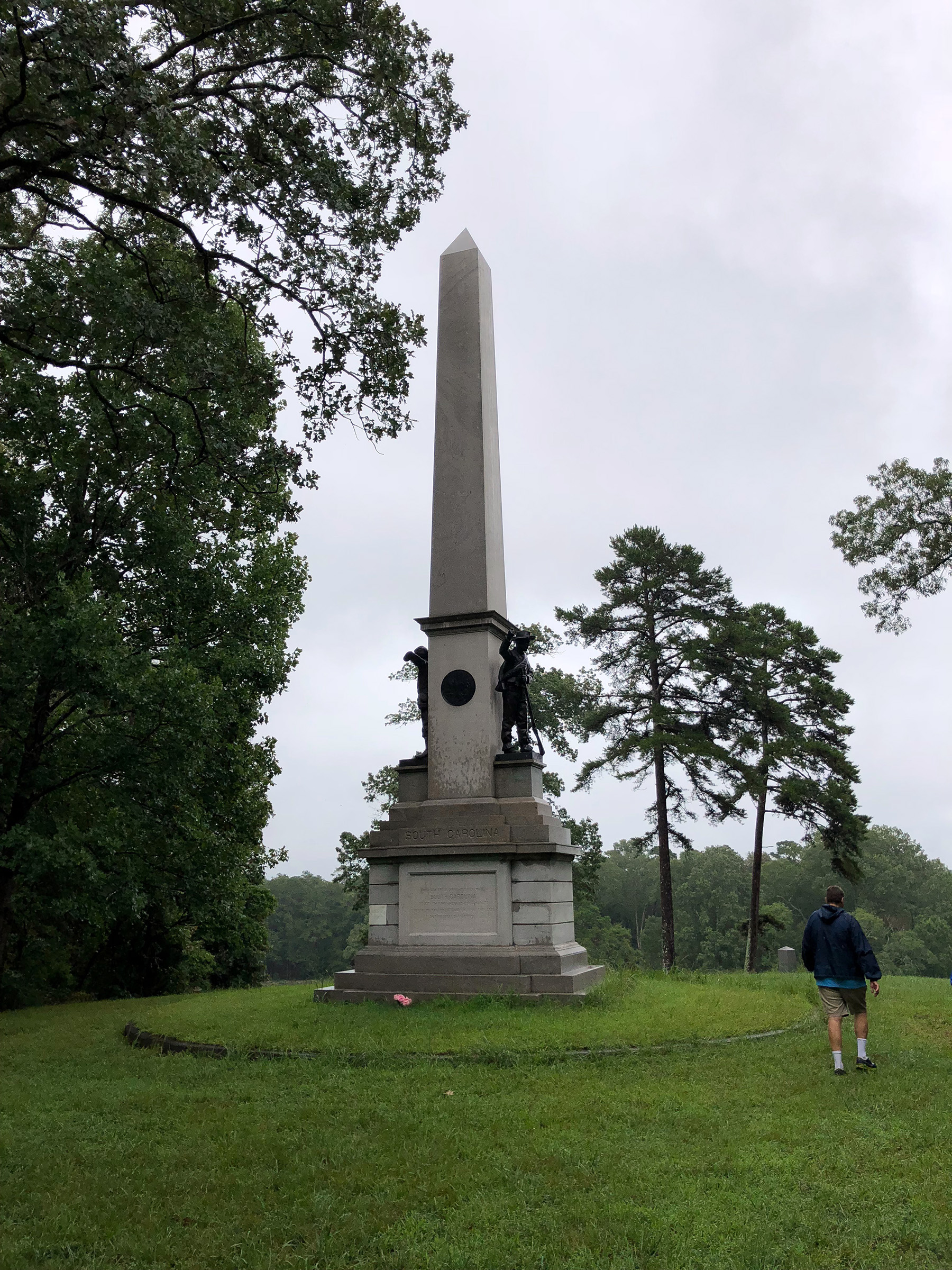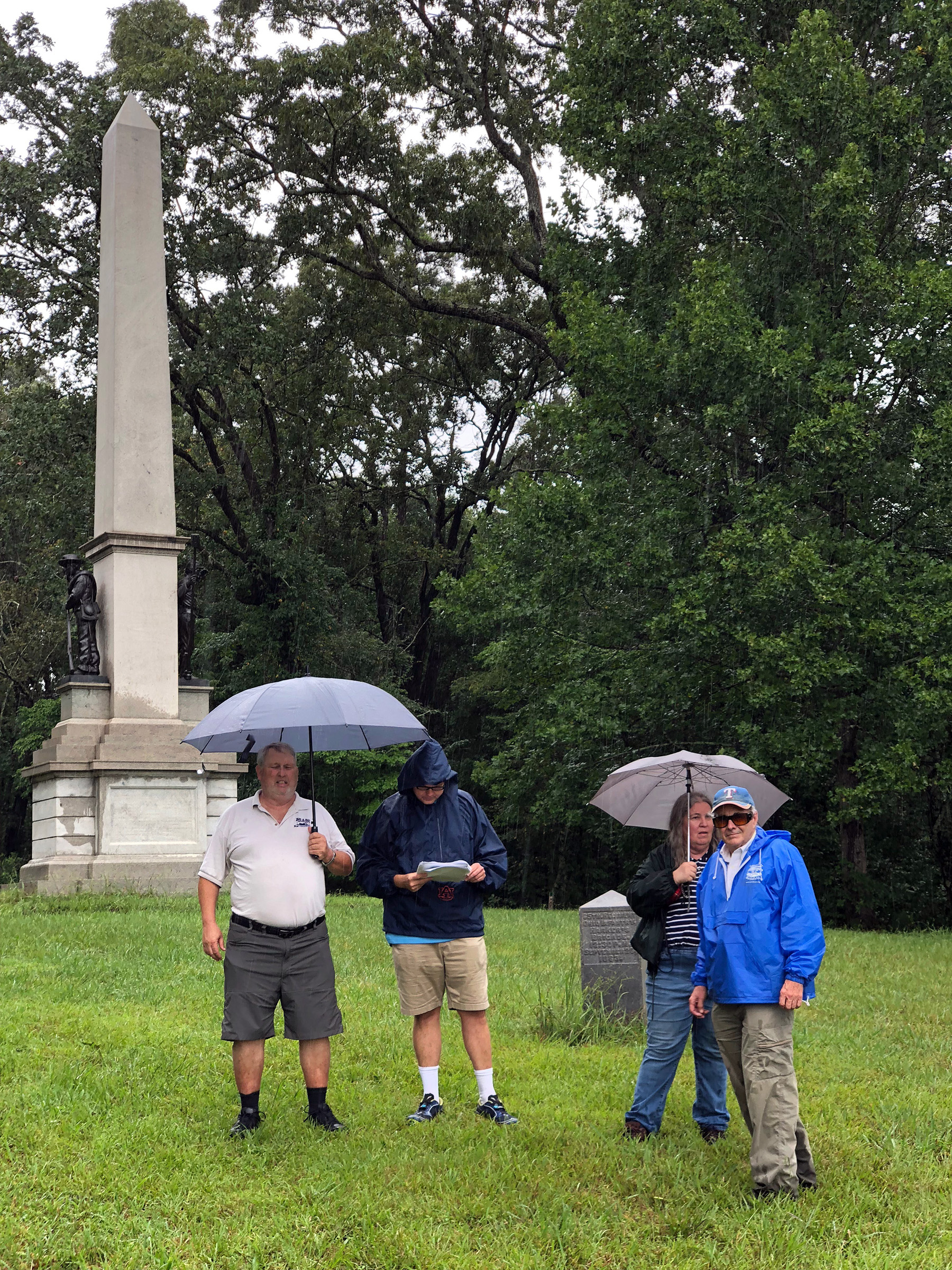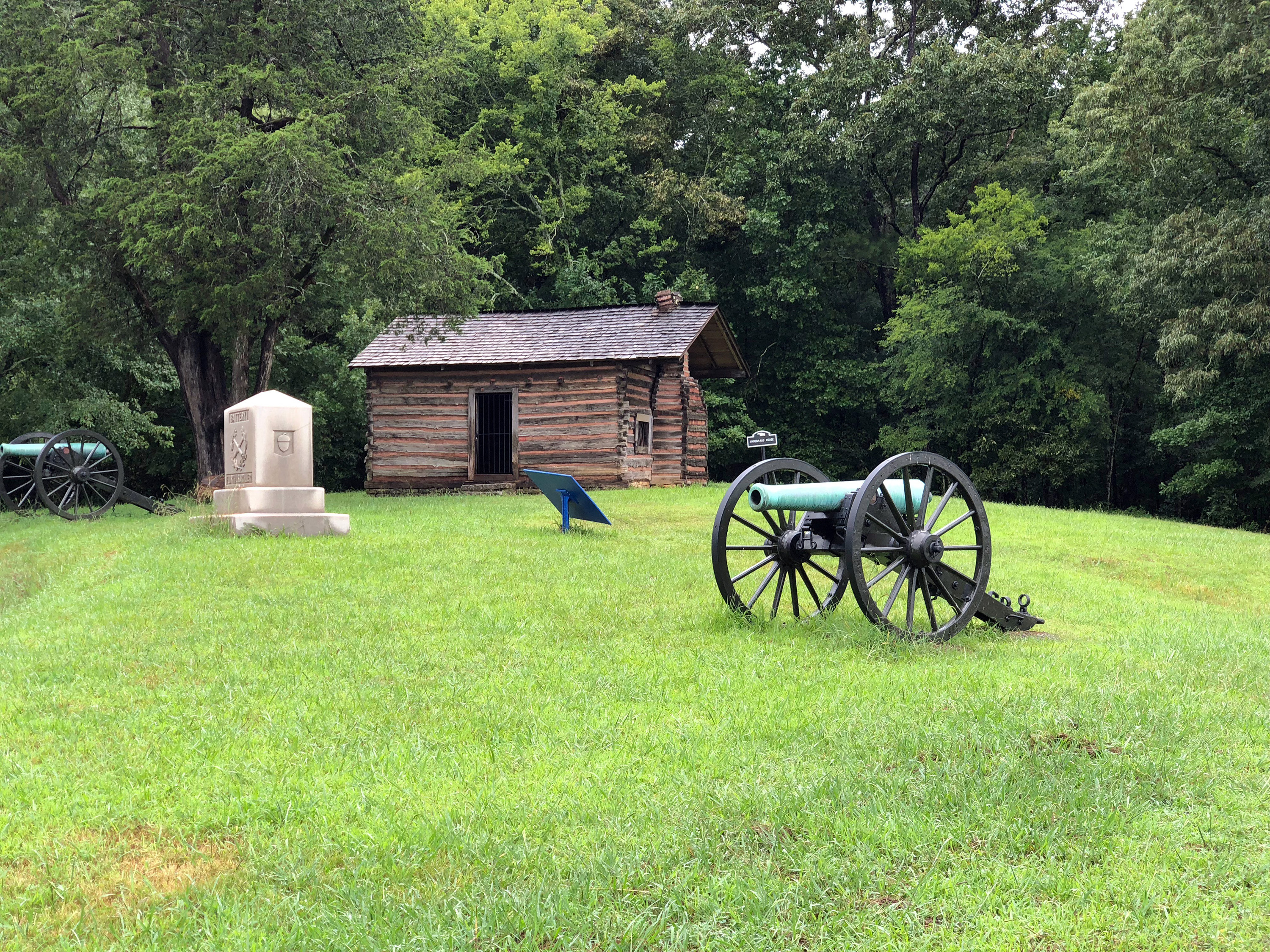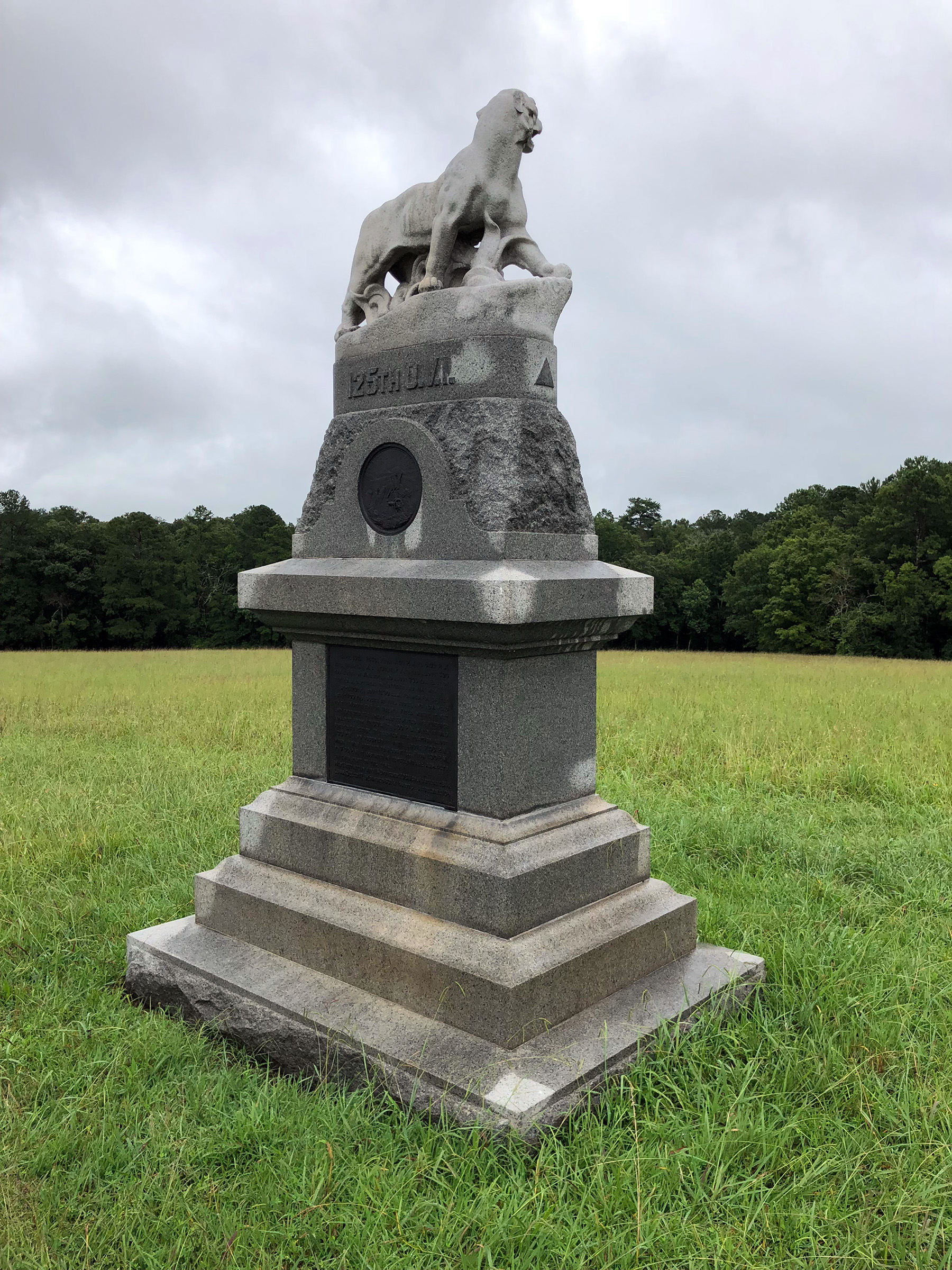 Friday, August 3
We packed our bags, checked out of the Dalton hotel, and boarded the van, to start the day in Chattanooga. We continued to focus on Longstreet specifically. We started at the national cemetery to get a good terrain overview of the Chattanooga area, the Union supply situation, and the Confederate command and logistical situation. Hearing of all the CS command difficulties after Chickamauga, we concluded that Longstreet shot himself in the foot politically by jumping in against Bragg during meetings with President Davis.
Next were a series of stops involving the battle of Wauhatchie, which occurred in Longstreet's area of responsibility. We stopped in back of the Walmart in the current town of Tiftonia, where we got an elevated view of the battlefield. But then we jumped back in time sequence and visited Brown's Ferry. This site was recently acquired by the American Battlefield Trust; I had seen it on prior visits, but only from the other side of the river. Next was a McDonald's, where up the hill in back was the site from which James Walker viewed Lookout Mountain for the famous wall-sized painting of Joe Hooker in the battle. But then back to Wauhatchie. We stopped at a power engineering office that sits on the site of John Geary's position and discussed all the major actions of the battle's southern sector. Then lunch at Hillbilly Willie's BBQ. It turns out that Norm is a certified BBQ judge and he judged the pork here as OK but dry and pricey. We concluded by driving by Smith's Hill, which was Evander Law's position in the battle, and then the hill where Tyndale attacked Benning.
We drove up Lookout Mountain for an excursion to Sunset Rock, where Bragg and Longstreet observed Lookout Valley. Unfortunately, the stone stairs down were uneven, slick with yesterday's rain, and offered no handrail. After about a hundred of these, I judged them too precarious and retreated. Looking back at previous reports, I see that I actually succeeded in the climb in 2011, but I guess it wasn't wet then; I remarked at that time that the view was good, but not substantially better than other places, such as near the Ochs Museum. We went to Point Park's visitor center to see the Walker painting and have a rest stop, but we didn't venture out into the park with its fabulous view of Chattanooga because Longstreet wasn't involved with the Lookout Mountain battle. One highlight of the mountain was passing by a fudge stand, and Len regaled us with stories about the fudge company in Uranus, Missouri.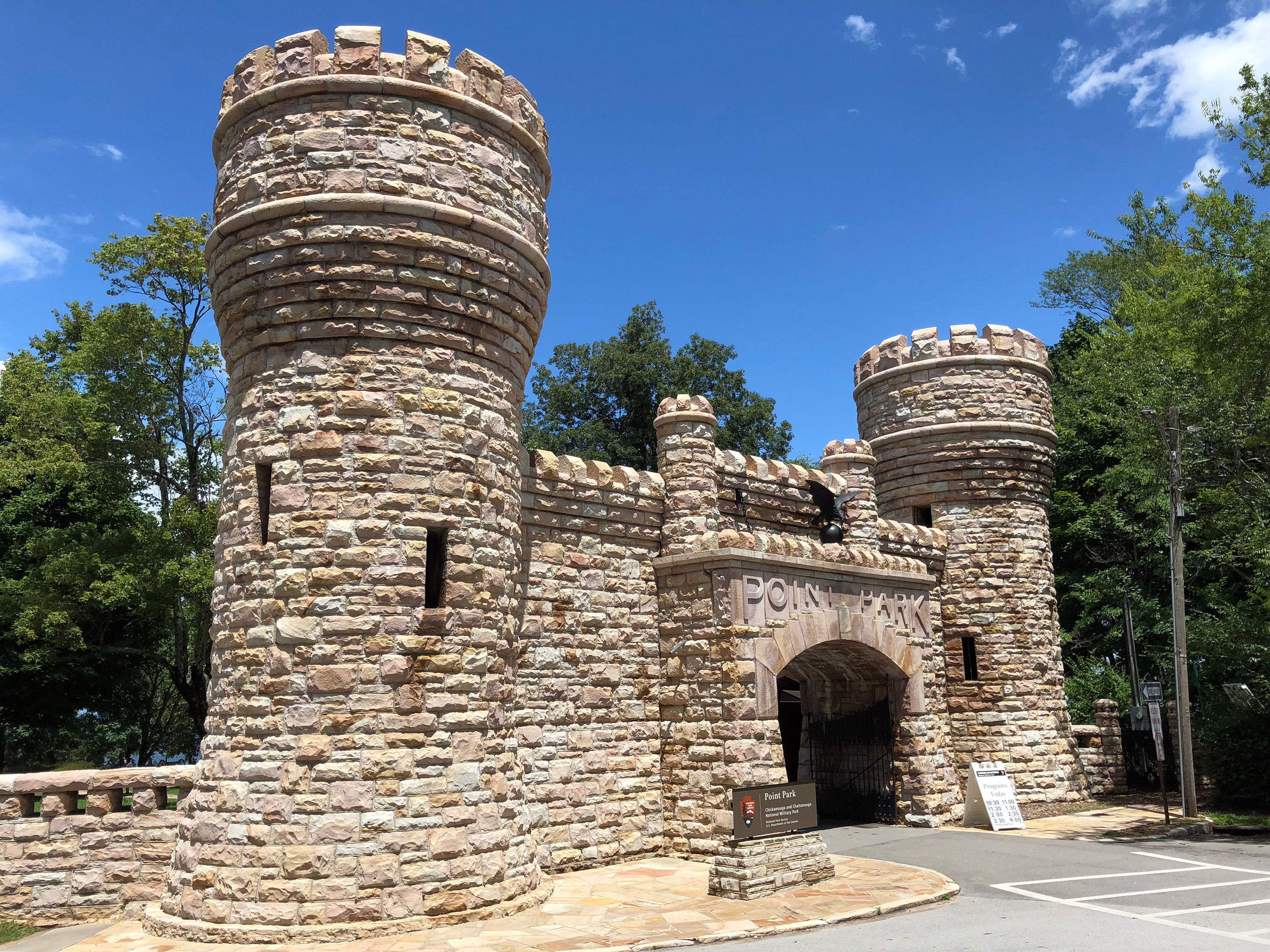 We drove downtown next to the local campus of the University of Tennessee to visit the Confederate cemetery, which wasn't all that notable. There was a prominently segregated grave and marker for a black slave who continued as a Confederate soldier after his two masters, the Searcy brothers, were killed. Then we drove out of town in the direction of Knoxville. Our first stop was near Tyner's Station, where Longstreet embarked on his train trip toward Knoxville. We visited Silverdale Confederate Cemetery, whose sole item of interest was a monument to the Order of the Southern Cross, which was founded in nearby Gray's Mill in 1863 by Patrick Cleburne, Leonidas Polk, and a chaplain, Rev. Charles Quintard. This cemetery was large and grassy, with virtually no markers because most of the 155 dead were unknowns.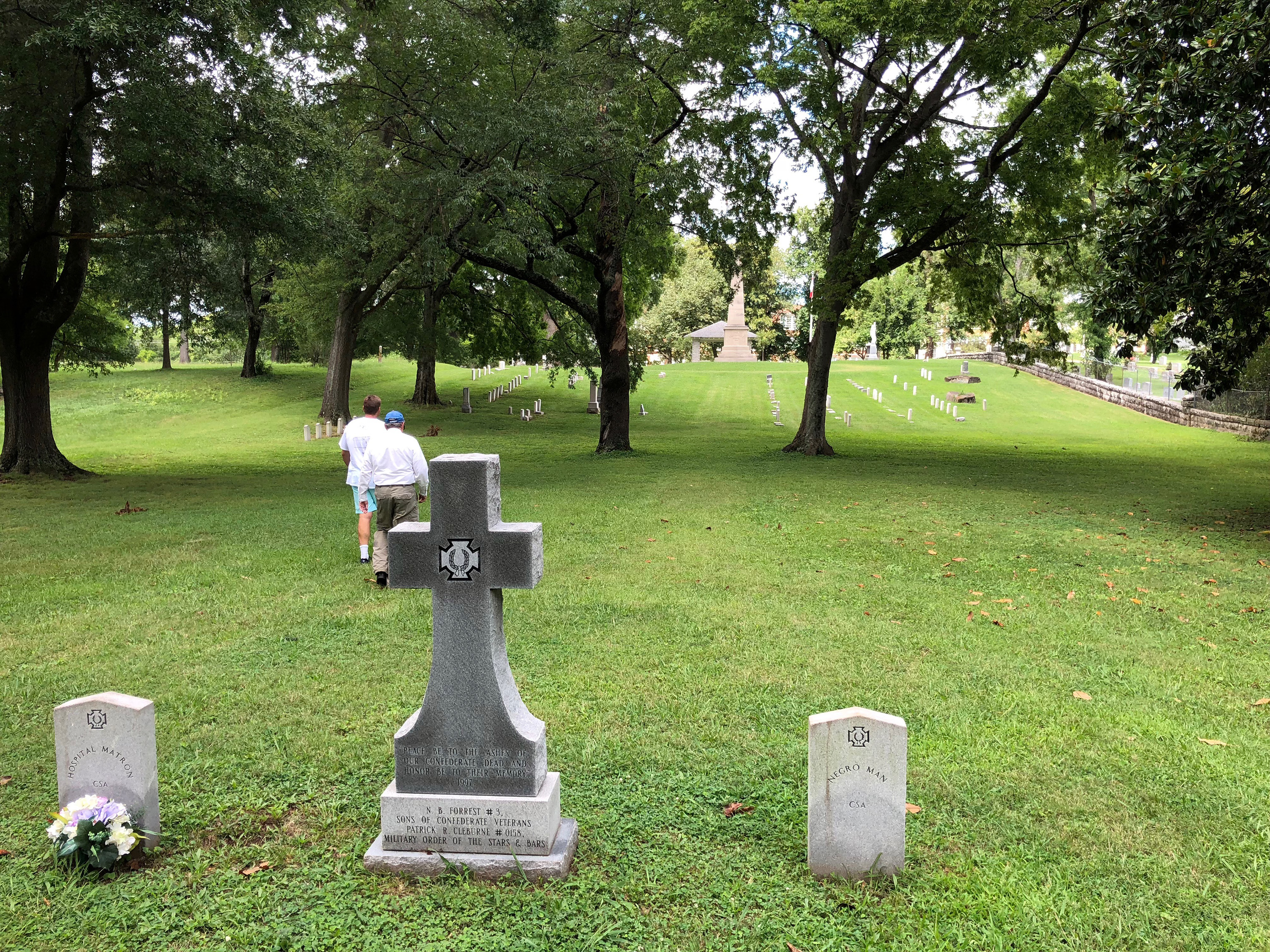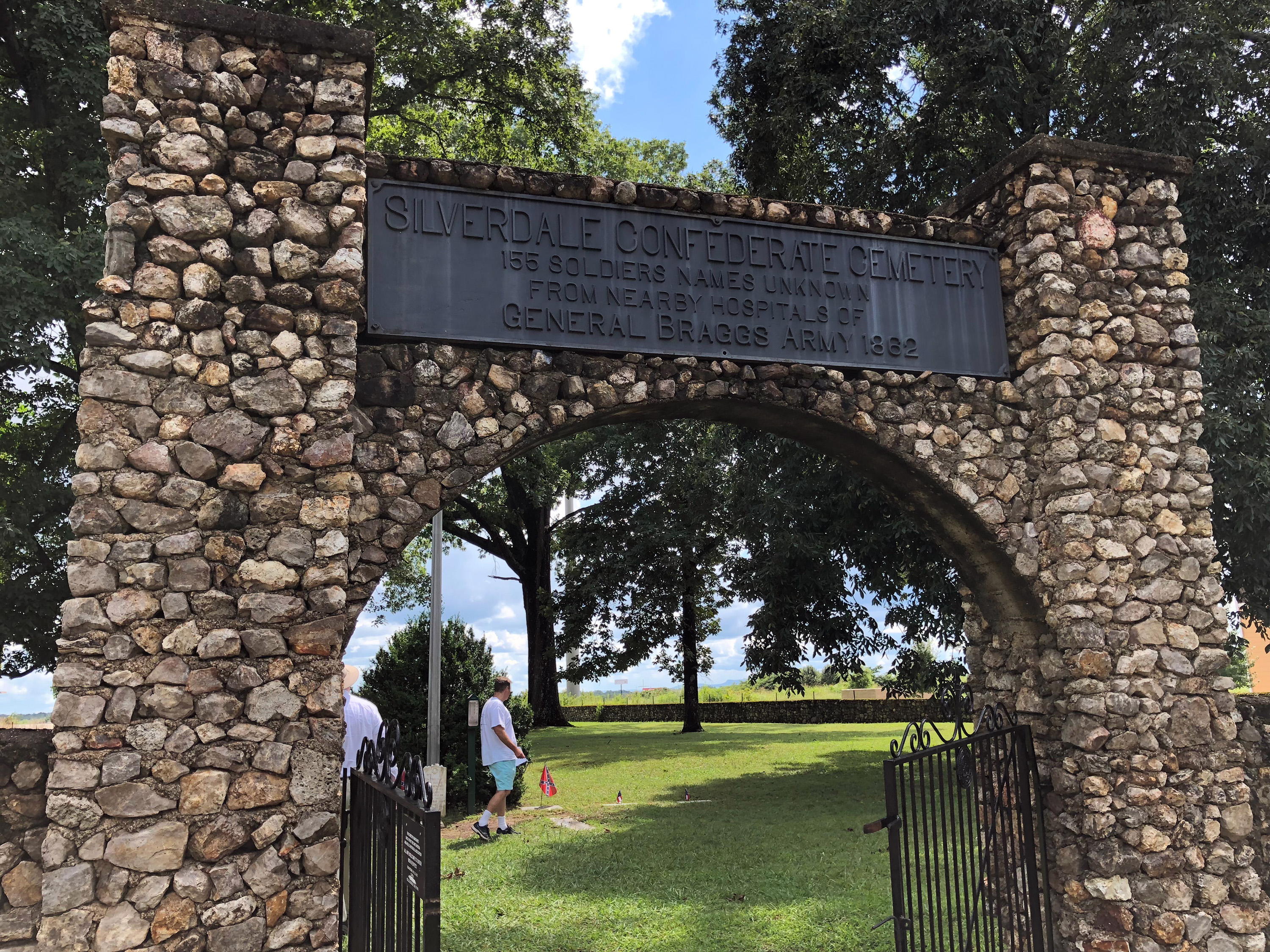 In the town of Niota (which had the better wartime name Mouse Creek), we saw the only original train depot left on the Tennessee and Virginia Railroad. There was also yet another cemetery, where we saw the grave of Harry Burn, the Tennessee legislator whose vote ratified the Nineteen Amendment (women's suffrage). Then to Sweetwater, a nice little town, where we saw the depot at which Longstreet and his men had to de-train and begin their march to Knoxville. Outside the town we ate dinner at the Dinner Bell, which was very similar in format to a Cracker Barrel, but featured an excellent southern buffet. It was another hour to north of Knoxville, where we checked into the brand new Holiday Inn on Merchant Drive. Very nice. We found out that Knoxville is a pleasant, clean, very hilly small city, although totally dominated by the University of Tennessee campus and its 28,000 students.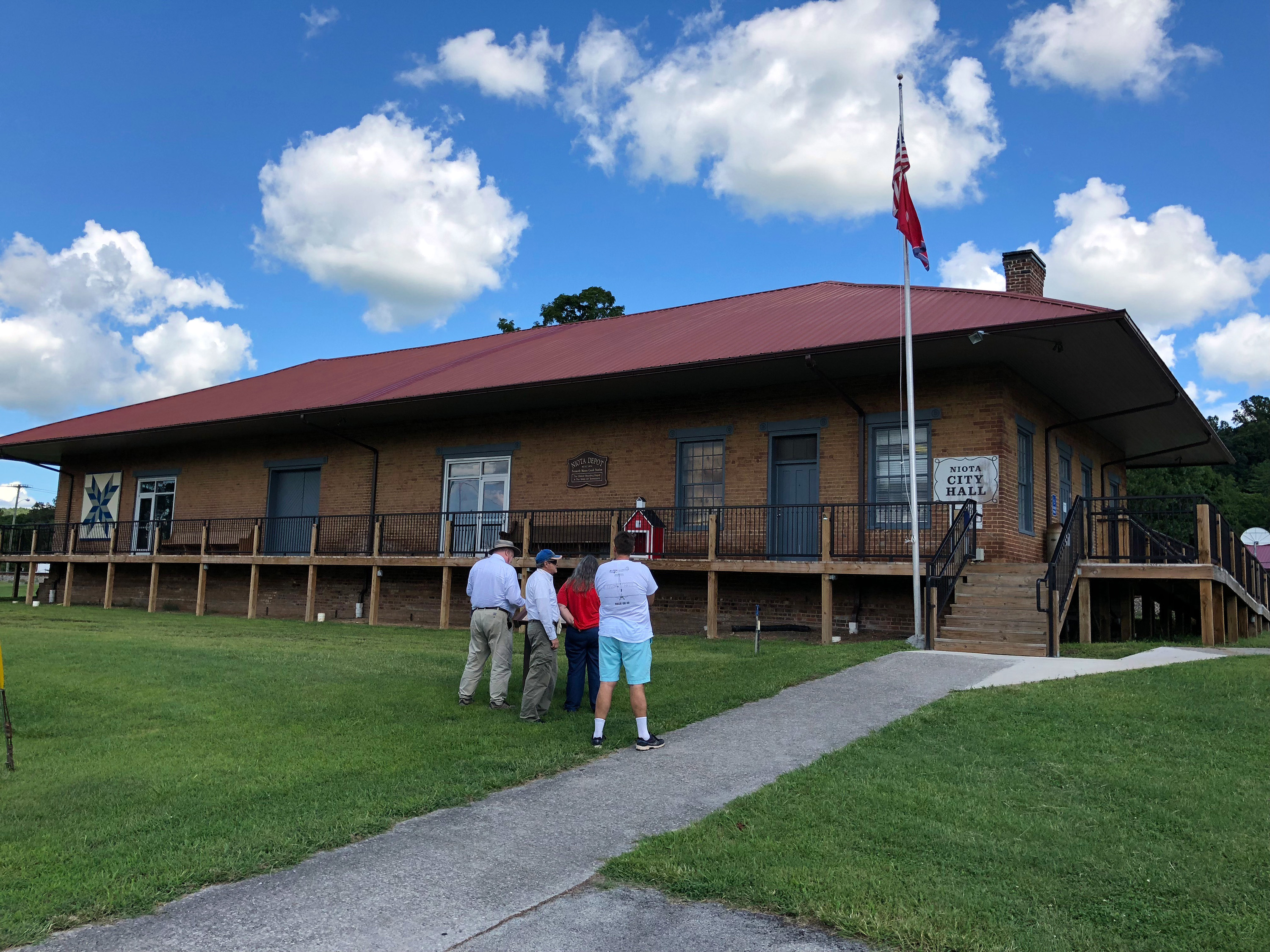 Saturday, August 4
We headed southeast to pick up the action on the way to Knoxville. First stop was Hough's (Huff's) Ferry near Loudon. We couldn't go all the way to the water because of private roads, but got pretty close. We discussed Longstreet's plan to advance south of the Tennessee River to Knoxville, avoiding Union troops in Lenoir's Station (now City), and why he couldn't do it because he lacked wagons to carry the pontoons to cross the Little Tennessee. So he crossed at the ferry by taking the pontoons on the train to Sweetwater, and then the soldiers silently pushed the rail cars to Loudon, where they could be deployed without alerting nearby Union units. We drove north of Lenoir's to see the intersection where Longstreet hesitated and let Burnside's men slip out ahead of them at 2 am on November 16. Norm judged that the campaign was lost right here.
We took a back road to follow Burnside's route from Lenoir's and stopped at Virtue Church Cemetery, where they have a series of monuments dedicated to Medal of Honor winners. There is a monument to the 17th Michigan and a Christian Rath, who received some notoriety as the executioner of the Lincoln Conspirators. We started looking at the battle of Campbell's Station at Turkey Creek in the town of Farragut. Then we stopped at the David Farragut Memorial Plaza, which had a statue, two naval cannons, and a few biographical plaques. There is a good museum in the town hall next door, but it was closed on weekends. We went to the second phase of the Campbell's Station battle, where Longstreet blamed Evander Law for failing to execute a flanking movement properly. Then to a night waterfront park to see, across the water to a private peninsula, the birthplace of Farragut.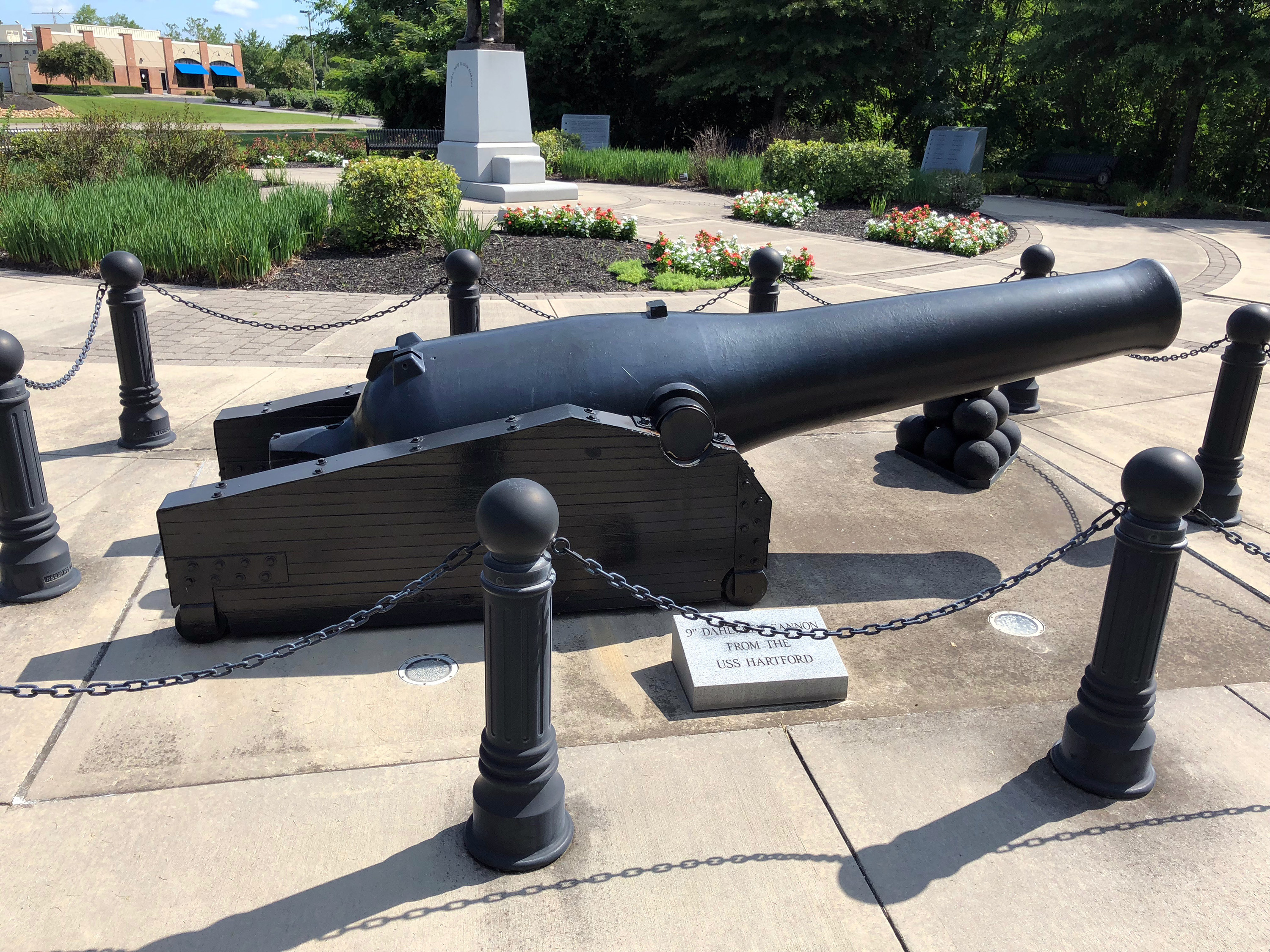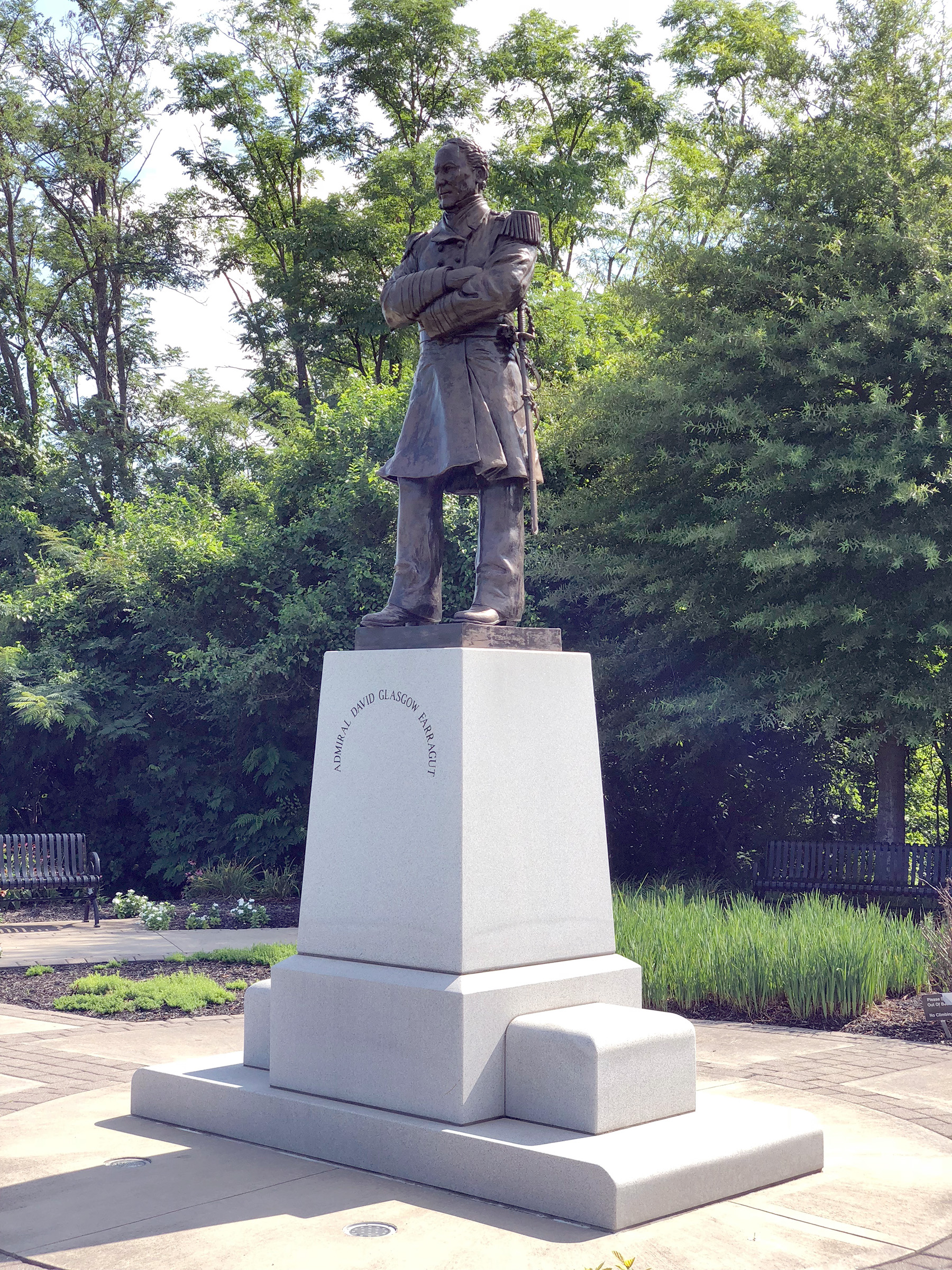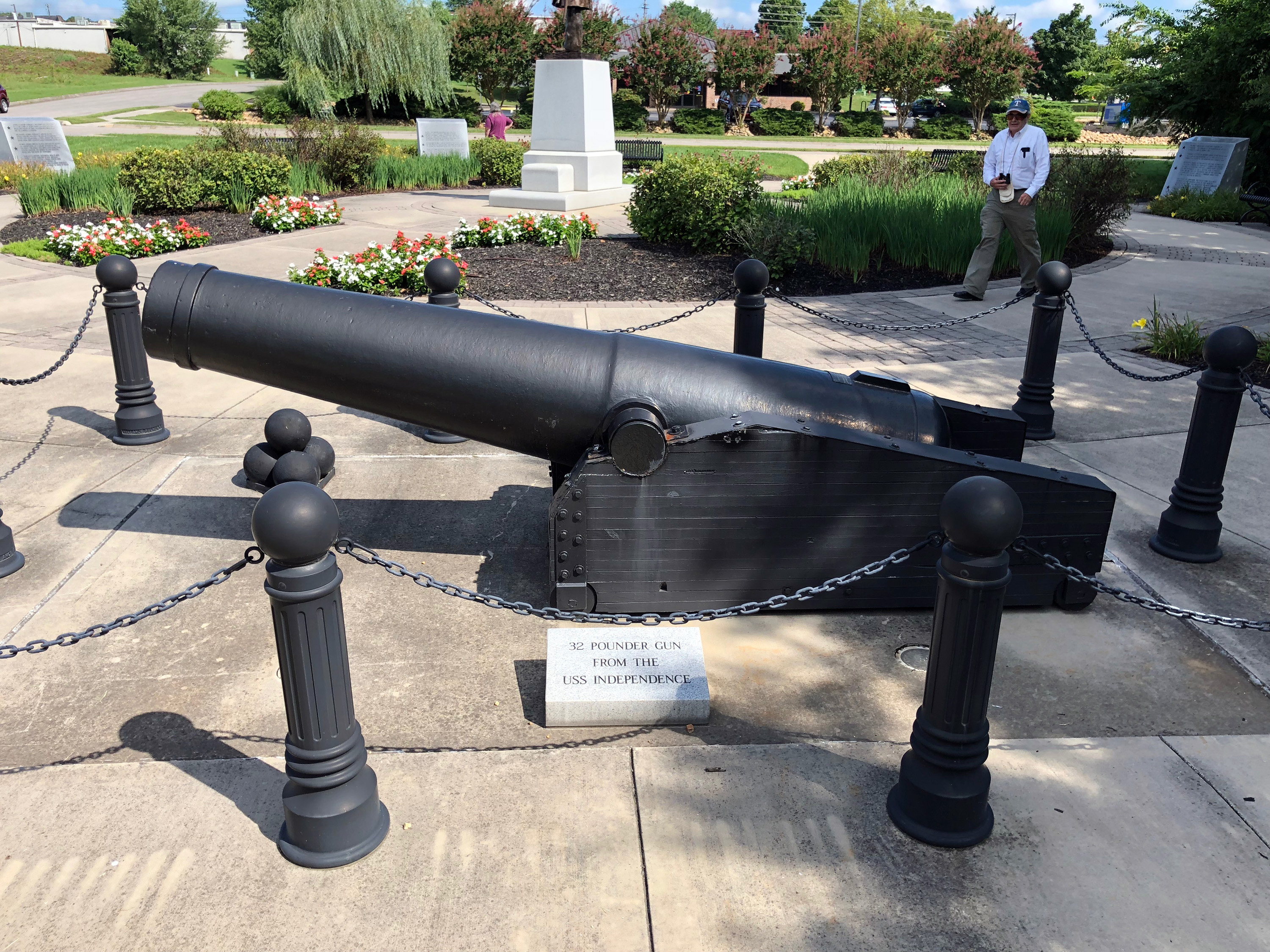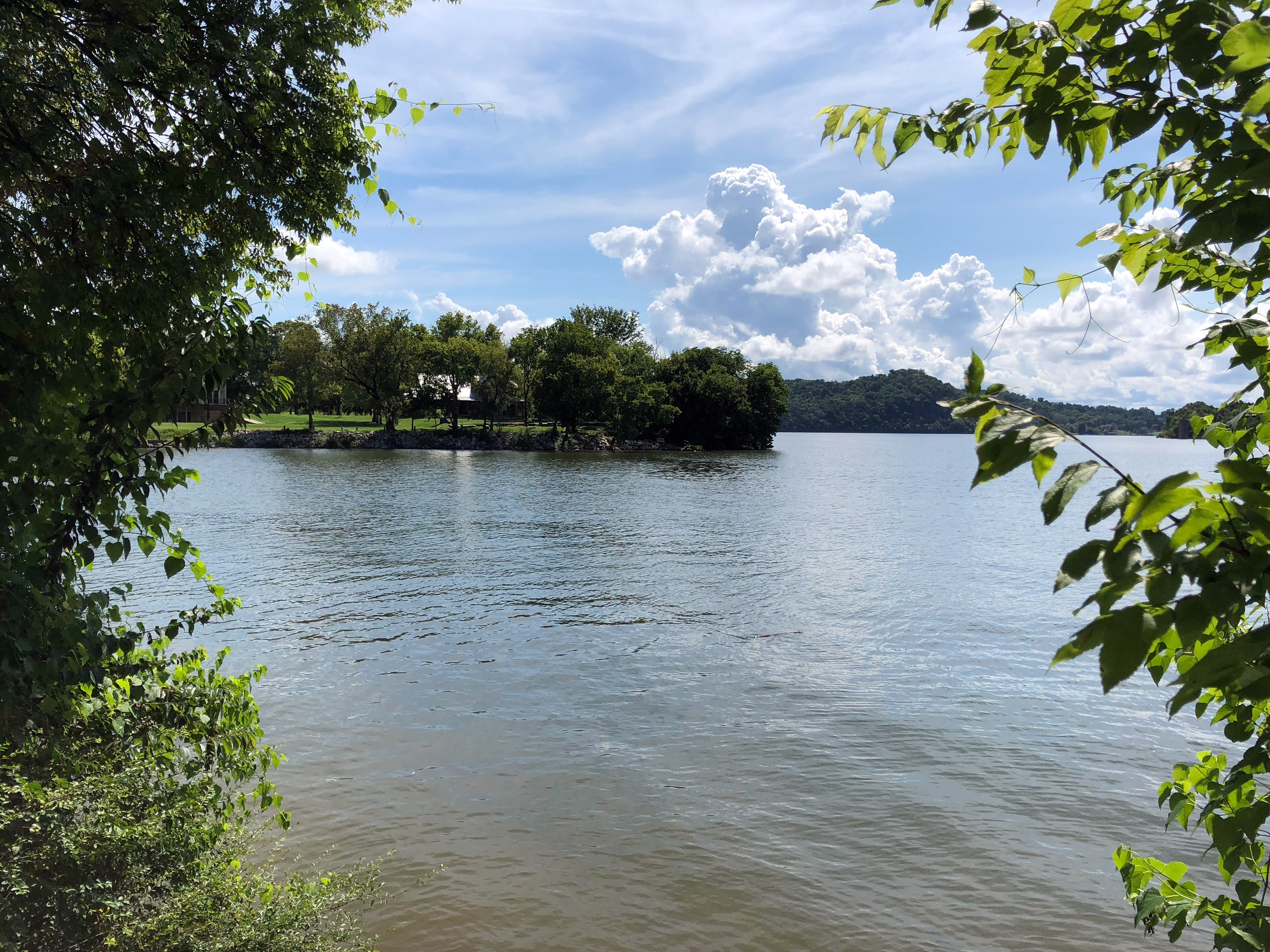 Back in Knoxville, we stopped at the Bleak House on US 11, which was Longstreet's HQ, and which hosted a team of sharpshooters on the roof. These guys may, or maybe not, have shot and killed Brig. Gen. William P. Sanders quite a ways away on November 18; we also went to the place he was shot, over at the Second Presbyterian Church (built in 1818). Sanders was apparently nominated for BG, but the Senate never approved it, so Col. Sanders died here. The Bleak House has a museum run by the UDC, but it is open only a few days a month.
Next was Fort Sanders, the main action in the siege and battle of Knoxville. Unfortunately, it is totally gone, obliterated by houses, streets, and a big college dorm. Norm had a contrarian view of its exact location. He thought the critical northwest bastion was on Highland Ave, three houses west from 17th Street, whereas most maps I have seen (and drawn) place it higher on the hill, at Laurel and 17th. We drove the the defunct and abandoned (and for sale!) Knoxville College, a historic black college. It was here that E.P. Alexander placed his Confederate artillery to bombard Sanders.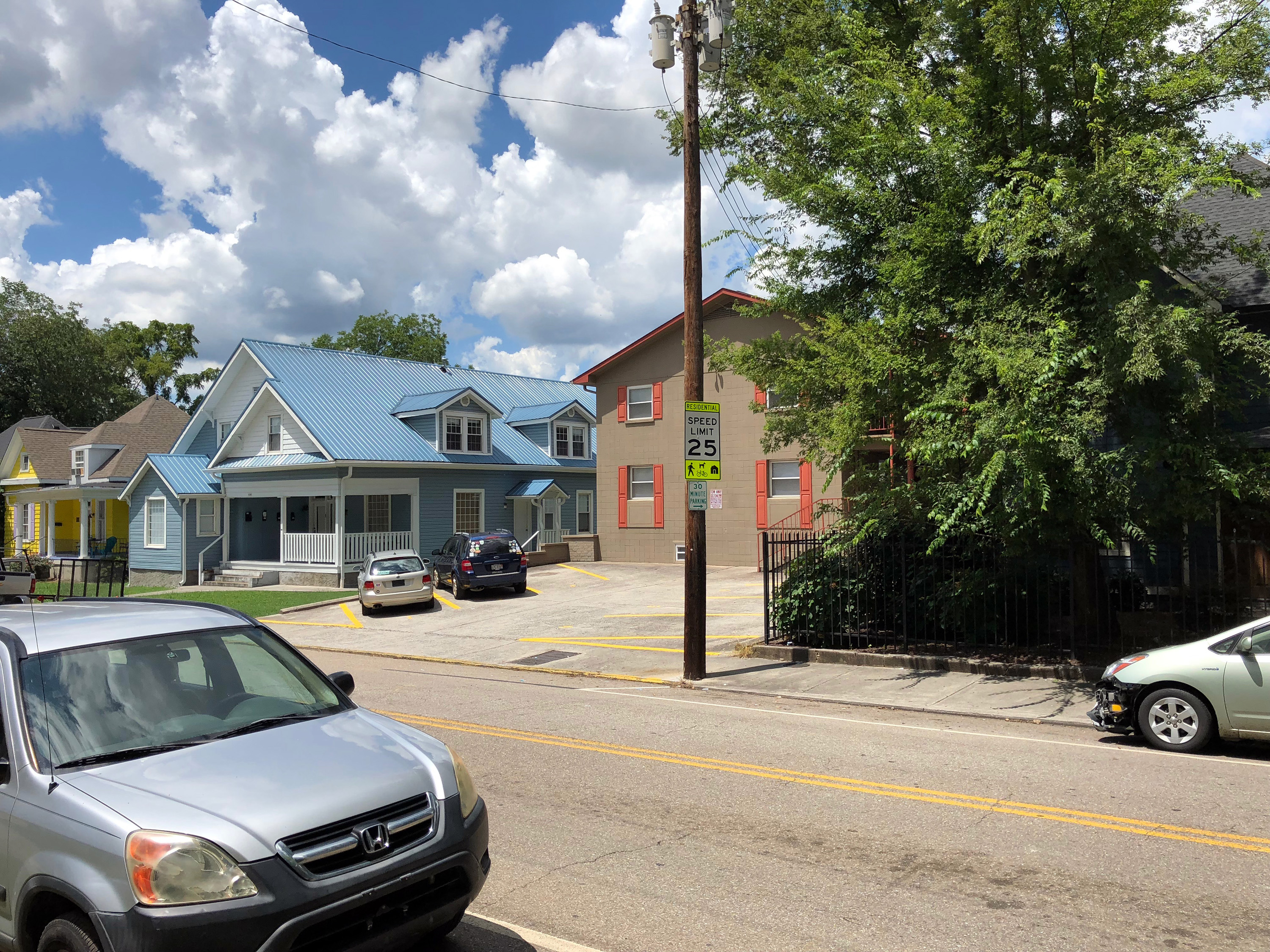 We drove to "The Hill" on the University of Tennessee campus to see the site of Fort Byington, totally gone of course. Also at UT was a small natural history museum, which had a decent display about Fort Sanders. Our final stop was south of the river was Fort Dickerson, which is a very pleasant park on a rather tall hill, with moderately preserved earthworks and a few cannons.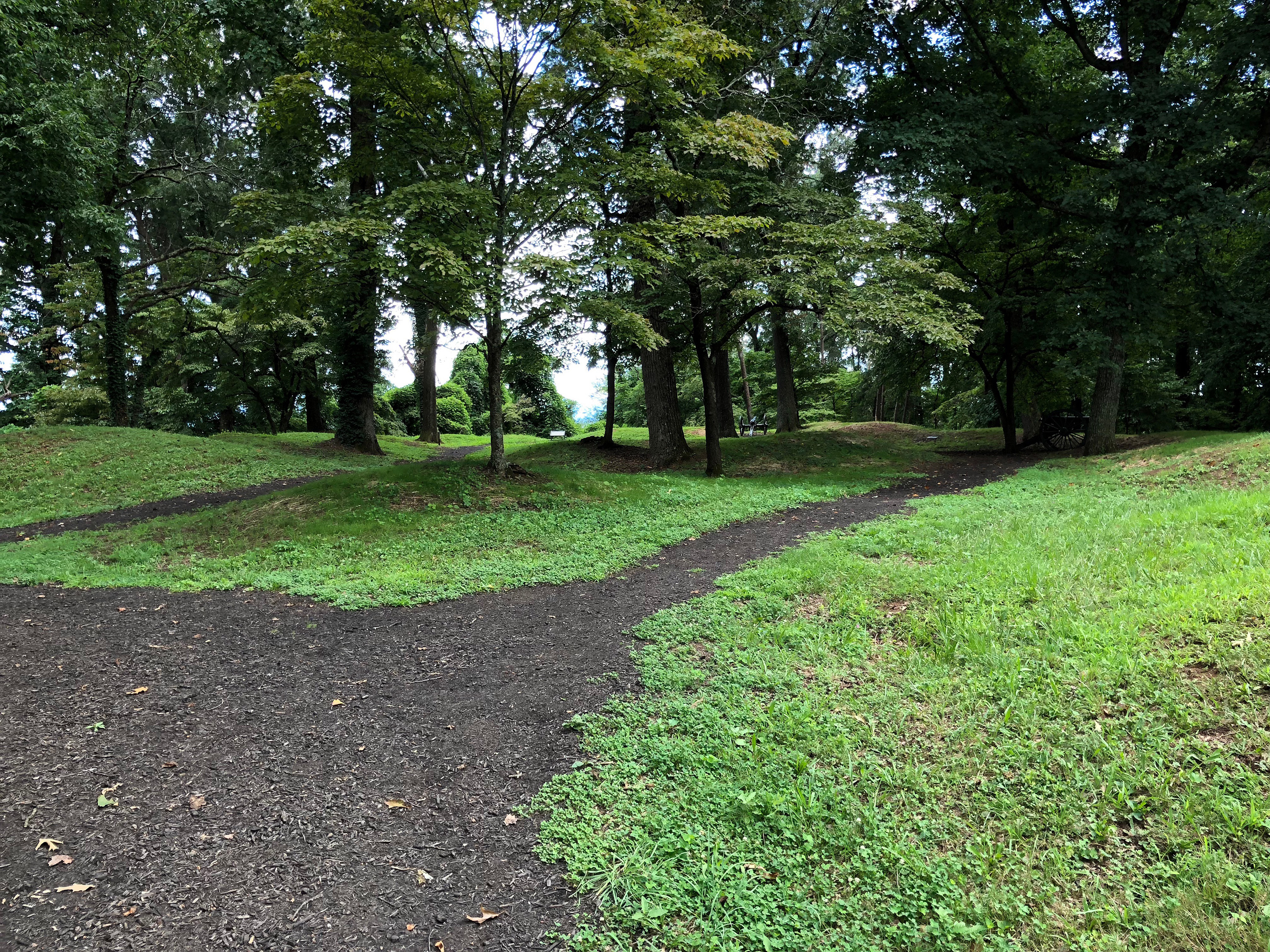 We drove back to Chattanooga, where I was dropped off to take a Lyft to my downtown hotel for the night, the Doubletree; the rest of the folks went on to Dalton, where their cars were parked at our original hotel. On the ride back we had a stimulating discussion evaluating Longstreet's performance in Tennessee. For dinner I had a pretty decent Neapolitan style pizza at Community Pie, which was very crowded but a good value—worth a repeat visit. I flew back to San Francisco early the next morning, having a good pair of flights for a change. I had an excellent time on this latest outing with BGES and hope I'll be able to do another next year. I am tentatively planning to rejoin Gordon Rhea for an Overland Campaign tour May 13-18.