2018 Civil War Travelogues — Avenue of Invasion, Shenandoah Valley Battlefields Foundation Annual Conference
Welcome to my 2018 travelogue pages. This is my report on my trip to West Virginia for the annual conference of the Shenandoah Valley Battlefields Foundation: "Avenues of Invasion," covering operational details of the three major Confederate invasions of the north in the Eastern Theater: Antietam, Gettysburg, and Early's 1864 threat to Washington. This was my second SVBF annual conference. To see the entire list of my 2018 trips, go here.
Here is a reminder about the reason I write these pages the way I do. They record my experiences and impressions of Civil War trips primarily for my future use. Thus, they sometimes make assumptions about things I already know and focus on insights that I receive. They are not general-purpose descriptions for people unfamiliar with the Civil War, although I do link to various Wikipedia articles throughout. Apologies about the quality of interior photographs—I don't take fancy cameras with big flashes to these events. If you would like to be notified of new travelogues, connect to me via Facebook.
Tuesday, April 24
I flew United Airlines to Dulles and drove about an hour and a half in DC exurb rush hour traffic to the conference hotel, the Holiday Inn in Martinsburg, WV. (A pretty nice hotel!)
Wednesday, April 25 — Maryland Campaign
An early start with a full buffet breakfast and onto one of the two buses by 7:30. My bus had Ted Alexander as the guide and commentator. (Steve Recker was the other guide today. I hadn't met him previously, but I found him quite knowledgeable when he spoke at our joint stops.) Our first stop, after some nasty DC-outskirts commuter traffic, was Harrison Hall in Leesburg, where Gen. Lee met with his key generals on September 5, 1862, to plan his invasion. There was one of those modern Civil War hagiographic paintings that shows Lee, Longstreet, Armistead (huh?), and Jackson around the dining room table like dogs playing poker, but Steve told us later that Jackson was actually at White's Ford that day. The house is privately owned and it looks like commercial offices are upstairs, but the downstairs is a nice reenactment of the original appearance. We also visited the nearby Union Cemetery, where Elijah V. White is buried. (The name Union is pre-war and means nondenominational.)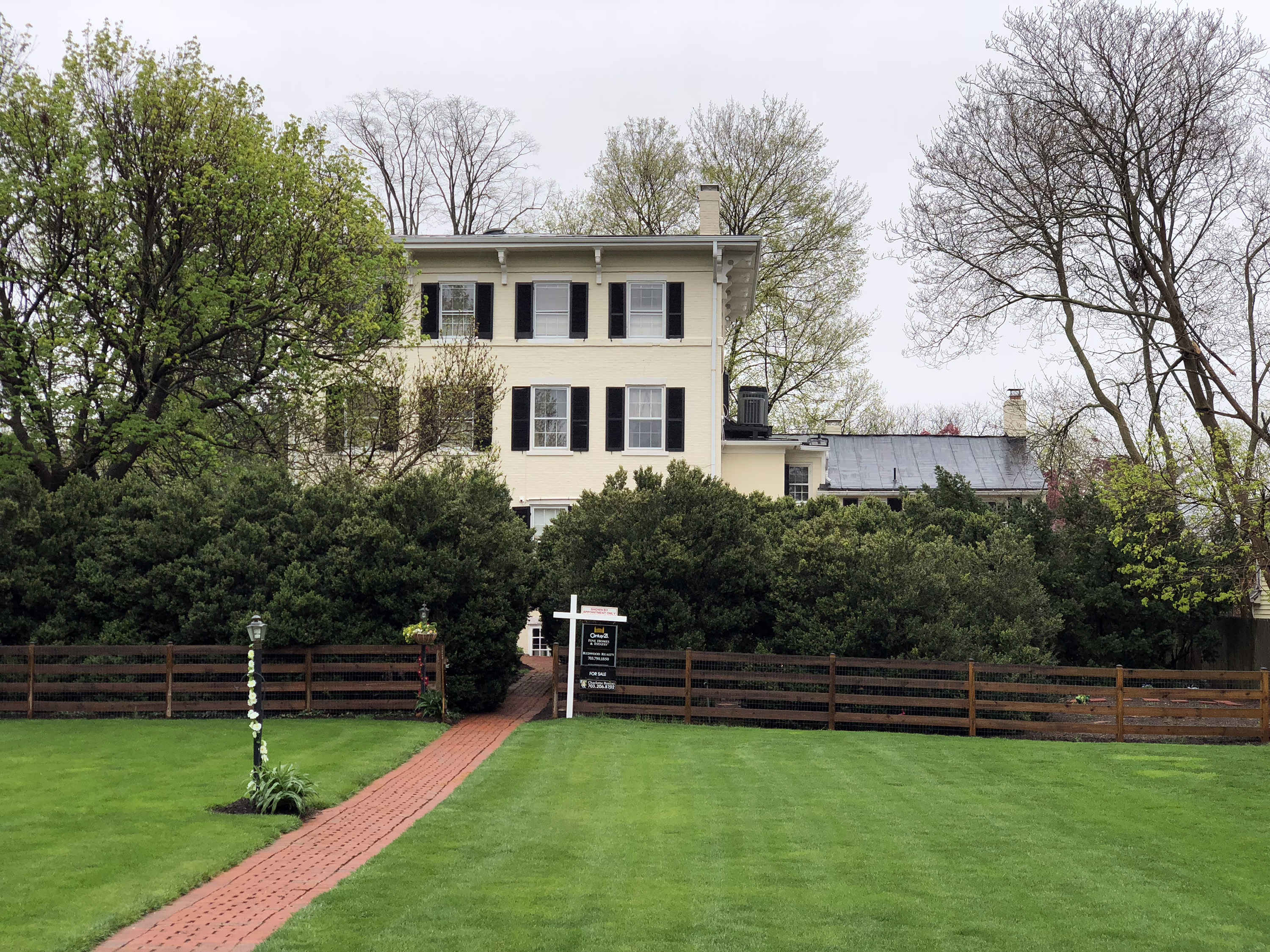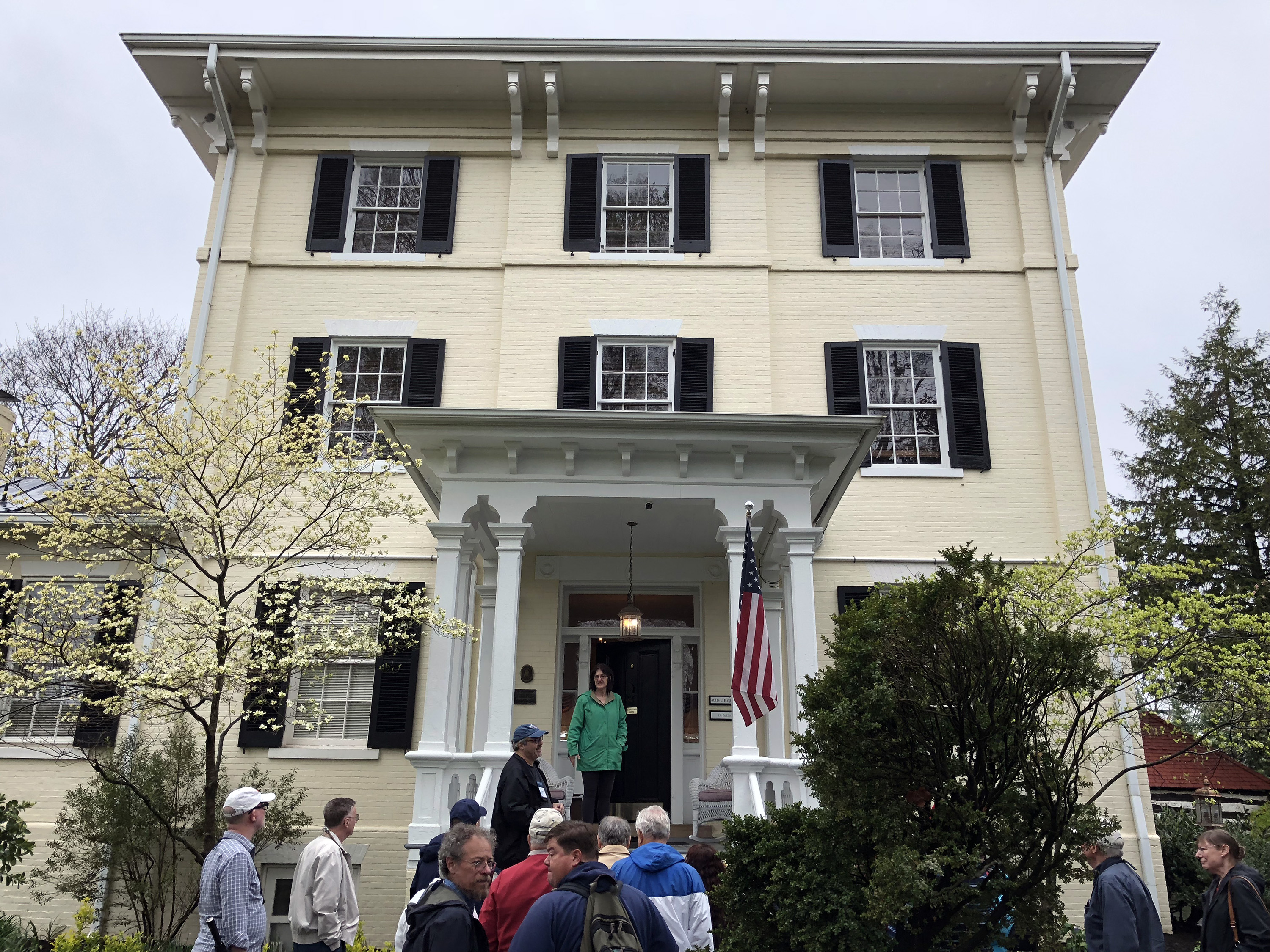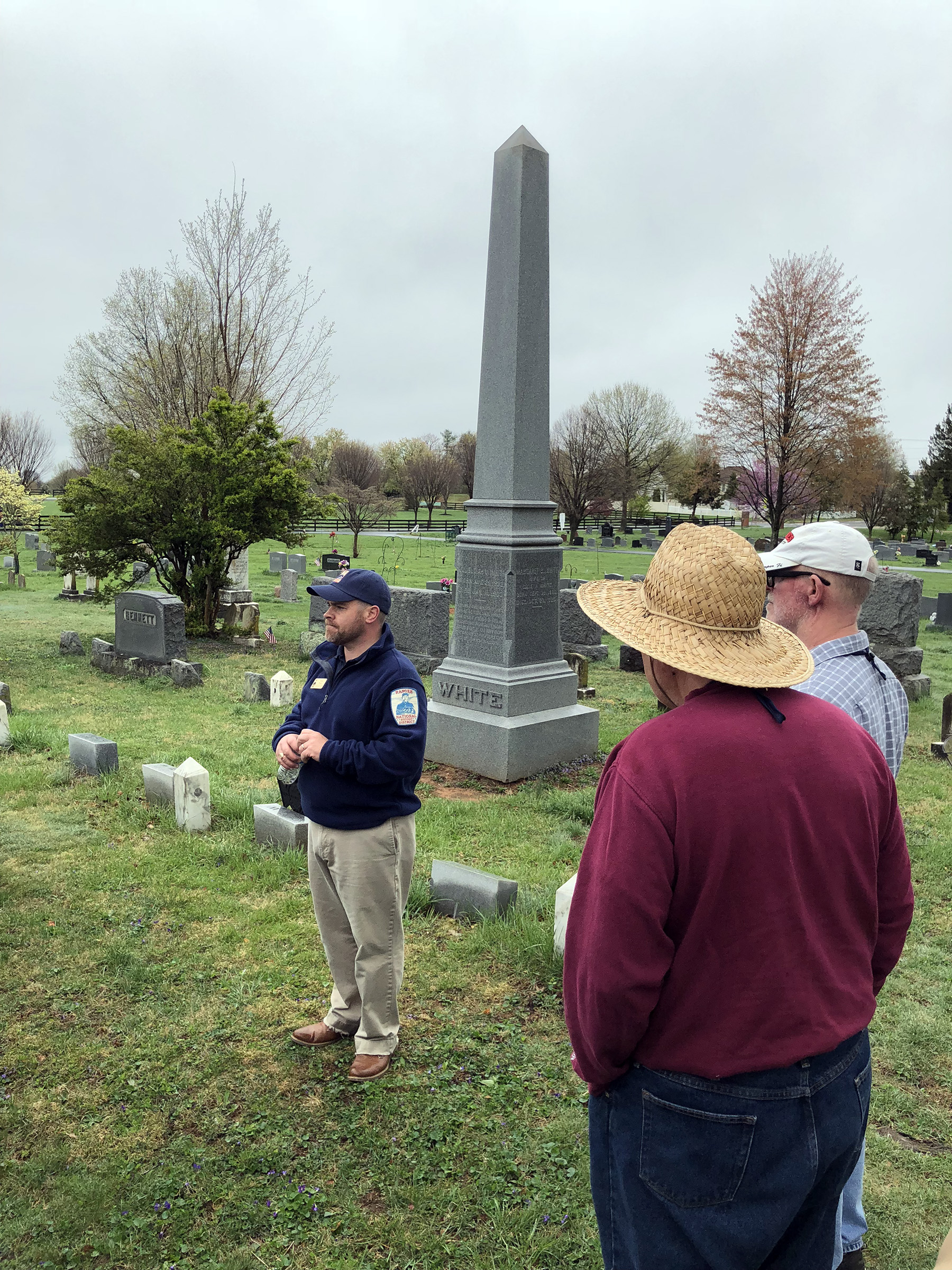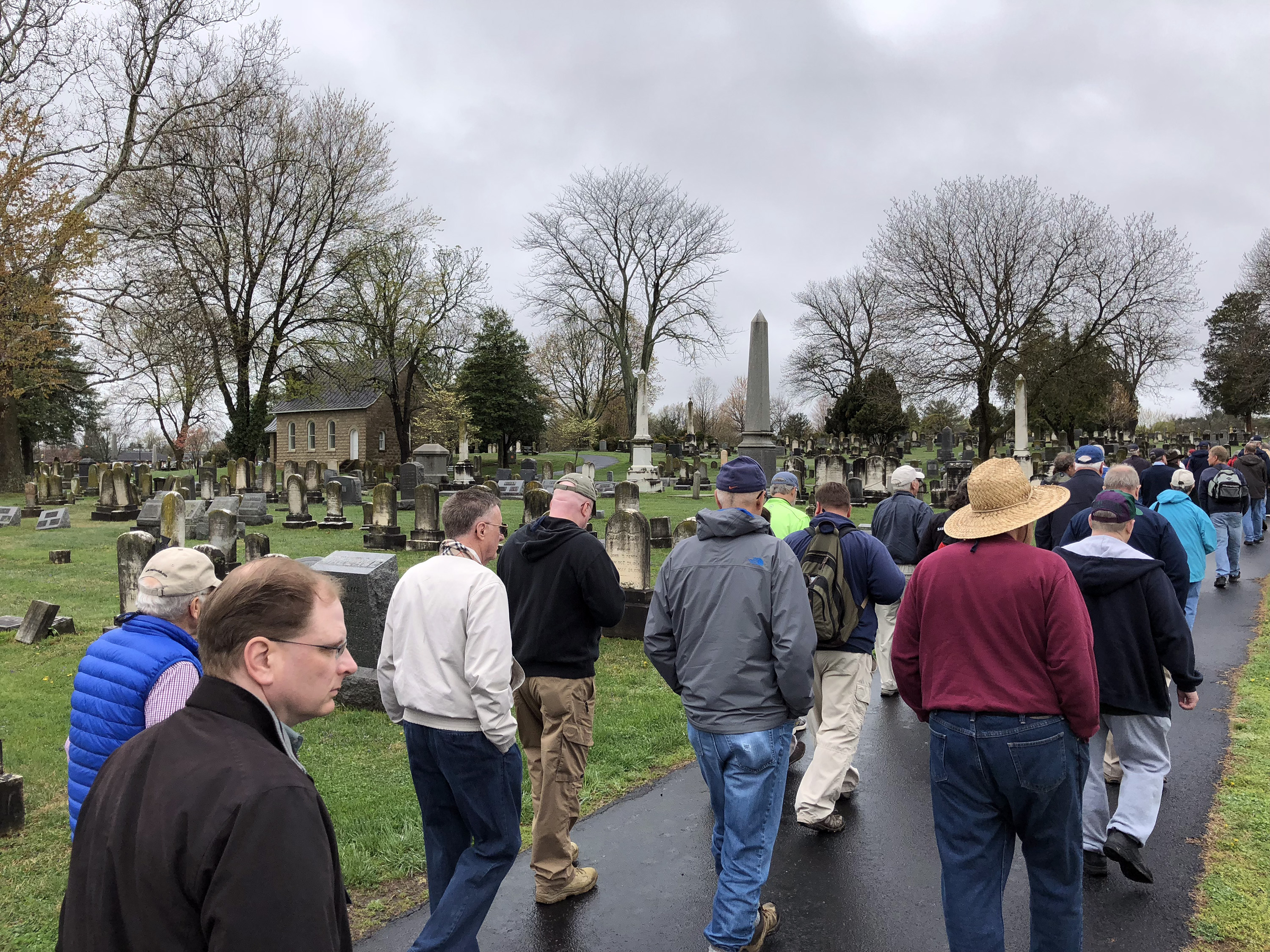 Next was White's Ford, where both Jackson's and Longstreet's commands (they weren't technically corps commanders yet) crossed into Maryland. The ford is protected by a small park and has a boat landing. Steve gave us a summary of all the pre-invasion maneuvering and where everyone crossed. He described D. H. Hill as the Forrest Gump of the Maryland Campaign, always popping up in interesting places. We on the buses crossed over at Point of Rocks and our first stop in Maryland was the Monocacy Cemetery in Beallsville (pronounced Bell's Ville, we were told). They have a modest Confederate monument and a small chapel that has portraits of Lee and Jackson displayed prominently. Confederate cavalry camped here briefly during the campaign.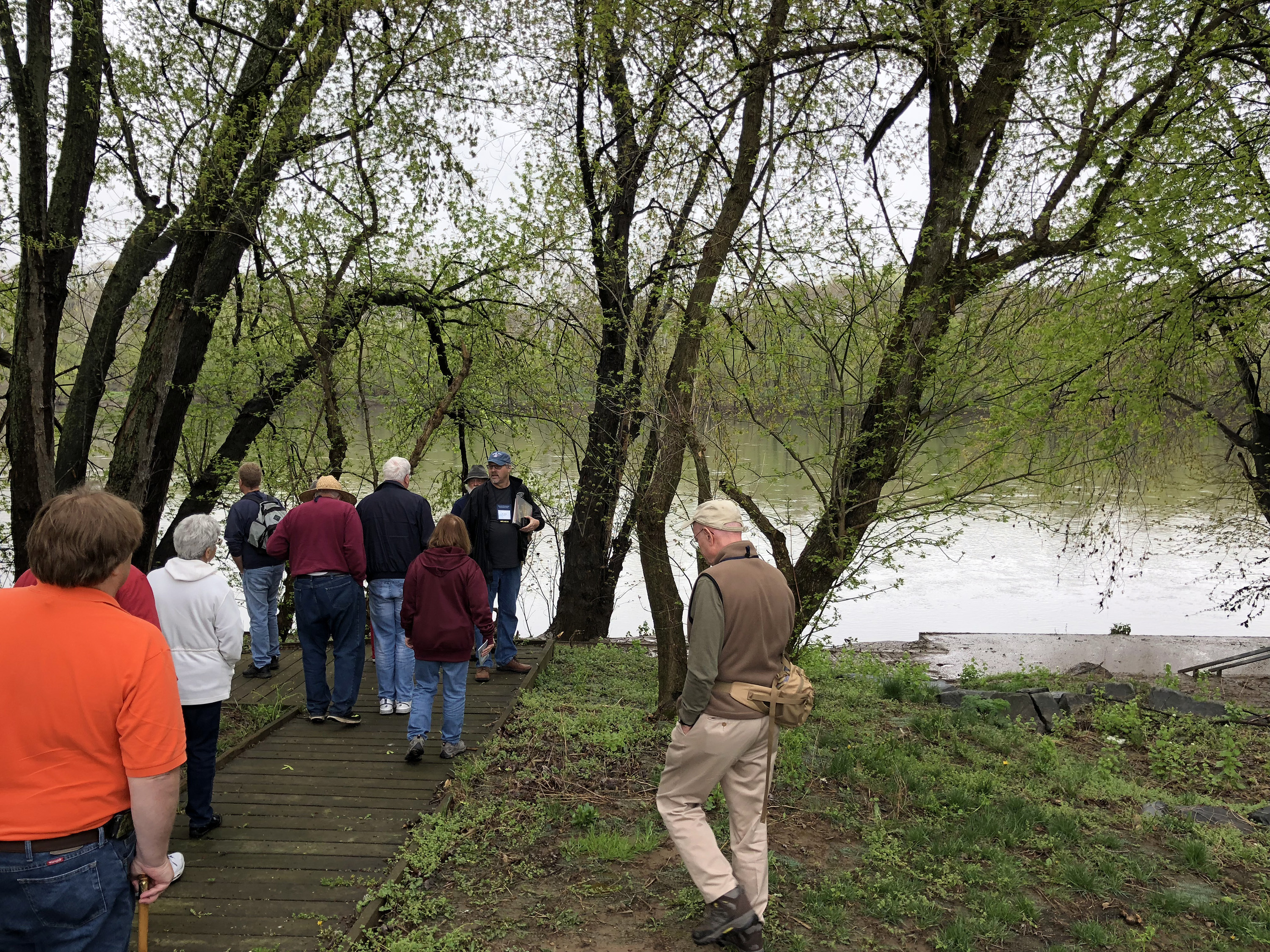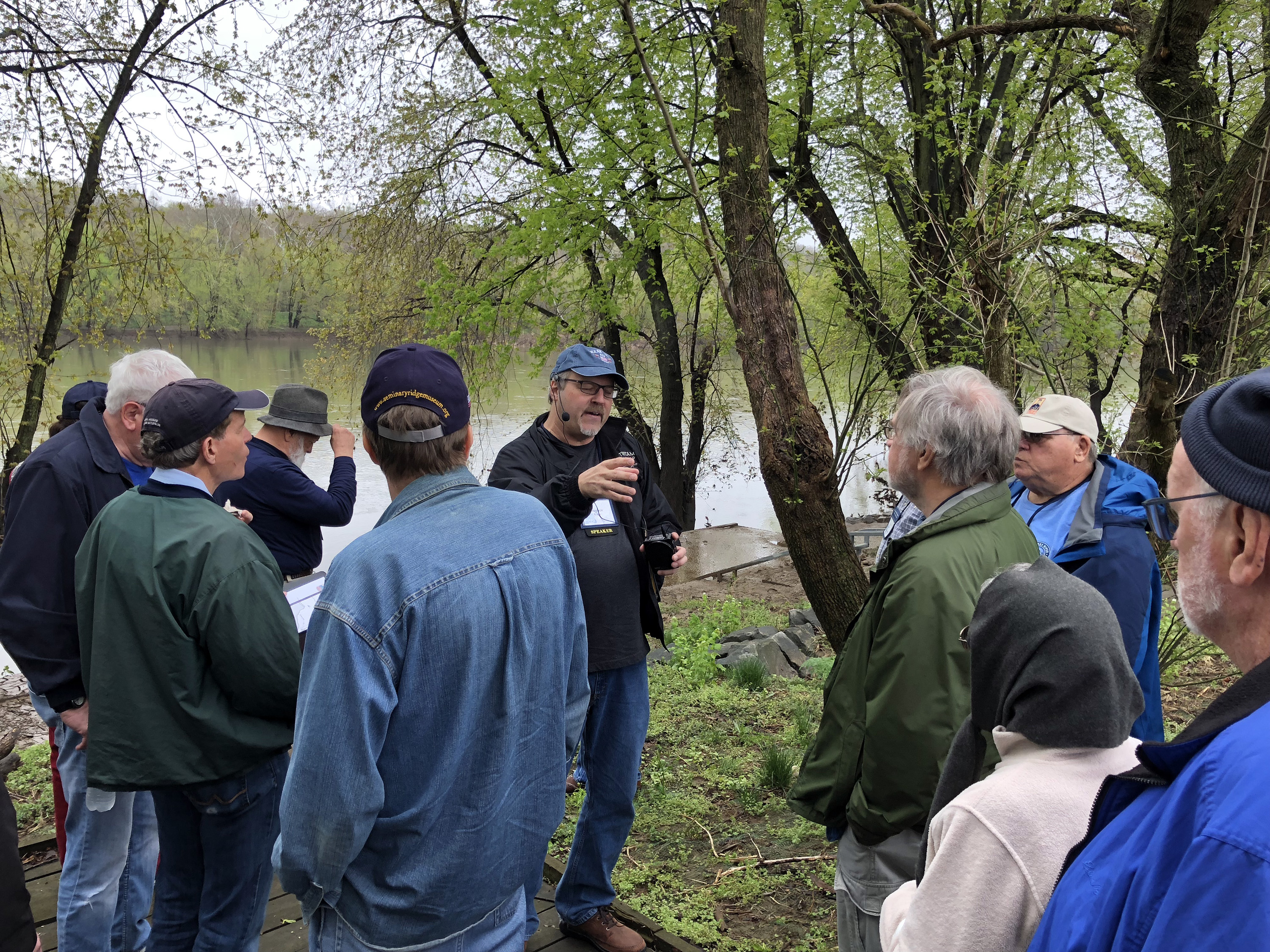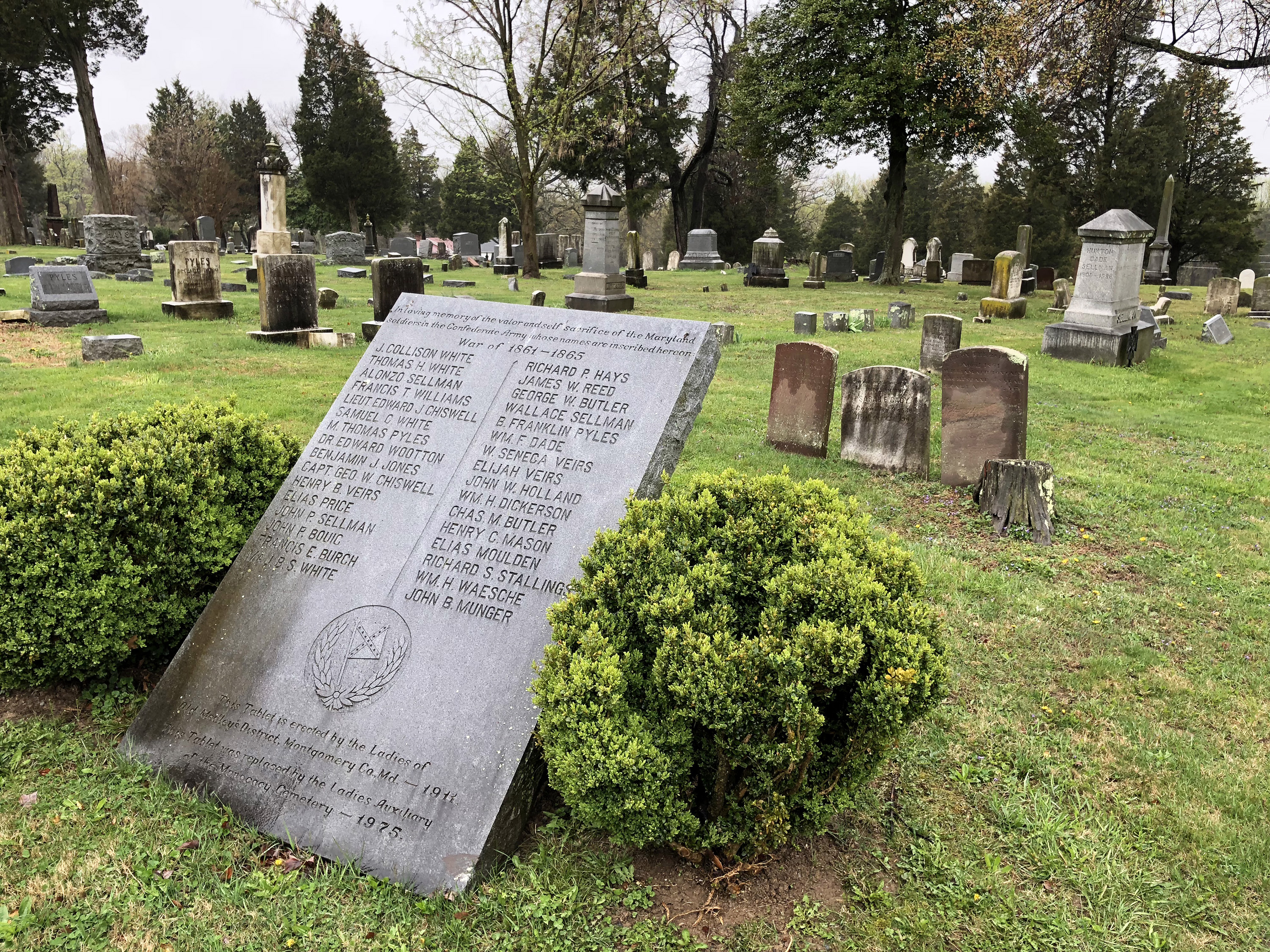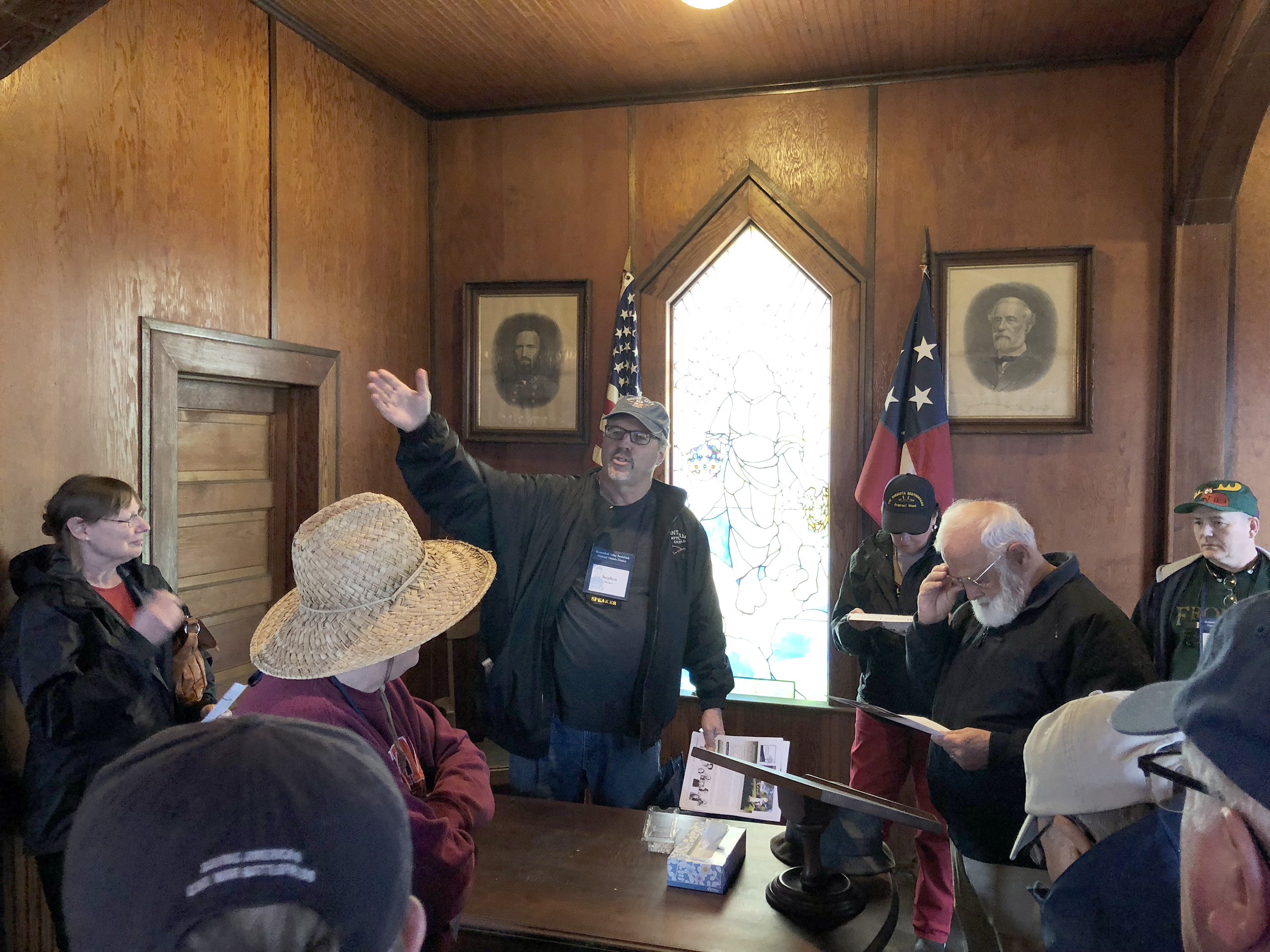 We drove through Barnesville and ended up in Urbana, where we passed by the Landon House, somewhat derelict, which was a girls' school visited by Jeb Stuart and his crew, site of the famous Sabers and Roses Ball on September 9. Heading north, we drove past the Best Farm on the Monocacy battlefield, which was where Lee's infamous Special Order 191 was lost and found. And then to lunch at Golden Corral in Frederick. Not a place for dieters, alas.
We did a brief driving tour of downtown Frederick, highlighting a Hessian barracks building and Barbara Fritchie's house (which Ted deflated by saying the story about her is completely false, although there was a different woman who flew a Confederate flag). Then we drove through Funkstown (pretty funky), Hagerstown, and Williamsport. I got the impression that we had been scheduled to stop in some of these—such as Washington Cemetery in Funkstown—but we were running late and light rain was drifting in and out. Our final foray was to the Antietam battlefield. We spent 40 minutes in the visitor center's museum and gift shop and then Ted gave us a brief overview of the battle and retreat out in back, where we had a grand panorama of the battlefield and South Mountain in the distance.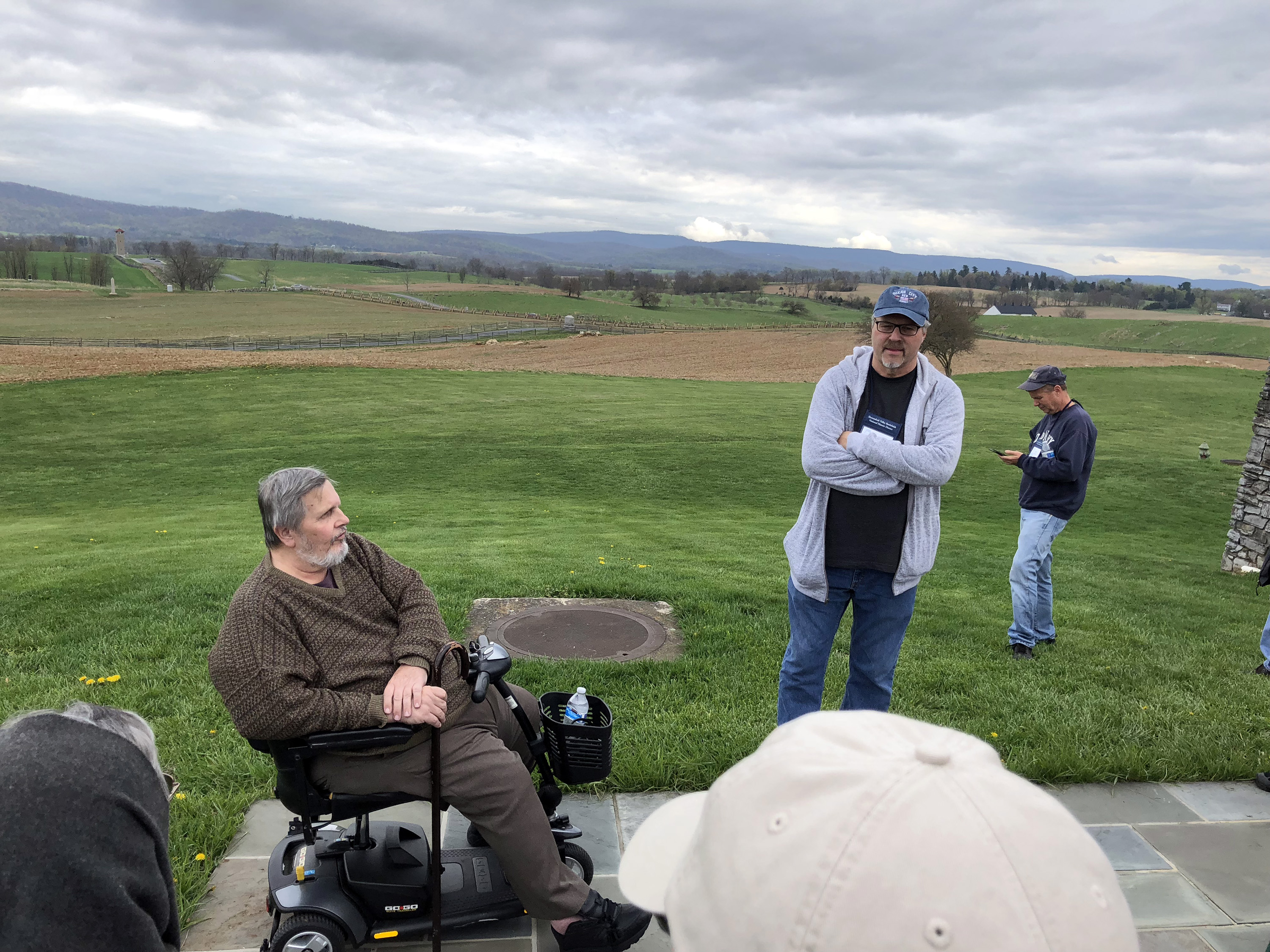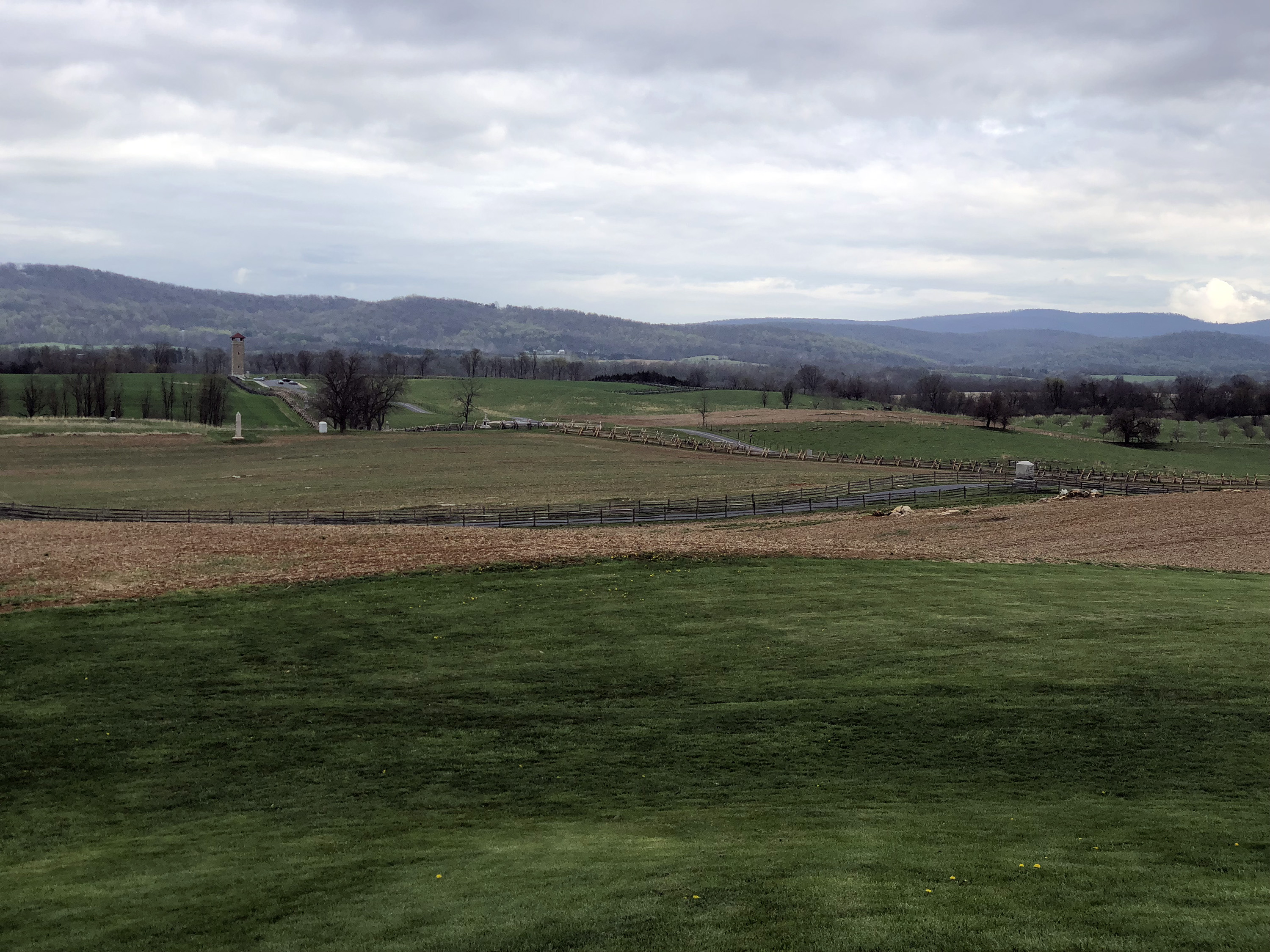 No dinner tonight because SVBF hosted a reception that featured "light hors d'oeuvres," but they were quite substantial and perfectly adequate after a day of buffets and snacks on the bus.
Thursday, April 26 — Gettysburg Campaign
A beautiful day today and another 7:30 start. We started around Martinsburg, following Rodes's division to the south end of town on June 16, 1863, stopping first at Union Hill, the Union position, observing the location of the Confederate artillery south at a big cement plant. Steve French presented the details. We followed by stopping north of town on the Valley Pike to discuss the Union retreat and capture of four of Maulsby's cannons. (It was a pretty tiny battle.) The cavalry action that day actually happened where our hotel is located. And while this was going on, Ewell was shooting up Milroy at Second Winchester.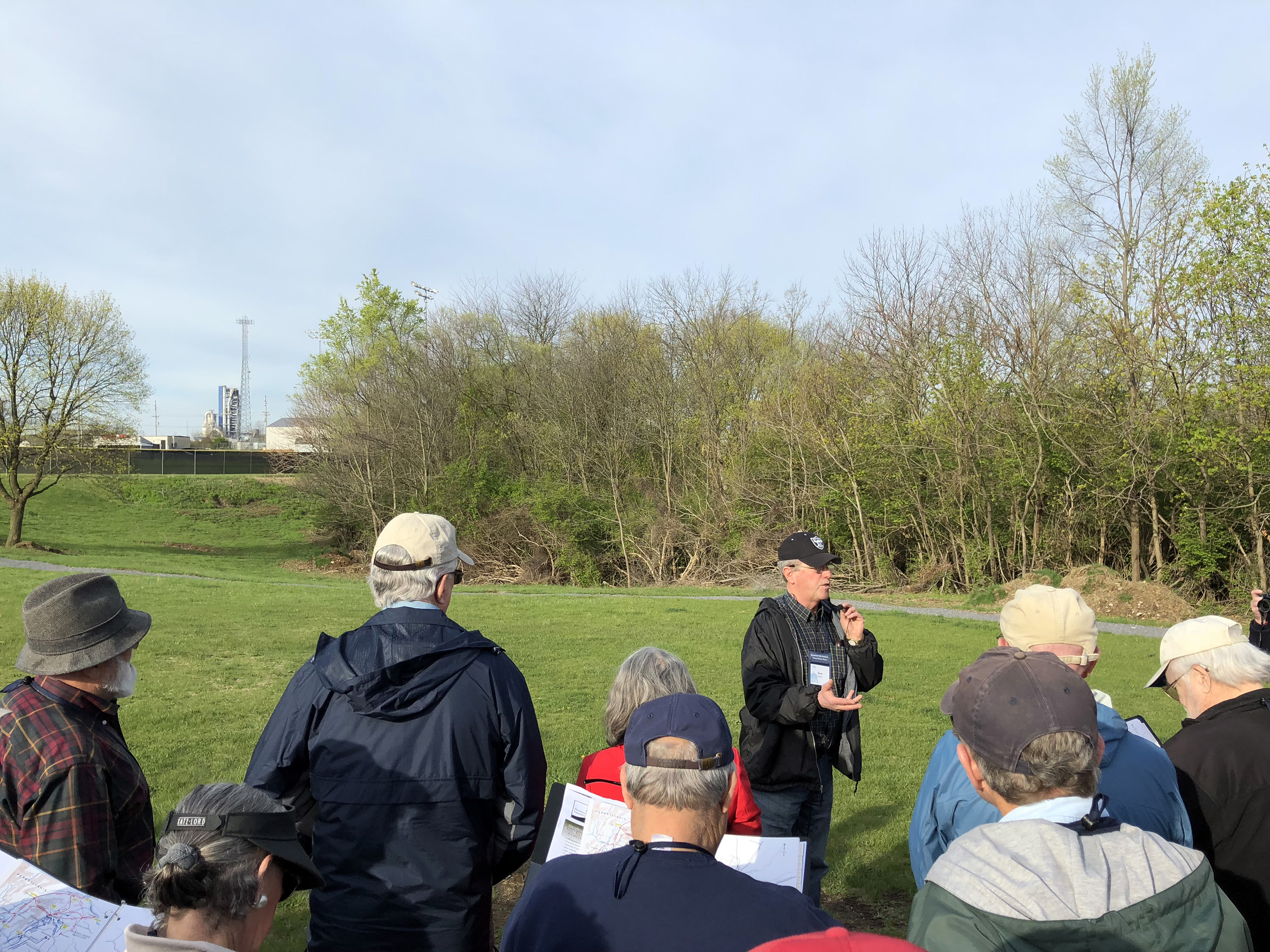 As we continued north on the VP, following the Avenue of Invasion, we talked about the 1861 battle of Falling Waters, or Hoke's Run. We crossed the Potomac at Williamsport and drove to the Mason-Dixon Line, where on private property we got to visit one of the few remaining "crown stones," originally installed every five miles by M and D themselves. This one was rather degraded after 250 years out in the elements, but you could just see the two crests on opposite sides—the Penns' north and the Calverts' south. And we had the opportunity to stand in two states at the same time. We continued to the Greencastle town square to talk about the July 2 raid by Ulric Dalhgren's cavalry, which nabbed some of Gen. Lee's correspondence (although Ted denied rumors that Lee was expecting Gettysburg reinforcements and this letter from Jefferson Davis told him he couldn't send them). A few miles north we stopped at Fleming Farm, where the first US soldier (Cpl William Rihl) was killed in Pennsylvania, on June 22.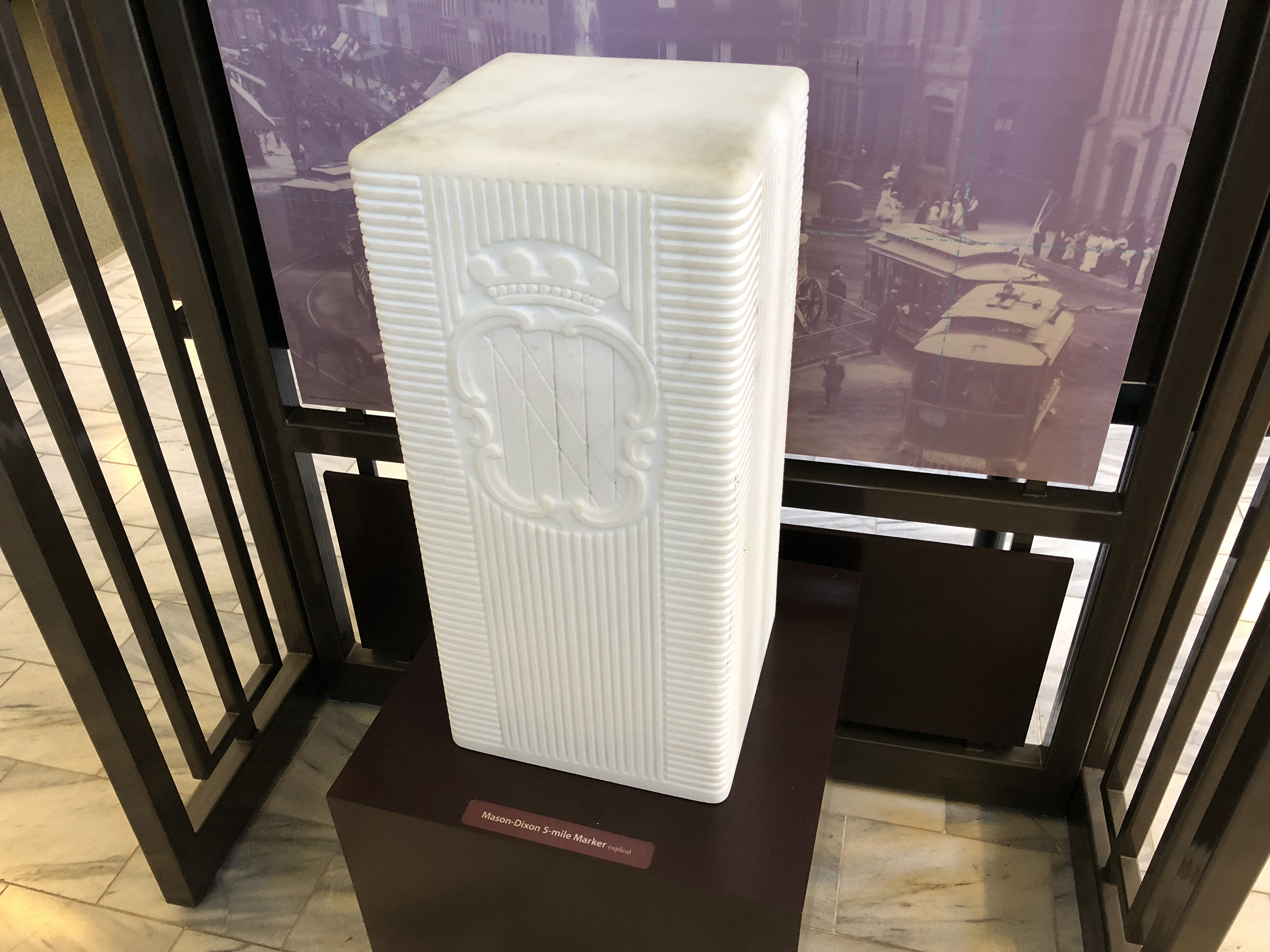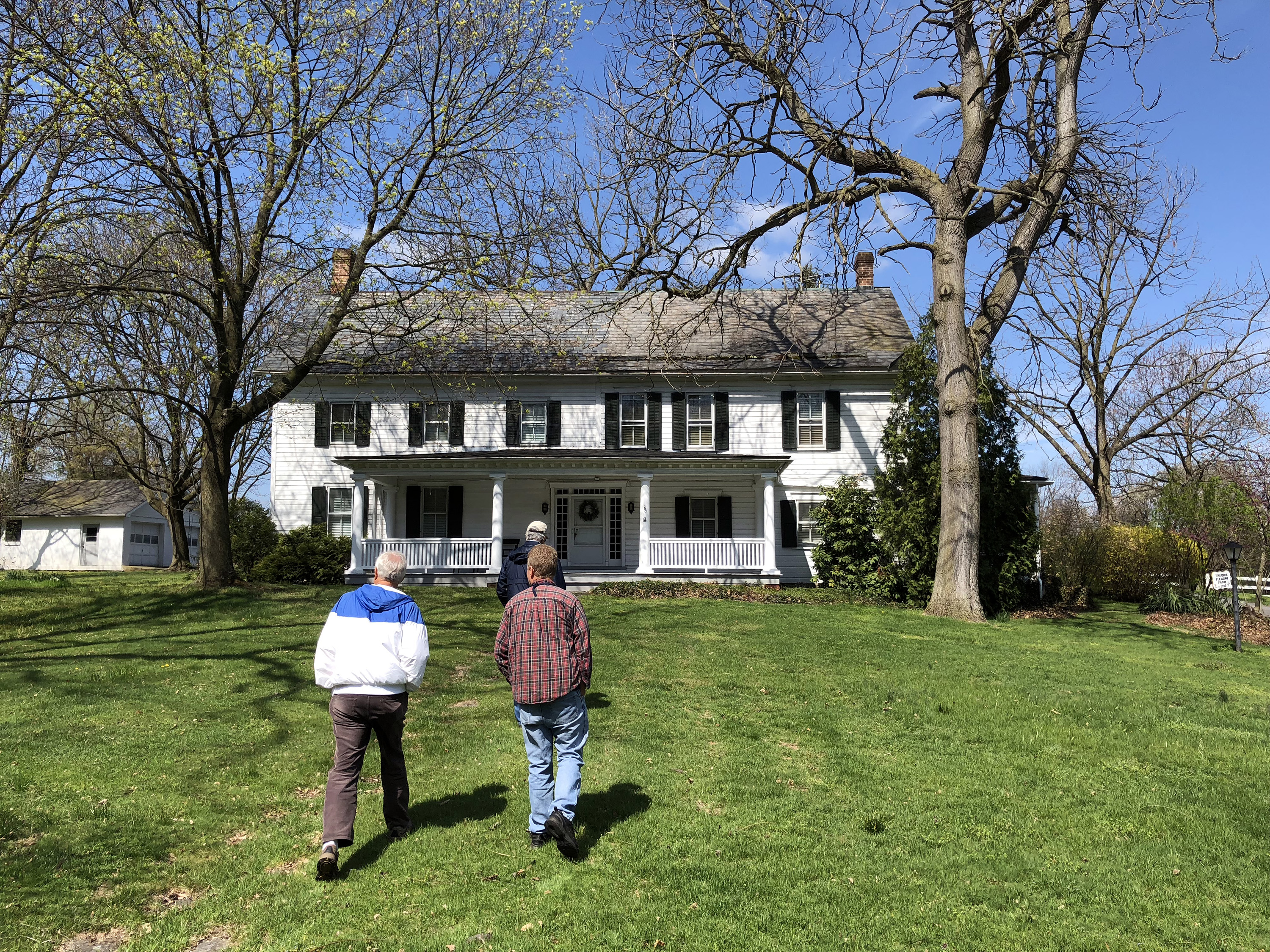 We visited the Chambersburg Heritage Center, which is a nice little museum in a former bank building—you can walk into an impressive vault for some of the exhibits. They also have an airplane that flew over the city in 1911; perhaps it was a replica. Outside, in the town "diamond," Ted told a few anecdotes about the various Chambersburg raids and the 1864 burning, and read a townie's account of Gens. Lee and Hill meeting just before Gettysburg. Then we hit the road to the southeast to lunch at a country-food buffet in Waynesboro. Once again, a diet killer. They must have had a dozen varieties of pie!
Nearby was Monterey Pass, so we shifted from invasion to retreat for the rest of the day. Although this was my third or fourth visit to this area, there is a brand new visitor center, which is small but very professionally laid out. There also seems to be a new parklet in Brown's Springs. We covered the battle while driving. We continued through Smithsburg and discussed the July 5 artillery duel there. On the ride that followed, Ted talked briefly about the various cavalry actions during the retreat.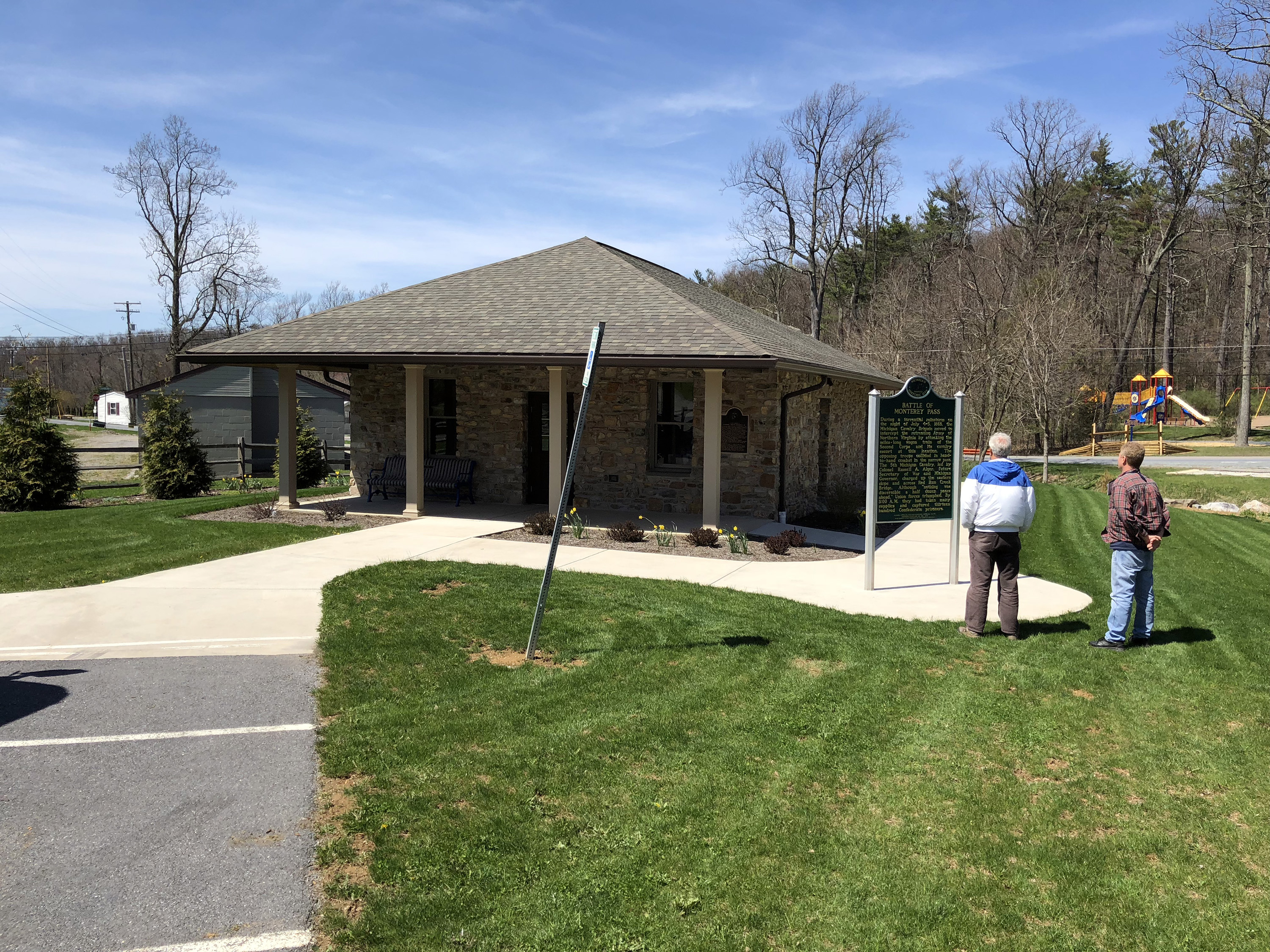 Our final stop was in Downsville, MD, where we visited the Donnelly Farm, site of the 1863 battle of Falling Waters. I had been here once before, in 2013, also hosted by George Franks, the owner of the 19th century house on the battlefield, but he seems to have improved his presentation because I understood the action much better than on my previous visit. It was a good day on the road. Not as many new experiences for me as the Wednesday trip, and we jumped around 1861–64 a bit, but it was great to revisit old familiar places as well.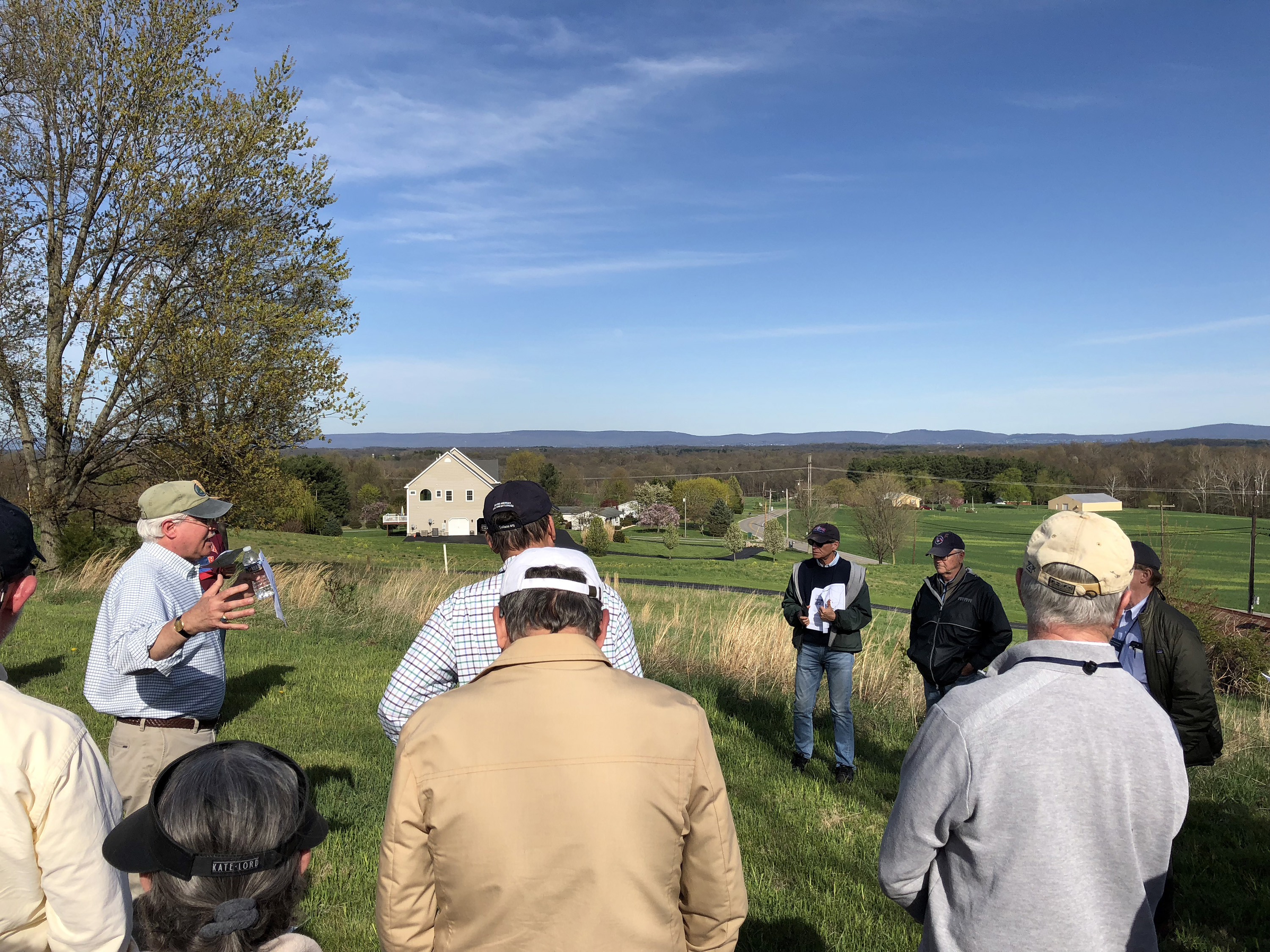 Dinner was on our own tonight, but I was invited to join a group of SVBF folks and a few others to eat at Casa Visone, a nice Italian place downtown.
Friday, April 27 — Lectures
Today was chock-full of interesting talks in the hotel ballroom. Mother Nature cooperated by bringing rain while we were inside.
Dennis Frye: Did McClellan Out-think Lee During the First Invasion?
This was Dennis's final talk as a Park Service employee before he retires. It was also the first day in which his new book, Antietam Shadows, came in from the printer (and he spent all day selling and signing books). He started with a focus on his book, which he said was organized into brief chapters (a primary factor for the successes of Bill O'Reilly's pop history books, he said, although he hates them). His theme was that history is not facts, it is opinions, and his book recounts many known facts about the Maryland Campaign that are simply not true—fake news. Otherwise, the talk was about the same as one I enjoyed last year at the Mosby conference. Here's what I wrote about that:
Dennis is a spirited speaker and he offered a very provocative idea about the Maryland campaign: he suggested that there were four times during the campaign that McClellan out-thought Robert E. Lee. (Dennis offered this argument even though he emphasized that he still thought very little of McClellan.) 1. Lee's eventual objective in the campaign was going to be Baltimore and McClellan figured this out. He sent Burnside's corps marching quickly north to seize the National Road and the B&O Railroad, essentially blocking Lee on the first day of the campaign. 2. Lee almost reached Pennsylvania and in fact had some cavalry troops in Franklin County on September 11, but McClellan's movements caused Lee to cancel his invasion on September 14. 3. On September 16, McClellan had Hooker move to take the Hagerstown Pike, which blocked Lee from any further movement north. (This action is usually portrayed by historians as McClellan telegraphing his punch.) 4. On September 18, Lee wanted to recross the Potomac River at Williamsport and ordered Jeb Stuart to establish a beachhead. McClellan sent his cavalry and the VI Corps to Williamsport, along with Darius Couch's division, which blocked Lee's move. Dennis said that McClellan truly save the country during the campaign.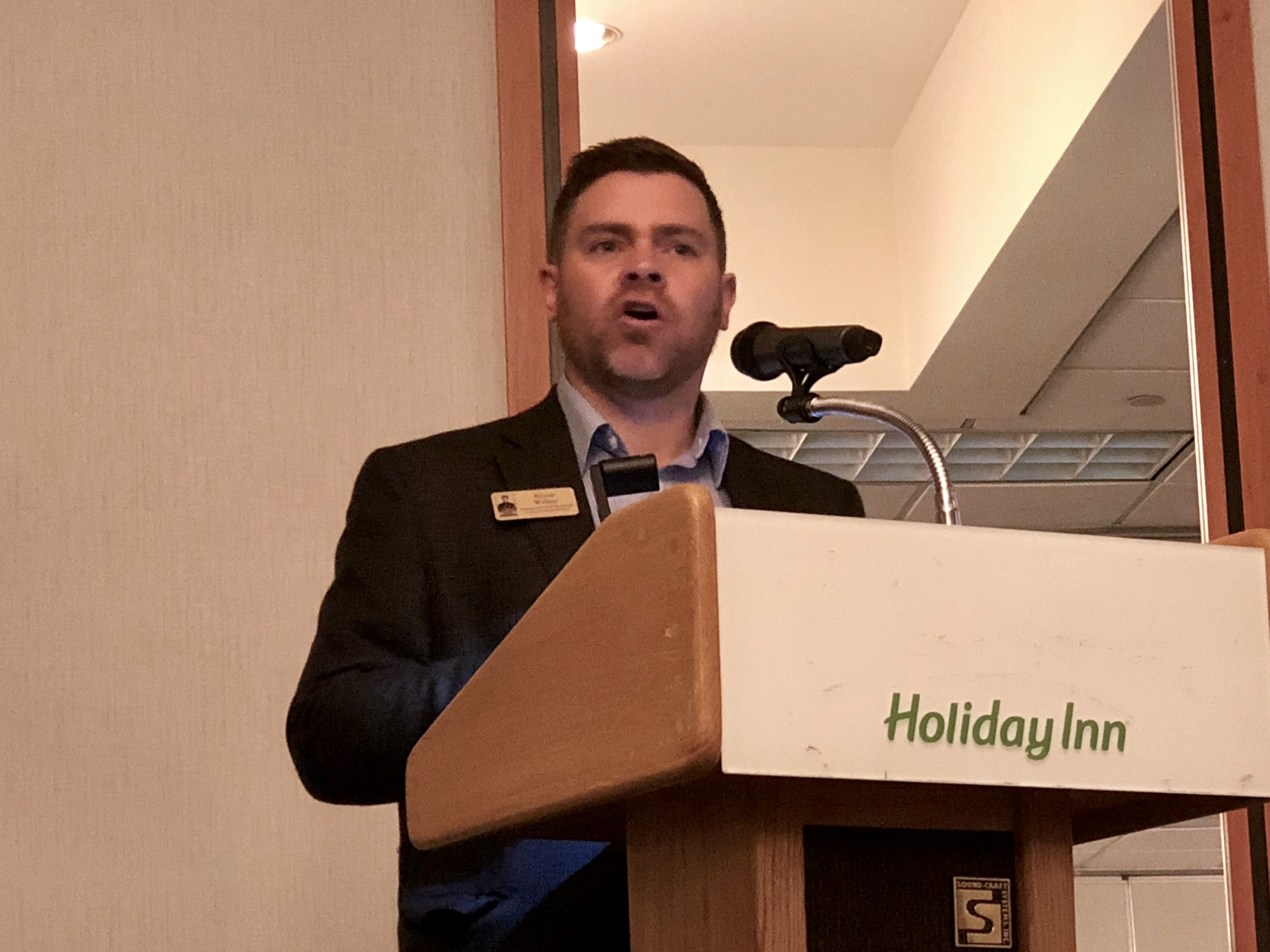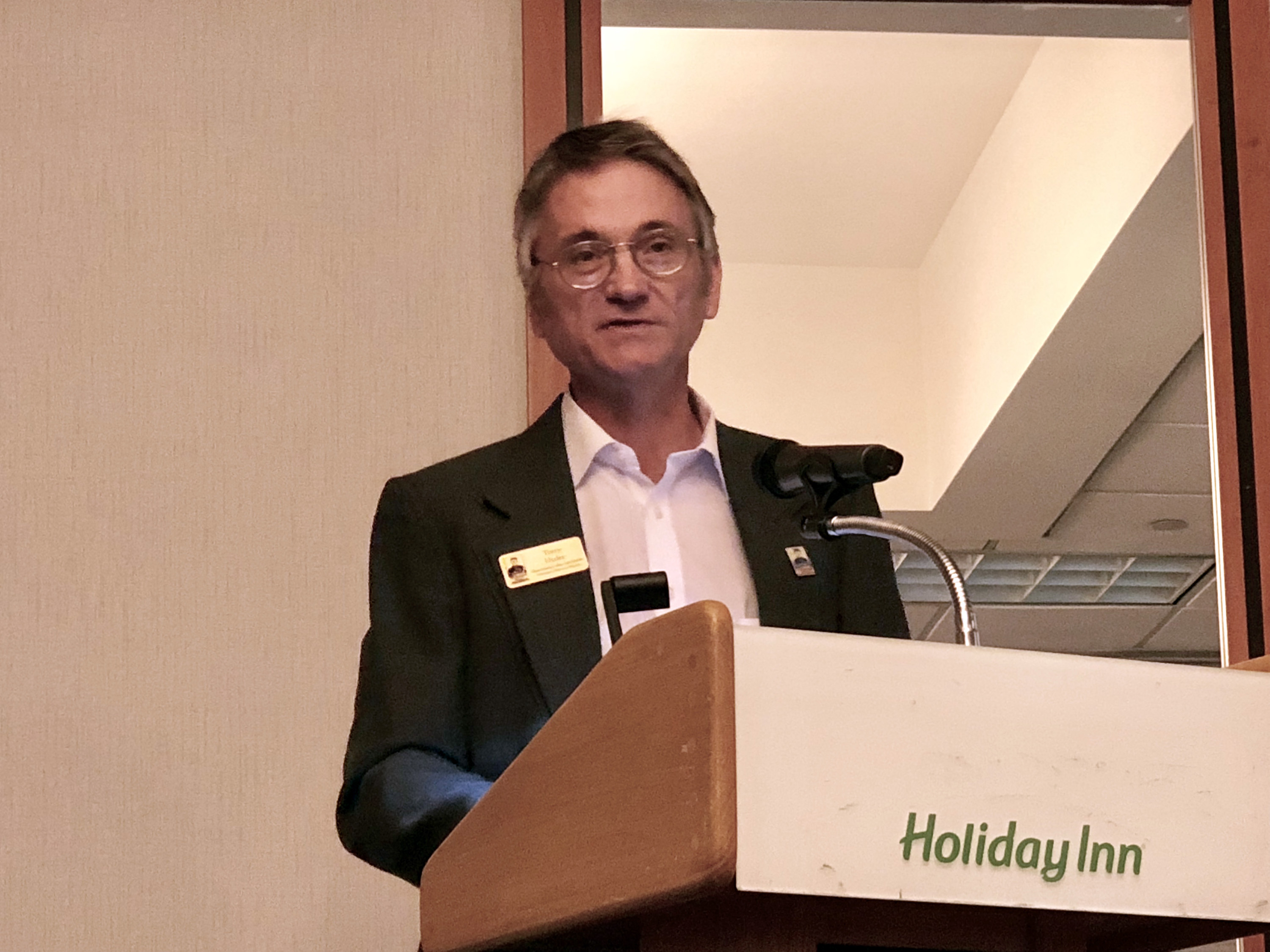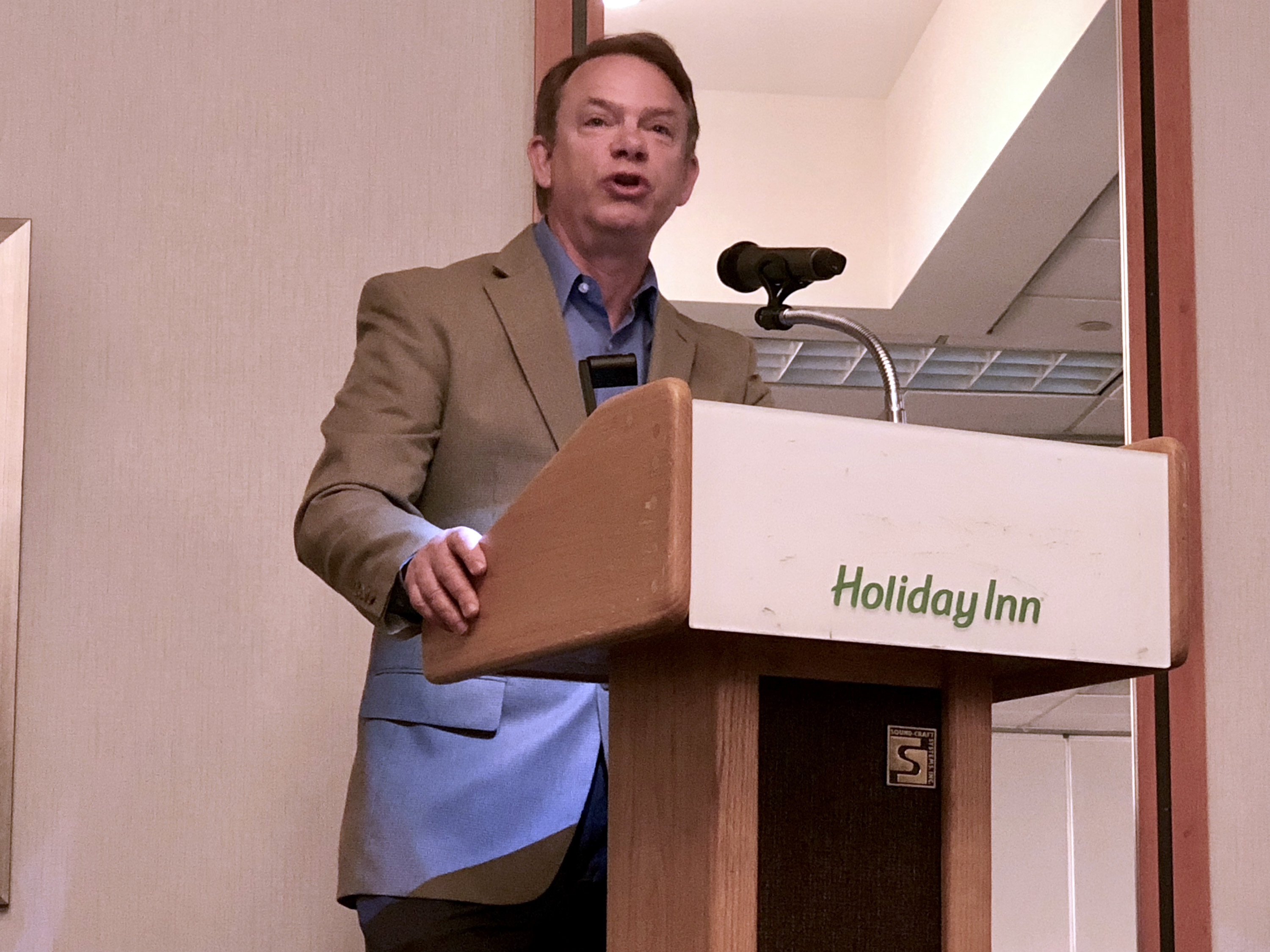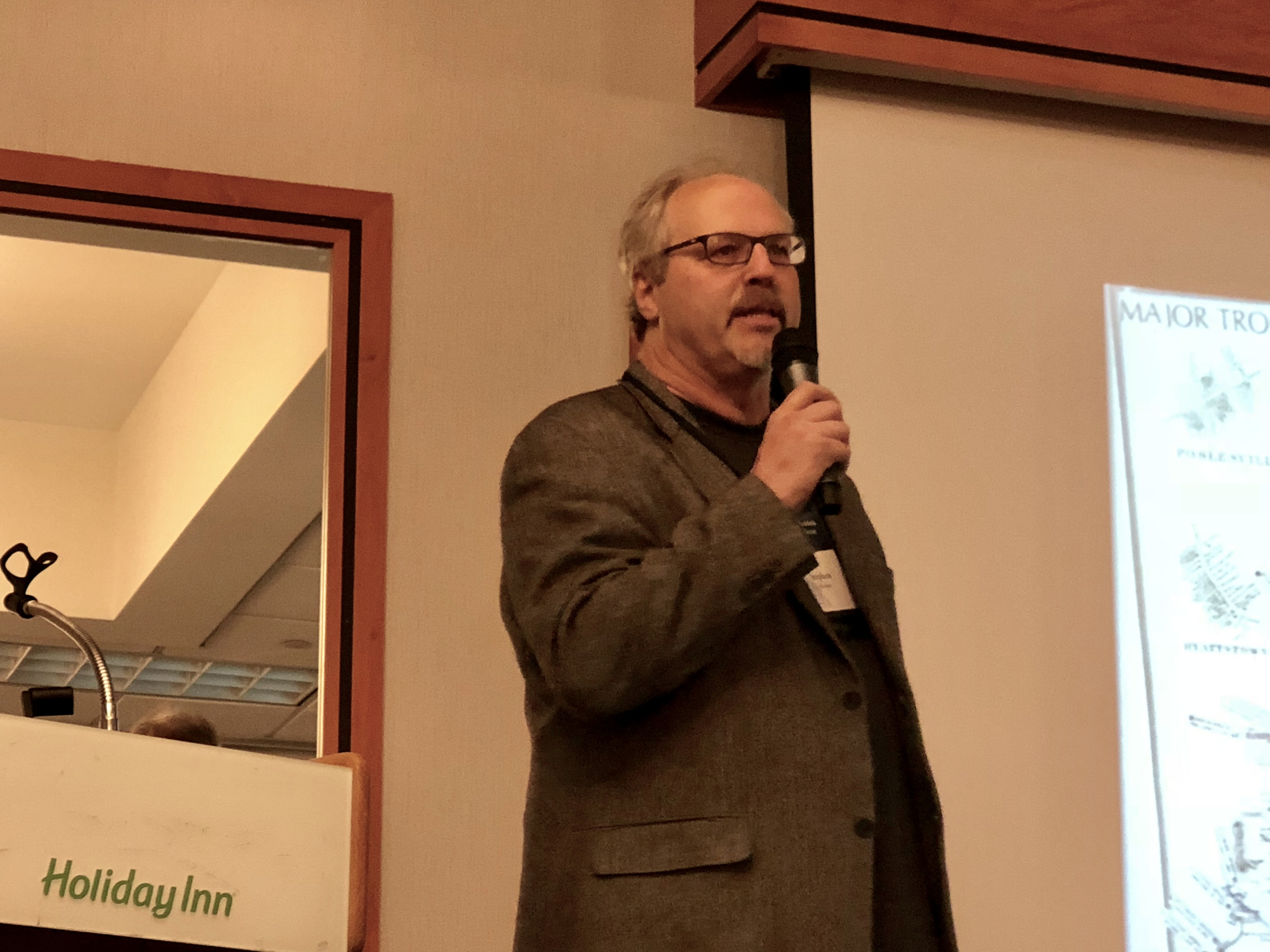 Stephen Recker: Alexandria to Winchester: Exploring Lee and McClellan's Routes in the 1862 Maryland Campaign
Stephen was the founder of the Antietam Guides organization and has an extensive resume of interesting and diverse projects, including Virtual Gettysburg, White House websites, and technically supporting some second-tier rock bands. His talk didn't really have a stated theme or thesis, but offered a number of anecdotes and some humor about routes and locations used by the two armies as well as Stuart's Chambersburg Raid. He compared McClellan's route to Gen. Braddock's in the French and Indian War. He talked about searching for the start of Little Mac's journey after he arrived at Alexandria, which is somewhat speculative, and imagined how Steven Spielberg would film his arrival and the relief of Gen. Pope. One substantive point was that McClellan lingered at Rockville not because he was slow or too cautious, but because he suspected Robert E. Lee would attempt to cross the Potomac at Great Falls, so he needed to block that path.
Scott Mingus: The Second Battle of Winchester: The Confederate Victory That Opened the Door to Gettysburg
My friend Scott gave an excellent presentation about the battle, going into a lot of tactical detail, but also including the proper strategic context. His PowerPoint slides were full of interesting photos, illustrations, and maps, a number of which were mine from his book with Eric Wittenberg. Scott was the first of a few presenters today who called me out by name, which I found to be a bit embarrassing, but it can provoke interesting lunch conversations. (The next day, presenters were comparing me favorably with Jedediah Hotchkiss!)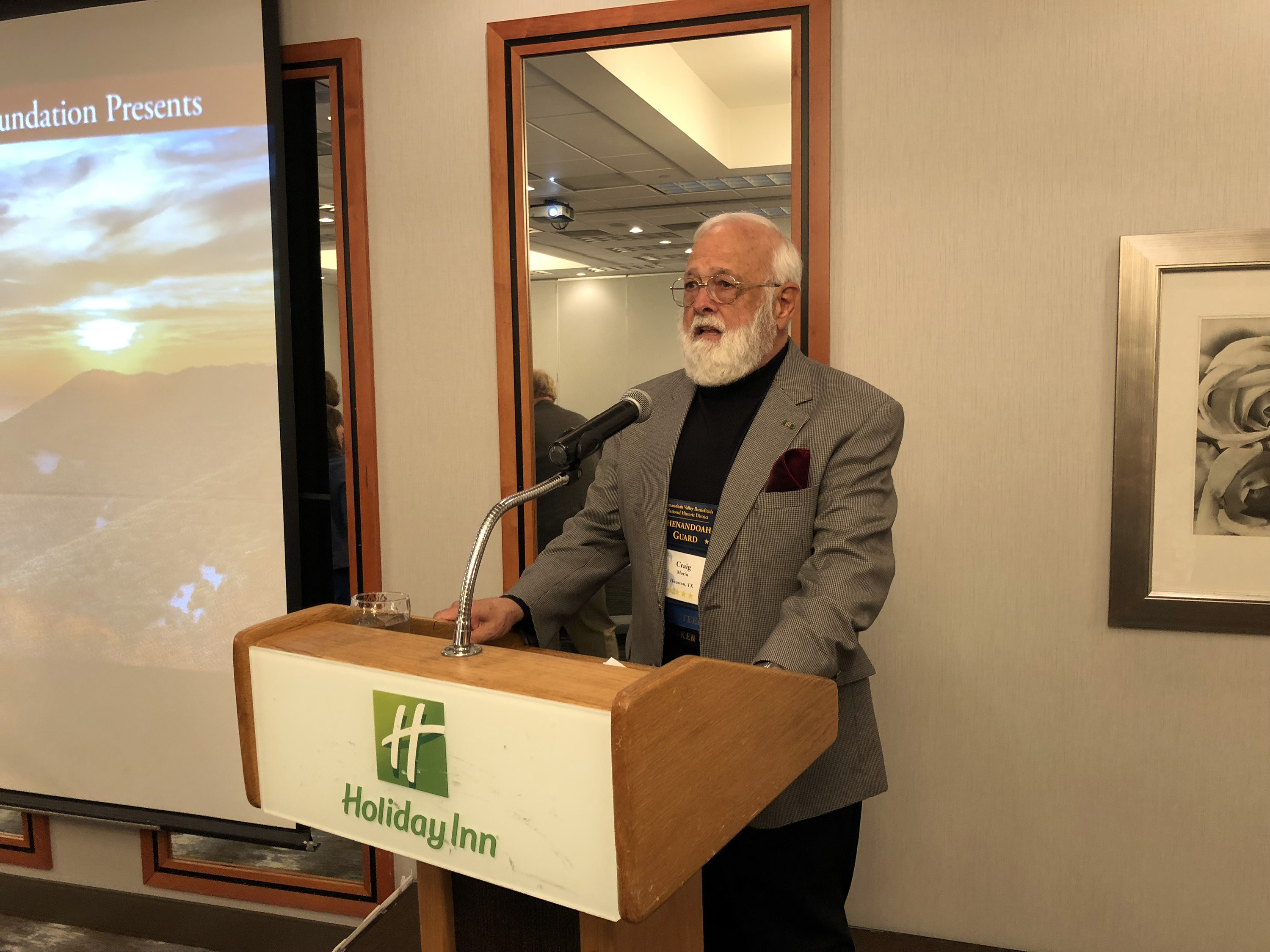 Craig Morin: "The Tip of Lee's Spear": Rodes' Division in the Valley May–June 1863
Craig spoke in the lunch room after an actually good turkey dinner. (This Holiday Inn has much better food and amenities than I had anticipated.) He's an admirer of Rodes and had two ancestors in that division as it moved toward Gettysburg. He gave us a full bio of VMI, railroad construction, and early engagements in the war, but focused on activities from the end of Chancellorsville to Gettysburg, and included capsule descriptions of his brigade commanders—two good, two (Iverson and O'Neal) poor. His overall verdict on Rodes at Gettysburg was negative, faulting him for not being up to Stonewall Jackson's standards for initiative on days 2 and 3. (I actually think Stonewall liked to micro-manage his subordinates and kept them in the dark, so initiative in his absence wasn't a key lesson you'd learn from him.)
Ted Alexander: The Retreat From Gettysburg
Ted gave an overview of the retreat using some nice maps he worked on for a 1999 article in North and South magazine. He went into some detail about Monterey Pass and Smithsburg (the latter of which redeemed Jeb Stuart's Gettysburg reputation, he said), and somewhat like the Thursday bus trip, spent a couple of minutes each on the cavalry battles that ranged from Hagerstown to Boonsboro. On the Wednesday bus trip, Ted had criticized Lee's competence at logistics (in comparison to Grant's in particular), but I think this campaign demonstrates the opposite. Richmond Army HQ was a lousy support structure for Lee, but in my opinion he did admirably well given the constraints of his situation.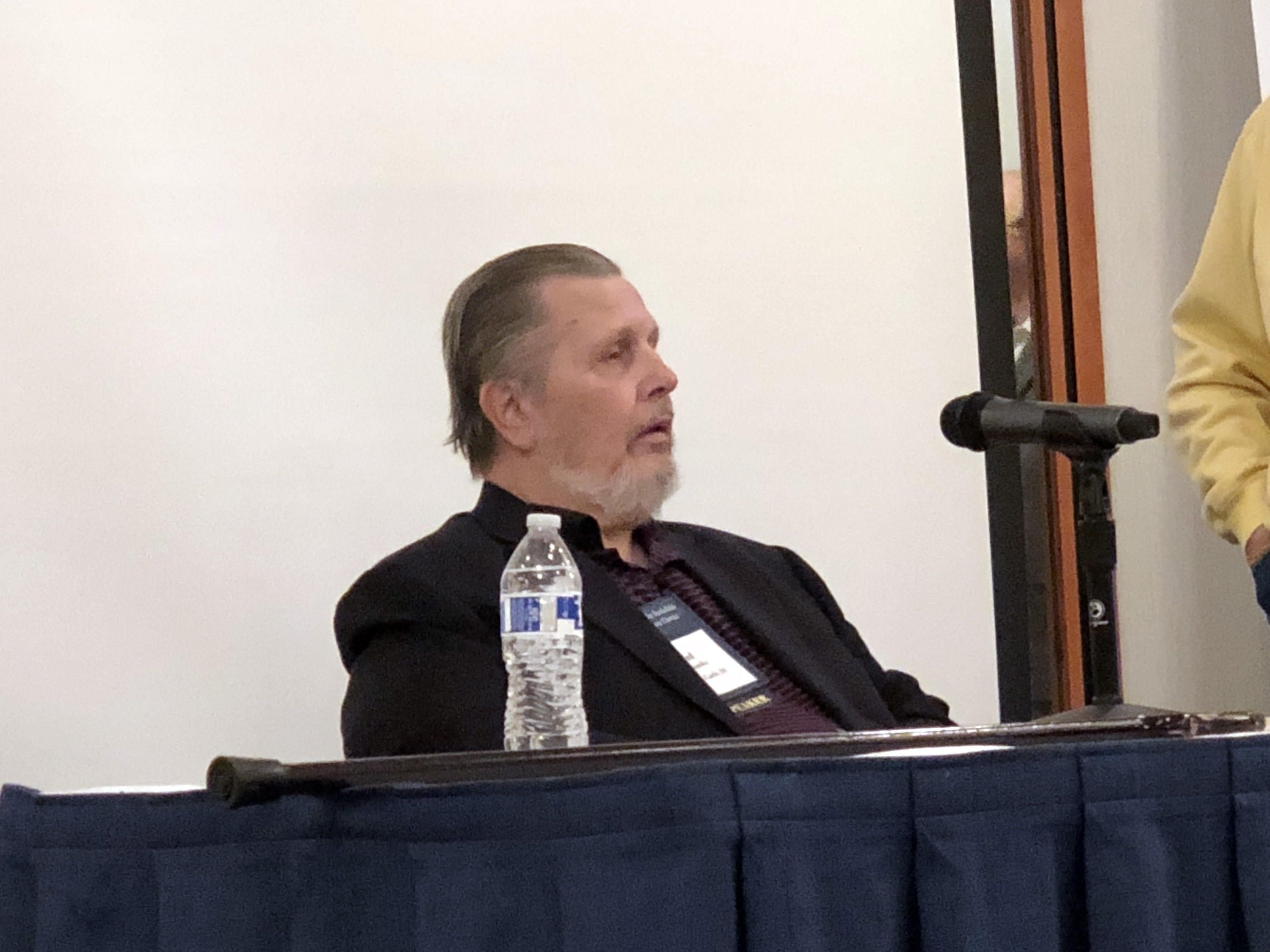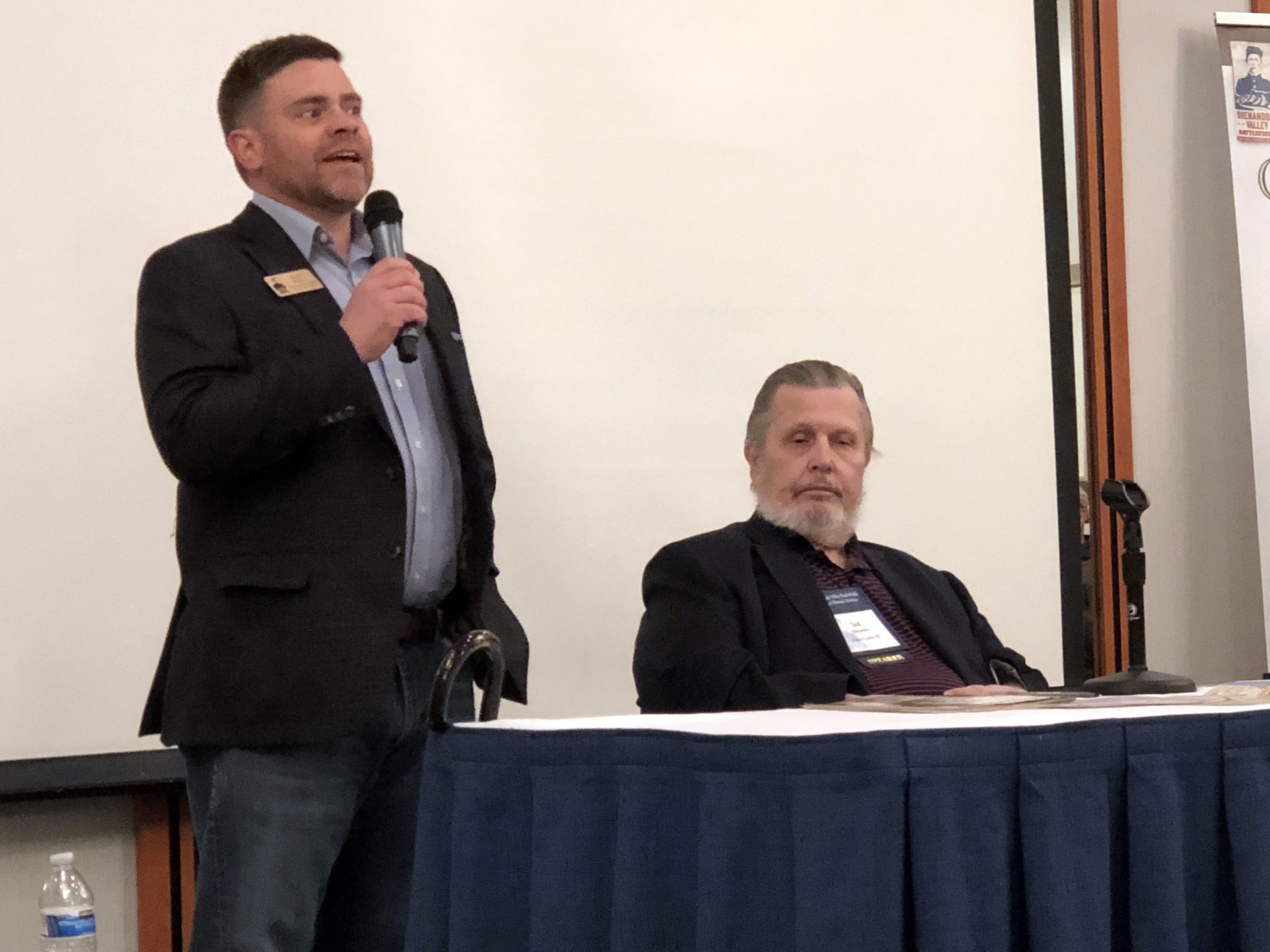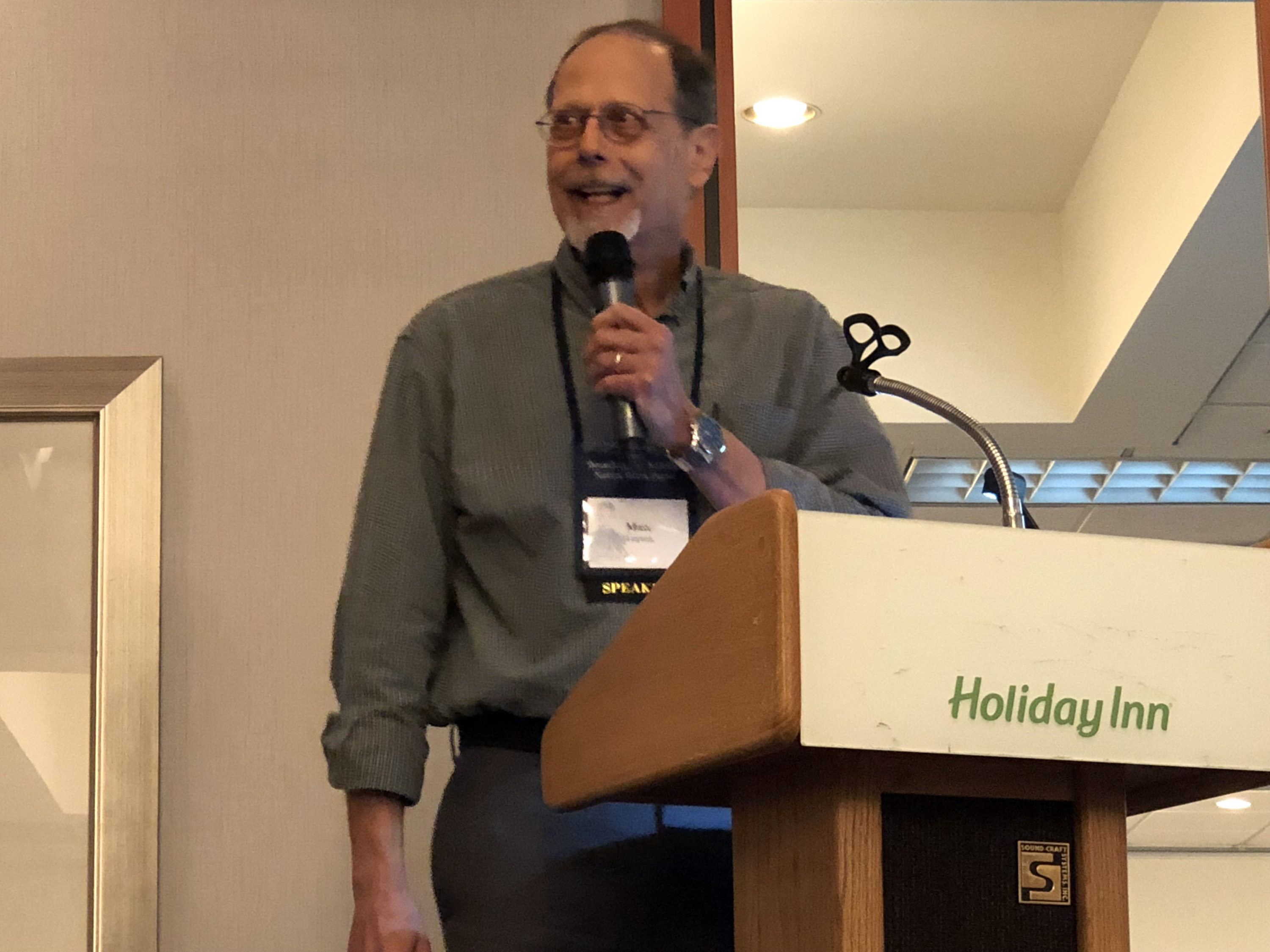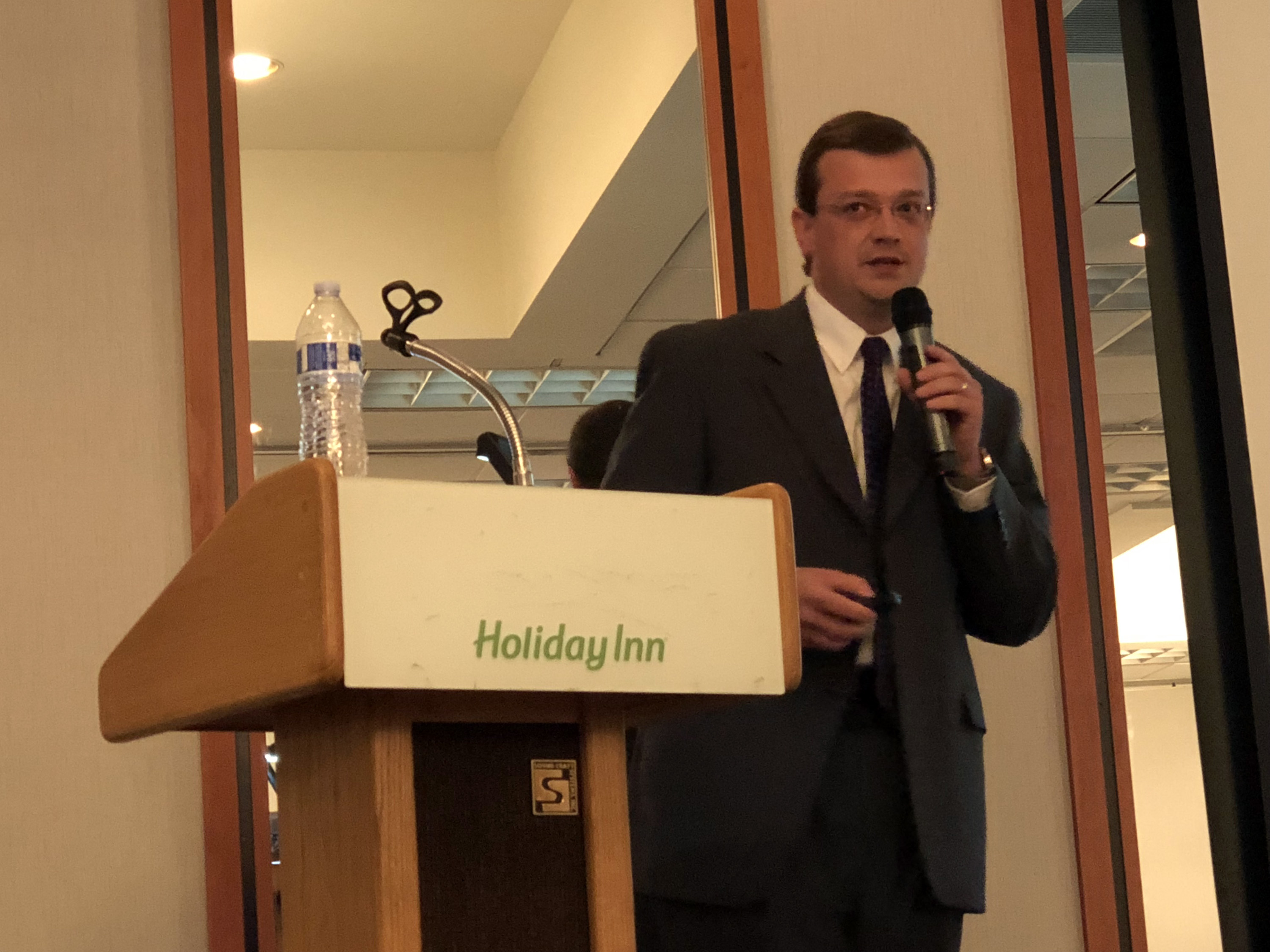 Marc Leepson: Five Days in July 1864: The Battle of Monocacy and Jubal Early's Attack on Washington, D.C.
Marc has written ten books, but only one on the Civil War, Desperate Engagement about Monocacy et al, so he humorously asked us to please limit questions to CW topics he knew something about. He gave us an overview of the Overland Campaign and bios of Jubal Early and Lew Wallace. The talk was mostly background, with virtually no tactical descriptions of Monocacy or Fort Stevens.
Jonathan A. Noyalas: "Nothing Was Left to Do but Fight": From Cool Spring to Kernstown
Jonathan always does a spirited and well-structured talk, and this was no exception. He gave a detailed account of the battle of Cool Spring (although his Civil War Trust map was very difficult to read in a PowerPoint slide) and then talked somewhat briefly about Rutherford's Farm and Second Kernstown. These three battles and the McCausland raid and burning of Chambersburg were the impetus for Grant to take the Valley more seriously and put Phil Sheridan in command there. An interesting tidbit was that part of the credit for winning Rutherford's was the Union's use of a new kind of waterproof rifle cartridge, which increased their rate of fire. (They ran out of that ammo before Kernstown.)
Most of the presenters ran out of time in their 45-minute talks, so I suggested to Terry Heder, the conference organizer (who did a great job at logistics, even better than Robert E. Lee), that next year he might allot 60 and include some Q&A time. I for one would be willing to start earlier than 9 a.m. to rack up some additional minutes.
Jeffry D. Wert: "Lee's Glorious Army": Robert E. Lee and the Army of Northern Virginia during the Invasions of 1862–1864
Jeff was our after-dinner speaker. (And dinner was once again pretty decent.) Given the broad nature of his subject, he cruised through the war at 100,000 feet, and I won't attempt to record all his points, but there were a few opinions that caught my attention. Within two days of taking command of the ANV, Lee had decided an offensive strategy was the only way to win the war. The Seven Days were a turning point in the war, marking a change in which side had the initiative. Fighting at Antietam might have been Lee's biggest mistake. (Responding to a question) Lee's closest point to victory in the war was July 2, 1863. Lee's post-Gettysburg statements that he was not directly seeking a battle in Pennsylvania are "spin." Gettysburg was a "reckoning." Lee legitimately believed that his army could succeed on July 3; otherwise, he would have never ordered Pickett's Charge. But since he believed it, he had to go through with it after all the army had been through to get there. The ANV's finest year was 1864, where it fought bravely and consistently to maintain a stalemate against Grant's superior resources, hoping to influence the presidential election. However, although many believe that Sherman taking Atlanta was what propelled Lincoln to victory in 1864, Jeff thought it also required the "drumbeat of victories" in the Shenandoah Valley to put him over the top. (Keven Walker's ears perked up for this one.)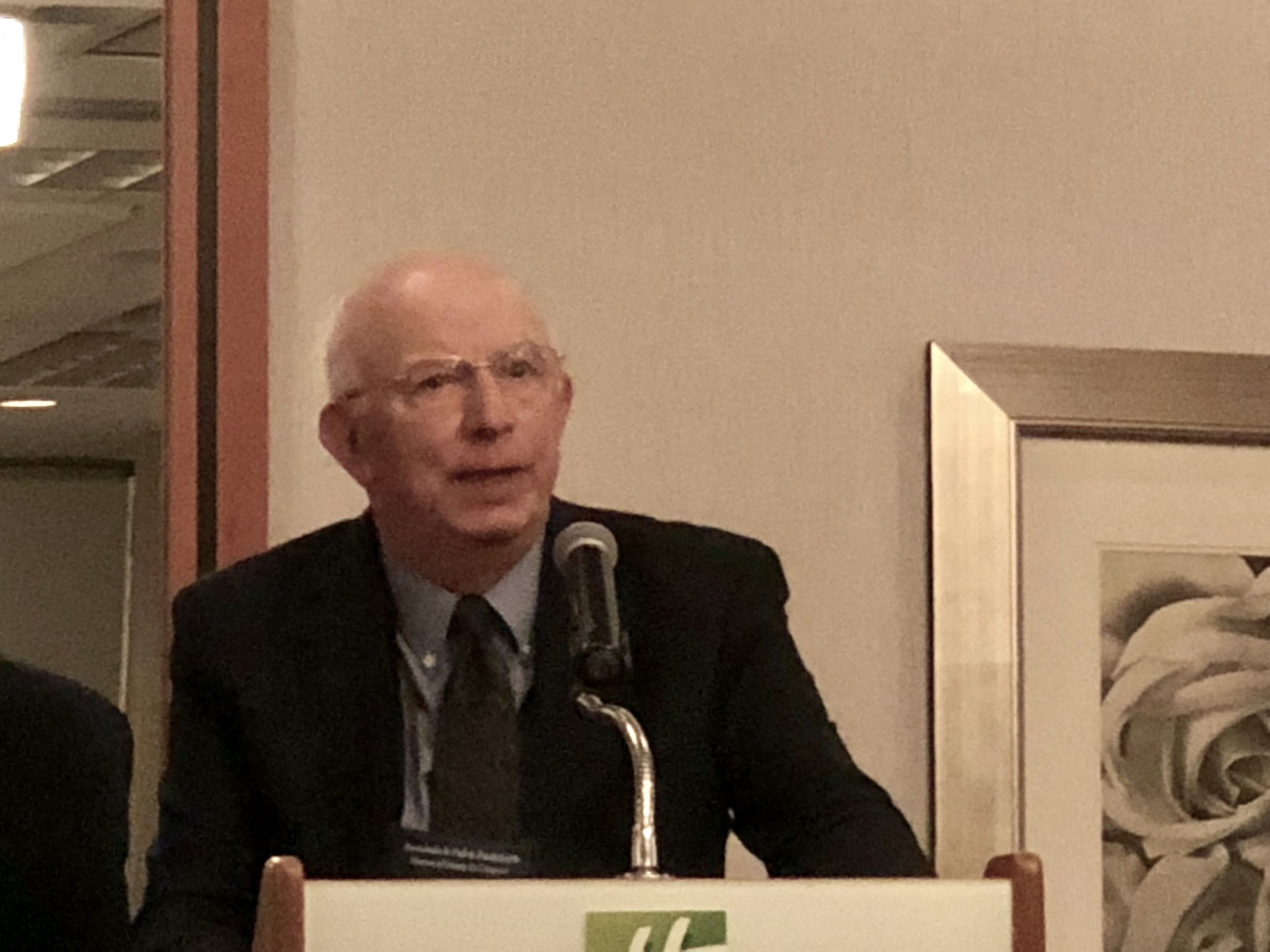 Saturday, April 28 — The Road to Washington, DC
We started early again, with beautiful cool and sunny weather awaiting. Our guides today were two old friends, Scott Patchan (my bus) and Gary Ecelbarger (other bus). We drove up the Valley Pike to a little south of Leetown. It was named for Revolutionary War general Charles Lee and we parked right next to his house. We discussed the July 3, 1864, battle/skirmish that occurred here between Bradley Johnson's Confederate cavalry (the right wing of Early's advance down the Valley) and James Mulligan's Chicago Irish troops. It wasn't particularly notable, but it did delay the Rebel movement, allowing Union forces to move on the railroad from Martinsburg to Harpers Ferry without being waylaid. Scott complimented the normally derided general, Franz Sigel, for how he planned it.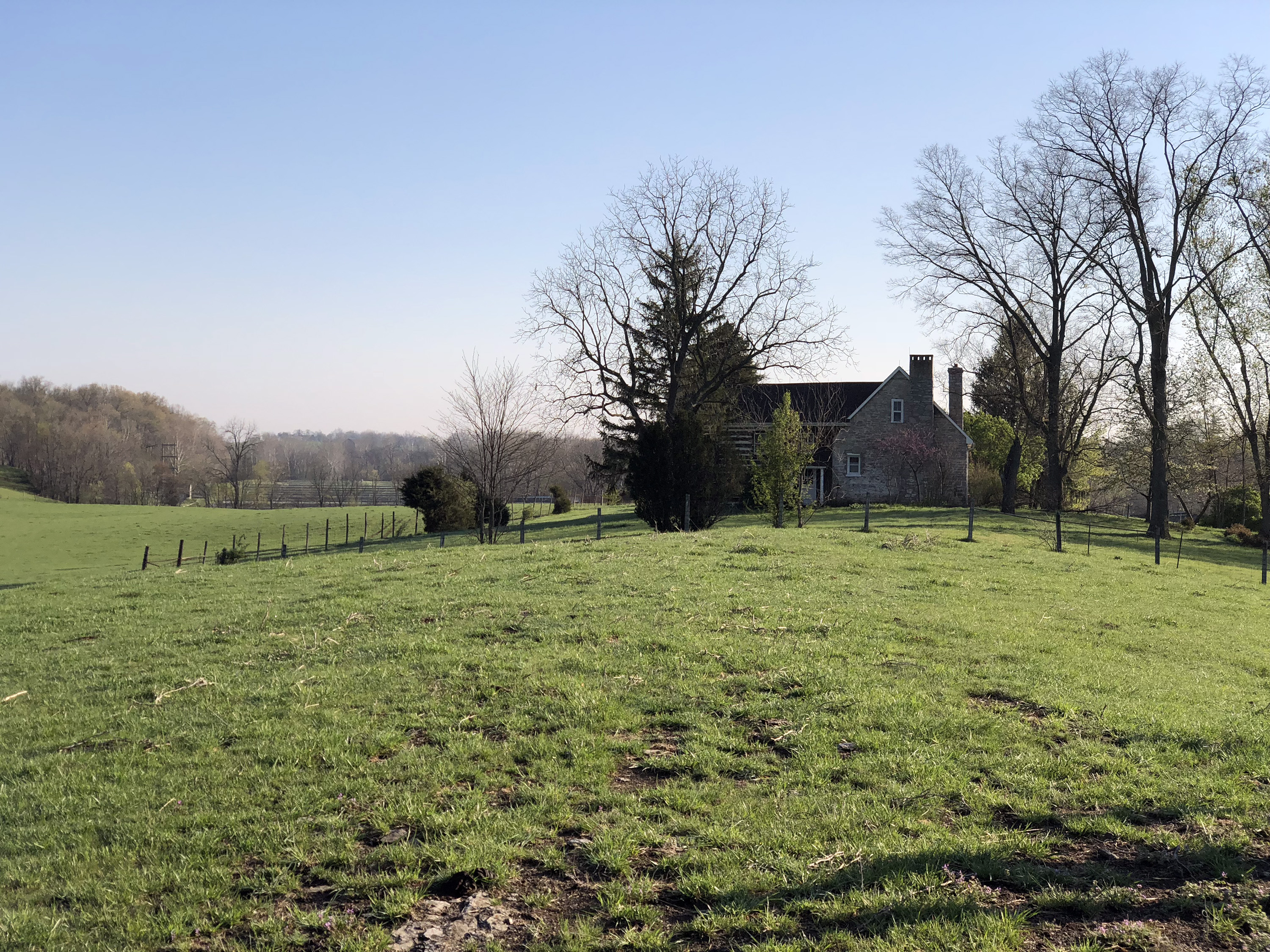 We drove to Harpers Ferry, through Halltown, in view of the Winchester and Potomac Railroad that I have drawn in so many maps, and parked on Bolivar Heights. Early's men were in this vicinity July 4–7 trying to take the garrison again. Unfortunately for the Confederates, Franz Sigel once again did a good job and defended the position much more successfully than Dixon Miles did in 1862 against Stonewall Jackson. He put a healthy contingent on Maryland Heights and his sharpshooters were armed with Henry repeating rifles. Early was forced to bypass Harpers Ferry and crossed the Potomac at Shepherdstown.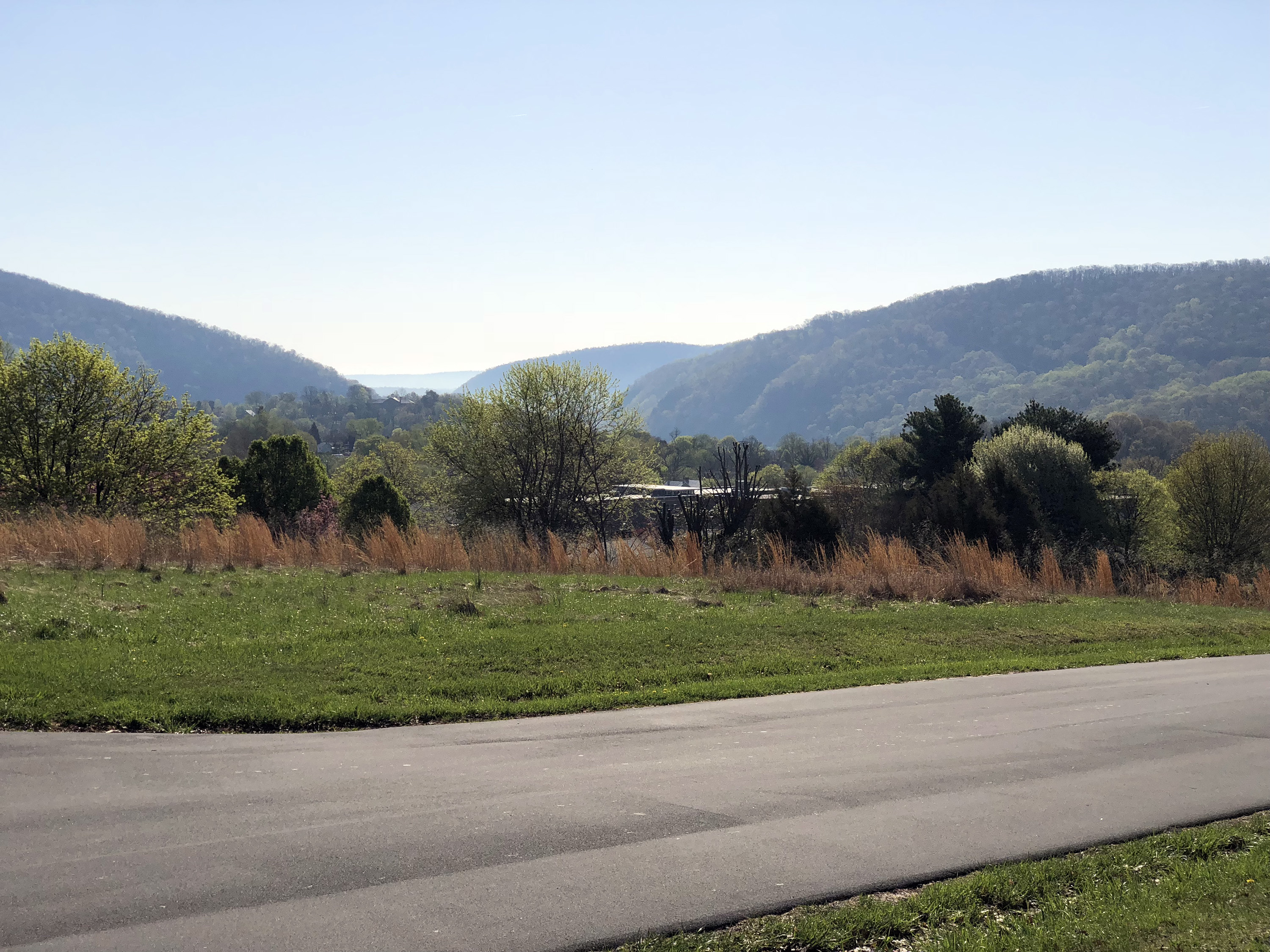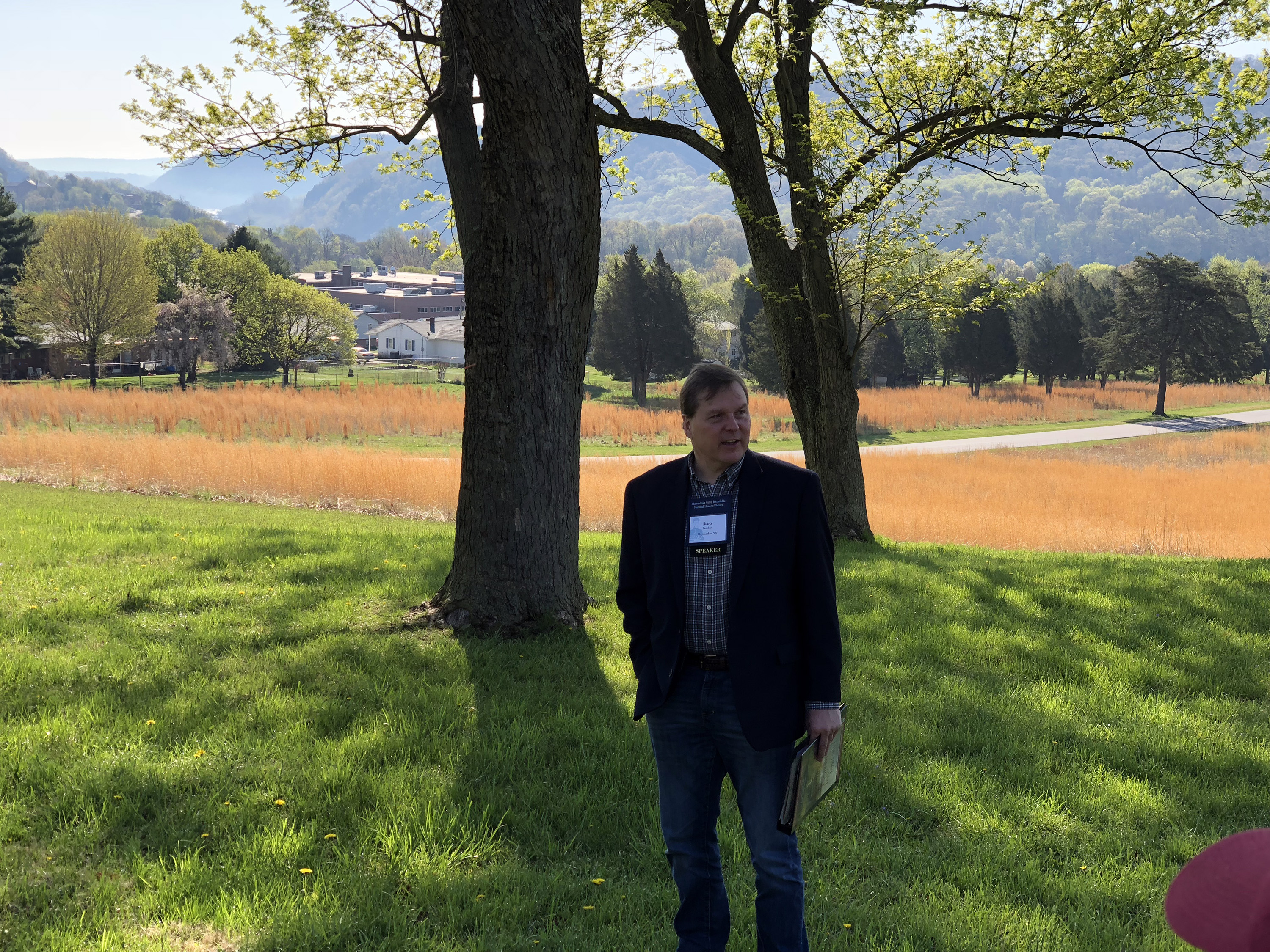 We followed the course of Ramseur's division to the Monocacy battlefield outside Frederick, starting with the nice visitor center (where they have a really good electric map presentation). In a gathering out by the entrance cannons, we talked about the initial moves in the battle and how Brad Johnson's cavalry was off on a futile mission to the prison at Lookout Point, MD, so they couldn't provide battlefield intelligence. Both Scott and Gary thought that the conventional spin about the battle is wrong—that each hour the Union delayed Early was an hour that saved Washington from capture. In fact, Early was not necessarily in a hurry and might have allowed his men to rest that day anyway, because they were exhausted from marching in high heat.
Over by the Thomas Farm we did quite a bit of walking for one of these tours, maybe two miles? We walked abut halfway to the Worthington house, which we could see across the freeway that cuts the battlefield. (Gary pointed out to us that the most deadly ground of the key battlefield, around the Thomas farm, is actually unmolested by the freeway.) We discussed both the initial attacks by McCausland and then Gordon's successful attack that ended the battle, with us stopping at two different positions that illustrated actions of both sides. Gary, our primary guide for this portion of the day, was rather critical of the Union defensive actions, blaming Ricketts in particular for not having his troops dig in, despite advance notice of three hours of where the Rebels would attack. We did not visit the actions in front of Ramseur or Rodes, for reasons not completely clear—it might have been related to bus parking restrictions. In any event, I have visited Monocacy a couple of times before, but this was the best, most understandable tour I've taken.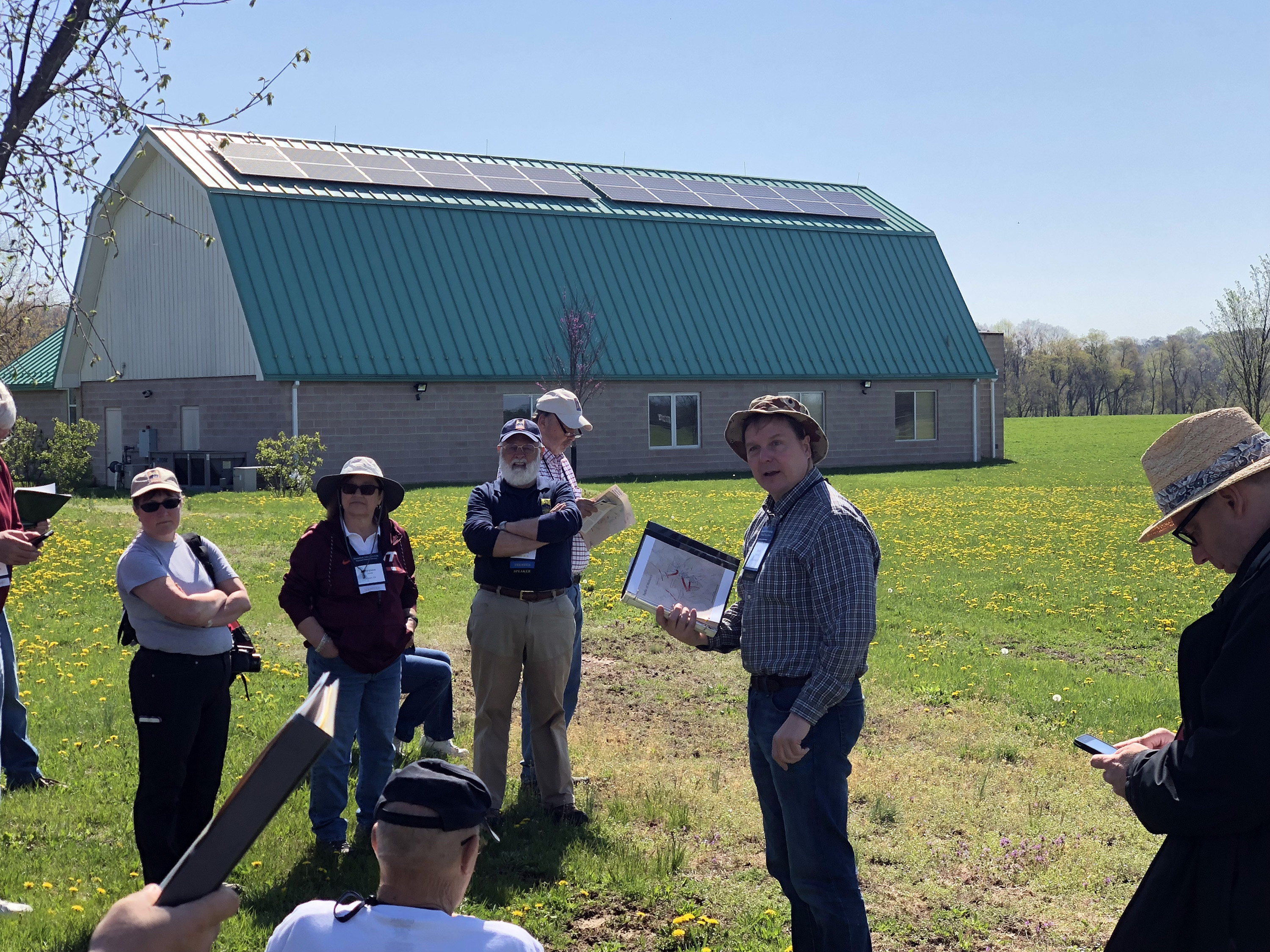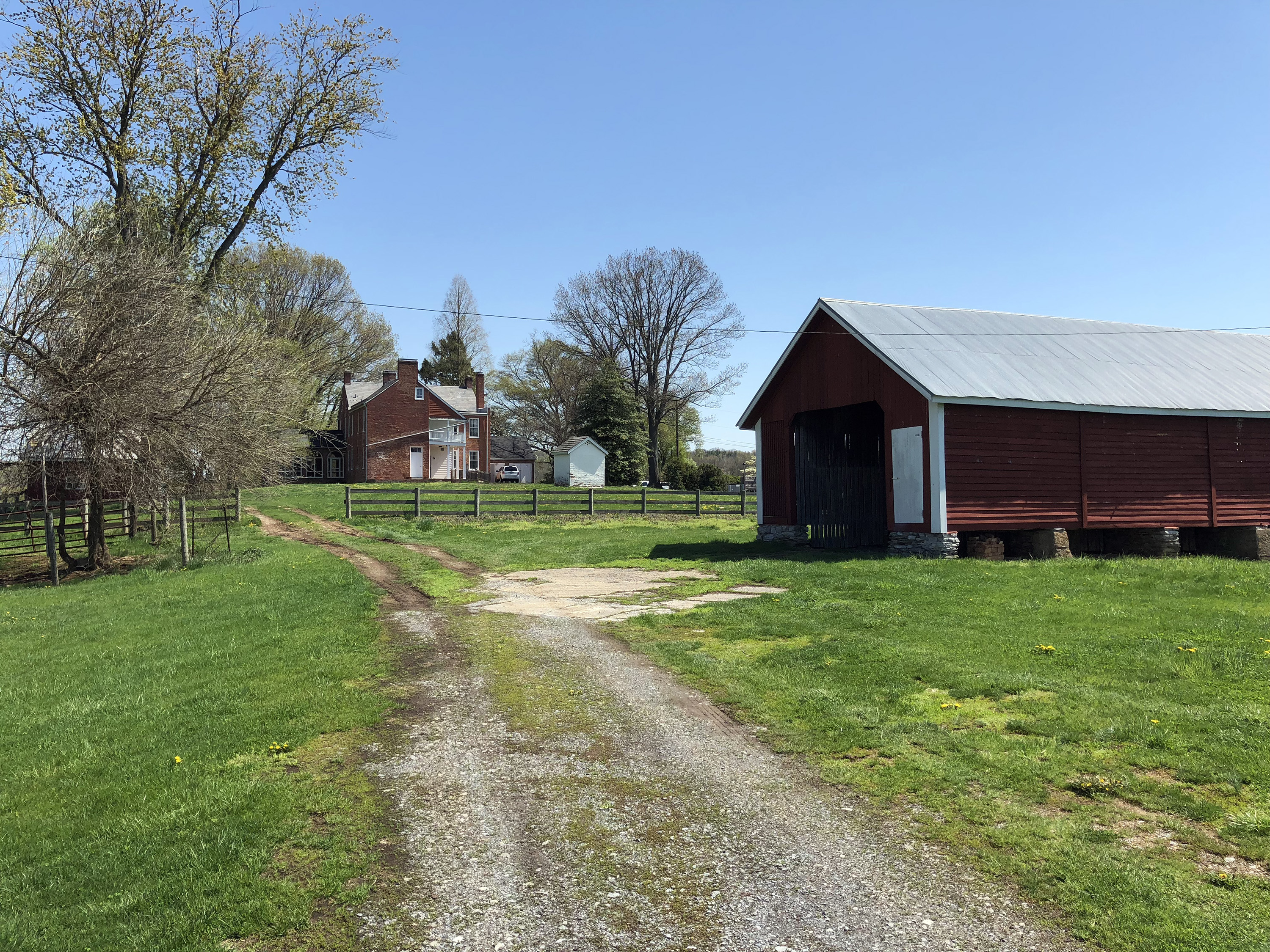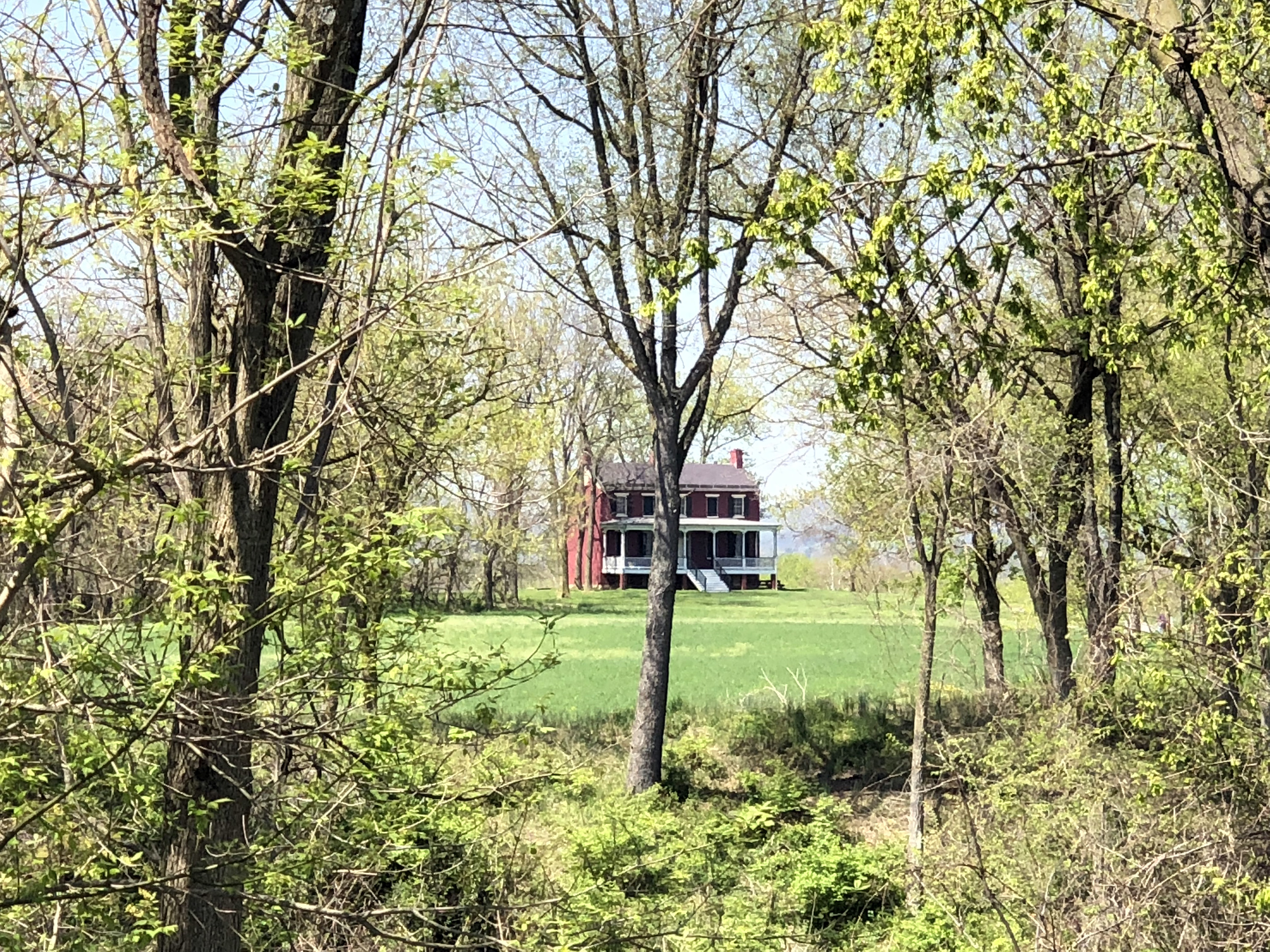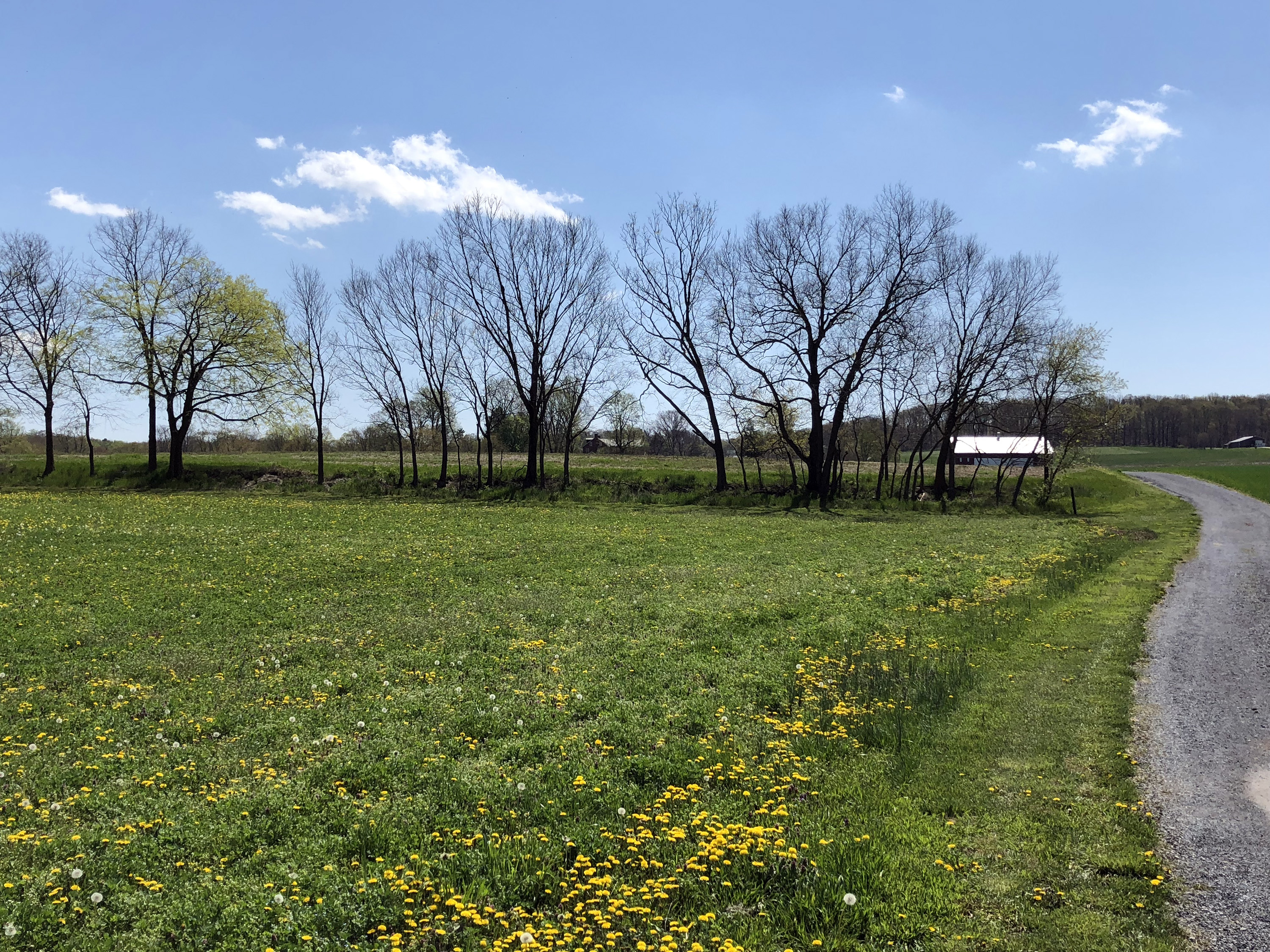 Lunch was of the box variety outside the visitor center. While there, Scott wrapped up this part of the campaign, describing briefly the battle (he said skirmish) of Fort Stevens and the Confederate withdrawal, including the arrival of Crook's force and the battle of Cool Spring (which Jonathan had covered in detail Friday). He was rather critical of George Crook, implying that he was reluctant to chase the Confederates because then he would have had to fight them.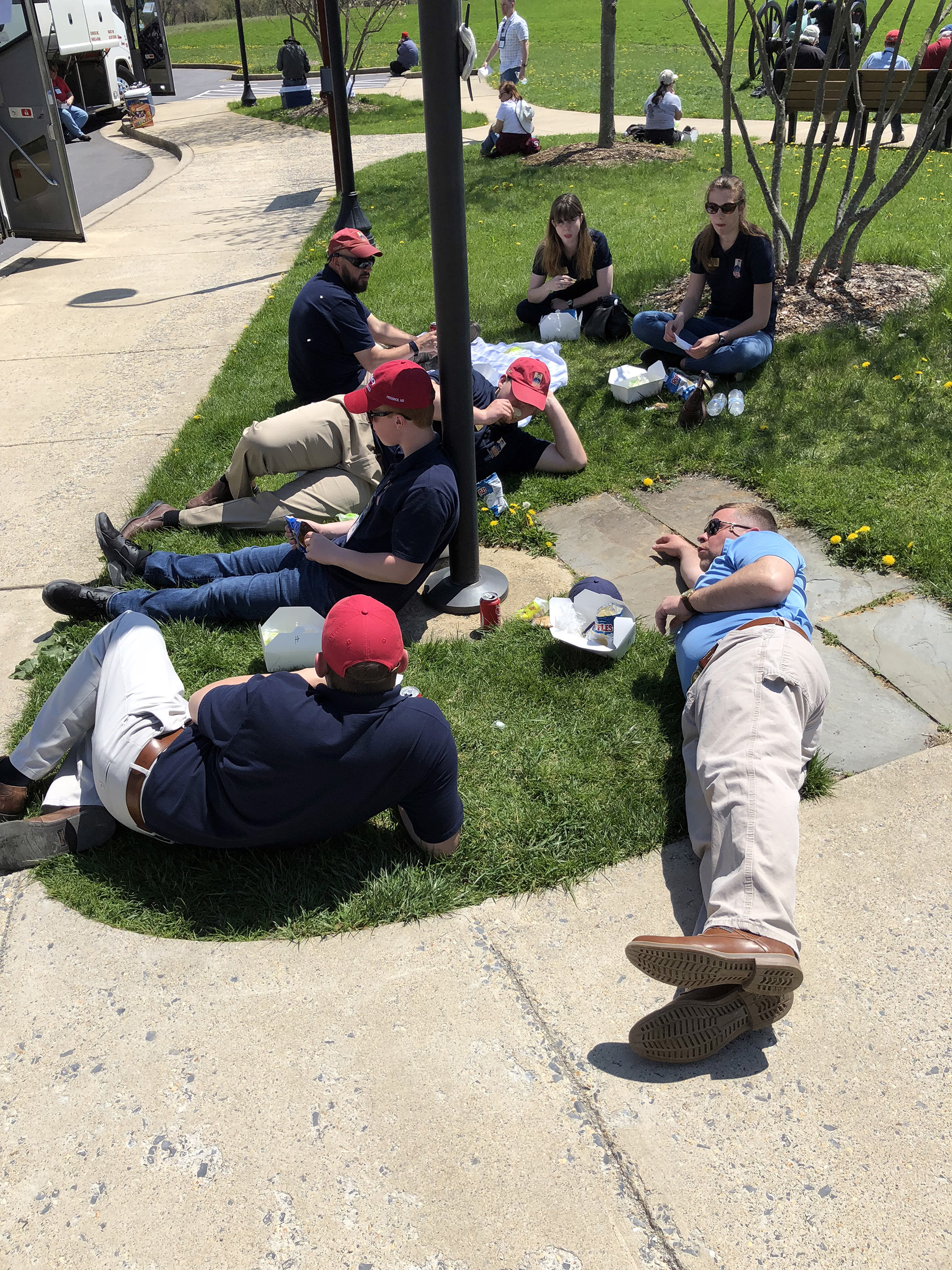 After a rather long drive, our final stop was Pritchard's Hill in Kernstown, to explore the Second battle there. Scott gave an excellent presentation on the tactics there and at the stone wall on Pritchard's Lane, Mulligan's final position. He joked that Crook did about as well here as he later did at the Rosebud (Indian Wars), completely misunderstanding the full scale assault Early inflicted on him. We concluded by dropping in to the visitor center, which was opened for us as a special favor; usually it is closed until May. Scott summarized the full campaign (before Sheridan arrived) as a success for Early—his mission was primarily to distract Grant at Petersburg, similar to what Jackson did in 1862, and in fact Grant detached three soldiers from Petersburg for every one Early had in the Valley.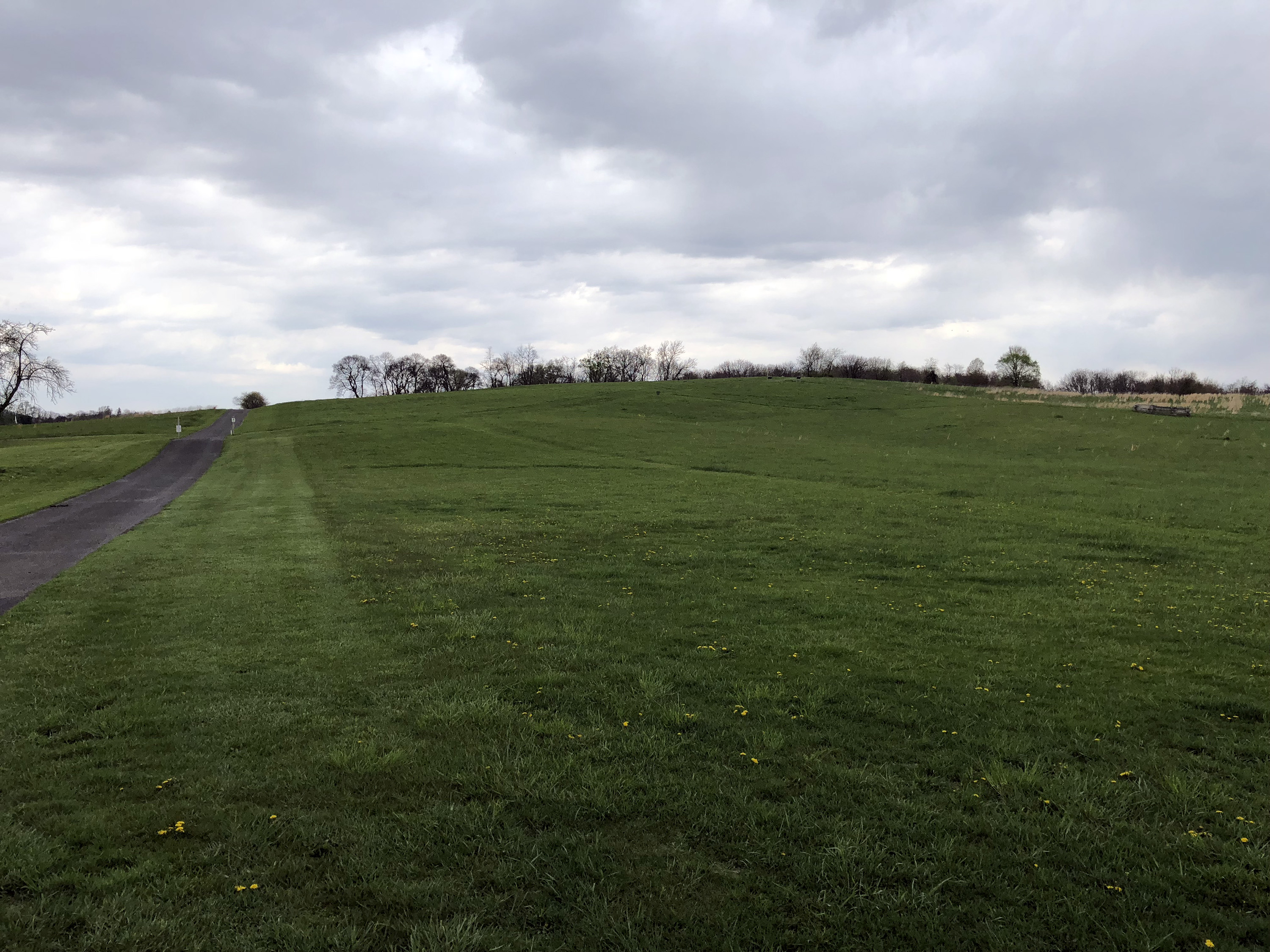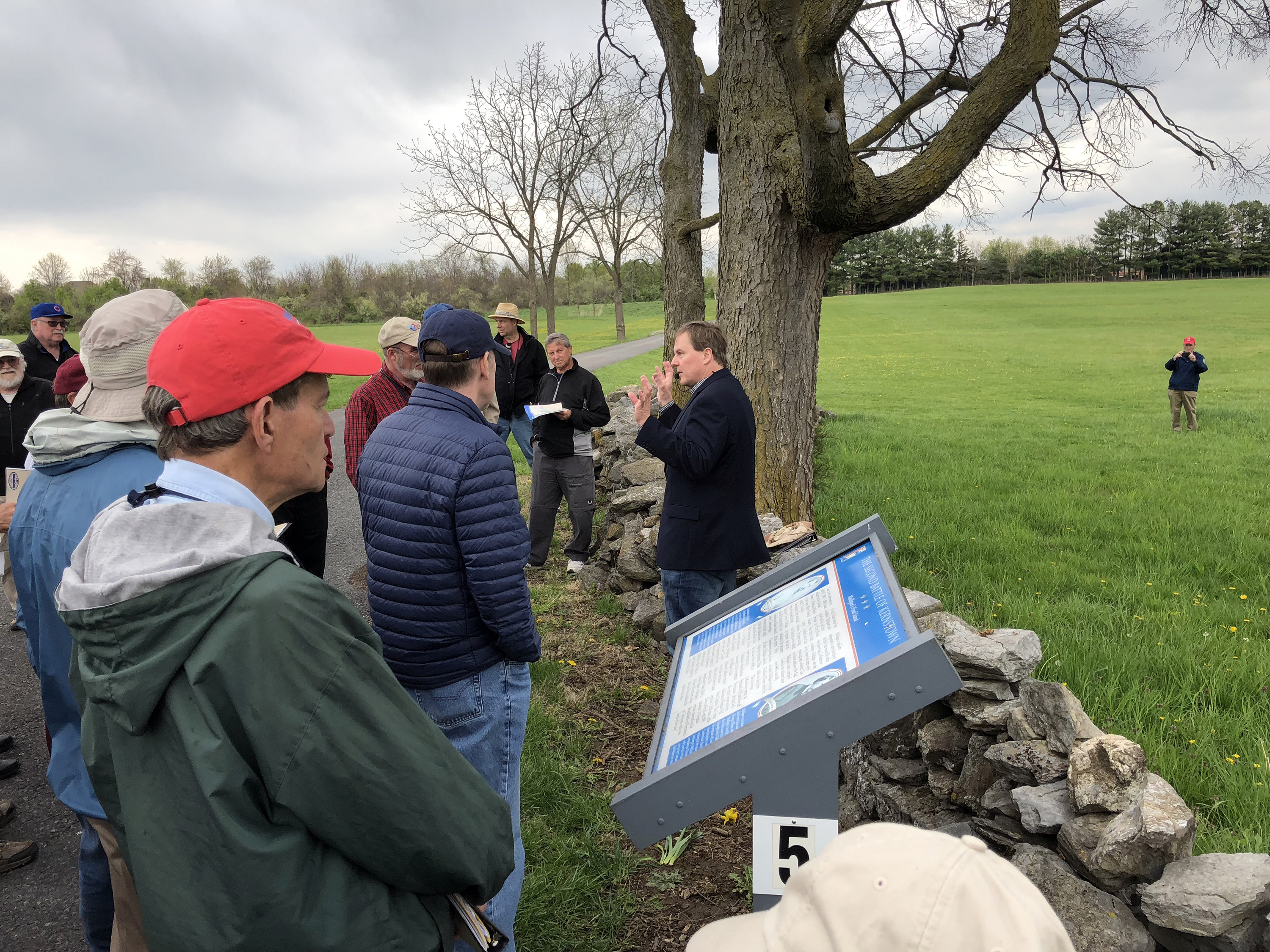 Our final evening was a buffet dinner with some brief thank-you's and announcements. Keven talked about a few upcoming conferences and said that the next annual conference would be April 10–13 in Front Royal, about the 1864 Valley Campaign. I enjoyed this week's quite a lot and will try to fit next year into my schedule.