2017 Civil War Travelogues — Chambersburg at Shiloh
Welcome to my 2017 travelogue pages. This page is my report of my May visit to Shiloh and a number of related areas in Mississippi, with the Chambersburg Chamber of Commerce Civil War Tours organization. To see the entire list of my 2017 trips, go here.
Here is a reminder about the reason I write these pages the way I do. They record my experiences and impressions of Civil War trips primarily for my future use. Thus, they sometimes make assumptions about things I already know and focus on insights that I receive. They are not general-purpose descriptions for people unfamiliar with the Civil War, although I do link to various Wikipedia articles throughout. Apologies about the quality of interior photographs—I don't take fancy cameras with big flashes to these events. If you would like to be notified of new travelogues, connect to me via Facebook.
Wednesday, May 17
This was my third trip to Shiloh and Corinth. The Chambersburg guys usually concentrate on the battles of the Eastern Theater, so I was intrigued to see how well they would do in their first trip to the west. I flew on United Airlines to Memphis through Denver, renting a car to reach the Hampton Inn, Corinth. The program started at 6 p.m. at the Corinth Civil War Interpretive Center. Tim Smith, who will be our guide for the next two days at Shiloh, gave a presentation about the terrain factor at Shiloh, called Difficult and Broken Ground. This analysis took into consideration the three major water courses—Tennessee River, Snake Creek, and Owl Creek—and the four minor tributary branches: Tilghman, Dill, Shiloh, and Locust Grove. The result is an effective area for offense like an hourglass, with two wide areas and a narrow place in the center that is high ground with limited assistance to the defender. He broke the fighting on the first day into three phases as the hourglass was traversed, and then the second day was the three phases in reverse. It made a complex battle a lot more understandable.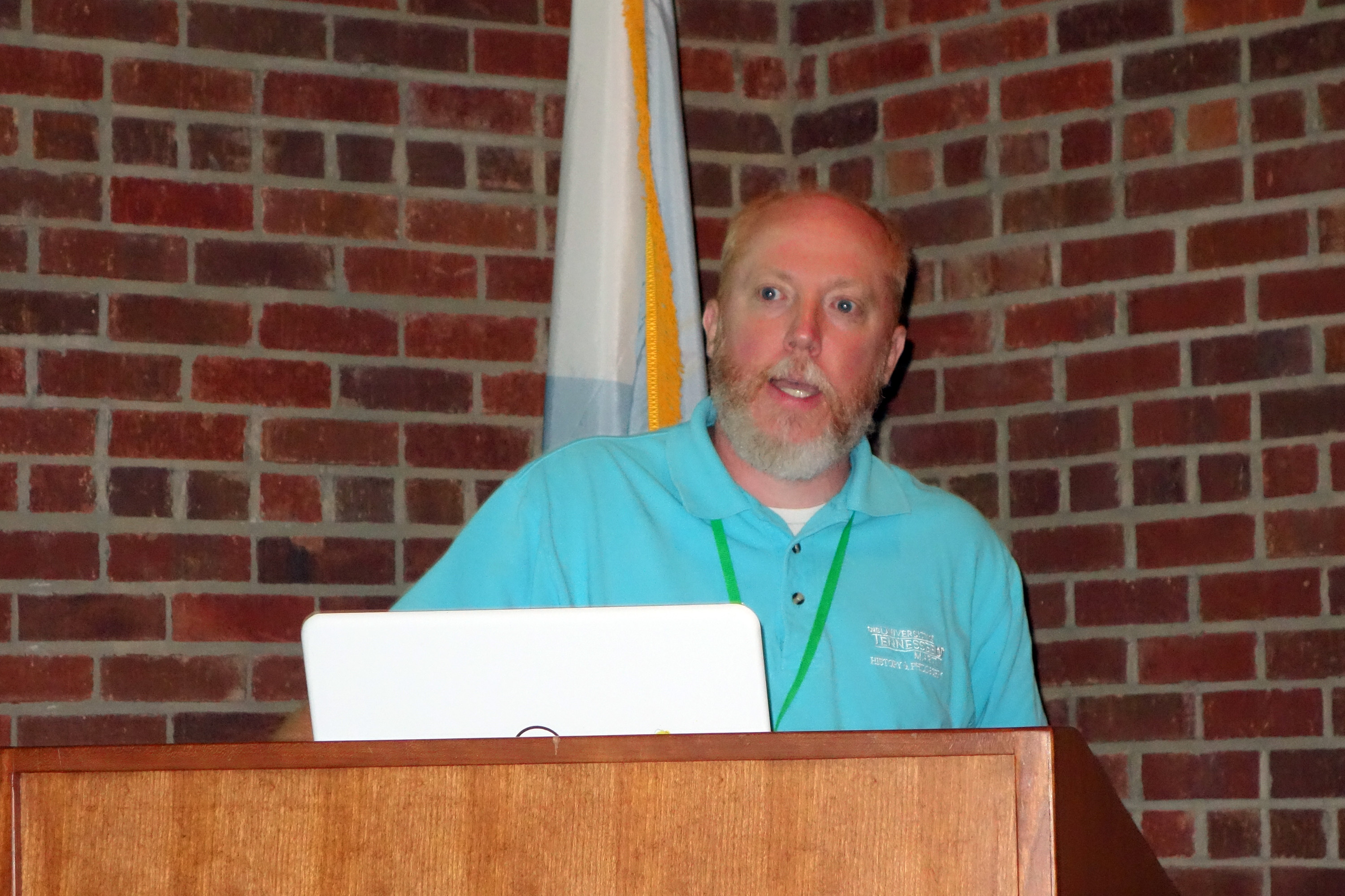 I had met Tim before on my previous trip to Shiloh, with the Civil War Education Association in 2012, so some of the following two days were a repeat performance, but I must say that this time was quite superior to the previous—lots of time to cover the two days, and better time management to boot. (Tim also confided in me that being the sole historian on a tour is much easier and more efficient than sharing the spotlight with colleagues.)
Thursday, May 18 – Shiloh, First Day
The bus ride to Shiloh is about 25 minutes, which was accompanied by an onboard DVD showing of the NPS Shiloh video. (Today we saw the modern video and on a subsequent trip we saw the 1954 version, which was light years worse. It is hard to imagine professional historians being associated with that older version.) We started with a brief dip into the Visitor Center. Our first substantive stop was the National Cemetery, where 4,000 Union and later US Army veterans are buried; only two Confederates are included, while the rest of them are buried in a number of mass grave trenches on the battlefield. We walked down to Pittsburg Landing to discuss the Union landings and the site selection process. In the spring of 1862, it was the only feasible place to land ships. The river was high at the time, and in fact it had risen 15 feet in a single day just before the battle.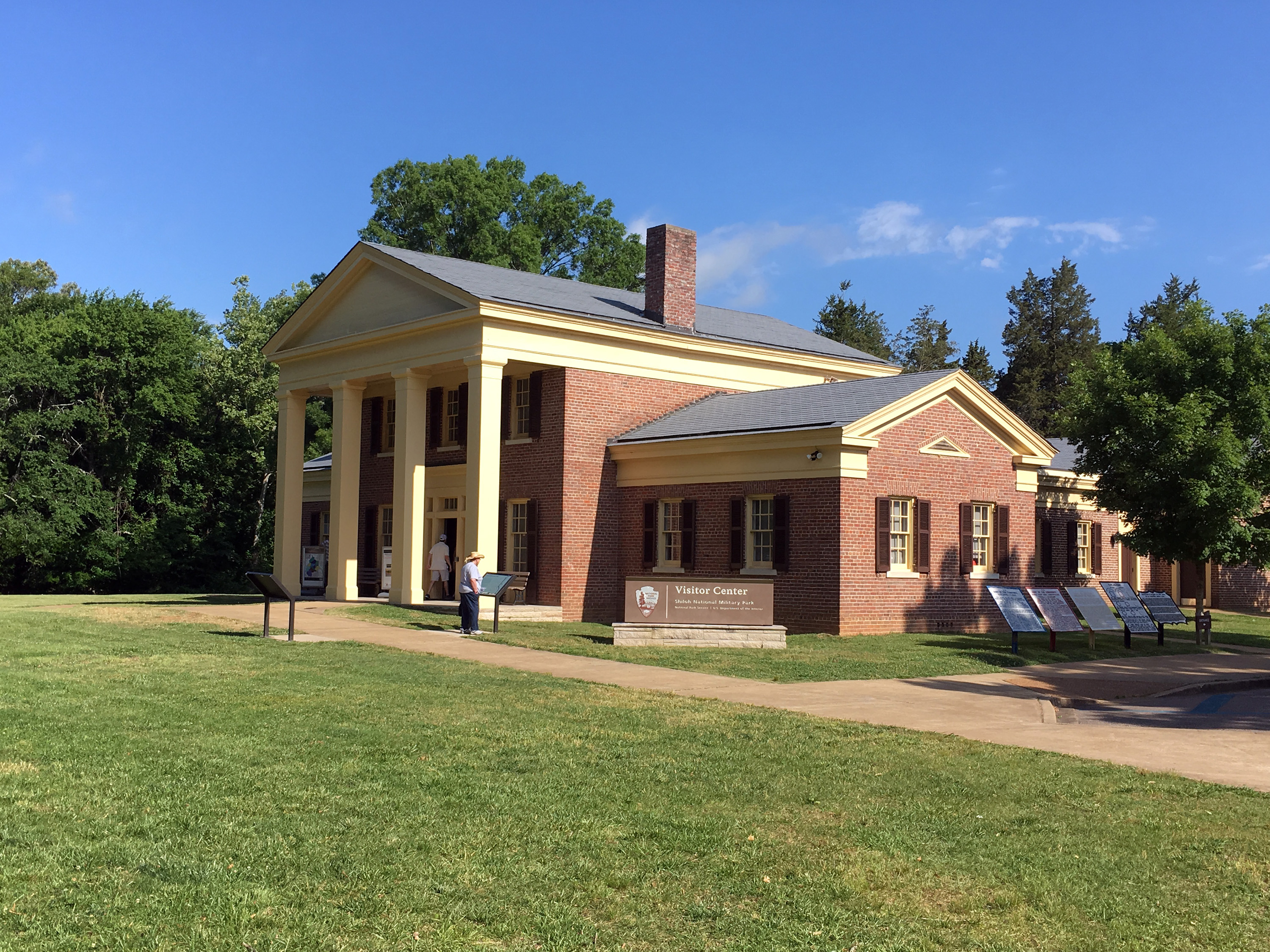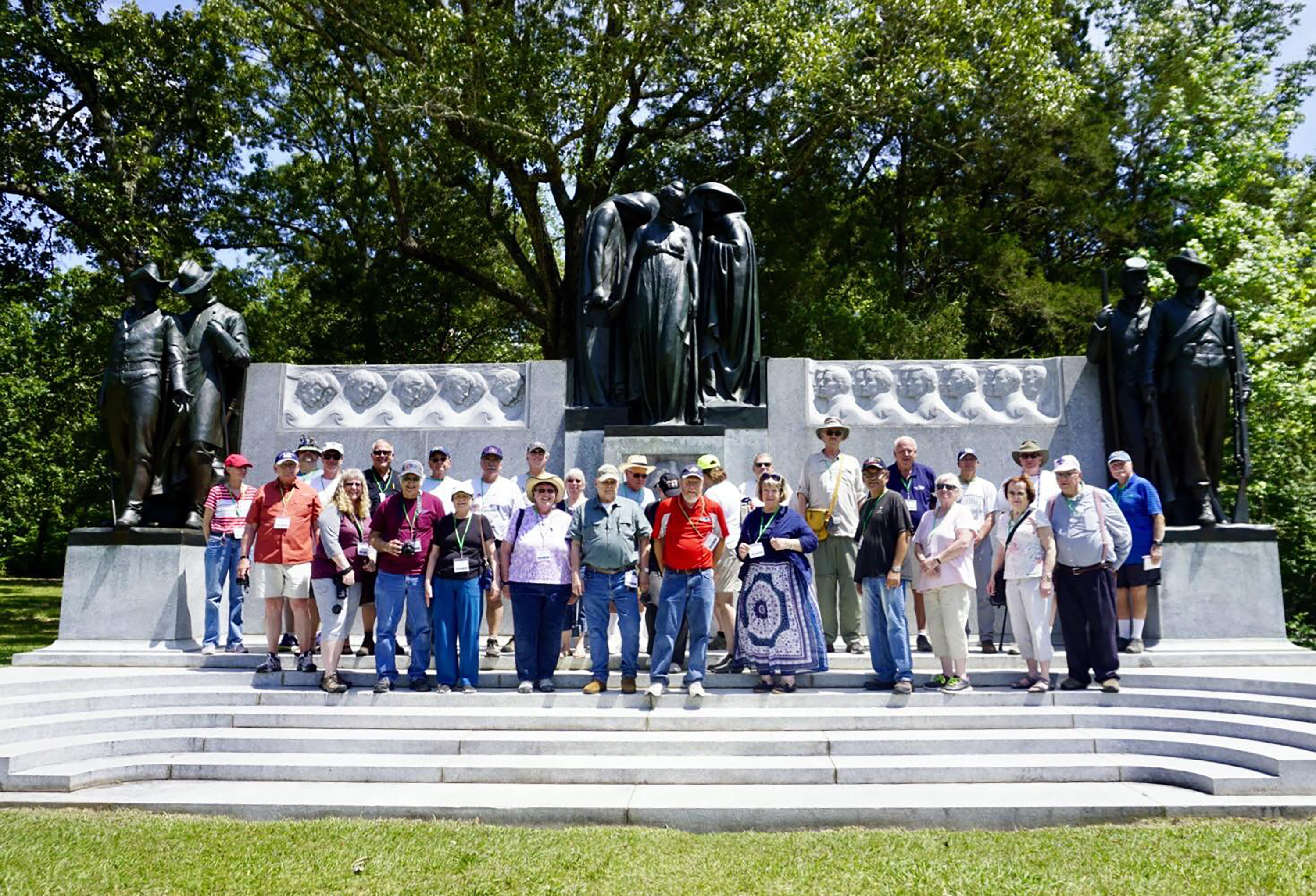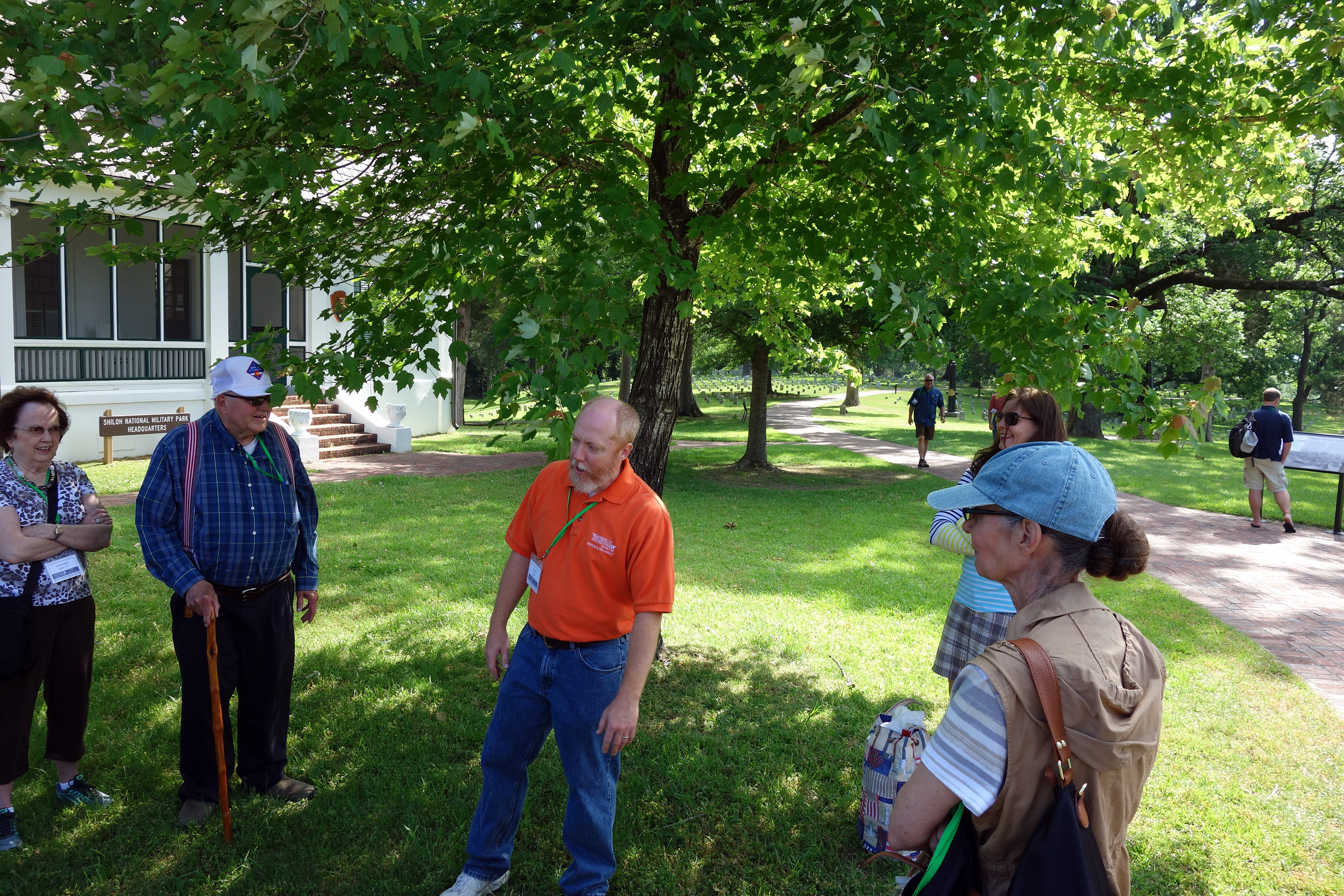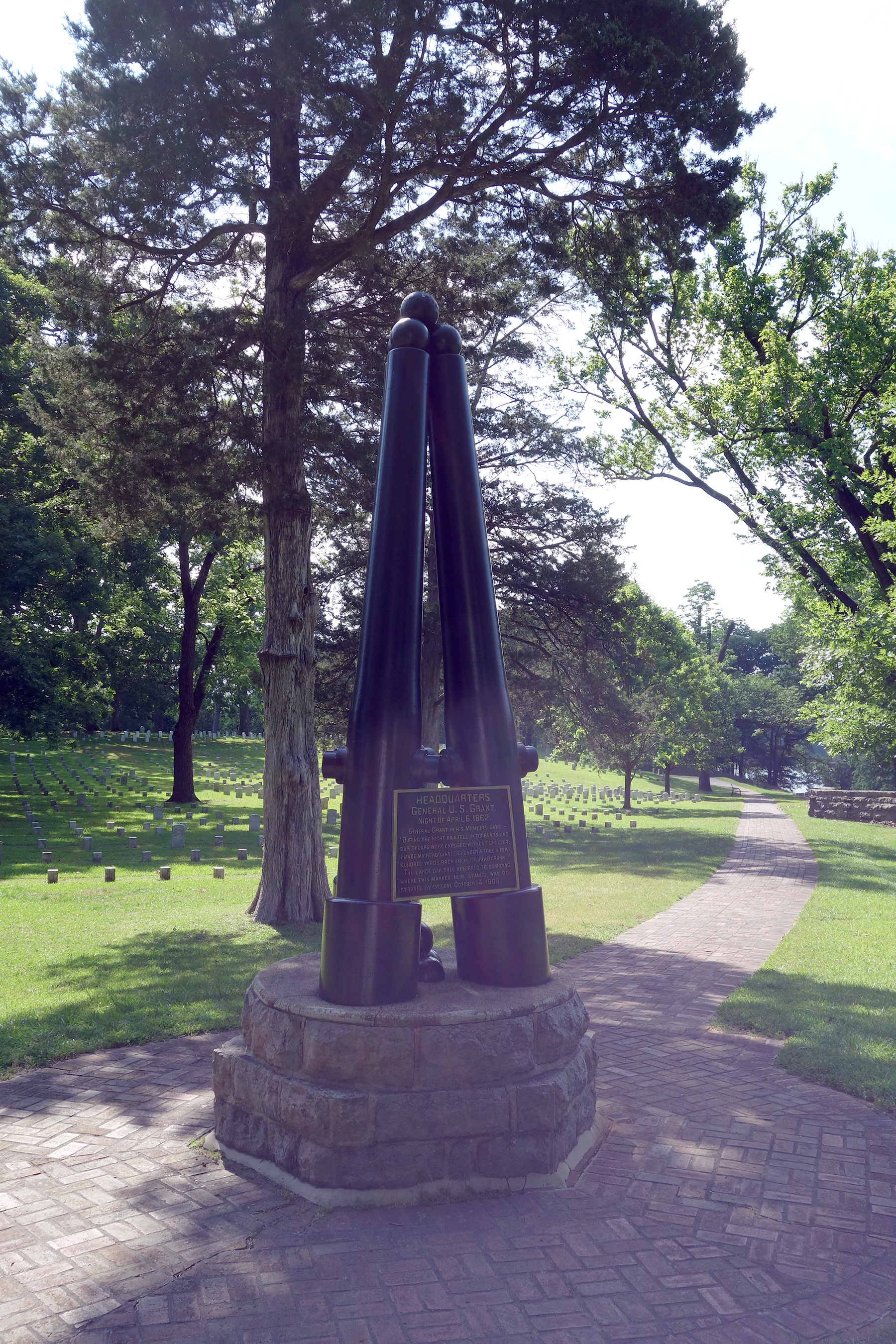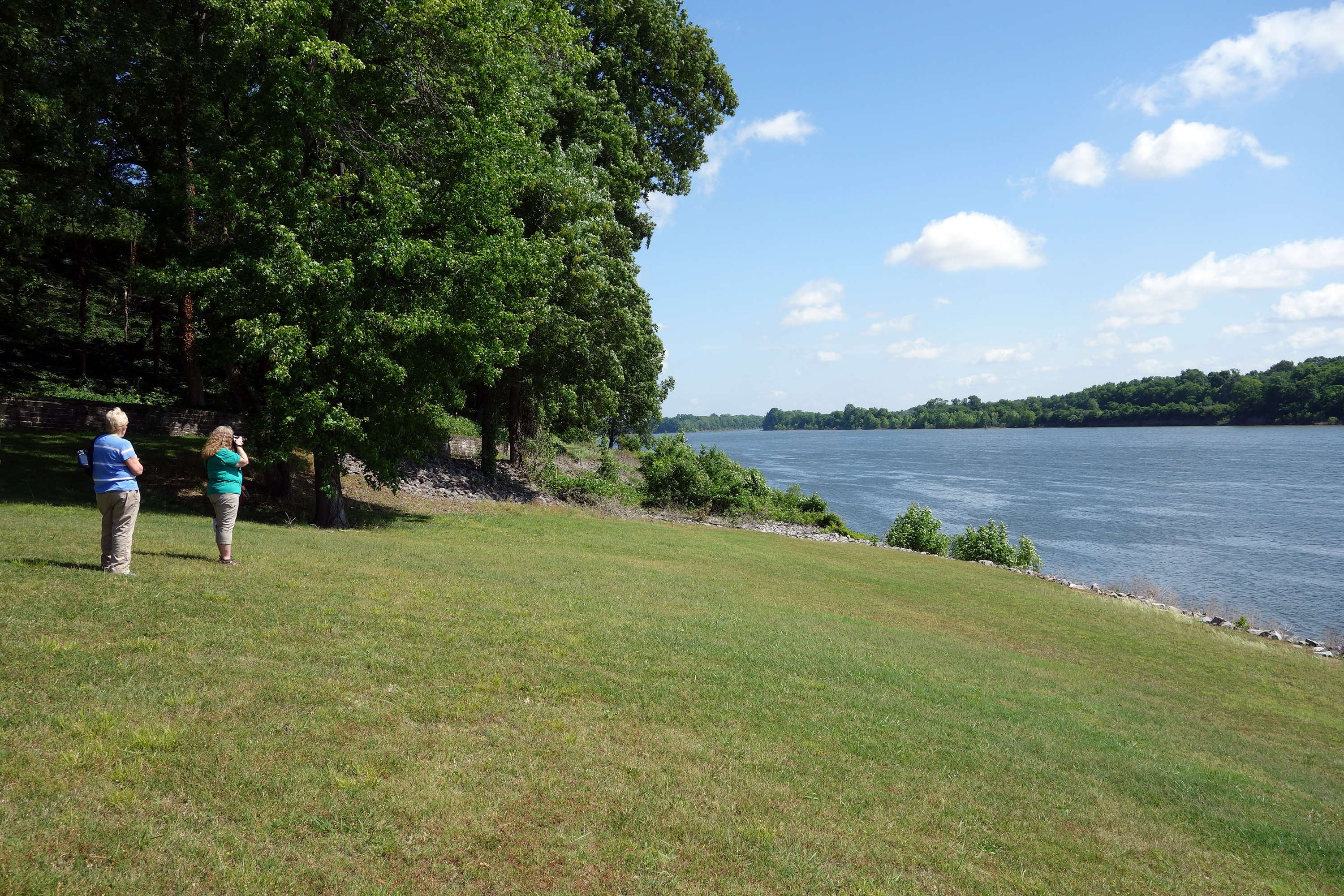 We drove to Fraley Field for the start of the battle. I had not realized that Peabody's small patrol had skirmished with the Confederates for over an hour and that the Rebels were delayed about three hours from their surprise dawn arrival. This gave the rest of the Union soldiers in the rear plenty of time to get into battle lines. Stories about soldiers attacked sleeping in their tents are not credible.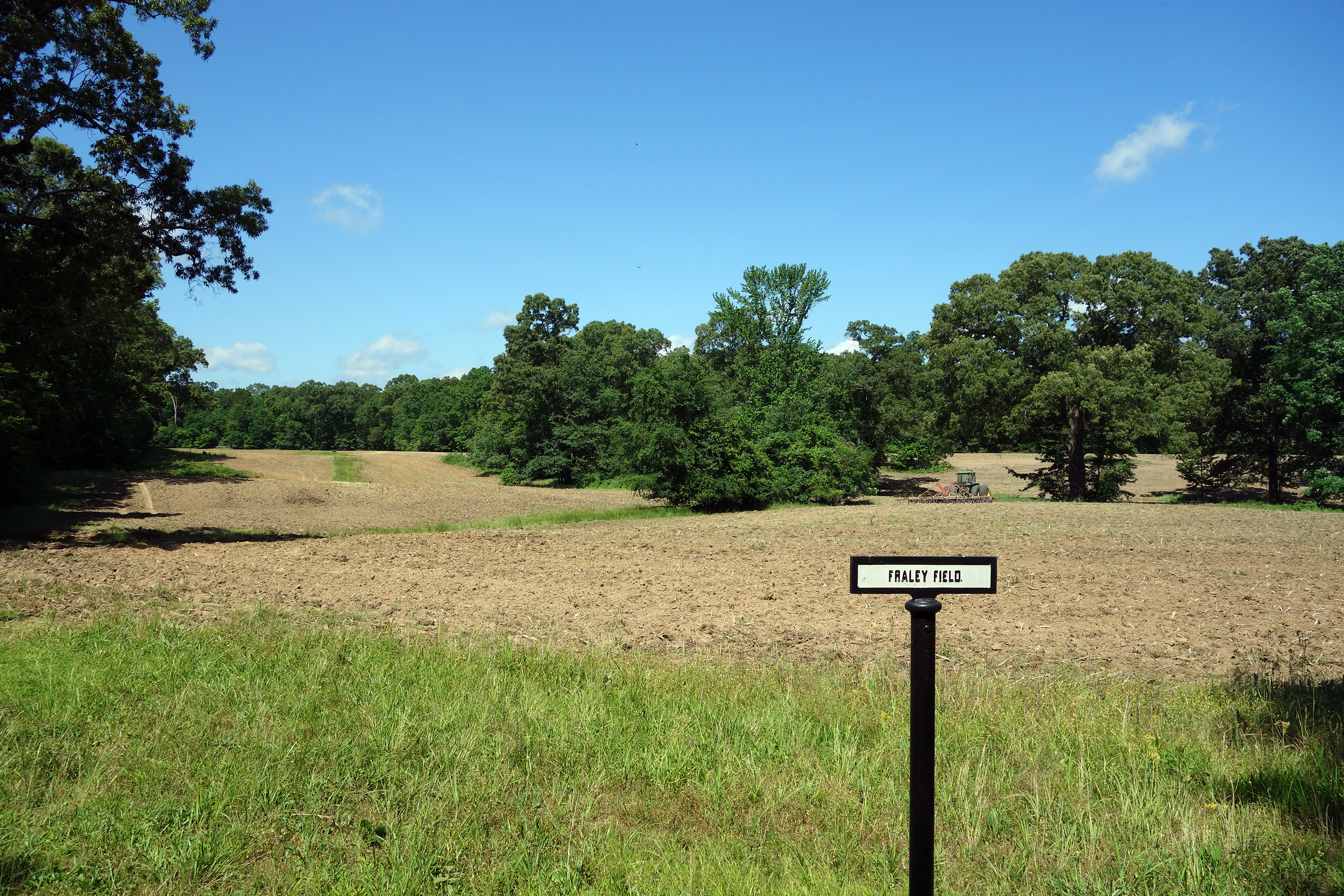 We crossed Shiloh Branch on the western side of the battlefield. While most of the folks wandered around the church, I took a quick hike about 1/3 mile on a trail through the woods to find and photograph the 72nd Ohio monument, in Buckland's brigade line. One of my current clients, Dan Masters, is doing a book on a 72nd letter writer, so I knew he'd appreciate the gesture.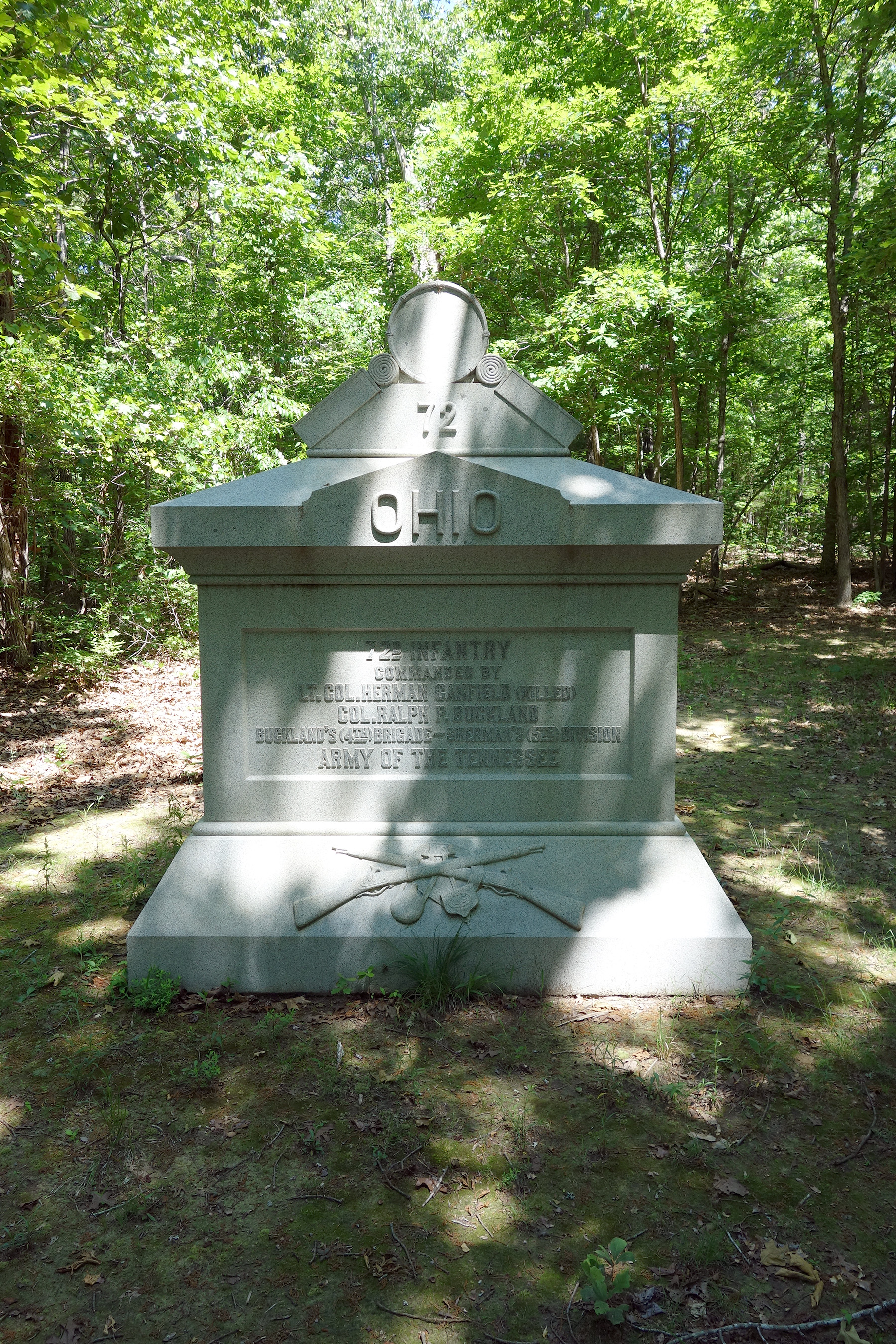 Next was Rea Field and the camp of the 53rd Ohio, where Sherman was shot in the hand and was finally convinced he was under attack. There is also a new (2015) Mississippi state monument. We then adjourned to the picnic area and had a delicious box lunch from a deli called Sweet Peppers. While there, a park ranger gave us a speech about the life of Albert Sidney Johnston.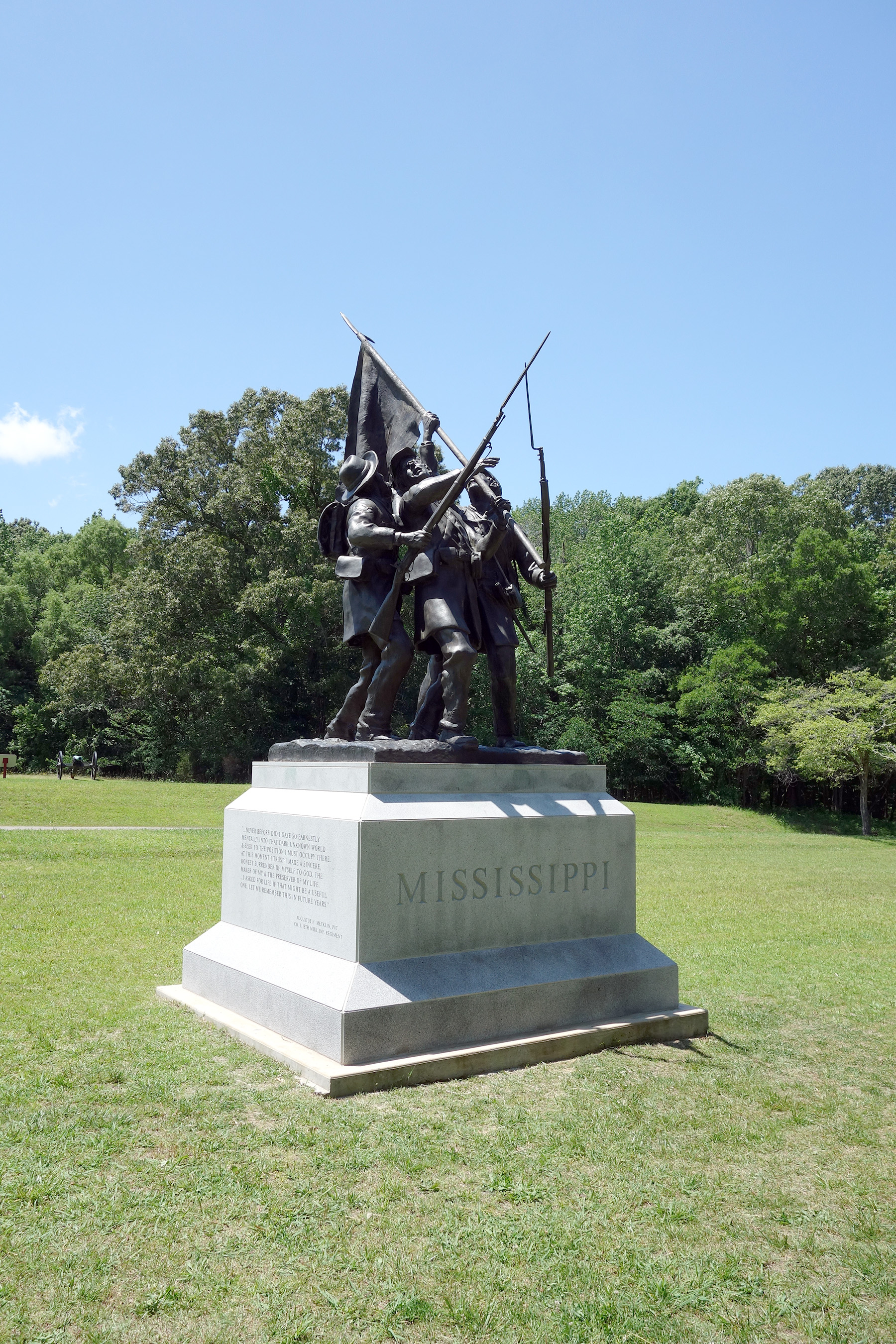 We drove over the Owl Creek Bridge just to see what it looked like. Tim told a funny story about conducting a staff ride for officers of the 101st Airborne and they insisted on parachuting to the battlefield, so Tim selected a sod farm right near that bridge as their landing zone. Next was Spain Field, where Prentiss's division was hit hard. They were in the central high ground of the hourglass, not shielded behind creeks as their compatriots in the front line were, so they got hammered and fell back. It was here that Albert Sidney Johnston thought he was driving the Union left flank and therefore started pivoting his army toward the northwest; unbeknownst to him, he was really in the center of the line, so he was not accomplishing his objective of driving the Army of the Tennessee away from Pittsburg Landing and into Owl Creek.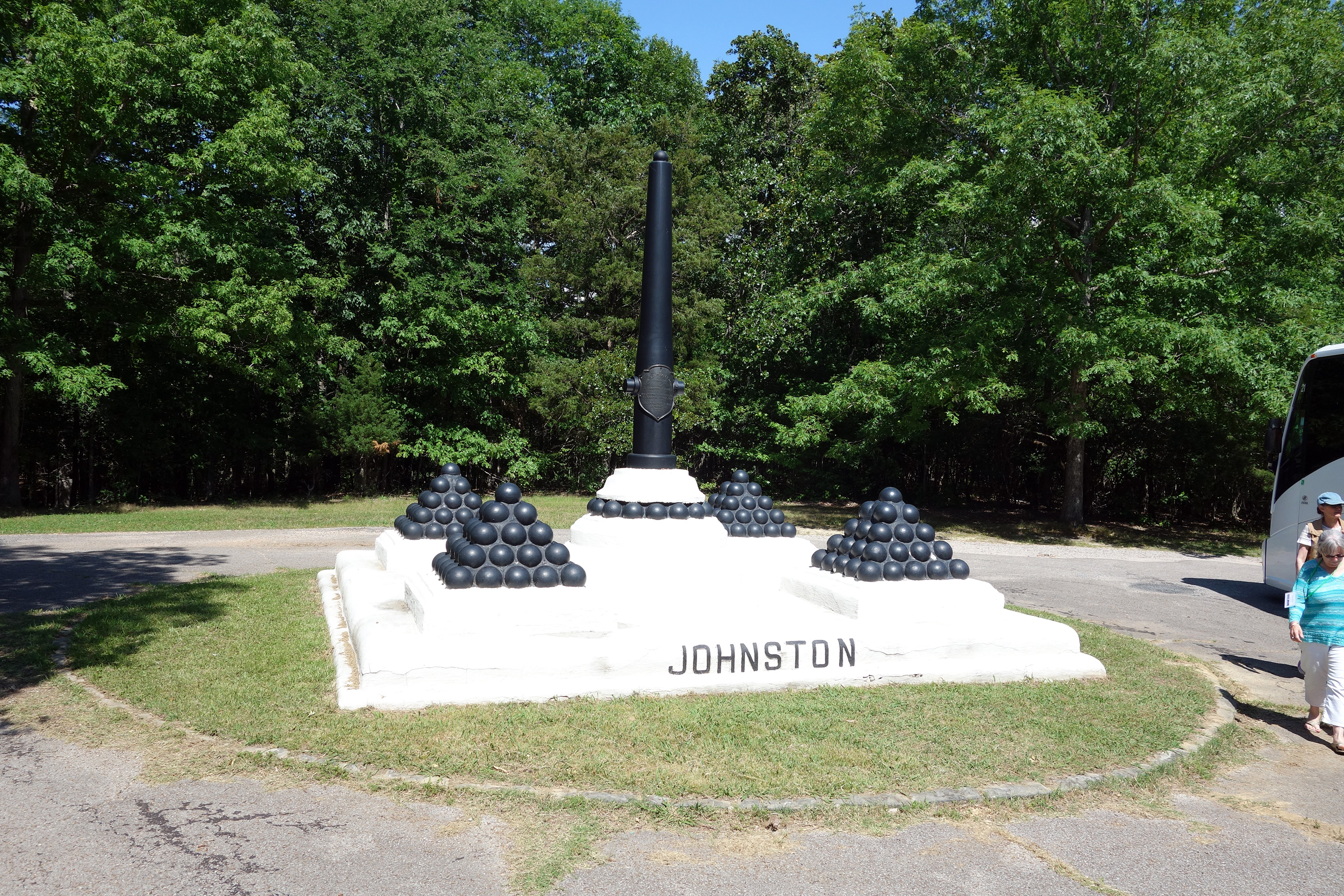 We completed our look at Phase I by driving on the Bark Road and crossing Locust Grove Branch to see how Stuart's detached brigade defended the actual Union left; Johnston had to redirect two of his brigades back east to attempt to correct his earlier mistake.
Starting Phase II, we went back to the western end of the battlefield for Woolf Field and the Crossroads area. Here we looked at the heavy fighting against Sherman's and McClernand's divisions, and their counterattacks across Jones Field. Then we skipped back east to the Peach Orchard area for a look at Johnston's death. Tim is familiar with the late Wiley Sword's alternative theory about the location, but he still puts more stock into Tennessee Gov. Harris's account. We discussed the Peach Orchard fighting, saw Manse George's cabin (the only 1862 structure to survive, although not in the same location), and then went over to Bloody Pond. Tim is skeptical about the stories that made it popular long after the battle.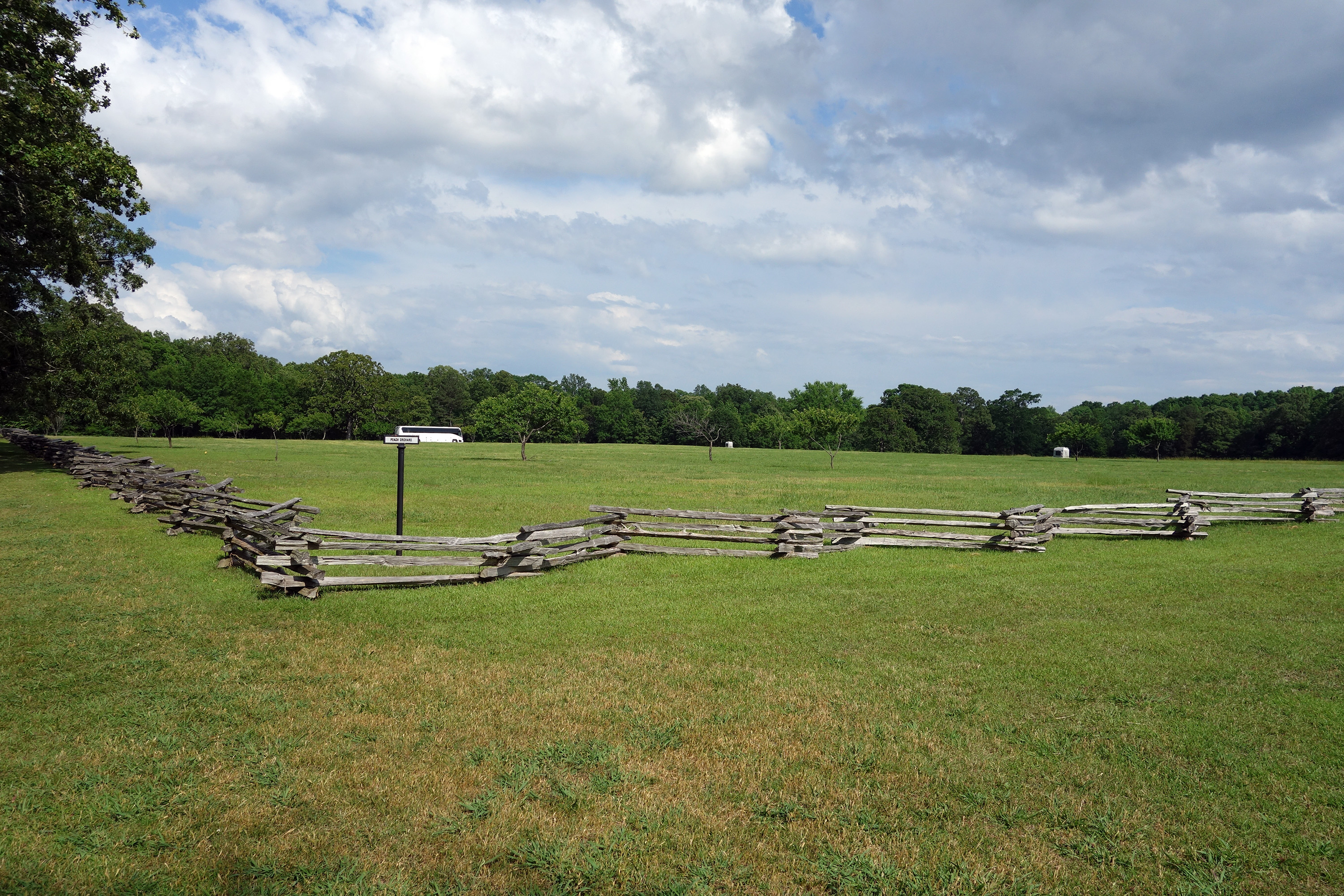 Our final stop for Phase II was back to the center. We walked the line of the Hornets' Nest and Tim dispelled a number of myths about it. He thinks its supreme importance to the battle is overblown. Although 75% of the men were in W.H.L. Wallace's division, Prentiss gets the limelight (because the former was mortally wounded and the latter was a publicity hound). The fighting on the western and eastern ends of the battle was just as fierce and important and the Nest casualties were lower than commonly believed. If these divisions had withdrawn along with their colleagues to the left and right, the Confederates would still have not been able to pierce Grant's final line; the added time they delayed the Rebels was not that valuable. The famous bombardment by Ruggles's Battery was probably more oriented to counterbattery fire against Union guns behind the Nest than antipersonnel. The first battle historian, D.W. Reed, had been in the 12th Iowa in the Nest, so he obviously pumped up his own experiences.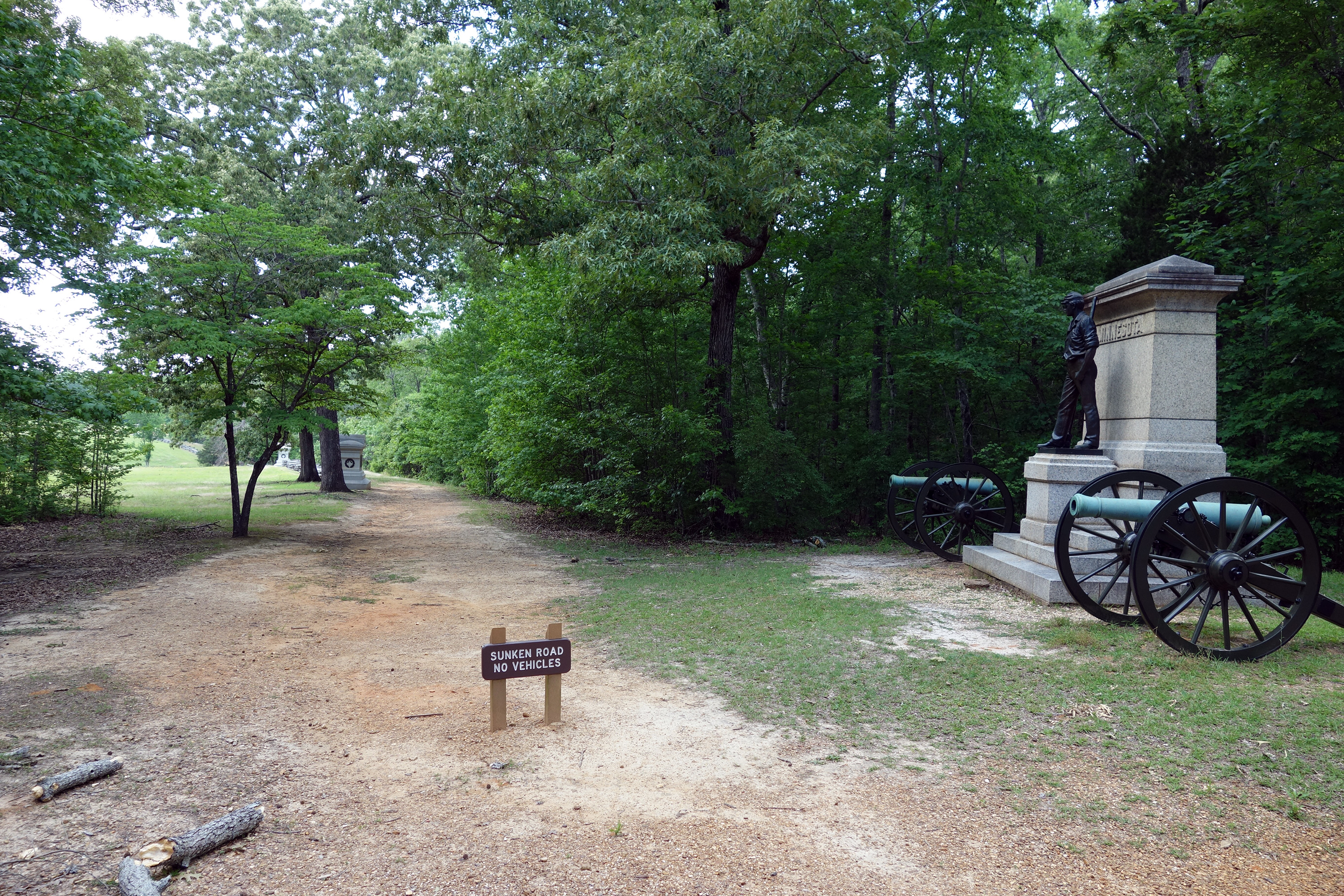 Phase III was a few unsuccessful attacks against Grant's strong final line and we spent little time on them. Some of the brave folks in our group took a hike down through Dill Branch Ravine, but I knew how steep it was and rode the bus instead. (I was more concerned about the steep and possibly slippery downslope than I was about the arduous climb back up.) We finished a very long day with dinner at Hagy's Catfish Hotel and a speech by Starke Miller about Ole Miss students in the battle.
Friday, May 19 – Shiloh, Second Day
Today was a treat because we spent all day on the second day of battle, which is usually relegated to an afterthought of just a few minutes. The basic understanding we took away is that the Confederates put up a stiff fight with lots of sustained counterattacks, and did not simply fade away under immense pressure, the popular wisdom. We started in Perry Field, where Lew Wallace's division attacked across Tilghman Branch and made good progress with clever maneuvers rather than raw force.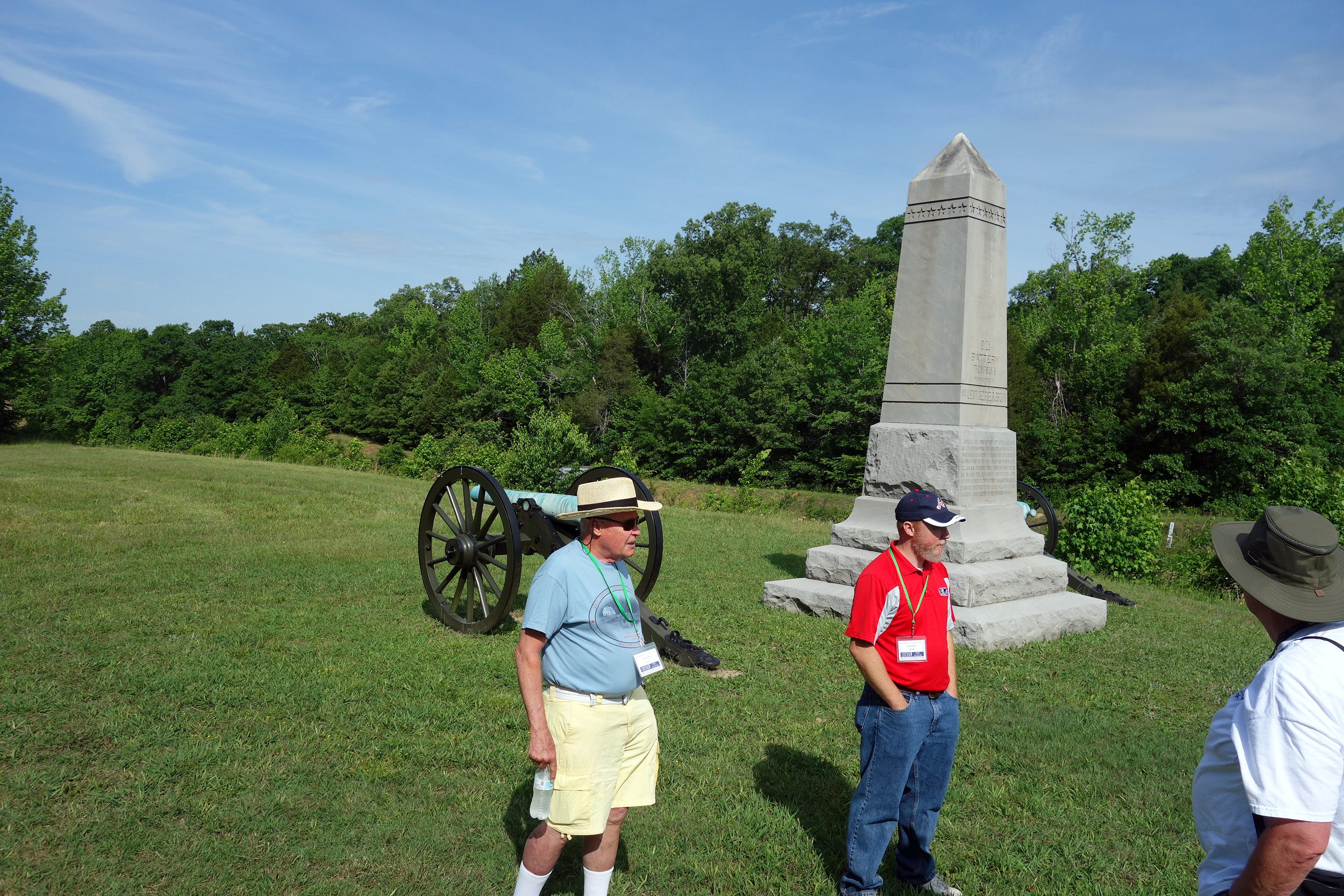 Back over to the east for Buell's first movements across Dill Branch. At Cloud Field we were delighted to see the bald eagle family nesting up in a tall pine tree. We saw both adults and one of them flew majestically, probably to catch food in the Tennessee River. The babies are supposedly of flying age, but we didn't see them in the giant nest.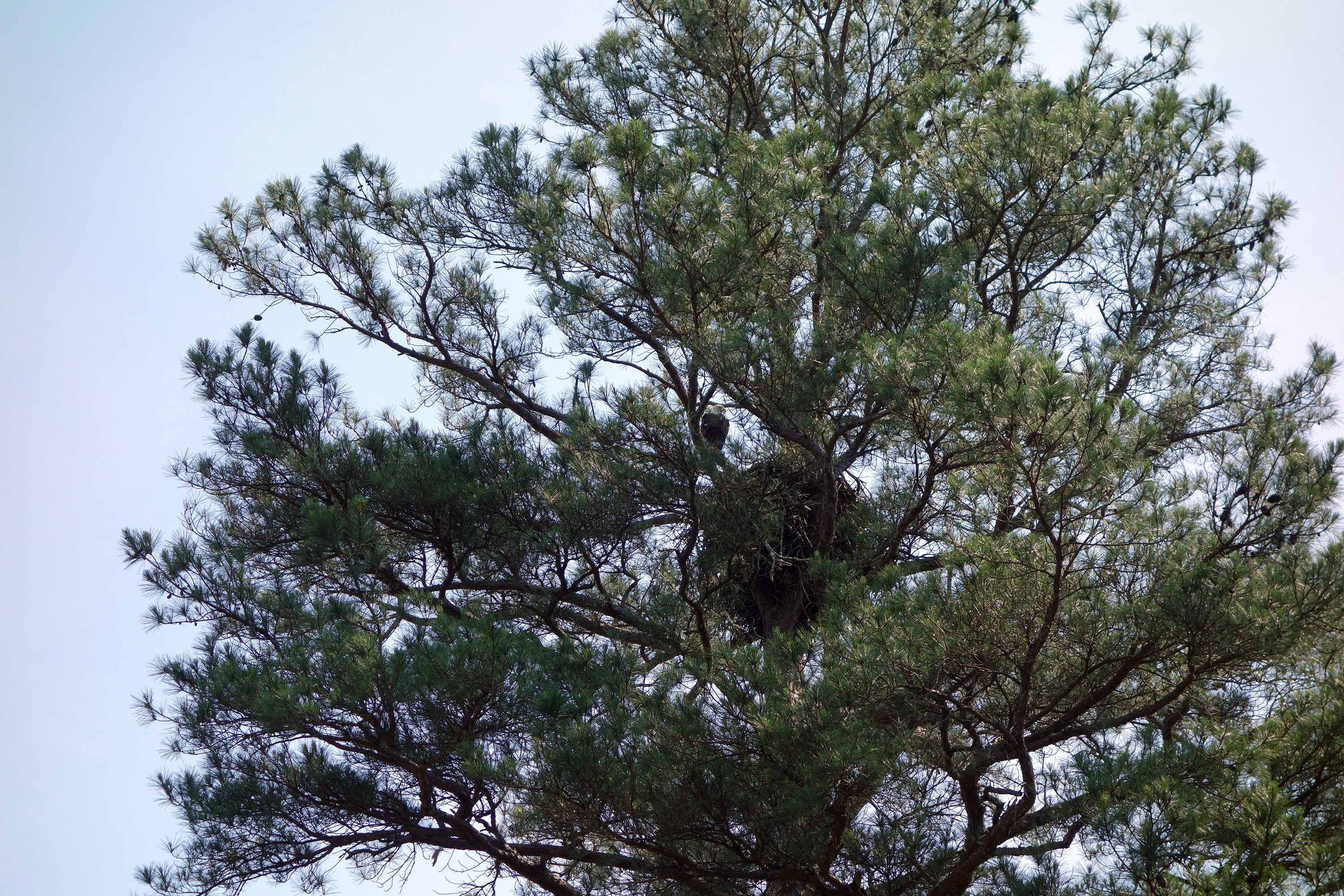 At Wicker Field we discussed Nelson's division attack against Chalmers's brigade. It was here that the famous John Wesley Powell lost his arm; Ambrose Bierce was also here. In Sarah Bell's cotton field we saw Hardee's division getting attacked. This was the strongest part of the Confederate line and the entire line pivoted counterclockwise around it through the morning. Next was the Daniel Davis Wheat Field, where there was a "vortex" in the place the line bent slightly away from the Hamburg-Purdue Road. Hazen's Brigade fought here.
After another picnic lunch, we went back west to the area defended by Breckinridge's small corps. The line was essentially the same as Ruggles's Battery from the first day, so we walked it and discussed both actions. In Jones's Field, we saw where Wallace's division turned the CS left flank, unraveling their line, leading to Beauregard's decision to withdraw that afternoon. We examined one of the five major Confederate burial trenches, which claimed to hold 700 remains, but Tim once again was skeptical of the claim. We finished up Phase II of the second day at the Crossroads and talked about fighting at the Water Oaks Pond.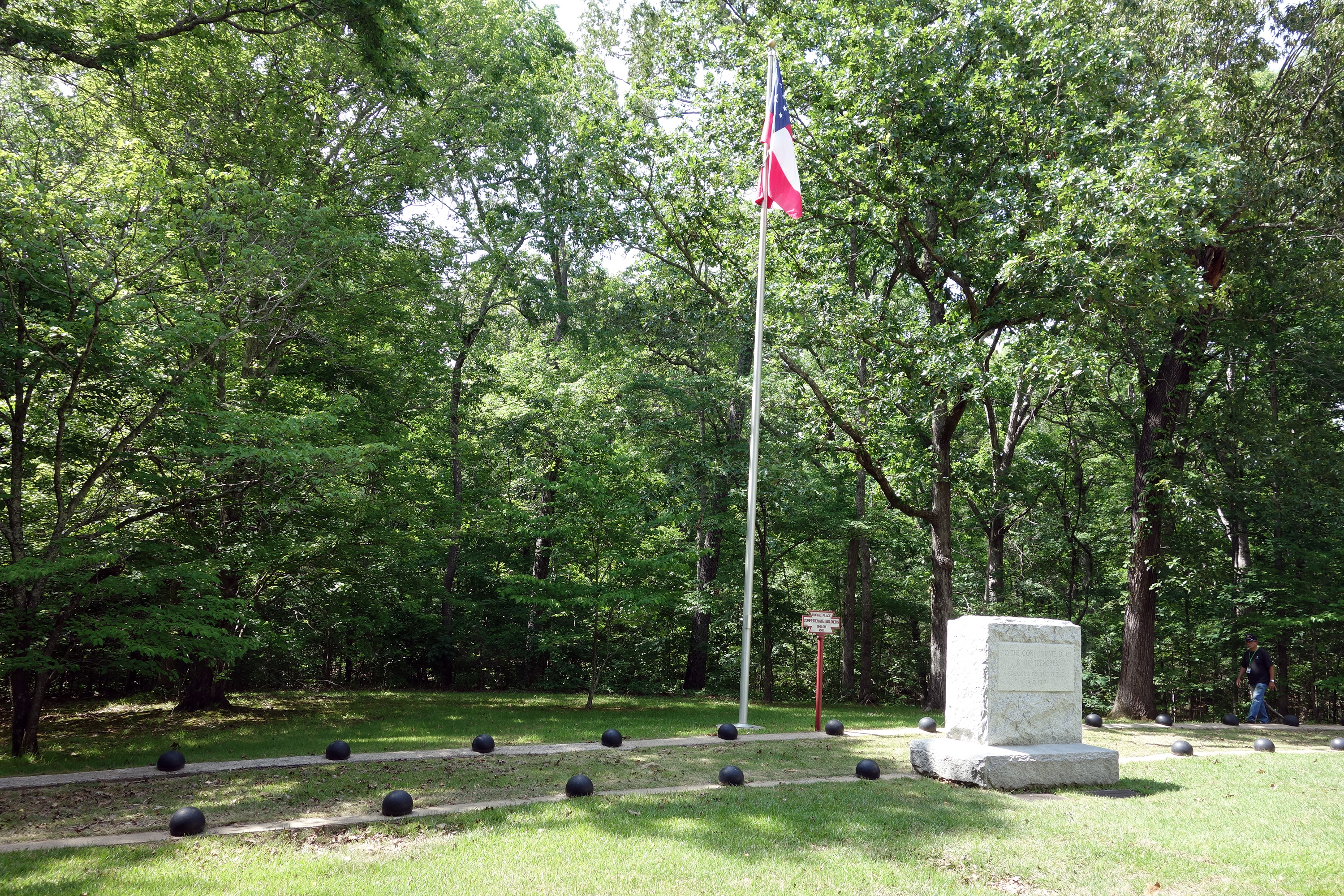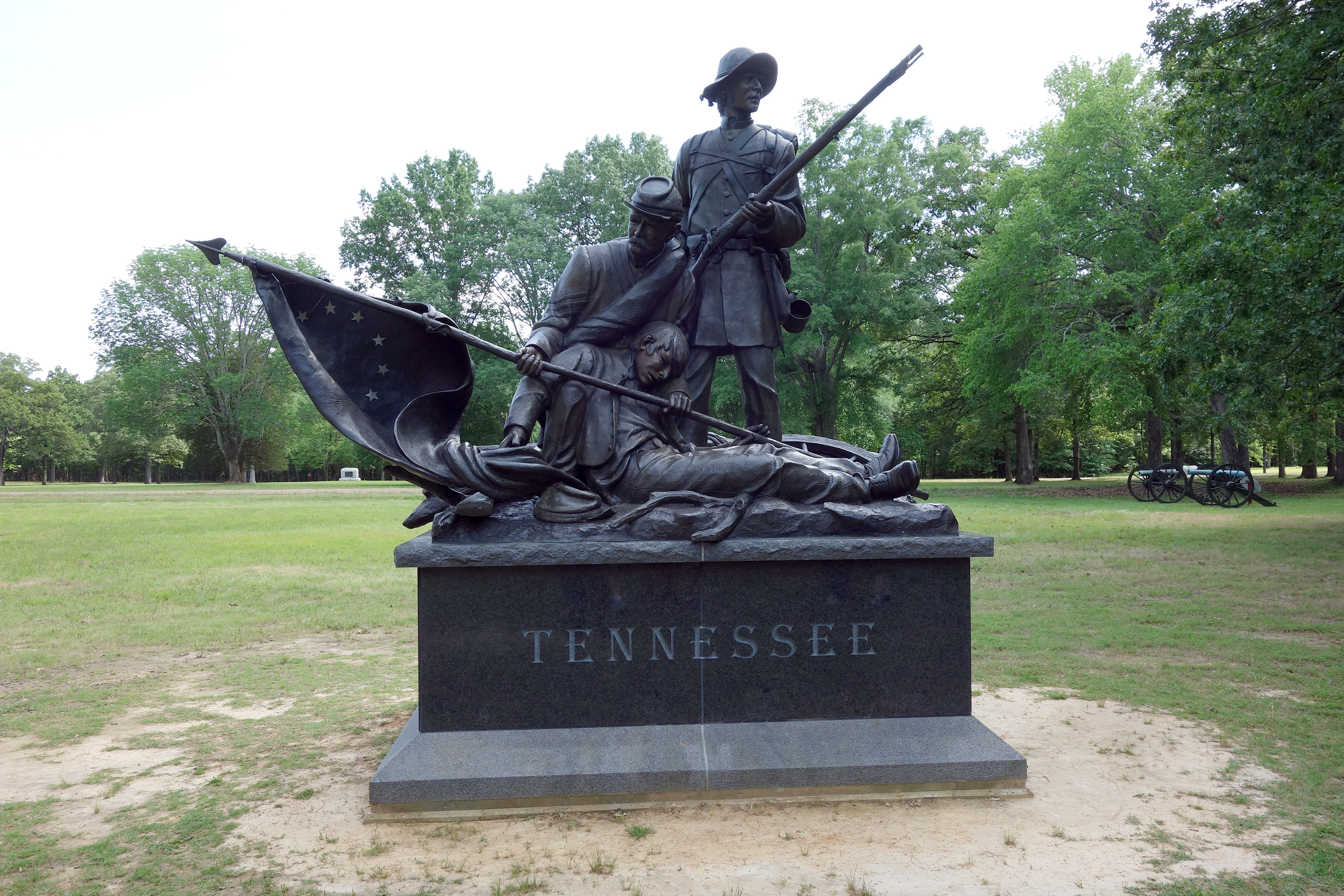 On our way home, we cruised by the final action, the cavalry delaying action at Fallen Timbers, but there was no place to stop. Not much to say here except that the famous story about Nathan Bedford Forrest getting shot in the hip and then picking up a Union soldier to use as a shield was likely BS. Dinner was on our own tonight and a few of us went to the Rib Shack, which was underwhelming, although the company was great.
Saturday, May 20 – Iuka, Corinth, and Davis Bridge
Our guide for today and tomorrow is Tom Parson, a ranger at Shiloh (and the author of Work for Giants, about the battles of Brice's Crossroads and Tupelo). We drove directly north of town, near Hallelujah Hill, to see some modest Union earthworks in the woods. These were from Davies's line on May 29, during the Siege of Corinth. I was surprised to hear that most of the Confederate earthworks from 1862 are gone. Tom described the siege, arguing that logistical constraints were a major reason for Halleck's slow pace.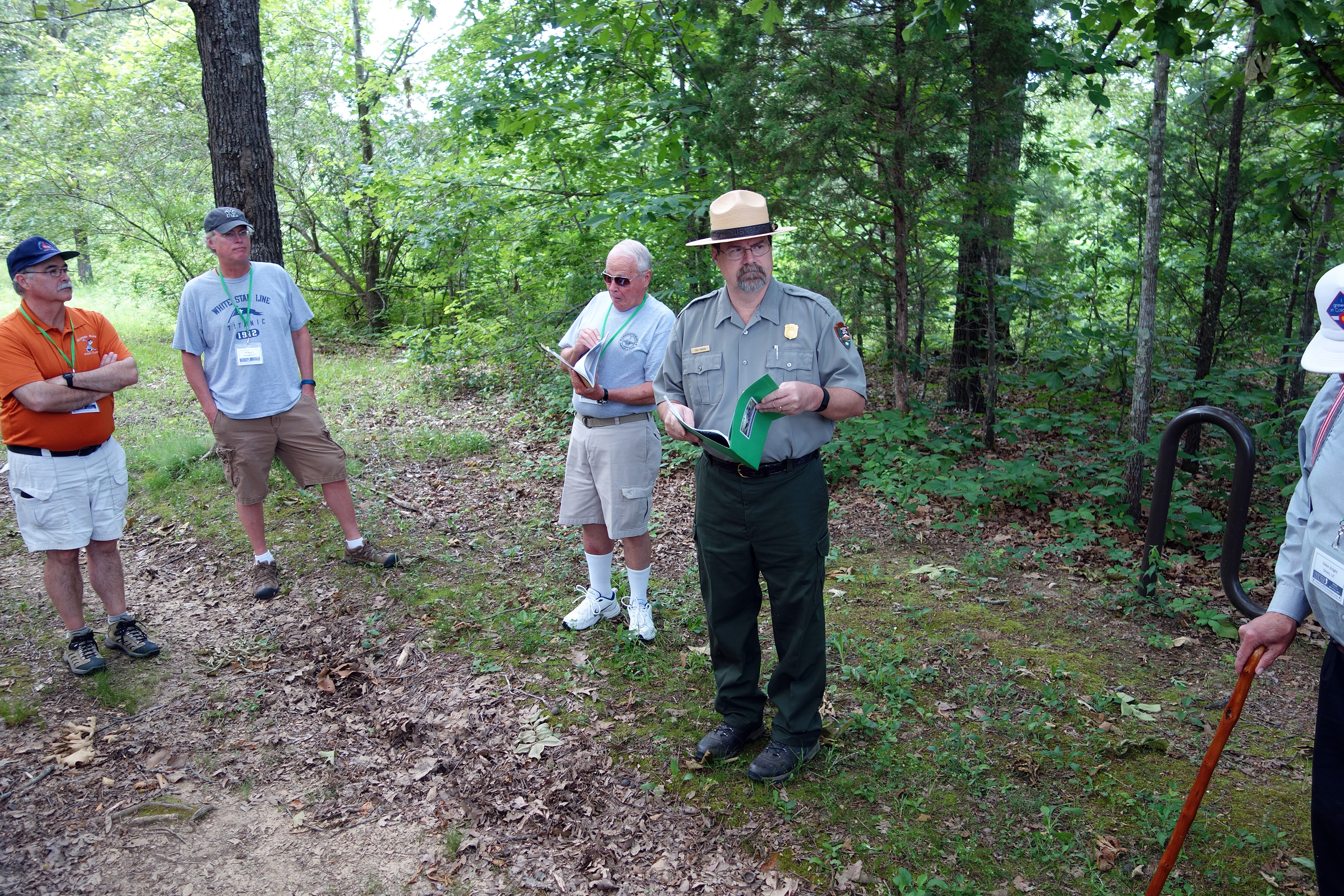 Through the day, Tom enlightened me with a few unusual local pronunciations:
Rienzi -- RYE enzy (and he mentioned that Sheridan stole that horse from a farmer)
Chewalla (TN) -- Shuh Wally
Jacinto -- hard J, as I sort of expected, not like the battle for which it is named
We drove to Iuka and found that the battlefield is occupied by a large highway, an abandoned motel, a gas station, a Jack in the Box, and a McDonald's. It's not very difficult to interpret the action, though, because you can see the general shape of the terrain. Then we drove to Shady Grove Cemetery to see a burial trench that the UDC says contains remains from the Iuka battle, but they are actually from the October battle in Corinth. It turns out that this cemetery is right on Price's retreat route, the Fulton Road, but I had to convince Tom of that and he eventually agreed. (Tom thought that the 1862 Fulton Road is now MS Highway 25.)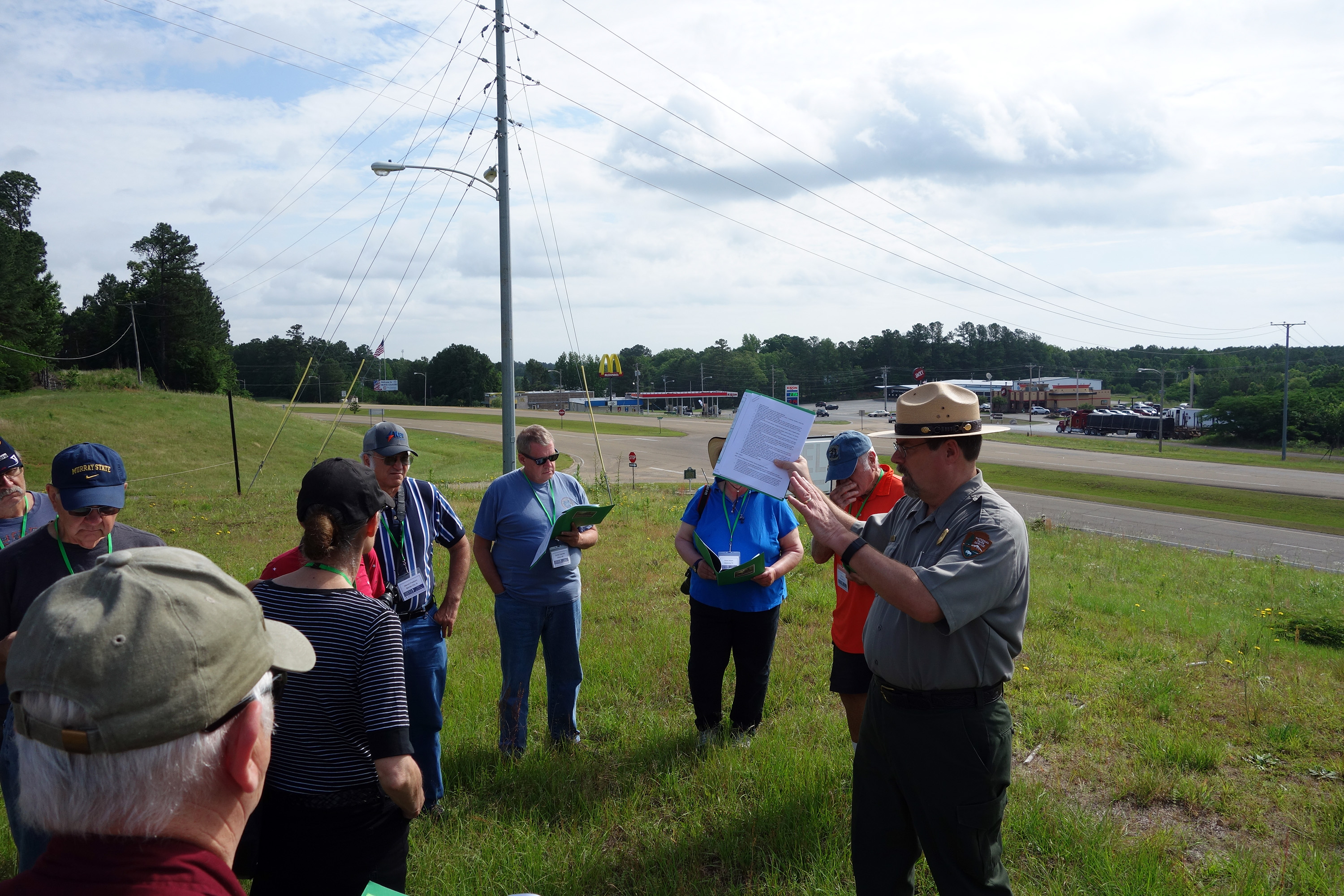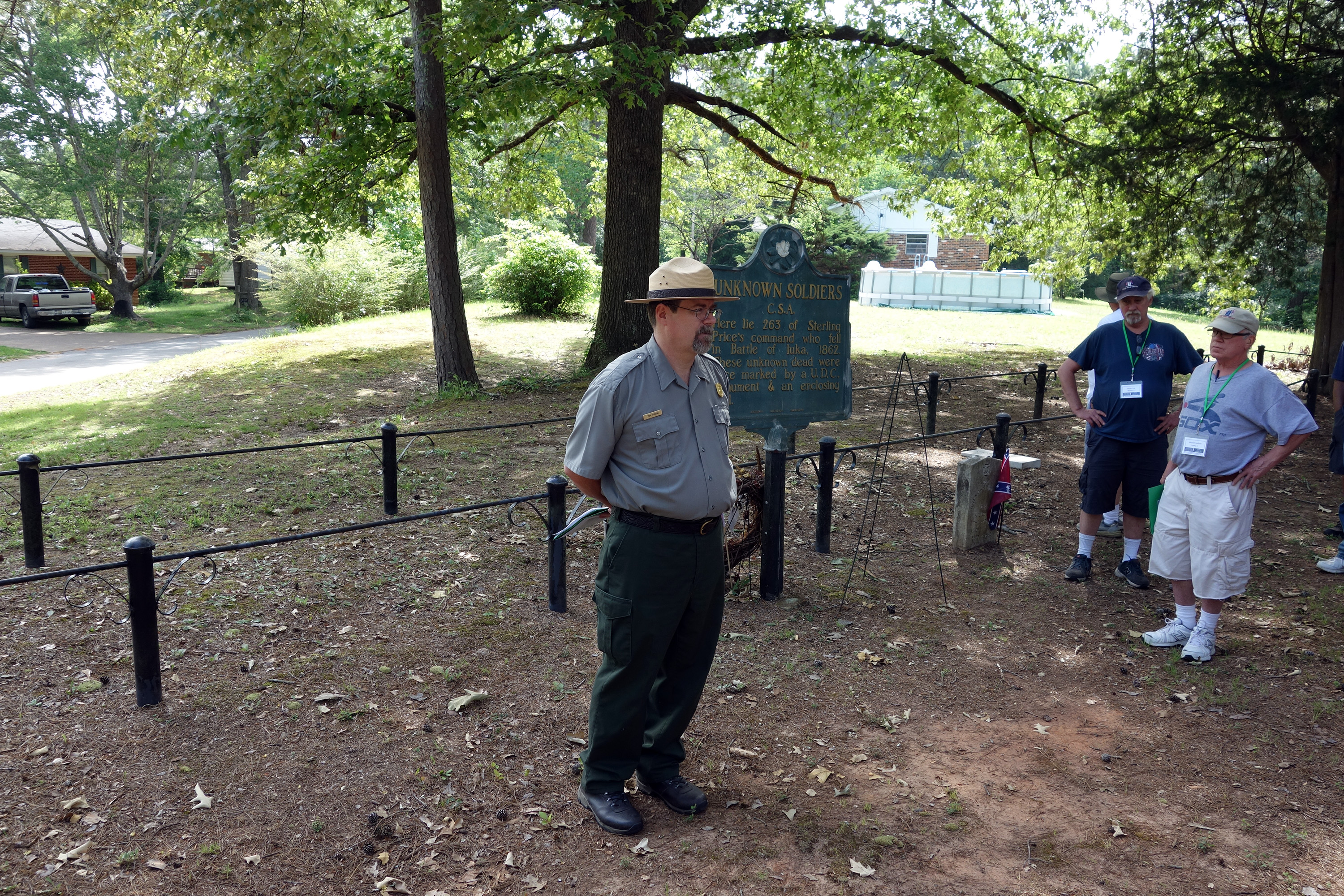 Back in Corinth, we visited Battery F on the Halleck line. It is in a wooded knoll in the middle of a residential area and it is amusing to see that they had to put up a small wooden fence to keep a local teenager from riding his dirt bike on top of the modest earthworks. Tom describe the fighting on October 3, including Moore's attack against the Union camps and through a gap in the old Confederate earthwork line, plus McArthur's counterattack, and the failed attempt to get Hamilton to launch a flanking attack.
We had lunch at the Pizza Grocery restaurant, which I had visited on a previous tour, and it is still good. There was a buffet with a number of pizzas, salad, and pasta. They even had a dessert pizza. Then we drove back to the visitor center and walked over to Battery Robinett. Tom gave us a 45 minute overview of the October 4 battle, principally focused on the attacks against that battery. A few raindrops started to fall, so we hurried back to the VC and Tom gave us a very rapid explanation of the symbolism for the elaborate historical fountain in the back. There are a lot more symbolic elements to this artwork than I had noticed on previous visits.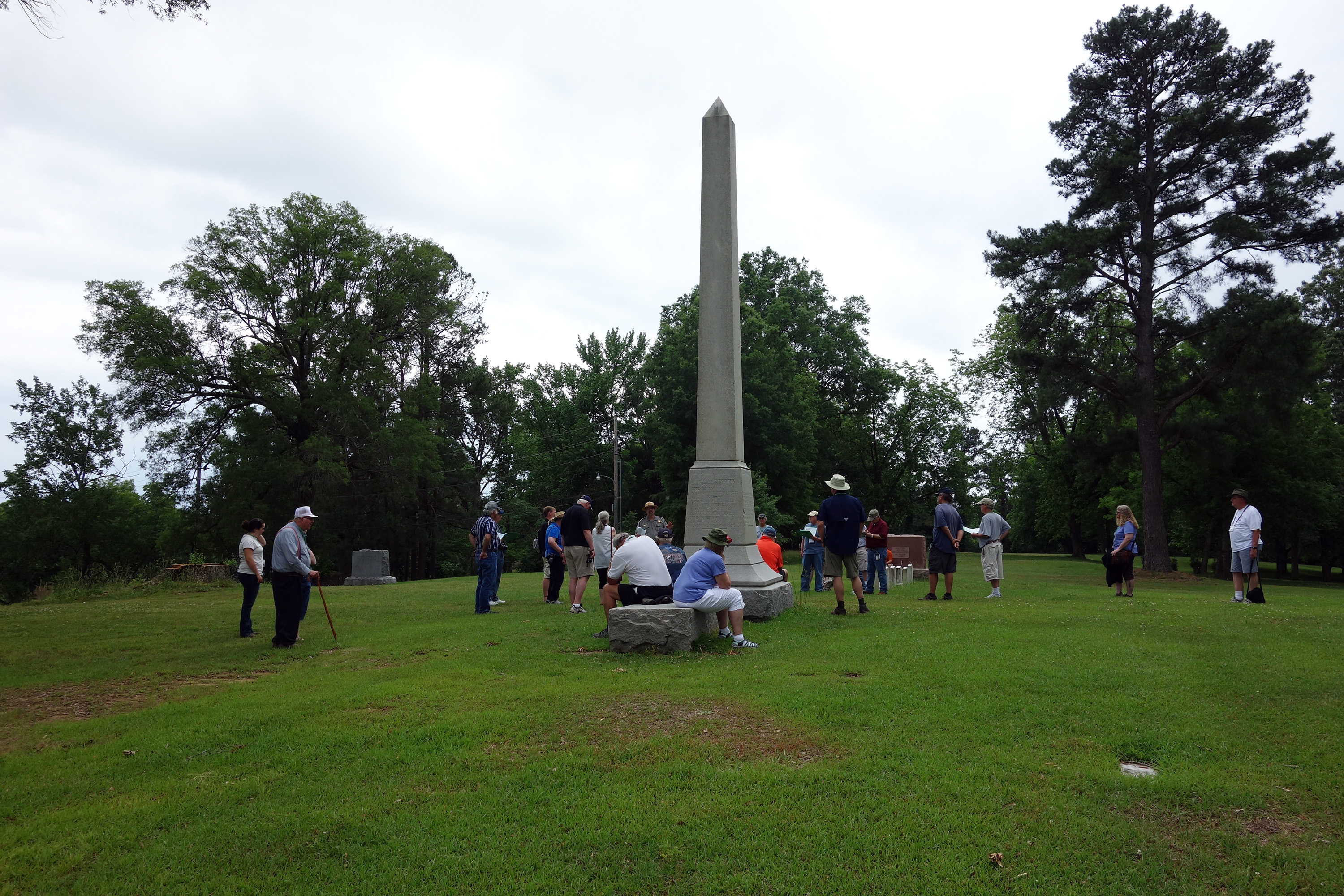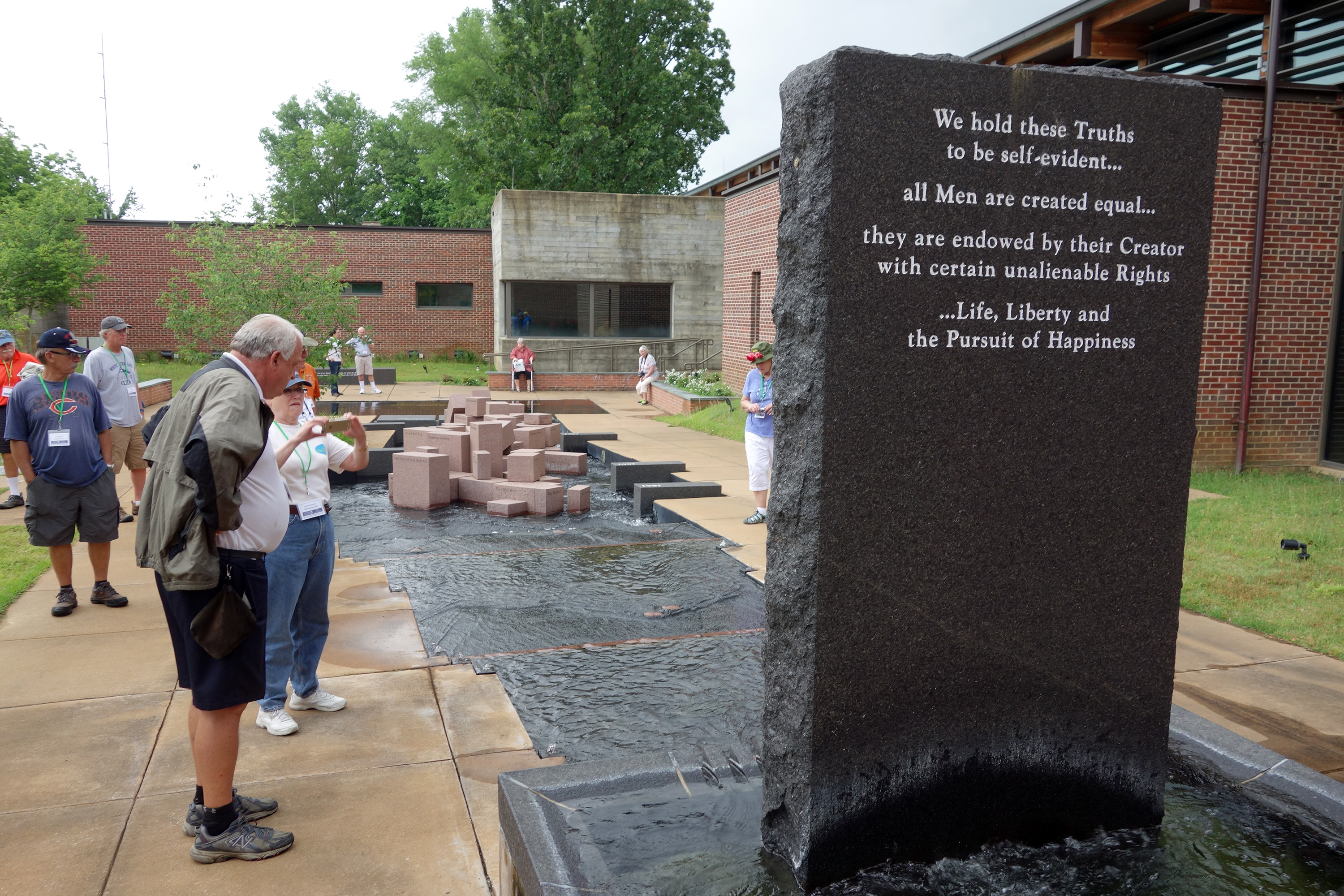 We drove to the west to follow the Confederate retreat, briefly at Young's Bridge, but concentrating more on the fighting at Davis Bridge (which CWSAC calls Hatchie's Bridge). We stopped first on Metamora Ridge, and then drove to the entrance of the protected battle area. It was about a quarter-mile easy hike to the bridge site, approaching from the western side. There really wasn't much to see other than the Hatchie River and a whole squadron of mosquitoes. (I am writing this on Tuesday morning and I have now found a large collection of insect bites well up inside my long pants, which took about 30 hours to manifest themselves. Although everyone was concerned about ticks, I believe these were probably what the Union soldiers called "no-see-ums.") There is a small cemetery about halfway to the river and it has five or six tombstones, but Tom told us that they are memorial only, with no bodies buried underneath.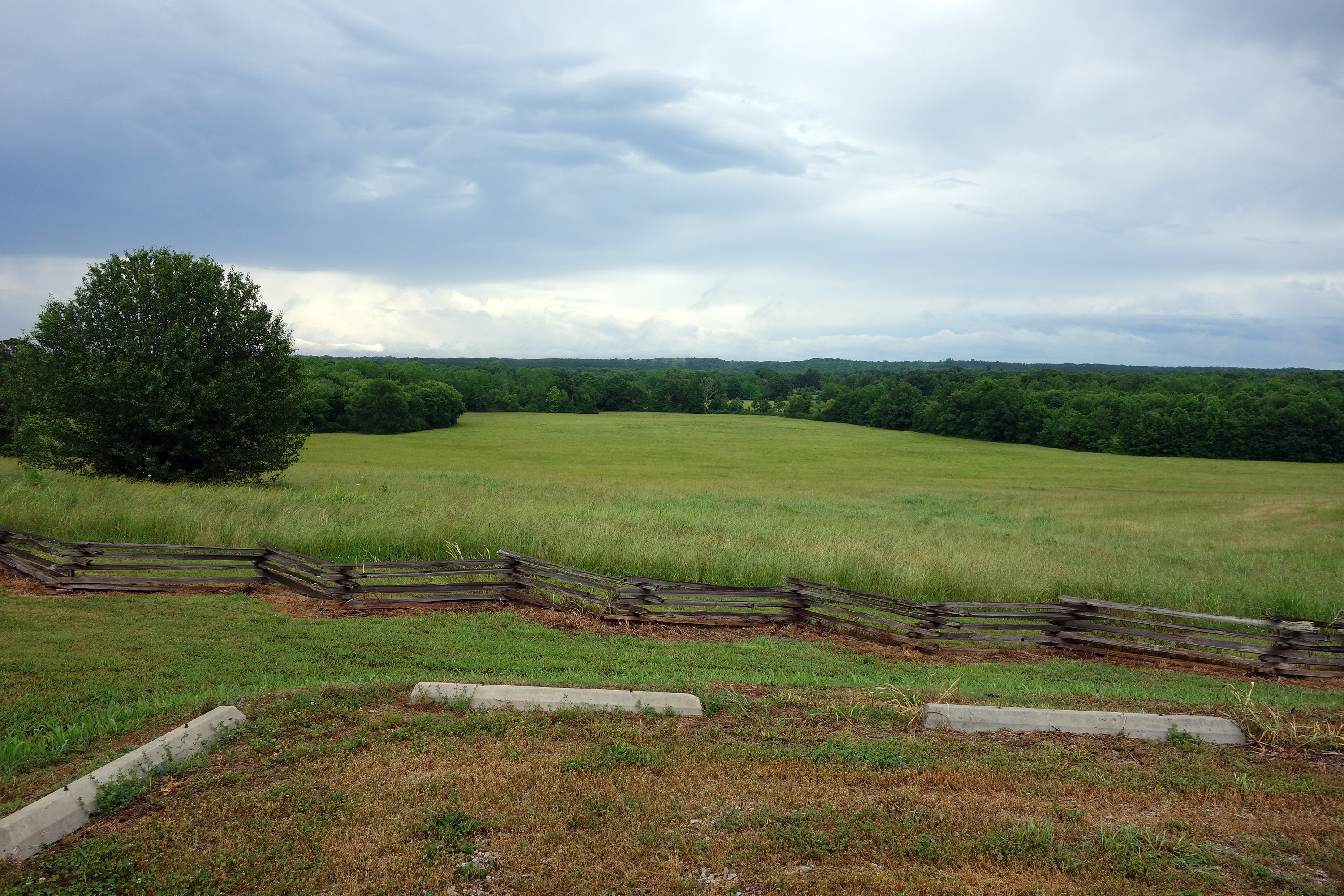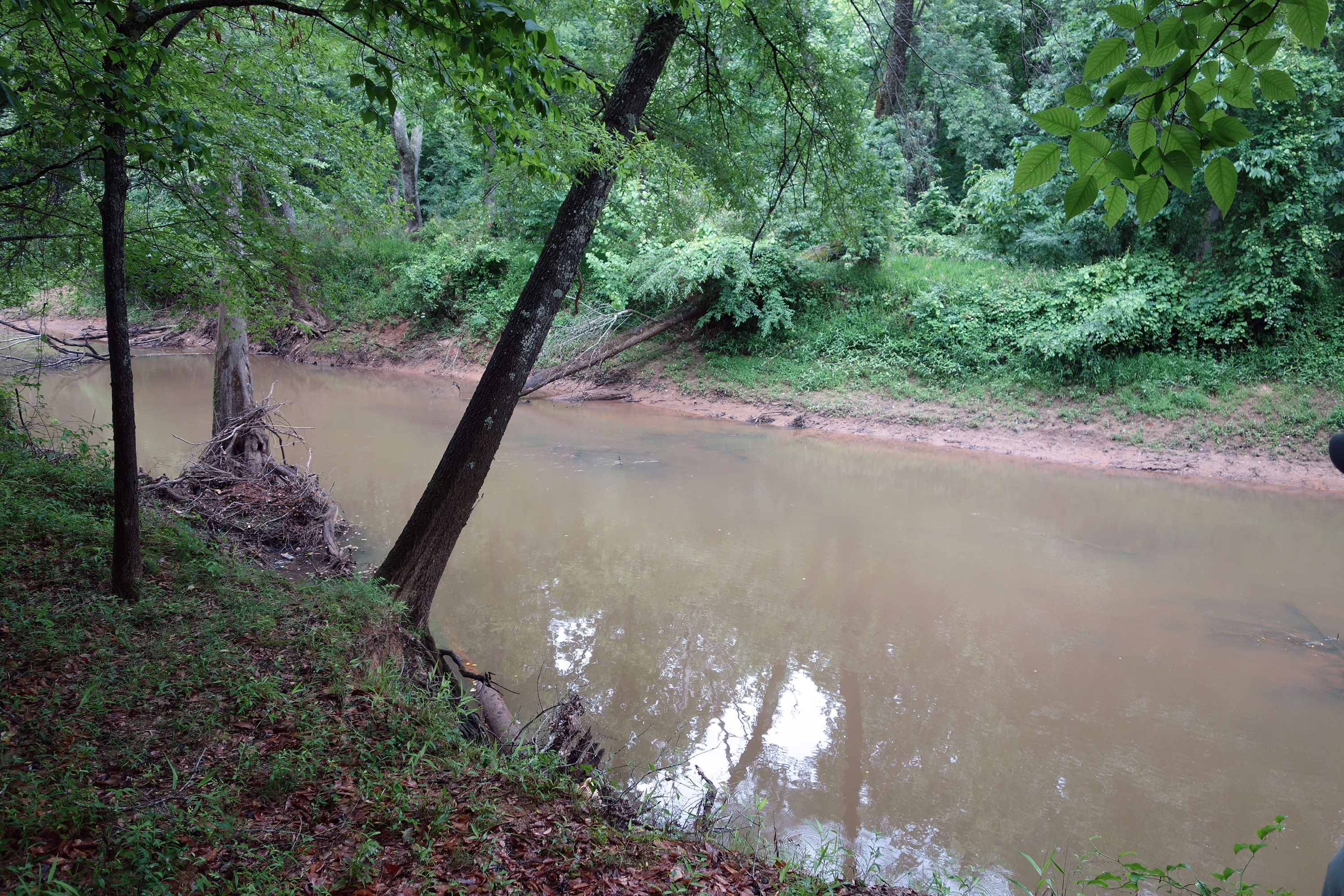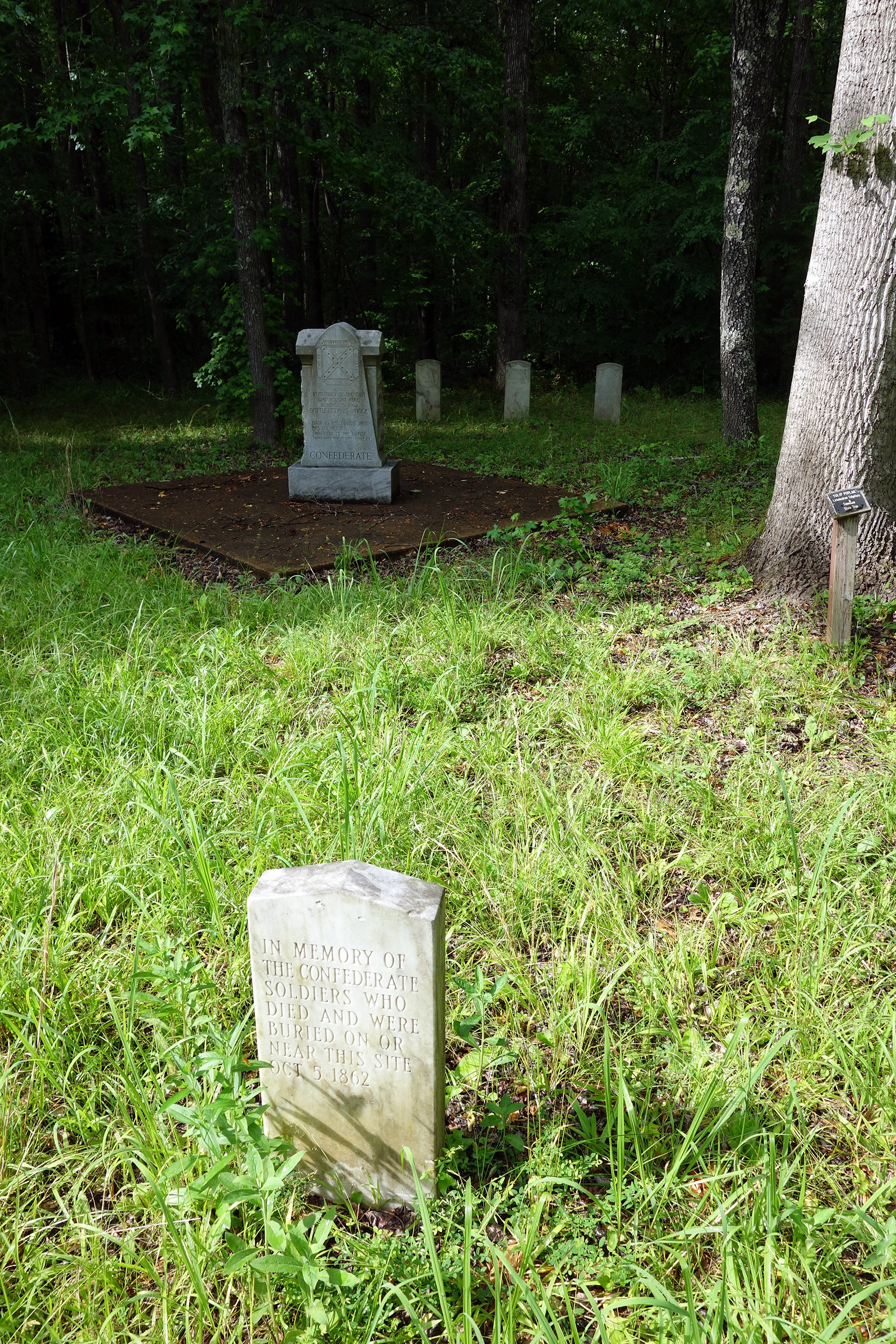 That evening at 7:30 p.m. there was a one hour walking tour of downtown Corinth hosted by Larry Mangus. I decided that this was a bit late in the evening for me, so I regretfully abstained. (Also, as I have mentioned, this is my third visit, so I assume a good deal of duplication would have been involved.)
Sunday, May 21 – Forrest in Northeastern Mississippi
Tom Parson was back again today and the subject was Nathan Bedford Forrest in northeastern Mississippi. We drove about a half hour south to Baldwyn, Mississippi, to visit the Final Stands Interpretive Center, which is a modest little museum that covers the battles of Brice's Crossroads and Tupelo. They wanted to show us a movie, but Tom confided that it is not very interesting, so we demurred.
We drove a couple of miles west to stop at the initial Union line for Brice's Crossroads, where Grierson's cavalry first met the Confederates. It is a very small battlefield, but beautifully preserved and easy to interpret. (They could use some more modern wayside signs with better cartography, hint, hint.) Tom enumerated two basic mistakes that Union general Sturgis made in the battle: (1) he force marched the infantry, leaving them too exhausted to be effective; (2) when the infantry did arrive, they replaced the cavalry, rather than having them merge lines and both defend together. Then we walked to the crossroads and the site of Brice's house and store. Our next stop was Log Cabin Ridge, overlooking Tishomingo Creek, and we walked onto the reproduction of the original bridge, where the 2nd Tennessee Cavalry attacked and caused pandemonium in the retreating Union units. Tom mentioned that even though this battle was a decisive Confederate tactical victory, it was actually a strategic Union victory because Sturgis accomplished his mission: keep Forrest from disrupting Sherman's railroad supply line in middle Tennessee.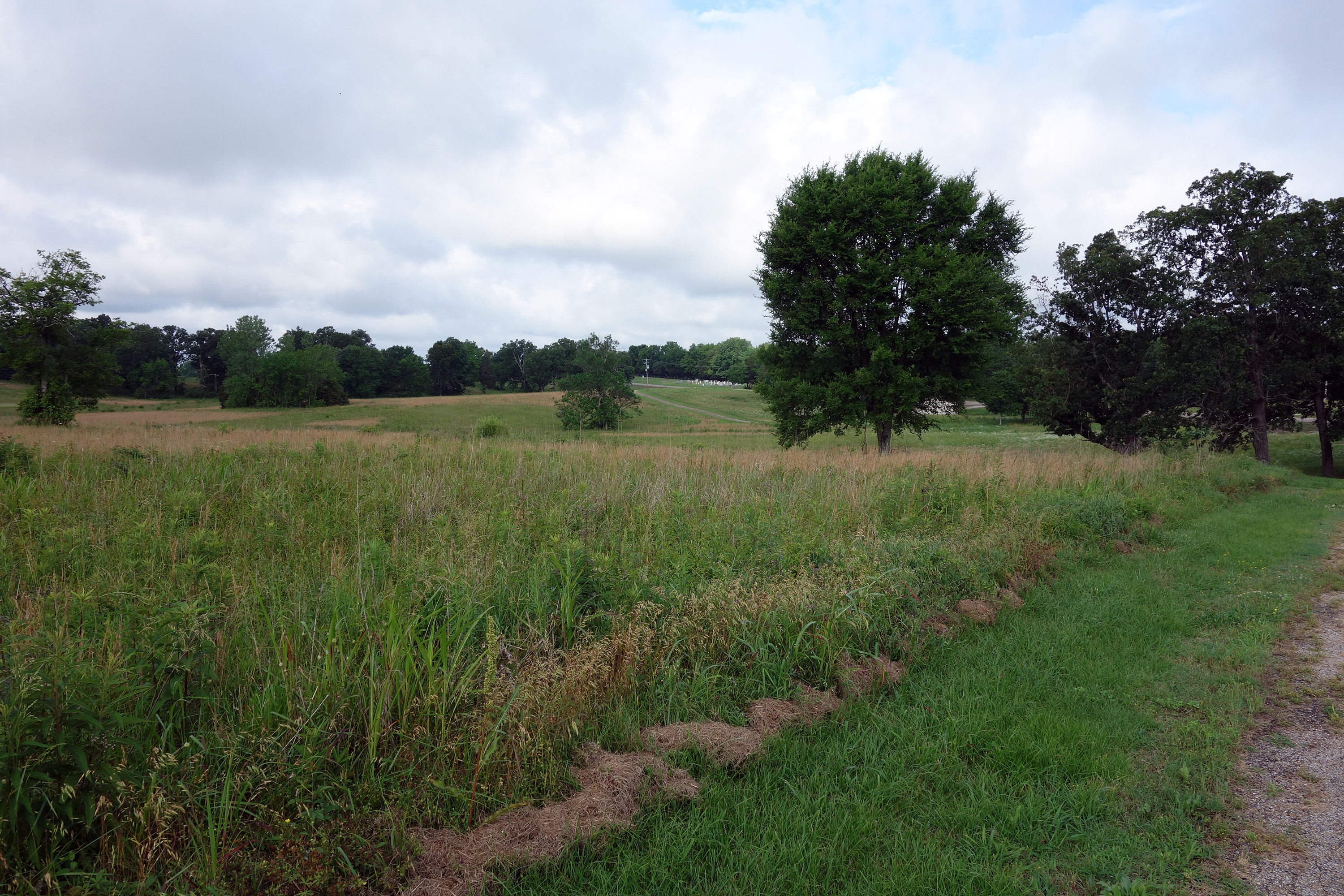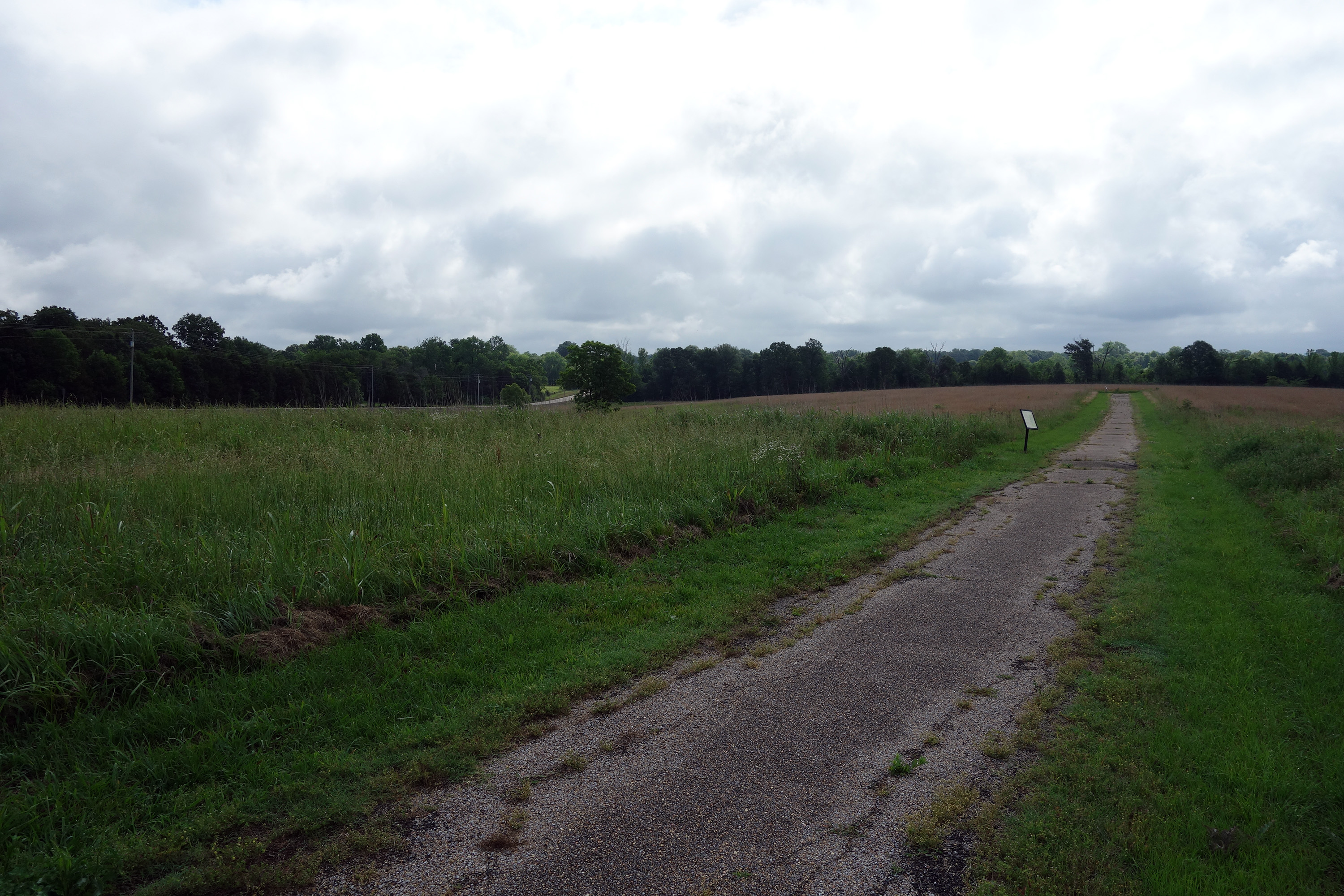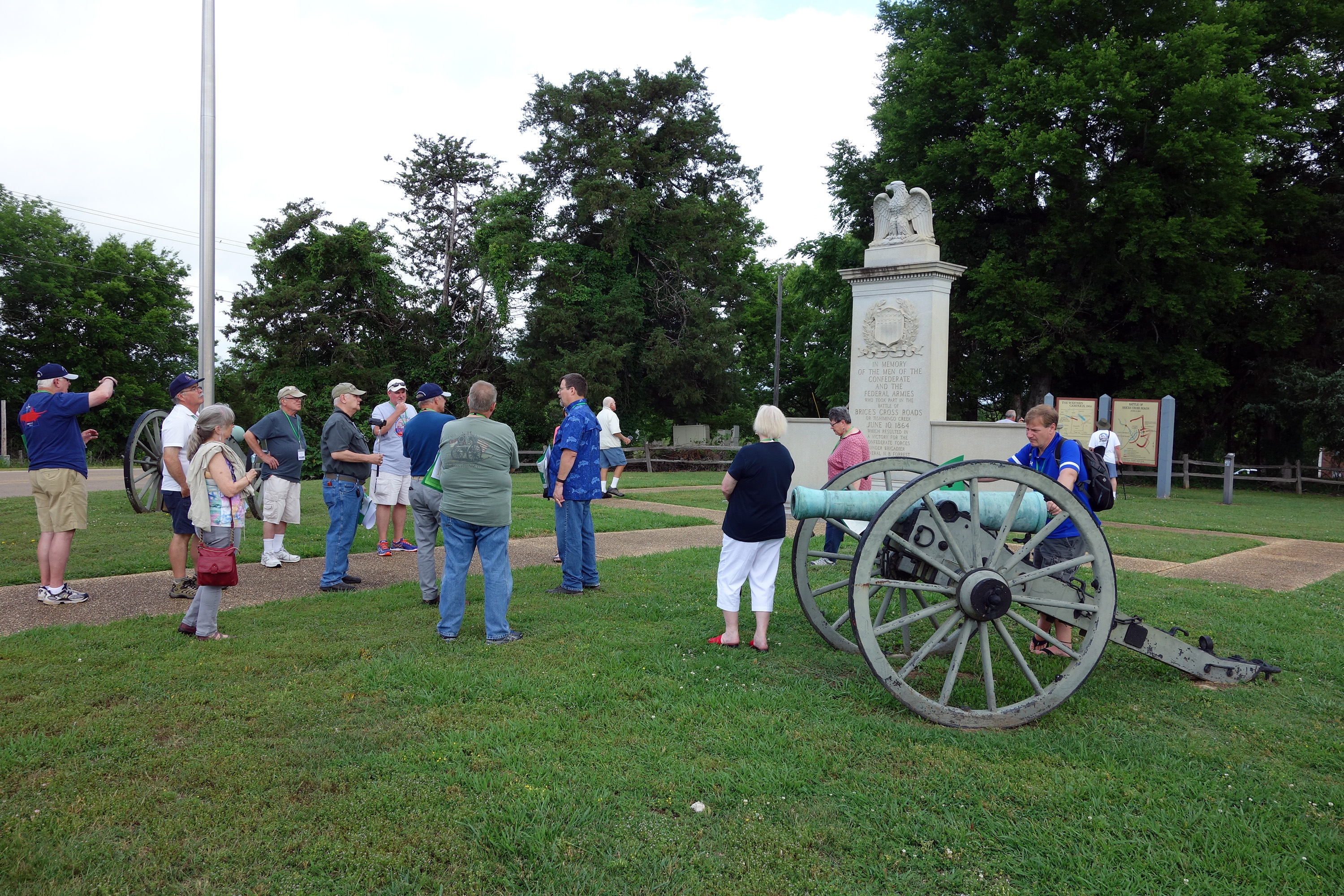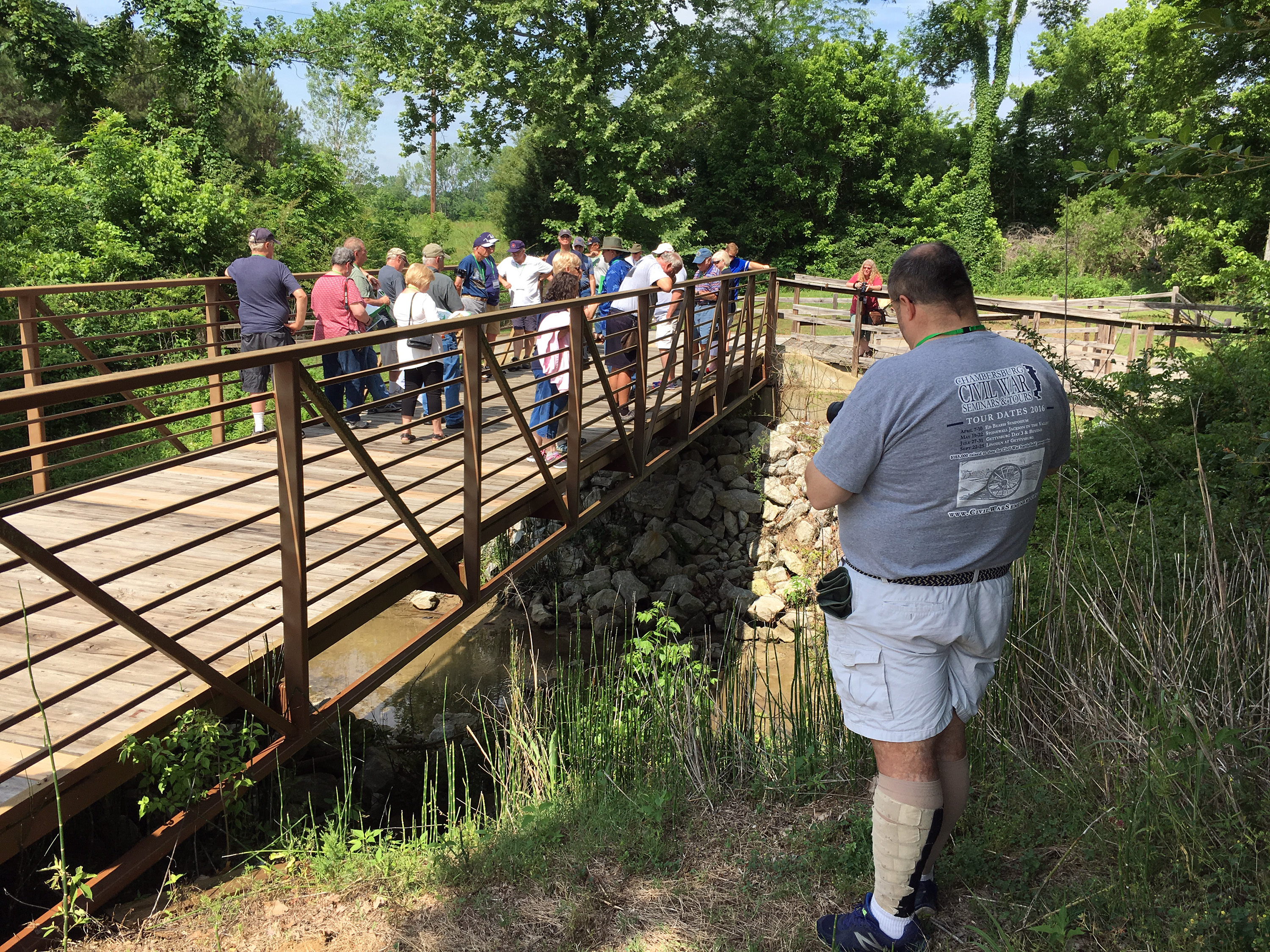 Our next stop was Pontotoc, the site of a minor battle/skirmish. The primary reason for visiting was Lochinvar Plantation, which is a magnificent columned mansion built in 1836. It is owned by two doctors named Tutor, and Janice Tutor graciously welcomed us into her home and gave us a overview of the history of the property, particularly during the war. It was an elaborate story, but one of the highlights was that its owner, Col. James Gordon, showed compassion to Union prisoners during the Tullahoma Campaign, and therefore Grierson's Raid in 1863 spared the buildings from being burned, unlike many of the other plantations in the vicinity. From there we followed A.J. Smith's flanking march in the direction of Tupelo.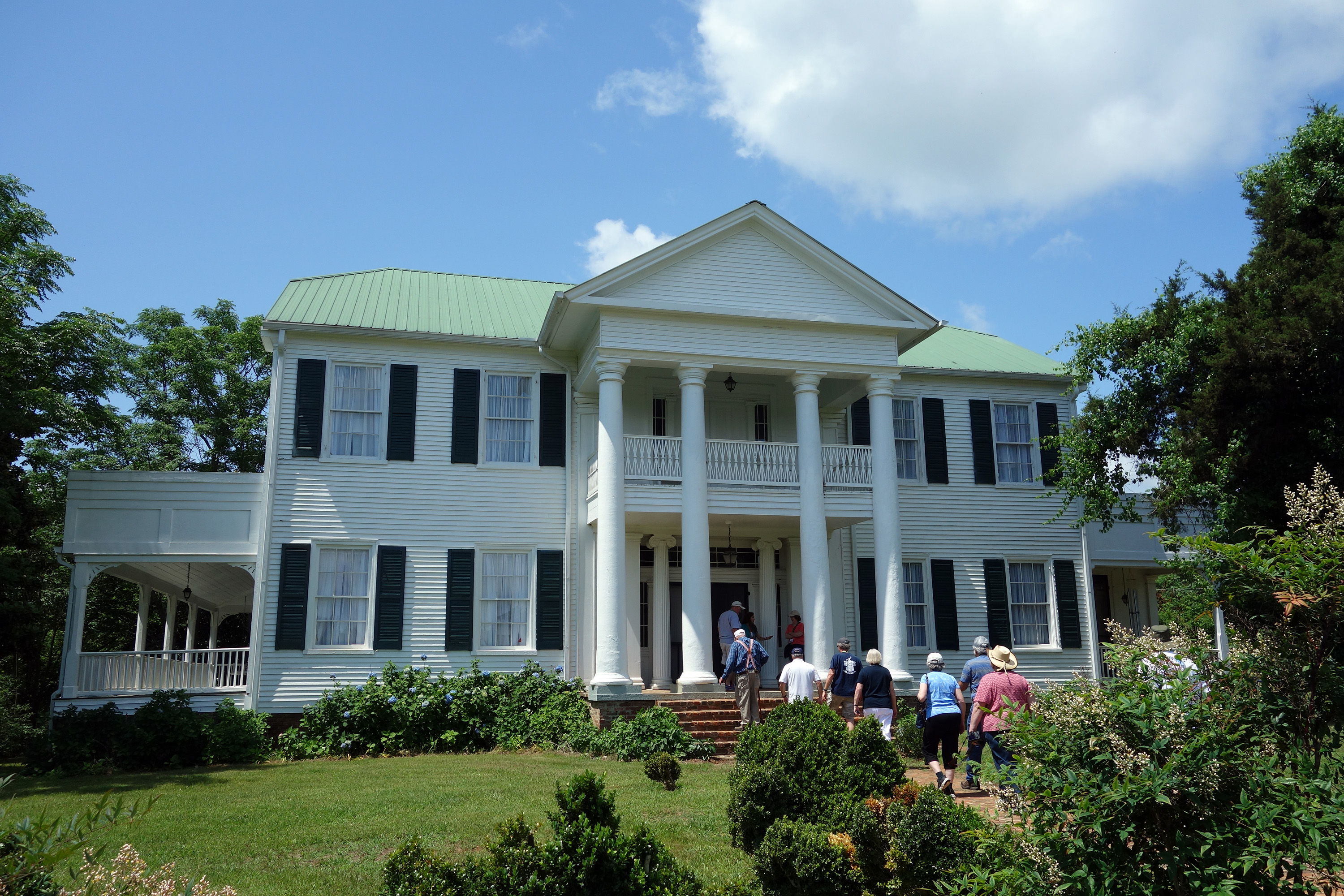 We stopped at a local Tupelo park for a very delicious barbecue picnic and then Camargo Crossroads to discuss the relatively minor skirmish there against the Union cavalry and wagon train. In the town, we visited Tupelo National Battlefield, which is an urban park of about an acre in size, containing a monument and a few waysides. It is located a couple of hundred yards behind the Union line, where the wagon train was parked. The rest of the battle action area has been totally obliterated by development. You can see the outlines of the terrain easily enough, but everything is covered by commercial buildings.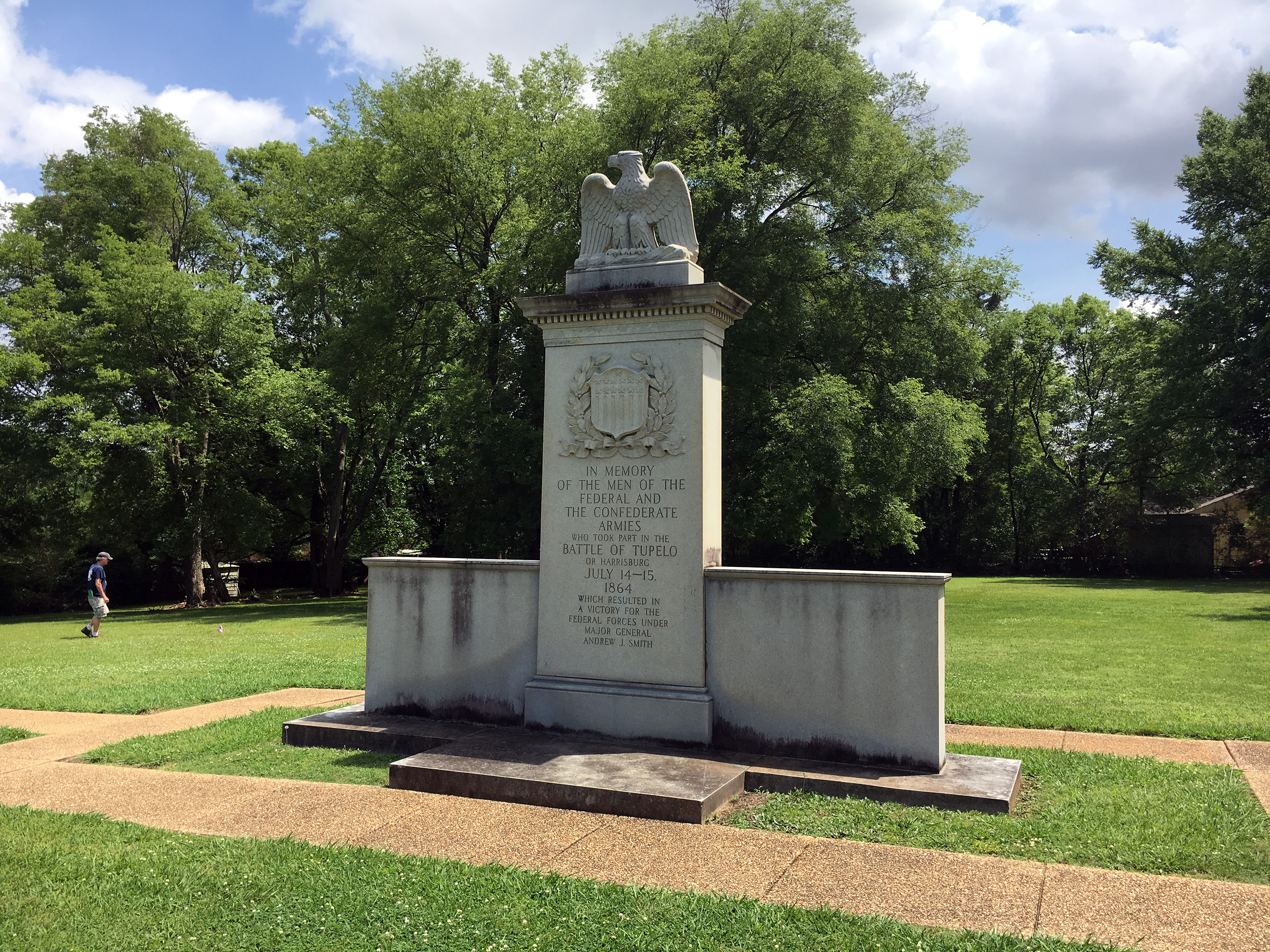 Our final stop of the day was the battle of Old Town Creek, which happened the day after the primary Tupelo battle (also known as the battle of Harrisburg) as Forrest pursued the withdrawing Union force. The battlefield is a small parking pull out and a bridge next to a large open field. As with the others, there were a few wayside signs. It was here that Forrest was shot in the foot. These two battles, collectively known as Tupelo, were Forrest 's most significant defeat, although he blamed it on Lt. Gen. S.D. Lee, the more senior officer present. Forrest 's corps was shattered and never performed as well again. A.J. Smith had outgeneraled him for over two weeks, also accomplishing the objective of keeping him out of middle Tennessee.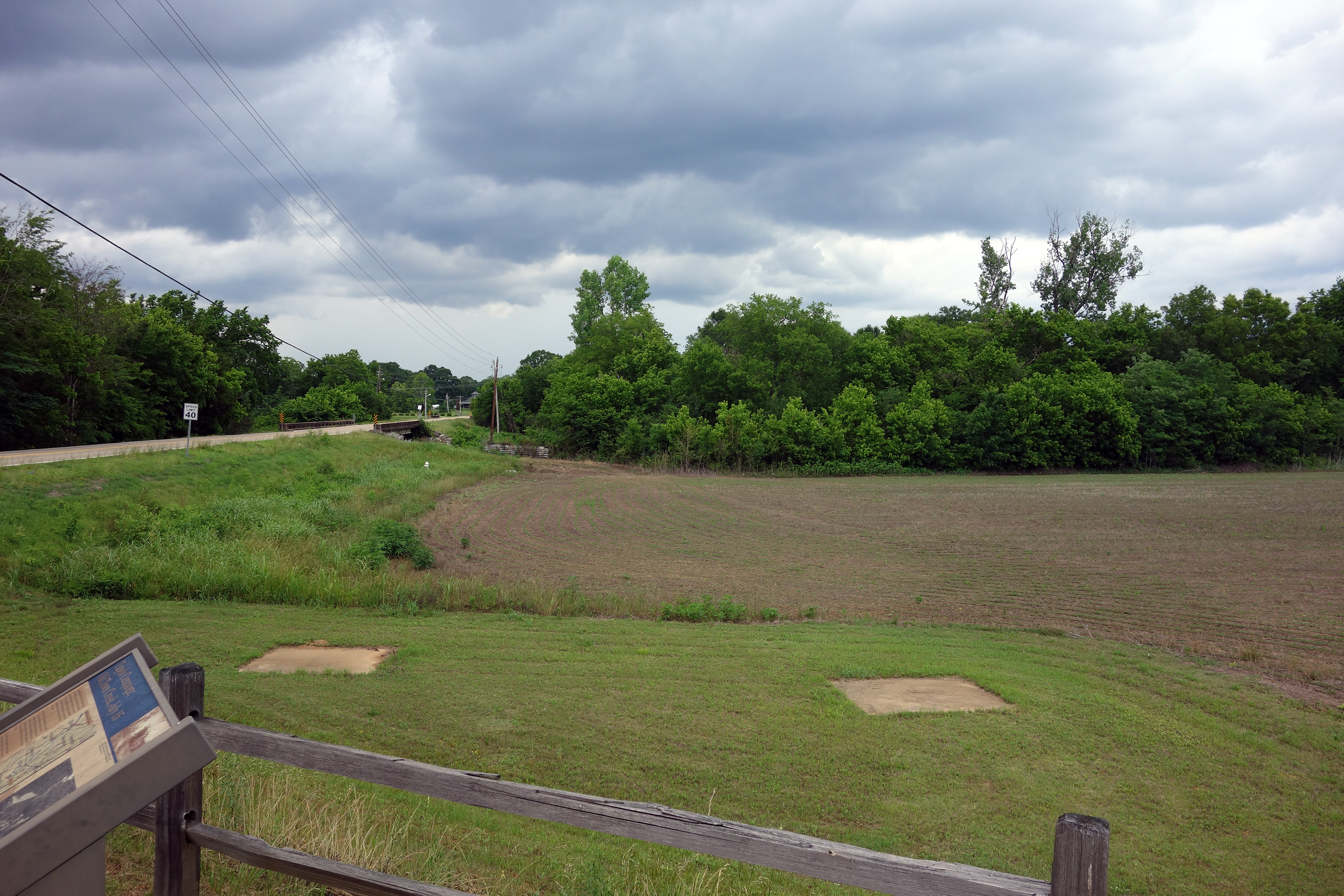 It was an hour drive back to Corinth, where the program ended. I drove to Memphis and checked into an airport hotel to accommodate an early morning Monday flight. This was one of the better Chambersburg tours and I thoroughly enjoyed myself and learned a lot, even on my third visit some of these battlefields. I compliment Ted, Scott, and Lark on the excellent logistical arrangements and look forward to future outings in the western theater.